If the main thing you're after is value, multi-effects pedals are the way to go.
They'll give you a whole host of different effect sounds in one box—in the case of the Zoom MS-70CDR, 86 effect options for s modest cost.
There's a definite convenience advantage, too.
How's that?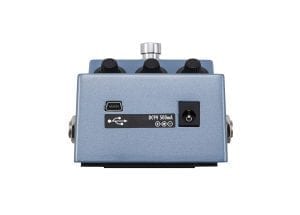 Get the right multi-effects pedal, and it could be the only one you need.
This one even includes emulations of specific pedals, making it really feel like dozens of pedals captured in one casing.
There is a trade-off, of course.
You won't get as many options for customizing the sound of each individual effect. There's a basic 3-knob interface (what the knobs do depends on which effect you're using) but this won't be enough if you're a player who likes to really fine-tune their effects.
To our ears, this difference was most obvious when comparing the emulations to the pedals they're based on. The Zoom MultiStomp sounds similar, but it's often feels like a flattened version of the original.
Still, a solid multi-effects pedal like this Zoom can be a great thing to have around for those times you want a lot of effect options but don't have room for a ton of pedals.
They're a super-smart purchase for a beginner, too, since you'll be able to play around with a lot of new sounds without investing a ton of money.
Features:
Dimensions: 2.3" X 3" X 5.1"
Delay Effects: 26
Total Effects: 86
Delay Time: up to 4 seconds
26 delay effects in total, including both mono and stereo options
Includes emulations of 8 well-known delay pedals