Buyer's Guide: Choosing The Best Air Purifier For Mold
Shopping for an air purifier with a specific purpose in mind can actually make it easier to narrow down your options. Mold is a fairly common problem, so if you suffer from mold don't worry—you're not alone! About half of American households have mold problems.
And here's the kicker:
More than a quarter of the population has a genetic propensity to mold allergies.
These are pretty scary facts, but they have an upside, too. It means a lot of research has been done into how to best get mold out of your air, and you can take advantage of that knowledge to help you get the best device.
All About Mold
Fixing a problem is easier when you understand it. Before we get into the nitty gritty of air purifiers, let's talk a little bit about mold and what it takes to get rid of it.
First of all, there are really two different things involved in removing mold from your air: the airborne mold particles themselves and the mold spores. You can think of spores as the seeds of the mold, which it sends out into the air to spread to and settle other places. Capturing the spores is especially important to preventing new mold growth.
Most mold spores are between 2 and 10 microns in diameter. This means they'll be easily captured by both carbon and HEPA filters. Mold particles vary more widely in size depending on the exact species of mold, but they rarely get smaller than 1 micron in diameter—still plenty large enough for a HEPA filter to handle.
There are hundreds of species of mold but the most dangerous are classified as toxigenic. These molds can be dangerous even for those without an allergy or sensitivity. Common toxigenic molds include acreminium, fusarium, and stachybotrys (also known as black mold). What all of these strains have in common is that they like damp conditions—standing water, water-damaged walls, and leaking pipes are all mold breeding grounds.
If you think you might be dealing with a toxigenic mold, you want to make sure to buy an air purifier with an active carbon filter. These filters are much better at removing the VOCs toxic molds can produce.
But keep this in mind:  
Even the best air purifier is a Band-Aid at best if you have mold growing in your home. It can limit the spread of mold by trapping spores, and can keep you from breathing its harmful compounds, but to permanently remove the irritants you have to eliminate the mold.
Air conditioners and evaporative coolers can be choice breeding grounds for mold. Make sure to clean them regularly if you use them, or else switch to a high-powered fan for your summer cooling needs. The pipes in your bathroom and kitchen can also grow mold, especially if there's gunk trapped inside them. Keep them clean and inspect them for leaks to make sure they're not leaving puddles where mold can grow.
A Word on Fan Settings
Aside from which style (or styles) of filtration an air purifier uses, the speed and power of the fan will make the biggest difference in the air purifier's operation. All of these devices give you a range of power options. That doesn't necessarily mean they will offer you the same range of filtration, however.
You can read the coverage area of the air purifier to be a rough approximation of the fan's relative power. The more air the device is able to pull in per minute, the larger the total space it's able to handle.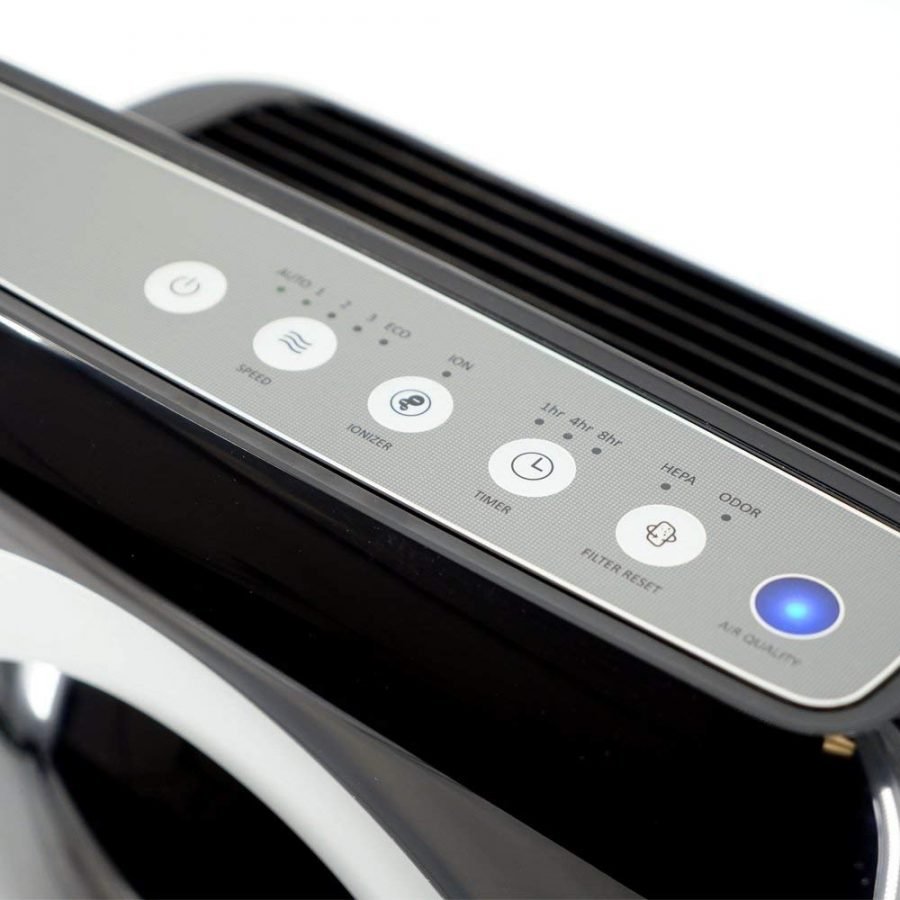 Makes sense, right?
The fan is also what makes the most noise on an air purifier. Typically the more powerful the fan, the louder it is when it's running. There are exceptions, of course, but if you're concerned about quiet, you probably want to get something that's on the smaller side. The quietest air purifiers can generate as little as 22 dB on their lowest setting, which is no louder than a whisper.
Another thing to keep in mind is that the energy usage will go up with the fan speed. Air purifiers aren't energy hogs the way air conditioners or space heaters can be, but the impact on your electricity bill can add up if you plan to run it continuously, or if you're using air purifiers in multiple rooms.
If you're concerned about the energy usage of your air purifier, consider getting something with smart Auto or Eco settings. These air purifiers have on-board sensors that measure the quality of your air. When it senses the air is clean, it turns itself off, saving you money.
Some air purifiers offer smart modes for other applications, too. The Whirlpool Whispure has a sleep mode that switches to the lowest setting when you turn the lights out so the noise won't keep you up at night.
Of course, the value of an automatic mode is only as high as its sensors. Not all of them are perfect, and you may find yourself manually switching fan speeds from time to time. Perhaps the best way to automate your air purifier is to link it into a smart home system with your thermostat. If that's something that appeals to you, check out the Blueair Classic. It's Wi-Fi enabled and Alexa-compatible, so you can get hands-free control of it from anywhere.
Ionizer: Pro or Con?
No single topic has spawned more debates among air purity experts than the ionizer. An ionizer sends an electrical charge through the air. This attracts many contaminants, even those too small for most HEPA filters to capture. It can also kill any viruses or bacteria that are floating in the air, effectively sanitizing it—something most air purifiers alone can't promise.
Proponents of ionizers cite benefits far beyond simply removing allergens from the air. There are studies suggesting they can help with depression and Seasonal Affective Disorder. While some very advanced filtration systems can remove things like viruses, an air ionizer is the most affordable way to sanitize the air in your home, which can be very appealing to someone who's trying to get rid of mold.
There is another school of thought, however, that thinks ionizers do more harm than good. By electrically charging the air they create ozone, a highly reactive molecule that's not good to breathe on its own and can create some nasty chemicals when combined with common household cleaners. These detractors also question the effectiveness of ionizers, since they'll only remove negatively charged particles.
While the verdict is still out on ionizers, there's no question that they are effective at killing mold and mold spores. Most units that come with one, like the Alen Paralda, give you the option of turning the ionizer off if you're dubious about its potential side effects.
Full Reviews: Our Top 10 Air Purifiers
Filters and Maintenance
An air purifier can only work as well as the filter that's installed in it. Compared to many other appliances, air purifiers are fairly low maintenance—you shouldn't need to worry about them very often. Doing a bit of routine maintenance from time to time is still a good idea, though, to keep your air purifier working properly in the long term.
Let's break it down:
The most important maintenance you should do for your air purifier is to change the filter regularly. The lifespan listed on your filter is a good approximation of how long it will last, but it may not always be accurate. The environment and use of the filter has a big impact on how long it lasts. The dirtier your air, the more frequently the filters will need to be changed.
Many air purifiers will have on-board indications of the remaining filter life. These too often need to be taken with a grain of salt, since they're often programmed to a certain length of time, rather than based on the actual condition of the filter.
You can use your ears to help you figure out if the filter needs to be changed. If your air purifier sounds louder or more labored than it did before, a dirty filter is a likely cause. Barring that, a quick visual inspection is always an option.
If your air purifier has a re-usable pre-filter, it's a good idea to rinse it out every couple of months. Every time you change your filter, it's also a good idea to wipe off the vents and casing of the air purifier with a damp cloth.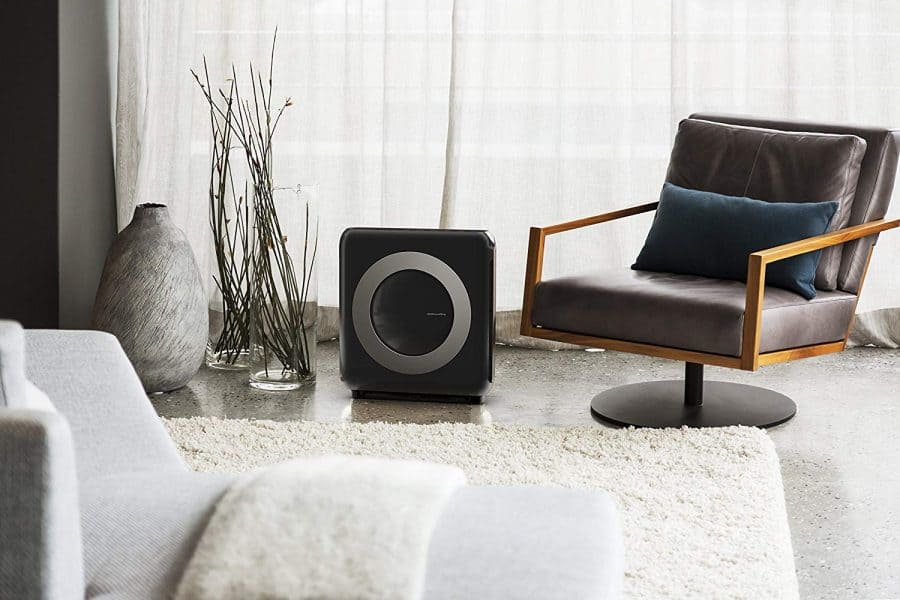 Think about it:
The whole point of your air purifier is suck in anything floating around in your air. Some of these particles will inevitably get stuck on other components before even making it to the filter. Over time, these can build up and clog the intake vents.
Not only does this make the air purifier less effective, it puts extra strain on the motor, which can lead to breakdowns and blowouts. Staying on top of the routine maintenance will help keep your air purifier working in the long term.
Filter Types
The basic process of all air purifiers is the same: air is sucked in through the vents then forced through a filter, which removes unwanted particles and passes clean air out the other side. The type of material used in that filter determines what type and size of contaminants it traps.
Air filters basically fall into two broad categories:
HEPA filters, or particulate filters, are filters that trap particles using tightly-woven fibers. The term HEPA isn't a descriptor of the filter itself but a set of air quality standards the filter is guaranteed to adhere to. To earn the HEPA label, a filter has to capture 99.97% of all particles down to .3 microns in size.
Activated carbon filters, or simply carbon filters, take a different approach to capturing contaminants. They force the air through a layer of powdered carbon, treated to maximize the surface area. Particles in the air are attracted to the carbon and cling to its surface, allowing the air to pass through clean.
What does this mean for you?
For mold, you'll probably want an air purifier that uses a combination of HEPA and activated carbon filters. A HEPA filter alone will capture the majority of mold particles and mold spores, which tend to be larger than .3 microns. Where the activated carbon filter comes in handy is in removing the associated musty odor, which a HEPA filter alone might not tackle.
There's another advantage to dual-filtration, too. In a lot of cases, the carbon filter will come before the true HEPA filter. Because many of the larger particles will be trapped by the carbon, this stops them from ever reaching the HEPA filter, extending its lifespan and letting it focus on the smaller particles that the carbon filter can't capture.