Keeping cool in the summer can be a tough job, but it's something the best tower fan can handle with ease. While they're easy to find, more often than not you'll be disappointed if you simply choose one off the shelf.
Well, we're here to help you find the perfect fan for your needs. All our options are geared towards homeowners--although we think you'll be pleasantly surprised by how much air some of these models can move for larger applications, too.
Research You Can Trust
Tower fans are simple machines, so you don't need a degree to use one. Unfortunately, that also means anyone with a webcam or keyboard can give you their opinion due to their simplicity and a low cost of entry.
Enter Bestazy.
To cut down on customer confusion, our experts dug through hundreds of fans to find the top models. We also took verified customer reviews into account along with our research and some personal experiences from several members of team Bestazy.
Our scores are calculated with care.
We've included a style and price point for anyone looking to stay cool.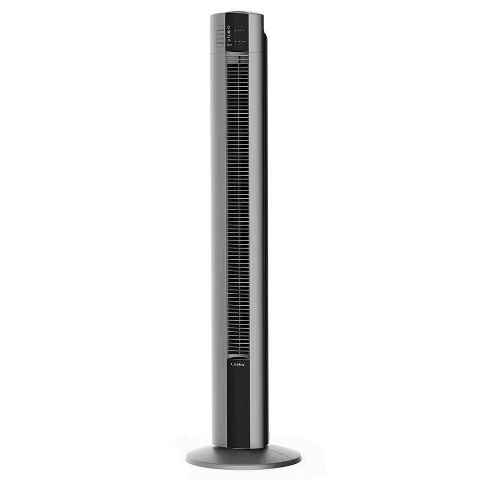 The 30-Second Review
When you're in a rush or the middle of a heat wave, you may not have time to consider all the areas we're going to discuss in our tower fan buying guide. While it can be tempting to pick up the first fan you see when the AC unit goes out, you'll want to consider a few areas beforehand…
Consider the space of the room or area you need to cool along with the power of the fan. This measurement is listed in CFM, not horsepower or RPM. Space usually isn't an issue thanks to the slender stature of tower fans, so focusing on features like oscillation filtration and noise levels should be high on your checklist.
Buyer's Guide
Buyer's Guide: How To Choose The Best Tower Fan
If you're opting for a vertical van, it may be due to space or safety concerns in your home. All of our picks are safer due to their vented design but can vary wildly in weight and height.
Size is just one factor to consider…
But before we get to that, we're going to discuss power and speed.
Towers Of Power
Tower fans are not nearly as powerful as a floor fan or the best evaporative cooler.
It's just a fact.
There are a few models out there that will surprise you, however as there's more to those ratings found on the box or in your owner's manual.
If you want to know how fast a fan can blow air, you need to key in on the CFM rating (cubic feet per minute) which tells you how much air it can move per minute. Sometimes it's difficult to find, and it can also come in different measurements like gallons or liters per minute.
We've broken things down for you with our top choices, but like most measurements of this nature, you'll want to take them with a dose of salt.
While the ratings may be perfectly legit, those companies don't tell you the distance between the fan and the airflow meter taking the measurement.
As you can imagine, that makes a huge difference along with other factors.
The overall design of the tower fan plays a large part in how air circulates as well. Even a machine with narrower vents can suffice if it oscillates or has other flow adjustments built in. The size of the room you're trying to cool matters as well, but most tower fans are rated to cool single rooms… not entire homes or huge open areas.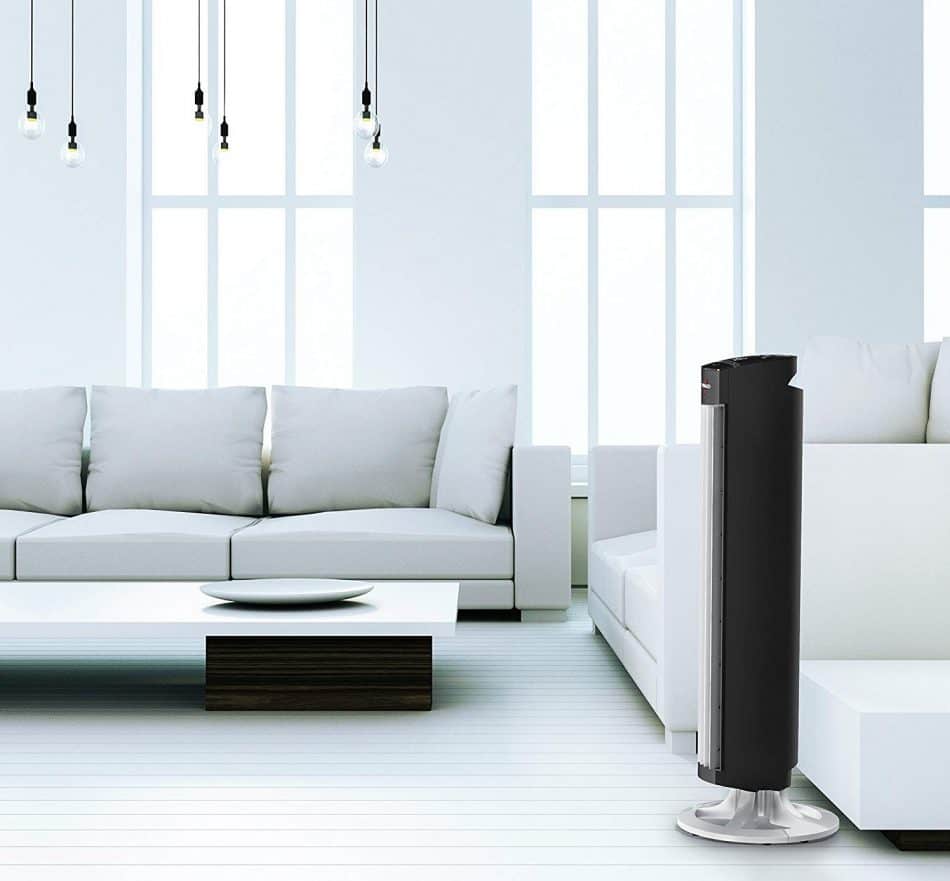 Do You Have A Need For Speed?
Looking for a fan that gives you 20 settings for speed and won't break the bank?
Well, don't hold your breath.
Most tower fans are limited in the speed department. Three speeds are standard with low, medium, and high–although Dyson and others up that number considerably.
Unfortunately, this is another deceptive area for consumers considering some manufacturers seem to "confuse" the levels with speeds these days.
Here's the deal:
If a fan manufacturer mentions "levels or patterns" they typically don't mean speed.
It's more of an environmental mode or sorts that dials the decibel levels down so you can talk over a fan or catch a little shut eye.
While handy, how well these modes work varies wildly across the board. In other words, don't get caught up in the marketing hype.
Simply put, if you require higher speeds, it's going to cost you in more ways than one.
In the course of our research, we found it was difficult to find a reliable tower fan with over 3 to 4-speeds. Anything above those numbers on basic models is like finding a unicorn in the wild. The other area where you'll pay the price is something that could potentially keep you up at night.
Are You A Light Sleeper?
Fans are different from AC units as they don't "cool" air in most cases. They just push it around the room. They're ideal at creating artificial breezes, but the faster the blades turn, the more noise they tend to produce.
If you plan to use the fan in your bedroom while you sleep, you'll want to make sure it has a low decibel level. This is another tricky rating to dig up, so we've included several examples of fans in action to give you an idea on noise levels.
There is no magic number to shoot for on the decibel chart either as it comes down to your needs along with those of your partner.
While nobody wants to scream over a fan to be heard in daylight or darkness, it's not the only issue that can cause a restless night's sleep. Those fancy controls on the tower are usually illuminated which can be a massive problem in pitch black rooms. If you've ever experienced the "LEDs of Insomnia" you already know what we mean.
An easy solution to this particular problem is to pick up a set of LightDims, but it may not be necessary if the unit has built-in dimming.
It's one feature that's hit or miss on tower fans, although something we feel should be standard across the board. As always, when you become stuck between several models, there is only one place to turn…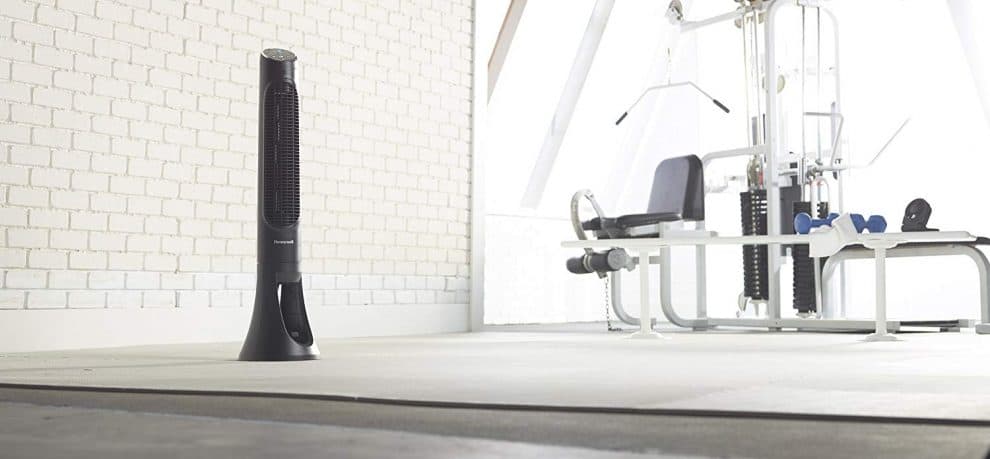 Common Features
It's safe to say fans are not the most exciting device for your home as they don't entertain you and can't tell you a joke like Alexa or Google Home.
While they will keep you comfy, they usually don't have a lot of pizazz.
This holds true in the feature department as well, so we're going to quickly cover the most common options you'll find on tower fans today.
The most common feature on fans is also the simplest – a timer.
This allows the fan to run for a predetermined time before shutting itself off. How long you get varies across the board. Some models only give you a few hours while others let you go half the day.
Fans are stationary objects by nature, even if a high-powered unit on wheels would be fun.
When you need a tower fan with broad coverage, adjustable louvers help but won't replace oscillation. It's another common feature although the amount of coverage can be anywhere from 30 to 360-degrees.
Both of those features are crucial in many cases, but if you really want to take things to the next level, here are a few things you'll want to look for…
Extra Bells & Whistles
Do you have an older home? How about pets… do you have a feline friend or a couple of dogs? If you answered yes to either question or just have allergy issues, you may want to consider a tower fan with filtration.
While you can find filters in all the best vacuum cleaners or even cheap shop vacs, they are not common in tower fans. They can make a huge difference in the air quality in a room or throughout your home, however, and maybe something you'll want high on your checklist.
Consumers looking to keep dander smoke and fine particulates at bay will want HEPA filtration. It's the best, and while charcoal and foam-based solutions are also options, they don't hold a candle to a good HEPA filter.
If you do choose a fan with filtration, keep an eye out for the CADR rating as well. This tells you how much "clean" air is cranked out and is generally lower than the overall CFM rating sans the filter.
Ionizers are another uncommon option, and so are machines that tilt.
The latter is mainly due to tip-over concerns, but Dyson and a few other companies have come up with some interesting solutions. Some of these features add incredible value to a product while others could make the fan more trouble than it's worth.
Ease Of Use
It's safe to say fans are not very complicated to use.
On most models, you'll have a power button and a few others for features like a sleep timer or oscillation. You don't need to be a rocket scientist to operate one but should still have ease of use on your mind.
How are the buttons laid out on the unit… are they touch-based or tactile?
Little things can make a big difference if you're stumbling around in the dark. You would also be surprised by how many fans forgo buttons for speed or oscillation on the unit itself.
While remote controls are handy, they can be very easy to lose, and replacements tend to be expensive or hard to find on older models. In a nutshell, make sure the tower fan has all the essential controls onboard unless you're the Sherlock Holmes of your household.
A unit with hundreds of vents and a unique design may look cool, but will it be easy to clean?
Fans get dusty, and unless you want to blow dust around the room, you'll need to keep them clean. The design of the tower fan is critical in this regard as you could spend 5-minutes or a few hours trying to get in all the nooks and crannies.
On the flip side, filters are easy to replace, and there is little to no maintenance on those funky bladeless models.
Build Quality
When you're concerned about build quality, there are still a few steps you can take despite buying online.
First of all, look at the fan itself… is it dainty or built like a tank?
On average, tower fans come with a 1-year warranty, so anything beyond that is a bonus.
Customer support should be taken into account along with the warranty. Plenty of household goods come with thin manuals, and you're unlikely to find an online help forum dedicated to a budget-friendly fan.
Are They Safer Than Traditional Fans?
By design, most tower fans are safer than larger box fans or other styles as the blades are enclosed.
This keeps tiny fingers from getting in the way.
Or tails if you have pets.
On the flip side, Dyson fans don't have blades at all and look more like a fancy air purifier or ionizer than a tower fan.
When it comes to tipping over, thing's change as these fans are taller and can tip over rather easily if bumped. The taller they are… the harder they can fall unless they have a wide, sturdy base.
Even if the outer shell is made of heavy-duty plastic, there's a good chance it will crack when it hits the floor.
Even if it doesn't, something inside the fan could pop loose which could result in noise or a complete failure to function.
While that would be a downer, it's better than the fan falling on top of your cat or child. The heaviest fan on our list is only around 15 pounds, but it will definitely leave a mark if it crashes into your head or someone else's.
The only tips we have against fans tipping over is to pay attention to the size of the base.
That's the first line of defense although cord length and placement should be taken into account as well.
You don't need to tie the fan off to a wall, but it pays to be safe unless you plan on putting the warranty to the test.
Our Top 10 Tower Fans Reviews