The Med-Life 5555 Full Sleeper Lift Chair is a piece of furniture built to suit specific needs. If you have trouble getting out of a regular recliner, this one's for you, and it happens to be the only chair we've come across that's specifically geared towards sleep.
Some people prefer recliners to beds for personal reasons, and in other cases, it's the only way you can sleep. There is a laundry list of conditions that can keep people from sleeping flat or in a traditional bed, which is where chairs like the Reliance come into play. Med-Lift's chair can handle consumers up to 375 pounds with a height between 5'6" and 6'2" with ease and will give them a boost when the sun comes up as well.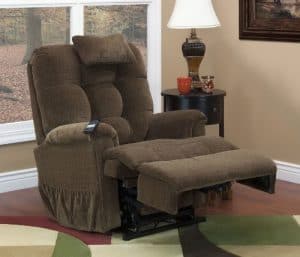 Lift Chairs have become increasingly popular over the past decade and may be something you've seen (or played on) when you've visited elderly relatives. Your hair doesn't have to be grey to enjoy this chair however as anyone that has trouble getting up or standing will appreciate the lift mechanism which brings you to your feet. We couldn't dig up a video of this particular chair in action, but here's a look at the innards of one from Med-Lift…
If you have a bad back, it's hard to argue against a chair that can help you get up from a long night's sleep. Dual motors take care of the heavy lifting whether you need to lower the seat and lay back or simply get back to your feet – a button is all it takes.
But is it comfortable?
The short answer is yes, but like with any chair, how comfortable it is depends on your needs and any preexisting conditions. It has flexible foam in the seat with five "no-sag" springs which are built to stand the test of time. The frame is made from kiln-dried hardwood and secured with corner blocks, gang nail screws, and bolts as well. It's definitely stable, and most consumers found the Coil Max tech and SoftLuxe cushion quite comfortable.
While we aren't privy to the materials used in the cover, the company claims their fibers are dustless and odorless which is great if you have allergies. They are also meet the UFAC and CAL 117 standards against flammability. Other features to note include a chaise pad, and wide magazine pocket on the side. The chair measures 36" wide by 38" deep and 43" high with a reclining length of 76" and a weight of around 195 pounds. You can see the rest of the key tech specs below…
Screenshot (edit/alter to set specs side by side)
The biggest knock on this chair is the price as it's not cheap and not everyone needs a chair that helps them stand up regardless of how comfortable it is. While pricey, it's considerably cheaper than an adjustable bed if you have medical issues that keep you from sleeping flat on your back, and the built quality is top notch. If something does go awry, the Med-Lift 5555 has a lifetime warranty on the frame, lifters, and reclining hardware while everything else is covered for 4-years.
Features
Full sleeping position
One-touch stand up feature
Magazine pocket
Chaise Pad
pros
Ample cushioning where it counts

Non-allergenic fibers

No-sag seat springs

Battery back up

Dual motors
cons
The price tag

No everyone needs a lift chair