A good dash cam will be capable of recording every bit of evidence you'll need to help insurance companies cover for any expenses accordingly.
Nowadays, there's a never-ending and ever-increasing number of reckless drivers plaguing highways and streets all over the country.
Hence, finding an appropriate dash cam for your truck will help you ensure your safety and avoid any unnecessary expenses.
However, be warned that not every car dash cam will work for every truck.
Besides dash cam, if you are particularly looking for a headset designed for truckers consider buying the bluetooth headset for truckers.
We'll examine each device and its pros or cons.

Buyer's Guide
Things To Consider Before Purchasing A Dash Cam For Truckers: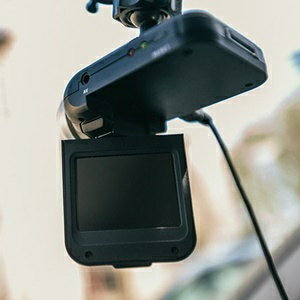 There are some important features that you should look for in a dash cam.
To start things off, you'll need to make sure that the camera is suitable for trucks – as we've said before, not every car dash cam will be useful when placed in a truck's windshield.
Furthermore, a well-made camera should be able to last for a long time without losing video quality or the overall sturdiness of its build. Additionally, we've listed more features to take note of.
Looping Capability
Looping allows the dash cam to delete old footage to free up space. It permits the camera to operate continuously for as long as it stays charged without having to worry about deleting footage manually.
It's important for this feature to be accompanied by good g-force sensors, as these usually make crashes stay "locked" in the footage and not be taken away from the cam's memory.
G-Force Sensors
A g-force sensor is a feature which detects whenever the truck is involved in a crash to trigger specific mechanism inside the dashboard camera. In most cases, it makes the recorded footage stay locked, disallowing automatic deletion without the trucker's permission.
Motion Sensors
Even when the camera is off, motion sensors might allow the dash cam to turn itself on and start recording in case some incident presents itself while it isn't active. This attribute doesn't only permit the camera to detect a potential crash, but it can also save the owner from a burglar looking to break into the vehicle.
Night Vision
If you often embark yourself on long trips, you're likely to find yourself on the road at nighttime. The night is usually a typical time for reckless drivers, so night vision recording might save you a lot of expenses.
Video Quality
All the dash cams that we've reviewed today offer HD recording. You might find cheaper cameras with lower quality resolution, but the money you save in the dash cam might come back to haunt you later.
Overall Reliability
The reliability of a dashboard camera is determined by how good its build is. If the cam is sturdy and well crafted, it should be able to last for a long time.
Having to replace these dash cams often is an annoyance. Additionally, if it breaks down when you need it the most, you would regret your decision if you bought a lower quality product.
Size
These products are often used in the truck's front windshield, so their size needs to be small enough to not bother the driver by interfering with their view. On the contrary, if you intend to use your camera on your rear windshield, size isn't too much of an issue.
Ready To Buy The Best Dash Cams for Truckers?
Spending a decent amount of money to purchase one of the high-quality dash cams we've shown you today will save you dollars in insurance costs in the future.
WheelWitness stands out as the best brand, but Anker, like a few other manufacturers on our list, also competes for the title. Hence, pick one according to what truck you have and what lifestyle you follow.
Now, which of these are you going to buy? Are you considering purchasing two dash cams? Let us know your opinions below!
Are you looking for additional tools that ensure your tire safety? consider buying the TPMS tools? Using a tire pressure monitoring system helps to maintain good tire health, fuel efficiency, and improve