Essential Things You Must Know Before Getting A Screwdriver Set
The difference between a screwdriver and a screwdriver set
It's important to understand the differences between buying a set of screwdrivers and buying an individual head for each type of repair work at home. This way, you can make the best purchasing decision with your best interests in mind.
What is a screwdriver?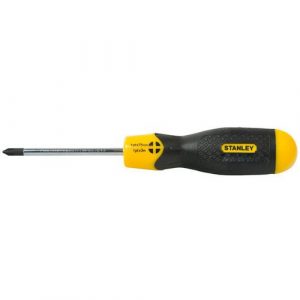 A screwdriver is any tool with a handle, a shaft, and a tipped-end designed to insert or remove screws. Normally, the shaft is constructed from a tough material that can resist bending or twisting such as steel or carbide alloys.
The most quality screwdriver sets tips come with various features such as ridged tips for added grip, hardened tips to decrease wear and tear, or treatment with a dark oxide to increase the contrast between the tip and the screws as well as prevent corrosion.
Screwdriver handles are normally built from insulators such as plastic and wood for electrical considerations, though some are made from metal. To prevent the screwdriver from rolling and to improve the grip, handles come in different cross-sectional shapes, including square, triangular, hexagonal or oval-shaped handles.
What is a screwdriver set?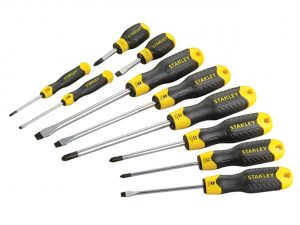 A screwdriver set is a kit that comes containing various screwdrivers and screw heads. As a result, you can use the same kit to complete numerous tasks. These can range from fixing mobile phones and laptops to large electronic devices such as heaters, as well as furniture, wiring, automobiles etc.
Some screwdriver sets come with bits/tips that can be interchanged manually by inserting a bit at the hollow end of the shaft, depending on the one you want to use.
These are then held in place magnetically, mechanically, or both. Most of these types of sets will feature a reversible ratchet mechanism, which enables you to make full turns without having to reposition your hand.
As if that's not enough…
Some bits can even be used as both screwdriver heads as well as in power tools such as drilling bits. To learn more about this, check out this buying guide concerning drill bits here.
Screwdrivers are categorized according to their tips, which are normally shaped to fit the surfaces of the screws they are meant to drive.
To ensure the longevity of both your set and what you are trying to fix, it's paramount you match the correct tip in terms of size and type to engage the specific screw head.
The tips are available in all kinds of shapes and sizes with the two most common being the simple blade-type for engaging slotted screws and the cross-recess or Phillips type that vary widely in shape – from hexagons to star-shaped screw heads.
Honestly, it would be impractical to buy a separate screwdriver for every different task needed at home or at work. That's why owning a great screwdriver set that fits your needs is crucial. This way, you will have dozens of screw heads and tips, which you can interchange into a few screwdriver handles.
Here's the deal:
To end up with the best screwdriver set for all your needs, ensure you consider all the factors mentioned above. This way, whichever brand you decide to get, you will at least be sure that it is exactly what you wanted. Now, let us dive in and look at ten of the best screwdriver set in line with our various tests and research.
01
Craftsman 9-31794 Slotted Phillips Screwdriver Set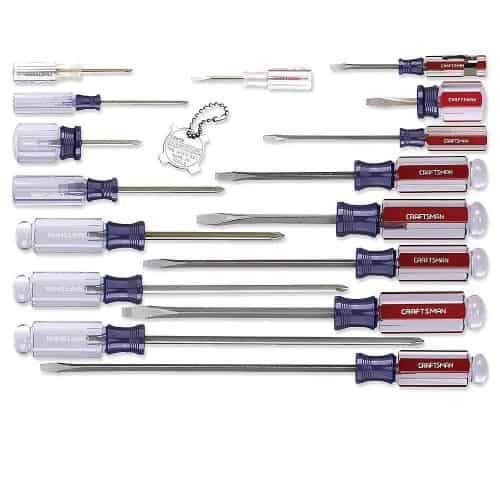 The Craftsman 17 Piece is a professional Screwdriver Set featuring 9 slotted screwdrivers, 7 Phillips screwdrivers, a 4 in 1 pocket chain and 16 handles. We found this to be a complete set, sufficient for handling most standard fixtures at home or in the office.
The set comes with three different lengths for the most commonly used sizes such as the slotted 3/16 and Phillips #2. As a result, this set is perfect for reaching deep-seated screws as well as working in small spaces where you might need to work at an angle while using long screws.
The whole unit seems well made and weighs 2.4 pounds. The handles are made from butyrate, a highly durable material that can handle long exposure to wear and tear. We found it easy to grip the handles even while oily. Each blade in the set is heat-treated for maximum strength.
However…
They are not magnetic. As such, we found it a bit hard to use this set when opening small devices.
What's more:
Craftsman has managed to put a great combination of screwdriver parts for an all-around home and office use. The make is high quality, though not professional grade.
That being said, they should last you a long time with normal use. However, they are not designed to take huge hits, so do not use them as chisels. One thing we found inconvenient with the Craftsman screwdriver set is the lack of a storage casing, which means the package may arrive scattered all over in the box. The set is manufactured in the USA.
Features
Nine slotted screwdrivers ranging from 3/32" to 6"
Seven Phillips screwdrivers ranging from #0 x 1 1/2" to #2 x 8"
Heat-treated blades for maximum strength
A 4 in 1 pocket chain
16 handles all made from butyrate
---
Pros
Heads are color coded for easy selection, with red for Phillips and clear for the slotted tips
Comes with three different lengths
High quality
Cons
The blades are not magnetic
Thay are not designed to take huge hits
---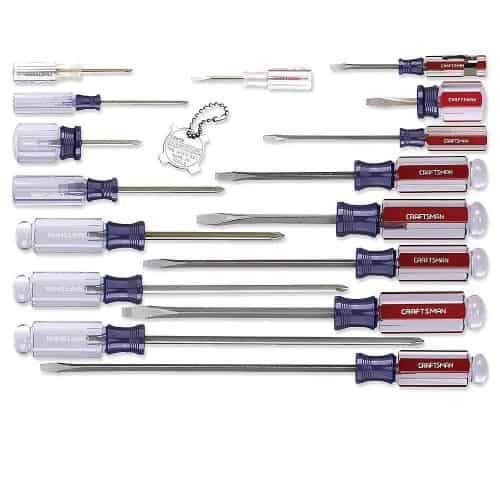 02
TEKTON 26759 Slotted and Phillips Screwdriver Set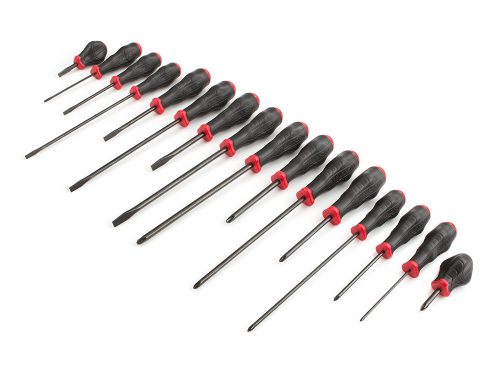 The Tekton 26759 16-piece model is a well-made screwdriver set with high-quality products. The set includes eight slotted screwdrivers ranging from sizes 1/8 x 4 inches to 5/16 x 8 inches. It also comes with eight additional Phillips screwdrivers from #0 x 4 inches all the way to #3 x 8 inches.
It features three-sided, textured handles that we found very useful in providing maximum grip and torque while comfortable to use. The full-length handles are also rounded providing comfort and easy control. The 4-inch stubby screwdrivers are compact and come in handy when you have limited room to operate. All the blades are made of high-quality chrome molybdenum steel and heat-treated for durability.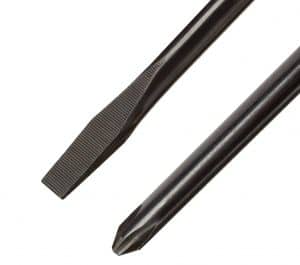 As if that's not enough…
The tips have a black oxide finish, which prevents corrosion, increases the contrast between the blade and the screws as well as increasing grip.
In our experience…
These screwdrivers are perfect for anyone working on an automobile, doing some wiring and other medium scale household tasks. It fits perfectly in your hands, it is sturdy and should last you a long time if used correctly.
The markings on the butt of the handles on these tools make them easy to spot and pick the correct size, though color-coding the slotted and Phillips drivers would have been more helpful.
They are, however, very light, and we do not recommend using them as chisels. One of the issues we found is that the blades are not magnetized, making it a bit cumbersome when engaging screws.
Features
Three-sided, textured handles provide more grip and torque
Chrome molybdenum steel blades for durability and exact fits
Features a protective black oxide coating that prevents corrosion
Different sizes are indicated on the handles for easy identification
Manufactured in the USA
---
Pros
Screwdriver set with high-quality products
Comes with eight additional Phillips screwdrivers
Fits perfectly in your hands
Very light
Cons
Some of the tools such as the 3/16 and 1/8 slotted pieces bend easily
Blades are not magnetized
---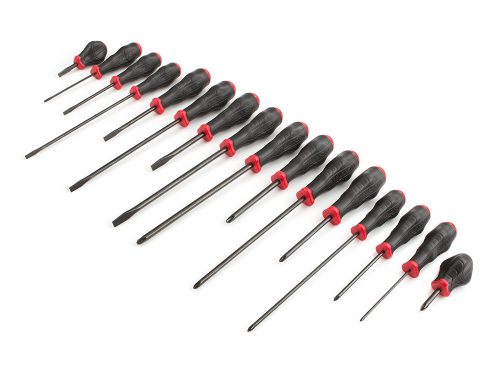 03
GearWrench 80066 20 Piece Master Dual Material Screwdriver Set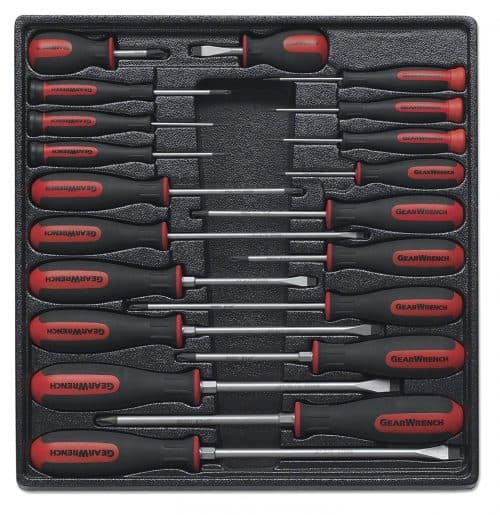 The GearWrench 80066 20 Piece screwdriver set is a great bargain for anyone looking for quality screwdrivers at a fraction of the cost. The set contains nine different types of slotted screw heads ranging from ¼ x 1 ½ inches to 3/8 x 8 inches, eight Phillips screw driving heads and two Torx screwdrivers. The oil and acid resistant handles are ergonomically designed to make them easier to handle, however, they feel small and more plastic than rubbery that reduces the grip.
Best of all…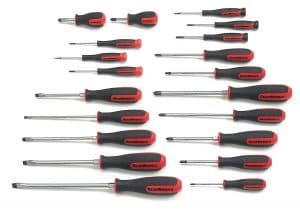 The shafts in this set are all made from strong chrome vanadium steel and they are not easily twisted or bent according to our tests. The shafts are rust and corrosion resistant with a black oxide coating on the tip, which improves the grip as well as reducing glare.
By the way…
If you get this set, you'll be covered for most of the household chores that might need taking care of around the house or office due to the numerous sizes included. The shafts are strong enough to handle what they are meant to and the big ones even have a hexagonal bit for use with a wrench in case you require more torque. After you are done, you can fit everything back in the case that looks a bit cheap but works fine.
On the other hand…
The set is not recommended for serious professionals such as mechanics since most of the tools will not be able to keep up with daily heavy-duty use.
Features
Magnetic tips
Oil and acid resistant handles
Tips covered in black oxide
Tri-lobe ergonomic handle for maximum grip and comfort
Size and part number are laser etched on chrome vanadium steel shaft
"Speed Zone" for easy turning in lower torque applications
---
Pros
Set contains nine different types of slotted screw heads
Ergonomically designed
Shafts in this set are all made from strong chrome vanadium steel
Cons
Parts may get twisted or bent after heavy use
Feel small and more plastic than rubbery
Recommended for serious professionals
---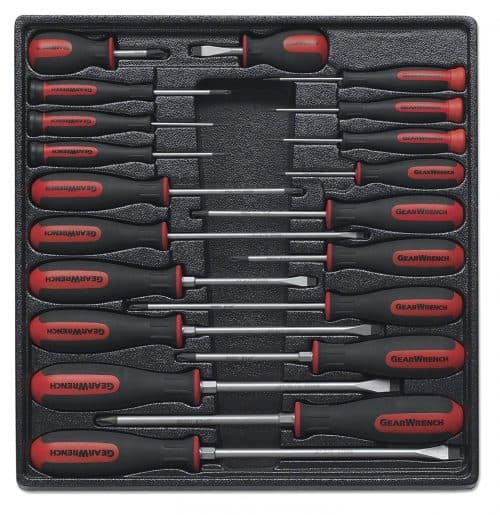 04
Mayhew Select 66306 Cats Paw Screwdriver Set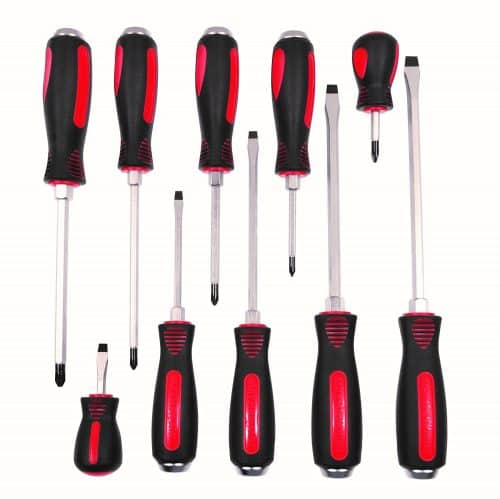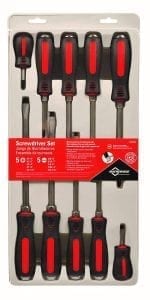 The Mayhew 66306 is a 10-piece screwdriver set that comes with five Phillip type screws ranging from #1 to #3 and five slotted screw heads from 7/32 inches to ¼ inch. We found this set to be comfortable to use, sturdy and very durable – a difficult combination to find in most screwdriver sets.
The ergonomically designed handles are capped and offer maximum comfort and maneuverability. The steel shafts extend all the way to the striking cap; therefore, you can use the screwdrivers as a chisel without damaging the blades.
The blades have shot blast tips for maximum grip and feature a hexagonal design, which makes it easy to attach a wrench in case you require more torque. The whole screwdriver set is heavy, weighing a total of 12 pounds.
As it turns out…
The May66306 performs much better than expected considering its price. The soft, triangular handles provide great grip and they will not tire your hands as you work. If you're looking for a screwdriver set that's close to the professional models but at a lower price, this is the way to go.
Features
Set includes five Phillips screwdrivers and five slotted screw heads
Comfortable triangular handles with capped ends
Hexagonal blades for more torque when needed
Shafts extend all the way to striking cap
Features shot blast tips
---
Pros
Comes with five Phillip type screws
Comfortable to use, sturdy and very durable
Maximum comfort and maneuverability
Cons
A limited number of screwdrivers
Screwdriver set is heavy
---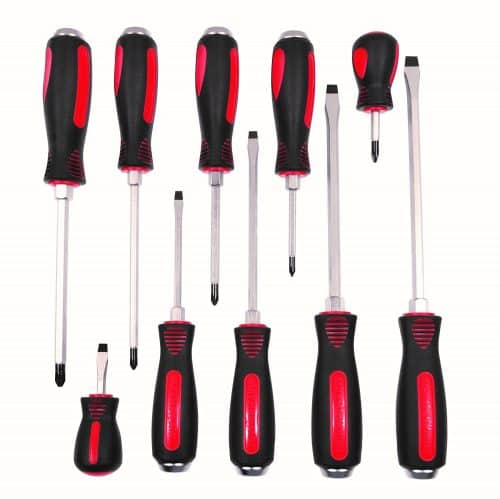 05
Williams 100P-19MD Premium Mixed Screwdriver Set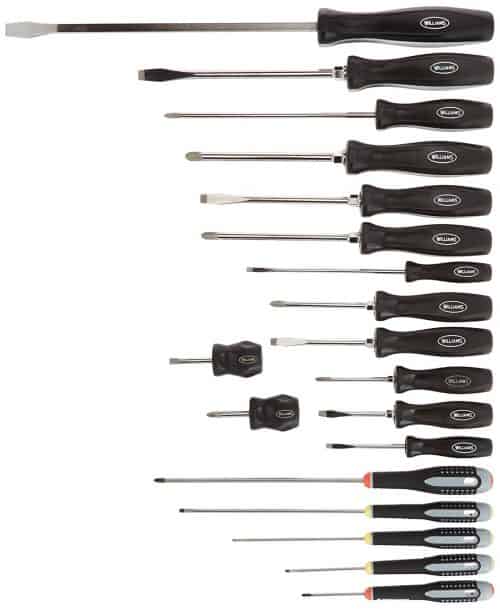 The Williams 100P-19MD is a 19-piece screwdriver set that comes with a wide-ranging assortment of screwdrivers to handle most of the common jobs at home, including fixing your car. The kit includes ten slotted screwdrivers and nine Phillips.
In case you have used Snap-On screwdrivers before, these are identical to the old models before they changed the handle design. The only difference is they're about 1/8 inches longer.
All the handles have a triangular design, which we found to be great in terms of grip, even when working in greasy conditions. The handles have a textured, comfortable grip with a thumb stop that boosts torque and avoids slipping. The whole unit weighs 5.9 pounds.
The Williams 100P-19MD is manufactured in the USA; however, the carrying case is manufactured in China. Even so, the case is made of good quality materials and it holds everything nicely where it needs to stay.
We found the blades in this set to be sturdy and some of them long enough to reach even the deepest screws. Nonetheless, they are not strong enough to be used as a chisel as some of us are guilty of doing. The shafts have hexagonal sections that you can use with a wrench for more torque. The tips of the shafts have also been ridged which offers better grip. We were also able to clean the smooth handles and cylindrical shafts much more easily compared to other brands.
Features
Set contains a wide range of screwdrivers to get different jobs done
Williams™ grip handle is comfortable with thumb stop allows for more torque without slipping
Triangular designed handle offers maximum comfort grip even with greasy hands
Made in the USA
---
Pros
Triangular and textured handles provide maximum torque
Hexagonal shaft sections for wrenching to increase torque
Cons
Some of the screwdrivers in the set were defective and poorly assembled
The blades are not made of the highest quality steel and can bend/twist under heavy use
---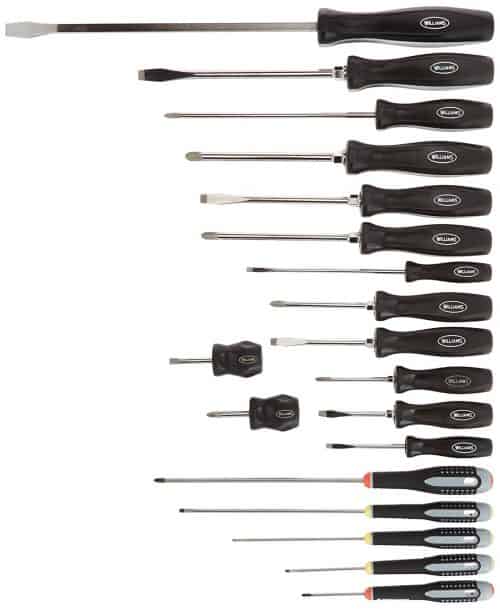 06
Wera Kraftform Kompakt 62 Bitholding Screwdriver and Pouch Set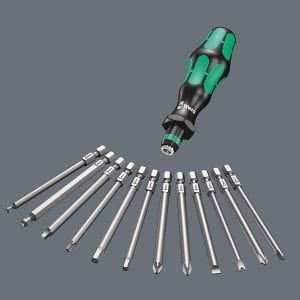 The Wera Kraftform Kompakt is a German engineered and made screwdriver set that comes with 33 different pieces. These include 32, 3½ -inch bits that encompass six hexagonal bore-hole bits, three Phillips bits, three spanner bits, three Torx bits and three tri-wing bits. The pouch includes a bit holding set as well as long bits that can be interchanged easily. The bit holder comes with a quick-release feature that makes for both easy and fast one-handed bit removal and insertion.
All the handles are designed ergonomically, and we loved how they fit nicely in your hands while offering high torque transfer. If you purchase this set, you will enjoy Kraftform's limited lifetime warranty. The kit weighs only 1.6 pounds.
When the Wera Kraftform Kompakt arrives in the appealing, compact, and well-padded pouch that holds everything tightly in place, you'll recognize the attention to detail immediately. The quality of each tool is impossible to top.
Here is the truth:
The bits are precisely made and of great quality – we didn't notice any wear and tear even under heavy use. However, they will rust if left in a wet environment.
The set does not feature as many flat-head screws as many people would expect, but you will find extra PZ, Hex, and Torx screws. This is common in sets manufactured in the EU. The whole pouch is only as big as the palm of your hand.
No wonder…
This set is perfect for engaging small screws like those found on electronics and toys.
Features
Includes Kraftform bit holding screwdriver set with 32, 3 ½-inch long bits,
Casing for easy transport and storage
Kraftform handle and exchangeable shaft system allows for quick blade changes without special equipment
Comes with the Rapidaptor™ bit holder that features a quick-release mechanism for fast, one-handed bit changes
Ergonomically designed Kraftform handle offers quick and effortless operation
Limited Lifetime Warranty
Manufactured in Germany
---
Pros
Made from high-quality material and with high precision
Contains a wide variety of bits to choose from
Cons
Contains only one flat-head screwdriver bit
May not be very useful in-case you do not intend to use the rare screwdriver types such as the spanner and Torx bits
---
07
Precision Screwdriver Set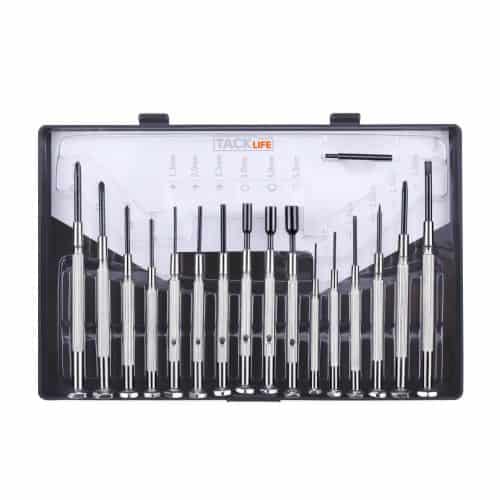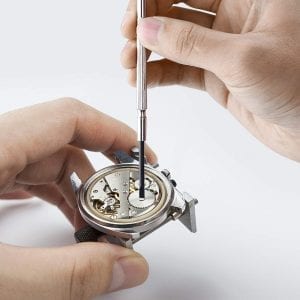 The 16-piece Precision screwdriver set from Tacklife is a useful piece of equipment to have around the house. It contains three hexagonal screwdrivers, three socket pieces, four Phillips screw heads, and six slotted screwdrivers with one rotated rod.
We found this set great especially for anyone seeking to repair anything with tiny screws such as electronics, toys, and jewelry. The shafts are made from heat-treated chrome vanadium steel and they look very durable.
The tips have a corrosion-resistant, black oxide finish and are fluted, which makes it easy to handle them. There is also a 360-degree swivel-head handle that's extremely useful for precision jobs. The whole kit weighs 14.9 pounds.
In the advertisement pictures, this set looks a bit small.
But it isn't.
The biggest drivers are about 7 inches long and the small ones are four inches. They can fit perfectly even if you have large hands. Unlike many sets out there, this one includes nut drivers and the units are indicated in metric format.
By the way…
We found the storage case a bit huge, but this is not a deal breaker. The set is perfect for handling all the small and precision tasks at home.
On that note…
If you need to open bigger screws, however, this is not the set for you.
Features
Includes 16 different screwdriver types and sizes
Shafts are made from chrome vanadium steel for durability
Blades are hard tempered with the tips covered with black-oxide for longevity and durability;
Corrosion resistant shafts
Shafts are plated and fluted for a solid grip
Includes a 360-degree swivel-head handle for better control
Includes a hexagonal screwdriver with a hole for increased torque when used with the rotating rod
Comes in a large plastic storage case to keep everything organized
---
Pros
Contains a decent number of screwdriver heads great for precision tasks
Includes storage case
Chrome vanadium steel blades are corrosion resistant, plated and fluted for a solid grip
Cons
Not suitable for heavy-duty work
---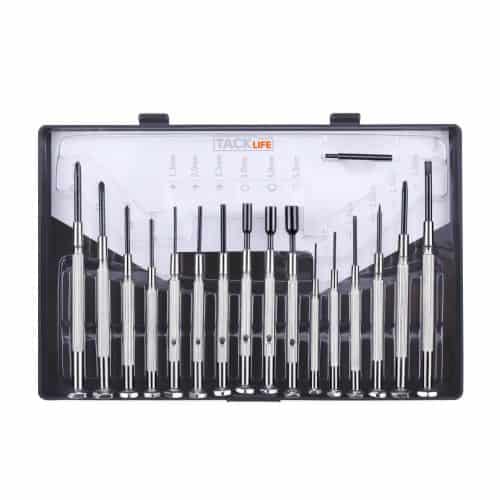 08
GearWrench 8940 40 Piece Ratcheting Screwdriver Set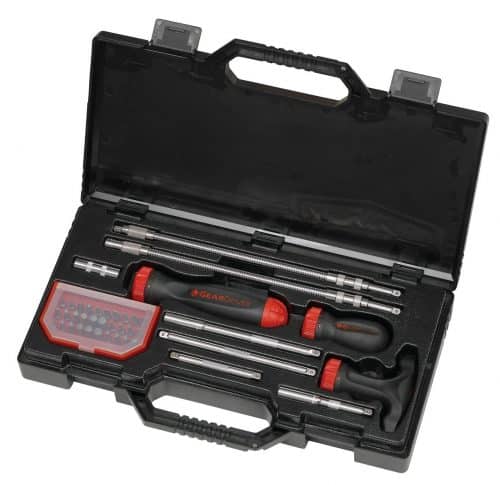 The GearWrench 8940 Ratcheting screwdriver set is well worth the money for anyone looking for a versatility in his or her tools. This 40-piece set comes with thirty drive bits consisting of both flat and Phillip type tips, three different handle types (standard, T-shaped and stubby), two-socket driver shafts, two magnetic bit driver shafts, a flexible socket driver shaft and an adapter for joining different driver shafts.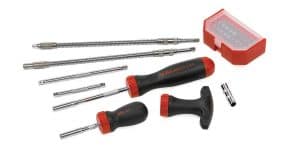 We found the T-handle great for working on devices with many Torx and Allen screws such as a motorbike. The stubby handle allows you to utilize the longer shafts to form a very useful screwdriver. We found the large handle to be too huge for most household tasks, but it's still a great addition to have.
The screwdrivers are fitted with fine tooth ratcheting technology and it provides more strength and a smooth ratcheting arc. For easy grip and high torque, the handles are contoured and feature a dual durometer design.
When working with this set, you'll notice most of the drivers are on the heavy side considering the size. This is not such a bad thing, especially because the heavier the devices, the higher the quality.
However…
It does not apply in this case since some of the shafts can get twisted easily. In addition, the stubby ratchet handle is a bit frustrating to use since its direction can be easily changed accidentally. For those finding it hard to pick the specific bits from the case, use the magnetized sockets over the bit and they will come off as easily as magic.
Features
Ratcheting screwdriver set with forty pieces
Easy to use thanks to the fine-tooth ratcheting technology
Various interchangeable shafts allow easy access to any screw head
Contoured handles improve grip and reduce fatigue
High-quality blow-molded case
---
Pros
Comes with a wide range of 30 screw driving bits
Magnetized sockets magnetize the bits and hold screws in place
Cons
It's easy to accidentally switch the ratcheting direction when using the stubby handle
Hard to pick the bits using bare hands
---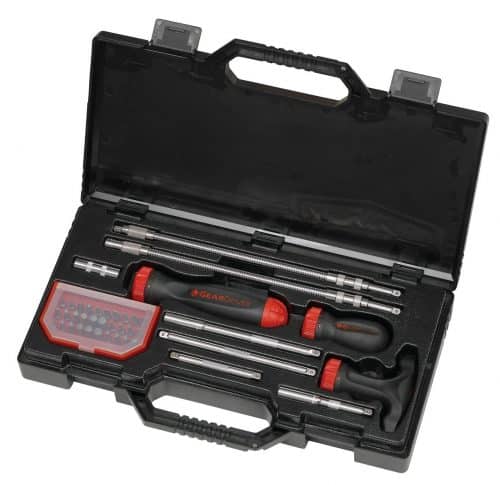 09
Capri Tools Mechanic's Screwdriver Set, Oil Resistant Handle with S2 Steel Shaft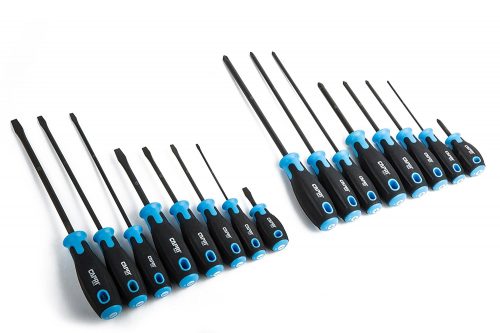 The Capri Tools Mechanic's 16-piece Screwdriver Set is a professional set of tools that contains 16 of the most utilized screwdriver heads. Our kit arrived with eight slotted heads ranging from 1/8 x 4 inches to 5/6 x 8 inches and eight Phillips from #0 x 4 inches to #3 x 8 inches all in perfect condition.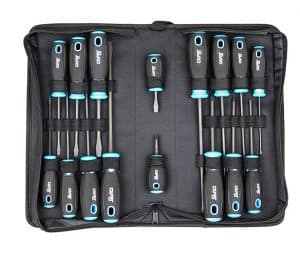 In general, we noticed the set is built from a very high-quality material. Its handles are rather large and made to be non-slip. They provide the necessary torque even under greasy conditions.
They're also acid and grease resistant, making this set great if you work under such conditions.
The shafts are made from S2 premium steel that is shock resistant, and even tougher than chrome vanadium. It does not seem like it would bend even under heavy use. The shaft has a dark, corrosion-resistant coating that prevents glare and reduces eye fatigue. The whole kit weighs 4.05 pounds. You can view the set in this video.
Capri's 16 piece screwdriver set lives up to its expectations of being of very good quality and strong even under heavy use. The tips did not show any kind of denting even as we drove one into hardwood and it hit a nail. The magnetic tips also work great, holding the screw squarely in place when needed, and after you are done, everything fits nicely back in the case.
Here's the catch:
The only issue we noticed with Capri products is quality control. There are many complaints from various customers who received a set with defective parts such as bent shafts. The product is manufactured in China.
Features
Contains 16 pieces of magnetic-tipped slotted and Phillips screwdrivers in either short or long sizes
The composite non-slip handle provides 30% more grip in normal conditions, and 100% more grip in greasy conditions compared to traditional screwdrivers
Oil, grease, and acid resistant handles
Shafts are made of tough, shock-resistant, premium S2 steel
Features a protective black oxide finish that protects the shaft from corrosion as well as preventing glare and reducing eye fatigue
---
Pros
Tips are magnetic and coated with black oxide for better performance
Built from a very high-quality material
Cons
Poor quality control hence chances of finding a defective part
---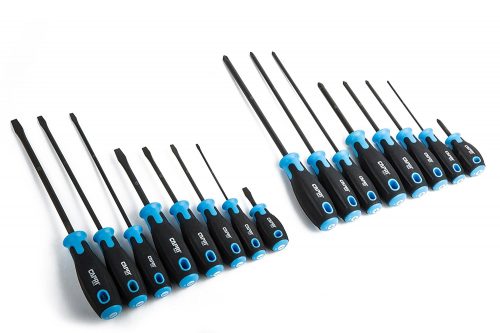 10
Channellock SD-7CB Code Blue Screwdrivers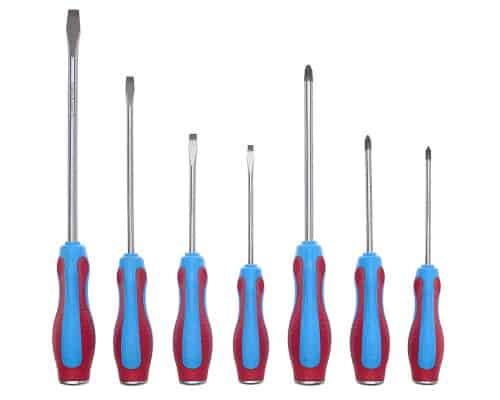 We found the Channellock SD-7CB to be an excellent set of screwdrivers that are comfortable to use even for extended periods. The seven-piece kit comes with four slotted screwdrivers ranging between ¼ x 4 inches to 3/8 x 8 inches and three Phillips screwdrivers ranging between #1 x 4 inches to #3 x 6 inches. The shafts are made of strong Go-Thru steel that has magnetized tips to hold screws well in place when working.
It also features triangular hand-mold design handles that provide all the torque and grip you will ever need. Channellock has made it easy to pinpoint the screwdriver you want by laser etching the size and type on top of each handle. The whole set weighs approximately 3 pounds.
All the components of the Channellock SD-CB have a quality and sturdy finish. At first, the triangular handles may feel a bit funky.
But once you get used to it…
You'll realize that they work much better than the traditional ones. Click here to watch the video.
Now get this:
You are not supposed to use screwdrivers for chiseling, however, these have very strong steel caps at the end of the handles that can be struck hard without destroying the blades. The only issue we noticed is that the blades lose their magnetism too quickly,
Nevertheless…
This should not be a deal breaker. We recommend this set for anyone seeking to complete some routine tasks at home or in the office due to the limited number of screwdrivers in the set.
Features
Contains 4 slotted/flat screw heads and 3 Phillips screwdrivers
Shafts have magnetic tips
Shafts are made from Go-Thru steel blades
Triangular handle grips provide high torque
For easy identification, handles have steel caps laser etched with the type and size
---
Pros
Blades are magnetic
High torque due to the triangular handle design
Cons
The blades lose their magnetism quickly
Only seven screwdrivers are included in the set
---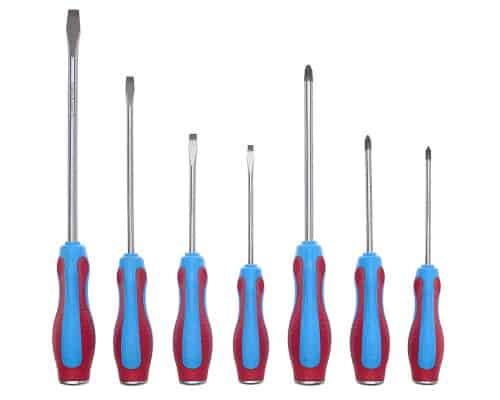 Summary
By now, you probably realize just how important it is to buy the best screwdriver set. After all, it's a necessary tool for every household to have for the simple reason that nobody lives in a house without screws.
The issue is…
The appliances, devices, and furniture in our homes are not fitted with the exact same screws. Therefore, even though one job may require a small screwdriver, the next may require something ten times its size or even that of a different type.
The review above has tried to summarize all the important features, pros, and cons of 10 great screwdriver sets on the market today. However, to make a more informed buying decision, let us look at the different types of blades and screwdrivers in a little more detail.
Types of screwdrivers and blades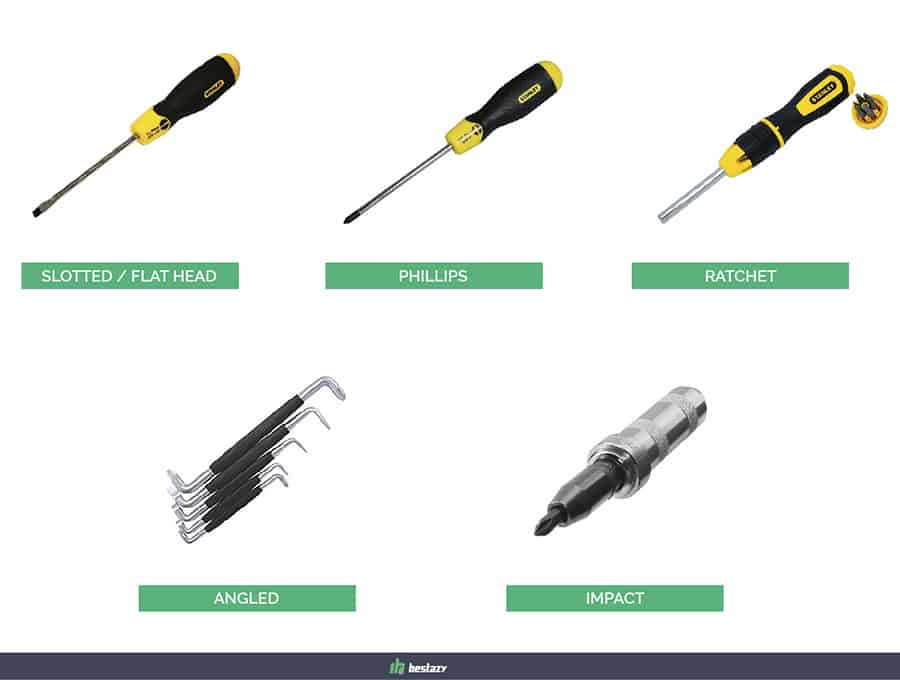 Slotted/flat-head screwdrivers
This is the most common type of screwdriver and arguably the most used, from removing screws to opening tins. As the name describes, this type has a flat tip that can vary in size, from those small enough to fix watches to those large enough for industrial plants. Most screwdriver sets will include different assortments of slotted screwdrivers meant for different uses.
When using slotted screwdrivers, be sure to apply enough pressure and hold the tool at right angles to the screw to avoid slipping which may cause injury.
Under this category, you can also find flared slotted and parallel screwdrivers. Flared slotted are simply screwdrivers with flattened tips that make them wider than the rest of the shaft.
On the other hand…
Parallel drivers have the same tip width compared to the rest of the shaft. They are useful in engaging hard-to-reach screws that are pre-drilled according to the head.
Phillips screwdrivers
Phillips screwdrivers are star-shaped and may contain from three to even nine sides. They come in handy when opening screws in electronic appliances such as phones and laptops that have rare screws. We also have a variation of these screws known as Pozidriv screwdrivers that have a blunter point compared to normal Phillips. As a result, the end of the driver does not go past a certain point in the screw hence preventing the risk of sliding.
Ratchet screwdrivers
Ratchet screwdrivers have a mechanism, which allows the user to move only in one direction with maximum torque and little motion. They are extremely useful when working with limited space and at weird angles.
Angled screwdrivers
In order to reach even the most hidden corners, such as when installing cupboards, some screwdrivers are angled in such a way that they fit into the screw, provide enough room, and angle for turning with sufficient torque. With the help of a good bit holder and wrench, you can make these drivers even more versatile.
Impact screwdrivers
Impact screwdrivers are those that are sturdy enough to take in a lot of impact and hence be used interchangeably as a chisel and screwdriver. Such tools usually have a metallic cap on the butt of the handle and a shaft that extends all the way to this cap.
If you have done some online research concerning screwdriver sets, then you already know that choosing the right one out there is not the easiest task. However, armed with the tips, buying guides and in-depth reviews compiled in this posting, you are in the best position to make the best choice that fits all your needs.
Remember
It's better to spend a bit more to land on the best screwdriver sets since there are very many unreliable brands out there that perform poorly and may pose serious risks.
Checklist To Help You Pick The Best Screwdriver Set
To ensure you are on the safe side, therefore, the following is a checklist of the things you should always consider before settling down on that specific model of screwdriver set.
What do you need a screwdriver set for?
Before shopping for a screwdriver set, you need to first, know what you will be going to use it for most of the time. For instance, do you need one for use at home, or are you a professional that requires precision tools? Otherwise, will you be performing mechanical tasks or minute fixtures around the house? Asking yourself these questions is crucial since they will determine the number, size, strength, type and even the price of the screwdriver set that is most appropriate for you.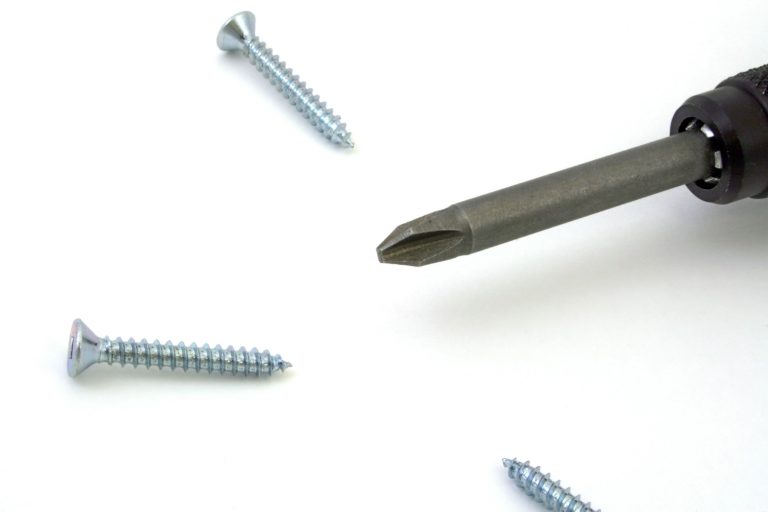 Type of screwdriver heads included in the set
First,
You have to answer the ultimate question.
Why do you want a screwdriver set?
That's the best way to ensure you get one that has all, or at least most of the heads you anticipate to use the most.
Next:
Check for the number of heads included in the set, from the smallest to the largest, and compare this with the screwed items you have at home to establish the most relevant kit for you in terms of size. Also, check the type of screws you have at home or at the workplace. Are they flat, Torx, Phillip or hexagonally shaped? If yes, ensure the set you want to get contains all these.
Handheld or Bit set
Screwdriver sets can be loosely classified as either handheld or bit sets. The handheld sets can fit your needs if you require few options for routine fixtures since it comes with a just a few screwdrivers. When dealing with more complicated screws such as those in phones, tablets, and laptops, it would be a better idea to go for a bit screwdriver set. These come with many screw bits that can be interchanged for different purposes.
Material
Since screwdrivers are mechanical tools, they need to have enough strength to handle all the twists and turns they'll be engaged in during day-to-day use. The best brands have strong handles, screwdriver heads, and shafts made from chrome vanadium steel, which is strong and resistant to wear and tear. Carbide alloys are also very strong but expensive.
Number of bits/screw heads
As a rule of thumb, the more the number of bits in a screwdriver set, the better the set. This is because a wide range of screwdriver heads will allow you to fix a huge number of appliances and devices around you. On average, most bit sets have at least 12 different screwdrivers or 30 different bits.
Cost
Screwdriver sets vary widely in terms of price range. The price will be determined by the quality of the parts, the brand, as well its use. For instance, precision screwdriver sets are more expensive compared to general sets meant for household use. Avoid cheap screwdrivers that lack any kind of quality assurance to avoid any accidents and bad experiences.
Length and size of screwdrivers
One of the most important factors most people ignore while buying screwdriver sets is the width of the heads and length of the shafts. Longer shafts give you more torque and are great for heavy-duty use, such as driving screws into hardwood or metal. In addition, the tips come in different lengths, shapes, and sizes.
Handle Grip
When working with a screwdriver, it should fit perfectly into your hands without slipping or sliding, even in oily conditions. The best sets come with specially shaped handles with a textured material, ergonomic designs and other features that improve on the grip.
Bit/Tip quality
It is also vital to consider the quality of the tips in the set you intend to buy. The best brands have sandblasted and magnetic tips that attract screws magnetically for better grip. Some also feature a protective black oxide covering that prevents corrosion and reduces glare.
How heavy is the screwdriver?
The weight of a screwdriver is important because it affects the grip of the tool. Normally, heavier sets have better grip and are made from better quality material and vice versa. This rule does not always hold though since some sets are designed for operating small equipment only.
Manufacturer
As with any appliance, the people behind it determine everything, from quality and customer service to the price. In this review, we have only included sets from the best global brands to make it easy for you to make your pick.
Get Your Hands On The Top Rated Screwdriver Set
While there are certainly some very high quality screwdriver sets out there that are worthy of their large price tags, in most cases, it's going to be overkill.
If you're shopping around for a set to keep around the house for a variety projects, you're going to want a larger set with a a bunch of different options.
But you're not going to want to pay professional tool prices.
That's what we loved about the screwdrivers we think are the best of the best…