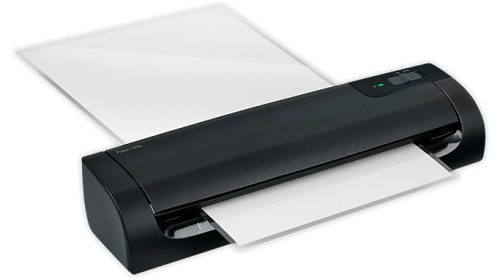 Do you still spend time going to a specialty shop and paying for your documents to get laminated? If the answer is yes, you have a chance of making up for some lost time. Not to mention improving the quality of your work by buying one of the best laminators available today.
Just like computers and printers, laminators have made some headway in their evolution. There are some great ones that can easily fit in your home, school, or office without leaving a dent in your wallet.
Lamination is a quick and easy method of ensuring printed documents are kept safe from general wear and tear. The print is protected by bonding clear plastic film to either one or both sides of the print. Lamination is a permanent solution which uses heat or pressure (or both). This process makes them impermeable to liquids. Lamination protects prints from getting smudged, creased, sun-damaged, abraded, wrinkled, stained by grease, environmental damage, and other disasters that can wreak havoc on your documents.
Lamination also improves print appearance by adding contrast and providing a higher quality finish to documents such as business cards, brochures, leaflets, and so forth.
In-Depth Research You Can Rely On
We always strive to provide the most useful and objective reviews. To achieve this, we have a policy to NEVER accept products directly from manufacturers. Rather, we research every model of the appliances we evaluate on our own.
To come up with the rankings for the best laminators available in 2017, we tested the products based on various factors including: pricing, portability, versatility (influenced by pouch thickness and entry width), laminating speed, ease of use, and safety features. Additionally, we listened to firsthand input from real-life users of the products and experts in the laminating industry.
Buyer's Guide
Making A Decision Between The Best Laminators Available Today
As you saw in the chart above, we loved the Apache AL9, but as far as which is the best laminator for you, it all depends on the amount and type of work you want to do with it. This is because different people have different needs that can be met through different appliances. After you know exactly what you want, picking it from a crowd will be a piece of cake.
Buyer's Guide: Choosing A Great Laminator That Fits Your Needs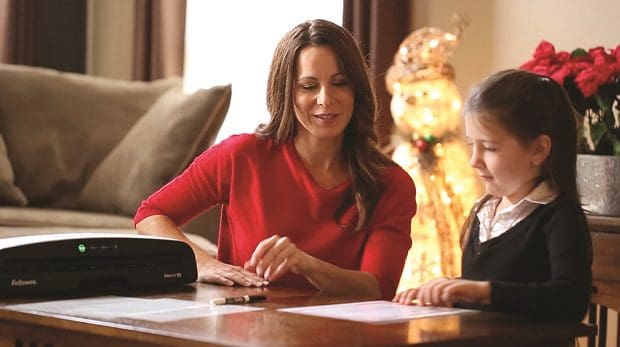 Selecting a laminator for your home, office, or school depends on specific factors that you'll need to keep in mind while browsing through the various available brands. This will ensure you're aware of the most important qualities and end up with a great machine that doesn't cost a fortune, yet fits all your needs. Just like it was just made for you. We've compiled some of these factors below, take a quick look.
Frequency of use
The first thing to consider is how often you're going to use the machine. If it's for a school or business, most likely, the usage will be moderate to high. Therefore, the smart thing is to go with a laminator that can handle heavy laminating needs such as a four or six roller thermal laminator.
If the laminator is for occasional use, the best option is to go with a more economical pouch laminator.
Size of documents to be laminated
Laminators come in a different range of entry widths that typically range from photo laminators with 4-inch widths to extra-wide format laminators that span 27-inches. The larger the width, the more versatile your machine will be. Most document laminators have an entry width of 9-inches. If your work entails laminating small or medium-sized documents such as ID tags, recipe cards, or letter-sized laminates, then one with a 9-inch entry width and above is enough.
Level of protection needed
Laminating machines are designed to keep documents safe from damage. Documents that are handled more frequently require thicker laminates to get the job done over a reasonable amount of time. Different laminators use laminating rolls or pouches of different thicknesses. These are measured in mils. The higher the mils, the thicker and more rigid the laminates.
In a nutshell, the standard size is 3mil which is best for the occasional handling of photos, menus, or other documents where pouch flexibility is not an issue.
Type of laminating machine
Laminators come in two main categories: thermal and cold.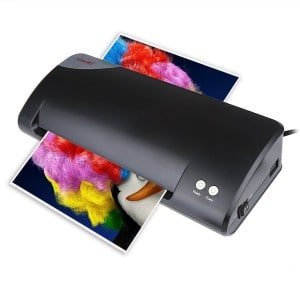 Thermal (or hot) laminators work by heating the printed material and the laminate film to create a bond.
Something I wanted to make note of is that laminate rolls or pouches are too thin. This causes the laminate to lose its crystal-clarity and can even damage your machine. With that in mind, be sure to use at least 3mil pouch laminators. And, preferably, one with adjustable temperature settings.
Most machines have an automatic shut-off button in case of over-heating. To avoid jamming, ensure to always keep your thermal laminator clean to remove the glue that gums up the rollers.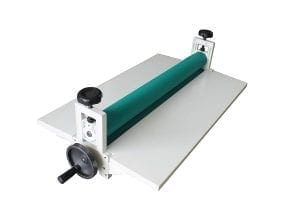 Cold laminators are best used when dealing with heat-sensitive documents. You'll need to get self-adhesive laminator rolls which can also be applied without a machine. But for quality results, it's best to use a laminator. Using a laminator machine will remove air bubbles and give the product a polished finish.
It's also more convenient to use a machine for large documents such as maps and banners. With cold lamination, you can also make a temporary laminate using repositionable sheets. These can be easily peeled off without ruining the underlying material.