Finding The Best Whole House Humidifier – The Ultimate Buyer's Guide
Why keep optimal humidity in your house?
Basically, humidity is nothing more than the amount of vapor in the air. But if the air in your house is very dry, this can affect both your health and your household.
I'm sure you already know this, but let's be on the safe side and recap:
Here's how using a humidifier will help you improve upon your wellbeing:
You'll reduce the risk of infections
Your skin will remain soft and irritation-free
Your lips won't crack anymore
You'll prevent a sore throat
You'll prevent dehydration
Your allergy symptoms will be reduced
You'll fight off colds much better
You'll protect your sinuses
You'll sleep much better
All great things, right?
Sure are.
Having a humidifier will also keep your wood furnishings protected and your houseplants healthier. And, if you have pets, they'll also feel better in a humidified environment.
Win-win.
Why a whole house humidifier instead of a portable one?
Sure, there are portable humidifiers out there, but just so we're on the same page here – "whole housers" are waaay better!
Why you might ask?
First of all, the maintenance is a lot simpler. You still need to maintain it, of course, but they are simply made to be more convenient.
Then, there's the problem with the refilling or better say – the absence of it. With a whole house humidifier, you don't have to refill the water tank constantly.
And the most important thing of all…
Whole-house humidifiers are more effective. Simple as that.
If you want to use a portable humidifier, you need one in every room of the house.
And if you have a large house or apartment, there are so many rooms to cover. You will most likely need several portable humidifiers to do the job right. Doesn't sound very practical, does it?
Nope.
By sticking to "whole housers", you'll make the right choice. You'll save money and keep optimal humidity in your household.
And now, let's delve deeper. A logical question arises.
What makes a high-quality humidifier?
There are several factors that determine the quality of a whole house humidifier. Let's list them one by one.
1. Reliability
A good humidifier will not be prone to constant breakages and malfunctions. It should work properly and go a long way. And when we say "reliable", we also mean – durable. Remember, you don't want something that will break down after a week or two.
The product you choose should be made of solid material. Also, it should be able to sustain minor shocks, such as bumps or inadvertent hits. Of course, this doesn't mean you're supposed to kick it around ☺
That being said…
If you have small children, there's no guarantee they won't accidentally exert a bit of force onto the humidifier. Thus, it's important your humidifier sustains these "concussions" well and doesn't jam or break down on the spot.  All the parts should be working properly.
The sturdier it is, the safer you will feel around it.
2. Effectiveness
The one most important thing a good humidifier should do?
To – humidify!
So many people (including many of those we contacted during our research) complained about this. If you're buying a whole house humidifier, then it should really be able to humidify the whole house.
Unfortunately…
There are many products that over promise, yet underperform when it comes to this. The biggest problem customers face is the uneven humidification of their rooms. Usually, the area humidified best is the one closest to the humidifier. But as you move along, square foot by square foot, the air gets drier and drier.
And then comes the inevitable question…:
"What have I bought?"
Let's avoid that, eh?
The key thing is to know exactly what you need the humidifier for. By this, we mean the exact amount of space or, to put it simply – how big your house is. Not all humidifiers are the same. For large areas, you will need a unit with enough power to cover every corner. So, the humidifier you pick should a) be suitable for a given area and b) humidify that air like nothing else!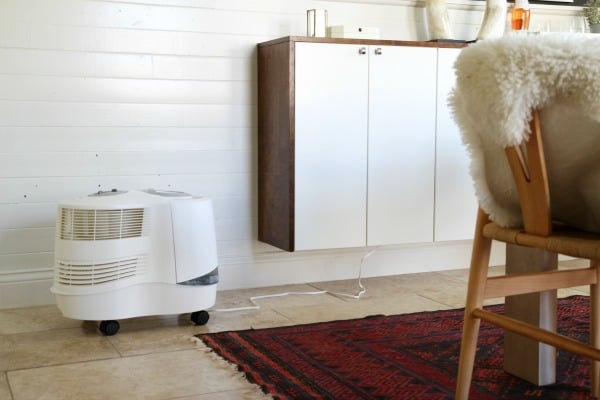 3. Practicality
Yes, the most important thing is your humidifier does the job right. But, in order for it to be considered really good (or great, for that matter), there are a few more pieces to the puzzle. They can all be summed up under "practicality", but, let's break them down.
Maintenance
By maintenance, we mean the amount of time necessary for cleaning and operating the humidifier. A solid humidifier won't take too much of your time, because most units nowadays are practically automatic. This means they do the majority of work by themselves. Of course, you will still need to check up on your unit and refill the water when needed, and this won't take too much time.
Also…
The humidifier should be very easy to clean, without any complicated parts that require special handling. After all, these products are made for people who aren't required to have any technical knowledge. Everything you need to know should be laid out in the owner's manual. So, be sure to give the manual a good read before operating the humidifier.
Noisiness
Let's be honest here. You're getting a humidifier to actually make your life better, not worse. But if a humidifier makes a lot of noise, it will definitely reflect on the quality of your life. It's important your humidifier doesn't make much, if any, noise. Many customers have complained that, after the purchase, their humidifier started making noise, which was often unbearable.
You don't need that.
But here's something you definitely need.
Design
The design of your humidifier shouldn't be a problem per se. However, it all comes down to personal taste. Humidifiers differ greatly in shape and size, so pick the one you like best. Of course, the esthetic appeal can't be the determining factor, but it should be taken into account.
If you're happy with the rest of the features, you can move on to visual and make sure you actually like the design of a given humidifier.
With that in mind, it's a good idea to think about the potential location of the unit.
If you know where the humidifier will be positioned, it will be much easier to pick the design. You want it to blend and be a great addition to your interior design – not stick out like a sore thumb ?
Accurate readings
It's important your humidifier has accurate humidity readings throughout the day. This is also a true sign of a high-quality unit. Some of the customers we contacted stated this as a major complaint.
People like when they can check the humidity level at any moment. However, some humidifiers are not accurate. They are not off by a long shot but tend to give inaccurate readings from time to time.
Mind you…
This doesn't mean your humidifier has to be 100% accurate all the time, but it should be reliable. It's not a problem when the readings are a bit off from time to time. But they should be accurate (±1% is acceptable).
4. Additional features
Humidistat
A humidistat is a small device that helps maintain the humidity level in a given area. It usually goes with most modern humidifiers, and your humidifier of choice should definitely have one.
For most people, it's not enough to simply monitor the level of humidity. They actually want to set the level according to their needs. This is where a humidistat comes in handy.
Timer
On most new humidifiers, you have a timer – and this feature is what they call a lifesaver. The timer is a great addition  because it enables you to control the unit digitally. You can actually program the humidifier to start working precisely at a given time. And not only that, but you can also set up the shut-down time.
Thus…
Your humidifier can save energy. It doesn't have to work when you're not around. There are also humidifiers that come with a countdown timer, instead of a programmable one. The countdown feature allows you to set the shut-down time if the unit it working. However, most users agree nothing beats a fully programmable timer.
5. Warranty
In order to avoid unnecessary headaches, make sure you get a product with a good warranty. The humidifier you choose doesn't need to have a lifetime warranty. But the longer a warranty is, the better. In general, a 5-year warranty is the sign of a reliable product.
Our Favorite Whole House Humidifier Reviews
Expert Tips For Using Your Humidifier
Change the water in your humidifier every day.
If you keep water in the humidifier for several days, it will develop mold and bacteria. Changing the water daily will keep your household healthy. This won't take you a lot of time (don't get lazy☺) and it will help your humidifier run like clockwork. Some people add disinfectants to their humidifier water, but this is not a safe practice, because they can irritate the respiratory system. Just change the water daily and play it safe.
Clean your humidifier twice a week.
It's very important your humidifier stays clean, so it doesn't develop bacteria or gather mineral deposit. And when cleaning, be sure to unplug the unit ("never too careful"). Many people assume a humidifier is supposed to work normally without them getting involved. This is true – up to a point. A good humidifier will keep your household fresh, but only if you keep it clean. Get the dirt and bacteria out of the way, and your unit will shine.
Use distilled or demineralized water.
This is the best way to keep your humidifier working properly. Also, you will prolong its lifespan. Regular (tap) water has a lot of mineral deposit that can appear as white dust once released into the air. And if the humidifier you want has a demineralization cartridge, even better. Read more about some sweet whole-home water filtration systems here.
If you purchase a bypass humidifier, hire a specialist to install it.
Bypass humidifiers are connected to your HVAC system, and they are a bit harder to install than other types of whole house humidifiers (such as "consoles"). In order to install a bypass unit, you need to have substantial knowledge of HVAC systems, plumbing, and electrical wiring. Many people think they can do it, but when it comes to actual work – they get lost.
You wouldn't believe how many people told us this. They think they have the know-how, they start the "installation" process and two and a half dreadful hours later – they call a professional. It will cost you a bit more, that's for sure, but you will avoid the unnecessary headaches and have your bypass up and running in no time.
So, for your own safety, and the safety of your household, be sure to hire an HVAC professional to install your bypass humidifier.
Consider replacing your old humidifier.
Over time, even the best of humidifiers will drop in quality and effectiveness. After a couple of years, you might notice your humidifier doesn't get the job done anymore. This would be a good time to replace it. There's no exact time frame for this (the unit should work well under warranty). However, if you have a unit more than five years, and notice it doesn't work well anymore, it would be best to get a new one.
Turn On Your Humidifier And Relax
We really hope this article of ours helped you pick the best whole house humidifier for your needs. As you see, it's not complicated at all. Sure, there are a couple of things to bear in mind, but nothing to wrack your brain, right? Of course not. No way you can go wrong with the products we listed here.
Remember, the most important thing is to make sure the humidifier of your choice can cover enough space in your household. Also, think about the type of humidifier you want. Maybe it's a bypass or a console? There are plenty of choices, so go on and make your pick.