Buyer's Guide
The 30-second review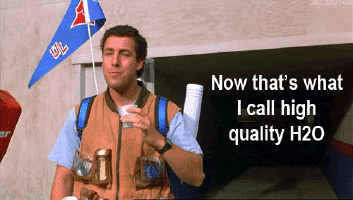 Whole house water filters make for the easiest way to getting clean water in the entire home, but they need to be carefully chosen. The right kind of filter will be easy to install, provide the household with enough clean water on a daily basis, and not have any negative effects on the water pressure.
But more importantly:
A great filter will get rid of all the contaminants floating in the water, be they physical, chemical, or of some other kind. The result of the filtration process will be simply water – clean, clear, tasteless, and odorless – safe to drink and use at any given time.
Your best choice if:
Your best choice if you have very hard water or very high iron content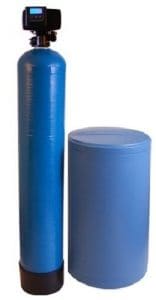 IRON Pro 2 Combination water softener iron filter Fleck 5600SXT digital metered valve for whole house (80,000 Grains, Blue)
This water softener is an excellent choice if you live in an area which has very hard water, or very high iron content in the water. It can tackle even the most impure water with ease.  It can easily tackle hardness up to 85gpg and can handle up to 8 ppm of iron and 6 ppm of manganese, making your water cleaner and healthier.
Another important thing to note is that very hard water can cause build-up in pipes, faucets, and appliances, shortening their lifespan, and increasing your utility and repairs' bills. The IRON Pro2 eliminates elements from your water very efficiently, is easy to install, and requires little maintenance.
Your best choice if you have bacteria in your water
Ultraviolet Water Purifier Sterilizer Filter for Whole House Water Purification,12GPM 55W Model HQUA-UV-12GPM + 1 Extra UV Tube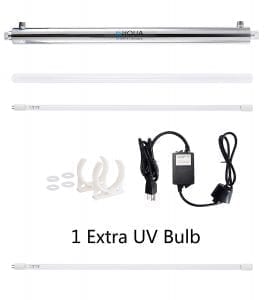 If your water's not seriously contaminated with sediment or metals, but you have dangerous bacteria floating in it, your best choice would be the HQUA-UV-12GPM. This high-quality purifier can ensure the water in your home is clean and drinkable and isn't infected with E. coli, giardia, or similar bacteria.
Another upside to this system is that it doesn't add anything to the water. Where some other systems might add chlorine or other chemicals, this one uses UV rays to purify the water. It also purifies water at an extremely fast rate of 12 gallons per minute, and the UV tube lasts approximately 9000 hours.
Your best choice if you want complete purification
iSpring RCC7 High Capacity Under Sink 5-Stage Reverse Osmosis Drinking Water Filtration System and Ultimate Water Softener- WQA Gold Seal Certified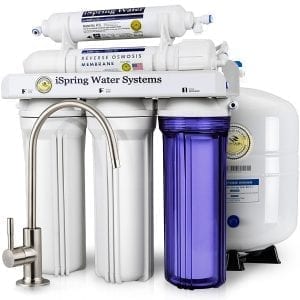 This five-stage filtration system eliminates over 1,000 different types of contaminants, including bacteria, viruses, iron, lead, mercury, chlorine, etc. It contains three pre-filters, a reverse osmosis membrane, and a post-filter. All of this ensures your water is extremely clean, tasteless, odorless, and healthy.
The RCC7 has a 75 gallon per day capacity, looks great, and included in the package is a lovely lead-free brushed nickel faucet. It's quite small so it can fit under your sink, and installation is simple, even for a beginner. The company provides excellent service, and with the affordable price, this system gets you the best bang for your buck if you're looking for complete purification.
Your best choice if you want inexpensive quality
Whole House 3-Stage Water Filtration System, 3/4″ port with 2 valves and extra 3 filters set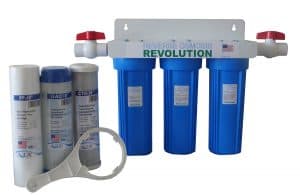 If you're looking for something inexpensive and simple, but still of decent quality, this whole house filtration system is your best choice. It provides any home with water that's tasteless, odorless, and devoid of harmful chemicals. The system is simple to install, and while it isn't something to rave about, it does provide inexpensive quality.
It features a three-stage filtration system which removes dust, dirt, rust, and other debris, as well as chlorine, radon, VOCs, and other harmful chemicals. The filters in the system need to be periodically changed, and this is why three extra filters are included in the purchase.
Your best choice if you want something that's easy to maintain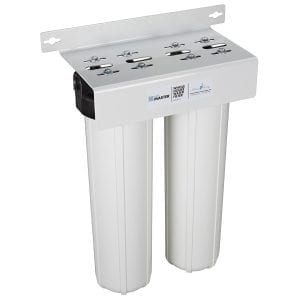 Home Master HMF2SDGC Whole House 2-Stage Water Filter with Fine Sediment and Carbon
Our research shows that, when it comes to ease of maintenance, the Home Master HMF2SDGC is your best choice. It's an amazing whole house water filtration system which is incredibly easy to install, even if you have no plumbing experience. Everything you need for the installation comes with the product.
The filters in this system are resistant to bacteria and chemicals. They are also designed to have a huge holding capacity, which means that you will have to change the filters at a rate of only approximately once per year.?tag=bestazy-20
THE WINNERS
Buyer's Guide To The Best Whole House Water Filter
Making sure you drink only clean water is very important, but it takes some effort on your side. Some of the things you need to consider include types of filtration systems, types of filters, your living situation, water usage, water pressure, estimated total cost, and ease of installation. Thinking about all this ensures you end up with a system that's perfectly tailored to meet your needs.
However:
Before we even get into filtration systems themselves, you should learn more about their purpose, as well as the types of contaminants you might have in your water.
Why is this important, you might ask.
Simply because you should know what you're fighting before you make any decisions about the type of weapon you might need for that purpose. This may seem like a lot of information, but that's why we're here.
Let's break it down:
What's the purpose of filtration systems?
According to Environmental Protection Agency (EPA), your water can contain a number of different contaminants. These include physical, chemical, biological, and radiological elements. Examples of physical contaminants would be sediments from different bodies of water, while chemical elements refer to compounds such as bleach and pesticides. Microorganisms such as viruses, bacteria, and protozoan are some examples of biological contaminants, but there are also uranium, cesium, and the like as radiological elements.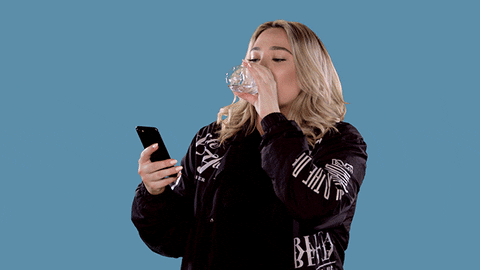 Sounds disgusting, right?
Any number of these contaminants could be floating in your water.
This is also the reason why more and more people decide to use some kind of a filtration system. The main purpose of filtering water in your household is eliminating all the harmful substances and elements. But before you make any final decisions on which type of system to use, try to find out exactly what you're dealing with.
What kind of water are you dealing with?
Fighting water contaminants makes a lot less sense if you don't know what kind of water you're using in your household. You might find the perfect solution for eliminating physical contaminants, but what's the use if your problem is microorganisms? That's why it's important to find out exactly what's floating in your water. Luckily, this isn't as hard as it may sound.
Here's what you should do:
Visit the Environmental Working Group's site for any information on the water you're dealing with. EWG is a non-profit organization with a database of water contaminants categorized according to different regions. You only need to find your state or region and read the info on its pollutants.
Chances are you won't need to have your water tested. Instead, you can just pick a filtration system according to this list of contaminants that are common in the area where you live.
Types of filtration systems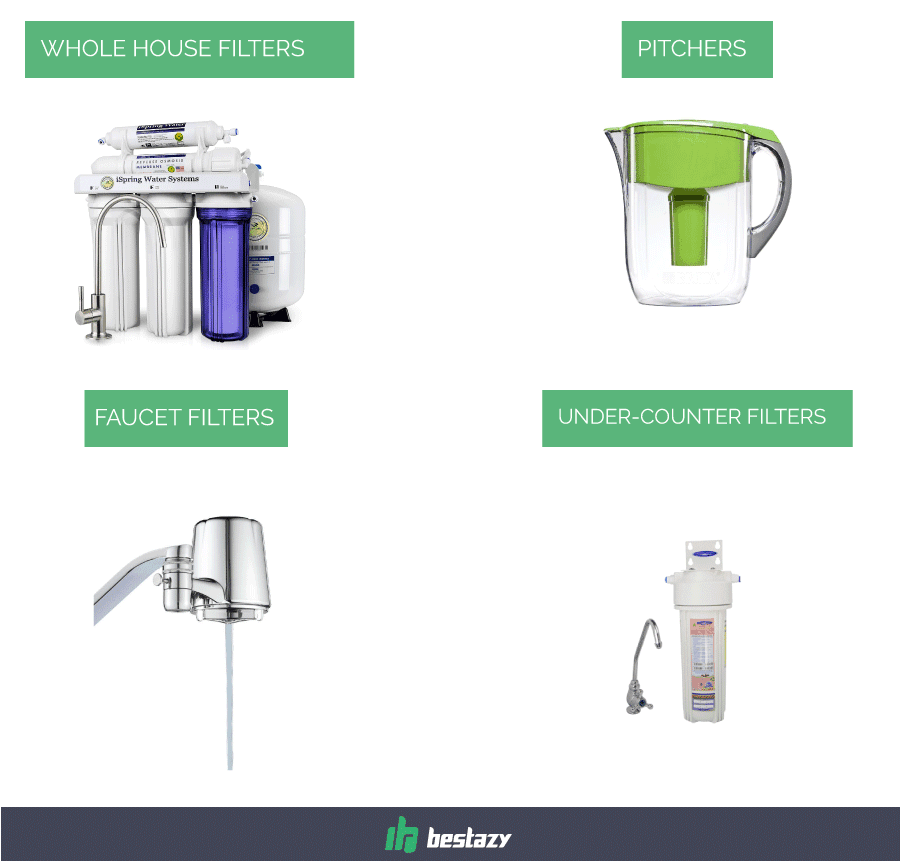 As you'll see, there are plenty of different methods for filtering water, but according to EPA, pitchers and distillers are among the most inexpensive. Both are portable, don't require installation, and are quite efficient at removing physical and some chemical contaminants. However, they come with a couple of pretty big downsides. Apart from not being able to remove a number of common pollutants, they're also very slow at producing clean water.
Another option for filtering water is a faucet filter, which you can attach to the end of any faucet in your home. This comes with plenty of advantages, such as easy installation, limitless access to cleaner water, and affordable replacement filters. But using individual filters also means you need to install and maintain them all separately if you want your entire home to have access to clean water. Also, they get worn out a lot quicker when you use them to filter hot water, which can be a real nuisance.
You can also opt for under-counter filters, which make a good choice if you don't want to filter hot water. Heating water rids it of a number of contaminants, which is why filtering cold water is much more important. Under-counter filters need to be connected to cold water lines under your kitchen or bathroom sink, but they don't take up any space. They free your cold water of contaminants, but people usually need to call a professional to install them.
You might be wondering:
Aren't there simpler solutions that could take care of your entire household?
This is what whole house filters are all about. With this type of system, you don't need to worry about the number of water lines or faucets. You install a filter on the main line and automatically get purified water in the entire home.
There are plenty of upsides to using whole house filter systems. Most of them are very easy to install, but what' s even more important, incredibly efficient at eliminating water contaminants. But before you start going into individual products' specs, you should learn about the different types. These can be categorized according to the kind of filter they use to purify your water.
Types of whole house water filters
One of the most important things you need to consider before buying a whole house water filter system are types of filters. There are basically three options from which you can choose. Each has its upsides and downsides, but they mostly come down to the way in which they purify water and types of contaminants they can eliminate.
This means that:
You get the most out of your water filter system if you know what kind of contaminants you're dealing with. Once you've done some research, check in again to learn more about each of the filter types.
Carbon filters are filters that contain activated carbon. Carbon is very efficient at removing herbicides, pesticides, trihalomethanes (THMs), chlorine, and radon, as well as some of the more common inorganic chemicals. Some carbon filters can even reduce the amount of lead in your water, but they can't eliminate salts, nitrites, nitrates, nor some of the common metals. The efficiency of such filters depends on the amount of carbon they contain, but they all need to be replaced regularly.
Reverse osmosis filters are great at removing salts, minerals, nitrates, metals, and some organic chemicals. They also eliminate lead, but not chlorine. Most of them come with carbon pre- and post-filters, which means they can remove herbicides, pesticides, radon, and various sediments, as well as make water taste better. Reverse osmosis filters, along with their pre- and post-filters, need to be replaced at least once a year.
UV disinfection filters are designed to eliminate viruses and bacteria but aren't meant for removing cysts, spores, nor chemical contaminants. You can use them to make the water in your home tasteless and odorless. However, they're among the more expensive options when it comes to filtering.
We're not through yet:
You'll see in our detailed reviews that there are two more options when it comes to whole house water filters – three- and five-stage systems. What does this mean?
Three-stage systems refer to those that use three different types of filters to purify your water. This means you can eliminate more contaminants without buying additional products.
But it gets better:
There are five-stage systems, too. With these, you get five different types of filtration in a single product. If you want the water in your home to be of the highest quality, this is probably the best way to achieve your goal.
Other factors to consider
Now that we've gone through all the available options, let's talk about some of the other things you should consider before choosing a water filtration system. You still have five questions to answer before you can make an informed decision.
Here they are:
What's your living situation, especially considering water supply lines?
People with houses can choose between any of the above-mentioned options. But if you live in a building, you might not be able to install a whole house water filter system, for example. That's why you should check if you have access to the main water supply line before you get into the details.
What about water usage?
People who live alone can use pitchers and distillers to purify their water and have plenty of it to drink and use in everyday life. The same can't be said for families since they need a lot more water than a single person does. It's been estimated that an average family uses around 123 gallons of water each day.
How's your water pressure?
If it's low even as it is, you might want to be careful when choosing a water filtration system. Namely, some filters can reduce water pressure, causing unnecessary annoyance to the people that use them on a daily basis. To avoid this, look for notes on changes in pressure when going through reviews of individual products.
Worried about going over your budget?
Some people forget to include the cost of replacement filters into the estimated total cost of installing a water filtration system. But once you've been warned about it, this mistake can easily be avoided. Simply check the price of individual filters and how often they need to be replaced, and do the math.
And last but not least, can you install it yourself?
Are you open to having a professional install your new filtration system, or would you prefer to do it yourself? If it's the latter, check for notes on ease of installation when browsing through reviews of individual products.
Also, keep in mind that installing under-counter filters is something most beginners wouldn't know how to do properly. And if you'd like to get cleaner water without having to install anything, you might want to check out pitchers and distillers instead.
Reviews Of The Best Whole House Water Filter Systems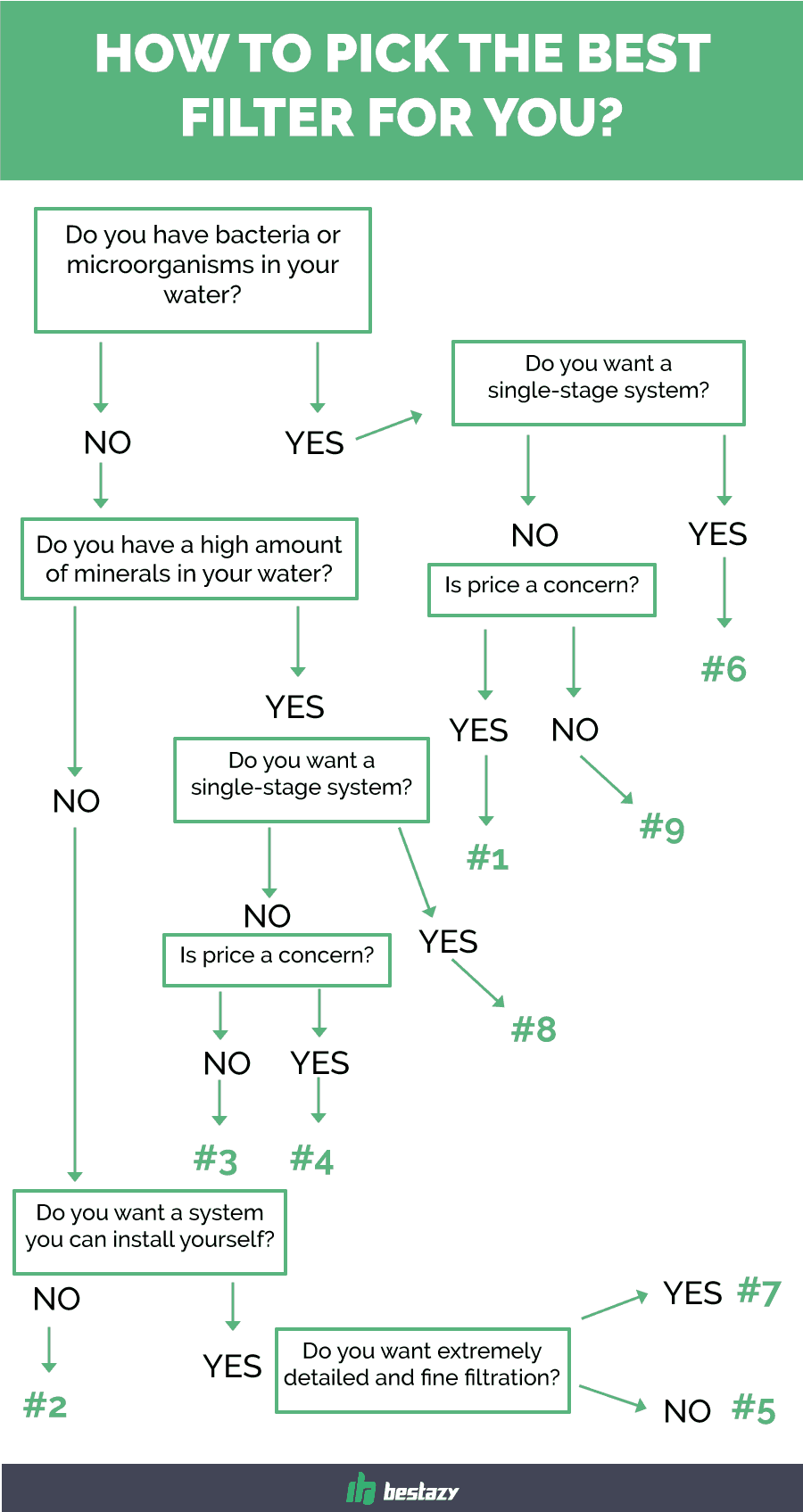 If you're looking for an affordable multi-stage system that will eliminate bacteria and other microorganisms from the water, the RCC7 is a great choice.  This quality five-stage filtration system will filter out over a thousand different contaminants from your water. This includes bacteria, viruses, and other microorganisms, as well as dirt, silt, rust, iron, chlorine, fluoride, and various other dangerous or annoying substances. This system has a low price point, but it's still one of the best out there. Our research showed that installation is simple and the company is extremely responsive and helpful!
If you want a multi-stage system that will get the job done, this one is a decent choice. It will filter out sediment and chemicals from your water, giving you water that's clean, tasteless, odorless, and healthy. It also removes minerals which damage your pipes, faucets, and appliances. You can install the system yourself, but it's somewhat more difficult to install than other systems. However, the system requires little maintenance and cartridges are easy to replace.
This iSpring system is a great choice for homes that don't have problems with bacteria but suffer from dirty, colored, and smelly water. The three-stage filtration featured in this system is capable of removing up to 95% of sediment, minerals, chemicals, and various other contaminants. It's easy to install with the help of iSpring DIY videos which can be found online. The company also offers live phone assistance and we've found that its customer service is amazing.
This is a quality whole house three-stage system which is extremely affordable and great for those who have low-quality water in their home. Whether it's a bad smell, murky look, or unpleasant taste, this system will help. Iron, manganese, chlorine, dirt, rust, silt, and pesticides are just some of the things it eliminates. The only thing this system doesn't remove is bacteria. All in all, it's an affordable choice for simple multi-stage filtration.
This two-stage system is a great choice for those who don't have bacteria in their water, but want a system that will give them odorless and tasteless water. The filters in this system are high-quality and don't need to be changed often. Also, they are resistant to bacteria. Overall, with its 1-micron filtration and two filters, this system is a simple and low-stress choice.
If you have a problem with bacteria and microorganisms in your water, this is an affordable, simple, and eco-friendly solution. This UV sterilizer is easy to install and will last for a long time. It uses UV rays to eliminate bacteria and other microorganisms, and it doesn't change the chemical compound of the water, meaning it doesn't add anything to it.
This system is a quality choice if you want a system that will provide extremely fine filtration (1-micron). It is an especially good choice if you're using city water. The installation of the HMF3SDGFEC is very easy  and the manual helps a lot. The system includes three separate filters which need to be changed only approximately once a year.
If your home has a problem with dirty, hard water, this system is a great choice. It's specifically made to tackle very hard water and high mineral contents. It can filter even the most problematic water and leave your whole home with water that is clean and clear. So if your appliances break often, if you have problems with pressure due to build-up, or if your water tastes metallic, this system is a great choice.
The Aquasana is a whole house system which filters out bacteria, sediment, and chemicals from water. It can last for a whopping 10 years! So if you want something that's high-priced but durable, this is a good choice. The only downsides are the relatively high price and the company's bad customer service. Our research also showed that these systems sometimes have issues, so purchase with care, and definitely have a professional install the system or risk voiding the warranty!?tag=bestazy-20
Installation
Although some whole house water filter systems do require professional help, most of them come with all the parts and details which enable you to install the system yourself. We've found that some reputable companies even offer DIY YouTube videos and live phone support for people looking to save a few bucks and install the system themselves.
How much time and effort am I looking at?
The time and effort needed to install a whole house filter system depends on the system itself. But while doing research on our systems, we've found that most systems can be installed with moderate effort in no more than three hours.
DIY Installation Steps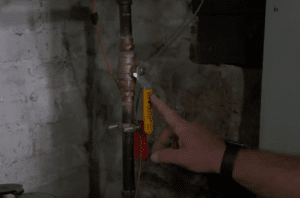 Step 1: Draining the system
Before you can install your new water filtration system, it has to be drained. To do that, first, find the main water supply valve in your home and turn off the water supply. Next, find the lowest point in your home, and open a faucet to release water pressure and let the water drain from the system. This will most probably not drain all the water in your system, but it'll drain enough of it to let you install a filtration system.
Step 2: Selecting a location
Since the filters in the system will need to be replaced periodically, it's important to choose a location which is accessible. Also, make sure you have enough room under the tank. Most experts recommend that the filtration system be placed as near to the water supply as possible, and make sure that it's placed before all the outlets where you want to have filtered water. Of course, some filtration systems aren't placed at the supply line, but right under the sink, and they provide clean water only on the faucet or through kitchen appliances.
Step 3.  Cutting and removing the pipe
If you have a pipe that's easily removable, simply twist it off. But in most cases, the pipe where your filtration system will be installed will need to be cut off. To do that, simply use a pipe cutter (or mini pipe cutter if you don't have a lot of space). Tighten the cutter onto the pipe and rotate it around the pipe for a clean cut. We've found that cutting a pipe usually lasts a few minutes, so don't be surprised if it doesn't cut through right away. When the pipe is cut, make sure to clean out any chunks that are left on or in the pipe.
Pro tip: Have an empty bucket and some towels handy, in case excess water pours out after the pipe is cut.
Step 4: Attaching the fittings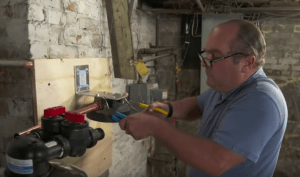 To attach the fittings, the first step is placing a compression nut onto one of the cut pipe ends and sliding on the ferrule. Then do the same for the other pipe end. Next, the fittings need to be threaded onto the ports of the filter housing. In most cases, you'll have an instruction manual from the manufacturer which details exactly how this is done. The fittings need to be tightened onto the filter, but make sure not to over-tighten. When you've done that, we've found that using some extra Teflon tape to cover the fitting and filter port ensures a good seal and makes leaking less probable.
Step 5: Positioning the filter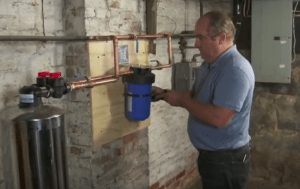 The most important thing to note when positioning your filter is that the flow of the water enters through the "in" port and goes out through the "out" port. Take great care to double check this because our research showed that the filter will absolutely not function if installed backwards. If you're confused about where which end should go, we've found the easiest way to figure it out – the "in" port goes toward the water meter, and the "out" port toward the water heater.
When you've figured out the correct position, simply place it on the water line, and tighten the compression nuts onto the fitting bodies. This is best done by hand. Next, use a wrench to tighten the fittings. Depending on the system, two wrenches might be needed.
Step 6: Turning the water on
When you've properly installed the filtration system, make sure the valve on the filter itself is in the "off" position. Next, slowly turn your main water supply valve on while keeping your eye on the filter. If you see a leak, shut the valve off immediately and fix the leak. If you've turned your water valve on and see no leaks, turn the valve on the filter from the "off" to the "on" position (our research showed that "on" is sometimes marked as "filter"). This should make the filter start working. Wait until the tank fills with water and check for leaks again.
Step 7: Changing the filters
All whole house water filter systems need the filters replaced periodically. Usually, the filters (or cartridges) need to be replaced once every two to 12 months. The first sign that can let you know your filters need to be changed is a drop in water pressure. So how do you change the filters?
Changing water filters is simple with most systems. First, find the valve on your system again and turn it to the "off" position. While doing our research, we've found that some systems even have a pressure release, so that water isn't sprayed when removing the filter. In any case, have a bucket ready to catch water that might come out.
After turning the valve to "off", remove the filter from the housing, remove the water from it, and discard it. In some systems, you'll need to remove the whole tank and take the filter out of it. Before placing a new cartridge in, make sure to wipe down the inside of the tank. Then insert a new filter, place the tank back into the housing, and turn the valve back to the "on" or to the "filter" position. Open the main water valve slowly while checking for leaks, then open your faucets, and wait until the trapped air escapes.
Why get a whole house water filter system?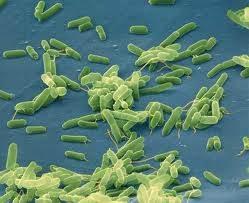 Water can contain dirt, rust, silt, chemicals, bacteria, and other particles that affect its taste and smell, as well as its overall quality. When water's filtered, especially using multi-layered multi-stage filters, all of these particles can be efficiently removed from your drinking water, providing you with safe, clean, and healthy water.
Many people have water of lower quality in their homes, but having bad water doesn't just affect its taste and smell. It can also be very dangerous. Here are just some of the things that the water in your home often contains, and all of them can be removed using a filtration system.
Did you know that there are pesticides present in over 94% of the drinking water in the US? And although some places in the world have better results, in some areas the situation is even worse. Some pesticides can be extremely harmful when ingested. For example, atrazine, a pesticide often found in drinking water, has been shown to cause cancer, reproductive issues, and endocrine disruptions, even when ingested in small doses.
Water pipes are often full of bacteria and viruses which can cause serious health issues. One of the most common bacterium found in drinking water is E. coli.
A research study conducted in 2008 showed that pharmaceuticals are found in the drinking water of more than 40 million Americans. These range from antibiotics and mood stabilizers to various sex hormones and medicines for asthma, cholesterol, pain, etc.  They can all cause various health problems.
Arsenic is basically poison and is linked to various illnesses. This is why it's concerning to have it be so prevalent in water supplies all around the world.
Lead should not be ingested in any amounts. Unfortunately, people found out that lead was so dangerous not that long ago, which is why there's still lead-based paint around, as well as high amounts of lead in our water in various areas. If your home was built before the 1980s, it's at high risk of having lead in the water supply.
Most municipal water companies dump a huge amount of chlorine in water supplies. They use chlorine as an easy and inexpensive way of eliminating bacteria, but this practice can have adverse effects. High chlorine content can make your water taste and smell awful, and it reacts with certain metals to produce dangerous compounds.
Various minerals such as iron, manganese, and calcium aren't dangerous for your health, but they can make drinking water taste and smell terrible. Metals such as iron can stain your clothes, and can also discolor porcelain and other materials.These minerals also often build up in pipes, faucets, and appliances such as washing machines. This can cause pipes to become blocked resulting in reduced water pressure and can cause damage to your appliances. Basically, minerals won't destroy your health but will destroy your budget by increasing your utility bills and repair frequency.
Of course, taste and smell is also an important factor in the quality of drinking water. Many people opt to have a filtration system installed simply because they want to have perfectly clean, clear, and tasteless water.
So if you want to have clean and healthy water that won't ruin your health and your home, installing a whole house filter system is an often inexpensive and convenient solution.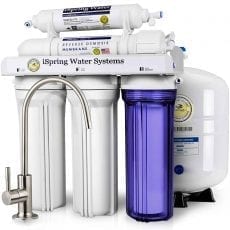 Best of the best
iSpring RCC7 High Capacity Under Sink 5-Stage Reverse Osmosis Drinking Water Filtration System and Ultimate Water Softener
What's the best whole house water filter? We tested over 46 different water filteration systems–our top choice is going to pleasantly surprise you!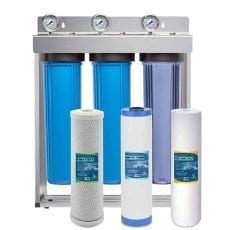 Most Buying
Express Water Whole House Water Filter System GAC Carbon Sediment 3 Stage Filtration 4.5″ x 20″ Inch
What's the best whole house water filter? We tested over 46 different water filteration systems–our top choice is going to pleasantly surprise you!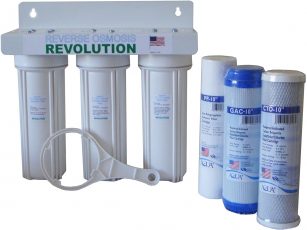 Best for the money
Whole House 3-Stage Water Filtration System, 1/2″ port
What's the best whole house water filter? We tested over 46 different water filteration systems–our top choice is going to pleasantly surprise you!