Buyer's Guide
Kitchen Faucets At A Glance
There are many types of faucets suitable for different needs and budgets. We picked the Delta Leland for our top choice because it gives you get the best bang for your buck. It can be installed in one or three-hole sinks and features Touch-Clean spray holes, DIAMOND Seal Technology, a great flow rate, a two-function spray head, and InnoFlex PEX one-piece supply lines. With a price that's far from high-end, it's more reliable and functional than some higher-priced faucets.
If you want something suitable for an even lower budget, we suggest the Purelux Tulip, and if you want something really high-end, the GROHE Essence is a great choice. For those who need really powerful pressure, the most suitable faucet is the Kraus KPF-1602SS. And for people who enjoy high-tech features, take a look at either the Moen Arbor Motionsense or the Delta Essa.
Buyer's Guide To The Best Kitchen Faucets
Equipping a kitchen takes some planning. After all, you don't want to find yourself in need of replacements anytime soon. But how do you go about choosing the best items? When it comes to faucets, there are a lot of factors in play.
Your ideal kitchen faucet would have to be both durable and functional. This means you need to consider types, materials, installation, finishes… You also have to think about special features. While browsing through this guide, ask yourself what you're really looking for in a faucet.
Professional Vs Home Use
In what type of setting would you use your new faucet? Your own kitchen, or the restaurant you're running? There can be a big difference between items made for professional use and those intended for home use. That's why you should answer this question first.
There are plenty of different types of faucets you can use at home. For more information on this type of equipment, browse through the rest of the guide. But if you're looking for faucets you could use in a bar or a restaurant, read on. There are three additional types you might be interested in.
If you're running a busy bar or a restaurant, you know how important it is to get things done on time. This usually requires having an extra sink for pouring drinks or washing vegetables. When it comes to this, bar faucets can make a world of difference. They're basically smaller versions of regular faucets made for busy kitchens and bar areas.
Restaurants usually have much larger sinks than those you can find in regular kitchens. Cooks also use bigger pots and pans for making larger amounts of food. Industrial kitchen faucets are great for cleaning them since they come with a much more flexible hose. This type of hose isn't restricted by a pipe, which allows you to thoroughly wash every utensil, no matter the size.
Need to stop wasting precious time on filling vessels with water? Equip your kitchen or bar area with a pot filler. As a separate faucet, it's usually installed right next to a stove, which makes it extra convenient. When part of a regular faucet, it provides an additional spout for otherwise time-consuming tasks.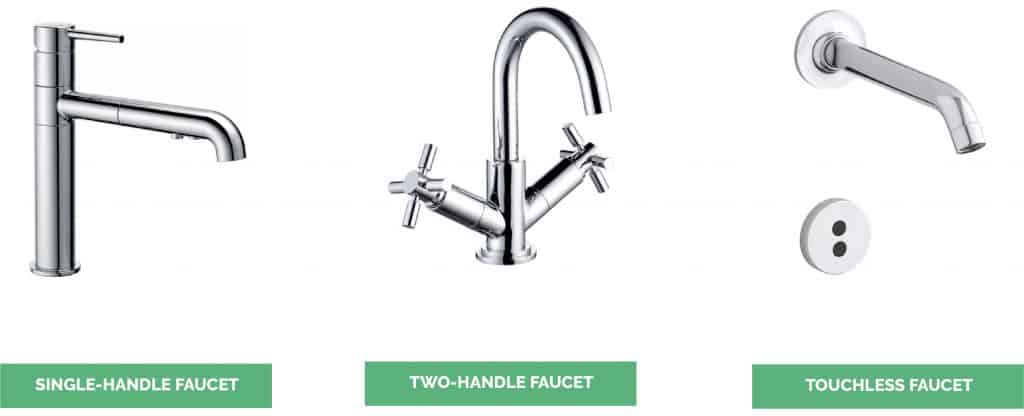 It'd be a real shame if you bought a kitchen faucet that ended up getting on your nerves. You might not be aware of it, but this can have a lot to do with the type of handle you choose. Luckily, you don't have to give yourself up to fate. Simply ask yourself which of these three styles you'd prefer:
You'll find that most kitchens have a single-handle faucet. It's simply because it's both a convenient and affordable option. It's capable of mixing hot and cold water, which is its biggest advantage. Thanks to this, you don't need to use both hands to get the water running.
Two-handle faucets are more of a statement choice. They come with separate handles for hot and cold water. This makes them a bit tougher to use since you need to turn both handles to get warm water. On the other hand, they're durable and make a great addition to kitchens decorated to appear vintage.
When it comes to ease of use, nothing beats a touchless faucet. Apart from a handle, this type of item also has sensors. As a result, you can just wave your hand in front of it to get the water flowing. It's a great choice for those who often have both their hands full while in the kitchen.
Spout Styles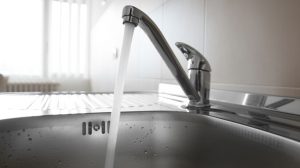 When buying your ideal faucet, another important factor you should consider is the spout. Not all of them are made to do the same things. That being said, there are three individual spout styles from which to choose. Try thinking about your needs and preferences while reading about them.
Some faucets have revolving spouts for increased functionality. This means that the spout itself isn't fixed in place. Instead, you can move it in every possible direction: up, down, left, and right. As a result, you get a lot more freedom when using your sink.
There are differences between spouts when it comes to water flow, too. Regular faucets can only give you a steady stream of water. But thanks to their spray options, those with two-mode spouts take washing up to the next level. This means you can get water flow resembling that of the shower head in your bathroom.
And if it seems a single spout can never do the trick, you can always choose a two-spout faucet. We already mentioned these when we talked about pot fillers for professional use. However, you don't need to have a bar or a restaurant to benefit from two separate spouts. They can still save you a lot of time while you're cooking or cleaning the kitchen.
Spray Heads
Want to be able to use your kitchen like a pro?
You might want to invest in a faucet with a built-in spray head. It's a feature that saves time and makes life easier for anyone using it. There are, however, two types of spray heads from which to choose.
As its name suggests, a pull-down spray head lets you pull the spout down into the sink. This makes it easier for you to do the washing up. However, this type of spray head is usually part of a taller faucet. That's why you'll need to think about any potential space issues before you make your final decision.
A pull-out spray head is even more convenient to use. Instead of just pulling down into the sink, it allows you to pull it out and move it around in whatever direction you want. This is because it comes with a longer and more flexible hose. To make it even better, the faucet itself is usually smaller than those with pull-down spray heads.
Water Flow
Providing you with a steady water flow is the main purpose of any kitchen faucet. But there's so much more you can get out of it. With this in mind, consider the following options. They might mean the difference between a basic piece and the faucet you'll love using.
Aerators are some of the smaller, yet most important parts of kitchen faucets. A faucet equipped with one provides a much steadier water flow. It makes the running of water a lot less noisy. And to make it even better, it also prevents splashing.
Let's face it – you don't need the same amount of pressure for washing vegetables and scrubbing greasy pots. Adjustable water pressure is another great thing you can get with your faucet. Some products allow you to switch between multiple pressure levels in the easiest way possible.
Want to be able to spray your dishes clean? You'll want a faucet equipped with both stream and spray modes. While stream mode is ideal for filling pots with water, spray mode comes in handy whenever you have something really big to clean.
Build Materials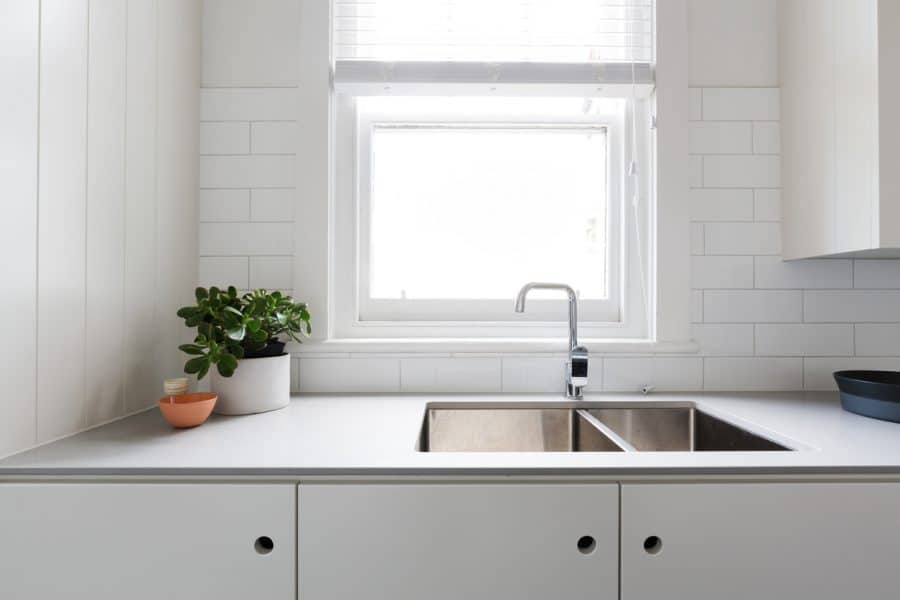 Want your kitchen faucet to last? Be careful when choosing the build materials. Although all faucets have plastic and rubber pieces, their main materials can be of varying quality. Luckily, you won't have to think that hard, since you basically have two different options.
Many faucets are made of composite materials. This means there are almost equal parts of metal, plastic, and rubber involved in the process of making them. Some are less and some are more durable.
However, they're almost never better than brass faucets.
Most high-quality faucets are made of brass. Brass is a pretty tough material, which means it doesn't get damaged easily. It's also a great choice when it comes to dealing with extreme temperatures. And if you want the very best, look for faucets made of solid brass.
Finishes
When choosing a kitchen faucet, one of the things you should make sure to avoid is cheap finishes. They can mean the difference between a durable, good-looking piece, and a scratched faucet spotted with water stains. To help you make the best decision, we bring a quick overview of some of the most commonly used materials.
Chrome is probably the cheapest finish out there. Although they're quite shiny when they first arrive, chrome faucets soon start spotting. Also, they don't have any kind of protection from scratches. If you want your faucet to remain good-looking, consider choosing another type of finish.
The biggest upside to stainless steel is that it's resistant to rust. This means the water won't be able to do any damage to your faucet. However, a stainless steel piece is only slightly better than a chrome one.
Oil-rubbed bronze makes for a finish that's super easy to clean. It also gives the room a more vintage feel. Although it's not that durable, it's very simple to replace.
If you want a more resistant finish, copper is a quality option. Being antibacterial and self-healing, it's a great choice for a kitchen faucet. To make it even better, it's capable of giving the décor of any room a warm look.
Although it's applied in very thin layers, PVD finish makes it a lot less likely for your kitchen faucet to rust or corrode. Its biggest downside is the price, which makes it less affordable than most other finishes.
Polished brass is one of the two most durable finishes out there. It's very easy to maintain and doesn't spot easily. In addition to that, it makes a kitchen appear more vintage.
Brushed nickel is just as durable as polished brass. It's highly resistant to rust and water spots, but that's not what makes it our all-time favorite. Since it's also resistant to fingerprints, you wouldn't be able to smudge its surface even if you wanted to.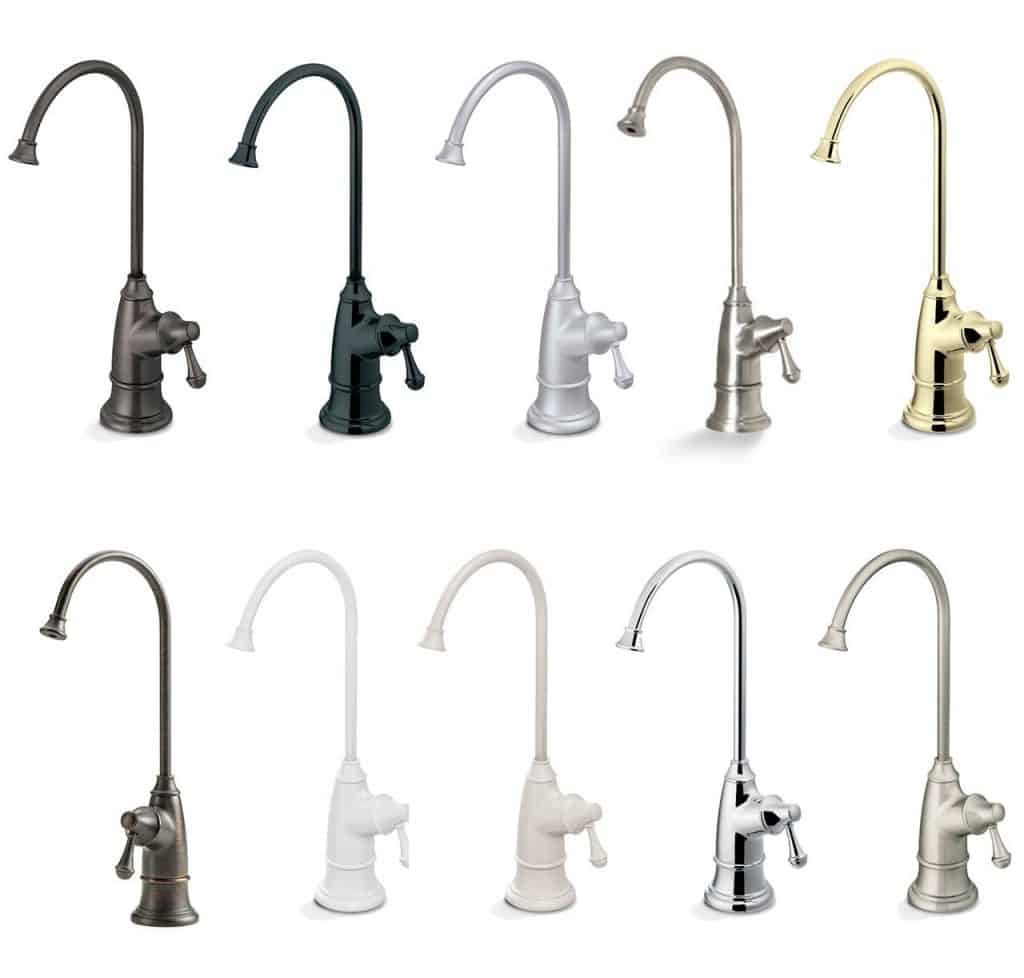 Handle Styles
Installation
You wouldn't want your kitchen faucet to be incompatible with your sink, right? To avoid any possible mistakes, you'll have to consider two things: number of mounting holes and mounting style.
Single-hole faucets are those that need only one hole to be installed properly. They usually only have one handle. Also, it's probably the most common type of kitchen faucet out there.
If the faucet of your choice is a two-hole piece, you'll need two individual holes in your sink to install it. The second hole is usually there to fit the second handle, but it can also hold a spray handle or a soap dispenser.
Three-hole faucets can't be installed if you don't have three individual holes in your sink. While the main hole is for the faucet itself, the other two are needed for the hot and cold water handles.
If you're thinking about buying a more traditional faucet, you might come across a four-hole piece. These are pretty rare, but also the best choice for some. Apart from needing holes for handles, they're made with the use of soap dispensers and even lotion bottles in mind.
When it comes to mounting, most people opt for the regular kind. Regular mounting involves installing the faucet directly onto the sink hole. This is a great choice if you want to be able to easily replace it, or if you simply like how it'd look in your kitchen. However, keep in mind that this type of mounting involves installing each part of the faucet separately.
With deck plate mounting, you get a faucet with a plate at its base. This makes for easier installation since you don't have to deal with parts. It's also the best solution if your sink has more holes than the faucet itself needs and you'd like to cover them up. In addition to that, faucets with deck plates often come with their own soap dispensers.
Faucets you mount on the wall above the sink aren't that common, but they have their upsides. If you aren't lacking space, wall mounting can allow you to adjust the height of the faucet to better suit your needs. For example, you could make it a lot easier for yourself to fill and wash larger pots. Also, wall-mounted faucets are ideal for sinks with no holes.
Maintenance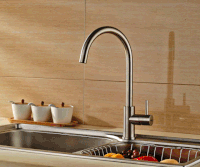 The ideal kitchen faucet is one that requires minimum care. Among other things, this means it shouldn't rust or spot easily, get clogged up too often, or be hard to clean. Luckily, there are plenty of really great products out there. If you want to avoid a high-maintenance faucet, simply look for the following features.
When it comes to faucets, one of the most common maintenance issues is scratches. They can make even the most beautiful product look ugly and unkempt. This is why scratch-resistant finishes are so popular. If you want your faucet to have one of those, look for copper, PVD, or brushed nickel finishes.
Annoyed by water spots? There are some very good solutions for cleaning them, but it'd be best if you didn't have to bother with them at all. If you agree, get a faucet with a water spot-resistant finish. Your best choices would be polished brass and brushed nickel.
The water itself is giving you trouble? Limescale, for instance, can cause a lot of harmful buildups and make it very hard for you to clean your faucet properly. Fortunately, there are some features that can help you with that, including Touch-Clean technology. These are spray holes covered in a special kind of material that allows you to simply wipe away any built-up residue.
Looking for more solutions for dealing with hard water and residue? One of the best things you can do is opt for a faucet with an easily removable aerator. This allows you to clean it from the inside without putting too much effort in the process. As a result, your faucet will remain fully functional a lot longer than usual.
Want to take ease of maintenance to the next level? Touchless faucets are the way to go. Thanks to built-in sensors, they allow you to use them without even touching them. And the less you use them, the less maintenance they're going to need.
Special Features
We've already mentioned a number of great things a quality kitchen faucet can do. But there are plenty of special features that can make your life even easier. They cover everything from design to maintenance. Here are our favorites.
Don't like the idea of a touchless faucet? That doesn't mean you can't benefit from the sensor technology. There's a number of touch-activated faucets you can pick instead of touchless ones. You only need to give them a gentle tap to make the water start flowing, and then another gentle tap to get it to stop running.
Want to install your faucet yourself, but you're worried about the outcome? Some faucets offer one-step installation systems. This means no experience is required to fix them onto your sink. And the results are as professional as they can be.
Is your freedom of movement while in the kitchen is especially important to you?
You might want to consider choosing a faucet with an extra-long hose. Some products offer up to 68 inches of length. This should be more than enough, regardless of the size of your space.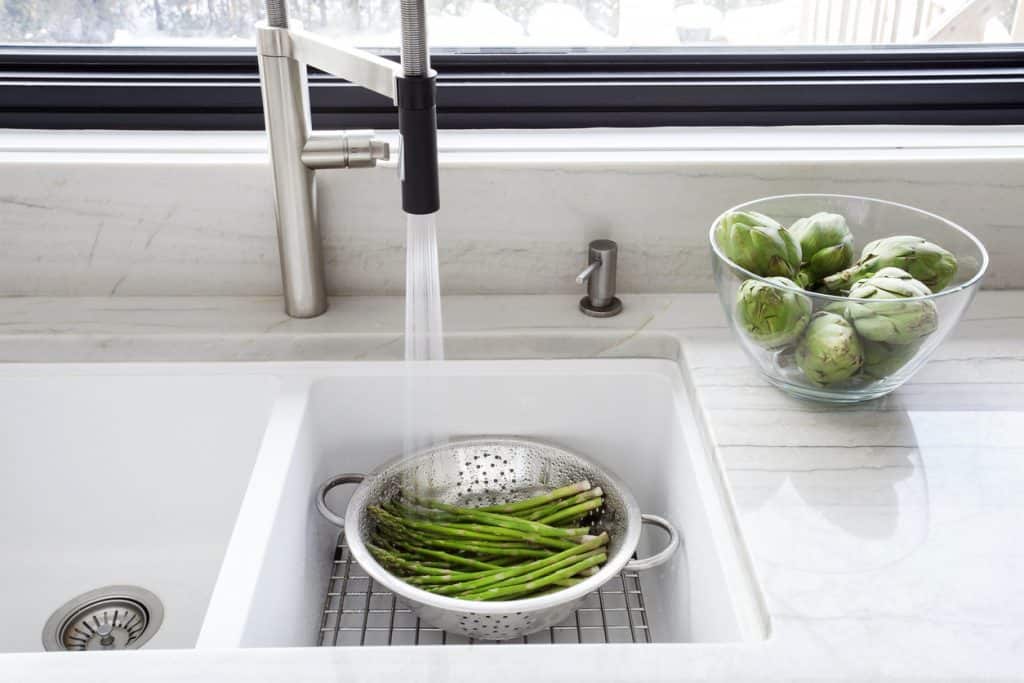 With single-handed faucets, for example, achieving the right water temperature is sometimes harder than it should be. But that's why we have LED-light indicators. This handy feature allows you to see when you've managed to get the water to the perfect temperature.
We've already mentioned stream and spray functions you get with some faucets. However, you can also get something called the three-feature spray head. These offer an additional pause function that allows you to control the water without having to come back to the faucet. Use it to pause the water flow while you move away from the sink to fill or wash something, and press it again when you're in place.
Love long hoses, but don't like putting them back in place?
You might want to get yourself a self-retractable spray head. They're equipped with magnets that make the hose retract as soon as you release it from your grip. And just like that, you don't have that annoying problem anymore.
Want your faucet to be simpler to maintain? One of the best features for this purpose are easy-to-clean spray holes. Thanks to specially designed materials that are used to cover them, the built-up residue can be easily wiped away.
Like the idea of improved flexibility, but don't want to bother with spray heads? You'd probably enjoy using faucets with 360-degree swivel spouts. You can move this type of spout in whatever direction you want, getting the most out of water flow at any given moment.
Matching the faucet with the design of your kitchen can be harder than it looks. There are so many options out there, it can be tough to even get started. Here are some suggestions that should get your creative juices flowing.
If you like traditional or vintage style, you can make sure your kitchen reflects your taste by choosing the right finish. Oil-rubbed bronze and polished brass are excellent choices when it comes to this. You should also opt for two-handle faucet. If you really want to go for it, look for products with old-school handles.
For those who are more into contemporary style, there are plenty of different options from which to choose. If you want your faucet to complement the modern feel of your kitchen, look for clean lines, and stainless steel or brushed nickel finishes. Touchless faucets are excellent choice for this type of setting, since they're as minimalist as kitchen faucets come. If you want regular handles, opt for a single-handle piece.
For out-of-the-ordinary design, consider investing in a statement piece. Kitchen faucets that fall into this category stand out from the crowd. Think really long goosenecks and matt black finishes. You can also make your kitchen appear more industrial by opting for a product that reveals more than it hides, such as hoses without pipes around them.
Safety and Environmental Concerns
The truth is that some types of finishes are made using toxic materials. When you buy a product with that kind of finish, you're making the environment a less safe space. But you're also not doing yourself any favor.
Want to equip your home only with products that are safe for the environment? PVD finishes are your best choice. According to Acree, they release zero toxic waste. The process of making them is also not harmful to the environment. And to make it even better, they make the products last a lot longer than other finishes.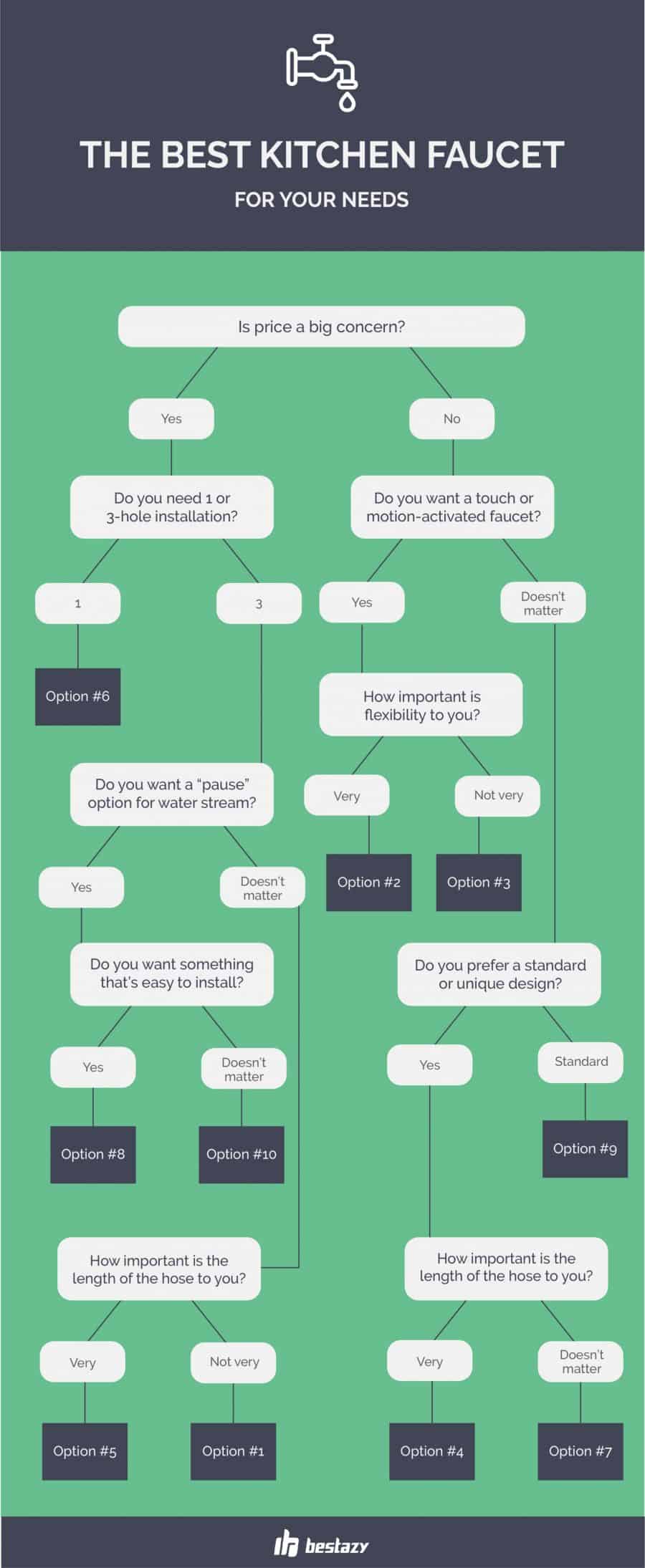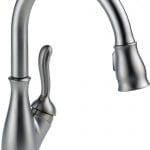 The Delta Leland is an affordably priced, functional, and durable faucet. It can be installed in sinks with either one or three holes and is very easy to maintain. When installing it in a three-hole sink, the plate is included, and so are the water supply lines.
With spray and stream functions, and Touch-Clean spray holes, this faucet will be a great addition to your kitchen. The DIAMOND Seal Technology featured in the Delta Leland will make sure it lasts for a long time without developing leaks.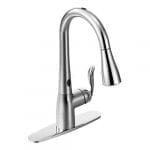 If you're looking to invest in a high-quality sink with all the latest technological advancements, the Moen Arbor Motionsense is a great choice. It's a top-quality faucet that features hands-free activation. With two sensors – one on the top and one on the bottom, this faucet reacts to your hand movements in the blink of an eye.
The Moen Arbor Motionsense is also one of the most flexible and functional faucets out there. It has a long hose that is self-retractable and two spray patterns. Maintenance is also incredibly easy because of the faucet's spot-resistant finish.
When it comes to multifunctional, practical and high-tech faucets, the Moen Arbor Motionsense is an excellent choice.
So if you want a reasonably priced quality faucet for your three-hole sink that offers functionality and flexibility, this one's a great choice!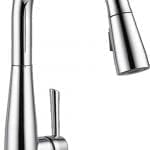 When it comes to high-tech faucets that are worth the investment, the Delta Essa is a top choice. It features Touch2O Technology which enables you to turn the faucet on and off with a simple touch of the hand. The hose features MagnaTite docking technology, which means it will be securely held in its docking spot after use.
Another high-tech addition that this faucet features is the LED indicator which uses lights to let you know how high the water temperature is.
So if you want to invest in a practical and durable faucet, the Delta Essa is a high-tech wonder.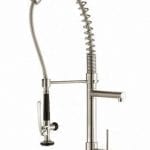 If you're looking for something unique and eye-catching to complete your kitchen design, the Kraus KPF-1602 is a great choice. This faucet's cool design is an interesting conversation starter, but also offers a lot more.
One of the most important features of this faucet is the ease of installation. Users report that even without any plumbing experience, the installation is quick and simple. This faucet is also functional, with both a sprayer and a pot filler, both of which can run at the same time. The faucet also swivels 360 degrees, which makes it flexible and practical.
So if you want to invest in a high-quality faucet which will add something unique to your kitchen design, this one is a lovely choice.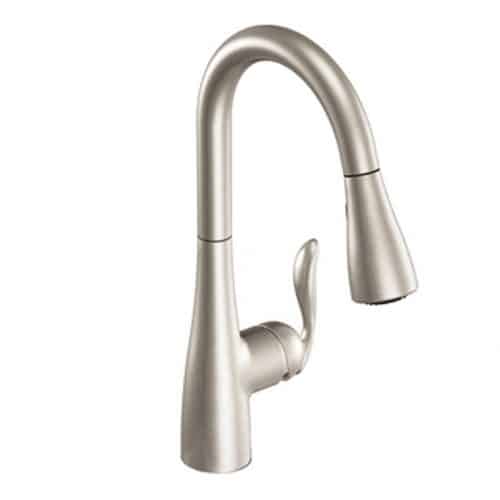 When looking for your next kitchen faucet, Moen Arbor is a great choice. With an elegant look and great functionality, it's the perfect choice for those looking to save money but wants a practical and beautiful faucet.
It's very easy to install the Moen Arbor in both one and three-hole sinks. The spray head enables you to easily switch between stream and spray modes, and the 68-inch hose makes sure cleaning in and around the sink is easy. Because of its spot-resistant finish, keeping the faucet itself clean and neat is a breeze.
When looking for functionality and flexibility at a reasonable price, Moen Arbor is a top choice.
When it comes to price, this faucet is unbeatable. It has a timelessly simple design and is meant for single-hole installation. With lacquered stainless steel finish, this product looks very good.
But, it's also highly functional. The pull-out sprayer has two functions – stream and spray. The hose retracts on its own when you're done using it. The faucet can swivel 120 degrees for ease of use and contains an aerator which saves water.
This simple but powerful faucet is excellent for those not looking for a lot of fuss – just quality at a great price!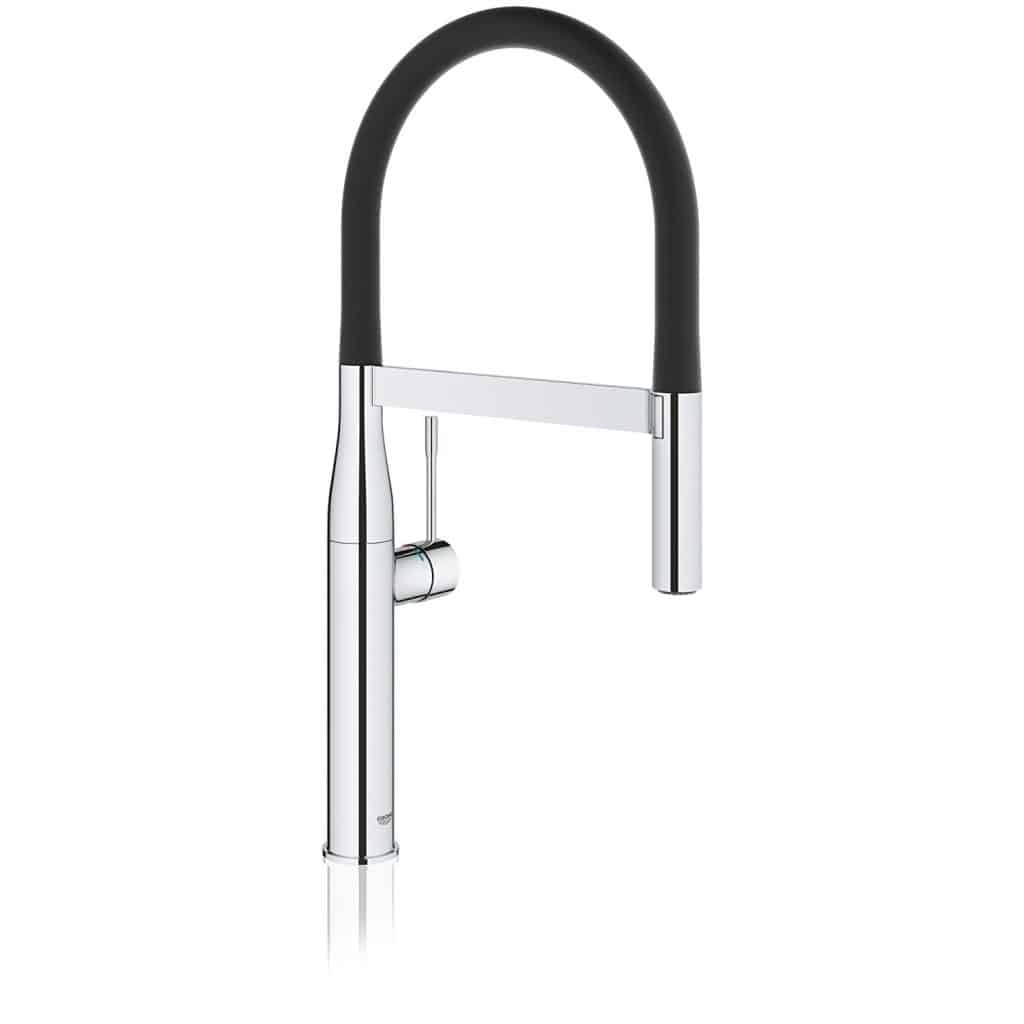 With its minimalist design, the GROHE Essence offers flexibility and functionality.
The spray head on this faucet is hygienic and offers stream and spray options. The spout can be rotated 360 degrees and the faucet features SpeedClean. The temperature and pressure are easily adjustable and the maximum pressure is really powerful.
The GROHE Essence is a great choice for people who want to invest in a unique, practical and durable faucet which will add functionality and enhance the design of any kitchen.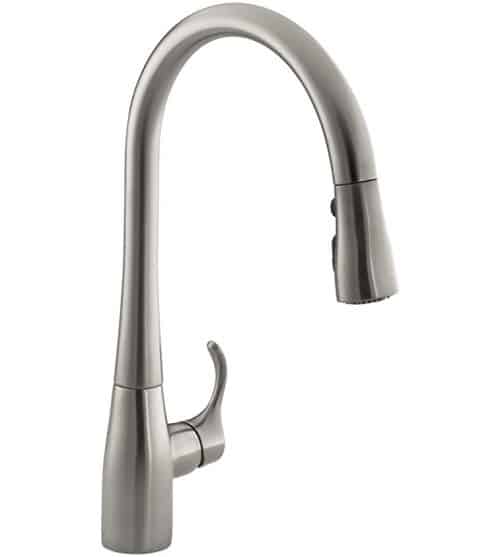 This KOHLER faucet is a great catch at the price. It can easily be installed into three-hole sinks – it isn't called Simplice for no reason! Apart from ease of installation, this faucet is amazingly designed and is very versatile.
As with many faucets out there, the spray head has the stream and spray functions. But the Simplice also features a pause function.  This is a great add-on if you usually need to remove the head from your sink for a few moments – now you can stop the stream of water with the push of a button!
The Simplice is a no-hassle faucet for those looking for all the important features at a low price.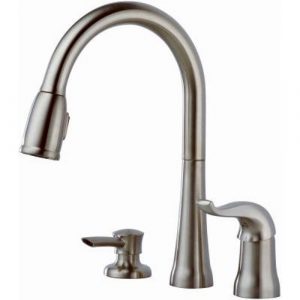 With its simple and elegant design, this Delta faucet is great for those who don't want any fuss – just a high-quality functional faucet that will last for years.
This faucet is easily installed and features MagnaTite docking technology. It offers the choice between stream and spray mode and features Touch-Clean spray holes. It also comes with a soap dispenser and has an aerator.
When you want something simple, low-maintenance and high-quality, this faucet is a wonderful choice.
If you don't want to splurge, but still want a quality faucet with various functions, the Purelux Tulip is a great choice.
This beautifully designed faucet, with its extractable 20-inch hose and three-function spray head, offers more flexibility than some higher-priced products. When using it, you can choose between the stream, spray, and pause functions, and when you're done using it, the self-retracting head will snap back into place.
So if you need something reliable, well-designed and functional, the Purelux Tulip is the way to go.
Detailed Reviews