The 30-Second Review
Do you have a party planned for the weekend and want to keep something warm without heating up the house? If that's the case or you just need something portable for a trip, fear not as we're going to make things simple.
The first thing you need to do is decide between a single or dual burner cooktop. All our picks use standard plugs, so the heat range is what you'll want to key in on next. Take a look at safety features like child locks and pan detection, but consider the range on the timer and temperature settings as well.
While everyone wants a cooker with plenty of heat, don't be bowled over by big numbers. You may prefer to get heat in 10-degree increments instead of 50 to 100-degree chunks. The same rule applies to timers which can range from 1 to 30-minute increments.
Induction Cooktop Buying Guide: Portable Edition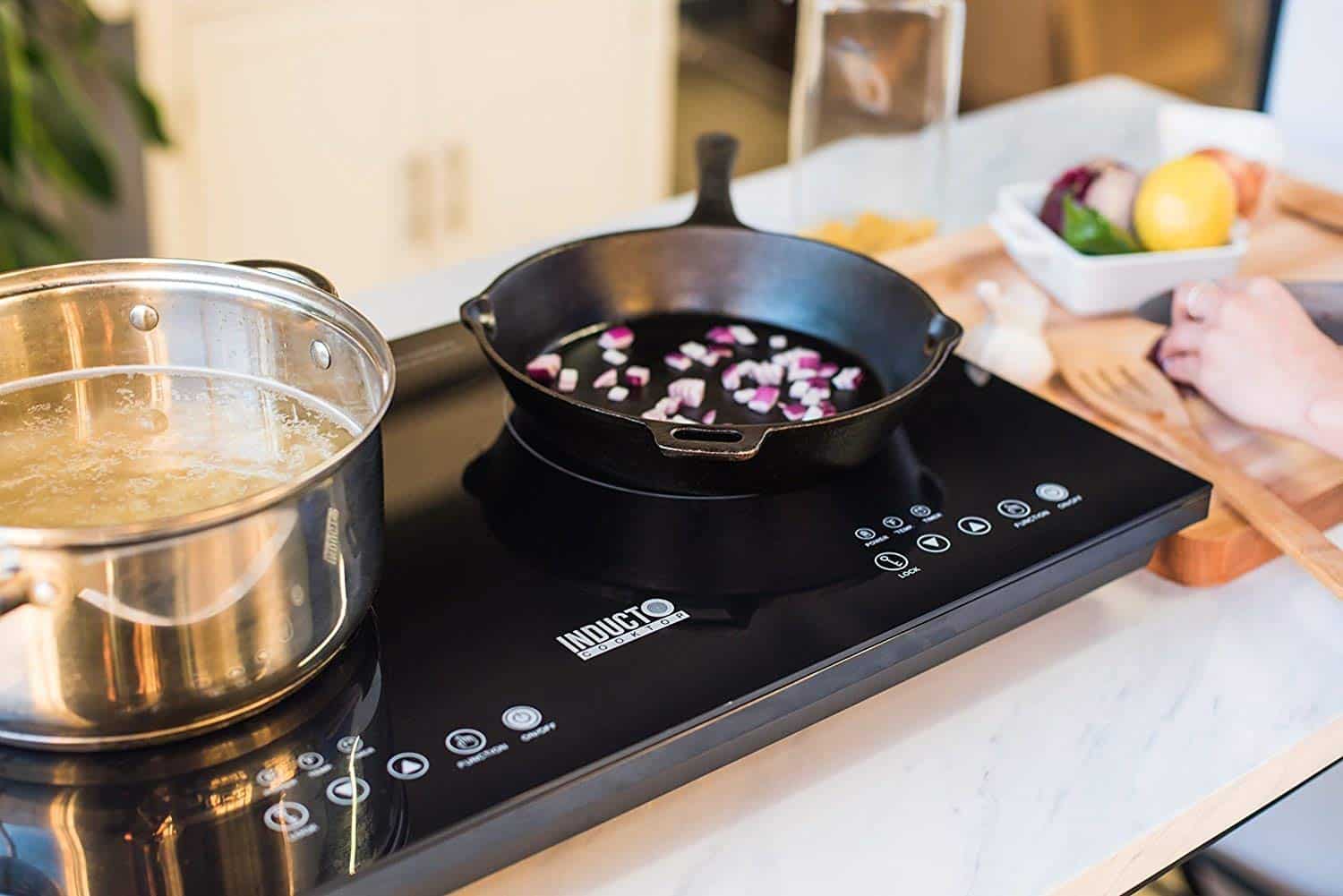 How Induction Cooking Works
There are dozens of ways you can cook food from open pit fires and microwaves to electric stoves and systems using natural gas. How quickly you can cook food varies depending on your approach and the cookware, but it's safe to say everyone reading our roundup has used one of those methods. Well, we're here to tell you the best Induction Cooker trumps them all when it comes to speed.
Induction cooking still needs electricity like a traditional range, but it uses magnetic induction instead of a metal heating element or gas. There are one or more electromagnetic coils under the ceramic-glass top which form a miniature electromagnetic field. When you flip the power switch, current is sent to those coils although the surface doesn't get hot as you can see in the video below. Spoiler alert… the chocolate is our favorite.
As you can see, you're not going to burn yourself on the surface of an induction cooker. The pots and pans are you only enemy when it comes to heat, and they won't get hot until placed on the appropriate spot on the cooktop. Therein lies the rub as well considering this type of cooker will only work with certain types of cookware.
The Advantages Of Induction Cooking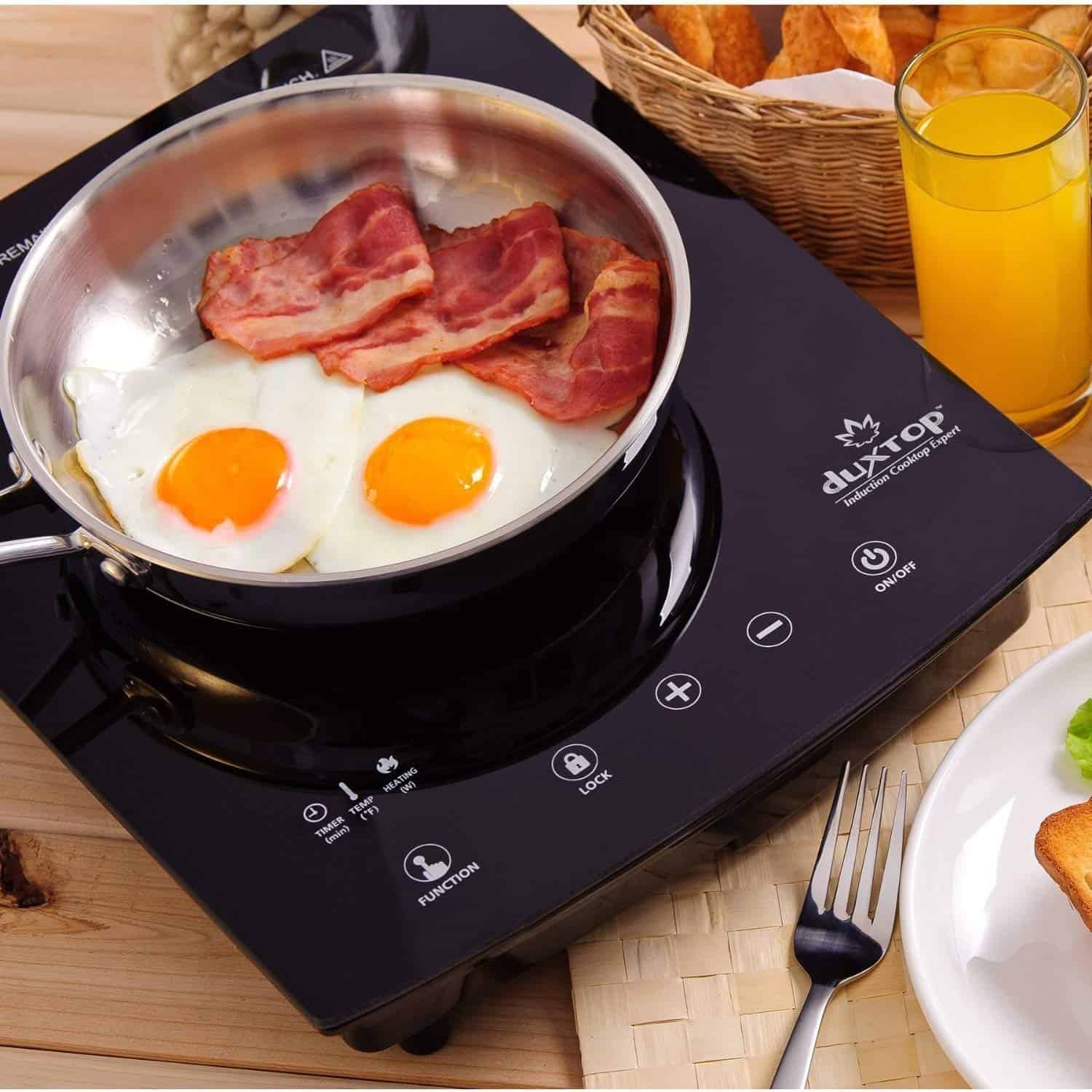 An obvious perk of these systems is the safety factor, which helps keep burns at bay whether you're the one cooking or have a curious child in the kitchen. You still need to use caution and common sense, but they are far safer than old-fashioned cooktops.
Speed is another major advantage as an induction cooktop can heat up in an instant. It can boil a pot of water twice as fast as a gas burner and gives you quick, accurate heat. The ability to set the heat level is something you won't find on classic models.
Due to their design, induction cookers are also extremely easy to clean. You don't have to wait for any metal to cool before wiping off the cooktop, and there are fewer nooks and crannies to deal with on most models. That doesn't mean everything is peachy however as there are a few things you'll want to keep in mind.
The Sweet is Never as Sweet without the Sour…
No product or technology is without its faults. There's more good than bad with induction cooking, but there are a few drawbacks you should be aware of including a slight learning curve in some cases.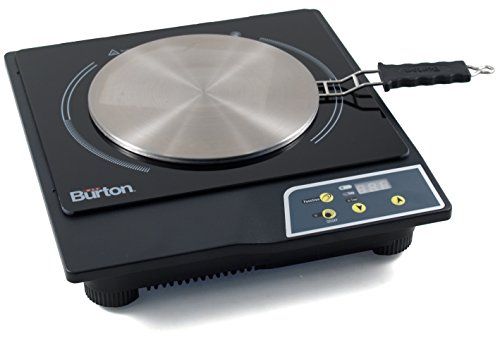 The biggest drawback is cookware as you may need to buy entirely new pots and pans to use an induction cooktop. There are alternatives like the Max Burton Interface Disk which bridges the gap between your old pots and new unit, but it's far from ideal. Price is also a consideration considering a portable electric eye is less than half the price of a single coil induction cooktop.
Cooking generally isn't a noisy affair but can be with induction. In most cases, it comes down to the type of pan you're using and can range from a whistle or humming sound that sounds like a fan. It's more common with lightweight cookware, but the overall quality of the cooker can make a difference as well.
What To Look For From An Induction Cooktop
Now that you understand how induction cooking works and why it's so awesome, we're going to cover a few areas of importance. While there are large luxurious cooktops that fit on top of an oven or in a countertop, we're going to focus on portable models this time around which means…
One Burner or Two?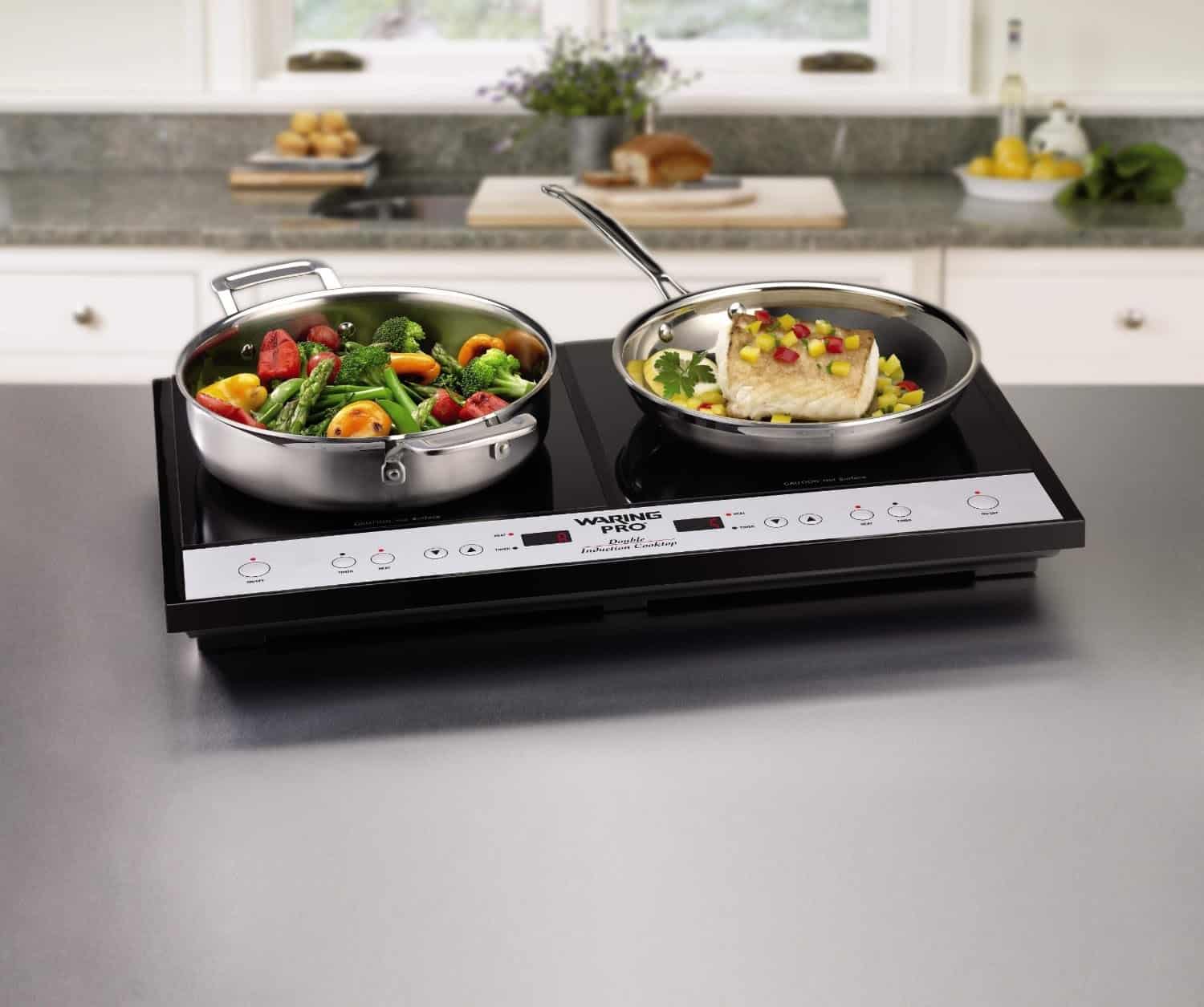 This decision comes down to two areas with space and budget. You merely need to ask yourself how much space you have and how much you're willing to spend. If the answer is "not much" to either, you'll want to look for a smaller single burner.
On the flipside, if you cook large meals or tend to have more than one pan on the stove at a time, opt for a dual induction cooktop. You will have to pay double the price or more depending on the features but can stick to the 120V plugs as long as you don't go beyond two burners. Anything larger and you'll want to buy a full cooktop.
Temperature Ranges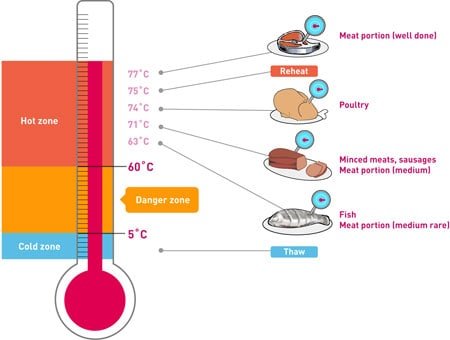 Figuring out the temperature range of your electric eye is simple unless you've never boiled a pot of water or cooked anything in a skillet. Setting the temp simply requires you to turn a dial, and the same goes for gas although it heats up considerably quicker. In a nutshell, you get a feel for things rather quickly.
We're pleased to say induction cookers are actually easier to use for some consumers as you don't have to guess the temperature. Each cooktop will have a temperature range from the low to the high side, but all of our choices top out at 1800 watts. That's more than enough power for most folks although there's more to an excellent induction cooker than just sheer power.
Precision is Key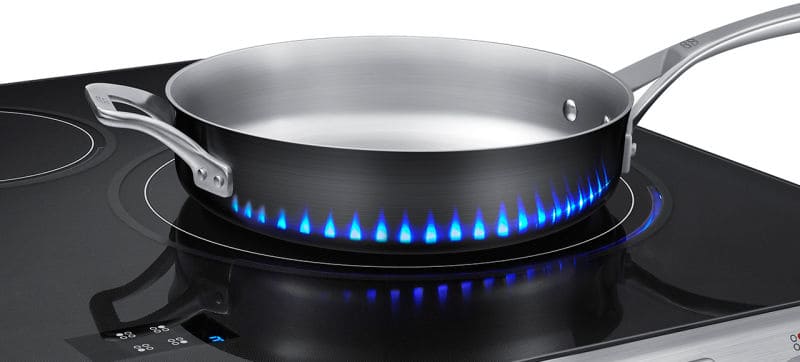 The best induction cooktop will give you access to a full array of temperature settings while others lock you in at set increments. There's no magic number as some models go down to 120 or 240 degrees, but the maximum was around 575 degrees for systems in this class. If you want a precise cooker, look for an induction cooktop that lets you set the temp in 10-degree increments – not one with filled with wider presets.
Ease of Use
No matter how fancy your new cooktop is, it won't do you a bit of good if the controls are poorly placed or difficult to use. This all comes down to the control panel which typically consists of a small digital readout and a series of buttons scattered across the front. While you may be tempted to go straight for the cooktop with a thousand buttons, you'll want to consider their placement.
As mentioned, the surface of an induction cooker won't get hot, and the whole plate lies dormant until cookware comes in contact with the top. If the controls are too close to the pan, it won't matter as you can still feel the heat from the pan. You also need to consider flush-mounted touch controls over classic covered buttons if given the option and while we dig dials, buttons leave less chance for error.
Cooking Zone Size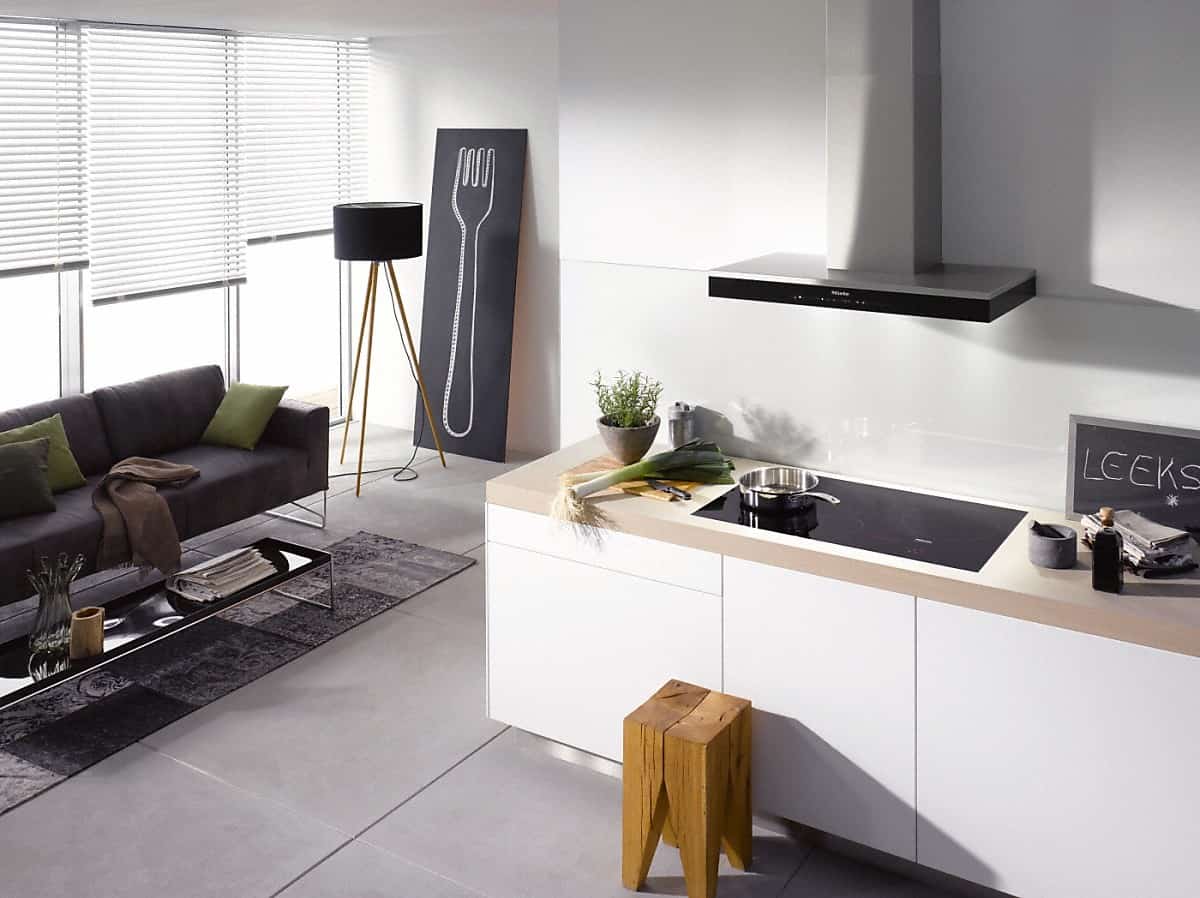 One of the cooler things about switching from electric or gas to induction are the cooktop zones. Gone are the days of replacing burner covers as the sealed top of an induction cooker eliminates this and gives you visual cues. That's due to their cooking zones, which dictates the size of the cookware you'll need to use.
On the surface of single or dual burner induction cooktops, you'll see an outline which tells you where the pot goes. Think of this as your "cooking zone,"  any piece of cookware outside those lines won't heat up like it should. While most small induction cookers only have one zone, some also have an inner circle, something ideal if you cook with smaller pots and like to sauté.
Build Quality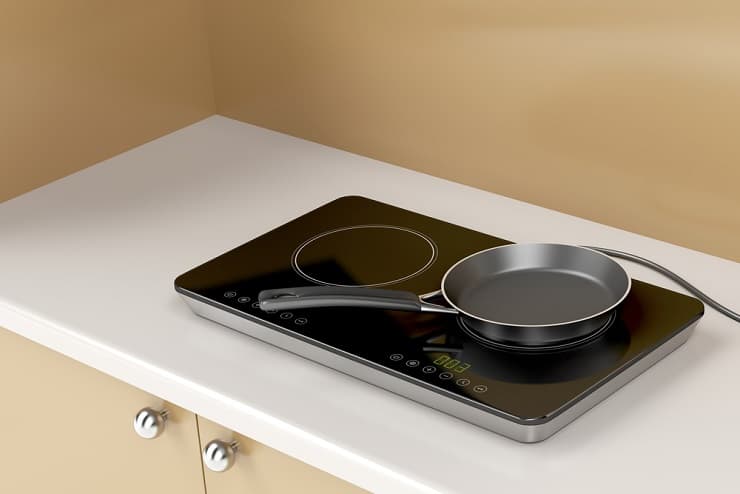 There's not a lot to talk about when it comes to induction cooker designs as the technology limits what manufacturers can do with even the best dual induction cooktop. They all have a similar style, so you just want to make sure it looks good in your kitchen and doesn't clash. Instead, we're going to focus on build quality and one area plenty of consumers overlook.
If you are concerned about doing damage to your portable cooktop, look for one with an external frame not one with an edgeless design. It may look great in your kitchen but could be headed to the trash can if it hits the floor. You'll also want to make sure it's nice and stable on any surface you'll use it on, so check out the quality of the legs or feet and always keep the weight limit in mind.
No matter how stable or sturdy your new cooker is, the cord can quickly ruin your day. It's the one area people tend to overlook, but it's safe to say nobody wants an unsightly extension cord in their kitchen. Consider where you will use your cooktop and look for a model with a cable capable of giving you a little wiggle room – not one that puts you in a pinch.
But what about the warranty?
Unfortunately, you're going to have a hard time finding an induction cooker with a warranty over a year or two. That's the standard although a few buck the trend with a 3-year guarantee or longer. We've highlighted this information in our induction cooker reviews along with links to product manuals so you can read the fine print.
Bells & Whistles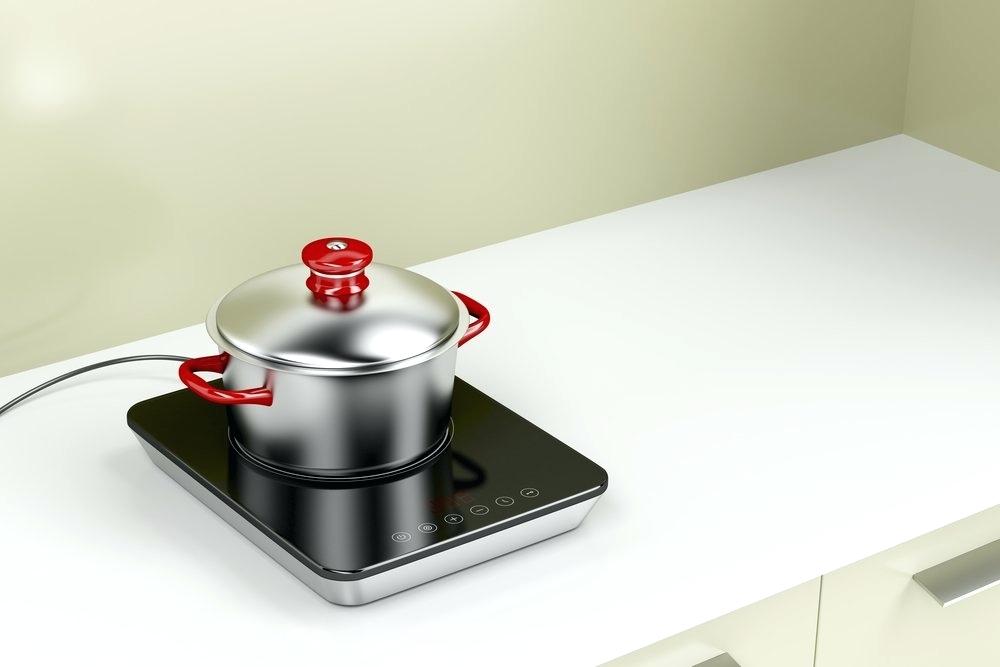 As you'll soon find out, most induction cookers look the same and share a standard set of features. You won't find too many models above 1800 watts, but you can narrow the field when you understand the features available on this style of cooktop.
Safety Features
The best safety feature on induction cookers is a simple lock. Unfortunately, it's not something every model has although we feel it should be standard. While cooktops don't get hot, accidents can still happen which is where child locks come in handy.
Something a little more common and just as handy is pot detection which shuts the cooktop off after a pot has been removed for a certain amount of time. Safety cut-offs can also prevent overheating, and a cooker with a good diagnostic system will save you a whole lot of trouble down the line.
Dealing with customer support is not fun, and it's a road you may never have to travel if the control panel can tell you what's going on under the hood. While not technically a "safety" feature, timers will keep your food from getting scorched, but some only give you 30-minute blocks while others dip down to 1-minute intervals.
Flagship Features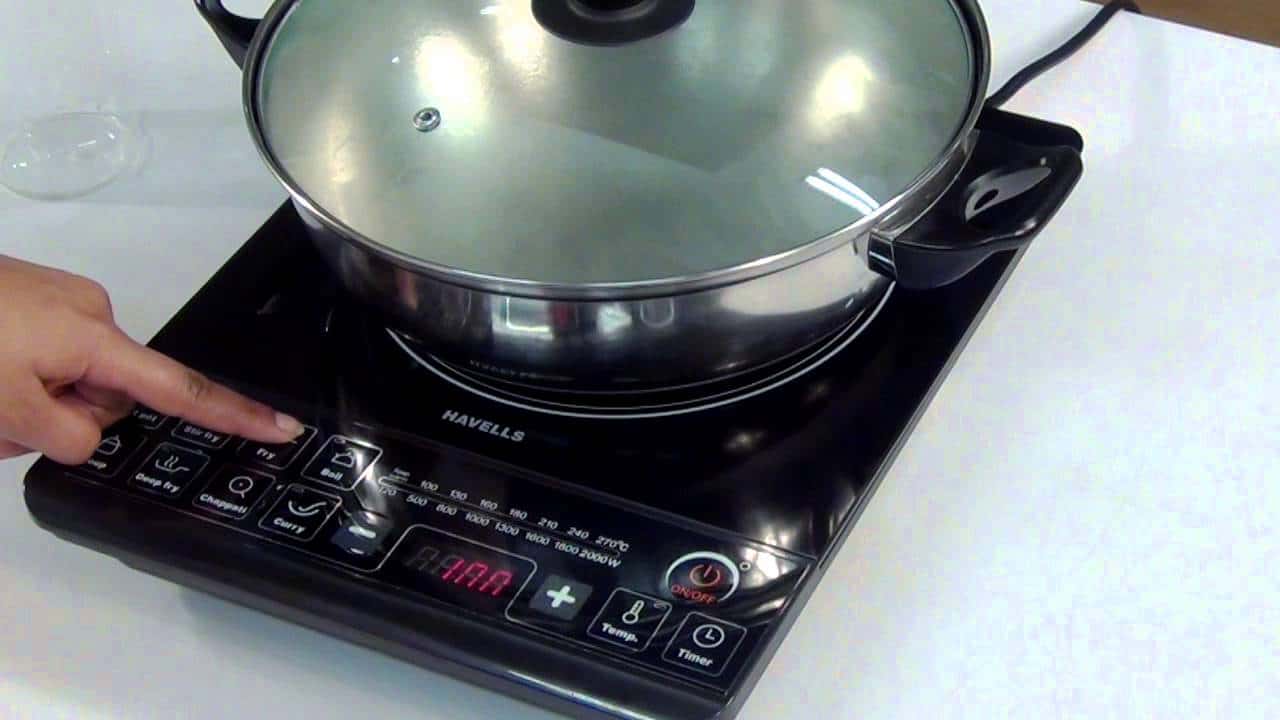 Looking for something more out of a portable induction cooker?
While none will automatically cook your food and serve it up on a plate, you might be surprised by a few features. Auto resume and heat are two features we didn't come across often. The same can be said for buttons which pause cooking for wipe downs or dual cookers with full powered zones.
If presets are more your speed, several models allow you to boil water rapidly or sear something in a skillet. High, medium and low are options as well, and more useful than they sound when you've never used an induction cooktop. Finding the right temperature on a scale from 1 to 10 is easier said than done which brings us to…
Temperature Levels
Power and temperature levels are something you'll hear us talk about a lot in our buying guide to induction cooktops. Manufacturers also like to throw those numbers around, but 350 degrees may not do you much good when transitioning from an electric range unless you understand what those numbers on the dials mean.
Figuring out the proper temperature can be tricky if you're relying on a scale that goes from 1 to 10. Sure, everyone knows 10 would be considered high, but what number should you use for chicken or pork?
While there is no magic number, most manufacturers will give you the scoop on their temperature range in the user manual. We've included links to those for all of our picks in case you want to dig into the fine details. There is no substitute for a good meat thermometer although we highly recommend checking out the USDA's official guidelines for food safety as well.
The other to focus on with temperatures would be the adjustment range. The ability to adjust the temperature in 10-degree increments should not be underestimated – it's just not something you'll often find on smaller induction cookers. There is usually a gap of 40 to 50 degrees between levels, so the more settings, the better if you want total control.
What about that cookware again?
You can cook almost anything on an induction cooktop as you can on a regular stove as long as you have pots or pans made from ferrous metal. That includes a nice espresso, popcorn, chicken or freshly ground meat. It's also the area which can cause the biggest headache for consumers, which is why we're going to tell you what works and what won't…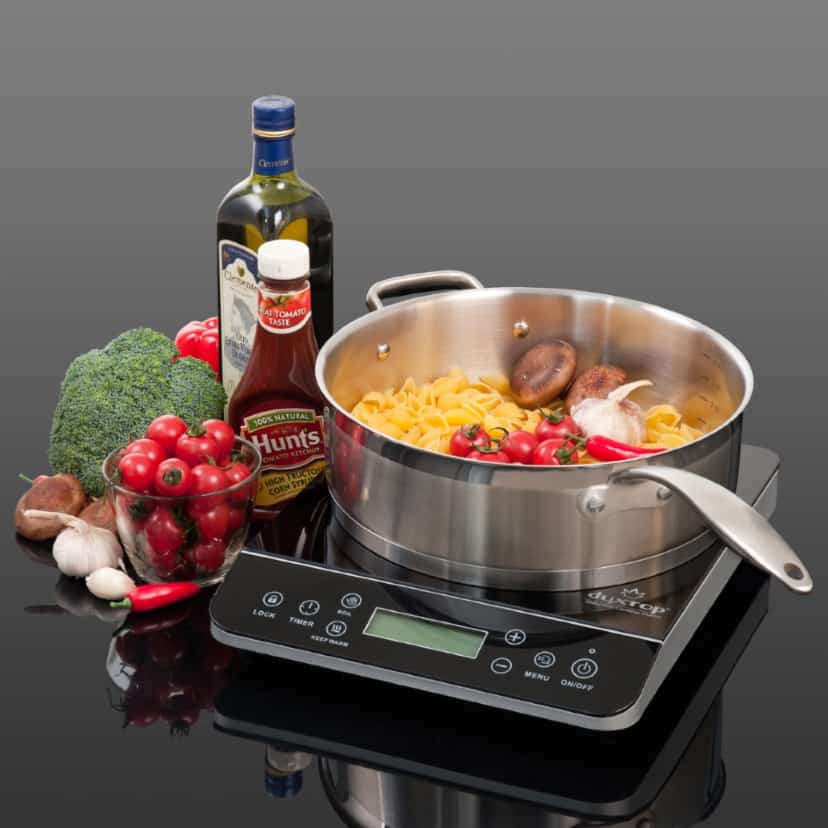 Copper – While we all love those cool copper pans and skillets that let food slide right out, copper is not magnetic on its own. Unless the pans have a stainless steel plate on the bottom which makes it conductive, you'll need to put your copper cookware away.
Stone or Granite – This style of cookware isn't quite as popular as copper, but perfect when you want a pan that cooks a little healthier than the rest. The process and what the coating is called varies, but enameled pans like this one from Carote are made to work with induction cooktops along with other types of ranges.
Cast Iron – If you're thinking about breaking out granny's old cast iron skillet to use with your cooktop, go right ahead. Cast iron is an excellent choice although you'll need to keep two things in mind. Be gentle using it on your shiny new glass cooktop, and give it a good seasoning if it's brand new or has been collecting dust for a few decades.
Aluminum - If most of your cookware is aluminum without a steel bottom or special core, you're out of luck. It's just as unfriendly and non-ferrous as copper, and something plenty of us have in our kitchen. Thankfully, manufacturers jumped on the induction bandwagon, so you don't have to sacrifice thermal conductivity if you pick a pan made from a hybrid blend.
Stainless Steel – Another popular option for cookware, you're likely to have better luck with your stainless than older aluminum pans. Any cookware made from magnetic grade stainless is good to go. Many manufacturers make full sets that are compatible with induction cooktops as well.
The magnet test is the easiest way to check your existing pots and pans if you're not sure what they are made from and before you opt for an entirely new set of cookware. If your kitchen fails the magnet test, it's a drag, but you'll be pleased to know induction cookware is backward compatible so it will work just as well on your old range.
Our Reviews of the Best Portable Induction Cooktops
01
NuWave PIC Gold Precision Induction Cooktop with Pan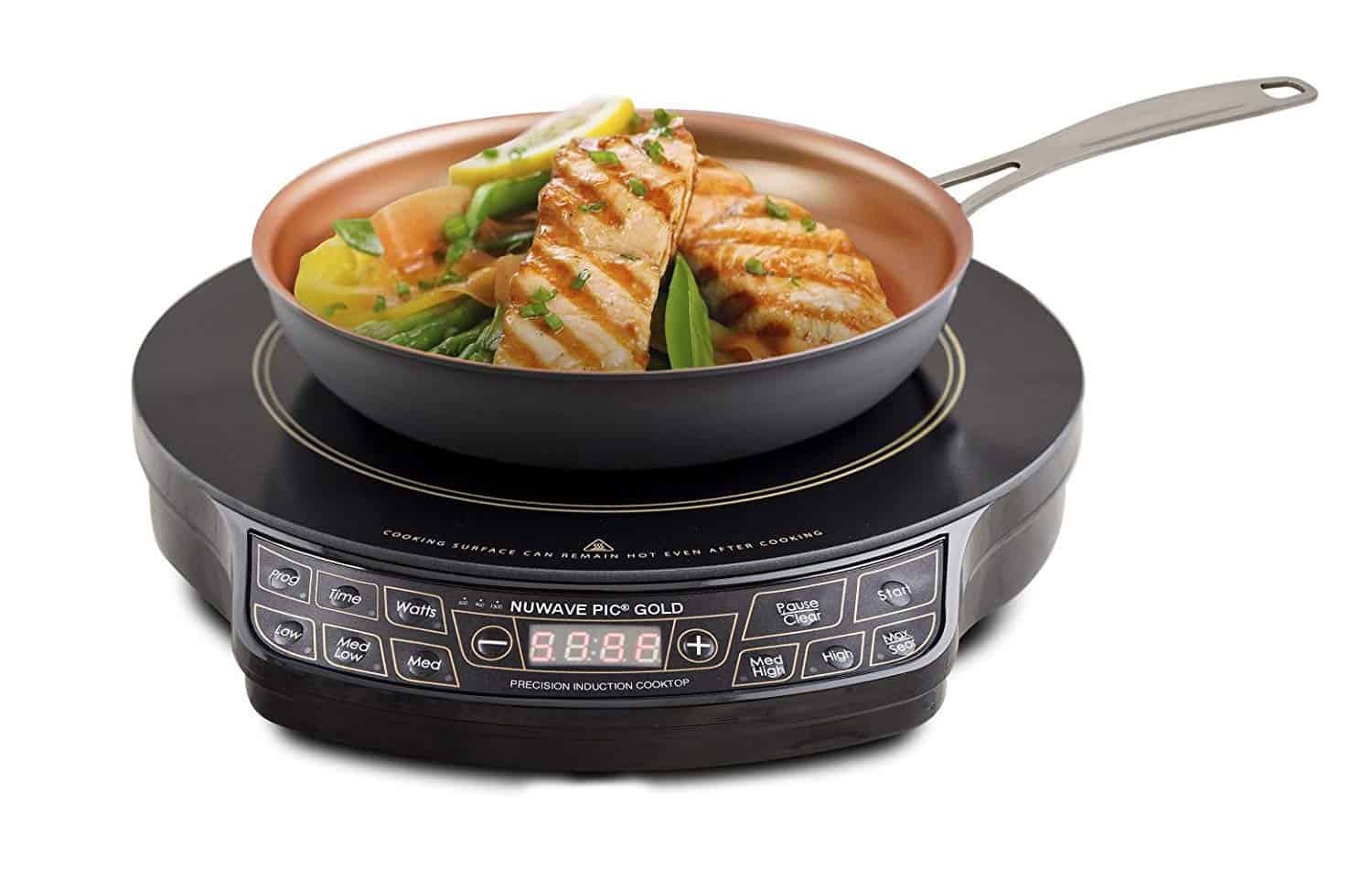 In our search for the perfect cooktop, NuWave was a brand we came across quite frequently. The PIC Gold Precision Induction Cooktop is our top option as it has a sweet price point and comes with a nice array of accessories straight out of the box.
This 12-inch cooktop has a heat-resistant top with a single 8-inch heating coil beneath its surface. It's capable of reaching a temperature of 575 degrees, or you can dial it down to 100 degrees when you just need to simmer. You can manually adjust the temperature range in 10-degree increments with a whopping 52 temperature settings in all.
Can you also set the time?
One of the cooler things about this type of cooktop is the fact you can set it and forget it. The NuWave 30242 is no exception considering it has a 100-hour max timer with the default set at 1 hour for auto-off. It also has six preprogrammed temperature settings along with a delay and sear feature. We're huge fans of multi-stage cooking and are never going to complain about a cooker with a resume function.
Some cooktops can be overly complicated, but we're pleased to say the company kept things relatively simple with this one. It has a small digital readout and a full array of buttons with little tactile nubs. Most consumers found the NuWave easy to use and clean although there are a few areas that could be an issue down the line.
While the build quality is top notch on the 30242, the keypad is going to see a lot of action and may wear down quicker than you'd like. If you've ever had the number or letters rub off a key or button, you already know what a pain that can be. You may never encounter this problem if you keep your machine tidy and don't use it as your primary means of cooking, but the control panel is something to consider nonetheless.
The NuWave PIC Gold comes with a 1-year warranty and plenty of goodies in the box. You'll get a 10.5-inch hard anodized Duralon Ceramic pan, an instructional DVD, a cooking guide, and a user manual. It's the ideal cooker if you want something simple but packed full of features, just keep cookware in mind as it can be a little fickle.
Features
100-hour programmable timer
3 wattage settings 600/900/1200
Multi-stage cooking
8-inch heating coil
Delay and Sear function
---
Pros
Uses 70% less energy than a regular oven
The 12-inch surface is easy to clean
52 temperature settings!
Excellent extras in the box
Cons
36-inch power cord
Cookware compatibility
---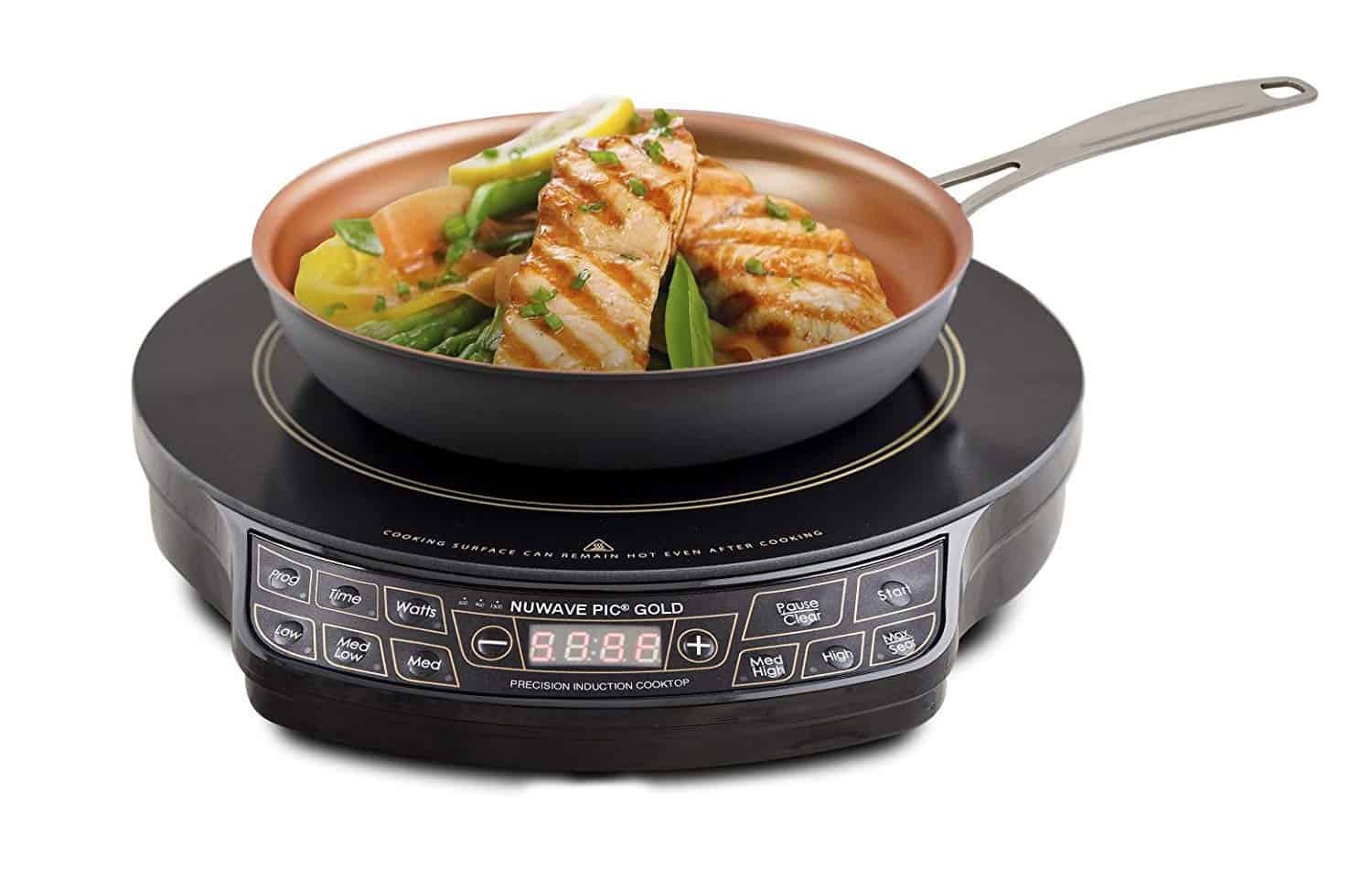 02
Copper Chef Induction Cooktop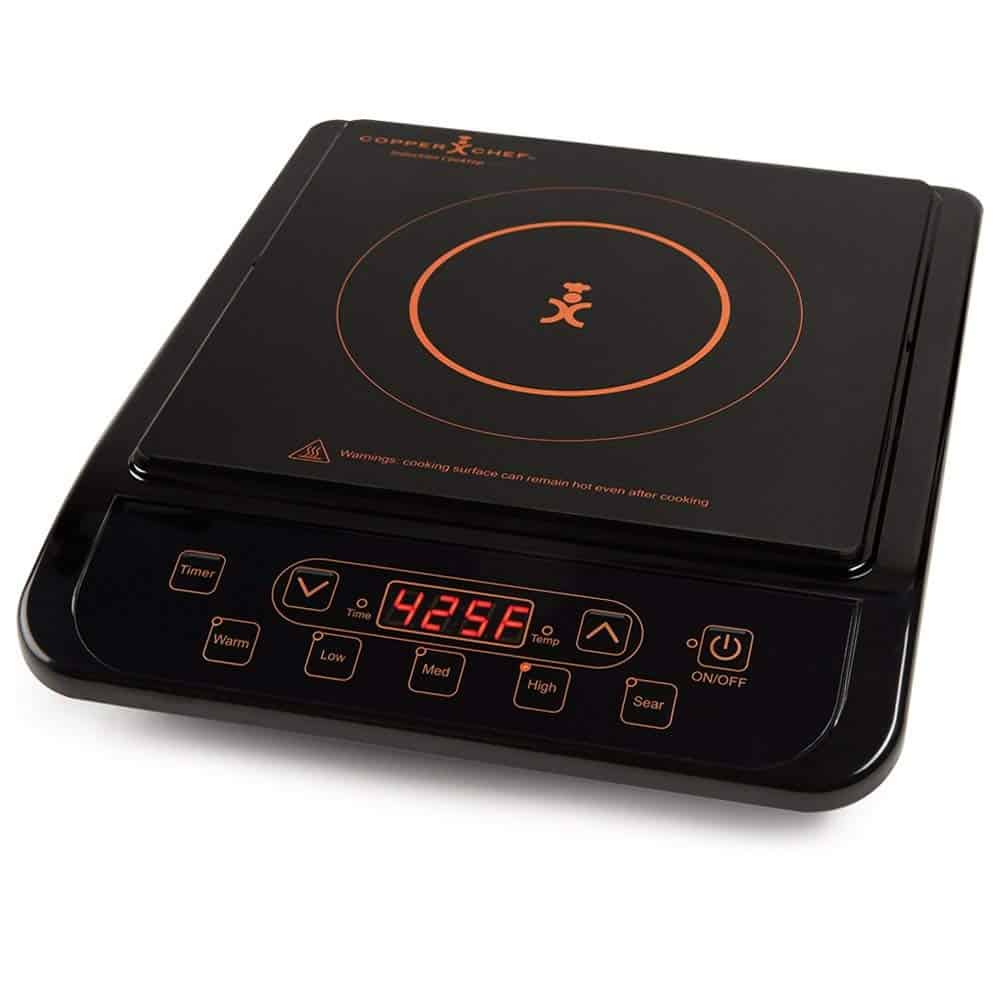 If you've flipped on a television in the past few years, there's a strong chance you've heard of Copper Chef and their magical cookware. They also make cookers like the mighty Copper Chef induction cooktop, which is small but mighty.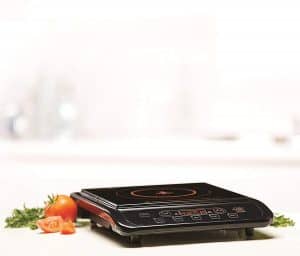 Is it a digital kitchen scale or a cooktop? That may be the first question which comes to mind when you set eyes on this induction cooker. It has a clean design, even if it's a little retro and the control panel is sealed against grease and grime. There are a few crevices you may have to deal with if things get sticky, but consumers felt this one was easy to clean for the most part.
The surface has a large 10-inch cooking area which is compatible with 8 to 12-inch pans. It's not as strong as other models although it produces up to 1300 watts of power with a range of 100 to 500 degrees. There are 5 cooking preset key as well with warm, sear, low, medium and high. Want total control? You almost get it with Copper Chef's cooker as you can adjust the temperature in 10-degree increments… not 50 degrees at a time.
We're big fans of Copper Chef cookware, and the company delivered on their first induction cooktop as well. The only knock on this unit is the fact it's a bit basic compared to other models in this class and its short warranty. You'll only get 60 days with this one although we didn't find many customer complaints in regards to its performance.
Features
1300 watts
5 presets
Auto shut-off
---
Pros
Sear and warm function
100 to 500 degrees
Very reliable
Ease of use
Cons
No safety lock
Short warranty
---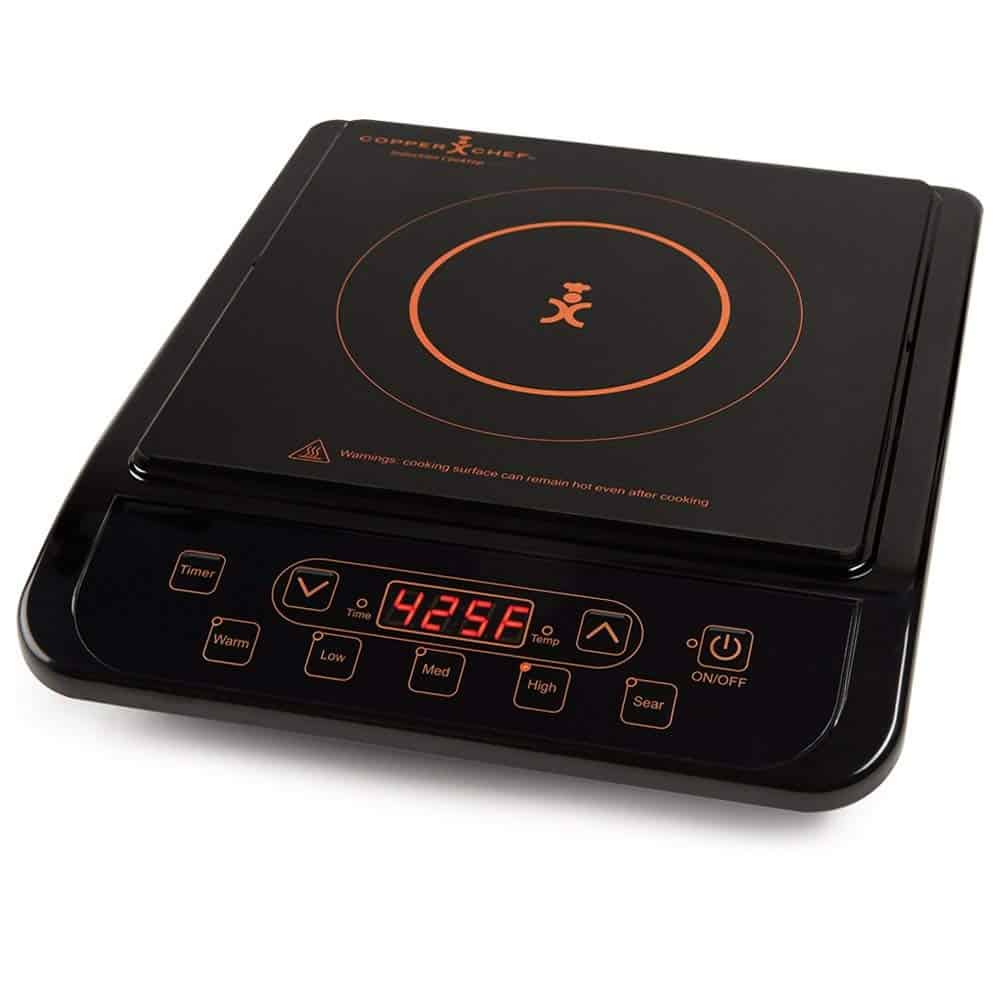 03
Duxtop 8310ST Sensor Touch Induction Cooktop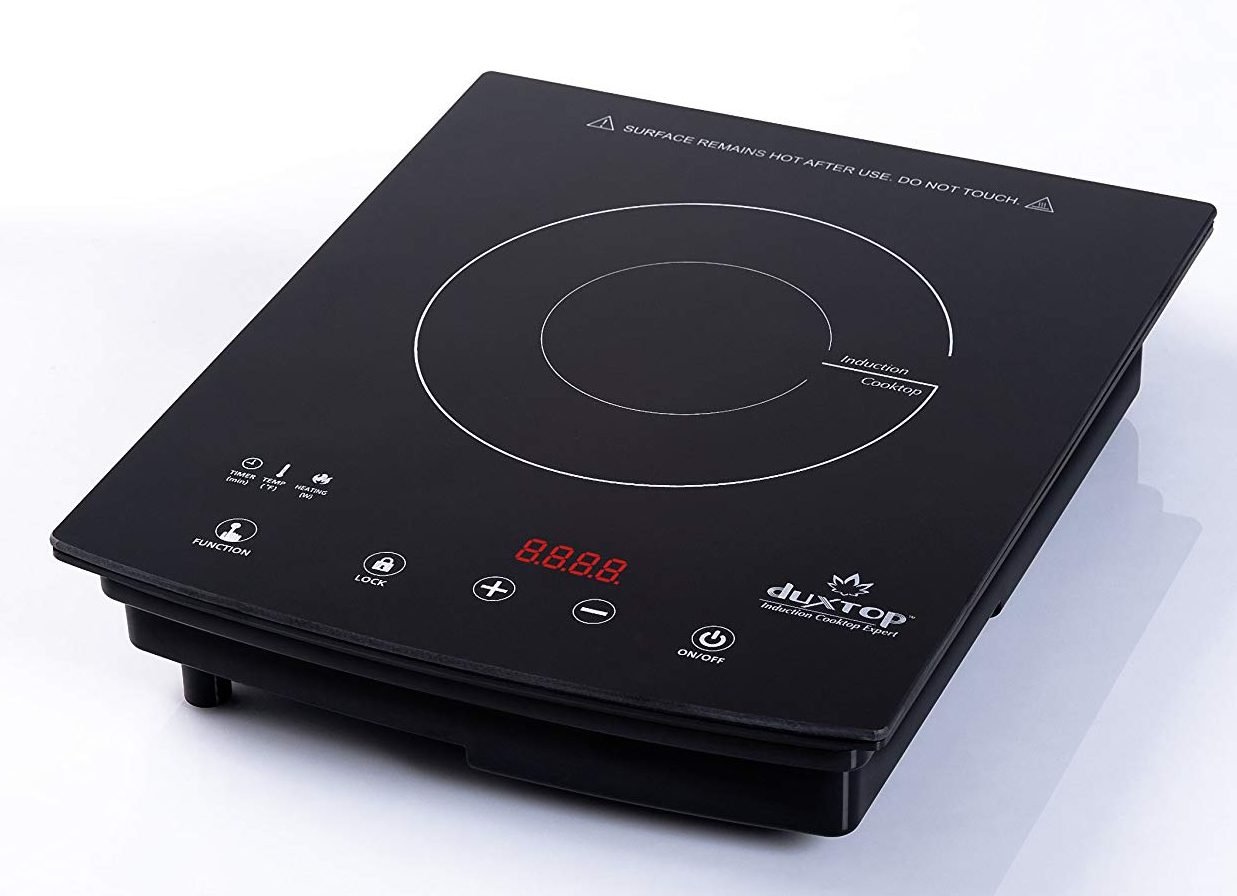 With a wide temperature range and a full set of flagship features, there's a lot to like about the Duxtop Sensor Touch 8310ST. It's the sleekest cooktop to make the cut and has a touch-based control scheme that gives it a leg up on the competition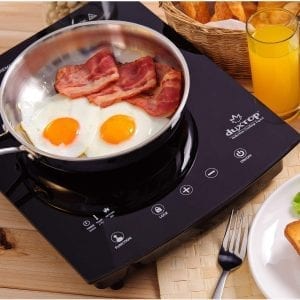 Looking for a cooker with a wide range? The Sensor Touch fits the bill with ten settings from 140 to 460 degrees. The system is automatically set at 320 degrees when you fire it up, and we're pleased to say dialing this one up or down is about as simple as it gets. If you can press a button, you'll have no problems using this induction cooker.
Where other models have a sloped control panel, dials or raised nubs to press, the controls are built into the surface the 8310ST. Want to turn up the heat or dial it down? Just touch the appropriate buttons, and you're good to go.  There is a function button which allows you to switch between modes, but aside from that, you only have a power and lock button to contend with.
The safety features are present if somewhat hidden just like the small readout on the surface of this cooker. You can activate the child safety function by holding the lock key down for 3 seconds, and pan detection will kick in and shut things down once you've removed a pot unless you replace it within 60 seconds. Whether there's a power surge or another issue, the diagnostic system will keep you in the loop.
One more thing…
The last feature we want to mention the timer. It's not the longest timer we've seen at 170 minutes although it's towards the top. What makes it stand out is the fact you can set it in 1-minute increments whereas other models will lock you in at 15 or even 30-minute blocks. It's not a feature you should overlook, especially if you just want to cook an egg or warm something up.
While the style of this cooker is what initially caught our eye, we're fans of the features and love the fact it comes with a 6-foot cord. This cooktop comes with a user manual and 1-year warranty from the company, but you will need to supply the cookware and electricity yourself. While there is a variant available with a 2-year warranty in the 8100MC, we do not recommend that model due to an abundance of customer complaints.
Features
Child lock
140 to 460 degrees
Diagnostic error system
6-foot cord
1-year warranty
---
Pros
10 temperature settings
Modern design
Flexible timer
Touch controls
Pot detection
Cons
Quality control
Some complaints on noise levels
---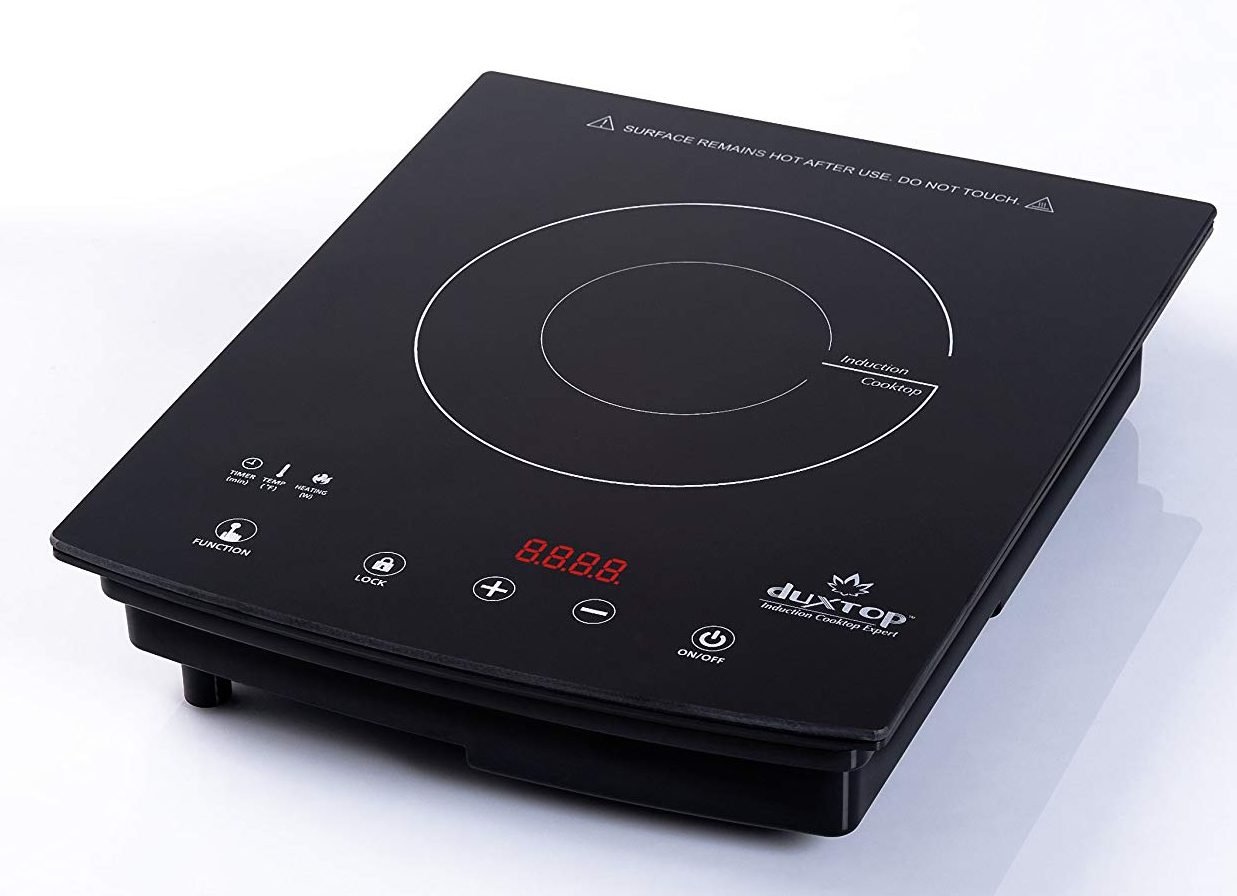 04
Cuisinart ICT-60 Double Induction Cooktop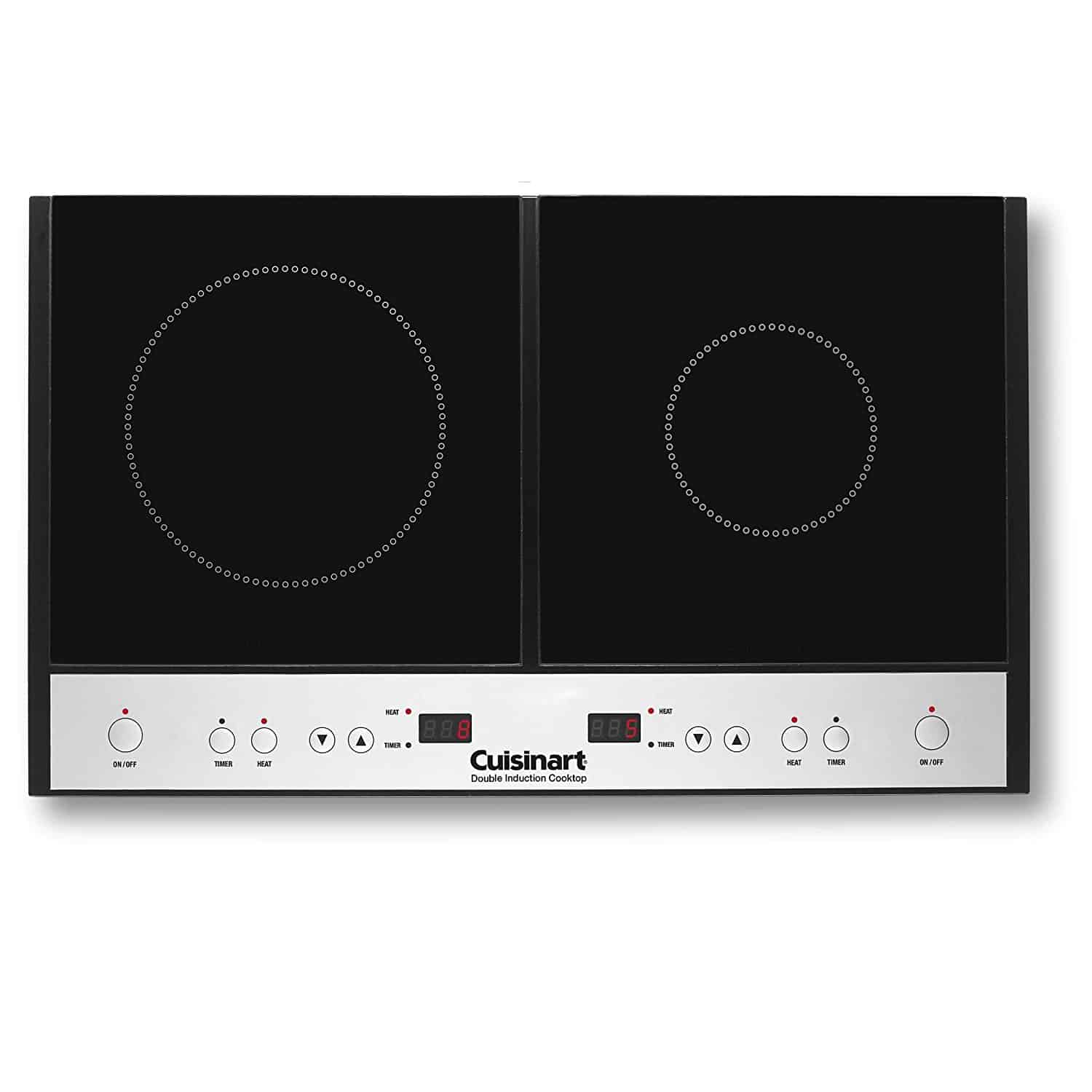 Cuisinart is a name most consumers know, and it's only natural they have an induction cooker. The ICT-60 is their entry onto our list, and this double induction cooktop can hang with the best of them when it comes to cooking food efficiently.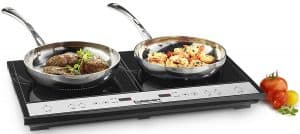 This dual cooktop is large as its 26.8-inches long and 17-inches wide, but only 14 pounds. It has a simple design with a clean black cooktop and silver control panel with buttons for each side. While there are an equal amount of buttons on each side, one zone is larger than the other as you can clearly see by the outline on the cooktop.
The left side of the ICT-60 is for higher heat and larger pots with 8 heat settings which range from Low to High. The right side goes from 1 to 5 which represent Low to Medium on the temperature scale. We had to dig deep for the tech specs, but the left burner clocks in at 200 to 1200W while the right burner is listed at 200 to 600W according to the product manual.
Now that we've told you the differences for each zone, we're going to talk about the similarities. Both sides have a 150-minute timer and the fantastic pot-off feature which kills the heat 30 seconds after you remove a pan. It also has overheating protection, but there are no other standout features to speak of on the Cuisinart ICT-60.
This cooktop is similar to the Copper Chef single burner unit as both get the job done, but offer the bare minimum of features. That's not necessarily a bad thing if you want something easy to cook on, and in this case, have a good sized countertop at your disposal. We like the price tag, and we love the fact you get a lengthy 3-year warranty on the ICT-60 as well.
Features
Dual induction burner
1200 watts
Pan-off feature
---
Pros
Ease of use
Individual controls
Dual 150-minute timers
3-year warranty
Cons
Limited features
No child lock
---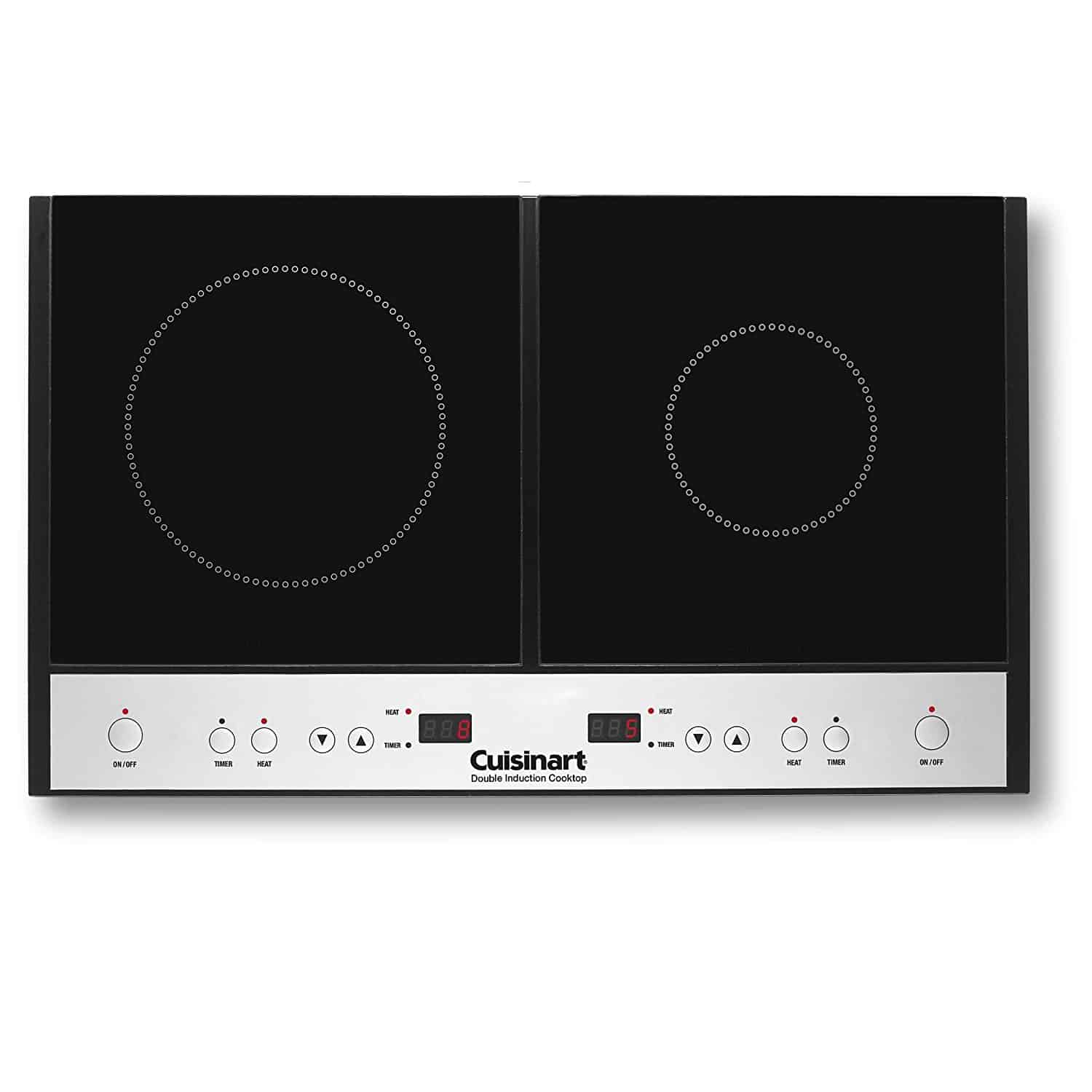 05
Ovente Induction Dual Countertop Burner
If you cook more than one item at a time, a dual induction cooktop is the only way to go. This portable system from Ovente certainly falls into that category, and while you'll need a little more space on your countertop, you won't be disappointed by what it can do.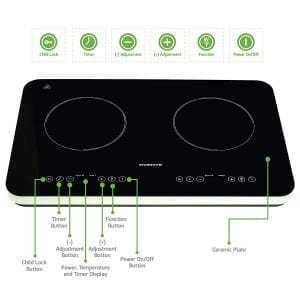 The Ovente BG62B is a stylish induction cooker measuring 11 x 13.8 x 2.5-inches with a weight of 5.5 pounds. Obviously, it's larger than a single zone system, but it's easy to move around and can still fit in a cabinet or cubby when not in use. The slick ceramic surface is easy to clean, and we love the control scheme. Everything is easy to access and a good distance from the heat zones.
How safe is it?
The size may lead you to believe this cooker gets hotter than the rest, but that's not the case. The Ovente Double Induction Cooktop is actually safer than most. The surface stays cool the touch, and there's a "caution" light when the cooking surface is active while you cook.
If you have kids, you'll appreciate the child lock feature and automatic pot detection. In case you're not impressed, it also has systems for diagnostic errors and in case of high or low voltage. It is certainly one of the safer models around, but quite capable considering it's an 1800 watt cooktop with temperatures from 140 to 465 degrees.
There are eight temperature levels on this cooktop in addition to five preprogrammed timer levels ranging from 1 minute to a maximum of hours. The company promises you won't encounter any cold spots on their cooktop and it's quieter than other models in this class as well. We couldn't find a good in-hand review to check the noise levels, but you can get a better look at it in action during this promotional video…
In our research, we didn't come across any real negatives with the Ovente Double which is rare although there are a few things to note. It doesn't have quite as may presets or levels as you'll find with other cooktops and it's pricey, but still one of the best dual induction systems currently available. The BG62B comes with a 1-year warranty which you need to register within 30 days. The standard product manual is included as well although this one is a breeze to read and understand.
Features
1800 watts
Low noise burner
Child lock
Diagnostic error messages
---
Pros
8 variable temperature ranges
Great safety features
Pan detection
Excellent set of instructions
Cons
Lack of settings and presets
The price tag
---
06
Rosewill 1800W Induction Cooker Cooktop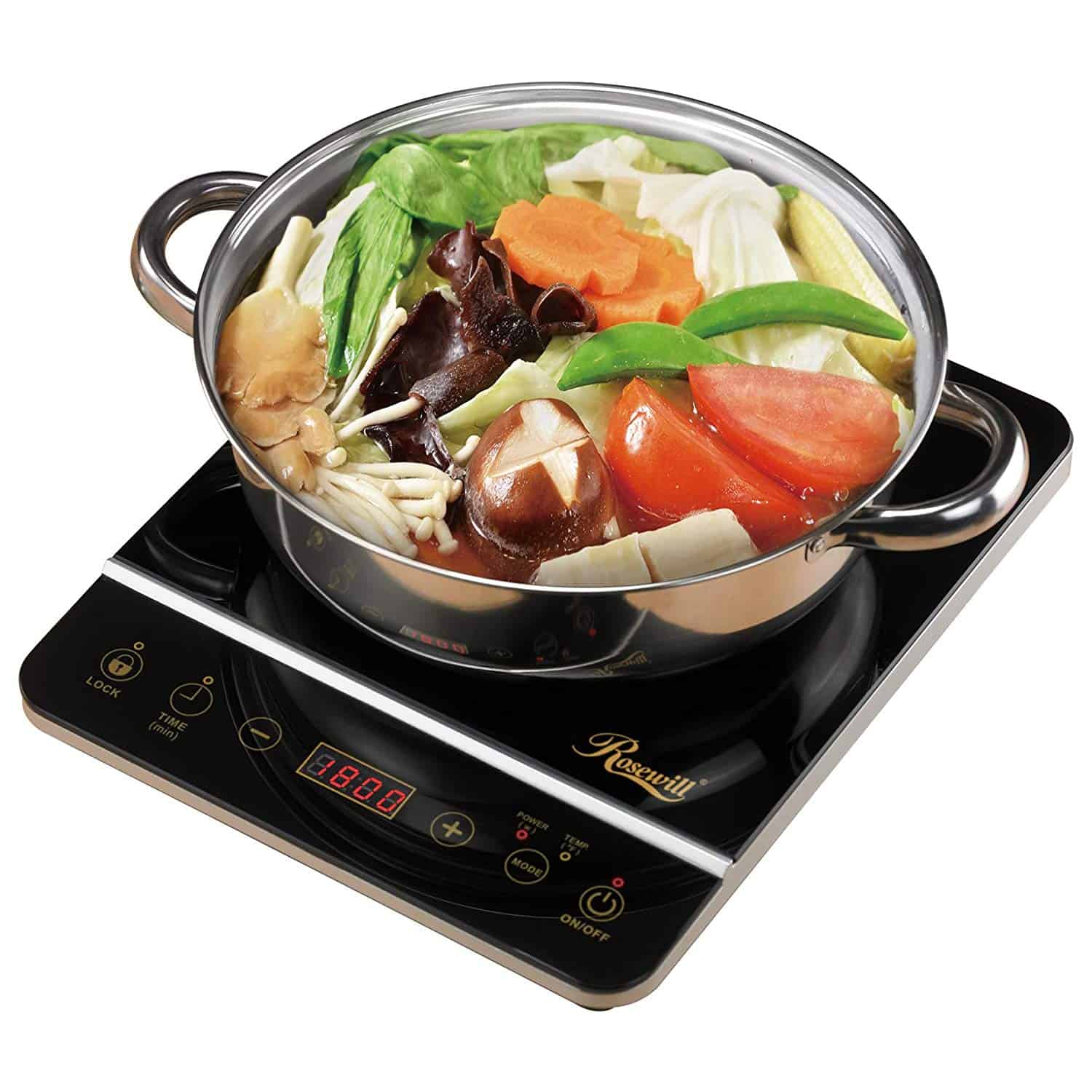 When you're not quite ready to go all-in on an induction cooker, sometimes a budget-friendly option is your best bet. Well, a sweet price point is only one reason consumers love the Rosewill 1800 watt induction cooker, and it's brainy big brother.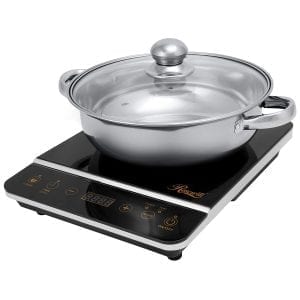 The first thing we want to point out about this cooktop is the fact you can buy it in two styles. The base model is what we're going to focus on, but there is a pre-programmed version of this one as well with a slightly different design. While both have the same temperature range and a similar set of features, the latter comes with five modes for soup, arm milk, fry, hot pot, and stir-fry.
Settings aside, both models of the Rosewill induction cooker perform as advertised. Temperatures range from 150 to 450 degrees with eight settings to choose from. There are eight matching power levels as well ranging from 300 to 1800 watts, so you'll have plenty of power regardless of what's in the skillet.
On that note…
The RHAI-16001 comes with a 3.5-quart stainless steel pot measuring 10-inches. It's not in the upper echelon of the pot world, but will get the job done, is magnetic and a nice extra out of the box. Consumers also felt this was one of the easier models to adjust to with only a handful of buttons for Mode, Power, Timer and adjustment controls for up and down.
There's also a child lock button to go along with an LED display while the pre-programmed variant adds the aforementioned cooking modes and a temperature scale. Unfortunately, we did not see the child lock feature mentioned for the RHAI-16002 variant. That's a big disappointment, and another reason we chose the base model.
Other features of note for the Rosewill 1800 watt induction cooker include a 3-hour timer, cookware compatibility detection and a weight limit of 17.6 pounds. It can handle pots or pans from 4.7 to 10.2-inches as well which is impressive considering its 11.2-inches wide and only 13.58-inches long. Both models come with a 1-year warranty, user guide, the 3.5-quart pot, and a test magnet to test your current cookware.
Features
Polished crystal plate cooktop
300 to 1800 watts
8 temperature settings
Overheating protection
1-year warranty
---
Pros
3-hour timer
Child Lock (non-programmed model only)
18-8 stainless steel pot
Cookware detection
Cons
Lack of precision temperature control
Cooling fan can get a bit noisy
---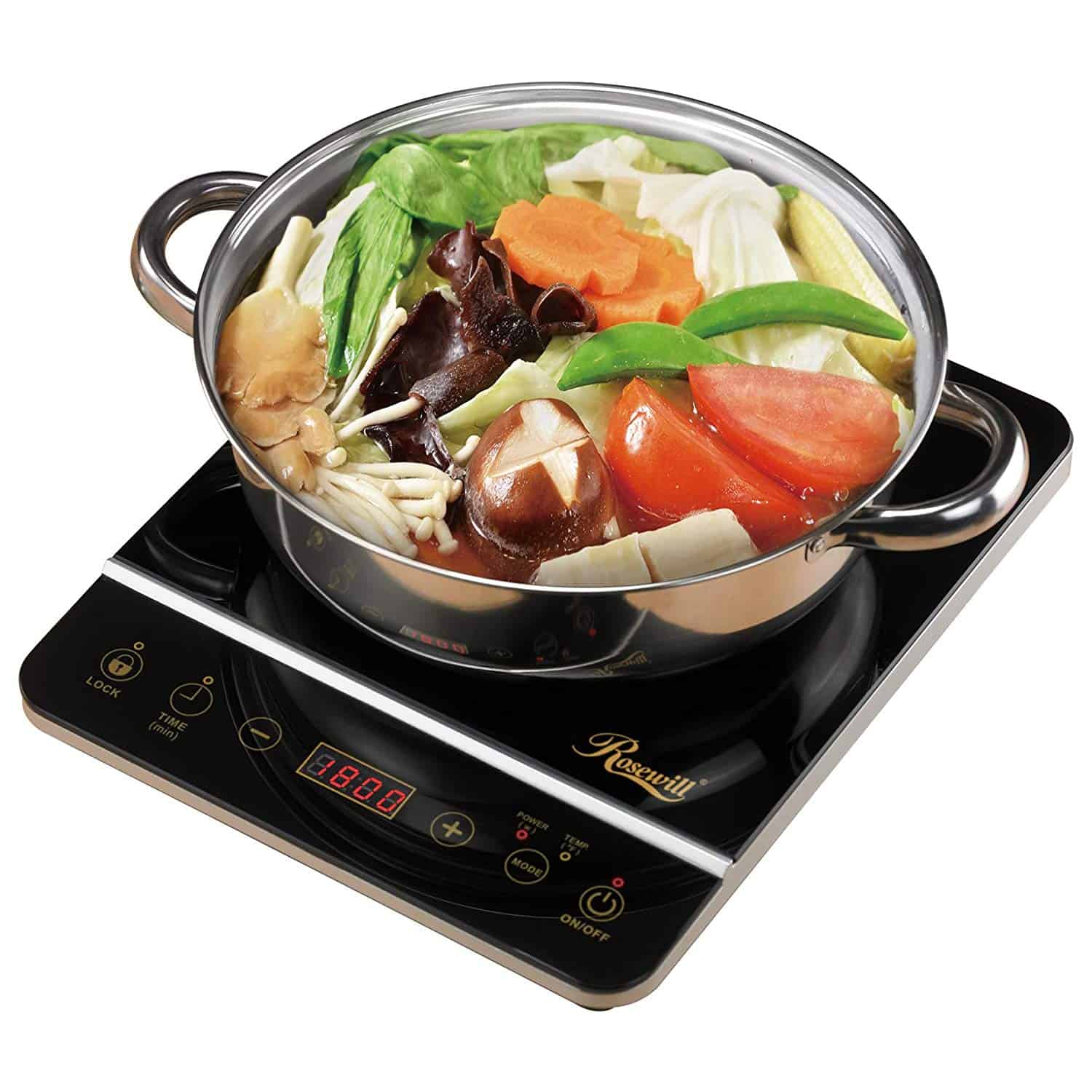 07
Secura 9100MC Portable Induction Cooktop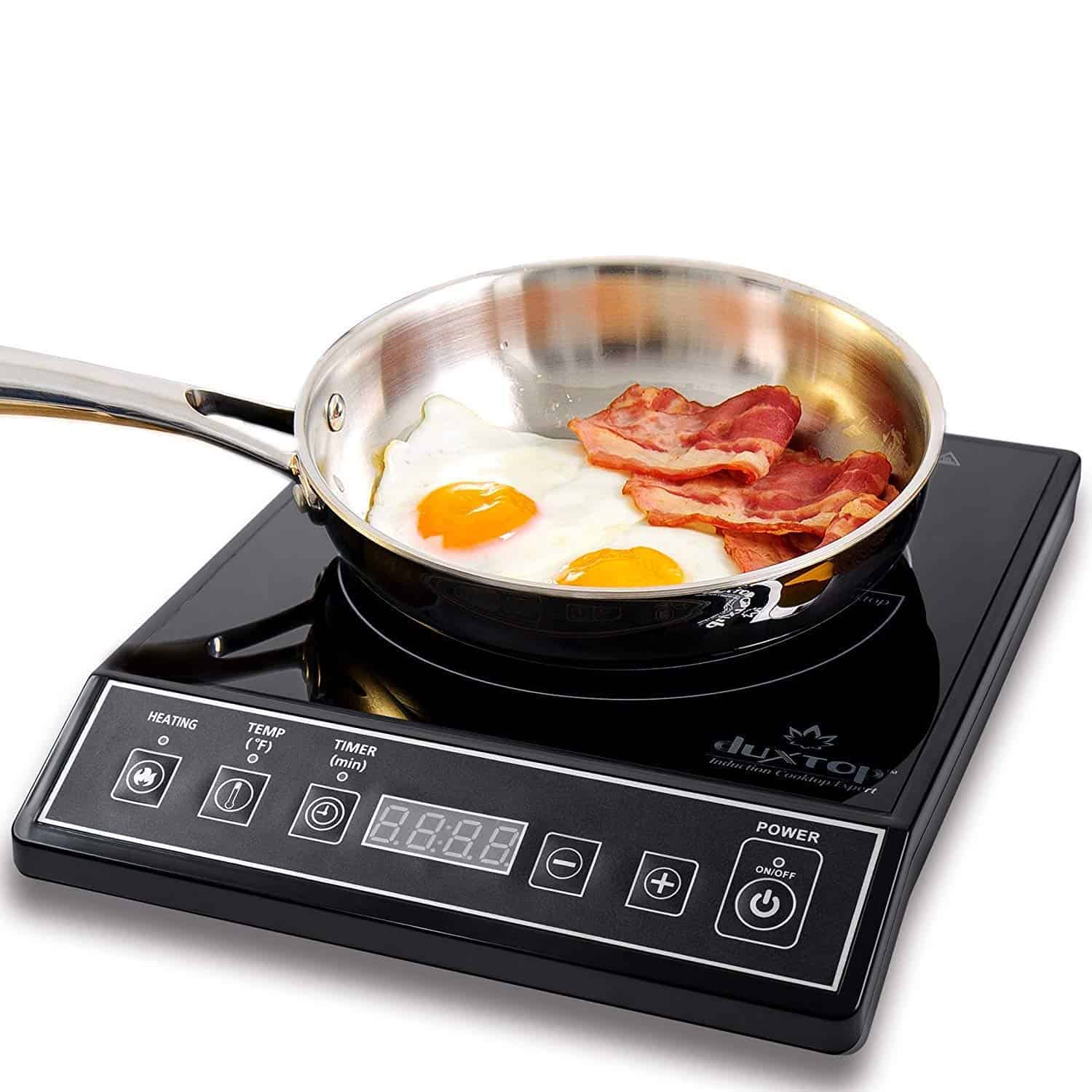 The Secura 9100MC is another affordable option if you're in the market for a new induction cooker. While it may not have a modern design or dozens of features, it can boil water with the best of them and fry up an egg in an instant.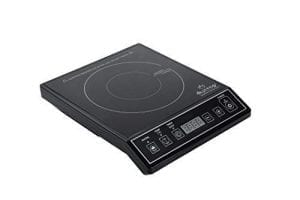 This cooker has a spacious top with two marked heating zones for smaller pots and larger 10-inch cookware. While bland, the design does make it easy to clean and the controls can take some abuse as well. There's a small display on the front that gives you the scoop on temperature and can also relay diagnostic messages if there's an error.
But what about the sensors?
As with all induction cookers, this unit will start when you place the proper pan on the cooktop. Overall, consumers were pleased with the auto-pan detection feature and had a high success rate. That said, it still comes down the type of cookware you use at the end of the day so be sure you have a stainless, cast iron or magnetic bottom pan on hand.
The Secura 9100MC has 15 power levels from 200 to 1800 watts with a temperature range of 240 to 360 degrees. You can set the timer for close to 3 hours in 1-minute increments, and when it comes to speed, it's just as quick as you'd expect. Chicken, eggs and other skillet-friendly foods will cook quicker than ever before and considerably faster than a gas or electric range.
This cooktop may not have a sleek cutting edge design, but it's arguably the easiest induction top to use. It also has plenty of power, and we're big fans of any tech with a built-in diagnostic system. It doesn't come with any extras although you will get a 1-year warranty and the standard user manual which is as easy to read as the product is to use.
Features
200 to 1800 watts
170-minute timer
1-year warranty
---
Pros
15 power levels
Timer with 1-minute increments
Error message system
Auto pan detection
Cons
Limited features
Could be noisy on higher levels
---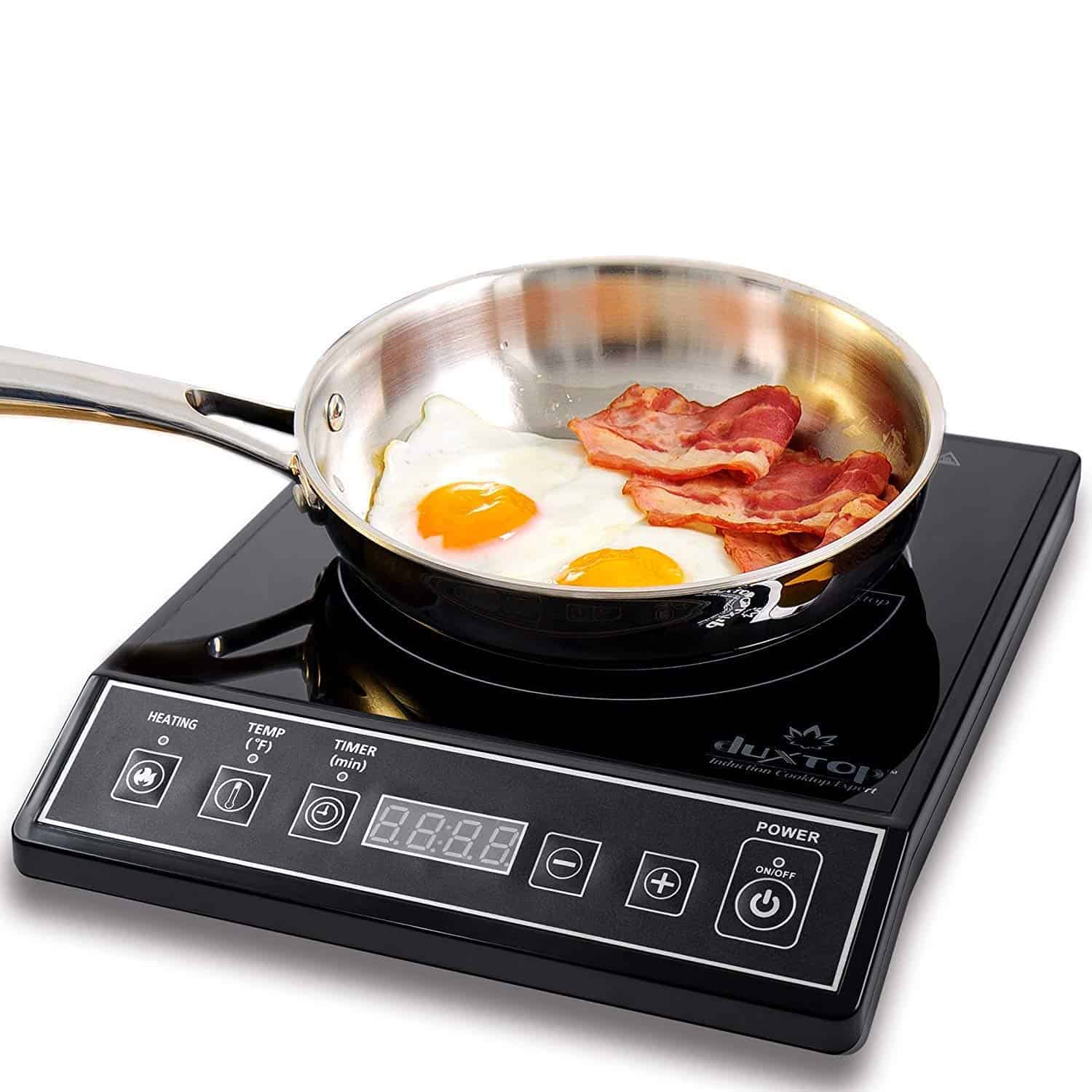 08
Inducto Dual Induction Cooktop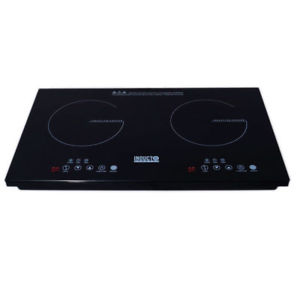 Single induction burners are the most popular option for consumers short on space, but not ideal for everyone. If you need a little more firepower in your kitchen or RV, the Inducto Dual Induction Cooktop should be towards the top of your list.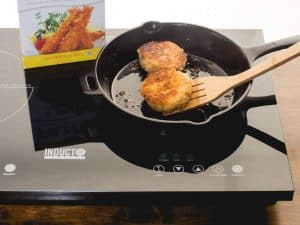 The designers at Inducto took a few cues from the Sensor Touch 8310ST. That's not a bad thing as we love the design of the cooker and its touch-based controls. There's also less chance of damage with this particular model due to its size. It's not quite as portable as a single burner system considering its 26-inches wide and weighs around 18 pounds.
When it comes to sheer power, this one beats the rest with 2000 watts total. There are eight power settings from 200 to 1800 watts or 140 to 460 degrees on the temperature scale. It still uses a standard power outlet, however, and has all the bells & whistles you'd expect from a high-end dual cooker. It also has independent cooking zones.
Those controls are far enough away from the 8-inch cooking zones to keep your fingers safe. Each side has controls which allow you to adjust the temperature, a safety lock, and controls for the power and modes. There's also a 4-hour timer to go along with a 24-hour preset timer if you want to schedule a boil. Safety features include an auto shut-off function and overheat protection.
Two zones are better than one…
While that may seem like an obvious fact, it's especially true with the Inducto Dual. All dual systems allow you to control each side, but some pack those controls into one panel. This one has a dual set of touch controls which lets you split the wattage between sides, but there is one limitation. You can't get an even split as the power maxes out at 1800 watts on either side.
You won't get any extras with this cooktop aside from a user guide, so you'll want to have a magnet handy to test your current cookware. The Inducto Dual comes with a 1-year warranty and is your best option if you need a dual burner cooktop that won't break the bank.
Features
2000 watts max
Independent cooking zones
4-hour timer
Auto-shutoff
---
Pros
140 to 460 degrees
Dual touch controls
Child locks
7 cooking modes
24-hour preset
Cons
Customer support
Poor product manual
---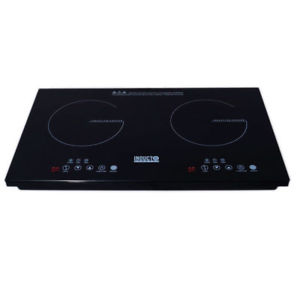 09
Max Burton 6200 Maxi-Matic Deluxe Induction Cooktop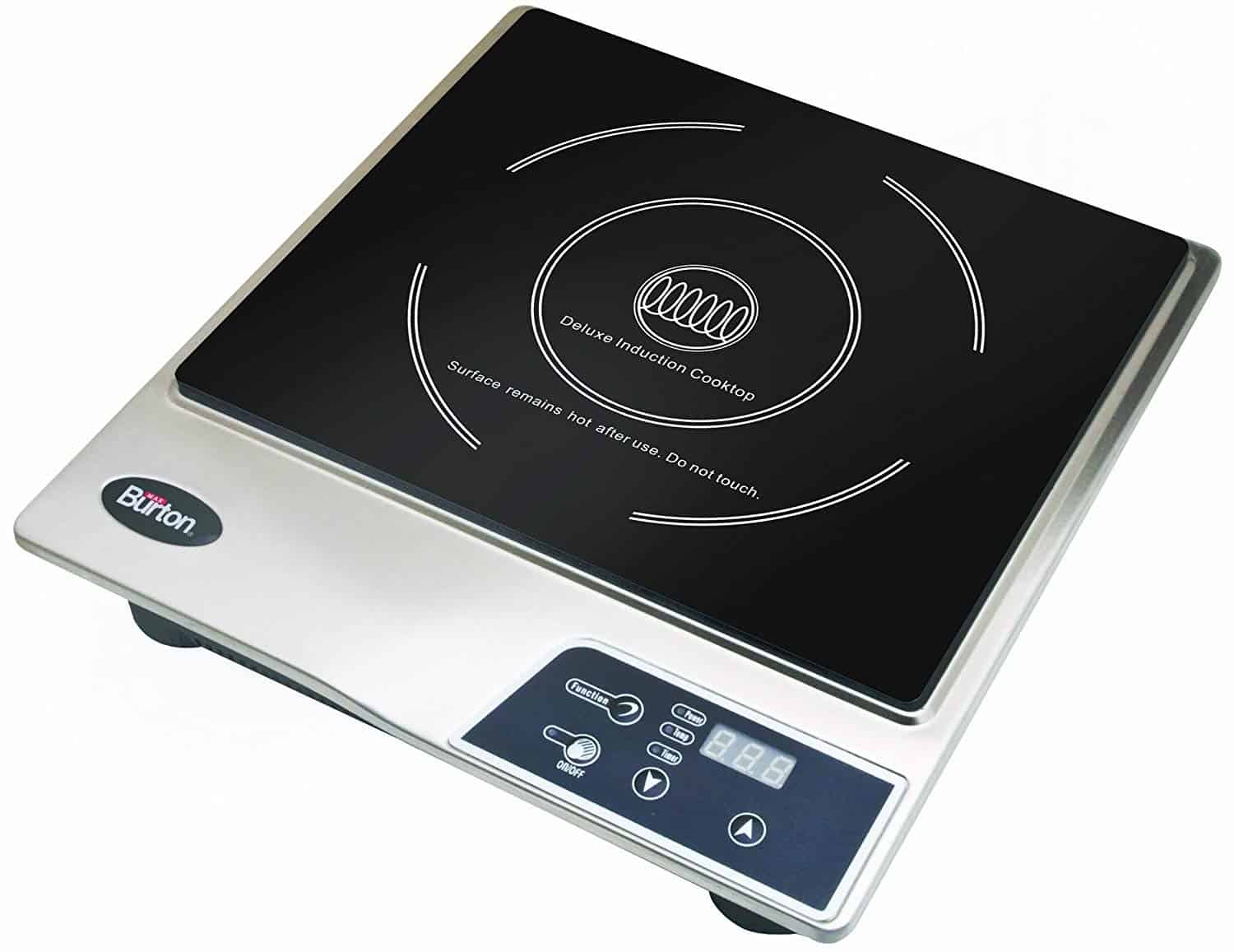 Max Burton put out an interesting portable cooktop with the 1800 watt Max-Matic Deluxe. It has one of the catchier monikers on our list and a very solid set of features which has made it a fan favorite year after year.
We're going to start with the tech specs on this one. The Max Burton 6200 has a wide temperature range with 10 settings from Low to High. The three power levels are considered low heat from 140 to 210 degrees while the high end is eight through ten at 390 to 450 degrees. The user manual shows the temperatures are staggered in 30 to 40-degree increments, with the default set to 180.
As you'd expect, the only heat you'll feel from the Maxi-Matic will be from the pot itself along with a bit of warm exhaust from the fan. Consumers found the latter to be relatively quiet, so it's not something that will annoy you while you cook provided you're using the right cookware.
This cooktop has four push button controls which work well, but aren't necessarily ideal if you're looking for something that can stand the test of time. It's safe to say the designers of the 6200 wanted their cooker to be easy to use, and they accomplished this although you're going to miss out on features found on similar models in this class. There's no child lock, but there are several features which help make this one safe in the kitchen.
You'll get not one, but two overheating sensors on this unit – one for the inside and one for the cooktop. There's also a voltage sensor along with a series of error codes to help show you the way if things are amiss. Last but not least is a cookware detection sensor which lets you know if your old pots or pans are compatible with your new cooker. The 180 timer isn't a safety feature, but we'd be remiss if we didn't mention the ability to set it in 1-minute increments.
This is one of the older models on our list, but consumers are just as happy with it today as they were when it was first released. We wish there was a dedicated lock button or a few more features, but appreciate how well the Maxi-Matic Deluxe is made – and those 10 power levels. If you're still on the fence, you can watch Chef Nick put this Max Burton 6200 into action in the video below…
Features
140 to 450 degrees
180-minute timer
6-foot cord
1-year warranty
---
Pros
Simple controls
10 temperatures settings
4 code diagnostic system
Cookware detection
Cons
Poor manual
Buttons will take a beating over time
---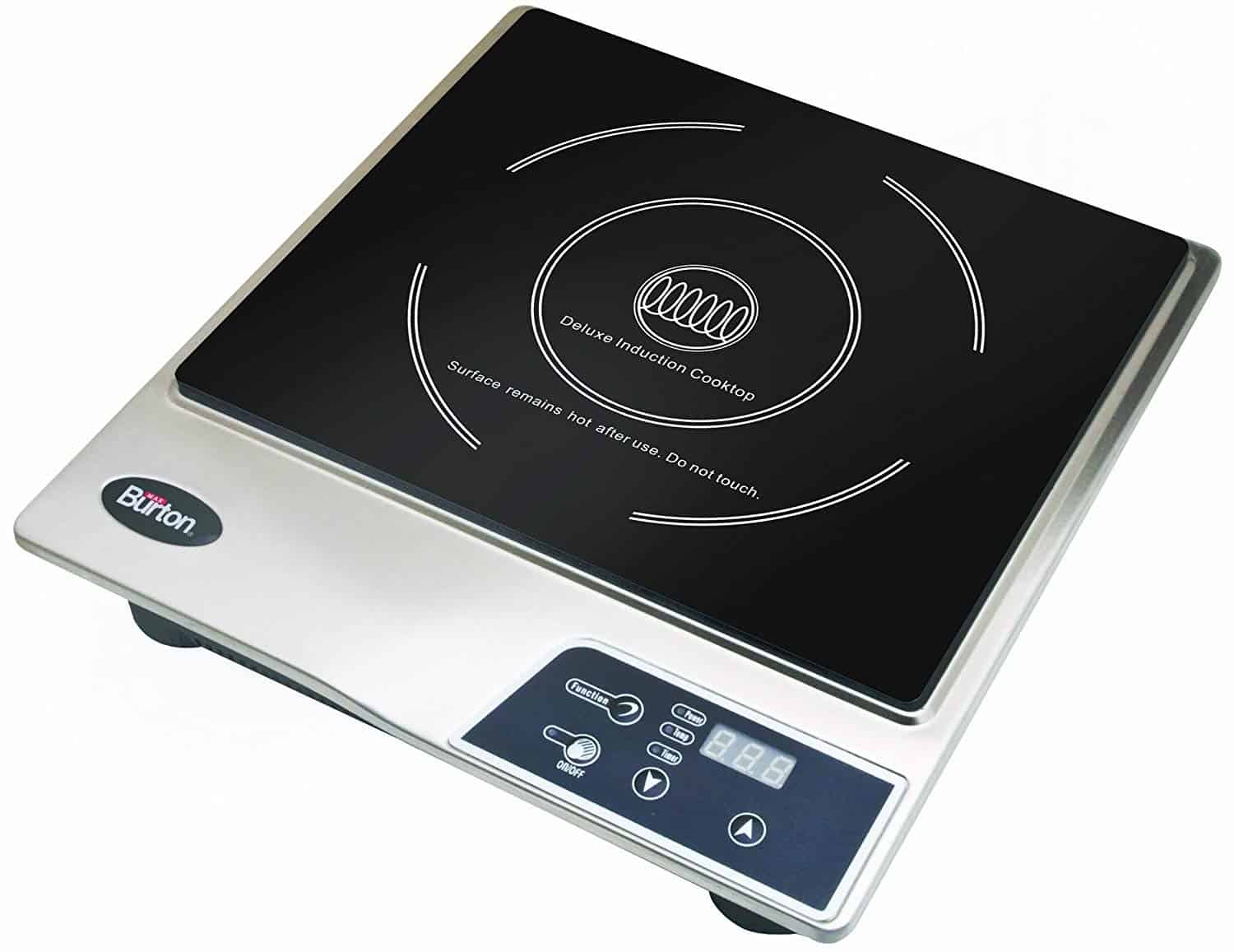 Cleaning and Maintenance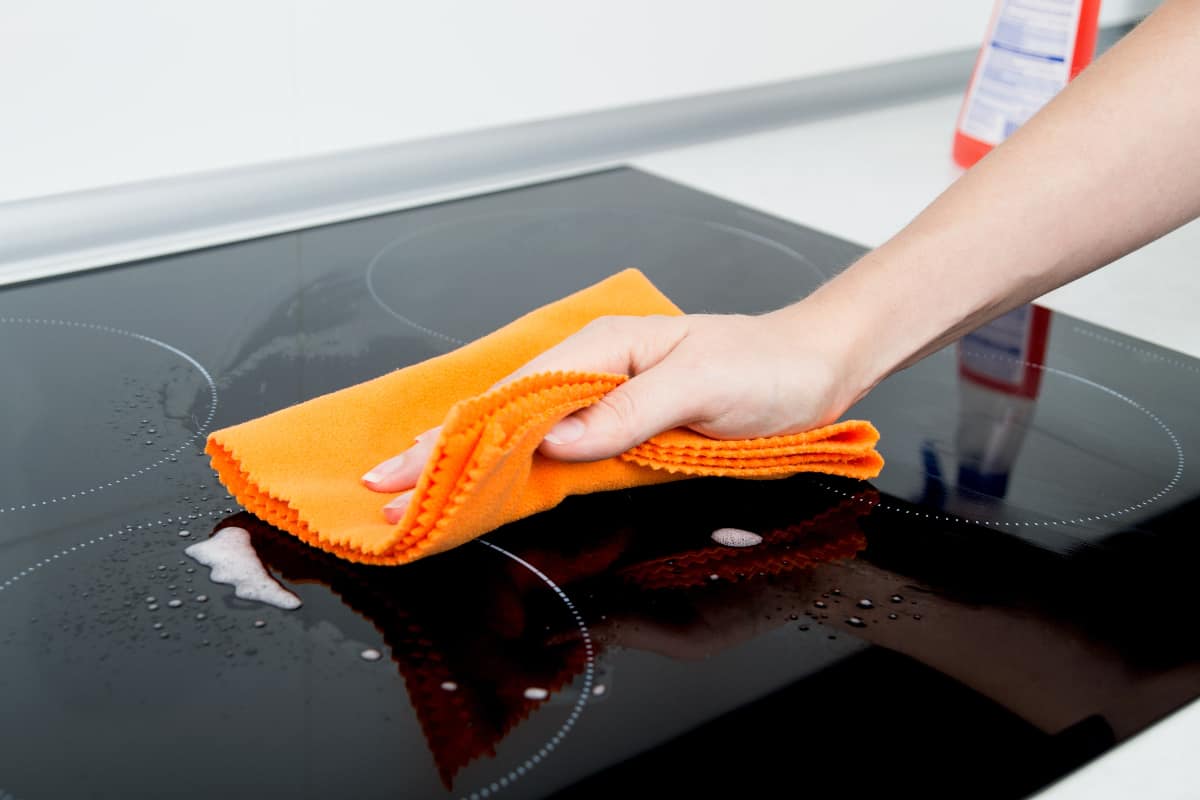 When something is made from glass and gets dirty, what's the first thing you reach for? If you said Windex or glass cleaner, you're like 99% of the population so we wouldn't blame you thinking it was ideal for induction cookers. Well, it's not.
Window and glass cleaner is great for windows or normal glass surfaces like countertops, mirrors and the like. Putting an ammonia-based cleaner on these surfaces isn't something we recommend. If you're dealing with burnt food or other spills, you're probably fighting an uphill battle as well.
Stay away from metal…
Despite what some information would lead you to believe, don't use a metal scraper to remove a pile of goop from your glass. Yes, it will work if hold it at the proper angle, but why risk it when they make plastic scraper and spatulas? If you use silicone spoons in your pots, treat your cooktop with the same respect and use a damp sponge or pick up a box of magic erasers.
In regards to maintenance, induction cooktops aren't like your old stove so don't try and fix things yourself. If there's an issue or error code, check your user manual and send it in for repair. While we do recommend the occasional quick fix for certain products or appliances, this is not one of them.
Final Thoughts
If you choose the best portable induction cooktop, it's something you won't regret as long as you follow or tips and pick one to suit your needs. The advantages far outweigh the cons with this type of cooker, and they will outlive their warranty if you clean it properly and use it as intended.