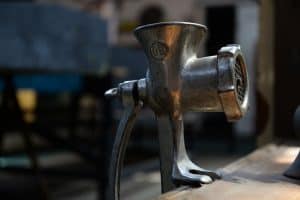 Want to be able to grind your own meat? Mouth-watering hamburgers and delicious homemade sausages aren't the only kind of food you could make yourself. If you get your hands on the best meat grinder out there, you could easily prepare everything from breadcrumbs to pet snack sticks.
30-Second Review
Meat grinders can be an excellent addition to any kitchen, provided that they're durable and functional. That's why your top choice should be a unit with a strong build and plenty of features. There are attachments for preparing all sorts of food with your grinder – you only need to pick what's right for your needs. And whatever you do, try to get one with a powerful motor so you can do as little work as possible.
Buyer's Guide
Buyer's Guide To The Best Meat Grinder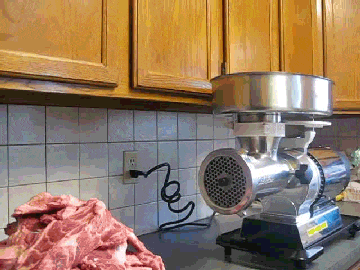 How does one go about picking a meat grinder? It's not that difficult, especially when you get help from experts. And expert advice is what we're going to give you in the following paragraphs. Read on to find out about different types of grinders, their functions, and all the other important factors. But first, let's talk about what this kind of appliance can do for you.
What does a meat grinder do?
Meat grinders grind and mix your meat so that you end up with long yet thin strands you can use for cooking. Since they're appliances that substitute the mincing knife, they're sometimes referred to as mincers. Most people use them for preparing minced meat for lasagna and pasta dishes, but many stuff their own sausages as well.
You might be wondering:
How is this done exactly? First, you put the raw meat into the funnel on the back side of the meat grinder. The funnel is equipped with a rotating screw that mashes and mixes the meat a bit. A knife then minces it thoroughly, before the meat exits through a metal plate with a lot of small holes. And voila – you get fresh minced meat that's ready for cooking.
What are the benefits of grinding your own meat?
Even when you opt for the more expensive products, you can't be sure the meat you buy is fresh. It's a roll of the dice when it comes to taste as well. When you grind your own meat, on the other hand, you can make sure it's of higher quality. You can buy it fresh, prepare it right away, and end up with a much better tasting food.
Did you know that minced meat you can buy at your local stores is actually ground in factories? And nowadays you can't really know in what conditions mass-produced food is processed. According to the American Meat Science Association, most people don't even know the difference between hamburger meat and ground beef, which is one of the most commonly bought meat products. Grinding your own meat gives you a chance to gain control over what you eat.
You'd think it'd be more expensive to buy a meat grinder and prepare your own meat. In truth, it's the exact opposite. Minced meat is always more expensive than meat that hasn't been processed. That's why cost efficiency is yet another upside to having a meat grinder.
Grinding meat isn't the only thing you can do with a meat grinder. Versatility is actually one of the biggest advantages to owning this type of appliance. They can typically be used for a wide range of tasks, from making breadcrumbs to preparing cookie dough. For more information on what your preferred meat grinder can do, check out our detailed reviews.
How often and for what purposes would you use your meat grinder?
Now that we've answered the more basic questions about meat grinders, we're going to go into details. To make better use of it, we recommend you ask yourself a simple question before you continue reading our buying guide. The question is: How often and for what purposes would you use your meat grinder?
If you think about this:
You'll be able to figure out how much meat you'd be processing, what kind of food you'd want to be able to make, etc. It'll prove helpful as soon as we start talking about the different types of meat grinders and their features.
Types of meat grinders
Basically, there are two types of meat grinders – manual and electric units. Although the former is getting less popular, it's still worth learning about their differences. After all, you might come to the conclusion that a manual grinder is exactly what you're looking for.
So here it goes: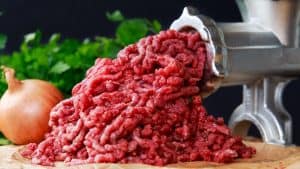 A manual grinder is an appliance used to mince and mix meat, just like an electric one. However, this is done with the help of a crank, which you yourself need to turn in order to keep the grinder going. As a result, using a manual unit is significantly slower than using an electric one. With it, you'll be able to grind around two to three pounds a minute. Also, manual grinders usually don't have as many functions as electric ones.
Unlike manual units, electric grinders are equipped with motors. This means you can make them run simply by pushing a button or turning a switch. Once you've done that, the grinder does the rest of the work for you. You're only needed for feeding the device meat as it processes it. As a result, grinding meat using an electric unit is a lot faster than with manual ones. In addition to this, electric grinders usually have more functions.
Motor power
Not every meat grinder is as powerful as the next. This depends on the unit's motor, namely, its wattage. Higher wattage usually means more power, so keep this in mind if you're planning to use your grinder for preparing large quantities of food. It could also make a world of difference if you'd like to be able to grind bones or tougher meats, such as game meat.
Additional functions
Want to be able to use different speed settings on your meat grinder? Look for devices with full and half speed options.
Don't want tissue and other animal parts in your minced meat? Luckily, there's something called reverse operation. It's a function some meat grinders have that could come in handy. Its purpose is to separate unwanted animal parts from the meat you'll be using in cooking.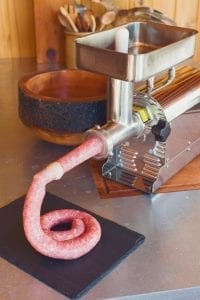 Most meat grinders come with endings for making sausages. You simply attach it to the front of the device and place the casing around the ending. The grinder will do the rest for you, and you'll end up with delicious homemade sausages.
Want to be able to use your meat grinder for making kibbeh? Also known as kibbe and kubbah, this dish is a mix of minced meat, bulgur wheat, vegetables, and spices. Some grinders have a function devoted especially to preparing this type of food.
Wouldn't it be great if you could make your own breadcrumbs? Many meat grinders have plates with holes that are small enough to produce such fine grind. You only need to dry the bread before putting it into the funnel.
If you have a sweet tooth, you'll be glad to hear meat grinders are just as good at grinding nuts as they are at processing meat. To top it all off, you can even use them for preparing cookie dough.
Are you a proud owner of a dog or cat? If the answer is yes, look for meat grinders with endings for making pet snack sticks. Your furry friend will love them, while you'll have more control over what they're eating.
Safety features
Using a meat grinder isn't completely harmless. After all, it's an appliance that's equipped with rotating screws and sharp knives. That's why you should make sure to get a unit with safety features. Of course, unless you're opting for a manual grinder. In that case, the risk of hurting yourself while using it is automatically lower.
Now:
What kind of features should you be looking for? A lot of meat grinders have circuit breakers, which prevent the device from overheating and malfunctioning while you're using it. Then there's the function that makes the grinder stop working as soon as you remove your hand from its feed tray. Also, feed trays sometimes come with guard covers, which are used to prevent you from getting hurt while feeding meat to the grinder.
Size and durability
If you have limited storage space, you might want to check the dimensions of your preferred meat grinder. Also, keep in mind that manual units are typically smaller than electric ones.
But that's not all:
Before you make your final decision, take the materials and the quality of the build into account as well. You want your meat grinder to have as few plastic parts as possible. Nowadays, most of them are made from aluminum and stainless steel. Although the former is also quite tough, stainless steel is still a better choice when it comes to durability.
Detailed Reviews Of 9 Superior Meat Grinders
THE WINNERS
Your Best Choice If:
You're looking for something to fulfill family needs
ROVSUN 8 Cup Food Processor Electric Mini Chopper 2L Stainless Steel Bowl, One Touch Multipurpose Kitchen Onion Fruit Vegetable Mincer,300W Blender Slicer Dicer with 4 Blades (Argent)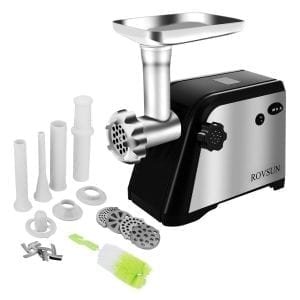 The ROVSUN 8 is a modern and elegant grinder which would fit well into any family kitchen. It doesn't have the capabilities of some industrial grinders, but it's perfect for family needs. It has a powerful motor which can grind up to 1.7 pounds of meat in eight seconds.
The ROVSUN 8 is easy to assemble and extremely easy to clean. It's also small and quiet and features a microswitch which promotes safety.
You primarily want to make pet food
Weston Pro Series 22 Electric Meat Grinders, 1-HP – 750 Watts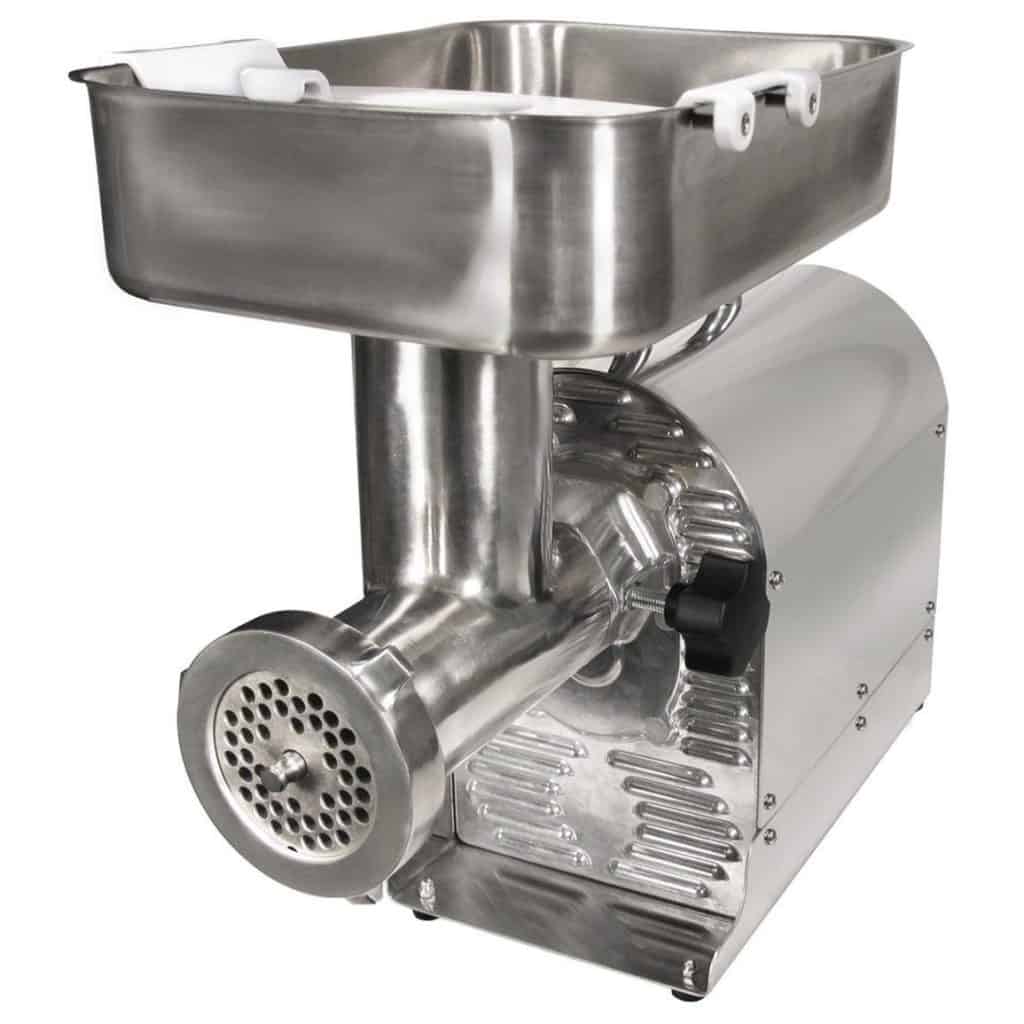 If you're a pet owner looking to make your furry friends some natural and healthy food, this grinder is a great choice. It's one of the few grinders in its price range that can easily grind smaller and softer bones.
This unit is also perfect for pet owners because it includes a snack stick attachment, so your furry family can have something delicious to nibble on. And with its permanently lubricated motor and steel gears, this model is durable and powerful enough to grind any type of meat, poultry, vegetables, and fish.
You want something energy-efficient
Homeleader Electric Meat Grinder, Stainless Steel Meat Mincer Sausage Stuffer with 3 Grinding Plates, Sausage Making Kit,Blade and Kubbe Attachment, Silver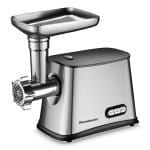 There are plenty of high-quality grinders out there, but this unit stands out for its energy efficiency. It has 250 watts of rated power, which means it's not the most powerful grinder, but it uses so little power, it's definitely worth it.
This unit also features a reverse function, and it includes a sausage attachment, kibbeh attachment, cutting blade, food stuffer, and hopper plate. It's a great choice for the casual grinding aficionado who wants to be as energy efficient as possible.
You want something powerful and versatile
STX International STX-3000-TF Turboforce Electric Meat Grinder & Sausage Stuffer – 3 Speed – Heavy Duty (1200 Watts) – Size #12 – 4 Grinding Plates, 3 Stainless Blades, 3 Sausage Tubes & Kubbe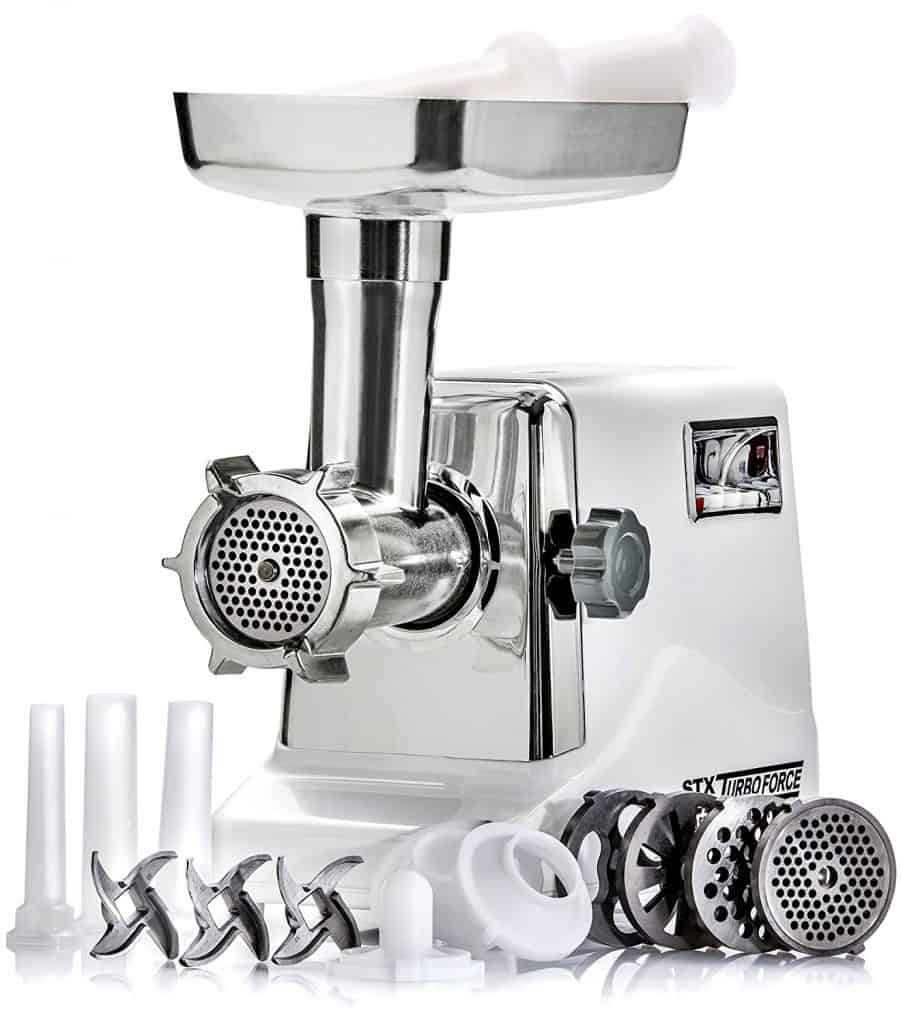 The STX-3000-TF Turboforce can grind over 320 pounds of meat per hour as it has 1200 watts of rated power. With a quality grinding head and two power levels, this grinder is great for all types of meat, poultry, fish, and vegetables.
It also lets you choose between three speeds (high, low, reverse) and it comes with various add-ons, including a sausage stuffing plate, three sausage funnels, a kibbeh attachment, and a stuffer. It also comes with three blades and three plates for cutting into different-sized chunks.
?tag=bestazy-20
Using And Maintaining Your Meat Grinder
When you're an owner of a meat grinder, you need to know how to use and maintain the device properly. But more importantly, you have to get familiar with safety issues and how to avoid any possible mishaps.
Safety measures
Get a meat grinder with safety features.
One of the best ways to protect yourself from any mishaps is to get a quality device. By this, we mean a meat grinder with features that lower the risk of you getting hurt while using it. For more information on such features, check our buyer's guide.
Check the meat for contamination.
It's a common misconception that grinding your own meat completely eliminates the risk of contamination. According to K-State, this isn't always the case, since you still need to account for the possibility of unprocessed meat being contaminated. That's why you should be careful about where you buy your meat, and make sure you always check the expiration date. Also, never store raw with cooked meat, otherwise you run the risk of cross-contamination.
Never use your grinder for anything it can't handle.
There are plenty of devices with multiple functions, capable of grinding everything from breadcrumbs to bones. But not all of them are that powerful. Processing bones in a grinder that's not equipped for such tasks can be dangerous. That's why you should study the manual before you start with grinding. It shouldn't take long, and you can always check our detailed reviews instead.
Use a meat pusher if it's provided.
Most meat grinder accidents happen while the device is running. And its most dangerous part is definitely the funnel, that is, the opening where your hand can get stuck. If you want to avoid getting hurt, it might be best to use a meat pusher to feed meat to the grinder. That way you'll get the job done just as quickly, and you'll keep your limbs intact.
Keep your grinder clean.
This is important because chunks of meat that are left on the feed tray can contaminate fresh meat. In order to avoid such mishaps, make sure to clean your grinder after each use.
Meat grinder maintenance
Keep your grinder clean.
As we've mentioned earlier, keeping a meat grinder clean is important if you don't want your meat to get contaminated. However, it's also necessary if you want it to last longer. The feed tray and the funnel should be thoroughly washed after each use. Also, you should never leave them to air-dry if you don't want rust to start building up.
Sharpen the blades every now and then.
Your grinder won't do its job properly if the blades aren't sharp. And as time goes by, they're going to get duller with each use. If you don't want your meat to get smeared instead of cut, make sure to sharpen the blades on a relatively regular basis.
Make sure to store your grinder properly.
If you're not going to use your grinder for a longer period of time, it might be best to take measures to prevent it from rusting. Luckily, this is no difficult task. You only need to use food grease to lubricate it. Once you've done that, you can store your grinder away and not worry about it getting damaged while you're gone.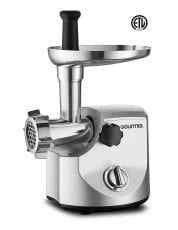 Best of the best
Gourmia GMG7100 Prime Plus Commercial Grade Meat Grinder
From ham salad, fresh burgers, and scrumptious sausages, there's not a lot the best meat grinder can't handle. Freshen up your meals with one of these top meat grinders.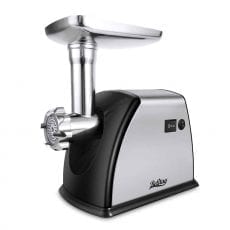 Most Buying
Betitay Electric Meat Grinder, Meat Mincer, & Sausage Stuffer
From ham salad, fresh burgers, and scrumptious sausages, there's not a lot the best meat grinder can't handle. Freshen up your meals with one of these top meat grinders.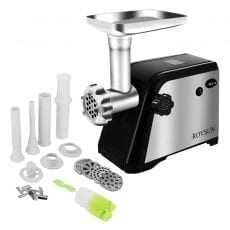 Best for the money
ROVSUN Electric Meat Grinder
From ham salad, fresh burgers, and scrumptious sausages, there's not a lot the best meat grinder can't handle. Freshen up your meals with one of these top meat grinders.