Important Safety Considerations
Generally speaking, space heaters are safe.
They come equipped with features such as automatic shut-off in case the appliance gets tipped over or when it overheats. However, they are more likely to cause a fire compared to any other home or office appliance.
We found a body of evidence citing space heaters as the cause of between 1600-6000 fires each year in the U.S. alone.
Ensure that you never leave a space heater unattended.
Especially with kids or pets who could accidentally tip it over or drop something combustible near it. Also, look for models that are certified for safety standards and read the manual for any specific warnings about your heater.
Check for models that do not get hot to the touch. Some heaters have a casing that could easily burn your loved ones or cause a fire.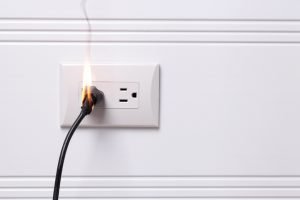 Before using your heater, make sure your electrical connection can handle the new appliance since some electric heaters can draw up to 2,000 watts. Avoid using unauthorized extension cords with your heater. If you must use an extension cord, ensure the cord is rated to handle the power consumed by the heater–normally 13.5 amps and above.
When using oil-filled heaters, always temper them before use.
To do this, find a way to plug it in outside the house or in a well-ventilated area such as a shed with the temperature setting on "high". Doing this burns off the coating that manufacturers apply on these appliances to avoid rusting when in storage. The coating normally causes the odor that most people complain about when using these heaters.
Also, manage your expectations.
Do not expect a small fanned heater to make a 1000 sq. ft. room hot while the doors are open and without insulation. Make sure the room is insulated and the doors are closed.
If it's a huge area, you might need more than one heater.
Are you wasting money?
Some people have the habit of switching their heaters off after it gets warm to "save electricity". However, switching your heater on and off does just the opposite. It takes much more energy to raise the temperature in a room than to maintain it.
Leave the work to the thermostat instead. Set the control to high till the room gets warm. Then reduce it to medium or low. When it gets too low, the thermostat will switch on and vice versa.
Installation
Electric space heaters normally come ready to use with little to no assembly required. However, gas heaters come with many components, and you might need to buy additional stuff for you to install them effectively.
Additionally, some machines come with handles and wheels for easy movement in the house while some come with fixtures to be mounted on a wall or ceiling.