NOTE
Space heaters are not meant to be used as primary sources of heat for your home; instead, they are mainly used to supplement an existing heating system, especially in areas where temperatures can drop well below zero. Most of these appliances use radiant, convection or infrared heat to warm the environment and can be powered by either gas, liquid propane, kerosene or electricity. Most heaters come with safety features, timers and adjustable thermostats for easy and safe use, as we will see in this review.
Things to consider before buying a space heater for your home
To ensure you land on the best space heater, there are a few things you will have to know. First, which type of heater would you prefer between a fan, infra-red, gas or radiator heater?
Types of heaters
Fanned heaters are typically designed for small rooms where they use electricity to heat up an element and then distribute the hot air throughout the room. They heat the room evenly and quickly.
Infrared heaters use infrared waves to heat up objects inside a large room or hallway. By heating objects in a room, they are able to keep the heat from rising to the ceiling, hence maintaining a warm temperature where it is much needed. They are quite quick and sustainable.
Gas heaters normally use liquid propane, natural gas, liquefied petroleum, or even kerosene as the source of energy. They are mostly used in ventilated rooms or outdoors to provide quick and intense heat.
Radiator heaters contain oil, which gets heated when the appliance is connected to electricity. When hot enough, the oil will be forced through the cavities and heat the metal casing which in turn heats up the environment. They provide sustainable heat but slowly.
Now that you know all the types of space heaters out there, there are also some features which are too crucial to be ignored.
For example: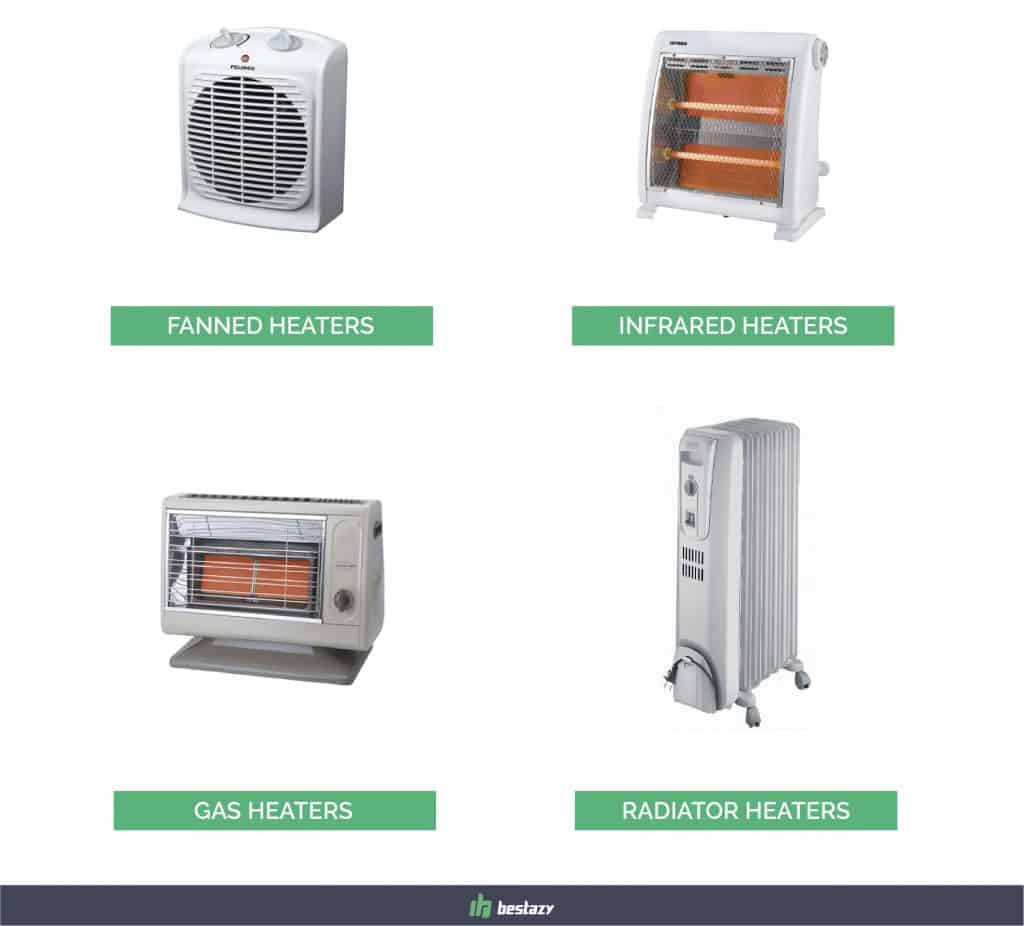 Heat capacity
Depending on the type and design, some space heaters are better at spreading heat evenly around the room, while some are best for direct heating. For instance, when using fan heaters, the heat disappears almost immediately they are switched off. For lingering heat, you might need oil-filled, infrared, or ceramic heaters.
Ease of use – controls, and thermostat
The best space heaters come with a huge range of control levels and a thermostat for setting the temperature you want. According to experts, appliances with the combination of a remote control and analog dials tend to work best and last longest. The remote allows you to control the temperature settings from across the room. For those of us who are forgetful, some heaters have inbuilt timers that will turn off the machine in a set number of minutes/hours just in case it slips your mind.
Noise
If a constant buzzing sound annoys you, you might not want to keep a fanned heater. From our investigation, radiative heaters are the quietest.
Appearance
Heaters come in all colors and designs; however, electric heaters are generally more attractive compared to gas heaters since they are more compact. You can look at pictures of the heater you want online in case you need something that fits your décor.
Now let us go ahead and look at the best twelve space heaters that are available right now.
01
Mr. Heater F232000 MH9BX Buddy 4,000-9,000-BTU Indoor-Safe Portable Radiant Heater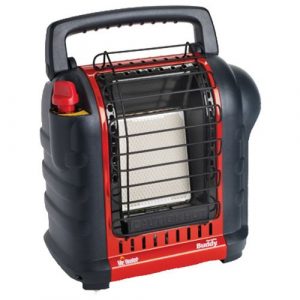 Mr. Heater F232000 is a safe and reliable liquid propane radiant heater weighing only 9.5 pounds and measuring 9 x 14.2 x 14.4 inches in size. The heater connects to a 1-pound cylinder, enough to heat small to medium sized spaces very comfortably.
It's installed with a large porcelain coated heating surface designed to dissipate lingering heat over a large space, and it does so quite well according to our observations.
This space heater is not a whole house heater, but it does heat a room quickly and efficiently. It doesn't make any sound when running, nor did we notice any odors.
It's a good heater, but not perfect.
One of its main disadvantages is the exposed heating element.
If you have pets or children, this is not the heater for you.
There have also been reports of the appliance catching fire. This is not very strange considering it runs on liquid propane. Ensure you're familiar with the assembly and operation of these types of machines before buying one to avoid any accidents.
Features
Two heat settings with a heat output ranging between 4,000 - 9,000-BTUs
Clean burning of almost 100% efficiency hence approved for indoor/outdoor use
Auto shut-off switch for safety
Fold-down handle for easy storage
Four temperature control settings with in-built-in Piezo igniter
High-temperature wire guard
---
Pros
Runs silently
Provides a decent amount of heat enough for a medium sized room
Includes auto shut-off safety features for tipping over and when oxygen levels go low
Cons
Heating element is exposed and may cause a fire hazard
Does not include a timer
---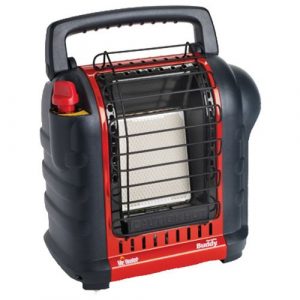 02
Mr. Heater MH18BRV Portable RV Propane Heater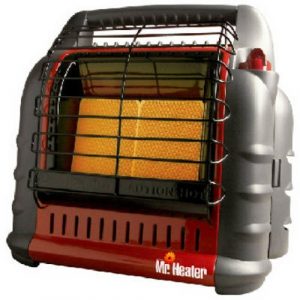 Mr. Heater MH18BRV propane space heater uses both convection and radiant heat to provide up to 18,000 BTUs per hour. It weighs 20 pounds and measures 18.5 x 18 x 11.4 inches. It's fitted with a carrying handle for portability. The heat is dissipated using a silent blower fan. We found the heat settings on this appliance easy to set. The in-built low oxygen sensor and automatic tip-over off switch gave us a sense of comfort.
The MH18B can run on both 1 pound and 20-pound propane tanks.
In general, we found this heater compact, safe, easy to assemble and use. It's also easy to move around due to its lightweight and convenient carrying handle, though the onboard tank holders make the unit a bit bulky.
The MH18B runs very quietly. In fact, you might forget it's there. We recommend getting a separate timer that can switch the machine on or off after a while. We also noticed the tip-over safety feature is too sensitive, switching the machine off even with the slightest bump.
Features
Four-position heat control settings with in-built Piezo ignition
Low-oxygen and tip-over safety shut-off switches
Carry handle
Built-in blower fan
Safety wire guard
Swivel regulator mount for easy installation of the cylinder
---
Pros
Runs very quietly
Includes low-oxygen and tip-over automatic off switches
The heating element is well covered
Cons
Bulky due to the attached propane tank holders
Not installed with a timer
---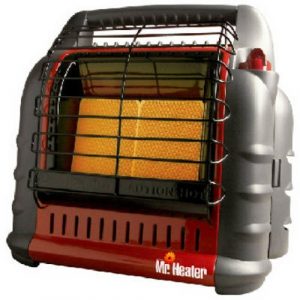 03
DeLonghi EW7707CM Safe Heat 1500W ComforTemp Portable Oil-Filled Radiator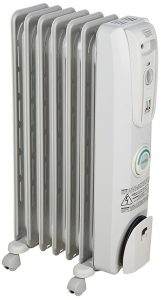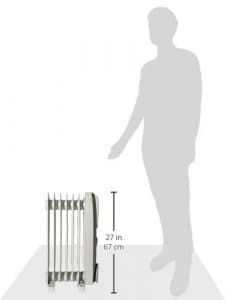 The DeLonghi EW7707CM is an oil-filled radiative heater weighing 25 pounds and measuring around 14 x 25 x 11 inches.
This space heater is pretty big.
Inside, it's designed using patented thermal slots meant to maintain a low surface temperature while maximizing heat flow. It includes seven fin-heating elements filled with oil and permanently sealed to provide the maximum heat.
The three heat settings on the control panel are easy to use, ranging from 700 watts on low to 1500 watts when on the highest setting. It also has a thermostat we found very accurate when it comes to maintaining your ideal temperature.
One is enough to keep a medium to large sized room comfortably warm even on the lowest setting. Overall, they're very well constructed and look nice.
We weren't entirely impressed with the DeLonghi.
We found this space heater to do a bad job when it comes to raising the temperature of a room, which is expected from radiative heaters. However, after warming things up with the central heating unit, this heater is perfect for maintaining things at the desired temperature while keeping your bills low.
We noticed moving the EW770CM around when it's on is quite difficult since it gets really hot and is heavy. It would have been easier if it had two handles – on the back as well as the front.
Features
Contains 7 permanently sealed fin heating elements filled with oil
ComforTemp button to maintain the ideal room temperature automatically
Comes with an adjustable thermostat and three heat settings
Installed with wheels that do not need any assembly for use
Thermal cutoff for preventing overheating and an anti-freeze setting to prevent pipes from freezing
---
Pros
Allows you to control temperature levels quite accurately
Operates quietly
Installed with wheels and a carrying handle
Comes with a thermal cut-off safety feature to prevent overheating
Cons
Gets really hot to the touch and may be a fire hazard if left unattended
It is impossible to locate the thermostat when it is dark or dimly lit
The wheels are not well-built and seem like they might come off
Does not include a timer
---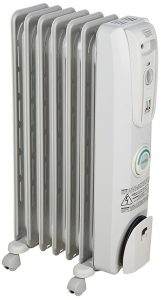 04
Dr Infrared Heater Portable Space Heater, 1500-Watt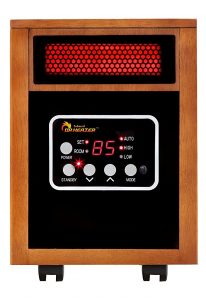 The Dr. Infrared Heater is a portable space heater weighing 23.5 pounds and measuring 13 x 11 x 16 inches. Unlike other heater types that only heat the air in a room, this one is equipped with a dual heating system technology, which utilizes convection, as well as infrared technology.
Based on our experience, this enables the heater to increase and maintain the temperature in a room faster and more evenly. Underwriter Labs (UL) in both the U.S. and Canada certifies this appliance for the highest safety standard.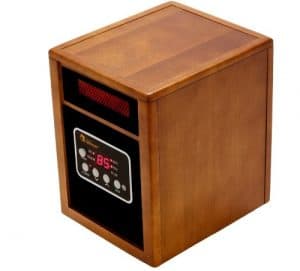 Do you have pets or children? Good news!
As advertised, it does not get hot to the touch even when set on high for hours, therefore, you do not need to worry if you have kids or pets around.
We found the Dr.Infrared Portable Heater to work exceptionally well. Especially when it comes to raising the temperature of a small room quickly. The heater is quiet, but you can notice a humming sound, which isn't too distracting.
In addition, we found this heater to dry the air quickly even though it says differently in the advertisement. With a low setting of 1000 watts, this heater uses more power compared to most appliances available within the same range.
Features
UL certified tip-over protection and auto-shut off switch
Dual infrared and convection heating systems
12-hour automatic shut-off timer
Remote control
Electronic thermostat with a range of between 50 to 86 degrees.
Factory installed caster wheels
---
Pros
Dual technology heats a room faster and evenly
Includes a timer and remote control
Includes a carrying handle and caster wheels for portability
Does not get hot during operation
Contains both a thermal auto shut-off switch and a tip-over switch
Cons
Consumes a lot of power when used as the main source of heat
A bit noisy especially since the thermostat keeps adjusting
Dries the air
---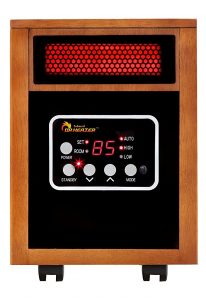 05
DeLonghi HMP1500 Mica Panel Heater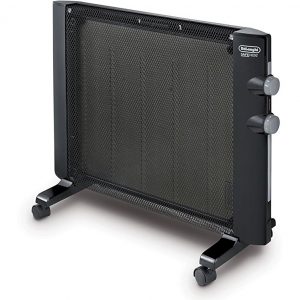 The DeLonghi HMP1500 is a mica panel radiative space heater that weighs only eight pounds and measures 27 x 10 x 22 inches. It comes with a sleek slim design and all the necessary equipment in case you want to mount it on a wall.
We managed to adjust easily when setting the ideal room temperature thermostat and three heat settings. The high setting provides a power output of 1500 watts and 750 watts on the low setting.
But, is it safe?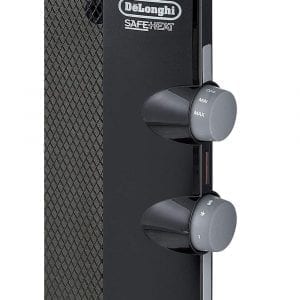 Yes. It includes a thermal cut-off in case of overheating and an internal tip-over switch in case it is toppled over. The power/caution indicator lights are also well positioned and useful.
We found the DeLonghi HMP1500 to run quietly and put out a gentle, clean, and safe heat. Thanks to its Mica Thermic technology, this heater provides instant heat--something we found impossible with conventional oil radiator heaters.
As an added bonus…
This appliance does not get hot to the touch even after hours of use with the setting on max, making it perfect for anyone with kids and pets in the house.
This heater easily increased the temperature of the small and medium-sized rooms we tested it in. However, the heat was not evenly spread in the room; we attributed this to the lack of a fan inside the machine.
Thanks to its thin profile, this heater can even be hung as a decorative piece and your neighbors will not be able to immediately tell what it is. However, we recommend you put it as low as possible since hot air tends to rise and push cold air down.
We noticed a faint odor the first four hours of operating the machine after which it completely disappeared.
Features
Several auto-shut off features
Power/caution indicator lights
Mounting kit
Lightweight and compact design
Remote control
---
Pros
Lightweight and slim design
Provides instant heat unlike conventional radiative heaters
Stays cool even on the highest heat setting
Comes with a thermal auto-shut off feature
Portable and includes wheels for easy movement
Cons
Works best in rooms smaller than 200 sq. ft.
Does make a noticeable humming sound
Fails to spread the heat evenly around the room
---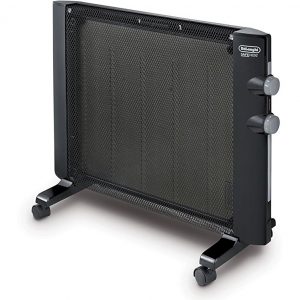 06
Homegear 1500 SqFt Infrared Electric Portable Space Heater Black +Remote Control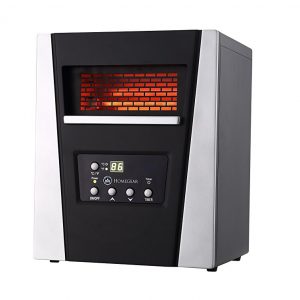 The Homegear 1500 is a lightweight electric space heater. In fact, it weighs only 11.2 pounds and measures 16 x 13 x 12 inches. The machine is installed with a dual heating system composed of Mica and Quartz infrared heating elements.
It has a digital thermostat and a remote control for easy temperature settings. We found this heater to work best for preheating a small to medium room (nothing close to the 1800 sq. ft. advertised). It quickly raised the temperature from cold to comfortable levels within half an hour.
However, it lacks residual heat value.
That means the temperatures drop as soon as it is switched off. Precisely why we recommend using this appliance in combination with an oil-filled radiative heater.
The Homegear 1500 space heater isn't very easy to use.
It might take you a while to figure out the ideal temperature settings. However, after you get it right, it provides a decent amount of heat for small to medium rooms.
If you have children or pets, you need not worry since it does not get hot.
But!
One of the missing features is an automatic off switch in case the appliance is tipped over. Although, it will shut off if it overheats.
Features
Contains a dual heating system
Features an LED display for easy control
The blower fan is quiet and efficient in spreading heat
Kit comes with a remote control
ETL certified with overheat protection
---
Pros
Heats a room quickly
Includes remote control and LED display
Very light and runs quietly
Includes a thermal off switch in case of overheating
Cons
Does not include an off switch when tipped over
Does not heat as much space as advertised
---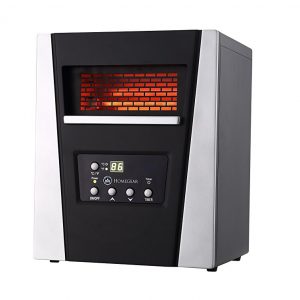 07
Lifesmart Large Room 6 Element Infrared Heater w/Remote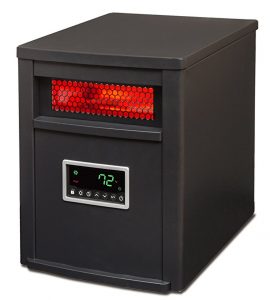 The Lifesmart 6 Element is an infrared heater with a weight of 21 pounds and 16 x 13 x 16.5 inches in size. It uses six quartz infrared elements to heat objects in a room and increases the temperature in that space.
This model includes a washable air filter, EZ glide casters for portability, and a metal casing that won't get hot (even when on for a long time).
It comes with a remote control that makes it easy to operate the digital thermostat. We found it easy to set the optimum temperature from the three settings available, including a 500-watt Eco option for heating smaller spaces.
We found this heater able to raise the temperature of a medium sized room very quickly. And, unlike most heaters of this type, maintain the ideal temperature.
It dissipates heat evenly over a large area and the digital screen makes it easy to adjust the settings. The filter in the back is easy to clean and it operates silently, though you can hear a faint buzz of the fan spreading the heat. Nothing too distracting though.
Features
Installed with 6 infrared heating elements
Remote control
Comes with 3 heat options
Comes with a 12-hour timer
Approved for safety by ETL
Installed with caster gliders
Metallic casing stays cool during operation
Fan for spreading heat
---
Pros
Stays cool during operation
Heats even large spaces quickly
Easy to operate with an LED screen and remote control
Keeps air moisturized
Cons
Expensive when used as the main source of heat
Draws a lot of power which may break your circuit
---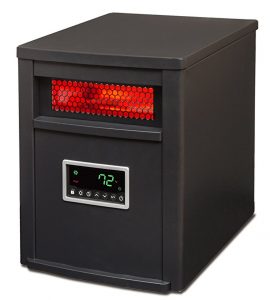 08
Vornado AVH2 Whole Room Heater with Auto Climate Control
The Vornado AVH2 Vortex Heater is a small yet mighty machine installed with all the features necessary in a quality space heater. It's one of the lightest heaters in this review, weighing only 6 pounds and measuring 11.9 x 11.8 x 9.5 inches.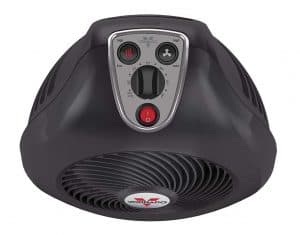 It comes with an automatic climate control feature that we found to work wonderfully in maintaining the set temperature accurately. All you need to do is set your optimal heat level and the AVH2 will raise the room's temperature, then maintain it there without the temperatures having to drop first. 
Even after long hours of operation, the exterior of the AVH2 remained cool. We felt comfortable using it around children and pets.
It was easy to use thanks to its climate control feature and well-positioned controls. We noticed it works best when the fan is set to automatic and the heat setting to low after the room has become warm enough.
What's that smell?
We also noticed some burning plastic odor during the first use, but this disappears with a few hours of tempering.
Features
Features automatic vortex heat® technology
Climate control features
Maximum output of 5118 BTU/hr.
Automatic tip-over protection
Power On/Off indicator lights
Thermostat for setting desired heat levels
Two fan settings: auto or continuous.
---
Pros
Maintains the set temperature accurately.
Runs silently and stays cool to the touch.
Very light – only 6 pounds.
Comes with a timer.
Fan blows air uniformly around the room.
Cons
The tip-over mechanism is not very sensitive.
Suitable only for small spaces.
---
09
Vornado MVH Whole Room Vortex Heater, Black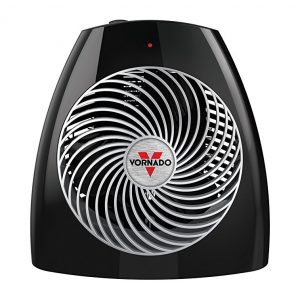 The Vornado MVH is the smallest space heater we included in this review, weighing only 3.76 pounds and measuring 9.2 x 10.4 x 10.6 inches. It's fitted with a thermostat for controlling the temperature settings in the form of a dial knob.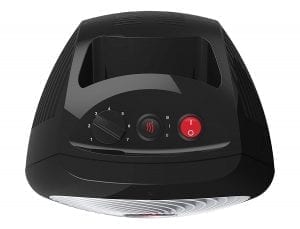 It has three heat settings for better temperature adjustments. We found the patented Vortex heat circulation system to work perfectly in dissipating a constant stream of comfortable heat across the room.
For safety, it's fitted with a tip-over switch, which automatically shuts down power should the machine be tipped over. However, it does not offer an auto-off feature should the unit become overheated. Though we never saw our unit overheat, this is still a noteworthy point.
When testing the Vornado MVH, we established it could heat a medium sized, insulated room quite comfortably.
It's also very quiet.
We only noticed a quiet buzz from the fan when it's on and an occasional click of the thermostat.
Features
Vortex® technology circulates warm air more evenly
Thermostatic dial knob for easy temperature control
Three heat settings
Tip-over automatic off switch for worry-free use
Certified, tested for safety, and warrantied for use in the U.S. only
---
Pros
Very light yet powerful
Operates quietly
Features a tip-over safety feature
Heats small and medium rooms effectively
Cons
Suitable only for small spaces
Does not have an overheating safety feature
---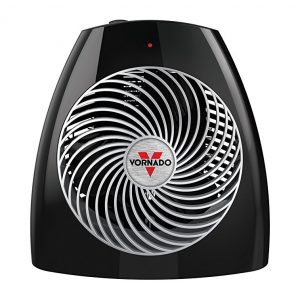 10
LifeSmart Corp Lifelux Series Ultimate 8 Element Extra Large Room Infrared Deluxe Wood Cabinet & Remote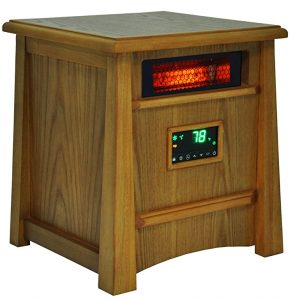 The Lifesmart Corp LifeLux is an infrared heater that weighs 31 pounds and measures 16.2 x 15.2 18.5 inches, making it a bit larger and heavier than most in this range. Inside, it has eight quartz infrared elements wrapped in a metallic heat-exchanging coil that heats up a room decently in relation to our tests.
Its maximum power input is 1500 watts with an eco setting that uses only 500 watts. In total, it has three settings and a digital thermostat that can be easily operated via remote control. It also has a dual timer that can set the time of the heater from anywhere between an hour to nine hours depending on your preferences. 
To be honest…
We think the Lifesmart Corp is an excellent heater. Especially for raising the temperature of a medium sized room in a matter of minutes. The wooden casing stays very cool even on the highest setting, meaning it's safe for your kids and pets.
The LED display and remote control also make this one of the easiest heaters to use out there. It requires no assembly and operates completely silently.
Features
Contains 8 infrared heating elements
Remote control
Includes 3 heat settings
Comes with a 9-hour timer
ETL listed for safety
Installed with caster gliders for portability
Wooden casing stays cool even when on
Features a quiet fan for heat circulation
---
Pros
Infrared heating technology heats your living space quickly
It runs quietly
Includes an LED screen and a remote control
Low power consumption of 500 watts when set to low
Cons
Does not heat up as much space as advertised
Larger and heavier than most heaters
---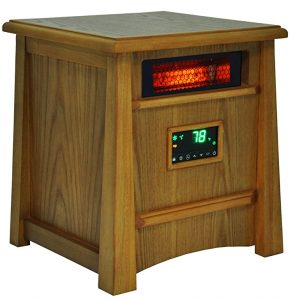 11
DeLonghi EW7707CB Safe Heat 1500W ComforTemp Portable Oil-Filled Radiator – Black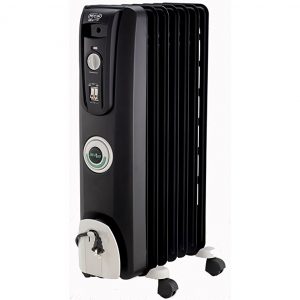 The DeLonghi EW7707CB is a well-built oil-filled radiative space heater that weighs approximately 24 pounds and measures 14 x 25 x 11 inches. It's fitted with a thermostat that regulates the temperature automatically when you press the ComforTemp button.
We found the control panel very easy to use. It comes with three temperature settings ranging from a low of 750 watts to a high of 1500 watts and a thermal cut-off safety feature that prevents overheating.
As with most radiative heaters,
...this one does not do a great job raising a room's temperature. However, when it comes to maintaining it, this heater can keep a large room warm and cozy for a long time.
Concerning noise, this is one of the quietest space heaters out there.
We only noticed a "popping" sound during the first use when the oil was being heated. After this, it ran silently.
This is not pet and child-friendly.
One of the main disadvantages we found while testing this heater is that the casing gets really hot when in use making it unsafe especially with pets and kids around.
Features
Wheels for easy movement
Silent operation,
Permanently sealed steel oil reservoir that will never need refilling
ComforTemp button automatically maintains the ideal room temperature
Installed with smart-snap wheels
Comes with thermal cutoff to prevent overheating and an anti-freeze setting to help prevent freezing pipes
---
Pros
Runs silently
Includes a thermal cut-off and anti-freeze setting
Compact design and packaging
Comes with wheels for easy movement
Cons
Casing gets hot to the touch and can cause fires if left unattended
Does not include a timer
Draws a pretty huge amount of power which can trip your electrical breaker
---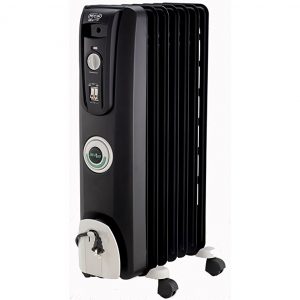 Important Safety Considerations
Generally speaking, space heaters are safe.
They come equipped with features such as automatic shut-off in case the appliance gets tipped over or when it overheats. However, they are more likely to cause a fire compared to any other home or office appliance.
We found a body of evidence citing space heaters as the cause of between 1600-6000 fires each year in the U.S. alone.
Ensure that you never leave a space heater unattended.
Especially with kids or pets who could accidentally tip it over or drop something combustible near it. Also, look for models that are certified for safety standards and read the manual for any specific warnings about your heater.
Check for models that do not get hot to the touch. Some heaters have a casing that could easily burn your loved ones or cause a fire.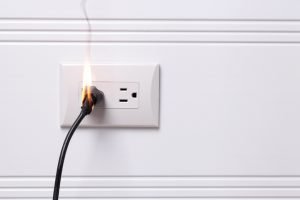 Before using your heater, make sure your electrical connection can handle the new appliance since some electric heaters can draw up to 2,000 watts. Avoid using unauthorized extension cords with your heater. If you must use an extension cord, ensure the cord is rated to handle the power consumed by the heater–normally 13.5 amps and above.
When using oil-filled heaters, always temper them before use.
To do this, find a way to plug it in outside the house or in a well-ventilated area such as a shed with the temperature setting on "high". Doing this burns off the coating that manufacturers apply on these appliances to avoid rusting when in storage. The coating normally causes the odor that most people complain about when using these heaters.
Also, manage your expectations.
Do not expect a small fanned heater to make a 1000 sq. ft. room hot while the doors are open and without insulation. Make sure the room is insulated and the doors are closed.
If it's a huge area, you might need more than one heater.
Are you wasting money?
Some people have the habit of switching their heaters off after it gets warm to "save electricity". However, switching your heater on and off does just the opposite. It takes much more energy to raise the temperature in a room than to maintain it.
Leave the work to the thermostat instead. Set the control to high till the room gets warm. Then reduce it to medium or low. When it gets too low, the thermostat will switch on and vice versa.
Installation
Electric space heaters normally come ready to use with little to no assembly required. However, gas heaters come with many components, and you might need to buy additional stuff for you to install them effectively.
Additionally, some machines come with handles and wheels for easy movement in the house while some come with fixtures to be mounted on a wall or ceiling.
Large Rooms Need More Heat, That's Where A Space Heater Comes In
By now, you should have a good feel for what you need in terms of a space heater. You've thought about how large of a space you need to heat and compared those numbers to the heaters above.
We thought we'd give you a little help by narrowing down our top picks for space heater that specializes in heating a large room.