The hammer has been around for a few million years and is one of the earliest tools used by humans. Unless you want to go primitive, the best hammer doesn't need to rely on sinew and stone anymore as titanium and other exotic alloys are now commonplace.
When it comes to finding the right hammer for the job, there are a wealth of options to choose from. Frame houses? A good carpenter hammer or a California framing hammer will drive nails through wood with ease. The type of hammer you need depends on the task at hand, so whether you need a soft face hammer or a cross pein, we have you covered…
Research You Can Trust
You may think everyone has used a hammer; you'd be mistaken. There's a reason they sell "beginner" toolkits although most have chintzy hammers. With that in mind, we decided to tackle the top hammers for several different areas which turned out to be easier said than done.
While I've used hammers for over 20 years, the number of hammers available today is truly astonishing although screwdrivers still have them beat 10 to 1. After checking out the top brands, I deferred to my fellow builders to hear their thoughts before narrowing the field down to a pool of products featuring only the best.
We were unable to cover every type of hammer although we've included the most popular styles. That means there's something for the weekend warrior ready for an upgrade as well as consumers than need a narrower or heavier head.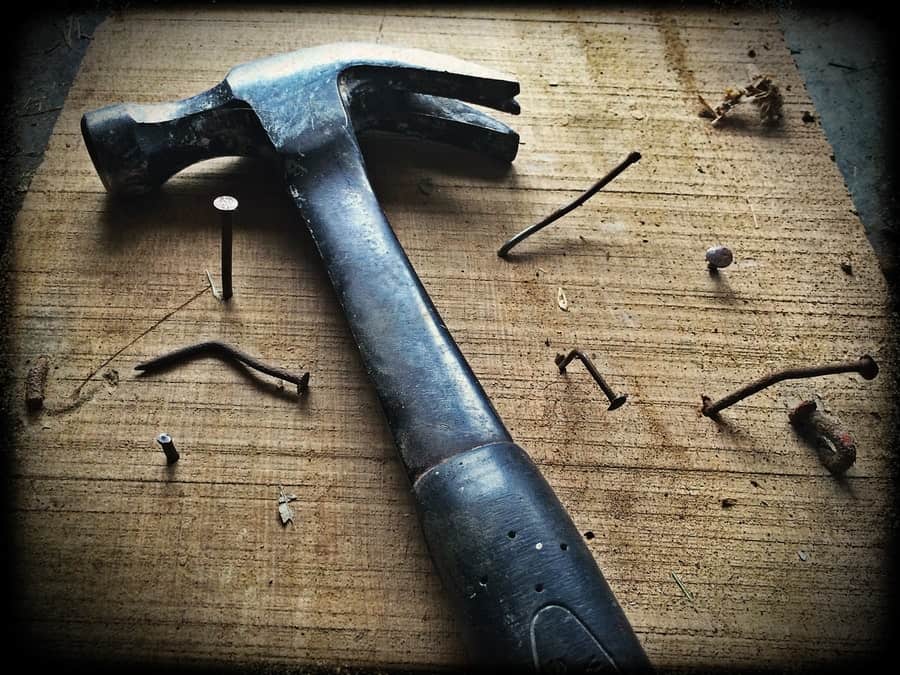 The 30-Second Review
What are you using the hammer for?
Once you answer that simple question, things are straightforward as you just need to focus on the style you need. From here, take a look at the materials used in the construction of the hammer and its weight.
If you are professional, you may need to consider any site standards required for your tools as well along with the warranty. Our picks are all built to last, but tools tend to take more abuse when used commercially.
Buyer's Guide
If I Had A Hammer…
Would you hammer in the morning or hammer out love between our brothers and sisters on planet earth? Well, you can hammer all over this land if you have the right tool, but finding the perfect hammer can be difficult if you are new or just unsure of what you need.
In our hammer buying guide, we will cover all usual suspects along with specialty tools built for specific trades. We'll also explain the basics like, "What is a claw hammer" and tell you what the difference is between a cross peen and ball pein hammer.
Hammer Anatomy
Before you try to decide between an Estwing Ultra or something from Vaughan hammers, you need to understand the parts of a hammer. Did you know the claw of a hammer can be used for far more than pulling nails? Have a clue what the cheek is or the notch found in the neck of some hammers? Have no fear as we're going to break down the basics.
The Head – The head of the hammer is the part that strikes the nail and is made from metal. While it's made up of several different parts, we're only going to focus on two areas and start with the face which will be milled or smooth on all hammers.
Whether you get a choice depends on the model, but it's key as a milled head decreases the chance of bent nails. Smooth heads also serve a purpose, however, especially if you're doing finish work and don't dig nail punches or putty. This diagram gives shows the rest of the parts of a hammer head…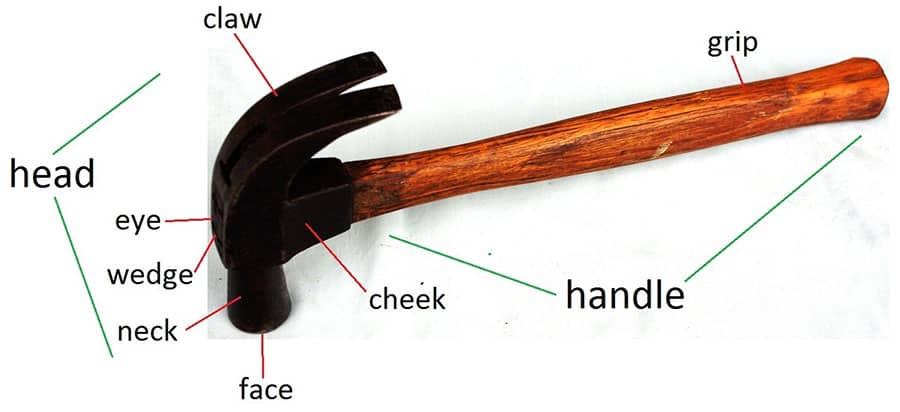 The Handle – If you've ever seen an ancient hammer lying in granddad's toolbox, there's a good chance it was a wooden handle hammer. That was the only material used for decades, but now you can choose between three materials with wood, metal, and fiberglass.
Fiberglass is lighter, but won't hold up as well as a wooden handle hammer. There are some models with jacketed cores or other decisions that make them more durable than previous generations as well. If you plan to use your new hammer as an implement of destruction or for prying, metal is your obviously your best option.
The Rear – There's no proper name for this part as not every hammer has claws on its backside – some have an entirely different face or on one end like a hatchet. While you won't find any prospectors picks or tools for jewelry making on our list, several of our top choices can do more than pull nails or pry apart a couple of 2 x 4's.
The Different Types of Hammers
There are too many specialty hammers to keep up with these days, so we decided to focus our search on the most common styles. All of the hammers below are used to build things or tear them apart. They will also allow you to work with wood, metal and other materials that require a lighter touch than a traditional hammer can provide.
Claw Hammer – The classic claw hammer is a popular type of hammer, and there's a strong chance it's what you came here for. They all have a "claw" in the back with two prongs which can be curved or straight. Claw hammer uses include driving nails, but they excel at pulling and prying as well.
That claw provides a considerable amount of leverage – just don't consider it a replacement for an actual pry bar. If you do, you may be looking for a new hammer.
Rip Claw Hammer – Otherwise known as a straight claw hammer, this tool is typically used for demolition although it can pull nails as well. These hammers are generally heavier and built to break apart wood that's been previously nailed together.
More often than not, the only difference between this type of hammer and a straight claw (aside from the obvious) is the build quality, weight and price tag.
Carpenter and Framing Hammers– Whenever we refer to a tool as a carpenters hammer, it will have distinct characteristics. While they can be used just like a claw hammer in most cases, they tend to be heavier with special features made for carpentry or decking with a straight claw.
Framing hammers fall into this category as well, and most carpenters hammers will have a milled face to decrease the chance of slippage. These are pro level tools as well, and typically not something you'll have lying around in the garage.
Peen Hammers – Is it Peen or Pein… that is the question. It can actually be both as this cool hammer has the distinction of having two monikers. They are used for metal work, not wood and are heavier than other types of hammers due to their design. There all ball peen, straight peen and cross pein hammers as well, each with different a slightly different head.
The weight of these tools varies wildly, so you may be better off with a set unless you know what you need beforehand. The style of head is important, but so is the handle if you plan on working around heat.
Dead Blow Hammers – This interesting tool could be considered a mallet, but definitely falls into the hammer class in our eyes. They have a soft face, usually on both sides of the head and are ideal when you need to strike a blow without damaging the surface. Woodworkers use them for joints, and you won't find a good body shop with a rubber mallet.
As with most different types of hammers, there are a few variants of the dead blow. Some are solid and build like a mini-sledge while others are filled with sand or other substances. You can even find a dead blow hammer with brass or removable faces as well.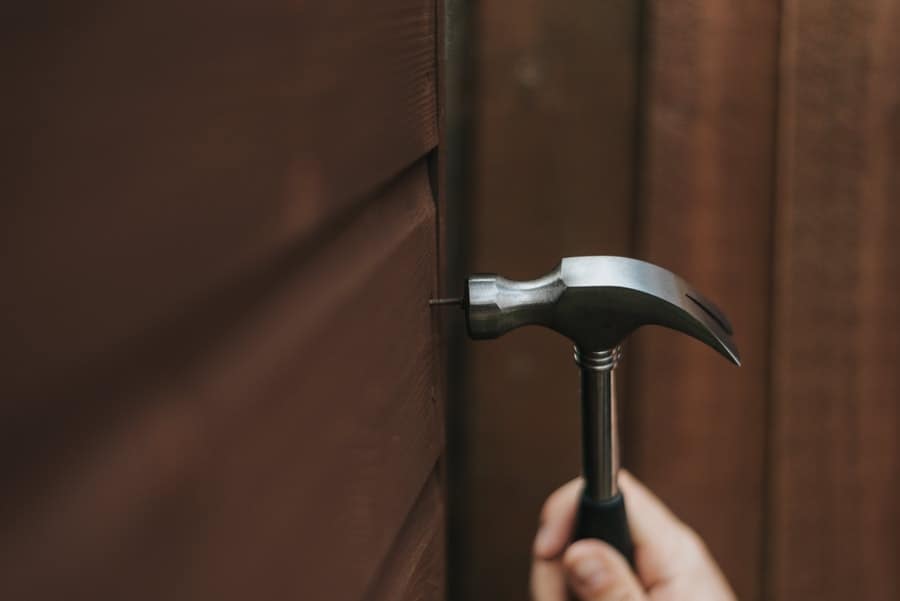 Other Types of Hammers
While those are the most popular types of hammers in our experience, there are a few others that didn't make the cut. Brass hammers are a popular tool for gunsmiths and for any environment where sparks can be an issue.
There are also "lump" hammers which we call mini sledges and hammers built do deal with drywall. If you have a specific task in mind that requires driving, ripping or destroying something, there's a good chance they make a hammer for the job.
Common Things to Consider…
Even when you understand what kind of hammer you need and know the type of claw you require, it would be a mistake to pick up the first hammer that tickles your fancy. That's because there's more to a hammer than a smooth or milled face…
If you plan to use your new hammer on a daily basis, look for build quality and buy a pro model. You may pay twice the price or even hundreds of dollars in some cases, but it's worth it. When you make a living with your tools, don't skimp and remember it's a write-off as long as its business related. Makes the price of that Stiletto hammer you had your eye one a little easier to swallow doesn't it?
Weight is another area that should be high on your list but something we won't be of much help with. The only advice I can give you is don't buy a heavy hammer if you've never spent the day swinging one. Sure, you will get used to it, but you can put yourself out of commission if you spend 6 hours swinging a 25-ounce framing hammer.
On that note…
Whenever we refer to hammer weight, we're talking about the head itself and not the handle unless stated otherwise. That's not by choice as manufacturers use the same system and finding length can be difficult at times as well. It generally depends on the brand.
While we won't go into the old drop forge vs. pressed debate, we are big fans of tools sporting a one-piece design. If you need a construction hammer, it's something to consider along with the warranty. We're also keen on tools that are "Made in the USA" or with high-quality materials as you don't want a hammer head to snap off and fly across the room. Without a good hammer, you'll never be able to do things like this…
It's also wise to consider a set if you're looking for ball pen, dead blow or other specialty hammers. This allows you to get an idea of what you need without breaking the bank and you can always upgrade individual hammers as needed.
Hammer Warranties
Most tools have some sort of warranty, even if they aren't powered and made from one piece of steel. Torque wrenches can break, and the head can snap off a hammer without ever making an errant blow. That's rare, but it can happen with cheap tools although you won't find any of those on our list.
Handles are generally the first thing to go if fiberglass or wooden, but may not be covered by your warranty… if you even get one. It's hit or miss, but we tried to include as much information as we could dig up for each of our top choices. You may get a lifetime guarantee, or it could be a "promise" of sorts that may take you through the year.
Considering the nature of hammers and the fact people like to smash things, there are a lot of activities that could void that warranty as well. In short, if you are concerned about the durability of a hammer in the short term, you may need to buy a big hammer or one made from titanium.
Tools Of The Trade
This is another section of quick tips for beginners, so if you've got a bag full of tools, feel free to skip ahead. If not, stick around a little longer as we're going to tell you a few things you may want to go along with your brand new hammer.
While there isn't a lot of gear for hammers, the number one accessory in our eyes is a simple tool belt with a hammer holder. There are thousands of options available from classic leather to full harness systems. It's really up to you, but if you want something simple, you can buy a loop that works with almost any belt.
If you're doing finish work, you will need to stock up on sanding blocks, putty, and pick up a nail punch. Actually, pick up a set of nail punches as they are easy to lose it's better than using an extra nail when you need to sink one deep. Now that you know what to look for, it's…
The Best Hammer Reviews