Pole Saw Buying Guide for 2018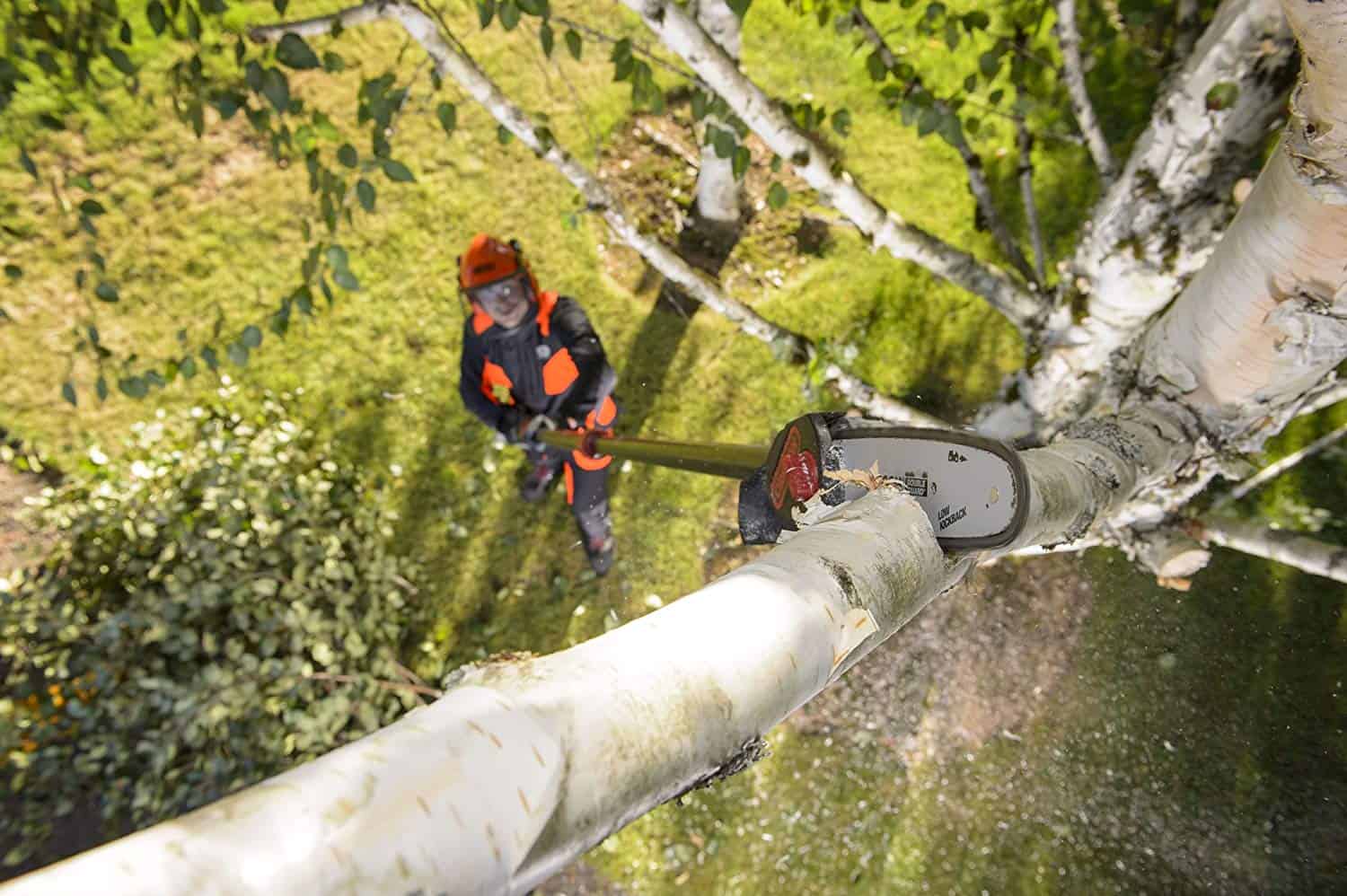 You won't find any pneumatic pole saws in this section, and we're not going to discuss techniques. Instead, we're going to let you know what to look for if this is your first pole saw and focus on a few areas that can make or break your experience.
Manual, Cordless or Electric?
Unless you are a professional tree trimmer, you may be unaware that there is more than one type of pole saw available. We're not just talking about how they extend or the cutting mechanism, but the power behind the pole. While there are a few other variants available, we're going to focus on the three most popular styles in the homeowner class with manual, cordless and electric pole cutters.
Manual
Any tool in this class that requires you to pull a rope or make a sawing motion from the ground is considered a manual pole saw. They come in one of two forms with telescoping poles that simply have a saw attached on one end although some saws also come with a pruner attachment.
Depending on your age, this may be the style you're most familiar with, and it's a tool I am very well acquainted with personally. Newer models have aluminum poles that can extend beyond 20 feet, but they can be a little tricky to use at times. If you have shoulder issues, they aren't the best choice, but you'll get more height from a manual cutter than any other style. There aren't too many features to speak of, so build quality, warranty and the style of the blade are key.
Manual cutters are usually the most affordable option as well aside from a few exceptions. There are "Pro" models that cost as much as a cordless pole saw, but are well worth the money depending on your needs and the types of tress you need to cut.
The Electric Pole Saw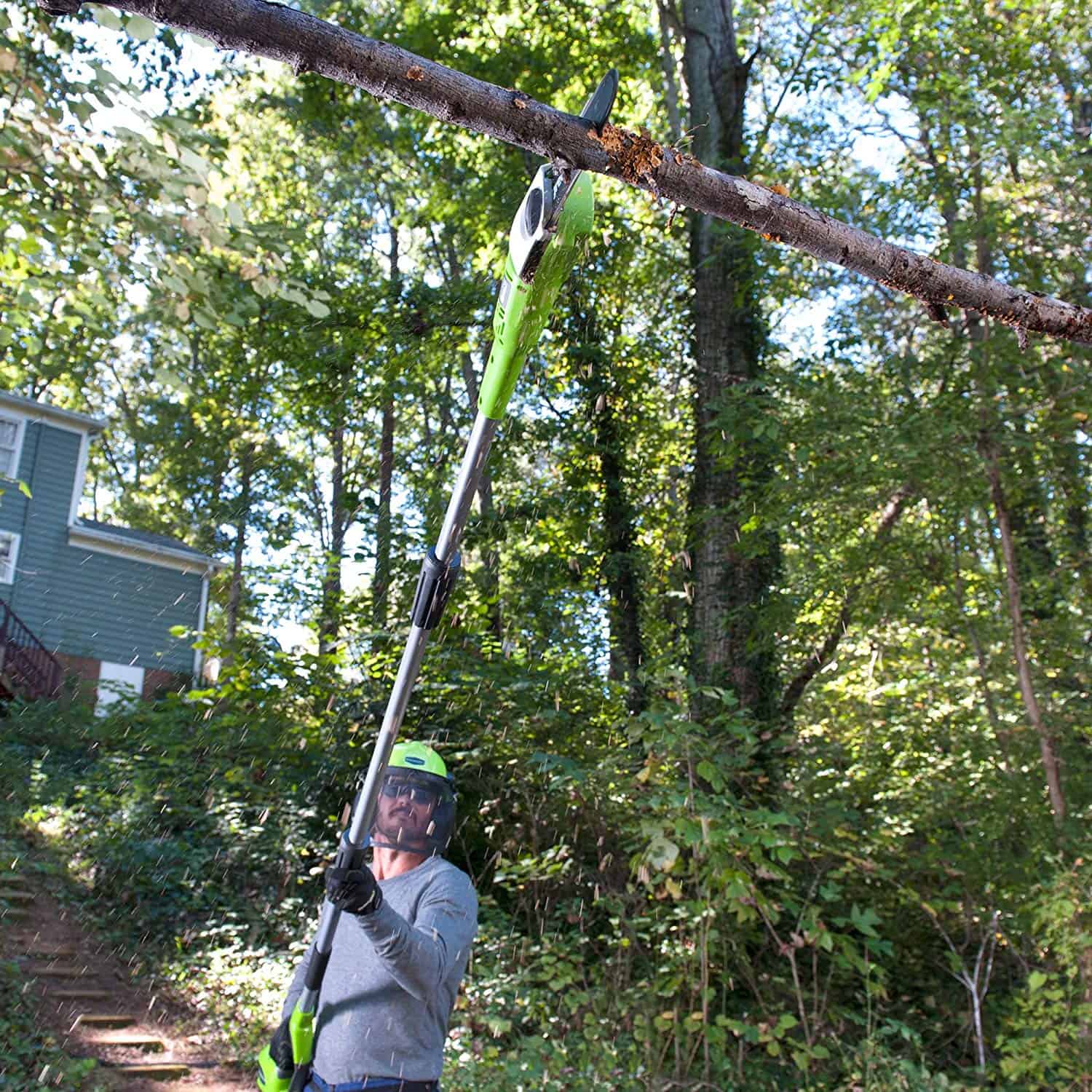 This is the next step up from a manual cutter and a popular, inexpensive choice for homeowners. Electric pole cutters don't require a large amount of maintenance and are light, so you don't need a great deal of strength to use one. If you can hold 7 to 10 pounds over your head and aren't scared of a whirring chainsaw blade, they should be on your list.
An electric pole saw is capable and quiet with an average height range of around 13 to 15 feet. On the downside, they generally don't last nearly as long as a top-tier manual cutter which may only require a new rope or blade every decade or so. You'll also have to deal with a power cord, and weather can put a seriously damper on things.
Have a small to medium sized yard? Then you can probably handle things with one long extension cord. If you use a golf cart to roam your grounds or have a lot of trees to deal with, even the best electric pole saw won't do the trick, so you'll want to seriously consider our next option.
Cordless Pole Cutters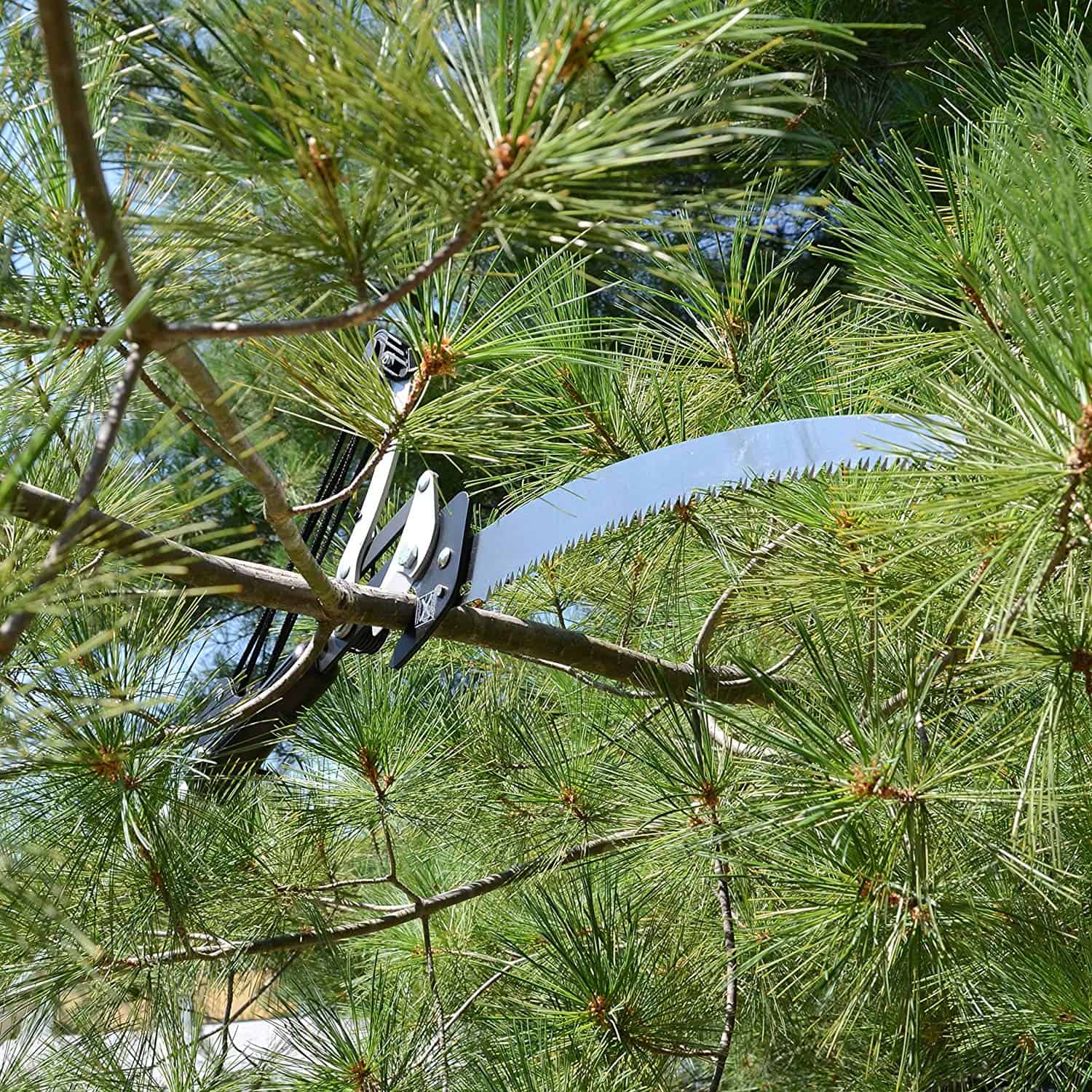 When electric cutters aren't ideal, and manual pole cutters wear you out, cordless models are the only way to go. While there aren't nearly as many models to choose from, our top picks from this area have enough power for heavy-duty usage and fall into the pro class.
Cordless poles saws can have the same set of features found on their electric brethren but will weigh a bit more due to the battery although lighter than a sawzall in some cases. They won't wear you out, but balance is important as you don't want a poorly designed top-heavy cutter. The best cordless pole cutters will have brushless motors, and you'll be shocked by what a 40 or 56-volt battery can do in the right hands.
Cordless pole cutters can have more features than other styles, some of which we'll touch on below. When it comes to battery life, just remember voltage is "power," and the Ah rating is the battery life. You'll want something with plenty of pop, but a 2.0Ah battery won't run nearly as long as one rated at 4.0Ah – there is a notable difference.
The big drawback to cordless pole saws or any quality lithium-ion tool is the price. They are the most expensive style as you can find gas-powered models that are cheaper than a big volt kit. On the flipside, most are compatible with other tools which is a huge advantage if you like their lineup.
Gas-Powered Pole Saws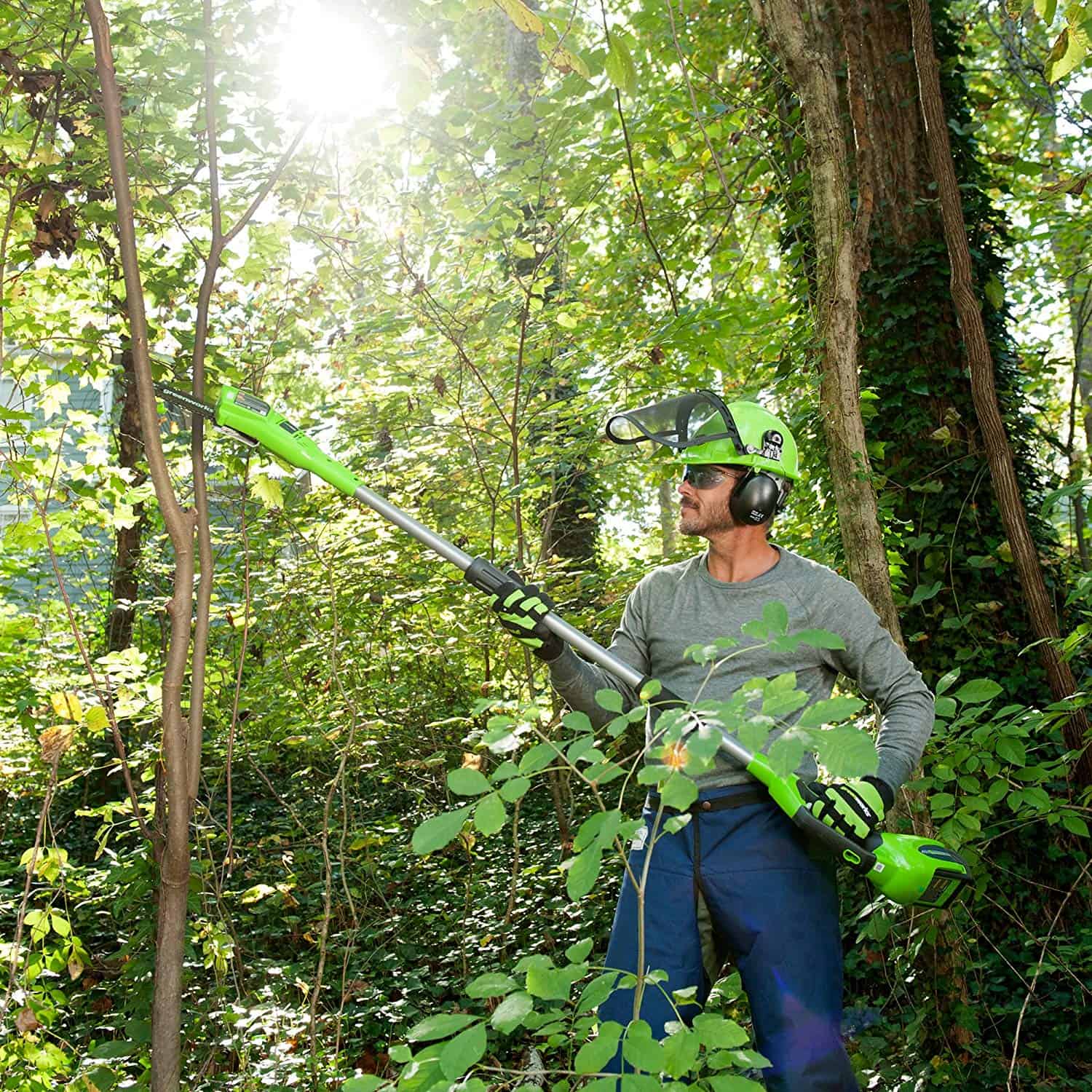 When it comes to unlimited power both literally and figuratively, gas is still your best option. While there are battery-powered models that can hang, you'll still need to spend a fortune on backups or have to recharge. With a gas pole saw, you simply need to tip a can…
Power is the obvious perk for this style and the fact most are capable of dealing with larger limbs that an electric model can't touch. You won't get the same height as a manual saw, and they are pricey, but well worthy investment if you have a lot of tree work to do. The top gas powered pole saws fall into the Pro class as well, so you're going to pay up either way for a quality tool.
This is where brand matters a little more than with other styles. A Black and Decker pole saw, or cheap electric tree trimmer won't hold up to something from Husqvarna. Looking for a Stihl pole saw for sale? Well, you may be out of luck but can find comparable tools if you know what to look for. Features are still important, but quality is key if you want to find the best gas pole saw for your needs.
We don't really consider the price to be a drawback as there are some budget-friendly models available. The real downside is maintenance as you'll need to mix gas and oil, and there are more parts to deal with. Primer bubbles crack, bad gas can do you in, and they are the noisiest pole saws of the bunch. If you live in Cali, you'll also want to make sure it's CARB compliant.
What about Power Heads?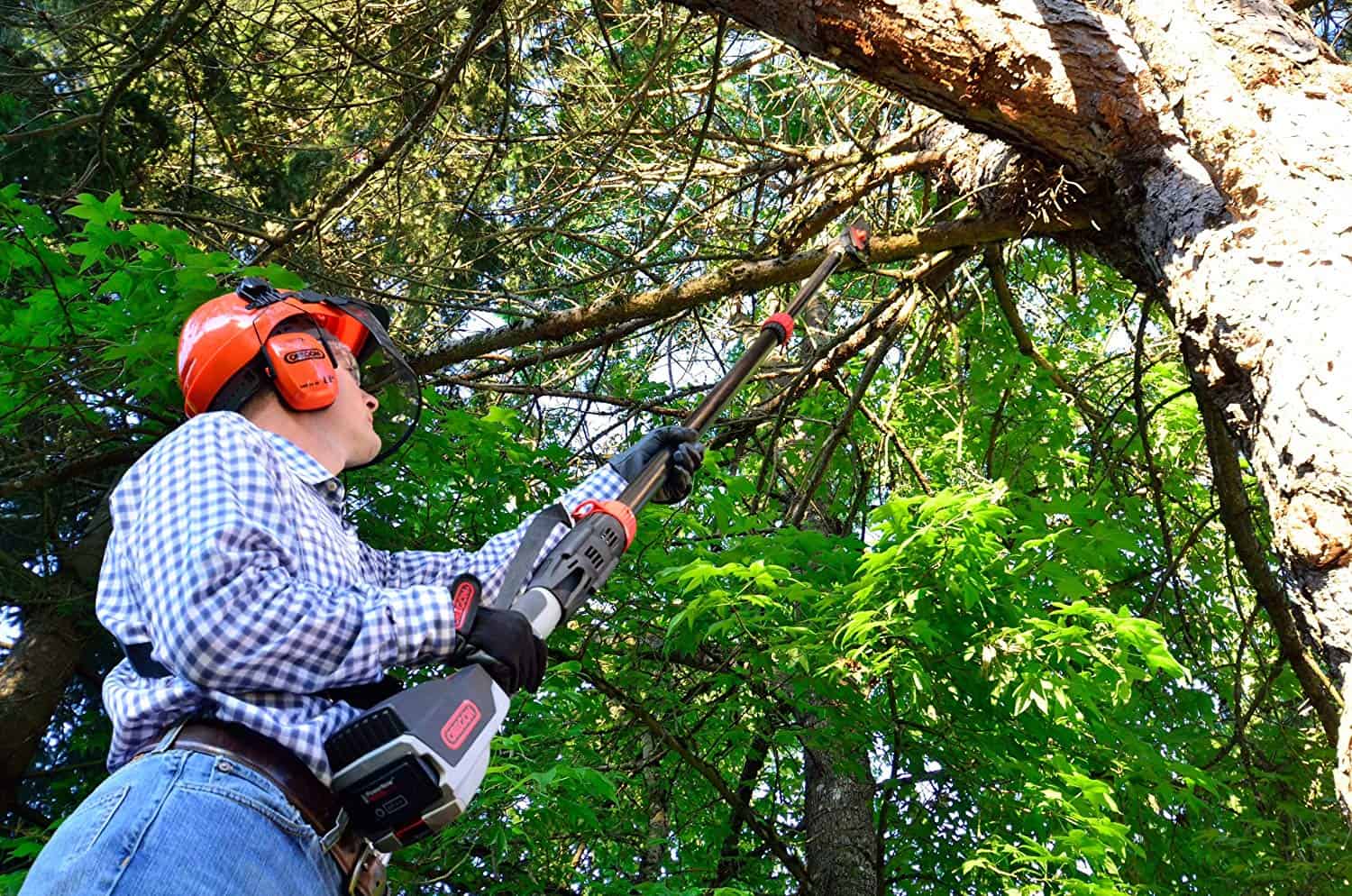 While we didn't give power heads their own time in the spotlight, it's basically the part of the tool with the motor and shaft. It may or may not come with a pole saw attachment, and some will work with string trimmer and edger attachments as well. They have the same type of features found on other powered styles but typically cost a little more due to their versatility. You can find power head systems on gas powered pole saws, and we included a few in our cordless pole saw reviews.
Areas To Consider…
Cutting Capacity & Power
Cutting capacity is a critical specification, but something manufacturers don't always put in plain sight. While they are happy to tell you how long their pole saw blade is, they aren't so quick to talk about how thick of a branch it will cut.
We tried to dig up the specs on that for each of our picks whether they are electric or in our cordless pole saw reviews. A simple way to think of things is the longer the bar… the more you can cut. If the limb is as big as your waist, you're not going to bring it down, but you can saw through larger limbs that test the length of your bar.
Loppers are clearly marked and generally don't go beyond a few inches, and electric models are tethered to low amp motors more often than not. Power will limit your cut as well, so the more volts, cc's, and amps you can get, the better off you'll be. The manual pole saw is an exception, as you supply the power and we've seen a Silky pole saw drop some massive branches.
What about a cordless pole saw?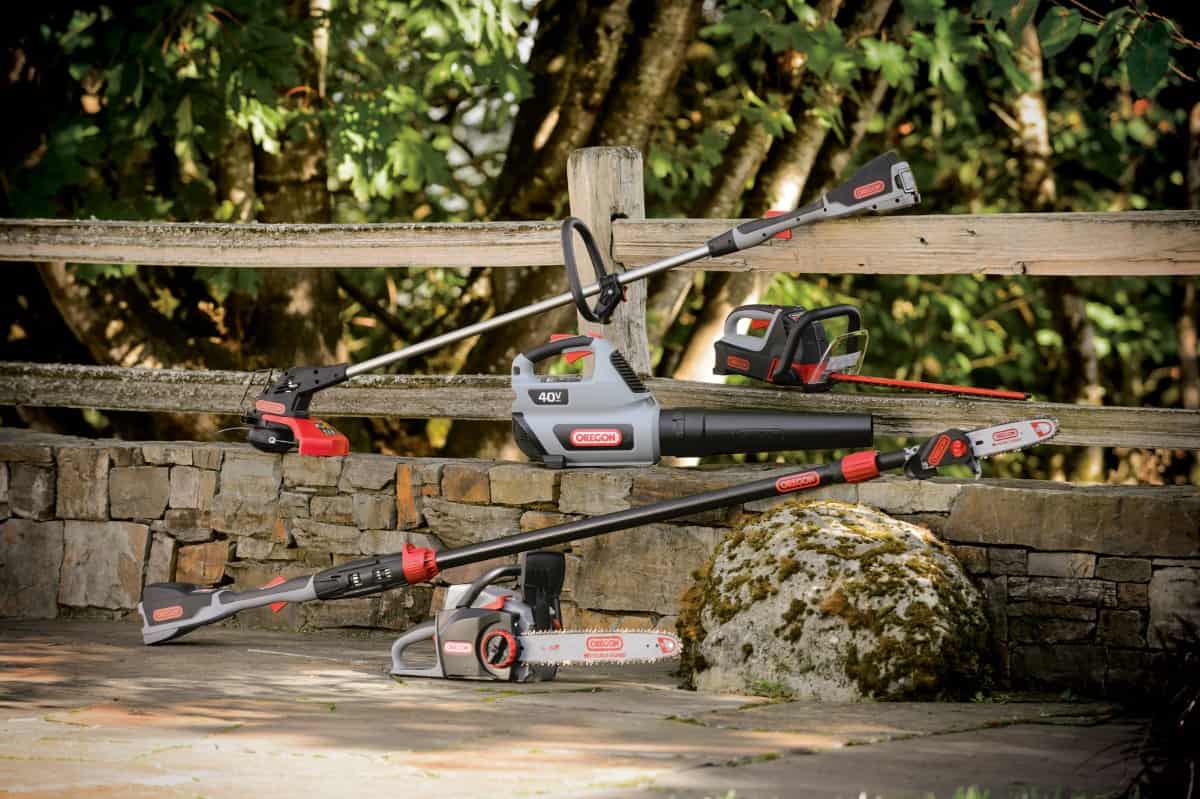 Like we said, volts are important, but it's not the only measurement you need to pay attention to. Every battery powered pole saw will have an Ah or amp hour rating on their battery pack. This basically gives you an idea of how long it will run, while the voltage lets you know how powerful it is.
Pole Length
This is an area that gets a little tricky as branches are going to be different heights, and so are the people using the trimmer. If you're 6'3", you can get by with using a wide range of pole saws whereas someone shorter may require more reach. That means your options may be somewhat limited as all pole saws are not created equally…
From a common sense standpoint, anything sharp that runs at high speed is usually something you don't want overhead – especially when it's basically on a stick. That means stability is critical for more reasons than one, and there are limits to how high you can go with gas powered or electric pole saws. There is no set standard, but an average range of 13 to 16 feet is what we've seen in our research.
Cordless pole saws are no exception as their range is limited as well, but that isn't the case with a good old-fashioned manual pole saw. These cutters can reach well over 20 feet which covers most folks needs. If you need to go higher than that or have thicker branches higher than your basketball hoop out back, it may be time to call in a pro.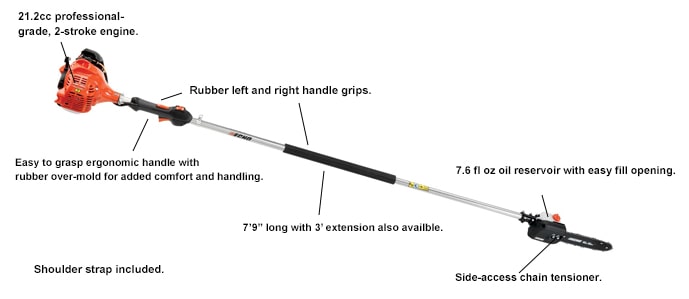 Features
When you are dealing with several styles of a tool, the feature set can vary. That's true in the pole saw world as you won't find any manual pole saws with built-in LED lights or other high-tech flair. When it comes to gas, cordless and corded models, things are a bit different…
The number one feature you'll want to look for on any electric pole pruner or telescopic chainsaw is an automatic oiler. This keeps your chain oiled while it runs and is far easier than the manual method. How well they actually work has been the topic of many heated debates, but typically varies by the tool design and company.
A tool-less tensioning system is the next thing you'll want to consider. Unfortunately, they are not nearly as prevalent as oilers, and you can find more tools in the homeowner class that are tool-less than the Pro class at times. There's a reason for that. While tool-free systems are easier, they don't always work as intended, and nobody wants to stop and tension their chain constantly.
Lock buttons are common on electric, cordless and gas-powered pole saws and something to look for. The trigger should be wide and easy to use as well, and we're big fans of any power tools with lower decibel levels or anti-vibration tech. This is especially true with larger gas pole saws which can do a number on your back as well as your ears.
With a manual pole saw, there are still a few things hone in on outside of the length. Check the quality of the blade, and if you have vines to deal with, a hook will be your best friend. The coupling system should not be overlooked either considering manual pole cutters are usually very long, so those clamps need to lock properly.
As for the trusty old pole saw loppers, check the coupling and look for coated blades on the pruner attachment. It's simple, but makes cleanup a breeze and can also help your blade make cleaner cuts. The only other feature from this style would be geared or double-pulley mechanisms which make pulling on that rope considerably easier.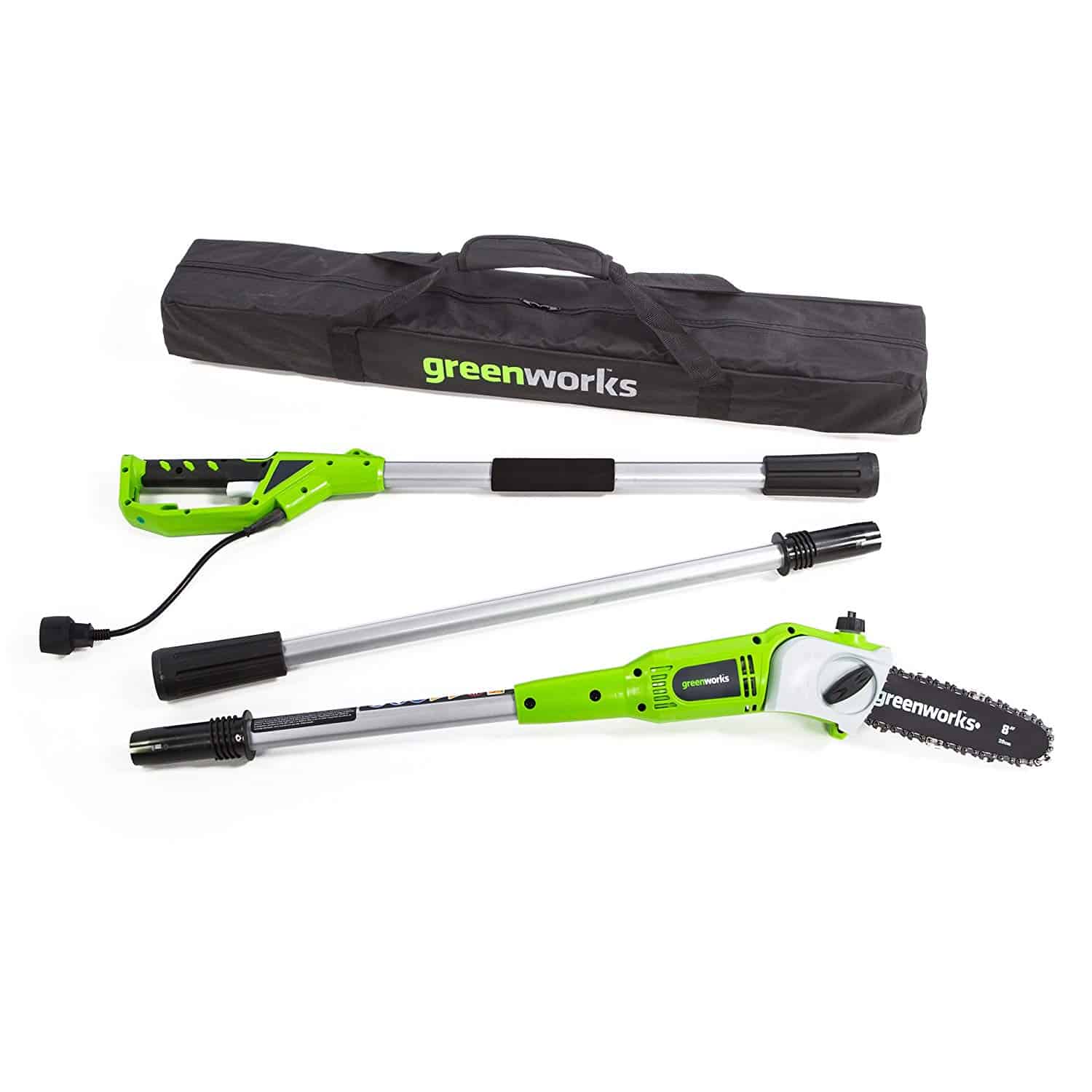 Build Quality
No matter if you chose a manual pole saw or the best cordless pole saw with a massive battery, it won't do you much good if the pole snaps. That's highly unlikely, but bent poles or crooked shafts are a common occurrence on cheaper tools.
While it's rare to get a wall thickness measurement for the pole, you can check to see what it's made from. Aluminum is ideal, but plenty of manufacturers rely on fiberglass. This popular material works well and keeps the cost down, but is no substitute for metal. With a chainsaw or pole saw, the more metal parts, the better as plastic cracks even if it's lightweight.
A plate on the bottom of your gas powered pole saw will help protect the gas tank from damage, and the
re are other little tweaks from magnesium clutches to brushless motors that extend the lifespan of the tool. All these perks are nice, but no substitute for a good…
Warranty
Most pole saw warranties are pretty clear-cut, especially if you're dealing with a manual saw or extended pruner. We've highlighted all the information in our pole saw reviews, but sometimes you will need to dig a bit deeper to find out exactly what's covered and if you'll need to pay for anything in the long run.
Motors can have their own warranty, and with higher-powered models, there's something else to consider. That would be residential vs. commercial use as it matters with some brands. Simply put, if a tool is going to be used commercially in your tree trimming or landscaping service, you may get a shorter warranty than a tool build for light-duty work around the yard.
Cordless tools have their own set of rules as well. You need to look at the warranty for the tool itself, and the battery as quality tools have separate warranties for each. The charger may have one as well, but it usually is covered for the same length of time as the power packs.
One more thing…
We really want to stress the importance of replacement parts with pole saws. You may have trouble finding parts for even the best electric pole saw, but parts for gas-powered models are easier to track down – most of the time.
Chains and bars are the simplest parts to replace, and you can always pick up a new battery even if some are quite expensive. As a rule of thumb, the older the tool, the harder it is to find parts although there are a few exceptions when it comes to certain brands. We generally choose the newest model available from a product line, but sometimes we backtrack if a previous version is better and some models are sold for years.