The 30-Second Review
In our 30-second reviews, we like to tell you what to look for when time is of the essence. In this case, it could be a storm brewing, clean up after one or you could just need to prune a few branches. Whatever the case may be, here's what you should hone in on…
Consider the size of the limbs you need to cut, and then check the cutting capacity of the tool in question. Make sure it can reach those branches before looking at features like tool-less tensioning or other bells & whistles. After that consider the build quality and look at the length of the warranty. Once you settle on a pole saw, check to see what is included and remember to pick up some oil!
Pole Saw Buying Guide for 2018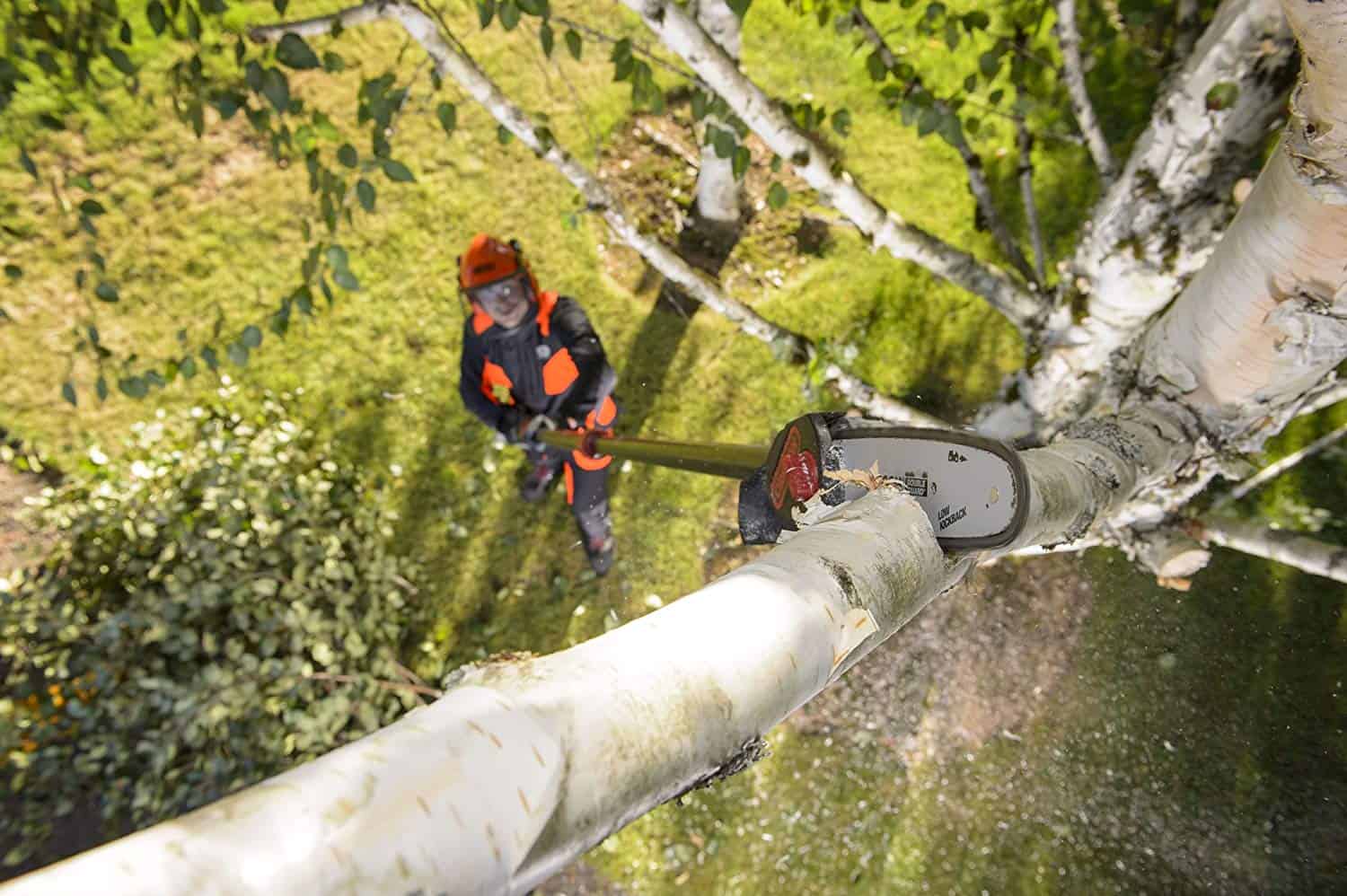 You won't find any pneumatic pole saws in this section, and we're not going to discuss techniques. Instead, we're going to let you know what to look for if this is your first pole saw and focus on a few areas that can make or break your experience.
Manual, Cordless or Electric?
Unless you are a professional tree trimmer, you may be unaware that there is more than one type of pole saw available. We're not just talking about how they extend or the cutting mechanism, but the power behind the pole. While there are a few other variants available, we're going to focus on the three most popular styles in the homeowner class with manual, cordless and electric pole cutters.
Manual
Any tool in this class that requires you to pull a rope or make a sawing motion from the ground is considered a manual pole saw. They come in one of two forms with telescoping poles that simply have a saw attached on one end although some saws also come with a pruner attachment.
Depending on your age, this may be the style you're most familiar with, and it's a tool I am very well acquainted with personally. Newer models have aluminum poles that can extend beyond 20 feet, but they can be a little tricky to use at times. If you have shoulder issues, they aren't the best choice, but you'll get more height from a manual cutter than any other style. There aren't too many features to speak of, so build quality, warranty and the style of the blade are key.
Manual cutters are usually the most affordable option as well aside from a few exceptions. There are "Pro" models that cost as much as a cordless pole saw, but are well worth the money depending on your needs and the types of tress you need to cut.
The Electric Pole Saw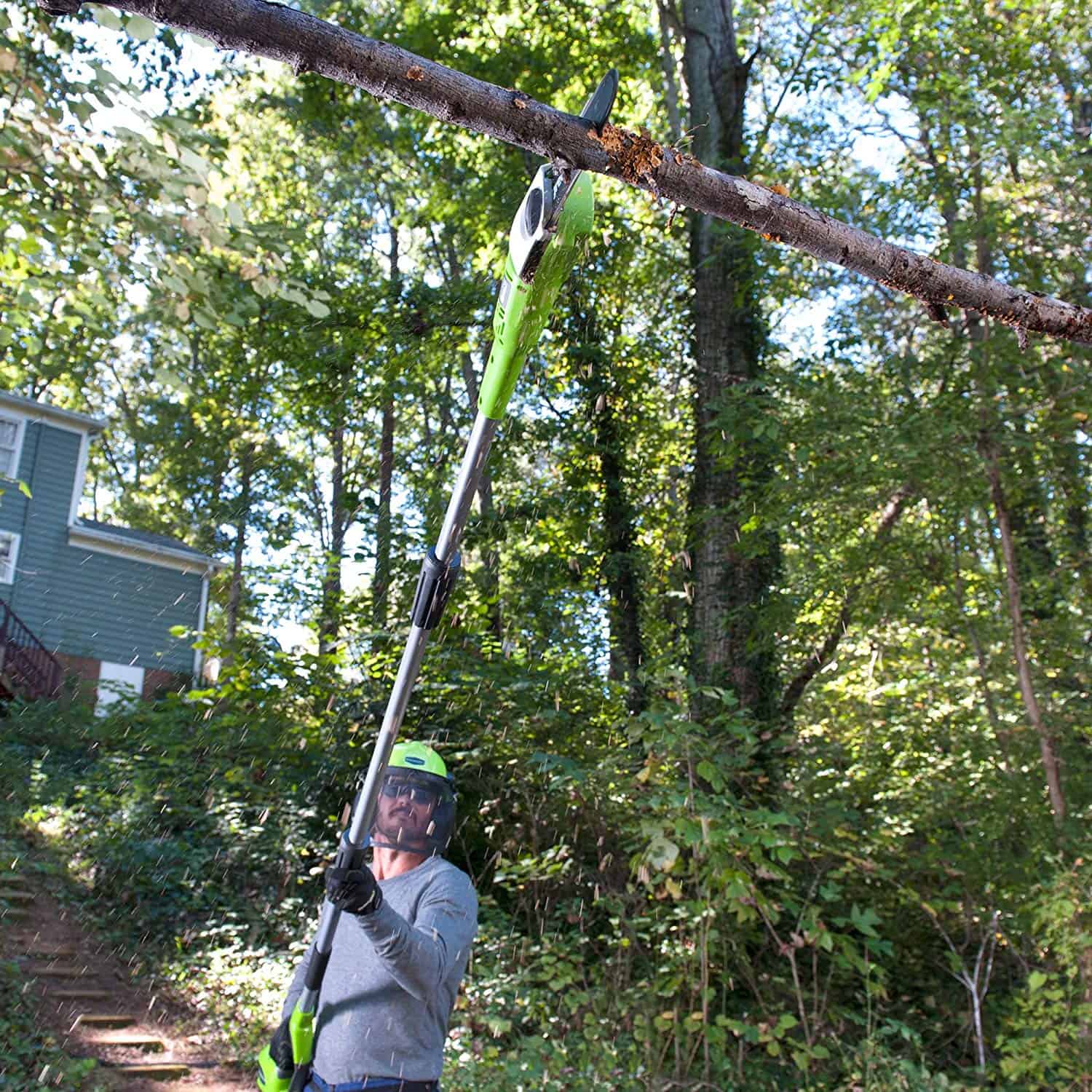 This is the next step up from a manual cutter and a popular, inexpensive choice for homeowners. Electric pole cutters don't require a large amount of maintenance and are light, so you don't need a great deal of strength to use one. If you can hold 7 to 10 pounds over your head and aren't scared of a whirring chainsaw blade, they should be on your list.
An electric pole saw is capable and quiet with an average height range of around 13 to 15 feet. On the downside, they generally don't last nearly as long as a top-tier manual cutter which may only require a new rope or blade every decade or so. You'll also have to deal with a power cord, and weather can put a seriously damper on things.
Have a small to medium sized yard? Then you can probably handle things with one long extension cord. If you use a golf cart to roam your grounds or have a lot of trees to deal with, even the best electric pole saw won't do the trick, so you'll want to seriously consider our next option.
Cordless Pole Cutters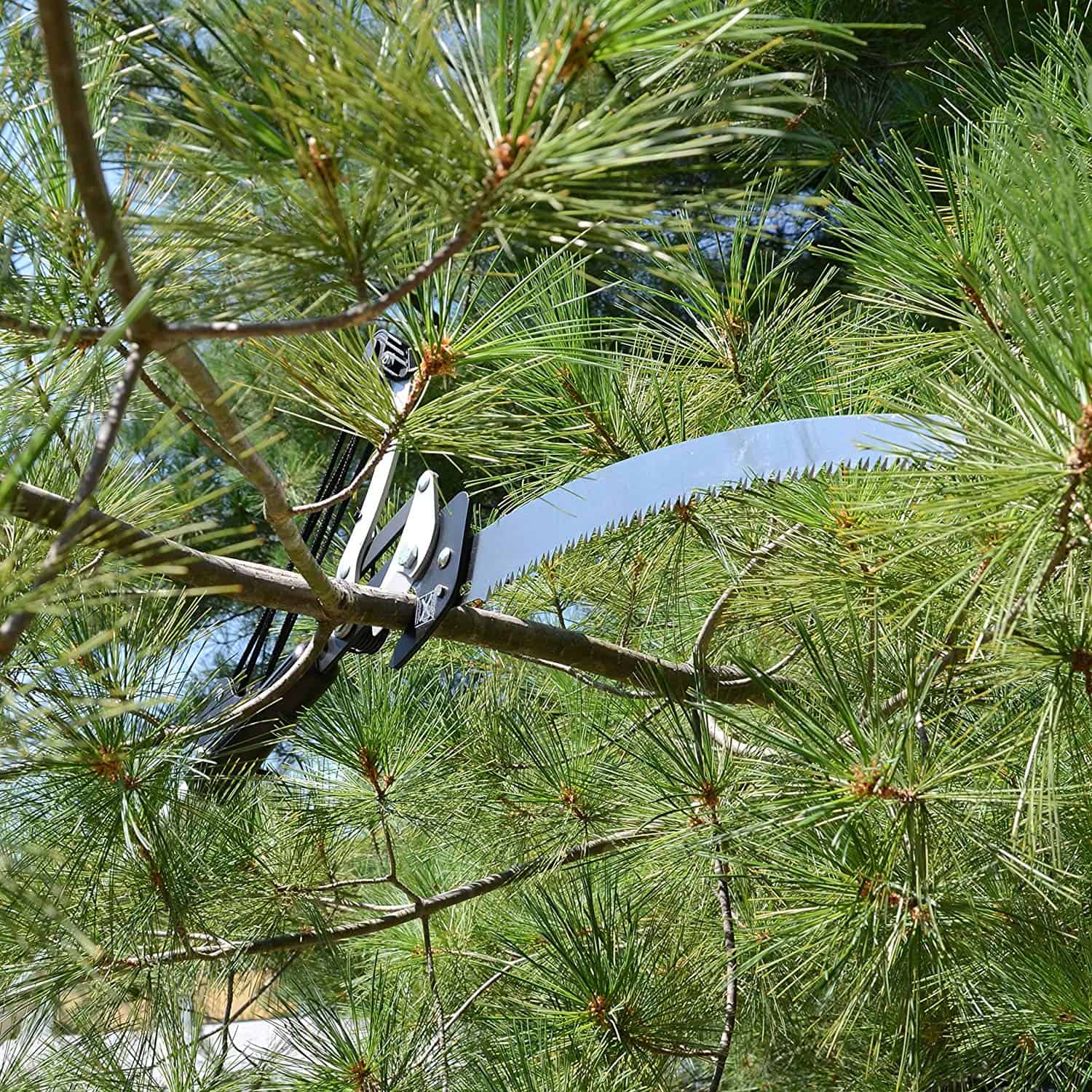 When electric cutters aren't ideal, and manual pole cutters wear you out, cordless models are the only way to go. While there aren't nearly as many models to choose from, our top picks from this area have enough power for heavy-duty usage and fall into the pro class.
Cordless poles saws can have the same set of features found on their electric brethren but will weigh a bit more due to the battery although lighter than a sawzall in some cases. They won't wear you out, but balance is important as you don't want a poorly designed top-heavy cutter. The best cordless pole cutters will have brushless motors, and you'll be shocked by what a 40 or 56-volt battery can do in the right hands.
Cordless pole cutters can have more features than other styles, some of which we'll touch on below. When it comes to battery life, just remember voltage is "power," and the Ah rating is the battery life. You'll want something with plenty of pop, but a 2.0Ah battery won't run nearly as long as one rated at 4.0Ah – there is a notable difference.
The big drawback to cordless pole saws or any quality lithium-ion tool is the price. They are the most expensive style as you can find gas-powered models that are cheaper than a big volt kit. On the flipside, most are compatible with other tools which is a huge advantage if you like their lineup.
Gas-Powered Pole Saws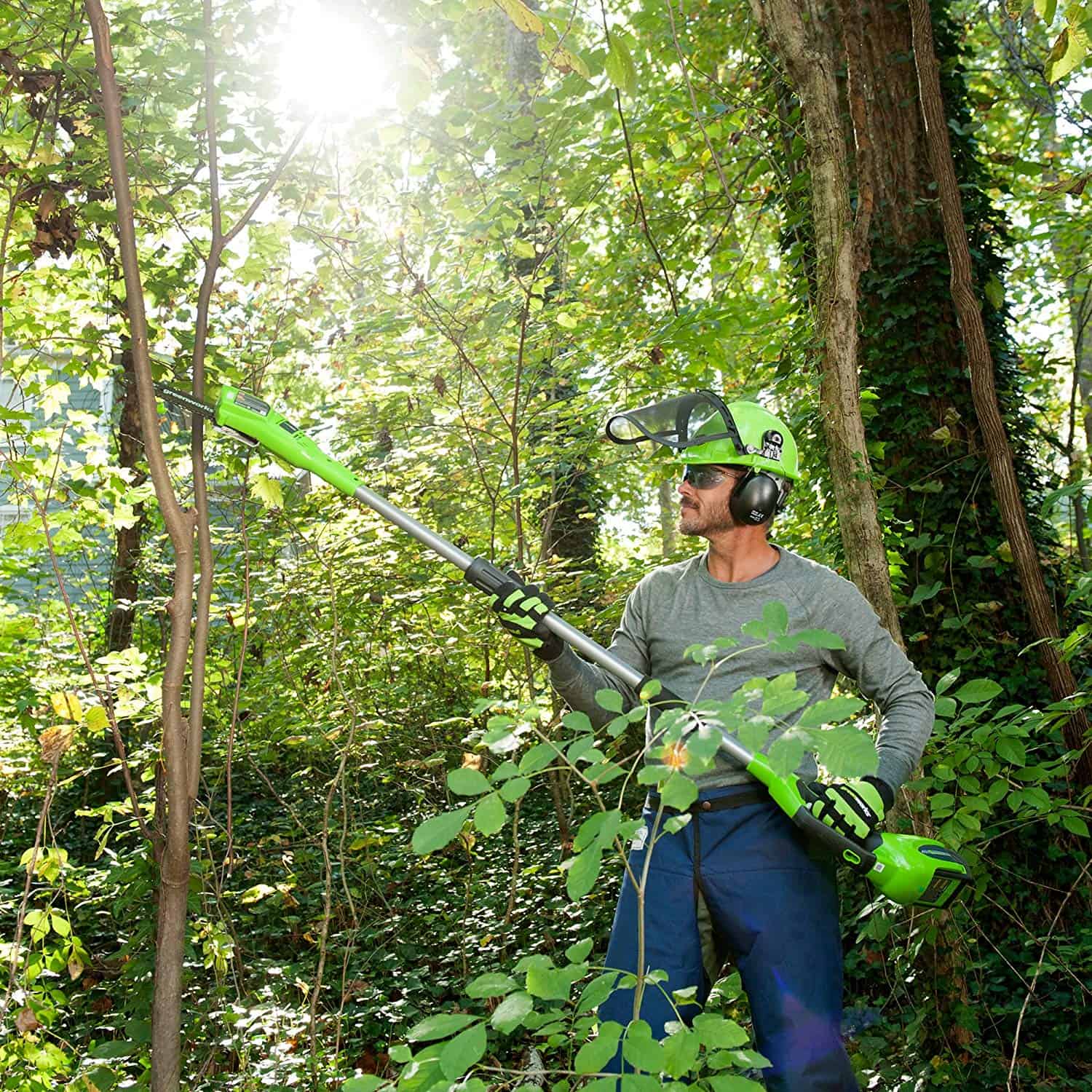 When it comes to unlimited power both literally and figuratively, gas is still your best option. While there are battery-powered models that can hang, you'll still need to spend a fortune on backups or have to recharge. With a gas pole saw, you simply need to tip a can…
Power is the obvious perk for this style and the fact most are capable of dealing with larger limbs that an electric model can't touch. You won't get the same height as a manual saw, and they are pricey, but well worthy investment if you have a lot of tree work to do. The top gas powered pole saws fall into the Pro class as well, so you're going to pay up either way for a quality tool.
This is where brand matters a little more than with other styles. A Black and Decker pole saw, or cheap electric tree trimmer won't hold up to something from Husqvarna. Looking for a Stihl pole saw for sale? Well, you may be out of luck but can find comparable tools if you know what to look for. Features are still important, but quality is key if you want to find the best gas pole saw for your needs.
We don't really consider the price to be a drawback as there are some budget-friendly models available. The real downside is maintenance as you'll need to mix gas and oil, and there are more parts to deal with. Primer bubbles crack, bad gas can do you in, and they are the noisiest pole saws of the bunch. If you live in Cali, you'll also want to make sure it's CARB compliant.
What about Power Heads?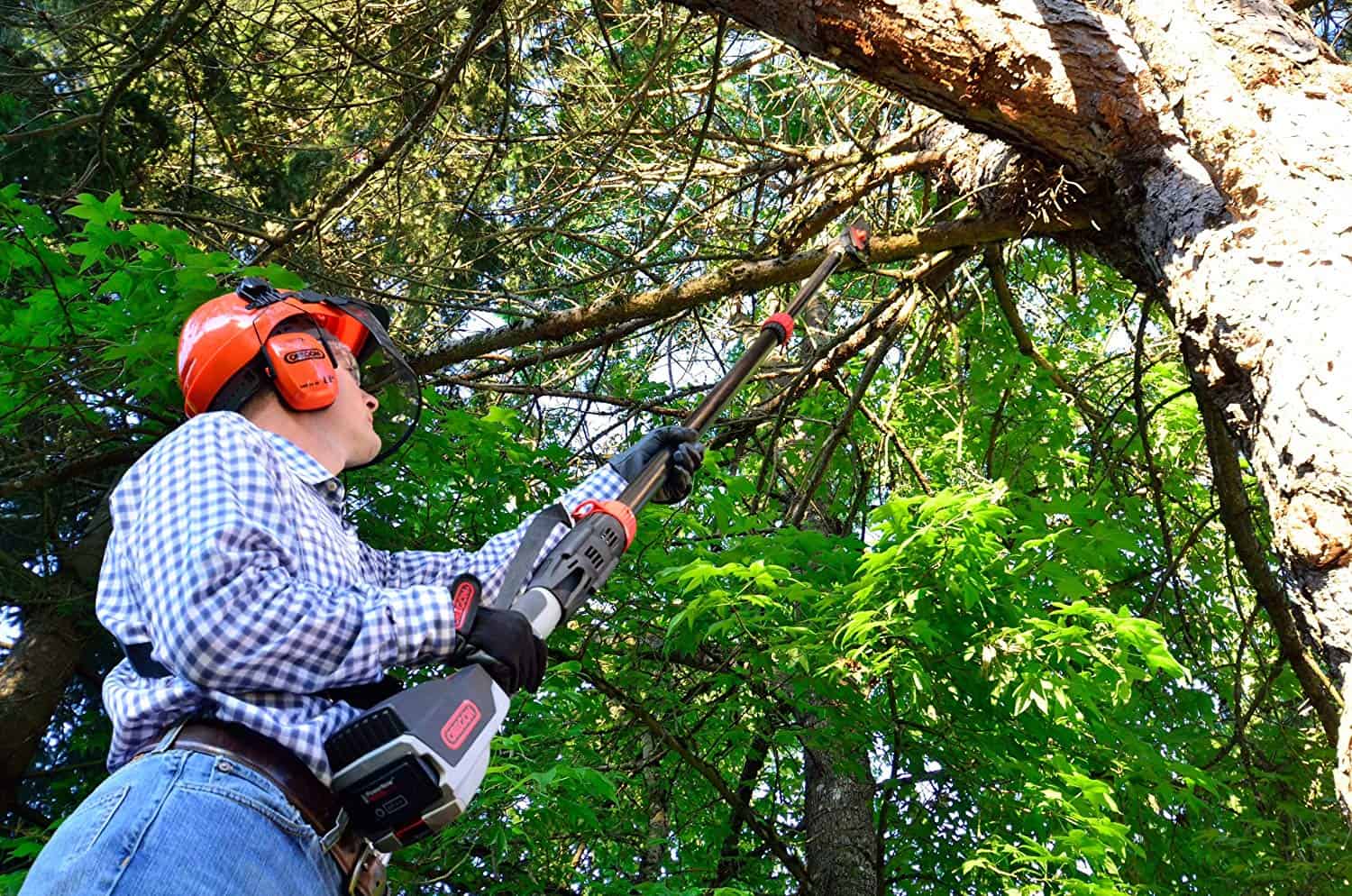 While we didn't give power heads their own time in the spotlight, it's basically the part of the tool with the motor and shaft. It may or may not come with a pole saw attachment, and some will work with string trimmer and edger attachments as well. They have the same type of features found on other powered styles but typically cost a little more due to their versatility. You can find power head systems on gas powered pole saws, and we included a few in our cordless pole saw reviews.
Areas To Consider…
Cutting Capacity & Power
Cutting capacity is a critical specification, but something manufacturers don't always put in plain sight. While they are happy to tell you how long their pole saw blade is, they aren't so quick to talk about how thick of a branch it will cut.
We tried to dig up the specs on that for each of our picks whether they are electric or in our cordless pole saw reviews. A simple way to think of things is the longer the bar… the more you can cut. If the limb is as big as your waist, you're not going to bring it down, but you can saw through larger limbs that test the length of your bar.
Loppers are clearly marked and generally don't go beyond a few inches, and electric models are tethered to low amp motors more often than not. Power will limit your cut as well, so the more volts, cc's, and amps you can get, the better off you'll be. The manual pole saw is an exception, as you supply the power and we've seen a Silky pole saw drop some massive branches.
What about a cordless pole saw?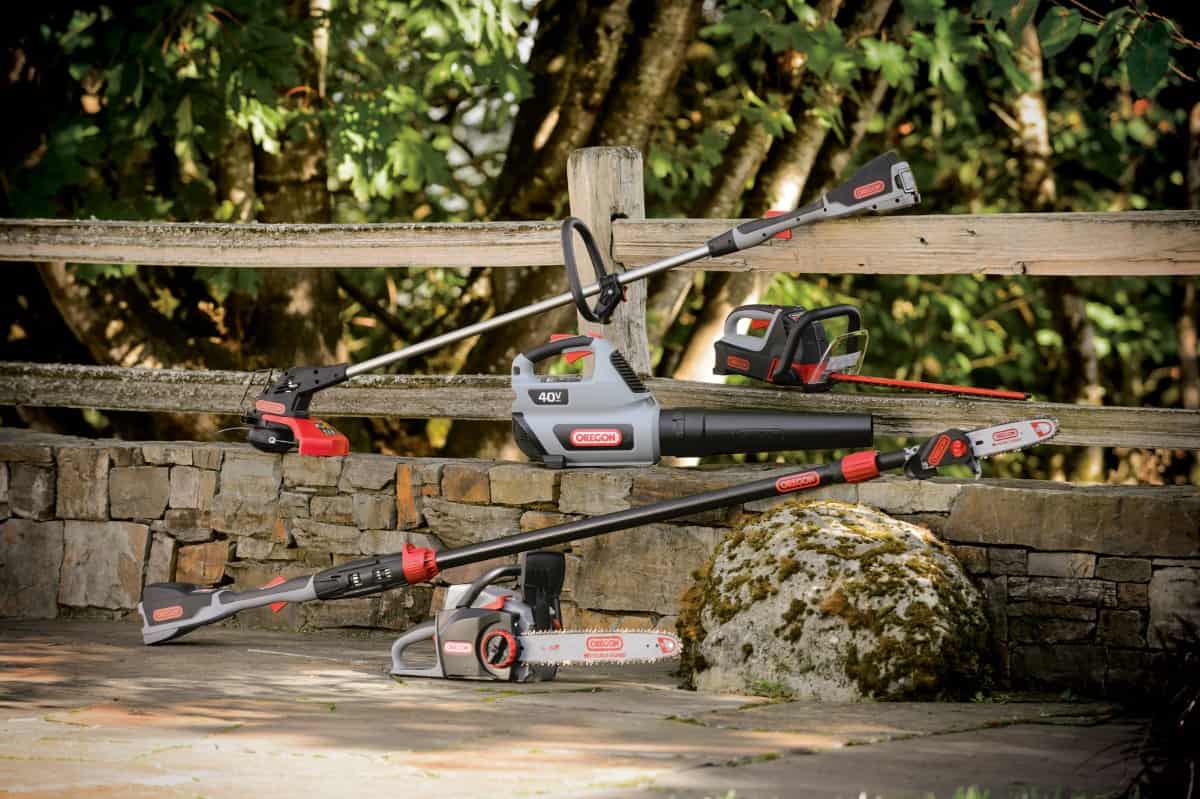 Like we said, volts are important, but it's not the only measurement you need to pay attention to. Every battery powered pole saw will have an Ah or amp hour rating on their battery pack. This basically gives you an idea of how long it will run, while the voltage lets you know how powerful it is.
Pole Length
This is an area that gets a little tricky as branches are going to be different heights, and so are the people using the trimmer. If you're 6'3", you can get by with using a wide range of pole saws whereas someone shorter may require more reach. That means your options may be somewhat limited as all pole saws are not created equally…
From a common sense standpoint, anything sharp that runs at high speed is usually something you don't want overhead – especially when it's basically on a stick. That means stability is critical for more reasons than one, and there are limits to how high you can go with gas powered or electric pole saws. There is no set standard, but an average range of 13 to 16 feet is what we've seen in our research.
Cordless pole saws are no exception as their range is limited as well, but that isn't the case with a good old-fashioned manual pole saw. These cutters can reach well over 20 feet which covers most folks needs. If you need to go higher than that or have thicker branches higher than your basketball hoop out back, it may be time to call in a pro.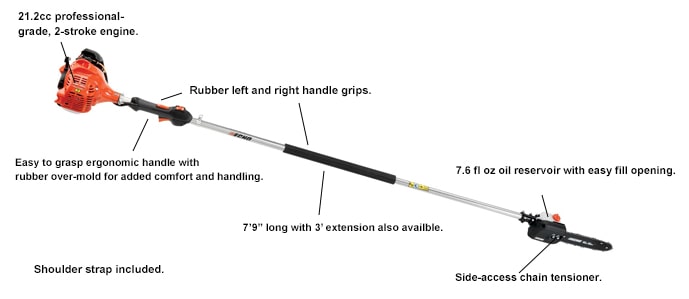 Features
When you are dealing with several styles of a tool, the feature set can vary. That's true in the pole saw world as you won't find any manual pole saws with built-in LED lights or other high-tech flair. When it comes to gas, cordless and corded models, things are a bit different…
The number one feature you'll want to look for on any electric pole pruner or telescopic chainsaw is an automatic oiler. This keeps your chain oiled while it runs and is far easier than the manual method. How well they actually work has been the topic of many heated debates, but typically varies by the tool design and company.
A tool-less tensioning system is the next thing you'll want to consider. Unfortunately, they are not nearly as prevalent as oilers, and you can find more tools in the homeowner class that are tool-less than the Pro class at times. There's a reason for that. While tool-free systems are easier, they don't always work as intended, and nobody wants to stop and tension their chain constantly.
Lock buttons are common on electric, cordless and gas-powered pole saws and something to look for. The trigger should be wide and easy to use as well, and we're big fans of any power tools with lower decibel levels or anti-vibration tech. This is especially true with larger gas pole saws which can do a number on your back as well as your ears.
With a manual pole saw, there are still a few things hone in on outside of the length. Check the quality of the blade, and if you have vines to deal with, a hook will be your best friend. The coupling system should not be overlooked either considering manual pole cutters are usually very long, so those clamps need to lock properly.
As for the trusty old pole saw loppers, check the coupling and look for coated blades on the pruner attachment. It's simple, but makes cleanup a breeze and can also help your blade make cleaner cuts. The only other feature from this style would be geared or double-pulley mechanisms which make pulling on that rope considerably easier.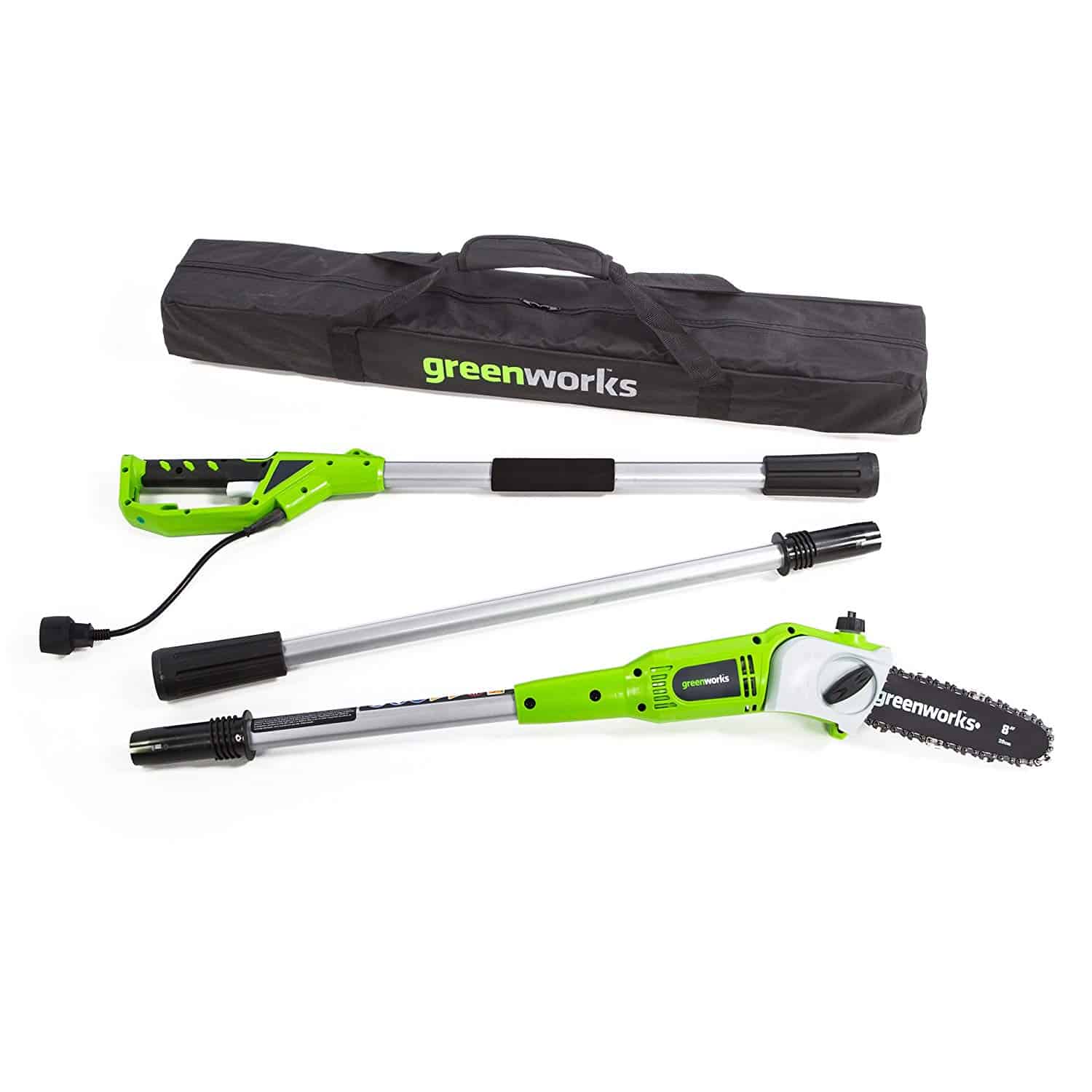 Build Quality
No matter if you chose a manual pole saw or the best cordless pole saw with a massive battery, it won't do you much good if the pole snaps. That's highly unlikely, but bent poles or crooked shafts are a common occurrence on cheaper tools.
While it's rare to get a wall thickness measurement for the pole, you can check to see what it's made from. Aluminum is ideal, but plenty of manufacturers rely on fiberglass. This popular material works well and keeps the cost down, but is no substitute for metal. With a chainsaw or pole saw, the more metal parts, the better as plastic cracks even if it's lightweight.
A plate on the bottom of your gas powered pole saw will help protect the gas tank from damage, and the
re are other little tweaks from magnesium clutches to brushless motors that extend the lifespan of the tool. All these perks are nice, but no substitute for a good…
Warranty
Most pole saw warranties are pretty clear-cut, especially if you're dealing with a manual saw or extended pruner. We've highlighted all the information in our pole saw reviews, but sometimes you will need to dig a bit deeper to find out exactly what's covered and if you'll need to pay for anything in the long run.
Motors can have their own warranty, and with higher-powered models, there's something else to consider. That would be residential vs. commercial use as it matters with some brands. Simply put, if a tool is going to be used commercially in your tree trimming or landscaping service, you may get a shorter warranty than a tool build for light-duty work around the yard.
Cordless tools have their own set of rules as well. You need to look at the warranty for the tool itself, and the battery as quality tools have separate warranties for each. The charger may have one as well, but it usually is covered for the same length of time as the power packs.
One more thing…
We really want to stress the importance of replacement parts with pole saws. You may have trouble finding parts for even the best electric pole saw, but parts for gas-powered models are easier to track down – most of the time.
Chains and bars are the simplest parts to replace, and you can always pick up a new battery even if some are quite expensive. As a rule of thumb, the older the tool, the harder it is to find parts although there are a few exceptions when it comes to certain brands. We generally choose the newest model available from a product line, but sometimes we backtrack if a previous version is better and some models are sold for years.
What's Not In The Box
One of the most common complaints we found in our research is related to oil. Sure, there are problems with leakage and oilers that work a little too well, but that was not the main issue. Many consumers believe their cordless or electric pole saw is ready to roll out of the box when that couldn't be further from the truth.
If you buy a pole saw with a moving blade, you are going to need some oil for its lubrication system. While you can order it online and have it shipped, it's usually not included with pole saws, lawn mowers or other tools of this nature. Again, there are some exceptions, but we highly advise you to pick up some bar oil beforehand so you'll be ready to cut. Any good set will provide you with a blade sheath and tensioning tool if required but that's about all you get in the box aside from a chain.
What else might I need?
It all depends on what you have already, but safety equipment is something that should be at the top of your list. Chainsaws are dangerous, and a pole saw is more or less a chainsaw on a stick unless you're going the manual route. The latter is safer although we still recommend a hard hat if you plan to deal with higher branches with weight. Small branches can leave a mark, but bigger ones will send you to the emergency room.
Regardless of the height, you will also want to pick up a solid pair of safety glasses to keep sawdust out of your peepers. Anti-fog lenses are ideal, but the world is your oyster when it comes to eye protection. Work gloves are also a piece of gear with unlimited option although they make gloves geared specifically towards chainsaws like Ringers, which I have personally used.
Unless you plan on picking up new chainsaw blades frequently, you may want to consider a sharpening kit as well.
Our Reviews of the Best Pole Saws
Whether you want to go the old fashioned route and use a little muscle or only have smaller branches to deal with, our top choices cover a wide range, so there is truly something for everyone.
01
Oregon Cordless Pole Saw Kit with Battery and Charger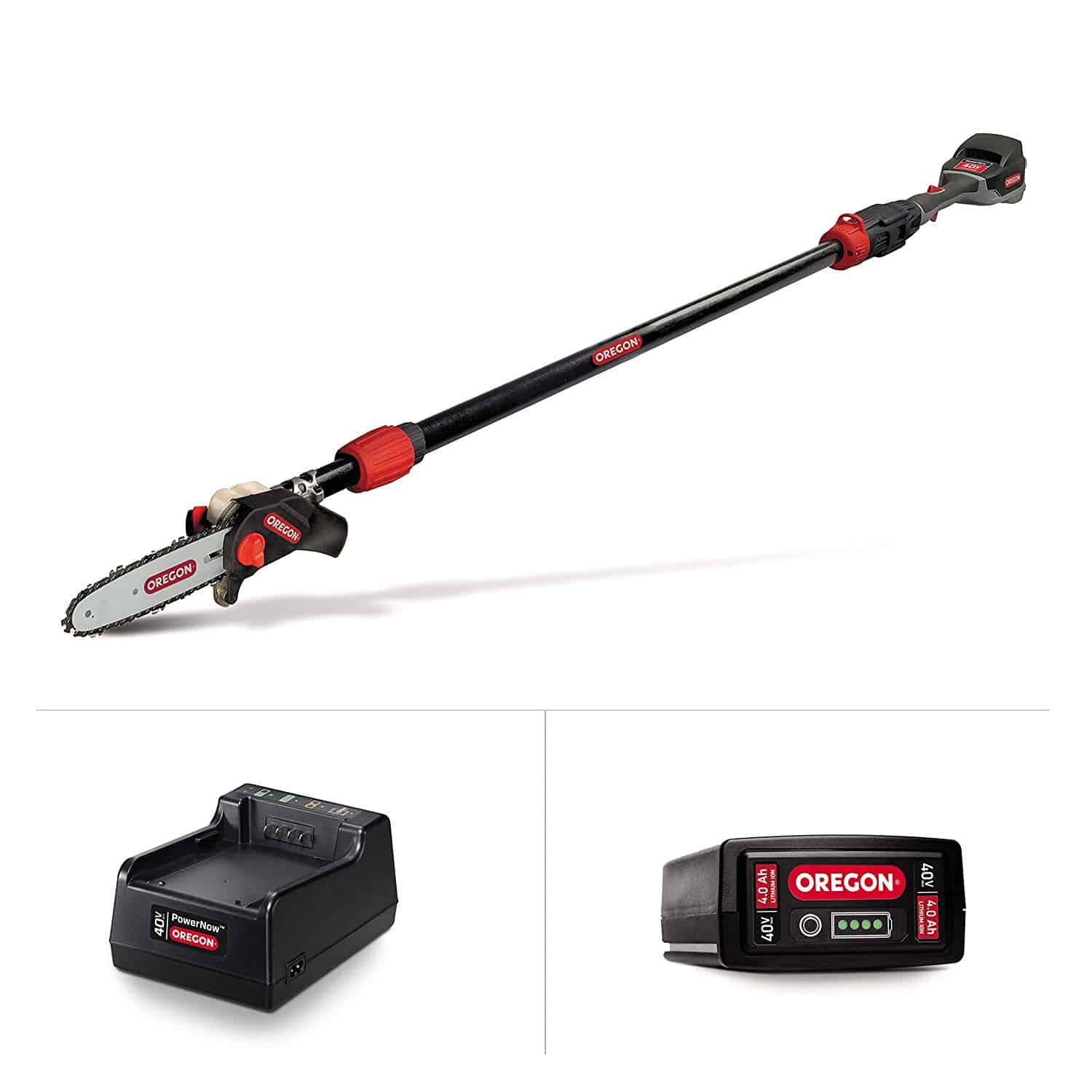 The Oregon Chainsaw company has been producing equipment to take down trees since 1947. You'll find their bars and chains on millions of saws around the globe, and they make some great gear themselves. Our top option from the company is the Oregon Pole Saw PS250 kit, which is our favorite pole saw in the battery-powered class.
The first thing we want to touch on with this pole saw is the design. It's streamlined and well-balanced with a weight of only 13.5 pounds. That's due in part to their mid-mount motor system which makes it easier to work overhead and keeps the vibrations down.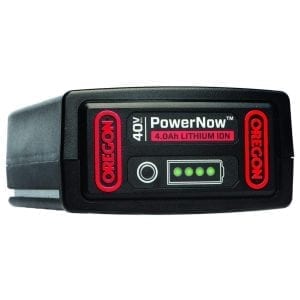 We also like the adjustable collar in the middle of this pole saw. There's no need to add an extension as the collar lets you extend the fiberglass pole from around 7 feet to a little over 10 feet in a matter of seconds. It's one of the more ergonomic saws to make our list, and as you'd expect, has plenty of power with a 40-volt system and some interesting tech built in.
The Oregon PS250 has a planetary gear reduction system which keeps the power transition steady and efficient. It's quiet and built to perform where others falter so it won't fade out when the battery starts to wane. According to the company's claims and plenty of user's reviews, that will be a while as it's rated for 500 cuts per charge on branches up to 3 inches in diameter.
You'll get an 8-inch bar on this saw complete with an Oregon Micro-lite 90PX chain. The cutting capacity is listed at 5 inches, but you can go beyond that if you know how to make your cuts and handle a motorized pole saw. It also has an automatic oiler which performs admirably with very few reports of leaking.
Other features to note for the PS250 is a switch lock for additional safety and their PowerNow 40V battery. Their power packs have something called Premium Cell Technology which ensures longer runtimes and gives you up to 1000 recharges before the cells begin to fade eventually. This kit comes with a 4.0 Ah battery as well which is a step above what you'll find in other combo kits.
There's really no apparent downside to the Oregon PS250 which is why we feel it's the best cordless pole saw for the money. You will need to spend some extra time assembling this one compared to other models, but everything you need is included in the box. The build quality is top notch, but the warranty is a little shorter than others with 3 years on the tool and 2 years on the battery.
Oregon's pole saw comes with the usual accessories including a manual, scabbard, guide bar, and a few tools to help with assembly along with the battery pack and charger. It also comes with chain oil and a harness; two things you generally don't get with other cordless pole saws!
Features
8-inch bar
40V MAX Lithium-Ion power
Mid-mount motor
Tool-free extendable shaft
Micro-lite 90PX chain
---
Pros
Only 13.5 pounds
Adjustable collar
Branch removal hook
Trigger lockout
500 cuts per charge
Cons
Recharge times could be better
Shorter warranty
---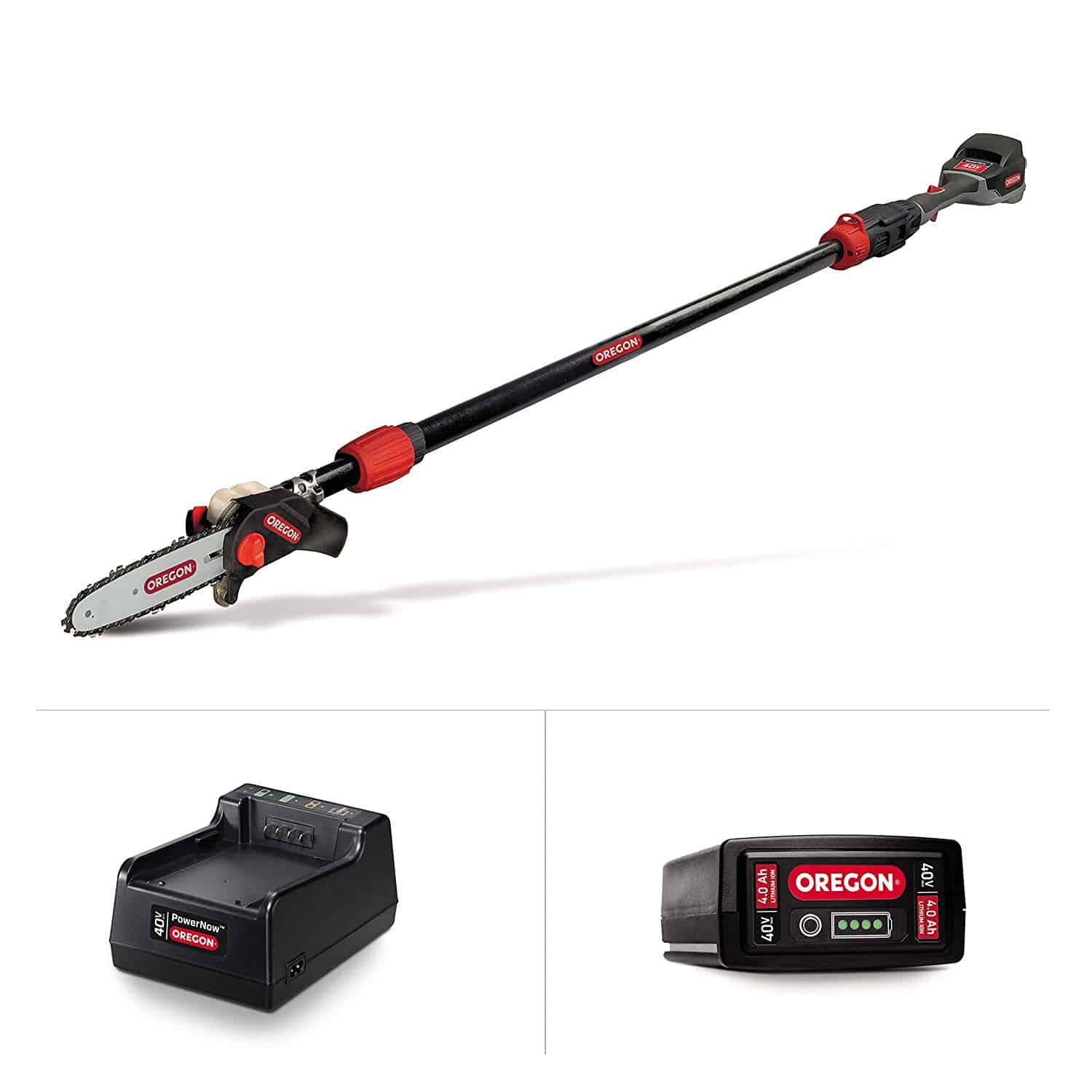 02
Silky Hayauchi 390 Professional Landscaping Pole Saw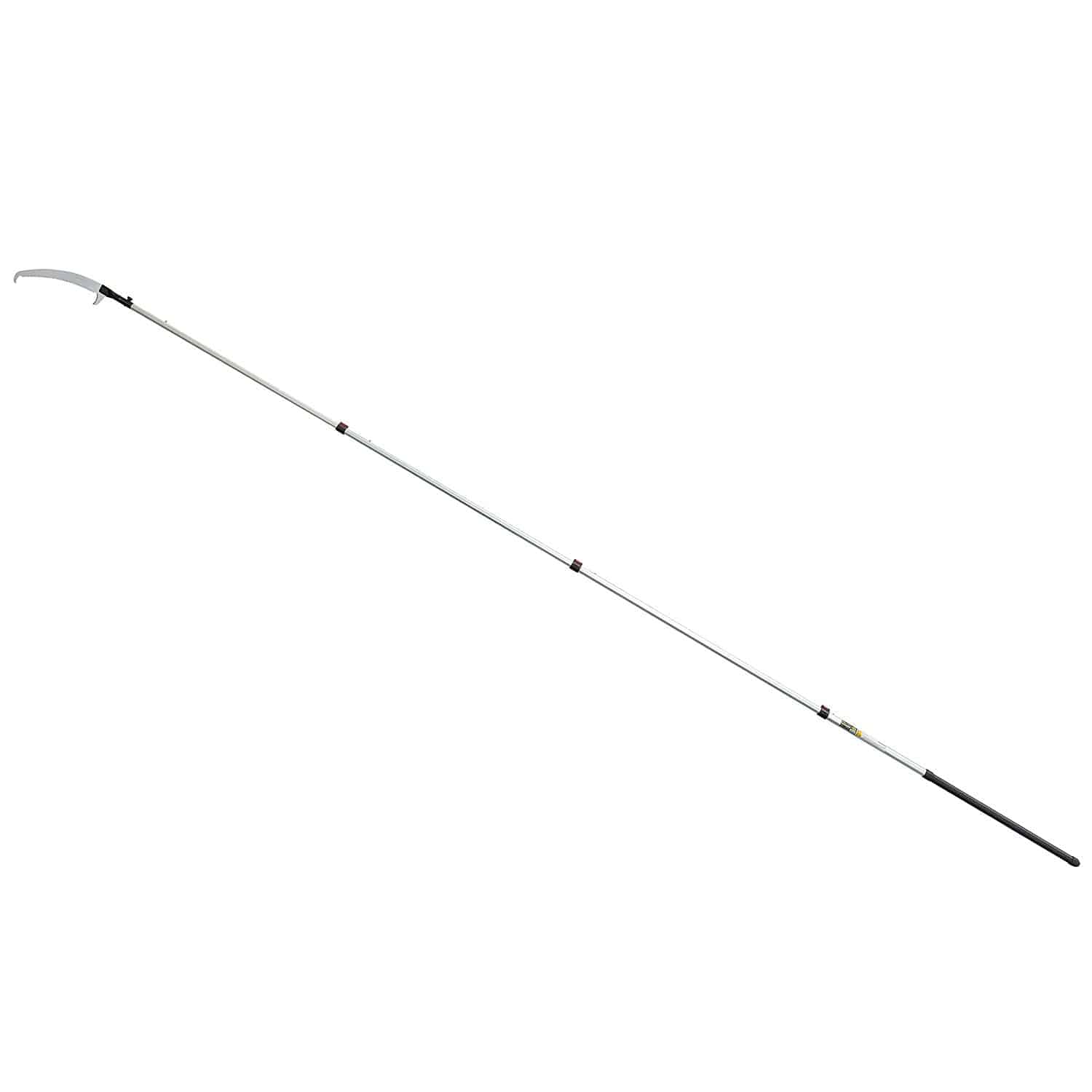 The Silky Hayauchi 390 179-39 is one of the simplest pole saws on our list, and also one of the most expensive. While that may seem odd considering it's a manual saw, it would be a mistake to overlook this long pole saw as it's an effective, eco-friendly alternative.
This landscaping pole saw is in the "Pro" class, and the brand itself is beloved by professionals and amateur arborists alike.  It has an operating weight of 6.9 pounds with a durable, lightweight pole that's in four sections. While there's no motor or battery to drive this saw, it can go considerably higher than any other model we've come across. It is a very long pole saw. It's also very easy to use and comfy given its weight oversized rubber grip and a shock absorber on the end of the last pole.
When height matters…
You'll want to pick up the Silky pole saw 179-39 as the three telescopic extensions extend from 8 to 21 feet. That's impressive, and so is the curved pole saw blade attached to the end of this pole. The blade's made in Ono Japan from Sk3 high carbon steel and is 1.5mm thick with 5.5 teeth per inch. The teeth are in the Silky 4-RETSUME pattern, which is unique to the company and helps place it among the best pole saws on the market.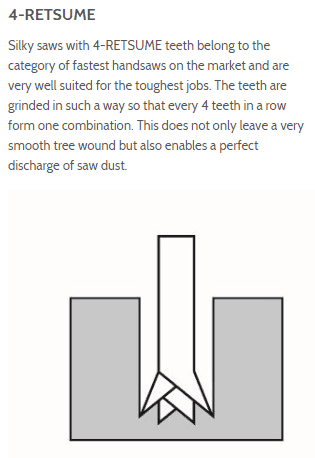 Have a branch at an odd angle? Not a problem for the HAYAUCHI as you can adjust the pole saw blades for two different angles. There are double sickles built onto this blade as well. The upper sickle is ideal for dealing with vines while the one towards the rear is perfect for undercutting bark. It's a small feature, but one you'll wonder how you lived without once you put it into action. If you think it's not built for bigger branches, watch Smilin' Don take out this 9-inch limb below…
There's not much else to say about this Silky pole saw as it's a saw we love and fully stand behind. Countless professionals feel the same way, and if this one's a bit too tall, you can always opt for the shorter Silky Zubat with a range of 8 to 13 feet. The only drawback is its price although it comes with a limited lifetime warranty. You'll also get a custom fit curved scabbard, and a short user guide.
Features
15-2/5" curved blade
Extends to 21 feet
Silky 4-RETSUME technology
Spring-loaded locking buttons
Limited lifetime warranty
---
Pros
Two blade positions
Dual locking mechanism
Upper and Lower sickles
Can cut through larger limbs
Only 6.9 pounds!
---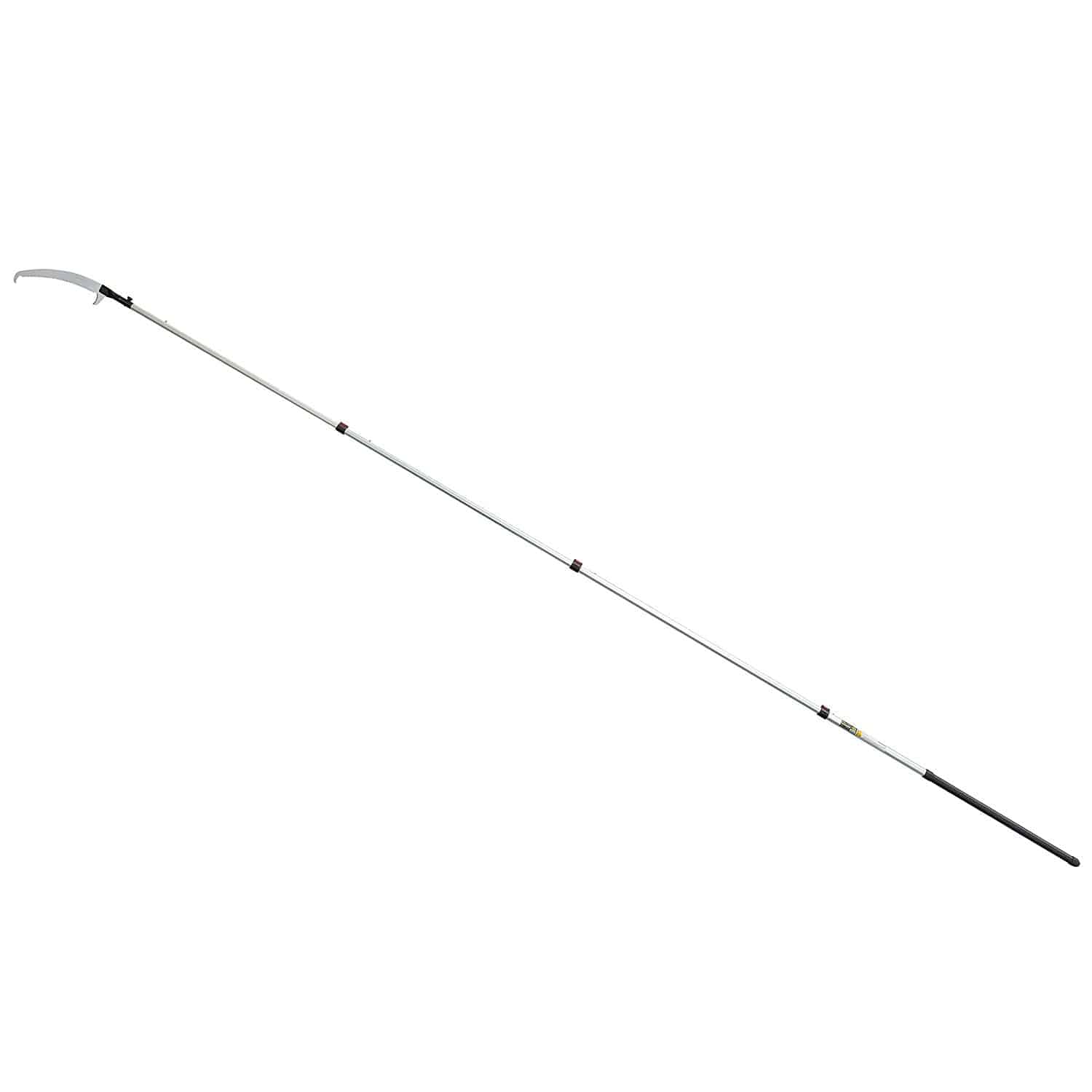 03
Sun Joe SW803E-CMO 8-Amp Multi-Angle Electric Pole Saw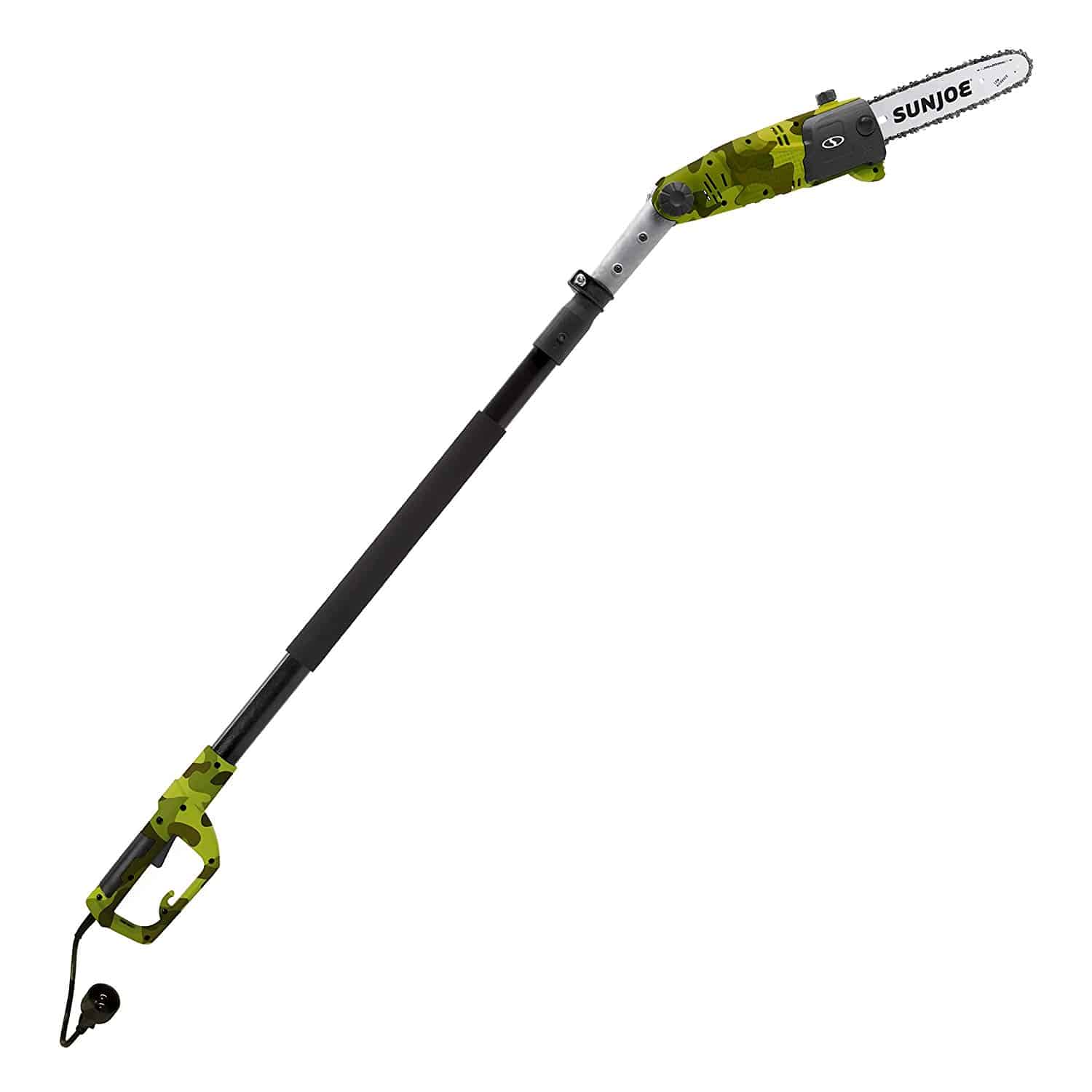 Sun Joe may not be a brand you're familiar with, but they have made a name for themselves in the lawn and garden sector rather quickly. The Sun Joe SWJ803E-CMO is an affordable electric pole saw from the company and one that's been a fan favorite for several years running.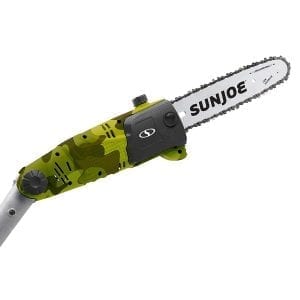 As we said earlier, Oregon is a brand you can trust when it comes to chainsaws. While they don't make this electric pole saw, they are responsible for bar and chain. The latter has a pitch of 3/8," and together they can tear through limbs up to 9-1/2 inches thick. Like all good automatic saws, the lubrication system keeps things oiled and running smoothly, so you only have to check the levels.
Does it leak?
Any chainsaw, weed whacker or lawn mower can leak oil, and while it's certainly possible with this one, it does not seem to be an issue of concern. We can't say the same for the tensioning system however as the user guide shows it as manual, so you'll need to have a tool on hand at all times. Getting the tension set is relatively simple and so is finding the right angle.
One perk of the Sun Joe SWJ803E is its rotating head which can swivel from 0 to 30 degrees. While it doesn't have the same height as a manual or even some cordless options, it's still quite capable with a range of 7.2 to 14 feet. Other features and tech specs of note include a cable clip, safety switch, 2-ounce oil tank and an 8 amp motor with a no-load speed of 6000 RPMs.
While there are a few areas that could use improvement, overall we like this saw from Sun Joe and think you will as well. Their quality isn't on the same tier as an EGO, but it does have a 2-year warranty and a durable plastic shell shields the fragile parts. This pole saw comes with a manual, cutting bar sheath, and a multi-tool with a hex key and screwdriver for tensioning and light maintenance. We chose the Camouflage model, but this saw is also available in Green, Purple, and Red.
Features
8 amp motor
10-inch Oregon bar and chain
Safety switch
Automatic oiler
7.9 pounds
---
Pros
Can handle branches around 9 inches!
Range of 7 to 14 feet
Cable clip
Nice price tag
Variety of colors
Cons
Manual tensioning
Some users felt it was top heavy
---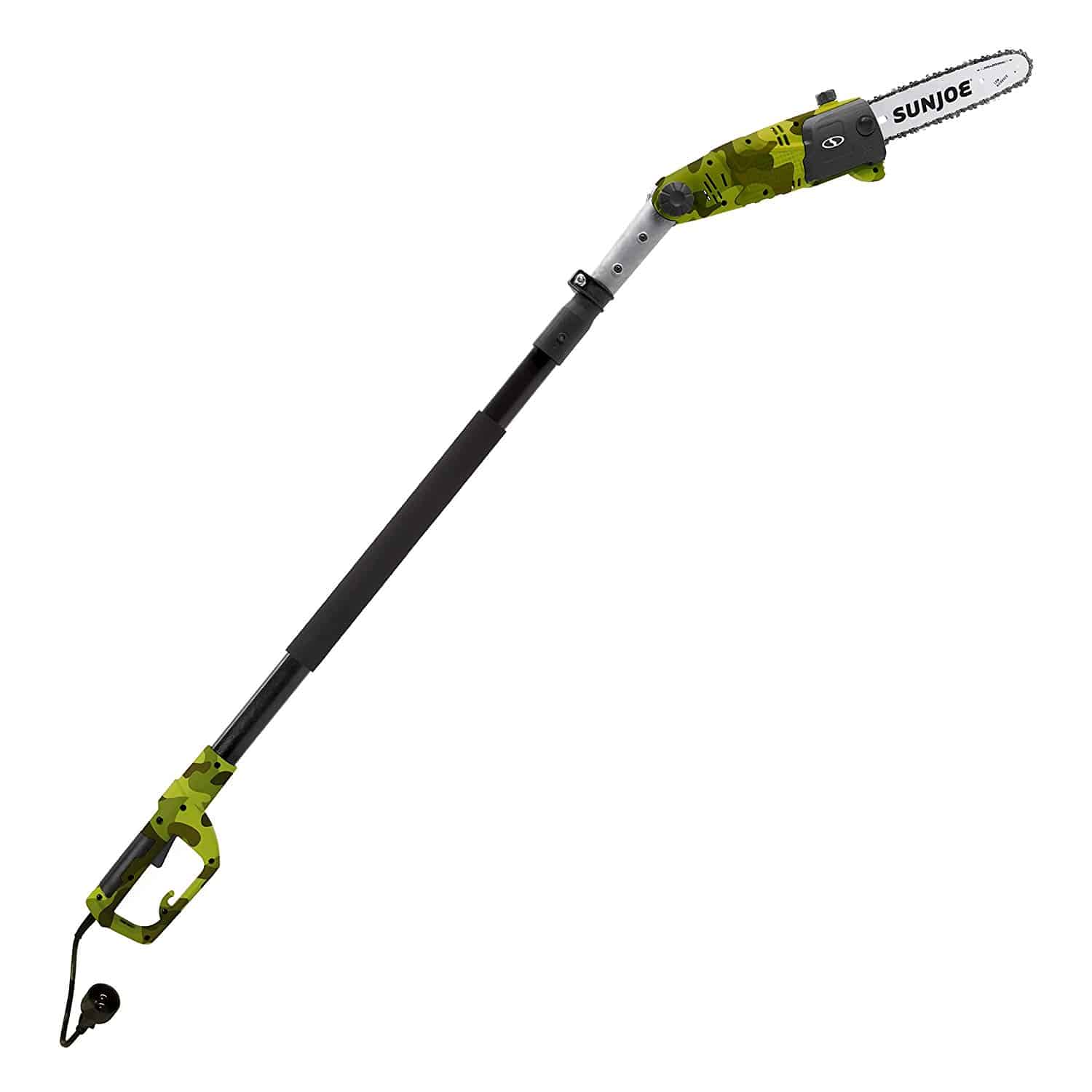 04
Husqvarna 526PT5S Gas Pole Saw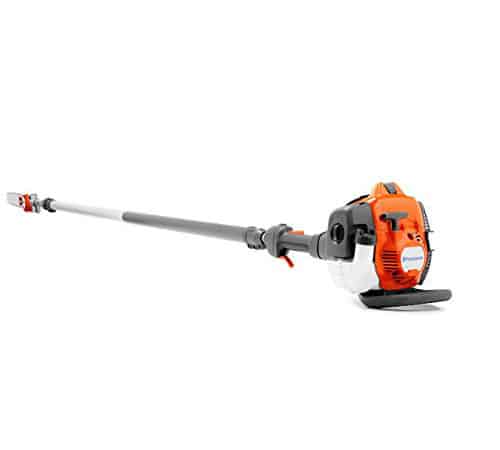 When price is not a concern, and you need a tool professionals would feel at home with, there are a few brands you can trust. Husqvarna is one of them, and the 526PT5S is a pole saw that sits squarely in the Pro class.
This Husqvarna pole saw may not be the most powerful gas driven model we've seen, but it can saw through limbs with ease. It's a 1.3 horsepower engine with a top speed of 8500 RPM which is less than the Honda although still very capable. Keep in mind this isn't a power head system; it's a tool that's sole purpose is to cut through limbs – not edge grass or weed eat.
The X-Torq motor produces low emissions while delivering a high amount of torque. It uses less fuel than other models and will hold up well on the job site. That's due in part to a magnesium clutch housing which increases its life in the field, and a simple little thing called a skid plate. It goes on the bottom of the engine and protects the fuel tank and other parts from damage.
We also feel this Husqvarna pole saw is one of the easier gas powered pole saws to use. The choke and purge bubble is simple to use, and while you still have to yank on a cord, it does have an auto-return stop switch. The starter is also positioned where you can change the pull cord if needed without having to make half the machine apart. Believe me when I say changing those out is harder than it looks if the product is poorly designed.
The bar length on this Husqvarna Pole saw is 12-inches according to the manual, and there's no automatic tensioner although you do get a tool. The oiling system is automated and will perform better than most considering the company's reputation in the outdoor tool world. It measures 158.3 inches from end to end and tips the scales at around 15 pounds.
While we dig the Husqvarna 526PT5S pole saw, the warranty is far from the best. It only comes with a 1-year guarantee, but they do make top quality tools, and replacement parts are generally easy to find. You'll need to pick up the usual extras with this one, and as its 15 pounds, a balance harness may not be a bad idea.
Features
12-inch bar
Magnesium clutch housing
Stand alone starter
Auto-return stop switch
---
Pros
Ease of use
Telescopic pole saw shaft extension
Automatic oiler
13-foot range
Rear impact guard
Cons
It's pricey
Short warranty
---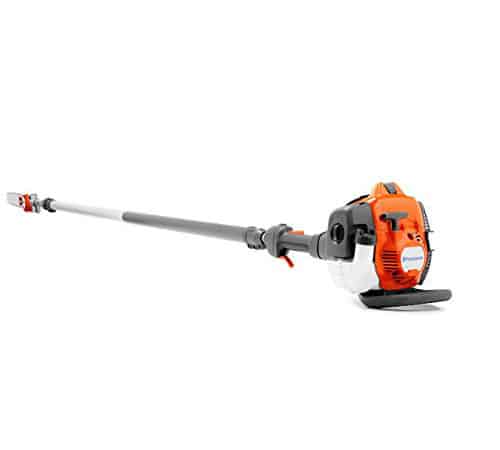 05
EGO 56V Cordless Pole Saw and Power Head Kit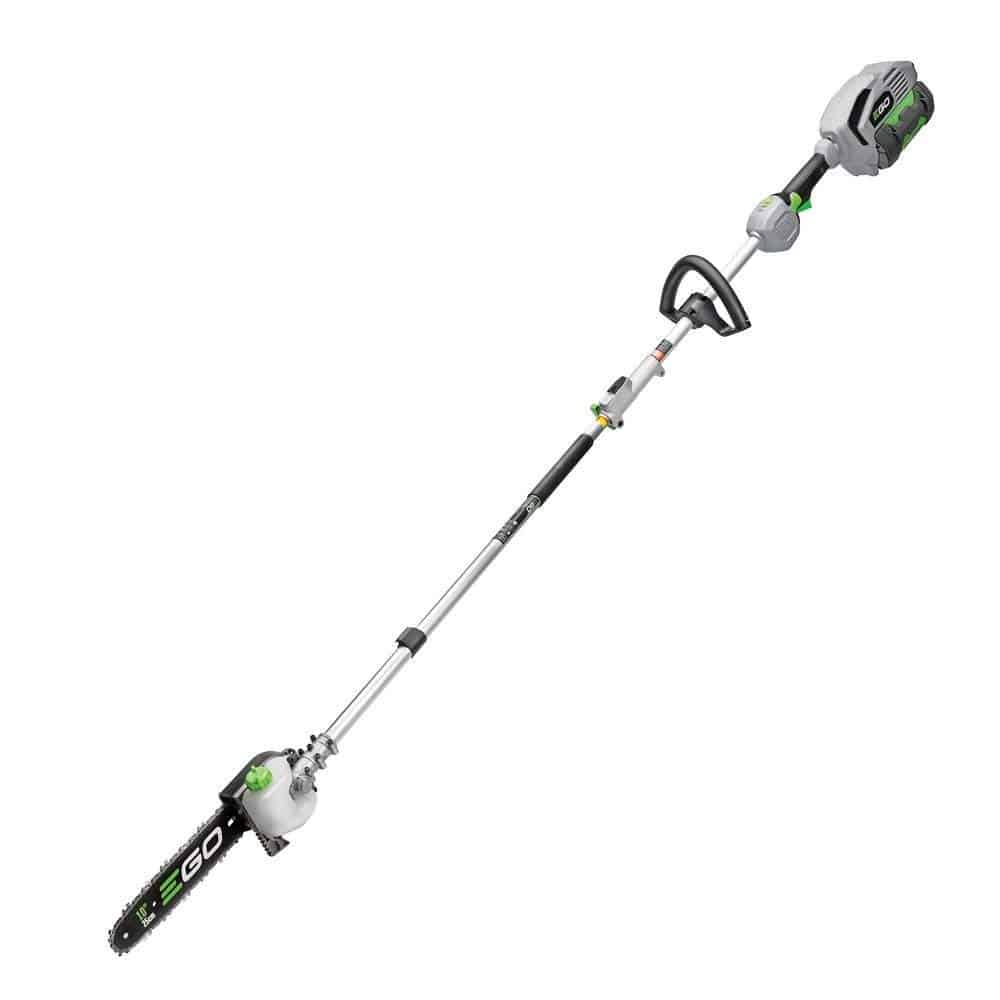 Don't let the lack of reviews steer you away from the EGO Cordless Pole Saw kit. The company makes the best cordless outdoor equipment on the market, especially if you're looking for a big-battery system that can hold its own against many gas pole saws.
Before we get to all the advantages of the EGO Power Head and Pole Saw, we're going to tell you about the only drawback – the price tag. This tool is twice the price of other battery-powered models and will set you back as much as a good gas chainsaw. Well, there's a reason for that as it's a "system" in the truest sense of the word and one capable of working with other attachments.
Most company's battery system are "plug and go" as you simply need to slot in a battery and you're ready to roll. The same rule applies with the EGO Power Head, but you can buy a string trimmer or edger attachment as well. The massive 56-volt battery will work in all the companies' equipment and is generally a few hundred bucks by itself. Simply put, you're getting a lot of value from this kit.
The Power+ Multi-head has an efficient brushless motor housed inside a sturdy casing. According to the user manual, it's also water-resistant to a degree as the shell and pole saw attachment has an IP4 rating. There's a speed selection setting with high and low and a lock-off button for safety. The handle is adjustable, and switching out heads is extremely easy as well.
As for the pole saw attachment, it's has a 10-inch Oregon Bar and chain. It sports Oregon's narrow-kerf cutting system with double guard bars and an automatic oiler. It can cut through larger limbs than other models in this class but doesn't have quite the reach out of the box at around 7.5 feet fully assembled. You can pick up an extension however which increases the range by an additional 31-inches. It also doesn't have tool-less tensioning, but those are the only drawbacks from a mechanical standpoint.
How's the battery life?
The company didn't throw out a "cuts per charge" rating with this one, but trust me when I say the 2.0Ah battery has some power. I have the mower with the same battery and can cut for close to an hour non-stop before it dies. The charger brings that battery back in around 30-45 minutes as well, so you won't be disappointed by the battery life or its power.
There's a lot to like about the EGO Power Head and Pole Saw combo, and if it's within your budget, it's a set we highly recommend. Oil leaking is minimal, and it's lightweight at around 13 pounds fully assembled and with the battery. This kit comes with the Power Head, Pole Saw, two manuals, a dual head wrench, 60V battery, charger, and sheath. All EGO tools are guaranteed for five years, and the battery has a 3-year warranty.
Features
Hi-Low speed selector
Lock-off button
Adjustable front handle
IPX4 weather-resistant rating
Compatible with all EGO Multi-head attachments
---
Pros
60 volts of power
High-quality bar and chain
Ease of use
Automatic oiler
Battery and charger cross compatibility
Cons
No tool-less tensioning
The price tag
---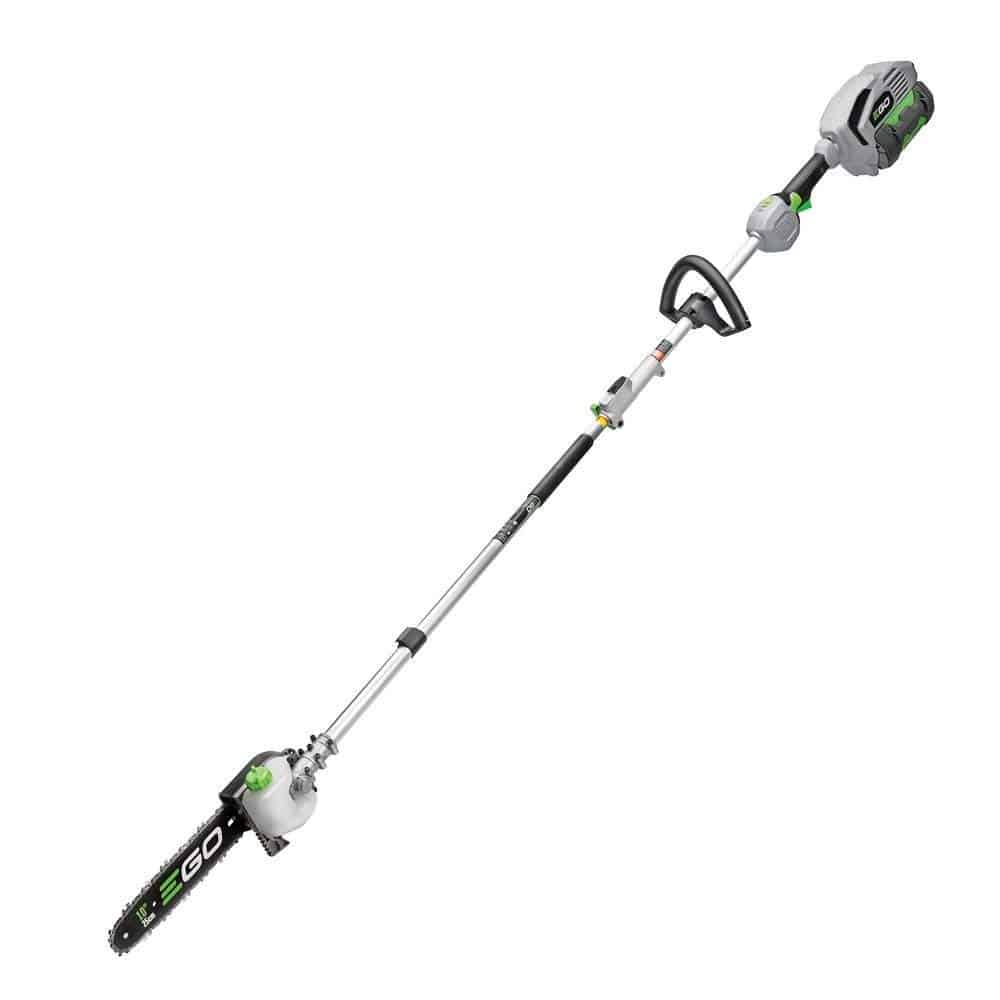 06
Greenworks 8-inch Corded Pole Saw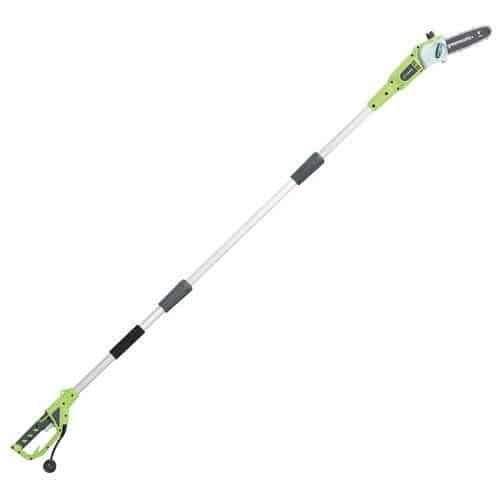 If you're not sold on any of our cordless pole saw reviews, but like the Greenworks 20672, you may want to consider the companies electric variant. It has a similar style and set of features, so the only real difference comes down to performance and price.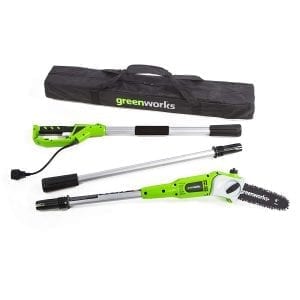 Greenworks felt they had a winner on their hands with their corded kit, so they kept things the basically the same on the 20192. That means you'll still get a dependable 8-inch Oregon bar and the pole is still made from aluminum. It's a 3-piece telescopic pole saw shaft which is light, but limited as you can only reach a little over 8 feet.
Is it just as powerful?
More or less as you're getting the same cutting system, just with a 6.5 amp motor and a cord instead of a 40V battery. You have to adjust the tension through a screw which is a bit of downer, and not as "easy" as the manual would lead you to believe.
Just like with the cordless model, you'll need a screwdriver on hand at all times.  The oiler is automatic and works as you'd expect with few reports of excess dripping. You'll still have to deal with occasional leakage like any other tool of this nature, but nothing severe from what we can tell.
Greenworks could have handled a few things differently with the 20192 as we would have liked to see a real tool-less tensioning system. In a nutshell, it can cut as well as the rest of our electric pole saw picks, so it boils down to the power and its overall reach in our eyes. The pole saw comes with a 4-year warranty, storage bag, and an owner's manual. You can also pick up a bundle with a 14 gauge 50-foot extension cord if you don't have one already on hand.
Features
6.5 amp motor
8-inch Oregon bar
3-piece aluminum pole
Easy-adjust tensioning
---
Pros
Automatic oiler
Excellent bar and chain
Budget-friendly
Safetylock button?
Cons
Screw-based tensioning
A bit underpowered compared to others
---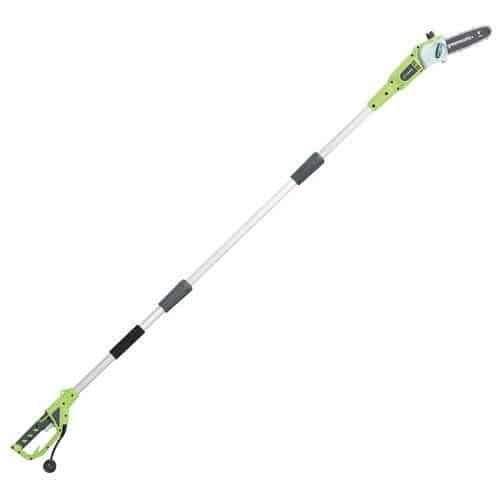 07
Honda 4 Cycle 35cc VersAttach System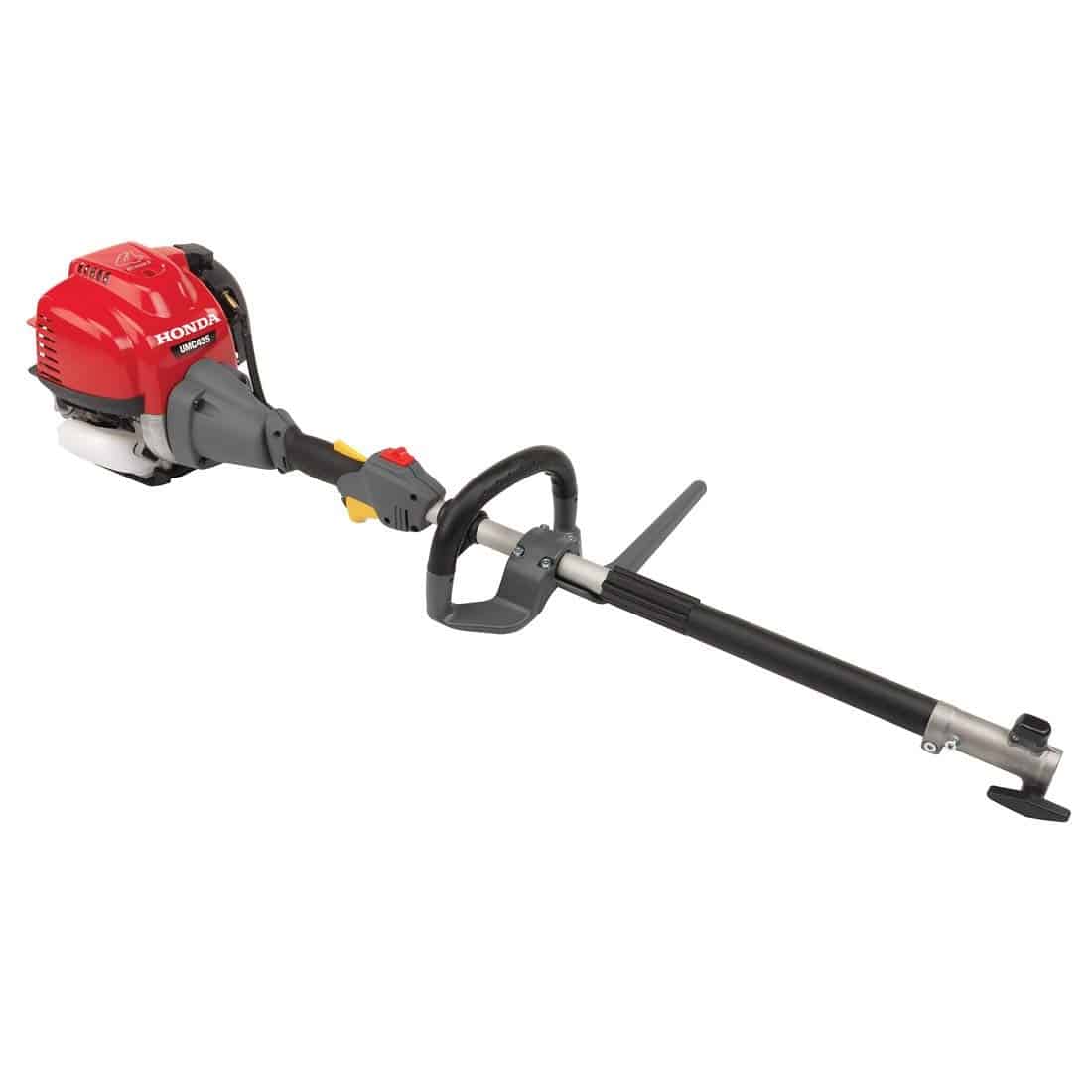 Honda makes more than just Civics and 4-Runners. They produce plenty of equipment as well, and most are known to run just as long as the engines powering their vehicles – they are hard to wear out. While the company doesn't make a traditional gas or electric pole saw, they do have the Honda VersAttach system which works with a 12-inch pole saw attachment.
This Power Head is available in two different styles, but we opted for theUMC435LAAT which carries the Super Quiet tag. While it's still a chainsaw and we didn't put that to the test, it's more powerful than the UMC425, and the extra power comes rather cheap. As any gas pole saw, you can expect an ample amount of power along with some additional weight.
How heavy is it?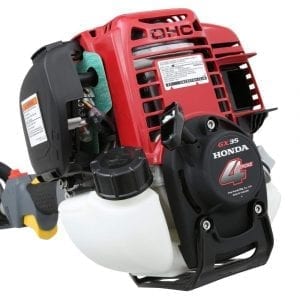 The head itself weighs 13.2 pounds sans any attachments. The pole cutter weighs around 4 pounds, so you're looking at close to 20 pounds with a fully filled gas tank. That's more than twice the weight of some electric models, but you shouldn't let that rule the UMC435 out. As it's built like a weed eater, it has a handle to give you leverage and control over the cutting head. It also comes with a harness… like we said, don't rule it out.
This reliable tool uses the company's SureLoc system which allows you to switch heads with ease. The motor itself is built to be more efficient than other 4-stroke motors and has some interesting features to boot. The design allows you to store it in any position so you can hang this head or slide it under a bench. Hate mixing gas and oil? Well, you are in for a pleasant surprise.
Perhaps the coolest thing about this gas pole saw is the fact it runs off good old-fashioned unleaded. Yes, you'll still need to pick up some oil, it just doesn't get mixed with the gas this time around. The pole saw attachment needs it although it has an automatic oiler and a handy translucent oil reservoir.
We couldn't dig up many tech specs on the saw unfortunately, but it does have an Oregon 91 series chain. The 12-inch bar is of unknown origins and its 30.9 inches long, so your total reach is around 6 feet. As mentioned, you generally don't get the same range with gas powered pole saws, and this one is no exception.
The Honda VersAttach System and the pruning head are covered by a 3-year warranty for residential use or 2-years if you plan to use them in a commercially.  The set comes with a user manual, harness, safety goggles, sharpening file, and sheath.
Features
35cc 4-stroke motor
Anti-vibration system
Works with six different attachments
SureLoc system
Steel driveshaft
---
Pros
10,000 RPMS… It's powerful
Two motion trigger
No more gas and oil mix!
Low sound level
Can be stored in any position
Cons
No electric starter
Manual tensioning
Limited range
---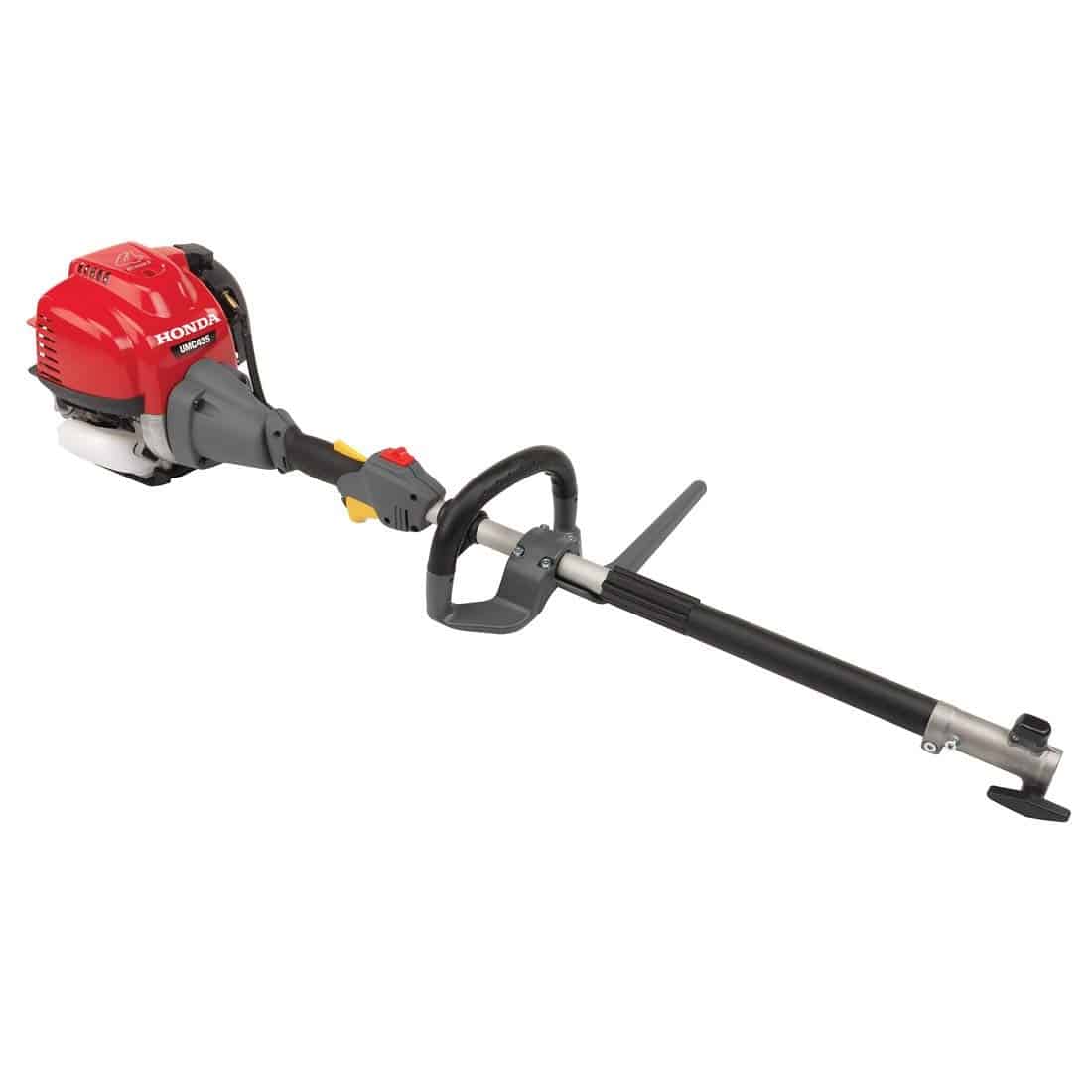 08
Worx WG309 10-inch Electric Pole Saw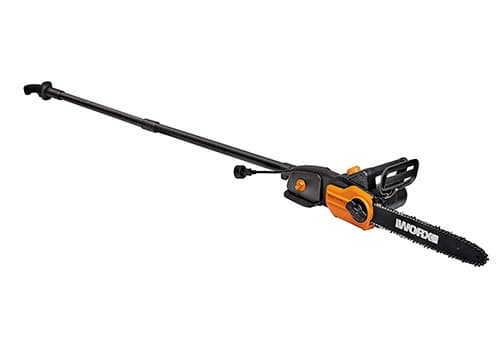 Worx is another brand that may be unfamiliar to consumers outside of the home and garden world. They make affordable gear just like Greenworks and Remington, and the Worx WG309 caught our eye due to its mix of power and affordability.
This extendable pole saw is built for light-duty use around your home although it can cut through larger limbs as long as they aren't too tough. It has a 10-inch bar and chain, but only an 8-amp motor so it's a bit of a mixed bag in that regard. The build quality isn't what we would consider top-tier although it is on the same level with any other electric pole saw in this class. There is lots of plastic…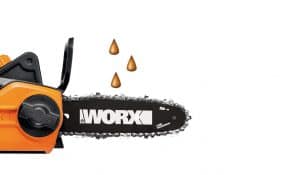 How high can it go?
Not that high actually so it's not what we would consider a long reach chainsaw. The extension pole gives you a total reach of 10 feet but does have a unique trick. When you're not cutting timer overhead, you can detach the saw from the pole and use it as a traditional chainsaw. Needless to say, it's far more than a chainsaw on a stick and won't weigh you down like an industrial model would.
In addition to its convertible nature, the head angles on this saw to give you an extra measure of control when it's attached. The Worx WG309 has an automatic oiler and an easy to read oil level indicator as well. It weighs 10 pounds, and the chain pitch is set to 3/8" with 40 links and a top cutting speed of 28 feet per second. You'll need oil and an extension cord, but the saw is essentially ready to roll out of the box assembly-wise.
The WG309 may not have the sheer power of other saws, but you're getting a 10-inch bar along with features like tool-less tensioning and an automatic oiler. Unfortunately, this one appears to be liberal with the oil so you may experience some leakage. The set includes the saw, an 8-foot extension pole, manual and blade cover. It comes with a 30-day guarantee and a 3-year warranty against defects.
Features
8 amp motor
Automatic oiler
10-inch bar and chain
Blade cover
---
Pros
Tool-less tensioning
Ease of use
Nice price point
3-year warranty
Cons
Prone to leaking
Limited reach
---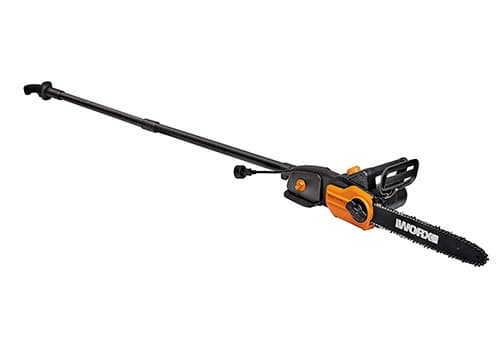 09
Greenworks 40V Cordless Pole Saw 20672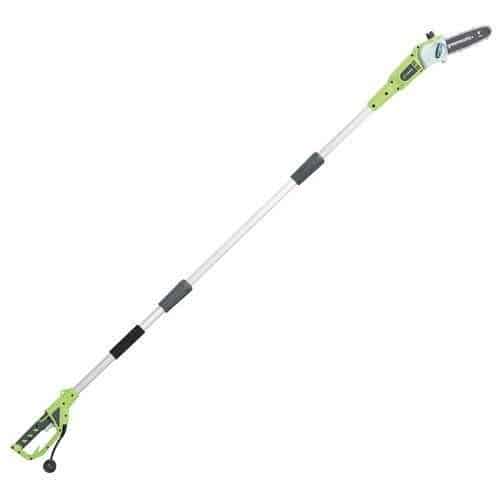 Greenworks Tools have made quite the name for themselves in a short amount of time. Their brand competes against the likes of Black+Decker along with other mid-tier tool manufactures. The company's cordless lineup, including the 20672 Pole Saw kit, also provides quite a bit of bang for your buck.
Greenworks is a brand from the Far East known for their small arsenal of cordless and corded products. While they offer several sizes of pole saw, we like the 20672, which is a combo kit featuring an 8.5' pole saw and a 40-volt battery. While there's plenty of plastic on the saw, the pole is aluminum which makes it fairly light at 15.3 pounds.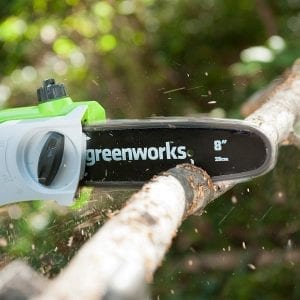 The design makes this saw easy to use as it has an automatic oiler, an "easy" chain tensioning system, along with an electric starter. That means maintenance is kept to a minimum aside from sharpening or swapping out a pole saw blades or cleanup. The tensioning isn't quite as easy as they lead you to believe however as you'll still need a tool to tune it up.
On that note…
Users reported that the oiler works well, but there are spotty reports of leaking. That's par for the course with any chainsaw regardless of its size although we don't feel like it's an issue with this particular model. We also appreciate the translucent oil tank which allows you to keep an eye on the levels.
This saw comes with an 8-inch bar and chain attached to a 3-piece aluminum shaft. The shaft extends up to 8 feet, and it has a variable speed trigger. As for the battery, it's 40 volts and rated at 2Ah which is said to provide you with around 60 cuts per charge. That should be more than sufficient for most folks, but there are batteries that give you more runtime like this 5.0Ah juice box which also has a built-in USB port.
Normally, we'd tell you to proceed with caution when dealing with lesser-known brands in the cordless tool world. We're pleased to say Greenworks has a solid line of cordless outdoor tools, and their extendable pole saws hold up well.
Consumers seem to feel the same way as most of the negative reviews and comments are minor like the fact it doesn't ship with oil and the tensioning system which can be a pain. The Greenworks 20672 Cordless Pole Saw Kit comes with a 40V battery, charger, user manual, scabbard, and chain. The tool itself has a 4-year warranty while the battery is covered for two.
Features
8-inch bar
Easy tensioning system
Automatic oiler
8.5-foot reach
Switch lock
---
Pros
Ease of Use
Solid battery life
Angled design
40-volt 2.0Ah battery & charger included
Cross compatibility with other Greenworks tools
Cons
Need a screwdriver for tensioning
Better options for heavy-duty work
Not brushless
---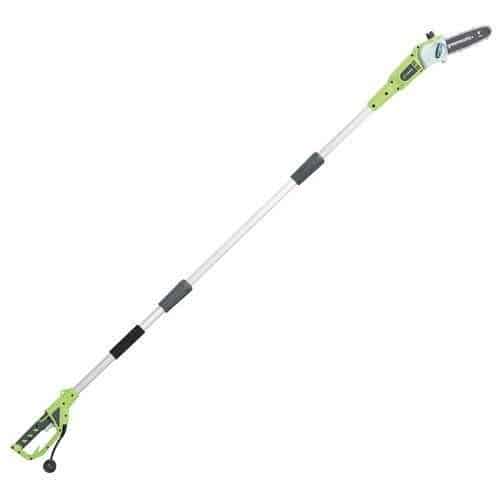 10
Remington RM25PS Maverick 25cc Gas Pole Saw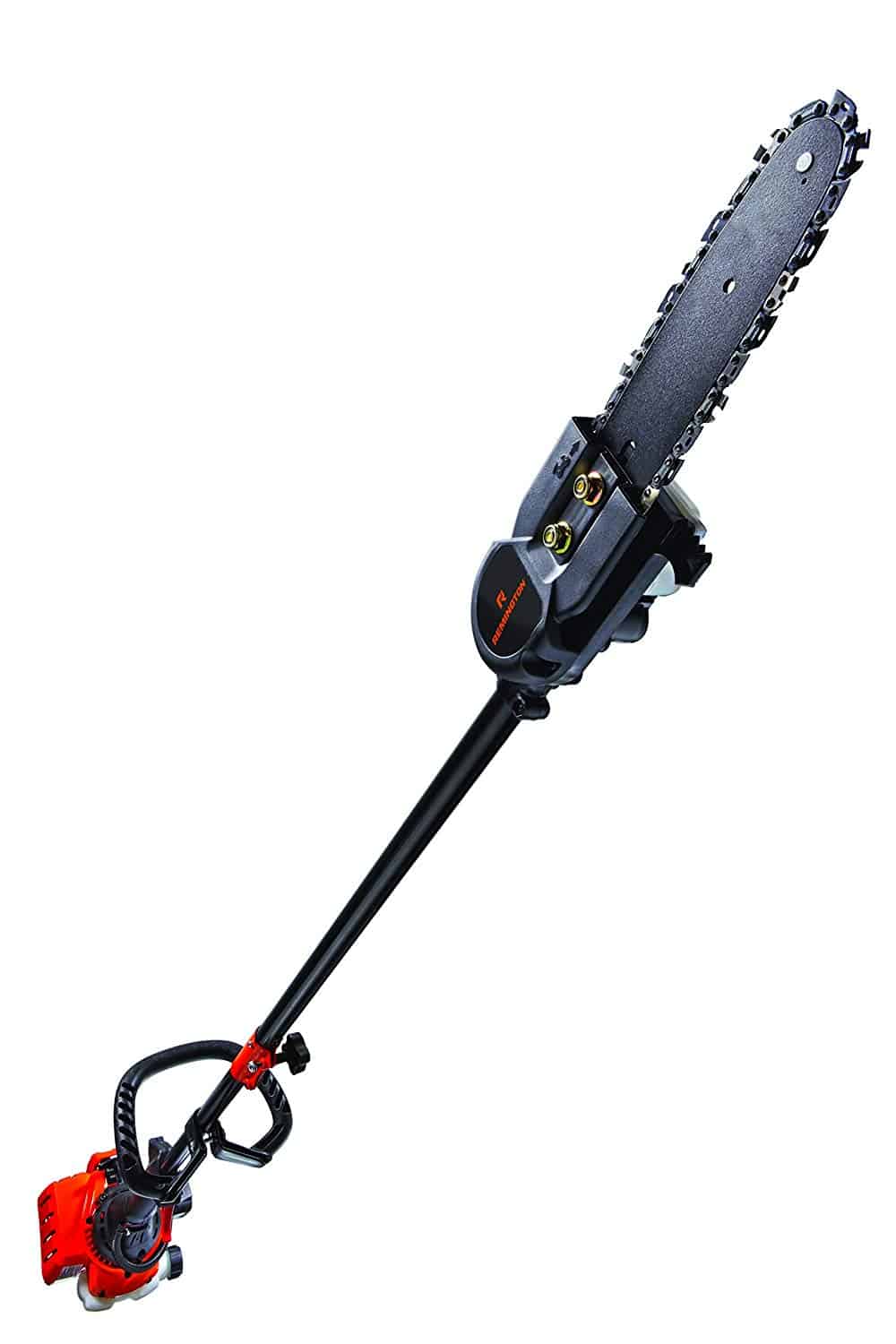 Remington has produced chainsaws since the 1950s, and while they may get overlooked at times, the company is still going strong today. The RM25PS pole saw is more affordable than our other gas-powered picks and is considerably more powerful than an electric tree trimmer.
There are two models of this gas pole saw available with the 2017 and 2018 edition. While information is a bit harder to come by one the newer RM25PS, that's the model we chose for obvious reasons. It's still a gas saw in the homeowner class, but one that can do something our other pick can't.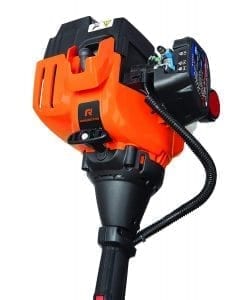 Before we get to the flagship feature, let's talk about what makes this one tick. The pole saw is powered by a 25cc 2-cycle engine that produces a top speed of 15.24 meters per second. It has an 8-inch bar and chain although you'll need to use a tool to set the tension. You won't have to deal with oiling the chain however as that process is handled automatically.
Remington uses their own form of "easy pull" tech in the RM25PS, so you won't dislocate your shoulder trying to start this pole saw. That's a perk, and you can leave the ladder behind as you'll get about 12 feet of reach depending on your height. The extension pole is 7 feet, and the saw itself weighs around 16 pounds. It has some heft, but the handle helps, and you can also use a harness.
What about that special feature?
Our favorite thing about this saw is its compatibility. It has the power head design, and while it's sold as a pole saw, the upper part detaches. As you'd expect, you can use it with other attachment heads from Remington's TrimmerPlus lineup which includes the usual suspects along with oddballs like a blower and a Power Broom. That's definitely different, but not the only cool thing.
While we haven't put this to the test, the company claims the Maverick RM25PS is also compatible with other tools systems. Ryobi pole saw attachments are said to work along with a few others. We could not find a list of any sort, so it's trial an error to a degree. That said, once you have the system in-hand and know the diameter of the extension boom, you should be good to go.
We feel this tool is best suited for consumers that are looking to do seasonal work, and don't mind a little maintenance during downtime. It does come with a 2-year warranty; it just isn't built like something from Husqvarna, Oregon or other top brands. The pole saw comes with a sheath, manual, and 2-year warranty out of the box.
Features
8-inch bar and chain
25cc 2-cycle engine
12-foot reach
CARB compliant
---
Pros
6-inch cutting capacity
Works with other attachments!
7-foot extension
Automatic oiler
2-year warranty
Cons
Manual tensioning can be tricky
Not quite as beefy as other gas pole cutters
---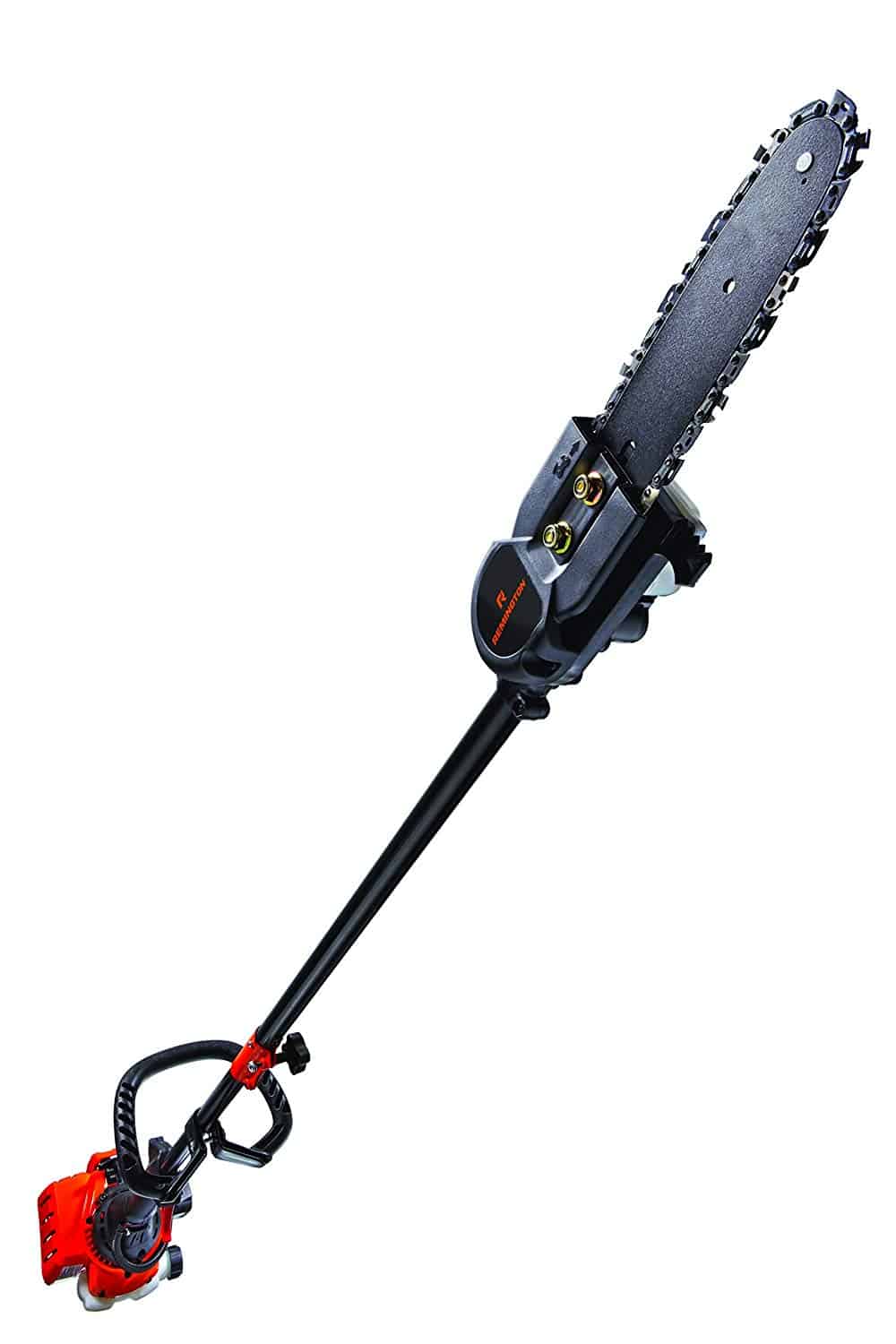 11
Jameson LS-Series Landscaper Manual Pole Saw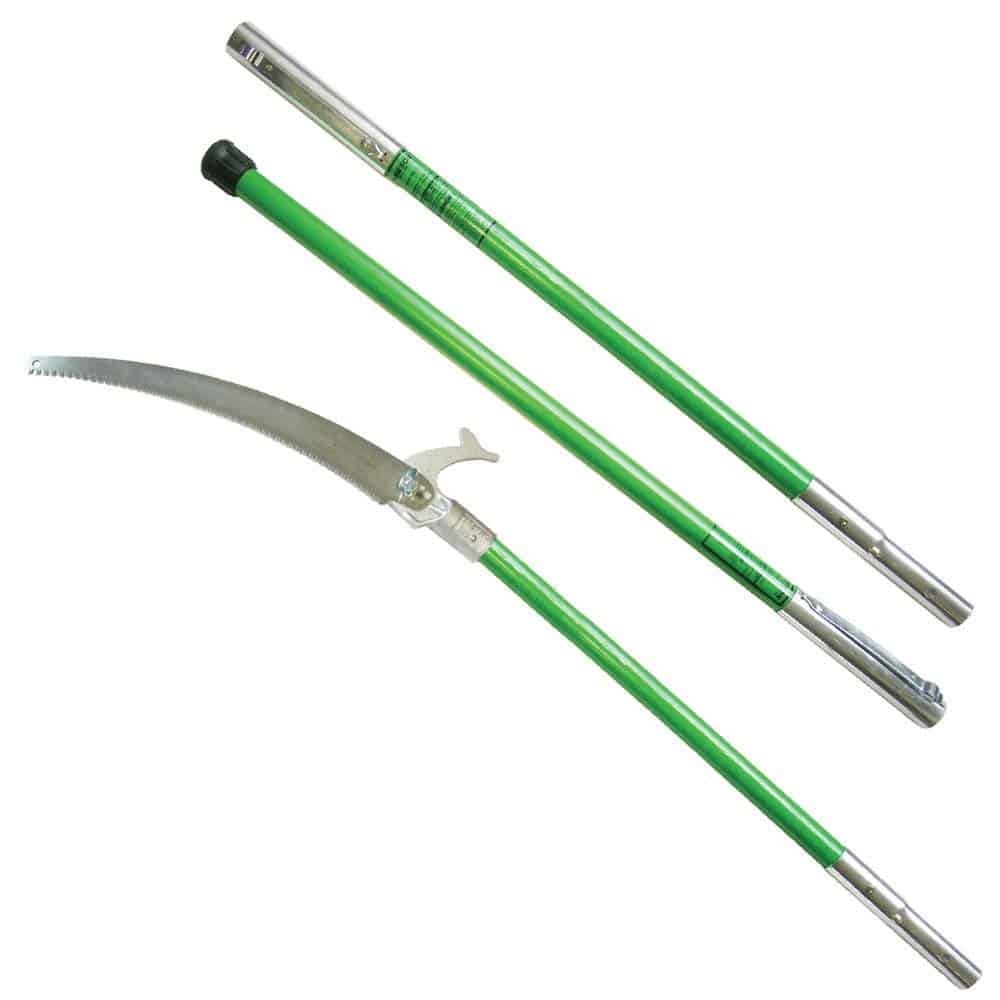 If you still want to go manual but aren't ready for something like the HAYAUCHI 390, Jameson may have just the thing for you. It's the LS-Series Landscaper Pole Saw, which comes with two extensions and a razor-sharp 16-inch blade.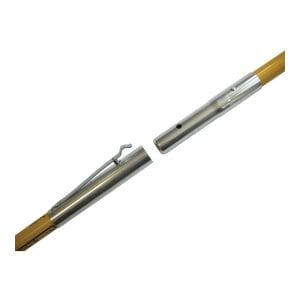 The Jameson pole saw comes in three sections with a base pole, extension and another pole with a fixed blade on the end. You can switch blades out as need, however, but for the most part, this is a very low-tech saw. That's not a bad thing as it helps keep the price down, and the consumers we spoke with had no issue with its durability. Those poles are all made of fiberglass with hollow cores, but a wall thickness of 0.10 inches.
What's the reach?
Jameson designed this extendable pole saw to accommodate consumers that need something with a wide range of height. You can use the "head pole" by itself which measures 6 feet or add the 6-foot base pole for those branches a little higher up.
As you might suspect, the extension is the same length as the other poles, so you'll get a total of 18 feet when it's fully assembled. The ferrules on said poles allow you to use them in any order or even add on another extension if you can handle the height. Replacement parts are a little pricey although readily available.
The blade on the LS-6PKG-6 is 16 inches with a Tri-cut design which gives you quick and clean cuts. You can swap it out for a blade with a hook on end, but this one should get the job done for most folks and is very sharp. There are no other specifications or features to speak of aside from the weight which is around 9 pounds.
We consider this Jameson pole saw to be a budget-friendly option, especially if you're looking for something that doesn't use electricity or gas. It is a little basic compared to other models at this price point, but the build quality is solid, and it comes with a 1-year warranty out of the box.
Features
16-inch Tri-cut blade
Three sections
1-year warranty
---
Pros
18 feet total length
Lightweight at around 9 pounds
Pole ferrules/compatibility
Reasonable price tag
Cons
Replacement parts aren't budget-friendly
Poles could be sturdier
---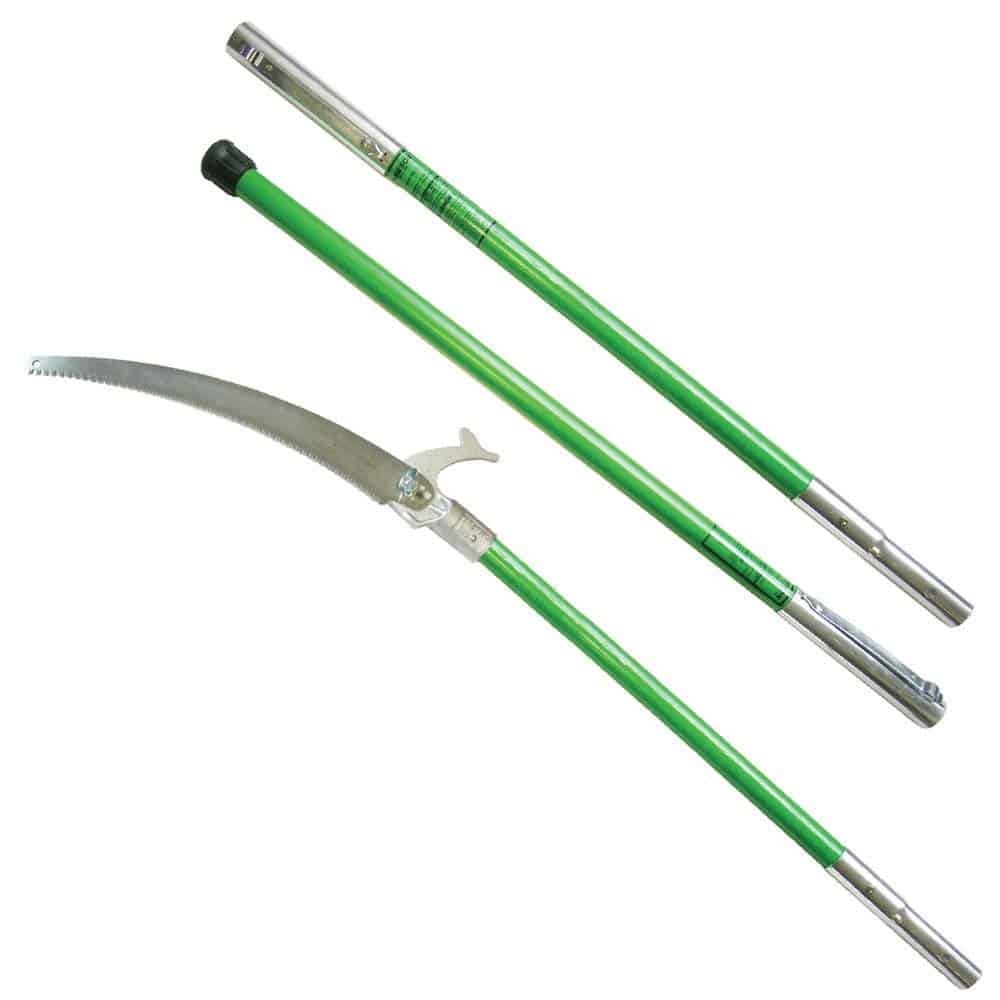 Our Final Thoughts
If you have never used a pole saw before, we hope our guide helped you find the right tool for the job. While there were a few brands that we decided to leave out for various reasons, we tried to include a saw for everyone and a price point for every budget.
Are you a fan of saws? We have something more for you: Best Sawzall Reviews.