Some may call it a reciprocating saw while others prefer sawzall. No matter what you choose to call it, the best sawzall can rip into lumber or metal like a hot knife through butter. Unfortunately, finding the right one can be difficult if you don't know what to look for which is where we step in.
Research You Can Trust
All the top manufacturers have multiple versions of the sawzall, so we took a different approach and focused on brands known for producing quality tools, and then we dug into their top models. As someone who has owned and operated sawzalls for over a decade, I have a great deal of experience with this particular tool as well.
We also took other professionals opinions into account by speaking with a few contractors along with dozens of verified user reviews. While we cast a wide net in our research as always, we relied more on personal and professional experience this time around.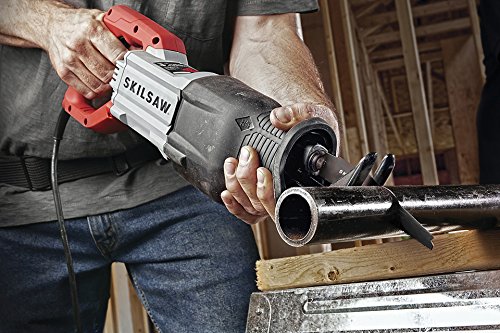 The 30-Second Review
If you want to buy the right tool the first time around, it pays to do your research beforehand and know all the important areas instead of going in cold. Unfortunately, that's not an option for everyone – especially if you're sawzall just bit the dust and you need to make use of Prime's speedy shipping to finish a job.
When time is of the essence, pay attention to the size of motor or voltage if you plan on going cordless. The stroke length and type of stroke should be next on your list as you may want orbital action instead of a controlled cut. The build quality and warranty are two other things that should be high on your list if you're in a rush to buy.
Buyer's Guide
Sawzall Buying Guide for 2018
A sawzall is a tool millions of people have used, and millions more have wondered about. They look a little mean compared to other types of cutting tools, but there's a reason for that. If you are unfamiliar with the tool, it's best to think of it as a motorized hacksaw.
Whether you're doing a demo work or cut pipe flush in a cramped spot, the best reciprocating saw is the right tool for the job. You can literally rip through almost anything if you have the proper blade including metal stock, 8-inch tree limbs or even the side of a house with some help from a Bobcat…
Another important thing to remember is that a sawzall and reciprocating saw are the same things. Sometimes you'll see manufacturers refer to their tool with one or both of those terms although the "sawzall" moniker is a just term coined by Milwaukee. It' typically an area of confusion for consumers new to the tool world, but rest assured the terms are interchangeable – they are the same type of tool.
The Anatomy of a Sawzall
Consumers that have never used this ferocious tool will want to understand how it works before choosing your first sawzall. If you're an old Pro with power tools or are just looking for a replacement, feel free to skip ahead to our top pick so you can find the right corded or battery-powered solution for you.
The Handle – While not a high-tech part of your tool, don't overlook the grip. They are usually in the D-style and made from plastic with texturing for additional grip. The best handles are overmolded with rubber however which keeps your hands fresh and cuts back on vibrations.
The Boot  – Unless you're Hercules reborn, a sawzall is something you'll need two hands for which is where the boot or top grip comes into play. As you need to apply some pressure and control the cut, a good reciprocating saw needs to have a thick boot with a non-slip grip.
Motor – Sawzall motors come in one of two forms with brushed or brushless. The former is cheaper and tends to wear out quicker although some models allow you to provide maintenance which lengthens the life of your tool. The motor is also tied to the SPM rating of a saw and tells you how many strokes per minute it's capable of.
If you go brushless, you'll get a more efficient motor which quieter and capable of outlasting its brushed counterpart by years… not months.  The motor is also where you'll get your power, so you want higher amperage if you're doing industrial work and want a tool that can handle any job.
The Shoe – The shoe doesn't go on the bottom of your sawzall, but on the front. This flat piece of metal acts as a brace for the saw and comes in one of two styles which we'll address in the additional features section below.
Trigger – A sawzall cut can take anywhere from a few seconds to several minutes. It depends on the type of material you're trying to cut through, but regardless of the length, look for a saw with a large two-finger trigger.
Blade Clamp – As the name implies, a blade clamp or chuck is the part on the end of your tool where you'll place the blade. There are still some models that use the old-fashioned hex key method, but most tools nowadays have a keyless system in place.
Aren't there two types of strokes?
Yes, there are, and while all sawzalls can perform one, the second style of stroke is not as easy to find on some models. A straight cut is a feature found on every reciprocating saw and utilizes the back and forth motion we're all familiar with. It's not fancy, but it certainly gets the job done and can give you an extremely accurate cut.
If you need to move material quickly and aren't overly concerned about the accuracy of your cuts, you'll want to consider a saw with an orbital stroke. When this kicks in, the blade will move up and down to a degree along with the back and forth action which gives you a more aggressive cut for troublesome material. You also have to consider one other area when it comes to the stroke of a sawzall…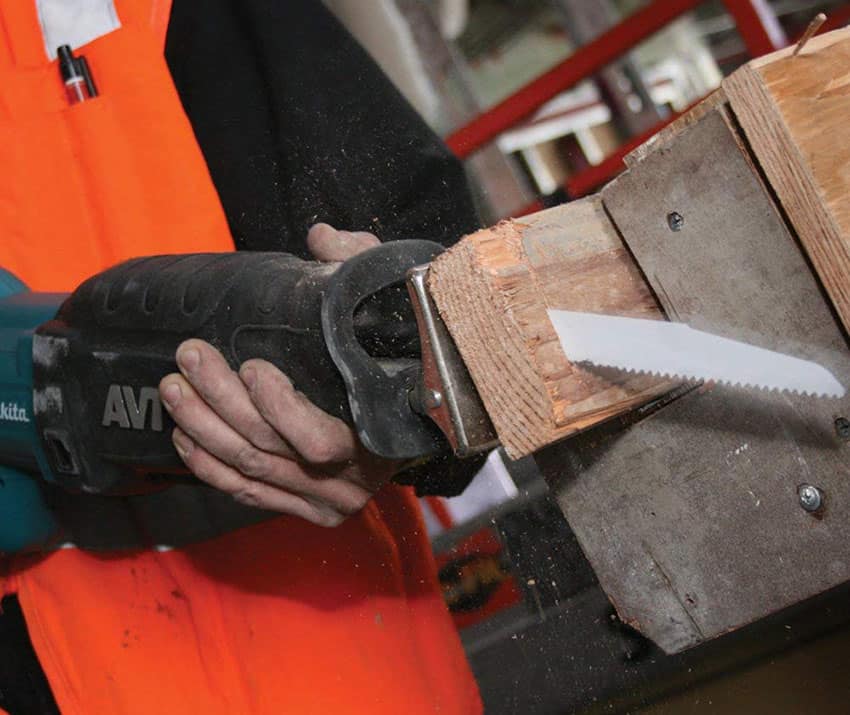 Stroke Length Explained
Every sawzall will have a standard set of specifications including something called stroke length. It's often something missed by beginners or consumers that are new to this type of tool. Usually, stroke length runs from ¾" to 1-1/4" depending on the model and manufacturer.
Simply put, a longer stroke takes more material at once which is great when speed is critical, and you want aggressive cuts.  Alternatively, a reciprocating saw with a shorter stroke length gives you more control and is better in tight areas.
Additional Sawzall Features
Like most products, sawzalls have a particular set of features, and most are common across the board. While there aren't as many bells & whistles as you'd find on a laptop or even the best recliner, there are a few things you can look for.
In the old days, all reciprocating saws had a fixed shoe which is self-explanatory. Well, an adjustable shoe speaks for itself as well, and it's a feature which is hit or miss on even the top models. Pivoting shoes are also an excellent choice when you're dealing with angled cuts more often than not.
Ever used a cutting tool in a dimly lit area? If so, you already know how much of a pain that can be. Work lights help but are no substitute for a built-in LED light. That's an option you'll find on plenty of cordless models and so are tool-less blade clamp.
We told you it was common, and it is, but how it's handled makes a significant difference. Blades can get extremely hot, so the ability to flip a clamp and "shake" a blade loose is something you won't regret.
What about Multi-tools?
Despite a recent increase in popularity, multi-tools are not the same as a reciprocating saw although some will definitely cut through a nail. Otherwise known as Oscillating tools, these are all-in-on systems that allow you to accomplish various tasks without carrying around a bag full of tools. Cutting and sanding are two popular functions, but they cannot replace the power or prowess of a sawzall.
The Pros and Cons of Cordless Tools
You may think this is one area that would be relatively straightforward as we live in a wireless world where batteries power everything from our smartphones and laptops to our vehicles. Well, it's not as a 20V battery may not be as powerful as you think unless you know what those numbers mean.
Cordless tools have been around for ages, but new technology has changed the game to bring them up to the level or their corded counterparts. That's only if you have a high-powered battery however as "120 cuts per charge" may sound nice, but it all comes down to the material you're trying to cut along with half-dozen other factors.
By comparison, corded tools will never run out of power as long as there's an electrical outlet or generator nearby. They usually have the same set of features found on cordless tools although build quality is one exception. You'll find more corded sawzalls in the contractor class than battery-powered models, and 60V tools are still far and few between.
If you decide to go cordless…
You'll have to carry a bit more gear as corded models don't need chargers or battery packs and battery life is an obvious enemy. The size of those cells matter from a horsepower standpoint, so the bigger, the better, but keep an eye on the Ah measurement which stands for Amp hours.
Volts determine the strength or your tool, but amps are the equivalent of time. While there is no simple conversion, we can teach you, the minds from MIT will explain it better than we ever could. Again, bigger is also better with Ah, but you'll have to pay a pretty penny if you want extended batteries for power tools with a high voltage.
Charging times are another concern, so look for a kit with a quick charger if you want the best cordless sawzall. They can usually charge up a battery in around an hour, and are an accessory well worth paying extra for. Buying a cordless kit can save you a considerable amount of cash, just be sure you're invested in the company's tool system beforehand as many lines have backward compatible batteries.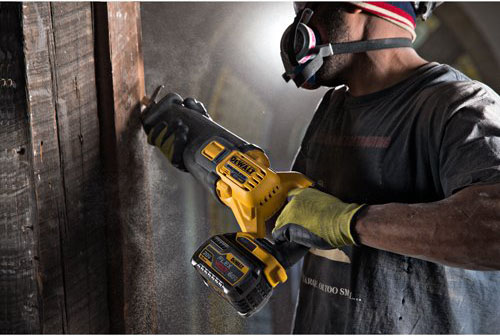 Warranty Information
Every tool we put on our list has a solid warranty, but some are better than others. It also varies by the tool type as a corded model has one warranty while battery-powered sawzalls break things down between the tool, batteries, and charger.
A 3-year warranty is around the average for reciprocating saws although Milwaukee and a few other brands go above and beyond that mark. While we included all that information in our reviews, pay close attention to exactly what's covered. Some may only give you 1-year free parts and labor, which can make a difference when you're torn between two saws.
As for the batteries, that's trickier and varies wildly although 2-3 years seems to be the average among the top brands. From personal experience, I can tell you batteries are usually the first thing to go, so look for a kit with two power packs and check on the price of replacements beforehand. Third-party batteries are an option as well but proceed with caution if you go down that road.
Contractor or Homeowner class?
Some products are specifically labeled as being for one crowd or the other, but that's not always the case. The grade of the tool makes a huge difference in price as well as the build quality when you're dealing with sawzalls.
Power is an excellent way to tell the difference with both corded and corded tools. Anything in the Pro range will be 18 volts or have a 15-amp motor. Some manufacturers make corded models with heavy-duty parts and smaller motors in the 13-amp range, once more… but bigger is always going to be better if you're doing demo work.
Tools in the homeowner class have fewer features and are under 18 volts or 13-amps aside from a few select models. You'll find thinner casings and more plastic parts in this range, but warranty length and basic features usually stay the same.
Blade Guide
Even the best miter saw, or top of the line jigsaw generally comes with a poor quality blade – if you even get one in the box. It's just how it goes unless you but a combo kit with a blade set, so you may need to prepare to purchase blades for your new tool. If you don't already have a pack handy or aren't sure what type of blade you need for the job, here's a quick breakdown on sawzall blades…
A sawzall can cut through almost anything including tile, concrete, wood, and metal. The first question you need to ask is what you plan to cut; then you'll want to consider the length of the blade and how many teeth it has. Want to cut a car in half like the gentleman below? Well, you'll want a saw with enough oomph and a very sturdy blade.
As a rule of thumb, you want to add around 3-inches to the length in length to the material you plan to cut. If you want to cut a 5-inch post, then you'll want a blade at least 8 to 9-inches long. Teeth are measured in TPI which stands for teeth per inch and is easy to figure out.
For wood, you'll want anywhere between 3 to 10 TPI while metal requires more teeth per inch. The thinner the metal, the more teeth you'll need. For something like plaster or cement board, your best bet could be a carbide tipped blade.
Can I sharpen a sawzall blade?
While it's entirely possible to sharpen this style of blade, it's not something we recommend you try yourself.  Blades are cheap and made to be replaced, so don't try to use a knife sharpener or other implement to regain an edge… just buy new blades. If it's an expensive carbide-tip or specialty blade, look for a local shop to give it a quick touch up.
The Best Sawzall Reviews