The 30-Second Review
While buying an expensive power tool isn't something you generally want to rush through, there are several areas you can hone in on if things like lasers and sliding extensions aren't your thing.
Focus on the type of saw you need first and foremost between sliding, compound or regular miter saw. You'll also need to consider the angles you'll need along with the overall build quality of the tool. A lightweight saw might seem like a good option, but it may not hold up on the job site.
Other areas to keep in mind include the size of the saw and the motor. Unlike a bandsaw, you can't use risers to extend this saws capability and you won't need a 14-inch machine to cut through trim for your bathroom.
Miter Saw Buyers Guide: 2018 Edition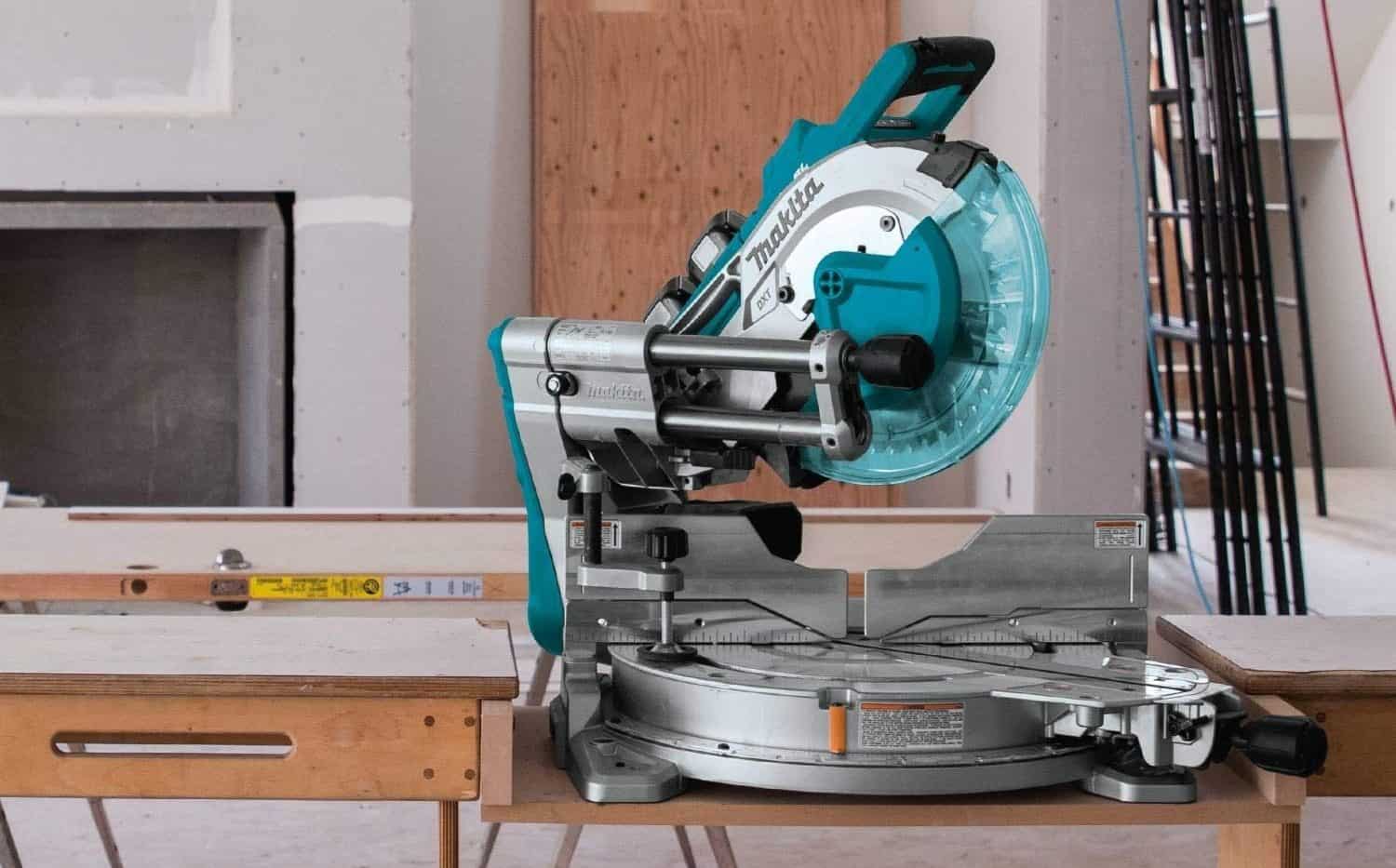 If you're looking for a miter saw, you already know what they can do or at least have a general idea of their prowess. What you might not know is there is more than one kind of saw, and the braking system is just as important as those indents manufacturers love to talk about. We're going to cover those areas along with anything else you need to know in order to make an informed buying decision.
Why Do You Need A Miter Saw?
It's always a good idea to have a rough price point in mind when shopping for larger power tools, but before you can do that, you need to decide why you need the saw in the first place.
Are you a weekend warrior that loves to work on projects in the garage?
If so, you may want a top-tier saw decked out with all the bells & whistles, but that could be overkill for a dog house you want to build or other DIY projects. You might not even need a dual bevel saw; it all depends on your needs.
On the flipside, professionals will need something with plenty of horsepower and a sturdy frame. Bigger is usually better if you do industrial work or plan to use the saw on a daily basis. Battery-powered miter saws are truly a reliable option now as well – something we couldn't even imagine 5-years ago.
Styles Of Miter Saws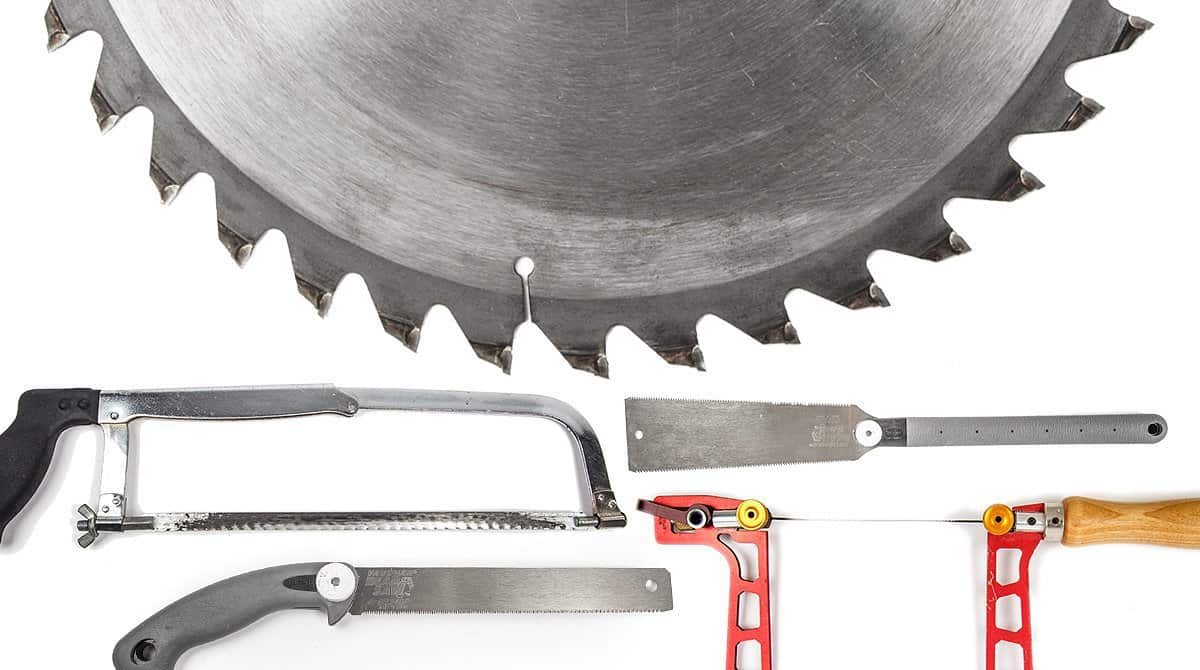 As mentioned, a miter saw is more than just a glorified chop saw. They can all perform a variety of cuts, and while size may be the first thing you think of, it's the easiest to figure out. You need to think of the style before considering anything else…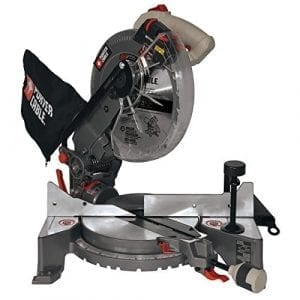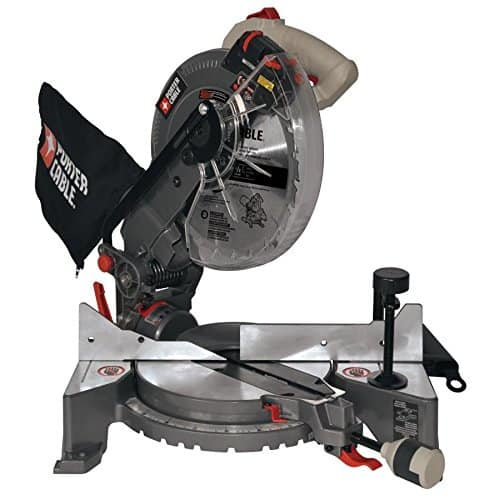 Base Model Miter – Any miter saw we refer to as "basic" is a barebones offering. They don't do tile but can perform a miter and crosscut with ease. They are still handier than chop saws, but may not have the same oomph. Basics saws in this class are good for light to medium-duty use and usually quite affordable.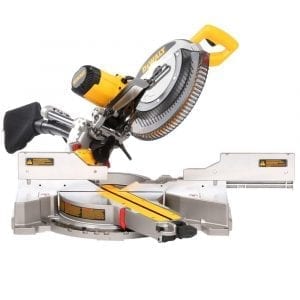 Compound Miter – If you hang a lot of crown molding or love those angled cuts, you'll want a compound miter saw. These saws always tilt and can be single or dual bevel depending on the model. The latter is more expensive but gives you far more versatility.
Sliding Compound Miter Saws – Currently, at the top of the food chain, a sliding compound miter saw can do everything the other variants can. The difference is the cutting capacity as you'll get more of it due to the unique sliding mechanism. They are ideal for longer stock or lumber and are typically dual bevel as well.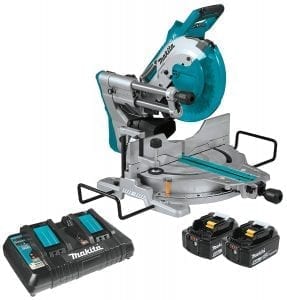 Cordless Miter Saws – Simply put, these miter saws are in the compound class and can tilt or slide with the best of them. You're obviously limited by the size of the power pack although we think you'll be pleasantly surprised by what 120-volts can do.
But what about the size?
A 10-inch compound or basic miter saw, can cut through boards up to 10-inches wide. If you need to go wider, you'll want a larger saw or one that slides. Manufacturers will tell you the exact measurements you can cut with each tool, and we'll highlight those in our reviews below. There are pros and cons for both 10 and 12-inch models, however…
While a 12-inch saw gives you a larger blade and longer cut, they cost more than a 10-inch model to operate. They typically have larger motors, and while the electric bill usually isn't an issue, the blades could be. Smaller blades are more common in your local hardware store and less expensive as well.
There are also miter saws which range between 7 to 8-inches. They spin at a higher rate of speed due to their size and are capable of cutting regular sized stock just as quickly as larger saws. Most of our top options are in the 10 to 12-inch range, but we've included a few smaller alternatives as well.
Important Parts of a Miter Saw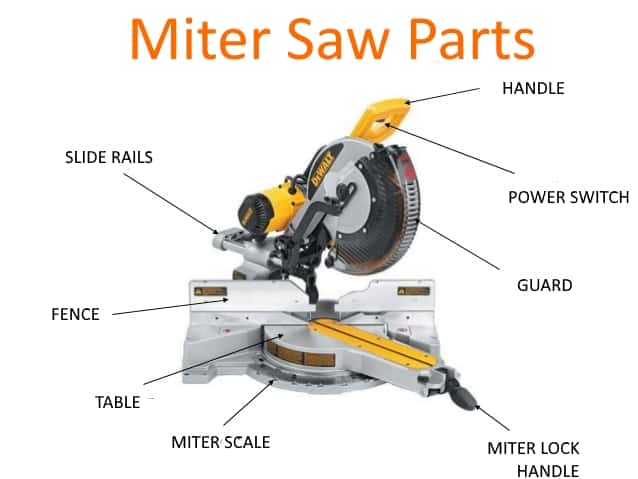 Miter saws aren't overly complicated, but there are several parts you'll need to familiarize yourself with if this is your first one.
Miter Saw Tables – The table is where you'll put your stock or material, and aluminum is a popular option. They rotate and have an insert in the middle for the blade. They can also get gummed down with dust easily on some models, so you'll want to keep it clear from debris, so it's easy to turn and lock.
Fences – Miter saws with taller fences or ones that slide are ideal and can allow you to work with larger materials. There's no perfect size, but anything in the 10 to 12-inches range generally enables you to work with normal sized base and crown molding.
Handle and Triggers – This may seem like a fairly unimportant area, but it's one you need to pay close attention to. The handle design can make or break your user experience – especially if you're a lefty.
Nobody wants to use their ring and pinky fingers to mash a trigger, so look at the width if you need something ambidextrous. If you'll use it for extended periods of time, you may want a cushioned grip as well.
Blade Guard – Every miter we chose has a blade guard regardless of its style. It keeps the blade covered when the arm is raised and raises itself as you move the arm and blade down towards your workpiece. It's not a make or break feature as they are common these days, but you need to make sure it's well made with plenty of venting and transparent.
The Motor – While there are a few oddballs, most saws on our list are between 10 to 15 amps although the RPMs vary. Trust us when we say all will get the job done, so focus on the type of motor. Motors with brushes are the most common and affordable but don't tend to hold up as well as your next option. Those brushes can be replaced or cleaned in some cases, however, which will lengthen the life of your tool.
If you really want the best, you'll want to go with a brushless motor. They are far more efficient, and while we could bore talking about energized charges and armatures, these guys explain things better than we ever could. Another thing to consider is the "kick" as some saws start a little more smoothly than others, but all good miter saws will have an electric braking system.
What about cordless miter saws?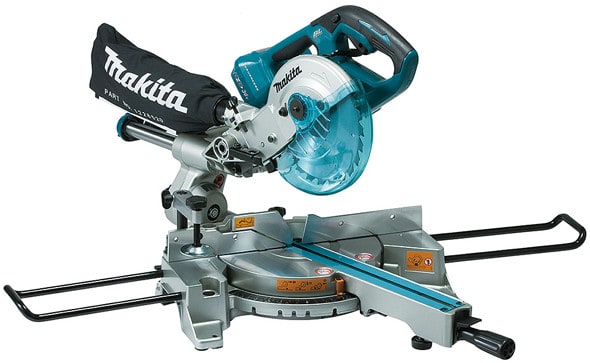 Well, you still need to consider the amperage of the motor although we're pleased to say the best cordless miter saws have brushless motors in this class. That means battery life is paramount, so key in on amperes or Ah measurement on those battery packs.
Basically, the larger the number, the better as you'll get more cuts out of your battery. 5Ah is a good starting point for this type of tool, but there are extended battery packs available. All of our cordless options will give you 250+ cuts per charge at a bare minimum.
Levers, knobs, and detents…
Each saw that tilts or turns will have a locking knob mechanism for the table and a miter scale which sits on a detent plate. They will also have levers to lock in the bevel angles and "positive stops" set along the scale for miter cuts and bevels.
All of these components fall under the ease of use category, and where those knobs and levers are placed can make or break a miter saw. In most cases, you will have to reach around the back to make a few adjustments – there's just no way around it on budget-friendly options or basic saws.
Manufacturers also tend to make table handles a bit longer than they should. While it's nice to have a table that turns and locks into those preset stops, it's all for naught if the cheap handle snaps off.
Stops are set at the most common angles used by woodworkers, and typically run from 0 to 60-degrees depending on the model and whether it's the miter or bevel angle. All miter saws will have something called a detent override in the front as well which allows you to set the "stop" anywhere you'd like.
Dust Collection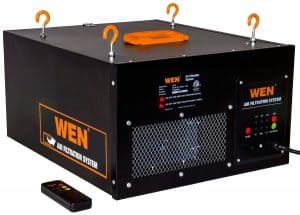 We'll keep this simple by saying most miter saws have subpar dust collection system. It's a fact as a back attached to the back of your saw will only get you so far. The best models have good ports that allow you to adapt to a different size but the good old shop vacuum is still your best bet.
No matter how you choose to clean up dust, we highly recommend you do it on a regular basis. Nothing gums up the work like sawdust, and it's something that's very easy to deal with if you simply swipe it away each time you use your saw. Alternatively, a solid air compressor is a must-have for any wood shop.
Extra features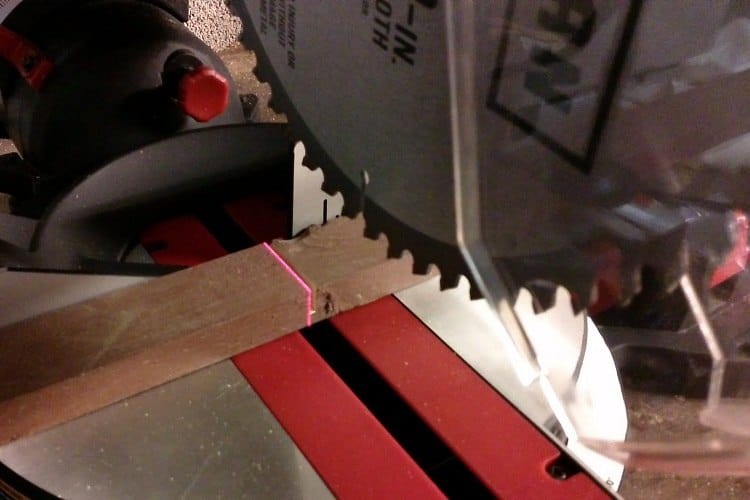 There aren't too many features you'll need to look for when it comes to extras. Lasers are the most popular, but far from common on anything less than a high-end saw. You can usually buy an add-on, and some companies prefer to use a shadow-based solution instead.
Work lights are another option that's hit or miss. We've seen more of those on cheap saws than expensive ones. Aside from models with sliding fences and extension or those with space-saving designs, there's not a lot to dwell on in the flagship feature department. Instead, you'll need to focus on the next area in our guide.
What's in the Box?
It's a question made famous by Brad Pitt in Se7en, and something to take just as seriously in the miter saw world. We won't spoil the former, but can tell you exactly what you'll get when you crack open the box on your brand new miter saw…
Not much actually. They all come with a dust bag, blade wrench and the trusty if somewhat hard to read instruction manuals. You'll usually get a vertical clamp to help keep your work steady, and a blade is common although the quality may be fairly poor.
If you need a new blade for trim work, 80T blades are a good place to start, and this quick guide shows you how to tell the difference between an ATB blade and one with a triple chip grind.
What else will I need?
If you're lucky enough to get a quality blade out of the box, there are still a few things you'll want to have on hand regardless of your project. If you have a shop or plenty of tools in your garage, skip ahead to our top choices as this section is for the rookies.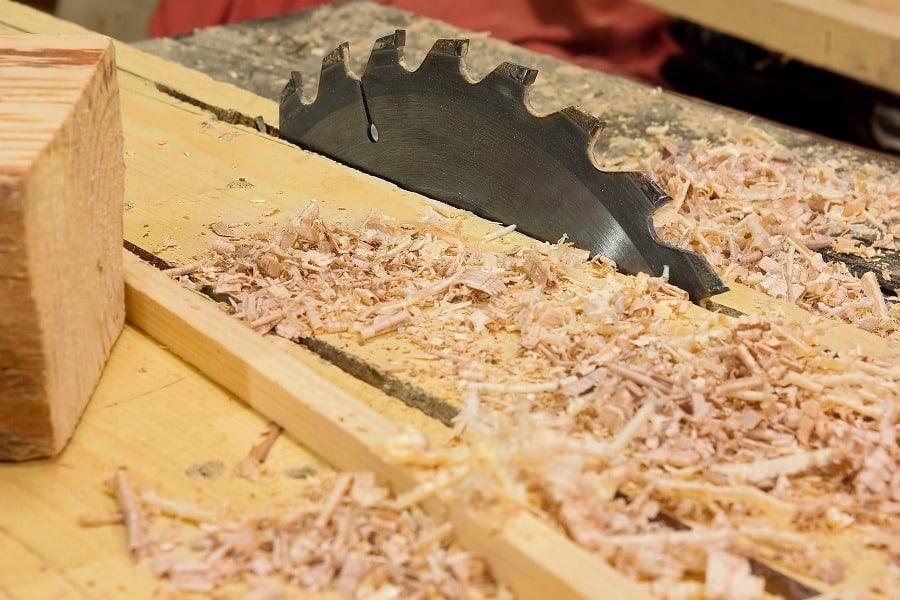 Our top recommend accessory isn't for the saw at all, but for your protection. A pair of safety glasses is something you always want when working with power tools that spin and whir at a high rate of speed. Sawdust is not something fun to wash out of your eye…
Tape measures and speed squares are wise choices as well. Even if your saw has a laser light, there's no substitute for a pack of pencils when working with wood. All of these accessories are affordable, unlike our next one which you may not be able to do without.
Miter Saw Stands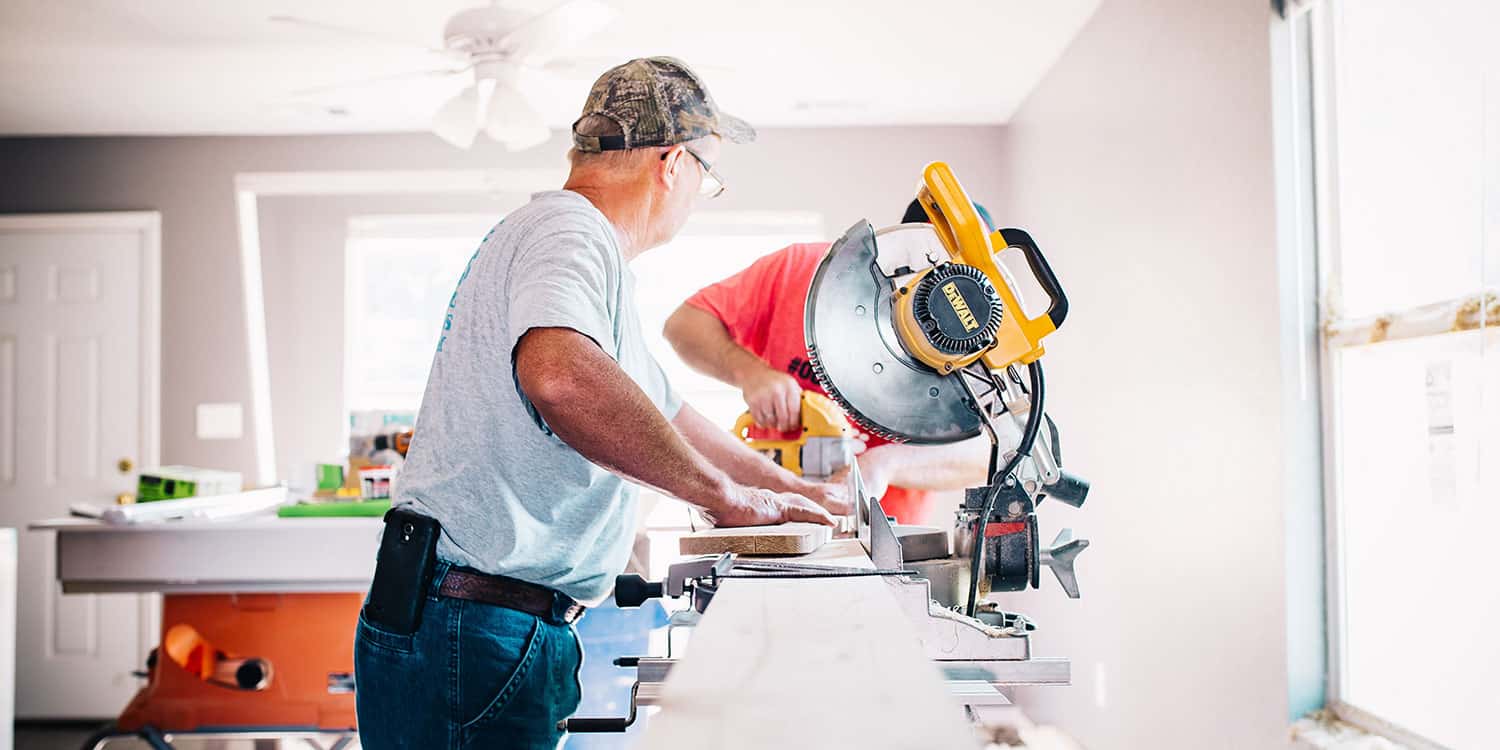 Every miter saw will have at least four holes on the corners which allow you to bolt it down on a bench. It's not required with all saws, especially ones with a good weight and today's models are quite portable as well. If you don't have a bench or need to travel with your compound miter saw, you're going to need a stand. Even the best sawhorses just won't do…
A top-notch miter saw stand is not cheap and will set you back as much as an entry-level saw in some cases. While you don't have to spend $300 bucks on a stand, you may want to after you see what some of the top models can do.
Whether you want a Bosch stand with pneumatic wheels and a color scheme that matches your Bosch miter saw or something simple, there's an option for you. Simply keep the overall size of your saw in mind along with its weight.
Warranty Information
Brand names are important when you're dealing with miter saws. It's safe to say you know what you'll get from a brand like DeWalt or Milwaukee while you may have a hard time digging up reviews on off-brand machines. That doesn't mean they aren't worth a look, however – it all comes down to the warranty.
In most cases, miter saw warranties work under the blanket rule so if it says 3-years, that's what you'll get. You will still want to dig a little deeper as some companies won't cover certain parts and cordless models will have tiered warranties.
If you decide to go cordless, look at the breakdown for the tool, batteries, and charger. If those batteries burn out within a year, you could be in for a rough time considering the cost of replacement lithium-ion tools batteries.
Best Miter Saw Reviews
01
Bosch 12-inch Dual-Bevel Miter Saw GCM12SD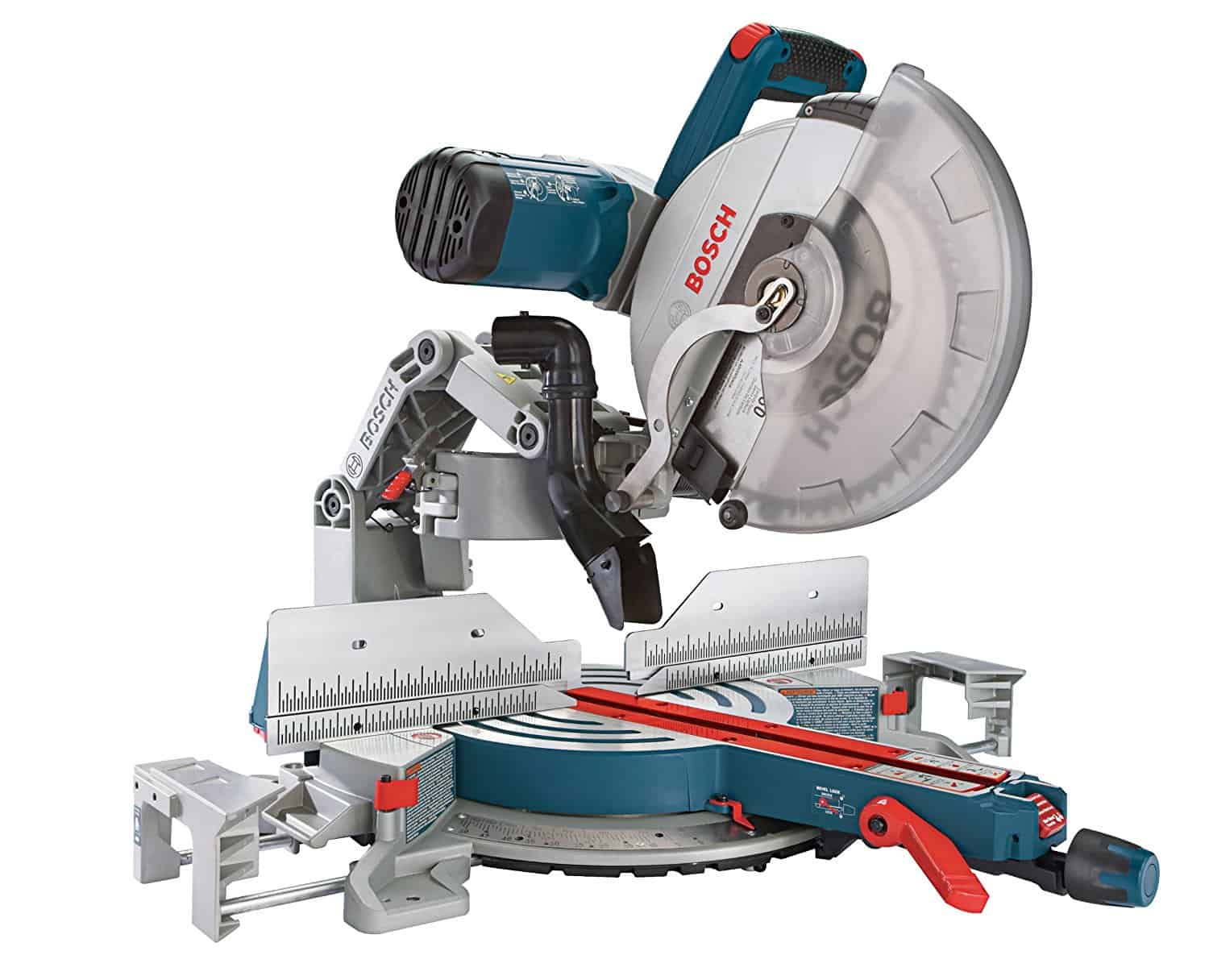 Bosch tools are easy to recognize by their color scheme, and once you use their power tools, it's unlikely you'll forget the brand. The Bosch GCM12SD is our top choice, and while it isn't quite as fancy as others, the design provides you with the smoothest cuts around.
The GCM12SD is a 12-inch dual-bevel miter saw with a unique sliding system. Their patented Axial-glide setup uses jointed arms with a sealed bearing system. This allows your blade to glide through wood like a knife through butter. As it's sealed, sawdust and other types of debris are shut out so it will run just as smoothly during the first month of operation as it will in year five.
What if I need some tension?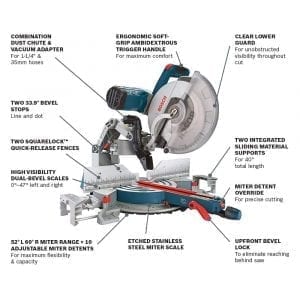 That's not a problem as the GCM12SD has a "glide dampening" system which allows you to dial up the resistance to suit the project at hand. The bevel lock is at the front so you'll never have to reach around and it's comfortable to use if you've got an extended job. It has a soft grip ambidextrous trigger with a safety switch you need to depress during operation – a perk for some and a hindrance for others.
This saw is heavy at around 65 pounds but can withstand life on the job site or your garage. It's built like a tank but doesn't take up much space thanks to the design and the joint system. You won't need much clearance in the back for this one. Overall, it's a well thought out design and one of the simpler compound miters saws to use.
It has a 15 amp motor at 3HP which is capable of hitting 3,800 RPMs. It's a standard 120 volt saw, and as there's no laser, you won't need any batteries or extras. You also may not need extensions depending on the size of your job. The Bosch GCM12SD has two material supports that slide out from beneath the frame. It adds 40-inches of length, and the dust chute is compatible with 1-1/4" hoses and 35mm hoses.
The maximum crown and cutting capacity on this saw is 6.5-inches at a 45-degree spring, and while it's a 12-incher, it has an expanded 14-inch range horizontally. The miter angle range is 52-degrees to the left and 60-degrees to the right. It also has an electric brake, a clear lower guard, and detent override – all standard, but essential features on top quality saws.
The Bosch GCM12SD comes with a 12-inch 60 tooth blade, user manual, a dust bag, vacuum adapter, and a vertical work clamp. It's backed by a 1-year warranty from the manufacturer and is sold as a bare tool or with a very nice rolling stand which allows you to handle 16-feet of material and has 8-inch wheels. There's also a laser add-on available if you want some assistance with those quick cuts.
Features
15 amp 3,800 RPM motor
Slide out material supports
Dual bevel
Electric brake
---
Pros
Excellent in compact spaces
Easy to access controls
Wide comfortable trigger
Dual purpose dust port
Squarelock fence system
Cons
It's heavy
Dust shroud is not the best
---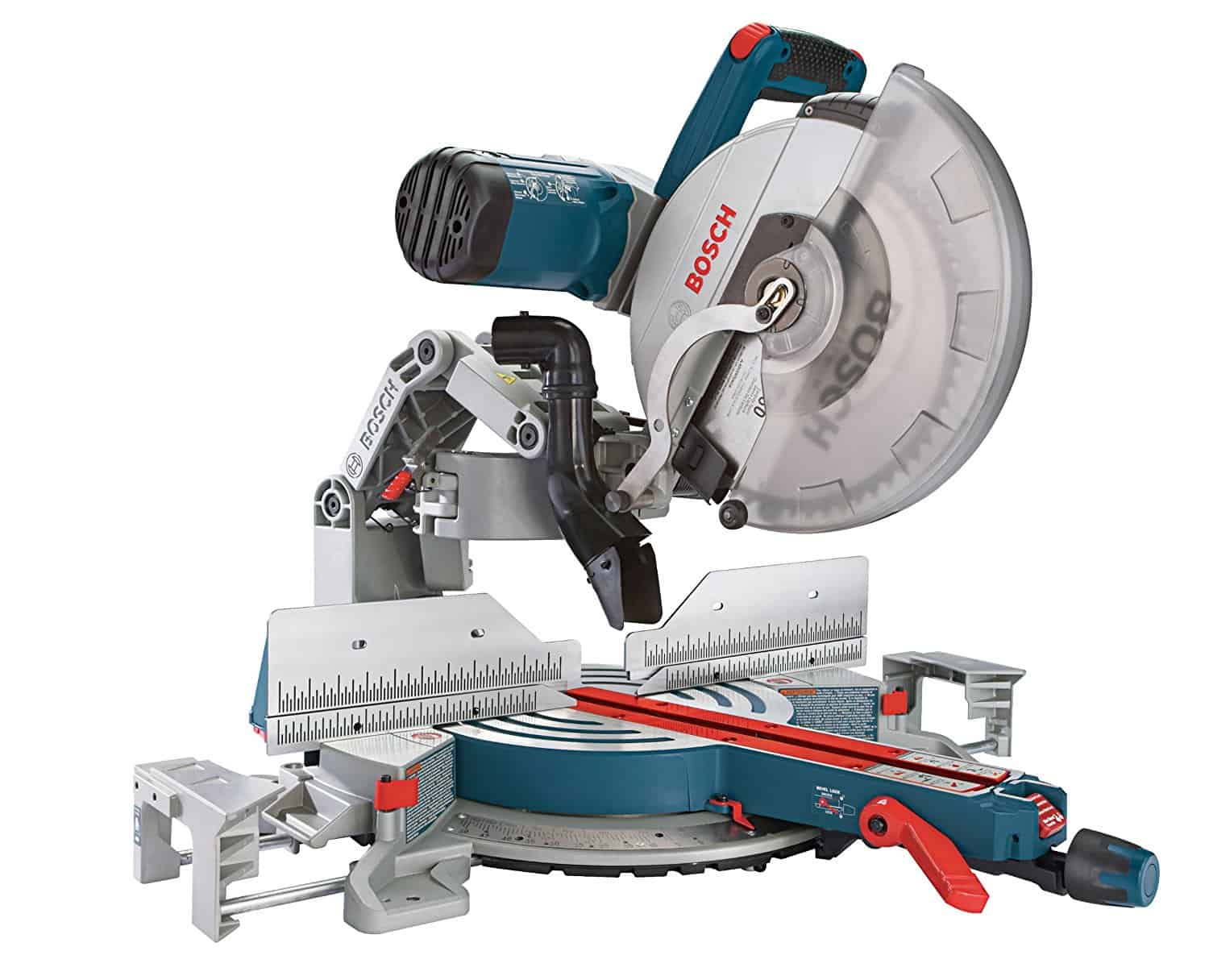 02
DeWalt DWS780 12-inch Compound Miter Saw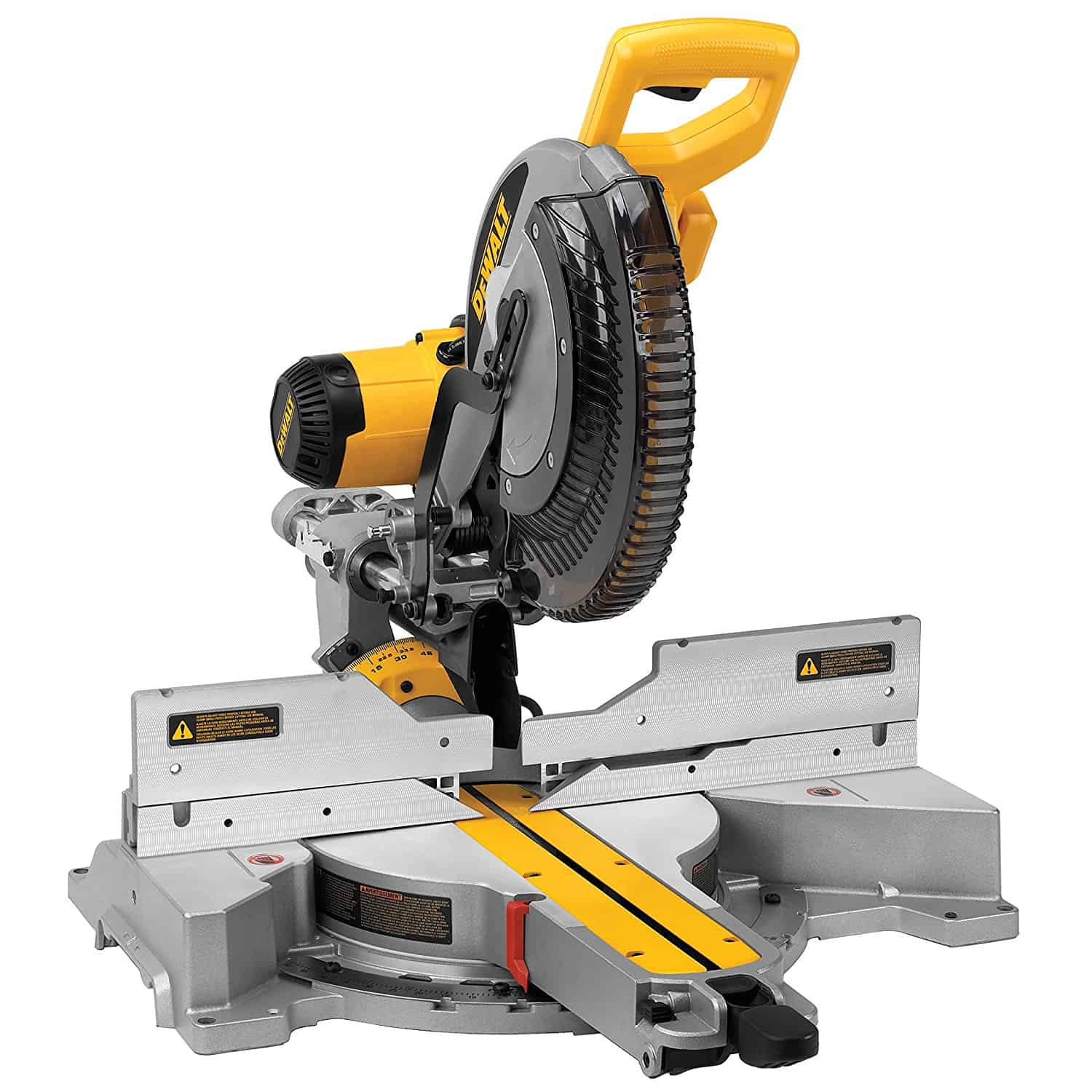 DeWalt makes plenty of tools for the pros as well as ones geared toward average Joes. The DWS780 miter saw falls more into the contractor side of things, but still, a saw homeowners should consider when build quality and performance are high on their list.
The DWS780 is comparable to the 12-inch Bosch in several areas although the DeWalt is arguably a bit sturdier. You'll get precision-machine castings and fences to go along with a stainless steel detent plate. The bevel system is machined as well, and while it slides and pivots like our top choice, you'll need to account of clearance in the back this time around.
Between the build quality and its 56-pound weight, this saw should hold up for years of use on the job site. It's easy to use, but the handle isn't as comfortable as others. It's a standard hard plastic handle with a trigger set to one side – it's not necessarily friendly for lefties.
Back to that Detent plate…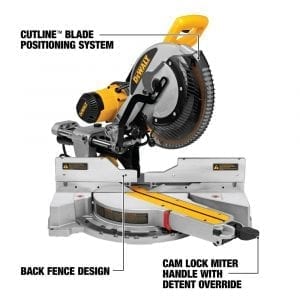 One feature we really dig on this saw is the cam lock system and the industrial style detent plate. The grooves for the stops are nice, and the detent override is better than most. As it's a double bevel saw, you can go from 0 to 49-degrees with five positive spots left or right. The miter can go 60-degrees to the left or 50 to the right with 10 positive stops.
The company also took a different approach to their back fence. They are tall and can handle nested crown at 7.5-inches or base molding measuring 6-3/4" vertically. The design of the fence allows you to tackle a 2 x 16 at 90-degrees as well or a 2 x 12 on a 45-degree angle. If that doesn't impress you, maybe the XPS crosscut system may do the trick.
Lasers are popular and a quick and easy way to ensure an accurate cut. Well, DeWalt's XPS system replaces the laser with an LED light which uses a shadow instead of a red line. This takes calibration out of the equation – something that can be a massive pain during blade changes.
This saw has enough power to saw through lumber with ease thanks to a 15 amp motor capable of hitting 3,800 RPM. Some consumers reported it was a little "jumpy" when you hit the trigger due to the torque, so keep that in mind if you're new to this type of tool. It does have an electric brake however which kills the blade within a few seconds of releasing the trigger.
While you won't get sliding extensions or an arm filled with bearings on the DeWalt DWS780, it performs as advertised and is as reliable as they come. It's the type of tool that will outlive other saws by years and sports the company's 3-year limited warranty to boot. It comes with a 12-inch carbide tipped blade, a blade wrench, user manual, and a dust bag. Unfortunately, there is no bundle with a stand, but we have that covered.
If you need an excellent miter saw stand, you'll want to check out the DeWalt DWX726. It's a tube-based solution with pneumatic assist, adjustable rails, and a 300-pound weight limit. While that may be overkill for some, there are more straightforward options like the BORA Portamate with its budget-friendly price tag and a 500-pound capacity.
Tech specs from chart for photos
Features
15 amp 3,800 RPM motor
Precision-machined castings
XPS alignment system
Advanced dust collection system
Oversized bevel scale
---
Pros
Sturdy frame and rails
The shadow cut line works well
Unique back fence design
Stainless steel detent plate
Excellent warranty
Cons
Bevel may need to be adjusted
Slides could be smoother
---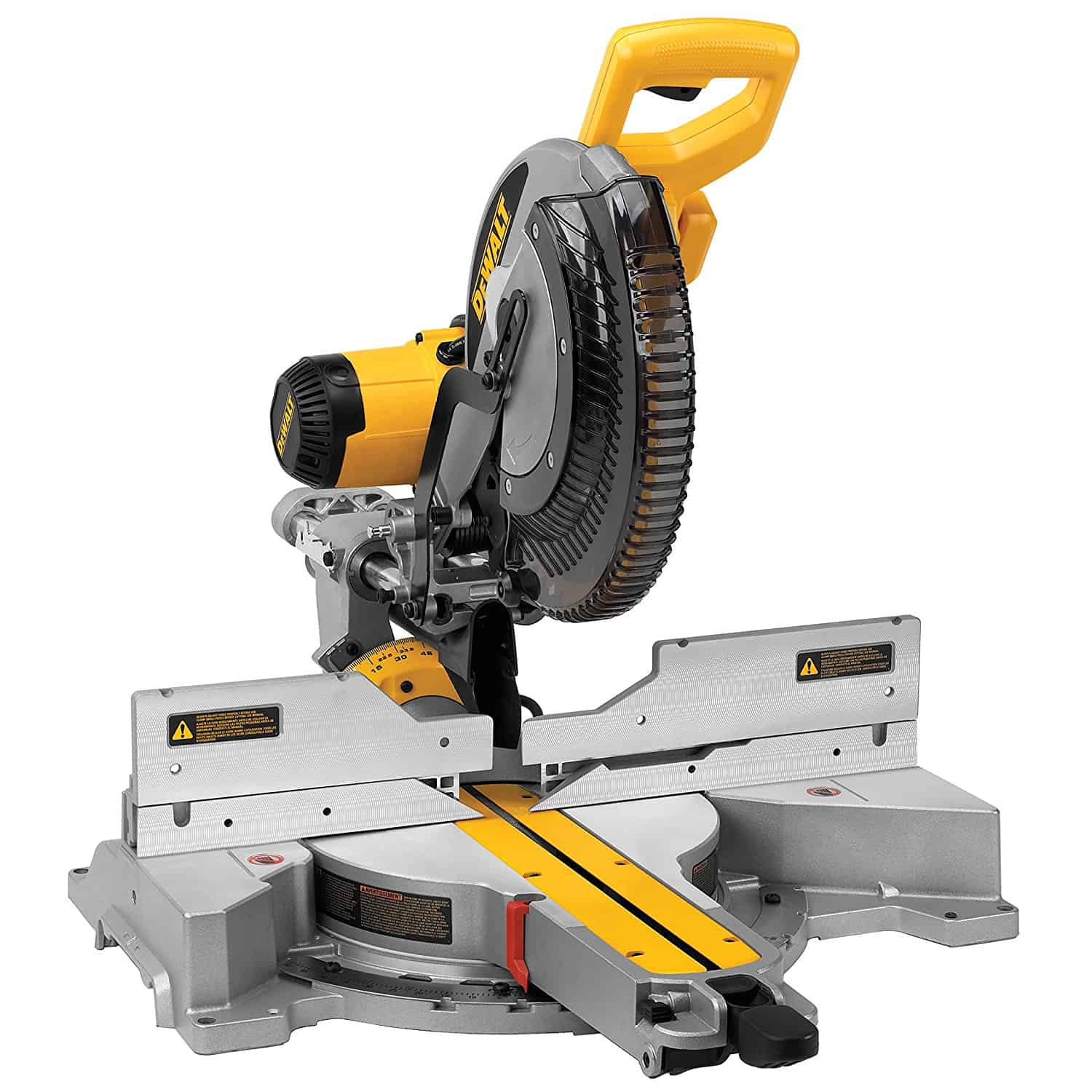 03
Hitachi C10FCG Single Bevel Miter Saw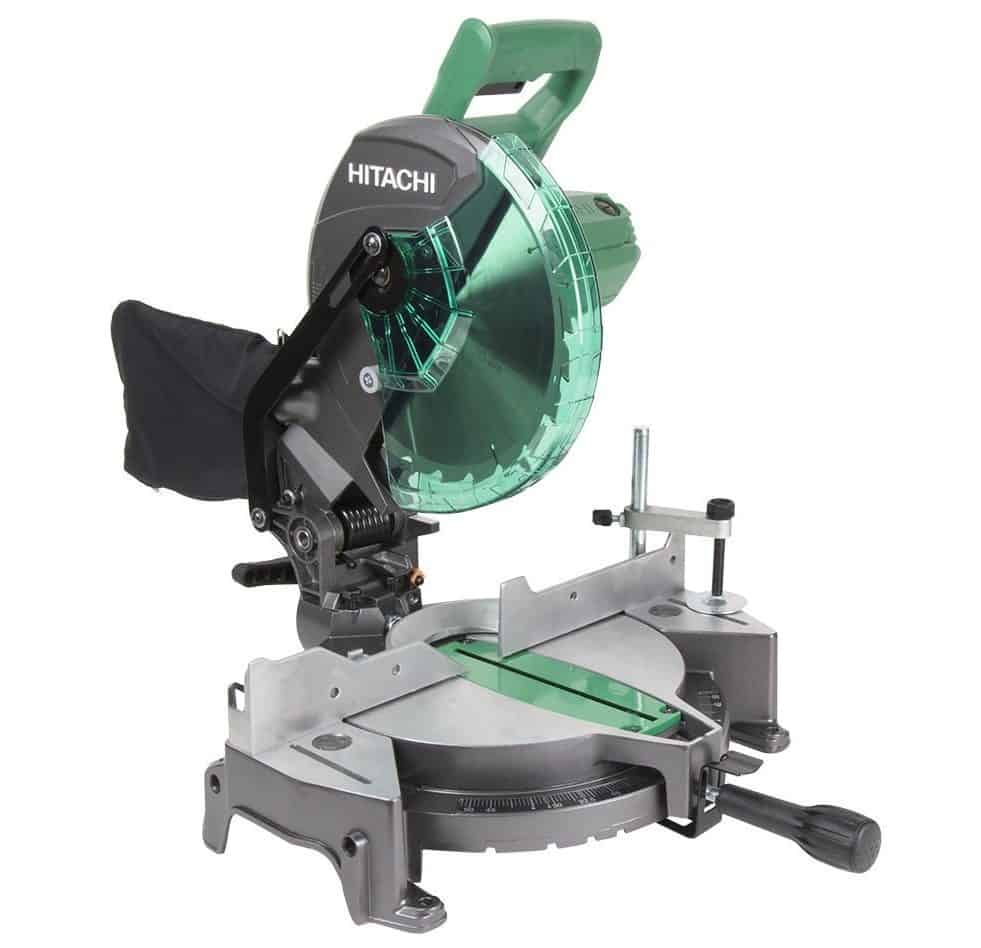 Miter saws are one of the more expensive cutting tools for your shop, but occasionally one comes out that's affordable… and reliable. Hitachi managed this feat with the C10FCG miter saw, and while it is missing a few flagship features, you'll be blown away by the price tag.
Simple is the first word to come to mind when you set eyes upon the Hitachi C10FCG. It doesn't have high rails, and the features are kept to a minimum. That's a good thing when weight is a concern as this little sucker only weighs 24.2 pounds.  Despite its size, this 10-inch saw has plenty of pop thanks to a 15 amp motor.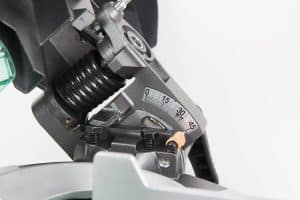 The motor can hit 5,000 RPMs, so it's quicker than our 12-inch models. Hitachi also made sure the brushes are easy to access and replace in the C10FCG which prolongs the overall life of the tool considerably. As for the rest of the components, the table and housing are in line with other saws, just not as fancy.
So, where did they skimp?
Whenever a tool is budget-friendly, the manufacturer has to cut a few corners to keep the cost down. While the motor, frame and other key components are well made, we can't necessarily say the same for the guard and a few other parts.
The blade guard works but feels as cheap as it looks. The knob for the miter is chintzy as well along with the thumb actuator surrounds it. Overall, the plastic just isn't as thick or durable as you'll find on pricier models. It won't be a problem if you take care of your tools although you will want to check everything closely out of the box.
You'll get a miter range of 52-degrees to the left or right and can set the bevel from 0 to 45-degrees on the left. The positive stops are set to 0, 15, 22.5, 31.6 and 45-degrees on the left and right. There is a flip fence as well which rises up 4-inches when you need to work with larger materials, but that's about it in the bells & whistles department. Despite a few shortcomings, it's quite impressive in action…
When less is more, and your budget is tight, the Hitachi C10FCG should be at the top of your list. Contractors may want something a little more versatile and heavy, but it's hard to argue with the price tag. It comes with a product manual, dust bag, a 24 tooth blade, and a 5mm hex wrench to go along with an outstanding 5-year warranty.
If you're looking for a bit more, there is a variant that comes with a better 10-inch 60 tooth blade and the UU240F heavy-duty stand. You can also opt for the C10FCH2 with a laser marker or the full kit with laser, blade and stand.
Features
15 amp motor
0 to 45-degree left bevel
Top handle
Vice assembly
24 lbs.
---
Pros
Easy brush access
Lightweight
Sweet price point
5-year warranty
Cons
Lack of extras
Flimsy thumb-actuator
Subpar dust collection
---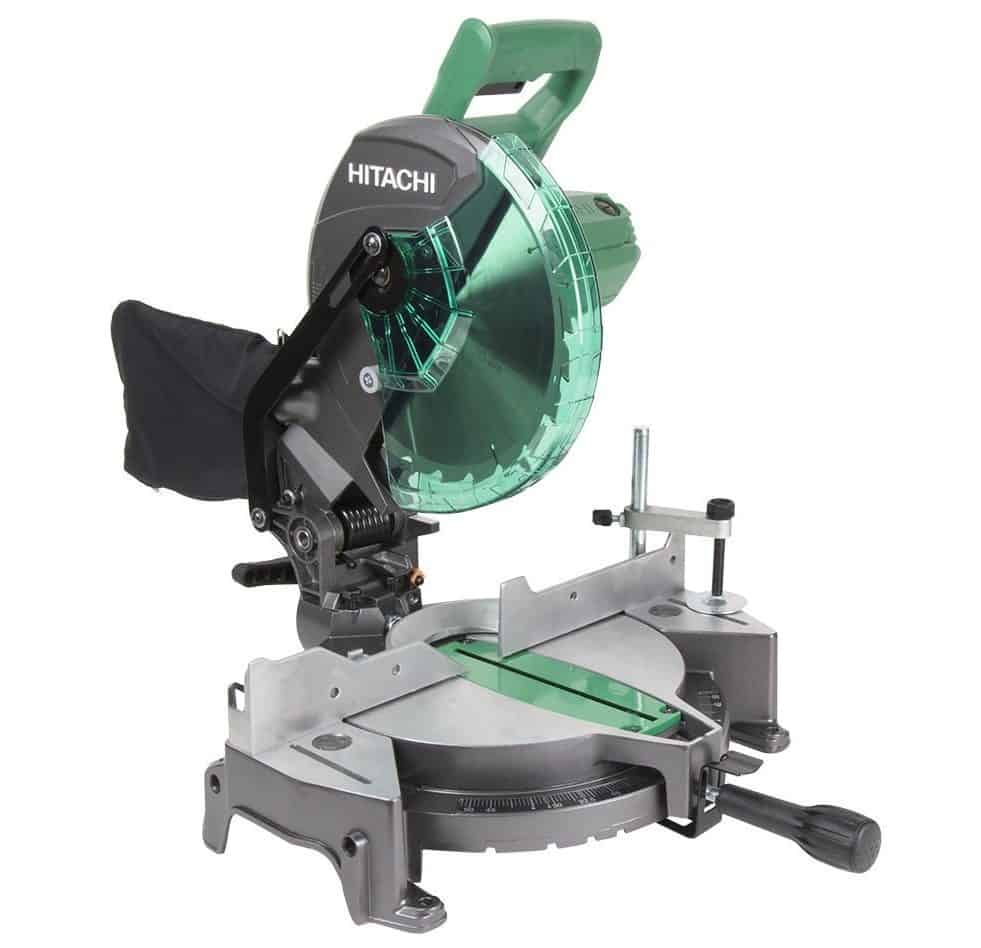 04
DeWalt 120V MAX Double Bevel Miter Saw Kit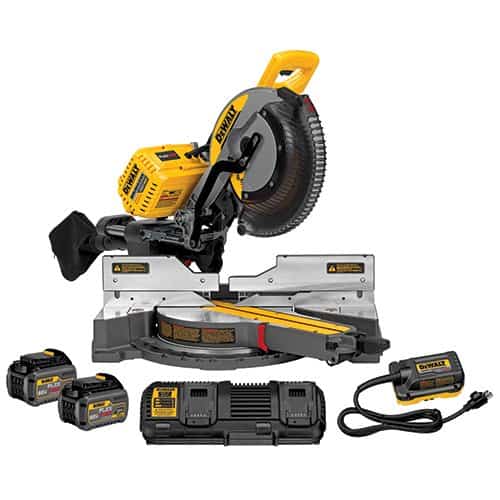 The DeWalt DHS790AT2 is a sliding compound miter saw with dual bevel capabilities, and a saw that shares plenty of similarities with the DWS780. The one area where they differ is critical however as this saw is cordless and runs off a 120-volt battery.
There was a time when you would get laughed off a construction site with a battery-powered saw. As batteries got bigger and technology progressed, that changed and tools like this saw will now make your coworkers envious. In this case, the power comes from DeWalt's FLEXVOLT system which provides a considerable amount of power.
How long do they last?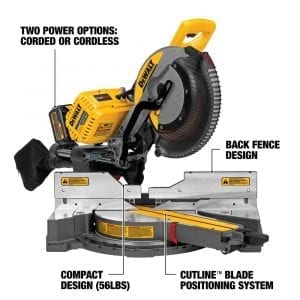 This particular kit comes with not one, but two 120 volt batteries. They don't measure the runtime in minutes or hours but cuts, and you can get up to 289 crosscuts in baseboard around 3 ¼-inches from one battery. That's impressive, and you may never need to pull out the backup. What's more, these batteries have tech inside that automatically adjusts the voltage when you switch tools.
While this battery is 120 volts, you can pop it into another tool from the company whether it's a reciprocating saw or something like the DCS7485B. Your 20V MAX circular saw will work with this power pack and you'll get a lot more runtime than you would normally. If you own other FLEX tools, the backward compatibility of this saw is a major bonus. On the off chance you do run out of juice, you'll be thrilled to know a corded adapter is included as well.
Whether you're plugging into a wall socket or using a battery pack, the saw's brushless motor packs a punch. It will last longer than others and sports the same XPS positioning system that uses a shadow as your cutline. Tall fences can handle crown up to 7.5-inches nested or base as large as 6-3/4" vertically. The miter detent plate can go 60-degrees to the right and 50 to the left with 11 detents. If you want to dig a little deeper into the details, the online manual has you covered.
At 56 pounds, the DeWalt DHS790AT2 is sturdy and an excellent choice for the shop or continuous cutting on the job. We also love the fact it's a 2-in-1 considering you're getting two battery packs, and an adapter for the wall as well. This 12-inch sliding compound miter saw comes with a 3-year warranty, dust bag, wrench, and dual charger along with the aforementioned 120-volt batteries and power adapter.
Features
Brushless motor
Cutline positioning system
x2 FLEXVOLT 120v MAX batteries
Dual charger
Wall adapter
---
Pros
Corded or Cordless power
Outstanding battery life
Backward compatibility
Great warranty
Cons
The price tag
Dust collection
---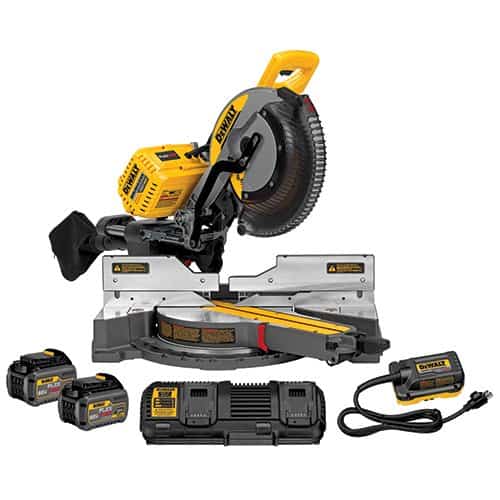 05
Makita LS1221 12" Compound Miter Saw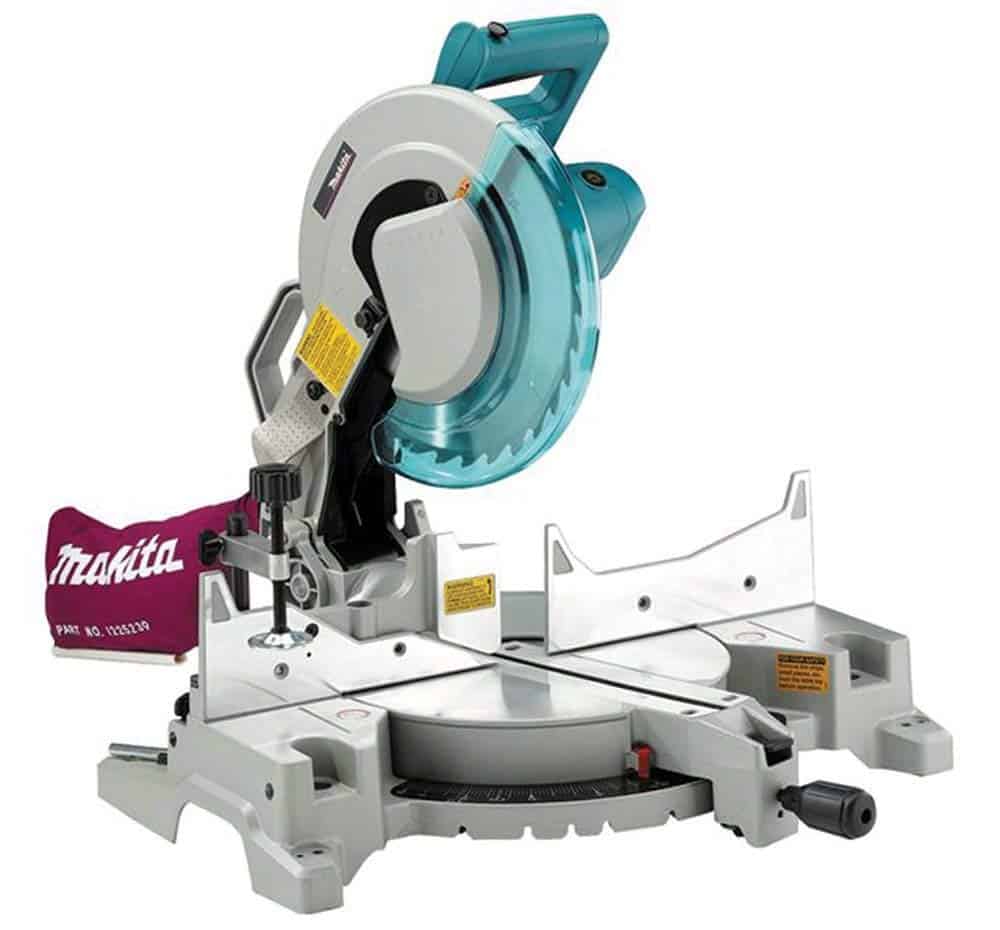 Makita has always been a fan favorite in the tool world, and we're big fans of the LS1221. It's a simple 12-inch compound miter saw that won't break the bank but is powerful and efficient with all the standard features.
This 12-inch compound miter saw is in the lightweight class at 37 pounds. It has a solid aluminum base, and we'll admit, it looks a little cheap design-wise. Looks can be deceiving however as it has a 15 amp direct drive motor capable of 4,000 RPMs. That's slightly faster than other models this size, and you'll feel it when you first pull the trigger.
On that note…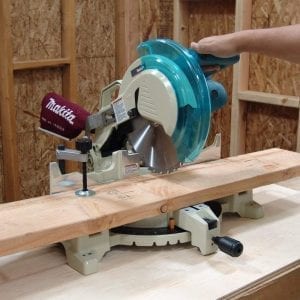 The Makita LS1221 is a breeze to use and comfortable thanks to the large D-handle. There's a lock on the outside of the handle, and the trigger runs the full length. It's comfy whether you are right or left-handed which makes it perfect for those long days on the job. The build is fairly basic, but it does have an electric brake and extensions that slide out from the sides.
The cutting capacity of this saw is comparable to other 12-inchers with a few exceptions. It can cut stock measuring 3-7/8" x 6" at a 90-degree angle and take on 5.5-inch crown molding thanks to a pivoting fence measuring 4.5-inches tall. The positive stops are set at 0, 15, 22.5, 31.6, and 45-degrees with nine settings from right to left.
One perk of this saw that isn't obvious from the photos is the included blade. Remember how we said they are usually pretty mediocre? Well, this one isn't as Makita included micro-polished 40 tooth blade which is far from cheap. We also recommend the Hitachi Fine Finish VPR blade which has 80 teeth if you're looking for a high-quality solution for hardwoods or need a fine finish.
The Makita LS1221 is a simple no frills saw that gets the job done. It's an excellent choice for homeowners in need of an affordable compound miter saw or for the job site.  It comes with a 1-year warranty, owner's manual, vise, two extension wings, wrench, dust bag, and that 40T blade.
Features
15 amp direct drive motor
4 ½" pivoting fence
Nine miter stops left to right
37 pounds
---
Pros
Plenty of power
Nice price tag
Comfortable handle
Ease of use
Cons
May need to be tuned in
Changing blades can be a pain
---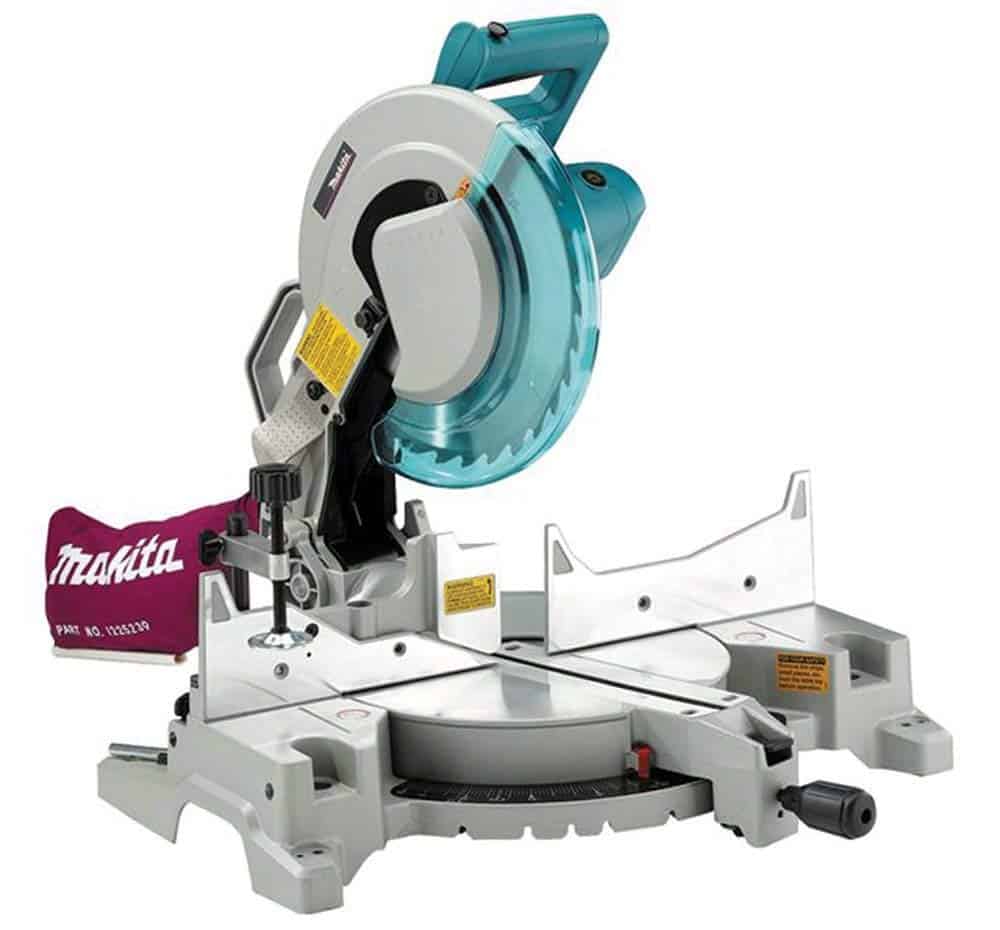 06
Delta 26-2250 Dual Bevel Sliding Cruzer Miter Saw
To the average consumer Delta's name may not ring out quite as loudly as other options on our list. Well, it would be a mistake to overlook the Delta 26-2250 as this saw is all about business and can handle larger stock than other sliding miter saws.
There's a lot to like about the Cruzer, but we're going to start with its flagship feature. That would be its cutting capacity. It's only 12-inches but has a unique arm capable of making an 18-inch crosscut. It's made from military grade aluminum and set up to let you adjust the travel to suit your preferences.
That's impressive, and so is the wide sliding fence which gives you the ability to cut crown up to 7.5-inches nested. Needless to say, vertical baseboard is no problem as long as it is under 6.5-inches or shorter. Miter capacity for this saw is set at 60-degrees to the right and 50-degrees to the left.
The bevels are 45-degrees either way with seven positive stops. The cutting capacity is impressive on the Delta Cruzer, and something you really need to see for yourself….
Almost every component of this saw is high quality and built to last. All the blue parts on the Cruzer are made from plastic, but everything else is aluminum or steel with a few exceptions. Ease of use is high as well thanks to features like a push-button miter detent override control. The only downside is the handle which is beefy but has a trigger set to one side.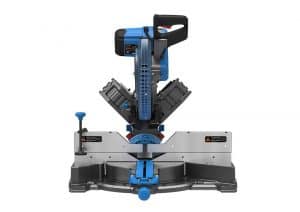 The 12-inch Cruzer has a 15 amp motor with a speed of 4,000 RPMs and an electric brake that will slow things down quickly. It has a 1-inch arbor hole and weighs 57 pounds although it won't take up much space on a shelf with its design. Its 25.5-inches wide and only 30-inches deep as that cool sliding arm cuts down on the space required to run this saw.
You can scoop up the Delta 26-2250 Cruzer in two different sizes as there are 10 and 12-inch models. Both come with the same accessories out of the box which includes a blade wrench, owner's manual, work clamp, and dust bag. It comes with a blade of unknown origins and a 5-year warranty as well, but you'll want a stand for this beast unless it will reside on a bench.
Features
15 amp motor w/ electric brake
Military grade aluminum arm
Wide sliding fence
1.5-inch dust port
---
Pros
18" cross cut capacity
Space saving design
Adjustable fence lock for crown
5-year warranty
Cons
No laser or shadow marking system
Some users reported play in the blade (side to side)
---
07
Milwaukee FUEL 18V Lithium-ion Miter Saw Kit
While we're big fans of DeWalt's cordless saws, they aren't the only company with a lithium-ion powered miter saw. The Milwaukee 2733-21 is another brushless beast, and one that happens to be the smallest saw on our list as well.
Most of our choices are either 10 or 12-inch saws whereas this accepts 7-1/4" blades. While small, it's still a full featured saw that slides and allows you cut bevels on both sides. Its size makes it the lightest saw around at 28 pounds with the battery intact. It works with the company's M18 FUEL system, and this battery is rated to run longer than most.
Size helps when it comes to battery life as larger saws do require more juice. Thanks to the brushless motor and something called REDLITHIUM tech, the XC5.0 battery can give you 600 cuts on a single charge. That "should" be more than enough to get you through a day; if not, you're definitely in the Pro class. Just like with DeWalt's line, you can use these batteries with other cordless Milwaukee tools including their 16-gauge finish nailer.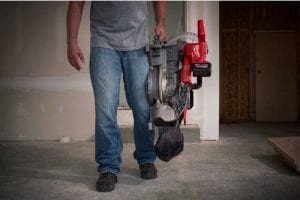 What about cutting capacity?
This capable saw has a no-load speed of 5,000 RPM, and dual bevel stops at 45-degrees to the left and right. The vertical capacity (against fence) is 3.5-inches, and it deals with 2-5/8" nested crown with ease as well. The detent override system lets you fine-tune your angle if you don't dig those detents and the cam lock set up is stout.
While you won't get a laser on this saw, it does have a "shadow cut" system to help you keep those cuts straight. Other features to note include a top and side handle, an electric brake, and a very comfortable handle that's suitable whether you're left or right-handed. Between its size and design, it is very easy to use.
Milwaukee has included everything you need to get started with this saw except for a stand. It comes complete with one 5.0Ah battery, a dust bag, blade wrench, multi-volt charger, user's guide, and a carbide tipped blade. It has a 5-year warranty against defects with the tool itself, and you'll get a 3-year warranty on the batteries. If you want to a battery with a bit more juice, the 18V 9.0Ah battery pack is a fine choice.
Features
Dual bevel sliding saw
3 5/8" nested crown capacity
Cam locking detent system
28 pounds
5-year warranty
---
Pros
600 cuts per charge
Two handles
Show cut line indicator
Reasonably priced
Battery and charger are included
Cons
Could be too small for some
Dust collection is average
---
08
Makita XSL06P 18V LXT Brushless Sliding Miter Saw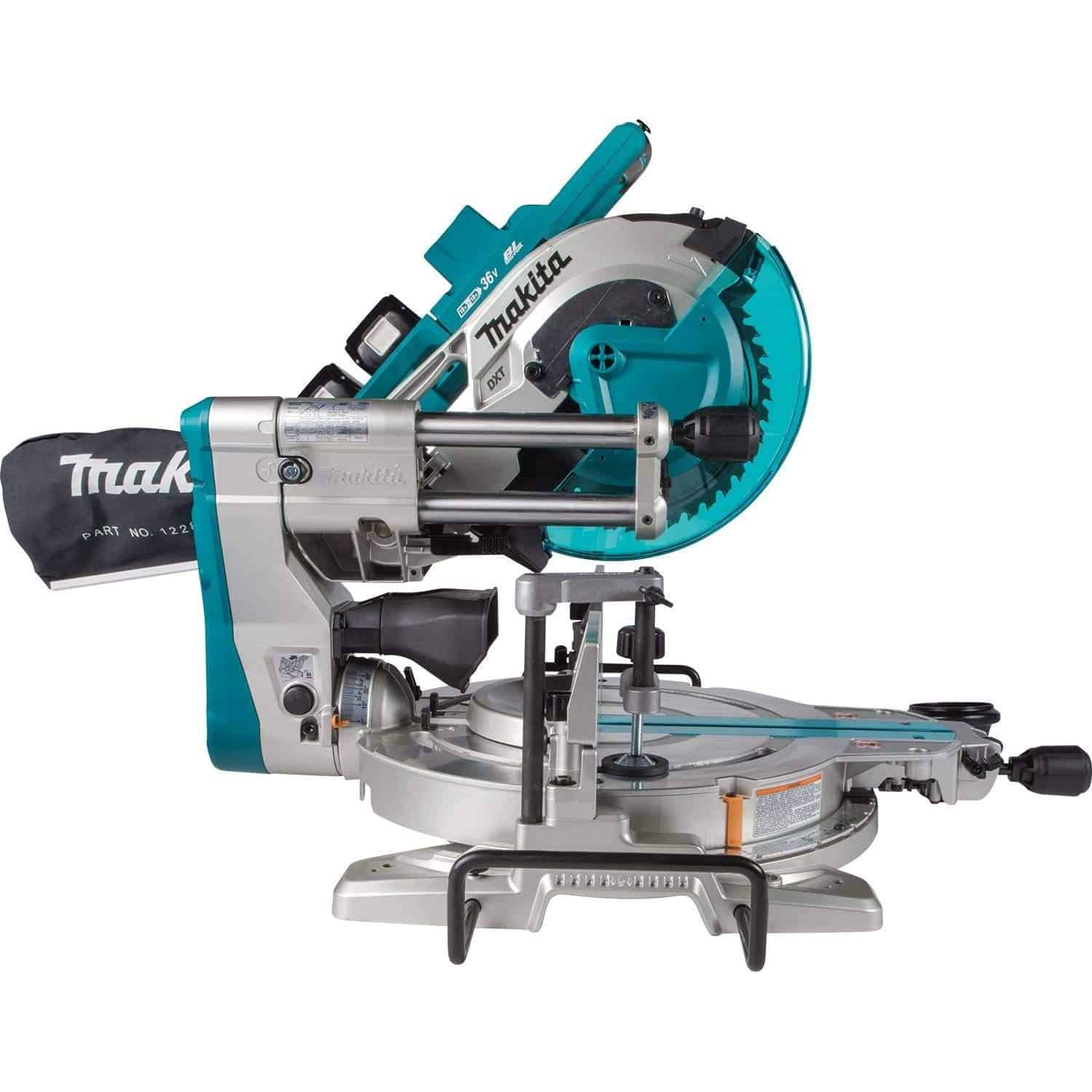 If you are a Makita fan but weren't necessarily bowled over by the basic Makita LS1221, this one may be more your speed. The MakitaXSL06PT is an 18-volt cordless miter saw that has all the bells & whistles you could ask for.
This 10-inch sliding compound miter saw spins blades at 4,400 RPM and has a brushless motor. It's efficient, which means you'll get more power from your batteries and it will last longer than its carbon brushed brethren. An electric brake quickly slows the blade down while some nifty built-in tech controls the speed and torque depending on the material you're cutting.
A saw that can adjust the speed as necessary is handy as it will power up when you're going through harder woods that would bog done a normal 10-inch saw. We dig the build quality on the Makita XSL06PT and think you will as well. It's mainly made from metal and what little plastic that's used is thick, not chintzy.
Work in a closet… or from a bench
The design of this saw puts it into the "space-saving" category as the "sliding" mechanism is fixed at the rear. You can set the back of this machine dead against a wall – something only a handful of other machines allow. This feature and the size of the saw itself make it perfect for jobs where space is limited and time is essential.
All the knobs and levers are easy to access on the Makita XSL06PT. The handle is nice and wide as is the trigger; it's a very easy saw to use. The bevel lock knob on the front is smaller than usual as well, which is a good thing in this case, and nobody is going to complain about the cutting capacity given its size.
The dual rail system and direct drive gearbox give you more vertical cutting capacity of 5-1/4". You can do nested crown up to 6-5/8" or crosscut a 4 x 12 post at 90-degrees. The bevel lock can go from 0 to 48-degrees left to right, and the miter settings are at 0 to 60-degrees both ways. Positive stops on this saw are set in the usual spots on the left and right sides of the blade at 0, 15, 22.5, 31.6, 45, and 60-degrees.
Do two batteries mean twice the power?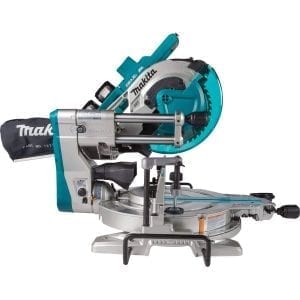 One of the first things you may notice when looking at the XSL06PT is the fact it takes not one, but two batteries. While that would be an advantage in many tools, it's an odd choice here. The batteries are 18 volts and 5.0Ah with a rating of 334 cuts per charge. That's about the average given its size, but those other saws only need one battery for a comparable runtime – not two.
Either way, the LXT batteries should provide more than enough power for a day's job, and you'll have two batteries to use with other tools from the company as well. It doesn't hurt that the rapid charger can bring that battery back to full in around 45 minutes either. Other features to note on this sliding miter saw includes a built-in laser to help you get a straight cut and a dust collection system that works better than others we've seen.
The Makita XSL06PT is one to consider if you're in the market for a 10-inch slider that you can use anywhere. It's a little heavy at 60 pounds, but portable and comes with more extras than most. You'll get the standard instruction manual along with a 5/8" 50 tooth micro-polished blade, a vertical vise, blade wrench, rapid charger, dust bag, triangular rule, and those two 18v lithium-ion batteries. It has a 3-year warranty on the tool, batteries, and charger.
Link for specs chart
Features
Brushless motor 4,400 RPMs
Automatic speed change tech
x2 18V LXT batteries
Built-in laser
Rapid charger
---
Pros
Super simple to use
Small footprint
Excellent dust collection
Great build quality
The extras
Cons
Price compared to larger cordless models
Laser isn't automatic
---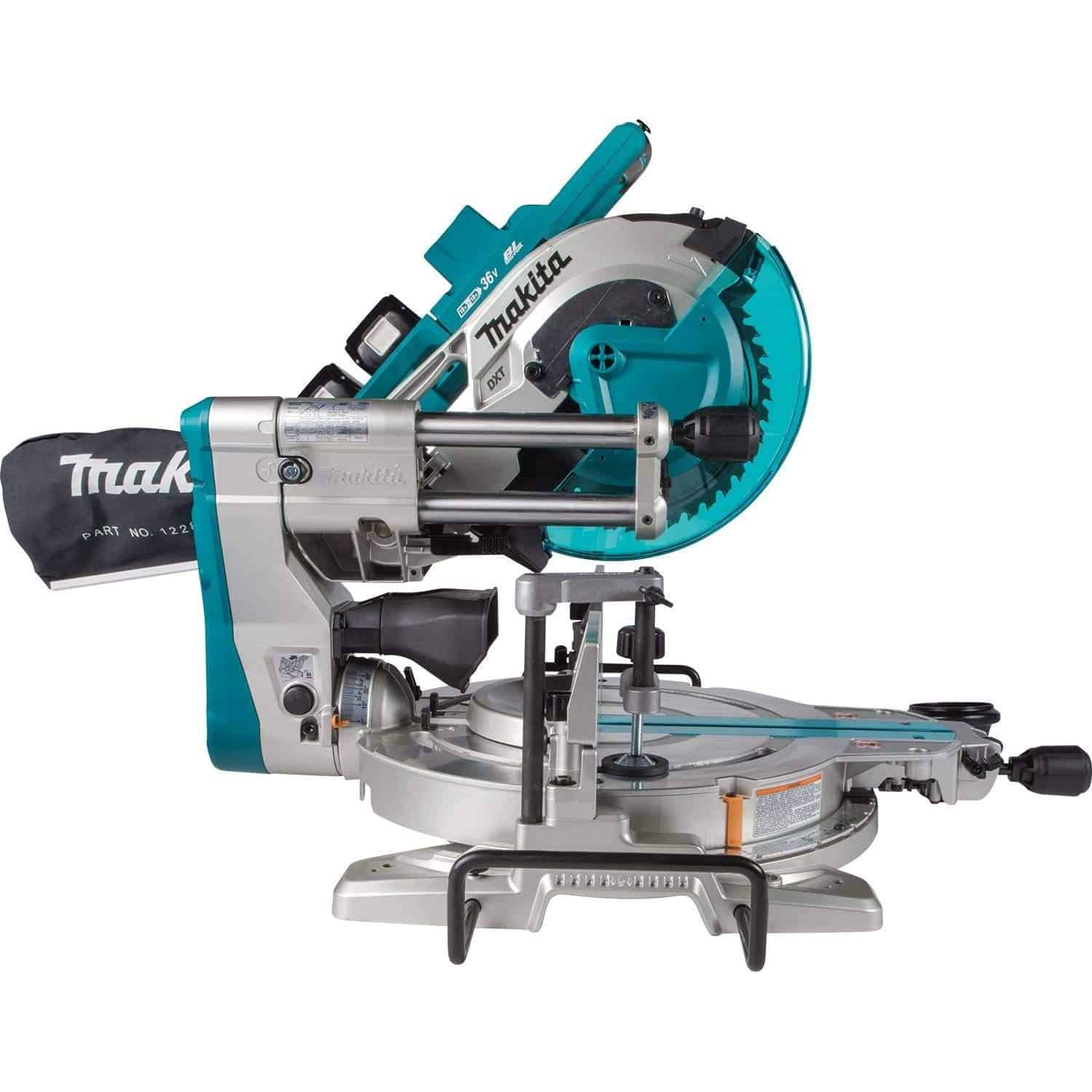 09
Porter-Cable PCXB115MS Compound Miter Saw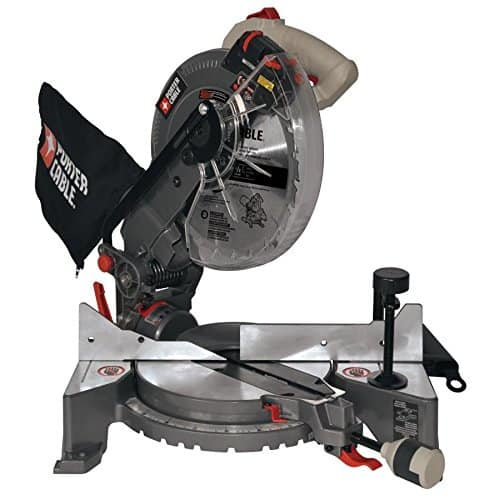 If you're still with us and haven't found the best miter saw to suit your needs, you may have noticed several of our options are built to save space. Well, they don't hold a candle to the Porter-Cable PCXB115MS when it comes to that as this saw has a unique trick up its sleeve…
To say this saw is compact would be an understatement. It folds up when not in use, which dramatically decreases its overall footprint when it's time to store the machine. It comes with a small plastic stand to keep all the components off the ground, and while it isn't the sturdiest, it certainly gets the job done. We're also pleased to say it's a breeze to set up as you can see from the video below…
Obviously, the design does have a few drawbacks, but nothing extreme. The 10-inch Porter-Cable PCXB115MS has the standard 15 amp motor with a maximum speed of 4,500 RPMs. It is a single bevel saw, so you can only go from 0 to 47-degrees on the left. The miter range gives you a bit more leeway with 0 to 55-degrees to the right and 0 to 47-degrees to the left.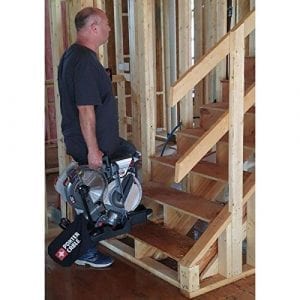 The cutting capacity for this funky miter saw is about what you'd expect with 2 x 6 and 4 x 4 stock at 0-degrees and 2 x 4-inch material at 45-degrees. It's not what we could call high capacity, but you'll get accurate cuts thanks to a built-in adjustable laser on the front. The design doesn't really allow for any other extras to note, but the laser is a welcome addition and unexpected given the price point.
You'll get the usual array of accessories with the PCXB115MS including a dust bag, manual, plastic base, blade wrench, clamp, and a carbide tipped blade. It has a solid 3-year warranty and is a nice alternative to traditional miter saws if you don't need an industrial grade machine.
Features
15 amp motor
Folding head
Adjustable laser guide
2-1/2" dust port
---
Pros
It's a folding miter saw…
Budget-friendly price tag
3-year warranty
Easy to store
Cons
Limited capabilities
Plastic parts aren't as sturdy as we'd like
---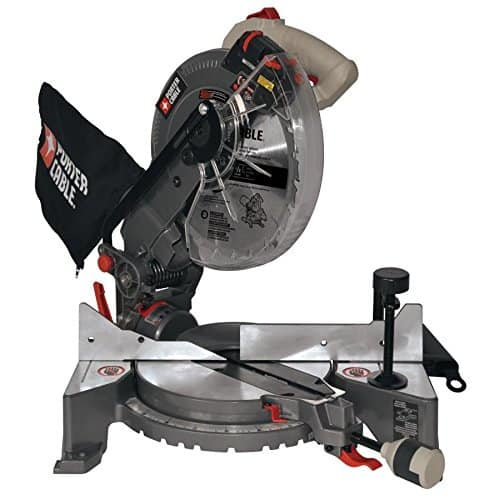 10
Hitachi C12RSH2 Miter Saw with Stand and Blade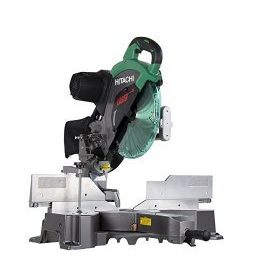 The Hitachi C10FCG is a great, affordable saw, even if it's a little basic. The C12RSH2 is the next step up from the company as its larger and considerably more capable. It can make any cut a wide variety of cuts and this particular bundle will have you ready to roll straight out of the box.
Hitachi pulled out all the stops for the C12RSH2 aside from the positive ones which allow you to set your miter range. All the common ones are included from 0 to 45-degrees on the left and 0 to 57-degrees on the right. The bevel range is 45-degrees left and right. This is 12-inch saw provides you with plenty of clearance between its size and sliding nature as you can see from the tech specs…
Specs list for photos (90 & 45/45-degree crosscut and bevel measurements)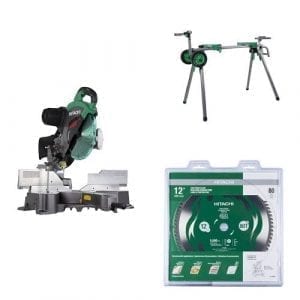 This saw can slice through wood with the best of them and is well built with a thick top guard, spacious table and a weight of 59 pounds sans the stand.  A few of the plastic parts feel a bit cheap, but none are horrid, and users love the handle. It's vertical and sits on the housing above the blade. While the trigger is traditional, the handle allows lefties or righties to use this saw with ease.
Hitachi went with a 15 amp motor on this saw which hits speeds of 4,000 RPMs. It's a belt-driven system with carbon brushes although you can access them for cleaning or replacement thanks to the design. It also has a built-in laser to help guide your cut along with a decent dust collection system and large sliding rails.
The extras…
One of the big draws for this saw is what comes with it. You can purchase the saw by itself, with a stand or with a blade and stand. We're recommending the latter unless you already have a stand as you're getting a lot of bang for your buck.
The UU240F has a steel frame and can hold 400 pounds with ease. There are material support extensions that give you an additional 8 feet while a tool-less height adjustment system makes setup simple. The quick release mounting brackets help in that regard as well, and everyone can get behind non-marring rubber feet and wheels to let you roll everything around.
12-inch miter saw blades aren't cheap, and while the one that comes with the saw isn't bad, the Hitachi 115436 is better –especially if you're doing fine finish work. It's an ATB 80 tooth blade with a thin kerf from the company's VPR lineup and an excellent choice when working with trim or molding.
The Hitachi C12RSH2 is a great tool for beginners, and we love this kit as it has everything you need. While the build quality may be a little underwhelming in a few areas, it strikes all the right notes where it counts. It's hard to argue with the price as well considering you're getting a full kit for the price of a bare tool from other brands. The saw comes with the aforementioned extras, a 17mm box wrench, dust bag, instruction manual, and vice assembly.
Features
Compact design with zero rear clearance
Carbon brush access
Large sliding fences
Vertical ambidextrous handle
---
Pros
Comfortable ambidextrous handle
Laser marker
5-year warranty
Compact slide system
Cons
Dust collection system is so-so
Uninspiring design
---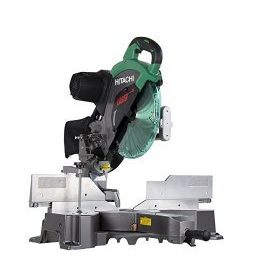 11
Craftsman 10" Sliding Compound Miter Saw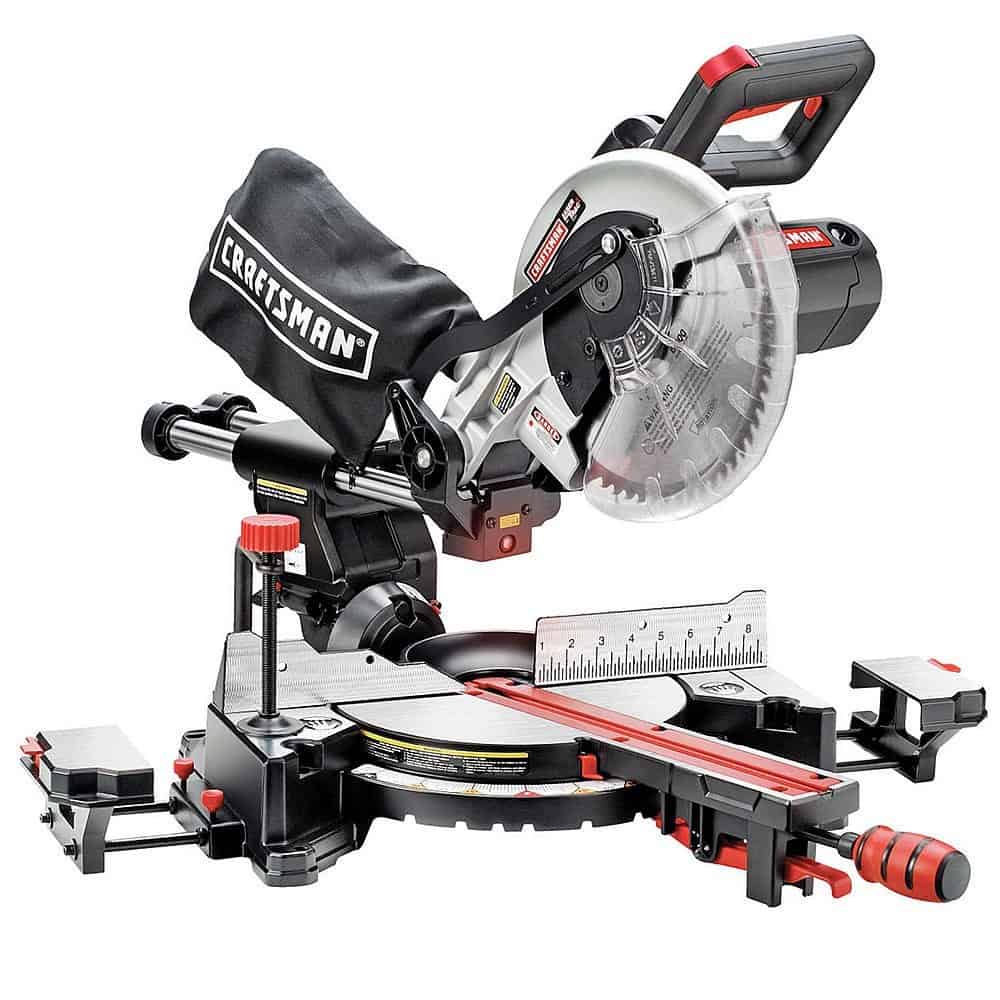 Craftsman tools have always been an affordable option for consumers that need a robust set of wrenches. While we don't have too much experience with corded tools, the Craftsman 21237 is an interesting alternative if you want a sliding saw, but don't need dual bevel capabilities.
Typically when you buy a sliding compound miter saws, it bevels both ways. The style dictates a higher price, so manufacturers tend to cover all the basics. The 21237 is an exception this 10-inch saw only bevels to the left with three stops at 0, 33.9, and 45-degrees. As it's a sliding miter saw, you can still deal with 12-inch wide boards, however, and the miter capacity is 45-degrees on the left and right with positive spots at 0, 12, 22.5, 31.6, and 45-degrees.
Is it smooth?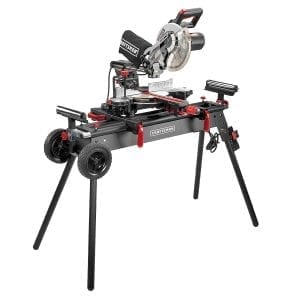 Well, that depends on your definition of smooth. It moves freely and will give you accurate cuts, but won't feel the same as a high-end compound slider from Delta or Makita. The design also means you'll need room for clearance in the back although it's relatively light at 39 pounds. We also like the sliding extensions even if the fences are fixed.
The Craftsman 21237 sports a 15 amp motor that's on the higher end of the speed range at 4,800 RPM. You'll get a wide trigger on the handle which has two built-in switches but isn't the most comfortable we've come across. The blade guard feels a bit cheap as well, and the build quality is about what you'd expect for the price. That's not necessarily a negative; just don't expect this to be the Rolls Royce of the saw world.
On that note…
It's obvious that you'll have to deal with some thin plastic on the Craftsman 21237. The one area you'll want to be careful with is the detent lock and knob which protrudes. The marker is flimsy, and that detent plate isn't a plate at all, but a sticker. It may seem odd, but it shouldn't present a problem unless you use odd angles – all the stops are preset. That said, the warranty is only 1-year so check the build quality out of the box.
While Craftsman may have cut a few corners with this saw, they did include a built-in laser that pulls power from the wall, not tiny batteries. It also comes with a 60 tooth carbide tipped blade, owner's guide, stop block, clamps, dust bag, blade wrench, quick release vise, and extensions. Despite what the photos show, it does not come with a stand although this one can handle the 21237 and other saws as well.
Features
Dual slide bearing rail system
15 amp motor
60 tooth carbide blade
39 pounds
---
Pros
Nice price tag
High speeds of 4,800RPM
Telescoping extensions
Built-in laser guide
Cons
Short warranty
Sticker for a detent "plate"
Build quality in certain areas
---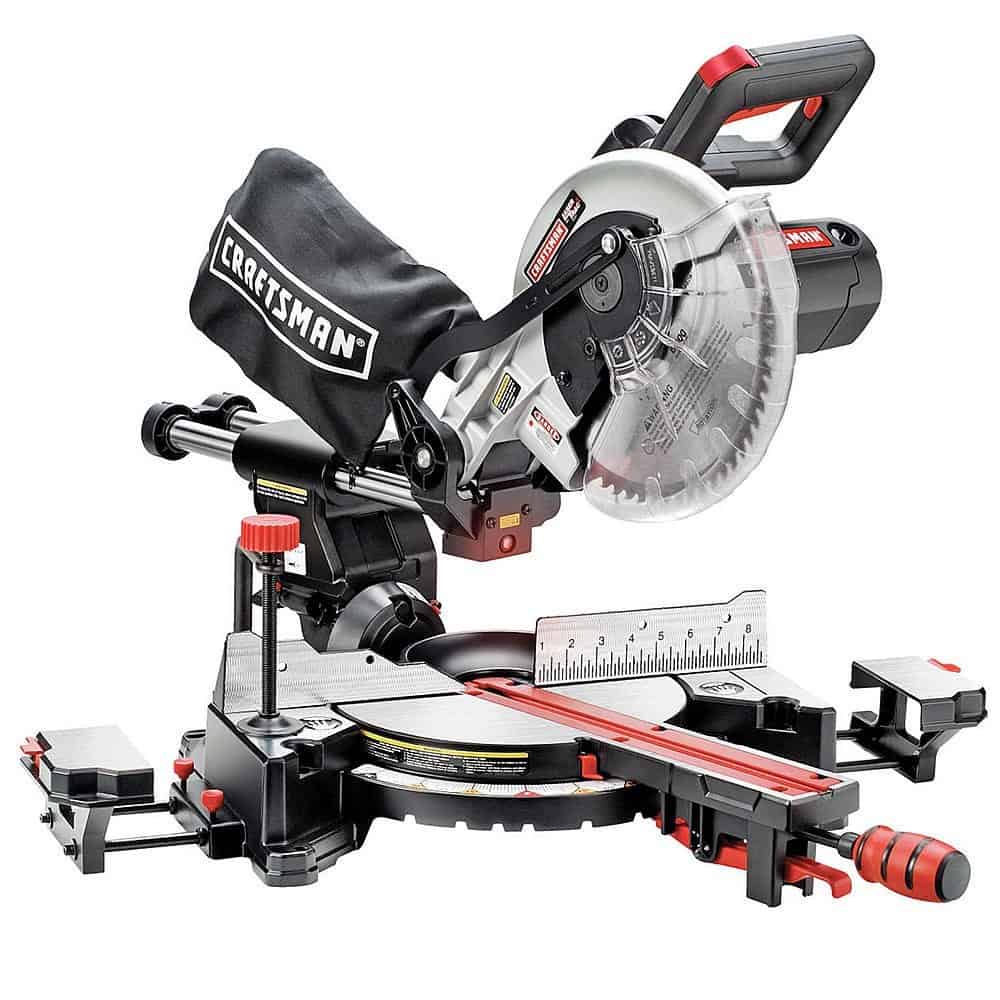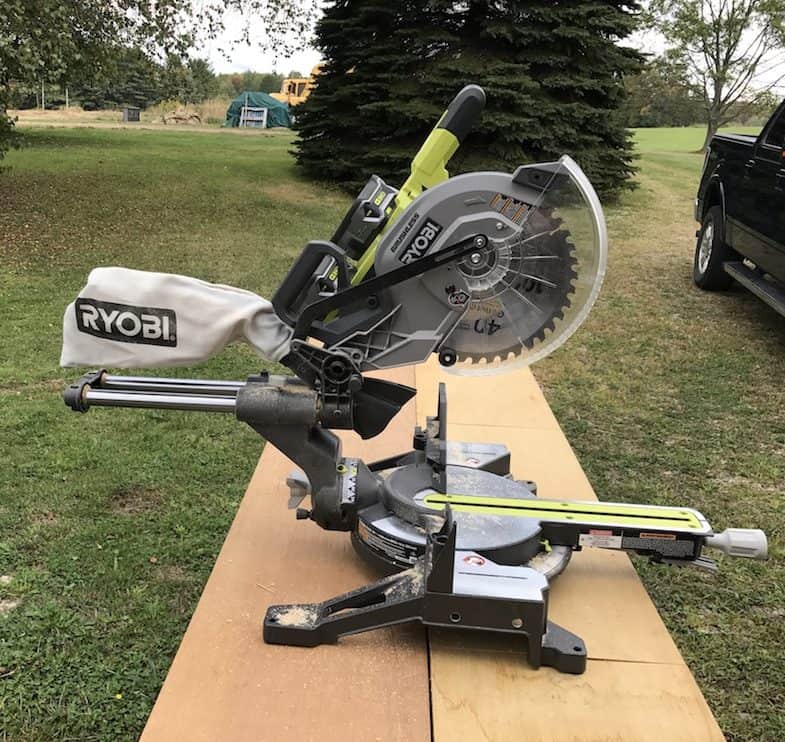 Safety Tips
A miter saw has a number of features built in that will help keep you safe, but accidents can still happen. We've already told you to wear goggles, and you also need to ensure the blade guard is in proper working order before pulling that trigger.
Need to cut a short piece of stock?
While it's tempting to simply hold a short piece of wood to take an inch off, don't get lazy – use a clamp or vice. When that little piece of wood you cut slides down the table, wait for the saw to stop before removing it from the table.
You'll also want to wait for your saw to reach full speed before starting your cut and should never have to "force" it through the wood. Those are just a few simple tips; you can read more about miter saw and woodworking machine safety here if you'd like to know more.