The best miter saw can do more than just cut trim. They are versatile tools, and the next step up from a chop saw. Finding the right one can be difficult if you don't know the difference between a basic model and a compound slider, which is where our team of experts step in.
Research You Can Trust
Great power tools aren't cheap, and even a basic saw in the budget class can set you back well over a hundred bucks or more. This is why it's important to choose the right miter saw the first time around, and why we put our team of experts through the wringer for this particular set of reviews.
To find the top options in the miter saw world, we researched dozens of miters saws from leading brands. This includes the big dogs with Makita, DeWalt, and Milwaukee along with brands like Rigid and Genesis.
While we are users of power tools here at Bestazy, we referred to experts in this area as well. From verified customer reviews to in-depth breakdowns from professional craftsmen and tool aficionados, we carefully considered hundreds of opinions.
THE WINNERS
Miter Saw Buyers Guide: 2018 Edition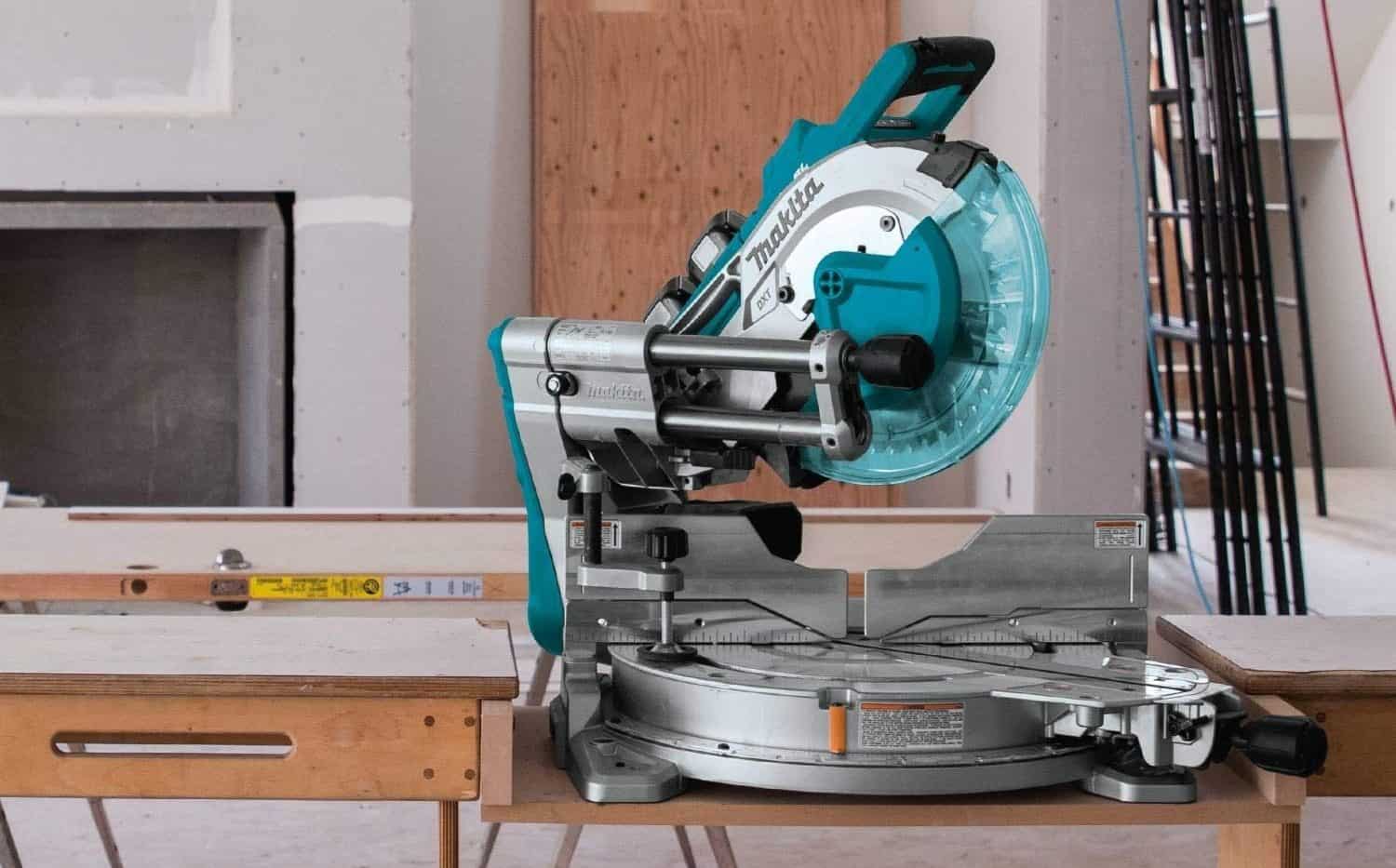 If you're looking for a miter saw, you already know what they can do or at least have a general idea of their prowess. What you might not know is there is more than one kind of saw, and the braking system is just as important as those indents manufacturers love to talk about. We're going to cover those areas along with anything else you need to know in order to make an informed buying decision.
Why Do You Need A Miter Saw?
It's always a good idea to have a rough price point in mind when shopping for larger power tools, but before you can do that, you need to decide why you need the saw in the first place.
Are you a weekend warrior that loves to work on projects in the garage?
If so, you may want a top-tier saw decked out with all the bells & whistles, but that could be overkill for a dog house you want to build or other DIY projects. You might not even need a dual bevel saw; it all depends on your needs.
On the flipside, professionals will need something with plenty of horsepower and a sturdy frame. Bigger is usually better if you do industrial work or plan to use the saw on a daily basis. Battery-powered miter saws are truly a reliable option now as well – something we couldn't even imagine 5-years ago.
Styles Of Miter Saws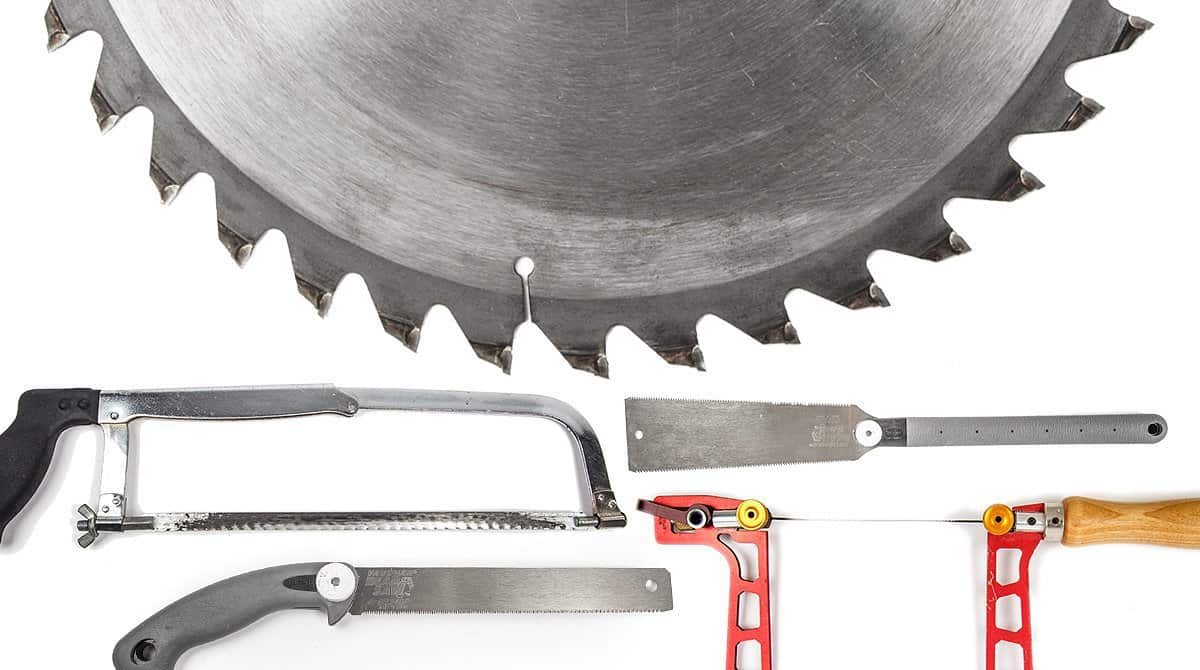 As mentioned, a miter saw is more than just a glorified chop saw. They can all perform a variety of cuts, and while size may be the first thing you think of, it's the easiest to figure out. You need to think of the style before considering anything else…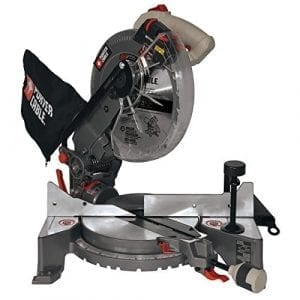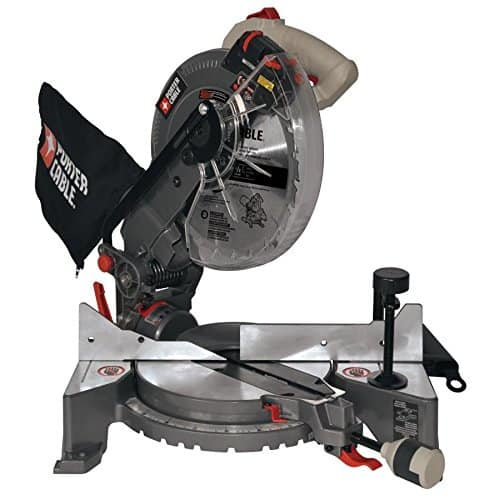 Base Model Miter – Any miter saw we refer to as "basic" is a barebones offering. They don't do tile but can perform a miter and crosscut with ease. They are still handier than chop saws, but may not have the same oomph. Basics saws in this class are good for light to medium-duty use and usually quite affordable.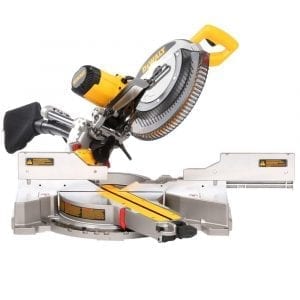 Compound Miter – If you hang a lot of crown molding or love those angled cuts, you'll want a compound miter saw. These saws always tilt and can be single or dual bevel depending on the model. The latter is more expensive but gives you far more versatility.
Sliding Compound Miter Saws – Currently, at the top of the food chain, a sliding compound miter saw can do everything the other variants can. The difference is the cutting capacity as you'll get more of it due to the unique sliding mechanism. They are ideal for longer stock or lumber and are typically dual bevel as well.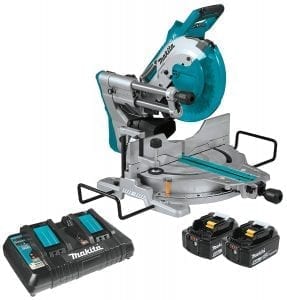 Cordless Miter Saws – Simply put, these miter saws are in the compound class and can tilt or slide with the best of them. You're obviously limited by the size of the power pack although we think you'll be pleasantly surprised by what 120-volts can do.
But what about the size?
A 10-inch compound or basic miter saw, can cut through boards up to 10-inches wide. If you need to go wider, you'll want a larger saw or one that slides. Manufacturers will tell you the exact measurements you can cut with each tool, and we'll highlight those in our reviews below. There are pros and cons for both 10 and 12-inch models, however…
While a 12-inch saw gives you a larger blade and longer cut, they cost more than a 10-inch model to operate. They typically have larger motors, and while the electric bill usually isn't an issue, the blades could be. Smaller blades are more common in your local hardware store and less expensive as well.
There are also miter saws which range between 7 to 8-inches. They spin at a higher rate of speed due to their size and are capable of cutting regular sized stock just as quickly as larger saws. Most of our top options are in the 10 to 12-inch range, but we've included a few smaller alternatives as well.
Important Parts of a Miter Saw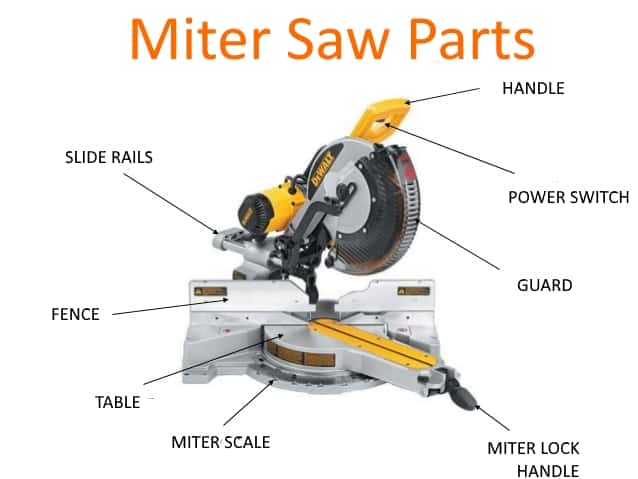 Miter saws aren't overly complicated, but there are several parts you'll need to familiarize yourself with if this is your first one.
Miter Saw Tables – The table is where you'll put your stock or material, and aluminum is a popular option. They rotate and have an insert in the middle for the blade. They can also get gummed down with dust easily on some models, so you'll want to keep it clear from debris, so it's easy to turn and lock.
Fences – Miter saws with taller fences or ones that slide are ideal and can allow you to work with larger materials. There's no perfect size, but anything in the 10 to 12-inches range generally enables you to work with normal sized base and crown molding.
Handle and Triggers – This may seem like a fairly unimportant area, but it's one you need to pay close attention to. The handle design can make or break your user experience – especially if you're a lefty.
Nobody wants to use their ring and pinky fingers to mash a trigger, so look at the width if you need something ambidextrous. If you'll use it for extended periods of time, you may want a cushioned grip as well.
Blade Guard – Every miter we chose has a blade guard regardless of its style. It keeps the blade covered when the arm is raised and raises itself as you move the arm and blade down towards your workpiece. It's not a make or break feature as they are common these days, but you need to make sure it's well made with plenty of venting and transparent.
The Motor – While there are a few oddballs, most saws on our list are between 10 to 15 amps although the RPMs vary. Trust us when we say all will get the job done, so focus on the type of motor. Motors with brushes are the most common and affordable but don't tend to hold up as well as your next option. Those brushes can be replaced or cleaned in some cases, however, which will lengthen the life of your tool.
If you really want the best, you'll want to go with a brushless motor. They are far more efficient, and while we could bore talking about energized charges and armatures, these guys explain things better than we ever could. Another thing to consider is the "kick" as some saws start a little more smoothly than others, but all good miter saws will have an electric braking system.
What about cordless miter saws?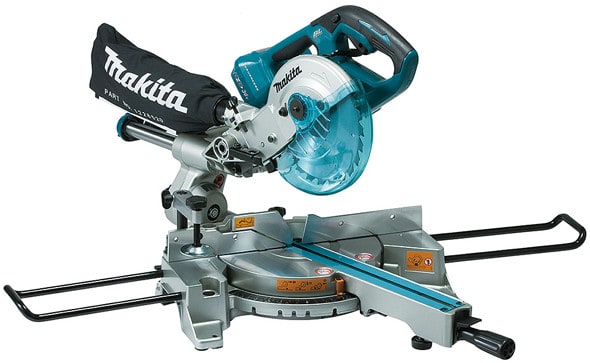 Well, you still need to consider the amperage of the motor although we're pleased to say the best cordless miter saws have brushless motors in this class. That means battery life is paramount, so key in on amperes or Ah measurement on those battery packs.
Basically, the larger the number, the better as you'll get more cuts out of your battery. 5Ah is a good starting point for this type of tool, but there are extended battery packs available. All of our cordless options will give you 250+ cuts per charge at a bare minimum.
Levers, knobs, and detents…
Each saw that tilts or turns will have a locking knob mechanism for the table and a miter scale which sits on a detent plate. They will also have levers to lock in the bevel angles and "positive stops" set along the scale for miter cuts and bevels.
All of these components fall under the ease of use category, and where those knobs and levers are placed can make or break a miter saw. In most cases, you will have to reach around the back to make a few adjustments – there's just no way around it on budget-friendly options or basic saws.
Manufacturers also tend to make table handles a bit longer than they should. While it's nice to have a table that turns and locks into those preset stops, it's all for naught if the cheap handle snaps off.
Stops are set at the most common angles used by woodworkers, and typically run from 0 to 60-degrees depending on the model and whether it's the miter or bevel angle. All miter saws will have something called a detent override in the front as well which allows you to set the "stop" anywhere you'd like.
Dust Collection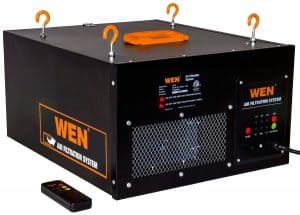 We'll keep this simple by saying most miter saws have subpar dust collection system. It's a fact as a back attached to the back of your saw will only get you so far. The best models have good ports that allow you to adapt to a different size but the good old shop vacuum is still your best bet.
No matter how you choose to clean up dust, we highly recommend you do it on a regular basis. Nothing gums up the work like sawdust, and it's something that's very easy to deal with if you simply swipe it away each time you use your saw. Alternatively, a solid air compressor is a must-have for any wood shop.
Extra features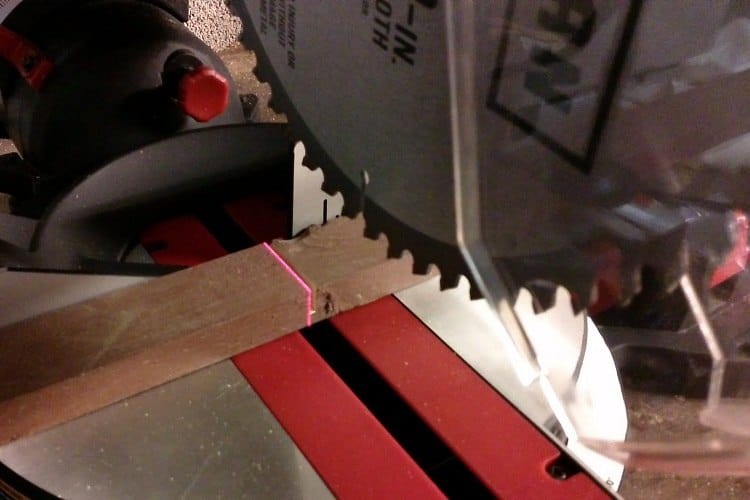 There aren't too many features you'll need to look for when it comes to extras. Lasers are the most popular, but far from common on anything less than a high-end saw. You can usually buy an add-on, and some companies prefer to use a shadow-based solution instead.
Work lights are another option that's hit or miss. We've seen more of those on cheap saws than expensive ones. Aside from models with sliding fences and extension or those with space-saving designs, there's not a lot to dwell on in the flagship feature department. Instead, you'll need to focus on the next area in our guide.
What's in the Box?
It's a question made famous by Brad Pitt in Se7en, and something to take just as seriously in the miter saw world. We won't spoil the former, but can tell you exactly what you'll get when you crack open the box on your brand new miter saw…
Not much actually. They all come with a dust bag, blade wrench and the trusty if somewhat hard to read instruction manuals. You'll usually get a vertical clamp to help keep your work steady, and a blade is common although the quality may be fairly poor.
If you need a new blade for trim work, 80T blades are a good place to start, and this quick guide shows you how to tell the difference between an ATB blade and one with a triple chip grind.
What else will I need?
If you're lucky enough to get a quality blade out of the box, there are still a few things you'll want to have on hand regardless of your project. If you have a shop or plenty of tools in your garage, skip ahead to our top choices as this section is for the rookies.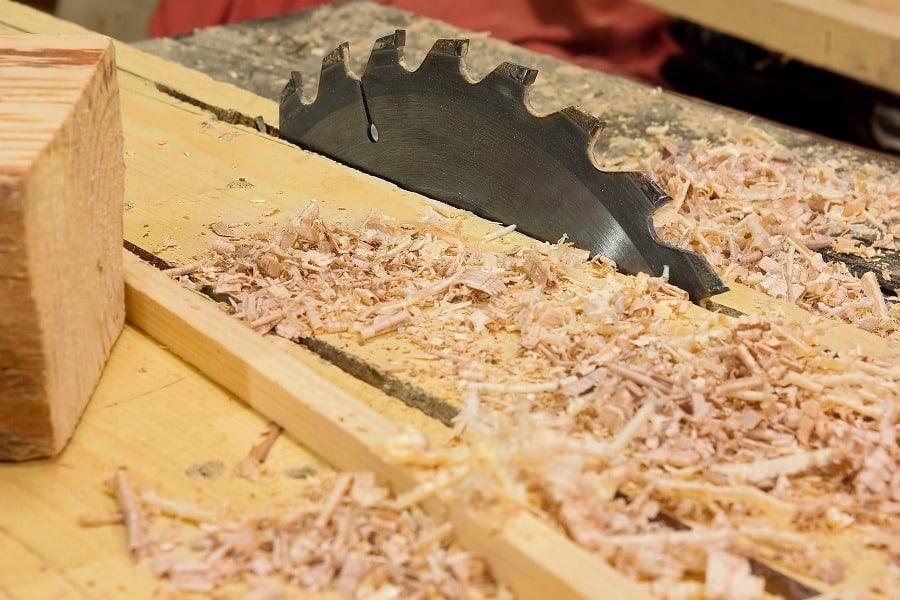 Our top recommend accessory isn't for the saw at all, but for your protection. A pair of safety glasses is something you always want when working with power tools that spin and whir at a high rate of speed. Sawdust is not something fun to wash out of your eye…
Tape measures and speed squares are wise choices as well. Even if your saw has a laser light, there's no substitute for a pack of pencils when working with wood. All of these accessories are affordable, unlike our next one which you may not be able to do without.
Miter Saw Stands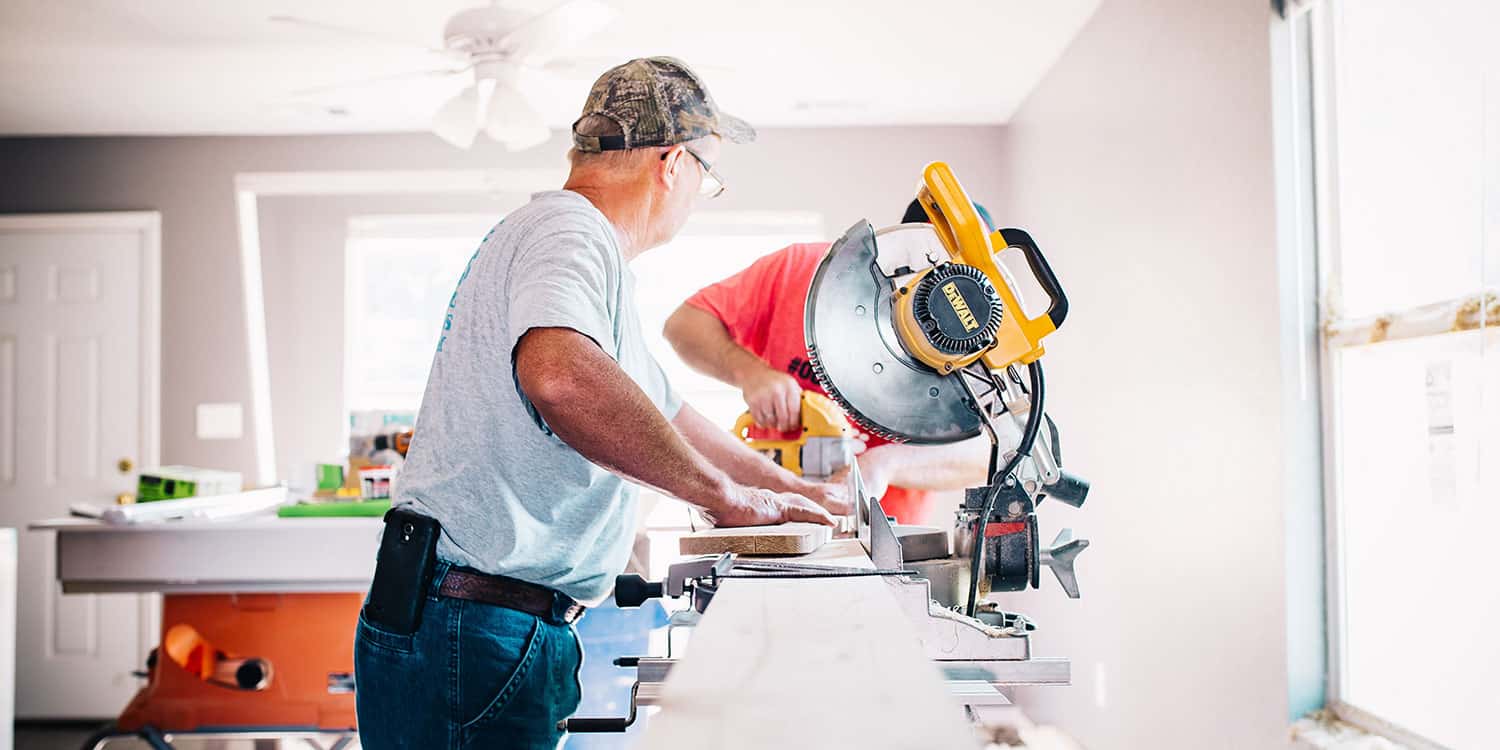 Every miter saw will have at least four holes on the corners which allow you to bolt it down on a bench. It's not required with all saws, especially ones with a good weight and today's models are quite portable as well. If you don't have a bench or need to travel with your compound miter saw, you're going to need a stand. Even the best sawhorses just won't do…
A top-notch miter saw stand is not cheap and will set you back as much as an entry-level saw in some cases. While you don't have to spend $300 bucks on a stand, you may want to after you see what some of the top models can do.
Whether you want a Bosch stand with pneumatic wheels and a color scheme that matches your Bosch miter saw or something simple, there's an option for you. Simply keep the overall size of your saw in mind along with its weight.
Warranty Information
Brand names are important when you're dealing with miter saws. It's safe to say you know what you'll get from a brand like DeWalt or Milwaukee while you may have a hard time digging up reviews on off-brand machines. That doesn't mean they aren't worth a look, however – it all comes down to the warranty.
In most cases, miter saw warranties work under the blanket rule so if it says 3-years, that's what you'll get. You will still want to dig a little deeper as some companies won't cover certain parts and cordless models will have tiered warranties.
If you decide to go cordless, look at the breakdown for the tool, batteries, and charger. If those batteries burn out within a year, you could be in for a rough time considering the cost of replacement lithium-ion tools batteries.
Best Miter Saw Reviews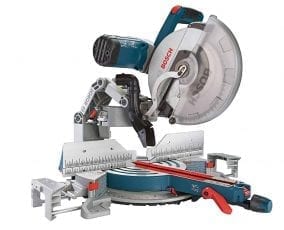 Best of the best
Bosch 12-inch Dual-Bevel Miter Saw
Miter saws are a dime a dozen and searching for the best miter saw can be a real drag when you've got work to do. We've taken care of the heavy lifting with our buying guide and put together a quick list with a model for everyone.
Most Buying
DeWalt DWS780 12-inch Compound Miter Saw
Miter saws are a dime a dozen and searching for the best miter saw can be a real drag when you've got work to do. We've taken care of the heavy lifting with our buying guide and put together a quick list with a model for everyone.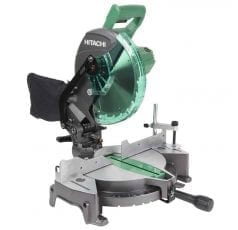 Best for the money
Hitachi C10FCG Single Bevel Miter Saw
Miter saws are a dime a dozen and searching for the best miter saw can be a real drag when you've got work to do. We've taken care of the heavy lifting with our buying guide and put together a quick list with a model for everyone.