What To Look For When Choosing A Portable Air Compressor
Choosing an excellent air compressor can be tough considering there are thousands of options available at any given time.
Consumers that are experienced with tools can navigate the landscape with ease, but beginners can quickly find themselves stuck in a rut.
Our guide ensures you'll find the perfect small compressor to suit your needs. We've also included a few tips for maintaining your new tool.
Why Do You Need A Small Air Compressor?
Do you need an air compressor that can air up anything or one for a specific task?
That's the first question to ask yourself as there are hundreds of uses for an air compressor.
But, smaller models generally have a distinct purpose.
If you plan to use your compressor for the occasional DIY project, you won't need the huge tank. The same goes for consumers who need something that can handle an airbrush for craft work, temporary tattoos, or even nails.
Need to air up bike and wheelbarrow tires?
Well, a 50-pound compressor may be overkill for pool toys and the occasional tire.
A trim nailer or airbrush can run on a variety of compressors, but when it comes to impact wrenches or chipping hammers – you're going to need more power.
Thanks to today's tech, you no longer have to rely on a tall tank that eats up space in the shop. You still have to consider the tools you plan to use before settling on any style of compressor, however.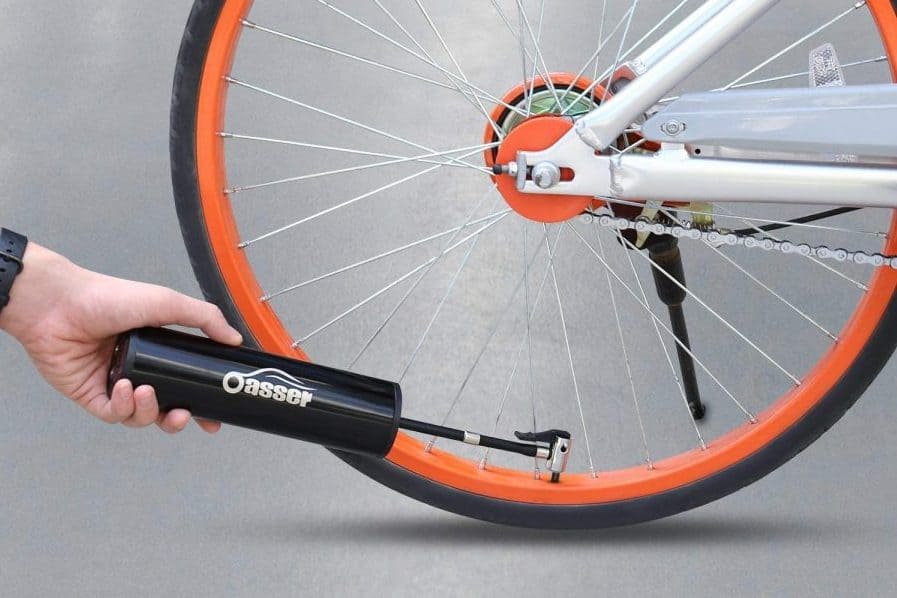 There's More Than One Style Of Compressor…
Once you understand the type of compressor you're after, it's time to consider the styles. As we're dealing with the best small air compressors, a few models are automatically out, so we're going to focus on the most popular pint-sized options.
Hot Dog Compressors – The first food-themed compressor you're likely to encounter are dubbed "Hot Dog" compressors, and it's easy to see why. They have a single horizontal tank with legs on the bottom and a motor that sits up top or towards the back. Most have handles, which is a good thing as larger models can weigh over 50 pounds.
Pancake Compressors – Pancake compressors also get their shape from food that bears the same name. They have wider tanks that are saucer-shaped and sport a low profile, so they are easy to stow away when not in use. Due to their size, you won't be able to run any hardcore power tools, but they are lighter than other models and ideal for home use.
The Twin-Stack – When you need a lot of air from a small package, twin-stack compressors are your best bet. It's basically a double hot dog tank which provides you with more air but also increases the weight. They're not in the "stationary" class but considerably more cumbersome than others. They also tend to have a few more bells & whistles due to their size and overall capabilities.
Tank Size and SCFM Explained
Regardless of their size, an air compressor is designed to provide you with air when you need it most. For some, that may be a short burst with a nailer or airbrush.
But that just won't do if you're trying to paint a wall or chip concrete.
Power certainly plays a part in that, but so does the tank size.
Simply put, the larger the tank, the more air it will hold.
That usually means the compressor will kick on less, so you won't have to stop work to wait on the tank to refill. Every tank on our list ranges from 1 to 6-gallons although that's not the number you need to hone in on.
What's the most important number?
That would be CFM or SCFM which stands for cubic feet per minute.
The CFM rating tells you how much air the compressor can deliver, and it's a number that correlates directly to many air-driven tools.
An Angle Die Grinder may require 24 CFM at load while a roofing nailer may clock in at around 2.5 CFM.
Again, this is an area where you need to think about the types of tools you'll use beforehand. Although you don't have to match every tool in your arsenal to the compressor.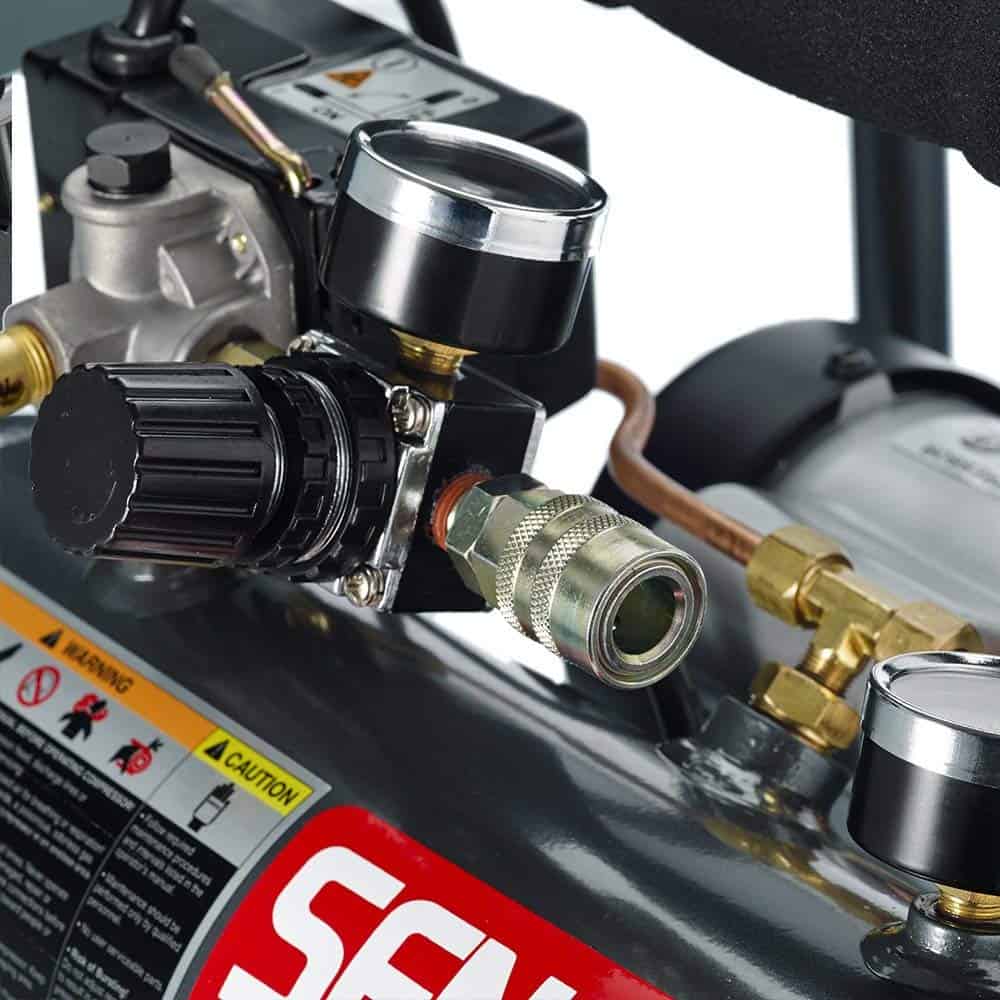 Horsepower (HP)
How much horsepower you need ties into how you plan to use your compressor and the types of tools you'll run.
If you don't like long refill times, you'll want a powerful motor.
It's also an area where you can't rely solely on the old "HP" measurement as it isn't always accurate.
Single-Stage Compressors – For most folks, a single-stage compressor will get the job done. As air is sucked into the cylinder, it's compressed and goes to the storage tank. Most top out at 120 PSI although some models fall above or below that mark.
Dual-Stage Compressors – If you plan to use your compressor continuously, you may want to consider a dual-stage model. That extra cylinder compresses the air a second time before sending it to the tank which means you can hit 175 PSI. This increases the overall tank pressure so you'll get more pressure without having to go with a larger tank.
However, you have to take the box ratings with a dose of salt.
Unfortunately, there's a catch…
If a compressor says it's 2HP, that's more than likely its peak power… not the running power.
It's also a number that can be very hard to dig up.
The same goes for "Duty Cycle" which tells you how long a compressor can run continually over a set period of time.
How Noisy are Small Air Compressors?
Have you ever used air-driven tools in the pro class?
You could be in for a rude awakening if you plan on firing up a grinder for the first time.
The tool alone is loud enough, and you'll have to deal with the compressor running to build up pressure as well. Smaller air compressors are far quieter than stationary models although you still need to consider the decibel level if working indoors.
Most compressors in the "small" range usually register around 80 dBA. That's not as noisy as your lawn mower, but a roar compared to something like an AC unit.
If you want a machine that's as quiet as the compressor on your refrigerator, you're out of luck. Although we think you'll be impressed by just how quiet some models are today.
The other thing you have to consider are misleading decibel measurements given by manufacturers. In some cases, it's an oversight as testing conditions can vary, but it's a pure marketing gimmick in other instances.
Can you believe those numbers on the box?
Most of the time, those measurements are close. But, when in doubt, look for videos that show the compressor in action if noise levels are crucial to you.
If you'd like to learn more, this chart gives you a range from 0 to 120 dBA.
Another option our experts recommend for those concerned about their hearing safety is to invest in a quality pair of noise reducing headphones. Even something as simple as some basic foam earplugs could help.
Oiled Vs. Oil-free Pumps
Aside from exotic hybrids and battery-powered units, the best air compressors, regardless of their size, will have an oiled pump or one that's oil-less.
For decades, compressors that require oil were the only way to go, but oil-less models have quickly gained a lot of ground.
Oiled pumps – Compressors that use oil are known to be more durable but are always heavier. They are also quieter than oil-free models but need more upkeep. You will have to keep an eye on the oil levels and change it every so often although the trade-off is worth it if you want something that runs cool and quiet.
Oil-less –Besides never having to worry about oil spots in the garage again, an oil-less compressor has several key advantages. They are lighter (but louder) and require very little maintenance as they are pre-lubricated from the factory. On the flipside, eventually, that lubrication will wear off.
If you plan to use your air compressors daily, we highly recommend looking at oiled models. For light-duty work and home use, you'll probably be fine with an oil-less model as both can provide the same amount of power.

Build Quality
Whether you're buying an air compressor to use on models or to send out on the road with your crew – build quality is paramount.
Compared to other tools, warranties generally aren't over a year in the compressor world, so the quality of the components used along with the frame and other features are something you'll want to pay close attention to.
Any part that's cast iron will last longer although that will increase the overall weight of the machine.
A system that's oil-less will require less maintenance overall, but there's a trade-off as pumps that are oiled have a longer lifespan.
The type of oiler matters as well, and pressure-based systems are the best if given the option.
When it comes to the frame, take a hard look at the quality of the welds. You should also look at the thickness of the shroud or housing around the gauges and other areas with delicate parts.
Plastic is prone to crack, and even a roll cage can will falter if the quality control is off.
You can't do that online, but you should do give the compressor a thorough inspection before you ever plug it in.
Portability & Ease of Use
You don't need to be He-Man or She-Ra to lug around any compressor on our list as most range around 30 to 50-pounds. That said, some are far easier to carry than others due to their design and how the weight is distributed.
Compressors with handles tend to make life easier, but not if they are top-heavy and awkward to carry.
A compressor with a padded handle may draw you in but beware as foam breaks down quickly.
Rubber grips may not be as comfortable, but they will last longer, and you can always add some padding of your own to hard steel handles.
Also consider how often you plan to use the compressor, and if it's one you'll move frequently.
Even the most inexperienced consumer can use an air compressor after giving the manual a quick look.
They aren't complicated machines although those manuals can make things difficult at times. However, some are easier to use than others due to their design and where the controls are placed.
Do you really want to reach around all four corners to control your compressor?
We didn't think so….
When ease of use is a top priority, look for compressors with dual gauges and couplings.
Even if you only use one air tool at a time, it's handy to have an extra at the ready if you're doing trim work or other tasks.
Connections aside, drain valves and other "common" components can quickly ruin your experience so look before you leap when settling on a wild design.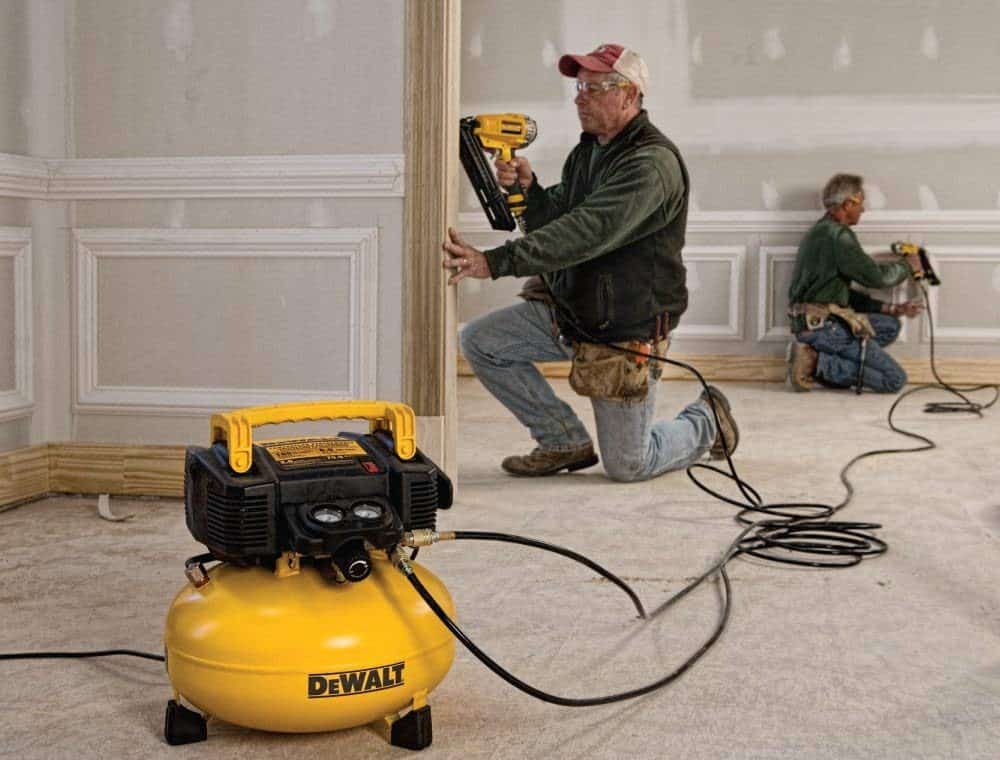 Additional Features
When you find yourself torn between two products, features are a great way to help thin the herd.
While every compressor will have rubber feet and at least one gauge or coupling, some come with features that help separate the best from the rest.
Many of the top small air compressors will have dual couplings or roll cages to prevent damage to the machine. That latter is essential as compressors of this nature are prone to tip over, especially if you're tugging on the hose.
Thermal overload protection, tool hangers and even the size of the air filter can make a huge difference as well.
And don't forget about high-quality gauges and sight glasses.
Those are just a few things to look for on small air compressors, and the list changes considerably when you get into handheld solutions.
If you opt for a glove box compressor, pay close attention to the battery life, charging times and the digital readouts. Some are easier to read than others, and the build quality is of the utmost importance with handheld units as well.
Missing Measurements
We've talked about the specifications you should look for when shopping for a new compressor, and if you've made it this far, you may already know which features are right for you. One thing we didn't cover is an area manufacturers tend to leave out.
We refer to these as "missing" measurements…
Sounds pretty bad, doesn't it?
Running power is one hidden measurement to look for and something we briefly touched on along with the duty cycle.
Now, here's the rest of the deal:
Every company will slap the maximum PSI rating on the side of their box, but how many actually tell you the recovery time? This is the amount of time it takes your compressor to refill.
It's very important, but guess what?
You rarely ever find in marketing material.
Plenty of manufacturers also hype their machines as "low voltage" which means they won't trip breakers and you can use them with extension cords.
Does that impress you?
It should, but do they actually tell you how long the compressor cord is to begin with? That's another missing measurement that matters more than you'd think.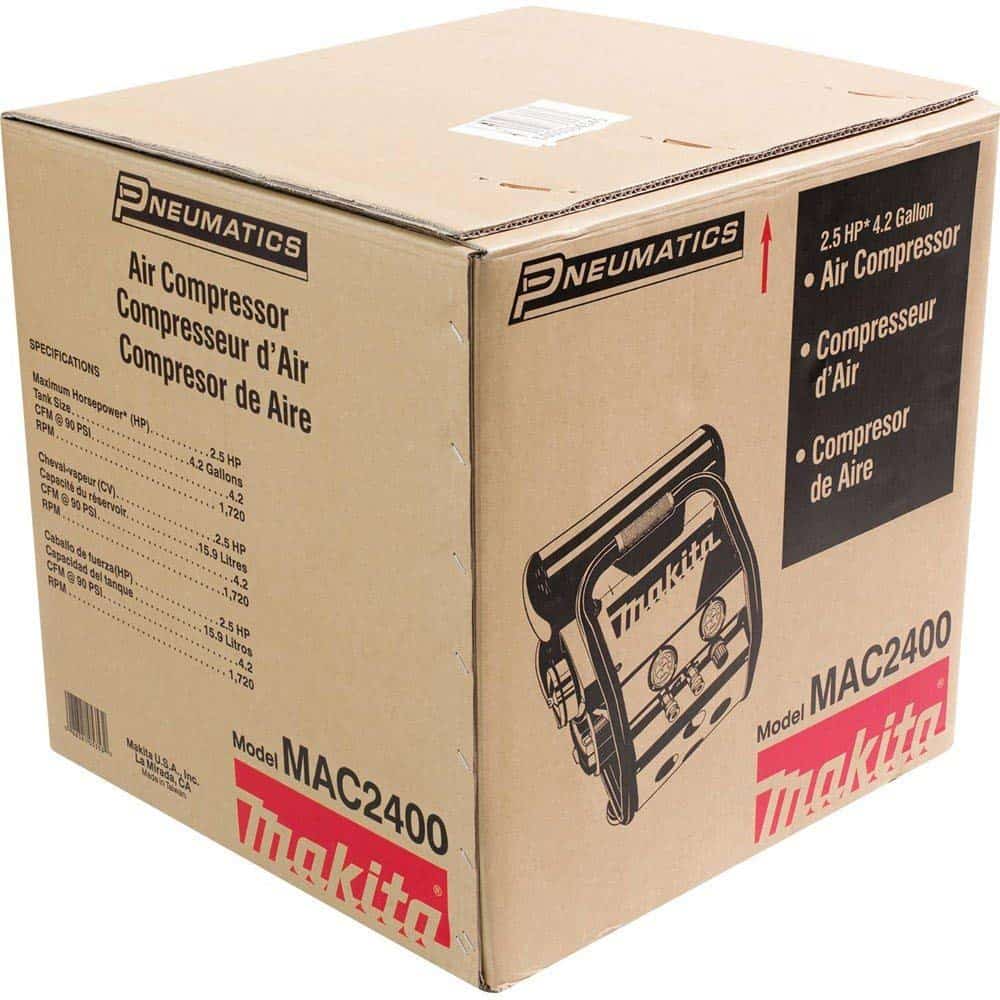 What's In The Box?
Buying any new tool can be exciting, but daunting when it comes to certain types of equipment. That's because you could be left high and dry when you open the box and find out what's shown in the photo isn't exactly what you've received.
We're not talking about a missing product manual either…
Unless specifically mentioned, most air compressors do not come with a hose. It's something you need in order to use your new compressor and the same goes for adapters or couplings.
If you're getting a compressor that uses oil, you'll need to pick up some of that as well, but only use the kind recommended by the manufacturer.
In a nutshell, what you "might" need all boils down to the type of compressor you choose and your overall needs.
You can pick up an adapter at the hardware store, but finding a hybrid 20-foot flex hose is a different story. With that in mind, we've included several excellent accessories to go along with our picks for the top small air compressors below.
The Best Small Air Compressor Reviews