Buyer's Guide To Airbrush Makeup
When choosing airbrush makeup, a lot can go wrong. To avoid this, you only need to consider a couple of things. These are different types of airbrushes, compressors, and makeup.
But there are more things you should ask yourself…
Single action or dual action?
Single action airbrushes are easier to use since you only need to press the nozzle to get them spraying. Dual action models, on the other hand, are commonly used by pros. You spray by pressing the nozzle down for air and pulling it back for makeup. This is a bit trickier but gives you greater control over the results.
Water or minerals?
Water-based makeup gives a matte coverage and is very lightweight. However, it reacts with your skin's moisture, which makes it run when you sweat. Mineral-based makeup lasts longer and is better at covering up imperfections. Sadly, it's also heavier and can look a bit cakey.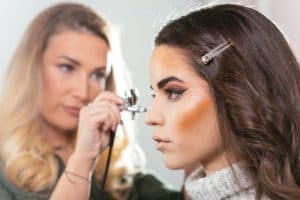 Basic compressor or adjustable pressure?
Many airbrushes come with compressors that allow you to adjust air pressure. This gives you greater control while applying your makeup. But there are devices with basic compressors, too. These are a good choice if you're looking for something simpler.
Any special needs or preferences?
You know your skin best, which is why you should think about your needs and preferences before making any final decisions. If you have sensitive skin, look for sets with makeup that wouldn't irritate it. If you spend a lot of time at work or outside, make sure what you choose will give you long-lasting results.
How To Use Your Airbrush Makeup System The Right Way
If this is your first time using an airbrush makeup system, you're going to want to practice a little beforehand. Since you don't want to waste any of your new makeup, an expert from BeautyGlimpse suggests you start your practice sessions by using water instead of actual makeup.
This allows you to get a good feel for just where on your face the makeup will fall, giving you a good idea of where and for how long you need to spray. Stylecraze also suggests you could practice on a piece of paper.
However…
If you're going to be using an airbrush makeup kit on yourself, you may still want to consider practicing on your own face.
Let's Make This Easy: Here's The Top Airbrush Makeup System
Choosing the best airbrush makeup is tough. Especially if you don't know exactly what you're looking for.
But guess what:
We can take the guesswork out of the equation for you. After all our testing, we've come up with two clear winners.
One is going to give you all the options and nicest user experience, the other will save you a few bucks and still enhance your beauty.