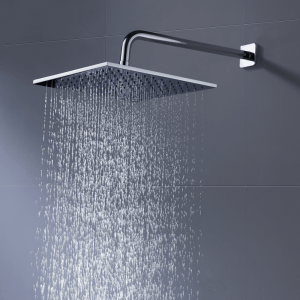 Looking for the best rain shower head to bring an exhilarating nature experience inside your bathroom?
You're at the right place.
If you absolutely love standing in the rain and feeling the rainwater wash away all your troubles (and dirt), you definitely need to buy a rain shower head and transform your boring old shower routine into something magical.
We know you're sold already on these gifts from heaven, and want to get one ASAP, but there are so many options to choose from.
Don't worry, we'll help you pick the best one for your needs. Keep reading!
Buyer's Guide
How to Pick the Best Rain Shower Head: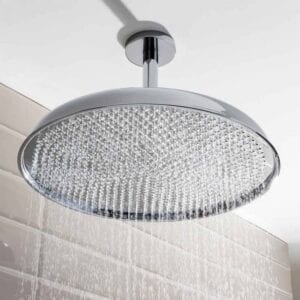 Before you go and buy your new rain shower head, here are some important things you should consider to decide which one is best for your needs:
Shower Head Size:
The diameter of rain shower heads is measured in inches. Generally, the rule is the bigger the diameter, the better. The bigger the shower head is, the more area it will cover, and the more area it will cover, the more natural it would feel. But do remember, the larger the size of the shower head, the less the water pressure will be.
Handheld rain shower heads are usually 4-6 inches while ceiling rain shower heads are usually 8-inches or more.
Material and Durability:
The material used for your shower head is an important factor because it tells you about the quality and durability of the product.
In general, the topmost quality is brass, followed by stainless-steel, and then come the cheaper ABS plastic rain shower heads. If you're not worried about the price, we'd definitely recommend you to get a brass rain shower head. Stainless-steel is the middle ground as it gives you quality for relatively less cost. ABS is the best choice for people who are on a budget.
Most rain shower heads also come with a chrome finish, although a brushed nickel finish might be featured in some brass models. And of course, a higher quality material will be more durable and long-lasting.
Shower Fit Type:
There are three most common shower fit types: ceiling-mounted, wall-mounted, and handheld.
While mounted shower heads may not be as flexible as their handheld counterparts, they give you the true showering in the rain feeling. It is definitely a relaxing experience. There are also several models out there that are a combination of both, which means they are primarily a wall-mounted unit but have an extra hand-held piece to offer that versatility.
You should also check if your new shower head comes with an extension arm, or if it's compatible with your old shower arm.
Spray Settings:
Some rain shower heads come with advanced spray designs and multiple spray settings.
This means, if you're looking for a simple rain shower, a single setting will work great. But if you want the option of choosing between rain-fall, powerful massage, drenching, and mist settings, then you need to pick a shower head with more features.
Transport Yourself To The Rainforest Via Our Rain Shower Head Reviews
THE WINNERS
Quick tips
If you want to replace the shower arm too, do that before you move on the shower head.
Remember to always turn off the faucets before you unscrew your shower head or water will start shooting everywhere and create a mess.
Use a cloth to cover the pipe before you use a wrench to prevent any scratching or damage to the polish. You can also use a cloth over your hands to prevent scratching.
The water pressure will decrease according to the size of the shower head and the number of nozzles. If you want high pressure, look for a smaller shower head with fewer nozzles.
How to Install a Shower Head:
Here is a quick step-by-step guide on how to install your new rain shower head:
Step 1: Gather Everything You'll Need
It's a good idea to gather all your supplies before you start. Here is a list of things you'll need:
Your new shower head and its parts
Pipe wrench/Pliers
Plumber's tape
Old cloth/rag to cover drain
Check if you have any parts missing. Then, cover the drain with an old rag or cloth to ensure nothing accidentally falls inside. Once you have everything you need, you can start replacing your shower head.
Step 2: Remove Your Old Shower Head
Now that you have everything you need, it's time to remove your old shower head. Remember, if it has been there for a long time you might need to use a wrench to loosen it from the shower arm.
Also, don't forget to turn off the faucets before you remove the shower head or water will start shooting everywhere.
Step 3: Wrap the Plumber's Tape
Get your plumber's tape out and wrap a layer of it around the threads of the new shower head. Make sure you entirely cover the length of the threads. This will prevent any leakage from the sides of the shower head, and will also ensure a steady water pressure.
Step 4: Attach Your New Shower Head
The next step is to install your new shower head. Carefully read the instruction manual before you start. You might not need to use a wrench; it might cause damage or scratching to the polish. Hand screw the head on clockwise but don't over tighten it.
Step 5: Turn on the Faucets and Check for Leaks
That's it, you're almost done. Before you start to clean up everything, however, be sure to test your new rain shower head to see if you installed it correctly. Turn on the faucets and check if the pressure and output are fine, and if there are any leaks you need to take care of. If there is, try tightening the shower head. If not, you're good to go. Enjoy your new rain shower!
You can also check out this video on how to install/replace a shower head:
The Environmental Impact of Rain Showerheads
The GPM (or flow rate) of a rain showerhead is essentially a measure of the gallons of water it can produce in a minute. But is a higher flow rate always a good choice? For the environment, not so much.
A low flow rate of your rain showerhead can actually help protect the environment. That's because it can effectively control the wastage of water.
To make more sense of this, imagine if everyone in the U.S. installed a 2.0 GPM showerhead in their household. According to the EPA, we could save over 250 billion gallons of water per year!
Similarly, if your showerhead has a higher GPM, it probably means you are wasting a lot of water. The good news is, the government is taking plenty of measures to make sure this issue doesn't get out of hand.
Companies are now regulated by the federal government to restrict the wastage of water. This much-needed initiative was carried out to increase the awareness of energy conservation and its importance among the general public.
What Can You Do to Prevent Water Wastage?
Did you know? An average person consumes up to 25-35 gallons of water during a shower. Imagine how much water we waste during a high-flow shower.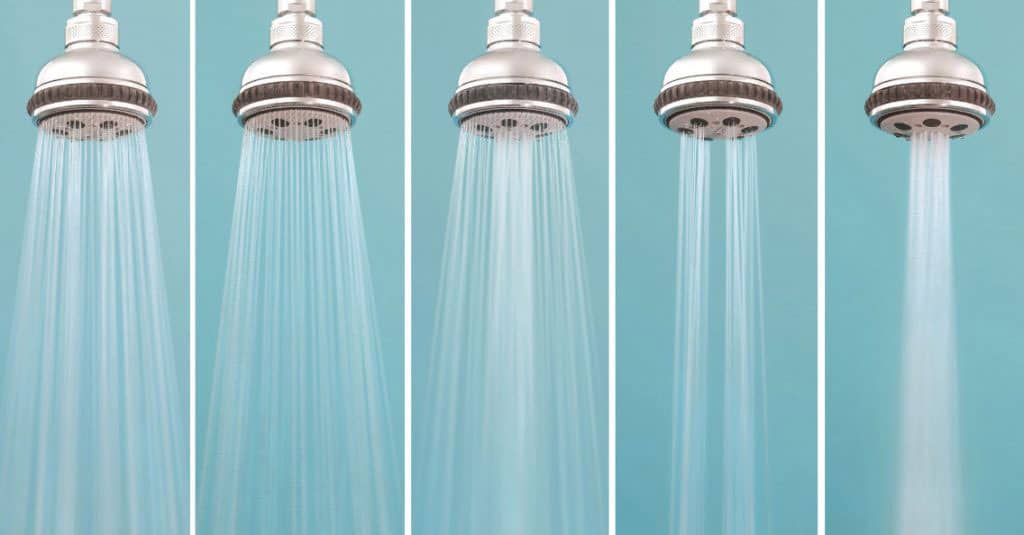 An effective way to reduce the amount of water used during a shower is to install a low-flow showerhead that brings the GPM down to 2.0 – 3.0. This flow rate is enough for a satisfying shower and can help you save a lot of water in the process.
You can also buy a device called a showerhead restrictor and install it between the showerhead and its arm to reduce the flow of water. This device does a similar job to a low-flow showerhead, but is relatively less effective and might also decrease the water pressure.
Water wastage is a genuine issue we should think about because it directly impacts the environment we live in. Thankfully, devices and regulations like the ones mentioned above have started to earn considerable recognition as people are increasingly becoming aware of the importance of energy conservation.
Turn Your Bathroom Into A Spa With The Best Rain Shower Head
With so many relaxation inducing options, how are you supposed to choose?
For us, the choice was clear. Whether we wanted the full on luxury experience, or a good balance of value and features–there were a couple products that really jumped out at us.
Here's they are: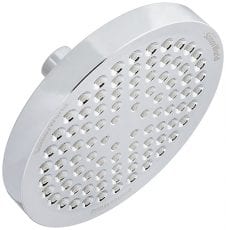 Best of the best
Rainfall High Pressure 6
Looking for the best rain shower head to bring an exhilarating nature experience inside your bathroom? Don't make a decision until you read our reviews!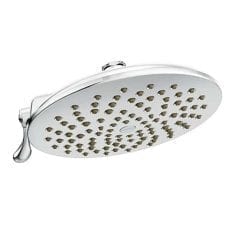 Most Buying
Moen S6320 Velocity Two-Function Rainshower 8-Inch
Looking for the best rain shower head to bring an exhilarating nature experience inside your bathroom? Don't make a decision until you read our reviews!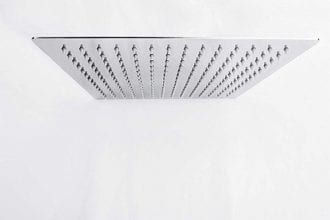 Best for the money
Moen S6320 Rain shower
Looking for the best rain shower head to bring an exhilarating nature experience inside your bathroom? Don't make a decision until you read our reviews!