The 30 Second Review
A huge part of your toilet buying experience is going to be your price range. You'll want to narrow that down first. You can focus on the first few products on this list if you aren't worried about the price. The middle and lower toilets are more affordable.
You'll also want to think about who is using the toilet. Is an elderly person living in your house? Then focus on the taller toilets.
Ask yourself: where will this toilet be used? Some toilets on this list are specifically meant for half baths or even RV and buses.
All of these toilets are going to perform basic functions extremely well. With that in mind, you can focus on what toilet fits your personality. This is one of the rare cases in life where it is a good idea to decide based on extras and features.
For instance, are you someone who really hates touching the toilet seat or do you live with a forgetful significant other? A automatic lid might make a real difference for you.
Do you hate smelling others' business? A deodorizing toilet might be worth springing for.
You may just want to chose based on how they look if you're going for a particular style of bathroom. You might even pick by color.
Would you prefer white or white?
But seriously, don't underestimate how much these 'white' toilets can differ in color once they're in your bathroom.
A bleach-white toilet is going to look a lot different than a darker cream one in a dull yellow bathroom.
The Complete Buyer's Guide For Finding The Best Toilet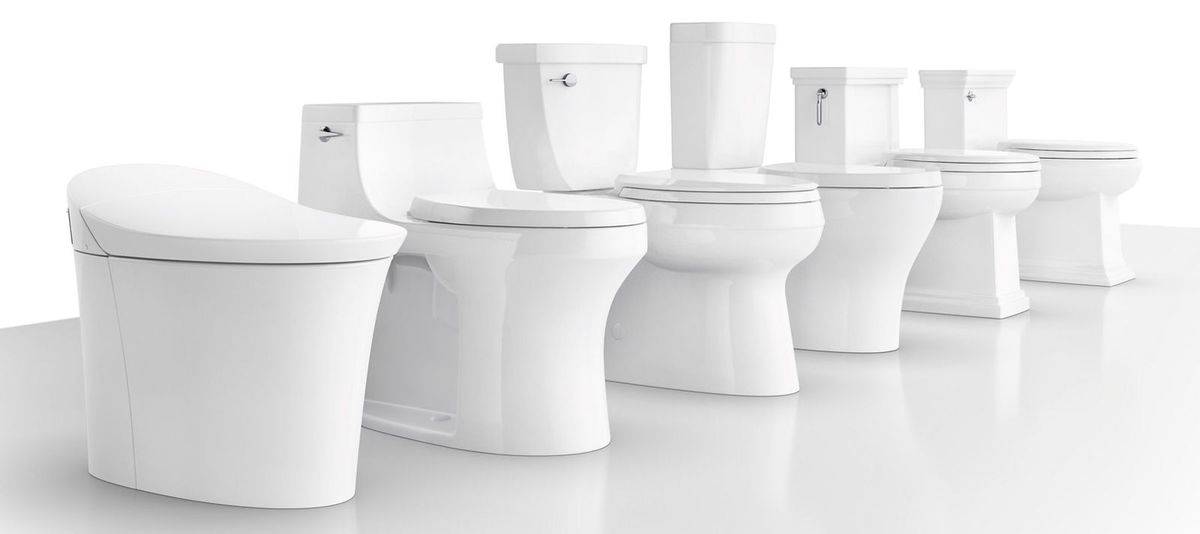 You'll want to flush away some of the toilets that aren't quite right for you.
There are a few things you should know about toilets and buying them so you pick one suited to your wants and needs.
You should always consider the toilet bowl size and shape, tank size, materials, height, gallons per flush, and additional features.
Let's take a closer look
Bowl Size and Shape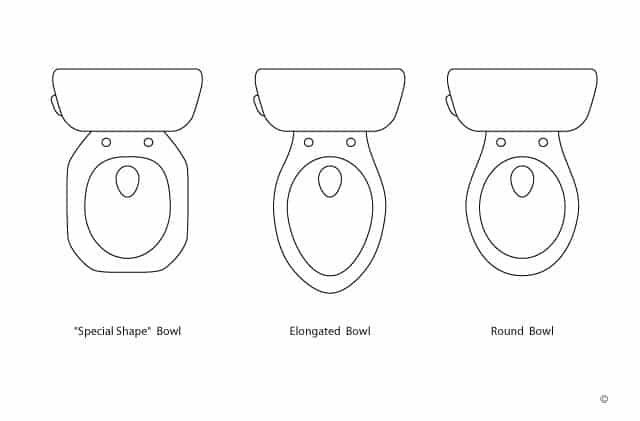 Size is important when you're picking out a toilet. But, for most people, the shape of a toilet will matter much more with regard to comfort.
Why the long bowl?
Because, almost everyone sits better on an elongated toilet bowl.
This is due to the way an elongated bowl fits most people. In any seat you take, you'll generally feel more balanced the more your upper legs and thighs are supported.
Look at a standing person…
You can see from their knees to their lower back, they're more long than they are wide. Think about how this translates once this person sits down.
A wide seat won't create any more contact, usually. However, an elongated base allows more of your legs to form a sturdy seat on the toilet.
You may still want to consider the width of a toilet, however. Smaller people may need to seek out toilets that are skinnier (lest we lose you to the depths below). Larger individuals may want to look for a wider toilet.
Both body types can still benefit from an elongated shape, though.
Tank Size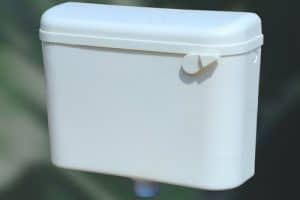 Tank size is also a factor for a couple reasons.
In the event of a power outage or water-pump issue, you only have as much water as is in your tank. Some toilets can get as many as 100 fushes out of their tanks if they have to. Others may only be good for four or five.
And the real reason it matters…
If your toilet clogs you'll be wishing you had a larger tank. Toilets are easier to unclog if you can hit them with big rushes of water. Ideally, this won't be a problem.
But we both know how fast things can go south in there.
You should also look to see if you even really need a tank. Recently, more and more toilets are phasing out the idea of a tank, pulling water straight from the house with every flush.
Some of these types of toilets can use far more energy than traditional ones. But some have started to integrate plumbing into the equation and these are working out better.
But…
Don't be sure your toilet doesn't need a tank just because it doesn't have one.
Some toilets on this list come without the required tank.
One Piece Versus Two Piece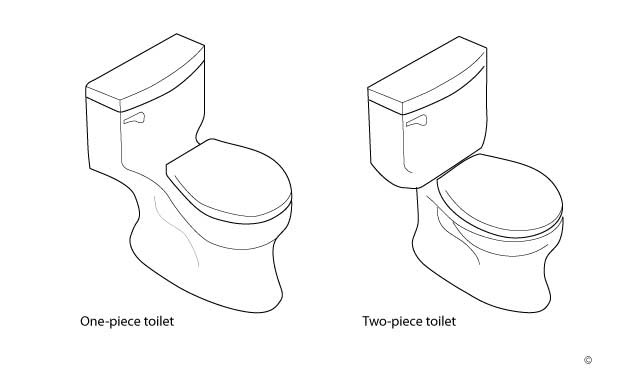 Toilets come in one piece and two piece configurations. A one piece toilet comes as a single unit. A two piece comes with the tank and bowl disconnected.
One piece toilets are usually higher end as they require more specialized equipment.
They're easier to clean because they eliminate the notorious space between the two pieces, which tends to collect a lot of grime.
Two piece toilets can be easier to install yourself since you can move the two pieces separately with much more ease.
The two piece style does tend to be a little bit sexier since it allows the toilet to show off its new belly button ring.
Flush Type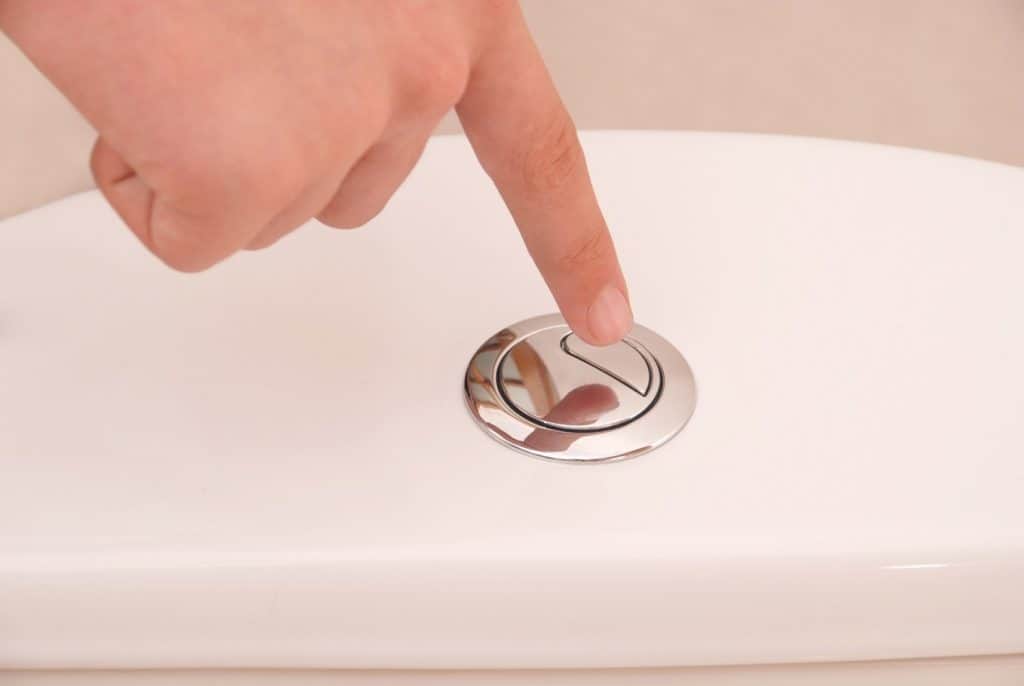 There are two main things to consider regarding the way your prospective toilet flushes.
First, there are two methods of flushing:
gravity
and pressure assisted
A gravity flushing toilet does exactly what it sounds like. It lets water fall from the tank into the toilet and down the pipes (taking everything else with it).
Gravity flushing is the most common on residential homes, but if you have a large family, gravity might not be up to the task.
A gravity toilet only needs to produce about 10 pounds of pressure to get the toilet to flush.
A pressure assisted toilet needs to create twice that.
A pressure assisted toilet stores pressured water in its tank and shoots this water into the toilet. This is a modern style that's less prone to clogging and saves water.
Although pressure assisted toilets clog less easily, they're much louder.
You'll also have the option for dual or single flush. Single flush is standard.
What's the difference, though?
The toilet you grew up with was probably single flush. They have one lever you press to flush the toilet.
Many toilets today have dual flushing toilets, however. These have two buttons, one for solids and one for liquids. This keeps from needlessly wasting water. They're required by law or encouraged with tax incentive in many states and countries.
Some flushes may have other technology, as well. Keep a lookout for new, exciting ways to flush your bodily waste…
One popular addition on Kohler toilets is the aquapiston. This creates more powerful flushing without increasing water consumption.
Another is the dual cyclone flush. This uses two different flushing valves in order to compound the power of each. This also uses less water and makes the toilet flush more quietly.
Materials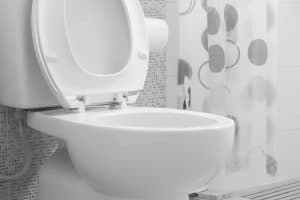 There are several primary materials that toilet bowls and tanks are made out of. Some of these are of course more desirable than others.
Porcelain is probably the most well known toilet material. It's in most standard toilets with good reason (they make thrones out of it for Pete's sake).
Porcelain is sturdy and easily sanitized without looking like something you'd poop into.
"No toilets on this list say 'Porcelain,' though!"
You may often see porcelain referred to by its coating, vitreous china, which applies the shiny look you see on many toilets.
Ceramic may also be used in place of porcelain. Modern ceramic will usually hold up as well as porcelain, but will lack the same exact shine. In contemporary terms, the difference between porcelain and ceramic is mostly in style rather than quality.
Plastic is another common material used primarily in both lower and higher end toilets.
Plastic can be made and formed cheaply, which makes it a good option for budget commodes. It is also easy to manipulate, which means it is sometimes used for high-tech toilets, as well.
Height
The bowl height is also extremely important to comfort. Keep a close eye on how tall the toilet seat is, not just the overall toilet height.
This factor will largely depend on your height, but in general a taller bowl is better. Most adults will have an easier time sitting on and standing from a taller toilet seat.
You don't have to rule a toilet out just because it's lower to the ground, however the tall and elderly might want to look elsewhere.
However, if you're purchasing for a child's bathroom or a half bath–or you're on the shorter side yourself–you may want to look for a lower toilet bowl.
Gallons Per Flush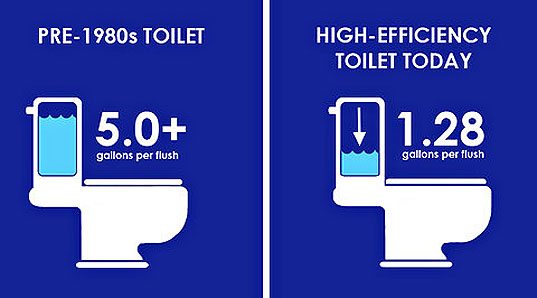 Every toilet you look into is going to list the number of gallons per flush (gpf). This is an important metric to keep in mind with regard to water conservation.
Everyone on Earth can help out with water conservation by limiting groundwater aquifer use (the limited fresh water we suck from the ground).
Californians know what is coming next.
People in some areas that experience particularly intense droughts need to make sure they're minimizing water usage. In California, for instance, the droughts are very serious so low flow bowls have been installed. They can even be legally required!
A super efficient toilet will use around half a gallon per flush. The federal maximum is 1.6 gallons, but older installations may actually be much higher.
Toilet Weight
One of the last things to consider is the weight of the toilet.
This will mainly matter when installing.
Some toilets can weight over 150 pounds. One toilet on this list doesn't break eight pounds. If you plan on self-installing your toilet, this is a big thing to consider.
Second, you need to think about your flooring. Some bathrooms are foored in hardwood or other softer material. A really heavy toilet will squish these types of flooring. Over time the depression can cause major issues in the surrounding area.
Trapways
This refers to the part of the toilet that the 'biomaterial' goes down. You'll have a couple options when it comes to this.
The main thing is if you want a visible or skirted trapway. A visible trapway shows the outline of the piping going down the base of the toilet. A visible trapway looks good in traditional bathroom styles.
While these are sometimes quite stylish, they can also be harder to clean because they create so many edges and corners.
And who enjoys cleaning?
A covered or skirted trapway looks smooth at the base, which makes them less tedious to clean.
The toilets edges are constructed farther away from the trapway so that it does not show up on the outside.
Skirted trapways look better with more modern and contemporary designs. The skirt usually adds weight and size to the toilet.
Lastly, you may have some new technologies available to you. Some trapways are being structured so that they're easier to flow through.
One trapway on this list was even designed by a computer program to be the most effective.
Looks like someone paid attention in potty-dynamics 401!
And Bidet To You, Sir or Madame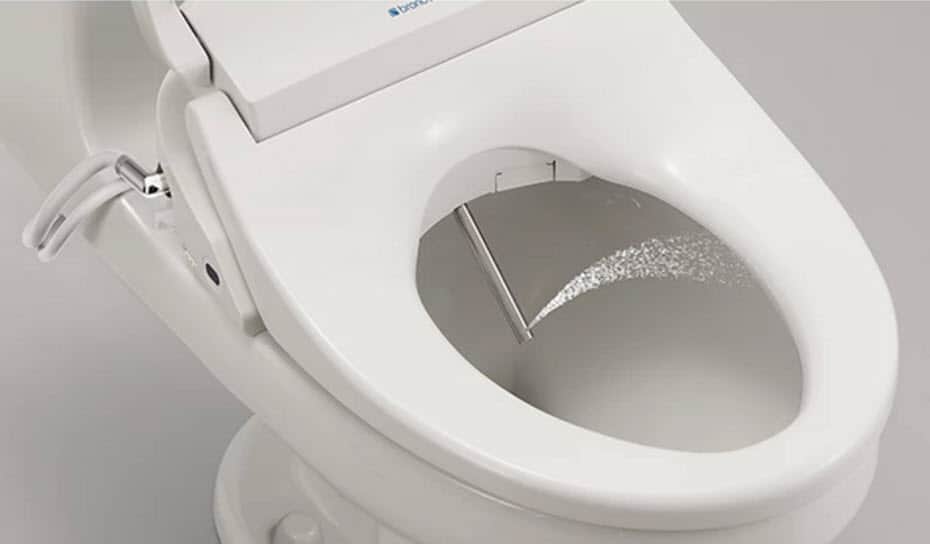 Many toilets on this list include bidets. You'll have a few options with these.
Because most bidet toilets are also pretty high-tech, you can expect to have some settings to sort through. Exactly which setting will depend on the bidet.
Some will have different settings for temperature. Most have between three and six options.
Others will allow you to pick an ocelation setting or even a spray pattern.
You may also want to consider what the bidet is made out of. Some are plastic, some are metal, and some are built into the porcelain.
Stainless steel metal has proven to be the best since it is easy to clean and durable.
Some of these toilet seats are include a bidet, as well.
Toilet Seats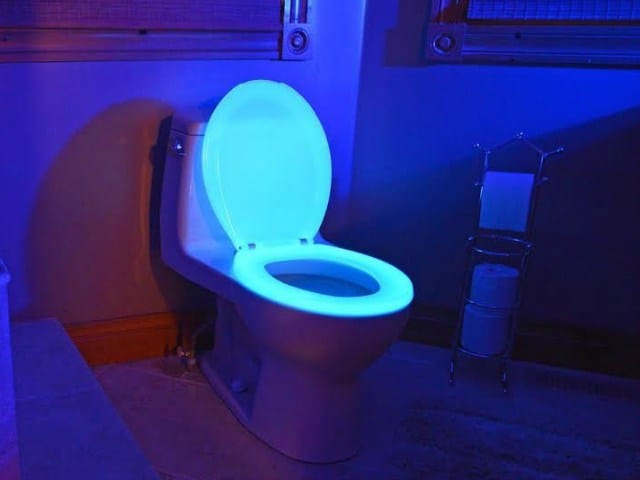 You'll also be able to choose from several different seat options.
Many of these seats are heated, which is always nice. If you live in a cold area or are putting the toilet in a basement, you might want to consider one of those (bonus points for heated feet).
One seat on this list includes a simplistic bidet, which is a neat construction.
Another toilet seat uses soft closing hinges to avoid annoying accidental slamming. No one likes to wake the whole house up in the middle of the night.
Some do away with that issue all together by making the seat automatically open and close when you approach and leave. One is motion activated.
Lastly…
Make sure that your toilet even has a seat. Several on this list don't, so if pick one of those you'll need to buy one separately.
Included Parts
Make sure you keep an eye out for included parts and elements.
Some toilets on this list won't include things as common as the toilet seat, even though it is pictured. Others don't include things you need for plumbing such as the supply line or valve.
One doesn't include a required remote.
Also, if you're self-installing, make sure you have the tools that you need or that you acquire them. Some toilets on this list will make that unnecessary, though, by including the only specialized tool you'll need.
Added Features
Every toilet is different and most are going to have some non-categorized features–especially higher-end ones. You'll want to look at each toilet closely to know exactly what unique product you're getting.
Or let Bestazy do it for you!
Some products will have simple features like a left-handed flushing toggle.
Others will have new technologies that allow for more sanitary, efficient, or complete flushing.
Some have specialty comfort features such as heated seating, ambient lighting, or speakers.
Think that's cool?
Some even have remotes with bluetooth.
What a time to be alive.
Parts of a Toilet and Terms You'll Need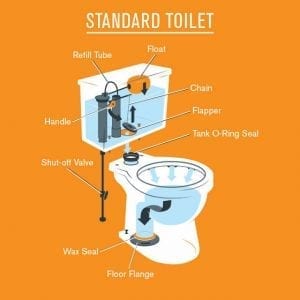 There are several parts of a toilet that you'll want to get to know pretty closely.
The bowl is the part of the toilet that you 'go' into.
The tank is the big square part behind the bowl. This contains a few other parts you'll want to know. The fill valve controls the water that flows into the tank. The fill tube runs the water to the tank.
At the bottom of the tank you'll either find a flapper or another valve. A flapper will be a piece of rubber that moves up and down when you flush to allow water to pass into a tube leading to the bowl. A valve, such as in the aquapiston, will open all at once for a better flush.
Older toilets will also have a large piece of hollow rubber at the top containing air. This is called the float. Many newer toilets have phased out the foat.
The base is the part of the toilet holding the bowl up.
The trapway is inside the base–it's the plumbing that, whatever you flush, initially runs through.
The lever is the switch on the side of the toilet you press to flush. Some toilets replace this with a button, especially when there are two flushing options. An auto-flushing toilet will obviously have neither.
You'll likely be seeing the term water sense.
What's that mean?
This is the EPA's mark of approval for low-flow toilets.
High-efficiency refers to any toilet that uses less than 1.6 gallons per flush. Eco-flush is another term you may see often that refers to the same thing.

Tip 1:
You should always check what's included. Some toilets don't include a supply line or even a tank. I have even seen toilets that require a remote that isn't included.

Tip 2:
Measure before you buy. You should never assume your toilet will fit in a space. Each product will list exact dimensions which you should compare against measurements you take from where the toilet will go.

Tip 3:
Measure a chair, too. Before you buy, find a chair that is at a comfortable sitting height for you. Measure the distance from the seat of the chair to the floor. You don't need to buy a toilet exactly this height, but this will give you some frame of reference when shopping.
Tip 4:
Don't get caught up on functionality. We made sure each of these is great--you can focus on getting pampered or being stylish.

Tip 5:
Continue reading this awesome guide and reviews!
---
Our Top Picks
01
Woodbridge Compact One-Piece Dual Flush Toilet with Integrated Bidet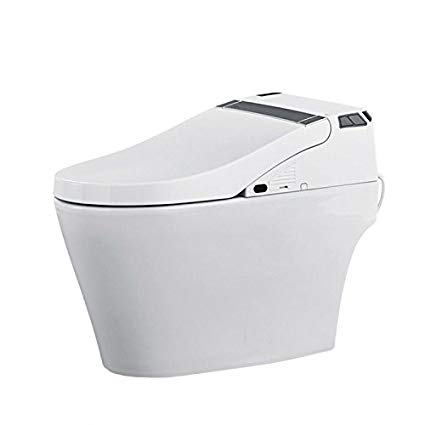 I hope you aren't tired of high-tech integrated toilet and bidets.
I mean, how could you.
This is Woodbridge's answer to the quality of Bestazy's first and second picks.
All about those features?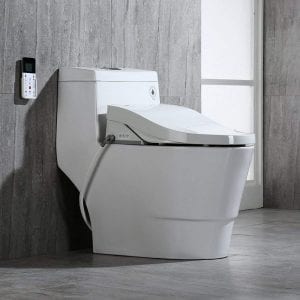 This toilet has a deodorizer, automatic flushing, and heated seating. All of these are reported to function extremely well.
The heating function uses technology that allows the seat to be warmed instantaneously when you need it. In reviewing this product we found that access to heat is in fact immediate.
The same goes for the warm water bidet.
You can also adjust the water temperature and dryer temperature.
The deodorizing feature means you can stop keeping that book of matches and air fresheners behind the toilet.
These features are controlled by a remote, which is included.
The design for this particular remote is a bit less sleek looking than the previous one, having a distinct early-2000s family desktop feel to it.
Should you buy this?
This toilet puts its emphasis on functionality rather than efficiency: there's no eco-flush option.
If you're someone who wants a smooth flush every single time without a hint on resistance, this might be the one for you.
However, the lack of the dual flush feature may be a deal-breaker for the more environmentally conscious consumer.
It may even be illegal to install non-high-efficiency toilets in your area. So this would also be a good option if you're looking to add a little adrenaline in your morning routine.
What did we really think?
At the end of the day, this is one of many high-tech options on this list. You'll need to look at each and decide which features are more appealing to you.
For this product, for instance, you'll need to decide if you'd rather flush or put your seat up and down. No toilet reviewed here has both.
Woodbridge's warranty page states there is a one-year warranty, which covers manufacturer defects only.
Features
Instant warming technology
Self flushing
Remote control
---
Pros
High-tech
Very hygienic
Hands free
Cons
Inefficient
Expensive
Less sleek accessories
---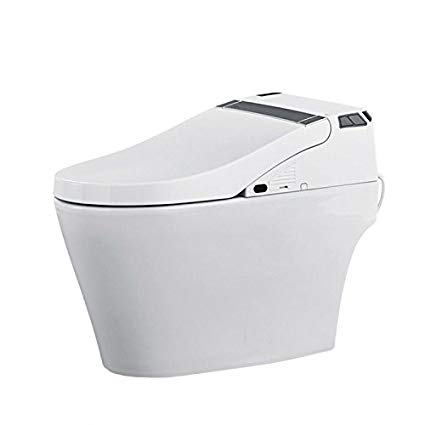 02
INAX Spalet Complete Integrated Electronic Bidet Toilet
This is another high-tech toilet, and a great option if you're in the market for something a bit bigger than the last toilet.
Custom settings!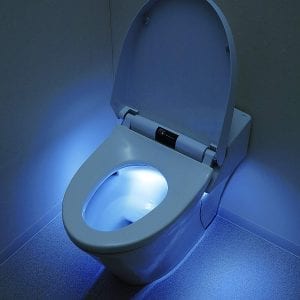 Customization is king with the INAX Spalet. you're able to choose between six different bidet water temperatures, ocelations, messages, and pressures.
There are six seat temperature settings, as well.
You can adjust these settings on the included metal remote.
Specs inbound.
The toilet itself is made of high quality ceramic.It flushes solids at 1.32 gallons per flush. It has a second setting for liquids, which flushes at .92 gallons per flush. For such a well engineered toilet, this could be better.
It is also sits almost a foot higher than our last toilet. Most people will have a much easier time sitting on and standing from this one.
It is almost 90 pounds, so you may want to call in the professionals to install the toilet, or at least a second pair of hands. It should be okay on any bathroom surface.
A complete list of measurements can be found here.
But what about the features?
This toilet is very sanitary. Having an automatic seat means you'll never have to touch anything if you don't want to.
It's also self cleaning and deodorizing.
Nozzles at the front and back of the toilet keep the bowl clean around the clock. So this may be a good product for you if you'd like to limit maintenance while maintaining a high level of cleanliness.
We found this cleaning feature was high functioning.
The deodorizer did help reduce the amount of smell, as well. If you're someone who really doesn't like to follow a stinky family member, this may be a really good option for you.
The Spalet also includes a night light inside the bowl. No more late-night messes.
If you want a high-tech toilet without some of the more extraneous features of the last one, this may be a good option for you.
And while you may not find an FM radio or Bluetooth in this toilet, it does sit a bit higher. Some buyers may be even more comfortable in this option.
Does it have a solid warranty?
The warranty lasts three years and is void if the toilet is moved from its initial install location.
Features
Automatic heated seat
Three bidet settings with six options each
Auto-cleaning
Nightlight
---
Pros
High-tech
Comfortable
Low maintenance
Remote included
Cons
Expensive
Not very efficient
Too heavy for one person to install
---
03
WoodBridge, Dual Flush Elongated One Piece Toilet with Soft Closing Seat, Comfort Height, Water Sense, High-Efficiency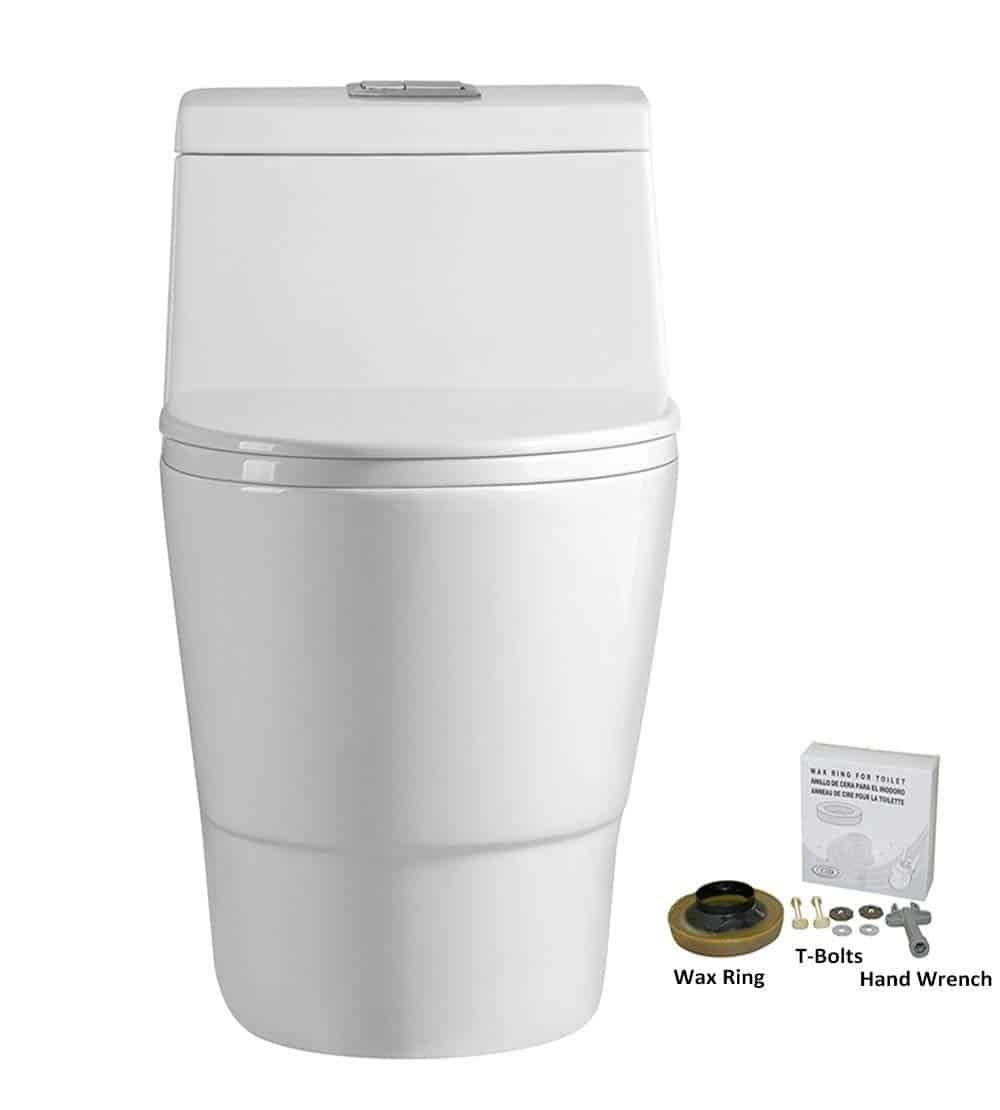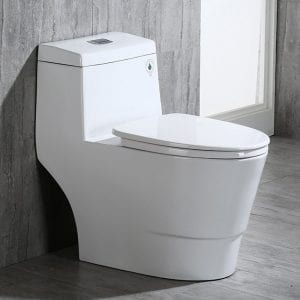 This relatively low cost toilet has a lot going for it. If you're looking to get the most value per dollar spent, this is probably the toilet for you.
Unless you're used to the pampering of the high-tech toilets above, truthfully,  you'll probably feel spoiled by this toilet.
It's styled in a luxurious modern take on the traditional toilet, which is a great look.
The look is also functional as the new sloped design makes it easier to clean by removing edges and corners.
The flushing system is also designed to function well. A new siphon shape allows the this toilet to flush powerfully, but also quietly.
This toilet has a raised seat which most adults will find to be a welcome design.
Lastly, the seat uses high-end soft closing materials to ensure that you never have to deal with any annoying seat or lid slams.
'What about the environment,' you wonder?
It does have a pretty high solids gallons per flush, but it also has a second flush option for liquids. These are 1.6 and 1 gpf, respectively.
Although the dual flush is nice to see, the efficiency option is still one of the higher low-flow options. Together, the toilet averages 1.28 gpf which is low enough for federal tax rebates.
Don't worry, you can install it.
This toilet is actually built to be self-installed. It includes all the necessary parts for installation and an easy-install guide. It even includes the tools you'll need.
It is a bit heavier at almost 120 pounds, so that is something you will want to consider.
This product has a great five-year manufacturer warranty on all porcelain parts. The mechanics are only covered one year. Warranty information here.
We will say this about this toilet…
It looks like it could be on a spaceship. You could use this toilet in a more modern bathroom design.
The rectangular flushing button on the back of the toilet also somehow feels even more futuristic than the auto-flushing toilets.
Features
All inclusive design
Dual flush
Soft closing seat and lid
Tools included
Button flushing
---
Pros
Easily installed
Attractive design
Easy to clean
Powerful, quiet flushing
Cons
Higher than average low-flow flush option
On the heavy side
---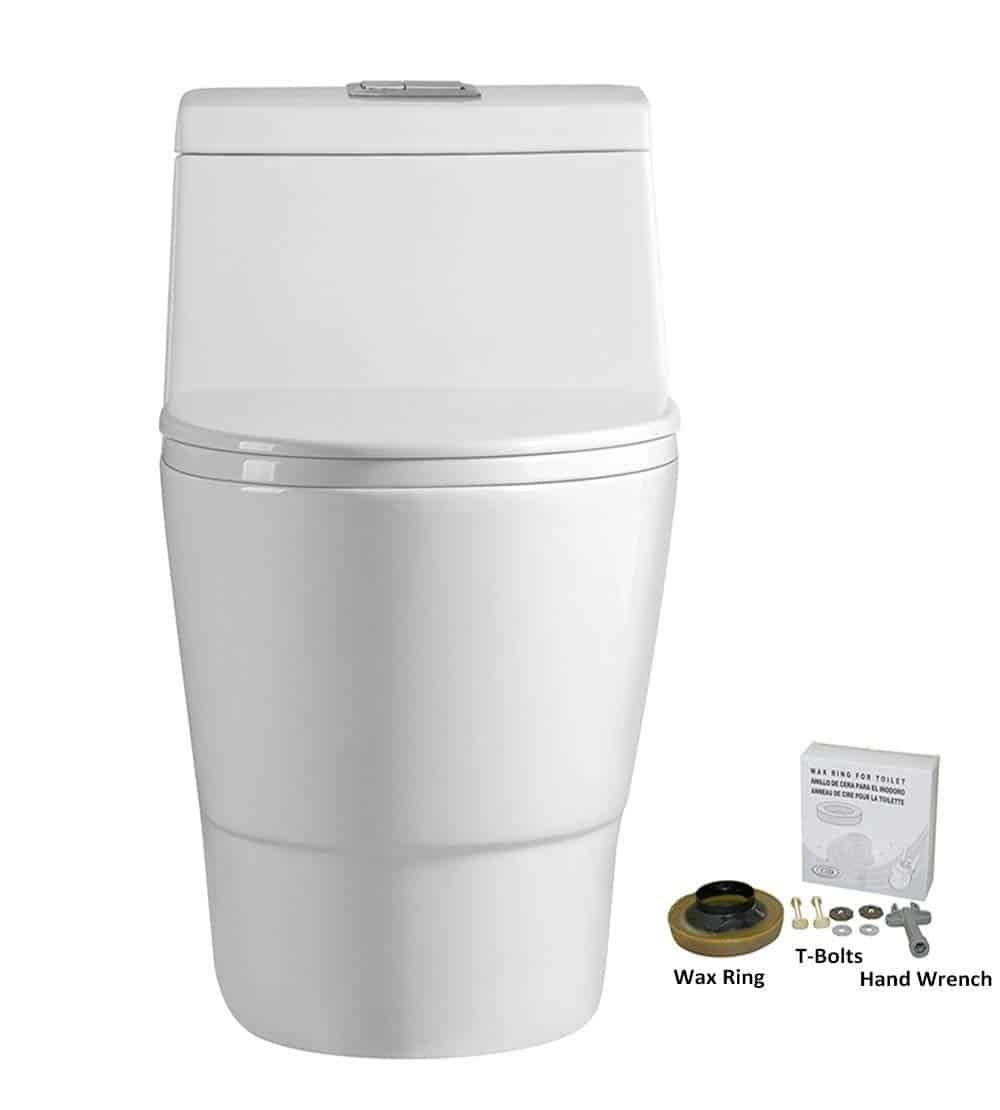 04
Kohler Numi Comfort Height One-Piece Elongated 1.28 GPF Toilet Seat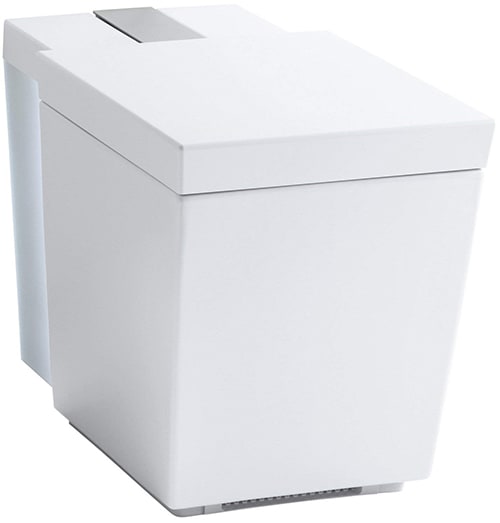 This is a really, really great toilet. Think of something you could want in a toilet.
It has that.
Whether you're an environmentalist, gadget-nut, or just enjoy a nice bathroom experience, you can probably find what you're looking for in this toilet.
Let's start with the basics.
It comes with two flushing options, 1.28 gallons and a super-low .6 gallons. This is the lowest water usage on any toilet on this list.
It has an elongated bowl, which is almost always a good thing.
That being said, the bowl is still smaller than average.
Regardless, double check that the elongated bowl doesn't create any strange corners in your bathroom.
The seat is at chair height--an important benchmark.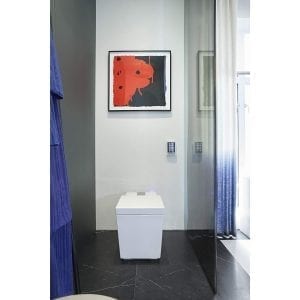 The seat is actually a bit higher than most similar seats, though, so don't mistakenly think the shorter overall height dimension means this is a low seat.
The low height is because the tank is stored behind the bowl rather than above it.
The tank can hold 100 flushes in the event of an outage or other emergency.
Weighting 50.5 pounds, you'll be able to install the toilet by yourself if you wish.
Now the fun part.
This toilet has a ton of features.
Let's put it this way:
It requires a touch screen remote.
For starters it includes a bidet, air dryer, and deodorizer. Each of these has several setting of their own.
You can pre program each of the features to the comfort of six users. Your friends can finally pee into whatever temperature they want.
The bidet even has an advertised massage feature.
Interpret that as you will… ?
The bidet itself functions very well, and it is nice to be able to pick a pressure and warmth setting.
It's also self cleaning. In our testing and research this cleaning feature worked very well and reduced the maintenance required.
The seat is both heated and motion activated. You'll only ever have to touch the seat with your very comfortable rear end.
Foot warming heat is projected off of the front of the toilet.
That's right, feet warming.
Go ahead and let that sink in for a minute.
Both of these features add a nice level of comfort, especially in colder environments. This is a good option for tile floors and basement bathrooms.
Energy usage is monitored and can be reviewed. The toilet has a power saving mode, as well. If you want to make sure that you're reducing both water and energy, this is one of your best options. You'll be doing earth and your pocket a favor in the long run if you buy this toilet.
The Numi toilet has bluetooth speakers which can connect to your mobile device.  You can also use the auxiliary outlet or the SD slot. Or just play music from the built in FM radio.
Some might call his overkill…
But to Kohler that's just luxury done right.
To further set the mood and keep you from stumbling at night the Numi toilet has ambient lighting. This also adds to the sleek style of the toilet, which would look very nice in a modern bathroom.
But nothing is perfect.
The Numi toilet does have some drawbacks.It is very expensive, several folds more so than any other toilet on this list. Additionally, for all that money you're spending, the required touch screen remote isn't included.
If you want to use all those features you're paying for, you'll need to shell out even more.
Some customers may not sit comfortably on this square shaped toilet. The edges and corners can prove a bit pokey for anyone who is all about that bass, if you catch my drift.
Some reviewers have found the product may, with all these features, be over engineered.
There's a lot that can go wrong in this high-tech toilet, and there are a few reports of breakages.
However, a decent warranty should give you some peace of mind.
Overall?
If you ask Bestazy, the sheer number of features on the Kohler Numi toilet make it the best. But the price tag is hard to swallow for some, making it rank a little lower in our results
We found this product to be a really cool gadget that really is more than a novelty (but rest assured, novelty abounds).
It really is nice to no longer have to stop to put the seat up or down--special reports indicate thirty percent less shouting in houses with both men and women.
We also found the nightlight to be a welcome edition.
This toilet comes with a 3 year warranty. This covers defects and regular residential use for both ceramic and mechanical parts. You need to know that this warranty is void if you use in-tank cleaners.
Features
Automatic, heated seat
Heated feet
Auto-cleaning
Touch screen remote
Bluetooth speakers
FM radio
Bidet
---
Pros
High-tech
Comfortable
Stylish
Efficient
Cons
Expensive
May not be durable
Remote not included
---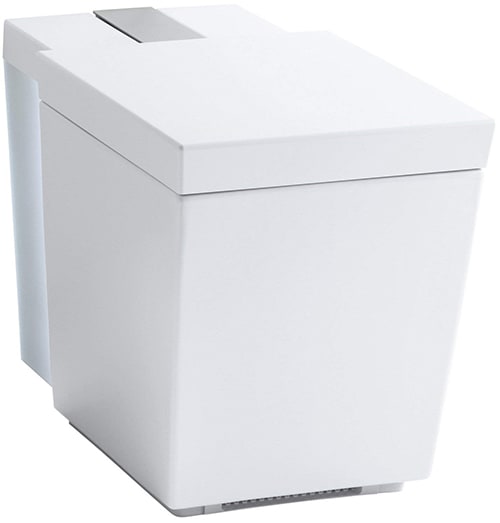 05
WoodBridge Luxury Bidet Toilet, Elongated One Piece with Advanced Bidet Seat, Smart Toilet Seat, Temperature Controlled Wash Functions, and Air Dryer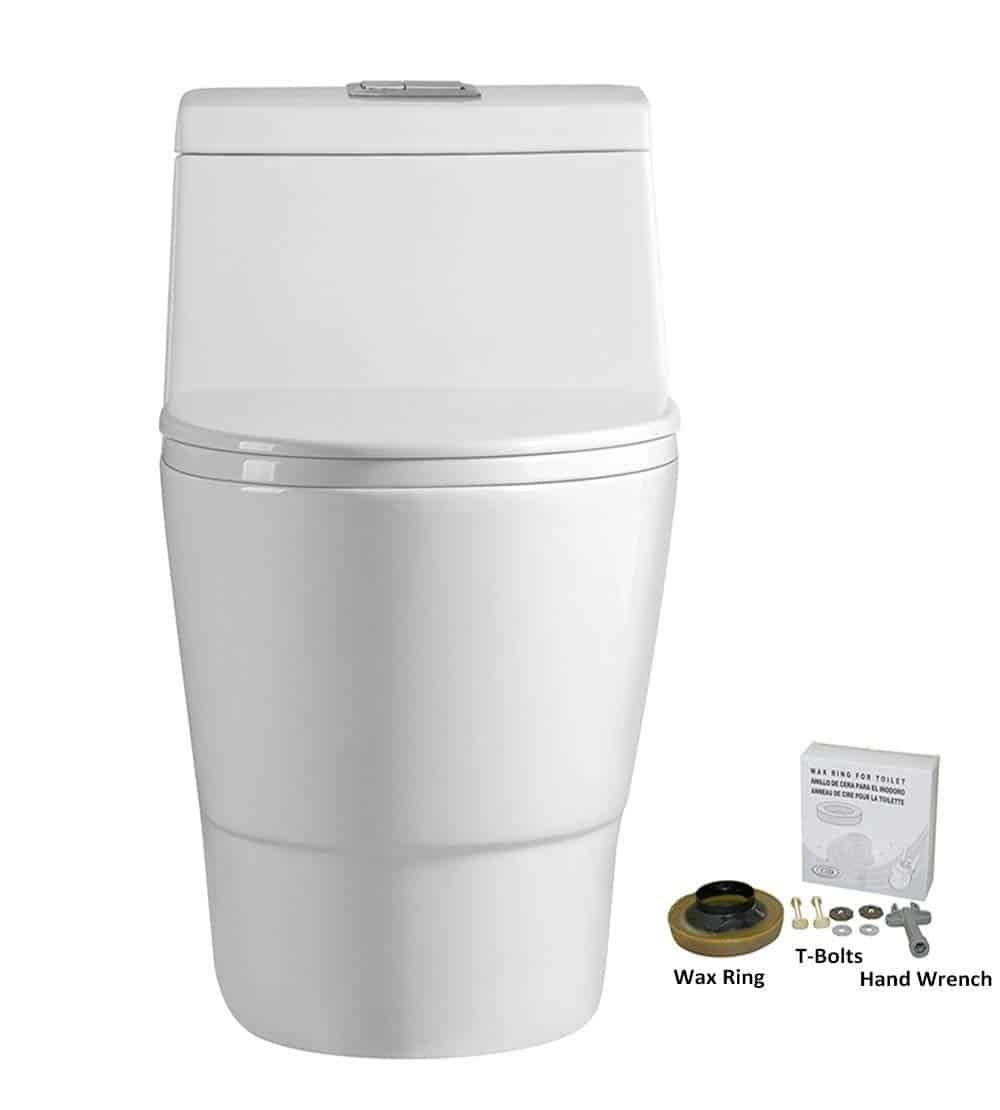 Woodbridge offers another really excellent toilet with this luxury product. It doesn't have some of the more extraneous features of the first three toilets, but it does other things really well.
This one is a great option if you wanted something higher end, without paying quite the same high price tag.
What's it have going for it?
This is a very well thought out toilet. It does not suffer any of the minor design flaws of earlier toilets on this list.
For instance, it sits much higher than other toilets, which will up the comfort factor for most adults. If you have a difficult time sitting or standing, but want something nice, this is a great option.
It has five options for each setting including water temperature, seat temperature, drier temperature, bidet pressure, and bidet oscillation.
It looks very sleek and modern, as well. It would fit well with most bathroom styles, with the exception of the very traditional.
This product is self-cleaning and makes maintenance as easy as possible. It doesn't provide a total cleaning like others on this list, but it certainly makes things less tedious.
There's far less scrubbing involved when the toilet is self-cleaned regularly.
The bidet seat has a quick-detach feature that makes the cleaning you do have to do simple and easy.
It has an energy save mode, nightlight, and safety sensor all of which work to make this a very convenient toilet to use.
This toilet also has a remote, which is a bit updated from the last Woodbridge model.
What could it do better?
We again see only one flushing option on this toilet, which means it may not be a good fit for the environmentally conscious or anyone living in a drought-prone area.
This is a 130 pound toilet, so you will likely want to call professionals for installation. At a very minimum you will probably need two people to get it into your bathroom.
The toilet itself is covered by Woodbridge's same one year warranty. The bidet seat is also covered by a seperate two year warranty.
Features
Self-cleaning
Customizable bidet settings
Easy release seat
Safety mode
---
Pros
Sleek looking
Well-made
Many settings
High seating
Cons
Only one flush mode
Heavy
---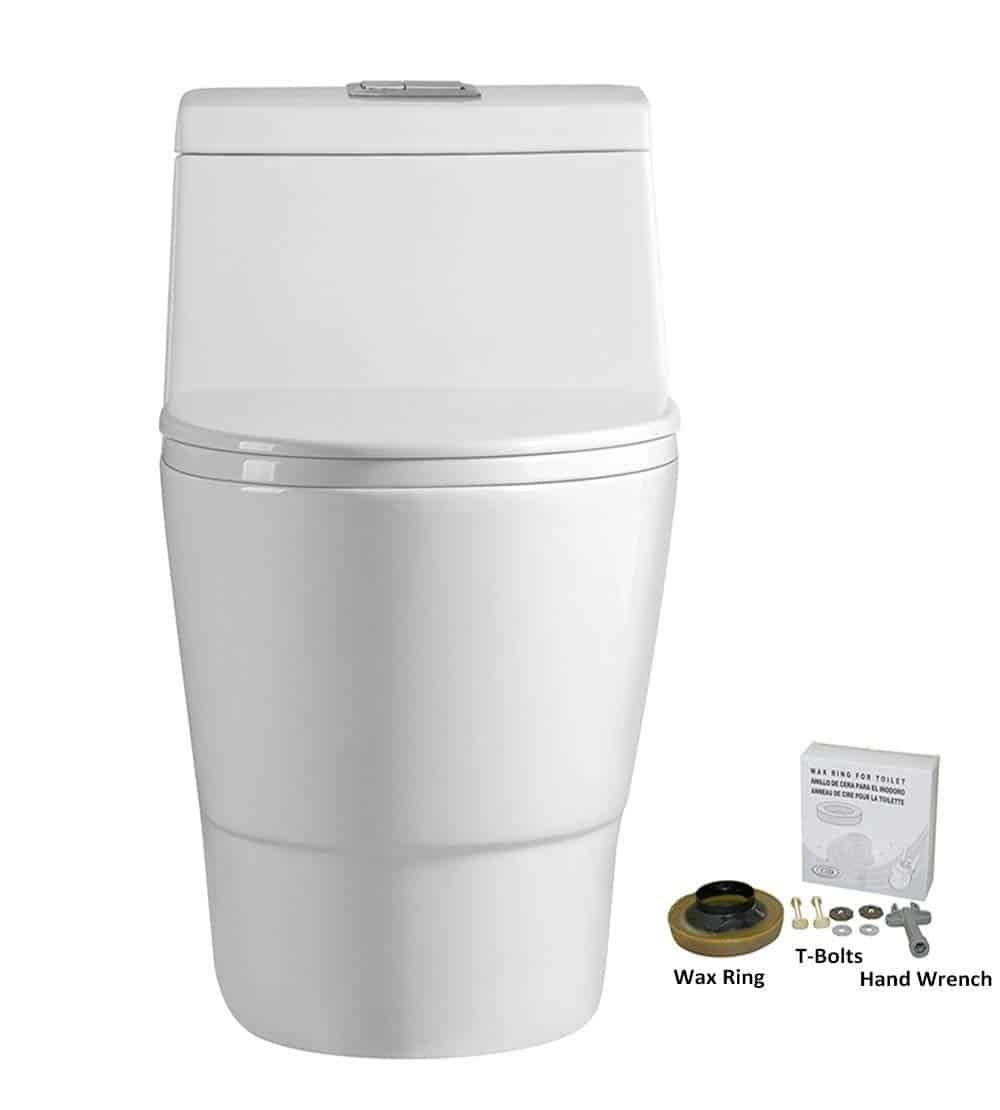 06
Saniflo Sanicompact 48 One piece Toilet with Macerator Built Into the Base, White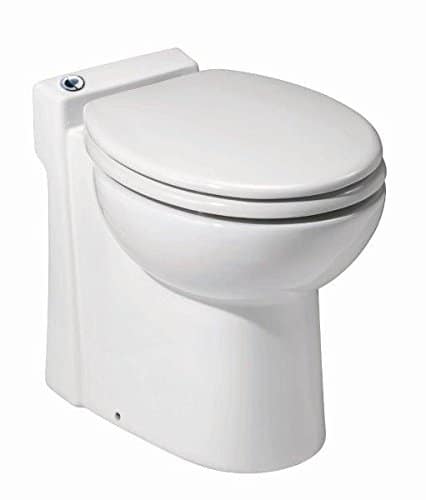 This is our first traditional, normal tech option on this list. If you're looking for the newest gadget this might not be the product for you.
You should also keep in mind this is one of the smallest toilets that you can buy. If you're older or have a hard time sitting or standing this might be a poor option for you.
On the other hand if you're looking for something that will fit into a half-bath or putting a nursery together, this might be a great option.
Wondering if you can install it yourself?
This would be one of the easiest toilets to self-install if you're trying to save money on contractors. This is a simple, low-tech floor mounted toilet, that weighs 67 pounds.
This toilet also does its part to take care of Earth. Although it does not have a dual flush option, its standard flush is almost as low flowing as many eco-flushing options.
Every flush only uses one gallon of water.
This is a stylish, gravity flushing toilet that won't let you down. In simplicity, this toilet builds reliability.
In tests this toilet proved to be very quiet.
Who might love this one?
If you're hell bent on installing a toilet yourself, without any help, this toilet would be a viable option.
It's light enough you can probably get it in place alone. And it's one of the easier toilets to install.
If you hate being woken up by a loud fushing, you should also consider this one. Put this toilet in hallway bathrooms a lot of people sleep near or close to living spaces where you want extra privacy and discretion.
It has a two year warranty, which you can read about here. It covers manufacturer defects, however it does not cover shipping costs, which would likely be substantial.
Features
Can attach sink
Porcelain construction
Low gallons per flush
---
Pros
Can fit anywhere
Quiet
Easy to install
Cons
Hard to stand from
No extras
---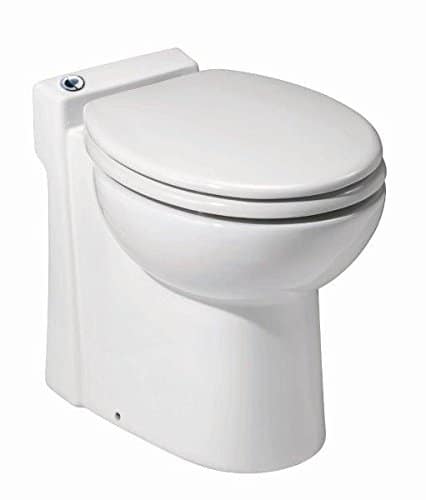 07
Kohler Santa Rosa Comfort Height Elongated 1.28 GPF Toilet with AquaPiston Flush Technology and Left-Hand Trip Lever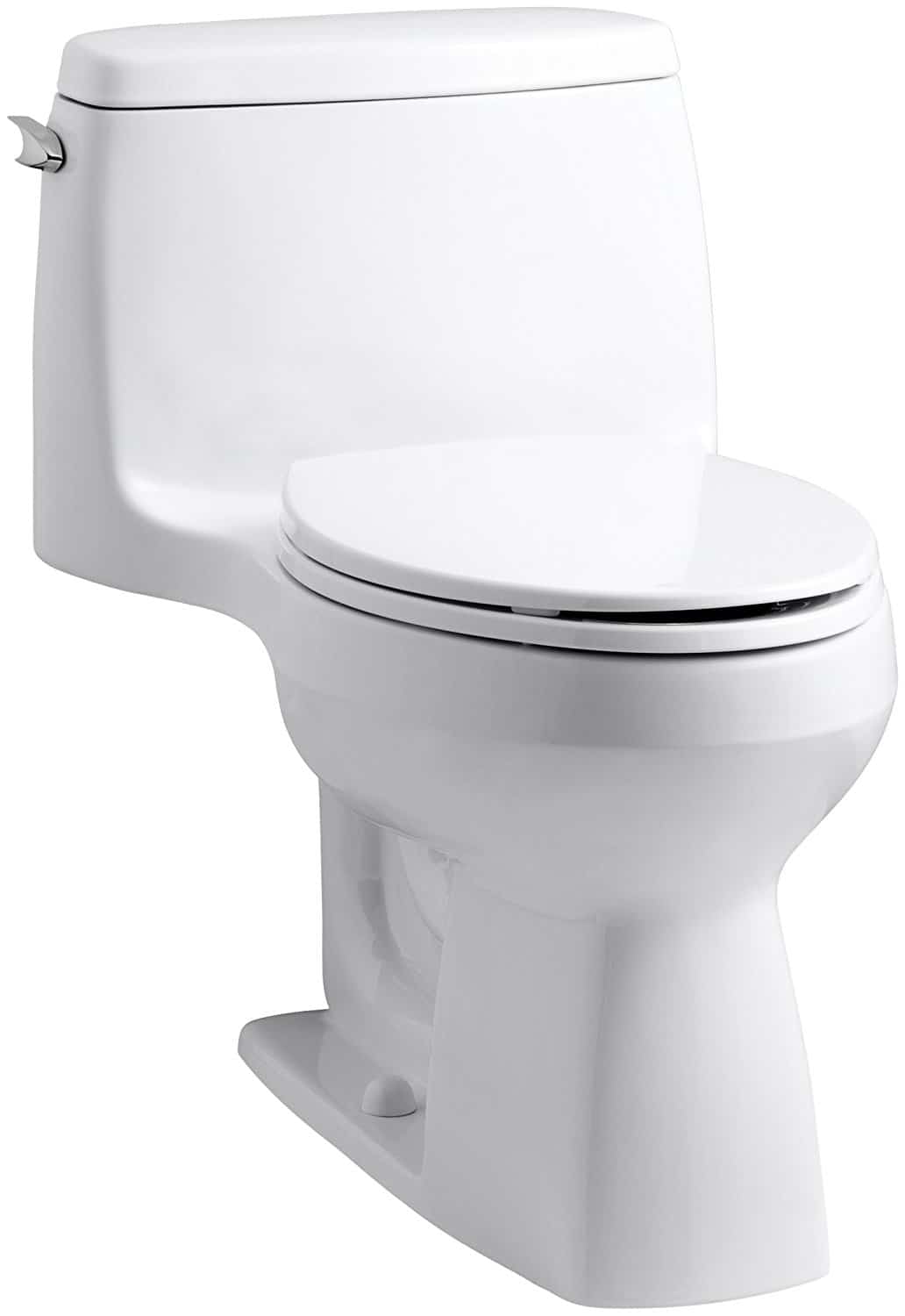 There's a lot going on behind the scenes with this minimalistic seeming toilet. There are several things you'll need to know, however.
So, what's in this thing?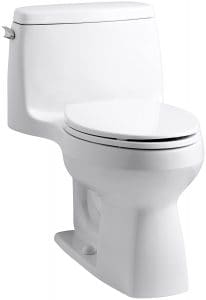 This may look like a normal toilet, but there's a lot to pick apart here.
First, let's look in the tank. This toilet uses a canister flush valve which keeps the bowl from clogging with a more powerful flush.
This flush does not come at the cost of convenience or efficiency, however. The canister valve also reduces noise and water consumption.
Also in the tank, the aquapiston technology puts the water consumed better use. A normal flap style valve wastes a lot of water and reduces flushing power by opening gradually and remaining in the way.
The aquapiston instead opens vertically, allowing all the water used in a flush to enter the bowl at the same time. This hits the bowl contents harder, producing a more powerful yet efficient flush.
In tests, we found this was an extremely high-functioning element.
Sound too complex?
It's not!
You shouldn't have too much trouble if you decide to install this one yourself. It does weight 102 pounds, which is something you'll want to keep in mind before installing.
But you should know...
There are a few things you'll want to consider before deciding on this toilet.
Most toilets have the lever on the right side, since most people are right-handed. This toilet gives left-handed people an option by moving the lever to the other side.
If you're right handed, this may bother you. However, this is something that left-handed people do normally, so you can definitely get used to it.
You'll also want to make sure this toilet can fit in your space. You should always measure before you buy, an that goes double for this product.
It is the biggest toilet on this list.
This is a great thing for comfort, but it may rule out some toilet spaces.
This product does not include a supply valve, which you will need to purchase prior to installation.
And one more thing.
This entire toilet only has a one year warranty. For a product you expect to use for so long, manufacturer defects or malfunctions might not show up until after this period.
Features
Aquapiston flushing technology
Canister valve
High-efficiency flushing
---
Pros
Quiet flush
Powerful flush
Comfortable
Cons
Short warranty
Left-handed flushing could annoy some
No supply valve
---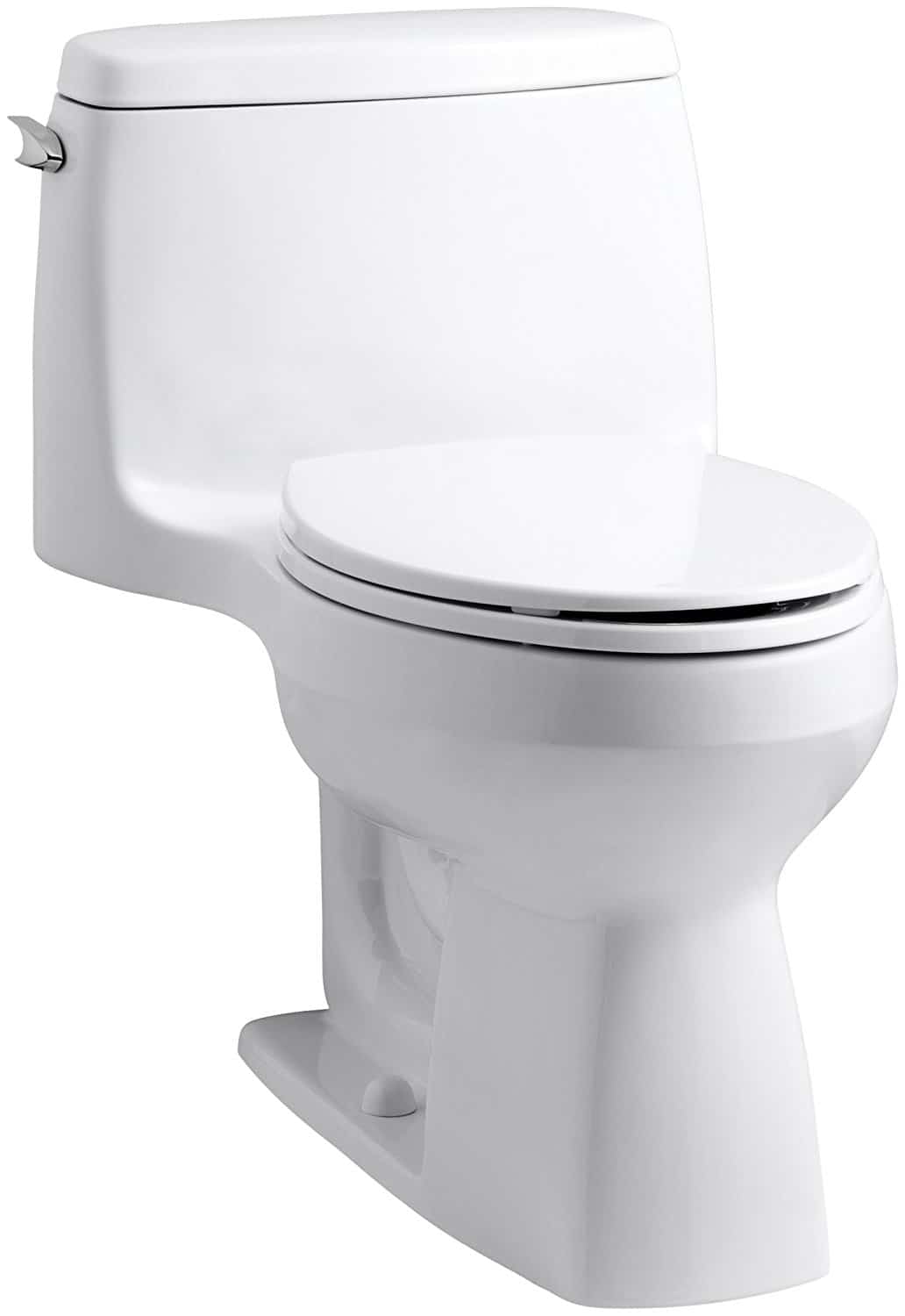 08
Kohler Memoirs Stately Comfort Height Two-Piece Elongated 1.28 GPF Toilet with AquaPiston Flush Technology and Left-Hand Trip Lever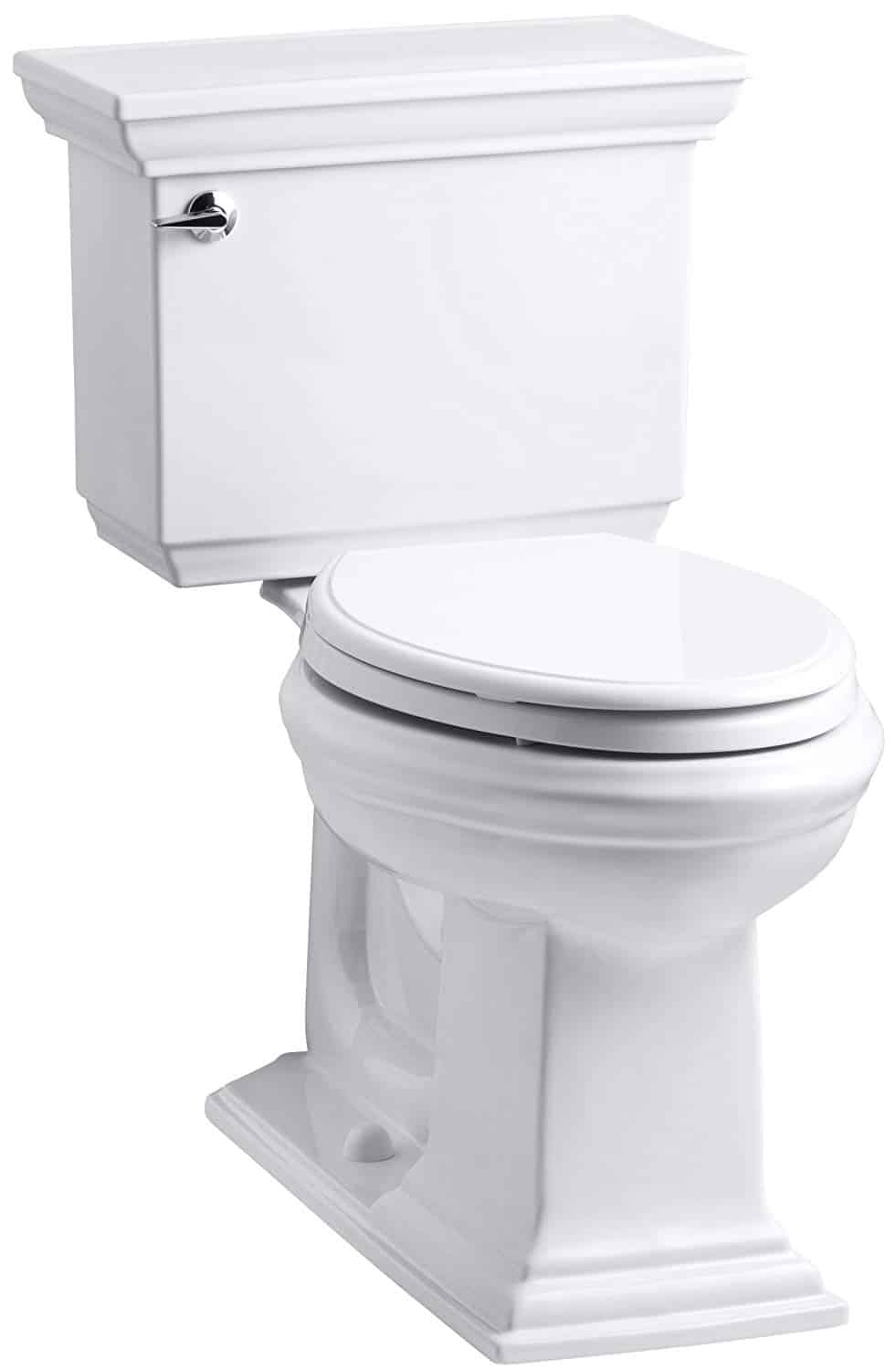 If you're like me you may have just chuckled at the idea of a toilet being "stately." But looking at this toilet, it is hard to deny that it has a certain colonial appeal.
Pardon me, Governor?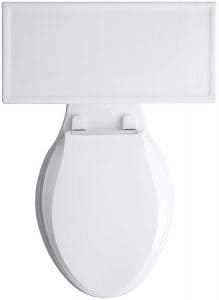 The traditionally porcelain construction is appropriate. And the large size adds a grandioseness to it (which may actually be a problem for smaller bathrooms).
This is one of the most attractive looking toilets on this list. It'd fit right in traditionally styled bathrooms.
But it's not just pretty.
There are other things to like about this toilet.
It has the same aquapiston technology as other products, which allows for a more powerful, quiet, and efficient flush.
The toilet flushes at 1.28 gpf.
The extra tall seating will make sitting and standing more comfortable for most adults.
Keep this in mind, though.
This probably isn't one you're going to want to install yourself. It's quite heavy, and several necessary parts and tools aren't included.
Also not included is the toilet seat, so you will need to purchase one of those before you, uh... get settled in.
That being said, this is an elegant toilet for a sophisticated bathroom.
This product comes with a short one-year warranty.
Features
Aquapiston flushing valve
1.28 gpf
Tall seating
---
Pros
Comfortable
Efficient
Attractive
Cons
A lot unincluded
Probably requires a professional
Might be too large for some spaces
---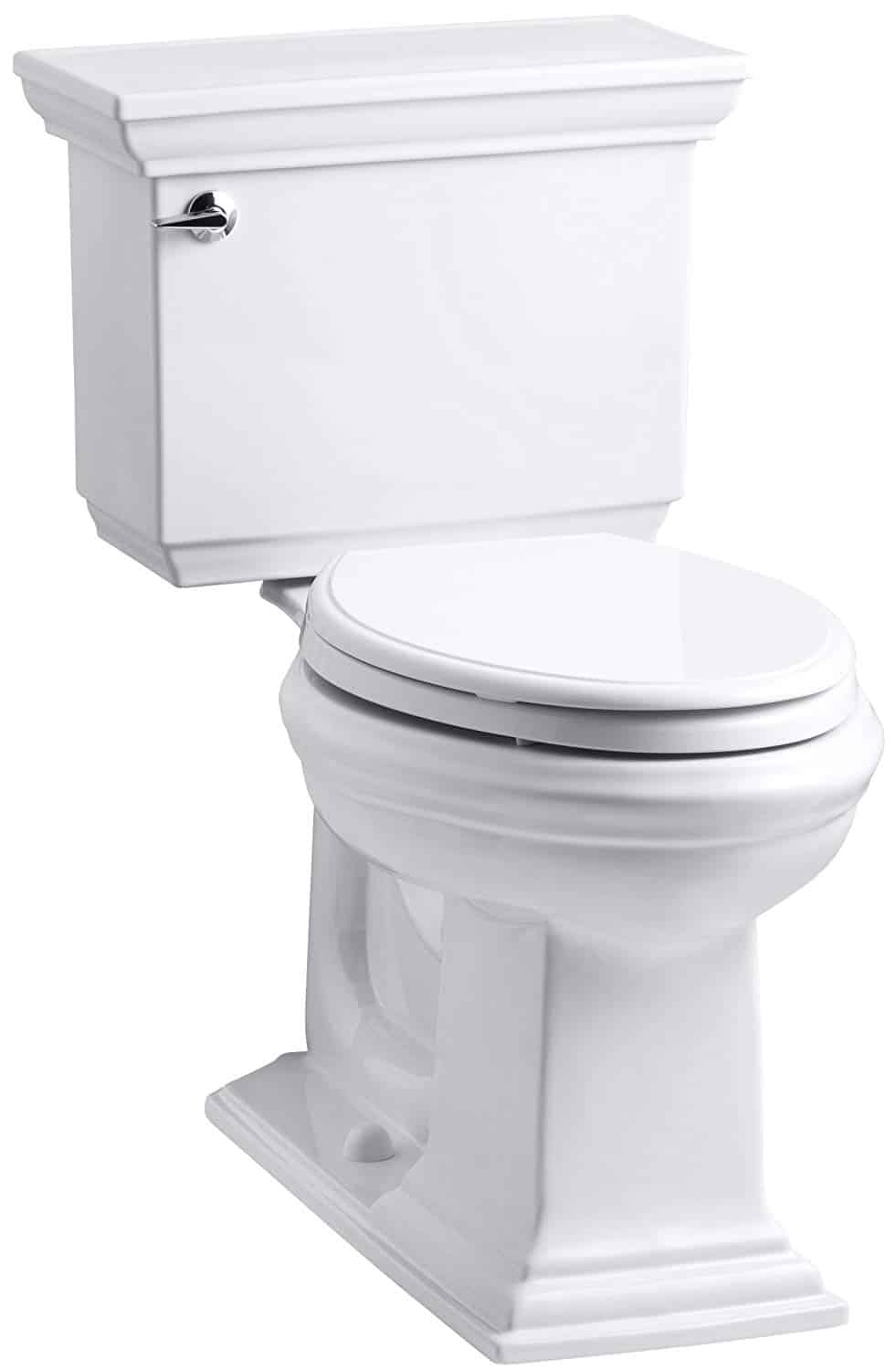 09
TOTO Ultramax II Het Double Cyclone Elongated One Piece Toilet with Sanagloss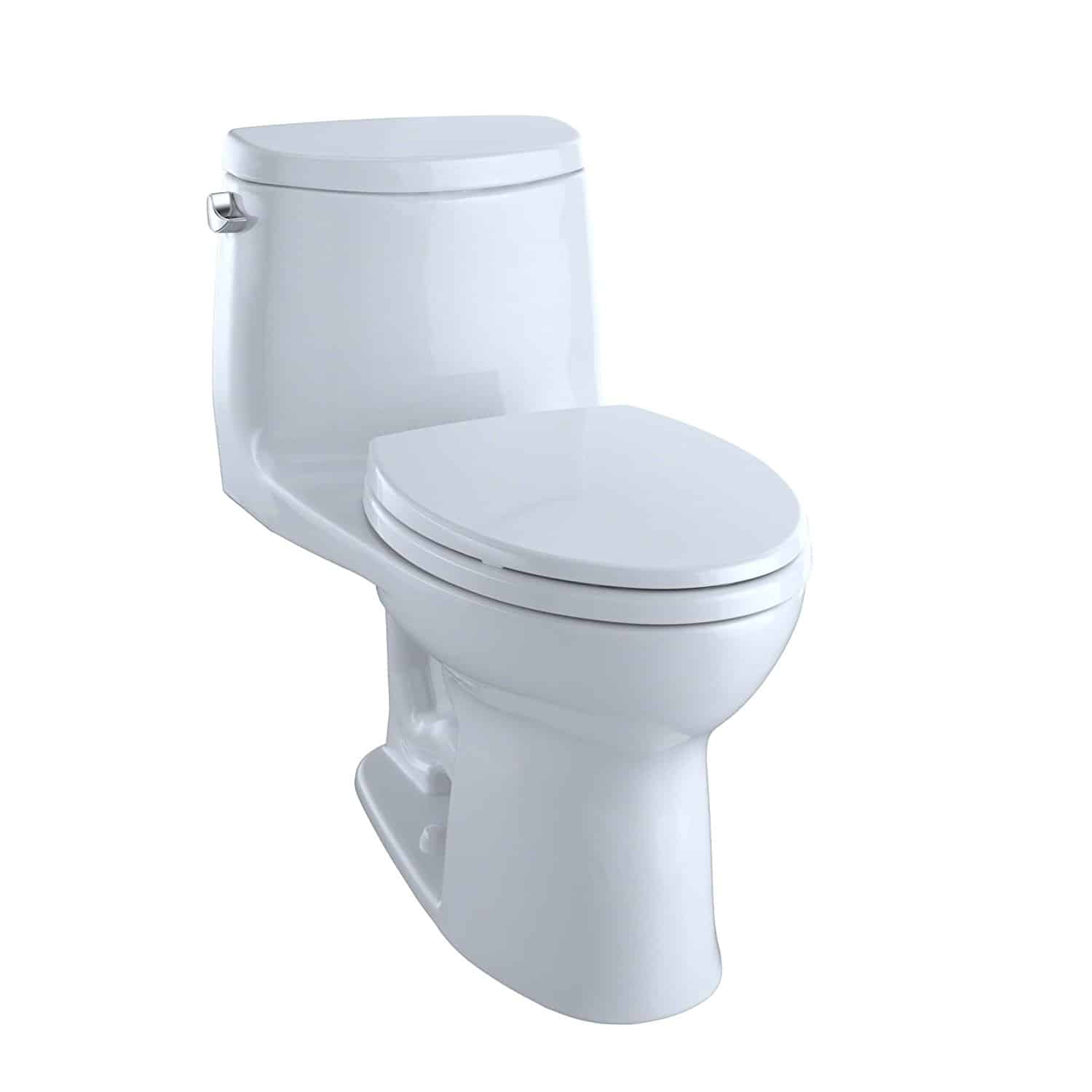 If you're looking for something more modern looking that maintains simplicity this might be a great option.
Although minimalistic in design, this toilet also has some tricks up its sleeve.
See what's behind the scenes.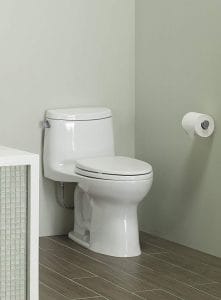 First, this toilet uses a new dual cyclone flushing style. This allows the Toto Ultramax to flush quietly yet powerfully without sacrificing efficiency.
It does this by distributing the way that water enters the toilet bowl. Having two cyclones means the water that's used hits the bowl harder and more effectively. The fact that the water is split between two falls means it doesn't create one giant rushing sound when flushed.
This toilet flushes at 1.28 gpf, so you'll be able to claim your high-efficiency toilet rebate.
One of our favorite design characteristics of this toilet is the bowls coating. The SanaGloss ion barrier coating allows substances to slide right off the interior of the bowl.
This means with every flush, the toilet self-cleans--a great practical effect.
You'll still need to get in there and give this one a deeper scrub every now and then, but you'll have a much easier time fighting stains with SanaGloss.
It also makes the whole process more hygenic.
It also has a tall seating, which adds comfort. It also has an elongated bowl on which most adults will find it easier to balance.
But, remember...
Most Kohler toilets run large, so you're definitely going to want to double check this one will fit in your bathroom space.
You'll need to buy a supply valve for this product, as well.
This toilet has a standard one-year limited manufacturer warranty.
Features
SanaGloss coating
Double cyclone
Elongated bowl
---
Pros
Self-cleaning
Powerful and quiet
Efficient
Comfortable
Cons
Short warranty
May be too large for some spaces
Valve not included
---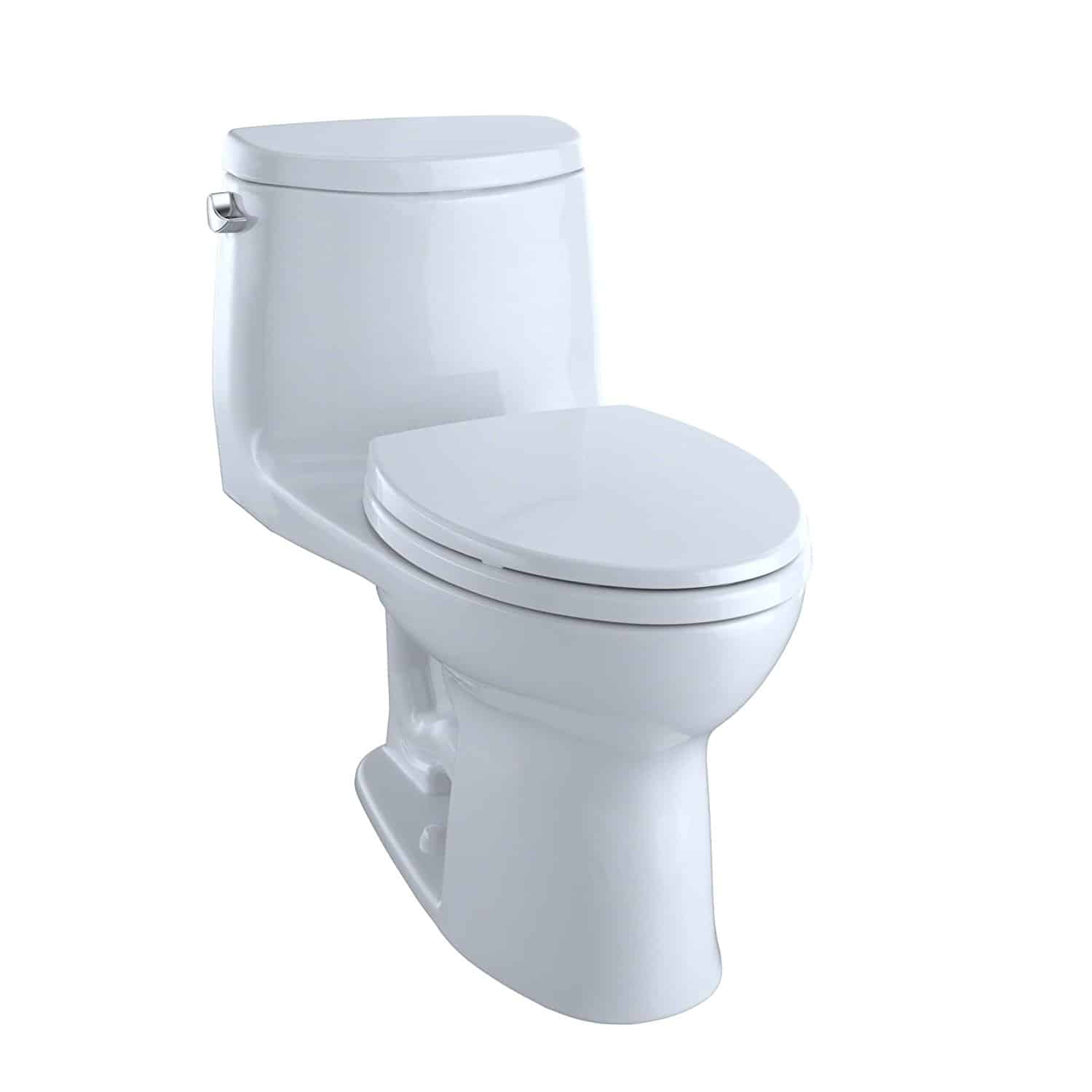 10
TOTO Drake II 2-Piece Toilet with Elongated Bowl and Sanagloss,1.28 GPF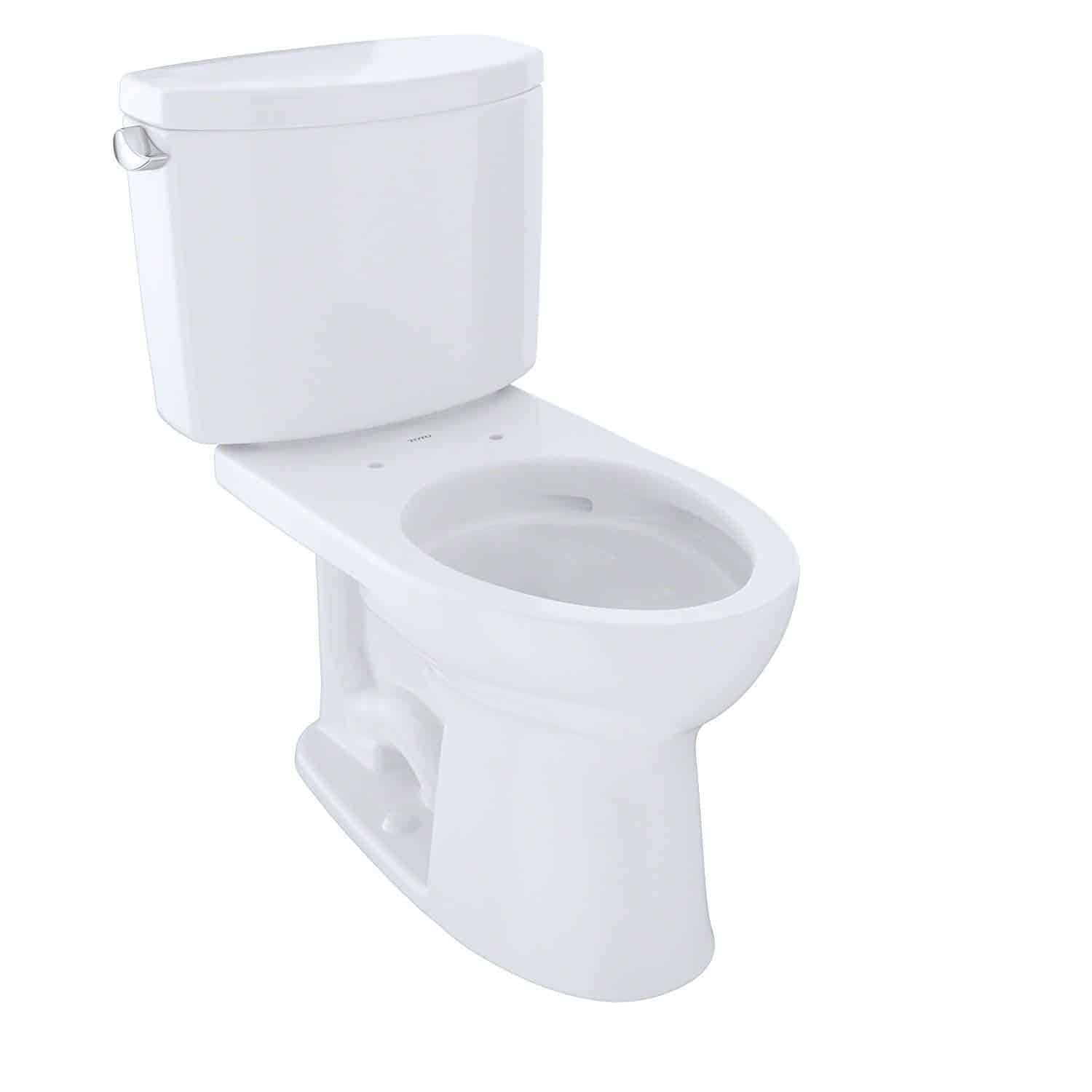 This is another solid option from Toto if you're looking for some of their exclusive features.
Like what?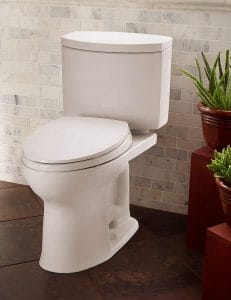 You can find Toto's SanaGloss coating on the inside of this toilet. This will aide in more complete flushes while also self-cleaning the toilet. This is a much-loved feature since it takes care of an entire chore for you without over engineering the product.
The dual cyclone flush is at play here, as well. You'll find that this toilet flushes well every time without being too loud.
You also won't see any increased water usage from such powerful flushes, since the technology also makes the toilet more efficient. You'll be able to claim tax rebates as this product flushes at 1.28 gpf.
This model also includes dual flushing, so you'll save water on liquid wastes.
This toilet additionally houses a computer generated trap-way. The structure and increased size allows solids and liquids to pass much more smoothly into the plumbing. This prevents clogging and promotes clean flushing.
This is a taller, porcelain toilet that will flush well and be quiet. It's ADA compliant, so most adults will have a very easy time sitting and rising.
Don't be fooled, though.
Although pictures show this product has a seat, there's no cover included with this purchase.
You should also know this product only has a one-year warranty. And there are already some reports of defects popping up after this coverage period has ended.
But this is still a great product as long as you understand what you're getting and what you do get is made correctly.
Also keep in mind this is a pressure flushing toilet. This means you can expect a little bit larger energy consumption. It will also be virtually clog free.
This would be a really good option for anyone who is buying for commercial or high-traffic use.
Features
SanaGloss
Dual cyclone flushing
Two flushing options
ADA compliant
1.28 gpf
---
Pros
Low maintenance
Flushes well
Tax rebates
Advertised for differently abled
Innovative trap-way
Cons
May break after short warranty
No seat cover
Pressure flush means it uses more energy
---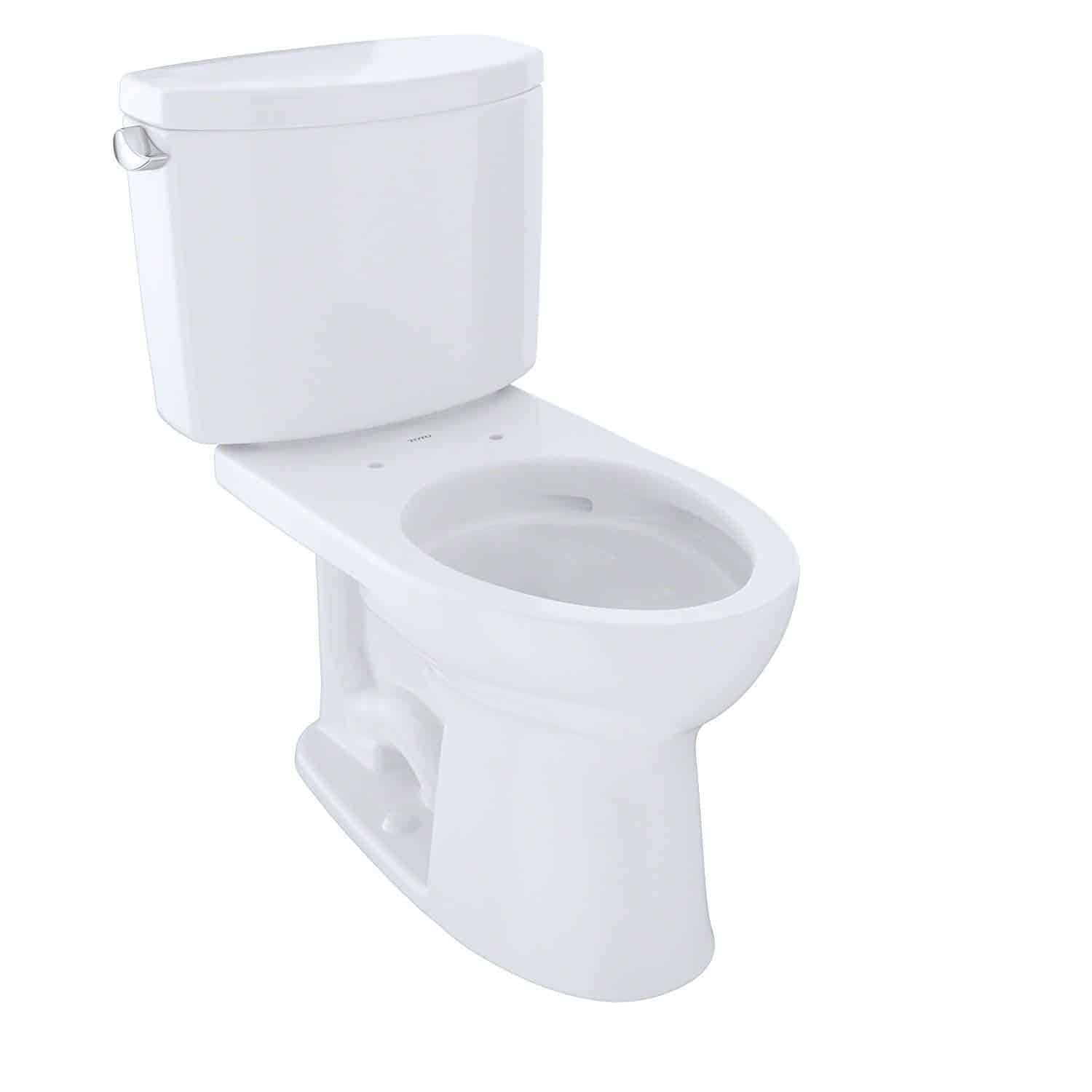 11
KOHLER Cimarron Comfort Height Elongated 1.28 gpf Toilet with AquaPiston Technology, Less Seat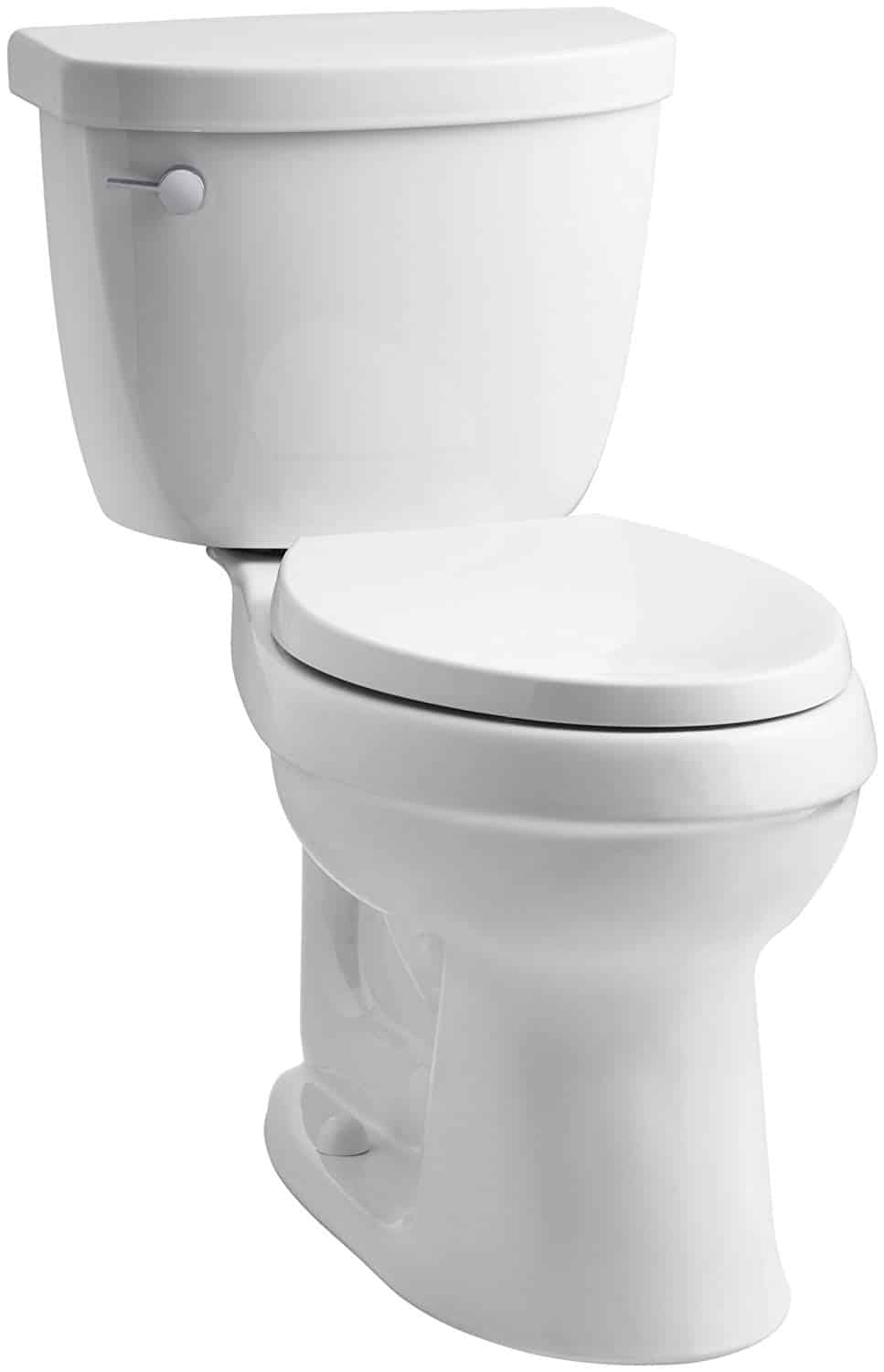 This is another classic Kohler. If you're looking for those Kohler features but also want to save some money, this might be the right option for you.
You know these features.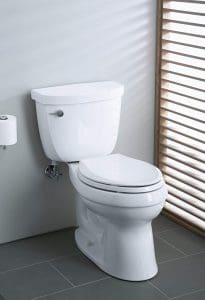 This toilet has the same aquapiston technology and canister flushing valve seen in other products on this list.
You can expect this toilet to flush with that same impeccable reliability. You can save water and avoiding clogs with this toilet, all while maintaining your peace and quiet.
But there are some differences.
This toilet is actually a bit taller than other Kohler toilets. That means the elderly or differently abled will find it more accessible. It will also be generally more comfortable.
It also differs in that it's a combination of two different toilet models. The tank and bowl are from separate units, which shouldn't matter. But you may want to keep this in mind if you need to buy parts in the future or are planning to install it yourself.
Speaking of parts, you'll need to buy both a supply valve and a toilet seat before you can install or use this product.
This toilet has a one-year limited warranty.
Features
Aquapiston
Canister valve
Extra tall seating
---
Pros
Comfortable
Accessable
Affordable
Cons
Seat not included
Supply valve not included
Limited extras and features
---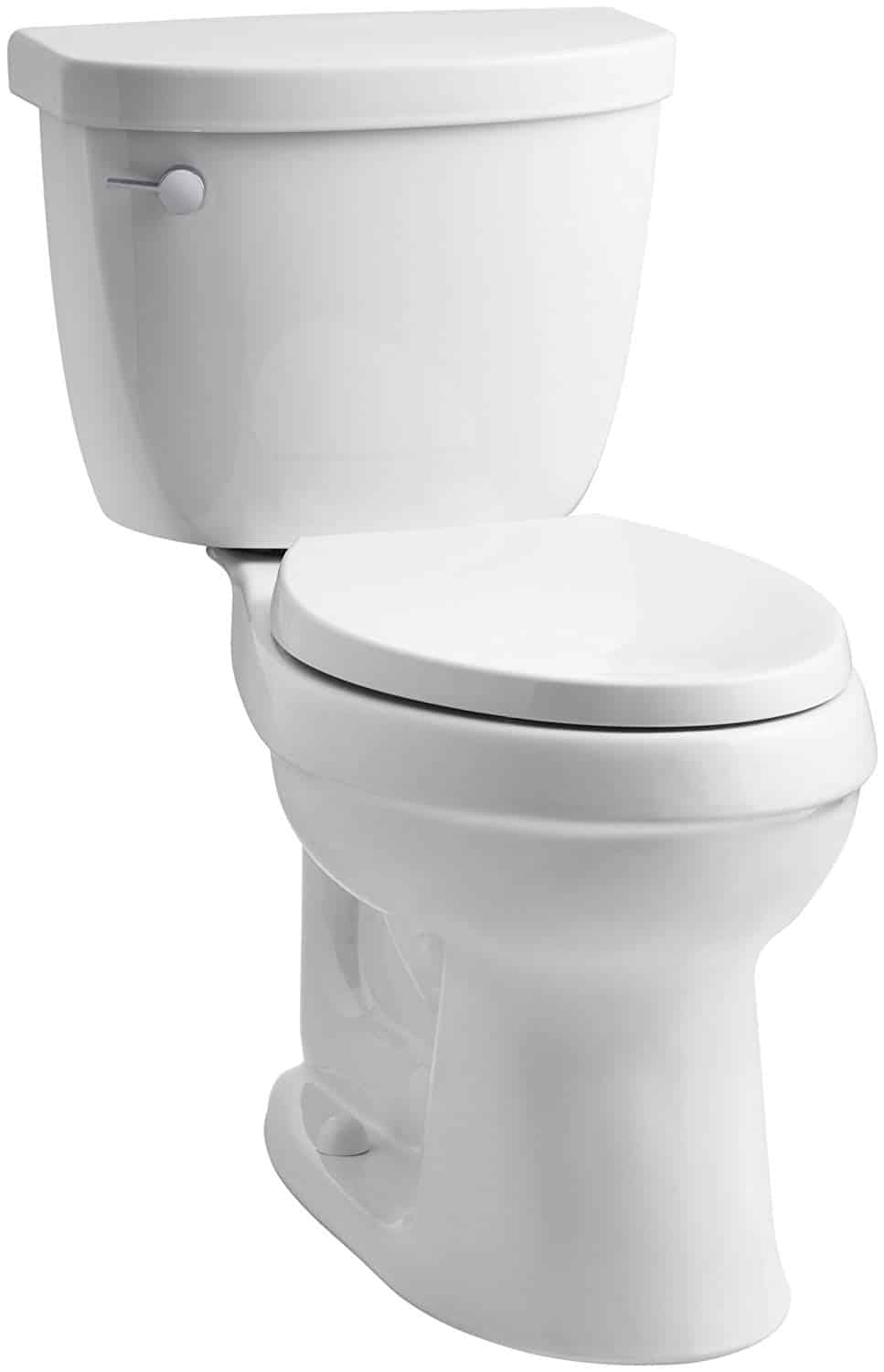 A Few Important Things
There are some other things you should know before you go buying any toilets or bidets. It would stink to end up with an appliance you can't use or don't want.
So listen up.
Installation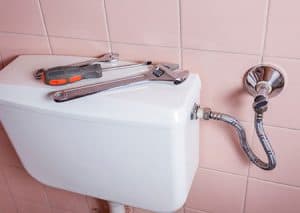 First, you should know toilet installation does not include the installation of plumbing or construction. When you see this or other guides referring to installation, they only mean the toilet itself.
The point is, if a products says you can install it yourself that doesn't mean you can turn your walk-in closet into a half bath. For a toilet to be installable, the plumbing will already need to be in place before you begin.
If you want to add a new place to put a toilet, you'll need to be a skilled contractor or hire one for that.
If you do decide to install it yourself you'll want to take careful measurements of the space you're planning to put the toilet.
Keep in mind just because it fits into a bathroom doesn't mean it will be comfortable. You still need to put a person in there somewhere.
Make sure that you leave space for a person's legs and that you don't create any awkward paths through your bathroom. You don't want to be tripping over an elongated bowl for the next sixty years because you didn't measure correctly.
You can also save yourself some grief with this next rule.
Take a Second Look
Double check your toilet has everything you think it does. You don't want to end up without the parts you need to install or use your toilet.
Some pictures of products include parts, items, or tools that aren't included in what you're purchasing.
This can make things more difficult.
To keep yourself from doing this make sure you read descriptions closely.
A toilet that does not include a seat will say so. One that doesn't include something like a supply valve might not. Make sure you take that second close look at your product.
That way you can order all the things you need to use and install your toilet in one cart.
A Note On Dimensions
When you look at toilet dimensions, you probably aren't getting the information you think you are.
The dimensions listed on Amazon are given as length by width by height. However, this refers to the length, width, and height of the entire product.
This includes the tank and base.
This isn't the seat height.
If you aren't careful, you may end up buying a low seated toilet with a big, tall tank.
This applied to the width, as well. Don't mistakenly take the base width to be the seat width.
Cleaning Supplies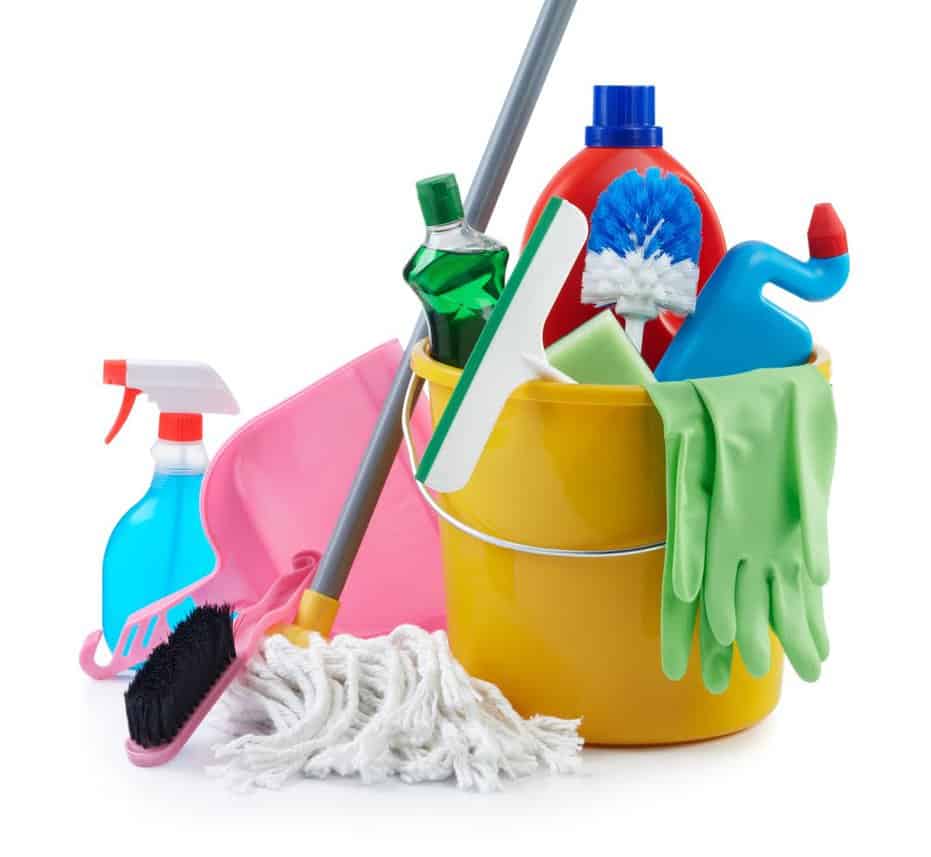 You'll need to look into what cleaning supplies to use with your toilet. Depending on the materials and construction some bowl cleaners are better for some toilets.
If you decide on a high tech toilet, you will want to stay away from tank cleaners, since these tend to be harsher and could damage the mechanical components.
Many toilet's warranties are voided if you use harsh cleaning supplies.
Some toilets, such as ones for RVs, will need a special type of cleaning supplies. The one of this list includes the only type of cleaner that can be used with the toilet, for instance.
Know Your State
Some states have special laws that apply specifically to toilets. This is because toilet use accounts for a huge part of household water waste.
Although you aren't likely to get caught with an illegal toilet, you'll still want to make sure everything is up to code and you aren't making droughts any worse.
California, for instance, has special toilet laws.
Double check your state or area doesn't require certain extra accessibility standards, as well. If you're buying for a commercial setting, you'll need to pay extra close attention to this.
Warranties
Make sure you take warranties into account when you buy appliances or home products.
We're all guilty of overlooking product warranties before making purchases. However, toilets aren't an area you want to do this.
Home products are expensive and difficult to replace. It may end up mattering a lot whether your warranty is only a year or two long. Products like this can take a long time to show any defects in manufacturing or workmanship.
This is one product you're definitely going to live with for a long time, also. You don't want to have to learn to live with a defective product because it had a bad warranty.
Additionally, a warranty that covers reinstallation adds a lot of value to each toilet. Keep this in mind as you shop.
Commercial Versus Home Use
There are some key things to keep in mind if you're planning on purchasing a toilet for commercial use.
For commercial use, pressurized flushing systems are going to be a better option. People tend to be rough on public restrooms, so you'll want that flushing extra power.
There are also special disability requirements for toilets if you run a business. You'll need extra space and a higher toilet, as a minimum.
Warranties can often vary a lot, also, in commercial settings. Even if yours doesn't, you can't count on a warranty when anyone can come in and damage your toilet, voiding the warranty automatically.
You don't have much control over what people do in our bathroom or stall, so keep this in mind when you're picking a toilet. Look for something more durable if that seems appropriate. You're likely to know best what level of toughness your toilet will require.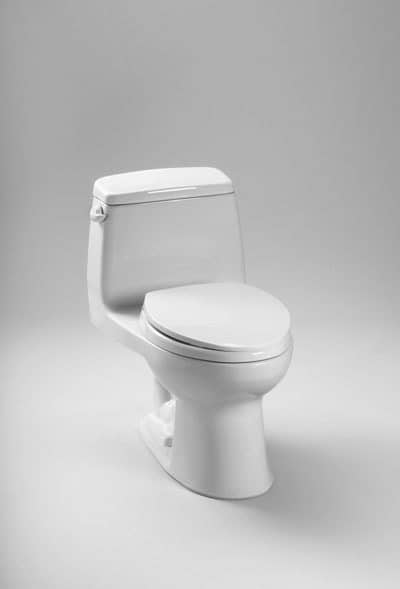 Part 2
Tip 6: Remember that any toilet can come with defects. Register your toilet for its warranty as soon as you get it. Keep the receipt
Tip 7: Don't forget to claim your high-efficiency toilet tax credits come tax season.
Tip 8: Toilet height isn't seat height! Keep an eye on seat height to increase your comfort.
Tip 9: Don't be afraid to buy for comfort. You'll be sitting on this thing for a while.
Tip 10: Size isn't just about if it will fit. A really long toilet might create an awkward angle in your bathroom, for instance.
Tip 11: Don't under budget. A hundred bucks can be the difference between total satisfaction and a daily annoyance.
Tip 12: Put the toilet seat back down. This isn't a damn barn.
Finishing up in there?
In conclusion, let's look back at some important information you'll want to keep in mind as you search through products.
When Picking a Toilet
Remember that when picking a toilet there are a many things to lookout for.
An elongated toilet is always a good thing. It will be more comfortable and keep you balanced. Shape matters more than size which–fun fact–also happens to be 'what she said.'
The tank size is also important, but really only during specific times. If your power is out or you have a clog, you're going to be wishing for a bigger tank.
There are a couple aspects to flushing. A toilet can either be gravity flushing or assisted with pressure. It can have one flushing option or two. Two dual option gravity flushing toilets are the most efficient. Pressure assisted needs less maintenance.
Materials matter, but not much.
Any material can be made to be high or low quality. You can't really count on the material to be an indicator of a good toilet.
Toilet height is going to be super important to comfort. A higher toilet is easier to both sit on and stand from for almost everybody. It may even be completely necessary, depending on who is going to be using the toilet.
Gpf refers to gallons per flush.
This is something that can save you money while also helping the environment. Keep a lookout for products with really low gpf.
Don't be afraid to pick from these selected one based on what features you think you'd like.
And remember how many shades there are in the color white. This will contrast very differently with various bathroom wall colors.
The Future Of Your Bathroom Experience Is In Your Hands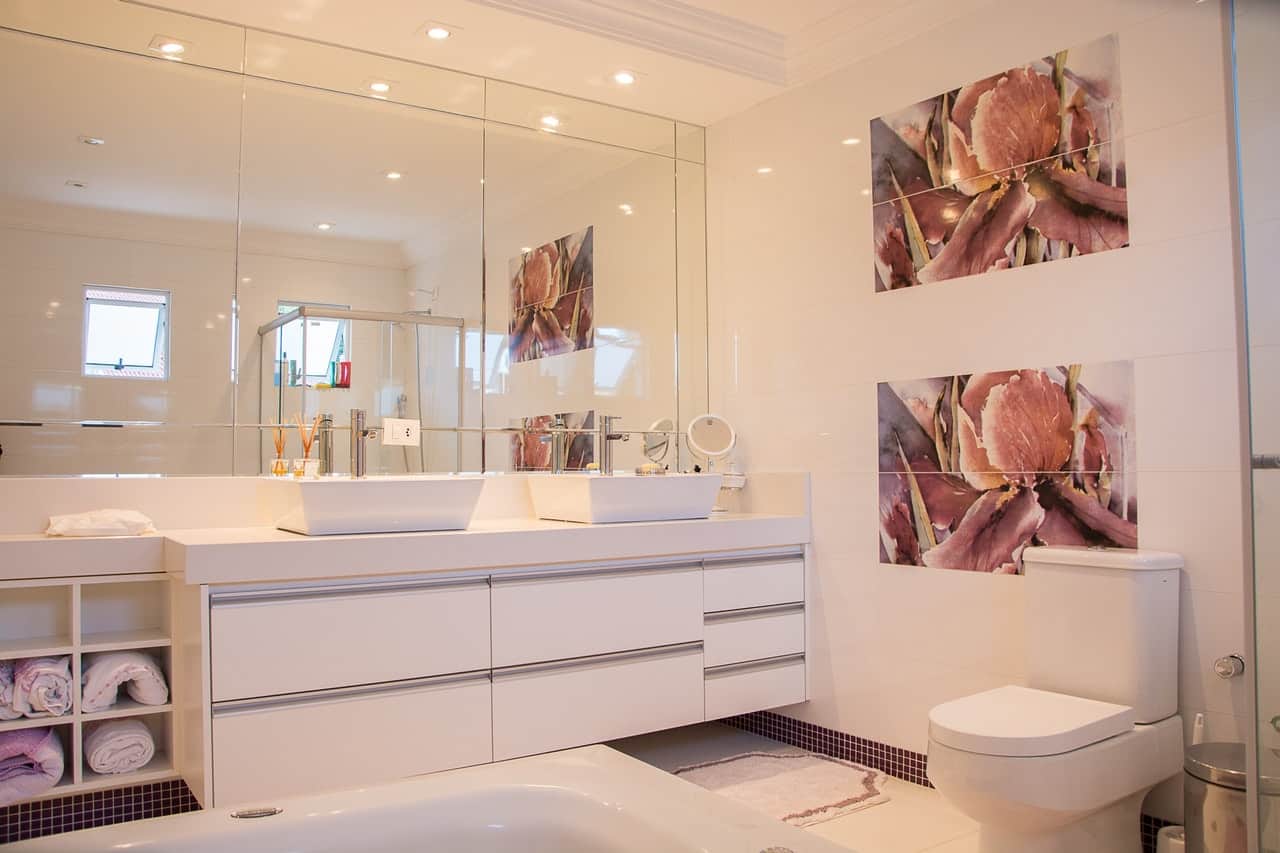 Remember buying the toilet with an installation manual doesn't make you a plumber. You might need to higher a professional for some jobs.
Always take a second look at your product. You might find that something essential isn't included.
The dimensions listed in product descriptions aren't the ones you're interested in while considering comfort. You need to look for the seat height and width, not the toilet height and width.
Some areas might have laws that affect what toilets are up to code. Take a second to research your state's toilet laws, especially if you're prone to droughts.
And finally, make sure you account for how a toilet will be used when deciding on the best toilet. Commercial toilets are going to need some extra durability and power. They're often also under different warranty conditions.