Ultimate Buyers Guide: Finding The Best Bathroom Faucets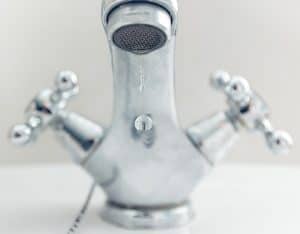 Wow, are there a lot of things to consider or what?
First, let's take a look at plumbing in general, and what you'll need in a bathroom faucet. One of the most important factors is compatibility.
What does that mean?
Any sink out there has a number of holes where faucets will be installed. In more modern editions, you'll usually have one hole, but most plumbers are able to drill two additional ones in  no time.
If you want a faucet with one lever, one hole is going to do, but if you want a classic option you're going to need three. One for the water source per se, and one for each temperature knob (warm and cold).
Most sinks will have the radius of their holes expressed in inches, somewhere around the box they came in. Moreover, most faucets (all modern ones) will have the same radius expressed on their box, so it's easy to put two and two together.
The pressure of the water flowing out is measured in psi, and that could be another issue.
But not necessarily…
Modern regulations have standardized faucet fixtures when it comes to plumbing, so unless you're buying a faucet from a yard sale, you shouldn't worry about this.
Operation
The next thing to consider is the type of operation.
Single lever
These are the most common types of bathroom faucets nowadays, and they're only controlled by one piece of the fixture. You usually swing it left to make the water warmer, and right to make it cooler.
What's the upside?
They're usually less of a hassle, and you'll be able to get the right temperature easier. With that in mind, single lever faucets can get bland in terms of the visual impact, but that's a different discussion.
Double lever
This is a classic style and, thus, most vintage style bathrooms will benefit visually from such a faucet.
But…
You can still go for a double out of necessity. In fact, if your sink already has three holes drilled into it, it's really difficult to cover them. So, this will be your best choice. (But don't worry, there's a lot of modern looking double levers out there).
You might be wondering why the industry moved away from double levers.
What's wrong with them?
Absolutely nothing, it's just that some people feel they have less control over the temperature with this piece. While it may be true that it's a bit harder to hit that right spot of warm and cold, we're talking about 5-6 more seconds trying to adjust the fixture.
Automatic
If you're the type of person that doesn't want to waste a second of their time, automatic faucets may be for you.
How do they work?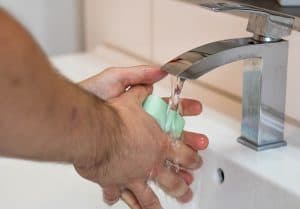 These fixtures usually have an infrared sensor that detects your hand when placed under the faucet. As a result, water starts flowing. Generally, these will have a really small lever, somewhere on the side, that you use to pre-set the water temperature. They're really comfortable, and less of a hassle most of the times.
On top of that, if you're planning to redecorate your business' bathroom, you should go for an automatic faucet.
The reason is simple.
Businesses (especially coffee shops or restaurants) have a lot of people coming in, which means a lot of traffic in your lavatory. As a result, a lot of customers feel like the toilet is not as sanitized as possible.
You may have a cleaning team tidying up the place once an hour, it won't matter. Most people will still unconsciously feel like it's better not to touch a lot of stuff in there.
As a result, the people visiting your semi-public bathroom will feel much more comfortable not having to set the temperature by maneuvering a lever. Just hover your hand underneath the faucet, and have water flowing out.
Truth be told…
We found most people from our focus group preferred a single lever for their home. To further support our claims, the people who wanted a double lever were also the ones in favor of a vintages style for their interior design.
Components & Base Material
The next thing to consider is some small technical details. There could be anywhere in between 30 and 100 pieces going into a single faucet, so we won't cover each and every one. We will, however look at the most important, what type should they be, and what should they be made out of.
Cartridges
These are not present in all faucets, yet they're pretty common. They're a type of valves, with little O-rings inside, and they serve a clear purpose. Cartridges limit the water flow.
The people from our focus group couldn't see a difference between a cartridge / non-cartridge based faucet.
But our experts advised caution.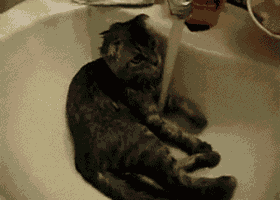 While models like these are cheaper, they're prone to tear and wear, which may lead to a leaking faucet a few years from now.
However, you shouldn't worry. You won't need a plumber to replace them–they're easy to fix.
Moreover, most faucets nowadays (and a lot included on our list) feature a lifetime warranty, so you're set.
Compression Valves
These are traditional valves, present in most double levered fixtures. They're pretty cheap, and work with a series of tiny plaques that create the water pressure. If you're going for a 3-hole option, you're likely to find this type of valve installed.
The downside?
Just like cartridge based valves, they're easy to break. The difference is, they're quite harder to fix on your own. But not impossible.
Ball Valves
These are the most common valves, and they're usually found in single levered faucets. The way they work is easy to deduce from the name, they a have a small ball that rises and falls to allow water to pass through. All of that happens inside a small chamber, designed to fit the aforementioned ball and a quantifiable amount of water.
Are they difficult to maintain?
The plumbers we spoke with all say ball valves require little to no maintenance, but they're a headache to deal with if they break. Chances are you're not going to fix it on your own, and will need to call in an expert.
Disk Valves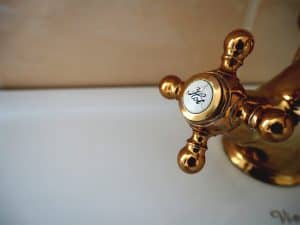 These are a recent invention, and the way they work is complex. They feature a cartridge with two (usually) ceramic disks which are always watertight. The disks glide along each other, limiting water flow and allowing temperature control.
They are extremely efficient, and best suited for double levers. However, they're also a pain if they wear out and you're going to need a plumber's help to fix them.
Aerators and Flow Restrictors
While most common in outdoor faucets, you'll find them in some bathroom faucets. Their purpose is also to limit the water flow. And you can imagine them as a "grill" of sorts, attached at the tip of the faucet.
Most of these are made of plastic derivatives, but you'll find nickel and chrome options as well.
Experts we've talked to said one can, if he wants, search for an aerator for a bathroom faucet, but they're not the go-to option.
Handles, Levers and Controls
The last component you have to take into account is the controls. There's not a lot to mention here, but there is some small stuff to take into account.
For example:
The controls can vary in size, base material, and operation. Most of this has been covered so far, but our experts did advise proportionality.
This is a short incursion into the interior design part. What you'll need to keep in mind is that a lever, handle, or any other type of control should be about 1/3 of the general faucet size, which ensures beautiful visuals.
Finish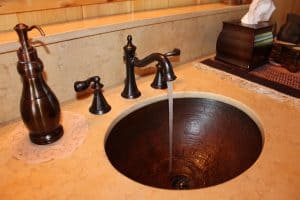 Much like the kitchen faucets we reviewed here, most respectable faucets will have a quality finish that ensures a long-term great look. These include chrome, nickel, stainless steel, PVD, and more expensive options such as gold.
Our focus group favored the chrome and nickel options, but experts seem inclined to suggest any option.
More on that…
A finish makes your faucet retain a good look, but also gives a boost in the quality department. A bathroom fixture with a good finish will be less prone to tear and wear, so you won't call a plumber that often.
Interior Design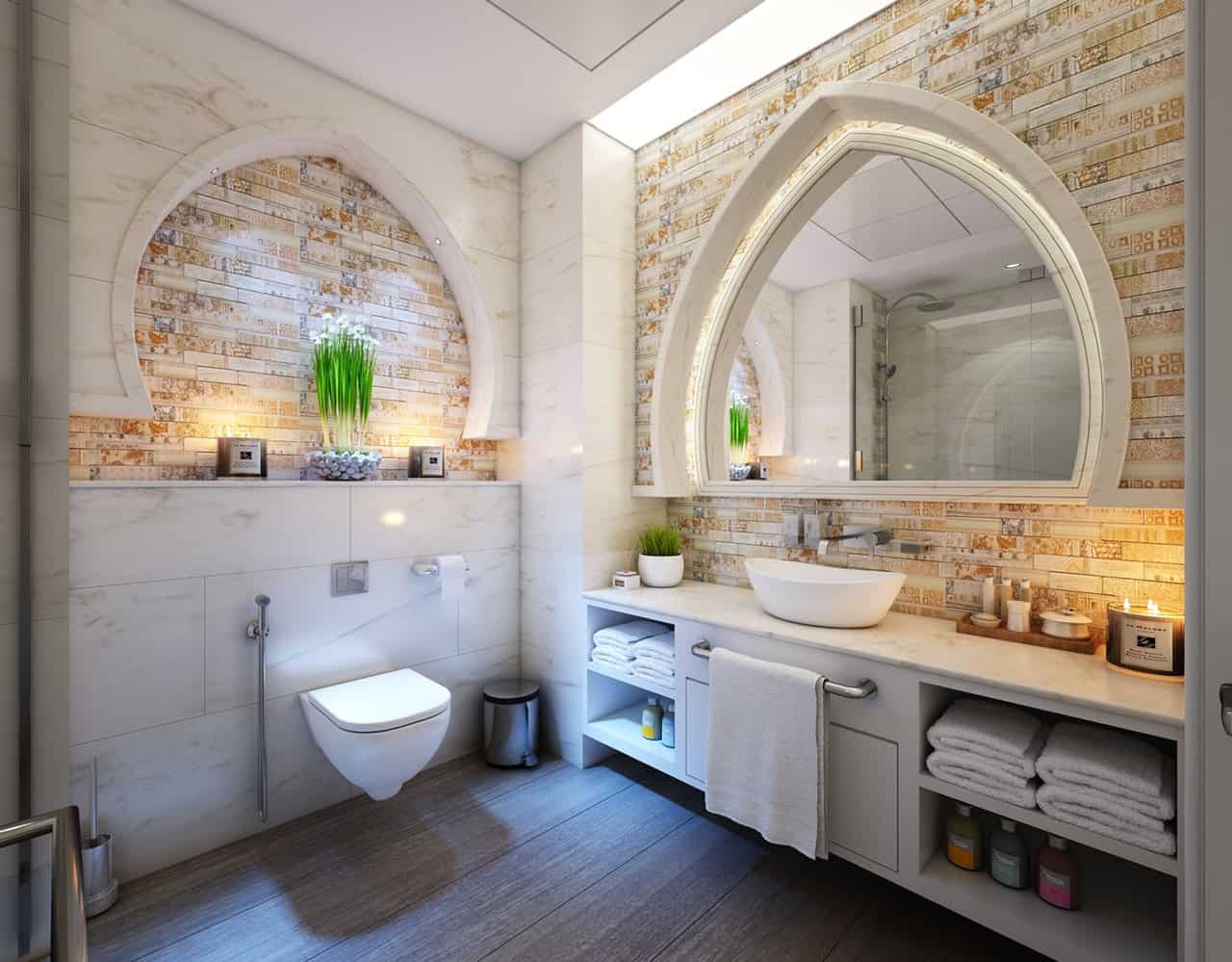 The last thing you'll want to consider is a few elements of interior design. It's not based on some BS subjective perspective on visuals.
Interior design has some clear rules at its core.
These include criteria about space, colors, shape, and other such ground rules. But one also gets some creative leeway for personal preference.
Fitting to your bathroom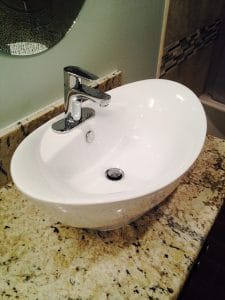 When getting a new faucet, a lot of people won't get the luxury to decorate the entire bathroom just the way they want. As such, you're going to need a faucet that fits your room, based on a few criteria.
Space is the first thing to consider when getting any room component. If your bathroom is a bit more spacious, you can get a larger faucet too. If your room is a bit smaller, a smaller fixture might look better.
Even more so,
You should take shape into account as well. If your bathroom is more angular, a fixture with more rugged corners will serve best. Similarly, if your bathroom is more circular, a round faucet will look best in your room.
Lastly,
Color is extremely important when it comes to interior design. This is the most creative side of home decoration, as you can have a lot of fun with different pallets and assortments of colors.
As a ground rule, experts suggest not to have more than 3 distinct colors for elements inside a room.
These are the general stuff, but with further reading I'm sure you're bound to find more facets of interior design, facets that respond to your specific question.
General preference
Always try to keep the objective rules in line with what you like. In the end, you're buying stuff for your own personal space, that should look the way you want it to look. If you love a kitchy aesthetic, you can even achieve a design by ignoring all of these rules on purpose.
A Closer Look At The Top Bathroom Faucets
Last Things To Consider
At this point you should be equipped to look at all the bathroom faucets we've reviewed and make a good choice for your needs.
Regardless, there's still a few things I think will help you narrow it down.
Warranties
A lot of the products featured on this list brag about a lifetime warranty. This means the seller will replace or send the parts necessary to fix an issue, whenever you may require them. It's important to remember this service applies for issues in workmanship or materials, not all types of defects.
However,
This type of assurance means you'll only get a new product for defects on particular materials or components. If you damage the product yourself, the warranty is basically useless. As a result, make sure to read specifically what the warranty takes care of.
Tips and Tricks
If you're like me, I'm sure you've had a lot of issues with warranties not applying to your broken product because of seemingly insignificant scratches. Sometimes, you may end up having to pay for the repair of a product because of aesthetic issues that have nothing to do with the actual problem.
To avoid that,
Make sure you take great care of your faucet. What this practically means is limiting your water consumption as much as you can (don't keep it flowing while you soap your hands), and cleaning it as often as time allows.
Regulations
Compared to other industries, the main regulator when it comes to faucets is the government. In the US, regulatory bodies such as the Department of Energy (DOE) do a great job of standardizing the market, but the European Commission is also catching up really quickly.
The purpose of these regulatory bodies is clear. They try to make water use as efficient as possible, by limiting pressure, and always searching for the most efficient parts out there. Their efforts are echoed in the civil society, with organizations such as the Alliance for Water Efficiency jumping in to support better ways to consume water.
Why does this matter?
The efforts of these institutions forces the private sector to create faucets that are better everyday. Better for the environment and better for redistribution of water supplies to the disadvantaged parts of the world.
As such, if you're considering buying a second-hand faucet, or the cheapest faucet out there, you may want to rethink your choice. The more you spend, the more certified a product is, the more helpful you are when it comes to water consumption around the globe.