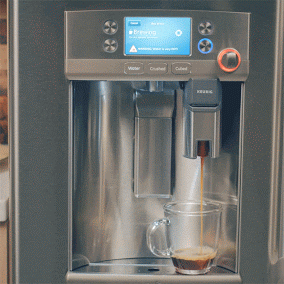 Getting to drink the perfect cup of coffee is one of life's simple joys. If you don't want to leave this one to chance, the solution is pretty simple – choose the best Keurig coffee maker for your needs and preferences.
You'll be able to choose from a wide range of beverages and brew them all to perfection every single time. And that's not even half of what you can get out of these amazing devices.
Want to know the best part?
You won't have to go through the process of choosing the right model alone – we'll be there to guide you all the way. Use our quick and simple guide to figure out what you're looking for in a coffee maker in the first place. Once you do that, you can move on to reading detailed reviews of our top 10 picks to help you make the final decision.
Research You Can Trust
Keurig is an already beloved brand of coffee makers, but we still had to do a lot of research to find their best models. This meant going through countless of customer reviews and repeatedly contacting Keurig customer support.
Once we'd gathered all the relevant information, we could move on to testing the products themselves. Dozens of cups of coffee, tea, and specialty beverages later, we're finally able to present you with the very best 10 coffee makers Keurig has to offer.
Buyer's Guide
The 30-Second Review Single-serve coffee makers are what Keurig does the best. There's a very low chance you'd pick a device that doesn't suit you at all. But when you're already in the process of picking one out…
Why not make it the best choice for yourself?
First, think about the types of beverages you enjoy the most – coffee, tea, hot cocoa, or maybe even an iced coffee.
Next, ask yourself if strength and temperature control are of any importance to you since these are features you can get with a Keurig.
Also, you might want to choose a coffee maker that's easier to maintain or one that saves you money. And last but not least, check out the special features to see if there's anything you like.
Buyer's Guide To The Best Keurig Machine
Keurig has so many different models of coffee makers, chances are at least one would suit your needs perfectly.
Want to make sure you get that one?
In order to do that, you'll need to learn more about single-serve devices and types of coffee pods. But more importantly, you'll have to answer some questions related to your needs and preferences.
What's a single-serve coffee maker?
Not all coffee makers belong to the same category. In fact, this research from the University of Tennessee shows there are many methods to brew a cup of coffee. The list includes the French press, espresso machine, electric drip coffee maker, and a number of other types of devices. But here we're going to focus entirely on single-serve units.
So here's the deal:
Single-serve coffee makers are electronic devices used to brew beverages one cup at a time. Yes, this means you don't have to limit yourself to coffee – tea, iced coffee, and hot cocoa are also options. They come in small individual packages commonly known as coffee pods.
But we'll get to that later.
Now that you know exactly what a single-serve coffee maker is, we can move on to our next big question…
Why Keurig?
There are plenty of other coffee maker brands from which to choose. Still, the majority of people prefer Keurig's models. This is not accidental, but maybe you'd like to know more about the reasons behind it.
Well, here they are:
When it comes to brewing speed, other brands are simply no match for Keurig. Most of their models will get you your morning cup of coffee in under a minute. And trust us, you can't get faster than this.
Another great upside to using a Keurig is the variety of flavors the brand offers. The list includes a whopping 400 different options for both hot and cold drinks. While 60 of them are different types and flavors of coffee, others include teas, iced coffees, and even hot cocoa.
When using a Keurig for brewing your coffee, the process is as customizable as it gets. Not all models offer the same functions, but in general, you can set them to make beverages of different strengths, as well as different temperatures.
With a Keurig, you get the highest level of functionality in a single coffee maker. Apart from letting you choose between different cup sizes, the device has the smallest possible countertop footprint.
Thanks to the patented K-Cups, there's no waste when brewing beverages with Keurig coffee makers. All the K-Cups are premeasured to make sure the quantity corresponds to the cup size. They're also very tightly sealed, which means there's a minimum chance of leakage.
Sounds like Keurig's are flawless, doesn't it?
Not so fast. All this doesn't mean Keurig coffee makers are without their flaws. Apart from being pricier than the models of most other brands, they're less flexible as well. Namely, they only work with K-Cups, which makes them a bit too limited for some.
Is there a difference between coffee pods and K-Cups?
There's a lot of confusion when it comes to K-Cups, even among people who use them. That is, many think they're the same as what's referred to as coffee pods. That's actually not true, which is why we're going to take a minute to explain the difference.
According to Coffee Tea Warehouse, a coffee pod refers to filter paper filled with ground coffee, tea leaves, or whatever is used to brew a certain beverage. It's round, flat, and often quite soft to the touch. You can find it packed loose or individually wrapped, usually in foil of some kind.
But why is this important?
It makes a big difference simply because these two products are not interchangeable. You can't use a coffee pod to brew something in a Keurig, just as you can't have your K-Cup brewed in a coffee maker of another brand.
How does brewing coffee with a Keurig work?
Interested in the process of making hot beverages with a Keurig? It's actually quite simple, at least as explained on the brand's official website.
Here it goes:
The coffee maker heats the water to a preset temperature. The lid and the bottom of the K-Cup are then punctured with two small needles so that hot water can go into the cup and saturate its contents. They're gently squeezed to make sure all the flavor is extracted. Since the filter inside the cup is never punctured, only the liquid goes out the bottom.
And voila – you get your perfect cup of coffee just like that.
For what purposes would you use your Keurig?
Now that you know why most people opt for a Keurig coffee maker, you have to figure out which model is right for your needs and preferences. One of the most important questions you should ask yourself is how you'd use it.
You might be wondering:
What exactly does that mean? Two things come into play here: the number of people using the device and the types of beverages you'd be making. If you'd be brewing drinks for a larger number of people at once, a single-serve model might not be the best choice for you. It'd take you a long time to get the job done, which is why you should look into other coffee makers models.
However:
If you think a single-serve model would be good enough for you, you can skip to asking yourself about the types of drinks you'd be brewing. Are you only interested in hot beverages, or do you see yourself craving for iced coffee as well? Check our detailed reviews for information on types of blends that are compatible with each model. That way you'll make sure you get the most out of your coffee maker.
Is strength control important to you?
How do you like your coffee – weak or strong? If you have no preferences when it comes to strength, we suggest you opt for a more basic coffee maker model.  On the other hand, those of you who care about it might want to invest in a device with strength control. This usually means you'll have two options from which to choose – standard and strong brew.
Is temperature control important to you?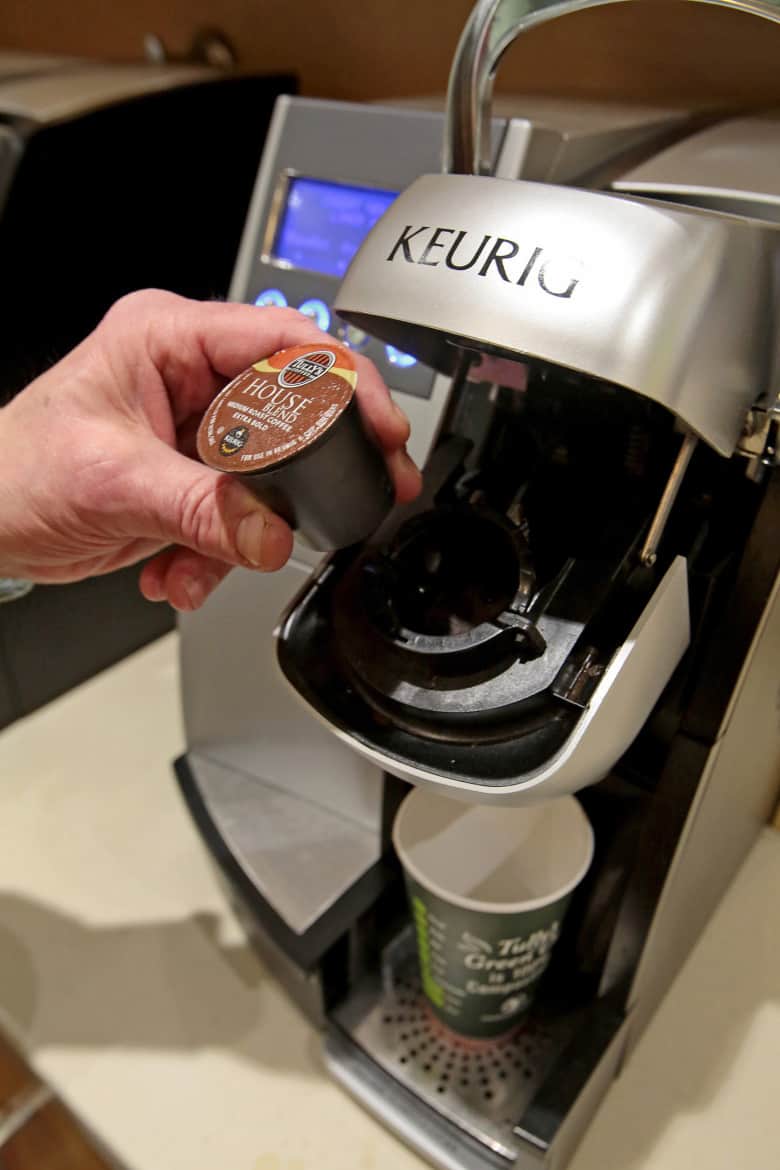 If you usually take your coffee in the morning, right before you go to work, time is probably of the essence to you. This is where temperature control comes in. You can program some Keurig coffee makers to make your beverage just a bit colder, which allows you to avoid burning your tongue while rushing off to work. To make it even better, such models come with multiple temperature settings, making it easy for you to brew the perfect cup for any occasion.
Which cup size suits you best?
All Keurig models run on K-Cups, which allow you to choose between a number of different cup sizes. There are 4, 6, 8, 10, and 12-ounce cups. To make your choice, you only need to click a button, and the coffee maker will take care of the rest.
But it gets better:
Some models are compatible with K-Carafe, which is basically a K-Cup, only bigger. Instead of brewing a maximum of 12 ounces, it can do 22, 26, and 30-ounce cups. It's a big difference, but one you'll be thankful for on those days when you need all the energy you can get.
Would you mind filling the water reservoir regularly?
Different Keurig coffee makers have water reservoirs of different sizes. Some of the more compact models need to be refilled every time you use them. This might not sound like a big deal, but it's too much of a hassle for some.
Now get this:
Models with bigger reservoirs allow you to go quite long before having to add more water. If you get a really big one, you'll be able to enjoy up to eight cups of your favorite drink in between refills. Not bad at all, right?
Is ease of maintenance important to you?
For most of us, cleaning is the worst part of using any appliance. If you have strong feelings when it comes to this particular issue, you might want to pay attention to related features while browsing through our detailed reviews.
What should you keep in mind?
Removable water reservoirs and drip trays make cleaning a lot easier. Not all models have them, so make sure to pick one that does. If you want to make it even easier for yourself, get a coffee maker with a descaling function. Trust us – getting to descale simply by pressing a button makes you a very grateful person.
Are you looking to save some money?
There's no need to empty your wallet to enjoy the benefits of a Keurig coffee maker. Although their models are pricey when compared to other brands, they actually offer a whole range of products. Some of the more compact models are pretty affordable. Check our detailed reviews to get a feel of whether they'd work for you.
What about all the other features?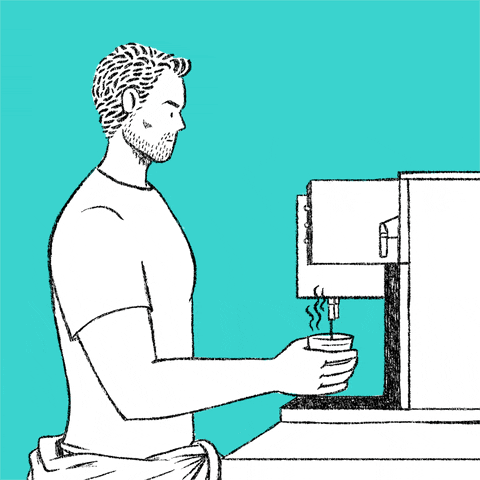 So far, we've mentioned only the more basic features of Keurig coffee makers. However, there are a couple more that are worth mentioning. On to the features that should make your coffee drinking experience even easier and a lot more pleasant.
Here they are:
Some Keurig models have a descaling function that will surely come in handy. Descaling is an important part of maintaining your coffee maker, but when done manually, the process can take over an hour. If you want to avoid all that hassle, check our detailed reviews for products with a descaling function. It allows you to descale your coffee maker simply by pressing a button and letting the device do the rest by itself.
There's another useful feature some Keurig models have – the automatic on-off function. This one has two different benefits, one being pampering its users and the other saving energy. If you set your coffee maker to turn on at a certain time, you can have your coffee ready as soon as you get out of bed in the morning. And if you set it to automatically shut down while it's not in use, you'll end up with lower energy consumption.
If you like the perks of advanced technology, you'll probably love the models that have touch screens. Brightly lit LED displays and lack of buttons definitely make for a more pleasant user experience. They also make it a lot easier to maintain the device, since you don't have to work your way around buttons while cleaning the exterior. And if you throw in a digital clock as well, your Keurig might easily become your favorite kitchen appliance.
THE WINNERS
Caring For Your Coffee Maker
Maintenance
By cleaning your coffee maker regularly and properly, you'll prolong its life and make sure the hundredth cup of coffee it brews is just as nice as the first. This type of maintenance includes cleaning the water reservoir, descaling, and cleaning the device itself.
Let's break it down:
Cleaning the water reservoir
Remove the reservoir from the coffee maker and open its lid. Using warm, soapy water and a clean cloth, wipe its interior. Rinse the reservoir with water, but don't wipe it. Instead, let it air dry to prevent lint and similar particles from getting in your cup later on.
Now:
Fill the reservoir to the top and place it back into the coffee maker. Using only water, run it twice to do a thorough cleansing. This should be done once a week.
Descaling
Some Keurig models have a separate descaling function. Those that don't will need to be descaled manually. This is how it's done:
First, empty the water reservoir, remove the water filter, and turn off both the automatic on-off function and the device itself.
Next:
Pour an entire bottle of descaling solution and some water into the reservoir. It's best to use the solution that can be bought directly from Keurig. Turn the coffee maker back on and place a 10-ounce cup on the drip tray. Use the handle like you do when brewing a drink, but without placing a K-Cup into the pod holder.
And last but not least:
Start a 10-ounce brew and continue running it until the screen shows the "More Water" message.  Now leave the coffee maker on for half an hour. Once that amount of time has passed, drain and thoroughly clean the reservoir. If you want your device to work perfectly, you should take time to do this once every three to six months.
If some of these steps are confusing to you, you might prefer watching a video tutorial. Keurig has an official video guide that leads you through the process of descaling step by step.
Cleaning the coffee maker
If you want your Keurig to look and work as if brand-new even after months of continual use, you'll need to clean its drip tray, pod holder, and exterior as well.
Here's how it's done:
You can clean the drip tray using warm, soapy water, but this is not recommended for the pod holder. The latter should only be rinsed with warm water and left to air dry. When doing this, be careful not to touch the needle – it's pretty sharp. The exterior is easy to wipe down, but this should be done regularly to prevent stuff from getting into the device.
Troubleshooting
Having trouble with your coffee maker? Some performance issues have pretty easy fixes. We'll give you all the information you might need to troubleshoot and possibly even resolve the issues yourself. But before we delve into that, it's important to note that your best option might be reaching out to Keurig's customer service.
Here's the deal:
We've found that the company really cares about their customers, which is why they boast excellent customer support. The operators are always available and ready to help with whatever problem you might be experiencing. For them to provide you with answers to your questions, you only need to have the serial number of your coffee maker at hand.
If you'd prefer to fix the issue yourself, browse through our guide to see if we've included it in the list.
You might also want to check out our guide, "How To Use A Keurig To Brew The Perfect Cup" to make sure you're using the machine correctly.
For all other inquiries, contact the customer support and give them all the relevant information.
Your device is having trouble brewing drinks properly
This could include a number of different issues, such as half-filled cups and cups with no water whatsoever. Before you do anything else, check if your coffee maker is in need of descaling and if the water reservoir has been knocked out of place. These might be what's causing the issue, but if you find it persists, there are three more options to consider.
Here they are:
Check the exit needle for clogs, but be careful not to prick yourself with it. If you find any clogs, simply run your Keurig using only water. This should unclog any leftover coffee grounds or other materials.
Try to see if the water line is filled with bubbles. If this is the case, unplug your Keurig, fill its water reservoir to the top, and once it's back in the device, gently tap it to release the bubbles.
If none of this is working, you might be dealing with a brew basket malfunction. Unfortunately, this is something you can't fix yourself, which is why it would be best to get in touch with customer support.
You're finding coffee grounds in your cup
If this is what's happening to you, you'll need to clean out the coffee maker's exit needle. In order to do that, just follow these four simple steps.
First, unplug your Keurig.
Find a lever that's located in the K-Cup holder, and push it to get to the exit needle.
Use a toothpick, straightened paperclip, or the plastic tool you got with the coffee maker to clean it out.
Once you do all that, plug the device back in and run it using only water to make sure it's really clean.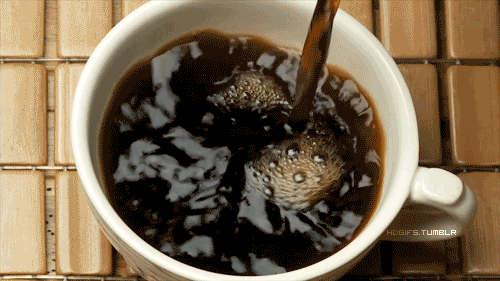 "More Water" message is appearing on the screen
The water reservoir of your Keurig is full to the top, but its screen is still showing the "More Water" message. Try following these steps to resolve the issue:
First, remove the water reservoir from your Keurig. Next, clean it with warm, soapy water and let it dry fully before you continue using it. And last, fill the reservoir to the top, place it back inside the coffee maker, and try brewing your drink once more.
"Oops" message is appearing on the screen
If your Keurig is showing the "Oops" message when you try using it, chances are your K-Cup isn't compatible with it. When it comes to these coffee makers, each model works with a limited number of K-Cups. To resolve this issue, simply use the compatible coffee pods. And if you want more options, check our detailed reviews to see which Keurig coffee makers are the most versatile.
Wrapping It Up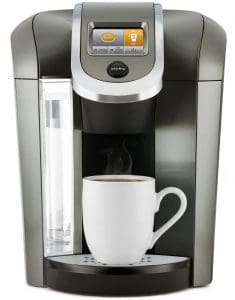 We did a lot of research for this article, and as you can see, there are plenty of great Keurigs out there. But one of them popped out as the best choice.
The Keurig K575 has a number of great features that make it stand out from the pack. It's amazingly adjustable and can fit anyone's tastes. It can brew five different pod sizes and has a huge reservoir. It brews any beverage in under a minute, and you can also control the temperature settings and strength of your beverage. You can get hot water on demand as well.
But there's more:
The massive touchscreen makes this model easy and simple to control, and it allows you to pre-program the unit to turn on and off whenever you want. That means there can be a hot cup of coffee all ready for you in the morning, and you can save energy by having it turn off when you're not using it.
When you order the K575, you also get a water filter handle and two filters. These will make your Keurig last longer, but it also makes your coffee taste even better. The six K-Cups included in the package let you sample a variety of different flavors, so if you're a first-time user, you can quickly find out what flavor tickles your taste buds.
Now:
We believe that with this price tag, so many features, and the durability and ease-of-use that this model offers, it's definitely the best Keurig model out there.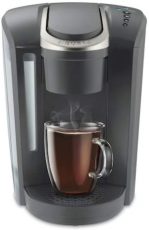 Most Buying
Keurig K-Select Single
What can the best Keurig machine do for you? If you have to ask, you better check out this buyer's guide and read our reviews. Your life is about to change.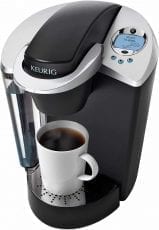 Most Buying
Keurig K60/K65
What can the best Keurig machine do for you? If you have to ask, you better check out this buyer's guide and read our reviews. Your life is about to change.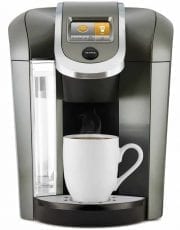 Best for the money
Keurig K250
What can the best Keurig machine do for you? If you have to ask, you better check out this buyer's guide and read our reviews. Your life is about to change.