No matter how hot it gets during the summer, you'll find plenty of grills going in backyards across America. Charcoal is still popular, but gas grills are the way to go if you want quick even heat. They can be expensive, but the best gas grills under $500 still pack quite the punch.
Whether you grill year round or just fire up the barbie on occasion, we have a gas cooker for you. We've even included a few exotic models along with a guide for beginners looking to buy their first propane grill.
Research You Can Trust
From burgers and steaks to shish kabob'd chicken, consumers have grilled every food you can imagine with the grills on our list. All our options had to provide a steady even flame for starters, but that was just the tip of the iceberg in our roundup of the top grills under $500.
After our experts put together a list of over 30 grills, we started narrowing things down through verified customer reviews along with advice from the experts. We took our own staff's experience in the grilling department into account as well before picking apart each model.
The firebox, warranty and grilling surface were just a few areas we covered in our research, and after careful consideration, we came up with a list of eight grills we feel stand out from the rest.
THE WINNERS
Gas Grill Buying Guide 2018 Edition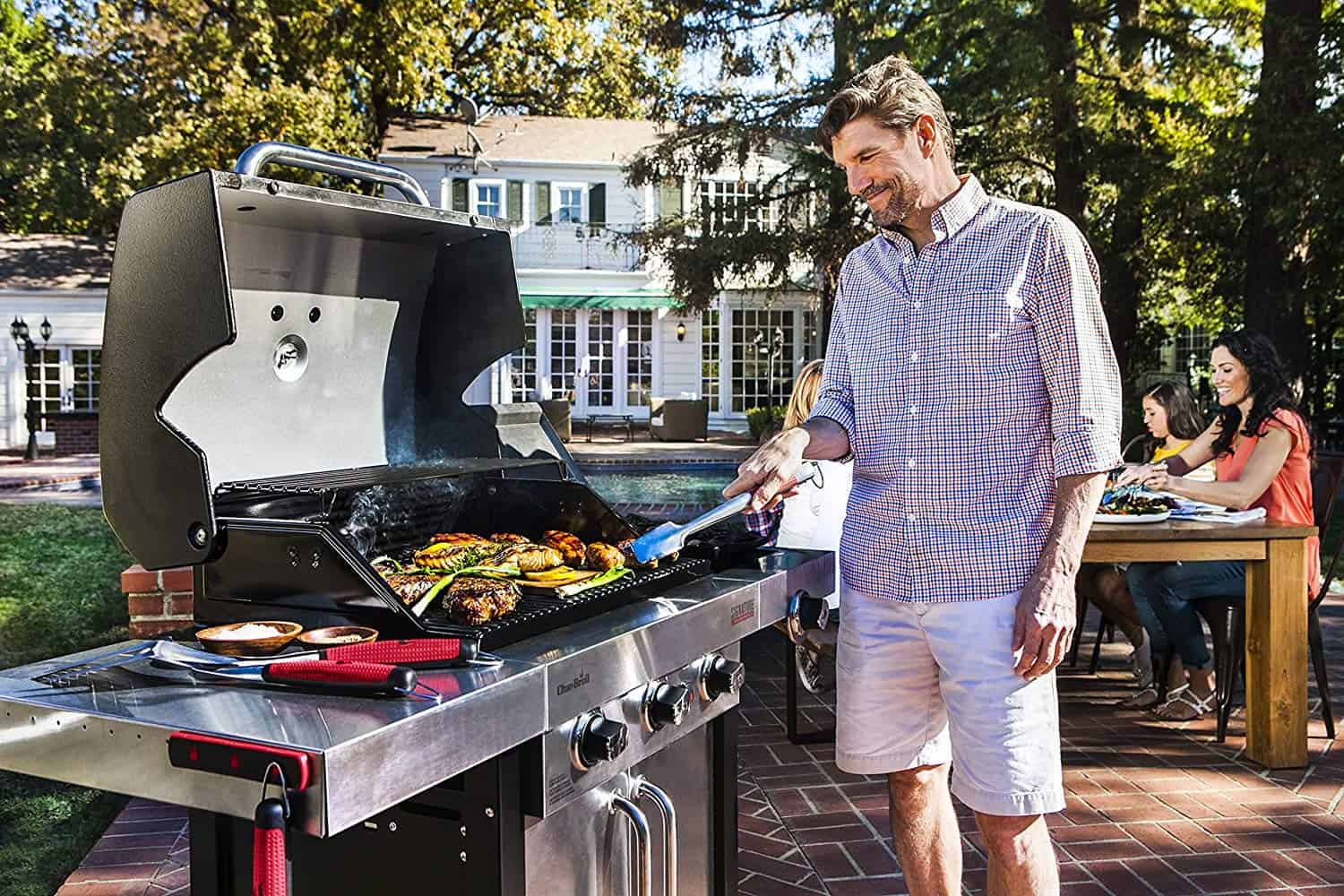 We decided to keep things simple and focus on a few select styles of propane-based systems in our grill buying guide. Even if you're experienced under the lid and just making the transition from the world of charcoal briquettes, you'll want to keep the following areas in mind.
What Type of Griller Are You?
Plenty of folks fancy themselves as amateur chefs, and a grill is a great way to show off your skills outdoors. While we're big fans of charcoal, gas grills tend to make things simpler and are ideal for new grillers or grizzled barbecue vets. Before you can choose the right grill for your backyard or patio, you'll need to consider what type of griller you are…
Do you grill for large parties of people or just fire up the burners on special occasions?
If you love to put on a show and entertain guests frequently, you'll want a larger grill capable of holding plenty of meat. On the flip side, if you only grill on holidays or take the seasonal approach, you may not need six burners and illuminated knobs. Whether you're looking for something simple or throw block parties on the reg…  We have a cooker for you.
Types of Gas Grills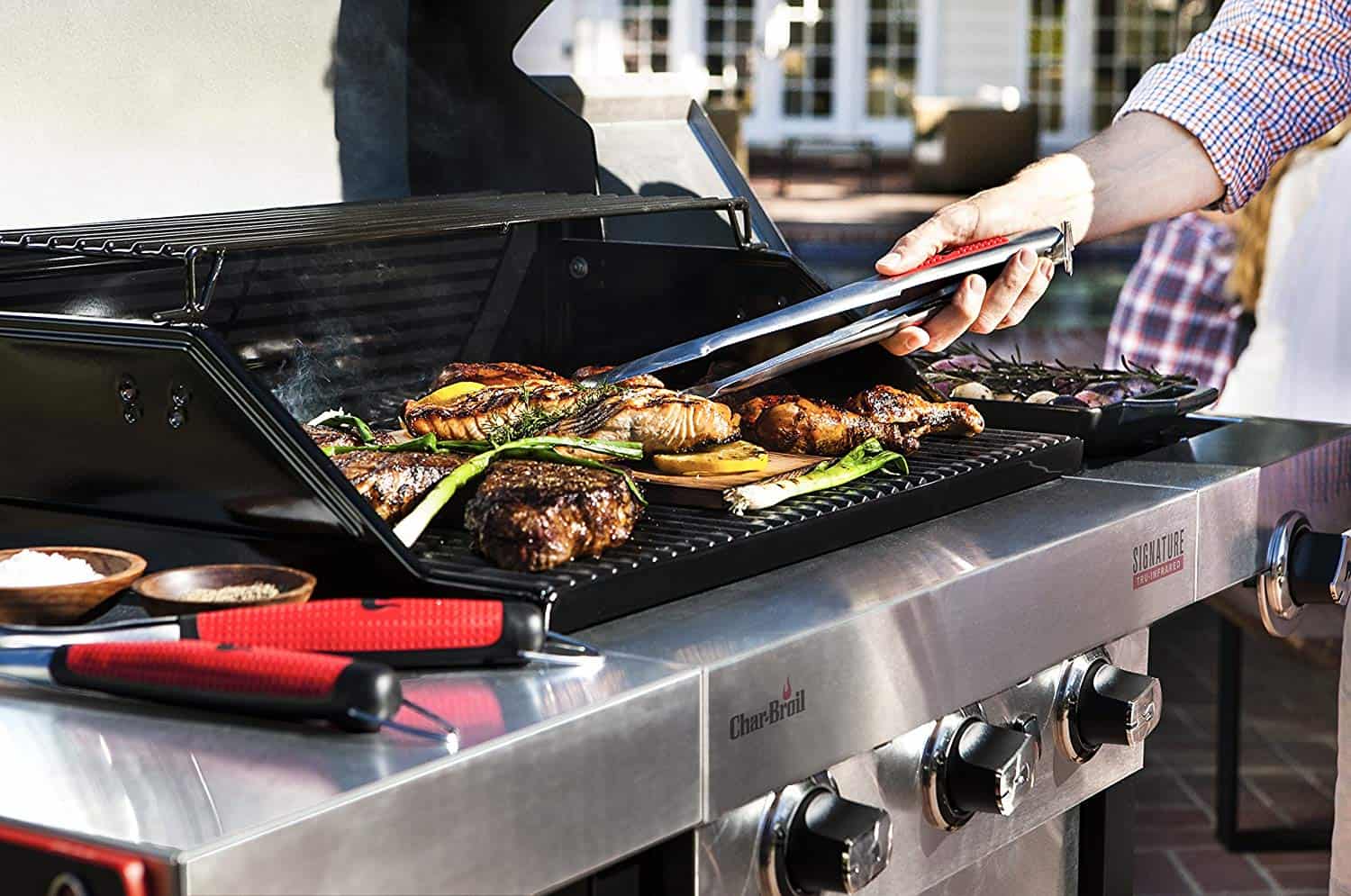 There are several types of grills available when you decide to roll with gas, but we're only going to concentrate on a couple of styles and a variant this time around.
Medium Gas Grills – A regular or medium-sized gas grill are the ones most consumers will be familiar with. They're cart-based grills that usually have wheels, but don't break down (easily) so you'll need a truck if you want to haul it around.
There are a few exceptions to this rule, but the average weight is over 100 pounds sans the tank. They typically have anywhere from two to four burners depending on the style and size.
Portable Grills – We've been toting around charcoal grills for years, and campers are also familiar with portable gas stoves and grills. Thanks to modern technology, you can now get a full-service gas grill you can toss in a trunk and carry around with ease.
These little units are made to work with smaller propane canisters and have between one and two burners at the most. You can also adapt them to work with larger gas tanks and most have optional stands.
There are several hybrid gas grills as well, and some have pretty interesting features. Infrared technology can ensure you get a nice even temperature with zero flare-ups, but isn't something you really need to focus on.
Want a gas grill with a smoker box or one that can handle charcoal as well? Those are options too, and you'll find a little bit of everything on our list of the best.
Burners and BTU
While there are plenty of reasons gas grills are different from charcoal grills, the burner is the biggest difference. This is where the gas comes out, and grills can have anywhere from one to six or more burners under the hood depending on their size.
These burners have little holes where flames shoot out and are covered by guards the keep dripping grease from gumming things up. While you may think having a grill with a half-dozen burners is ideal, the materials used in their construction matters along with the BTU rating and overall size of the cooking surface.
If you have a 600 square inch cooking area, but only two burners, you've got yourself an underpowered grill. Keep the size in mind compared to the number of burners and check to see what they're made from. Stainless steel is the best in the $500 range while cast iron and other types of metals tend to rust or burn through rather quickly.
What about cooking zones?
Cooking zones have to do with the spacing of those burners, and it's something you'll hear manufacturers talk about frequently. In most cases, you can control those "zones" by merely adjusting the burners – if they're evenly spaced. Need to crisp the hot dogs but not the burgers? You can simply dial one side of the grill up.
Flame Tamers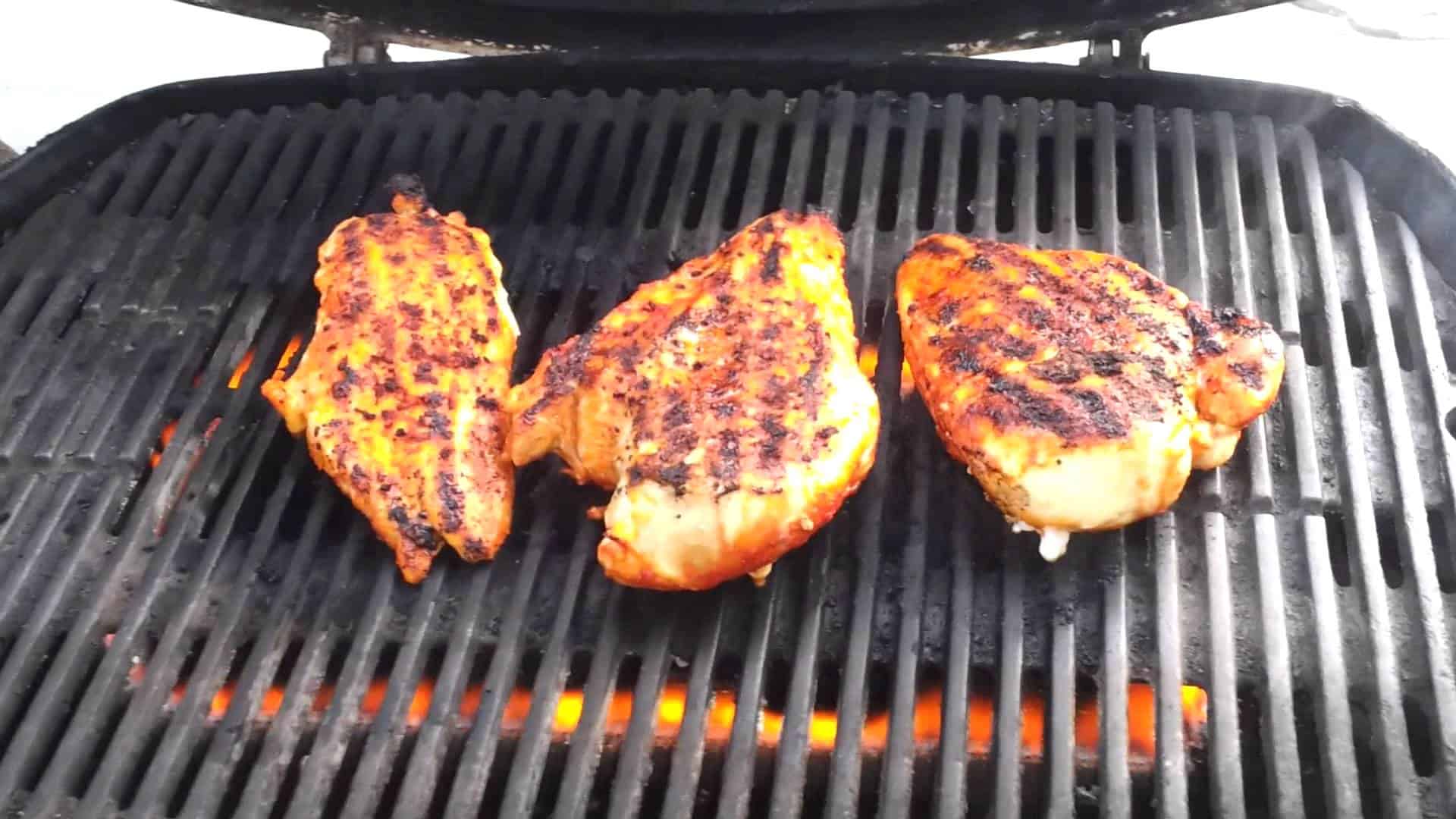 One of the key design differences between charcoal models and a gas grill is something called flame tamers. They sit above the burner tubes but below the meat and are essentially a shield or layer or protection. How well they're made and placement is critical, and they do far more than just protect your burners from grease.
Most flame tamers are simple metal bars that keep drips from gumming up the works. Often called flavorizer bars, they run the length of the burner are angled. Stainless is common and top-notch but porcelain coated bars are an option as well. On the flipside, there are full-width flame tamers which cover the entire grill. They provide outstanding protection and more flavor while keeping the heat nice and even.
Grilling Surfaces
Another critical component of gas grills are the grilling surfaces. That's where you'll put your food, and they will be the bane of your existence if you don't keep them clean. As you might imagine, some are easier to clean than others, and there are several different styles on the market today.
Cheaper grills may come with a wire or welded rod grate usually made from stainless. Another option is coated steel which works but isn't that great as once the coating chips, the rust sets in.
You also have to be careful how you clean them, or you can damage the protective layer. They're just like the ones you'll find in a charcoal grill, but no replacement for cast iron grates.
While cast iron is heavy, it holds up well for years, and a good cast iron grate will outlive others by decades. They still rust however unless they're coated with porcelain and will need to be seasoned just like those old skillets.
If given the option, always go for porcelain-enameled cast.
Build Quality
With some products, this is an area which separates the best from the rest, but that isn't necessarily the case in the wild world of grilling. The quality of the parts matter, but more often than not it comes down to how you take care of your grill when it's not in use and directly after you use it.
We're not going to get into grill cleaning just yet, but we will discuss the frame. The best cart-based grills will have welded frames and use the bare minimum of bolts or screws. Powder-coating is common and welcomed although you'll want to keep an eye out for sharp edges if it's thinner cheaper steel. A bad corner on a side table can ruin your favorite shirt or give you a nasty cut in an instant.
The grease disposal system should be easy to access as well – not jammed under the base at awkward angles. That's one area you won't have to worry about with our top choices although you still have to think about the firebox.
What's a firebox?
The firebox is the bottom of the grill and similar to the grated area where you place charcoal on classic models. It needs to be able to hold heat well and withstand rust. It's usually one of the first things to go on cheap grills, but all our picks pass the test in that regard. Just remember, you still have to perform regular maintenance.
Unfortunately, we can't say the same about the wheels. Most have cheaper plastic wheels that look like they belong on a child's toy.
Want the best?
Look for a cart with four wheels, not just two and uses locking casters.
Bells & Whistles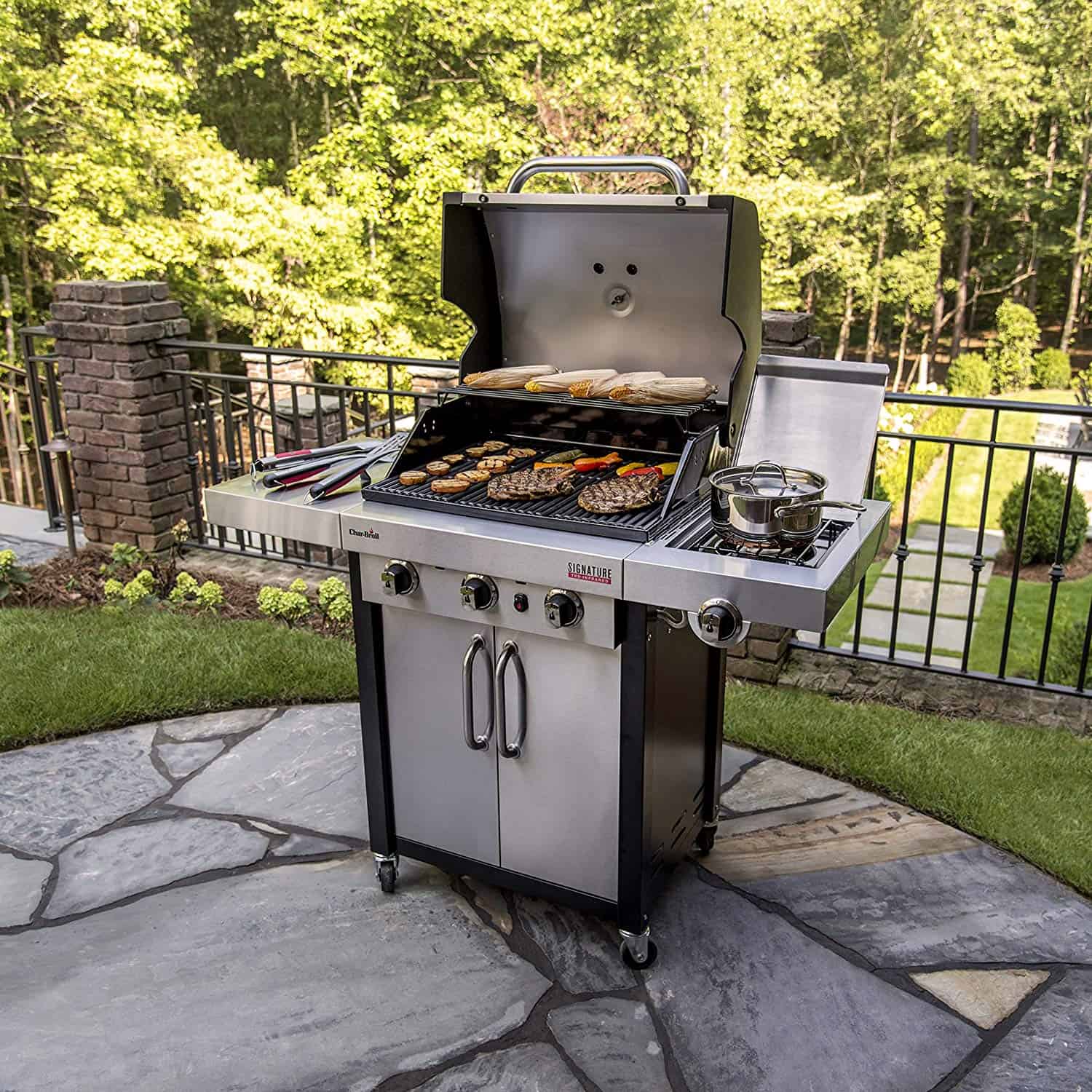 Grill manufacturers are like everyone else and try to use new kinds of tech or slick features to make their product stand out. There aren't too many bells & whistles you'll need to be aware of, and most features are quite common across the board.
Side tables are something you'll find on almost every full-sized grill. You can say the same for tool hooks and built-in thermometers.
Want a warming rack?
That's another common option unless you buy a mini. Do you need a side burner to heat up the chili while the dogs are on the grill?
Well, that's a different story…
Grills with a dedicated side burner for under $500 are still a little hard to find and are usually lacking in other areas. Folding side tables are somewhat rare as well along with the aforementioned infrared tech. If there is an option you think you just can't live without, there's a good chance you can buy an add-on to replicate the feature as well.
In Depth Reviews: The Best Gas Grills Under $500
Assembling Your New Grill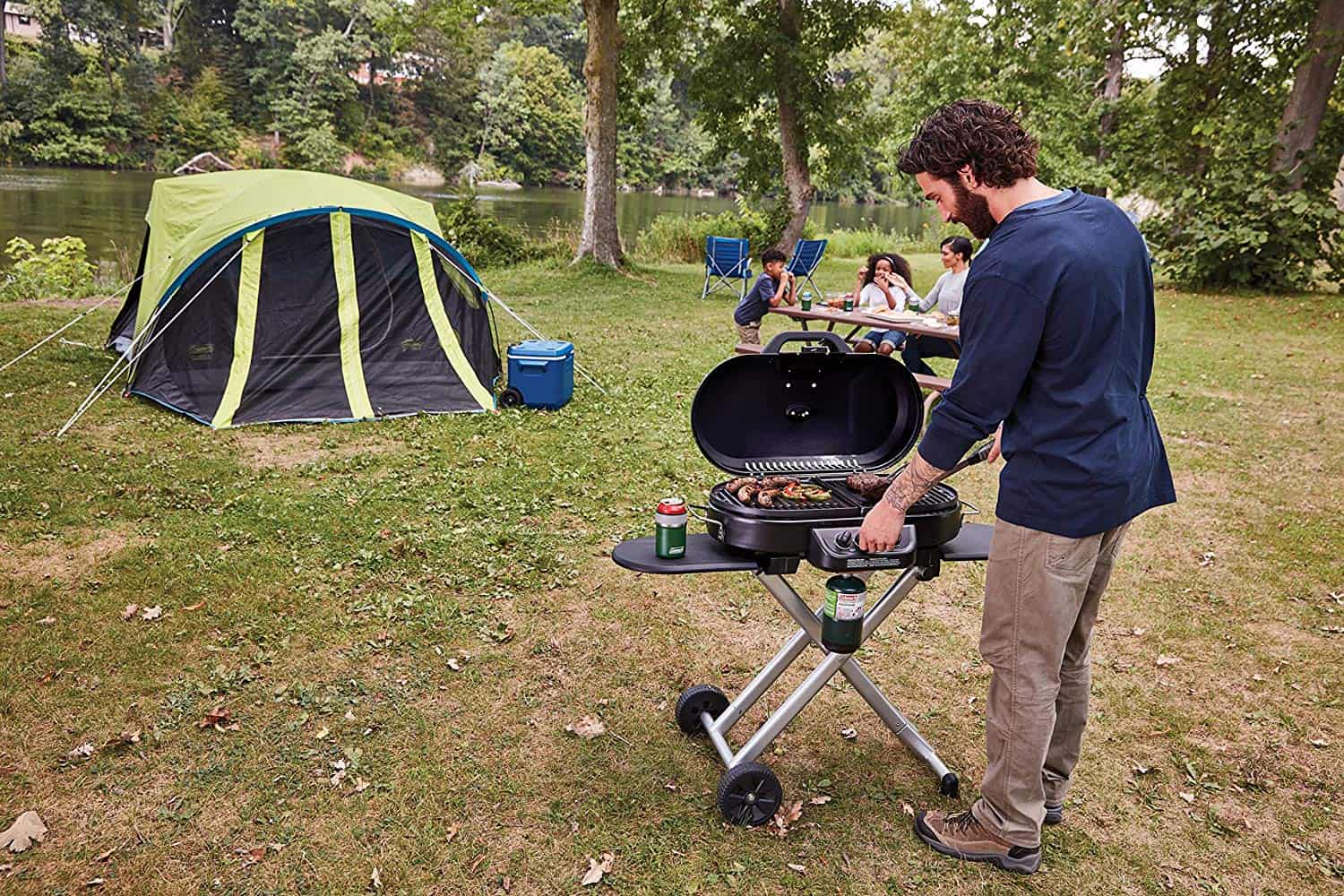 If you've walked this earth long enough, you've probably put together a few things in your lifetime. Whether it was a desk for your dorm or new bikes for your kids every few years, assembly can be an absolute nightmare with some products.
Grills are no exception…
While we'd love to tell you all grills are simple to set up, that's not the case. It's a mixed bag, and you could be in for a rough ride if you've never put together a grill. There are no universal guides either although you can find videos online of the more popular models.
The manuals are also hit or miss as we've seen some that look like they were written by someone with no comprehension of the grill itself. Those large exploded diagrams are helpful, but only if you can actually read the part numbers clearly.
Considering it uses a flammable substance, it's not the type of thing you want to rush, so set a few hours aside for assembly. If not, you could end up voiding the warranty.
Warranty
A good warranty is always important whether you're buying a toaster, smartphone or even a grill. Any product with moving parts can experience wear and tear. Grills may not move much, but fire and the elements create their own special kind of havoc.
A warranty on a gas grill can range anywhere from 1-year all the way up to 10-years. Although those are far from common. The main thing to keep in mind with a warranty is to read the fine print and see what parts are actually covered.
Many times the burners will have a longer warranty than "basic" parts like knobs or handles while other parts like the grates or frame have a separate length as well.
That information can be hard to dig up at times, but you can usually find it in the user manual included with the machine or online. We've included links to the latter for every product on our list.
What's in the Box?
You're not going to get anything with your grill aside from a hose, regulator, and an instruction manual. The latter you may or may not be able to make sense of…
As much as companies talk about doing things correctly to keep your warranty intact, finding one with a free cover is akin to locating a pot of gold at the end of the rainbow. ??
Unless it's a bundle package, a cover should be the first thing you purchase and something we highly recommend.
What else will I need?
Well, you won't need any charcoal unless you purchase a 2-in-1, and you can leave the lighter fluid on the store shelf as well. If you don't currently own a grill, pick up a good set of grilling utensils or cook wear.
You can find a cheap set for less than a Jackson although you're better off buying something that will last several seasons. Stainless is the top choice, and if you want something industrial, you'll want to give this set from Alpha Grillers a look.
We also advise you to pick up a good meat thermometer, and a digital one will save you a lot of time. A grill cleaning brush is the only other "must have" accessory we recommend, but you'll want to get one rated for the grill surface – don't just buy a box of brillo pads.
Maintaining Your New Grill
We've already stressed the importance of keeping your grill covered and cleaning those grates. Unfortunately, there's a bit more to it than that as other parts of your grill need to be maintained if you want it to last more than a few seasons.
You will need to clean your burners on occasion along with the venturi tubes. They make brushes for both although we advise you to follow the manual with the latter or you could void your warranty on the burners. They make manuals for a reason… even if they're hard to decipher at times.
Remember those flame tamers?
Well, they tend to take give out in time as they get heat from below and grease from above. You'll need to clean those as needed and replace them occasionally as well. Thankfully they're cheap, and you can usually find third-party options if parts ever become an issue. There's a point where you'll want to stop scraping those down and seasoning grates and simply pick up a new one.
Don't get lazy with the grease trap, no matter how nasty it may be. It can be tempting to call it a day once the food comes off the grill and the tank's turned off. As soon as the grease cools, you'll want to dispose of it. If it overflows, you can ruin your deck or have a major mess on your hands.
Our Verdict
No matter what type of grill you have your eye on, always remember to keep safety in mind when using any type of grill. It doesn't matter whether it's grand or one of the best grills under $500 bucks, keep anything flammable away from those open flames including any unicorn sprinklers.
Also, keep your needs in mind and buy accordingly, don't try to impress the neighborhood if you only whip out the grill for a few months each summer.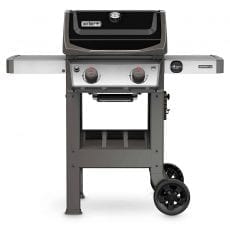 Best of the best
Weber Spirit II E-210 Gas Grill
Charcoal is a popular choice for grillers, but propane is the way to go if you want consistent heat. The best gas grills under $500 pack quite the punch–find them here.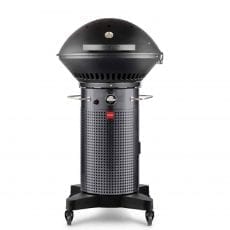 Most Buying
Fuego F24C Professional Gas Grill
Charcoal is a popular choice for grillers, but propane is the way to go if you want consistent heat. The best gas grills under $500 pack quite the punch–find them here.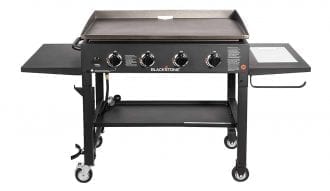 Best for the money
Blackstone Flat Top Gas Grill Station
Charcoal is a popular choice for grillers, but propane is the way to go if you want consistent heat. The best gas grills under $500 pack quite the punch–find them here.