Buyer's Guide to Copper Cookware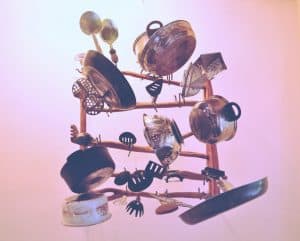 Copper cookware tends to be expensive.
But, it's well worth the money for culinary tasks whether you're simply boiling water or precisely following complex recipes.
What's So Special About Copper Cookware?
Skeptical consumers are wise to ask.
Naturally occurring in soil, rock, water, and air, copper is an essential element (symbol Cu) in plants, animals, and humans.
They were used for pennies in the United States until 1982 (ones made after 1982 are copper plated).
But that's not all…
Copper is also present in wire, plumbing pipes, sheet metal, and other household items.
However…
Copper cookware is especially valuable because it's an excellent conductor or transmitter of heat.
So what are the downsides?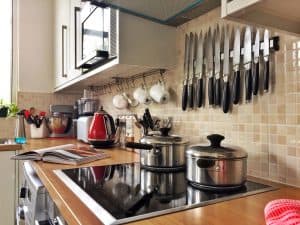 A valued metal (as of June 14, 2018, worth about 3.26 U.S. cents per pound), copper does have a few negatives when used in cookware.
For example, copper cookware:
can be expensive–but the investment and savings in heat, time, and convenience may be worth it.
will chemically react with acidic (e.g., tomato sauce, lemon juice, wine) and alkaline (whole fruits and vegetables, beans, nuts) ingredients, resulting in tarnishing of the cookware and a metallic taste in the food.
can be high maintenance in cleaning. You can't just throw copper cookware in the dishwasher. For specific cleaning tips, see How to Clean Copper Cookware Properly.
must be dried after right after washing and before storing. Any water drops can lead to spotting or discoloration.
needs regular polishing to stave off corrosion and maintain its beautiful sheen.
If, after weighing the pros and cons of copper cookware, you've decided to forge ahead and investigate various sets, then read on.
Features to Look for in Copper Cookware
Lots of different cookware sets have "copper" in their name.
Why is that important?
Simple.
Not all copper cookware sets are created equal.
By any means.
Carefully read each item's features and look for:
Type of construction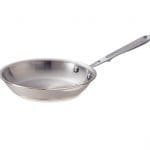 Copper Core (also known as clad bonded): describes pots and pans with a thick layer of copper sandwiched between different metals, like aluminum and steel. The copper core facilitates rapid and even heating. The other harder metals protect the soft copper and make the pot's exterior strong, resilient, and easier to clean and maintain.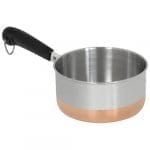 Copper Bottom: describes pots and pans composed of a different metal (e.g., aluminum or stainless steel) but with a bottom made of a thin layer of copper to help heat conduction.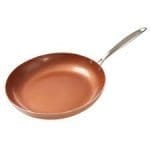 100% copper: describes cookware comprised completely of 100% copper–usually used for making jam and candy, cooking syrups and caramel, and melting sugar and chocolate.
Durability: read purchasers' and our reviews to see how a specific product lasts under use.
Compatibility with appliances: Make sure you're able to use the cookware how you wish with your kitchen appliances, like the oven or an induction stovetop.
Have any loose change?
A fun way to measure the thickness of copper cookware is to hold U.S. coins up to the cookware's sides, cross-section-wise. Do you know how thick U.S. coins are?
a dime is 1.4mm
a nickel: 1.95mm
a quarter: 1.75mm
a penny: 1.52mm
Take out any loose change and use the coins to measure copper cookware's thickness.
Hopefully a cookware piece is at least slightly thicker than a nickel but slightly thinner than two dimes.
05Appearance: new copper cookware should be lustrous and look luxurious. A rich and shiny–not dark and drab–surface usually indicates high quality. You also can decide between a smooth finish and a hammered finished. That's just a question of style and what fits with your décor better, if desired.
06Price: of course this is the sticking point for many. If a price seems high, just be aware of how many pieces the copper cookware set contains (and if that makes it worth it). And don't forget the potential savings in energy and time copper cookware offers. If the price seems quite low, question how much copper is actually used in or the quality of the pieces.
Let's get cooking!
Now that you're armed with nuts and bolts about copper cookware, you're ready to dive into examining different sets.
Reviews of the Best Copper Cookware Sets
How to Clean Copper Cookware Properly
o maintain your copper cookware's shiny and burnished appearance, clean it carefully. Copper is soft and scratches easily, so don't use any scrubbing tools or abrasive cleaners. Don't put copper cookware in the dishwasher and don't use detergents with bleach, which can corrode copper. In order to clean and polish:
a lined interior: apply gentle soap with a soft rag or sponge, rinse, and dry thoroughly.
an unlined copper interior or copper exterior:
apply a mixture of vinegar and salt with a soft rag or sponge, leave the mixture on for about ten minutes, rinse, and then dry the piece thoroughly.
OR
cut a lemon in half, sprinkle it with a little table salt, rub the lemon half against the copper (especially discolored spots), rinse, and dry.
OR
mix equal parts baking soda and lemon juice (or vinegar) into a paste, rub with a soft cloth, then rinse, and dry.
OR
spread on a medium layer of ketchup, leave it on for ten minutes (the ketchup's acidity attacks tarnish), scrub off with soft sponge or pad, then rinse, and dry. This process sounds a bit implausible and gross, but works! Watch this fun video to see for yourself.
To prevent tarnishing, regularly polish and shine your copper cookware with a lightly acidic solution (e.g., vinegar or lemon juice) or a commercial copper cleaner cream.
Aging with grace
In contrast, if you want to let your copper cookware age naturally, just skip all the polishing. In fact, a copper surface that develops a patina actually becomes harder and more thermally efficient.
Repurposing Copper Cookware
Let's not overlook one of the best aspects of copper cookware–its luxurious tawny hue. As we discovered in our research, some people love (and work hard to maintain through constant buffing) copper's luminous shine. Others prefer the naturally colorful patina that forms as copper is exposed to the elements. In either case, copper cookware is perfect for brightening up your culinary workspace.
Décor and more
Copper cookware is multifunctional: use it for cooking and for decorating. Hang copper pots and pans to create an atmosphere with homey yet glamorous undertones. Suspend them from a ceiling rack above an island counter, dangle them from a wall rack or attach them directly to the wall with hooks.
Some consumers skipped over functionality and went straight for appearance–they either purchased cheap copper cookware or repurposed old pots and pans they no longer use just to hang them up!
Looking for some inspiration?
Be inspired by this video of interior designer Marie-Eve Best using copper cookware to create two contrasting spaces: a dramatic pantry and a romantic, farmhouse breakfast nook.
Ever wanted to travel back in time?
The Arizona Copper Art Museum devotes an entire exhibit to copper kitchenware.
So cool!
Click here and here to view lovely displays of kitchens adorned with all different types of copper cookware pieces.
Read about the copper cookware collection donated by famed chef Julia Child to the National Museum of American History in Washington, D.C.
Then take a virtual tour of Bon Appétit! Julia Child's Kitchen at the Smithsonian for further inspiration and trip back in time to learn about this funny and down-to-earth culinary artist.
Want even more ideas?
Don't throw away your old copper pots and pans–at least recycle the copper for scrap metal.
Even better, refashion them into lamps, bird feeders, candy caddies, planters, and more!
Click here to see many clever and cool DIY crafts made from repurposed cookware.
One note: make a surface on which moisture or food (for kids, animals, or plants) sits is protected from pure copper, as you don't want to make any critters ill.
But wait, there's even more…
Finally, to spruce up your kitchen and enhance your cooking even more, why add a few more conveniences?
Maybe you could use a stylish yet powerful new faucet for washing your copper cookware. Adeptly slice and dice ingredients with a knife to fry in a copper pan or boil in a copper pot.
Do your current knives need sharpening?
Use a quality electric knife sharpener to grind them back in shape.
So, What's The Best Copper Cookware?
What everyone can agree on is this:
The necessary investment of time and elbow-grease that goes into maintaining a set of quality copper cookware is worth it.
So, what's the best set?
We have a couple in mind we think you'll love just as much as we did…