Want to cook a hot meal without a stove or oven? ?How about add variety to a cookout without adding yet another grilled dish? Enter the best electric skillet ? –a tidy, efficient, and convenient solution that's perfect for cooking almost anything any place electrical outlet ⚡ ?.
Food for thought
Unlike "regular" stovetop cookware, an electric skillet has its own heating source. Therefore, for people with small-to-nonexistent functioning kitchens (e.g., in tiny apartments, during renovations, while traveling), the electric skillet is a life (meal) saver. Countertop/toaster ovens are great but electric skillets are more versatile.
This culinary workhorse does more than fry–it also can boil, grill, steam, brown ingredients, make soup, and sometimes even bake.
Freedom!
Campers can cook fry up a hot meal in the great outdoors ?. Have you ever wanted to deep-fry a dish without leaving your house smelling of fried grease? Fire up ?the electric skillet in the garage or on the patio.
Research You Can Trust
After researching over 30 of the most popular electric skillets, we narrowed the list down to these top picks.
We consulted industry leaders and cooks–veterans of and novices to electric skillets–to choose the seven best models for your needs. We pored over customers' comments to learn about real-life experiences and specific opinions on culinary concerns.
Don't too many cooks spoil the stew?
We don't think so. In fact, the more feedback on specific models, the more information you have to digest. Descriptions and anecdotes directly from the mouths of users help reaffirm impressions and highlight issues.
But rest assured:
We don't receive any free samples or kickbacks from manufacturers; we just double-check models' specifications on the websites of electric skillet manufacturers in order to find and provide the most accurate information. Through honest and detailed reviews, we hope to get you cooking soon.
Buyer's Guide
The 30-Second Review
You're craving a hot, home-cooked meal…but you're not anywhere near a working stove!  ?No worries–pull out an electric skillet and you're on your way to satisfying your hunger. Oh–you don't have one?
No problem
Think about what and how you plan to cook and for how many people. This information will help you consider what size, shape, and functionalities to seek ? in an electric skillet. Other features to scrutinize include temperature range, construction material (e.g., aluminum, stainless steel, etc.), and the cooking surface (like regular or non-stick).
But wait, there's more
Don't forget about ease of use and clean-up! Some electric skillet models have parts that are dishwasher-safe, while others need to be washed by hand. And speaking of parts, see what accessories (e.g., lid, pot, steam rack, etc.) are included in the price. Finally, to make your investment worthwhile, read consumer feedback about each model's durability and longevity.
THE WINNERS
Buyer's Guide to Electric Skillets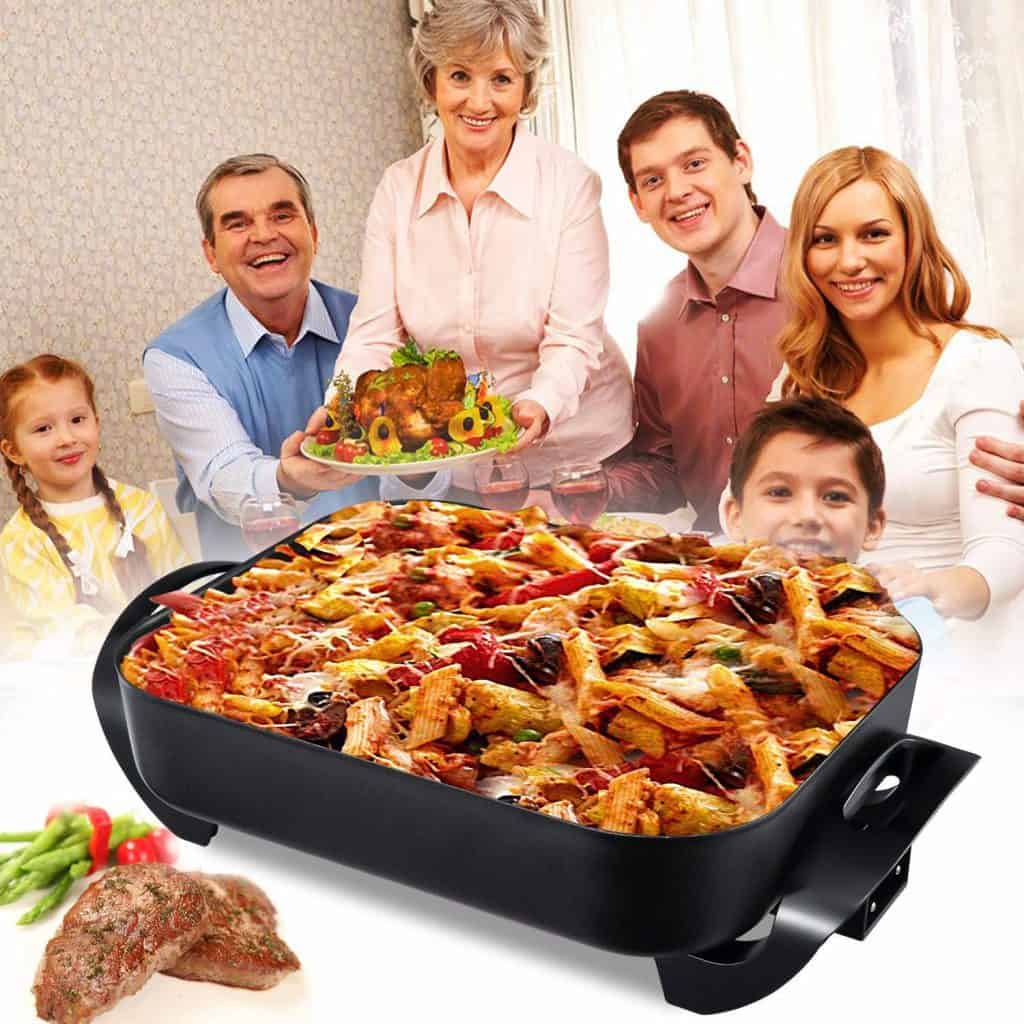 So why purchase an electric skillet when you have (for now) an operational stove and usable skillet? Why add yet another appliance to the house?
Good questions ?
Electric skillets present many perks that make them worth investing in.
Benefits of Electric Skillets
Unlike traditional stovetops and regular skillets, electric skillets:
enable you to cook in places without a stove (or oven), like an efficiency with just a kitchenette (often with no stove, just a hotplate or microwave), a dorm room, the garage, the porch, a campground…as long as there's access to an electrical outlet.
save space by preventing the need to install a stove in a tiny living area.
provide an additional cooking surface for places with very limited kitchen space like RVs and studio apartments.
equip you with an additional cooking surface when all of the stove burners and the oven are already occupied by multiple bubbling dishes (e.g., for a dinner party ? or during Thanksgiving ?).
help you save energy and keep the kitchen cool by heating ingredients without you having to turn on the stove or oven.
multi-task as a cooking device as well as a vessel ? for transporting, serving, and (if necessary) keeping the food warm at a potluck or buffet like a chafing dish.
deliver even heating and maintain a steady temperature ?, often more effectively than a stovetop.
prevent major clean-up: think of the multiple pots and pans (plus stovetop itself) to be washed after cooking ?. With the electric skillet, you have only one pot to wash.
Features of Electric Skillets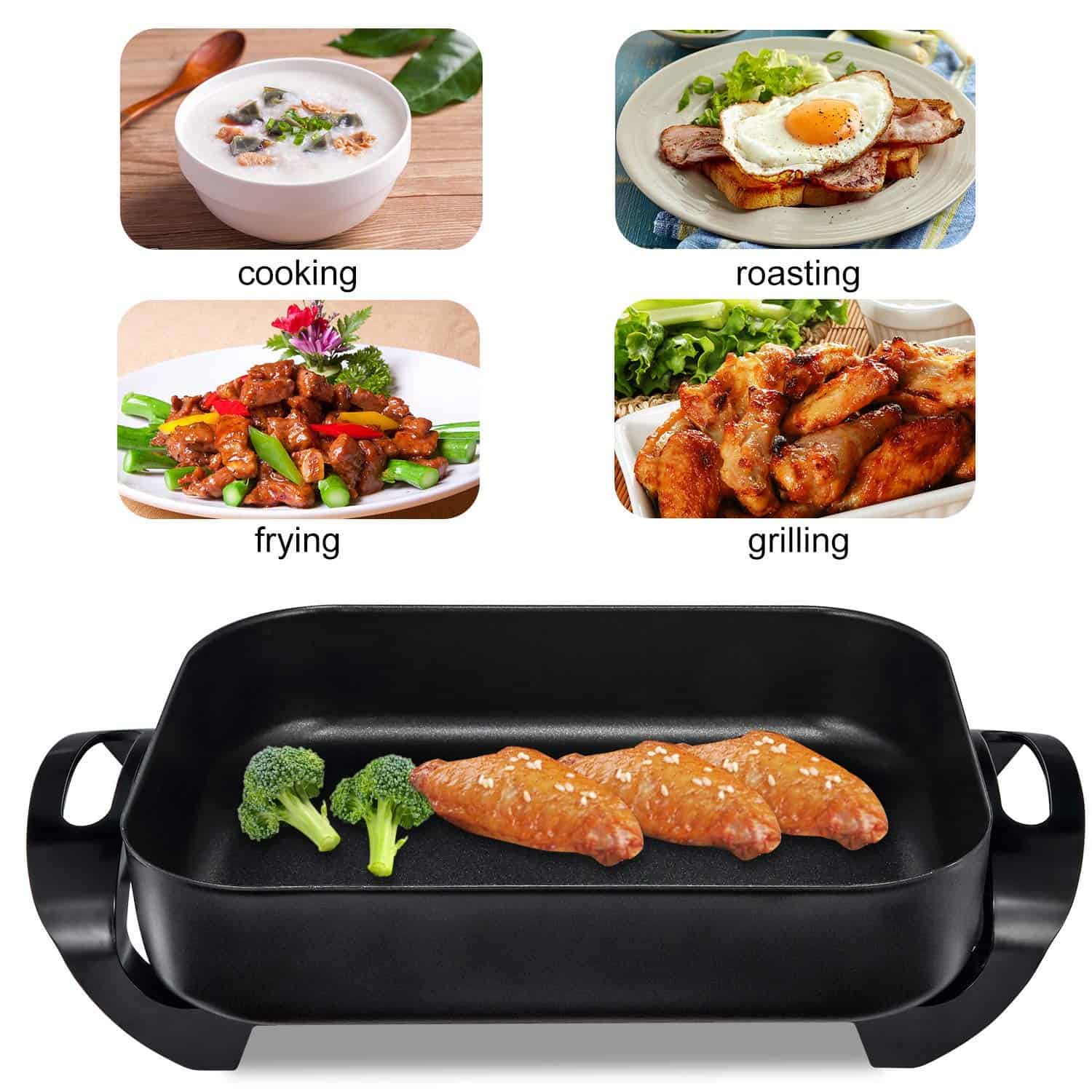 Before browsing through various electric skillet models, ask yourself a few questions❓:
How do I plan to use it (i.e., style of cooking)?
What dishes do I want to cook in it?
How many people am I serving?
How much work am I willing to do to clean it?
How much am I willing to spend?
When examining and choosing among different models, look for:
Versatility in functions: Most electric skillets ? can fry (of course, it's in the name!), sauté, braise, brown, boil, pan-broil, and even bake ingredients. Some models come with attachments that make steaming and grilling possible and easy.
Size: Depending on how much you plan to cook and how many people you need to feed, you'll want just the right size: Electric skillets generally range in size between 10 inches and 16 inches in width or diameter. Smaller ones (10"-12") are fine for small groups of a few people while larger ones (16" or larger) provide ample room for entertaining. Don't forget: the larger the skillet, the heavier it is and the more room it needs for storing.
Shape: Electric skillets can be round, square, or rectangular. Round and square models somewhat resemble regular stovetop skillets. Rectangular ones accommodate tasks like browning or searing large pieces of meat.
Depth: The height of the skillet's sides (ranging from 2.5" to 4" or more) and its lid's clearance (doming) determine overall depth. Boiling soups ?, simmering stews, and deep-frying foods require a model with higher sides to contain the ingredients and prevent hot oil splatters.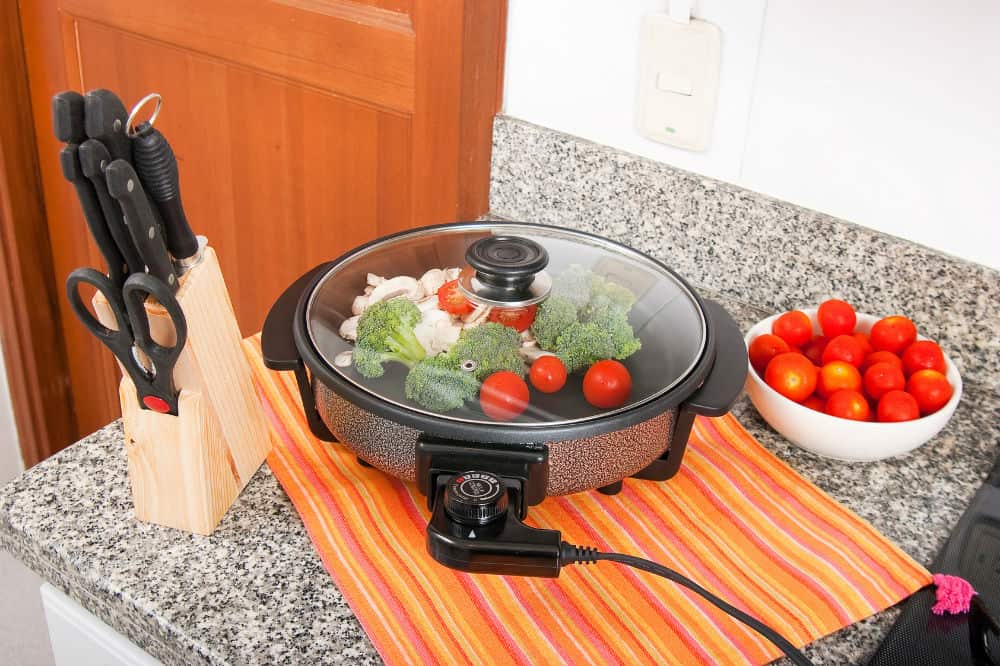 Material: Electric skillets are usually constructed of aluminum, stainless steel, or ceramic. Aluminum is light, economical, and heats up quickly, making it conducive for cooking. Make sure your cookware uses aluminum that's been anodized ("an electrochemical process that converts the metal surface into a decorative, durable, corrosion-resistant, anodic oxide finish aluminum") in order to prevent the metal from reacting with highly acidic (e.g., tomato sauce ?) and salty (e.g., sauerkraut) ingredients and leaching into the food. The risk of ingesting aluminum leached into foods cooked in anodized aluminum pots and pans is minimal–and not linked to causing Alzheimer's disease as once believed. Stainless steel is durable, non-reactive, rust-resistant, and attractive–but heavy and a bit more expensive. Ceramic is naturally non-stick, hard, durable, and scratch-resistant. It also retains heat well. Ceramic contains no trace metals or chemicals that can leach or flake off into food.
Cooking surface: Do you want a nonstick or regular surface? Although nonstick cookware is easy to clean, nonstick coatings may also contain PTFE (polytetrafluoroethylene, a man-made chemical branded as Teflon) or PFOA (perfluorooctanoic acid–also known as C8–another man-made chemical used in making Teflon). Although these chemicals haven't been proven to be carcinogens, studies have shown possible links between these chemicals and cancer. Look for an electric skillet that doesn't contain PTFE and/or PFOA.
Expert Tip: Utensils to Use with Nonstick Cookware
When stirring, flipping, and scooping ingredients in nonstick cookware, utilize implements made from a material that won't scratch the nonstick surface. Try utensils like a wooden spoon, a nylon or silicone spatula, or a rubber scraper.
Ease of cleaning: In our research, we found that whether or not a model is dishwasher safe can be a deal-maker or deal-breaker. Some parts–like the lid and/or pot–of an electric skillet can be removed and tossed into the dishwasher. Some models require hand washing and wiping ?, which may be quick, easy, and preferable to the owner anyway.
Temperature range and control: Many models can keep food warm (around 200°F) and also heat up quite hot (at least 450°F) when needed for deep-frying, etc. Some have temperature controls that indicate levels (e.g. low, high) while others are more precise.
Included accessories: Glass lids provide visibility for checking on food. A detachable heating element and temperature control make washing easier. Insulated, cool-touch handles help prevent accidental burns. Non-slip feet and a heavy base help stabilize the skillet in use.
Let's get cooking!
What's Cooking? Reviews Of The 7  Best Electric Skillets
Scintillating Suggestions for Electric Skillet Owners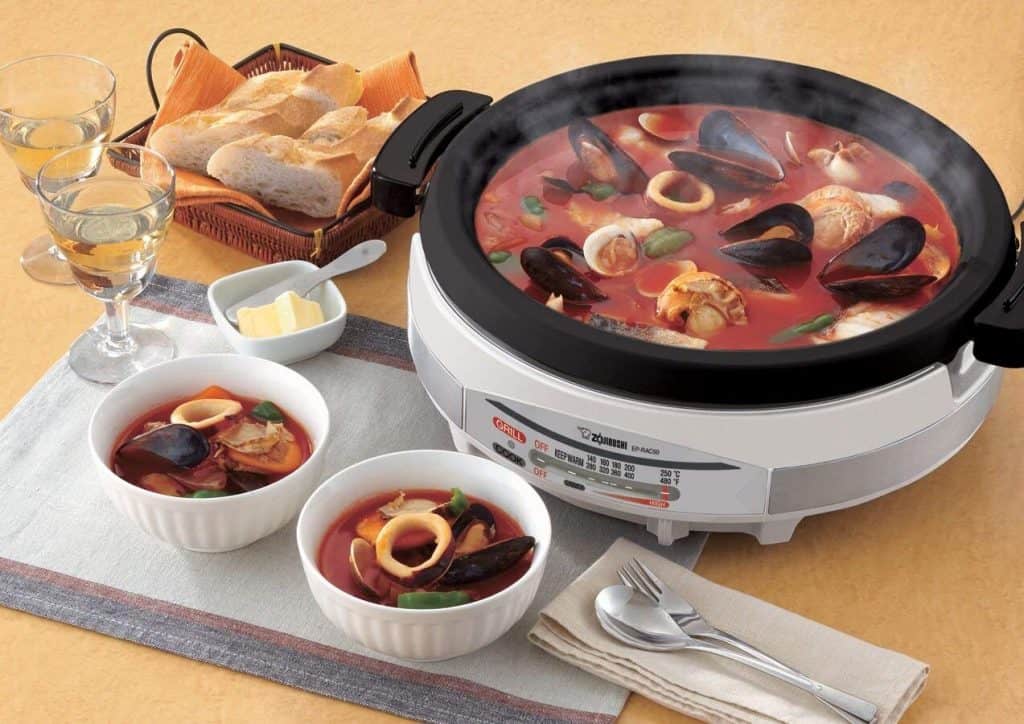 You've whipped up a delicious meal in your electric skillet, savored every morsel of your culinary creation and…now what? ?
How to Clean Your Electric Skillet
As we've learned from user feedback, cleaning an electric skillet is actually quick and easy.
Just remember to:
Turn off, unplug ?, and let the unit cool down.
Review manufacturer instructions on cleaning. Is the skillet dishwasher safe? Or do you have to wash it by hand? Actually, many owners don't mind handwashing their skillets and prefer doing so, sometimes for peace of mind ?and to give their skillets a little TLC ?.
Detach the temperature ?control and any electrical ⚡components from the electric skillet and keep them away from water. Wipe them of any food, grease, etc. if needed.
If hand washing ?: Pour hot water with liquid dish detergent in the pan. If the pan needs to be soaked, let it sit. If not, be sure to use a nylon scouring pad or sponge–not abrasive cleaners or metal pads that can scratch the cooking surface, especially a nonstick one. Then rinse and dry the skillet.
If hand cleaning ?: Wipe down the pan with a clean cloth or paper towel moistened with a mixture of water and little liquid soap. Then rinse or wipe the pan again with a clean wet cloth or paper towel to remove the soap. Dry the skillet.
If using the dishwasher: Put it in the dishwasher and wash as directed.
Usually, the lid is dishwasher safe and can be washed on either the top or bottom rack.
Electric Skillet Safety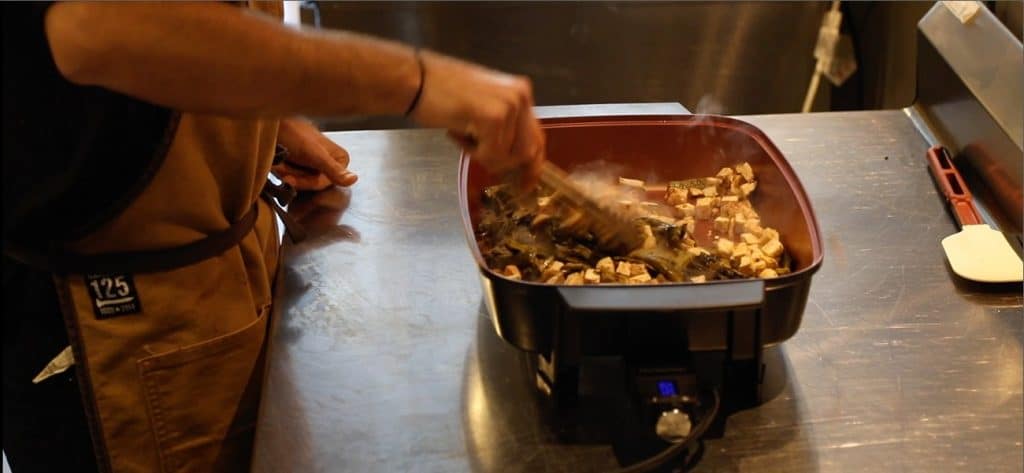 Sure, an electric skillet doesn't pose as many dangers as tools like a power drill, belt sander or a MIG welder.
Nonetheless…
Follow these few safe use tips and enjoy magnificent mishap-free meals:
Make sure the electric skillet sits on a flat, sturdy surface with room and "airspace" around it for ventilation and heat dissipation ♨.
Plug it ? into a nearby outlet. As we heard from many users, most electric skillet cords are short. The last thing you want is for someone to trip over the cord and pull over a loaded skillet filled with steaming food ?.
Although some models have insulated "cool-touch" handles, get into the habit of wearing oven mitts ? to handle and move the unit.
If your electric skillet doesn't have a vent for steam, turn the lid just a smidgeon to allow steam to escape ♨and prevent pressure from building up inside the vessel.
As mentioned earlier:
?Don't use metal utensils in the electric skillet; avoid damaging or scratching the cooking surface by using wood, silicone, nylon, and/or rubber implements.
To prevent hot oil splatter or spills (when deep-frying ingredients or boiling soup), use a deep electric skillet.
?Don't leave food unattended in a hot electric skillet–it's not a slow cooker.
When you're finished cooking, remember to turn the electric skillet off and unplug it ? from the wall to avoid any fire hazard ?.
Some models come with a locking ?handle to assist with transporting hot dishes.
Go Green with Your Electric Skillet
An electric skillet can be more efficient than a stove or oven for cooking some dishes, saving you money ? and conserving energy ⚡. The American Council for an Energy-Efficient Economy (ACEEE) compared the cost and amount of energy used when cooking the same meatloaf recipe through different methods in the chart below.
Electric Skillets: More Than Just a Flash in the Pan
For efficiency, convenience, and multifunctional use, an electric skillet is a handy tool. Utilize one to be a chef anywhere that has an electrical outlet ⚡. Think about the variety of recipes you can make and places where you can cook up culinary creations.
It all boils down to this
When deciding among different models to find the best electric skillet for your needs, look for the right size, shape, construction material, cooking surface, washability, accessories, durability, and price for your culinary needs.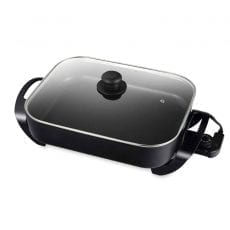 Best of the best
eFluky 16-inch Electric Skillet
Cook a hot meal without a stove or oven…by using a handy electric skillet. Just find an electrical outlet, plug in the skillet, and enjoy some home-cooked cuisine. Read on and learn about the best electric skillets–their versatility, functionality, and convenience.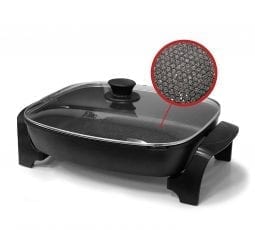 Most Buying
Elite Platinum EG-6203 Electric Skillet
Cook a hot meal without a stove or oven…by using a handy electric skillet. Just find an electrical outlet, plug in the skillet, and enjoy some home-cooked cuisine. Read on and learn about the best electric skillets–their versatility, functionality, and convenience.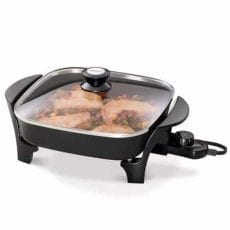 Best for the money
Presto 11-inch Electric Skillet with Glass Cover
Cook a hot meal without a stove or oven…by using a handy electric skillet. Just find an electrical outlet, plug in the skillet, and enjoy some home-cooked cuisine. Read on and learn about the best electric skillets–their versatility, functionality, and convenience.