The 30-Second Review
You're craving a hot, home-cooked meal…but you're not anywhere near a working stove!  ?No worries–pull out an electric skillet and you're on your way to satisfying your hunger. Oh–you don't have one?
No problem
Think about what and how you plan to cook and for how many people. This information will help you consider what size, shape, and functionalities to seek ? in an electric skillet. Other features to scrutinize include temperature range, construction material (e.g., aluminum, stainless steel, etc.), and the cooking surface (like regular or non-stick).
But wait, there's more
Don't forget about ease of use and clean-up! Some electric skillet models have parts that are dishwasher-safe, while others need to be washed by hand. And speaking of parts, see what accessories (e.g., lid, pot, steam rack, etc.) are included in the price. Finally, to make your investment worthwhile, read consumer feedback about each model's durability and longevity.
Buyer's Guide to Electric Skillets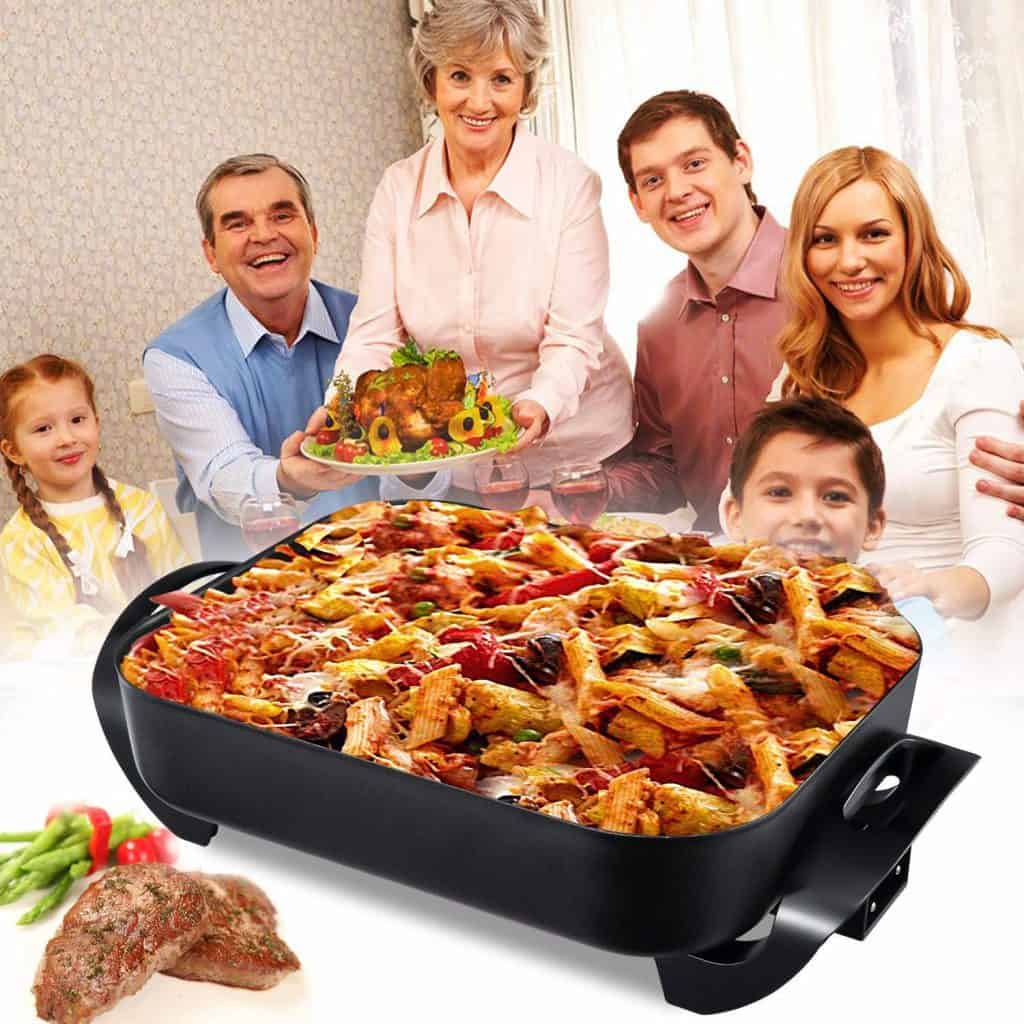 So why purchase an electric skillet when you have (for now) an operational stove and usable skillet? Why add yet another appliance to the house?
Good questions ?
Electric skillets present many perks that make them worth investing in.
Benefits of Electric Skillets
Unlike traditional stovetops and regular skillets, electric skillets:
enable you to cook in places without a stove (or oven), like an efficiency with just a kitchenette (often with no stove, just a hotplate or microwave), a dorm room, the garage, the porch, a campground…as long as there's access to an electrical outlet.
save space by preventing the need to install a stove in a tiny living area.
provide an additional cooking surface for places with very limited kitchen space like RVs and studio apartments.
equip you with an additional cooking surface when all of the stove burners and the oven are already occupied by multiple bubbling dishes (e.g., for a dinner party ? or during Thanksgiving ?).
help you save energy and keep the kitchen cool by heating ingredients without you having to turn on the stove or oven.
multi-task as a cooking device as well as a vessel ? for transporting, serving, and (if necessary) keeping the food warm at a potluck or buffet like a chafing dish.
deliver even heating and maintain a steady temperature ?, often more effectively than a stovetop.
prevent major clean-up: think of the multiple pots and pans (plus stovetop itself) to be washed after cooking ?. With the electric skillet, you have only one pot to wash.
Features of Electric Skillets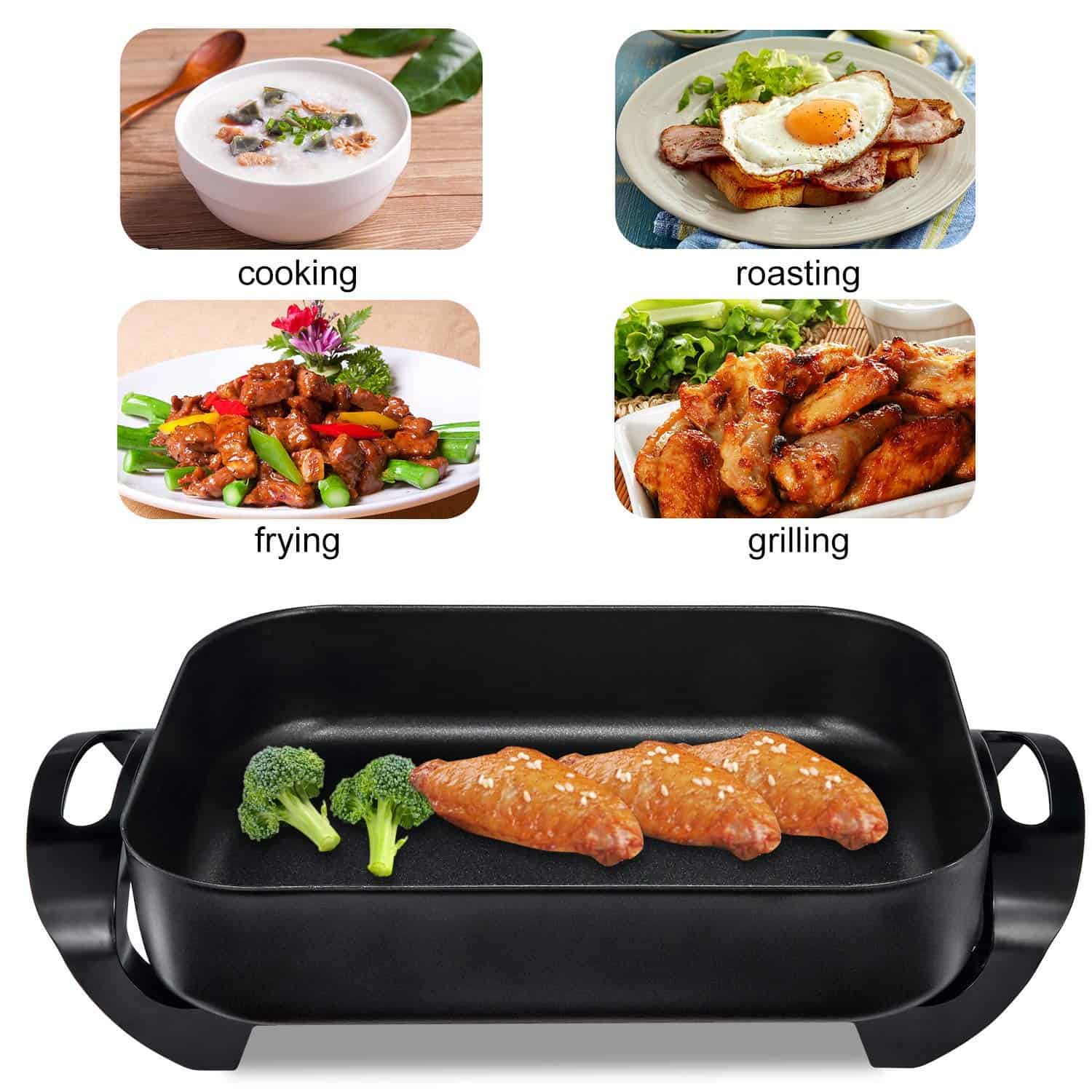 Before browsing through various electric skillet models, ask yourself a few questions❓:
How do I plan to use it (i.e., style of cooking)?
What dishes do I want to cook in it?
How many people am I serving?
How much work am I willing to do to clean it?
How much am I willing to spend?
When examining and choosing among different models, look for:
Versatility in functions: Most electric skillets ? can fry (of course, it's in the name!), sauté, braise, brown, boil, pan-broil, and even bake ingredients. Some models come with attachments that make steaming and grilling possible and easy.
Size: Depending on how much you plan to cook and how many people you need to feed, you'll want just the right size: Electric skillets generally range in size between 10 inches and 16 inches in width or diameter. Smaller ones (10"-12") are fine for small groups of a few people while larger ones (16" or larger) provide ample room for entertaining. Don't forget: the larger the skillet, the heavier it is and the more room it needs for storing.
Shape: Electric skillets can be round, square, or rectangular. Round and square models somewhat resemble regular stovetop skillets. Rectangular ones accommodate tasks like browning or searing large pieces of meat.
Depth: The height of the skillet's sides (ranging from 2.5" to 4" or more) and its lid's clearance (doming) determine overall depth. Boiling soups ?, simmering stews, and deep-frying foods require a model with higher sides to contain the ingredients and prevent hot oil splatters.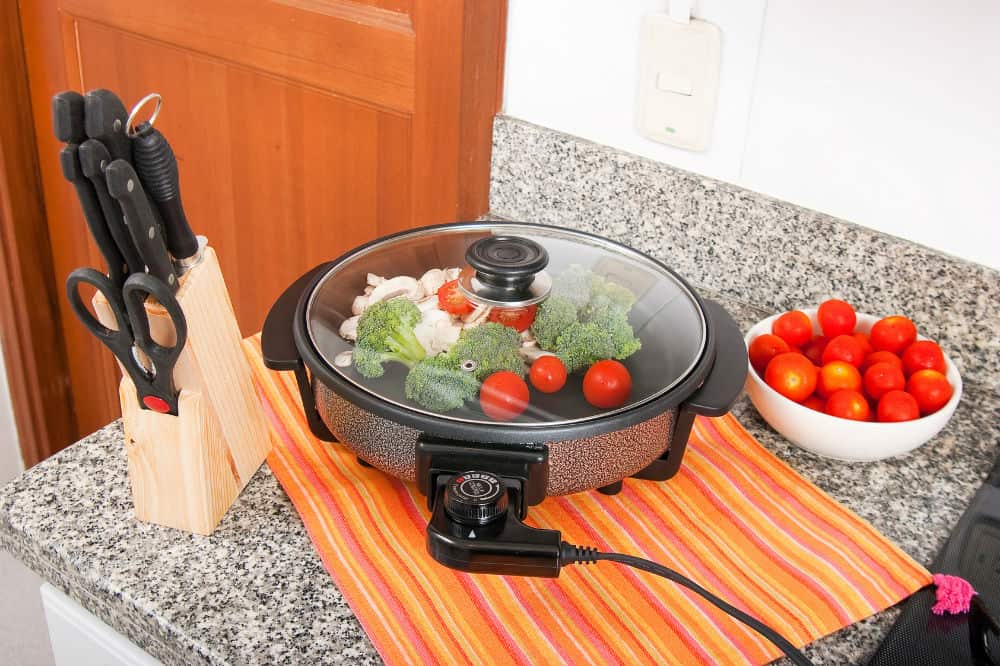 Material: Electric skillets are usually constructed of aluminum, stainless steel, or ceramic. Aluminum is light, economical, and heats up quickly, making it conducive for cooking. Make sure your cookware uses aluminum that's been anodized ("an electrochemical process that converts the metal surface into a decorative, durable, corrosion-resistant, anodic oxide finish aluminum") in order to prevent the metal from reacting with highly acidic (e.g., tomato sauce ?) and salty (e.g., sauerkraut) ingredients and leaching into the food. The risk of ingesting aluminum leached into foods cooked in anodized aluminum pots and pans is minimal–and not linked to causing Alzheimer's disease as once believed. Stainless steel is durable, non-reactive, rust-resistant, and attractive–but heavy and a bit more expensive. Ceramic is naturally non-stick, hard, durable, and scratch-resistant. It also retains heat well. Ceramic contains no trace metals or chemicals that can leach or flake off into food.
Cooking surface: Do you want a nonstick or regular surface? Although nonstick cookware is easy to clean, nonstick coatings may also contain PTFE (polytetrafluoroethylene, a man-made chemical branded as Teflon) or PFOA (perfluorooctanoic acid–also known as C8–another man-made chemical used in making Teflon). Although these chemicals haven't been proven to be carcinogens, studies have shown possible links between these chemicals and cancer. Look for an electric skillet that doesn't contain PTFE and/or PFOA.
Expert Tip: Utensils to Use with Nonstick Cookware
When stirring, flipping, and scooping ingredients in nonstick cookware, utilize implements made from a material that won't scratch the nonstick surface. Try utensils like a wooden spoon, a nylon or silicone spatula, or a rubber scraper.
Ease of cleaning: In our research, we found that whether or not a model is dishwasher safe can be a deal-maker or deal-breaker. Some parts–like the lid and/or pot–of an electric skillet can be removed and tossed into the dishwasher. Some models require hand washing and wiping ?, which may be quick, easy, and preferable to the owner anyway.
Temperature range and control: Many models can keep food warm (around 200°F) and also heat up quite hot (at least 450°F) when needed for deep-frying, etc. Some have temperature controls that indicate levels (e.g. low, high) while others are more precise.
Included accessories: Glass lids provide visibility for checking on food. A detachable heating element and temperature control make washing easier. Insulated, cool-touch handles help prevent accidental burns. Non-slip feet and a heavy base help stabilize the skillet in use.
Let's get cooking!
What's Cooking? Reviews Of The 7  Best Electric Skillets
01
eFluky 16-inch Electric Skillet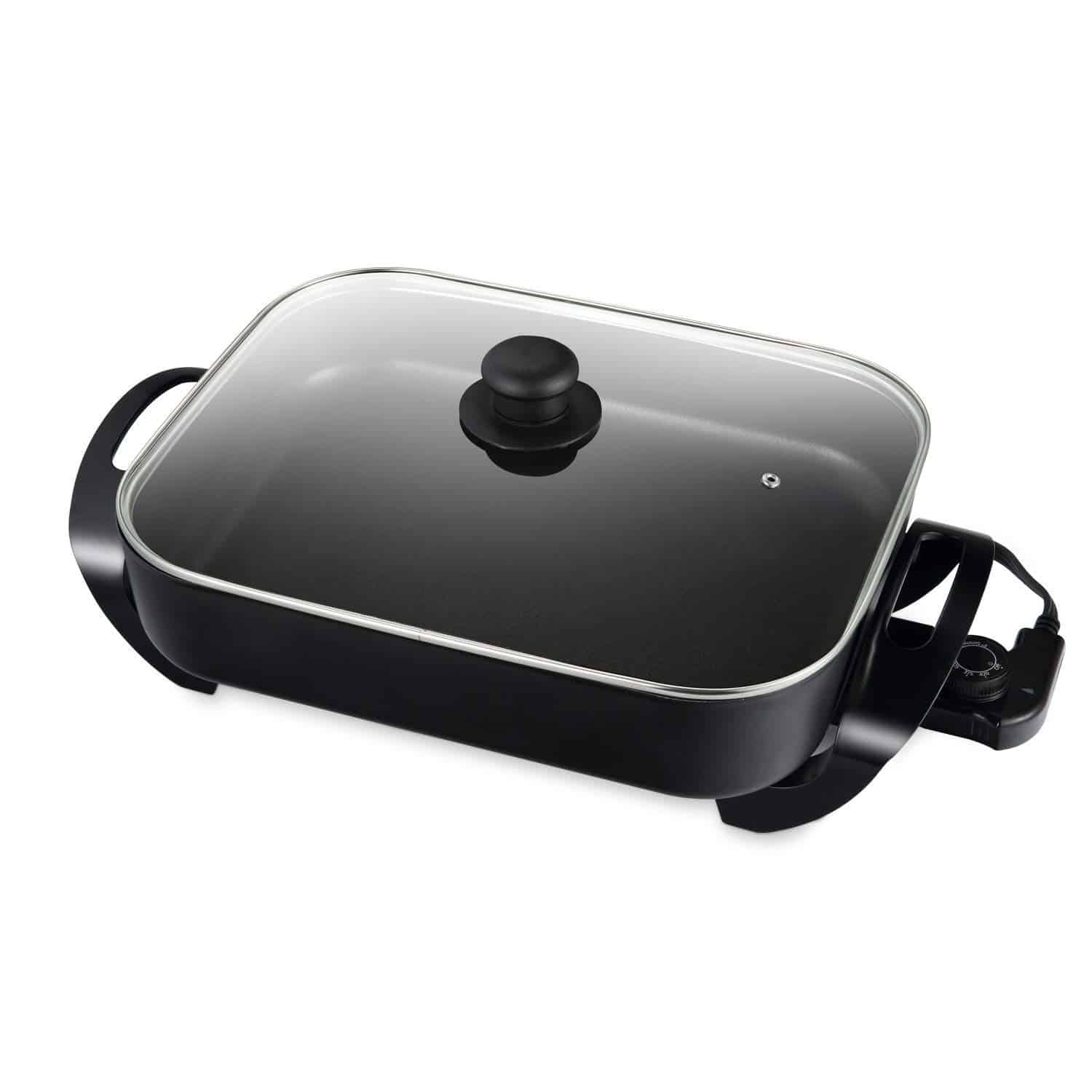 The "excellent" and "high quality" eFluky 16-inch Electric Skillet heats up quickly and evenly to prepare everyday meals and dinner party dishes. It's versatile (able to fry, stew, roast, grill, and bake) and can cook diverse recipes like pancakes, scrambled eggs, stir-fried vegetables, curry recipes, stew, soup, Korean barbecue, hot pot, deep-fried chicken, chicken wing fish, steak, and more.
What's more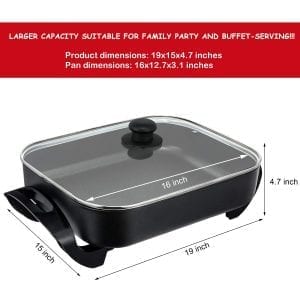 Users really like it's "easy-to-control" temperature, which ranges from 200°F to 460°F. It's warm "simmer" setting is perfect for keeping food hot until mealtime, for a buffet line, and throughout a party.
Party time!
Described as "spacious" and deep, the eFluky 16-inch Electric Skillet can fit enough of one dish to feed at least three to four adults. We read reports of it being used as part of preparations for meals for large families, small company gatherings, and other social events. As an added bonus, its "deep bowl"-like shape with three-inch-high side walls helps reduce splatter.
What more can you ask?
With its nonstick surface, the eFluky 16-inch Electric Skillet requires little oil for healthy cooking. Flipping the food is as easy as cleaning the skillet. Some users simply wipe the nonstick skillet with a soft damp cloth, paper towel, or sponge. After detaching the thermostat control and base, others hand wash to the skillet or put it (and the lid) into the dishwasher. Overall, the skillet is quick and easy to setup, use, and clean.
Features
Dimensions: 16" x 12.7" x 3.1" (overall); 15" x 12" x 3'' (cooking space)
Includes glass lid and detachable thermostat control
Power: 120V, 1400W
Material: Aluminum tension
Temperature range: 200ºF to 460ºF
Dishwasher safe with thermostat control/cord removed
30-day money-back guarantee
Three-year warranty
Made in China
---
Pros
Heats up quickly
Easy to control temperature and to clean
Spacious
---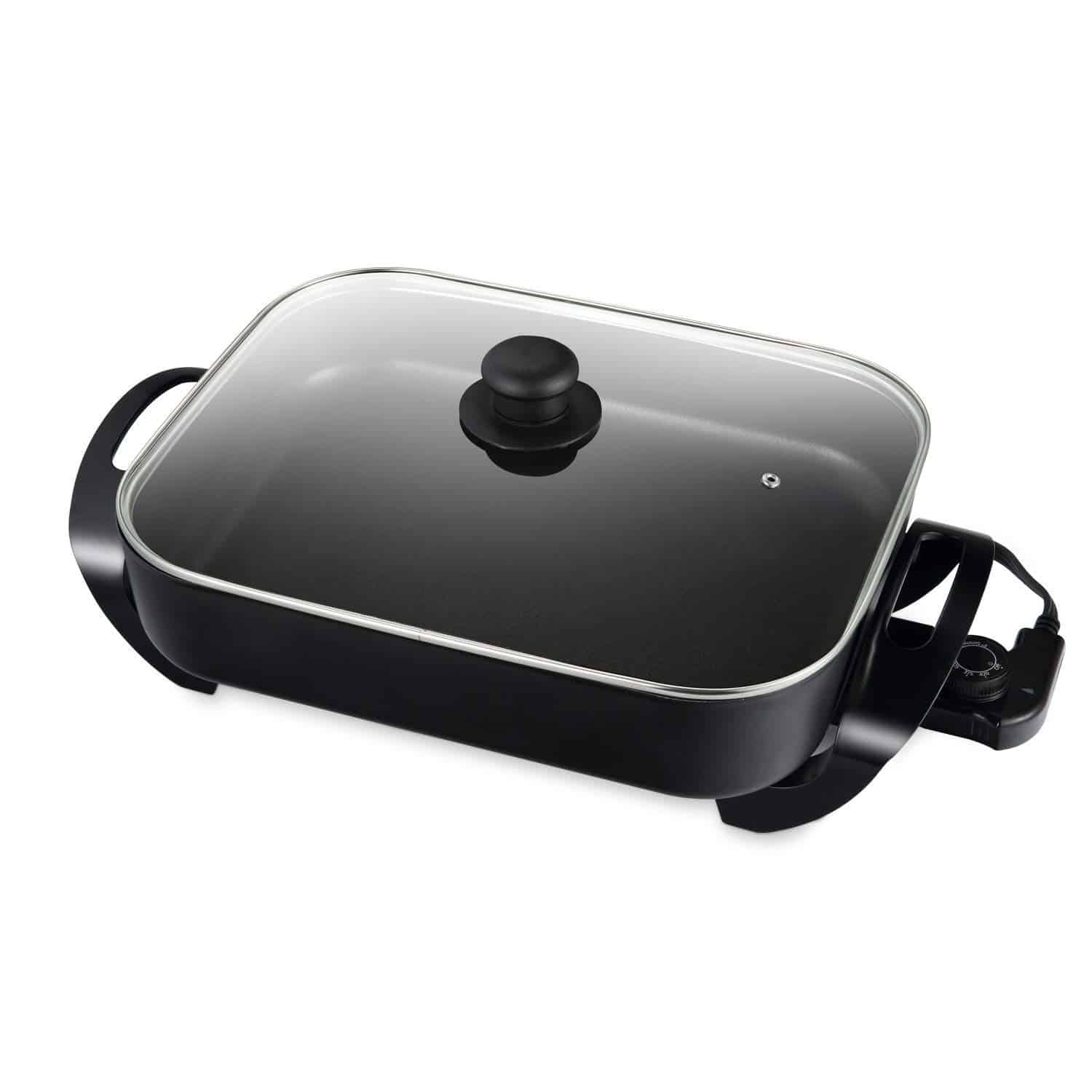 02
Elite Platinum EG-6203 Electric Skillet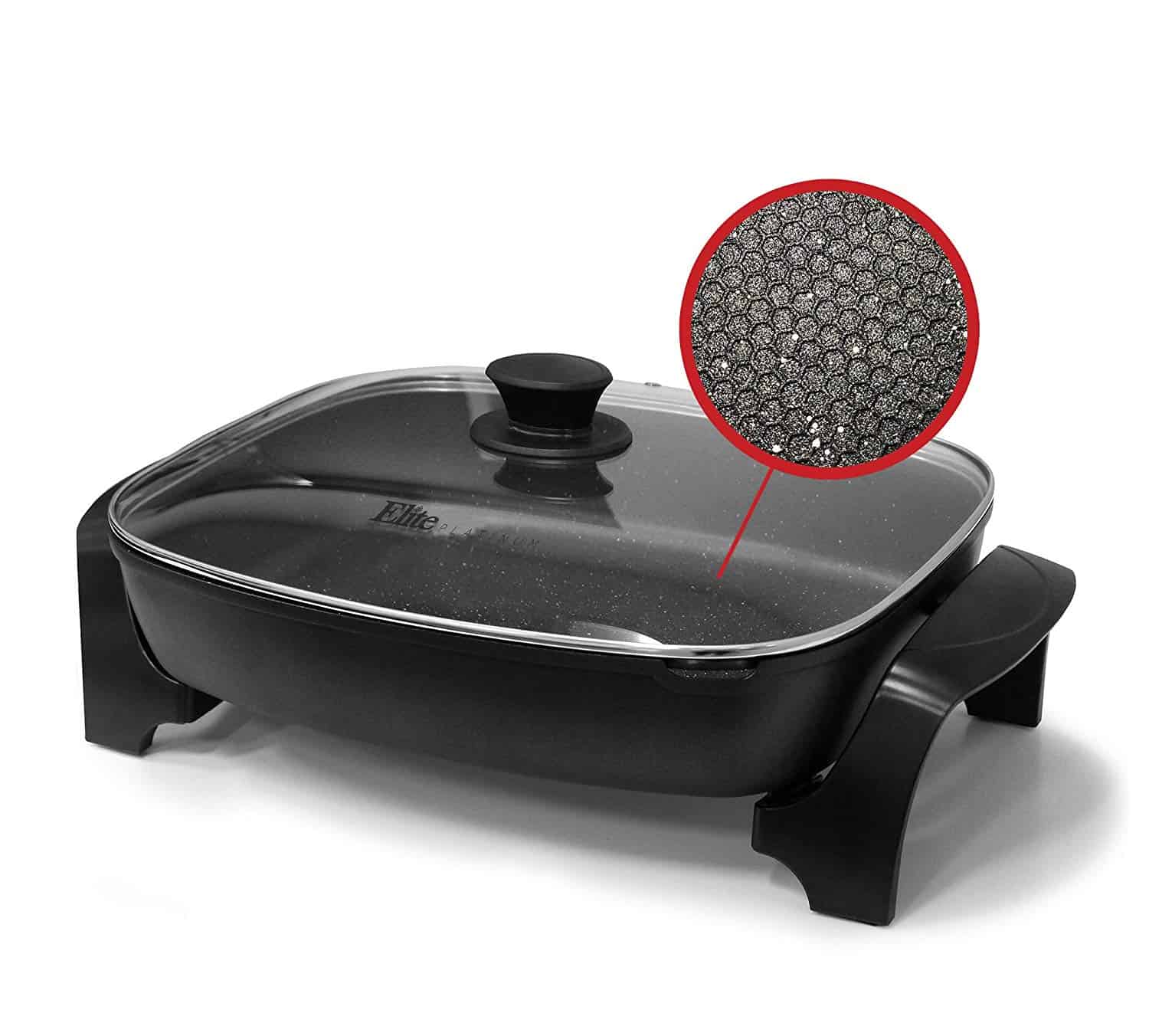 Dubbed the "Cadillac of electric fryers," the Elite Platinum EG-6203 Electric Skillet is sturdy, well made, and worth the price. Its unique M-shaped heating element embedded into the bottom the whole length of the pan creates an even heating surface with no hot or cold spots. Users love that ingredients cooking on the skillet's outer portion don't burn while ingredients in the center of the skillet don't end up undercooked.
Get this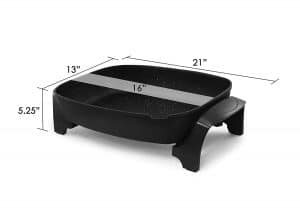 The Elite Platinum EG-6203 Electric Skillet heats up quickly with easily controlled and non-fluctuating temperature. Although the thermostat is accessible, it's close to the unit and can get hot when the skillet is on. Users report cooking a wide variety of dishes through different methods, including pancakes ?, hash browns, eggs (sunny-side up ?and scrambled), stir-fry, Polska Kielbasa, steak with grilled onions and peppers, ground steak with cheese ??; shrimp and sausage Cajun Jambalaya; Crawfish etouffee, shrimp Creole ?, Jamaican pork chops, sloppy joes, and boiled cauliflower.
This deep-dish pan is large with plenty of room to spread ingredients out for rapid heating. With 3.15"-high side walls, the Elite Platinum EG-6203 Electric Skillet is perfect for bubbling soups, handling "several packages of hamburger" ?, and frying up to 12 pieces of chicken ?. Perhaps too big for two-person meals, this big "bad boy" can accommodate large families (six to eight people) and one-pot ?recipes.
So big!
Because the skillet is "huge," it requires a much counter space for use. One user warns others to keep any objects away from it during use in order to prevent them from touching the metal and melting. Another person reports that his skillet got so hot that it cracked the counter and melted another nearby appliance! Also, since the Elite Platinum EG-6203 Electric Skillet is so large, cooking smaller recipes in it can be tricky. Ironically, this big model has a short cord.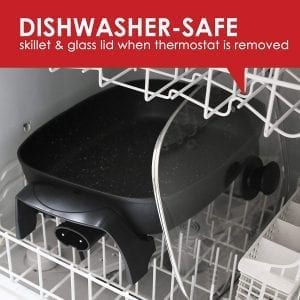 Although the pan has a raised honeycomb texture and marble coating nonstick surface, the manufacturer's manual advises "seasoning" or coating the inside with a thin layer of vegetable oil before the first use. The nonstick surface seems durable, as people report no scratches or flaking after months of regular use. The pan's spout is convenient for pouring and draining liquid. The lid fits well and covers flying grease during frying.
Doesn't this sound half-baked?
Users note frustrating contradictions for cleaning methods with the Elite Platinum EG-6203 Electric Skillet. The item's online description states it's "fully immersible" and dishwasher-safe with the temperature control removed; however, the manual and the label under the skillet say it's not "fully immersible." People describe the pan as easy to clean by hand washing in warm soapy water. Nonetheless, the fact that this model isn't truly submersible and dishwasher-safe is disappointing to some.
Nevertheless
We read reports of good customer service for the Elite Platinum EG-6203 Electric Skillet.
Features
Pan dimensions: 16" x 13" x 3.15"
Overall skillet dimensions: 22.5" x 13" x 3.75"
Weight: 9.88 pounds
Includes glass lid and wire rack
Capacity: eight Quarts
Cast aluminum base
Temperature range: 200°F to 400°F
Power: 1500 watts, 120V-60Hz
Limited one-year warranty
---
Pros
M-shaped heating element lines the length of the pan for even heating
Easily controlled and non-fluctuating temperature
Ample size
Convenient spout and well-fitting lid
Cons
Large size requires much room during use to prevent melting nearby objects.
Confusion between online description and manual on whether or not the skillet's immersible and dishwasher safe
---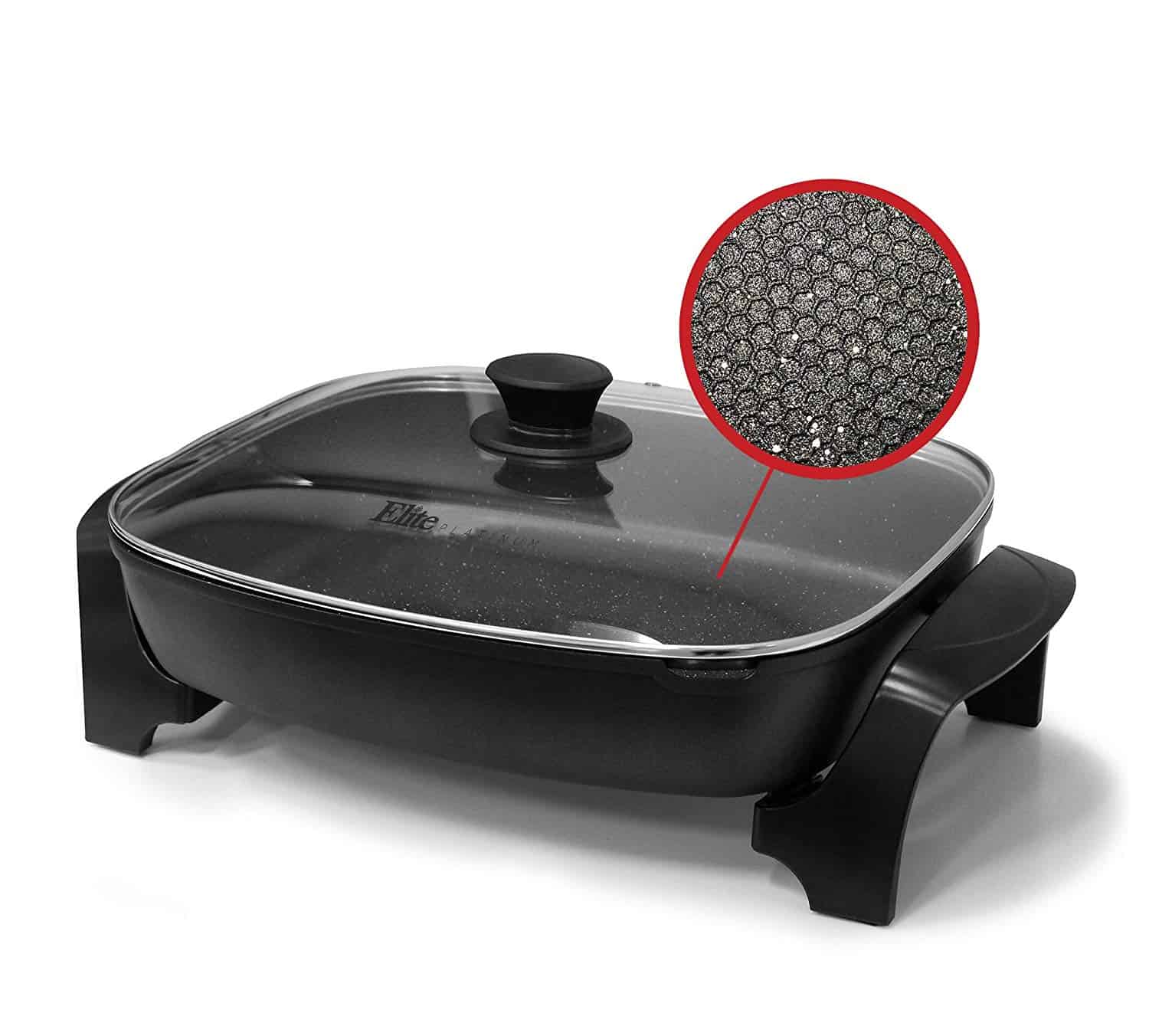 03
Presto 11-inch Electric Skillet with Glass Cover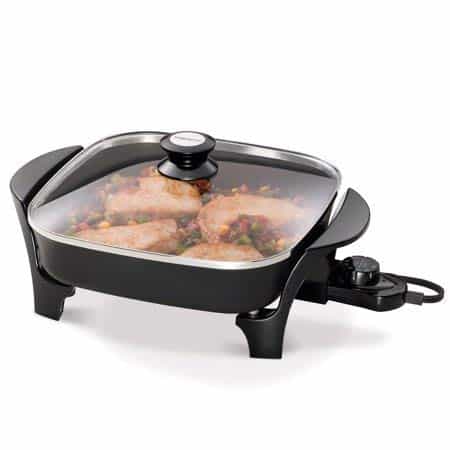 Users feel the Presto 11-inch Electric Skillet with Glass Cover is worth "every cent of its purchase price" and "surpasses expectations." We read declarations of plans to purchase this model again in the future.
First
This skillet heats up quickly and evenly over its entire cooking surface (important for making pancakes ?and crepes as well as browning meat) without any cold or overly hot spots. One owner cooked fried chicken ? "as a test case" and reports that each piece was cooked evenly.
On the other hand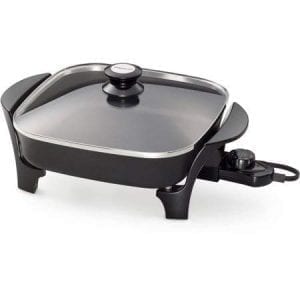 A few users state the Presto 11-inch Electric Skillet with Glass Cover does have a hot ring directly over the heating element that's noticeable when simmering sauces or gravy. But the difference isn't so extreme and many chalk it up to a normal heat pattern: high heat in a loop on the skillet's bottom. As expected, the sides don't cook as well as the middle bottom does.
Second
The Presto 11-inch Electric Skillet with Glass Cover maintains an even and constant temperature. However, a couple people noted the skillet doesn't simmer well because it rises up to the target temperature, shuts off, and then turns back on again "with vigor" to re-attain the target temperature, only to switch off again. Also, the maximum 400°F setting doesn't seem to be hot enough for some users but fine for others. A few say the skillet is too hot for the countertop and the temperature control knob heats up uncomfortably.
Third
Several owners remark that the Presto 11-inch Electric Skillet with Glass Cover has a flat bottom and level base; when used on an even surface, it prevents pooling of liquid like oil or batter for efficient cooking. The skillet can be used to cook many different dishes like stovetop lasagna, grilled cheese ?, steaks ?, bacon ? (all of which benefit from a flat, level surface), macaroni and cheese, caramelized beans, and (with an internal rack sold separately) steamed crab legs ?. A few people report uneven cooking after several months.
The Presto 11-inch Electric Skillet with Glass Cover has a nonstick surface and requires little oil for cooking. In terms of durability, a few users see chips in the nonstick coating within nine months to a year; others say they've "constantly" cooked in it longer (e.g., two years) without any complaints.  One person notes that after almost five years, she notices that ingredients stick in the area above the heating coil where the nonstick coating has worn.
This is interesting…
The Presto 11-inch Electric Skillet with Glass Cover has as a side pour spout which also works well as a spoon rest and a vent. The vent prevents the glass lid from fogging up, but also perhaps allows steam to escape too rapidly; sometimes this leads to moisture evaporating too quickly and ingredients burning if not closely monitored. The sturdy lid actually shattered during and after use for several people. Several users wish the cord were longer and thicker; many note there's black sooty residue on the outside of the base.
Dirt be gone!
In terms of clean-up, the Presto 11-inch Electric Skillet with Glass Cover is a "super easy" "breeze" to wash. Simply unsnap the base, detach the temperature control, and put the skillet into the dishwater. If you prefer washing it by hand, just use warm water, a little dish soap, and a soft cloth or sponge and wipe–no need for soaking or scrubbing. The pan (sans base and temperature control, of course), is fully immersible.
A bit of advice
This model's modest size is suitable for two people or for use in a small space away from home (e.g., on a boat ⛵). It stores easily, with the base folding up and–with the temperature control–fitting inside the skillet. Numerous experienced owners highly recommend placing a towel inside the pan in order to protect the nonstick surface from scratching. Tuck the power cord into the skillet, flip the lid upside down, and it becomes a compact item that doesn't take up much storage space.
A final note
Many owners praise this electric skillet manufacturer's customer service. ?
To learn more about the Presto 11-inch Electric Skillet with Glass Cover, watch this informational video.
Features
Dimensions: 10.75" x 10.75" x 2.25"
Heavy cast aluminum base
Includes glass lid and temperature control
Dishwasher safe with the thermostat control removed
Temperature range: 200°F to 400°F
Power: 120 volts AC, 1000 watts
One-year limited warranty
---
Pros
Heats up quickly and evenly
Level bottom surface
Easy to clean
Compact storage
Cons
Temperature control knob gets hot
Cord a bit short and thin
Lid shattered for some
---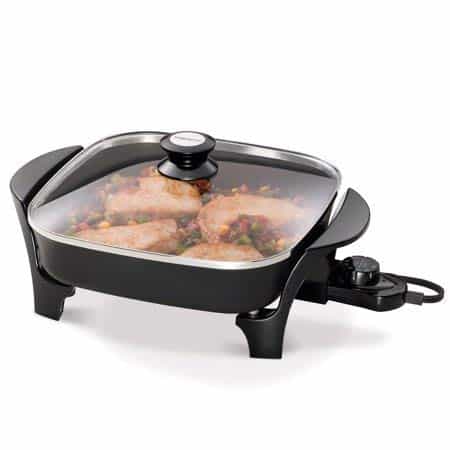 04
Zojirushi EP-RAC50 Gourmet d'Expert 1350-Watt Electric Skillet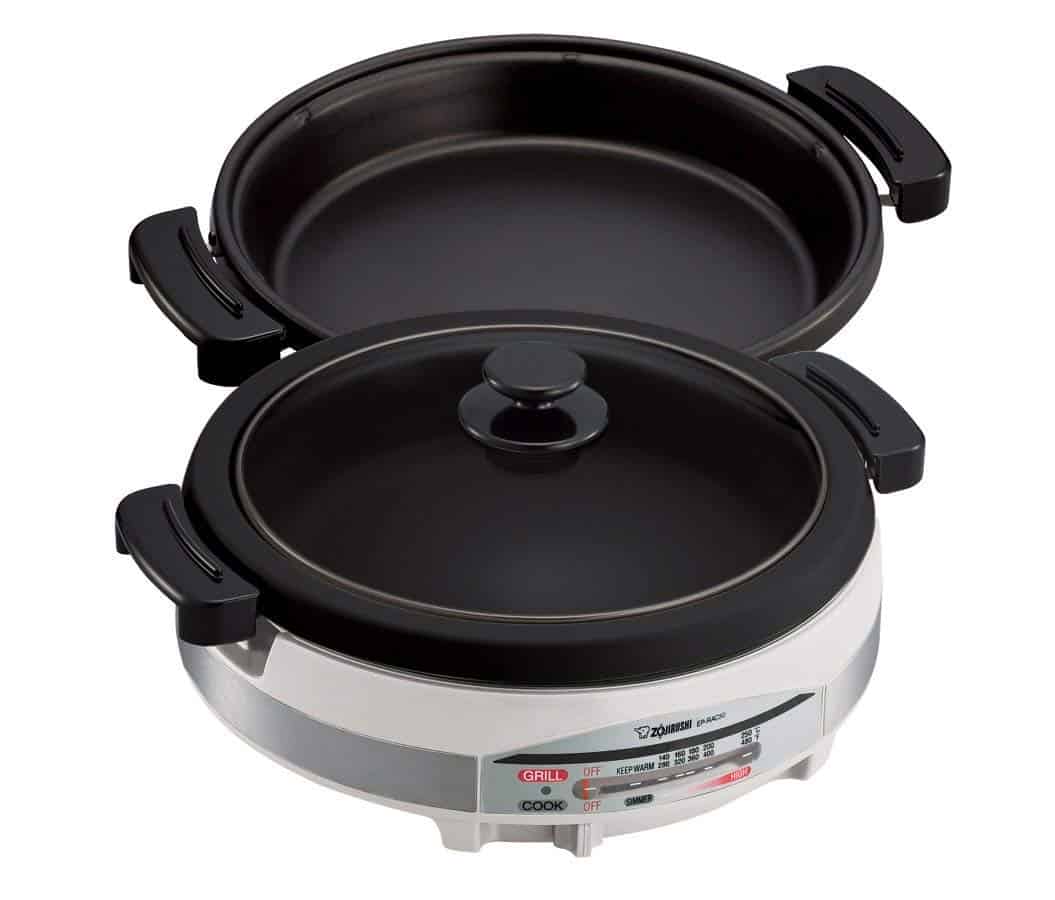 Analogized to the "Lexus of Toyota," the Japanese ?? Zojirushi EP-RAC50 Gourmet d'Expert 1350-Watt Electric Skillet earns rave reviews ?. Owners enthusiastically praise this "excellent," "beautiful," "solidly made," and "well-designed" model that's pricey but well worth the cost. In addition to its high quality, this skillet comes with two cooking plates–a deep pan and a flat plate–as well as a vented steamer. Once you learn how to utilize each piece, you'll realize that this single unit actually serves as a few different appliances.
So what does this mean?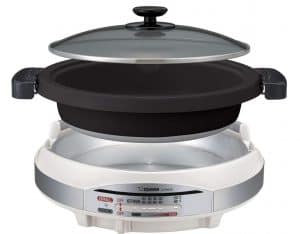 Incredibly versatile, Zojirushi EP-RAC50 Gourmet d'Expert 1350-Watt Electric Skillet can be used to prepare hash browns, tortillas, pancakes ?, okonomiyaki (savory Japanese pancake), bacon ?on the plate; soup ?and shabu-shabu (hot pot) in the deep pan; and shrimp ?, vegetables, and buns in the steamer. Users also list a myriad of other mouth-watering dishes ranging from hamburgers ?, macaroni, pork (chops, belly, pulled) to gyoza (dumplings) ?, Korean barbeque short ribs, beef tongue, and more.
And get this
The multiple pieces also are multifunctional in the overall meal preparation process. For example, you can use the plate and pan simultaneously with a little culinary choreography. First cook Recipe #1 (e.g., sweet and sour chicken ?in one vessel); when it's done, remove the piece and place it on the stovetop to stay warm. Then cook Recipe #2 (e.g., beef broccoli ?) in the other unused vessel; when this dish is done, remove it and voilà–serve both recipes at the same time in their respective cookware.
Is it hot enough?
With an easily operated and responsive adjustable heat control, the Zojirushi EP-RAC50 Gourmet d'Expert 1350-Watt Electric Skillet heats up evenly and quickly to maintain a consistent, well-distributed temperature ?. When making hot pot, though, several users feel the unit takes "a while" to heat up to higher degrees and boil. They notice that when they add refrigerated or near frozen items to the deep pan (on the hottest setting) filled about ¾ with boiling liquid, it doesn't heat up enough to return to a "high rolling boil" but simmers at most.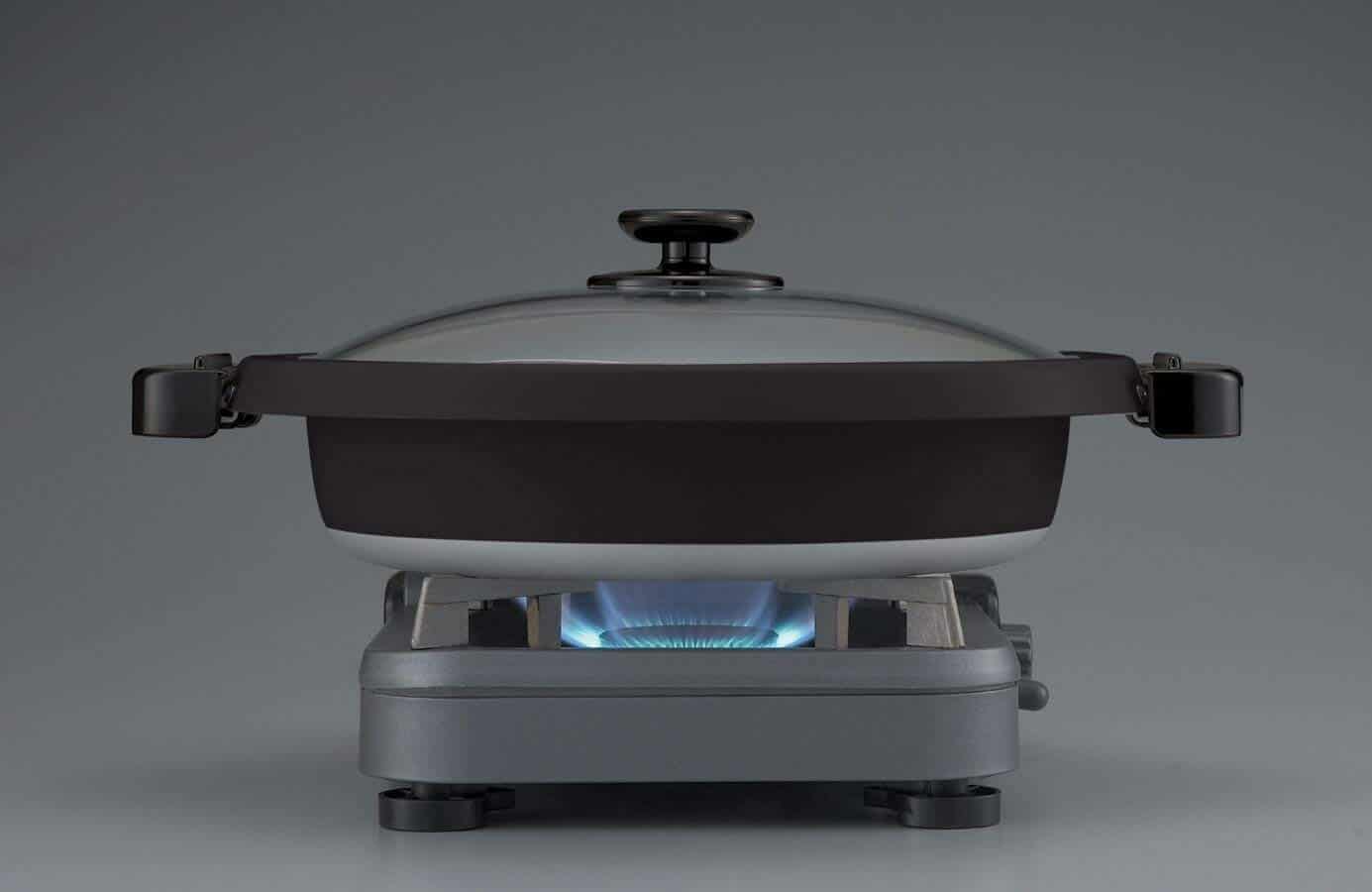 It's not cut and dried…
Another quirk of the Zojirushi EP-RAC50 Gourmet d'Expert 1350-Watt Electric Skillet is that the bottoms of the pan and plate aren't completely flat; each has a "light curve" or arch in center that allows excess fats to drain away…but also requires using more oil to compensate for oil running from the middle and gathers at the edges. Also, cooking runny foods (e.g., eggs, pancakes) can be tricky because the middle of the pan is slightly higher than the edges of the pan, resulting on runny food pooling at the sides.
Large and deep, the Zojirushi EP-RAC50 Gourmet d'Expert 1350-Watt Electric Skillet pan is suitable for a "decent size" family of several people. This ample vessel can accommodate cuisines like Shabu-shabu and multiple chicken breasts with vegetables. Some owners feel this unit overall can be a bit large to store easily.
This is interesting
What people do like is the Zojirushi EP-RAC50 Gourmet d'Expert 1350-Watt Electric Skillet's unique electrical cord attachment ?. Designed for safety, the cord connects to the unit's base with a magnet. Therefore, if someone trips over the cord, it detaches from the unit (instead of pulling it over), the skillet stays in place, and no scorching food goes flying to burn innocent bystanders and create a big hot mess.
The Zojirushi EP-RAC50 Gourmet d'Expert 1350-Watt Electric Skillet is durable. We read reports of owners using it 18 months, two years, and more without any problems. Although the nonstick surface is easy to scratch, the appliance operates well for at least a couple of years.
Easy as one, two, three
The removable pan, plate, steamer, and lid are light as well as easy to clean and wipe dry. Clean the outside of the unit as well as the internal heating plate by wiping them down The Zojirushi EP-RAC50 Gourmet d'Expert 1350-Watt Electric Skillet isn't dishwasher safe but most owners don't mind.
To learn about caring for and cleaning the Zojirushi EP-RAC50 Gourmet d'Expert 1350-Watt Electric Skillet, watch ?this helpful and informative video.
Features
Dimensions (with Deep Pan): 17 5/8" x 15" x 8 1/8"
Cooking surface: 12" diameter x 2½" deep
Includes glass lid, two cooking plates (deep pan and flat plate), vented steamer, and detachable power cord
Temperature range: 176°F (Warm) to 480°F
Power: 120 volts, 1,350 watts
Manual (downloadable here)
Limited one-year warranty
---
Pros
Very versatile and multifunctional with a deep pan, a flat plate, and a vented steamer
Large and deep
Unique and safe magnetic electrical cord attachment
Cons
Pricey, but worth it
Doesn't maintain a strong boil
Pan and plate aren't completely flat
---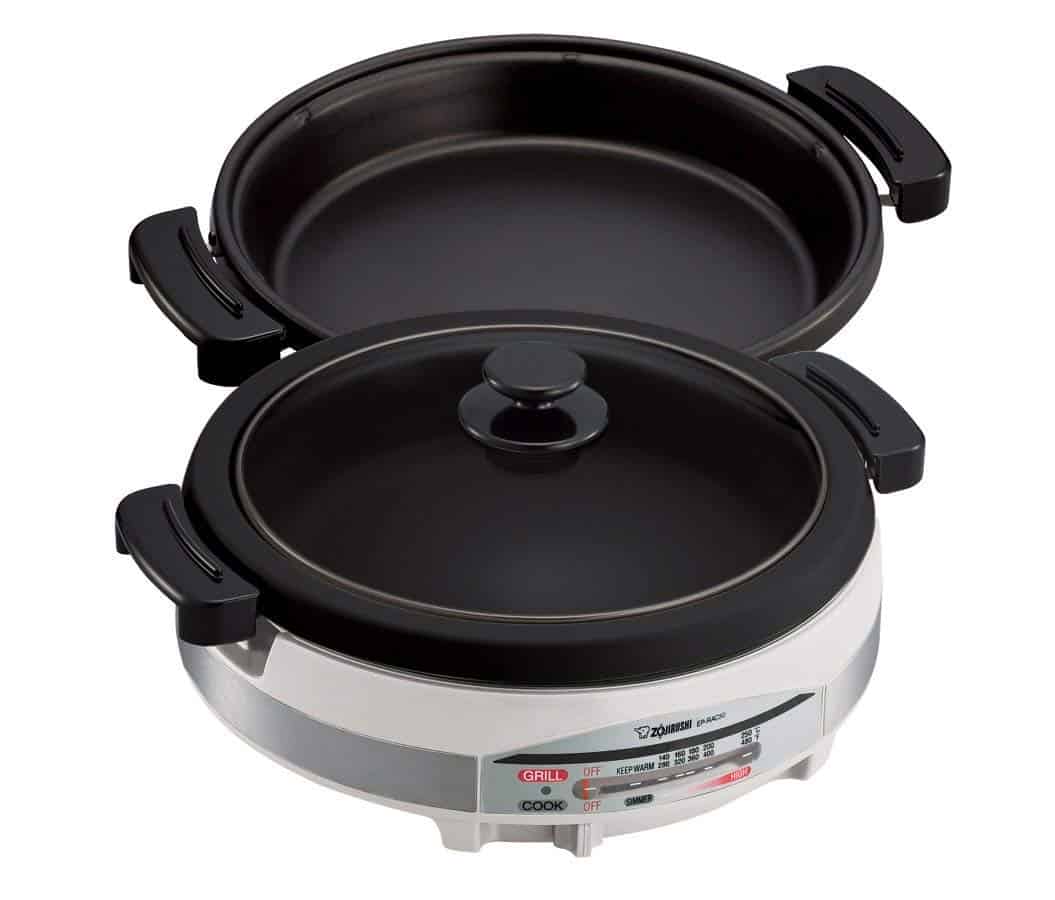 05
Cuisinart CSK-250WS GreenGourmet 14-Inch Nonstick Electric Skillet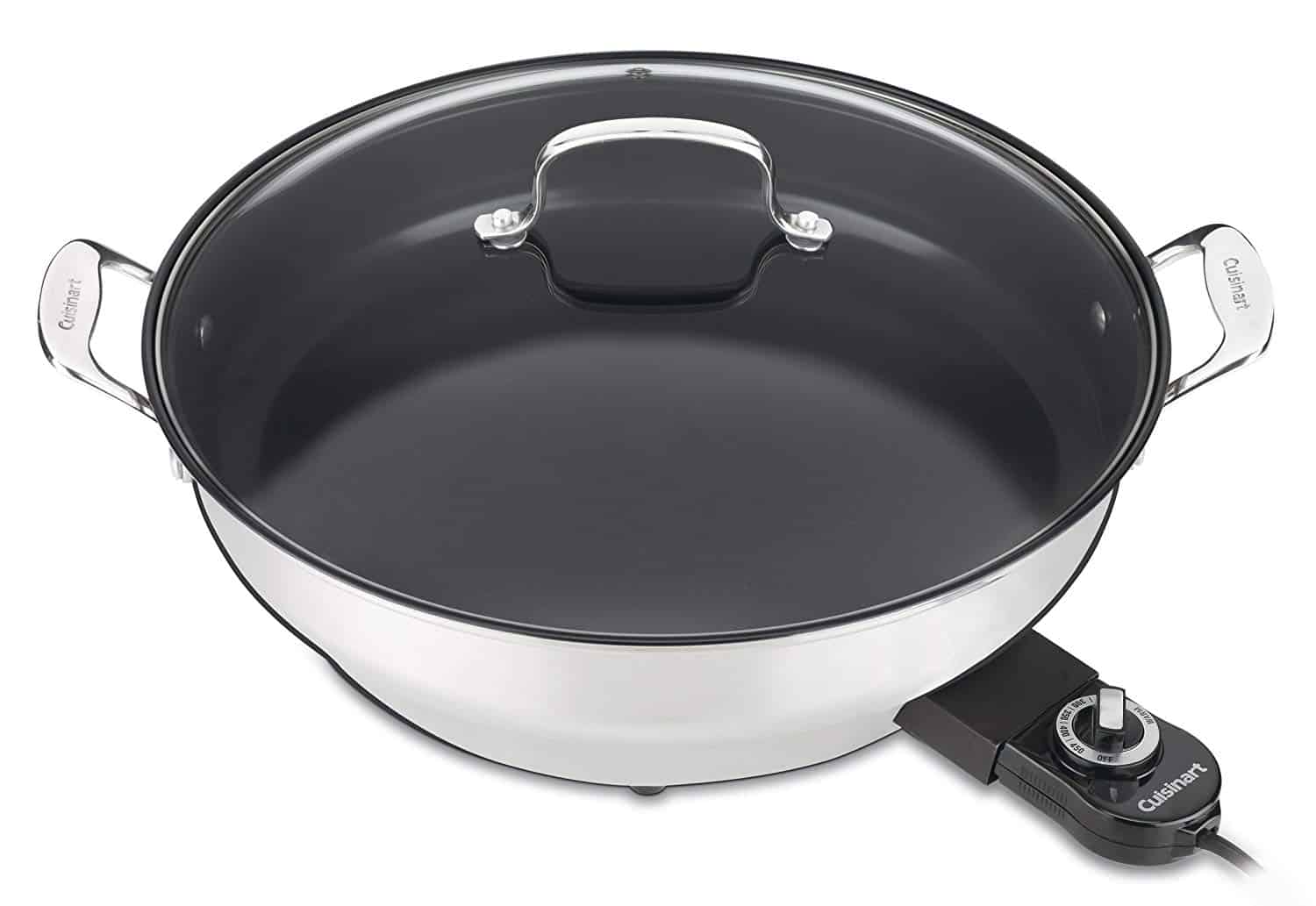 Owners "love" ❤using the Cuisinart CSK-250WS GreenGourmet 14-Inch Nonstick Electric Skillet, which isn't low-priced but well worth the expense. First of all, people seeking healthy nonstick cookware feel some peace of mind ?with Cuisinart Ceramica nonstick, a petroleum-free, ceramic-based cooking surface free of PTFE or PFOA. This non-Teflon coated workhorse is "excellent" and allows food to "slide around." This nonstick coating seems fairly durable; we read a couple reports of the coat peeling within six months yet more accounts of it lasting at least one to two years.
What can it do?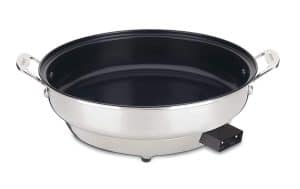 The versatile Cuisinart CSK-250WS GreenGourmet 14-Inch Nonstick Electric Skillet fries, sears, simmers, griddles, and braises with little or no oil or butter. Heating up quickly and evenly (with no hot or cold spots), this model browns meat rapidly and can cook a variety of dishes including hash browns, eggs ?, French toast, fried chicken?, chuck roast, Southern fried corn ?, turnip roots, asparagus, mushroom soup ?, and more.
Attractive enough to use as a serving dish, the Cuisinart CSK-250WS GreenGourmet 14-Inch Nonstick Electric Skillet keeps food warm for 20 minutes after being unplugged. A few users feel it takes "long time" to cool down as well as "a while" to heat up.
How about this?
The "roomy" Cuisinart CSK-250WS GreenGourmet 14-Inch Nonstick Electric Skillet has high sides and is deep enough for simmering spaghetti sauce ?, chili, and soups as well as stir-frying ingredients. Users find it large enough to cook for a big family or a party as well as doubling recipes, which is great for dividing and freezing for future meals. This large model needs ample storage space.
Its heavy lid has a vent hole that's too small for many users' tastes. One person suggests tilting the lid a bit in order to relieve the extra moisture and pressure.
Easy peasy
The manufacturer does not recommend cleaning the Cuisinart CSK-250WS GreenGourmet 14-Inch Nonstick Electric Skillet in the dishwasher, but many users feel it doesn't need dishwashing anyway. Simply wiping out the pot or washing it with warm soapy water, and a non-abrasive cloth is sufficient.
Features
Dimensions: 18.11" x 15.24" x 8.31"
Weight: 11 pounds
14" round cooking surface (150+ square inches)
Stainless steel exterior
Cuisinart Ceramica nonstick coated interior (PTFE/PFOA/petroleum free)
Includes glass lid and temperature control
1800 watts
Maximum temperature range: 450°F
BPA free
Limited 3-Year Warranty
---
Pros
A healthy nonstick alternative to Teflon
Even, efficient heating
Roomy
Cons
Not low-priced but well worth the expense
Lid vent too small
Not recommended for dishwasher
---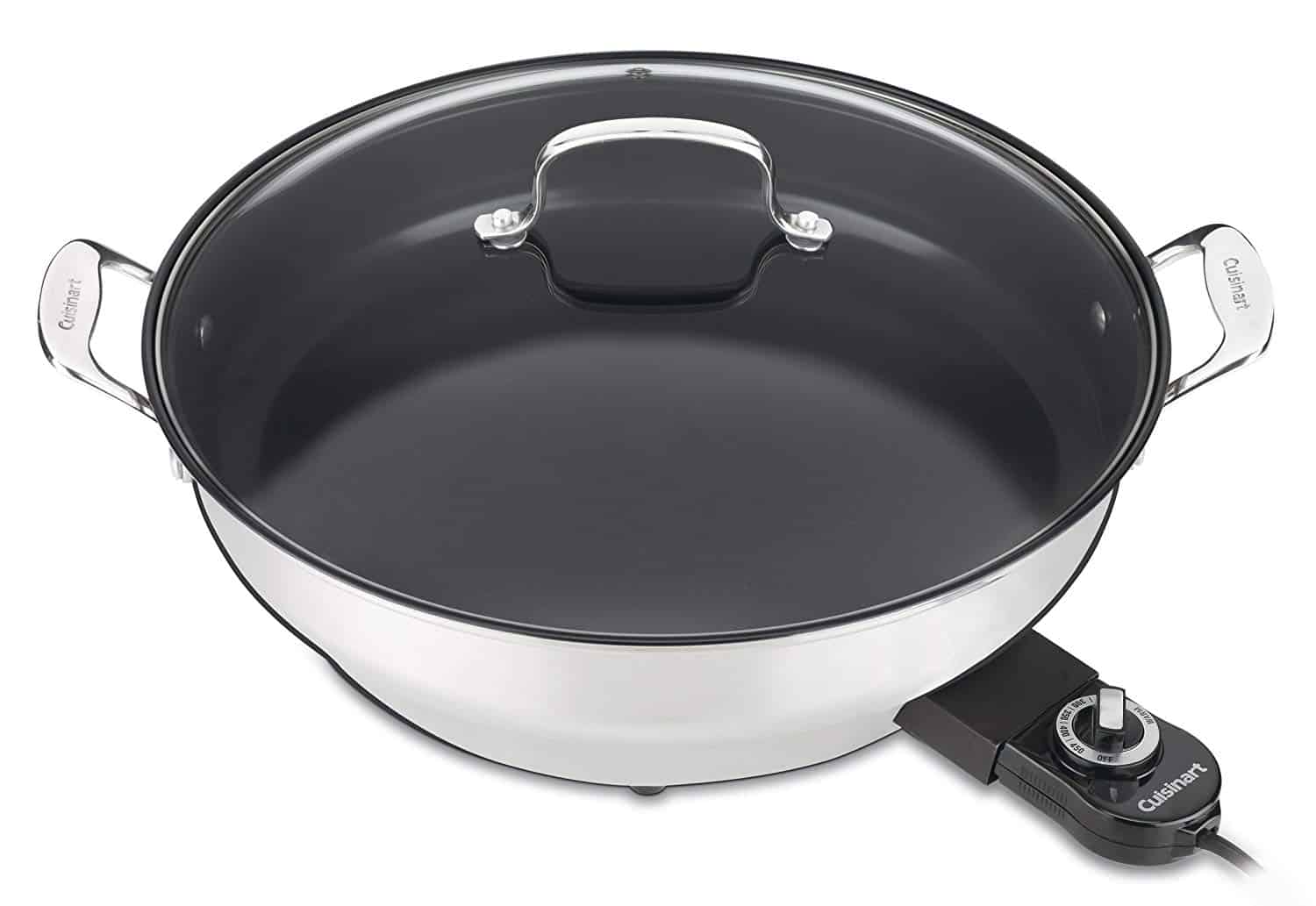 06
Nesco ES-12 Extra Deep Electric Skillet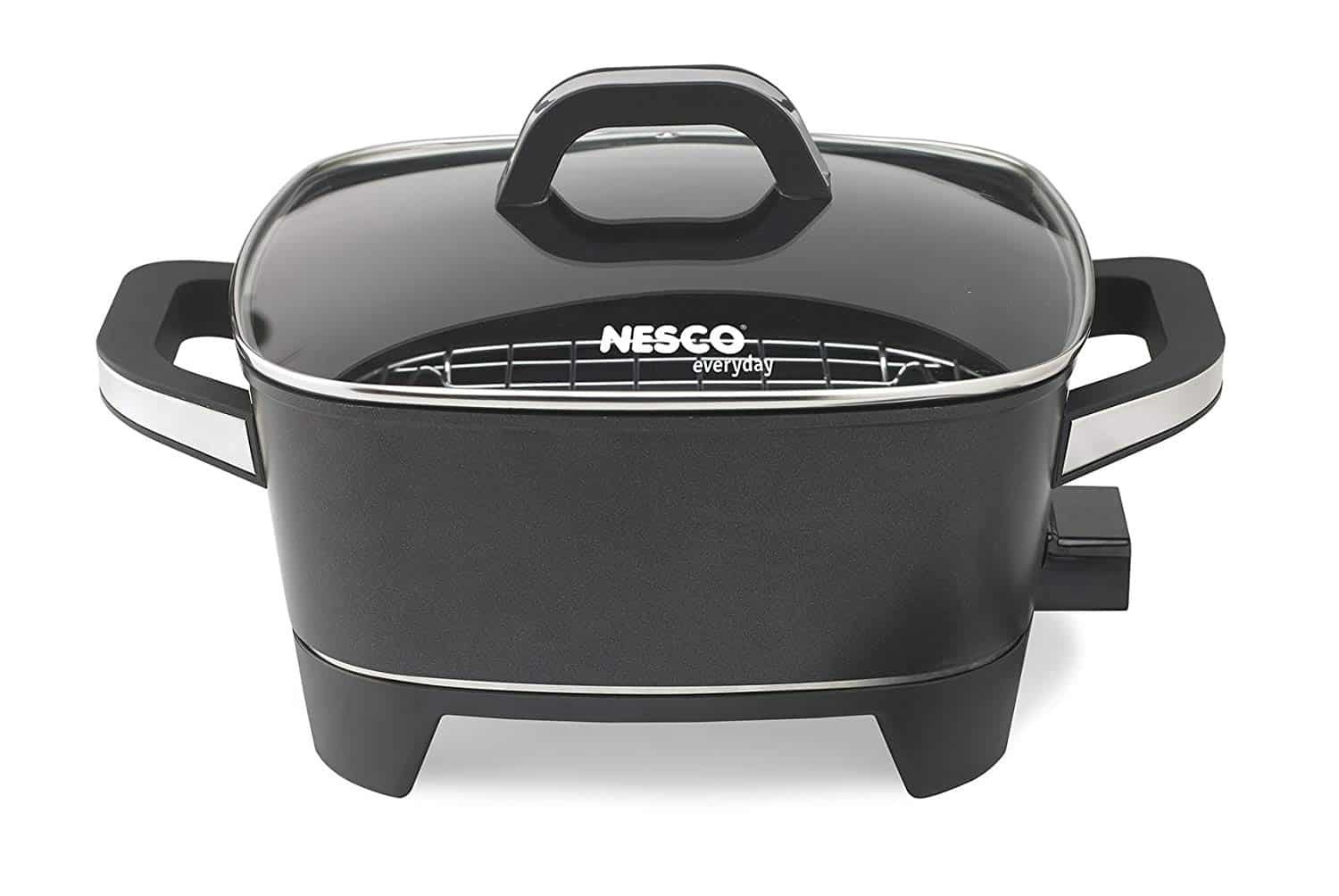 The Nesco ES-12 Extra Deep Electric Skillet is a great value and several consumers declare they'll buy a second one without hesitation.
Really, why?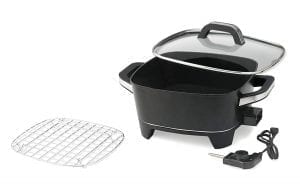 This versatile unit heats evenly and quickly with good temperature control. It cooks sausages, eggs ?, grilled cheese ?, fried chicken ?, chile rellenos, pork chops, sauces, chili, and steamed vegetables (with included rack). In fact, the rack creates a dry cooking area for baking a small batch of cookies ?, biscuits, or rolls. Unfortunately, the manual states the skillet isn't designed for deep frying.
The little engine that could ?
The Nesco ES-12 Extra Deep Electric Skillet's a "little guy" but deep with 4"-high sides that reduce splattering; it can even accommodate and roast a Purdue Oven Stuffer chicken. One reviewer recommends this model as the one "must-have" cooking device for residents with small kitchens.
Easy as pie
The nonstick surface is smooth, "works well," and makes clean-up "a snap!" Although its lid is immersible and dishwasher safe, the skillet itself isn't immersible and dishwasher safe. No worries–users suggest wiping out any excess food with a paper towel, washing the skillet with use wet, soapy towels, and wiping the soap off with a wet towel before drying it completely.
Features
Dimensions: 16.5" x 8" x 9.5"
Weight: seven pounds
12" X 12" x 4"-deep cooking surface
Includes glass lid and steaming rack
One-year limited warranty
---
Pros
Great value
Versatile
Deep
Easy to clean by hand
Cons
Not designed for deep frying
Skillet not immersible or dishwasher safe
---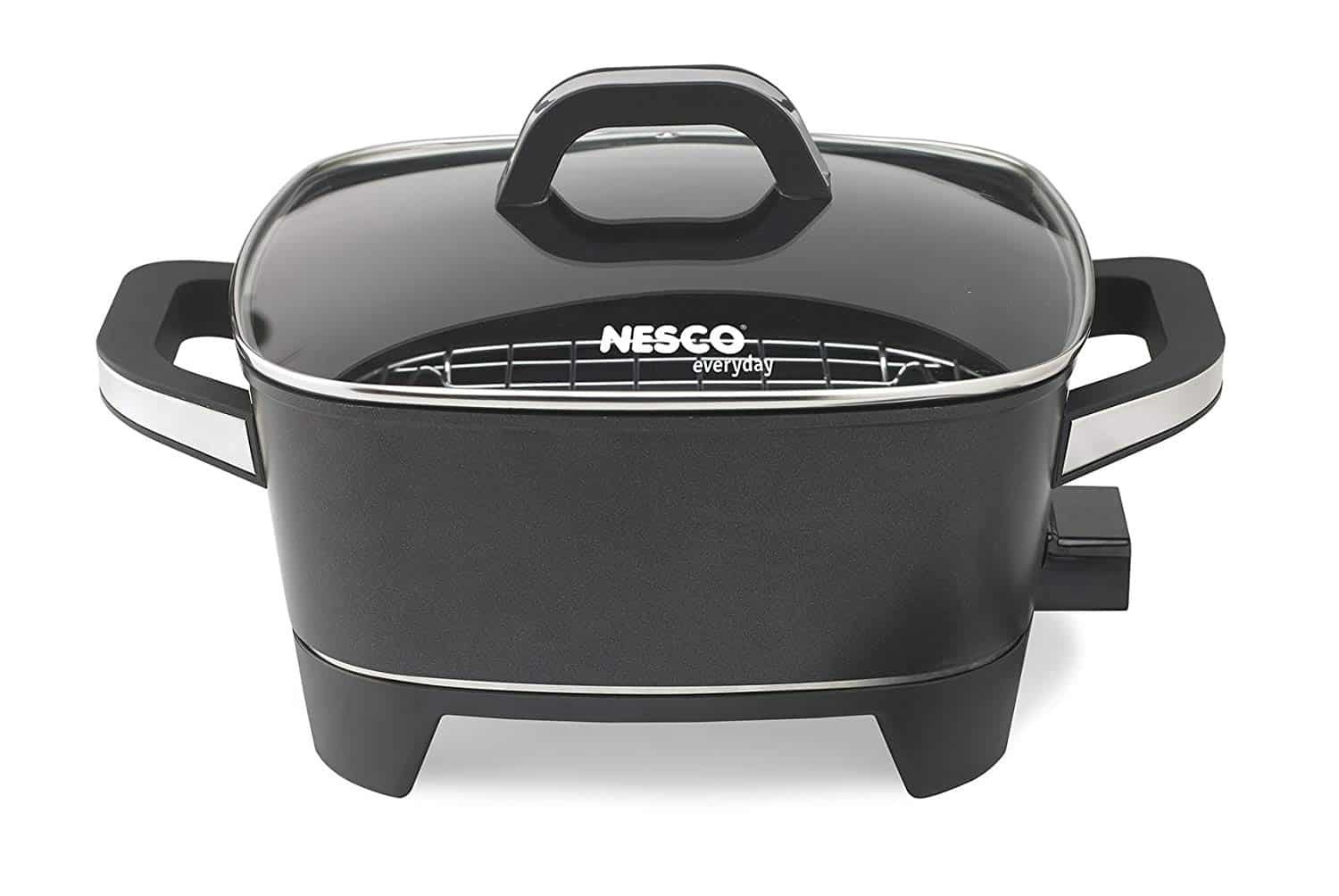 07
Aroma Housewares AFP-1600S Gourmet Series Stainless Steel Electric Skillet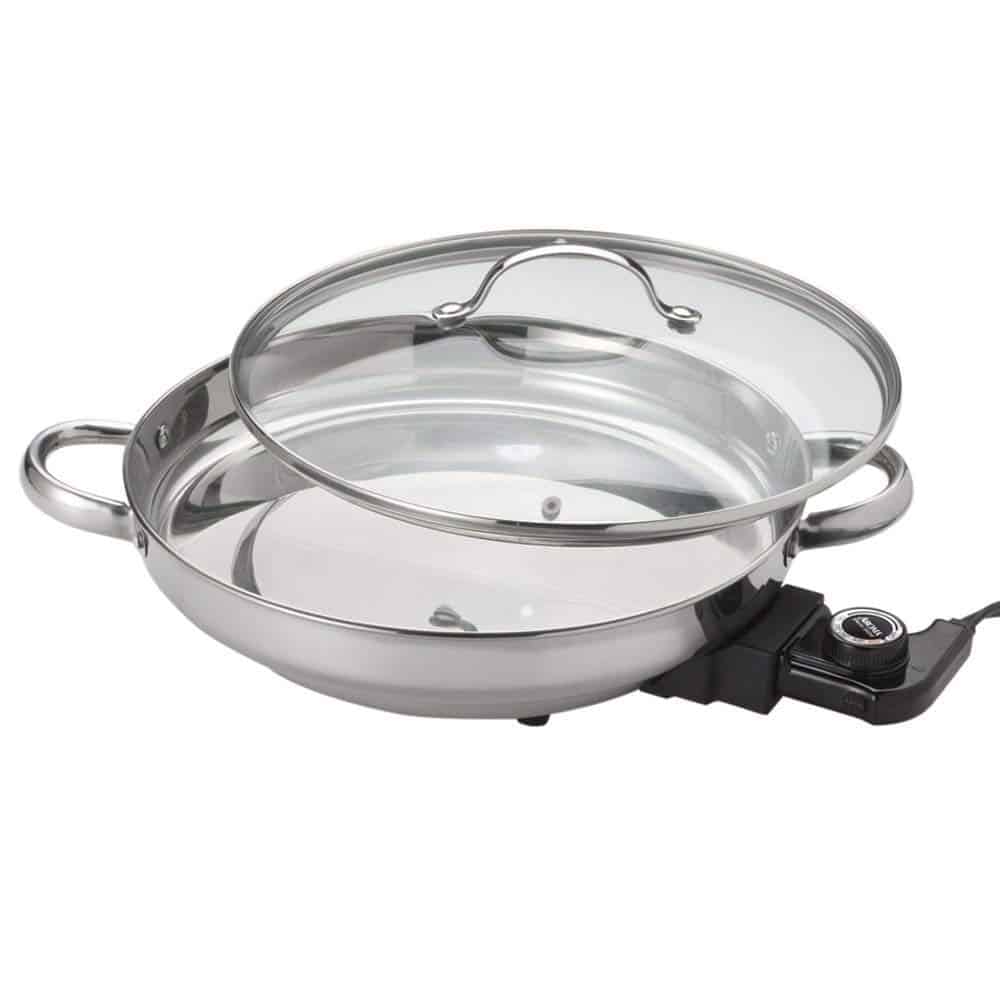 A welcome alternative to nonstick models, the Aroma Housewares AFP-1600S Gourmet Series Stainless Steel Electric Skillet is "efficient," "reasonably priced," "beautiful" enough to double as a serving dish, and worth buying again.
Why is that?
This sturdy model is versatile and can pan-fry, stir-fry, braise, simmer, slow cook, griddle, brown, and bake food. Reviewers report making a range of dishes including eggs ?, pancakes ?, burgers ?, refried beans, rice ?, biscuits, meatballs, crumbled meat, homemade tortillas, pork chops, chicken ?, quiche, and more.
Problem? Solved.
While most users report the Aroma Housewares AFP-1600S Gourmet Series Stainless Steel Electric Skillet heats up fast and evenly, several noted the skillet heats more "in a ring" and not all the way to the edges. A common workaround recommended by many cooks is to position ingredients about an inch away from the edge for sufficient heating.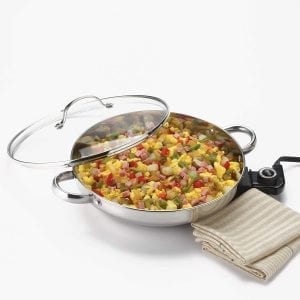 Turn down the heat!
Sometimes the temperatures seem too high ?and burn ingredients or boil away liquid quickly. A couple people feel that temperature control settings (except "off") are all very hot. Even when turned down low, the skillet stays extremely hot and can scorch food. The heat even affects the temperature control's plastic housing; four people report smelling burning after using the skillet above 250°F and at 375°F. ?
And
The see-through, tight-fitting heavy glass lid and its stainless steel handle get very hot; two users warn future owners to use oven mitts for touching the handle as well as not placing the glass lid on a surface unable to withstand. Three people report the lid shattering for no reason during regular use and cooling for washing. ?
Is it big enough?
Large enough to cook for two to four people, the Aroma Housewares AFP-1600S Gourmet Series Stainless Steel Electric Skillet accommodates about seven medium-sized chicken breasts. A few users feel this model is a little "shallow" and wish it were deeper. Nonetheless, one person successfully boiled spaghetti ?with "plenty" of room.
Here's some good advice:
Despite not having a nonstick surface, the Aroma Housewares AFP-1600S Gourmet Series Stainless Steel Electric Skillet is easy to clean: simply wipe it out with a paper towel, then wipe or wet it with soapy water, rinse, and then dry. When food is stuck on, though, a few users offer these tips:
Turn pan off; put water in it (while it's warm) to soften and loosen the food; let it soak; and then wipe up food OR
Sprinkle baking soda into the cooled pan; spray with vinegar to generate foaming action; let the pan sit for several seconds to a minute; scrub the area with a soft dish brush and a little liquid dish soap; and then rinse with hot water OR
For "white" stains: spray some lemon ? juice on the sticky spot; rub the area with a dishcloth; and rinse with hot water.
Note:
Since the skillet's heating element can't be detached, the skillet isn't immersible. Also, the unit has vents or holes in the bottom where water enter and reach the heating element.
The Aroma Housewares AFP-1600S Gourmet Series Stainless Steel Electric Skillet seems quite durable. We read reports of owners using this skillet for one year, 18 months, three years, and six years.
Features
Dimensions: 11.8" x 15.7" x 6"
Weight: 6.6 pounds
Constructed of 18/10 stainless steel
Includes glass lid and temperature control
Temperature range: 225°F to 425°F
BPA free
Power: 120V/60Hz 1500W
Two-year warranty
---
Pros
Heats up quickly
Beautiful stainless steel
No nonstick surface to worry about
Cons
Gets too hot, which burns food and affects parts
Not immersible
---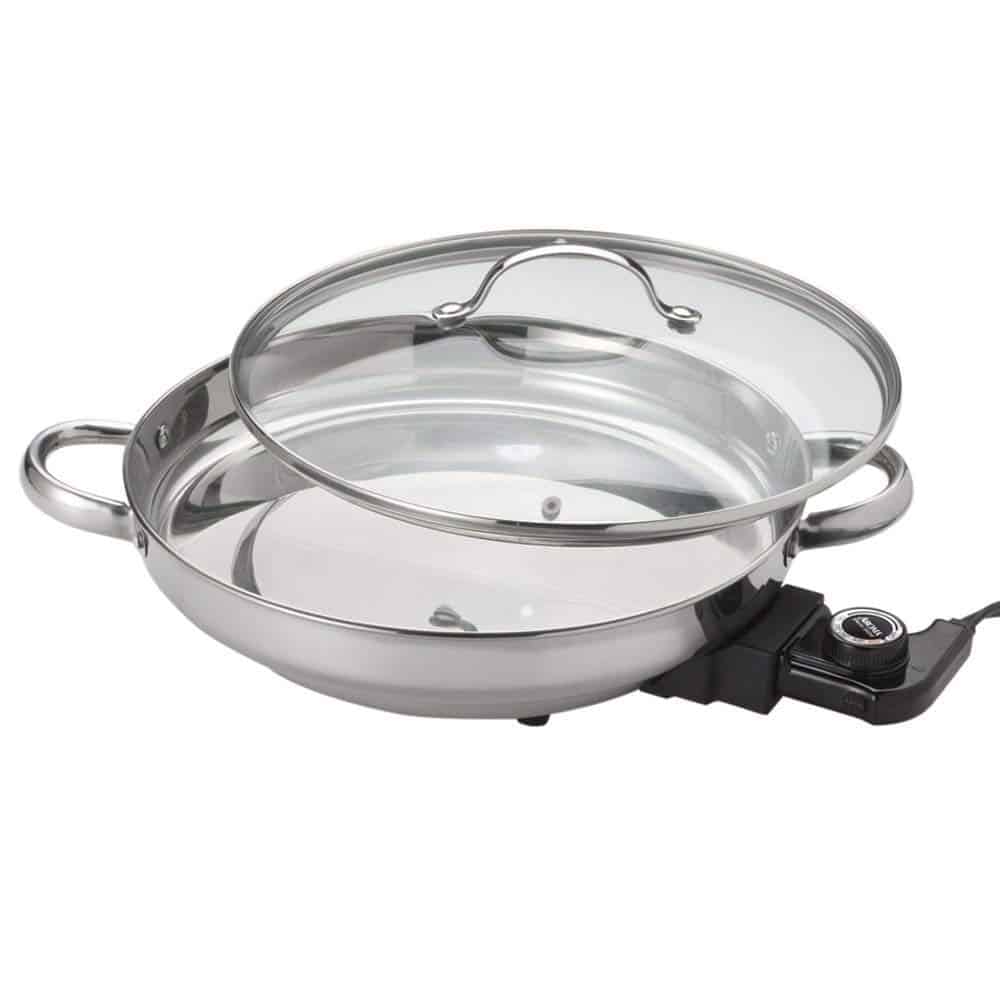 Scintillating Suggestions for Electric Skillet Owners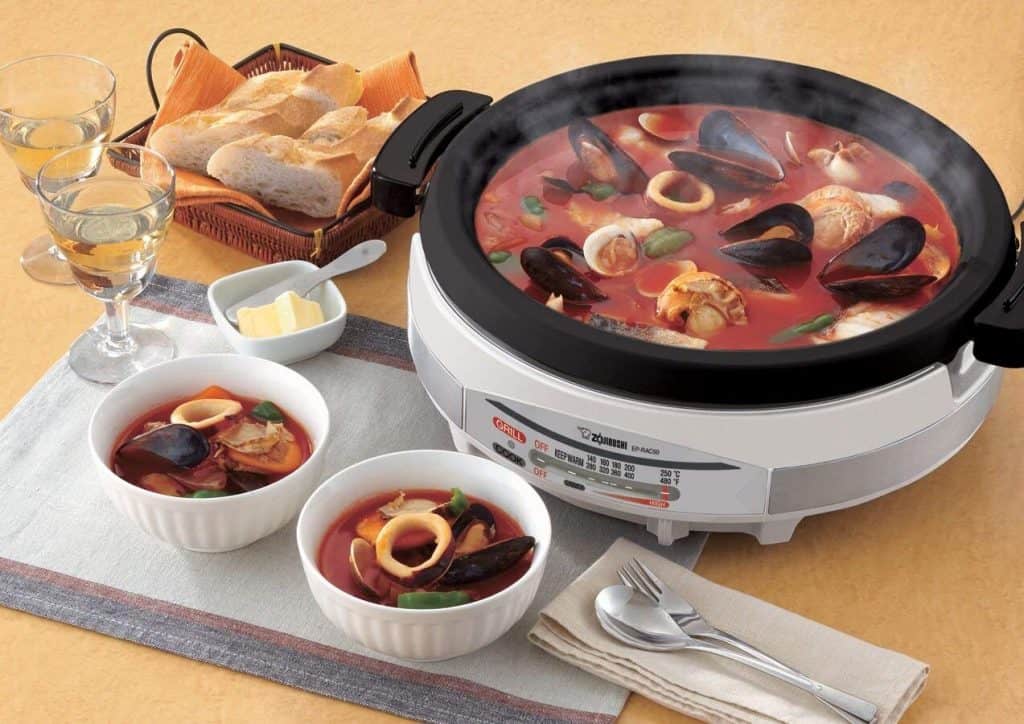 You've whipped up a delicious meal in your electric skillet, savored every morsel of your culinary creation and…now what? ?
How to Clean Your Electric Skillet
As we've learned from user feedback, cleaning an electric skillet is actually quick and easy.
Just remember to:
Turn off, unplug ?, and let the unit cool down.
Review manufacturer instructions on cleaning. Is the skillet dishwasher safe? Or do you have to wash it by hand? Actually, many owners don't mind handwashing their skillets and prefer doing so, sometimes for peace of mind ?and to give their skillets a little TLC ?.
Detach the temperature ?control and any electrical ⚡components from the electric skillet and keep them away from water. Wipe them of any food, grease, etc. if needed.
If hand washing ?: Pour hot water with liquid dish detergent in the pan. If the pan needs to be soaked, let it sit. If not, be sure to use a nylon scouring pad or sponge–not abrasive cleaners or metal pads that can scratch the cooking surface, especially a nonstick one. Then rinse and dry the skillet.
If hand cleaning ?: Wipe down the pan with a clean cloth or paper towel moistened with a mixture of water and little liquid soap. Then rinse or wipe the pan again with a clean wet cloth or paper towel to remove the soap. Dry the skillet.
If using the dishwasher: Put it in the dishwasher and wash as directed.
Usually, the lid is dishwasher safe and can be washed on either the top or bottom rack.
Electric Skillet Safety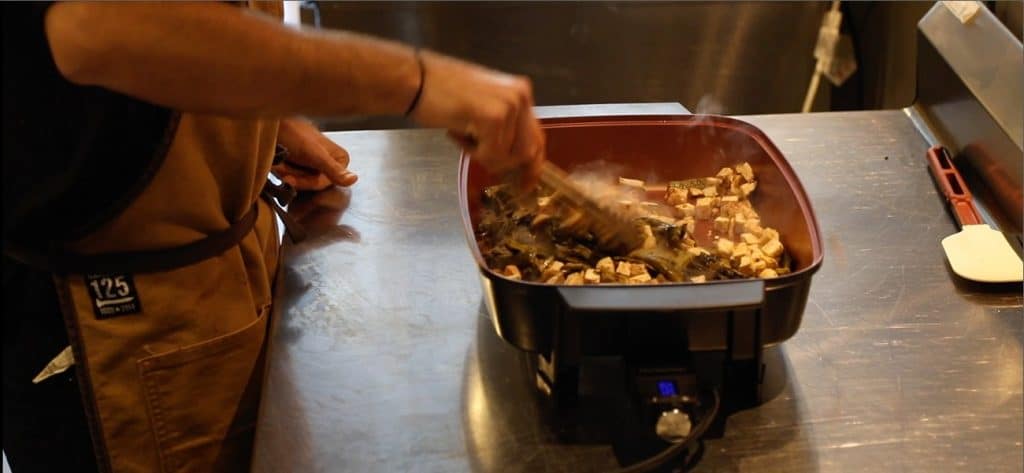 Sure, an electric skillet doesn't pose as many dangers as tools like a power drill, belt sander or a MIG welder.
Nonetheless…
Follow these few safe use tips and enjoy magnificent mishap-free meals:
Make sure the electric skillet sits on a flat, sturdy surface with room and "airspace" around it for ventilation and heat dissipation ♨.
Plug it ? into a nearby outlet. As we heard from many users, most electric skillet cords are short. The last thing you want is for someone to trip over the cord and pull over a loaded skillet filled with steaming food ?.
Although some models have insulated "cool-touch" handles, get into the habit of wearing oven mitts ? to handle and move the unit.
If your electric skillet doesn't have a vent for steam, turn the lid just a smidgeon to allow steam to escape ♨and prevent pressure from building up inside the vessel.
As mentioned earlier:
?Don't use metal utensils in the electric skillet; avoid damaging or scratching the cooking surface by using wood, silicone, nylon, and/or rubber implements.
To prevent hot oil splatter or spills (when deep-frying ingredients or boiling soup), use a deep electric skillet.
?Don't leave food unattended in a hot electric skillet–it's not a slow cooker.
When you're finished cooking, remember to turn the electric skillet off and unplug it ? from the wall to avoid any fire hazard ?.
Some models come with a locking ?handle to assist with transporting hot dishes.
Go Green with Your Electric Skillet
An electric skillet can be more efficient than a stove or oven for cooking some dishes, saving you money ? and conserving energy ⚡. The American Council for an Energy-Efficient Economy (ACEEE) compared the cost and amount of energy used when cooking the same meatloaf recipe through different methods in the chart below.
| | | | | |
| --- | --- | --- | --- | --- |
| Appliance | Temperature | Time | Energy | Cost |
| Electric oven | 350°F | One hour | 2.0 kWh | 24 cents |
| Convection oven | 325°F | 45 minutes | 1.4 kWh | 17 cents |
| Gas oven | 350°F | One hour | .11 therm | 12 cents |
| | | | | |
| --- | --- | --- | --- | --- |
| Electric frying pan/skillet | 420°F | One hour | .9 kWh | 11 cents |
| Toaster oven | 425°F | 50 minutes | .95 kWh | 11 cents |
| Crockpot | 200°F | Seven hours | .7 kWh | 8 cents |
| Microwave oven | High | 15 minutes | .36 kWh | 4 cents |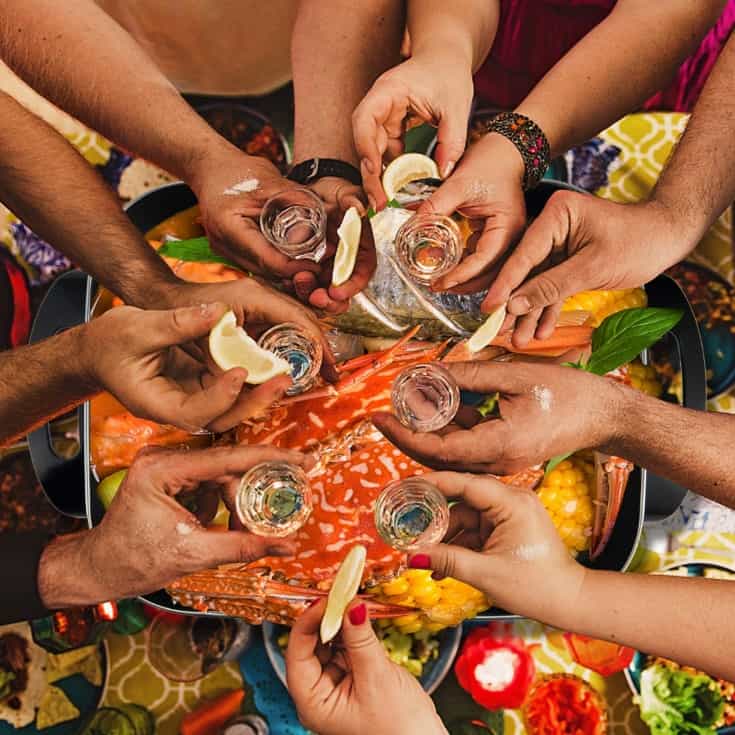 A few tips
You already may follow money-saving and energy-conserving practices in the kitchen, but these hints are particularly helpful when using an electric skillet:
use right size skillet for your needs. Remember, larger ones take longer ⏳to heat up and more energy to maintain a constant temperature ?.
if you do have a large skillet, prepare a double ?‍batch of the recipe so you can freeze extra. Reheating food requires much less energy and time ⏲than cooking it twice. Dinner is a healthy breeze when you can just pull a homemade (not prepackaged and processed) meal out of the freezer ?.
take advantage of the lid and cover the skillet during use in order to keep in heat, speed up ⏱cooking, and keep the kitchen cooler (and tidier–who wants to clean up splatters if you can prevent them?).
Electric Skillet Disposal ?
When this convenient kitchen tool finally outlives its usefulness, dispose of it responsibly. Most electric skillets have recyclable metal.
Earth911 suggests:
looking for a curbside program near you (try Earth911's Recycling directory) to see if "your local program accepts nonferrous scrap metal (which includes aluminum, copper, and stainless steel). If so, give your recycler a call and ask about whether nonstick pans are allowed in the bin."
if not, looking for a scrap yard that accepts old nonstick pans for recycling with other metals. To find a scrap yard in your area, visit iScrap App or Earth911's Recycling Directory.
Electric Skillets: More Than Just a Flash in the Pan
For efficiency, convenience, and multifunctional use, an electric skillet is a handy tool. Utilize one to be a chef anywhere that has an electrical outlet ⚡. Think about the variety of recipes you can make and places where you can cook up culinary creations.
It all boils down to this
When deciding among different models to find the best electric skillet for your needs, look for the right size, shape, construction material, cooking surface, washability, accessories, durability, and price for your culinary needs.