To get your project right, make sure you select the right sandpaper grit and pick up the right sander. If you are just after small stock sanding or rounding for small hobby projects, a highly industrial super powered belt sander would be overkill and could damage your wood.
In the same token, if you're sanding your hardwood floorboards, a small DIY sander will barely make a dent on your boards and leave you wishing for more.
So, remember, before you take your sander to your expensive floors, test it first on some tester woods. Test the sandpaper, the pressure required and see how careful you must be to ensure you don't damage your project.
The way to achieving premium results on any of your woodwork projects is not simply down to the sander you pick, although that's important too.
It is also down to the effort, skill, and care from the operator!
Using Your Belt Sander
Attached to the belt sander is a belt of sandpaper – hence the name – that's wrapped around two rotating drums. This is one of the most important components of your belt sander, and the type that you purchase can make a difference with the jobs you are doing.
How do I tell?
Sandpaper is commonly measured in 'grit' in microns. The higher the number, the smaller and finer the sandpaper grit. Heavier grit are the lower numbers (commonly 60-80) and is the right quality to remove protective coatings like stains, and polyurethane.
Sandpaper grit between 100-200 is a medium grit, is great for sanding shelves and cabinets, removing the finish from metal surfaces. A finer grit of 220 – 600 is perfect for finishing or smoothing a surface.
Most woodworkers know of the concept of 'going through the grits'. Throughout any job, you'll find yourself working through different quality or 'grit' of sandpaper, and it's important to note you may need sandpaper of each 'grit' to complete any particular job.
Choose The Right Sandpaper For Your Belt Sander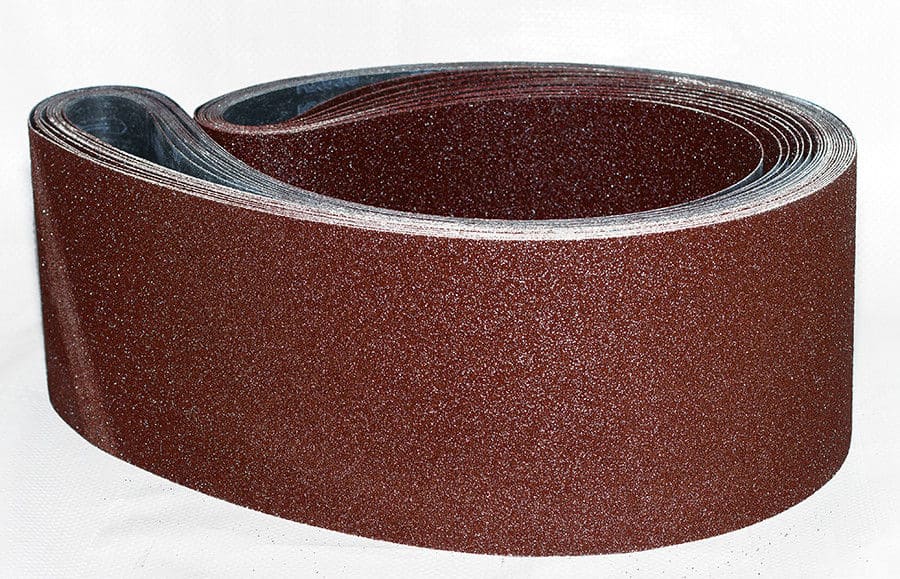 There are different materials the grit is made out of in your sandpaper. When purchasing your sandpaper, the manufacturer will often note the intended material types their sandpaper works on, but it's always important to do your research before you hit the shelves of your local hardware outlet.
Flint
This is a natural grain. It's a durable grain and well suited for sanding off paint or varnish.
Garnet
Also a natural grain, it's slightly softer than its natural counterparts. It's not well suited for metal as it does dull quickly. Better used for fine sanding of wood stock.
Emery
Yet another natural grain type, emery is a great grain for metals, removing rust, or polishing metal stock. The edges tend to be relatively sharp for sanding wood.
Zirconia Alumina
This is a synthetic grain. It lasts a long time and well suited for sanding away burrs on metal or initially sanding rough wood. This type of grain is durable and can often improve over time!
Silicon Carbide
Another synthetic grain, this is a utility variant. It has multiple uses, including plastics, metals, and woods.
Aluminum Oxide
Last but not least of the synthetics, this is another durable grain, well suited for metals and for sanding hardwoods.
Using your Belt Sander
A belt sander is far more powerful than getting your hands with sandpaper the old fashioned way! In most cases, you'll need two hands to operate a belt sander. The drums on the base of the belt sander spin in a continuous direction.
When using it, for whatever use or grain type, you have to make sure you are always moving the belt sander. If it is held in one place, you'll quickly discover deep marks in the wood you are sanding.
Applications For Your Belt Sander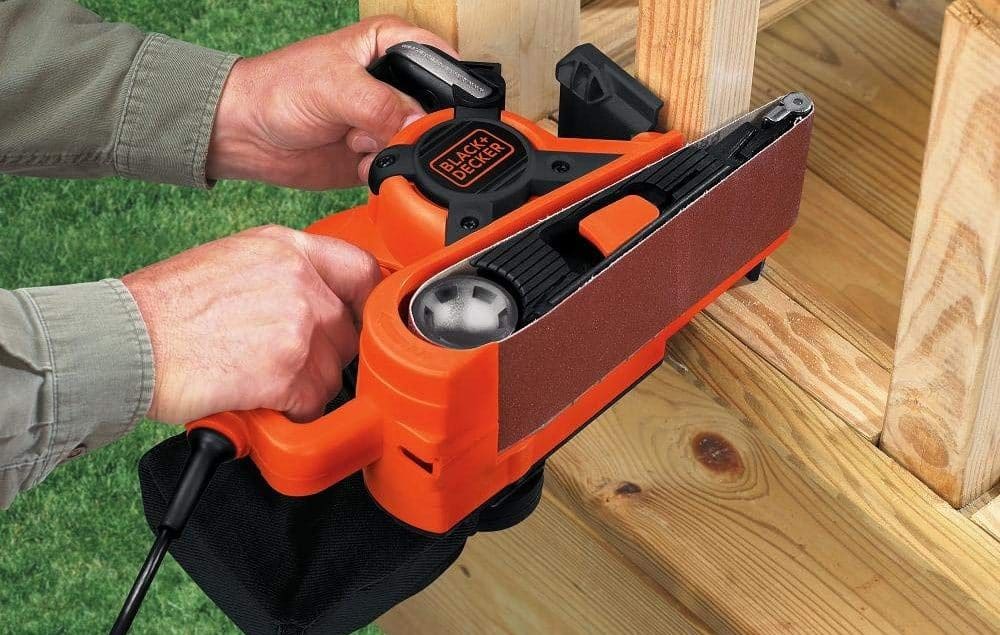 Finish Wood or Metal
One of the biggest uses for a belt sander is to sand large, flat surfaces including wood furniture, or even a door. By using an even and consistent stroke, you can provide a nice soft finish to your wood surface.
Refinish Outdoor Furniture
Ever notice some time, the wood on your outdoor table setting or cupboards just doesn't have the sheen it once had? A belt sander is your one-stop shop for having that brand new furniture look in your backyard.
The belt sander will remove the stain down to the natural finish of the wood without damaging the furniture. After removing the stain, switching to a lighter grit will allow you to get that soft, smooth finish.
This isn't just for aesthetic style, rough stained wood can cause splinters, which are not fun when sitting outside in a summer's breeze.
Fix A Jammed Door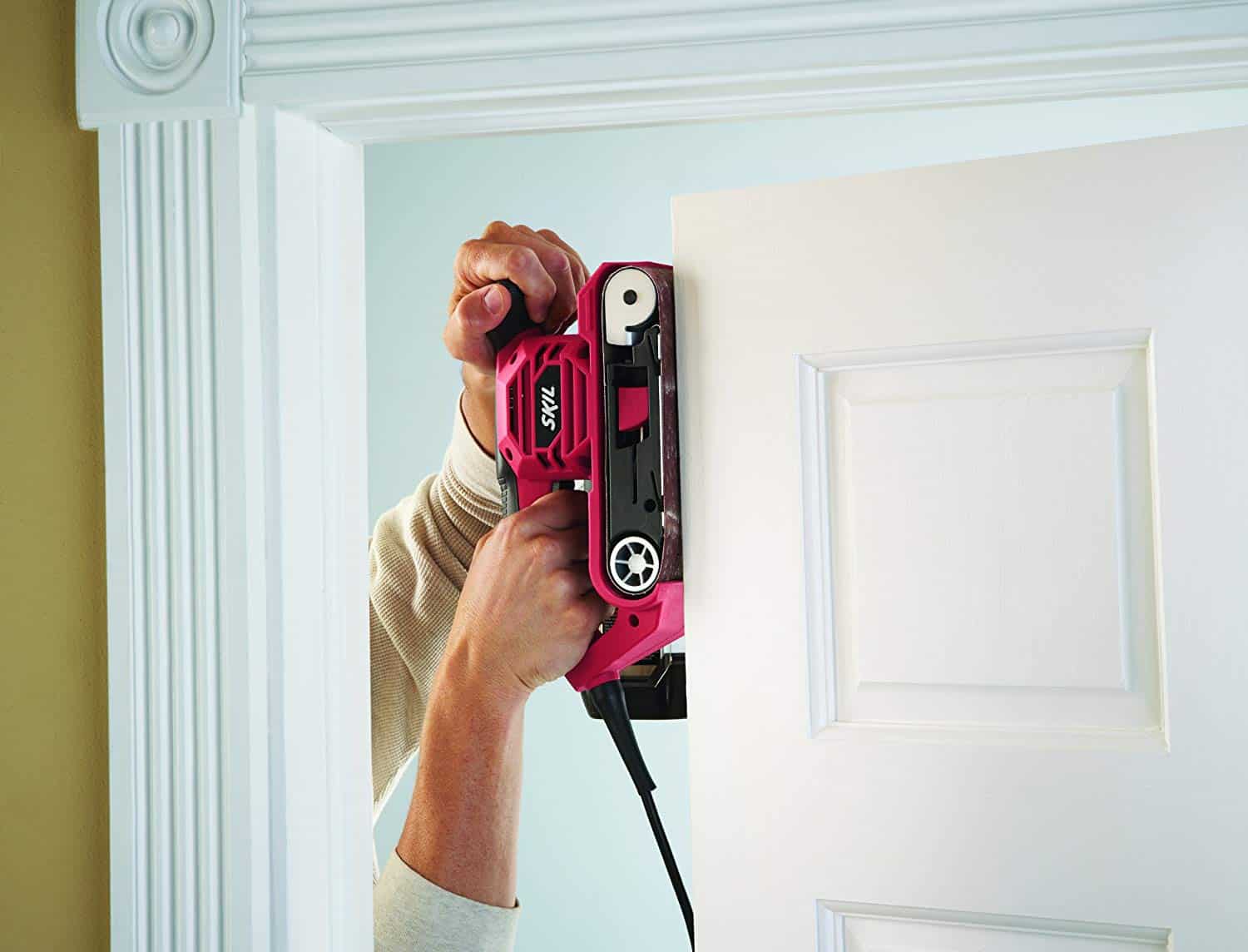 Ever find a door that just sticks to its architraves or moldings? Pretty annoying! A belt sander is a perfect tool to fix that door that won't close or open. By carefully removing the door, and attaching it to a suitable support, you can use the belt sander to grind away at the edge that's protruding and causing the problem.
Features To Look Out For In A Belt Sander
Not all belt sanders are the same. There are a few different types and features to look out for in your chosen belt sander.
The mess that can be made from a belt sander can be painful to clean up, so our top tip is to ensure your belt sander comes with a dust collection bag or container to make your job easier to finish up. While you can buy them separately, it's better to purchase one with the manufacturer's specific catcher already supplied.
Staying Safe While Using Your New Belt Sander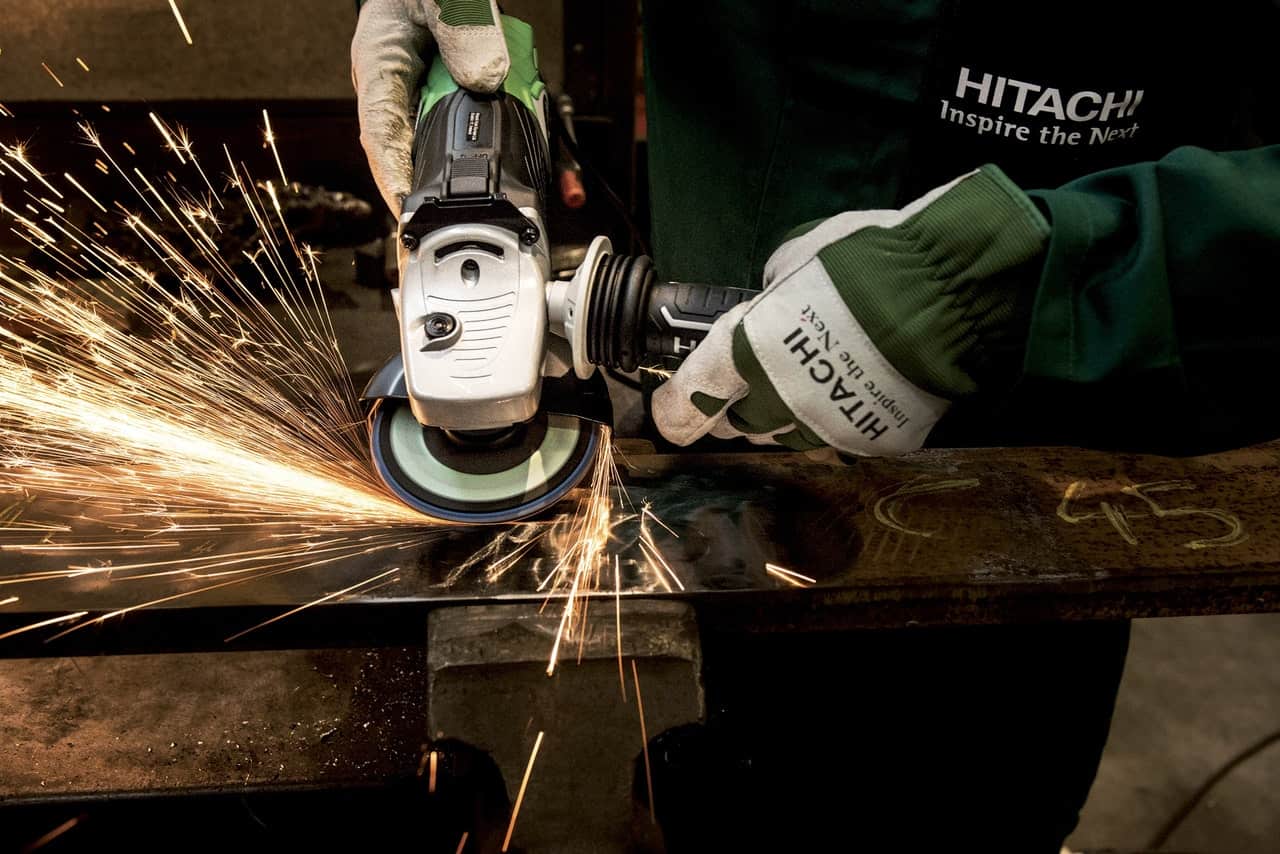 Did you pick up one of the belt sanders we reviewed?
Make sure you protect yourself.
These are not toys.
We've got a few tips for you to ensure you stay safe while handling a belt sander.
Check around you before you start sanding away. Make sure you've got a clean workspace, no potential hazards to trip on. Check your belt sander to ensure it is in top workable condition. Make sure there are no loose fittings, damage to the electrical cables, worn belts or other damage.
If you need to change your belt, make sure to follow the manufacturer's instructions, and make sure the belt sander is switched off and unplugged from the power outlet.
Before using the belt sander, do not place it on the wood or stock before powering it up. It is a much easier and safer method to hold the belt sander and introduce the wood or stock with it fully in your control.
If you have any spare pieces of stock around (of the same type), it can be wise to do a quick test run on that piece to ensure it will achieve the outcome you are looking for. Nothing worse than starting the sanding process and finding that the effect is drastically different to your expectations.
Ensure you read and understand the manufacturer's instructions before using your belt sander. Ensure you own and utilize the right safety equipment. Goggles are a must have to protect your eyes from wood shavings, metal or belt debris. Gloves are important as well to protect yourself from potential splinters or hot sparks (if sanding metal).
Wear protective and safe clothing. Avoid wearing baggy or loose clothing. These can easily droop down and tangle with the belt.
While you've already got yourself a pair of goggles, it's important to also use a dust mask. This will prevent dust from seeping into your mouth, nose, ears, and clothing. Without doing this you'll find your sanding experience will be somewhat annoying.