The 30-Second Review
If you're a DIYer or just enjoy working on various home projects, chances are you'll need a sander at some point.
However, there is a key difference in the type of sander you'll need.
For example:
You'll always want to make sure you pick the most appropriate sander. Consider whether it's fixed or handheld, the different sandpaper grit, and the speed and power of the motor.
The Ultimate Buyer's Guide To Help You Find The Best Belt Sander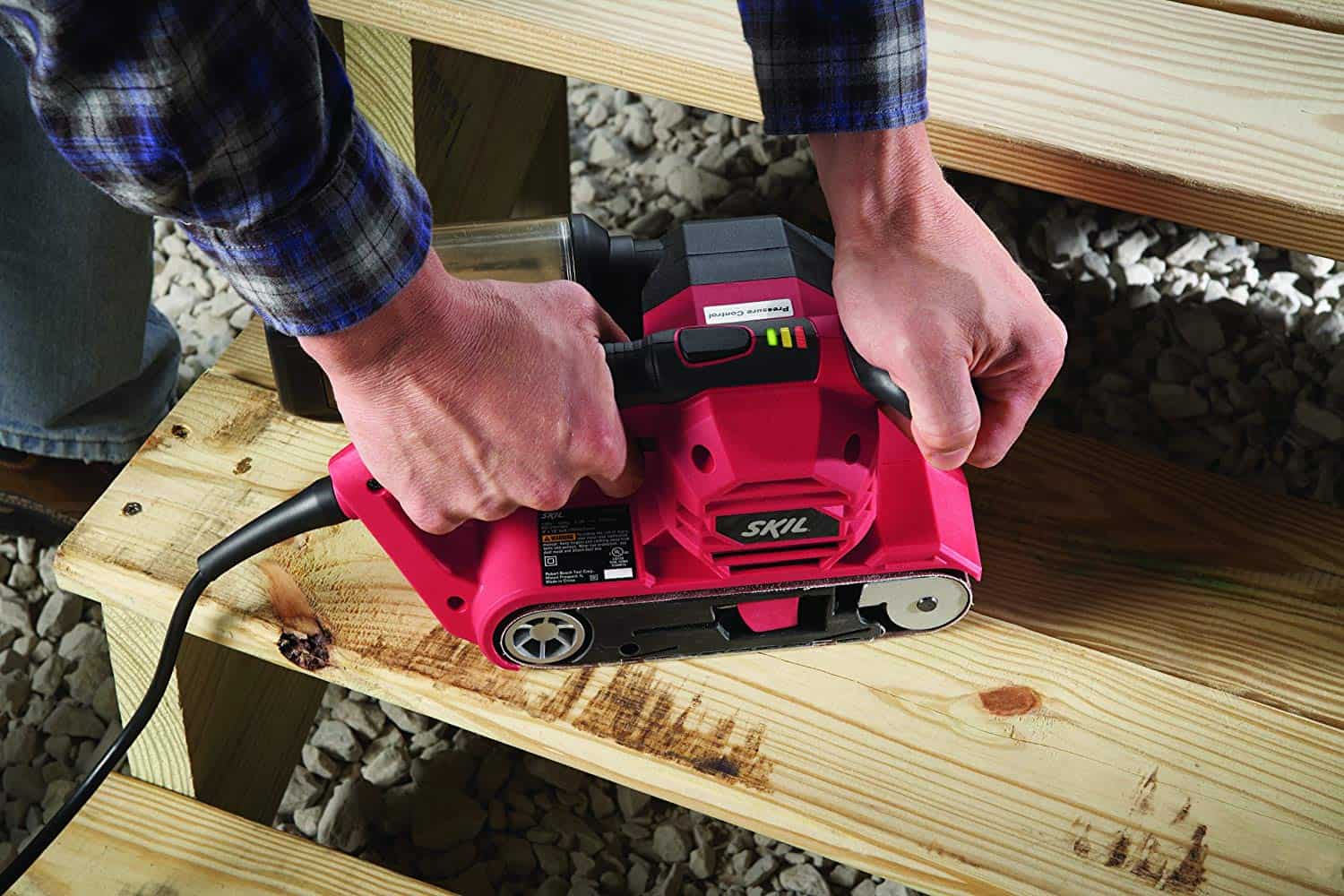 A belt sander might not be as cool or as fancy as your different saws, MIG welders, and torque wrenches; however, it's an important addition to your woodworking tool-set.
How many uses you'll get out of your belt sander comes down to the types of projects you're looking to undertake.
Are you a carpenter?
Then a belt-sander proves to be useful in many ways when building a brand-new home, renovating, or doing odd-jobs around the house.
Do you enjoy woodworking?
If you're a budding woodworker, you'll have multiple uses, tending to smaller pieces of wood stock, or preparing a surface to be painted or adjoined to another piece of your project.
While most commonly known for removing the top surface or protective coatings from a piece of stock, it's great for adding curves to smaller pieces of stock. It's also handy for fixing mistakes.
How Does A Belt Sander Work?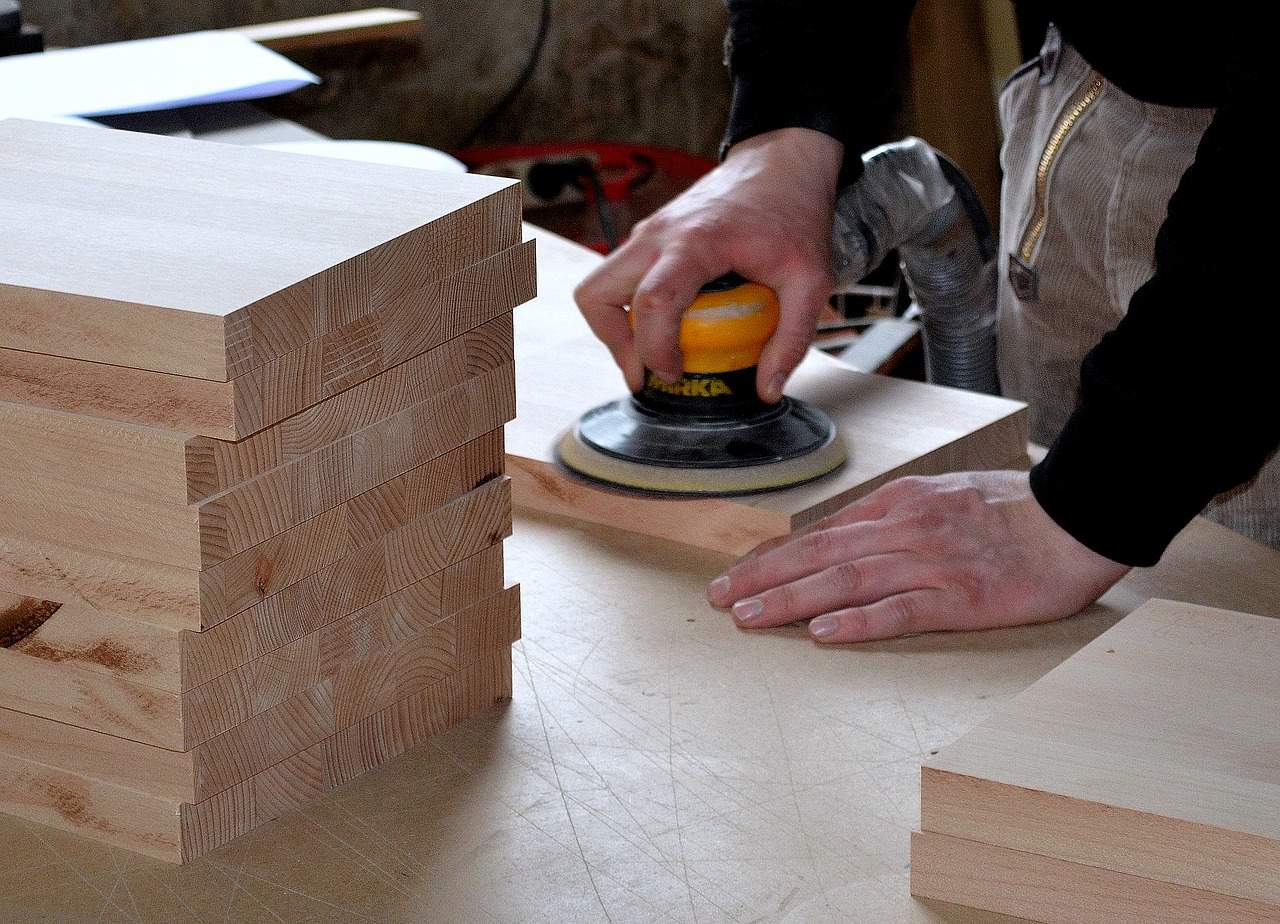 You'll notice once you start looking at different belt sanders that there are two main types of different types of belt sanders.
Handheld or Fixed?
A fixed belt sander is more tailored for your home workshop, to grind away and sand those smaller pieces of stock, creating a curve, or finishing it before affixing it to another piece of wood.
If you're looking to undertake much larger projects, look at a handheld belt sander. These are great when you need to sand a larger surface area, like a deck or floorboards.
The difference is what you want to control and what you want to remain stationary.
If you're working with a small piece of stock, you'll want to control and move the stock. If you're sanding a floor or large piece of wood, it's best to have the wood stock stationary and control the sander.
Here's where it gets exciting:
Thankfully, some handheld sanders can be affixed to a bench with clamps, allowing you to get the best of both worlds.
Reviews Of The Top Belt Sanders Out There
01
PORTER-CABLE 362V 4-Inch by 24-Inch Variable Speed Belt Sander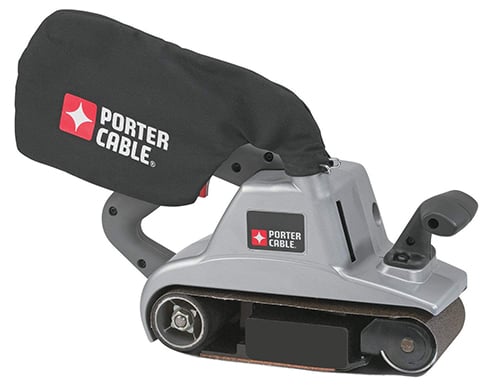 If you're looking for a high-powered handheld belt sander…
Look no further.
Powered by a powerful 12-amp motor, this belt sander carries the quality and power of an industrial belt sander.
The design features a main handle and auxiliary handle, and the belt design and guard make it easy to sand flush up to vertical surfaces.
The sander comes with a 100-grit sandpaper belt, along with a dust bag making it an easy plug and play sander ready to go from the box.
In testing, we found it easy to use. While not the lightest belt sander we tested, we found it glided well along the surfaces we were sanding and to keep in line for a perfect sanding.
The Porter-Cable sander comes with a variable speed knob along its main handle, making it easy to switch speeds during use. We also liked the nifty swivel feature on the dust collection bag, which helps you get it out of the way if you need a better view of your work area.
As with most modern belt sanders, it comes with a quick release lever, making it easy to switch out the grit.
In the workshop, we underestimated its power and found ourselves damaging a piece of soft-wood so it's not for the faint-hearted. When used correctly, for the right job, with the right grit it's the perfect sander.
This sander can handle any job.
Just make sure it's properly set up for it.
Check out the user manual, here.
Specifications Sheet
12-amp motor
16 pounds
17 x 11 x 8 inches
Dust collection bag
Powerful, multi-use sander
Three year warranty, one year free service guarantee
---
Pros
Powerful 12-amp motor
Swivel dust collection bag
Fantastic for basic sanding use and high-performance sanding requirements
---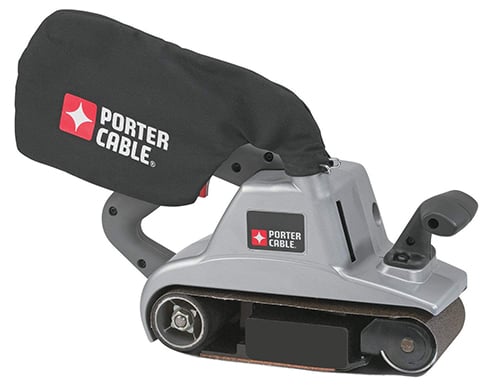 02
Makita 9403 4″ x 24″ Belt Sander with Cloth Dust Bag and Assortment Pack of 30 Total 4-Inch x 24-Inch Abrasive Sanding Belts (10-pk of 100, 80, and 60 Grit Belts)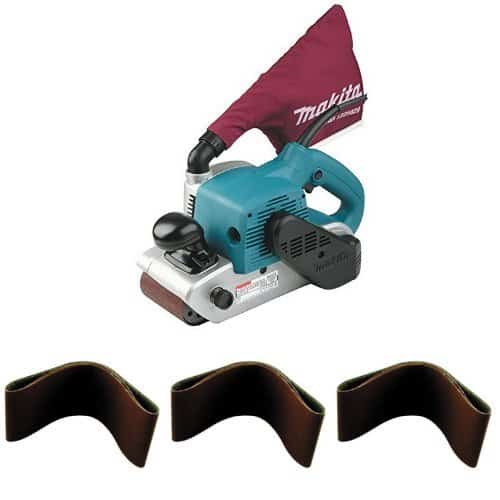 A powerful sander from one of the powerhouses of power-tools. From Makita's newest hardware range, the 9403 Belt Sander is rated one of the quietest belt sanders in its class.
In testing, it certainly proved itself. A quiet option for those looking to protect those ears. Don't be fooled though, still wear those ear-muffs. Safety first!
Our first thoughts when unboxing this Makita sander was the quality of construction and design. While a standard option for the home workshop, it appears sturdy and industrial grade.
In testing, we found it not only looked industrial grade but had one of the fastest speeds we encountered.
The cloth bag catcher was a fantastic inclusion, however better suited for smaller jobs. For larger jobs we found the attachment to work with certain sizes of vacuum attachments, however, this depends on your workshop set up and kit.
The Makita was also the first in testing we encountered that came with packs of different grit, giving you a nice starter pack to get used to your new sander and to bolster your home toolkit.
We found the large grip at the front of the machine to be fantastic and well molded. It provided great comfort and easy control over the sander in operation.
For full details, take a peek at the user manual.
Specification Sheet
11-amp motor
15.92 pounds
13.9 x 5.5 x 8.3 inches
Quietest in its class
2 Year Warranty
---
Pros
Quiet
Easy to use and maneuver
Powerful motor
Industrial style and quality
Comes with several sandpaper grits
Cons
Heavier than other handheld alternatives
---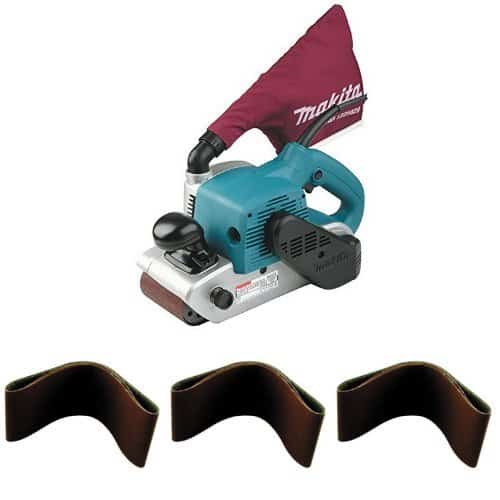 03
Tacklife Belt Sander, 3 in. x 18 in. Variable Speed Corded Heavy-duty – with Fixed Screw Clamp, Dust Box, Vacuum Adapter | PSFS1A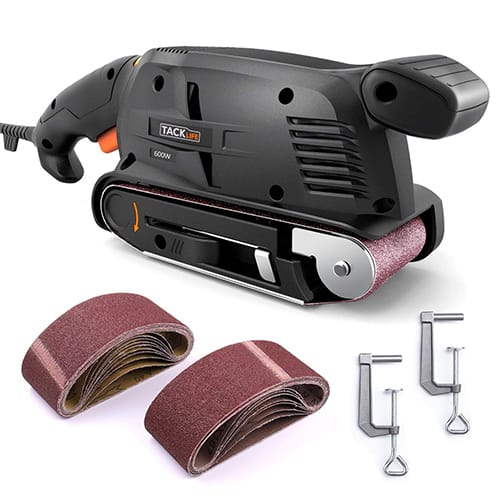 This classic belt sander carries the industrial look. It's matte black chassis almost makes it look like a heavy-duty excavator. Unlike an excavator, this belt sander from Tacklife is lightweight and easy to use and handle.
Once we took it out of the box, we were stoked to see it came with two screw clamps, allowing us to easily affix it to a table and use it as a sand platform to finish and shape some small projects.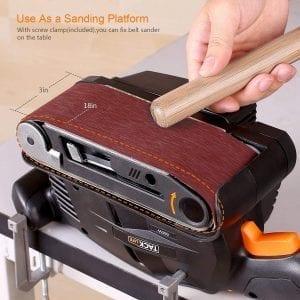 We found the waste to be manageable, with an attached dust box and vacuum adapter provided. The belt rotates fast and was easy to maneuver. Its lightweight construction made the belt sander feel as if it were gliding across the wood surface.
The switch has a handy lock-in position, allowing you to sand without gripping tight over the trigger. We were wary of this mode however and preferred to keep holding the trigger to allow us to remain in complete control of the belt sander.
The Tacklife Belt Sander comes with six-speed settings, allowing you to be more flexible with your usage and operation of the sander. It also has a long 9.8 ft power cable, making it easy to set up with no hazardous tight cables across your workshop.
We found that replacing the sandpaper was nice and easy, with a quick release latch making it as plug and play friendly as possible.
The user manual can be found online.
Specification Sheet
3 x 18 inch
5-Amp motor
14 feet per second
Dust box attachment
Vacuum adapter
Variable speed settings
2 Year Warranty
---
Pros
Lightweight, easy to maneuver
Dust box attachment
Quick release latch for sandpaper
Lock in mode for trigger
Cons
Plastic casing may prove problematic long-term
---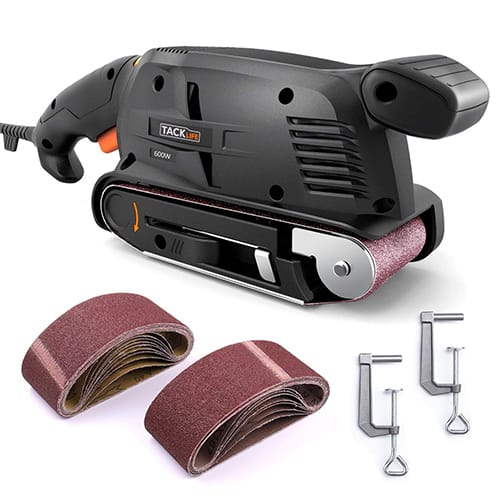 04
WEN 6502 4 x 36-Inch Belt and 6-Inch Disc Sander with Cast Iron Base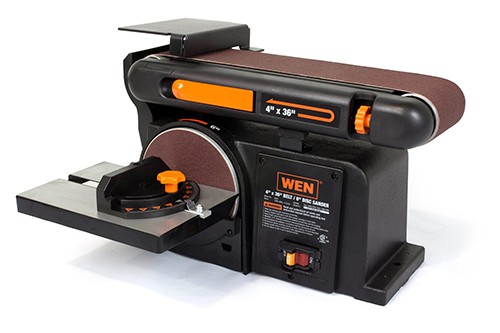 Looking for more than just a belt sander?
This option from WEN is a 2-in1 belt and disc sander. This sander is a sturdily built machine, made from cast iron. This isn't just for that solid feel, it's integral in removing heavy vibrations.
Like most modern belt sanders, this dual sander features an easy release level for changes to sandpaper grit. This is a more heavy-duty belt sander than your everyday handheld machine.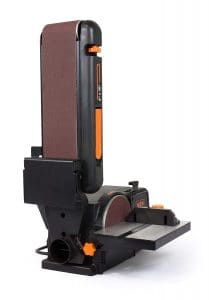 This is more suited for your workshop. Attach it to a workbench and have two different sanding options out of one machine. The sander can plug into a dust collector, meaning easy cleaning and reduced mess.
The disc sander comes with a spacious table space, along with a miter gauge, which is removable if you need to take advantage of the whole space.
Safety is also key with the belt sander, with an extended blade guard meaning protection from foreign objects getting trapped in the belt.
While the WEN 2-in-1 is a more heavy duty sander option and more for your budding workstation, it won't handle heavier loads. In testing, we found the sander to lose power after we introduced it to some more intensive workloads, that we would expect from an industrial sander.
Still, a fantastic option for those who are space conscious and need to do some small bits and pieces and require a more solid solution.
The user manual is available from the WEN website.
Specification Sheet
Heavy-duty cast iron base
Two in one! Belt sander and disc sander!
Plugs into a dust collector
Safety features and belt guard.
39.1 pounds
22 x 11 x 12.5 inches
Two Year Warranty
---
Pros
More permanent solution
Heavy-duty cast iron base prevents heavy vibrations
Two-in-one, belt sander and disc sander
Cons
Not good for those needing a handheld solution
---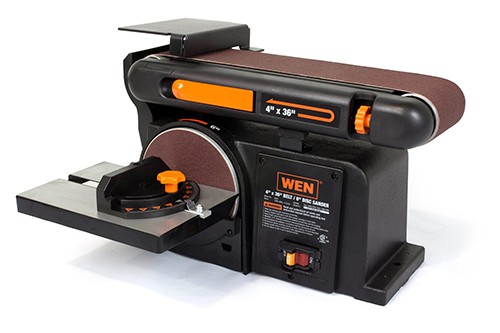 05
Hitachi SB8V2 9.0 Amp 3-Inch-by-21-Inch Variable Speed Belt Sander with Trigger Lock and Soft Grip Handles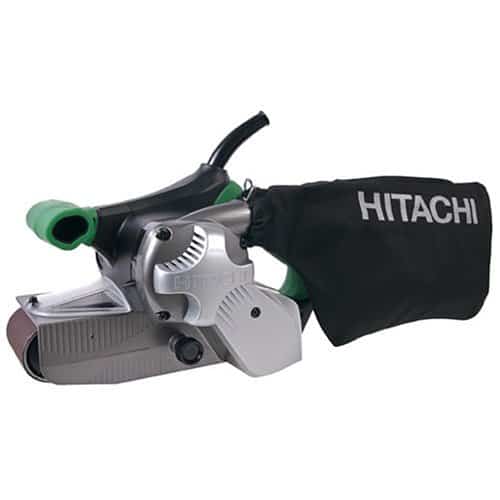 Another sander from one of the world's largest hardware manufacturers, the SB8V2 from Hitachi is another high-quality sander option for your home workshop.
The Hitachi boasts user-friendly design features and technology to get the best out of your sander. One of our favorite features in testing is the elastomer grip surface on the two handles, which made it comfortable to hold and gave us the best grip on the machine.
The Hitachi comes with a tracking window, giving you great visibility of the surface you're sanding. It also comes with a mounted dust collection bag, helping you keep your work area nice and clean.
We were impressed with the variable speed dial, giving us a diversity of applications and ensuring we could complete our job efficiently and correctly without compromising quality.
We were impressed at how light the SB8V2 sander was. We found it was efficient in removing paint from our test wood stock and our test deck.
We found the Hitachi to be robust and has a solid construction. The dust bag size is great and catches most of the waste during a typical woodworking session. We were also impressed with the speed of the belt, which we found met the promises from the manufacturers.
The owners manual can be found here.
Specification Sheet
9-amp motor
9.5 pounds
14.2 x 9.2 x 8.3 inches
Soft elastomer grip surface on main and auxiliary handles
Tracking window
Dust collection bag
5 Year Warranty
---
Pros
Powerful motor, with variable speed settings
Tracking window to allow you to view your sanding surface
Mounted dust collection bag for easy clean
High quality, high-speed sander
Cons
In testing, can build up a charge and give you a small shock
---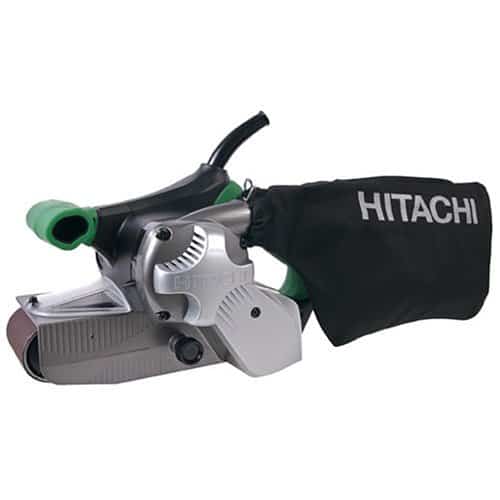 06
SKIL 7510-01 Sandcat 6 Amp 3-Inch x 18-Inch Belt Sander with Pressure Control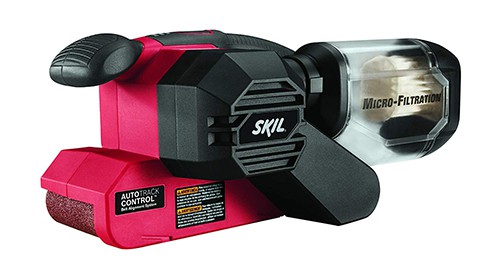 Next up is this high-tech option from SKIL. It's great for those requiring a professional machine with high performance and top tech, but keeping it nice and simple to use.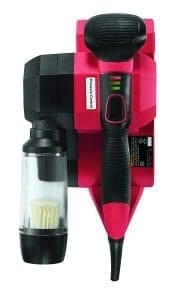 This 6-amp sander comes with pressure control technology, letting you know when you've applied too much pressure on the surface you're sanding. In testing, we found it to be accurate and warned us before we found ourselves making unwanted indentions in our sanding surfaces.
The sander is also designed to keep itself relatively centered and on track. We noticed this made a big difference when it came to finishing our projects accurately.
We liked the dust canister which is completely clear, meaning no guessing when you have to empty it.
Replacing the sandpaper was simple with a simple lever release. The sander is also relatively light, making maneuvering the device nice and easy.
The manufacturer also provides a handy one-year warranty and a copy of the owners manual available free, from their website. .
Specification Sheet
7.5 pounds
6.6 x 13.8 x 6.5 inches
Translucent dust catcher
Pressure control technology
Auto track system
One year warranty.
---
Pros
Technology is helpful in assisting your sanding experience
Translucent catcher makes it easy to know when to empty
Good quality performance
Cons
Plastic parts can break with heavy use or long-term use
---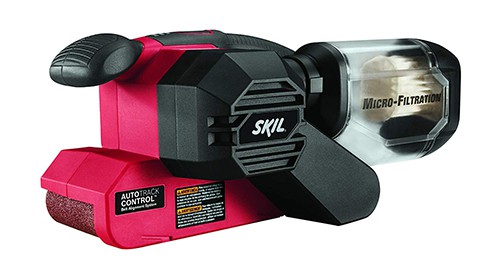 07
WEN 6515 1 x 30″ Belt Sander with 5″ Sanding Disc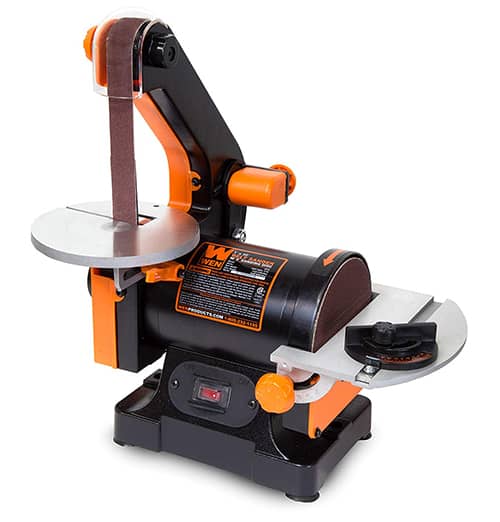 If you are looking for a more permanent fixture and solution, this two in one option from WEN could be the sander you are looking for.
The 6515 is a sturdy and solid sander solution, with a belt sander and sanding disc option available. While not a good solution for those looking to sand floors or decks, if you need a belt sander and disc sander in your workshop, you can't go past the WEN two in one solution.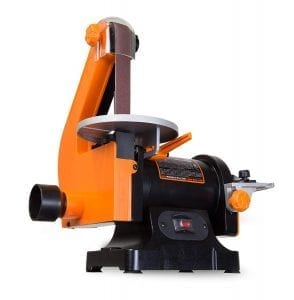 The base is a sturdy cast iron, which means it doesn't move too much with operation and remains steady. We particularly liked the two separate dust ports, allowing you to have more efficient vacuuming efficiency.
The sander comes with a miter gauge, 80 grit sanding disc, and 100 grit sanding belt. You can also bevel both the disc and belt tables, allowing you to angle your stock when sanding away.
In testing we found this sander to be sufficient for most wood sanding needs, but for those looking to sharpen your knives, this isn't the right sander for you.
This sander is perfect for someone after a stationary sanding solution, conducting light woodwork. If you are looking for something more heavy duty, something more industrial is what you are after.
Check out the user manual.
Specifications Sheet
16 pounds
2.3 amp motor
14.5 x 8.8 x 15.8 inch
Sturdy cast iron base
Disc sander and belt sander in one
Two vacuum ports
Miter gauge included
---
Pros
Great standalone sturdy workshop solution
Sturdy, strong cast iron base
Two vacuum ports for workshop cleanliness
Mitre gauge included and tables can be beveled
Cons
Not good for heavy woodwork or metal work
---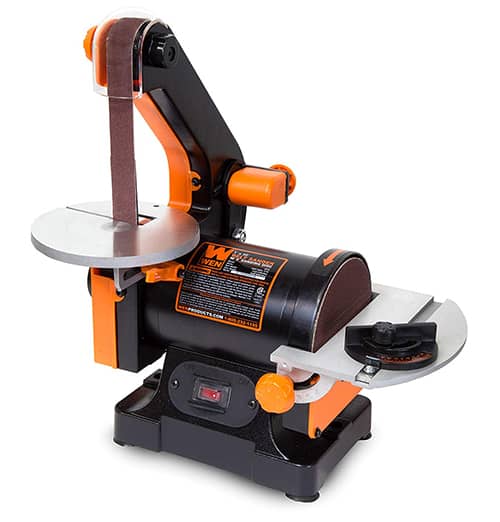 08
Astro 3037 1/2-Inch x 18-Inch Air Belt Sander with Belts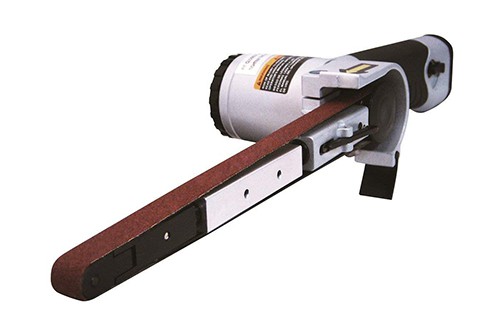 It might look like a chainsaw, but don't be fooled. This heavy-duty belt sander from Astro is an industrial solution for your home workshop.
Upon opening, we were impressed to see this sander came equipped with three different grit sandpaper, allowing us to get right into the groove and begin our testing.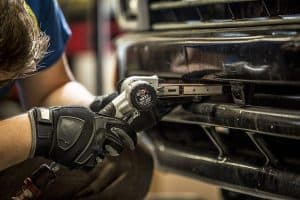 A different shape to the conventional belt sanders in testing, this belt sander from Astro is more suited for metal work. In our workshop, we found some pieces of metal that had been welded together to test the sander on. We found the Astro fantastic in cleaning up the spot welds and in preparing metal for metal works.
The sander's arm is completely adjustable, making it easy to sand away at those tight hard to reach spaces in your metal project. The speed of the belt is adjustable and can go up to 16,000 RPM.
Our main concern with the size and unique shape of this sander is its harder to handle and operate, however, we found it to be surprisingly light for a sander of its class. The handle features a non-slip grip, that lived up to its name in testing.
One core difference with this sander is you do need an air compressor to operate it. It's an air belt sander, meaning the actual device itself is nice and light; however, you do need to connect it to the compressor which acts as it's motor.
Make sure to be cautious when purchasing a compressor for this sander, as a sub-par or lower quality compressor could compromise its quality and performance.
Specification Sheet
Air belt sander
2.1 pounds
15.5 x 3.5 x 2 inches
Comes with three different grits
Adjustable arm
Easy release belt change
Adjustable speed
---
Pros
High-quality metal sanding
Adjustable speed and arm for each of use and easy to use in different projects
Very light and easy to maneuver
Cons
Requires an air compressor to operate which can be costly
---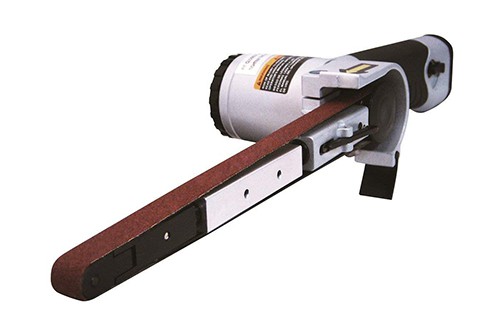 09
Black & Decker DS321 Dragster 7 Amp 3-Inch by 21-Inch Belt Sander with Cloth Dust Bag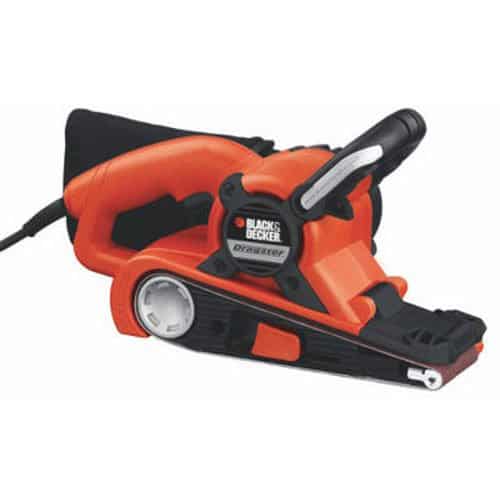 Another hand-held sander option, this time from hardware specialists Black and Decker. A great addition to your home workshop, it features a 7-amp motor and dust collection bag for easy cleanup.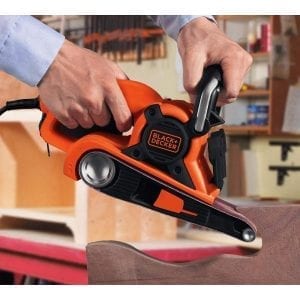 In testing, we found this to be a great sander for those looking to undertake small easy jobs around the house and for small pieces of stock. It has a handy small front roller, which allowed us to reach small corners with ease!
The sander comes with an easy release of the sandpaper grit, along with a retractable handle, with three positions to enhance your control over the sander.
It doesn't have a variable speed setting, which rules out its effectiveness for more hardcore sanding jobs. We found it relatively adequate for standard home jobs, like removing paint from the deck, removing top layers of wood, or giving the stock a basic finish.
Grab the manual, here.
Specifications Sheet
7 amp motor
6.5 pounds
15.2 x 6.3 x 6.3 inches
Dust collection bag
Easy release sandpaper grit
---
Pros
Great for basic home use
Light, easy to maneuver
Easy release grit
Cons
Not adequate for anything but the basic jobs
---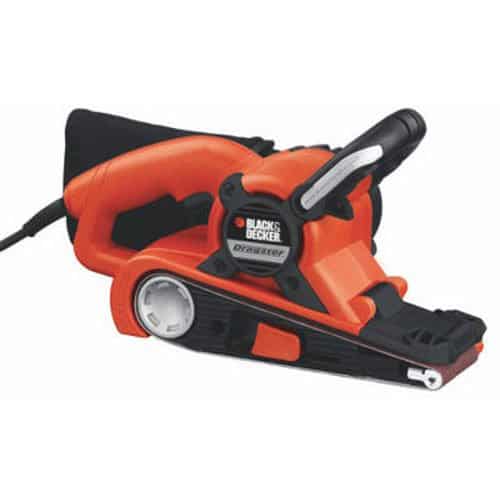 10
Random Orbit Sander, Tacklife 6 Variable Speed 3.0A 350W / 13000 OPM Orbital Sander with 12 pcs Sandpaper and High-Performance Dust Collection System, Ideal for the DIY and Home Decoration, PRS01A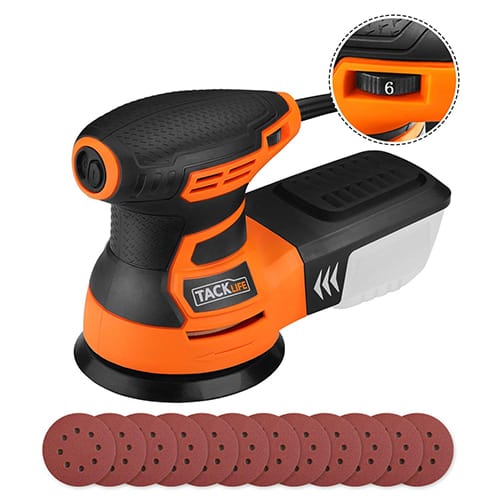 Probably one of the most attractive looking sanders we had the pleasure of reviewing, the Random Orbit Sander is another great option for those looking for great performance in their home workshop or for DIY projects.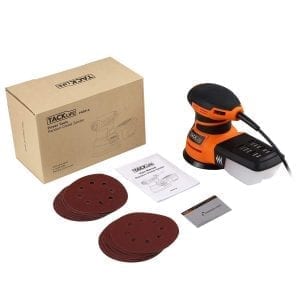 This sander features a range of high-tech features you'd expect in a top of the line industrial sander, but for the comfort of your home toolkit. While not a belt sander, this disc/orbital sander definitely achieves most of the goals you'd look for in your home sander.
The kit comes with 12 discs of sandpaper, with two different grits for a different application. In testing, we very much enjoyed the rubberized palm and grip design, which improved control and comfort when using the sander.
The sander also comes with an inbuilt dust collector, ergonomically designed which we felt helped with getting the sander into tight and enclosed spaces.
We also liked the sander's variable six-speed control, giving us control over the speed and helped us with the different tasks we were undertaking with the sander.
The sander was light, making it easy to take around the house and complete your little DIY tasks and home improvement projects!
Specifications Sheet
3-amp motor
3.4 pounds
10.1 x 6.6 x 4.9 inches
Six-speed variable control
Rubber ergonomic grip
Dust collection Box
---
Pros
Great for basic home use
Light, easy to maneuver
Great for small home projects and DIY
Cons
Not a proper belt sander
---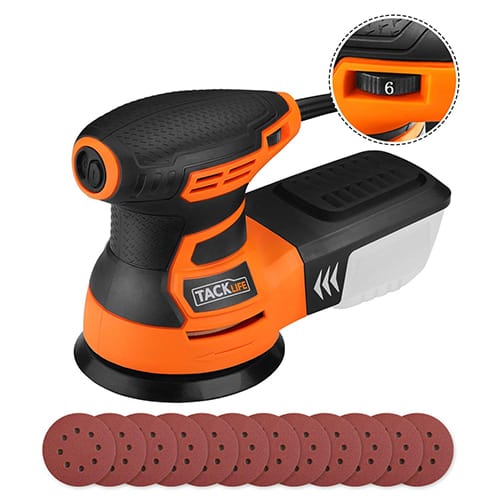 Best ProTips To Get The Most From Your New Belt Sander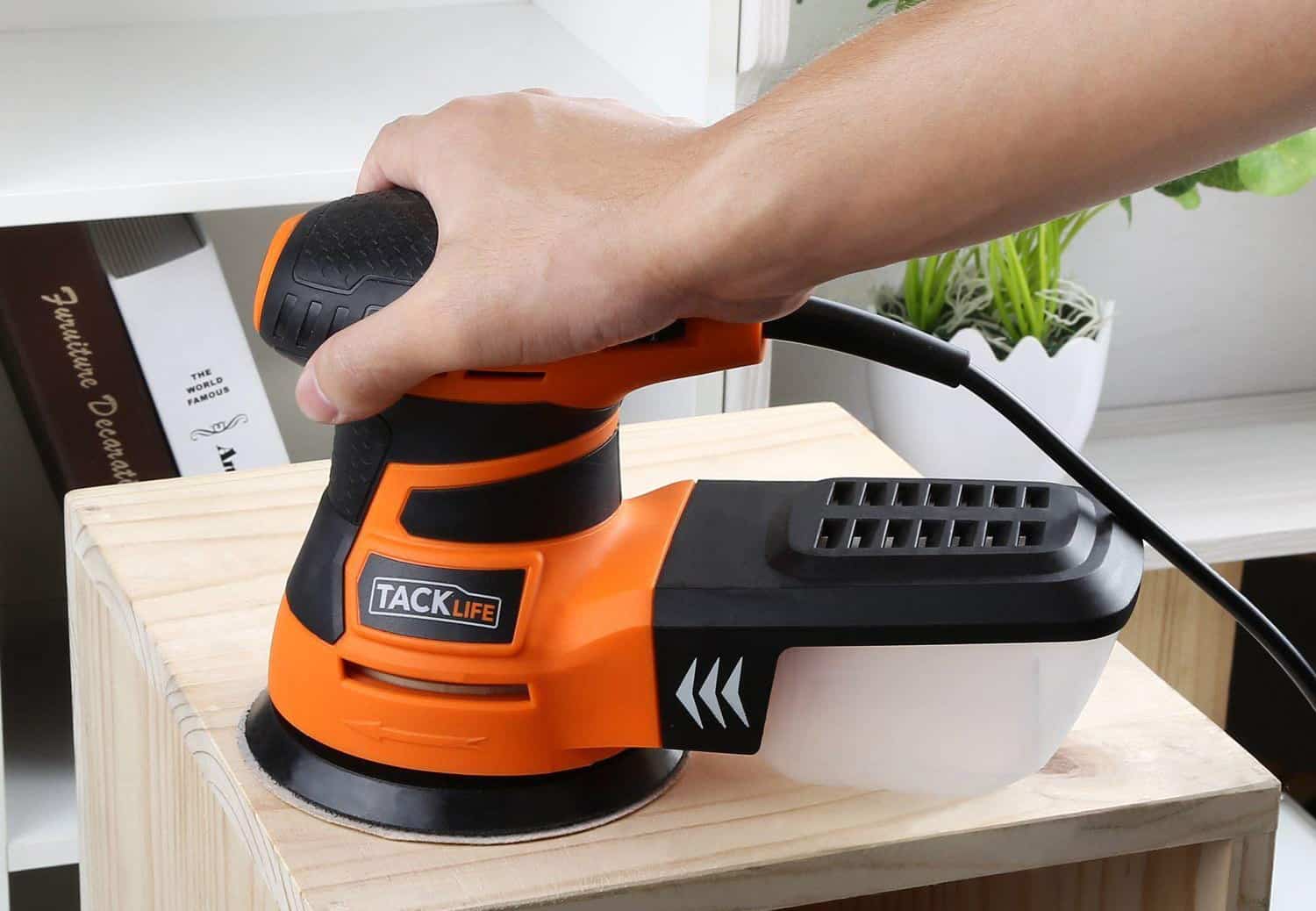 When choosing one of the belt sanders we've listed, don't forget to remember this key point. A belt sander that cuts grooves into your wood stock and leaves marks doesn't mean it's a bad belt sander.
In fact, the opposite.
A belt sander is a powerful hardware tool, and the art of a good sanding is precision from the operator, the correct pressure, time of sandpaper exposure, and selection of the right tools.
To get your project right, make sure you select the right sandpaper grit and pick up the right sander. If you are just after small stock sanding or rounding for small hobby projects, a highly industrial super powered belt sander would be overkill and could damage your wood.
In the same token, if you're sanding your hardwood floorboards, a small DIY sander will barely make a dent on your boards and leave you wishing for more.
So, remember, before you take your sander to your expensive floors, test it first on some tester woods. Test the sandpaper, the pressure required and see how careful you must be to ensure you don't damage your project.
The way to achieving premium results on any of your woodwork projects is not simply down to the sander you pick, although that's important too.
It is also down to the effort, skill, and care from the operator!
Using Your Belt Sander
Attached to the belt sander is a belt of sandpaper – hence the name – that's wrapped around two rotating drums. This is one of the most important components of your belt sander, and the type that you purchase can make a difference with the jobs you are doing.
How do I tell?
Sandpaper is commonly measured in 'grit' in microns. The higher the number, the smaller and finer the sandpaper grit. Heavier grit are the lower numbers (commonly 60-80) and is the right quality to remove protective coatings like stains, and polyurethane.
Sandpaper grit between 100-200 is a medium grit, is great for sanding shelves and cabinets, removing the finish from metal surfaces. A finer grit of 220 – 600 is perfect for finishing or smoothing a surface.
Most woodworkers know of the concept of 'going through the grits'. Throughout any job, you'll find yourself working through different quality or 'grit' of sandpaper, and it's important to note you may need sandpaper of each 'grit' to complete any particular job.
Choose The Right Sandpaper For Your Belt Sander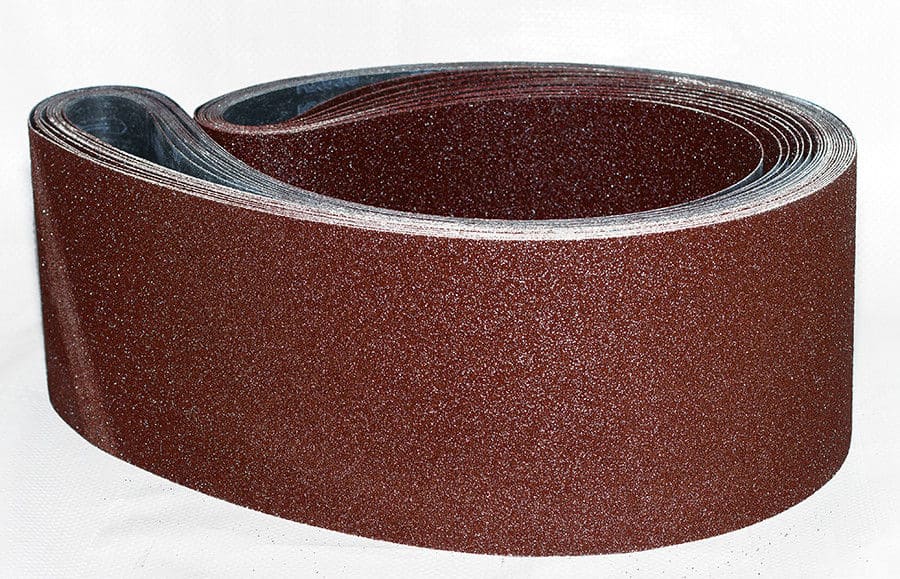 There are different materials the grit is made out of in your sandpaper. When purchasing your sandpaper, the manufacturer will often note the intended material types their sandpaper works on, but it's always important to do your research before you hit the shelves of your local hardware outlet.
Flint
This is a natural grain. It's a durable grain and well suited for sanding off paint or varnish.
Garnet
Also a natural grain, it's slightly softer than its natural counterparts. It's not well suited for metal as it does dull quickly. Better used for fine sanding of wood stock.
Emery
Yet another natural grain type, emery is a great grain for metals, removing rust, or polishing metal stock. The edges tend to be relatively sharp for sanding wood.
Zirconia Alumina
This is a synthetic grain. It lasts a long time and well suited for sanding away burrs on metal or initially sanding rough wood. This type of grain is durable and can often improve over time!
Silicon Carbide
Another synthetic grain, this is a utility variant. It has multiple uses, including plastics, metals, and woods.
Aluminum Oxide
Last but not least of the synthetics, this is another durable grain, well suited for metals and for sanding hardwoods.
Using your Belt Sander
A belt sander is far more powerful than getting your hands with sandpaper the old fashioned way! In most cases, you'll need two hands to operate a belt sander. The drums on the base of the belt sander spin in a continuous direction.
When using it, for whatever use or grain type, you have to make sure you are always moving the belt sander. If it is held in one place, you'll quickly discover deep marks in the wood you are sanding.
Applications For Your Belt Sander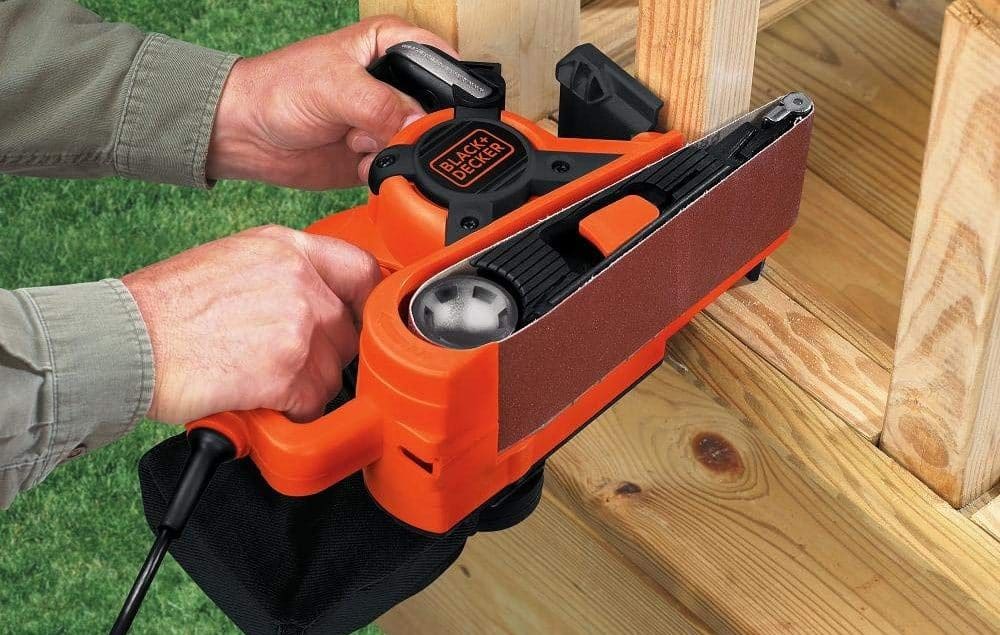 Finish Wood or Metal
One of the biggest uses for a belt sander is to sand large, flat surfaces including wood furniture, or even a door. By using an even and consistent stroke, you can provide a nice soft finish to your wood surface.
Refinish Outdoor Furniture
Ever notice some time, the wood on your outdoor table setting or cupboards just doesn't have the sheen it once had? A belt sander is your one-stop shop for having that brand new furniture look in your backyard.
The belt sander will remove the stain down to the natural finish of the wood without damaging the furniture. After removing the stain, switching to a lighter grit will allow you to get that soft, smooth finish.
This isn't just for aesthetic style, rough stained wood can cause splinters, which are not fun when sitting outside in a summer's breeze.
Fix A Jammed Door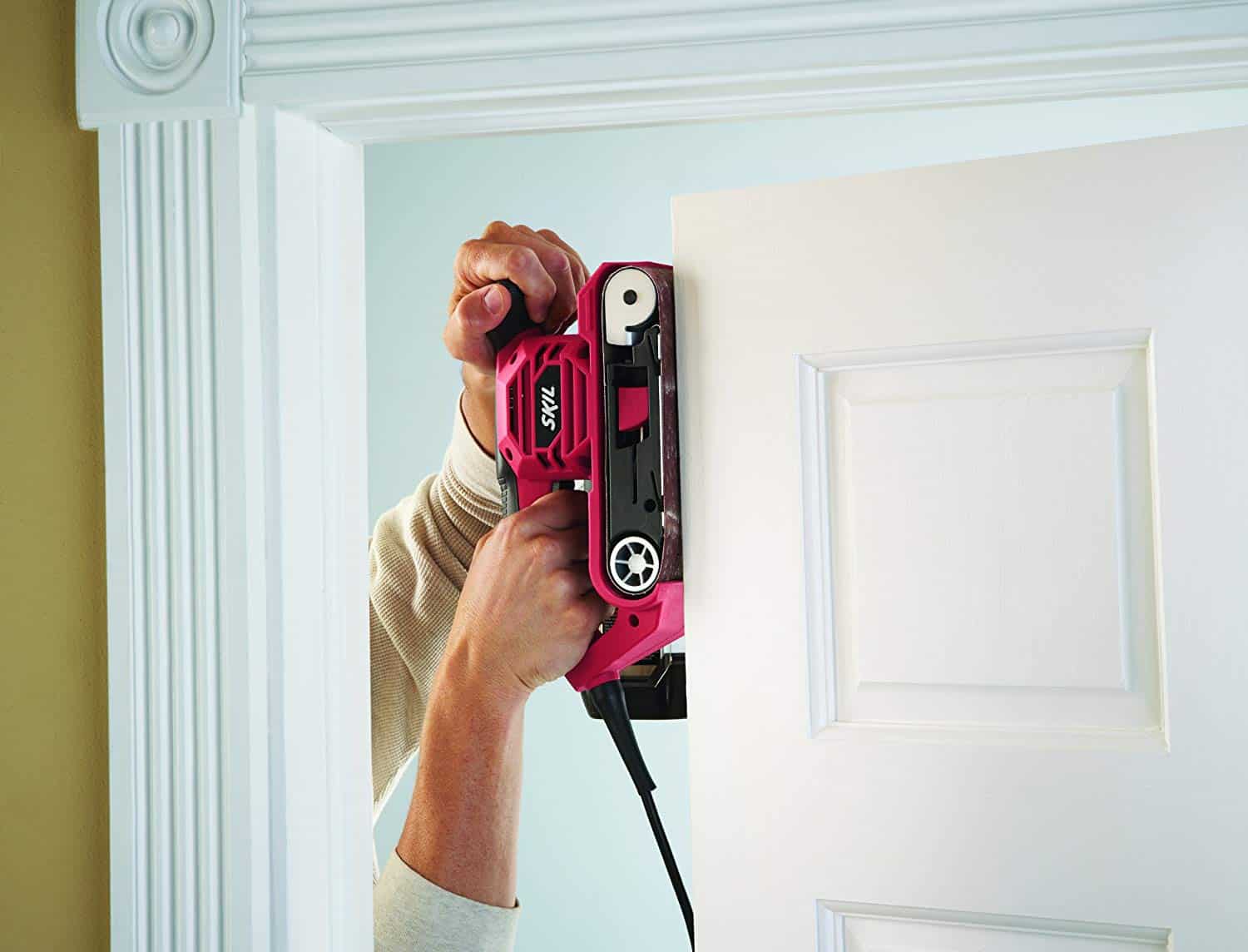 Ever find a door that just sticks to its architraves or moldings? Pretty annoying! A belt sander is a perfect tool to fix that door that won't close or open. By carefully removing the door, and attaching it to a suitable support, you can use the belt sander to grind away at the edge that's protruding and causing the problem.
Features To Look Out For In A Belt Sander
Not all belt sanders are the same. There are a few different types and features to look out for in your chosen belt sander.
The mess that can be made from a belt sander can be painful to clean up, so our top tip is to ensure your belt sander comes with a dust collection bag or container to make your job easier to finish up. While you can buy them separately, it's better to purchase one with the manufacturer's specific catcher already supplied.
Staying Safe While Using Your New Belt Sander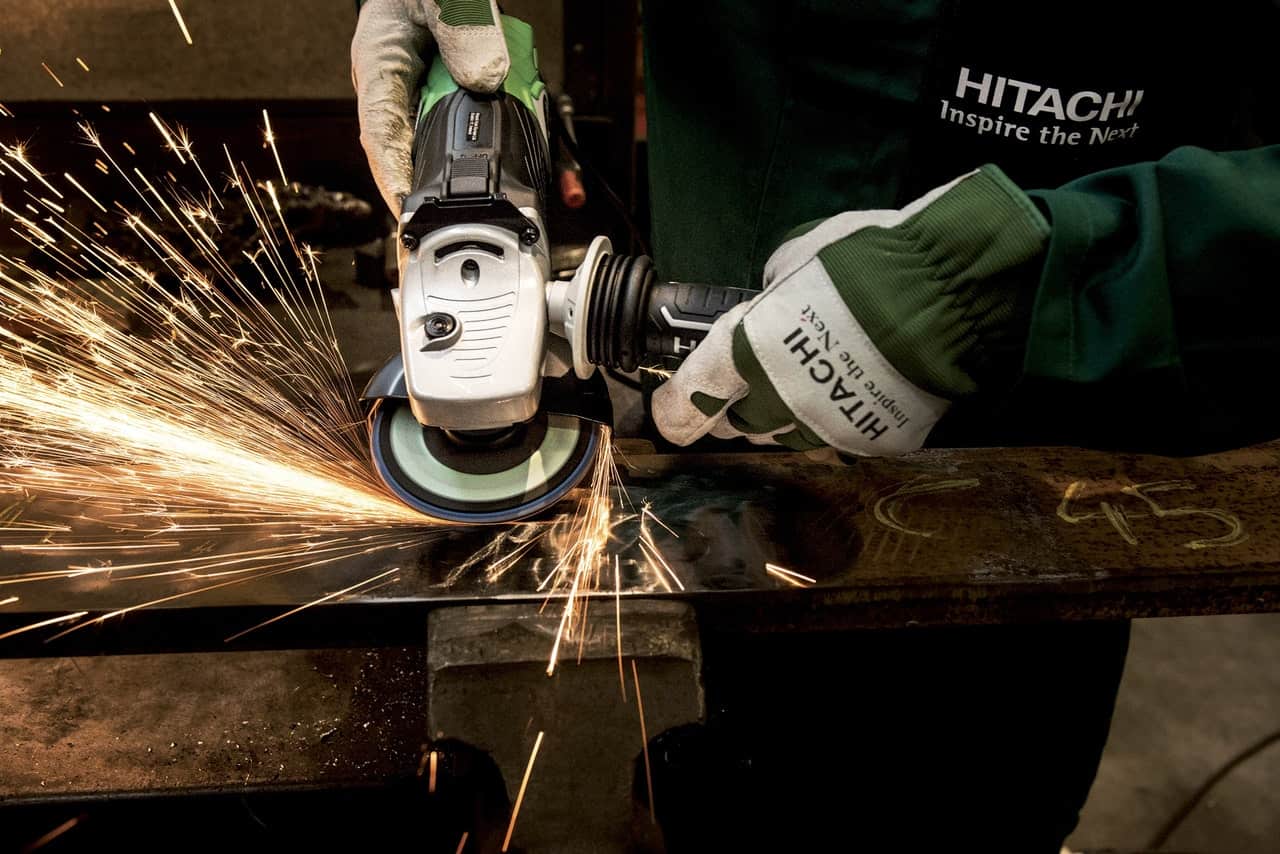 Did you pick up one of the belt sanders we reviewed?
Make sure you protect yourself.
These are not toys.
We've got a few tips for you to ensure you stay safe while handling a belt sander.
Check around you before you start sanding away. Make sure you've got a clean workspace, no potential hazards to trip on. Check your belt sander to ensure it is in top workable condition. Make sure there are no loose fittings, damage to the electrical cables, worn belts or other damage.
If you need to change your belt, make sure to follow the manufacturer's instructions, and make sure the belt sander is switched off and unplugged from the power outlet.
Before using the belt sander, do not place it on the wood or stock before powering it up. It is a much easier and safer method to hold the belt sander and introduce the wood or stock with it fully in your control.
If you have any spare pieces of stock around (of the same type), it can be wise to do a quick test run on that piece to ensure it will achieve the outcome you are looking for. Nothing worse than starting the sanding process and finding that the effect is drastically different to your expectations.
Ensure you read and understand the manufacturer's instructions before using your belt sander. Ensure you own and utilize the right safety equipment. Goggles are a must have to protect your eyes from wood shavings, metal or belt debris. Gloves are important as well to protect yourself from potential splinters or hot sparks (if sanding metal).
Wear protective and safe clothing. Avoid wearing baggy or loose clothing. These can easily droop down and tangle with the belt.
While you've already got yourself a pair of goggles, it's important to also use a dust mask. This will prevent dust from seeping into your mouth, nose, ears, and clothing. Without doing this you'll find your sanding experience will be somewhat annoying.
What's Our Pick For The Best Belt Sander?
After some rigorous hardware and wood testing, our deck is looking primed and ready for a brand-new coat of paint! All the sanders got a workout, however, there is one standout winner for us.