Whipping up breakfast for friends? Feeding a crowd? Have no fear–learn about the best griddle here.
Imagine...
Think of a big, sideless pan with its own heating element. That's a griddle–a cooking appliance with a large, flat, rectangular surface powered by electricity, gas, or solar energy. Griddles are versatile and can be used to make various dishes like pancakes ?, bacon ?, eggs ?, French toast, sausages, steak?, grilled cheese sandwiches ?, and much more.
Like an electric skillet, a griddle can be handy for making hot meals without a working stove or outside of the house (e.g., frying bacon on the porch to avoid excess grease and aroma inside).
Even better
A griddle provides another expansive heated surface for cooking mass quantities or different foods simultaneously. Learn more about griddles below.
Research You Can Trust
After researching ?over 30 of the most popular griddles, we narrowed the list down to these top picks. We consulted industry leaders and customers to choose the ten best griddles. Professional and amateur chefs, family cooks, couples, and singletons all weighed in about their experiences with their griddles.
Too many cooks in the kitchen?
We don't think so. We've heard countless culinary adventures and believe the more feedback on a specific model, the better.
Information directly from the hungry mouths of griddle owners helps clarify details and highlight concerns.
Rest assured
We double-check these models' specifications with their manufacturers' websites for accuracy. Ultimately, we strive to present objective reviews useful to you.
Buyer's Guide
The 30-Second Review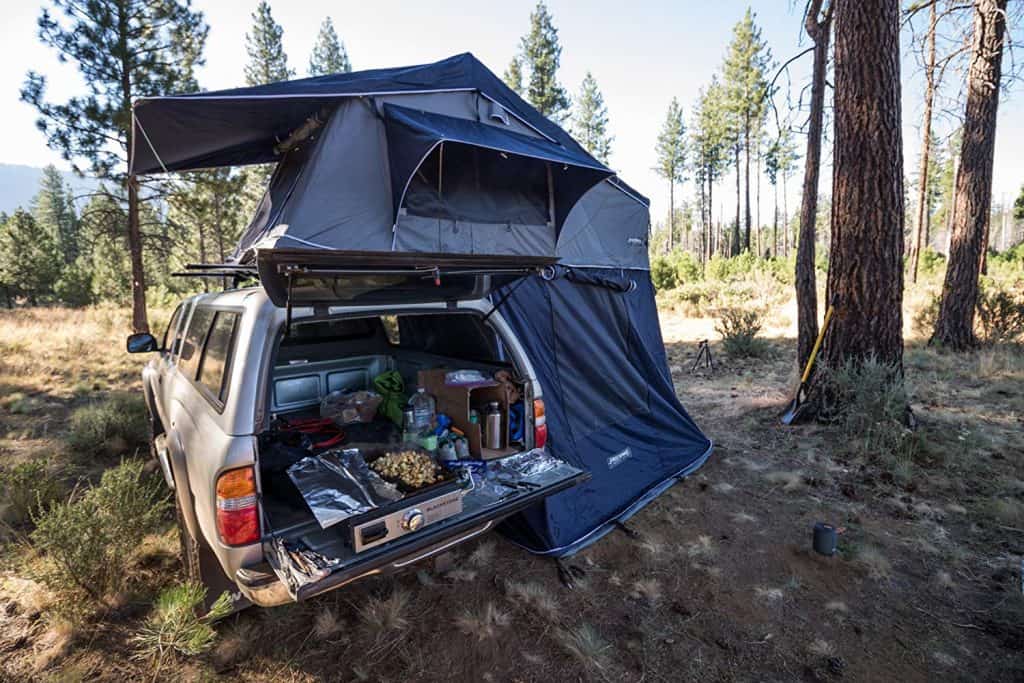 You want to purchase a griddle but where to start?
First:
How many people will you cook for? How much counter and storage space do you have? Large griddles accommodate family feasts while smaller models suit couples or individuals.
Second:
Consider other features like the cooking surface (e.g., materials, regular vs. non-stick, style), heating performance, temperature control, and body style (open or with lid).
Don't forget…
…about ease of use and clean-up! Some griddle models are immersible or have dishwasher-safe parts, while others need to be hand washed. Check what accessories (e.g., warming rack, etc.) are included in the price.
Finally,
In order to make your investment worthwhile, read consumer feedback about each griddle's durability and longevity.
THE WINNERS
Buyer's Guide to Griddles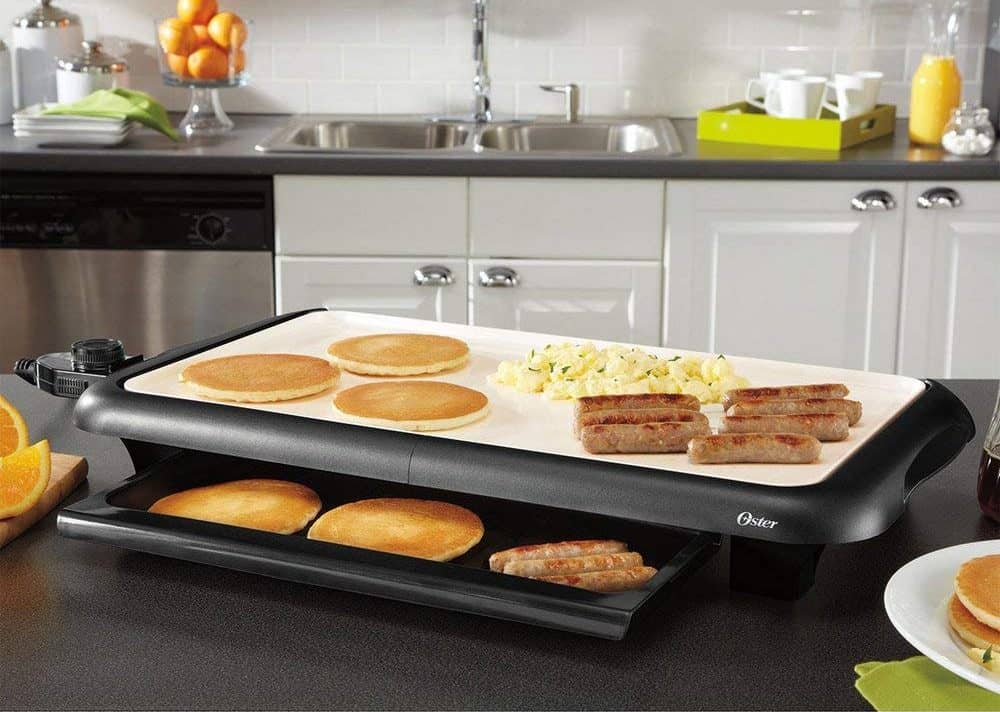 A griddle provides many benefits, like
offering more cooking surface area than average-to-large frying pans do.
being more energy-efficient and cost-effective to operate than your stove.
not heating up the kitchen like a fired-up stove.
cooking a variety of foods quickly and simultaneously. For example, imagine breakfast items (e.g., bacon ?, eggs?, and pancakes ?) done and ready to serve at the same time.
heating up evenly across the entire cooking surface (theoretically) to prevent dishes like striped pancakes or half-golden, half-white hash browns.
controlling temperature more easily and precisely than a stove does.
keeping food warm.
eliminating the need to wash pots and pans.
?Eye-grabbing Griddle Features
When choosing among different models, consider
Size: Models with much cooking surface area (e.g., 12" x 22" and larger) are well-suited for catering and cooking for big groups. Large models accommodate a higher volume of food, heating either vast quantities of one dish (e.g., 12 pancakes?) or several different recipes all at the same time…thus shortening overall cooking time.The downside: bigger griddles require more time to heat up ?, energy to maintain a steady temperature, counter space for use, space for storage. They also may be more expensive and cumbersome to clean. Medium (e.g. 10" x 18") and smaller (e.g., 8.5" x 10.5") ones may be easier to clean, store, and transport. Nonetheless, don't choose a model too small for your needs (e.g., fits only one pancake at a time).
Materials:  Griddles are usually constructed of aluminum, stainless steel, or ceramic. Aluminum is lightweight, economical, and warms up quickly with fair heat distribution. Most griddles use aluminum that's been anodized ("an electrochemical process that converts the metal surface into a decorative, durable, corrosion-resistant, anodic oxide finish aluminum") in order to prevent the metal from reacting with highly acidic (e.g., tomato sauce ?) and salty (e.g., sauerkraut) ingredients and leaching into the food. Stainless steel is durable, non-reactive, and rust-resistant–but has weaker heat distribution. Ceramic is naturally nonstick, hard, durable, and retains heat well.
Regular or Nonstick: Although surfaces are easy to clean, coatings may also contain PTFE (polytetrafluoroethylene, a man-made chemical branded as Teflon) or PFOA (perfluorooctanoic acid–also known as C8–another man-made chemical used in making Teflon). Although these chemicals aren't proven carcinogens, studies have shown possible links between them and cancer. Look for a griddle that doesn't contain PTFE and/or PFOA. Health-conscious consumers like ceramic for its natural nonstick surface.
Expert Tip: Utensils to Use with Cookware
When stirring, flipping, and scooping ingredients in cookware, utilize implements made from a material that won't scratch the surface. Try utensils like a wooden spoon, a nylon or silicone spatula, or a rubber scraper.
Surface style: Does the griddle have one large smooth cooking surface? Or does it use two removable plates: one flat for griddling and one ridged for grilling?
Body style: Is the griddle one open surface or does have a lid?
Accessories: Most griddles have a drip tray to catch grease. Some also include a warming tray.
Ease of cleaning: After shedding electric components?, is the cooking surface dishwasher safe? Or does it need to be hand washed/wiped??
Temperature range and control: Many griddles keep food warm (around 200°F) and also heat up quite hot (at least 400°F) when needed. Some have temperature controls that indicate levels (e.g. low, high) while others are more precise and show actual degrees ?.
Are you fired up? ?
Reviews of the Best Griddles
Griddle Safety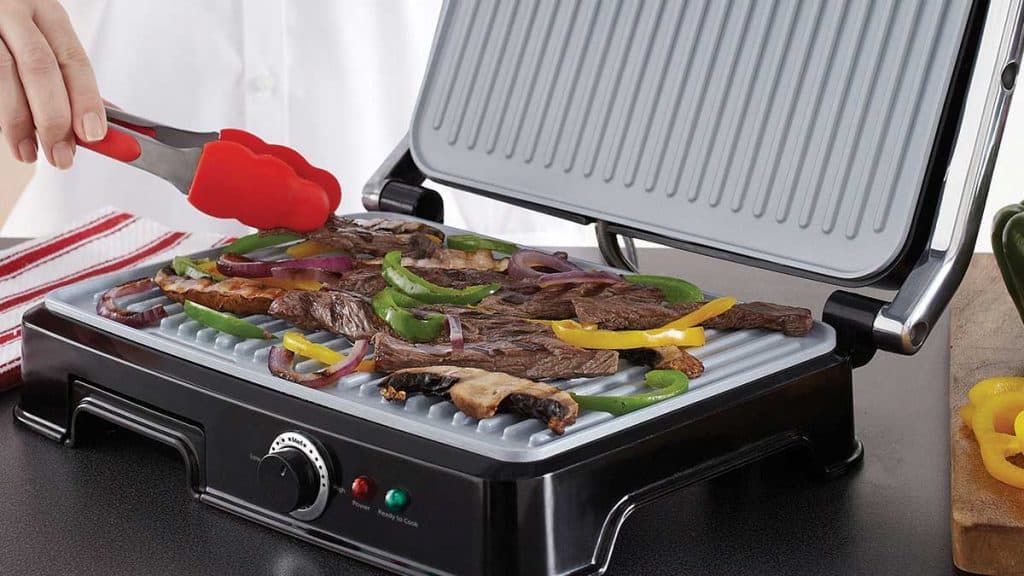 Sure, a griddle doesn't pose as many dangers as a power drill, belt sander or a MIG welder.
Nonetheless
Follow these few tips for safe use:
Sit the griddle on a level, sturdy surface with room around it to dissipate heat ♨ and prevent contact burns.
Plug it ? into a nearby outlet. Most griddle cords are short.
Get into the habit of wearing oven mitts ? to handle and move the unit.
?Don't leave food unattended on a hot griddle.
When finished cooking, remember to turn the griddle off and unplug it ? from the wall to avoid any fire hazards ?.
♻️ Go Green with Your Griddle
Conserve energy ⚡ when using your griddle–shut it off when not in use.
In fact
According to the Federal Energy Management Program, "Idle or standby energy consumption is a significant portion (up to 40%) of griddle energy use. Griddles should be turned off when not in use, as most take less than 15 minutes to preheat."
Here's another tip:
"For griddles with multiple sections, turn off unused sections..."
If you decide on a commercial griddle (much larger than those reviewed), look at Energy Star Program Requirements for Commercial Griddles.
Griddle Graveyard?
When this convenient culinary tool finally outlives its usefulness, dispose of it responsibly. Most griddles have recyclable metal.
♻️ Earth911 suggests:
Look for a curbside program near you (try Earth911's Recycling directory) to see if "your local program accepts nonferrous scrap metal (which includes aluminum, copper, and stainless steel). If so, give your recycler a call and ask about whether pans are allowed in the bin."
If not, look for a scrap yard that accepts old griddles for recycling with other metals. To find a scrap yard in your area, visit iScrap App or Earth911's Recycling Directory.
It All Boils Down to This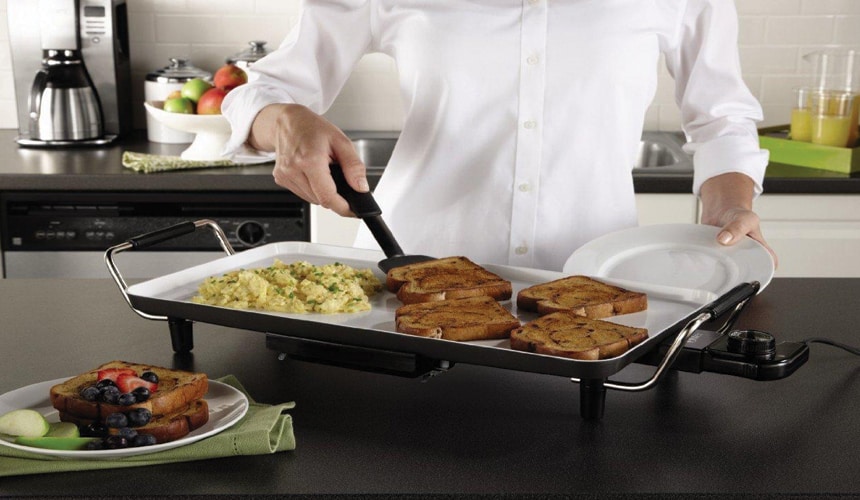 When searching for the best griddle, think about the size, features, and style of the model best for you. Do you want large or small, open or with a lid, nonstick or regular, dishwasher-safe or only hand washable?
Read customer feedback about how well different models heat up and cook foods.
Don't worry
No matter what you choose, you'll make culinary masterpieces that'll satisfy hungry stomachs.
Pssst…
Hungry for popcorn? Check out our latest review of the best popcorn kernels.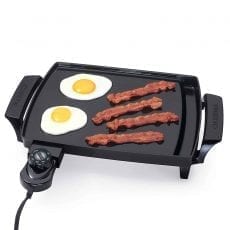 Best of the best
Presto 07211 Liddle Griddle
Hosting a crowd? Don't want to turn on the stove? Then try a griddle–a large, flat, heated rectangular surface with its own heat source. This versatile cooking appliance can make as much or as little food as you want, including pancakes, bacon, eggs, steak, grilled cheese sandwiches, and much more.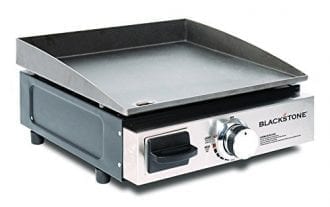 Most Buying
Blackstone Table Top Grill – 17 Inch Portable Gas Griddle
Hosting a crowd? Don't want to turn on the stove? Then try a griddle–a large, flat, heated rectangular surface with its own heat source. This versatile cooking appliance can make as much or as little food as you want, including pancakes, bacon, eggs, steak, grilled cheese sandwiches, and much more.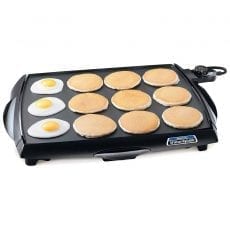 Best for the money
Presto 07046 Tilt 'n Drain Big Griddle Cool-Touch Electric Griddle
Hosting a crowd? Don't want to turn on the stove? Then try a griddle–a large, flat, heated rectangular surface with its own heat source. This versatile cooking appliance can make as much or as little food as you want, including pancakes, bacon, eggs, steak, grilled cheese sandwiches, and much more.