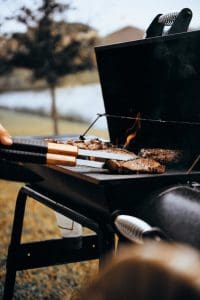 We all love the taste of a well-made steak, and while a delicious barbecued meal would take up to three hours to make, some of the best infrared grills can help with that. A tender, juicy rib can be cooked in a matter of minutes, with these efficient wonders of modern technology.
Is your mouth watering yet?
Traditional grills are great for a well made barbecue you enjoy with friends on a day off, but if you'd like to enjoy that same type of delicious meal after a long, hard day at work, you may want to keep reading this article.
For a brief introduction in this medium, read this piece from Technopedia, and this awesome guide from NASA.
The 30 second review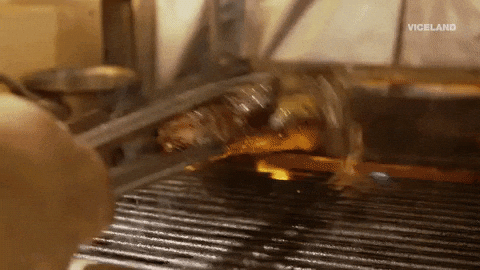 It does seem like a fight between a qualitative infrared technology or the other, which we're going to measure by consulting our trusted experts and our focus group, but going further than that, we may need to look for certain gimmicks and small edges to make our pick.
We'll look at how much of the infrared technology is used, and how much of the cooking process is complemented by traditional means. We'll also look at the sturdiness of the product build overall, but we'll also consider additional benefits such as utensils and extra functions.
Moreover, you'll see us taking size into account in addition to showing you what advertised functions do work, and which are just marketing stunts. This review will show you both the best of the best, as well as products that seemed fantastic but ultimately disappointed us.
Buyer's Guide
Your Buyer's Guide To The Best Infrared Grill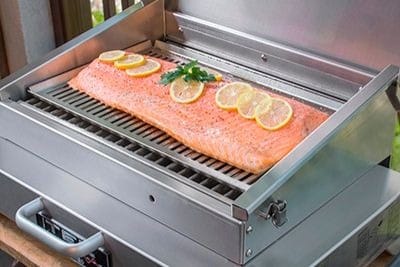 Infrared grills can set you back a few hundred bucks, so it's important to wrap our heads around what they are. More specifically, what to look for. Don't worry, we'll keep it simple as we introduce you to how infrared technology works, and what the subtle differences are that ultimately make the best infrared grill. 
Let's discuss infrared technology
Humanity has known about this piece of technology for longer than you may think. The man that discovered infrared rays (because that's what it is, radiation – we'll get to that in a moment) was William Herschel, all the way back in 1800.
Infrared light is actually a type of radiation, but don't worry, it's not harmful in any way. What it is, basically, is a type of electromagnetic wave, but one that is lengthier than that of visible light, that's why we can't see it. These tiny waves appear after a sudden change of movement from a molecule, and our great scientists were able to create devices that gather and use these waves.
The thing about these rays, however, is that they can be absorbed by other molecules, and that's how the heating of your beloved pork takes place. The grill emits these rays, and the meat absorbs them, ultimately cooking that succulent rib.
Basically,
Imagine, if you will, a sci-fi laser that blasts through a steel door, only much tinier. And, in this case, it'll get you a fine meal.
One thing worth mentioning is that infrared grills don't work in a vacuum. What this means, is part of the infrared waves will be lost in the atmosphere, so no device out there works solely with infrared light. All grills that feature this technology also feature traditional means of heating, like coal, but generally gas.
So now that that's out of the way, let's talk about each component of an infrared grill.
Burner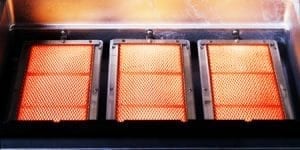 This is all the fuss in an infrared grill. The burner is the plate device that sends infrared light into your future meal. They come in ceramic plates or U-shaped versions, but the experts we talked to recommend the ceramic version, since it lasts longer and are typically more efficient.
Now…
That's not to say you shouldn't consider a grill with a U-shaped burner. It's just a small characteristic you should take into account when comparing two seemingly equal grills.
Since this is the bulk of an infrared grill, many are bound to deteriorate over time. You shouldn't worry, however, since you can find replacement burners for basically any grill out there, of any size or build. The best way to avoid getting a faulty burner is to clean it regularly and to make sure you don't overheat it when you don't have to.
Always clean your grid before, and after using it, since it's the most prone to wear, and look for signs of rust. If your grid is rusty, it's about time you get a new one, but just as before, don't sweat it. Grids are replaced every day by most grill manufacturers, traditional or infrared, and the price is usually not deal breaking.
Ignition
This component is, almost literally, the fire starter. Ignitions consist of two parts, the wires, cables and buttons, as well as a spark generator. The ignition will start the process for infrared light heating and is among the cheapest, but most important parts.
Note that replacing your ignition is rarely the case, since it's not a complicated system, and with proper care it will serve you well for years. Regardless, the wiring or placement of the ignition may get faulty after a season or two, so a few tweaks are sometimes necessary. You won't need tools or a lot of time to do this tweaking, and you can see the full process explained here. If you just need to change the battery, the whole deal becomes even easier.
What you should take into account
Gas vs. Coal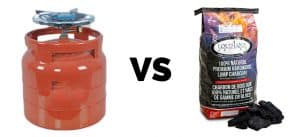 The chefs we talked to about grills strongly support a gas hybrid. Coal is fine and dandy, but it seems a bit counterintuitive to use that type of combination. Coal is messy, emits a lot of smoke and needs more maintenance. All of which are things people usually steer from if they're looking for an infrared light grill.
Regardless, if your product will be used outside, or in a large room, and you still want to retain some grilling authenticity, coal might be for you. It's just something to take into account.
Size
Another important factor is the size of your future purchase. Are you interested in using your grill once a week, and have a quite spacy home, with possible guests now and then? A larger grill is for you, since you can cook more at once.
However,
If your family is not that numerous and you plan on using the device often (which in turn means more maintenance), we suggest a smaller grill. No need to worry, the market is full of them, with a lot of options marketing themselves as "to go", so you won't have a hard time finding the perfect size.
Miscellaneous
Modern grills come equipped with a variety of features and gimmicks, such as timers, utensils, and extra parts. These are definitely not the most important thing, but are something to take into account when struggling to decide between one or another product. Just think of what you want to cook, and you'll definitely find the nuts and bolts to look for.
In Depth Reviews Of The Best Infrared Grill