The 30-Second Review
This list is a little longer than our usual, so let's take a second to get the big picture on all these little pieces of information.
In case you don't have time for an entire buyers guide, this thirty-second review should tell you everything you need to know about picking a toy for a seven-year-old boy.
The main thing to remember if you're in a hurry is to think about the kid.
Put who they are and what you know about them first.
What was a fun toy when you were a kid might not suit another child.
Durability is another factor that's going to require some consideration. Some kids can handle the more delicate toys on this list–but some, definitely, definitely can't.
One fun trick is to look the toy you picked out in the eye and pretend you're in Toy Story.
Gauge if this is a good option based on how sad you feel inside for the rest of the day.
Please join me in a moment of silence for my childhood G.I. Joe.
I do feel remorse.
But also think about the parents, who are likely to have storage and noise concerns. If a family is living in an apartment, something big probably isn't a good idea. Something noisy might also bother the neighbors if the walls are thin.
The same goes for yard considerations. The zip line on this list is a blast, but only if you can, you know, play with it.
You should also take into account age restrictions and suggestions. But again, some kids are more mature than others.
Look out for weight limits too.
Lastly, remember it's always a good time to expand a child's horizons. If you think you know something they might like, but don't already know about, give it a try.
Picking the Best Toys for 7 Year Old Boys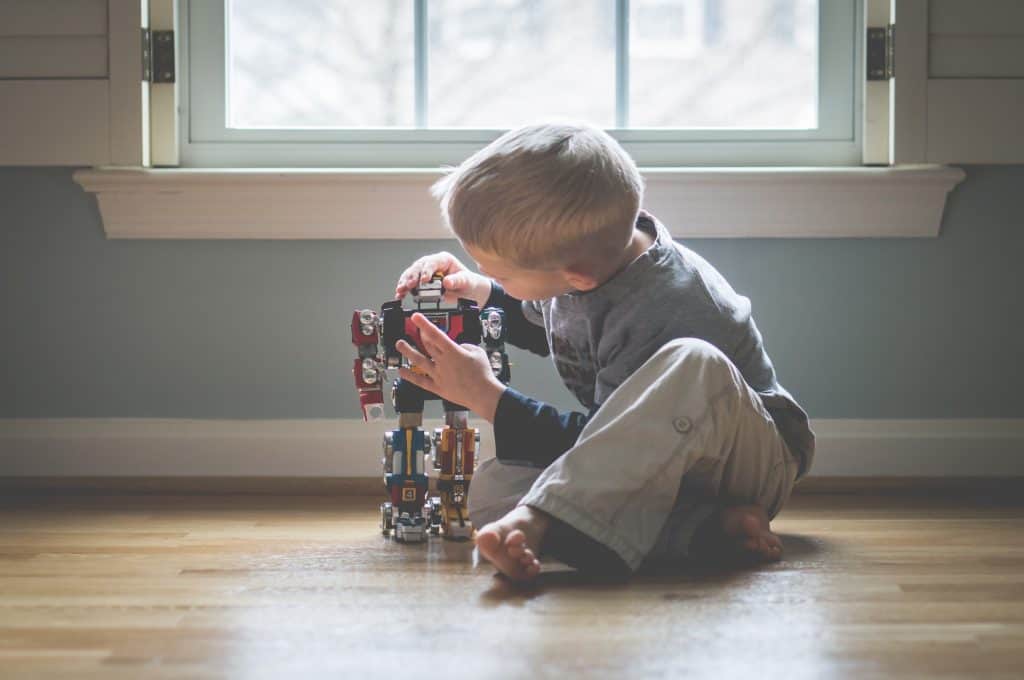 We know what you're thinking…
There are so many options.
Between the toys on this list and the couple others out there, picking a toy can be a bit overwhelming.
Even with such great reviewers narrowing down the list (I hear they're handsome too), you might find yourself unsure of the best option.
But Bestazy is here to help with a guide for picking the right toy for the occasion. There are many things you can do to help you decide on the right toy for the little rascals in your life.
Here's a few.
Focus On the Kid
It can be tempting to skip through the toy aisle knocking whatever catches your eye into the cart. But you'll probably want to exercise a bit more empathy than that.
Unless, of course, you're shopping for yourself. Then by all means, skip.
What you want or wanted as a kid might not be what another kid wants. You have to remember this is an entirely different person than you that's probably already developed their own interests and hobbies.
Don't let the toy you've always wanted keep you from getting another kid the one they've always wanted.
Some children are incredibly artistic and others like to roughhouse. Some kids might like to play alone and others might need to be constantly entertained.
Think: is this a band kid or a sports kid?
That's to say, traditionally gift buying rules are still at play.
You won't be getting the reactions you're going for if you don't shop for the individual. That's really going to be the single most important thing moving forward with your purchase.
If you know them, you'll probably have an easy time picking something based on their interests.
Otherwise, you'll want to pay attention to this next bit.
Spend Time With the Kid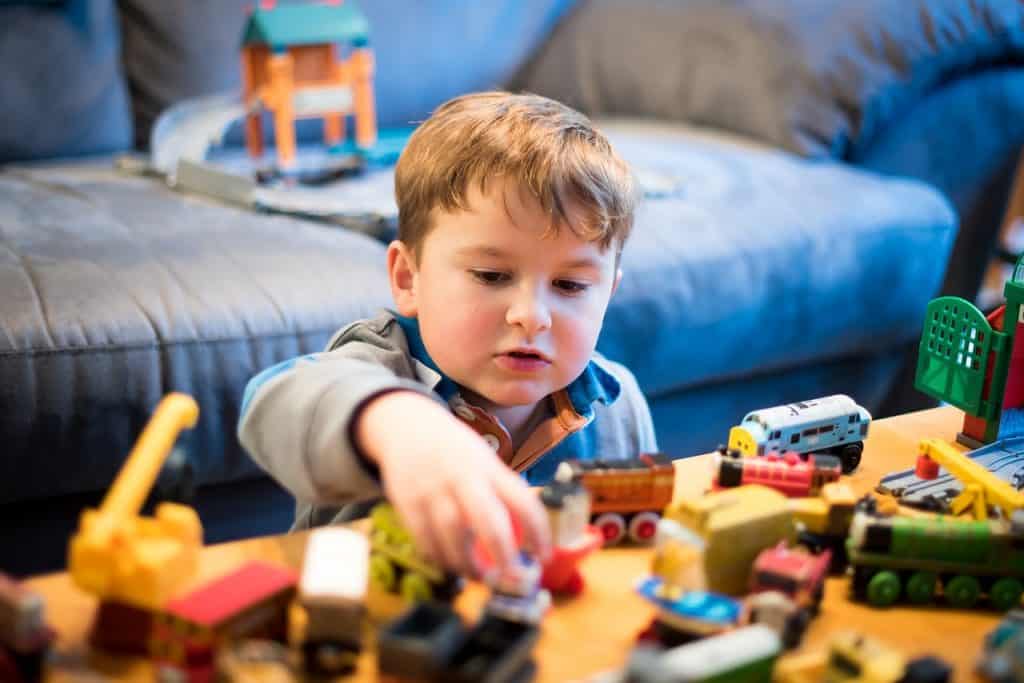 Your best bet is to get to know the kid you're buying for. And there's really only one way to do that–you'll need to hang out with them.
Some hang-outs might be more fruitful than others. Taking him to the park might be a nice day, but they'll probably be focused on the playground equipment.
Whereas if you were to, say, play a board game, you could spend more time chatting while also peaking at what toys they already have.
There are a lot of good options for things you could do with the boy you know to get a good idea of what type of toys they like. But if you're having a hard time thinking of a good idea, asking them what they want to do is probably a good method.
Make note if the kid in question would choose to paint or throw a football in their free time.
If they say they like legos, for instance, consider something like this 3D printing pen for kids.
This is great because it stimulates the child's interest of building things but in a completely new way.
You can come up with ideas like that for any type of kid in the world once you know what they are like.
Expand Horizons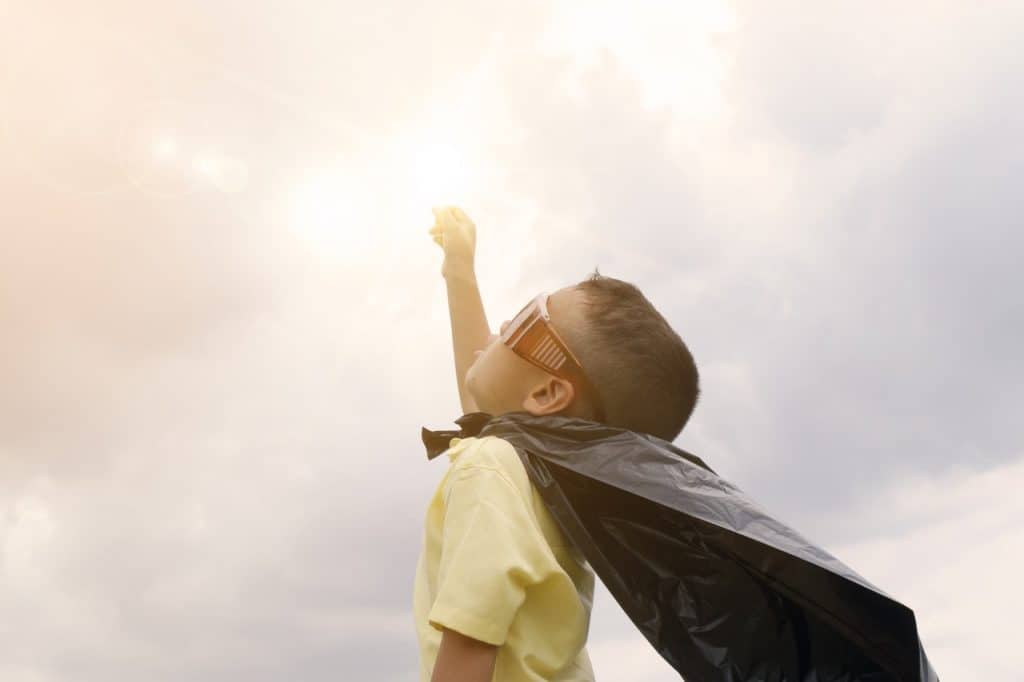 You might be a different type of gift-giver, though.
Maybe you aren't someone who buys based on what a person already likes, but instead try to introduce people to new things with every gift.
If you're someone who likes to help others find new interests, then you might use the time you've spent with them to pick something they don't already like.
You'll need to pay extra close attention or spend significant time with a child for this to work out well. But if you come to understand them as people, you can open up whole new worlds with just one gift.
Do you know a kid that plays a lot of video games?
Well, he might really like a new game. But kids that like video games are also usually creative and like stories.
So maybe you could get them art supplies or a book you liked as a kid.
One great option if you're particularly keen on education is a subscription to the Pley monthly activities box.
We like to point this option out whenever we get a chance.
Why?
It has a lot going for it.
We (of course) love they'll be enjoying these boxes month after month, so the longevity of the gift is strong. They also come in several types, so you're able to select something for them as a unique individual.
For instance, National Geographic paired with Pley to create the adventure box.
This box might include several fun items for activities in nature like maps, a cantina, field guides, identification pamphlets, etc.
The activities in each box are geared towards specific larger goals such as conservations, protection or raising awareness. So, children learn and feel how their individual activities and efforts really matter in the long run.
There are options for every kind of kid from the Disney Princesses to Hot Wheels.
What looks cool?
Even though you should put the child's wants and personality first, this a great time to have some fun.
Is there something you really wanted as a kid?
Does something on this list stand out to you as the coolest thing ever?This can be a great way to get even more ideas beyond this list.
What is the toy your parents never got you?
Definitely take that into consideration, and for the love of god get yourself one. But you probably shouldn't decide on impulse alone.
Consider Durability
Some toys are built from stronger materials or better craftsmanship than others. Whether that's because of quality or type of toy, it's something that you'll need to consider.
You'd never want to buy a child a toy that is defective or poorly built. But you'll need to think about what kinds of toys are more child-proof than others.
A more rambunctious kid might not be a good candidate for electronics, for instance. Many of these product reviews will give you an analysis of the product's durability.
So pay close attention to those sections if you're shopping for more of a Sid than an Andy.
Remember you're also buying something another adult will have to hear all day.
Are you a good friend?
You might not want to endure the looks they'll give you if you bring another damn annoying toy into the house.
Being the fun uncle is great, but try to keep the home-owner in mind.
That doesn't have to rule anything out. But you should probably give the families space consideration when you're picking a toy.
You probably don't want to force someone renting an apartment to store a big wheel.
If you're shopping for a birthday party, that goes double. Parents in this situation already have to find somewhere to store a windfall of new toys.
Lastly, make sure there are no toys expressly forbidden on any invites you might have received. Parents will often say something along the lines of, "… And Timmy has enough Legos for now, thank you."
Longevity of The Toy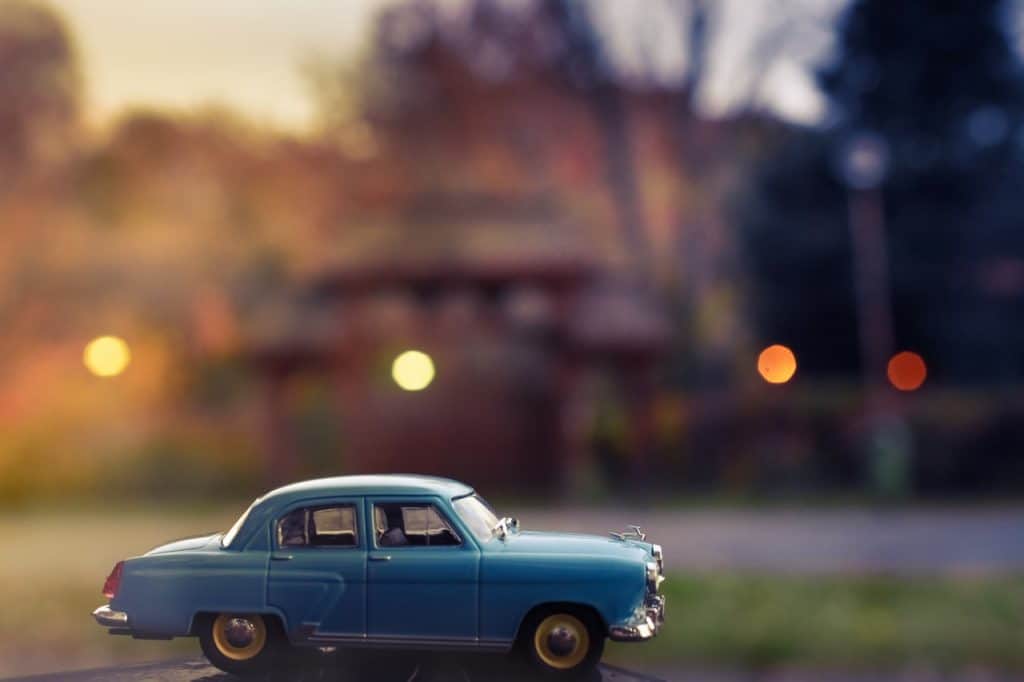 By longevity, we don't mean how long the toy itself will last. Instead, this section will discuss how long a kid will last with a toy. How many hours of entertainment can they get from the toy you buy?
First, consider if there's any room to grow. Anything skill based is going to have a long play-life with the child since they will want to keep seeing what they can do. Anything sports related is great for this reason.
And while we're talking about sports…
Children will end up playing with something much more if they can do it with their friends. Kids, like most people, are social beings. Any toy that's multiplayer or team-based will have significant longevity.
Take the number of features into account, of course. If something has more to do, they will probably do more with it. Some products on this list will do one thing and one thing only. Other will have tons of feature and mini-games to enjoy. Keep a lookout for those.
Parents love toys that don't end up in the trash, the bottom of the toy box, or goodwill bin. So satisfy both kid and parent by buying something they'll get a lot of use out of.
Age Suggestions and Safety
It's important to keep children safe. There are several things you should keep in mind to make sure that happens.
Don't forget that there's always an age recommendation on the product. Some kids might be able to play-up, of course. But you'd never want to give a seven-year-old something meant for a teenager.
Think about the individual again, when it comes to safety. Every kid is different and some kids are a little more indestructible than others.
Is the boy you're shopping for made of rubber or glass?
Toy Reviews For Cool Aunties and Uncles
01
Star Wars The Black Series Kylo Ren Force FX Deluxe Lightsaber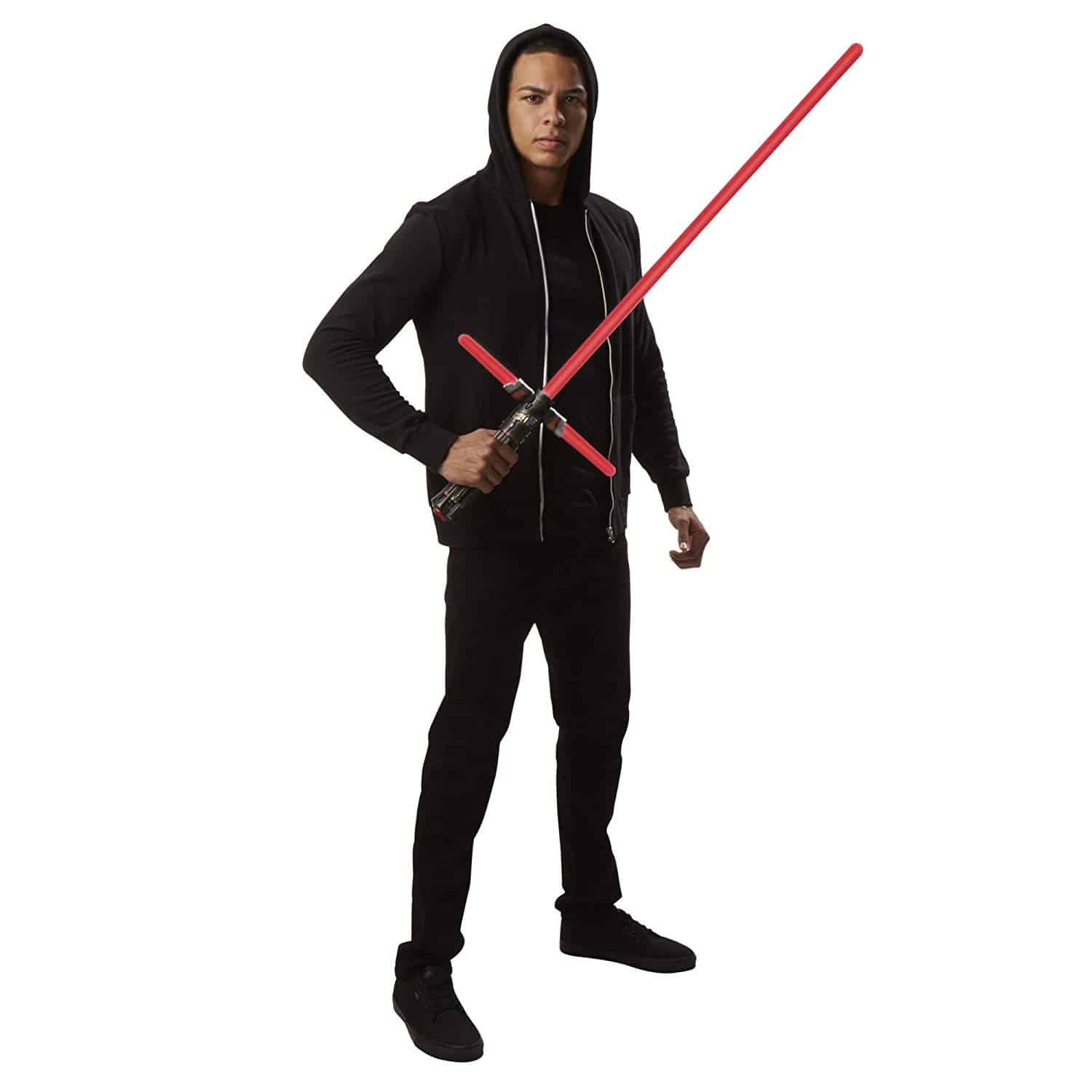 Most kids out there are Star Wars fans.
And most Star Wars fans go wookie-poop for lightsabers.
And you'd have a hard time finding a better lightsaber toy than the Black Series Kylo Ren Force FX Deluxe Lightsaber.
This droid-peeler has it all.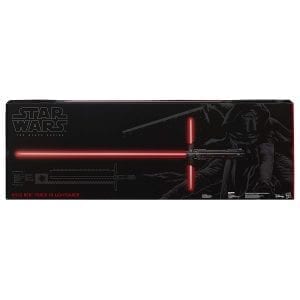 Realistic light effects put you in the world. These tested really well and were our favorite feature. When you fire the saber up, you can watch the blade ignite up the bulb.
And when this battle-ready lightsaber makes contact, there's a flash. This creates a level of super realism that is hard to match in any toy.
Pro tip: these are huge amounts of fun with the lights out or at night.
These lighting effects are compounded by well timed sound effects. When the saber ignites, the unmistakable, official sound from the Star Wars universe plays.
The same goes for during a collision.
Hey, why stop with one?
The collision effects make this a great product to buy two of.
The boy can have a lot of fun staging fights with you or his friends. We really couldn't believe how much fun this was.
What about durability?
I mentioned the importance of durability in the buyers guide.
This is a super durable product, as long as it's used correctly.
The metal hilt is pretty much safe from anything a kid could throw at it and adds another great level of realism to their fun. The lightsaber feels great in your hand.
The flexible wires running up the side do take away from the flexibility a little bit, but also add to the realism of this toy lightsaber.
The plastic saber and bulb are a little more prone to damage or bending. However, you're usually safe for light contact.
This model is a bit more tapered than other lightsaber models which seems to add a bit of extra strength to the construction.
Here is the only downside:
A light sabers could potentially be a pretty redundant gift. If the boy you know is a Star Wars fan, he probably already has a favorite lightsaber lying around.
So you may want to double check with parents before making this purchase.
If that's the case but you'd still like to get a Star Wars related toy, the Star Wars Force Band controlled BB-8 or remote controlled Millennium Falcon quadcopter are both awesome options.
There have been a ton of both of these around lately and kids seem to love having their own BB-8 or Millenium Falcon to adventure with.
And a couple other things...
This is a toy that does a lot of things right regarding longevity.
It can be great for staging lightsaber battles with other kids. In addition, it's packed full of features. The realism of the construction also means that it's something they will enjoy as they get older.
This lightsaber also comes with a clear plastic stand. This stand can be used two ways, either resting on top or balancing through a hole.
No warranty information was available for this product, but we contacted the seller and will update this article when we know more.
Features
Light effects
Sound effects
Metal hilt
---
Pros
Durable
Fun features
From the Star Wars Universe
Storeable
Cons
Might cause a black eye
Loud
---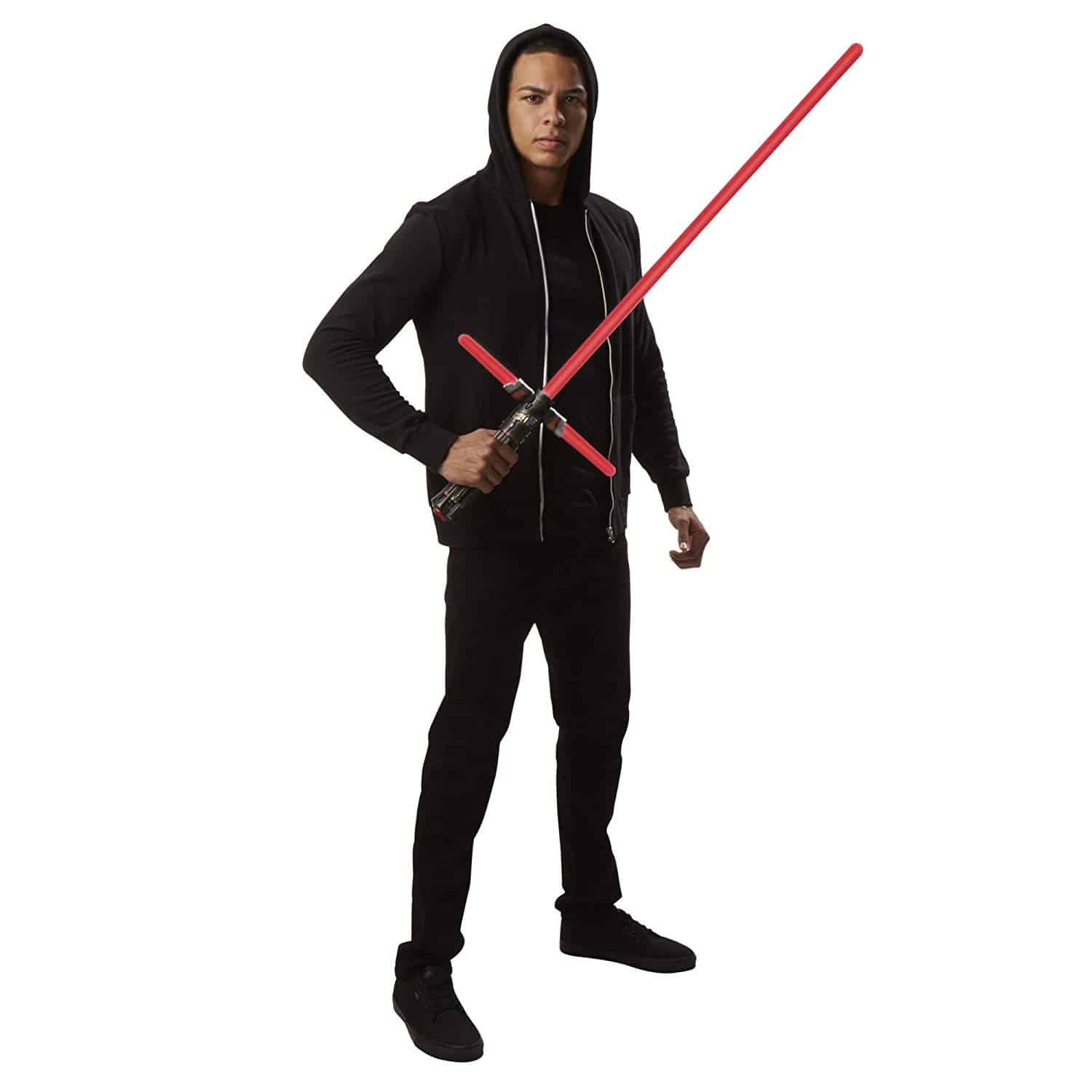 02
Spikeball 3 Ball Sports Game Set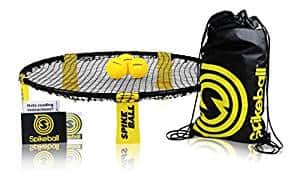 Some kids are more sporty than nerdy, though. For these kids, Bestazy recommends this great new ball game.
It's called spike ball, and it's appropriately named. The game is played by spiking a ball onto a small net surrounded by four people.
The gist of it is: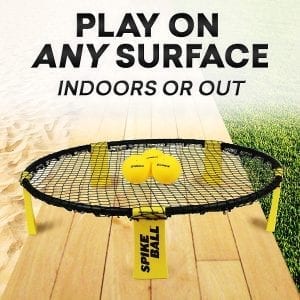 As the ball bounces off, a player must return the ball. Players continue spiking the ball until someone messes up.
It's a lot of fun in practice. Whoever thought of this sure did know how to make a game.
They took the best part of many ball games--spiking--and turned it into a sport in itself.
This is a super fun and competitive game to take to the beach, cookout, or tailgate. Or, just throw it up in the backyard anytime you want.
It's always a good time to get kids active and outdoors, after all.
Can a seven-year-old play it?
This might not be something they master of right away. It requires some skill and coordination to make it fun.
To make it easier, inflate the balls a little extra so they don't have to swing as hard.
Regardless, it's a great gift that will help them grow and develop.
Putting it together and taking it apart between uses or to move it will probably require adult supervision at first. It comes in eleven different pieces.
An adult will have an easy time setting it up, however. And being able to take it apart is great for portability and storage.
What else is included?
When you order this, you'll be getting a couple extras.
Firstly, you'll get the frame and net, of course. But you'll also get a great tote for carrying it as well as two extra balls.
And he can't destroy it.
It appears to be built very well and from sound construction materials. And even if he can, the warranty is outstanding.
This product comes with a lifetime manufacturer's warranty. If you send them a picture of a damaged part they will send you the new part free of charge.
Long live Spike Ball.
Spikeball is awesome because it isn't something you could get tired of. you'll continue growing and developing as long as you play it.
Believe it or not…
There are even semi-professional leagues forming. This, on top of the fact it's made for four people means they'll never get tired of it.
Features
Three balls included
Bag included
Lifetime warranty
---
Pros
Active
Easy to store and transport
Durable and under warranty
Cons
Need a lawn or space outside to play
Assembly and disassembly required
---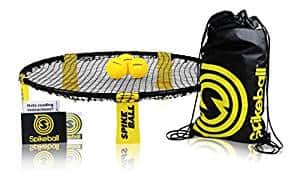 03
Flybar Foam Master Pogo Stick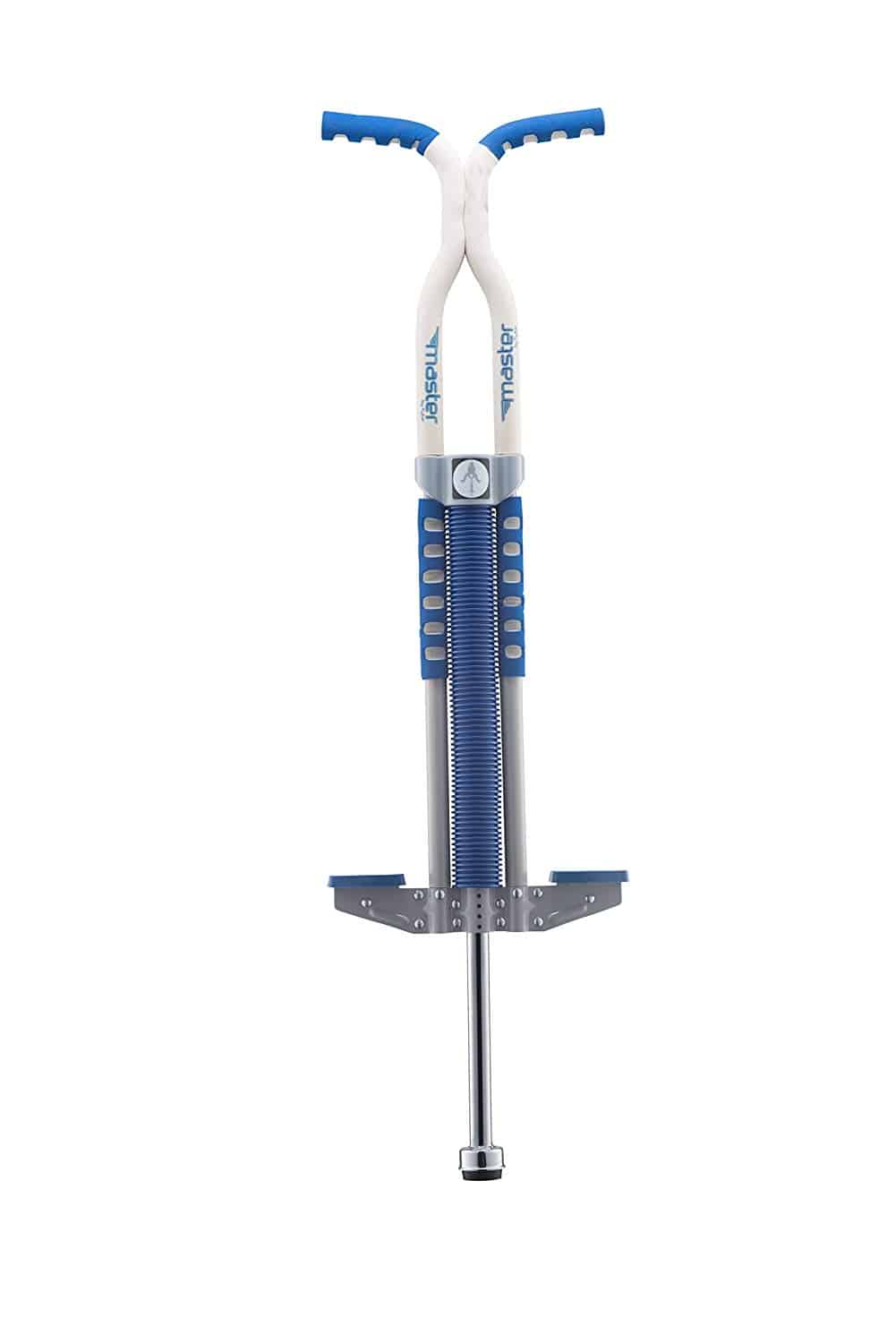 This classic product is always an awesome gift. Bestazy loves toys that get children moving, and this is one of the most active toys around.
This is also a really outstanding value option. The fun per dollar on this product is extremely high when compared to the more expensive toys on this list.
The Flybar Master Pogo Stick also incorporates some new tricks into the old favorite.
For instance, it's safer than most.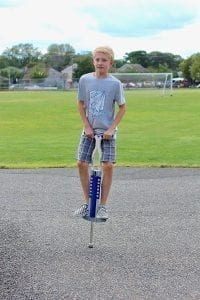 This is one of the best pogo sticks out there for beginners and children because it leaves much less room for injury.
The foam construction means that your kid will never end up landing on hard metal bars if they fall.
This pogo stick also adds extra-stick, fold-down footpads which are great for balance and storing.
The base is also designed to be a bit wider than average. This creates a larger point of contact with the ground, which Bestazy found in tests to add an extra level of balance.
Don't worry, it fits most children.
The Flybar Master Pogo Stick is made for anyone ages nine and up. It will work for anyone 80 to 160 pounds.
From the bars to the pegs it's thirty inches long. It has an overall length of 41 inches.
This is a deceptively long-living toy. Although it does really only do one thing, there's a lot to get better at. Children will have fun trying to beat each others high-scores and top each others tricks. You should expect many hours of play-time from this product.
The thing is...
The foam does worry Bestazy a bit. With an active product like this, that is going to be falling a lot, the foam may end up coming off.
This product is covered by a one-year limited warranty.
Features
Foam construction
Foldable foot pads
Built to be first pogostick
---
Pros
Safe
Fun
Active
Room to grow
Cons
Foam might fall apart on a product like this
Requires some skill to enjoy
---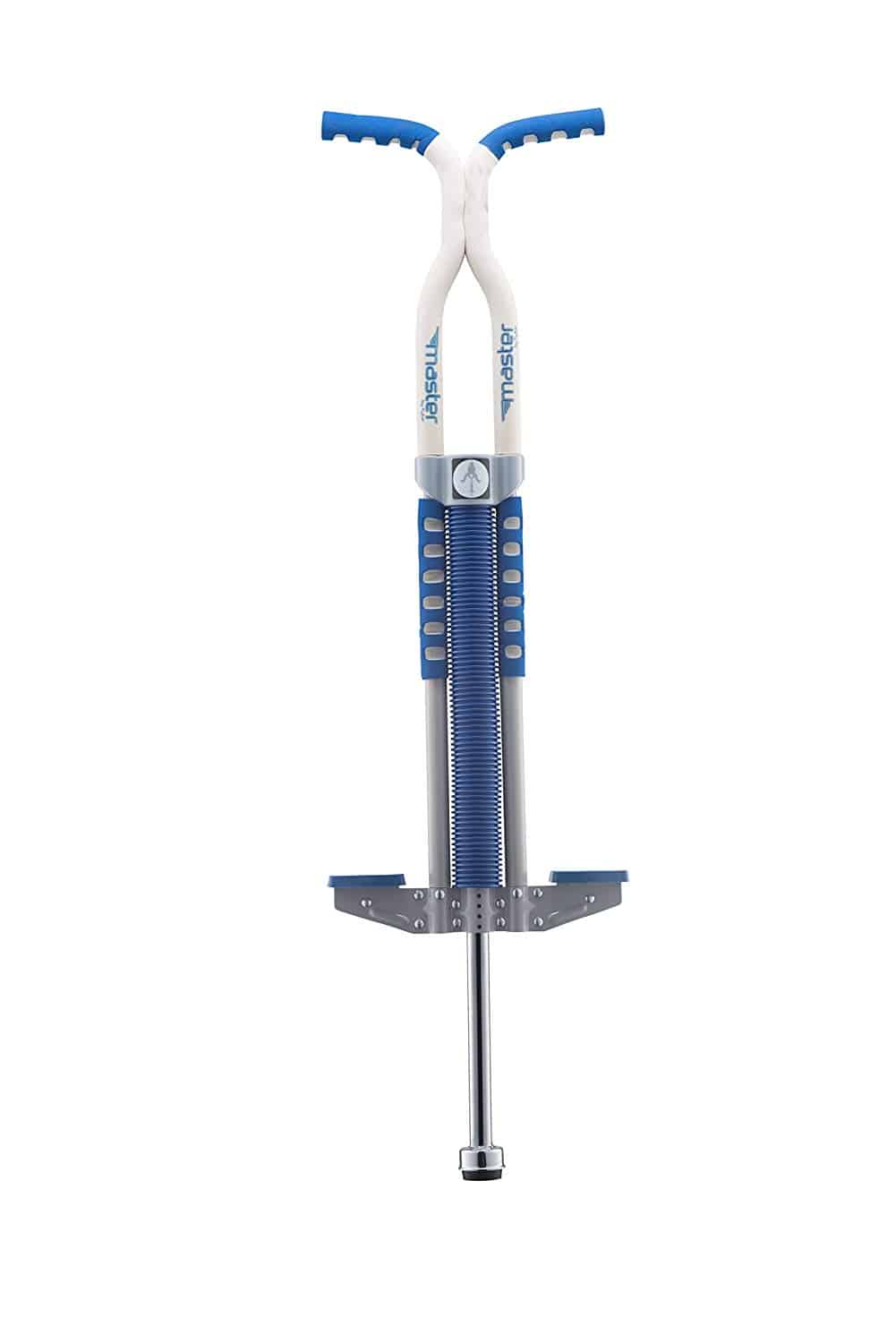 04
Nerf Vortex PRAXIS Blaster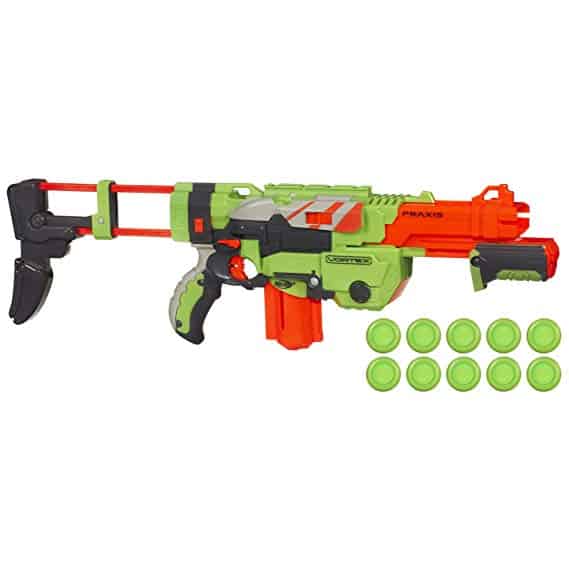 No list of toys would be complete without a nerf gun, and right now this is our absolute favorite.
It's a new take on a tried and true favorite of little boys everywhere. Instead of the traditional darts, this pump action Nerf gun shoots discs.
Discs?!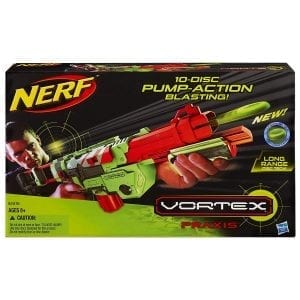 The point of these discs is to add range and speed. A heavy, spinning disc will fly a lot farther and straighter than a light dart. You can also expect less of a wind factor when shooting outdoors, since the heavier, more dynamic discs are much more persistent as well.
The discs also have the added benefit of being slightly safer. Small darts can get into eyes very easily. The bigger discs would tend to bounce off the surrounding bone before any potential injuries occur. (But you should still talk to your children about aiming guns at people).
In testing we found this gun could shoot about as fast as you could pump it. And the pump itself slides with extreme ease--something uncommon in nerf guns with this range.
The removable magazine hold ten disks. The stock is also removable, adding a variable level of range and mobility to the toy gun.
You can be sure that any kid would have a ton of fun with this product for as long as it lasts?
Well, how long will it last?
Almost all Nerf guns are made out of hard plastic. This one is no exception, but with today's technology, plastic isn't necessarily a bad material.
And the construction of this toy does seem to be quite sound. The pump slides without much wobble or sticking and all the buttons push well.
Overall, you can expect this nerf gun to last.
The discs are a great new take on nerf guns, and this is definitely something that can be played with in groups. So you should expect a lot of use out of this product, as well.
No warranty information could be found. But Hasbro products are accepted for replacement or refund sixty days after purchase if you're not satisfied. Refunds, replacements, and defective parts information can be found here.
Features
Disc projectiles
Pump action
Removable stock
Removable magazine
Tactical rail for not-included mounts
---
Pros
Good range
Good mobility
Durable
Fun
Cons
Made for children eight and older
Could be shot at eyes
---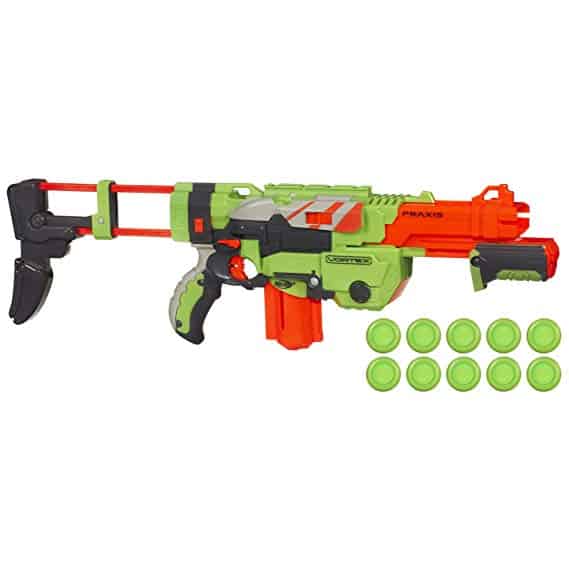 05
Adventure Parks Zip Line Fun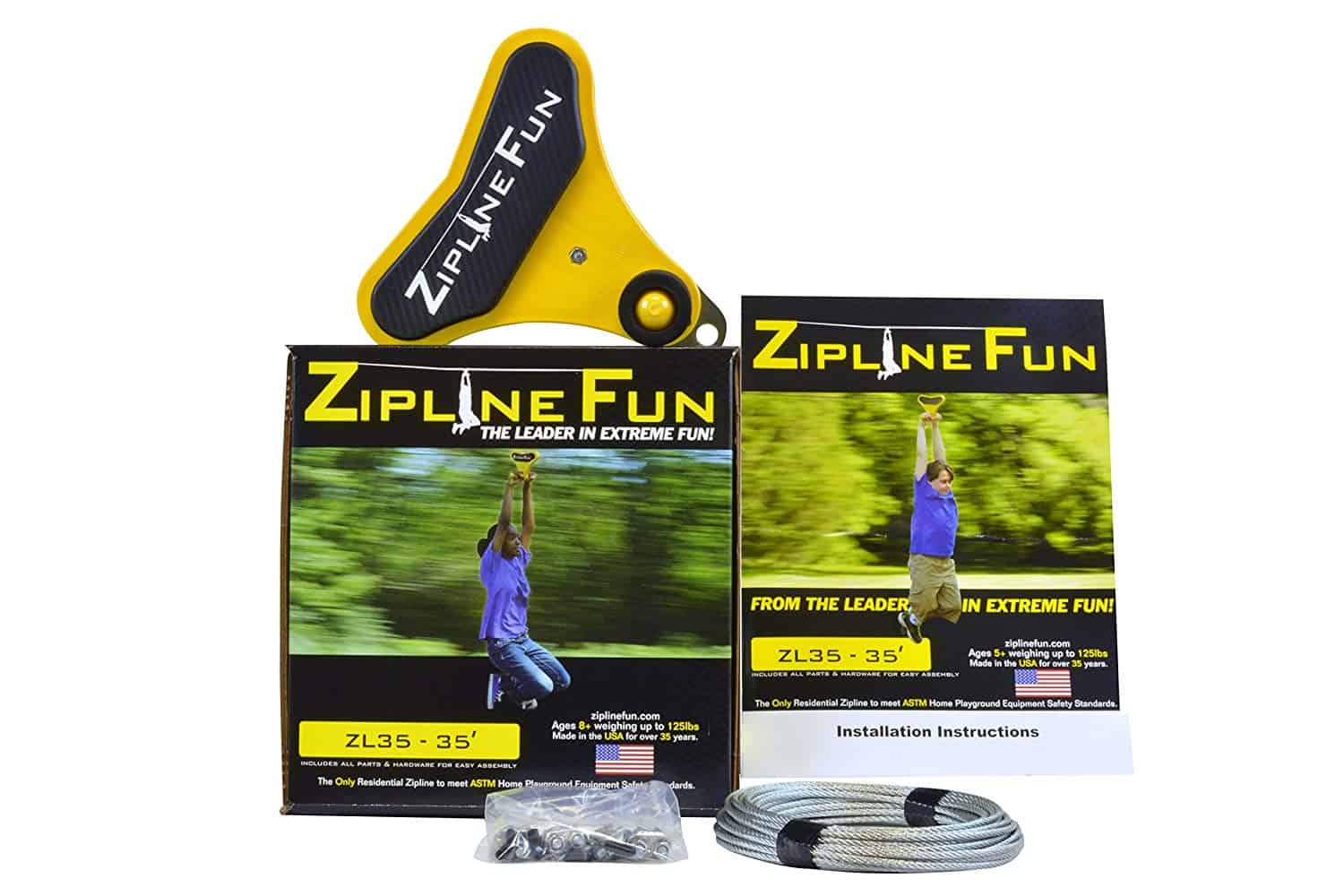 This is one of those toys you wish had been around when you were younger. Heck, you may have even thought about how fun it would be to have one of these in your backyard.
The Adventure Parks Zip Line brings the fun of professional ziplines to the average household.
That doesn't sound very safe.
But it is!
The zipline doesn't need to sit very high up to function. So you don't need to worry about falling too much.
In fact, this product is marketed as the world's safest zip line!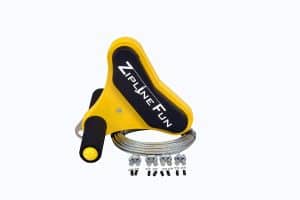 The trolley system works very well. The soft grip handles add an extra layer of comfort, important for a toy like this that requires a bit of muscle stamina.
The trolley itself is fully enclosed and the handles drop down, so you also don't need to worry about fingers getting stuck in the mechanisms.
This toy is a ton of fun.
But there's also really only one thing to do with it. So you might find it's a good toy to breakout on certain days of the year, so no one gets tired of it too fast.
Durability is going to play a big role in safety here, too, since any breakages could result in bodily harm. The trolley is very firm and well constructed.
The design is also well throughout with regard to durability. The trolley and line have no metal-on-metal contact. This means they'll both last much longer, since they won't be under constant friction.
The zip line is made to hold up to 125 pounds.
What if it does break?
As long as you return the warranty card, this product has a one-year limited warranty. With products like this, you should notice any defects before that warranty period is up.
Features
Safely constructed
125 pound weight tested
No metal-on-metal contact
---
Pros
Fun
Safe, considering
Develops muscle growth
Cons
Could fall
Requires strength
Installation required
---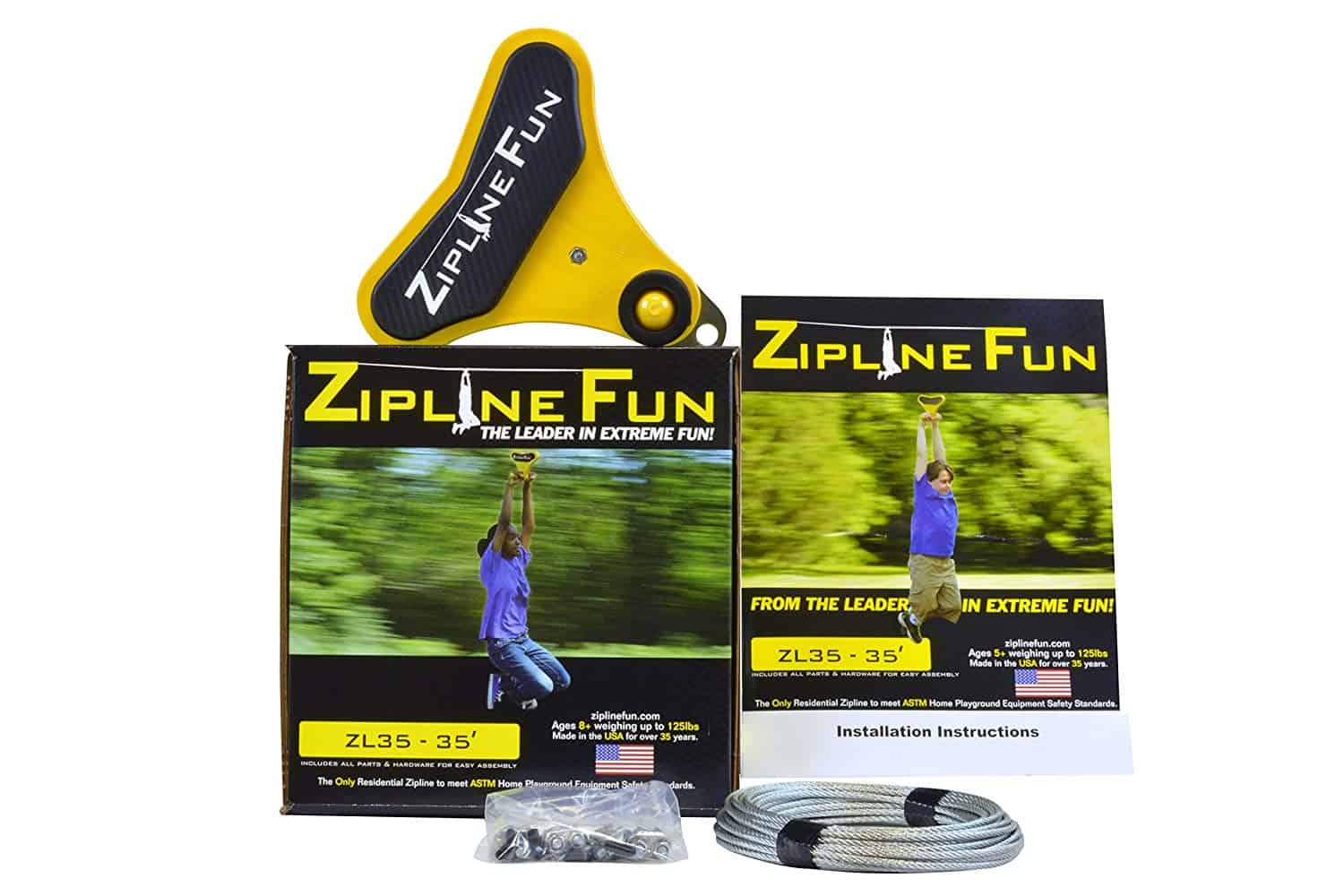 06
Marvel Guardians of The Galaxy Star-Lord Quad Blaster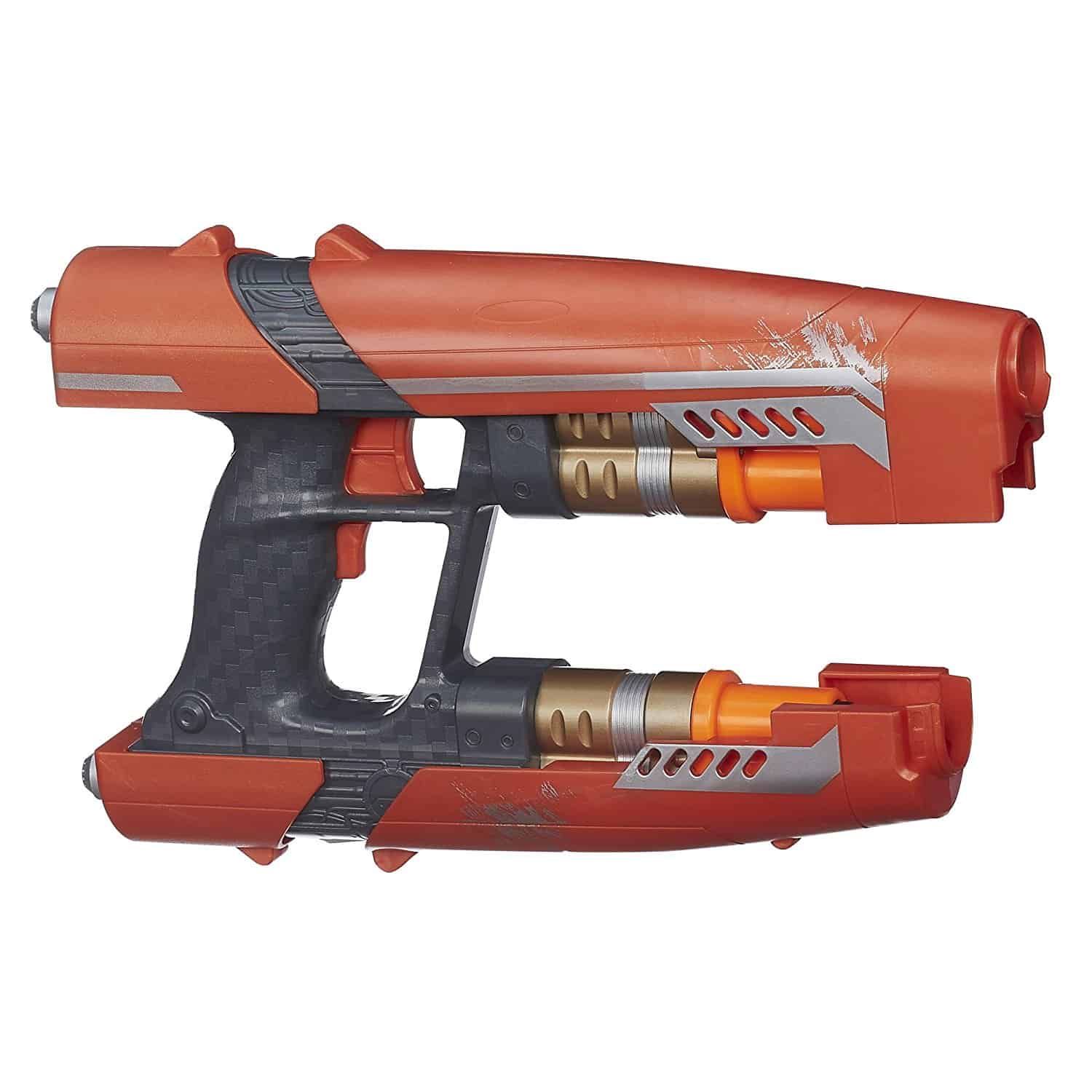 Marvel's Guardians of The Galaxy is a huge hit, and children everywhere are dying for toys they recognize from the movie.
Whether the seven-year-old boy you know is a super fan or just likes dart guns, this is an awesome gift.
Here's why.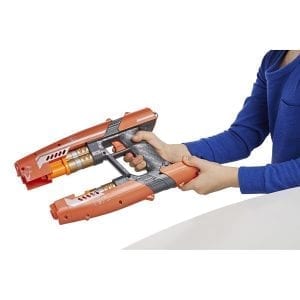 The Star-Lord Quad Blaster is an awesome toy gun in its own right.
It's made from safe, durable materials. This durability has also been tested pretty extensively by manufacturers.
The toy gun holds four darts in four barrels. It can shoot these darts up to twenty-five feet.
If you're worried this gun doesn't carry the Nerf brand name, don't be. This product is made in the very same factories by the very same manufacturers as Nerf guns.
This gun also has the added feature of choosing how many darts you shoot at once. You have the option to fire one or two darts, depending on how serious the situation is.
As far as realism, this really does look like Star-Lord's Weapon. Any little boy you buy this for is going to have an awesome time role playing.
But you should know…
The blaster only comes with four darts. So you'll need to pick up darts before you reload every single time. That can mean as little as two shots before you need to a time-out.
Alternatively, you can purchase thirty extras here.
While this does have several features, it is a relatively standard nerf gun. So it may wind up lost in the abyss of other nerf guns. This might not be what you're looking for if you want something they'll have and play with for year and years.
No warranty information was available on this product, so you'll be in the dark with regard to that until the product arrives.
Features
Shoots 25 feet
Looks like Star-Lord's weapon
Tested for safety and durability
Two rates of fire
---
Pros
Shoots well
Realistic
Good for siblings
Cons
Only four darts included
Could cause damage to eyes
---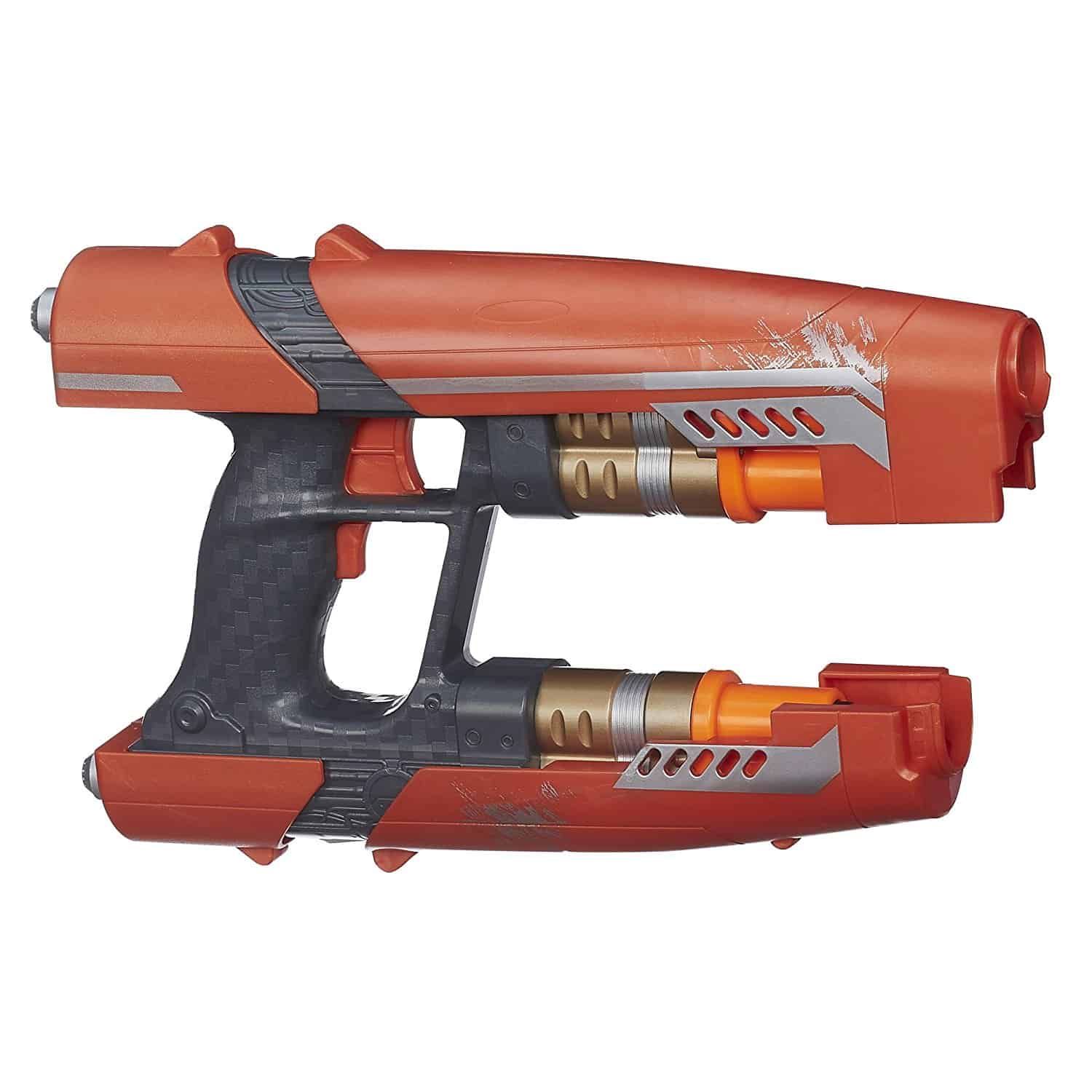 07
Spooner Boards Freestyle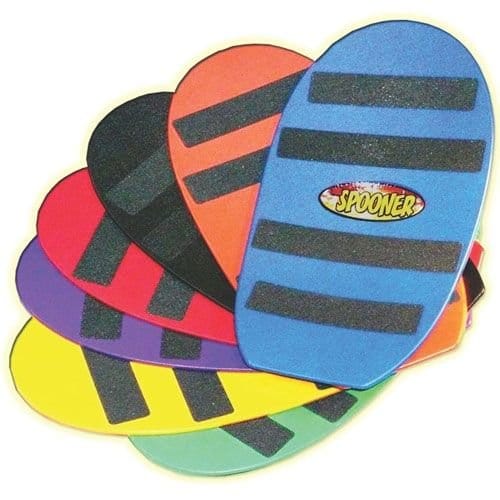 This is an awesome present for the future board-sporter you know. It's basically a training board designed to help children work on techniques or even tricks before they can truly ride.
If you're looking to get a child started snowboarding, skateboarding, or surfing, this is an awesome product.
These types of sports require a certain level of skill before you're able to try any of the fun moves or, in some cases, even practice standing up. This makes getting children started at a young age difficult.
Which is why we love this product.
This toy solves that long-battled problem in a way that is a blast for the kids.
They're able to get started right away, and they don't have to worry too much about bumps and bruises.
It's an awesome way to build confidence without damaging your little one. The product can be used to stimulate turning, spinning, and even getting air.
We love this product because it's great for groups or even classrooms and gets children up and active. Kids love it.
It'll hold up, too.
With regard to durability, this thing is almost indestructible. There's not much to break, in the first place. The board is made of a single piece of supper hard plastic. And the grip seems very sturdy.
Better yet, this awesome durability is backed by a lifetime breakages warranty. There's no better type of warranty, which cover all cracks or breaks in the board even if there's no defect.
Although the board will hold up, the child might outgrow it. Keep in mind that this is training equipment to get children ready for bigger, better things. So it isn't something they'll be using for many years.
Features
Lifetime breakages warranty
Safe
---
Pros
Gets kids exercise
Practice for sports in life
Builds confidence
Durable
Useful for different sports
Cons
Limited features
Meant to be outgrown
---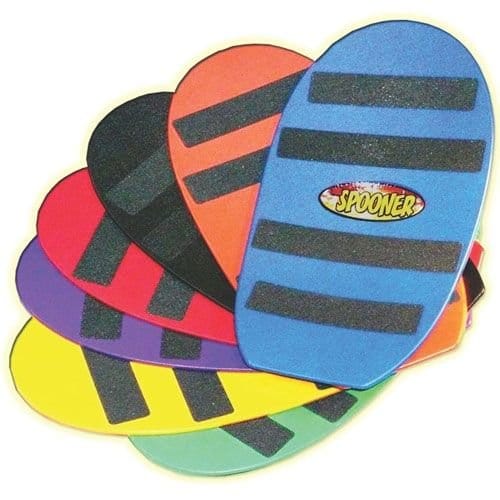 08
Little Partners Tri-Side Art Easel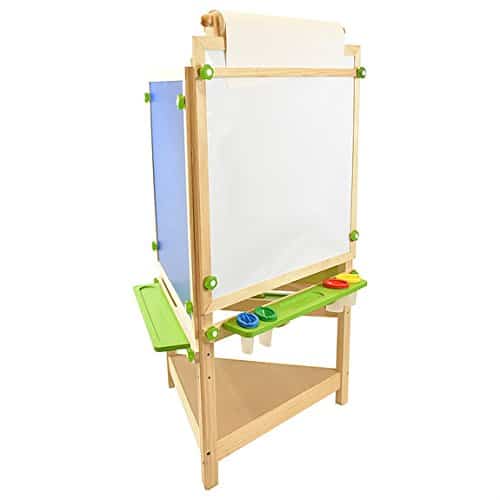 Do you know a little future Monet?
Well, maybe this children's art easel is more their speed.
The Little Partners Tri-Side Art Easel is an awesome option for a more creatively minded kid, especially if they like to have a lot of projects going at once.
Why?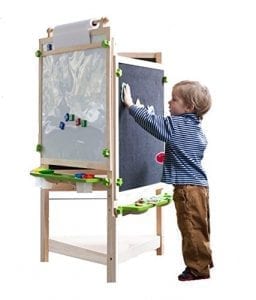 This three sided easel allows them to switch freely back and forth between projects without having to get out a whole new set of supplies. Each side also has multiple options.
There's a two sided flippable blackboard. Another side of the easel has a white magnetic board that also has a paper roller at the top for turning this side into a drawing board.
The third side is a felt board for doing felt art or creating stories.
This is also a great option for anyone with multiple kids since each kid could easily work from a different side of the easel.
It's more durable than you'd think.
It's hard to find a nice study easel, even for adults. So you might think a children's easel would fall right apart.
But in this case you'd be wrong.
This easel is built to withstand damage specifically because it's for kids. In tests the sturdy construction held up well to all kinds of abuse.
There's also a lot included with this product. You'll receive four non-spill paint cups, an eraser, one roll of paper, and a large storage shelf.
The legs for this easel are adjustable to fit any height kid. This also means that this is a product they can continue using as they grow older.
All these great features and activities make this our favorite product with regard to play-life. There's so much to do and endless creative possibilities. In addition, it can be raised to grow with children.
Any downsides?
There are just a few things you should keep in mind.
This is a larger product, which means you'll have a harder time storing it in tight living situations.
It's also probably going to be messy, despite non-spill cups. This is still kids and paint, after all.
You know what kids love?
Warranties. This product has a one year manufacturer's warranty.
Features
Chalkboard
Felt board
Whiteboard
Large paper sheets
Non-spill cups
Storage shelf
Adjustable height
---
Pros
Many features
Adjustable
Promotes creativity
Multi-use and multiuse
---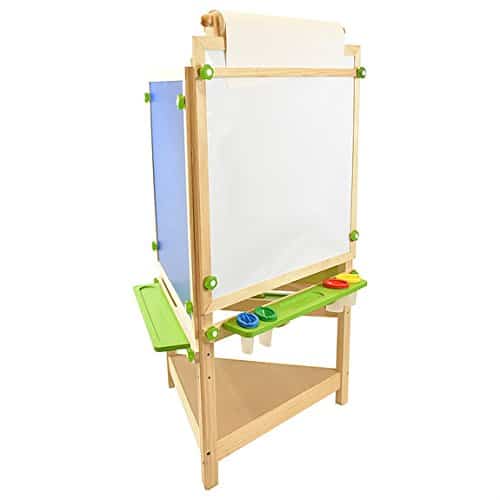 09
Hot Wheels Ultimate Garage Playset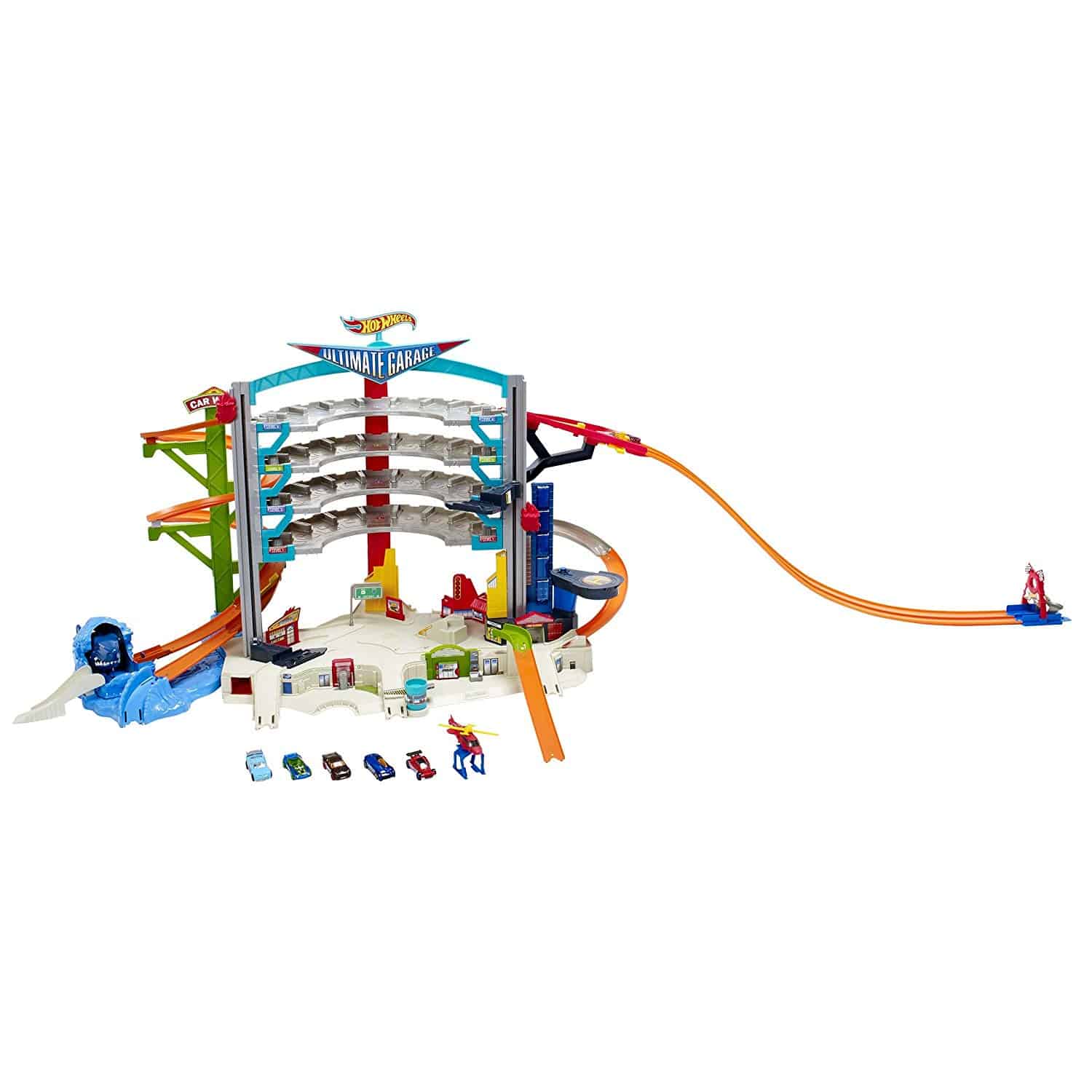 This is the biggest Hot Wheels garage ever released. And it comes with a ton of cool features that he will love.
What's it do?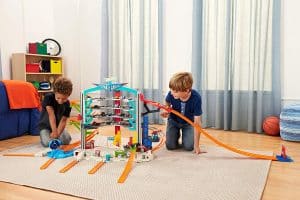 All kinds of things.
This toy features several action zones including a chomping shark, shop, gas station, and helipad.
The garage itself can house 36 cars and the play space can hold more, as well.
The sides both have downward spiraling tracts what can be driven to from the garage spots. At the end of each of these is one of the action spots.
Two elevators can carry the cars back up from the action spots.
The best part...
The thing we really love about this garage is it can connect to any other tracks you have, as well. This product will go great with toys they probably already have, or give them something else to ask for next time.
It comes with a few extras, too.
Five Hot Wheels are included to start their collection off or add to what they already have. There's also a helicopter, which can be stored nicely on the garages' helipad.
You can sweeten the deal with additional Hot Wheels.
How long will it last?
This is something that will get a lot of use for its storage features even if the kid decides not to play with it much. So you can expect happy parents with regard to longevity of the toy's usefulness.
Hot Wheels themselves are usually extremely durable. And the track is made of bendable plastic, so you won't have to worry about those breaking either.
Overall, there's not much to worry about in terms of structural integrity with this product.
If you do find something wrong, you can return it under the 30-day warranty no questions asked.
Features
36 car spots
Two elevators and wheels
One helipad
Three action zones
Five Hot Wheels
One helicopter
---
Pros
Connects to other tracks
Comes with cars
Good for storing other toys
Cons
Needs some space of its own
More fun with tracks that are not included
---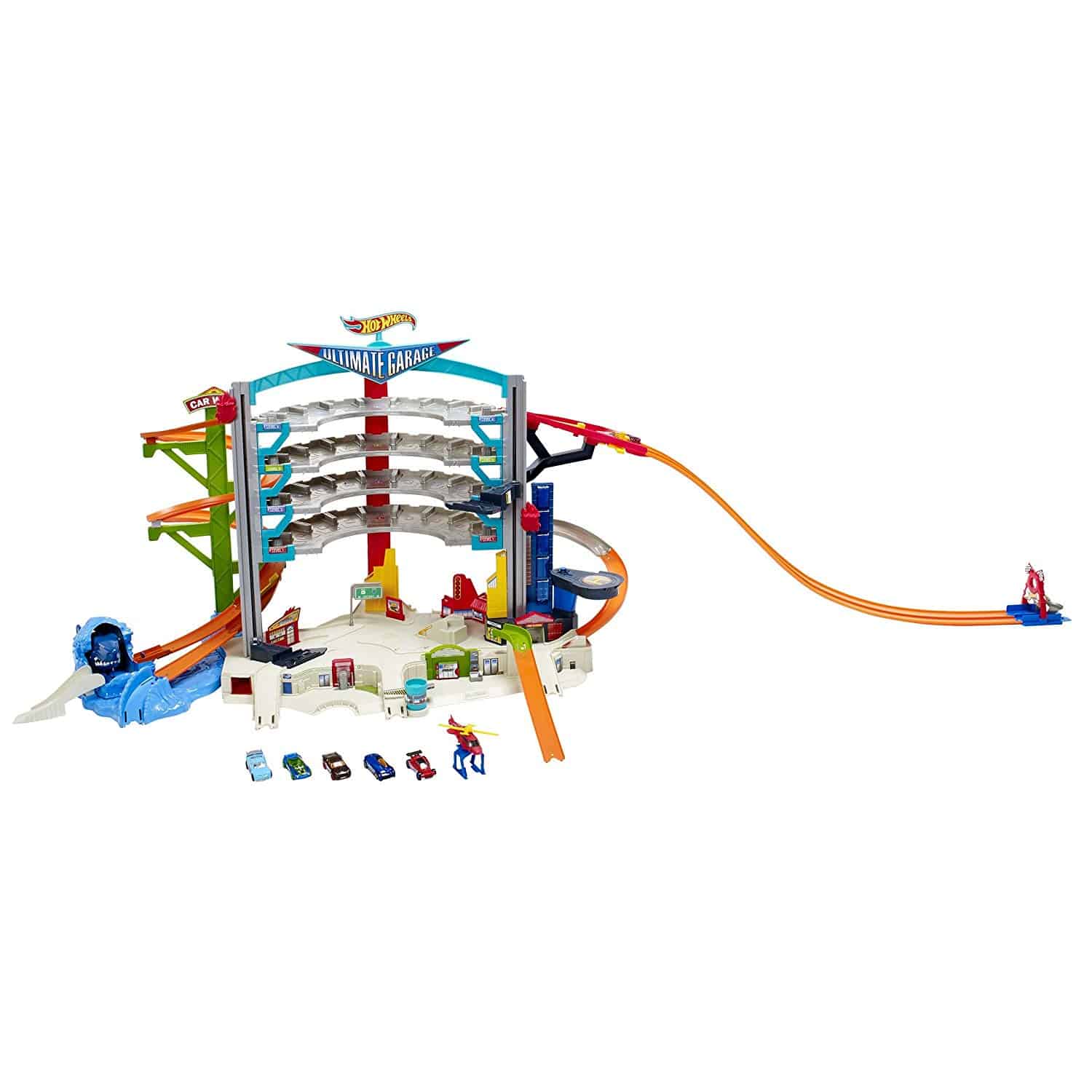 10
Lego Stormer 3.0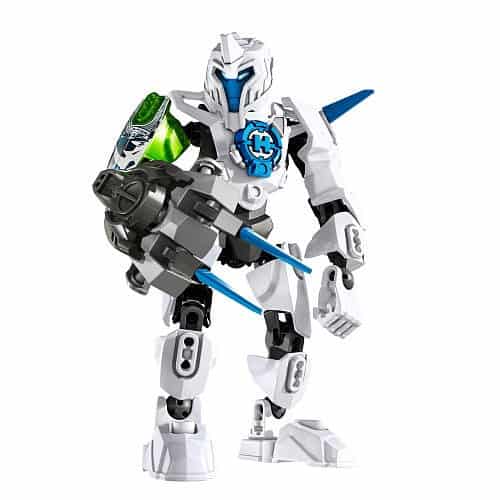 Every little boy loves legos and action figures.
With this product they get both!
This toy has a lot of features that will make a little more sense to the kid that you buy them for then to you. For instance, Stormer 3.0 here has rhino fists and twin fold-out blades.
Why do we love it?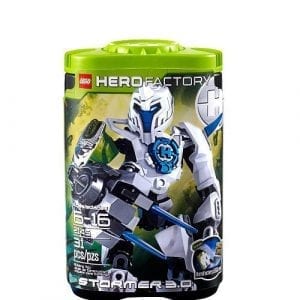 This toy is great because it facilitates several different types of development. They have to build it, which is always great for motor skills.
And once it is built they can create stories with their constructions.
Since the toy is fully rebuildable, it's much more likely to come apart at a connection than actually break. You'll get great durability out of this product.
What don't we like?
We aren't sure about this product with regard to its play-life. This may explain why there are already three models of this toy out. It's something that's better played with in your own world, so it might be hard to get other kid involved.
There's no skill aspect either.
If you buy multiples of these toys, you might be able to have a longer play-life however. Each of these comes with a different look, style, and features. So if you get two or more you can mix and match or even combine them to make an ultimate stormer.
If you do end up with a problem though, you may be out of luck. Lego's terms and conditions notes that they provide their products "as is" without any warranty not required by law.
In practice, however, Lego is said to be pretty amenable if you just get in contact with their customer service department.
Features
Rhino fist
Wrist rocket
Fold out blade
---
Pros
Build it yourself
Create stories
Good for imagination and spatial reasoning
Cons
No guarantee warranty
Isn't great for group play
---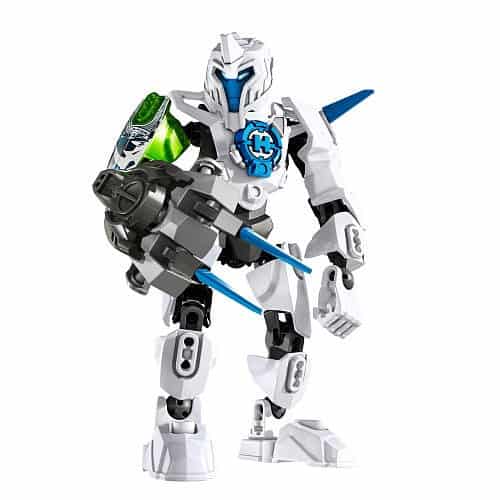 11
Spin Master Zoomer Dino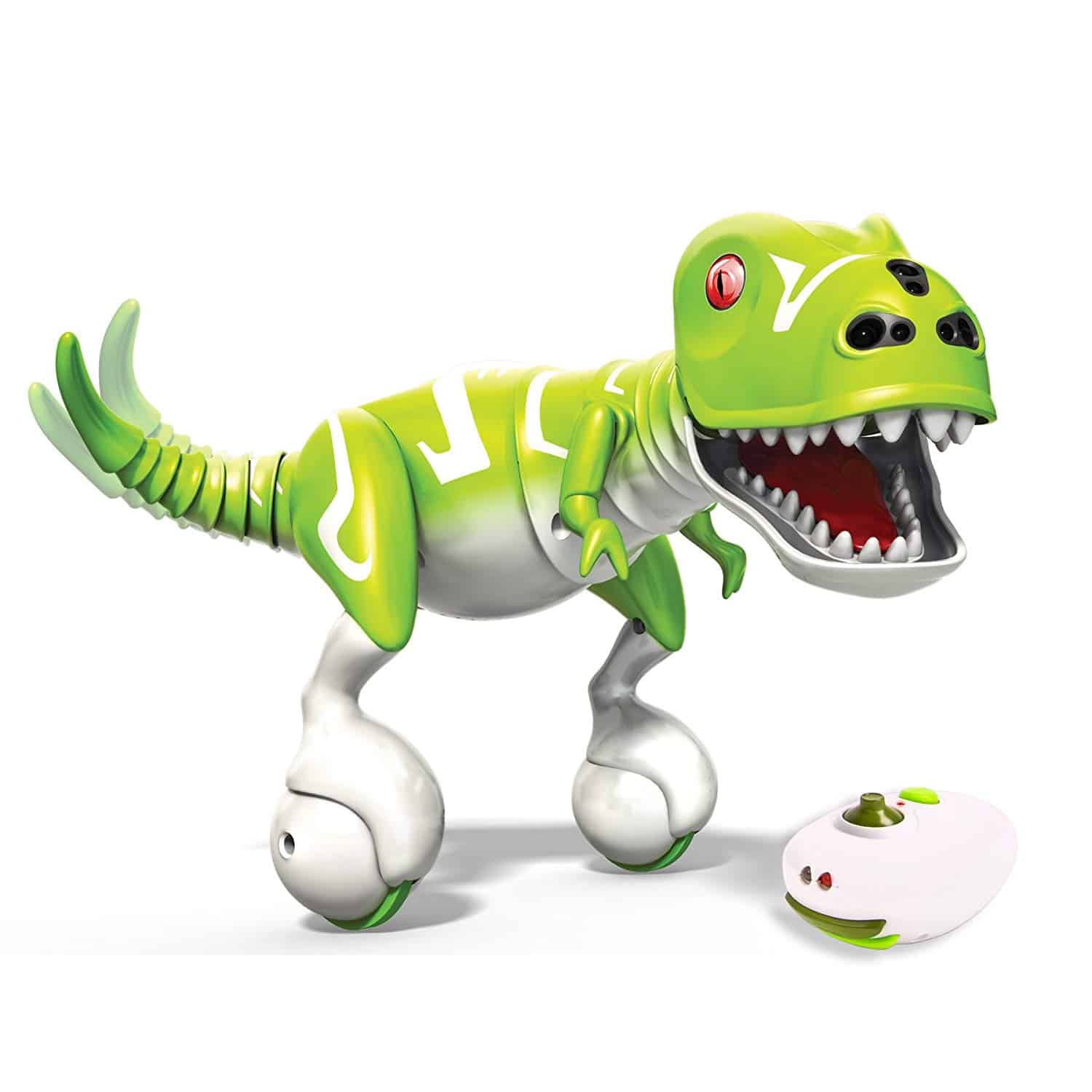 This is one of those toys that makes you say, "Wow, I wish they had that when I was a kid."
This robotic, remote control dinosaur is meant to give kids the feeling that it's actually alive.
Pull its tail and watch him get angry. Or train him to dance and do tricks.
He can even chase you.
There are layers to the fun.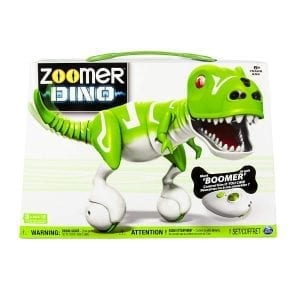 Part of the fun with this product is in having and RC t-rex. The other part is in taming your new pet. He'll respond better over time and get to know how you behave.
If you pet him, he'll be loving and enjoy touch. But you'll need to train him with hand motions first.
Eventually, he'll respond to commands and be a new best friend. They'll need to watch his mood to see how he's feeling, though. We loved that his eyes change colors with his mood, for instance.
This is an awesome product for teaching children to take care of animals or be responsible.
Where'd he go?
Zoomer Dino will roam around your home and explore, if you let him.
He uses True Balance technology to make sure that he is always upright.
This toy has a ton of features, and can even function idly just to add to other activities. He can follow you around and grows to know you better. Kids love that type of thing, so you can expect a good play-life from this toy.
No warranty information was available on this toy.
Features
Emotive, lifelike behaviors
Motion sensors
Responsive
Remote control
---
Pros
Entertaining
Rechargable
Cons
Loud for parents
Works best on smooth surfaces
---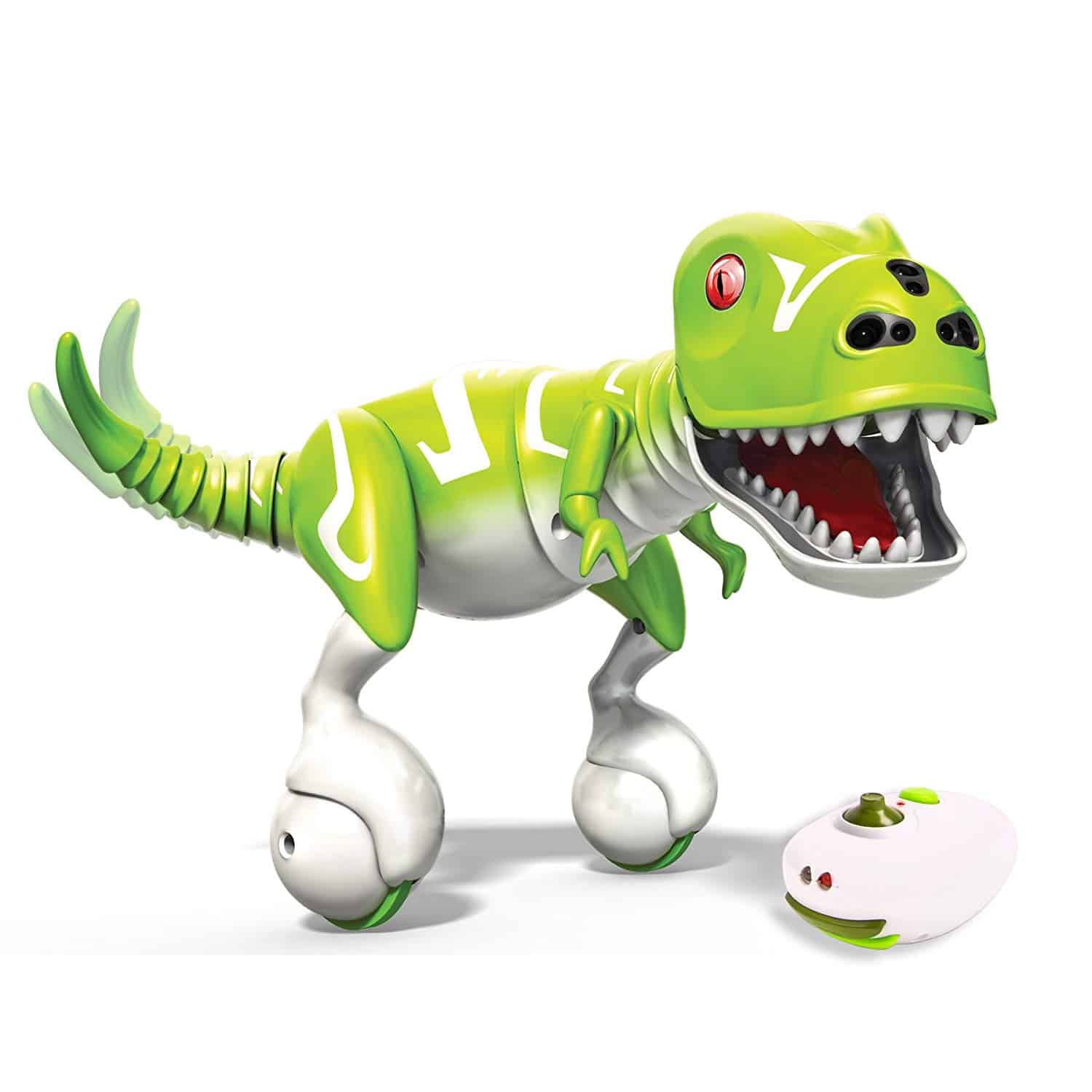 A Few Other Things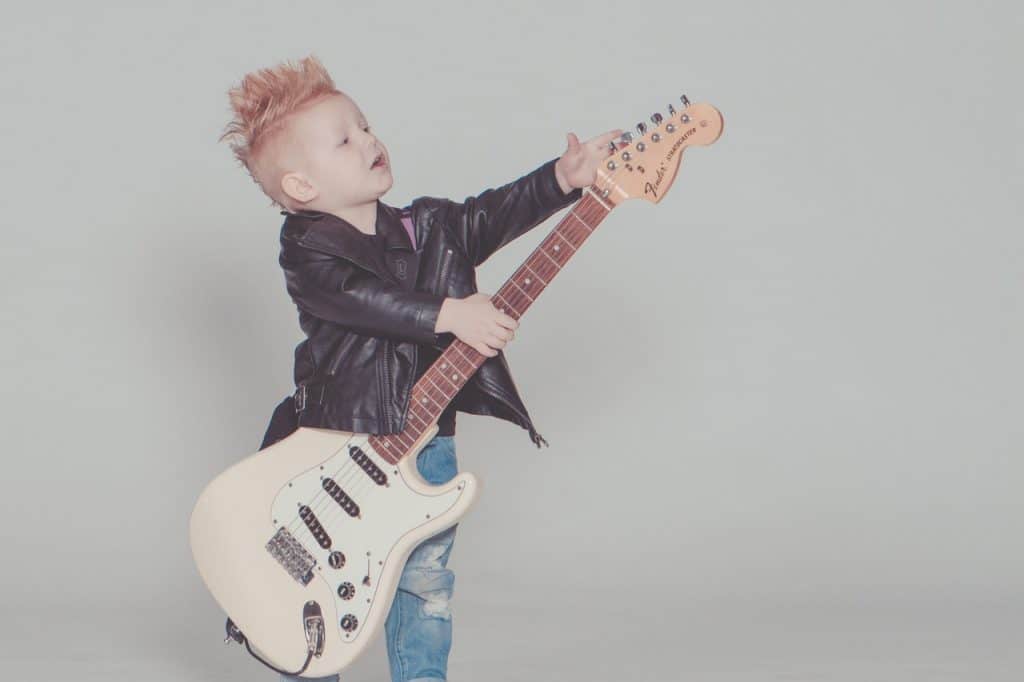 There are a few other things you might find yourself wondering about.
What Boys Like
For instance, you might just be bad with kids or have very little experience with them. Maybe you're just a bit older and unsure what kids like these days.
If that is the case, here are a few things to keep in mind about seven year old boys.
Girls have cooties, and also…
Seven-year-old boys are at an age where they are growing into the idea that they are people. They become more self aware and begin to form their own opinions on more complicated ideas.
But it's also important to remember that these are still children and no matter how older or tough they act, they still need love and affection from parents. They are becoming more independent, but they may not have outgrown all of their childish or infantile habits.
So for this age group, you'll need to think about helping them mature but also comforting them as children. You could go for both electronics or stuffed animals with kids of this age, usually.
They are high energy.
Almost all healthy children have a ton of energy to get out. That's why you see them running around being children so often.
So anything that gets kids moving and active is likely going to be a great option. Parents will love you for tiring their kids out and helping them get exercise.
What are they like nowadays?
Kids these days tend to speak in a lot of slang or shortened vocabulary. They make up a new word every week so don't feel bad if you aren't exactly sure what they mean by "yeet" or "skurt."
I'd fill you in but I don't know either.
They have a strong understanding of consequences, cause and effect, and problem solving. So any toys that are meant to teach a lesson, demonstrate responsibility, or build integrity is a great idea.
Also remember this.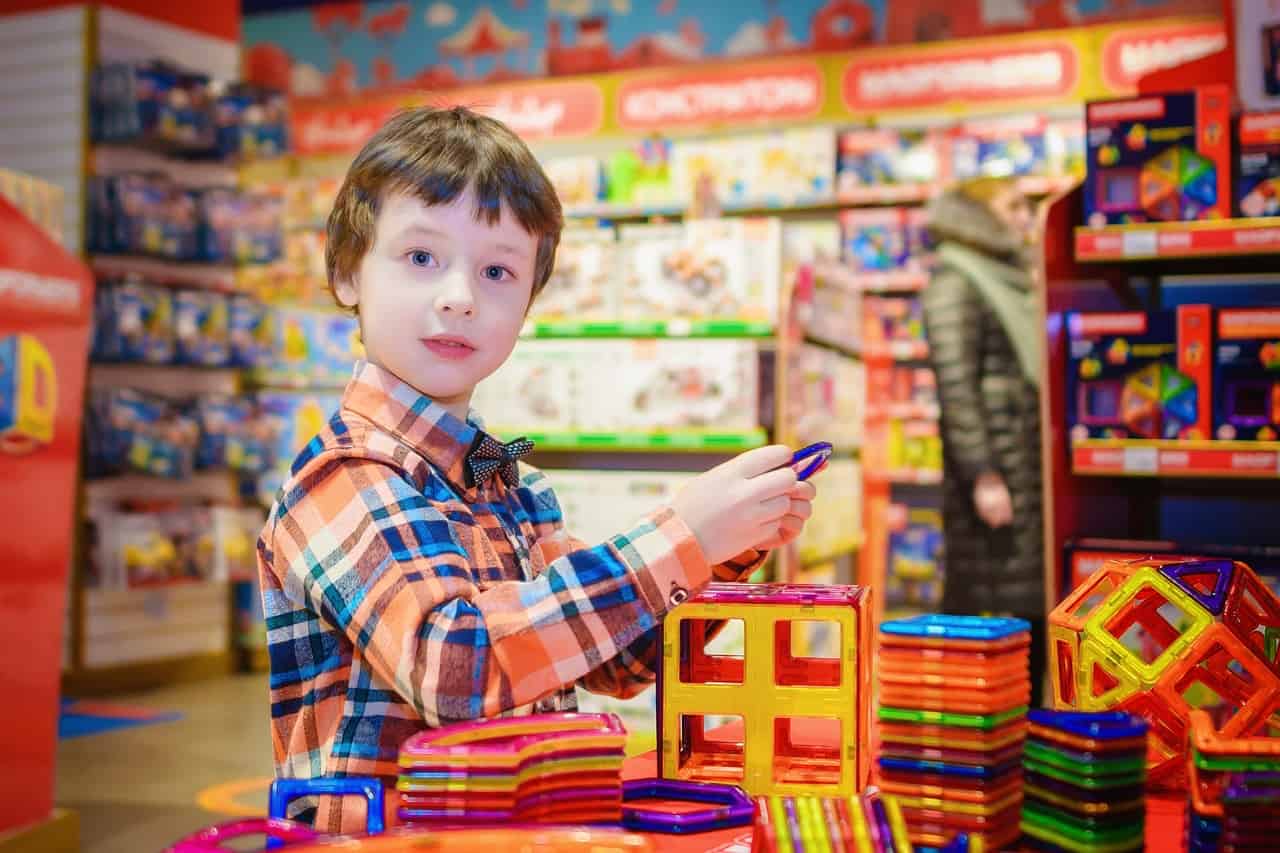 Not All Little Boys Are the Same
Remember that there's no reason to assume that a kid might like a specific toy just because they are a boy.
There's absolutely nothing wrong with a boy wanting to play with nontraditional types of toys. Not all little boys are tanks that go 24/7. Some kids are sensitive or emotional and you should keep this in mind.
This is where is become super important to shop for the child. You can usually at least get an idea about what kind of kid they are from their parents social media. If all else fails, just ask. Parents know their kids best and they will probably happy to tell you if their kid is at theater or baseball camp this summer.
And that goes both ways.
Not All Little Girls Are the Same
Every single toy on this would also be a great gift for almost any little girl.
Sure, you won't find any barbies in these reviews.
But there are plenty of girls out there who would be more happy spiking balls and swinging from zip lines as any stinking boy.
The point is…
Don't get too caught up on gender roles or labels or titles of articles you find online. They are all just kids, after all.
And who knows, in a few years, they might discover they aren't even boys and girls on the inside!