Bath time is fundamental to inspire hygiene and intimacy rules, so if you want this practice to be just perfect, read on. At Bestazy, we understand how important your child's safety and comfort is. We know you want the best for them, so let's look at some of the best baby bath tubs out there.
Research You Can Trust
Our team at Bestazy is not in dire need of baby bath tubs - as such, researching this product was not incredibly easy.
What we did, however, is organize a focus group with parents of newborns and toddlers that expressed their opinion on the products listed below.
As well as many others that didn't make the cut.
At the same time...
We spoke to a dermatologist, a hygiene expert, and a chemist to get to the bottom of what to take into account when buying a baby tub.
Buyer's Guide
The 30 second review
Although it's not like buying a house or a car, we were amazed at how many things one must take into account when it comes to deciding on a baby tub. You'll find exhaustive information about that in this piece, but let's go on a quick overview.
The first thing you want to think about is the type of the tub.
If you're one to save on space, in-sinks will do the job.
On the other hand…
If you're often traveling, a basin tub might be better.
This type of tub can stand on any surface, so you don't need to worry, it won't fit a hotel's bathroom sink. Moreover, they are often built to be foldable, so you also save on trunk space.
The second thing to worry about?
The size and shape of your future tub.
Some tubs will have your baby sitting up, while others are built for them to lay on their back. Because of that difference, either check the recommended age & size in a product's description, or go for a size-adjustable option.
Okay, one last thing to take into account…
Add-ons and accessories.
Baby tubs often come equipped with amazing extras like rinse cups and holders, a sling hammock-type surface for your little one to sit on, and even bath time toys.
There's no objective rule or guidance we can provide here.
You definitely know your child better than we do, so always go for what you know suits their needs.
THE WINNERS
Everything You Need To Know About Buying The Best Baby Tub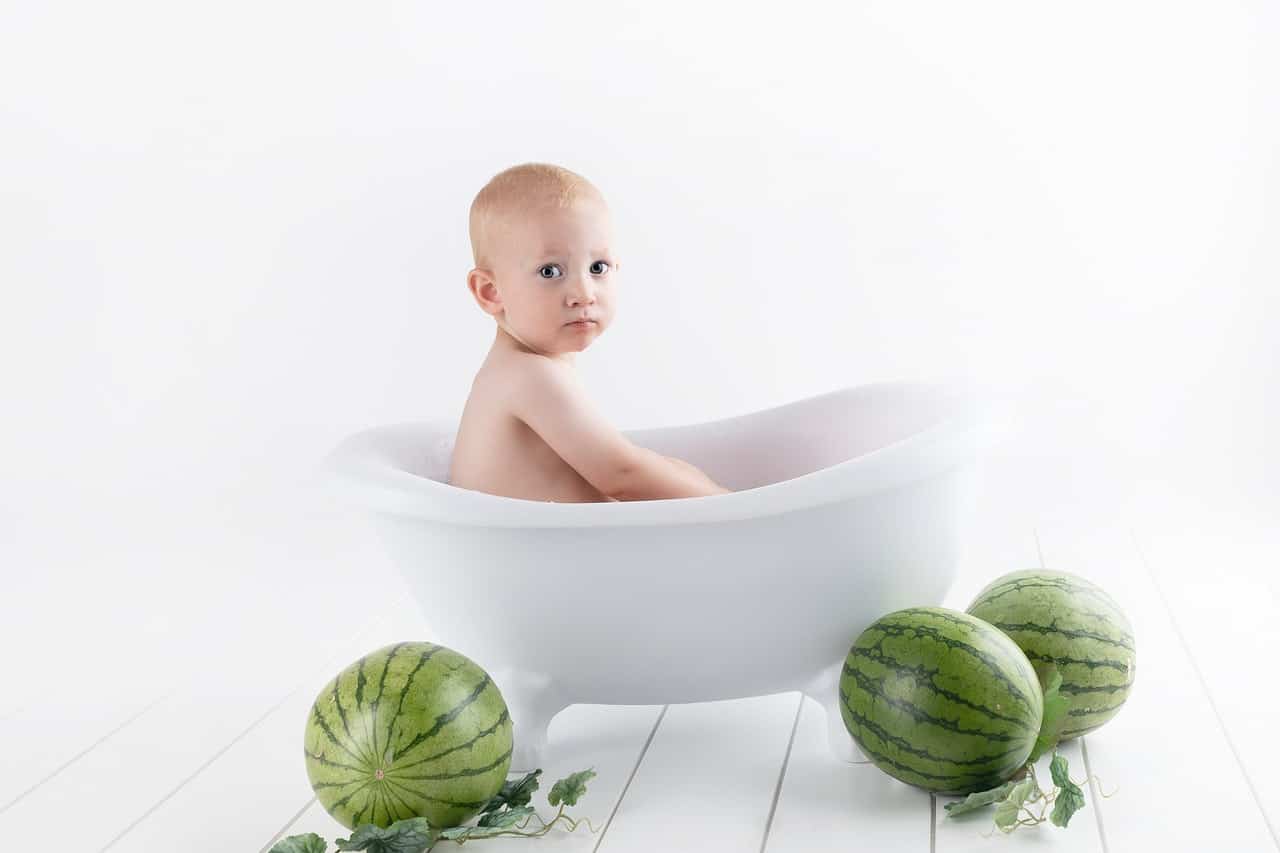 Finding the perfect fit is important.
It will allow you to bathe your child in the best manner. That means no safety risk, increased comfort, and ease of use.
So what type of tub provides all those things?
Type Of Baby Tub
The first (and most important) thing you'll want to take into account is the general type of tub. There's generally two tub types for your little ones:
In-Sink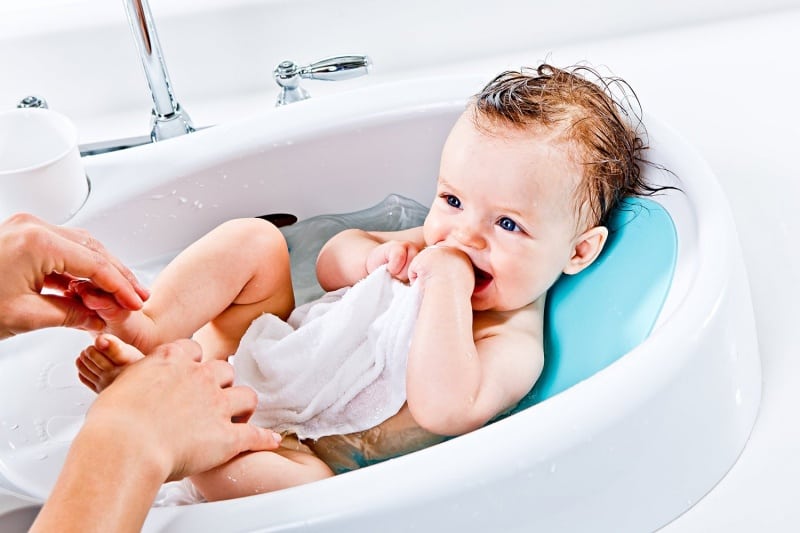 This is the most popular type of baby tub out there.
A lot of people from our focus group declared they used it for more than just a tub.
Here's the deal:
Like the name suggests, this type of tub is made to be placed in a sink because of its size and shape.
For hygiene purposes, experts recommend you use the bathroom sink, not the kitchen one.
This is a suggestion, and you can do whatever you want, but…
You wouldn't want to scrub your own skin free of dirt and bacteria in the same place you use for washing dishes and cooking.
Think about it this way, restaurants are required to have separate sinks for hand-washing and food prep. There's a good reason for that.
Why would a child's treatment be any different?
On top of that,
In-sink bath tubs are generally used in the 0-6 months period of development.
As a result, if this is the type of bath you want to choose, factor in the comfort of your baby, who is much more vulnerable at this age.
We suggest spending an extra buck or two, if the result is as suitable to your loved one as possible.
Basin Bath Tubs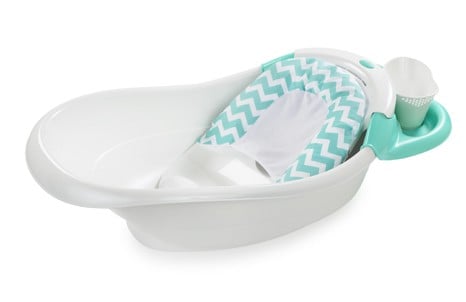 This one is a bit more versatile.
Basin bath tubs are usually designed to support themselves on a counter, a table, or even inside a regular bathtub.
Basins are made a bit larger than in-sink tubs, but they're still versatile.
What's the main benefit?
A basin bathtub lets you use it anywhere; it's simply more convenient.
Think about it like this:
If you buy a sink-in tub, you're going to have to check the measurements of the tub, compare them to your sink measurements, and come up with a match.
Now, if you're traveling…
This whole process was useless because now you're faced with a different sink.
Gah!
Such inconveniences are rare, but they can be avoided with a basin tub.
Even if this latter type of baby bath tub is less accommodated for a baby, and more fitting to a certain environment.
There's many tweaks and accessories that can qualify a certain product in a completely different "type", but this is how baby tubs are usually separated.
Size & Shape Of The Best Baby Bath Tub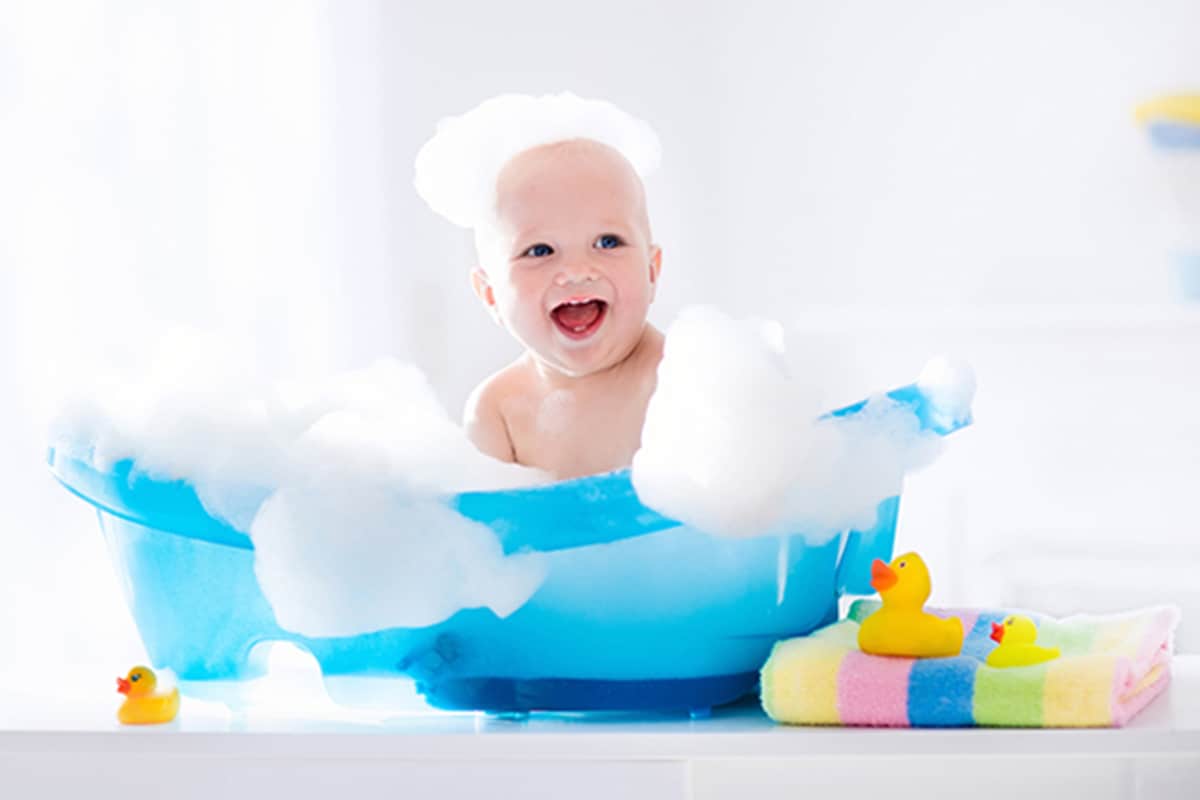 The next thing you'll want to consider is the size and shape of your future purchase. When researching this topic, we wanted to come up with a chart that informs you of the best tub size in relation to your child's age and weight.
However,
There's a huge amount of differences when it comes to the shape and size of each particular product. For example, some tubs are shaped to keep the baby lying on his back, while others are shaped to keep him in a sitting position.
As a result,
A general chart would be misleading and useless. Nonetheless, most baby tub manufacturers include a chart in their product description, so do check it out. That one would be accurate, because it's based on tests performed on those specific products.
Moreover,
Your child's size is not the only one you should consider. It's important to check any measurements against your own home as well. This is especially true in the case of in-sink tubs, because they have to fit inside your sink.
One last thing to consider here is…
With the huge variety of shapes, the bath time experience can differ drastically from product to product.
Whether your child is sitting up, or laying on their back, whether the tub is inside the big bathtub, or on the kitchen counter – these are all viable options, so you should take into account what you prefer, and choose a shape accordingly.
With all of that, the experts we've talked to maintain you should choose the bathroom as the area in which the baby tub will be used.
Accessories
Drawing to a close, there's still a few things to say.
While most baby tubs are quite simple, with a benefit in design rather than enriching accessories, some specific features are important to take into account.
Looking for maximum convenience as possible?
Look for a baby tub with lateral surfaces.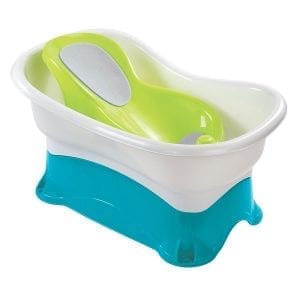 These will come in handy when looking for a place to drop that bar of soap or lotion bottle, but this is only a general thought. Think about what you'll need at bath time, then check if there are any other accessories that can help.
Secondly, consider the amount of time you want to use the baby bath tub for.
People usually say 6-months is the milestone at which a baby is read for the big-boy tub, but that's not universally true.
To accommodate your child's pace, you can also check out tubs that grow together with your child. These have significant accessories, mostly extra basins to accommodate a slowly increasing size.
Aesthetics
The last thing to discuss is the visual aspect of baby tubs. While people give little importance to this side of the matter, I think with a few criteria, you can end up with a great bath time, in a good looking tub as well.
One important thing you should look for…
Is the general home decoration rules. Consider colors, look for proportional sizes and shapes, that sort of thing.
I'm not going to dive into this topic over here, since it's marginally connected to baby tubs, but it's something to take into account if you want the full baby tub experience.
Again, this is something not a lot of people care about, and for all it matters choose whatever aesthetic you want – it's not that impacting on your child's bath time experience.
Putting The Baby Bathtubs To The Test
Tips and Tricks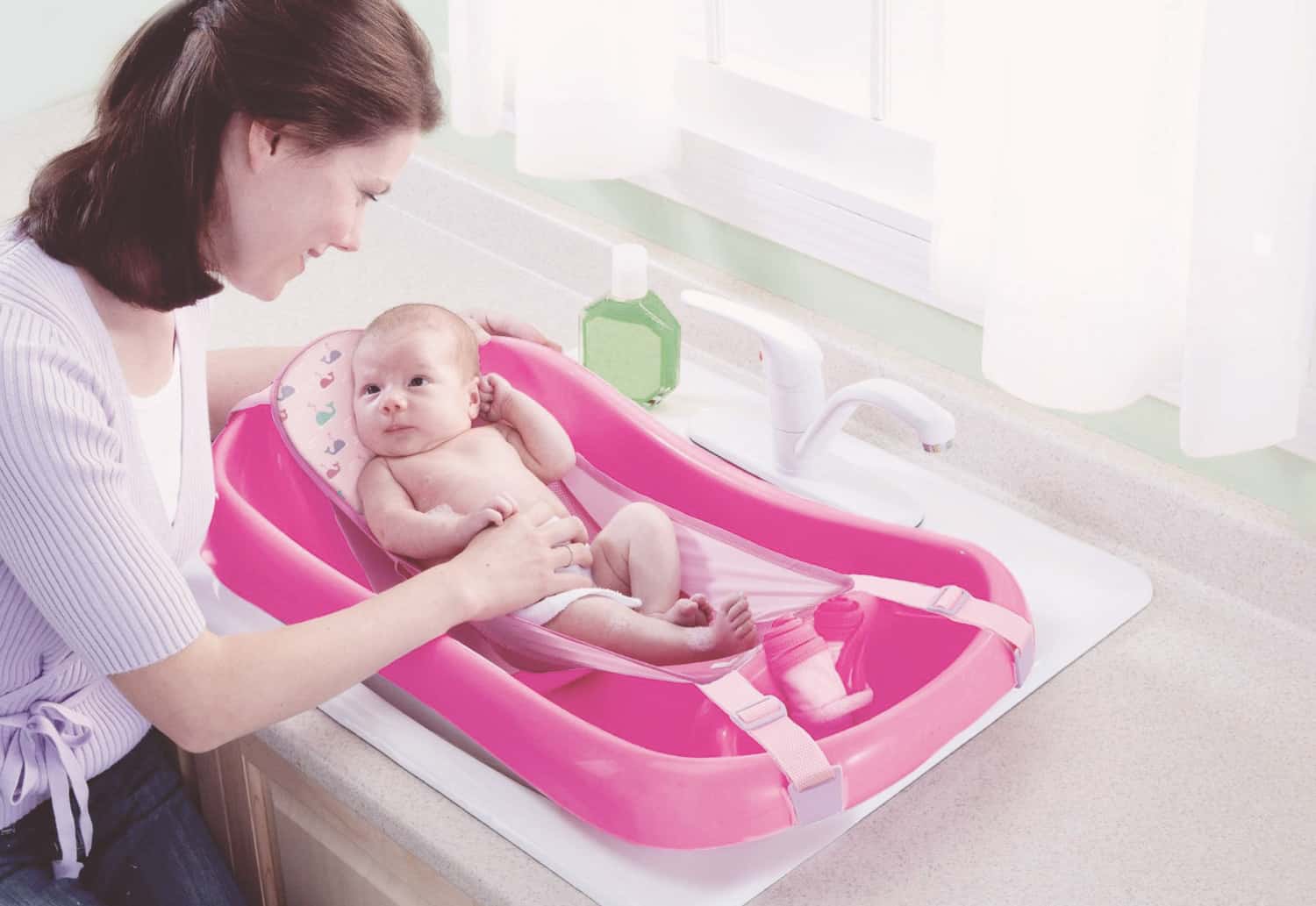 If you want to be as informed as possible when buying your future baby bath tub, your job is still not done.
Sorry.
We know it's a lot to take in. But…
There are still a few tips, tricks and things to watch out for when it comes to buying the perfect baby tub.
We'll start off with things to worry about when it comes to safety.
The most important thing to look for safety-wise…
Is smooth, rounded edges. Anything else will put your baby at risk, which means extra worries on your mind.
Other important safety considerations include…
Looking for sturdy base materials, which ensure your bathtub retains its shape when filled with water.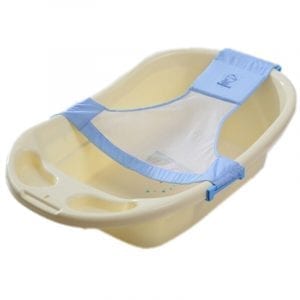 Pragmatically, this means you should absolutely avoid inflatable tubs. They save space, but run the risk of tilting and submerging your little one underwater.
In terms of baby comfort…
Always look for baby tubs that have a spot for your little one to rest their head and shoulders on.
It may sound like a little perk, but trust us:
You don't want to struggle bathing and holding them upright at the same time.
Lastly,
Consider other comfort tweaks, including a calming vibration option or ergonomic surfaces.  Really, anything you hope will keep your baby happy during bath time.
Everything is easier that way.
Since we touched on that…
Your comfort is not to be forgotten either.
Always look for a tub that's easy to dry and clean.
This keeps the hassle at a minimum, and with a hard to maintain tub, there will be hassle.
Hallmarks of a hassle-free tub are rubbery materials, as many ergonomic surfaces as possible, and a hook to hang them up to dry.
Warranties & Regulations
If you're in the US, you're in luck regulation-wise. The CPSC (Consumer Product Safety Commission) has strict rules when it comes to the safety of "Infant Bath Tubs".
These rules impose a reasonable standard when it comes to design safety, as well as base materials that are as non-toxic as possible. If you want to find out more about infant tub regulations, you can follow this link to the Federal Register.
Similarly, the EU has strong policies in place when it comes to infant products in general.
What should you take away from this?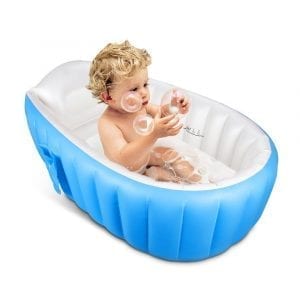 Serious injury is extremely improbable. What's left for you to worry about are the secondary, comfort considerations.
Warranties on the other hand…
Are a more complicated issue.
They range from the 12-month limited warranty to the lifetime 5 star warranty.
But are they really important?
Well, it all depends on you and your little one's age.
If you're not going to use the tub for more than 12 months, it's pretty obvious a lifetime warranty isn't required.
On a different note...
If your hands get slippery more often than not, consider a premium warranty. A limited one won't cover all issues (such as mold accumulation or pardonable mishaps), while the premium versions usually have your back in all instances.
What It All Comes Down To
Like most decisions, buying the best baby bath tub requires research to be done properly. A quality bath time for you and your baby means a tub that has the proper size, helps the little one keep calm and doesn't take too much of your time on maintenance.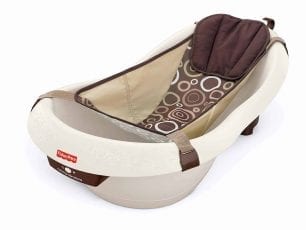 Best of the best
Fisher-Price Calming Waters Vibration Bathing Tub
The kitchen sink just doesn't cut it. ? Find the best baby bath tub and make bath time fun time.. We're here to help – check out our reviews. ?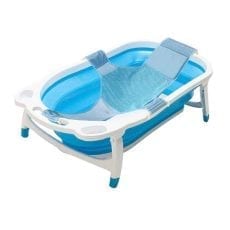 Most Buying
Kidsmile Baby Bathtub
The kitchen sink just doesn't cut it. ? Find the best baby bath tub and make bath time fun time.. We're here to help – check out our reviews. ?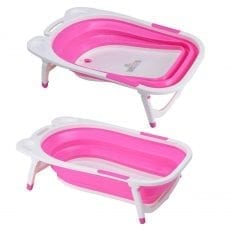 Best for the money
Costzon Baby Folding Bathtub
The kitchen sink just doesn't cut it. ? Find the best baby bath tub and make bath time fun time.. We're here to help – check out our reviews. ?