The 30 second review
Although it's not like buying a house or a car, we were amazed at how many things one must take into account when it comes to deciding on a baby tub. You'll find exhaustive information about that in this piece, but let's go on a quick overview.
The first thing you want to think about is the type of the tub.
If you're one to save on space, in-sinks will do the job.
On the other hand…
If you're often traveling, a basin tub might be better.
This type of tub can stand on any surface, so you don't need to worry, it won't fit a hotel's bathroom sink. Moreover, they are often built to be foldable, so you also save on trunk space.
The second thing to worry about?
The size and shape of your future tub.
Some tubs will have your baby sitting up, while others are built for them to lay on their back. Because of that difference, either check the recommended age & size in a product's description, or go for a size-adjustable option.
Okay, one last thing to take into account…
Add-ons and accessories.
Baby tubs often come equipped with amazing extras like rinse cups and holders, a sling hammock-type surface for your little one to sit on, and even bath time toys.
There's no objective rule or guidance we can provide here.
You definitely know your child better than we do, so always go for what you know suits their needs.
Everything You Need To Know About Buying The Best Baby Tub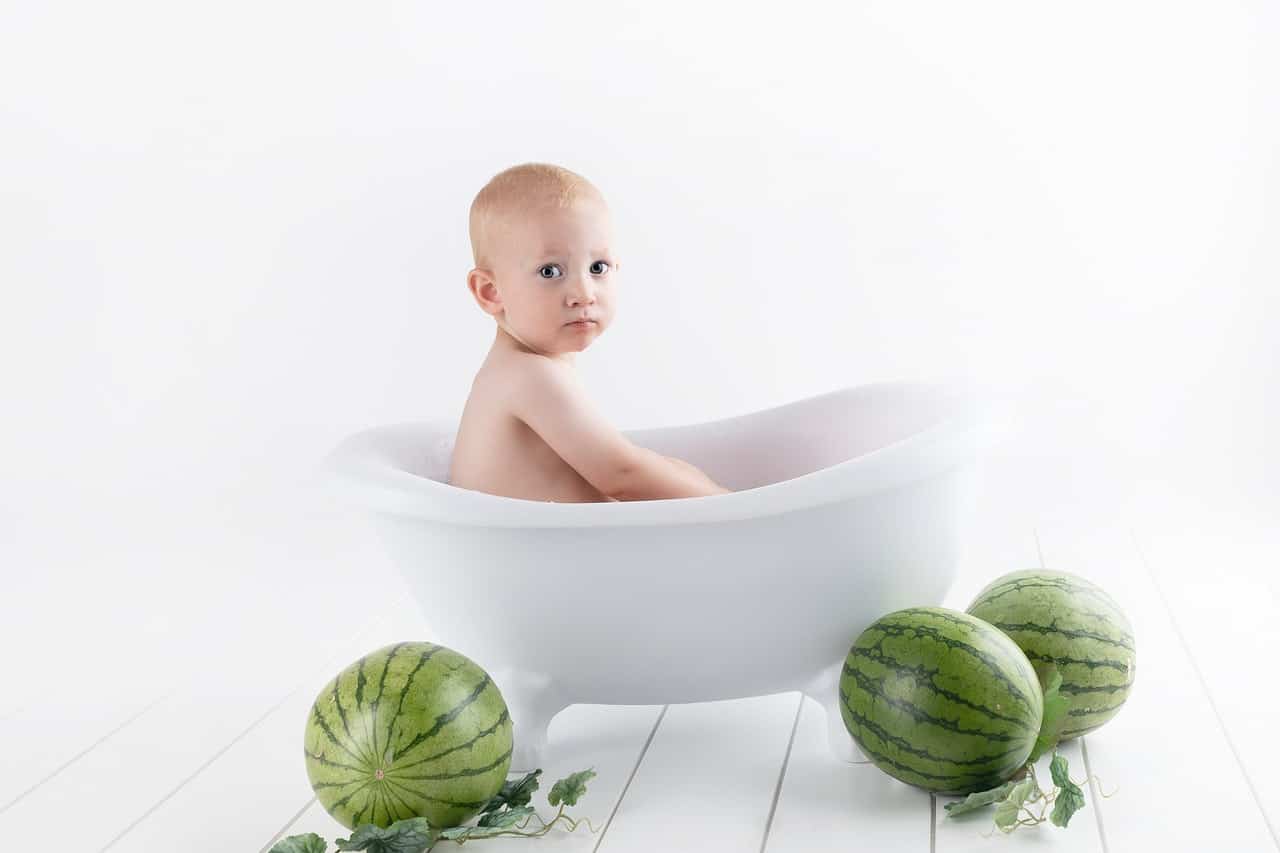 Finding the perfect fit is important.
It will allow you to bathe your child in the best manner. That means no safety risk, increased comfort, and ease of use.
So what type of tub provides all those things?
Type Of Baby Tub
The first (and most important) thing you'll want to take into account is the general type of tub. There's generally two tub types for your little ones:
In-Sink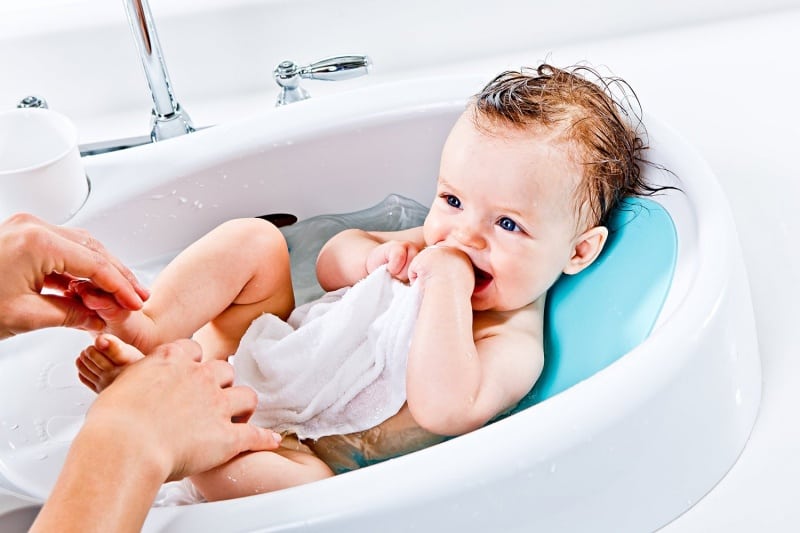 This is the most popular type of baby tub out there.
A lot of people from our focus group declared they used it for more than just a tub.
Here's the deal:
Like the name suggests, this type of tub is made to be placed in a sink because of its size and shape.
For hygiene purposes, experts recommend you use the bathroom sink, not the kitchen one.
This is a suggestion, and you can do whatever you want, but…
You wouldn't want to scrub your own skin free of dirt and bacteria in the same place you use for washing dishes and cooking.
Think about it this way, restaurants are required to have separate sinks for hand-washing and food prep. There's a good reason for that.
Why would a child's treatment be any different?
On top of that,
In-sink bath tubs are generally used in the 0-6 months period of development.
As a result, if this is the type of bath you want to choose, factor in the comfort of your baby, who is much more vulnerable at this age.
We suggest spending an extra buck or two, if the result is as suitable to your loved one as possible.
Basin Bath Tubs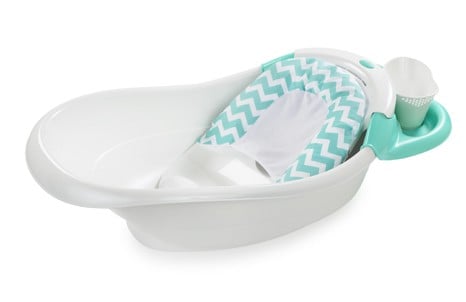 This one is a bit more versatile.
Basin bath tubs are usually designed to support themselves on a counter, a table, or even inside a regular bathtub.
Basins are made a bit larger than in-sink tubs, but they're still versatile.
What's the main benefit?
A basin bathtub lets you use it anywhere; it's simply more convenient.
Think about it like this:
If you buy a sink-in tub, you're going to have to check the measurements of the tub, compare them to your sink measurements, and come up with a match.
Now, if you're traveling…
This whole process was useless because now you're faced with a different sink.
Gah!
Such inconveniences are rare, but they can be avoided with a basin tub.
Even if this latter type of baby bath tub is less accommodated for a baby, and more fitting to a certain environment.
There's many tweaks and accessories that can qualify a certain product in a completely different "type", but this is how baby tubs are usually separated.
Size & Shape Of The Best Baby Bath Tub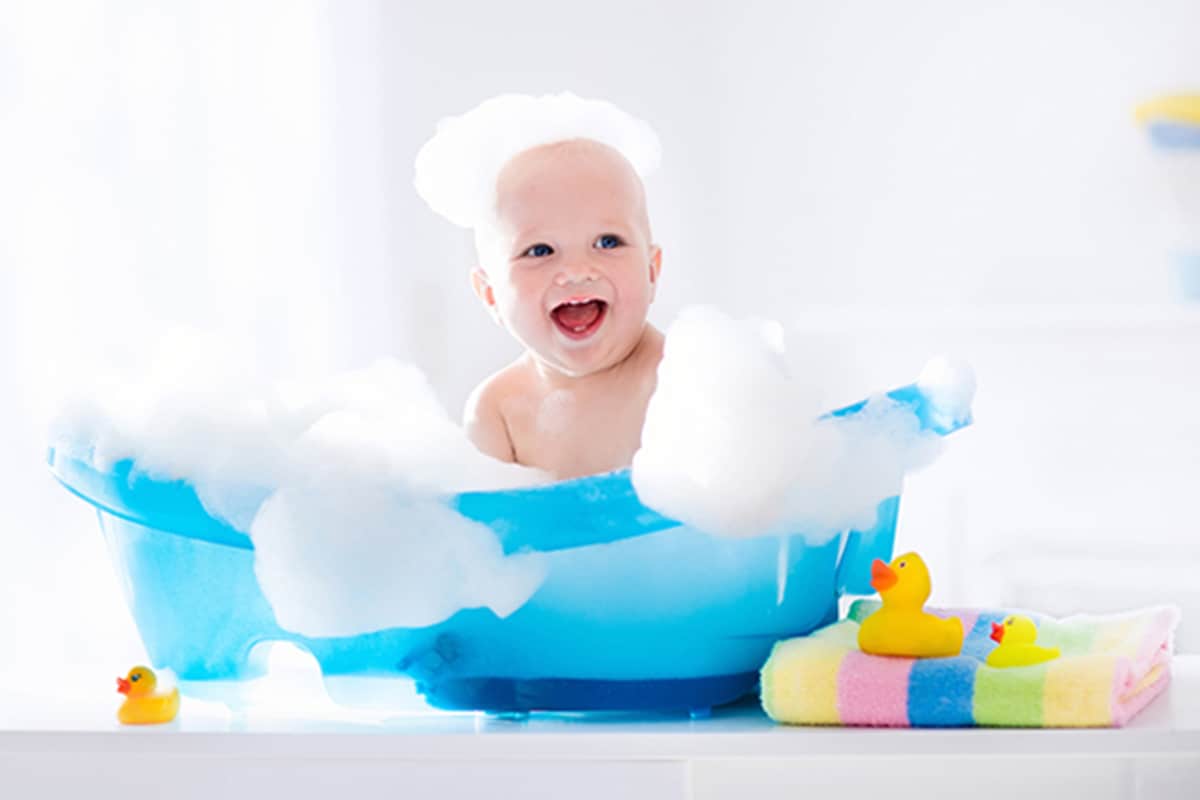 The next thing you'll want to consider is the size and shape of your future purchase. When researching this topic, we wanted to come up with a chart that informs you of the best tub size in relation to your child's age and weight.
However,
There's a huge amount of differences when it comes to the shape and size of each particular product. For example, some tubs are shaped to keep the baby lying on his back, while others are shaped to keep him in a sitting position.
As a result,
A general chart would be misleading and useless. Nonetheless, most baby tub manufacturers include a chart in their product description, so do check it out. That one would be accurate, because it's based on tests performed on those specific products.
Moreover,
Your child's size is not the only one you should consider. It's important to check any measurements against your own home as well. This is especially true in the case of in-sink tubs, because they have to fit inside your sink.
One last thing to consider here is…
With the huge variety of shapes, the bath time experience can differ drastically from product to product.
Whether your child is sitting up, or laying on their back, whether the tub is inside the big bathtub, or on the kitchen counter – these are all viable options, so you should take into account what you prefer, and choose a shape accordingly.
With all of that, the experts we've talked to maintain you should choose the bathroom as the area in which the baby tub will be used.
Accessories
Drawing to a close, there's still a few things to say.
While most baby tubs are quite simple, with a benefit in design rather than enriching accessories, some specific features are important to take into account.
Looking for maximum convenience as possible?
Look for a baby tub with lateral surfaces.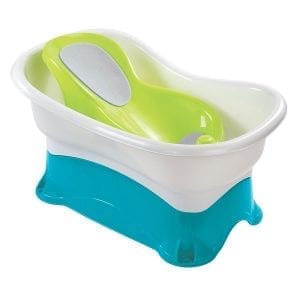 These will come in handy when looking for a place to drop that bar of soap or lotion bottle, but this is only a general thought. Think about what you'll need at bath time, then check if there are any other accessories that can help.
Secondly, consider the amount of time you want to use the baby bath tub for.
People usually say 6-months is the milestone at which a baby is read for the big-boy tub, but that's not universally true.
To accommodate your child's pace, you can also check out tubs that grow together with your child. These have significant accessories, mostly extra basins to accommodate a slowly increasing size.
Aesthetics
The last thing to discuss is the visual aspect of baby tubs. While people give little importance to this side of the matter, I think with a few criteria, you can end up with a great bath time, in a good looking tub as well.
One important thing you should look for…
Is the general home decoration rules. Consider colors, look for proportional sizes and shapes, that sort of thing.
I'm not going to dive into this topic over here, since it's marginally connected to baby tubs, but it's something to take into account if you want the full baby tub experience.
Again, this is something not a lot of people care about, and for all it matters choose whatever aesthetic you want – it's not that impacting on your child's bath time experience.
Putting The Baby Bathtubs To The Test
01
Fisher-Price Calming Waters Vibration Bathing Tub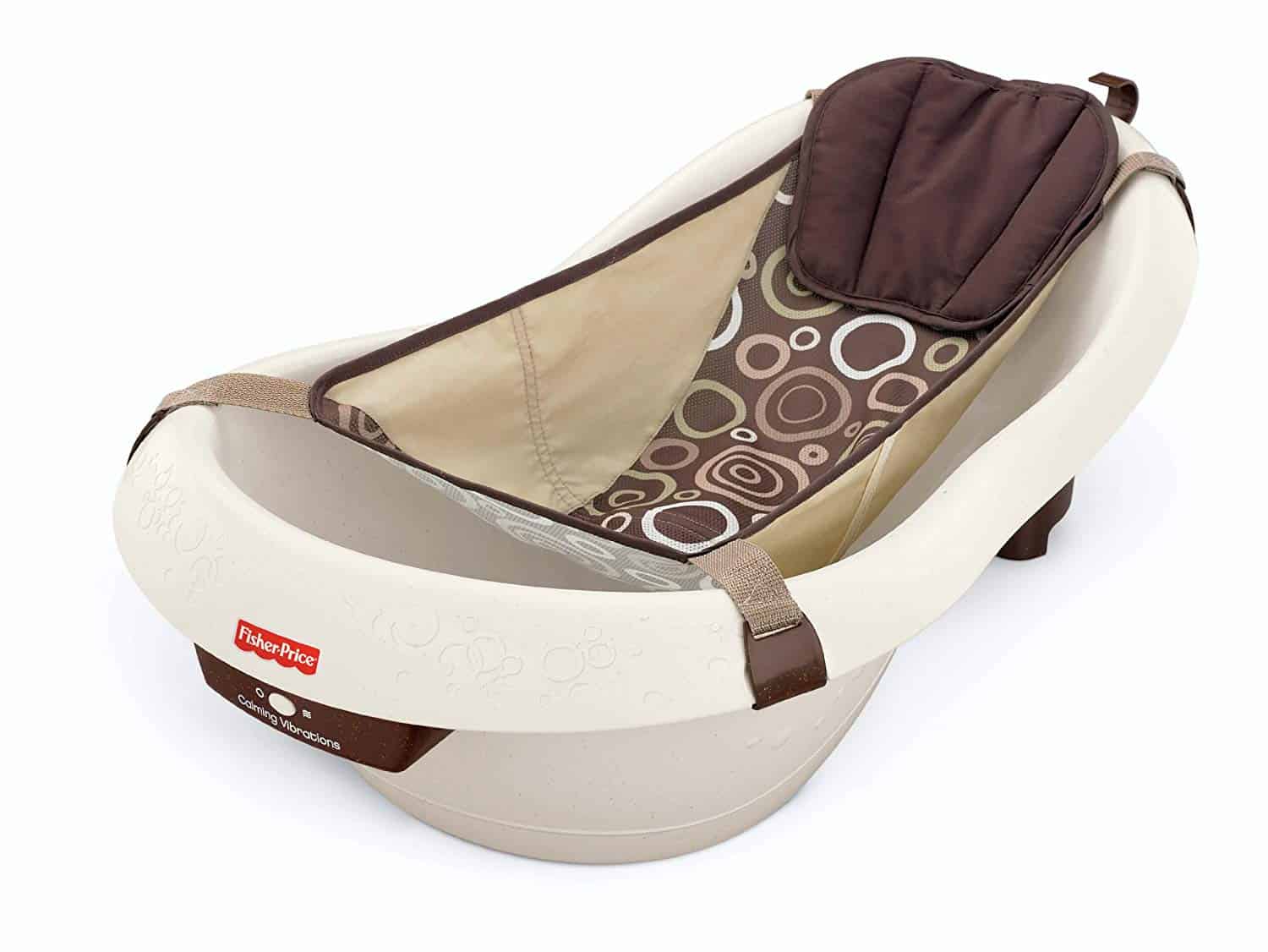 Calming Waters is surely a perfect name to describe this product.
We really liked using this tub.
Why exactly?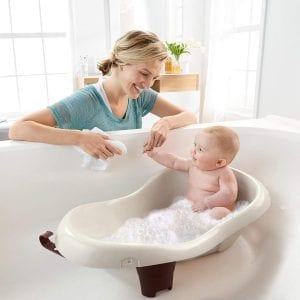 The reasons are many: awesome design, innovative features, and versatility.
The first thing we loved was the design.
Not only is this piece aesthetically pleasing, with a chic brown and white design, it's also very versatile.
The product description claims it fits single and double sinks, which is absolutely true.
Our testers didn't disagree.
The build of this Fisher-Price is perfect to suit many sink sizes, so it even (almost) overcomes the portability issue.
Lastly, in terms of design, we really liked the sling feature. Unlike market competitors, which feature small removable objects to make the tub grow with the baby, this gem has an entirely adjustable sling system.
The sling is extremely comfortable, and it ensures you can use this baby tub for a long time.
What we liked even more is the sling can be removed altogether, making this fit for any body size and most ages up until 18-24 months.
What about the vibration feature?
It's really something.
With the touch of the button (and the use of a battery that, as of right now, is not included in the package), this product will start vibrating just slightly, claiming it can soothe the baby.
Does it work?
From what our experts told us, the baby is calmer when the vibration feature is on.
Online reviews and experts seem to back this, so if your little one is raising a ruckus at bath time, you should give this product a closer look.
If you want to give this piece a closer look, check this video review.
What about problems?
The rating's not a 10+, so what could be the issue?
Well, it's maintenance.
The plastic stopper that will eventually replace the sling, is a mess.
It does its job, but it's extremely hard to remove for a proper clean-up. We mean "butter knife to remove it" hard.
For that reason, a lot of parents just gave up cleaning the component.
Big mistake, because after a few weeks mold will start to accumulate underneath, which can give your little one eczema.
Yikes!
Admittedly, this is only a problem if the user themselves don't clean the piece thoroughly.
Regardless,
Many parents have had this issue, and Fisher Price did nothing to improve the situation, like sending transparent stoppers or making them easier to remove.
You can find the user manual, here.
Features:
In-sink design
Adjustable components
Awesome vibration feature
---
Pros
Easy to maintain with the sling on
Beautiful aesthetics
Innovative vibration feature
Grows with the baby
Cons
Plastic stopper has issues that can lead to mold formation.
---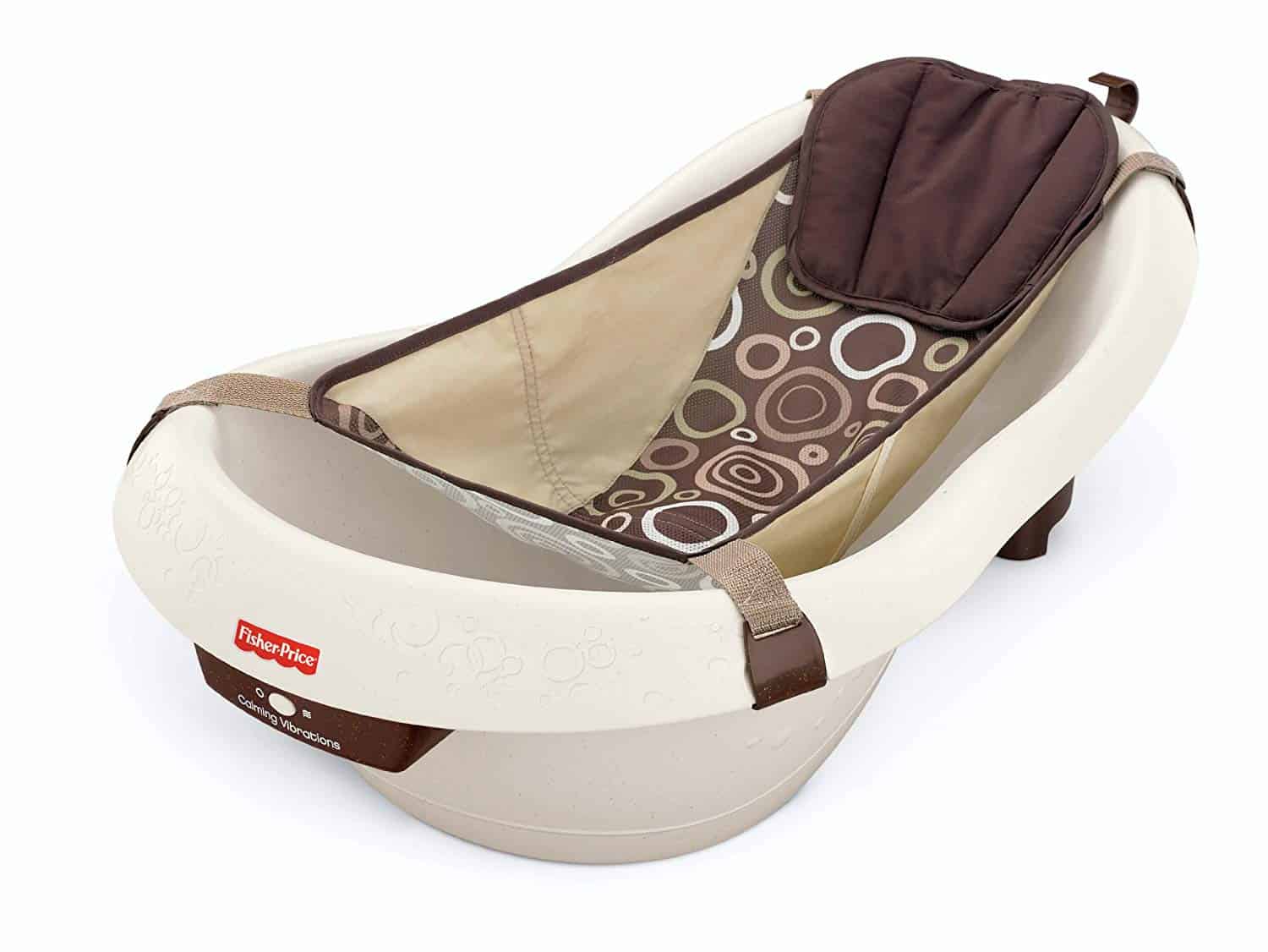 02
Kidsmile Baby Bathtub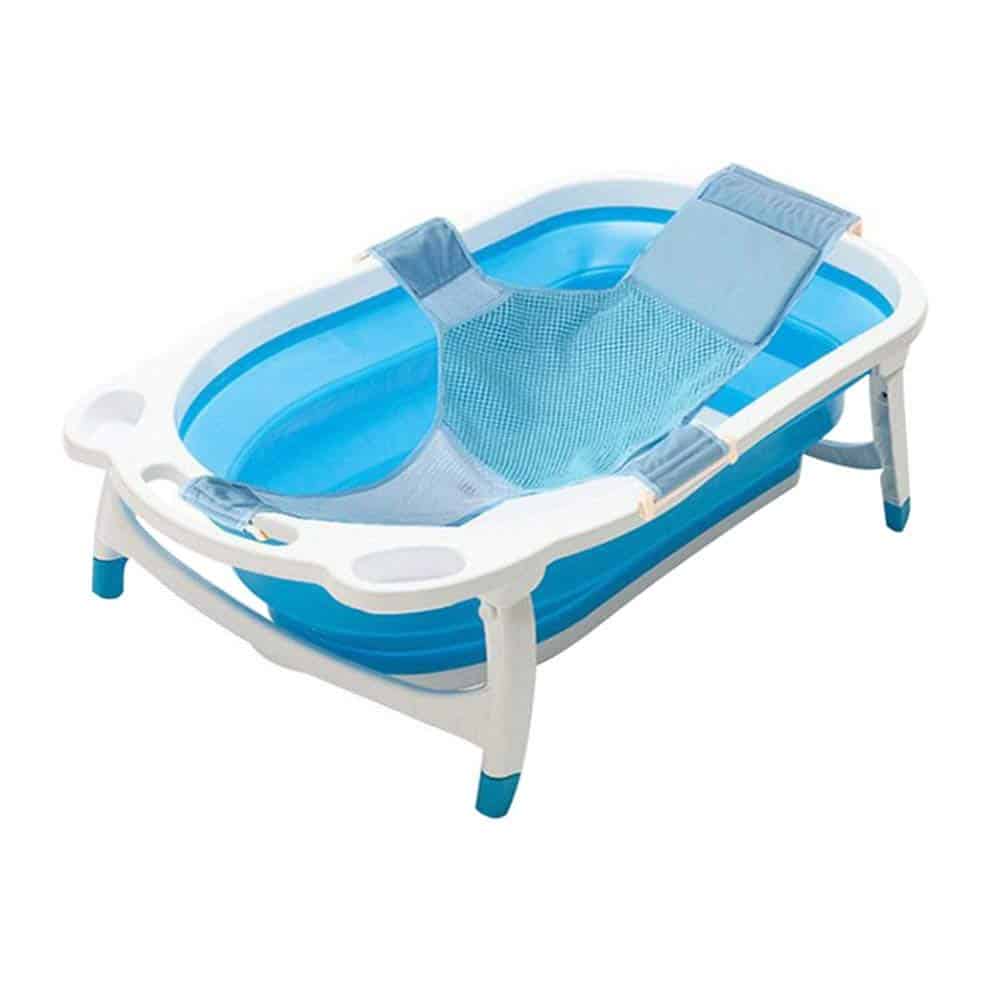 Like most tubs on our list, this product prides itself as having everything you need: spacious and comfy for your baby, easy to clean and portable. It's a basin tub that (partly) grows with your baby, promising an easy bath time for at least a few years.
Is this really the Holy Grail of baby tubs?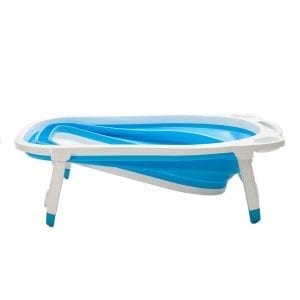 It's definitely good, but it also comes with a few downsides.
Let's look at the pluses for the moment.
Construction wise…
We loved that it's as compact as the product description claims. You're always a few clicks away from a folded tub that can be easily thrown in the trunk.
Even more so,
The "partly" growing with the baby system makes this piece helpful for a long time, even if you're going to have some issues in the transition period.
We'll talk about that in a bit.
If we're to wrap up benefits for your little one…
We should also mention that this tub has conveniently placed ergonomic surfaces, perfect for a baby's comfort. He'll probably still make a ruckus, but I guess you can hope for a reduction of that.
Worried about mommy's and daddy's comfort?
The Kidsmile bathtub has a well made, tight plug that allows for quick and efficient water drainage and cleaning.
Downsides?
The first minus of this tub has to be the (somewhat) faulty grow with the baby system. Only having two stages, some baby body types are bound to end up in a transition period.
What does that mean?
Well, it's possible that your baby will, at some point, be too large for the sling but too little for the big basin. If you want to avoid that, definitely go for a more complex grow with the baby system.
Other than that…
You should worry about the screws on the bottom of this product. They're not stainless, and as a result they are prone to rust discoloration.
Basically, you either spend some bucks to replace them or spend some extra time every bath to thoroughly clean them.
Features:
Basin Tub
Foldable
Grow With The Baby
Beautiful Blue Finish
---
Pros
Easy to clean and carry around
(Partially) Grows with the baby
Ergonomic Surfaces
Cons
Grow With The Baby may not work in a transition period
Poorly Made bottom screws
---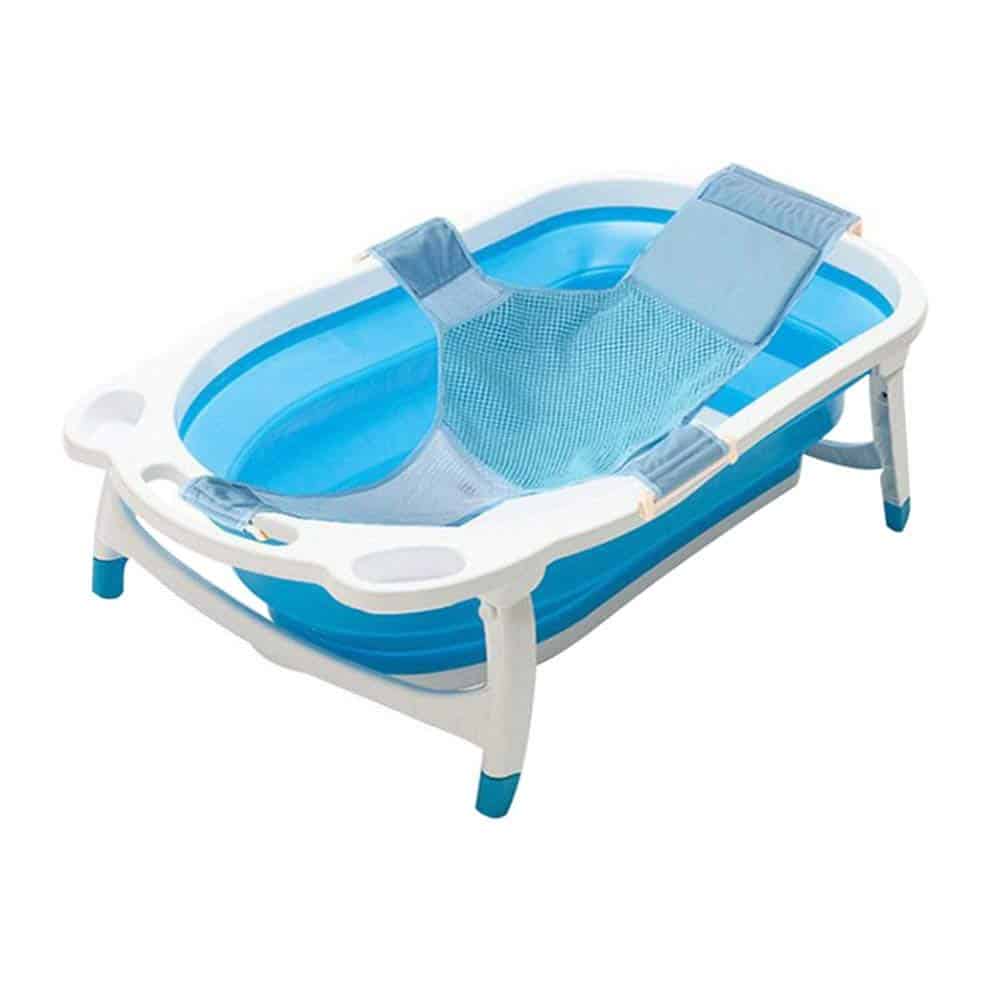 03
Costzon Baby Folding Bathtub, Infant Collapsible Portable Shower Basin (Pink)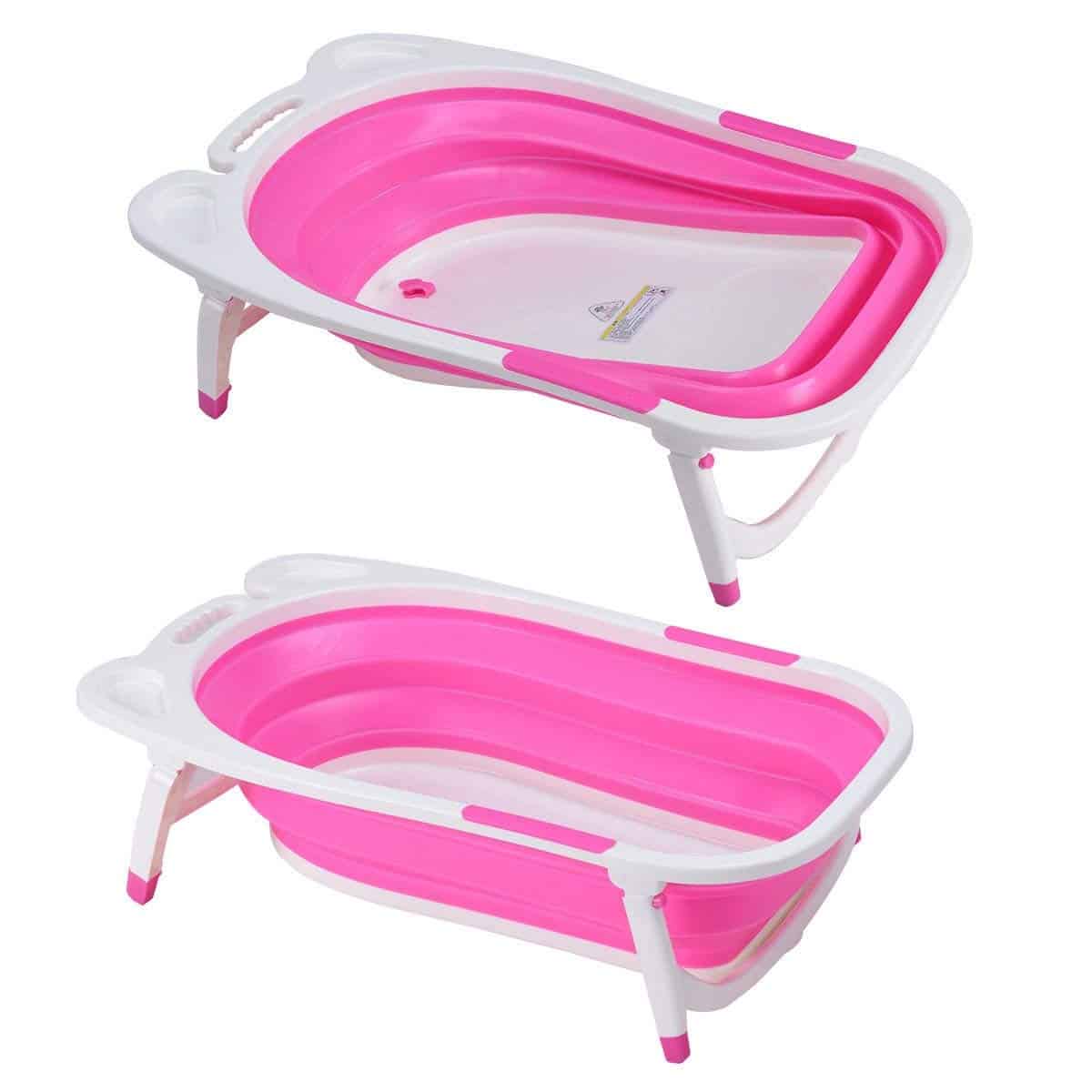 Folding, portable, safe, comfortable and easy to maintain.
It certainly sounds like you shouldn't look any further.
But, is that really the case?
Let's find out.
For starters, we'll praise the build of this product, starting from the bottom.
The legs of this basin tub are made out of no-slip materials, so it's good for safety.
Moreover, the fixture is pretty large, so enough room for your baby at any stage of their development.
Here's another thing we liked: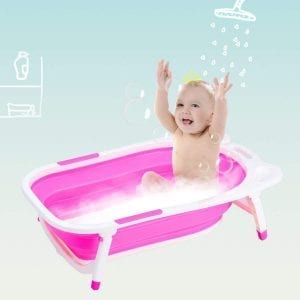 You get a basin with a lot of ergonomic surfaces, making bath time as comfortable as possible for your loved one.
Since we know safety is an important issue…
Let's look at a special feature of this product: the base material.
Costzon's product is advertised as being made out of PP+TPR. This stands for Thermoplastic Rubber, which is a special material that's non-toxic and odorless.
Don't misunderstand!
In perfect condition, all baby tub materials are non-toxic, but this one specifically makes sure you don't have to worry about deterioration over long periods of time.
Worried about drying and cleaning this tub?
Don't stress it.
Under the basin, you'll find a plug that flushes out all the water, making it easy to dry and scrub afterwards.
Since we're talking about your comfort, you'll be pleased to know this beauty is foldable, making it way easier to throw it in the trunk when traveling.
Where's the catch?
Issues are not hard to come by when you do your research, and this is what we came up with.
First of all, you'll have a hard time using this product if you want to set the legs at their steepest incline.
They don't hold up so well at that setting, and if your baby is on the heavier side, with significant water to sustain, the tub runs the risk of breaking.
Now, we didn't encounter this issue.
But a customer did.
Their little one was fine, but this is a risk that sets Costzon's product back quite a bit.
Secondly...
The legs are non-slip, but parts of the basin can get slippery, so you also have that to worry about.
Features:
Basin bath tub
Ergonomic design
Easy to maintain
---
Pros
Spacious and easy to use design
Portable
Ergonomic surfaces
Cons
Legs can break at their steepest incline
Some slippery surfaces
---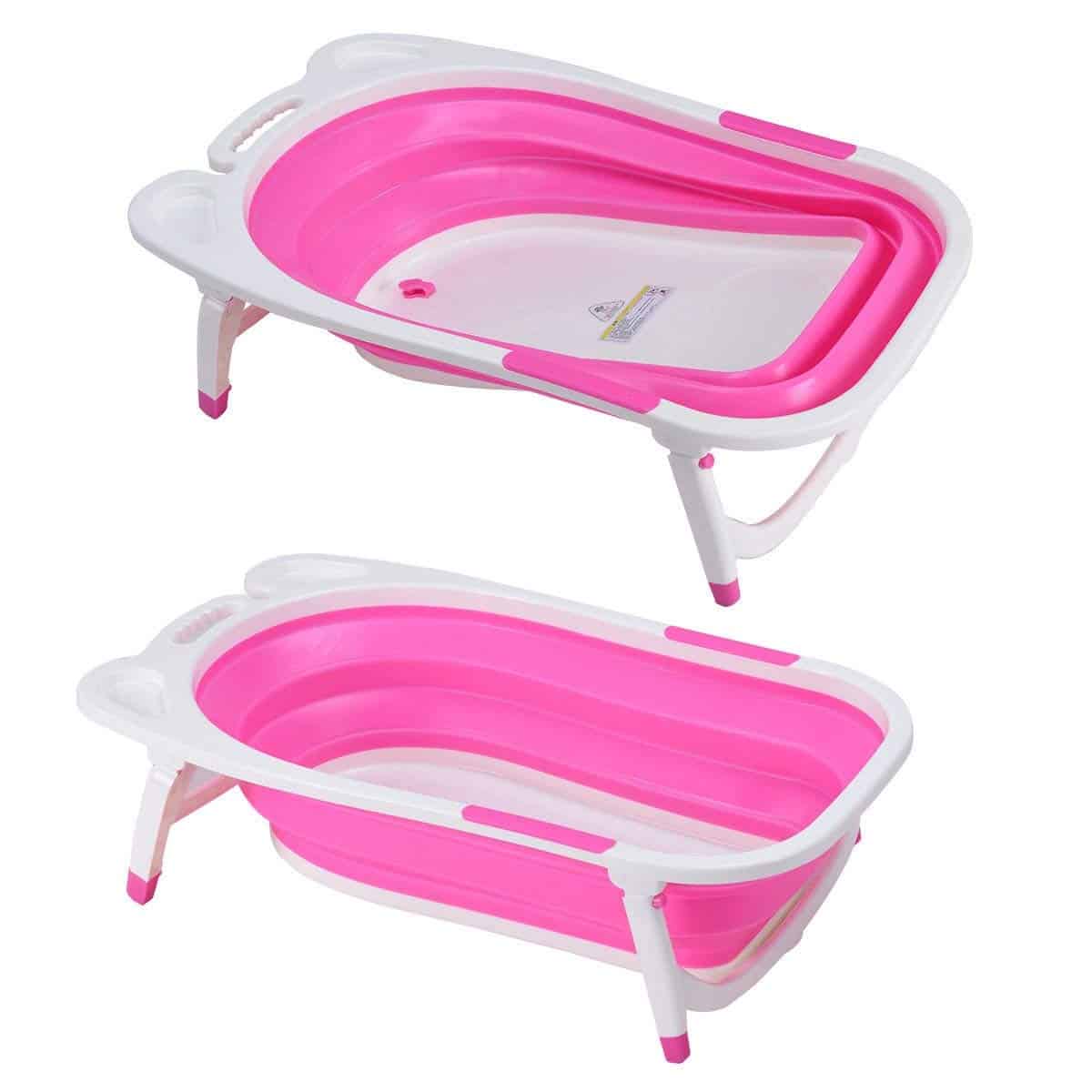 04
Fisher-Price Ocean Wonders Aquarium Bath Center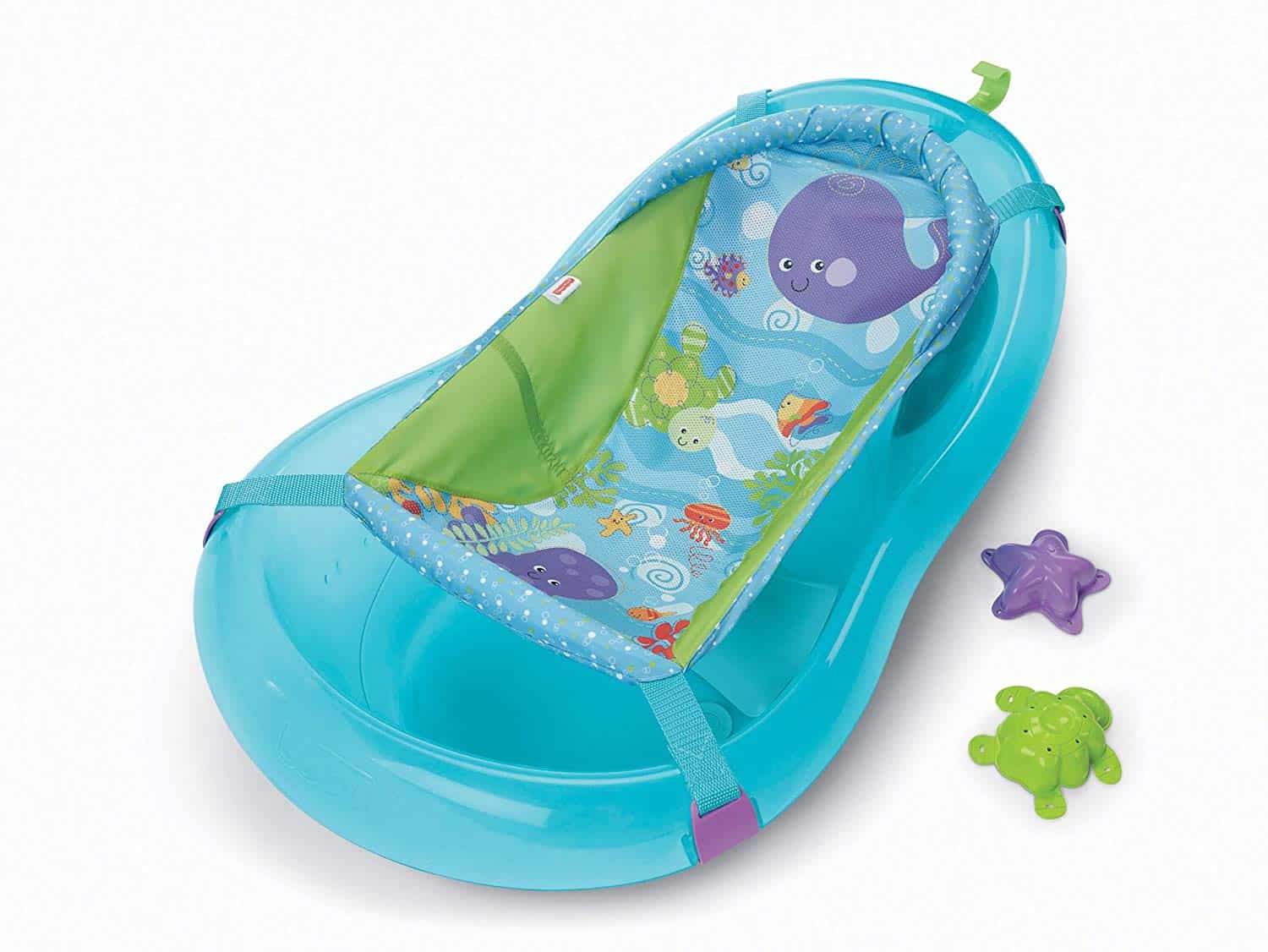 Fisher-Price is almost synonymous with baby care today.
If you want proof of that, look no further than our list today.
It features three Fisher-Price entries.
With all the renown, is the Ocean Wonders tub as promising as our first entry?
Let's find out.
What you can first appreciate about this product…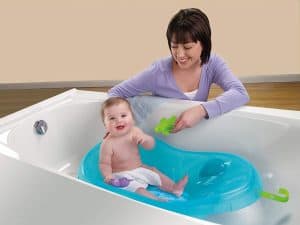 Is the sling design.
Slings are not uncommon in baby tubs, but this one is stuffed with padding in the upper section. This gives your little one a comfortable place to rest their head or neck during bath time.
To sweeten the deal, Fisher-Price also made the sling (and tub) out of ergonomic materials.
In terms of baby comfort, it's definitely a good choice.
If you look at this tub a little closer,
You'll also notice it has a basin design--a plus in the versatility department.
Furthermore, the product is built to grow with your baby.
The sling has adjustable sizes. Once your little one is too big for it, you can just remove that part and count on the baby stopper.
What about accessories?
The product comes equipped with a temperature guide, letting you know what temperature is right for bath time, and when.
Another huge benefit for the parents is the hook you can use to hang the basin after bath time. Our product testers unanimously claimed it makes it so much more hassle-free.
Plus, there are two thematic tub toys, perfect to keep your baby occupied while you do the scrubbing and rinsing.
Sure, you could get some on your own, but the fact they're in the pack proves how much thought has been put into developing this product.
So where do the ocean wonders stop?
We are yet to see the perfect product, and this tub's greatest downside is the plastic.
The tub looks nice and it's easy to use, but the main body is made out of (arguably cheap) plastic, which creates a durability risk if not handled properly.
Another issue...
It's marketed as an in-sink tub as well. While some products on this list can stand on their own, and fit in a sink, the sizes on this one make it hard to use in most sinks.
Don't count on that versatility unless you've got a single, spacious sink.
If you're willing to live with those issues, you can learn more about this product by checking out the Baby Ninja's Dad review of the product, over here. Or, browse the user Manual here.
Features:
Basin bath tub
Made of plastic
Innovative sling design
---
Pros
Wonderful sling
Grows with the baby
Ergonomic surfaces
Easy to dry
Cons
Cheap materials
False advertising
---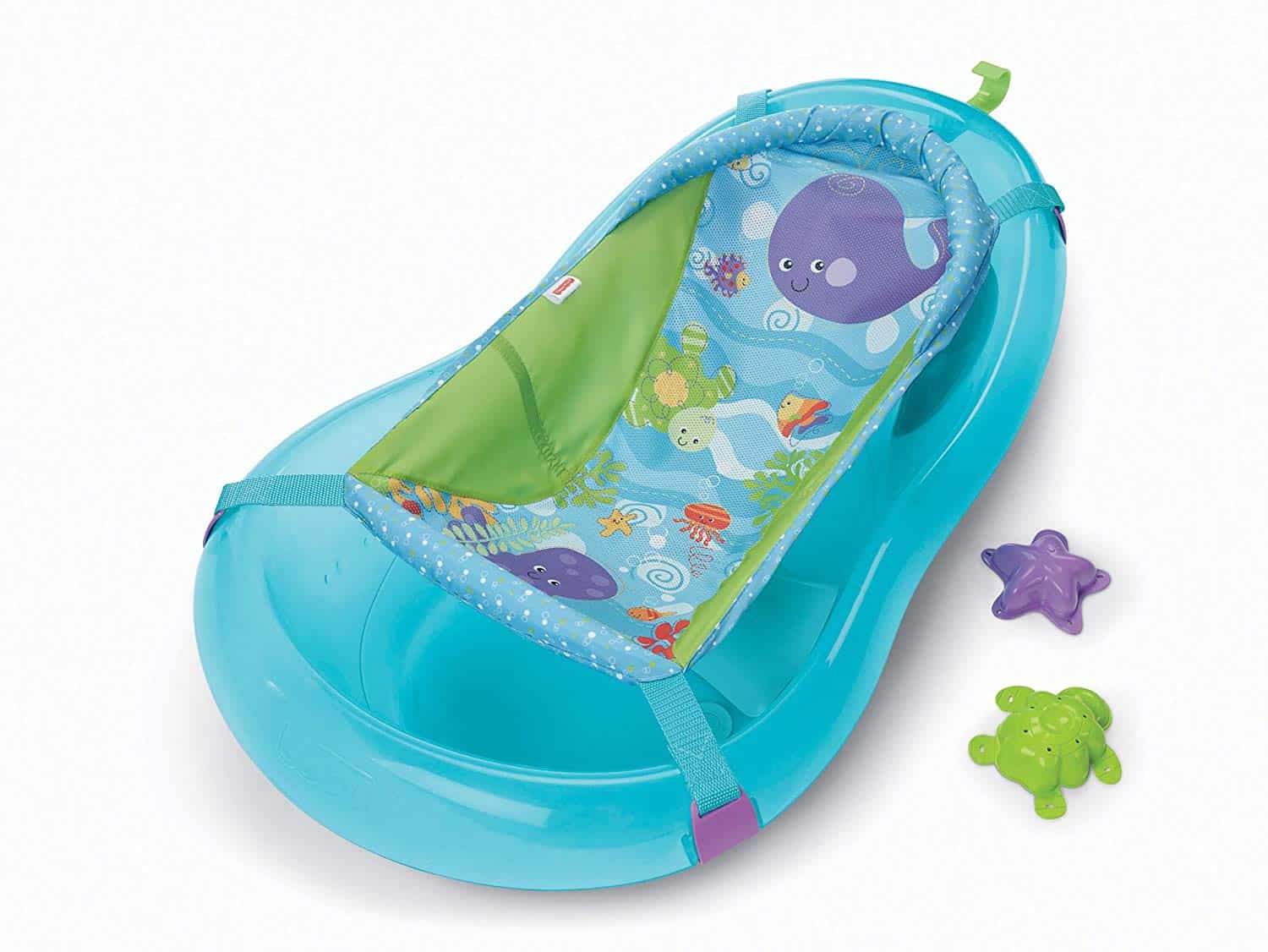 05
Fisher-Price 4-In-1 Sling 'n Seat Tub, White/Pink/Blue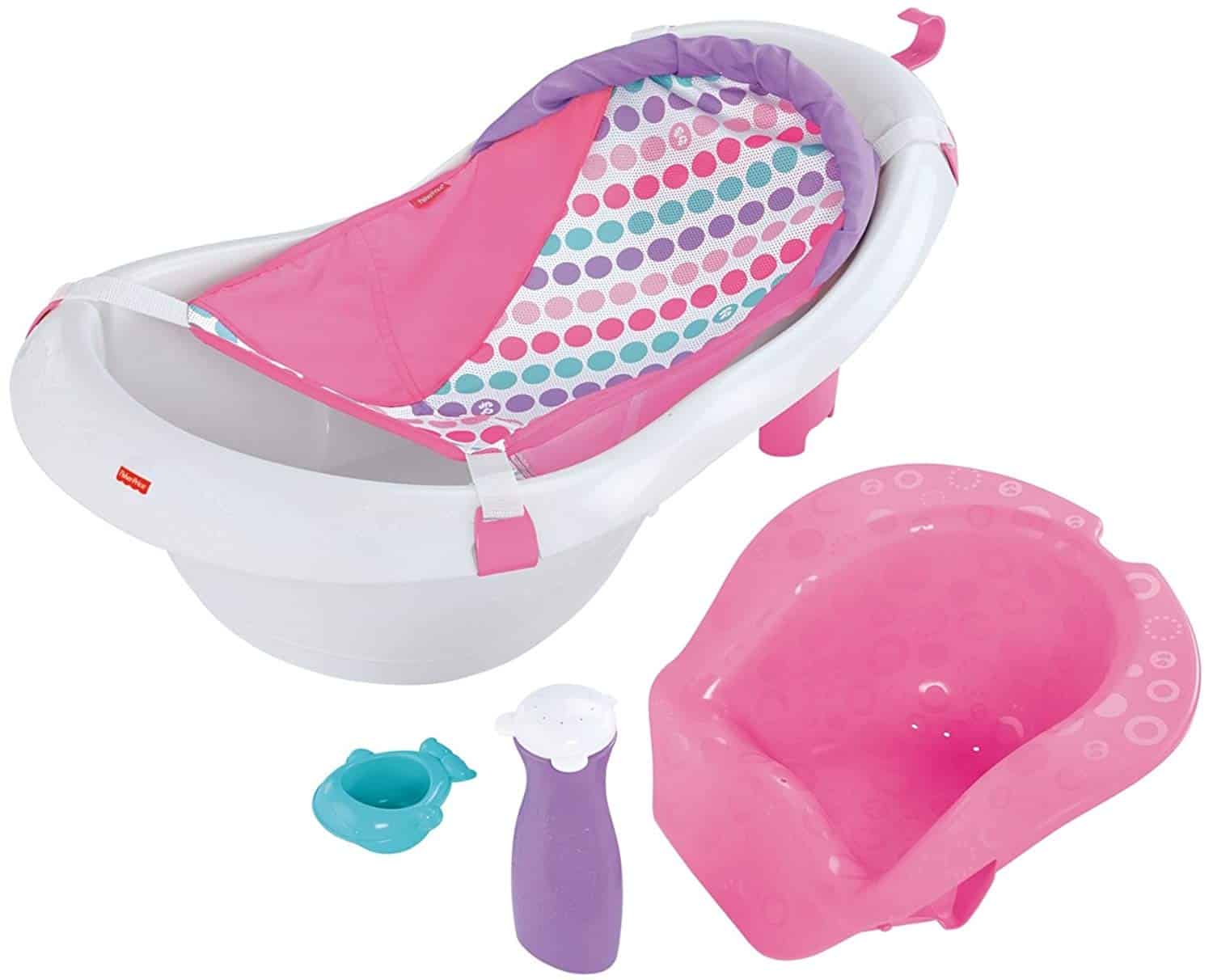 If any baby bath tub is customizable, it's the 4-in-1 Sling 'n Seat from Fisher Price. It covers four stages of development and comes in a variety of colors.
Not to mention, it can be used in-sink or on the counter.
The main perks of this product are easy to spot.
For newborns, you can use the very comfortable sling. When your baby's grown a little, you can move up to the baby stoppers, then the Sit-Me-Up aid, and finally use the entire tub for your "newly promoted" toddler.
The differences that set this fixture apart from normal grow with the baby tubs…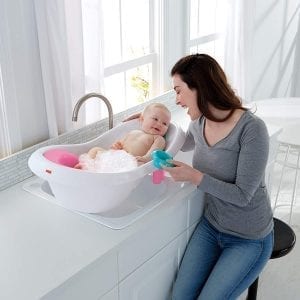 Are, first of all, the Sit-Me-Up chair, and, secondly, the care with which every add-on has been built.
Fisher-Price actually took into account the different needs of the growing baby with this product, such as the need to educate them in sitting straight which is covered by the Sit-Me-Up chair.
That's a plus when it comes to product development, a recurring theme for the big company.
If we're to talk base materials…
We can praise the tub maker just as well. All four previously mentioned components are made out of good quality materials and feature ergonomic surfaces. Perfect for comfort and avoiding any slippery incidents.
On top of that...
Your little one can have a fun time with the whale toy included. It's a scooper toy, so who knows? Maybe your little one can develop a passion for water-related activities.
It sounds like a slippery slope (unintended pun), but anything that happens during these early years can have an abstract meaning for a lot of future adults.
Using the products that can enrich your baby's experience is a good idea.
Case in point?
The awesome baby jumpers and the baby walkers we reviewed not too long ago.
So what's the downfall?
This product seems so well thought out, why does it take last place?
Well, unless you're ready to be extremely careful and do some modifications to the product, you may want to steer away from this piece.
With all their product development care, Fisher Price included baby stoppers that are (relatively) pointy. If you're not careful with your little one, while in stage two they can hurt their toes on these pointy parts. No lifelong damage can be caused, but we're 100% sure no parent wants that to happen to their little one.
It's not just theory…
Dozens of customers reported this type of injury after a stage two bath. If you're not equipped to polish these stoppers somehow, we recommend you closely check other options.
Is polishing your thing?
This product might just be what you need. If that's the case, we suggest taking a closer look at this Fisher tub with this video review.
Features:
Smart grow-with-the baby system.
Versatile in-sink or basin design.
Whale scooper toy included.
---
Pros
Well thought-out 4-in-1 system.
Comfy design at all stages.
Relatively versatile.
Cons
Pointy stoppers that can lead to injury.
---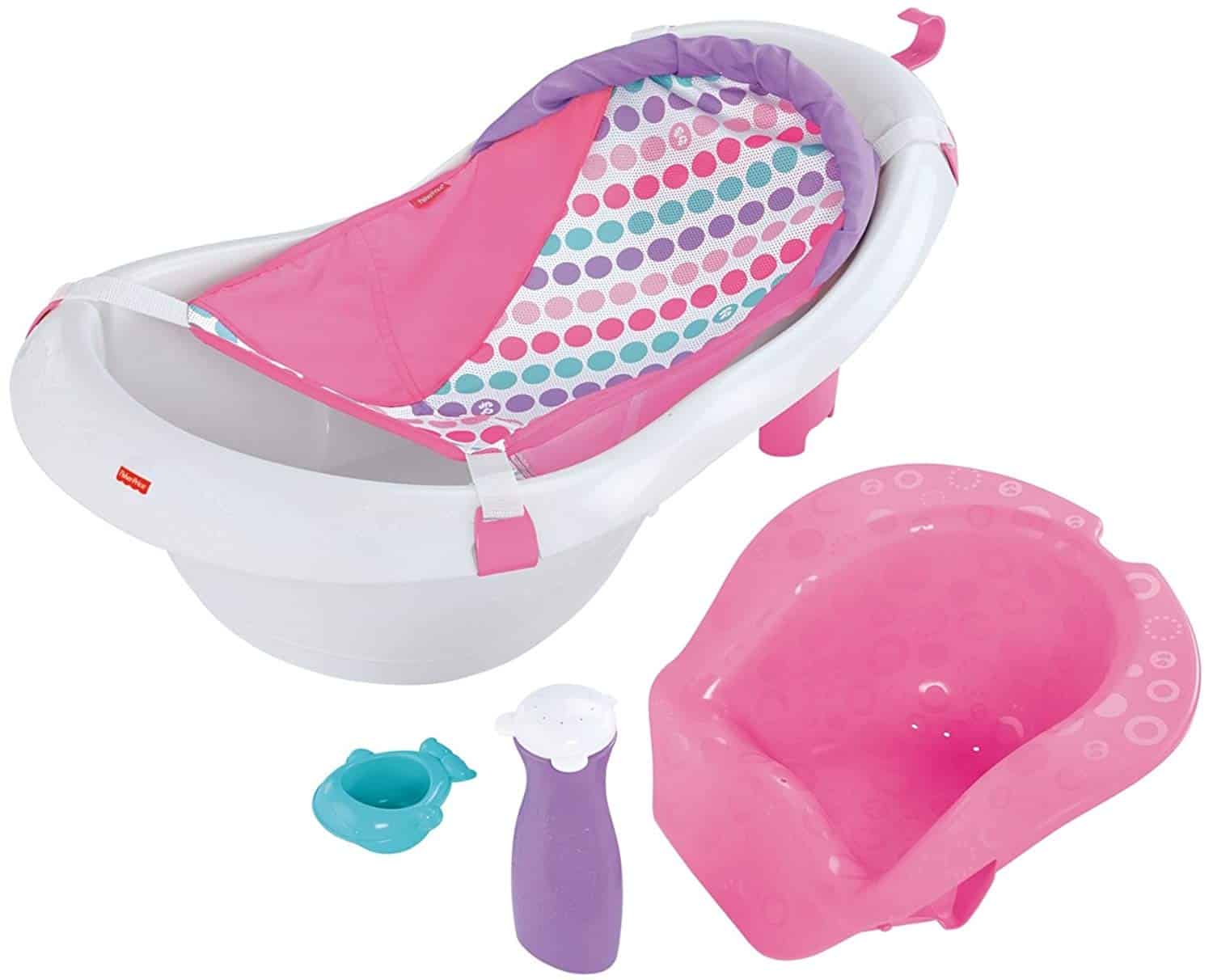 Tips and Tricks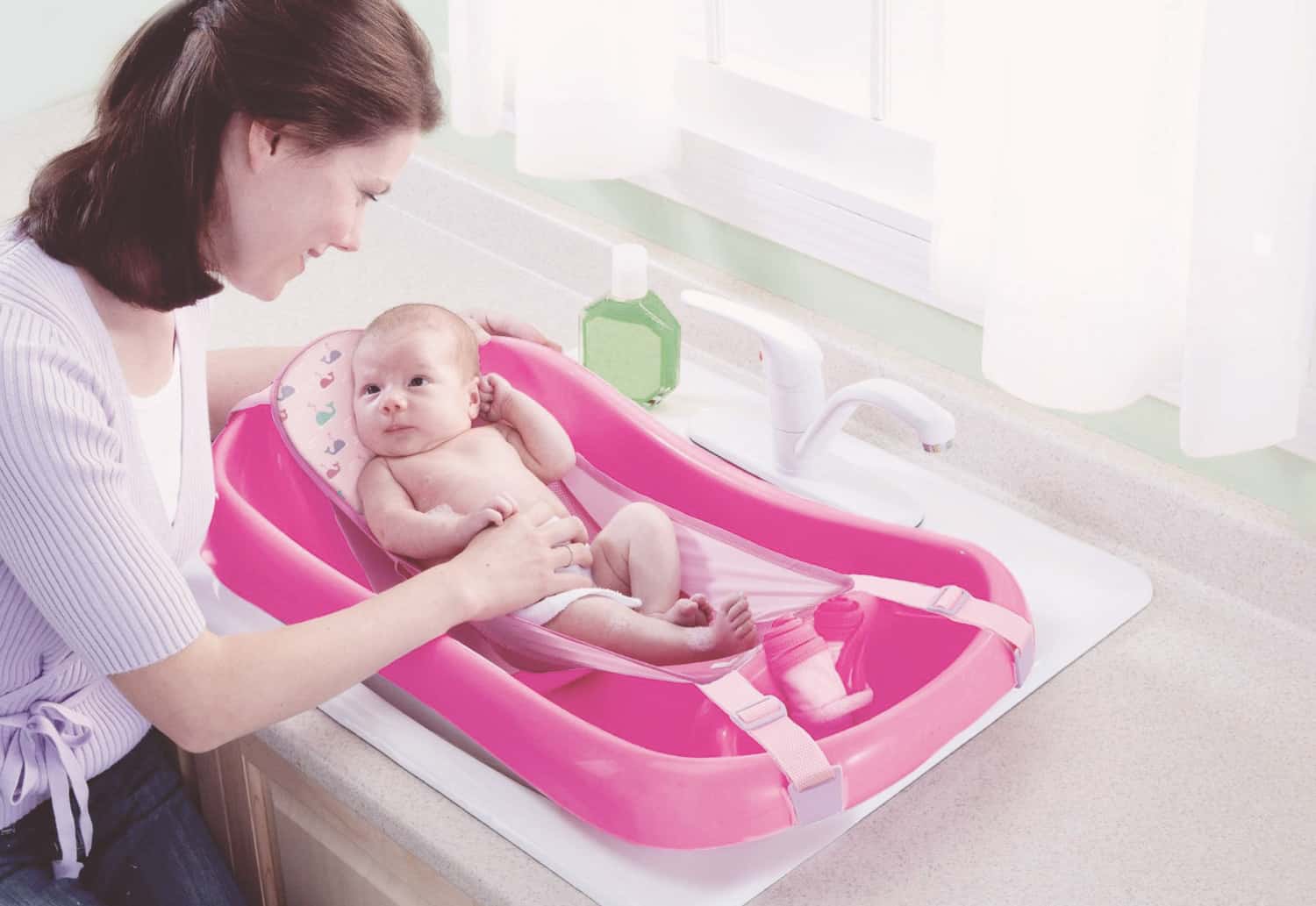 If you want to be as informed as possible when buying your future baby bath tub, your job is still not done.
Sorry.
We know it's a lot to take in. But…
There are still a few tips, tricks and things to watch out for when it comes to buying the perfect baby tub.
We'll start off with things to worry about when it comes to safety.
The most important thing to look for safety-wise…
Is smooth, rounded edges. Anything else will put your baby at risk, which means extra worries on your mind.
Other important safety considerations include…
Looking for sturdy base materials, which ensure your bathtub retains its shape when filled with water.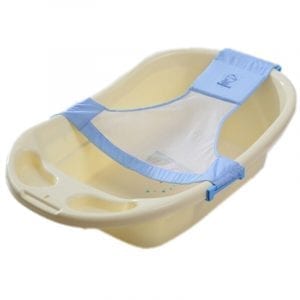 Pragmatically, this means you should absolutely avoid inflatable tubs. They save space, but run the risk of tilting and submerging your little one underwater.
In terms of baby comfort…
Always look for baby tubs that have a spot for your little one to rest their head and shoulders on.
It may sound like a little perk, but trust us:
You don't want to struggle bathing and holding them upright at the same time.
Lastly,
Consider other comfort tweaks, including a calming vibration option or ergonomic surfaces.  Really, anything you hope will keep your baby happy during bath time.
Everything is easier that way.
Since we touched on that…
Your comfort is not to be forgotten either.
Always look for a tub that's easy to dry and clean.
This keeps the hassle at a minimum, and with a hard to maintain tub, there will be hassle.
Hallmarks of a hassle-free tub are rubbery materials, as many ergonomic surfaces as possible, and a hook to hang them up to dry.
Warranties & Regulations
If you're in the US, you're in luck regulation-wise. The CPSC (Consumer Product Safety Commission) has strict rules when it comes to the safety of "Infant Bath Tubs".
These rules impose a reasonable standard when it comes to design safety, as well as base materials that are as non-toxic as possible. If you want to find out more about infant tub regulations, you can follow this link to the Federal Register.
Similarly, the EU has strong policies in place when it comes to infant products in general.
What should you take away from this?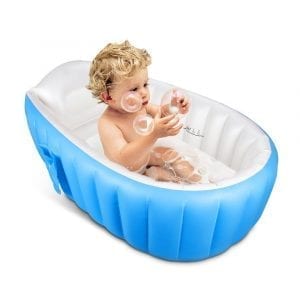 Serious injury is extremely improbable. What's left for you to worry about are the secondary, comfort considerations.
Warranties on the other hand…
Are a more complicated issue.
They range from the 12-month limited warranty to the lifetime 5 star warranty.
But are they really important?
Well, it all depends on you and your little one's age.
If you're not going to use the tub for more than 12 months, it's pretty obvious a lifetime warranty isn't required.
On a different note...
If your hands get slippery more often than not, consider a premium warranty. A limited one won't cover all issues (such as mold accumulation or pardonable mishaps), while the premium versions usually have your back in all instances.
What It All Comes Down To
Like most decisions, buying the best baby bath tub requires research to be done properly. A quality bath time for you and your baby means a tub that has the proper size, helps the little one keep calm and doesn't take too much of your time on maintenance.