The Definitive Guide To Buying Humidifiers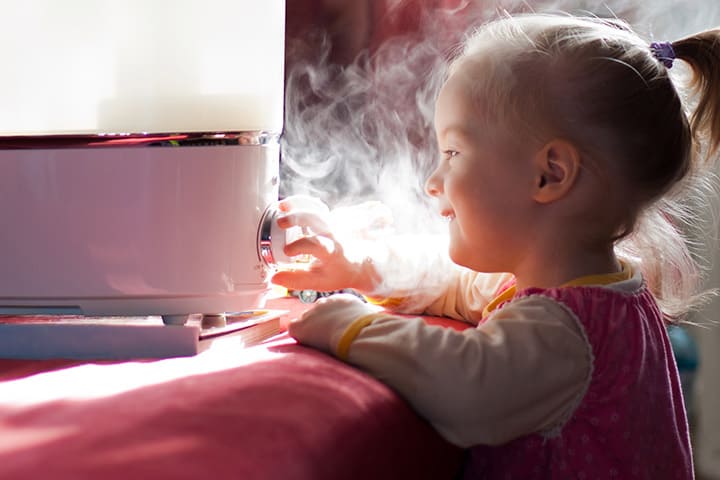 If you're on the market for a new humidifier for your nursery, chances are high that this isn't your first time buying a humidifier. You may already have some humidifiers in your home, especially if you live in dry areas.
Choosing a humidifier for your nursery, however, isn't the same as picking a humidifier for any other room in your house.
As it turns out,
There are four major kinds of humidifiers, but only one type suits your baby's needs the most. The most common humidifier types such as evaporative, impeller, and warm mist humidifiers, may not be suitable for your baby's needs. Babies need plenty of uninterrupted sleep, and the quiet performance of Ultrasonic humidifiers would perfectly suit your baby's naptime needs.
Besides helping your baby get adequate sleep, using the right humidifier can also have a huge impact on other aspects of your baby's health and development.
The best part is, humidifiers are fairly inexpensive considering the wide range of benefits that it offers.
So, let's get shopping…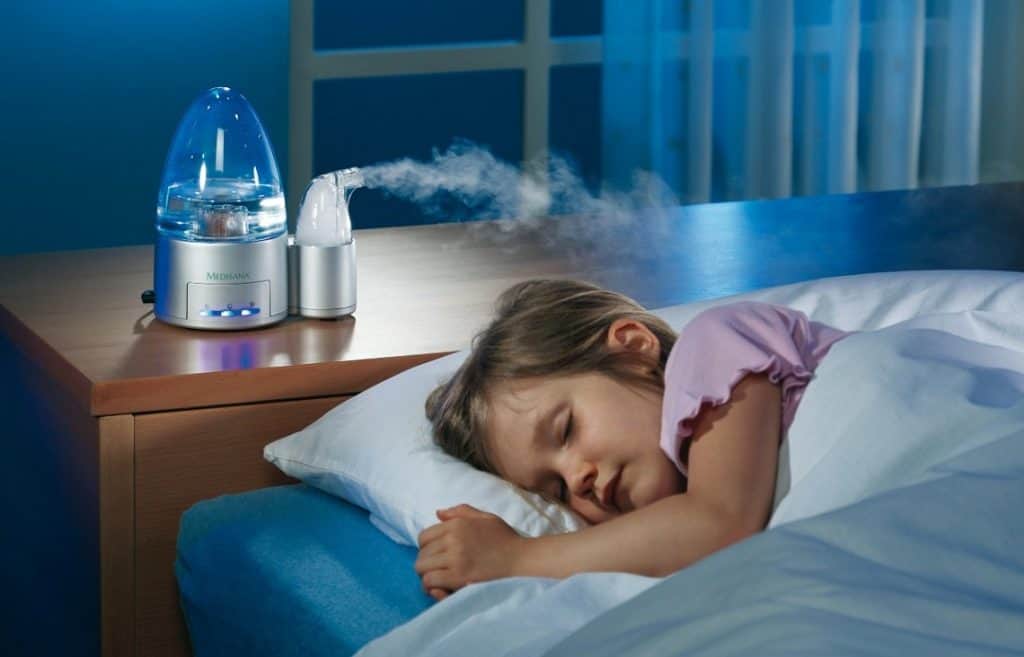 Start your search by taking the following:
Room size
A small humidifier may not be enough to increase the humidity in a large room such as your living room, or your baby's play area. A typical humidifier would be more than enough to increase humidity in a normal-sized room (120-150 sq. ft.). Larger console models typically have more powerful motors that allow it to cover a much larger area.
Device running time
Not all humidifiers are meant to run for long periods of time. Most humidifiers only have the water tank capacity that will allow it to run for a few hours. If you need your humidifier to run all night, get a high-capacity humidifier that you can set to "low" to prolong its operating hours.
Humidifying mechanism
It's much safer to use cool mist humidifiers as opposed to warm mist humidifiers for the simple reason that your little ones might be able to reach the device and possibly get scalded by the hot vapors. Also, there's a high probability that cool mist and warm mist humidifiers do not really differ much in terms of effectiveness as the warm vapor in warm mist humidifiers gets cooled off almost instantly.
Silent technology
Babies are easily woken up by anything, and that can include your humidifier. Consider using ultrasonic humidifiers to greatly lessen the noise when using your humidifier. Ultrasonic humidifiers silently operate through the night to let your little ones enjoy hours of uninterrupted sleep.
Humidifier Proper Use and Maintenance Guide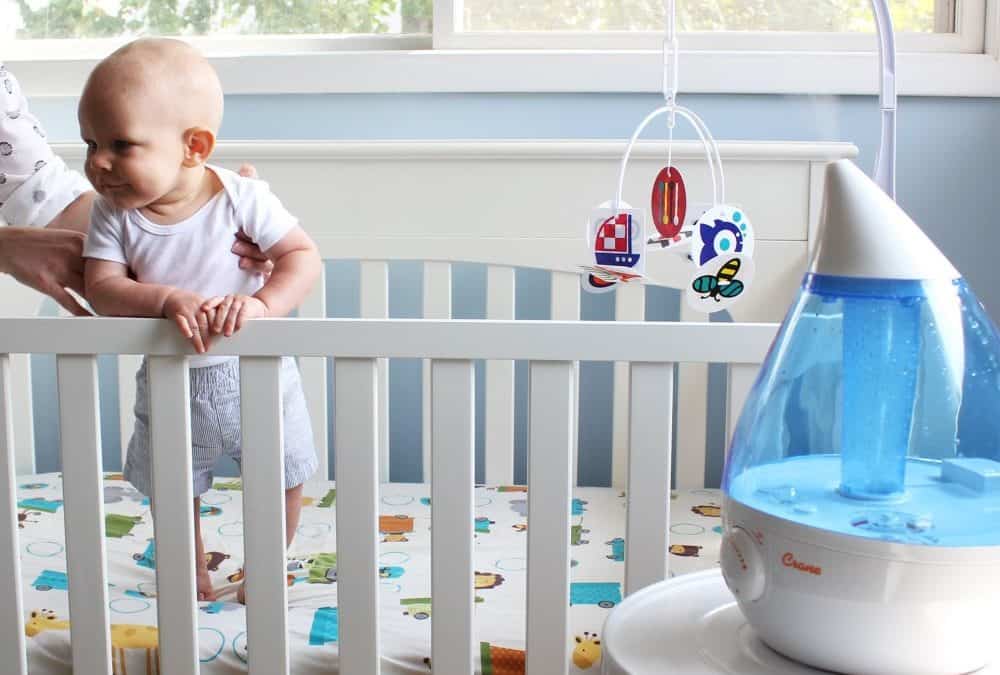 Humidifiers are fairly straightforward devices. To make the device work, all you have to do is pour water into its water tank, and switch the device on.
Simple enough, right?
Humidifiers aren't as durable as you might think, and it requires a little bit of TLC now and then. But for a device that's constantly in use for an average of 12 hours daily, humidifiers are relatively low-maintenance and durable.
Here are a few practical tips and tricks we've learned while researching for the right humidifier for babies:
Use only distilled water.
Whether you're using a warm or cold mist humidifier, you'd be better off using distilled water when filling up your humidifier. Tap water is full of minerals, which get filtered when you run your humidifier. The mineral buildup, often called "white dust" can be seen in your humidifier's reservoir or motor. Using distilled water will reduce the amount of white dust that accumulates on your humidifier.
Top-up water regularly
Humidifiers need a constant refill of water to continuously run for hours. Most humidifiers have a tank that can hold enough water to run for at least six hours. Most humidifiers have an automatic shut-off feature to prevent damage to your humidifier, but to be sure, refill your humidifier's water tank before the water runs out.
Let your humidifier rest
Humidifiers are often used for long hours at a time, a good sign these devices are built to last. However, you would need to let the device rest after using it, before starting it up again. Prolonged use without shutting the device off could easily wear off the components of the device.
Clean your humidifier regularly
The dirt and white dust buildup could make your humidifier bring more harm than good. White dust and dirt can become airborne if the water tank isn't regularly cleaned. Make sure to clean your humidifier at least twice a month to prevent the buildup of white dust, dirt, and reduce the growth of mold and mildew in the water tank.
Empty water tank before storage
When water becomes stagnant, it becomes a breeding ground for bacteria and fungi. If you plan on storing your humidifier, make sure that your device is perfectly dry. Empty the water tank and pat the insides down with a paper towel.
Check for leaks regularly
Almost all humidifier water tanks are made of plastic. No matter how good the material is, plastics are prone to cracks and leaks. Always check your humidifier for any signs of leaks. If you detect any leaks, check for any loose contacts. If you don't see any, contact the manufacturer for a possible warranty claim.
Keep humidity within recommended levels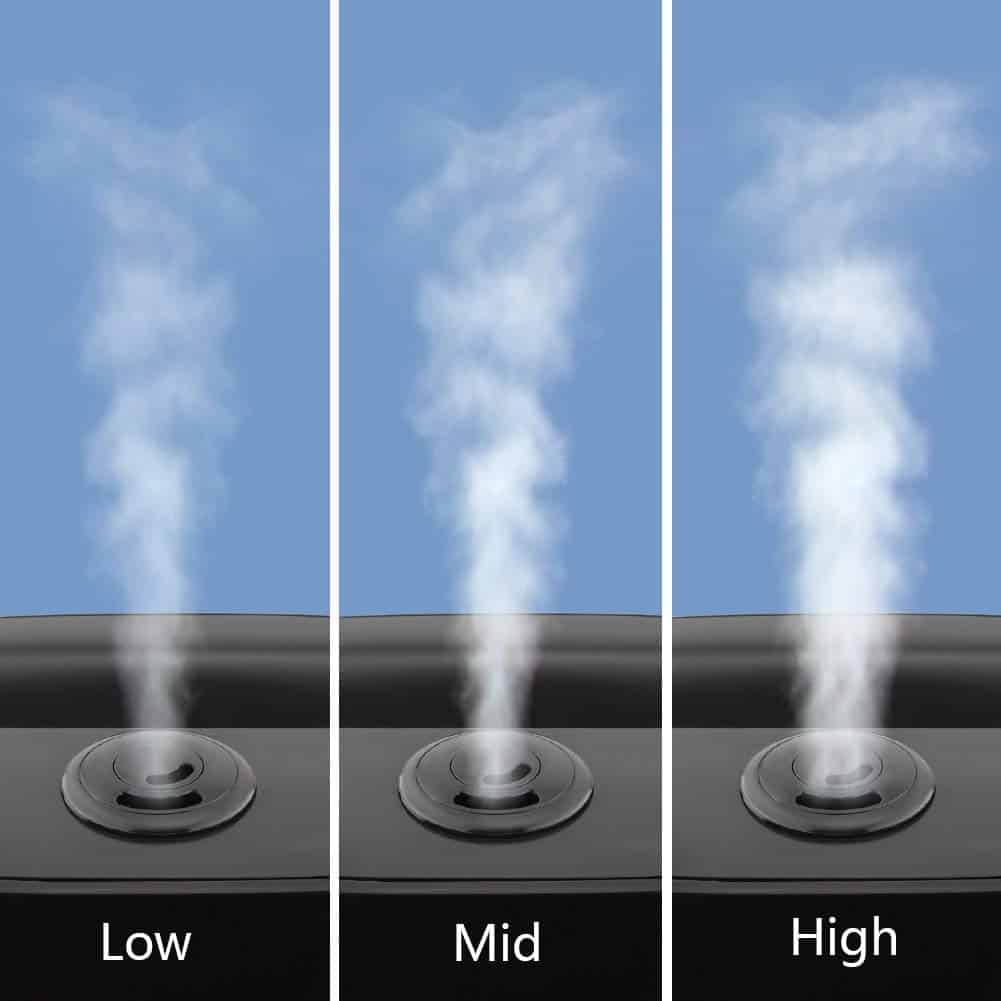 Many of the humidifiers we featured in this list have built-in LED displays that show the relative humidity in the room. Make sure that the humidity ranges between 30 to 45 percent to prevent too much moisture, which can create a breeding ground for fungus and bacteria.
Humidifier maintenance isn't particularly complex, but it's a task that needs to be done regularly to protect your baby's health. Here's a quick guide to help you maintain your humidifier in tip-top shape:
Regular cleaning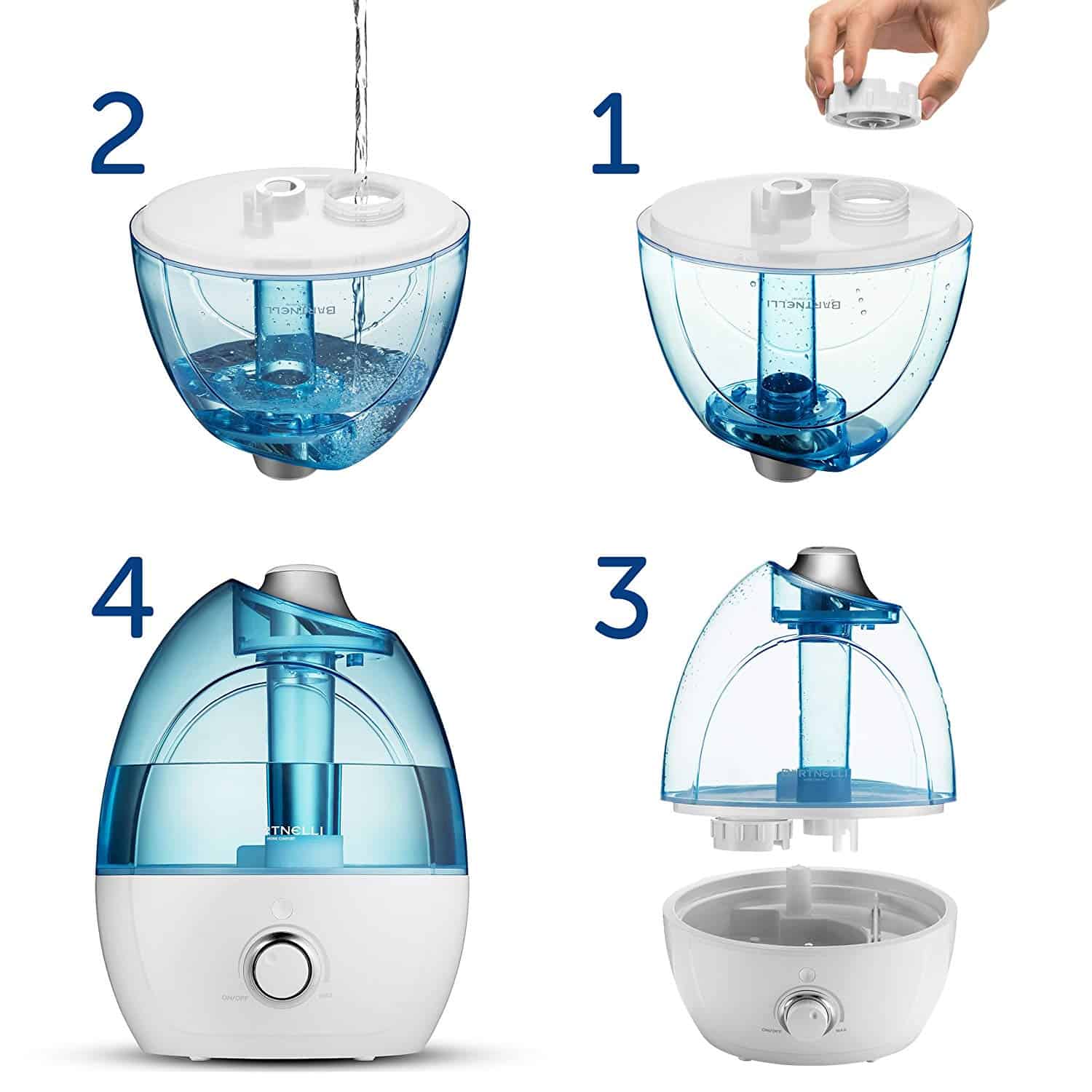 A humidifier isn't a device that you need to clean daily; if you regularly use your humidifier, all you need to do is wipe the water container down with a clean, wet cloth to reduce the buildup of white dust and dirt. If you use your humidifier for at least 4 hours a day, manufacturers typically recommend that you clean your humidifier every week to maintain its optimal performance.
General cleaning
If you haven't cleaned your humidifier for a month, it may be time for a more thorough cleaning process. After a month's use, your humidifier would have a significant buildup of white dust and dirt, and you would need to loosen it up with vinegar. Spray white vinegar inside the water tank to get rid of the white dust, dry it off with a paper towel, then spray a 1:1 mixture of bleach and water to kill bacteria and fungus and to get rid of the smell of vinegar.