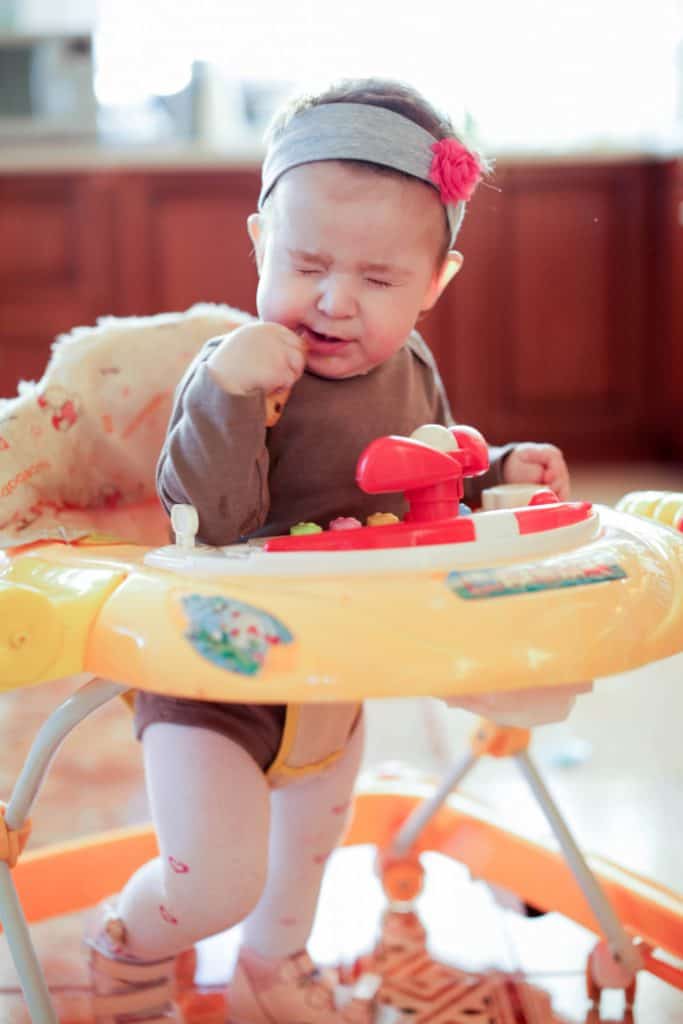 Isn't it exciting knowing your baby would be walking on their own in just a few months? Parenthood has a lot of milestones: their first birthday, learning to talk, their first day at school, graduating from school – and it all starts with one milestone; your baby's first steps. The best baby walkers would introduce the joy and wonder of exploration that encourages your baby to take their first steps.
In this article, we will take close look at 10 of the most amazing baby walkers to help you introduce the joy and freedom of walking to your precious bundle of joy.
As a parent, you must be thrilled and anxious at the thought of letting your baby take their first steps without your support, but with the right baby walker to help your baby learn, you would have absolutely nothing to worry about. Check out our list of the most adorable baby walkers to see which brands made the list!
Research You Can Trust
Besides deciding whether you want your baby walker in pink or blue, is there anything else you should consider when buying baby walkers? Choosing the right baby walker should be fairly simple, but the appearance should be the last of your concerns when picking baby walkers.
To make a point,
We did an extensive research, product testing, and consumer surveys about the top-selling baby walkers today. At Bestazy.com, we go beyond what companies say about their product and get detailed, firsthand information about the right walkers for your baby. We examine build quality, design, materials, and safety features to give you the information you need to make a better buying decision.
What does this mean for you?
With the top picks selected for you, you won't have to spend hours looking for the right baby walker. We have made your selection process simple, so all you'd really have to do in the end is pick the color you want and have the right baby walker delivered straight to your doorstep!
Buyer's Guide
Baby Walkers At A Glance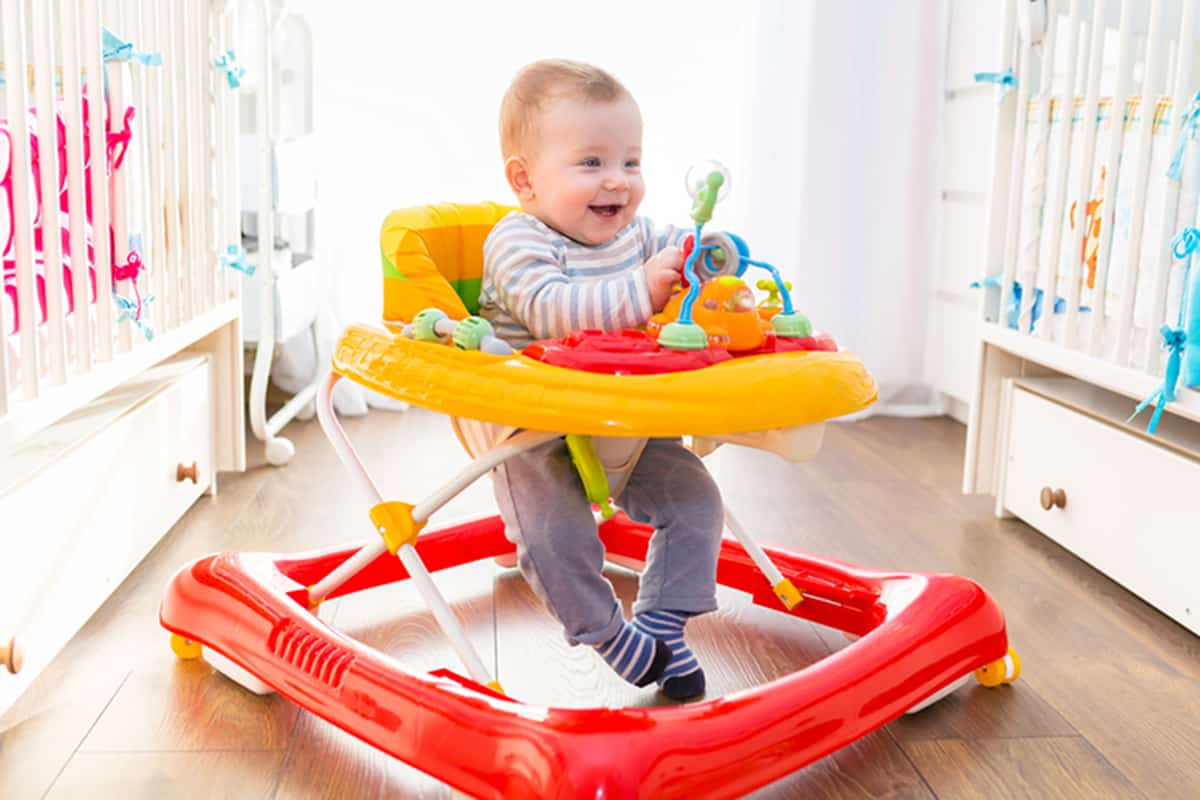 More often than not, picking a baby walker is just the same as buying baby shoes; you should really be looking for factors like comfort and safety, but you always end up choosing the shoe that looks cute on your baby – and that's completely normal.
Parents would naturally want what's best for their babies. That's why we came up with a way to help you decide on the right baby walkers for your baby, without neglecting factors that are important for your baby's development, safety, and comfort.
You simply can't go wrong by going with one of our top baby walkers. All of the items on our list have the essentials you should be looking for in baby walkers. You can be sure that whichever you pick from our list would provide your baby with a comfortable and safe space while learning their basic motor skills.
THE WINNERS
Basic Motor Skills Training
Each one of our top selections provides activities that would hone your baby's gross motor skills. Balance and coordination skills develop during the infant stage. Baby walkers with the right set of features would allow babies to learn and understand the concept of balance and coordination faster. Each product has qualities that would encourage learning and movement, keeping your little bunch engaged and entertained while developing their basic motor skills.
Comfort
Baby walker seats bear the full weight of the baby while they learn to walk, which can be distressing for your baby. Dirty seats could also be a breeding ground for bacteria, which could cause rashes and skin infections. Our selections are all fitted with easy-to-clean removable seats, lined with non-staining material and fitted with abundant padding to make your little one's baby walker adventure cool and comfortable.
Safety
The products on our list all have safety features that adhere to the voluntary standards set by the American Society for Testing and Materials (ASTM). These features are designed to reduce the risk of accidents while using baby walkers, which include:
Rubber brake pads – prevents the walker from falling down the staircase when facing front, back, or sideways.
Tipping resistance – ensures the stability of the walker, and prevents the tipping of the walker while being used on a flat surface.
Dynamic load resistance – ensures that the child remains fully seated and secure while moving, static, or while bouncing/jumping (for baby walkers with "bouncing" features).
Proper fitting – prevents the child from getting trapped in the leg pockets while seated.
With all the basics covered, all you really need to decide on is what features you would want, and you're done! No matter which product you choose to buy, you can be sure that you would have a product that is practical, comfortable, and safe.
Your Guide To Buying The Best Bady Walkers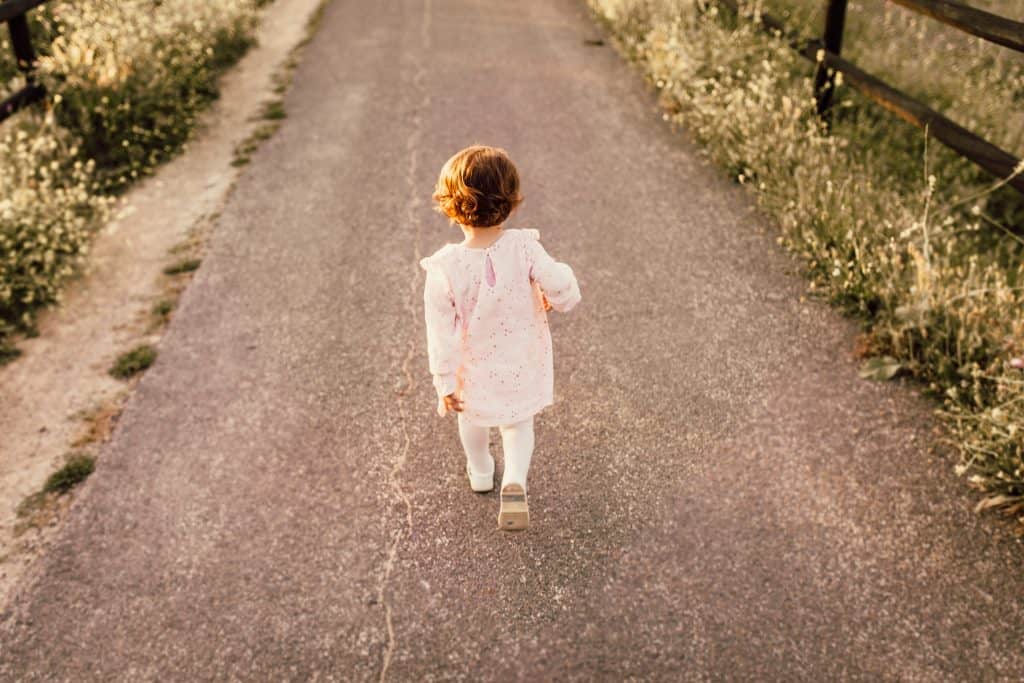 If your first time buying a baby walker, you might think that there's not really much to choose from, until you stroll by your supermarket's baby department and you realize that there's an entire aisle taken up by dozens of baby walkers.
Then it hits you.
You can either walk out of the supermarket with your best haul, or you could drop a hundred dollars on a walker your baby would never use. The reason why it's challenging to pick a baby walker is you'd be buying it for the most important person in your life – a small, defenseless bundle of joy who has yet to learn how to communicate.
In most situations, you would be relying on your instinct as a parent to know if your baby likes it or not. If they are uncomfortable or in pain; if they are having the best time of their lives or scared because they feel trapped.  all up to you to decide what's best for them and these kinds of choices aren't the easiest to make.
It gets worse.
In the 90s, Canada banned the import of baby walkers due to the number of injuries sustained by children using the baby walkers. Studies back in the day suggest that baby walkers are associated with burns, head trauma, drowning, and other injuries. Between 1991 and 2000, there were an estimated 197,200 infant walker-related injuries reported in the United States.
Want to hear the good news?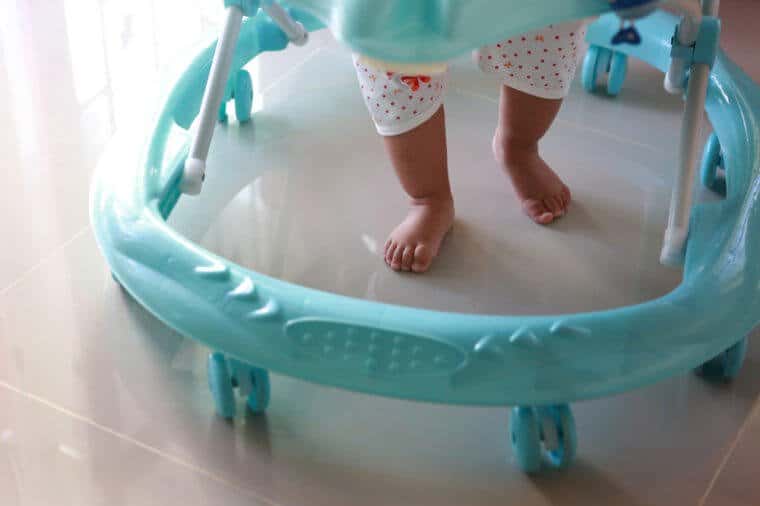 Technology has improved a lot since the 90s, and we now have safety standards in place to ensure that your child is safe whenever they use baby walkers. Modern baby walkers are equipped with several safety features that prevent accidents in the best way possible. Having safety features obviously made a huge impact and it gave companies a chance to re-imagine the design and function of baby walkers.
With safety features in place, baby walkers became an essential part of the growth and development of a child. You'd be hard-pressed to find kids nowadays who grew up without using a baby walker.
For parents, having a baby walker just makes sense. The most practical product that you can get that would give your babies the freedom to move around without getting hurt. In a world that considers it okay to tie a toddler to a safety harness to restrict their movement, having a baby walker seems to be a pretty decent way to manage your baby's curiosity to explore.
What's the bottom line?
We felt it was important to let you understand why we came to the conclusion that not all baby walkers have the basic features you would want. In fact, there's a big chance you would end up buying an unsafe baby walker if you are not aware of the safety features to look for.
You should always:
Be reasonable about the price. As they always say, "If it's too good to be true, it probably is". There are plenty of affordable baby walkers, but you'd be sacrificing far more in safety and comfort than what you save. You could say that your little one would only use it for a few months, but would it be worth it if you are always worried that your baby might get hurt? That being said, there are plenty of affordable, safe, and highly-functional baby walkers. Value-for-money is one of the main criteria when we made our top picks. Our top picks are relatively affordable and would give you the best value for your money.
Inquire about the special features. It can be exciting when you see a product that is loaded with features, but you'd have to ask yourself – which of these features do you really need? Too much clutter on your baby walker could do more harm than good. Also, most baby walkers have interactive lights and sounds. While these could be incredibly entertaining for your little one, it may annoy you to no end. Our selection features several feature-rich baby walkers, but we believe that the features of these products only make it more valuable. We also took the interactive lights and sounds and prioritized the products with customizable controls, such as adjustable volume and child-proof switches.
Inspect the wheel motion. Many inexpensive baby walkers use cheap and poorly-made wheels, which could break off easily or simply stop turning. If this happens, it would be very difficult for your baby to use the walker. Although rare, some designs feature replaceable wheels in case it breaks. Also, go with designs that allow all wheels to swivel. This helps teach your baby about movement and balance. In our list, we prioritized products that feature the swiveling motion on all wheels. We also gave consideration to products that have an excellent reputation for using durable wheels.
Examine the snack tray. Eating snacks while on a baby walker is always a disaster waiting to happen. Toddlers spill their drinks and snacks all the time. That's why it's important to have a deep dish snack tray to keep the snacks in place. Detachable snack trays are also great for easy cleaning.
Confirm adjustable seat height. Babies grow fast, and before you know it, they have outgrown their walkers! Height adjustments are fairly common in baby walkers, but some only extend up to 25 inches. The seat height is an important factor to consider, especially if your baby is relatively bigger or taller than other babies in their age group.
Check for removable and washable seat cushions. Washable seat cushions are a must for any infant walker. Go for designs that allow for an easy removal and installation. All of the entries in our list have removable and washable seat cushions for your convenience.
Testing Out Our 10 Favorite Baby Walkers
In this section, we'll have an in-depth discussion about each of our top picks. We'll share what we love about each of the products, including what can be improved, and what sets it apart from other baby walkers.
Baby Walker Safety Guide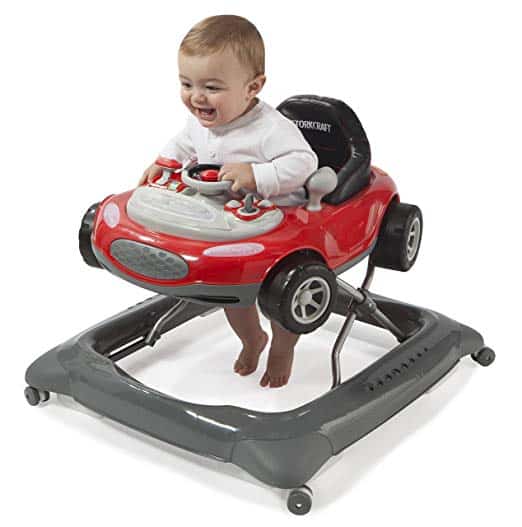 Baby walker accidents happen more often than you'd expect. Although the incidents have steadily reduced since the 90s, many toddlers still get injured when using baby walkers.
important to note that baby walkers, in general, aren't dangerous to use. In fact, there are plenty of safety features in baby walkers to prevent accidents from happening. Aside from the safety features in baby walkers, as parents or guardians, you also play a huge role in ensuring the safety of your baby.
To make a point:
Many of the cases of injury can be traced to neglect, and blaming the equipment is nothing but a way to shift the responsibility and put the blame on someone else. As parents or guardians, we have the responsibility to look after the children in our care and prevent any injuries that may happen to them.
Here are some quick tips to help you keep playtime safe:
Always monitor your baby
As the parent or guardian, it is your sole responsibility to ensure that your baby would not be hurt or injured in any way. Monitoring a child is difficult on its own and using a baby walker may even make it more challenging since there is a bigger chance that the baby would bump into something and cause injuries. However, keeping an eye on your baby makes these situations less likely to happen.
Clean the wheels
The most common accidents that occur when using a baby walker is "tipping over'. Basically, the frame tips over and takes the baby with it. Baby walkers are known to tip over if the wheels lock-in. Make sure to clean the baby wheels before traveling to ensure that your baby can enjoy your travels as well as you do.
Clean the seats
Babies are known to leave a mess in their underpants, but it can also occur while they are riding their baby walkers.  highly advisable to clean the baby walker regularly, especially if another person or family use it. The hot and moist environment could incubate let bacteria and fungus go. Bacterial infections could be absorbed through the skin.
Use only on flat, even surfaces
Not all baby walkers have rubber grips that prevent them from tipping over the stairs. Many baby walkers have such features, but the other features that make it stand out. We recommend that you only use the baby walker on the ground floor of your house because there is always the risk of falling down the stairs. Using baby walkers on uneven surfaces may cause injuries, especially on sloped areas.
Guide your baby into the proper sitting position
Your baby may settle in an awkward position when riding their baby walkers. The right sitting position allows your baby to sit on the center of gravity. To ensure that there is no risk of tipping over, seat your baby properly inside the baby walker.
You might be wondering,
Baby walkers can't be that complicated, right? At the end of the day, it all boils down to what you think a baby walker's purpose is.  not a device that is meant to make your baby busy so you'd have time to do something else.  not just a toy that you can leave your baby alone with. Using a baby walker is an important part of your baby's development process, and they need your undivided attention to go through this stage unharmed.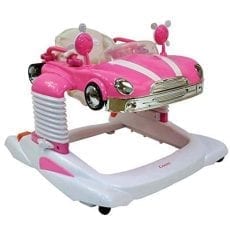 Best of the best
All-in-One Combi Baby Activity Walker
Your precious little one deserves the best baby walker out there. Read our buyer's guide and reviews to find the perfect one.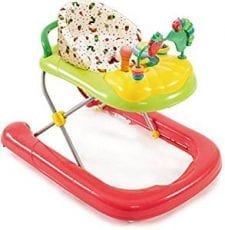 Most Buying
The Very Hungry Caterpillar 2-in-1 Walker
Your precious little one deserves the best baby walker out there. Read our buyer's guide and reviews to find the perfect one.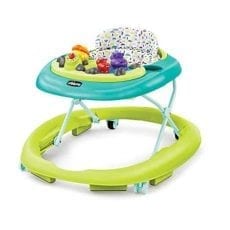 Best for the money
Chicco Walky Talky Baby Walker
Your precious little one deserves the best baby walker out there. Read our buyer's guide and reviews to find the perfect one.