Buyer's Guide
The 30-Second Review
Your ideal baby jumper entertains your little one while giving you a chance to unwind. It's at the same time engaging and capable of developing the baby's pre-walking skills. Since it boasts a sturdy build and parts that are safe for children, it poses no real danger. In addition to that, it's easy to put together and take apart, and it doesn't take up a lot of space in your home.
Buyer's Guide To The Best Baby Jumpers
Picking the right baby jumper means thinking about a lot of different factors at once. As the most important ones, we should mention different types of jumpers, their functionality, materials and frame types, as well as portability and ease of use. But before we delve into all that, we should talk about when and why jumpers should be used in the first place.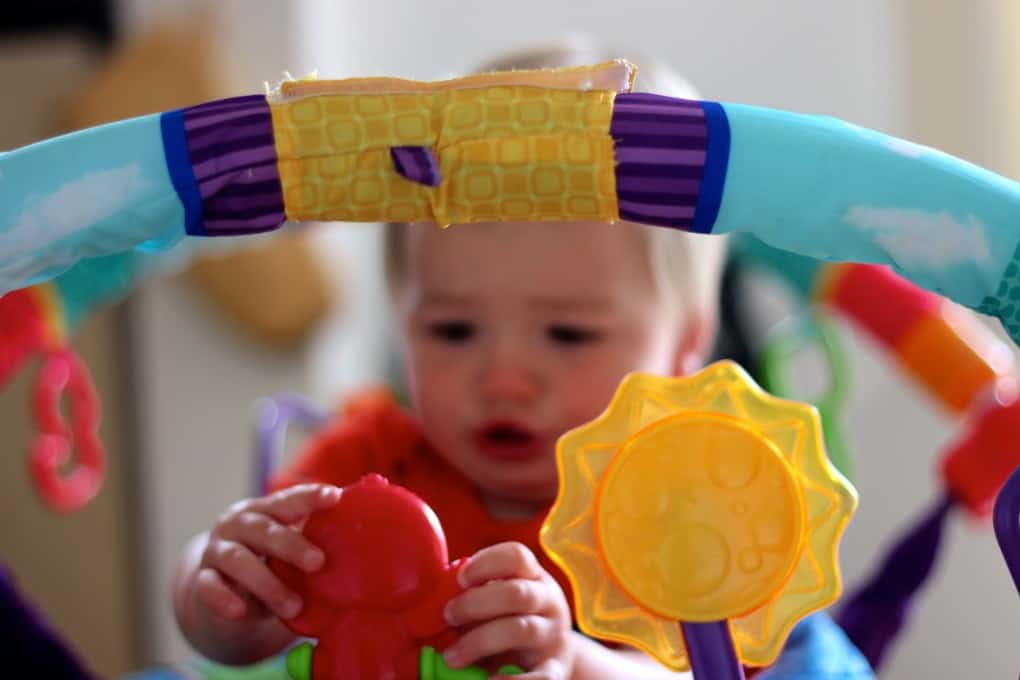 When should you buy a baby jumper?
We're starting with this question since it would be no use reading about these if your kid is two years old. Of course, there are no strict limitations when it comes to age, but baby jumpers are made for children aged 6 to 18 months.
You might be wondering:
Would it really be bad if I put my baby of five months into one of these things? It certainly wouldn't be good, since children have no control over their neck until they're around six months old. This also means they have no way of supporting their head, and no upright position is good without you there to hold them.
However:
You will be able to use the baby jumper for around a year. Once your child is 18 months old, they will have outgrown it, started walking, and probably even lost interest in playing in it. What will you get in the meantime, that is, is something you'll be able to use for only a year worth the trouble?
What are the benefits of using a baby jumper?
By the time they're six months old, babies are usually bursting with energy. At the same time, you're pretty low on it. The first and most obvious advantage of using a baby jumper is that you as a parent get some time to yourself, while your little one stays happily preoccupied.
Apart from being a great way to steal a few minutes to do a chore or unwind, a baby jumper is a safe alternative to baby walkers. According to the American Academy of Pediatrics, using a walker leads to a high risk of the child rolling down the stairs, getting burned, and even drowning. This occurs even when adults are present since they aren't able to react fast enough to prevent accidents from happening. Baby jumpers don't allow the child to move around or reach higher than usual, which makes them harmless.
Now:
You'd probably like to know if using a baby jumper would be beneficial to your child's development. Nowadays there are so many devices and tools that help with that, we strive to make everything serve a similar purpose. It so happens that plenty of experts believe jumpers provide the kids with more than one advantage.
Jumpers are usually equipped with toys and some can even play music. But keeping your baby preoccupied with what's going on isn't the only upside to this. Visual and/or auditory stimulation makes an environment a lot more engaging, which in turn helps with cognitive development.
In order to use jumpers, babies need to push themselves down with the help of their leg muscles. This results in greater muscle strength. When they start learning to walk, this gives them quite an advantage.
While using jumpers, babies learn how to stand, which is a completely new skill at their age. As a result, they end up with improved balance. Since balance is a pre-walking skill, it helps the child master walking itself.
But wait:
We wouldn't want you to get the wrong idea about baby jumpers. Although they can be of help during the process, they're no guarantee your child will learn to walk by a certain age. According to Baylor College of Medicine, walking is complex and shouldn't be pushed too hard. After all, in order to master walking, a child needs to gain control over their head and torso, learn to change body positions, start crawling and be able to stand upright without support.
Are there any cons to using a baby jumper?
In short, yes and no. Many pediatricians and experts in related fields believe baby jumpers can be harmful. However, this is easily avoided simply by following rules on how often and for how long they should be used.
There are two problems related to using a jumper. The first one has to do with its design – it holds the child's hips in a way that makes them stretch out. This isn't a problem in itself but results in the disproportionate growth of muscle groups. The second problem has to do with learning how to walk. Since jumpers make babies use only their toes, it has a negative effect on their walking efforts later on.
Here's the deal:
This doesn't mean baby jumpers are harmful. All their downsides are direct consequences of using them too much. That's the only way your baby will end up having difficulties walking. But how will you know you're using your jumper right? If you use it only once a day and never longer than 30 minutes at a time, there's no way it'll have any negative effects on your child's development.
Walkers vs. swings vs. bouncers vs. jumpers
Nowadays there are plenty of baby products the purpose of which is to provide parents with some free time. Here we're going to talk about bouncers, swings, and jumpers. What are they and how should you choose between them?
Let's break it down: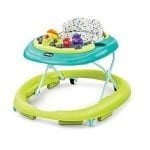 Baby walkers allow your child to run around the place even before they've learned how to walk. Another advantage of these types of units is that they make exploring the surroundings a lot easier. However, they're deemed less safe than swings, bouncers, and jumpers. That's why it might be a good idea to choose from baby walkers of the highest quality and use it only in controlled conditions.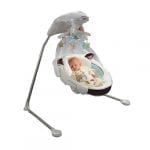 Baby swings are no regular swings. They're usually equipped with toys, and you can easily move them around. However, what's most important is that they rock your baby back and forth without you having to push them. If you combine a good baby swing with a quality baby crib, you'll have no trouble getting your little one to drift off to sleep.
Baby bouncers are contraptions that bounce at your baby's slightest movement. They usually come with toys and can be moved around for your convenience.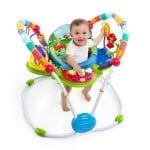 Baby jumpers make your child kick off the floor with their toes in order to bounce up and down. Just like bouncers and swings, they are also portable and more often than not come with toys.
You could be saying:
How am I supposed to choose between those three? Perhaps the best way to go about it is to ask one simple question – what would you like your baby to do while you relax or do your chores? A swing will soothe, a bouncer will entertain, and a jumper will both entertain and keep your baby active.
Types of baby jumpers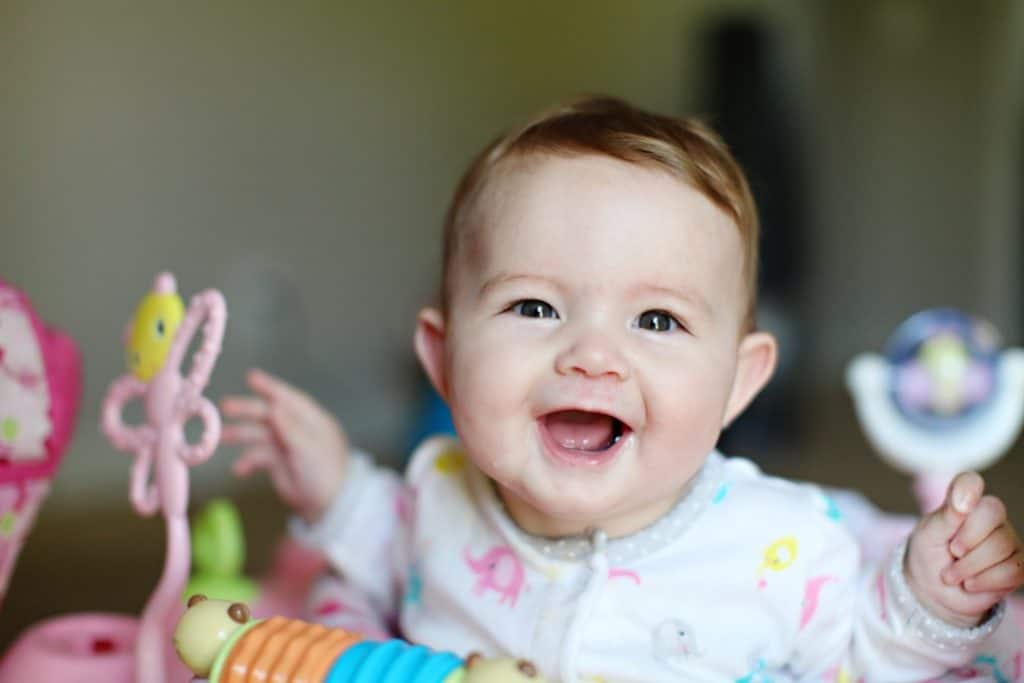 Even once you've opted for a baby jumper, you'll still have some choosing to do. It's because there are three different types: doorway jumpers, stationery jumpers, and activity centers.
Doorway jumpers are units you attach onto your doorframe. The jumper itself remains hanging from the door via a single spring. They're ideal for families that don't have a lot of space and need to economize with their baby stuff. Apart from this, they're easy to pack up and store away, but they're also the cheapest among the three. However, doorway jumpers don't play music and not all of them come with toys.
Stationary jumpers have their own frames from which the seats are suspended. They're a solid option for families living in larger spaces – they're bulky, but you don't need to bother with assembling every single day. Another upside to using them is that they're easy to store and get a lot smaller once they're disassembled. However, stationary jumpers have a downside, too – they usually can't play music.
Activity centers have their own frames, just like stationary jumpers. But their seats are revolving, which makes the units a lot more dynamic for the baby. They're equipped with trays full of toys, sometimes glowing ones at that, and you'll rarely find one that doesn't play music. Their only downside is that they're bulky even when they're disassembled.
Build
When it comes to baby jumpers, safety is at the top of the list. And if you want to make sure you've picked a truly safe option, you need to consider materials and how they've been put together.
Learn from this:
As we've already mentioned, two of three types of jumpers have their own frames, but they all come with springs. This means you need to watch out for exposed coils, not just the durability of the frame itself. Luckily for you, we've taken all that into account while testing different units.
Apart from metal parts, baby jumpers usually have plastic and fabric components. But don't worry. All the products we've chosen for our top picks are built of tough materials and won't break that easily.
Functionality
The ideal baby jumper is one that's not just well built, but highly functional as well. There are a couple of things to look for in this respect. First of all, you might want to opt for a unit with multiple height settings. This allows you to change its height as your baby grows, making it possible for you to get the most out of the jumper.
All jumpers have fabric components, which get dirty as time goes by. And every parent knows how quickly that can happen when it comes to baby products. If you want to save yourself a lot of trouble, it might be best to look for a unit with removable fabric. That way, whenever you see the jumper getting messy, you can wipe it down, take off the fabric and toss it into the washing machine.
If you choose an activity center, your baby will be able to listen to music while bouncing up and down. This is a great source of fun, but it can get pretty annoying fast. Instead of denying your child this joy, simply turn down the volume. But if you want to be able to do that, you'll need to pick a unit with volume control.
Portability and ease of use
Putting it together, taking it apart, and storing it away – these are the three things you'll be doing with your baby's jumper. Why not make it easier for yourself?
Now:
About assembling and disassembling a jumper. If you're getting a doorway jumper, make sure it has convenient clamps for fixing onto the doorframe. If it's a stationary jumper or an activity center, look for a unit with as few components as possible. Your ideal jumper would have parts that simply click together and stay put, instead of the ones that need to be assembled using screws.
When it comes to storing your jumper, you need to account for both its portability and size. If it's among the ones that need to be disassembled using screwdrivers, moving it around will be more difficult. Likewise, if it's bulky, you'll have trouble storing it away. In order to avoid storage issues, check both the dimensions of the product and how big it is when it's disassembled.
Entertainment level
As we've already mentioned, there are three types of baby jumpers. Among other things, the differences are in entertainment level as well.
Here's the deal:
If you get a doorway jumper, bouncing up and down will be the only source of fun for your baby. With stationary jumpers, there will be toys added to the mix, providing plenty of visual stimulation. But when it comes to entertainment, nothing beats activity centers. Revolving seats make it easy for your child to swivel and get the best view of their surroundings. Apart from colorful and glowing toys, you also get a music center for added auditory stimulation.