Here are some of the things you should consider when buying a baby mattress:
Size

Take the inner measurements of the crib before buying your baby mattresses.

To ensure the mattress would fit inside the crib, make sure that the mattress you pick is an inch shorter than your measured length and width. This also allows a bit of room to easily fix and remove a bed sheet.

The Federal Government regulates the standard size of all baby mattresses. The minimum size is 27.25 x 51.62 inches, and no thicker than 6-inches.

The size of cribs is also regulated.

Its interior space should measure 28 x 52.37 inches.

To make sure the mattress would fit snugly inside the crib, make sure your crib and mattress are both compliant with Federal regulations.

Firmness

The mattress' firmness is a key factor in making it safe for babies.

According to the  , soft mattresses, objects, and loose bedding should be kept away from infants because they can cause suffocation.

To make sure the mattress is firm enough, press down with your palm on the center and the edges. The mattress should snap back instantly and it should not retain the shape of your hand.

Crib

As a matter of convenience, we found it way easier and simpler to purchase a crib together with the mattress.

This way, you have the freedom to choose which crib and mattress combination you want for your baby. You can browse our list of the best baby cribs, here.

Hypoallergenic materials

Mattresses are typically made from a certain blend of materials, which could include foam, latex, and glue.

Unfortunately, such materials may cause skin sensitivity or allergies, especially in infants and toddler.

When picking a crib mattress, make sure to pick one made from 100% hypoallergenic material.

Cushion

Should you go for foam or springs?

Based on our research, foam mattresses are safer and more durable.

Many parents in the United States prefer spring mattresses because they use spring mattresses in their own bedrooms.

However, spring mattresses can cause problems for babies as the springs are known to poke holes in the mattress over time.

Not to mention, as your little ones grow, they may use the spring mattress as a springboard or trampoline during playtime, which can cause accidents.

Product certifications

Products are vetted by different standardization and certification programs. Look for products that have certifications such as Greenguard Gold, CFR fire protection, CertiPUR, and Global Organic Textile Standard (GOTS).

You'll know it's the right mattress for your baby if it fits all the factors we listed.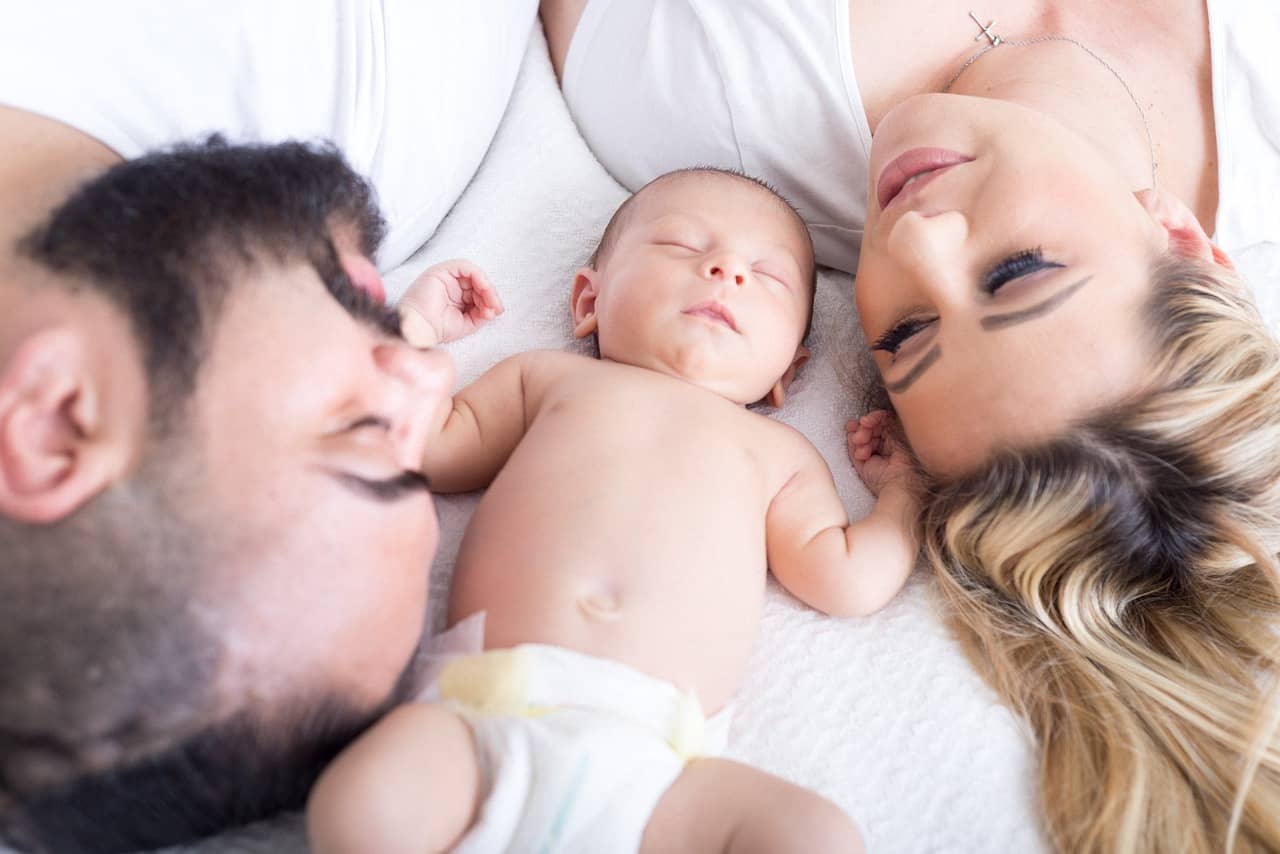 Why can't my baby sleep in my bed?
You may have heard your doctor warn against bed sharing or having your baby sleep in the same bed as you.
Bed sharing is a hot-button parenting topic.
And rightly so, as it takes a natural part of parenting away in favor of safety.
The truth is…
Bed sharing is an important bonding experience between parents and their child.
But…
The risks involved far outweigh the risks.
It's thought to be one of the leading causes of SIDS.
When the parent and child are asleep in the same bed, there is always the risk of suffocation and injuries.
As if that's not enough,
Many parents think it's okay to share a bed with their little ones, not realizing they're putting their child at risk.
Some think it's okay to share a bed with your child if you are a light sleeper or if you don't move much while sleeping.
Luckily…
Bed sharing isn't the only way to share the important parent-child bond while the babies sleep.
Instead of having your baby sleep next to you in the same bed, you can opt for co-sleeping, or simply placing your baby's crib or bassinet next to your bed while you sleep.
Co-sleeping is a lot common than you think. A study in 2013 showed the popularity of co-sleeping has doubled since the 1990s.
Sharing a room with your baby helps them establish a connection with you, creating the foundation of a strong relationship. When your baby sleeps next to you, they'll learn how to associate with other people through you, by your smell, movement, sound, and touch.
Parenting Pro Tips To Optimize The Comfort of A Baby Crib And Mattress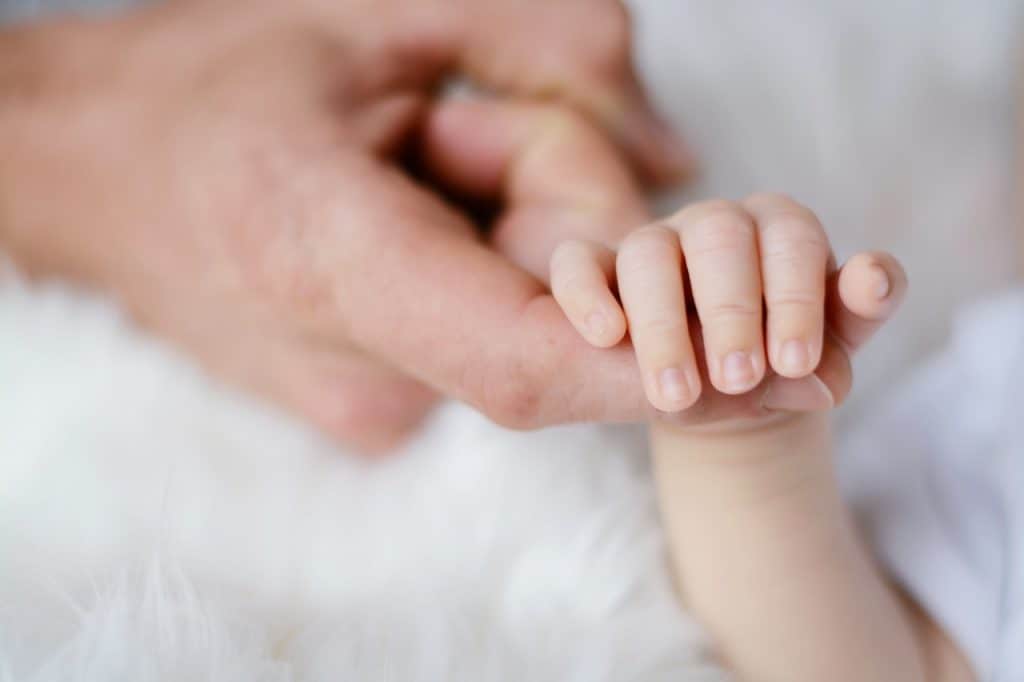 Since you're buying a new baby mattress, you're likely to put-up your baby's crib as well. We created a mini-guide to help you properly set-up your baby mattress and crib to ensure your baby's safety and comfort.
Getting a new crib
We highly suggest getting a new crib if your budget permits.
Used and hand-me-down cribs may not adhere to the latest safety standards, and may also have broken or missing parts.
If you're using a hand-me down crib, make sure everything is intact and all screws are properly fitted.
Do a little bit of research about the product and make sure it hasn't been recalled.
Find the right spot for the crib.
When choosing a spot in your room or nursery, make sure the crib is away from doors, windows, or cabinets.
Clear the area of strangulation hazards such as cords, drapes, and blinds.
Keep anything attached to a power source away from the crib and out of your baby's reach.
Fit your mattress to the crib.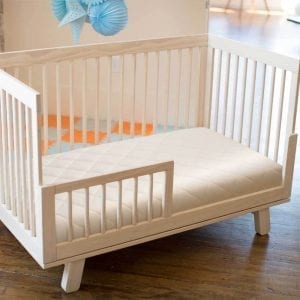 Your mattress should fit the dimensions of your crib snugly, with a maximum of the 1.25-inch gap between the crib and the mattress.
Ideally, you want your mattress to fill the entire floor space of the crib, but minimal gaps are fine. If it's more than 1.25 inches, the gap is too wide, and you may need to pick another size or use fillers to properly fill the gap.
Make sure the mattress cover fits securely and wrap around the mattress corners so it won't slip off.
Adjust the crib base setting.
Most cribs have changeable base settings to adjust to your child's height as they grow. Crib mattress typically ranges between 4 to 6-inches, and you'll need to adjust the floor settings relative to the thickness of the mattress.
For babies, you can start off with the highest mattress setting, then lower it as your little one learns to sit and stand.
Air humidity
Depending on where you live, your doctor may recommend the use of humidifiers to maintain area healthy level of humidity for your baby.
Humidifiers can create optimal breathing conditions and allow your baby to sleep comfortably through the night.
Humidifiers also help relieve dry, itchy skin and it helps loosen up the mucus that clogs your baby's nasal passages.
Cleaning The Baby Mattress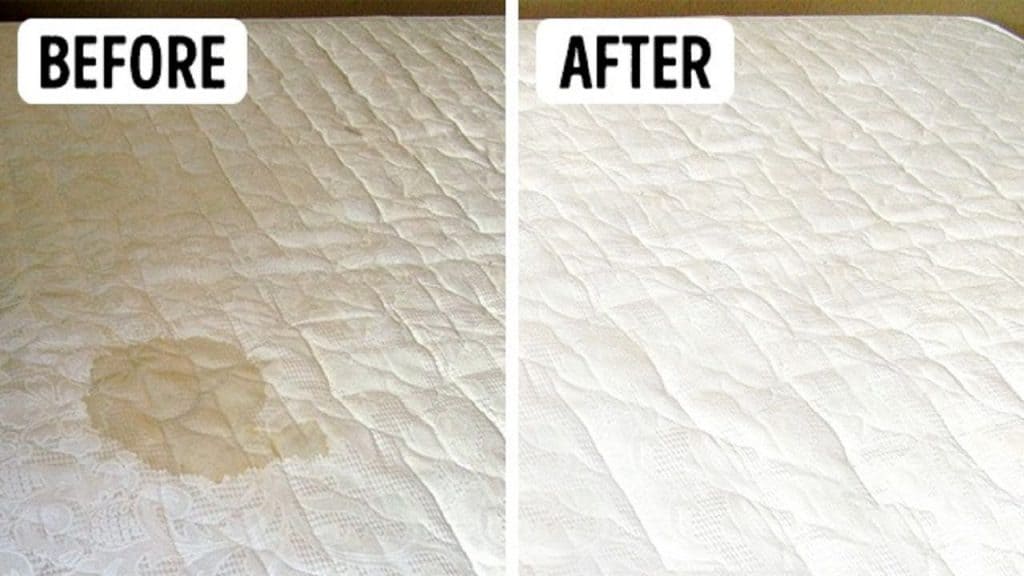 Cleaning the baby mattress is essential in ensuring a healthy environment for your baby. The baby's crib and mattress must be cleaned at least once a day to prevent the buildup of dirt and debris. Thankfully, baby mattresses are easy to clean. It doesn't require special tools, and it only takes a few minutes to do the task.
Cleaning With A Dry Vacuum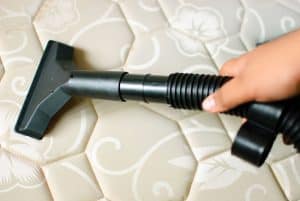 To keep your baby's area fresh, you'll need to vacuum the mattress and crib at least once a day, using the brush attachment.
For hygiene purposes, we recommend you use a clean brush attachment exclusively for your baby's things.
Make sure to flip the mattress and clean the other side as well.
Dealing with wet mattresses
When it comes to baby mattresses, spills and leaks are almost inevitable.
It's a good thing baby mattresses are waterproof and could be cleaned in a jiffy.
First, you'll have to remove the mattress cover and toss it in the laundry. We recommend a mild baby detergent to easily clean off the stain and spills.
You may still have some liquid traces on the surface of the mattress after taking the cover off.
Simply wipe it off with a paper towel, then use disinfectant baby wipes to clean it off.
You may need to use a mild detergent to get rid of tougher stains.
Use a sponge, then dry it off with a paper towel.
Once the surface has dried, replace the cover and fit the mattress back into the crib.
 Disinfecting the crib
The crib is essentially a breeding ground for all sorts of germs and bacteria.
Just think of all the spit-ups, spills, leaks, and sweat that goes into the crib every day.