What You Need To Know About Our Top Baby Mattresses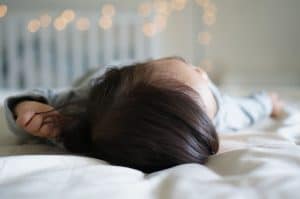 Picking the right baby mattress is a walk in the park.
If you know exactly what to look for…
The problem is, there's just too many to choose from!
As it turns out, not all baby mattresses are made equally. Some are just smaller versions of regular mattresses, while some are made with cheap materials to cut costs.
Keep in mind that your little ones are very delicate, and using mattresses that do not meet the safety standards could lead to grave consequences.
At this point,
We assume you prioritize your baby's health and safety above any other factor.
We created our list of top baby mattresses based on quality and features, and while some products may be a little costly, we made sure the product is well worth its value.
We made our top picks based on quality and features:
Quality
High-quality mattresses are made from hypoallergenic material and are durable enough to withstand long-term use. Ideally, your little ones would be using the same mattress until they grow out of it, so we made sure each of our picks can last a minimum of three years.
Even better,
We made it a point that the materials used in the mattresses would not sag or crumble to prevent spinal malformations, and other related health problems caused by improper bedding. It may not look like a big deal at first, but considering the risk of Sudden Infant Death Syndrome (SIDS), getting a firm and durable mattress would be well worth your investment.
Features
Infants and toddlers' beds require special features that make them safe and hygienic. Our top picks are covered with a waterproof material that cleans up easily. We also made sure our picks have a breathable design to minimize and eliminate odors caused by leaking diapers.
Best of all,
All of our top picks help reduce crib death and suffocation risk in infants and toddlers. Each adheres to the Consumer Product Safety Commission (CPSC) recommendations and features a firm, flat surface to protect your baby from suffocation and other related risks.
Things To Consider When Buying The Best Crib Mattress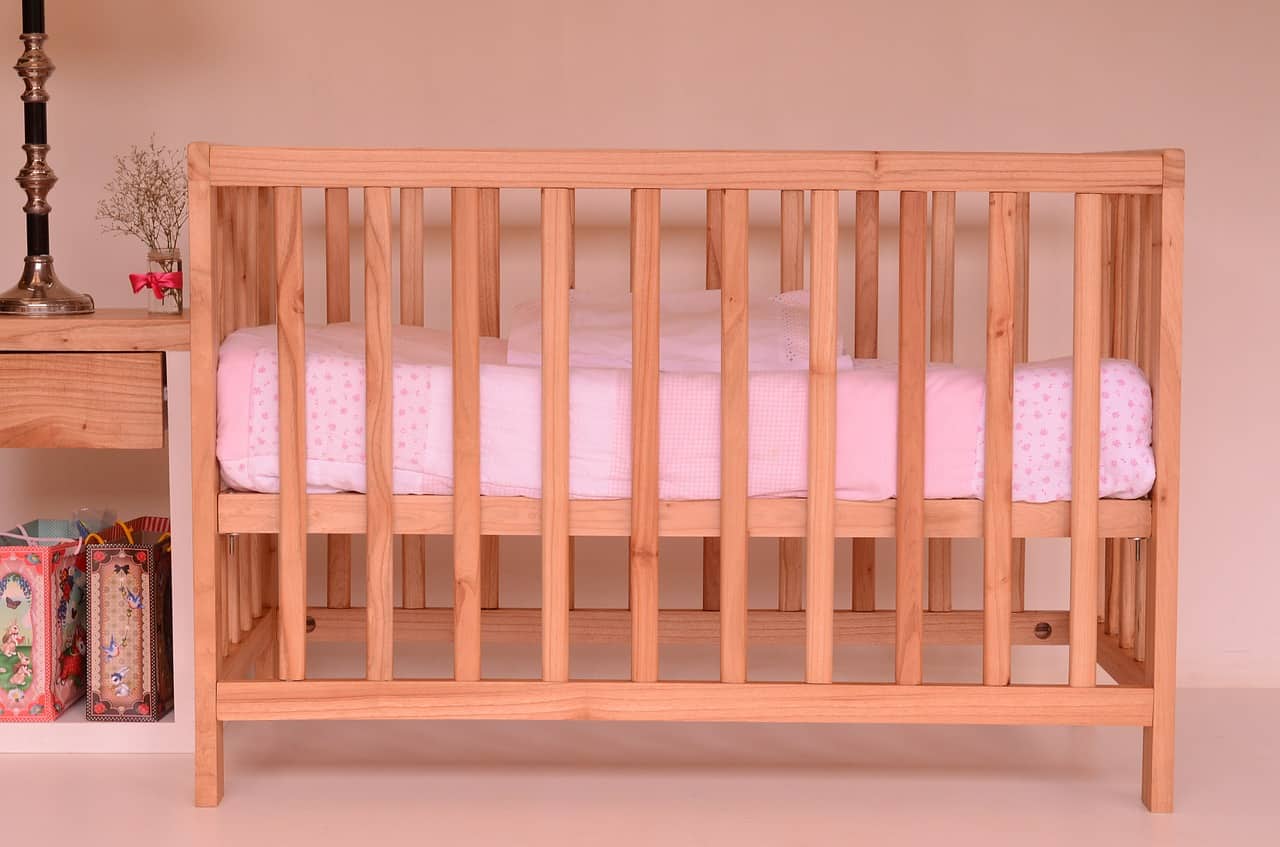 When you shop for mattresses, what features do you commonly look for?
When adults buy mattresses, we usually look for one that provides support, comfort, and to some extent – pain relief, such as with orthopedic mattresses.
Your baby's mattress shouldn't be any different.
You are buying for a specific purpose:
To provide your baby with ample comfort, support, and safety.
On that note…
Let's consider that your mattress preference and your baby's mattress needs may not be the same thing. Don't expect your baby's mattress to be as comfortable and soft as your adult mattress. Your little one has yet to develop the strength to move around and having a plush bed may not be the safest environment for your baby to be in.
For one, you may be looking for a soft mattress, but your baby needs something firm and flat.
Baby mattresses are designed for safety and support. Since babies weigh less, they do not require as much cushion as adults. The cushions provided in baby mattresses are just enough to bring comfort and warmth to your little ones.
Here are some of the things you should consider when buying a baby mattress:
Size

Take the inner measurements of the crib before buying your baby mattresses.

To ensure the mattress would fit inside the crib, make sure that the mattress you pick is an inch shorter than your measured length and width. This also allows a bit of room to easily fix and remove a bed sheet.

The Federal Government regulates the standard size of all baby mattresses. The minimum size is 27.25 x 51.62 inches, and no thicker than 6-inches.

The size of cribs is also regulated.

Its interior space should measure 28 x 52.37 inches.

To make sure the mattress would fit snugly inside the crib, make sure your crib and mattress are both compliant with Federal regulations.

Firmness

The mattress' firmness is a key factor in making it safe for babies.

According to the  , soft mattresses, objects, and loose bedding should be kept away from infants because they can cause suffocation.

To make sure the mattress is firm enough, press down with your palm on the center and the edges. The mattress should snap back instantly and it should not retain the shape of your hand.

Crib

As a matter of convenience, we found it way easier and simpler to purchase a crib together with the mattress.

This way, you have the freedom to choose which crib and mattress combination you want for your baby. You can browse our list of the best baby cribs, here.

Hypoallergenic materials

Mattresses are typically made from a certain blend of materials, which could include foam, latex, and glue.

Unfortunately, such materials may cause skin sensitivity or allergies, especially in infants and toddler.

When picking a crib mattress, make sure to pick one made from 100% hypoallergenic material.

Cushion

Should you go for foam or springs?

Based on our research, foam mattresses are safer and more durable.

Many parents in the United States prefer spring mattresses because they use spring mattresses in their own bedrooms.

However, spring mattresses can cause problems for babies as the springs are known to poke holes in the mattress over time.

Not to mention, as your little ones grow, they may use the spring mattress as a springboard or trampoline during playtime, which can cause accidents.

Product certifications

Products are vetted by different standardization and certification programs. Look for products that have certifications such as Greenguard Gold, CFR fire protection, CertiPUR, and Global Organic Textile Standard (GOTS).

You'll know it's the right mattress for your baby if it fits all the factors we listed.
Did you know?
A mother's presence can have a calming and soothing effect on babies. According to a study by The University of Oklahoma, babies can sense their mother's odor. This is useful for soothing and feeding purposes.
In fact, hospitals use the maternal odor to calm a distressed baby.
To some extent, it has some proven clinical usefulness as it stimulates newborns to feed, and it has a calming effect without the use of chemicals or drugs.
01
Newton Wovenaire Crib Mattress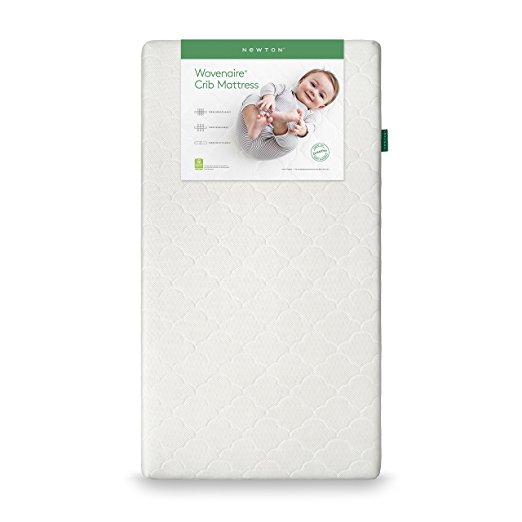 The Newton Wovenaire  Crib Mattress lands the top spot in our list, thanks to its ultra-breathable cover that drastically reduces suffocation risk.
See the Newton Wovenaire Crib Mattress in action here:
The mattress is built with organic materials, earning it a Greenguard Gold* certification, and contains zero foam, latex, springs, or glue. It is made from a patented Wovenaire Core foam, which is 90% air and 10% food-grade polymer.
Best of all,
The mattress has a 2-stage design that allows your baby to enjoy varying stages of safety and comfort that adjusts as they grow up. The 2-stage design works by employing a firm side to provide babies with ample support to prevent suffocation, and a soft side to provide comfort for growing toddlers.
For us, the Newton Wovenaire Crib Mattress is the best on the market today, and you'd be hard-pressed to find other brands that offer a better value.
To be totally honest…
The breathable cover really sets the Newton Wovenaire Crib Mattress apart from the other mattresses on the list.
As parents, we only want the best for our kids, and if you want the top-of-the-line protection against suffocation, then the Newton Wovenaire Crib Mattress is the way to go. The soft, breathable cover allows an uninterrupted flow of air underneath the fibers, which greatly reduces the risk of suffocation while sleeping.
For best results,
Get a spare Newton Breathable Cover so you'll have something to use while you're cleaning the other cover. We encourage you not to use any mattress cover on top of the breathable cover as it may reduce the breathability of the cover.
Features
100% breathable cover
Waterproof bed cover
Hypoallergenic materials
Varying support and comfort levels for babies and toddlers
---
Pros
Breathable cover
Greenguard Gold-certified
2-stage design
Cons
Slightly expensive
Warranty not discussed outright
---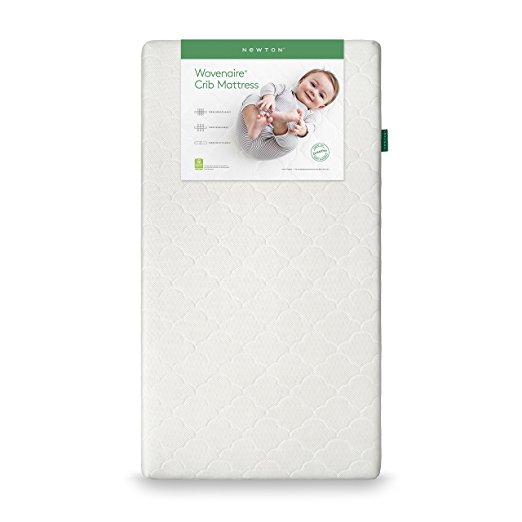 02
Emily Crib Mattress, GOTS Organic Cotton, and Natural Eco-Wool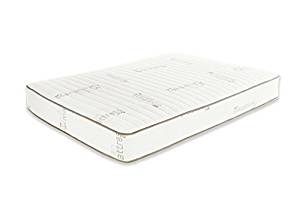 The Emily Crib Mattress reminds us why materials are essential for a high-quality product.
This premium baby mattress from Emily is made up of 100% organic Global Organic Textile Standard (GOTS) certified cotton and natural eco-wool, making it one of the real "green" mattresses on this list. It doesn't contain polyurethane, and it is made of hypoallergenic materials that make it safe even with sensitive skin.
The mattress is made with heavy-duty 150 coil innerspring, which provides the firm, yet comfortable surface for your babies. Its two-sided design allows you to use any side of the bed without any issues.
What we really liked about the Emily Crib Mattress is…
It's not covered in plastic or vinyl like most waterproof baby mattresses. Plastic can trap heat and make your little ones uncomfortable.
Wool is an excellent material to keep your babies cool and comfortable all-night-long.
Its cotton cushion is protected with a waterproof base, which prevents liquids from seeping into the foam. Having a white cotton cover makes it a magnet for all sorts of stains. While it does involve more cleaning and laundry, the comfort the cotton cover provides makes it all worth it.
Features
Waterproof bed cover with cotton lining
GOTS-certified
Two-sided design
Passed CFR flammability testing
---
Pros
Made of wool and cotton
Doesn't use plastic or vinyl covers
Sturdy spring frame
0% polyurethane foams
Made in the USA
Cons
Not as durable as foam mattresses
Warranty not discussed outright
May emit a strong odor at first
---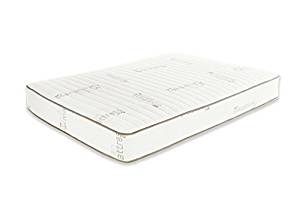 03
Sealy Soybean Foam-Core Infant/Toddler Crib Mattress – Hypoallergenic Soy Foam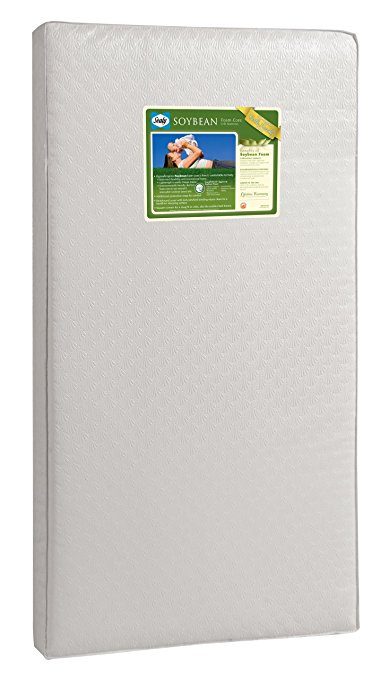 The Sealy Soybean Foam-Core Mattress is a high-density mattress perfect for babies and toddlers.
Based on what we found, it appears the mattress has a good balance of comfort and safety. It has just the right level of firmness to provide the necessary support for babies, and its foam and cover are made from hypoallergenic materials, which make it safe for babies with sensitive skin.
The mattress is CertiPUR-certified, which means it passed through rigorous testing and its foam meets strict standards set by independent laboratories.
On the other hand,
We're not entirely sold on the "soybean" foam fad just yet.
The majority of the material that makes up the foam is still polyurethane.
And while it does contain trace amounts of soybean in the foam, it doesn't make it healthier or "greener" on any level.
However,
We definitely recommend the Sealy Soybean Foam-Core Mattress for babies with sensitive skin. It costs a bit more than most foam-based mattresses, but its hypoallergenic materials make the extra cost worth it.
Features
Waterproof cover
Firmer than spring mattresses
Easy to clean
Sealy Soybean Foam-Core Mattress product manual and warranty
---
Pros
High-density mattress
Easy to clean
Hypoallergenic
Passed various tests and accreditations
Made in the USA
Cons
Mostly polyurethane materials
Plastic-like cover
---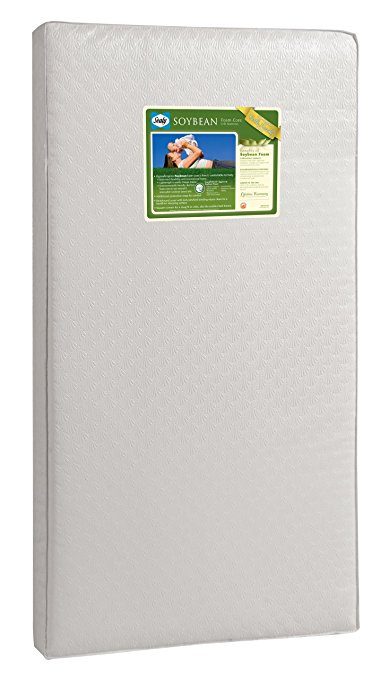 04
Milliard Crib Mattress, Dual Comfort System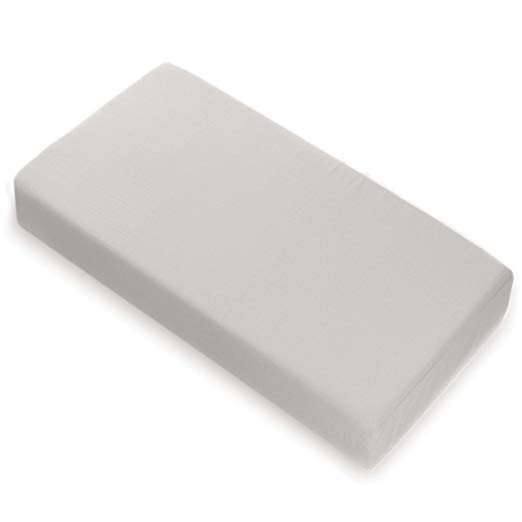 We thought it was practical to have a mattress that your baby can use for years.
That's part of why we liked the Millard Crib Mattress Dual Comfort System.
Basically, it's a mattress designed to adapt to your child's cushion needs as they grow.
On one side, you have the firm mattress setting, perfect for your baby. On the reverse side, you have a softer mattress meant for use by growing toddlers.
If you ask us,
The best feature of the Millard Crib Mattress is its waterproof cotton cover. Unlike most waterproof baby mattresses, the Millard Crib Mattress uses machine-washable, waterproof mattress cover for easy cleanup.
We also found the mattress to be quite affordable compared to other mattresses that offer the same features.
On the other hand,
Cotton covers may be comfortable, but it also attracts all sorts of stains. Be prepared to clean the mattress regularly, or purchase a spare baby mattress cover you can use while waiting for the other mattress cover to dry.
Features
Waterproof cotton cover
Dual comfort system
---
Pros
Comfortable mattress cover
Affordable
Durable
Lasts for years
CertiPUR-US certified
Cons
Needs better zippers for the mattress covers
The cotton surface is a magnet for stains
---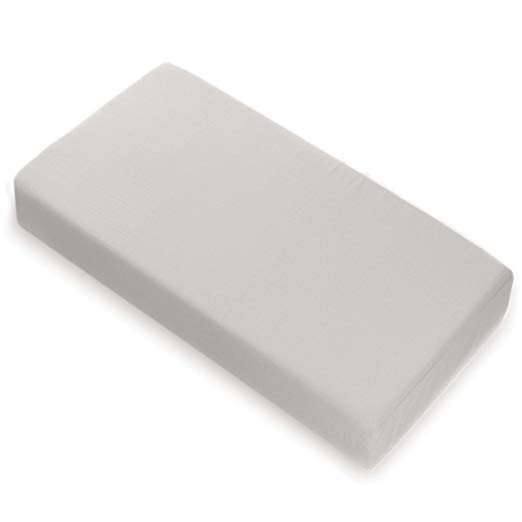 05
Milliard Crib Mattress and Toddler Bed Mattress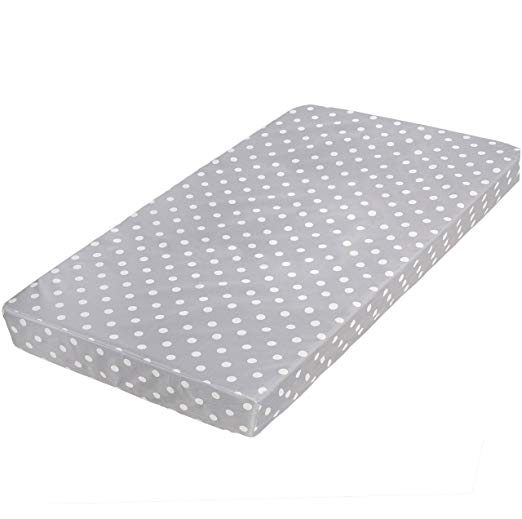 Coming at the fifth spot is a more affordable version of the Millard Crib Mattress Dual Comfort System.
The Millard Crib Mattress and Toddler Bed Mattress is made with high-grade CertiPUR-US certified foam, to provide babies and toddlers with a safe environment to play and sleep on.
What we like about the Millard Crib Mattress and Toddler Bed Mattress is the option to make the bed more affordable.
Although it doesn't have the reversible firmness of the more expensive model, it does make up for it by having the same essential features at a much more affordable price point.
If you want the bare essentials, the Millard Crib Mattress and Toddler Bed Mattress is right for you.
It has a waterproof cover, and it is made from hypoallergenic materials.
But, there's the catch:
Just be mindful of the bottom cover since only the top and sides are waterproof.
Features:
Hypoallergenic and waterproof encasement
Ventilated bottom
Meets all fire safety regulations
---
Pros
Affordable
Durable
Lasts for years
CertiPUR-US certified
Cons
Needs better material for mattress covers
Non-waterproof bottom cover
Bottom cover can easily attract stains
---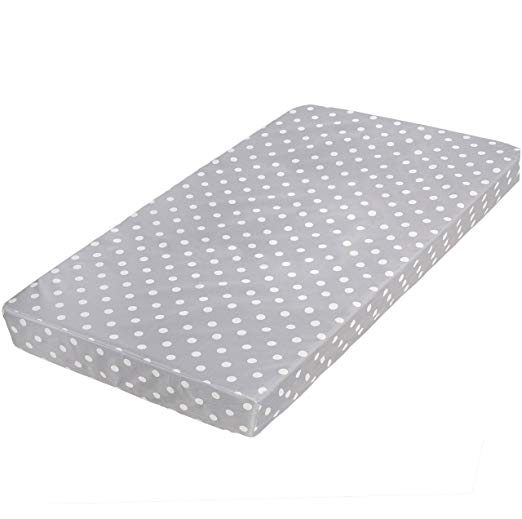 06
Colgate Eco Classica III Dual Firmness Eco-Friendlier Crib Mattress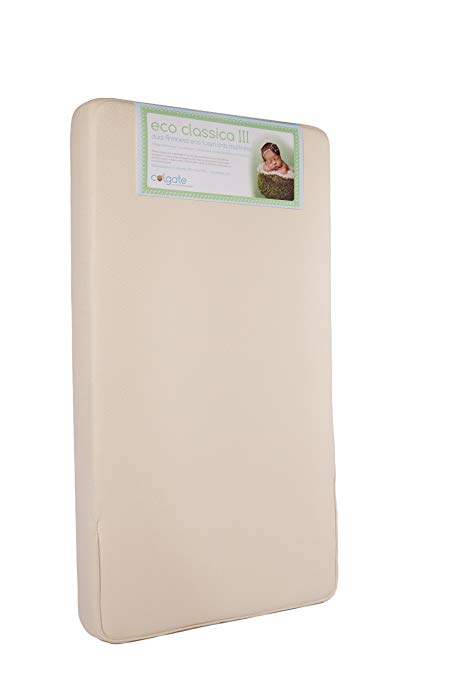 The Colgate Eco Classica III Dual Firmness Mattress is an orthopedic-style mattress that fits all standard-sized cribs.
It features a multi-layered dual firmness design that allows it to provide ample support for babies (firm side) and better comfort for toddlers (soft side).
Each side is lined with an organic cotton cover with a layer of waterproof material underneath.
The cover puts the organic cotton layer closest to your baby, while the waterproof layer prevents liquids from seeping into the mattress.
What we really like about the Colgate baby mattress is its focus on safety.
Colgate has been producing mattresses since 1955, and they have made a name for themselves as one of the leading baby mattress manufacturers.
They made sure their mattresses fit like a glove in standard-sized cribs for optimum safety.
However,
This mattress could have ranked higher on our list if it was more affordable, or if it had more affordable variants.
Features
Perfect fit for standard-sized cribs
6" thick mattress for tight-fitting bed covers
Colgate Eco Classica III Dual Firmness Eco-Friendlier Crib Mattress user manual
---
Pros
Dual Firmness
Thick mattress
CertiPUR-US certified
Greenguard certified
Cons
Expensive
Some mattresses are shipped with factory defects
---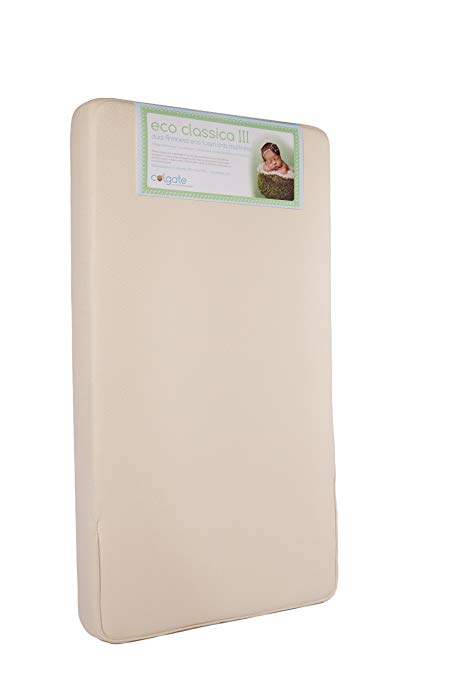 07
My First Crib Mattress, Memory Foam Crib Mattress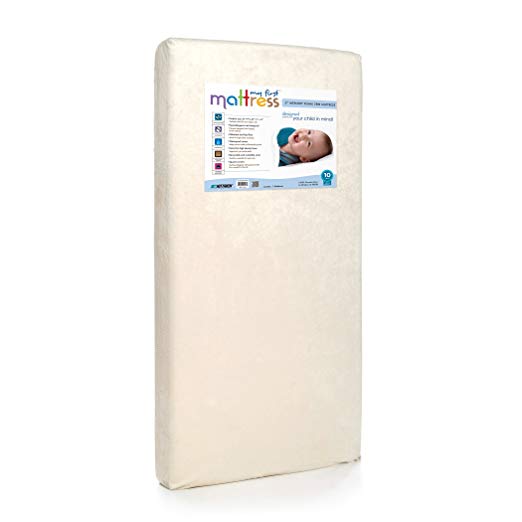 The My First Crib Mattress is a memory foam mattress designed specifically for infants.
Unlike the typical soft and plush memory foam material, the My First Crib Mattress is made with firm memory foam that adheres to the safety regulations especially created for crib mattresses.
It comes with a soft velour cover lined with a  waterproof layer for your baby's comfort and safety.
What's the upside of using a memory foam mattress?
As the name implies, memory foam mattresses retain their shape, which makes it an exceptionally durable material to use for mattresses.
It has one of the longest product warranties on this list.
A whopping 10 years!
That alone speaks volumes of how durable the mattress is.
The mattress measures 51.6 x 5 x 27.2 inches, which makes it slightly smaller than the standard size for baby mattresses.
Some parents who bought the My Crib Mattress had issues with gaps between the mattress and the crib. Make sure that the crib is no bigger than 53 x 28.5 inches to properly fit the mattress to your crib.
The mattress is delivered vacuum-packed and it takes roughly 72 hours to fully expand to its original size.
During testing, we noticed that the foam had a faint chemical odor, which lasted for a few days after opening the package. The odor typically goes away on its own, but it'll go away a lot faster if you air it out.
Features
Soft, washable mattress cover
Memory foam cushion
---
Pros
Sturdy material
Easy to clean covers
Square corners for a snug fit
10-year warranty
Cons
Slightly more expensive than other brands
Brand-new mattresses have a distinct chemical odor
Slightly smaller than the standard size
---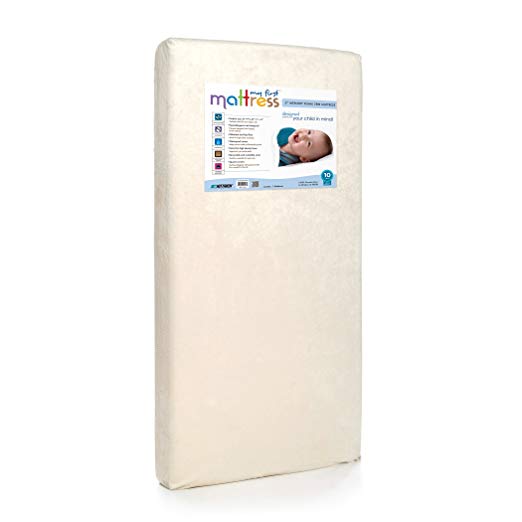 08
Dream On Me5″ Inner Spring Play Yard Mattress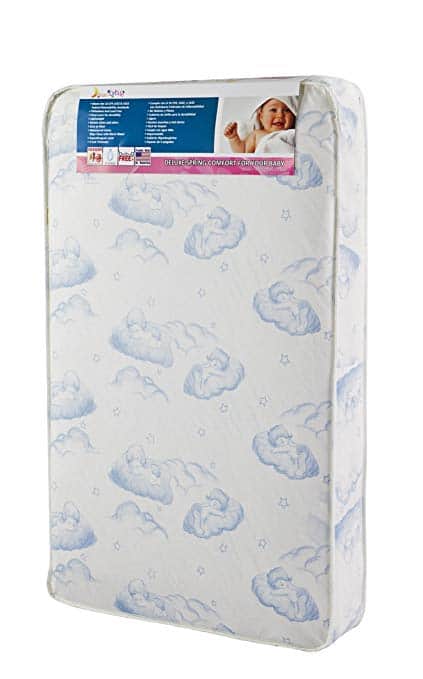 If you're looking for a Play Yard mattress, the Dream On Me Spring Mattress should be at the top of your list. It offers the essential features you need from a crib mattress, such as a firm cushion, waterproof, and made from hypoallergenic materials.
The Dream On Me mattress perfectly fits the dimensions of the most popular play yard brands.
Note that this specific mattress would not fit standard crib sizes. It measures 25.5 x 5 x 37.5 inches, significantly smaller than the standard crib mattress, which measure 27.25 x 5 x 51.62 inches.
With that in mind, standard-sized crib mattress covers would not fit the Dream On Me Play Yard mattress. We highly suggest the Pack N' Play Mattress Pad Cover, which is a guaranteed fit for the Dream On Me 5" Play Yard mattress.
Its mattress is supported by 53 coils of 13-gauge springs to provide your little ones with ample support.
While spring mattresses are known to be quite squeaky, the support makes it easy for the mattress to handle light loads without making too much noise.
Like all our entries on this list, it also comes with a waterproof cover to prevent leaks from spilling into the mattress.
Through our research, we discovered most customers who buy Dream On Me Inner Spring Mattress don't buy the product because of its spring cushion.
Customers buy it because it's one of the most affordable mattresses that fit playards.
The Dream On Me mattress fits popular playard variants such as:
Baby Trend Nursery Center (Tanzania Collection)
Safety 1st Disney Baby Sweet Wonder Playard
Graco Pack 'N Play Snuggle Suite LX
Graco Pack 'n Play (Pasadena Collection)
Fisher Price Ultra Lite Day & Night
Features
A mattress designed for Play Yard
Washable bed covers
---
Pros
Affordable
Comfortable
Sturdy
Washable covers
10-year warranty
Cons
Spring-based cushion
Made specially for Play Yard
---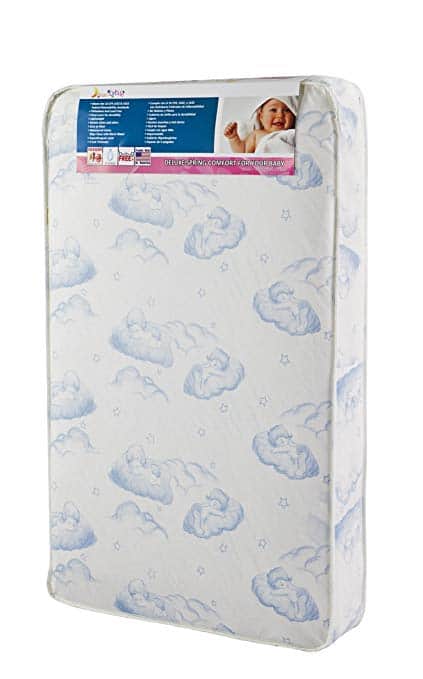 09
Dream On Me 3″ Spring Coil Mini / Portable Crib Mattress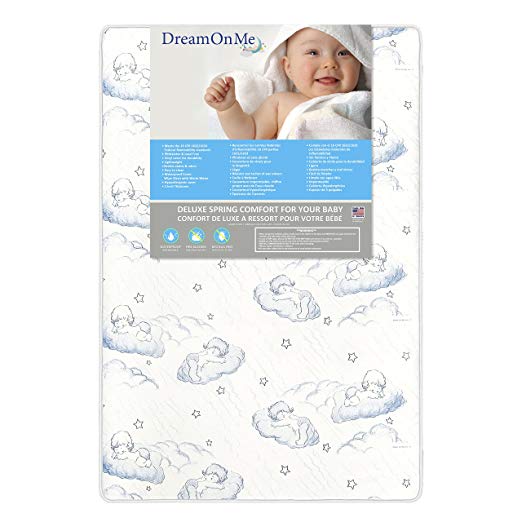 Coming at our ninth spot is the smaller, more portable version of the Dream On Me Inner Spring Play Yard Mattress.
The Dream on Me Portable Crib Mattress provides ample support and safety in a compact setting. Its firm mattress and the breathable cover keep your baby safe and comfortable even when you're on the go.
The 3-inch thick spring coil mattress is made for portable cribs measuring 24 x 38 inches. Special mattress covers are made for mini crib mattresses.
Although the mattress comes with its own removable cover, you might want to check out the Ely's & Co Waterproof Mini Crib Sheet to match your Dream On Me Portable Crib Mattress.
Even though the outer cover appears to be made from vinyl, its interwoven design makes it easy for air and head to pass through.
Even though the mattress is only 3-inches thick, it still feels firm and sturdy. It safely supports a maximum weight of 30 pounds.
Just be mindful of how you store or pack the mattress. Its thin frame makes it prone to bending, which could damage the spring coils and foam.
Features:
A mattress designed for standard portable baby cribs
Washable bed covers
---
Pros
Affordable
Comfortable
Sturdy
Washable covers
10-year warranty
Cons
Spring-based cushion
Made specially for standard portable baby cribs
The cover is made from a vinyl-like material
---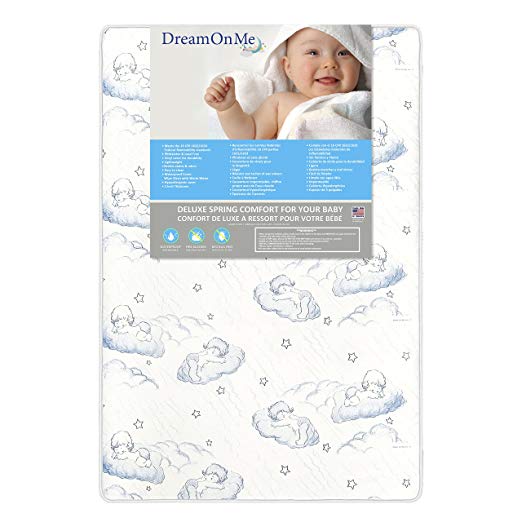 10
Graco Premium Foam Crib and Toddler Bed Mattress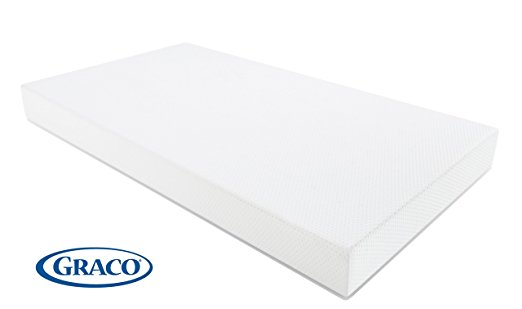 Even though the Graco Premium Crib Mattress is more affordable than other products featured on this list, it still has a lot of premium features.
For example:
It has an easy-to-clean waterproof cover, and it's free of chemicals that may harm your child's health.
The waterproof cover has two layers – a fabric top layer and a vinyl layer underneath. The top layer is meant to disperse heat and make the mattress more comfortable to sleep on. You'll just have to be mindful of stains as its white cloth layer is a magnet for stains.
The mattress comes in a compact vacuum packaging. After unpacking, the mattress will expand.
Allow a maximum of 72 hours for the foam to fully expand.
During our testing, there were several instances where the mattress did not fully expand. Like all vacuum-packed mattresses, the Graco Crib Mattress also had a faint chemical odor, which went away after airing the mattress out for a few days.
If that happens, make sure to contact the manufacturer.
Luckily…
The Graco Premium Crib Mattress comes with a six-year warranty, and it covers factory defects, including uneven foam expansion.
Features
Water-resistant bed cover
Firm cushion
Graco Premium Foam Crib and Toddler Bed Mattress user manual
---
Pros
Affordable
Easy to clean
Hypoallergenic
6-year warranty
Cons
Top cloth layer is a magnet for stains
Has strong odors after unpacking
Several instances of uneven foam expansion
---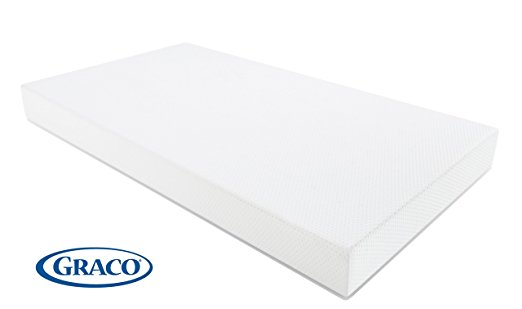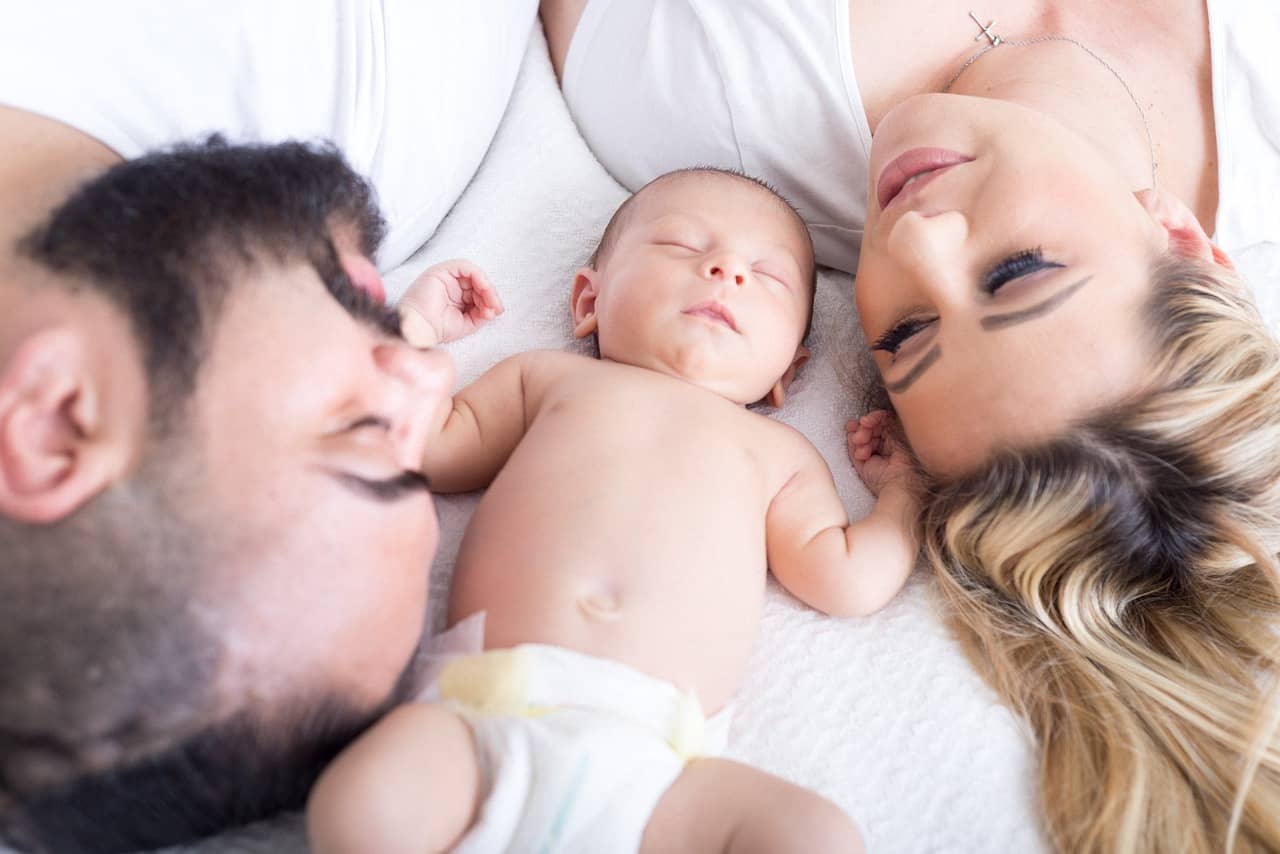 Why can't my baby sleep in my bed?
You may have heard your doctor warn against bed sharing or having your baby sleep in the same bed as you.
Bed sharing is a hot-button parenting topic.
And rightly so, as it takes a natural part of parenting away in favor of safety.
The truth is…
Bed sharing is an important bonding experience between parents and their child.
But…
The risks involved far outweigh the risks.
It's thought to be one of the leading causes of SIDS.
When the parent and child are asleep in the same bed, there is always the risk of suffocation and injuries.
As if that's not enough,
Many parents think it's okay to share a bed with their little ones, not realizing they're putting their child at risk.
Some think it's okay to share a bed with your child if you are a light sleeper or if you don't move much while sleeping.
But that's simply not true!
Bed sharing is dangerous, and it puts your baby's life at risk.
When babies sleep next to their parents, there is a risk of suffocation as the child can get entangled or smothered by loose beddings.
There's also a risk of the child rolling towards the parent's body. When this happens, there is a risk for the child to suffocate or be crushed under the weight of their parent when they move around while they sleep.
In any case, the risks far outweigh the benefits, regardless of how careful you may be.
Luckily…
Bed sharing isn't the only way to share the important parent-child bond while the babies sleep.
Instead of having your baby sleep next to you in the same bed, you can opt for co-sleeping, or simply placing your baby's crib or bassinet next to your bed while you sleep.
Co-sleeping is a lot common than you think. A study in 2013 showed the popularity of co-sleeping has doubled since the 1990s.
Sharing a room with your baby helps them establish a connection with you, creating the foundation of a strong relationship. When your baby sleeps next to you, they'll learn how to associate with other people through you, by your smell, movement, sound, and touch.
Parenting Pro Tips To Optimize The Comfort of A Baby Crib And Mattress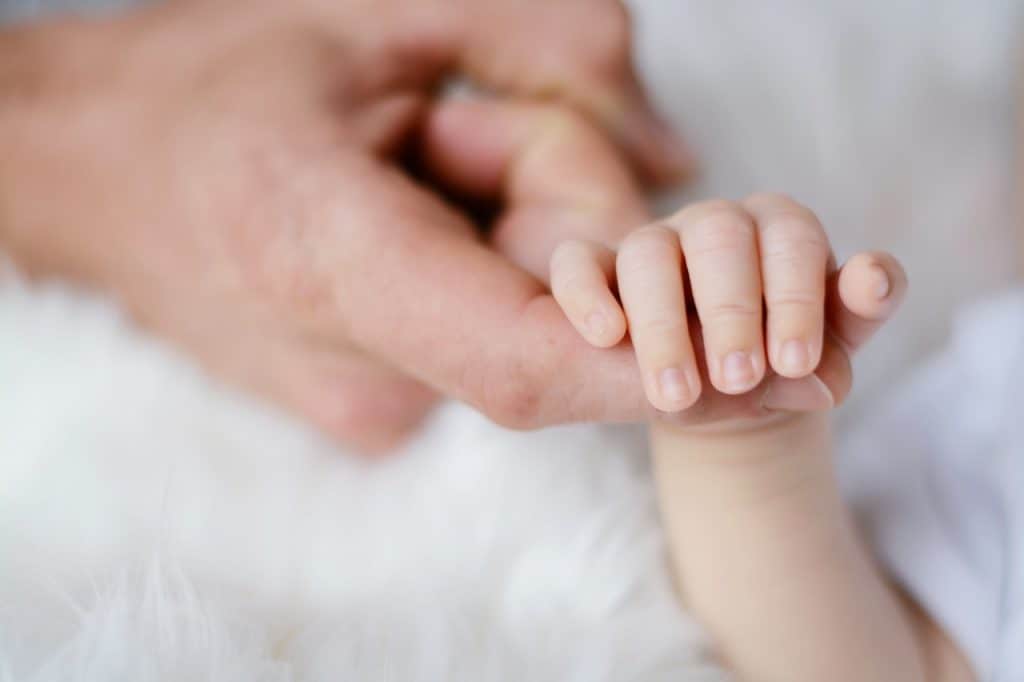 Since you're buying a new baby mattress, you're likely to put-up your baby's crib as well. We created a mini-guide to help you properly set-up your baby mattress and crib to ensure your baby's safety and comfort.
Getting a new crib
We highly suggest getting a new crib if your budget permits.
Used and hand-me-down cribs may not adhere to the latest safety standards, and may also have broken or missing parts.
If you're using a hand-me down crib, make sure everything is intact and all screws are properly fitted.
Do a little bit of research about the product and make sure it hasn't been recalled.
Do not attempt to fix a broken crib.
We found it more practical to simply buy a new crib instead of fixing a broken crib, considering the risks and the hours needed to repair one.
Find the right spot for the crib.
When choosing a spot in your room or nursery, make sure the crib is away from doors, windows, or cabinets.
Clear the area of strangulation hazards such as cords, drapes, and blinds.
Keep anything attached to a power source away from the crib and out of your baby's reach.
Fit your mattress to the crib.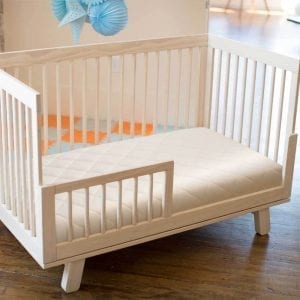 Your mattress should fit the dimensions of your crib snugly, with a maximum of the 1.25-inch gap between the crib and the mattress.
Ideally, you want your mattress to fill the entire floor space of the crib, but minimal gaps are fine. If it's more than 1.25 inches, the gap is too wide, and you may need to pick another size or use fillers to properly fill the gap.
Make sure the mattress cover fits securely and wrap around the mattress corners so it won't slip off.
Adjust the crib base setting.
Most cribs have changeable base settings to adjust to your child's height as they grow. Crib mattress typically ranges between 4 to 6-inches, and you'll need to adjust the floor settings relative to the thickness of the mattress.
For babies, you can start off with the highest mattress setting, then lower it as your little one learns to sit and stand.
Air humidity
Depending on where you live, your doctor may recommend the use of humidifiers to maintain area healthy level of humidity for your baby.
Humidifiers can create optimal breathing conditions and allow your baby to sleep comfortably through the night.
Humidifiers also help relieve dry, itchy skin and it helps loosen up the mucus that clogs your baby's nasal passages.
Cleaning The Baby Mattress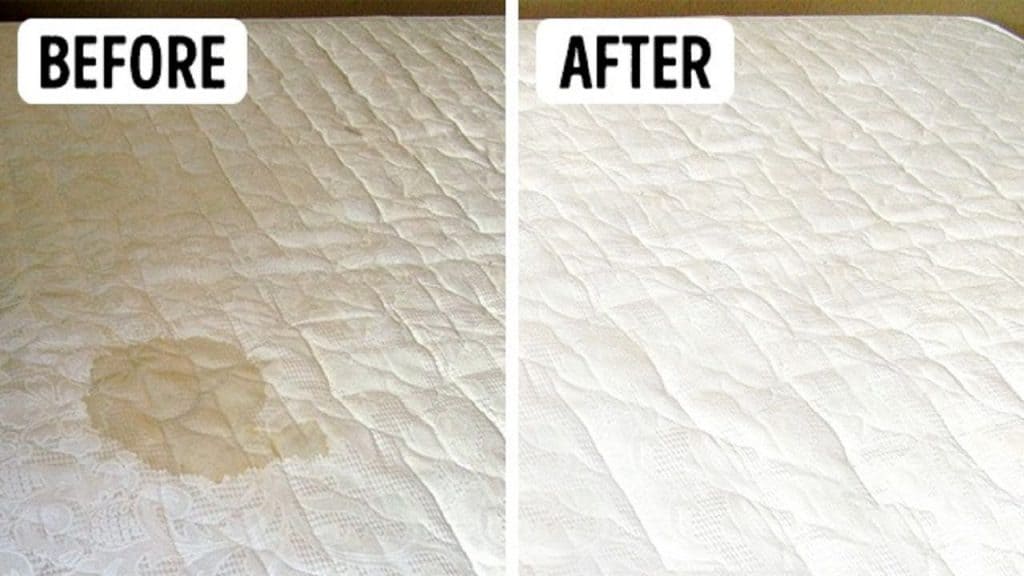 Cleaning the baby mattress is essential in ensuring a healthy environment for your baby. The baby's crib and mattress must be cleaned at least once a day to prevent the buildup of dirt and debris. Thankfully, baby mattresses are easy to clean. It doesn't require special tools, and it only takes a few minutes to do the task.
Cleaning With A Dry Vacuum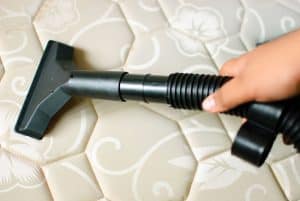 To keep your baby's area fresh, you'll need to vacuum the mattress and crib at least once a day, using the brush attachment.
For hygiene purposes, we recommend you use a clean brush attachment exclusively for your baby's things.
Make sure to flip the mattress and clean the other side as well.
Dealing with wet mattresses
When it comes to baby mattresses, spills and leaks are almost inevitable.
It's a good thing baby mattresses are waterproof and could be cleaned in a jiffy.
First, you'll have to remove the mattress cover and toss it in the laundry. We recommend a mild baby detergent to easily clean off the stain and spills.
You may still have some liquid traces on the surface of the mattress after taking the cover off.
Simply wipe it off with a paper towel, then use disinfectant baby wipes to clean it off.
You may need to use a mild detergent to get rid of tougher stains.
Use a sponge, then dry it off with a paper towel.
Once the surface has dried, replace the cover and fit the mattress back into the crib.
 Disinfecting the crib
The crib is essentially a breeding ground for all sorts of germs and bacteria.
Just think of all the spit-ups, spills, leaks, and sweat that goes into the crib every day.
Cringing yet?
You'd be surprised at how easy it is to clean.
Just wipe it down with baby wipes or mild disinfectant sprays. You won't have to buy cleaning materials for the sole purpose of cleaning the crib. Just remember to let the surface dry out before letting your baby use the crib again.
It's that simple!