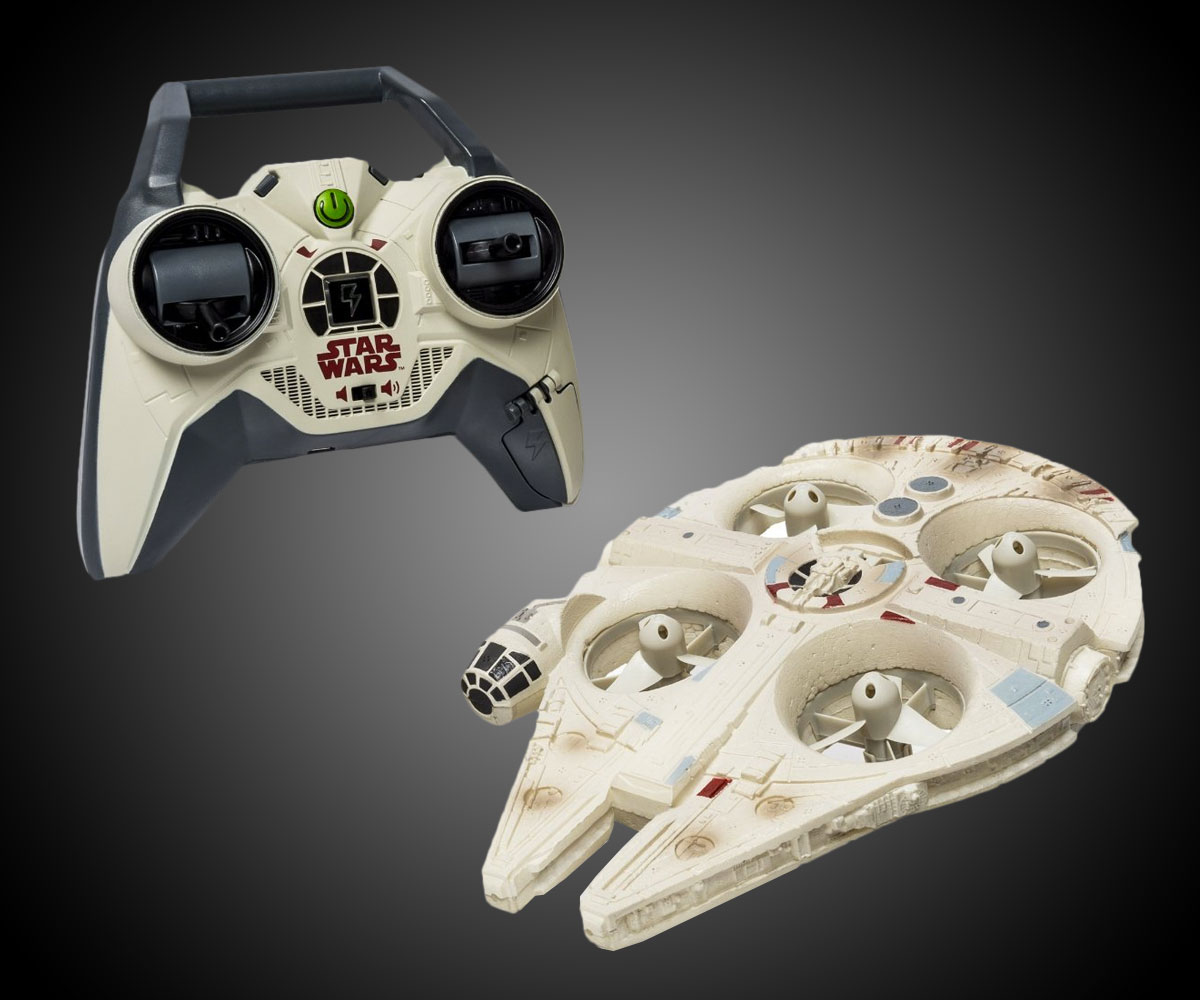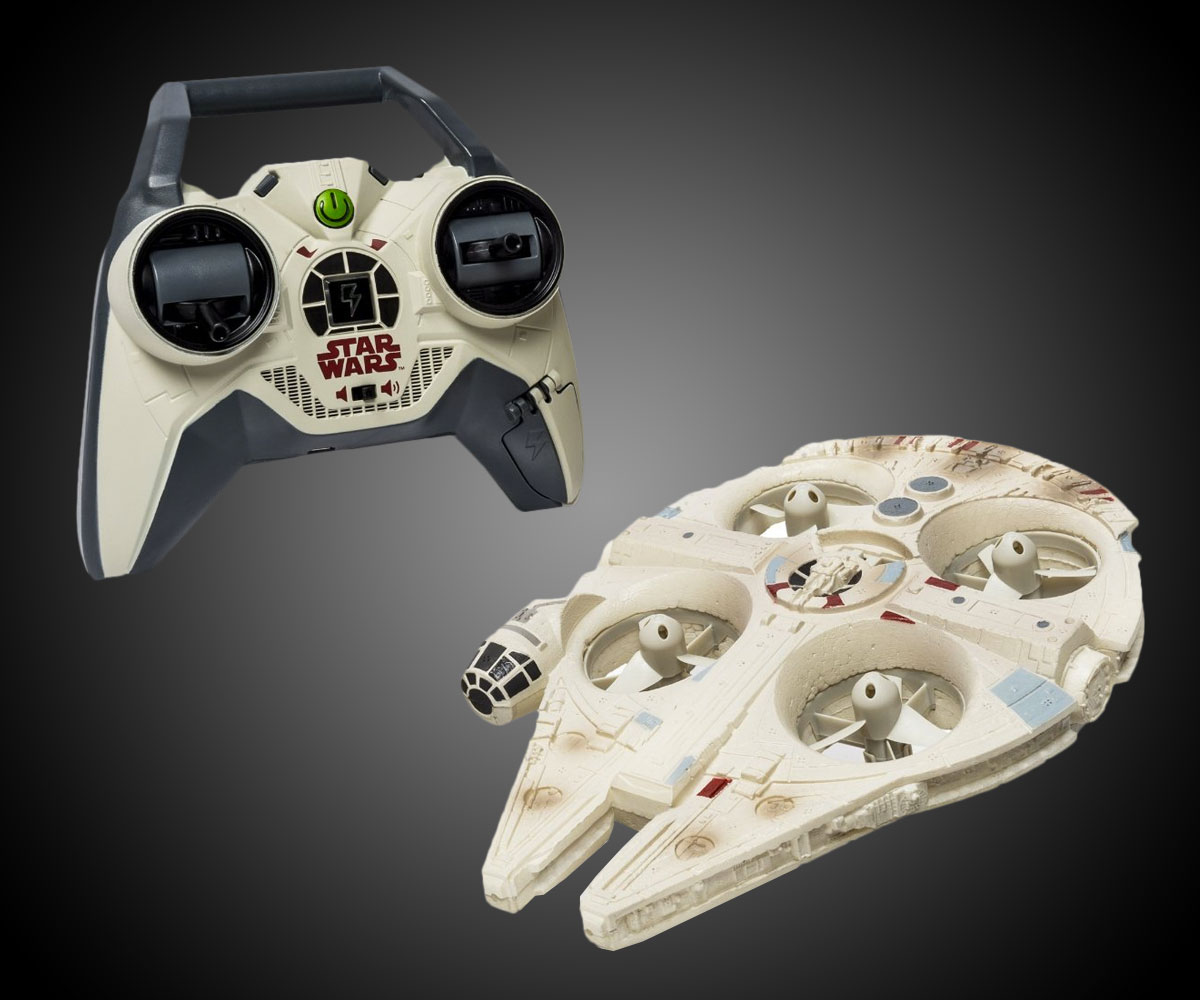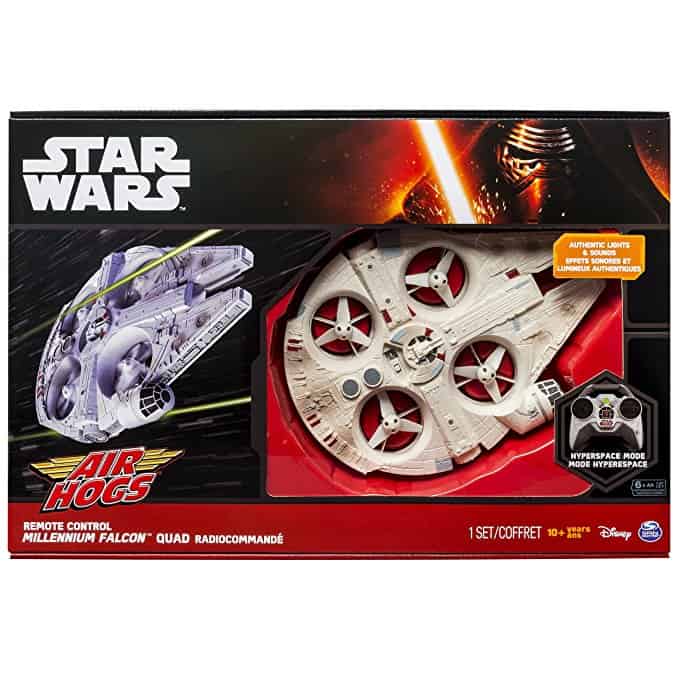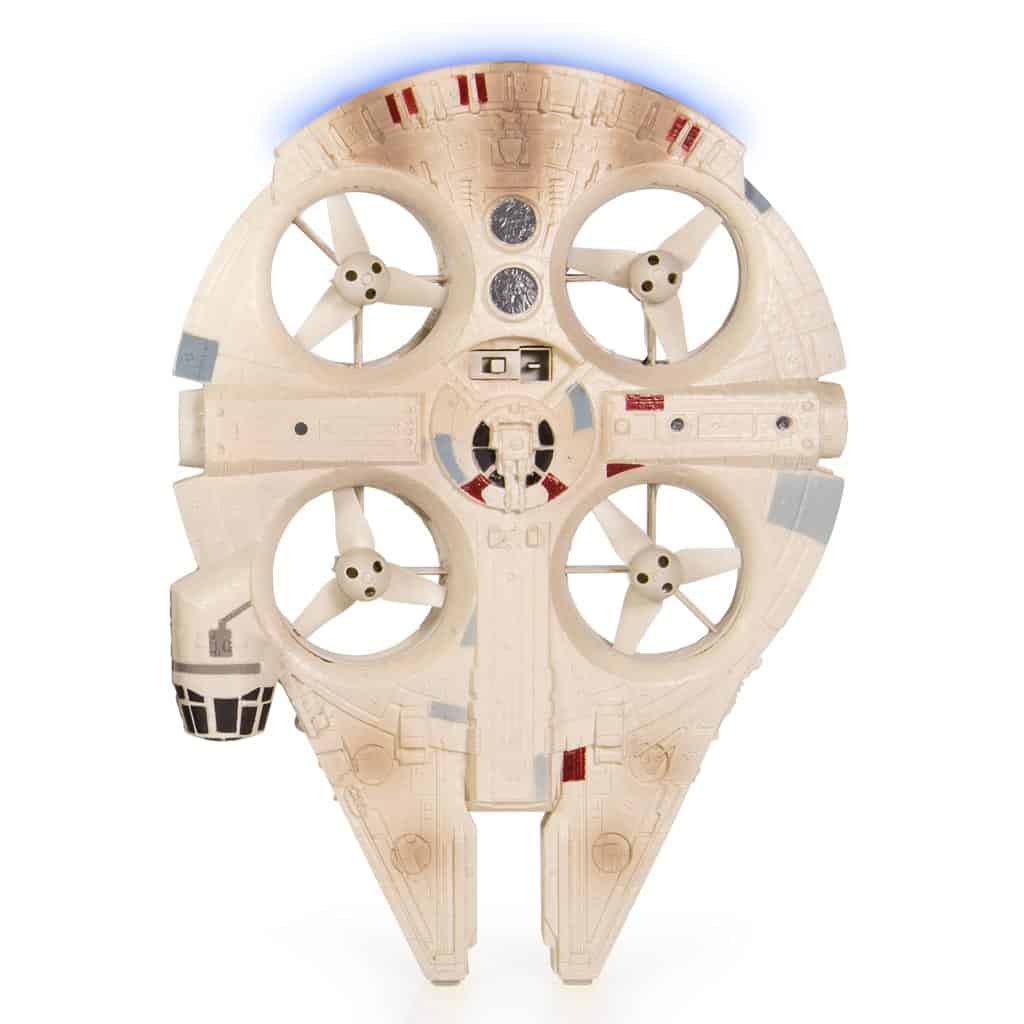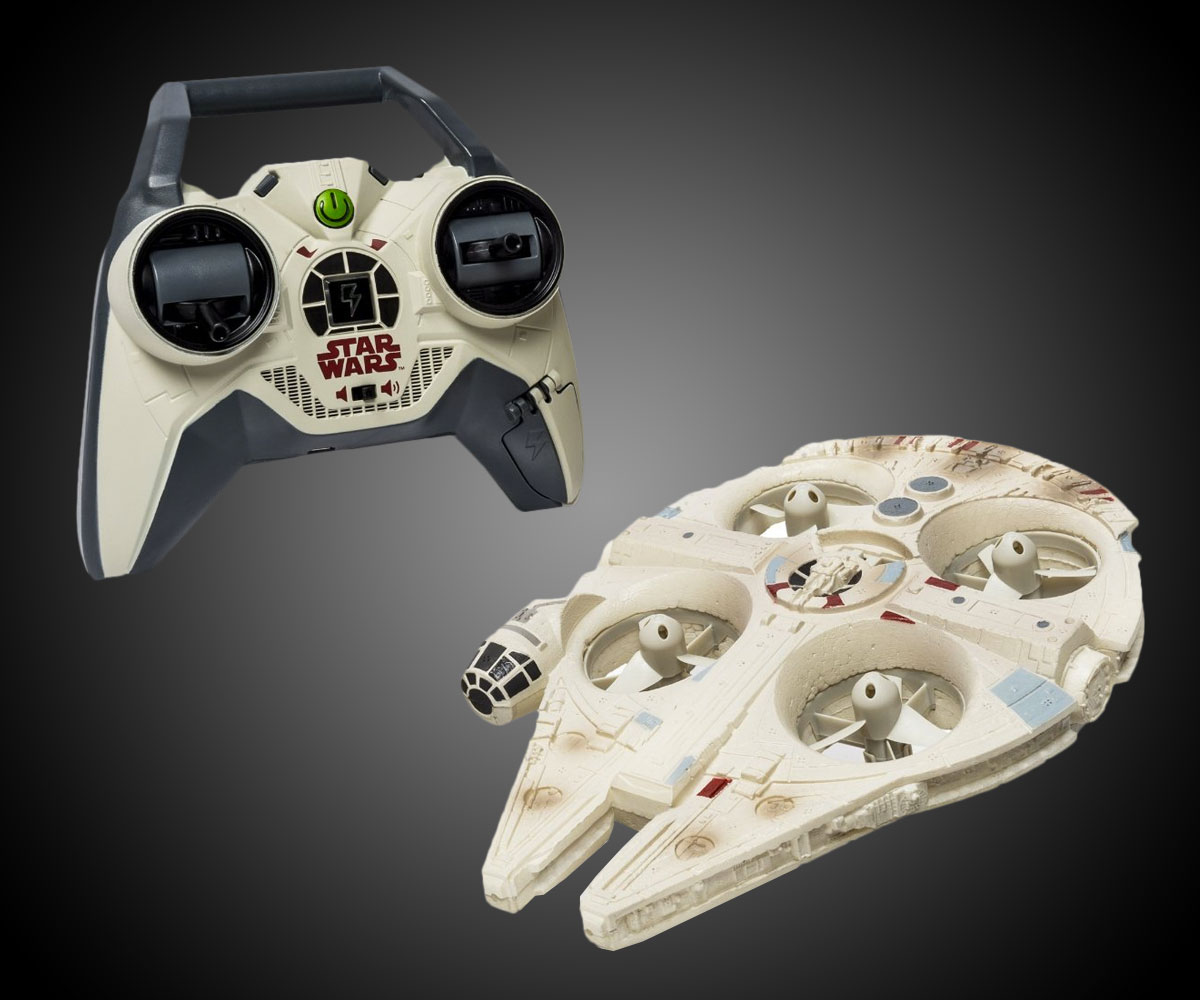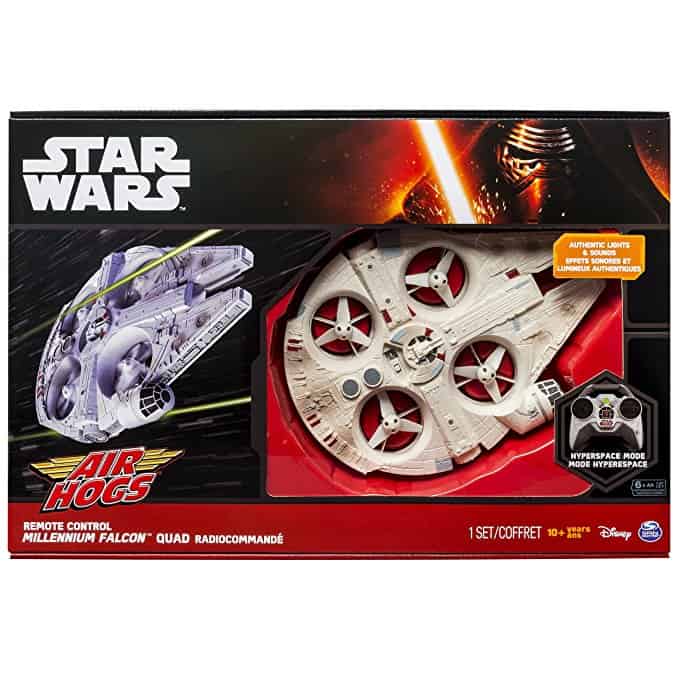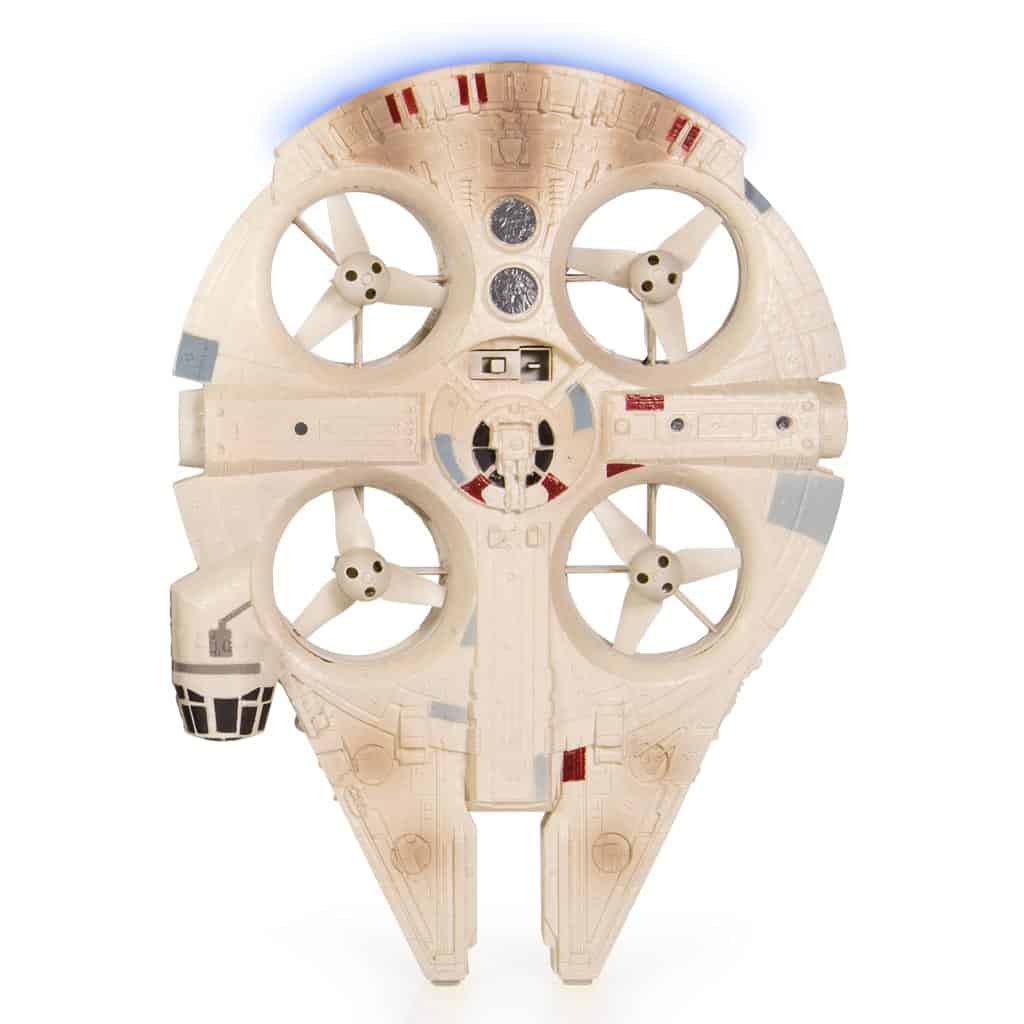 Remote Control Millennium Falcon Quad [Review 2021]
We've all dreamed of flying the Millennium Falcon, and now you can do it without facing grave danger from the Dark Side! Just grab this remote control toy and have the time of your life experiencing the ultimate flying adventure. And it has LED lights and goes pew-pew!!

Features
Use inside or outside

200 foot range

Authentic sounds and lights
Dimensions
9.5 x 7 x 1.9 inches

1.55 pounds
Get the ship that made the Kessel Run in 12 parsecs, even though a parsec is a unit of distance.
The Millenium Falcon is the coolest, most badass ship in the Star Wars universe. You can become Han Solo and fly it around yourself. This ship uses drone technology to fly, and you can use it to creep into your brother's bedroom and freak him out!
There's something awesome about controlling a flying vehicle. You can see why all cool people learn how to fly planes. Like the lead giner of Iron Maiden. He flies planes. Bruce Dickinson is his name. John Travolta as wel. You know, Danny Zuko from Grease. How cool are those guys? Answer, VERY cool.  
Also good products
Bestseller No. 1
Air Hogs Star Wars Remote Control Millennium Falcon Quad
Now you can fly the most iconic ship in the Star Wars universe: the Millennium Falcon Quad with iconic LED lights and authentic sounds!
The Millennium Falcon uses 4 rotors concealed on the body of the ship for agile, space-like flight!
Its 2.4Ghz communication lets you control the Millennium Falcon up to 200 feet away! Activates its hyper-drive stunt with the push of a button!
The Millennium Falcon is for star fighters aged 8+. 6 x AA batteries required for operation. For indoors and outdoors use.
Includes: 1 Millennium Falcon Quad, 1 Remote Control, 1 Instruction Guide
Bestseller No. 2
Bestseller No. 3
Air Hogs - Star Wars Remote Control Millennium Falcon XL Flying Drone 2.4GHz 4-Channel with Gyro
BRING THE MAGIC OF STAR WARS HOME: This colossal 27" x 20", Millennium Falcon Drone features a light-up cockpit with Chewie and Han Solo figures inside.
STUNNING DETAILS: Included are detailed Han and Chewie figures, LED subspace hyper drive, and authentic lights and sounds
SOPHISTICATED ENGINEERING: Experience a smooth, high-performance flight with 2.4GHz communication for range up to 250ft, a barometric pressure height lock system and 6-axis gyro.
RANGE UP TO 250 FEET AWAY
The Star Wars RC Millennium Falcon XL is for ages 14+ and requires 4 AA batteries (not included). Star exploring the galaxy today!
Bestseller No. 4