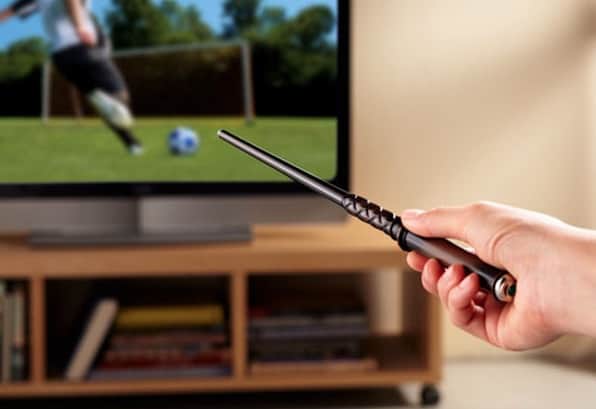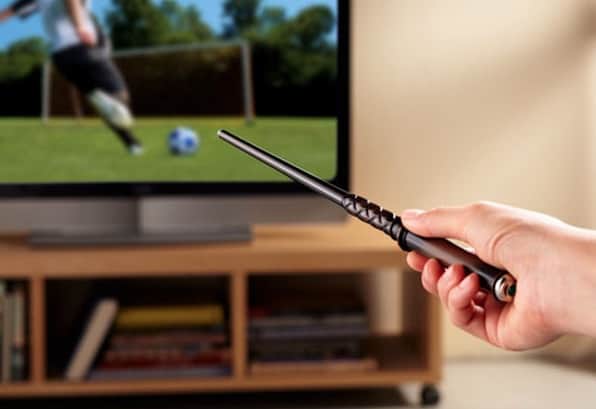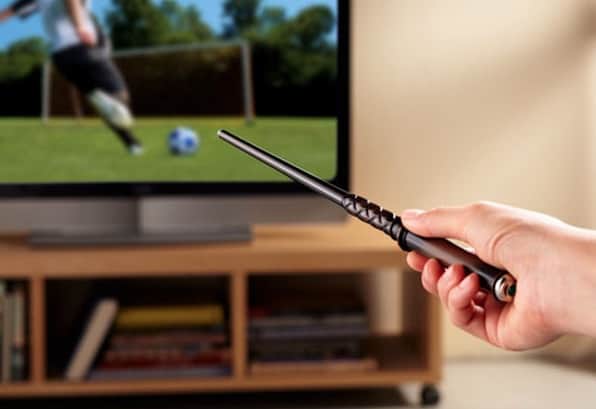 Magic Wand Remote Control [Review 2021]
Let's get real – we are all still waiting for our letter from Hogwarts. While you're waiting, why not bring some magic into your home with this wand remote control. With 13 spells…erm…codes to choose from and learn, you can feel just like Harry! Just flick and swish!

Features
Compatible with most home electronics

Live your dream of being a wizard

Learnd 13 infrared remote control codes
Dimensions
15.4 x 2.6 x 1.5 inches

11.2 ounces
Television is magic!
How do they get those little people into the box, and how do they change them out so fast? I don't know.
The only thing more magical than television is actual magic, and now those two things have combined!
The Magic Wand Remote Control lets you control your television like you're Harry Potter himself. You can change channel and change the volume and look like a badass Dumbledore yourself while doing it.
Your Muggle friends won't know what hit them when you change the channel right before their very eyes. They'll try to burn you for being a warlock, but then you can turn the volume down so low and only agree to turn it back up if they stop burning you. It's a win-win situation.
Also good products
Bestseller No. 1
The Harry Potter Remote Control Wand
Universal Remote Wand: Operates with any IR device, including TVs, Blu-ray players, and speakers
Officially authorized by Warner Brothers
Program up to 9 gestures. Requires 2 "AAA" batteries (not included)
Sale
Bestseller No. 2
Kymera Magic Wand Universal Remote Control - 13 Easy-to-Learn Gesture Based Commands
Can learn 13 infrared remote control codes and replay them at your command with 13 easy to learn gestures
No need for all the codes to be learned from a single remote control
Control almost anything that can be remote controlled with just a flick and a swish - compatible with most home electronics that use remote controls, like televisions, DVD players, DVRs, stereo systems, and more
Twirl the wand clockwise to change channels or program the wand to pause/play when the wand is brandished up and down
Comes with high quality, collector's wand box!
Bestseller No. 3
Enlfjoss Wireless Remote Control Outlet with Magic Wand, Wireless Remote Switch for Christmas Tree and Decorative Indoor/Outdoor, Good Christmas Gift for Kids, Friends, Family
Remote Control: Use the magic wand control the wireless remote control outlet for christmas magic indoor/outdoor 65ft to 80ft range, lets you conveniently adjust your outdoor security lights, patio lights or holiday decor without having you step out of the house, magic wand for christmas lights
Easy to Use: Simplistic design with an ON/OFF button for ease of use. Unscrew the battery case screw on the magic wand and install 2 AAA batteries according to the positive and negative poles, battery is not included
Light and Sound: The magic christmas wand lights up, 1 magical music for you, make your family holiday life to be magic
Multiple Uses: indoor/outdoor use, decorative for Christmas Decoration, Halloween, Hotel, Bars, Home, Restaurants. Great for TVs, lighting, heaters, sprinkler systems, terrariums, aquariums, humidifiers, and more
Rated value: 125V, 10A, 1250W. Certification: CE, RoHS, FCC. At the same time, we have optimized the functions of the product based on customer feedback. For example, when the lights are turned on or off, the sound can be turned off as needed without noise, and the music played is also changed to more beautiful Music, we also added jacks
Bestseller No. 4
Wireless Remote Control Outlet with Magic Wand, Wireless Remote Switch for Christmas Tree and Decorative Indoor/Outdoor, Good Christmas Gift for Kids, Friends, Family
Remote control: 65 feet to 80 feet range, allowing you to easily adjust outdoor security lights, gardens, yards, without going out, you can easily control the holiday lights at home
Light and sound: the magical Christmas wand is lit, providing you with a kind of magical music, making your family vacation life magical, and it will also emit very bright colors
Multiple uses: indoor/outdoor use, Christmas decorations, Halloween, hotels, bars, homes, restaurants. Ideal for TVs, lighting, heaters, sprinkler systems, glass containers, aquariums, humidifiers, etc.
Easy to use: Simplified design with "on/off" button, easy to use. Unscrew the battery box screws on the magic wand and install 2 AAA batteries according to the positive and negative poles, which is very convenient
Quality service: If you encounter any product problems during use, you can contact us at any time and we will help you solve them in time