The 30-Second Review
When choosing a GPS tracker built for hunting, you'll quickly find most models share a similar set of features.
The technology used and storage are two areas that can help trim things down, but there are other areas to consider as well.
If you've never used a GPS unit, you'll want something easy to use.
Hunters that spend weeks in the wild will need to think about battery life first and foremost.
We'll cover all those areas in our GPS buying guide along with key statistics like screen resolution and durability.
Keep in mind our ratings are based on the trackers capabilities for hunting… not hiking.
Buyer's Guide: Buying The Best GPS For Hunting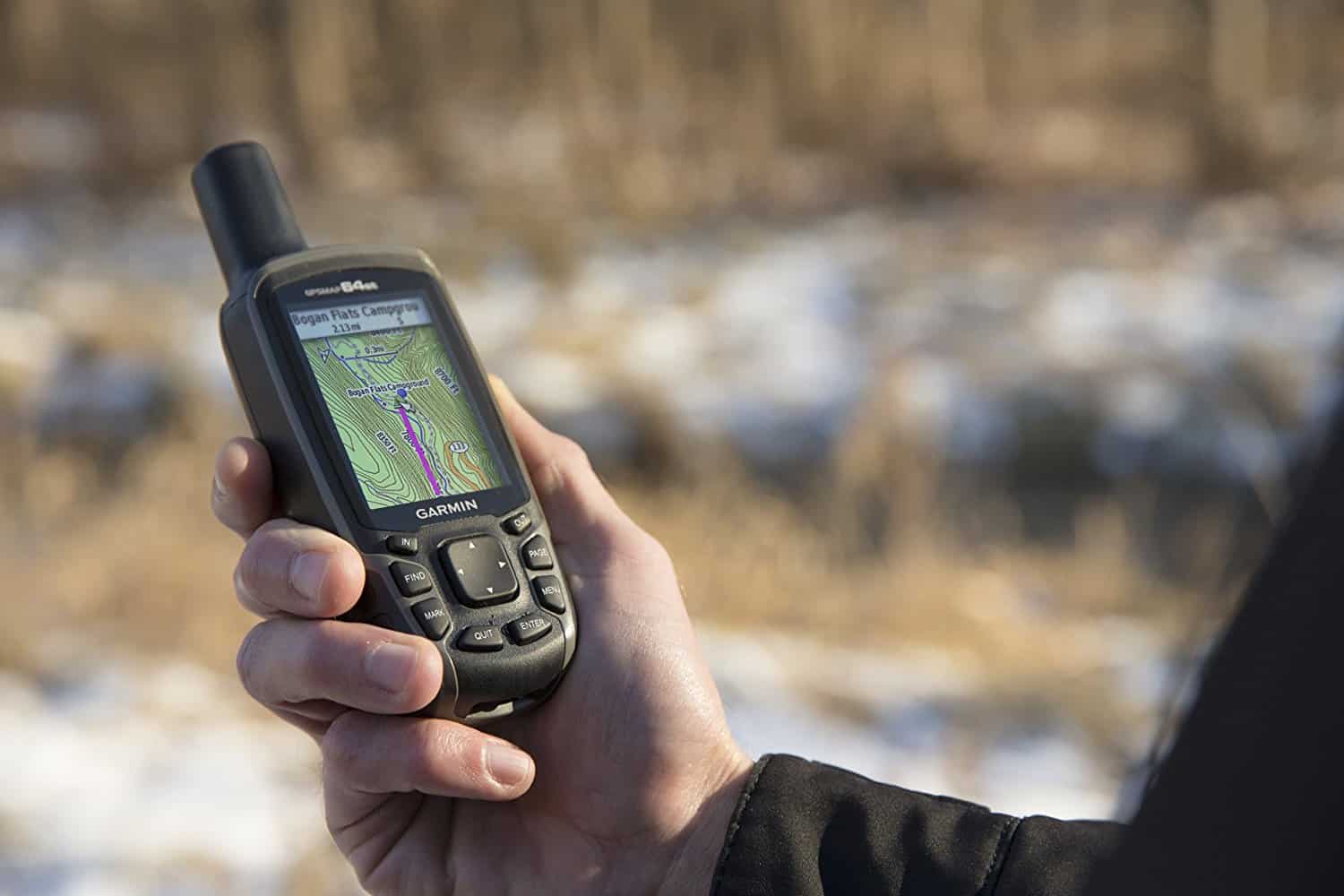 A great GPS unit can get you out of trouble or help you track game in the wild. While it may be tempting to go all-in on a model with all the bells & whistles, there are several areas to consider before you jump into the wild and somewhat confusing world of trackers headfirst.
The Display
Whenever you're using a device with a display outdoors, you need to make sure you can see it. We're not talking about resolution either although that's extremely important as well. A display deemed "sunlight readable" is what you want from an outdoor GPS tracker.
Just how bright will it be?
Well, that all depends on the components used along with the size and resolution of the display.
Screens that let you crank up the backlight certainly help, but the type of polarizer used makes a huge difference in direct sunlight. If you want to learn more about the types of polarizers available, check this out.
Due to their size, resolutions can vary wildly so it's not something to fret on unless you're shooting for highly detailed shaded maps.
Just remember, the higher the resolution, the sharper the display. You won't find any full HD GPS units, but you may be surprised at just how crisp some of the smaller displays are.
Connectivity
A GPS tracker can't keep tabs on anything unless it stays connected.
And that's where things get complicated for consumers.
GPS and Global Navigation Satellite System (GLONASS) are the only two areas you have to consider as the type of antenna matters as well.
Before we get into high-tech specs, here's what you need to know about the two types of satellite systems featured in our picks:
GPS – Created by the United States, the Global Positioning System is the most popular option with 24 satellites circling our planet. It's a highly accurate array, and the newest handheld units can even track your position down to less than a foot.
GLONASS – Russia is responsible for the GLONASS system which is catching up to GPS in terms of accuracy. They also have around 24 satellites in orbit at any given time and are ideal for hunters in higher altitudes.
While those are the two main satellite systems used by trackers today, China, Europe, and other countries are putting their own solutions into orbit as well.
In addition to the satellites in orbit, you also need to consider the antenna used on the device itself.
Patch and Quad-Helix are the two most popular styles, and this will explain the differences between the two better than we ever could.
Sending out an SOS
Certain models of GPS trackers allow you to communicate with friends, family, or even rescue teams while you're in the field.
The format depends on the device and could require a subscription, but is better than sending smoke signals if things go wrong in the woods.
If you're concerned about emergencies in the wild or just need to stay in touch, look for a tracker with satellite messaging. They will get a signal in areas where cell service doesn't exist.
Where Are You Going, and Where Have You Been…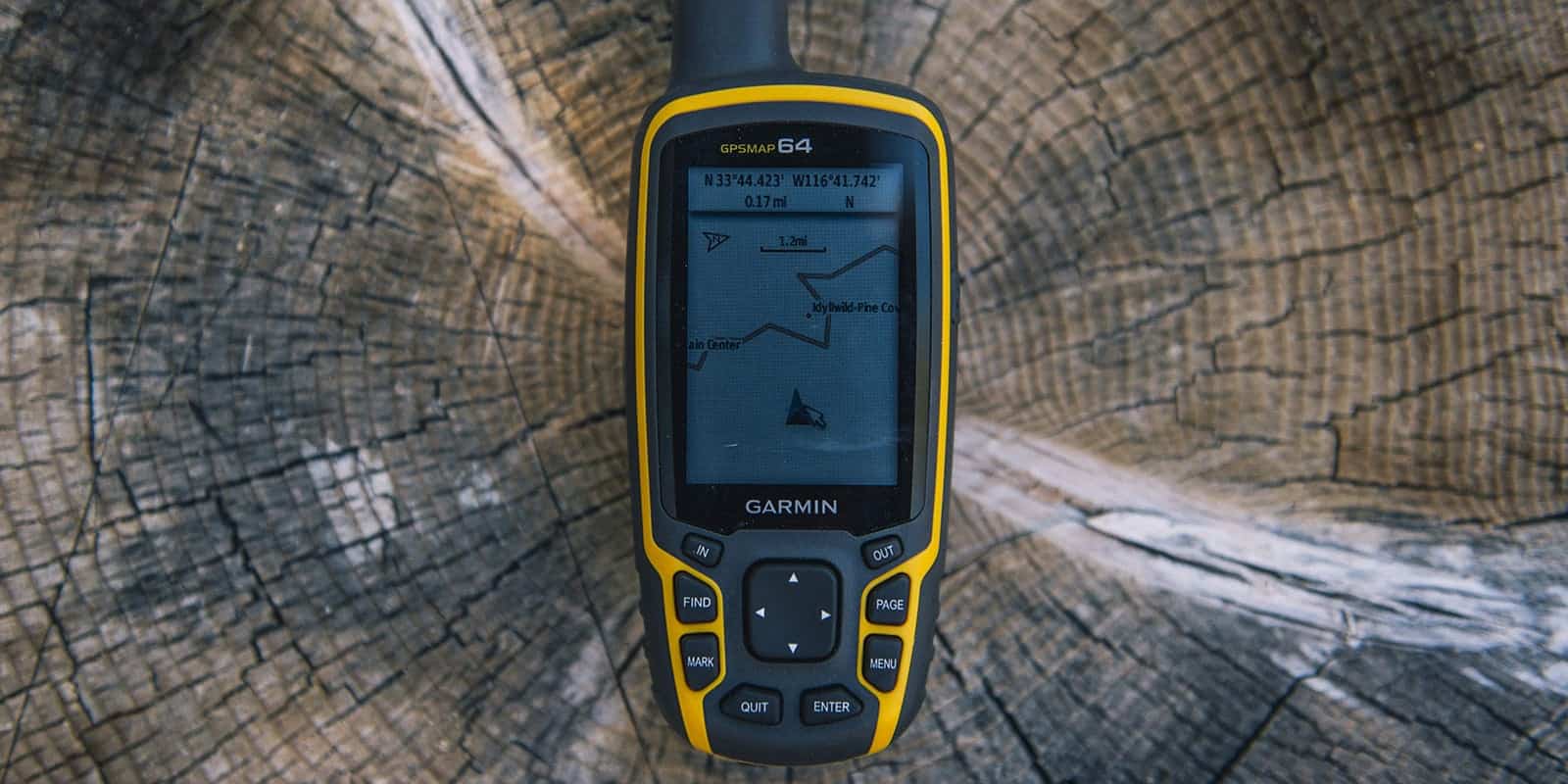 No matter how good your GPS unit is, you won't get very far in the wilderness without a good set of maps.
Thankfully, most manufacturers provide at least one preloaded option out of the box. That includes the king of the hill, Garmin, which usually includes a base map at a bare minimum.
The list of available maps is far too long for us to go through as you've got Google along with TOPO, BlueChart, BirdsEye, and dozens of others.
The main things to keep in mind with maps are the fine details and storage space.
Any GPS tracker built for hunting will allow you to set waypoints and track your location, but how good the maps look ties directly into the display itself and the resolution.
Last but certainly not least, you will always want to update those maps before heading out.
The unit you're buying could be several years old which means you may need to update the software or preloaded maps.
What about Water-Resistance and Durability?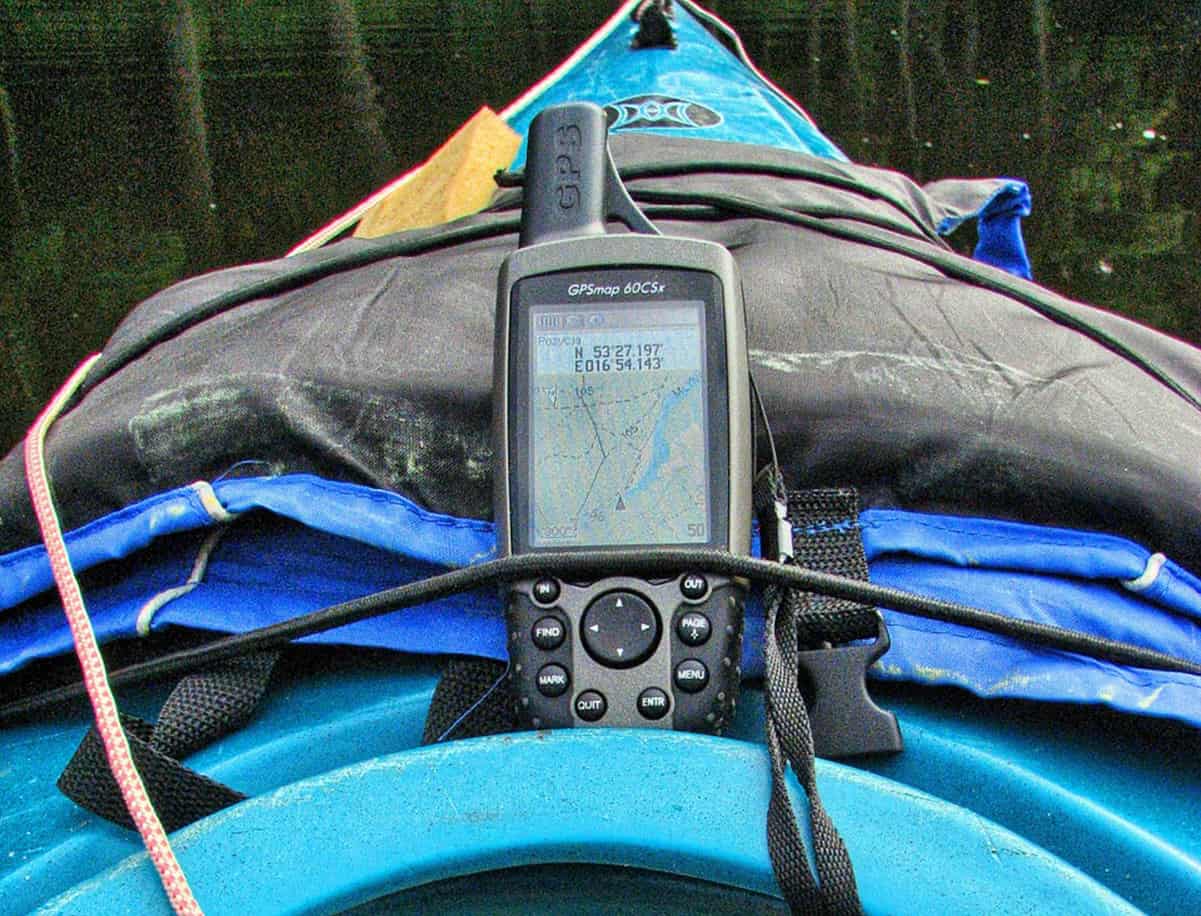 When you're up in a tree stand all day or tracking an elk in the rain, your gear needs to hold up.
Plain and simple.
Even the cleanest gun won't do you any good if your tracker fails to tell you where those rubs were.
As all of our top choices are from Garmin, the build quality is top-notch, although some models fare better than others in some regards.
The first specification to pay attention to is an Ingress Protection , more commonly rerffered to as an IPX rating.
Why is the IPX rating so important?
It's something every GPS tracker worth its salt will have. If it's made for the outdoors, it needs to hold up under the elements and there are several levels of protection available.
The most common in this class of tracker is IPX7, which means it can handle immersion up to 1-meter for 30-minutes.
On the other hand, if you see a gadget rated IP67, it has the same water protection but is also sealed against dust, dirt, and grime.
As always, you'll want to keep the warranty in mind along with tech support in case something does go wrong.
Ease of Use
One area we left out when we briefly touched on GPS displays are touchscreens.
For some, they're an acquired taste but a necessity for others.
Are you considering a touchscreen?
Think about gloves.
If you don't like fiddling with your smartphone in the dead of winter, there is a good chance you'll prefer a model with big buttons when bad weather hits.
On that note…
A poor design can make the buttons more trouble than they're worth.
If you're going to set a lot of waypoints, look for units with a dedicated button or at least make sure the menu is quick and easy to access.
Some allow you to customize your setup out of the box. Although, you may have to turn to software in other instances.
Battery Power
No matter how bright the display is, or which satellites you connect to, it's all for naught when those batteries run dry.
You can mark the position of that whitetail and good luck finding your way to a ranger station unless you're Hugh Glass.
With all of our picks, battery life won't be a concern, but how you charge up the unit could be.
Like most modern tech, many GPS units rely on rechargeable batteries. While they have several obvious advantages, you can't charge them back up from the base of an oak tree.
You also need to consider the fixed vs. removable battery issue.
While fixed batteries give you the luxury of recharging and save you money, you're up the creek without a paddle if they go bad.
On the flip side, some models provide you with the best of both worlds, and any GPS tracker that allows you to use both throwaway and rechargeable batteries should be at the very top of your list.
Nothing is Free Forever
Most of the trackers made for hunting or fishing are free to use unless you need to pay for maps.
There are a few exceptions to that rule like the trackers with satellite messaging, but that's not what you should be concerned about.
A word of advice…
Pay close attention to any tracker that comes with any preloaded plans.
Eventually, they will run out.
While 1-year of free BirdsEye access may pull you towards a different model, you'll have to pay the piper when the subscription runs out.
If you only hunt occasionally, that's not ideal as you won't get much use from this particular perk.
Always consider the cost of maps and services beforehand, even if they are free initially.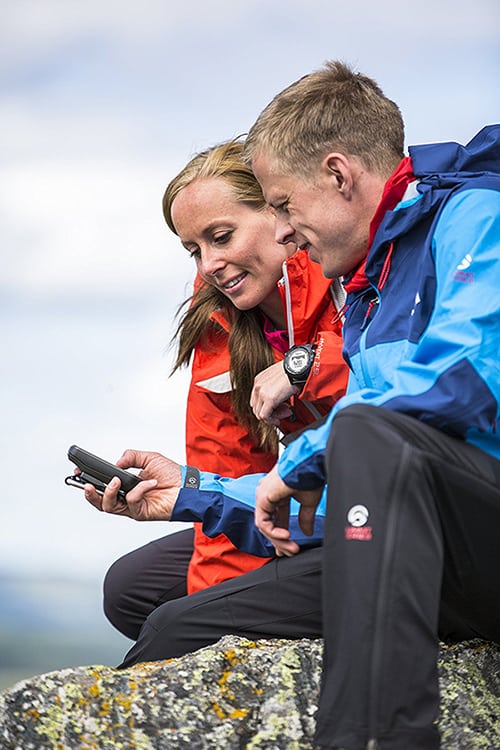 Tools of the Trade
We often say the features are what separate the best from the rest, and it's especially true with GPS trackers built for hunters and hikers alike. As with most tech products, there are a series of features you'll find on any quality tracker. There are also ones that stand out and can take a mid-range machine to the flagship class…
Common Features – By far the most common feature found on GPS trackers today would be a compass. Most have barometric altimeters as well and a way to connect with your PC or mobile whether it's through a cable or wireless.
They all hold a set number of waypoints or favorites as well, and most give you a way to connect to a PC or laptop when it's time to update the software or load maps.
Premium Features – USB ports may be common, but microSD slots are not. You can say the same for Bluetooth although ANT+ has become an increasingly popular option.
This wireless protocol is comparable to Bluetooth and is generally used to track and transfer statistics like your heart rate or cadence through an ANT+ enabled device. It's slower than other methods, but lets you communicate with several gadgets at once without interference. You can read a bit more about ANT+ here.
Touchscreen displays are also a bit of a rarity with portable models, so don't be fooled by regular vivid panels if you want multi-touch functionality. While these accessories would be common items with other types of tech, that's not the case in the GPS world.
Other uncommon extras include things like a carrying cases and car adapters. Mounts are another thing to consider, but perhaps more useful with the GPS you use for driving.
GPS Trackers For Hunting Reviews
01
Garmin GPSMAP 64st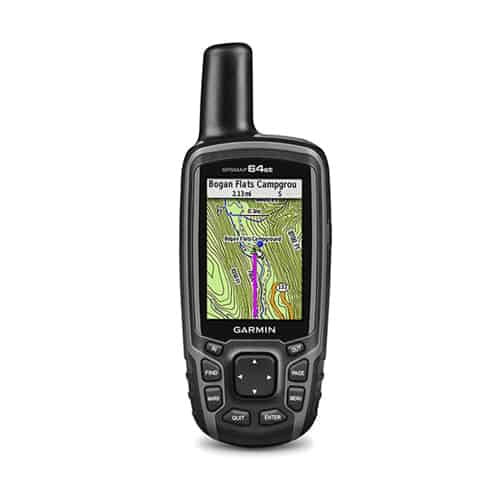 Garmin is a name consumers know and trust, and it's a brand you'll get to know quite well by the time we get to our 5th pick.
Our first choice from the company is arguably their best.
And...
Ideal for hunters who want stay connected in the wilderness while tracking game big or small.
The Garmin GPSMAP 64st has a sturdy and thick plastic housing that's easy to grip. We couldn't find any information as to how well it can handle repeated hard tumbles, but it does have the IPX7 rating against the elements.
Our testers did say this: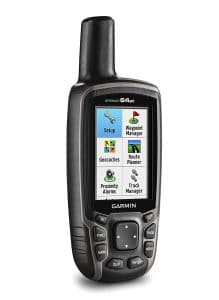 The outer shell looks like it will hold up well over time. It feels like a quality product when you're holding it in your hands. It withstood the regular wear and tear the testers put it through with ease.
We also like the fixed antennae, and the fact it's lightweight at only 8.1 ounces with batteries intact.
In the connectivity department, this particular variant of the GPSMAP 64st has a few extra bells & whistles.
It's compatible with ANT+ accessories which allows you check on your fitness while you hunt – that includes your heart rate when a big buck comes into view.
Bluetooth is also included so you can sync up with your handset through the Garmin Connect app.
This opens the doors to new possibilities including sending your position to other Garmin users.
The 64st has a standard USB port which comes in handy when you need to connect to your PC or recharge your batteries.
How about the power?
The battery life for the GPSMAP is one of the reason's it's the best GPS for hunters.
At 16-hours, it's highly unlikely you'll run out of juice before you head back in.
Do you prefer overnight excursions to one-day hunts?
If so, you'll appreciate the fact you can simply insert two new AA batteries, and you're good to go again if you don't dig rechargeable NiMHs.
As for the maps, this one comes with over 100,000 preloaded TOPO maps for the states.
You can load up your own as well considering it has 8GB of memory and a solid suite of software.
The unit can connect to both GPS and GLONASS systems, and so you won't have to worry about coverage or reliability with the quad helix antenna.
You'll also get a free 1-year subscription to BirdsEye to get you started.
Garmin went with a 2.6-inch color display for the 64st.
It sports a resolution of 160 x 240 and is of the TFT variety.
It's also easy to read in direct sunlight due to its transflective nature.
While not the sharpest display, it won't let you down in direct sunlight and should be large enough for most folks.
Want a touchscreen display?
You're out of luck with this model.
But is that necessarily a bad thing?
Nah.
Not according to our experts, anyways.
The "ease of use" factor is still extremely high since the buttons are all clearly marked and easy to access.
The GPS unit doesn't come with any real extras to speak of aside from a 1-year warranty, a carabiner clip, and a manual – the latter of which you can check out online.
It's one of the top options around if you need a reliable unit in the field, and we're not the only ones who think so…
Unlike other models, Garmin is giving consumers a choice with the GPSMAP 64.
Aside from the 64st, you can pick up a barebones base model or one with ANT+ and Bluetooth, but sans the map.
There's also TOPO version for hunters bound for Canada to go along with a variant featuring a built-in 8MP camera.
Now that is cool.
Features
5000 waypoints
10,000 track log points and 200 saved tracks
Paperless geocaching
Basemap
3-axis compass
Barometric Altimeter
---
Pros
Compatible with GPS and GLONASS
Outstanding battery life
Smart notifications
Automatic routing w/ turn by turn
Excellent Software
Easy to use
Cons
Small screen compared to other models
Could be overly complicated for beginners
---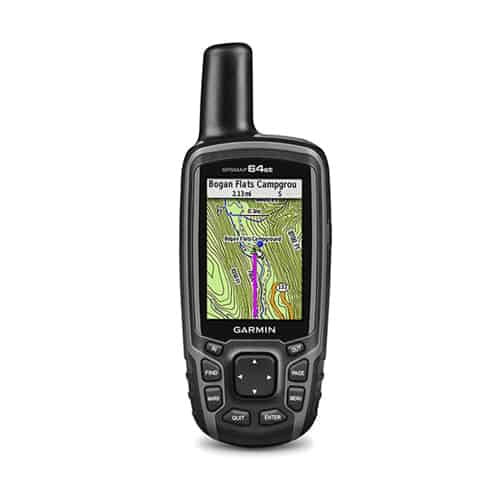 02
Garmin Oregon 600 Worldwide GPS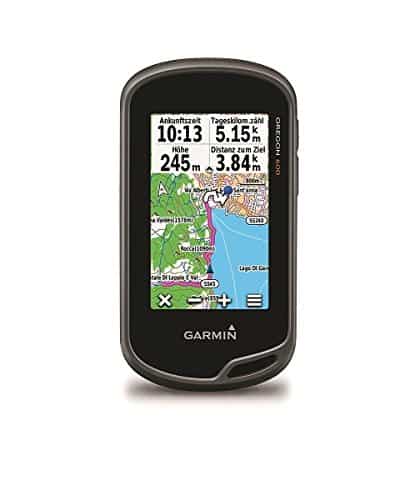 If you prefer your GPS tracker to look more like a smartphone than a walkie-talkie, we've got just the thing for you. It's called the Garmin Oregon 600, and it's one of the more configurable options we've come across.The Garmin Oregon 600 is akin to an older Android smartphone.
It has a 3-inch panel that uses transflective tech and has a resolution of 240 x 400. Needless to say, it's easy to read in the shade or direct sunlight.
But that's not all…
This GPS tracker is also "glove friendly" so there's no need to pull your shooting gloves off to use the multi-touch display.
You can switch from portrait to landscape mode in seconds, and while you can't make any phone calls, there is a picture viewer built in.
Keep in mind; this is the base model. One variant throws a camera into the mix so you can send photos of your kill.
In regards to the build quality...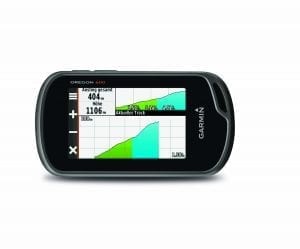 Our experts noted, nothing particularly stands out aside from the hardened display.
It has thick bezels and only two buttons on the side, so you'll use the touchscreen for navigation.
It's small at 2.4" x 4.5" x 1.3" and tips the scale at 7.4 ounces with two AA batteries installed. It's not sleek, but it doesn't look bad either – utilitarian is a good word to describe its style.
Whether you're heading out into the backwoods in the South or to another continent for big game, the Oregon 600 will track your location.
It has the same dual-band setup as most top-tier GPS trackers, so you'll get GPS and GLONASS positioning to go along with Bluetooth.
ANT is an option as well, and there is plenty of storage with up to 1.5GB available on the base model.
Globetrotters will love the storage capacity of this device considering you can load up as many maps as you'd like.
Looking for a system large track log?
This one has just that with 10,000 points and 200 saved tracks.
Between that and the 4000 waypoints, you should never run out of room. If you do think things might get tight, the company has a solution for that.
Variety is the Spice of Life…
The base model of the Oregon 600 is solid, but there are several variants available if you want something more.
The coolest includes a built-in digital camera and lets you install up to 3GB worth of maps.
A 4GB variant throws in Topographic maps to go along with the 8MP camera as well.
All photos are geotagged accordingly, and you can even share your digital journey online through Garmin Adventures.
Garmin packed plenty of features into the Oregon 600, but they kept things light in the box.
You'll get a 1-year warranty, a NiMH battery pack, an AC adapter and USB cable along with a user manual.
There's a carabiner clip included, although you can opt for an official quick release lanyard if you prefer something different.
Features
HotFix satellite prediction
Dual battery system
Multi-touch display
Dual orientation
Advanced waypoint management
---
Pros
Camera variant
4000 waypoints
Amazing battery life
Water-resistant
Lots of room for maps
Cons
The price tag
Difficult to set up
---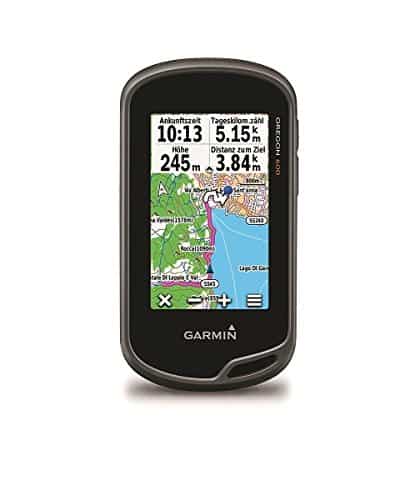 03
Magellan eXplorist 310H Hiking GPS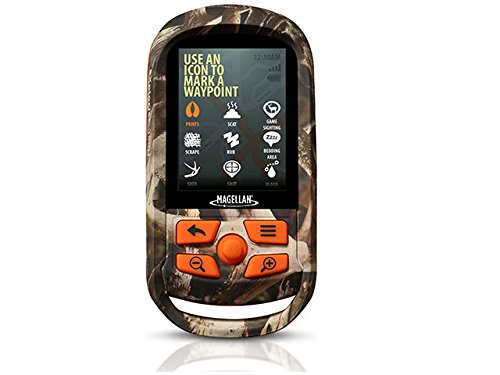 The Magellan eXplorist 310 is an older GPS tracker, but a good one and well deserving of a spot on our list.
While a few things may seem a little outdated, this one is geared towards hunters and has features you won't find elsewhere.
It's evident from the first time you set eyes on the eXplorist 310 that it's different from the rest.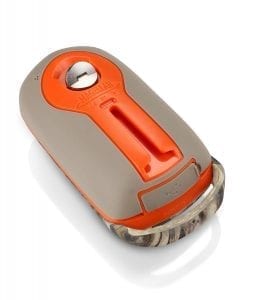 The outer shell is rugged but camouflaged to better blend in with your gear and wooded environments.  The overall design is simple with an area at on the bottom for hanging and four buttons on the front.
There is a joystick in the middle which allows you pan through maps, and most consumers found it simple to use.
On the downside, some users found the button placement to be a bit too close together which can hamper navigation.
There's always a chance for errant button presses as well due to the design although this tracker handles that better than the rest. Unfortunately, there is one area where this tracker is a bit lacking.
If you need GLONASS support…
You won't find it on the Magellan eXplorist 310 as has SiRFstar II GPS receiver, so it's not as "global" as other GPS trackers.
It still has WAAS, EGNOS and MSAS capabilities and the accuracy is listed at 3 – 5 meters.
Just remember while the preloaded maps may be global, its capabilities aren't quite up to par.
As for the hunting features, you'll get specific waypoints with markers for things like scat, bedding areas, and blood trails. You'll also never have to worry about going out of bounds if you're in the U.S. or Canada.
It has hunting boundary information for 40 states along with provinces up north. Fines will be a thing of the past, and the hunting calendar helps keep you within legal limits as well.
There aren't many tech specs for the 310H aside from the display which clocks in at 2.2-inches diagonally.
It's color with a resolution of 240 x 320 and uses transflective tech to make it easy to read in sunlight. It doesn't draw much power, so you can expect around 18 hours of power life from two AA batteries.
The Magellan eXplorist 310 is easy to use and certainly won't break the bank.
While it would be nice to have faster hardware under the hood, it performs as expected. If you want something simple that's set up specifically for hunters and don't need touchscreens or highly detailed maps; this one may be just for you.
This tracker comes with a 1-year warranty, and you can check out the owner's manual online if you'd like to get a better idea of what the 310H brings to the table.
Features
Hunting Alerts
IPX7 certification
Preloaded base map
Breadcrumbs
---
Pros
Waypoints geared towards hunters
18 hours of battery life
Nice price tag
Detailed hunting zones for the U.S. and Canada
Cons
No GLONASS
Controls may feel cramped
Outdated compared to current models
---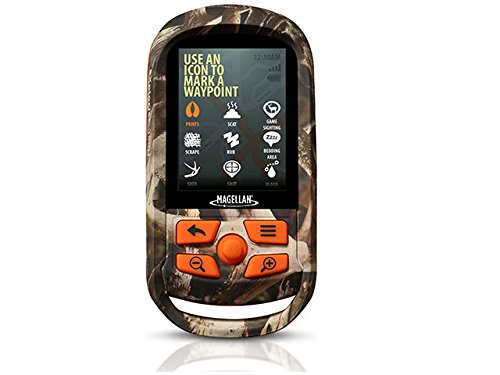 04
Garmin eTrex 30x Handheld Navigator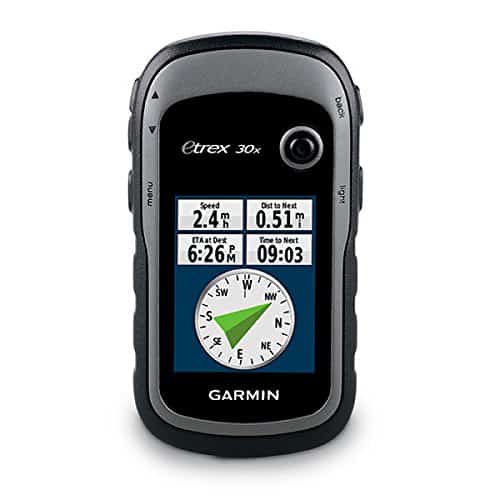 Garmin's eTrex 30x is an interesting tracker with a solid, but somewhat odd set of features.
It takes elements from both of our previous picks and combines them into a new form factor that sports a small joystick along with a preloaded base map.
The eTrex 30x may not win any awards for its design, but it's not a bad looking tracker by any means.
It's not sleek, but a little more rugged than other models in the design department with only four buttons on the outside of the chassis.
How easy navigation on the 30x is a matter of opinion, and may come down to your experience using gadgets or GPS trackers.
A Tricky Stick…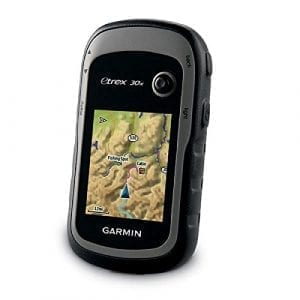 Some consumers felt this unit was easy to operate while others had issues with the tiny joystick.
Yes, that's a joystick at the top, an area usually reserved for a flashlight or camera.
It works, but the placement is odd, so it's a bit of a mixed bag in that regard when it comes to ease of use.
Our testers measured this one at 2.1" x 4.0" x 1.3" and weighs 5 ounces.
Not too shabby for those not wanting to carry a lot of extra weight around.
You won't have trouble holding onto the eTrex 30x if the weather takes a turn for the worse.
We're pleased to say it has the IPX7 rating like the rest of its brethren as well. Our experts put it to the test in all sorts of environments and never experienced an issues with it.
When it comes to tracking, it will pinpoint your location or waypoints with ease as it works with GPS and GLONASS.
It doesn't have a quad helix antenna, so while this WAAS-enabled tracker is good, it's not the best with a positional accuracy of around 3-meters.
The display is bright and legible in direct sunlight with a resolution of 240 x 320.
That's on par with the Oregon, just smaller at 2.2-inches.
It's not a touchscreen, but it certainly gets the job done and is quite colorful at 65k.
We do wish they had gone a little larger with the display however, as the maps look letterboxed with that much black border.
What about the maps?
The Garmin eTrex 30x comes with a shaded relief basemap, but you won't get any extras.
That means you'll need a BirdsEye subscription or have to load up your own maps.
Thankfully, that won't be an issue considering the device has 3.7GB of storage space and a microSD card slot.
If you hunt with other people on Garmin's system, you can send your tracks, routes and even geocaches with others by simply pressing a button.
Now, here's where it gets impressive:
Where the eTrex excels over other GPS trackers is in the power department.
No, we're not talking about processors or embedded tech, but the type of power that keeps the lights on.
In this case, two AA batteries which provide you with 25 hours of juice. That's top of the line and ideal for long hunts that last from daylight till dusk.
This particular unit doesn't have too many flagship features compared to other models.
The track log can handle 10,000 points and 200 saved tracks. It has paperless geocaching to go along with 200 routes, an electronic compass, and a barometric altimeter.
It has the standard 1-year warranty and comes with an in-depth user guide to get you started.
Overall, the eTrex 30 is a solid upgrade over the previous model with more storage and a better display.
While not quite as sensitive as other trackers, it will find and mark any locations you need with little to no lag.
The only major downside is the joystick tends to do its own thing when placed in a pocket. It's not a deal-breaker however.
Looking for an easy fix?
The issue is something you can quickly address with a case like the Special Ops which has raised edges.
Features
HotFix Prediction
MicroSD slot
3.7GB of storage
IPX7 certification
---
Pros
Worldwide basemap w/ shaded relief
25-hour battery life
Lots of storage
240 x 320 color display
Hunt and fish calendar
Cons
The joystick can get "bumped" in your pocket
The interface could use some work
Price compared to similar models
---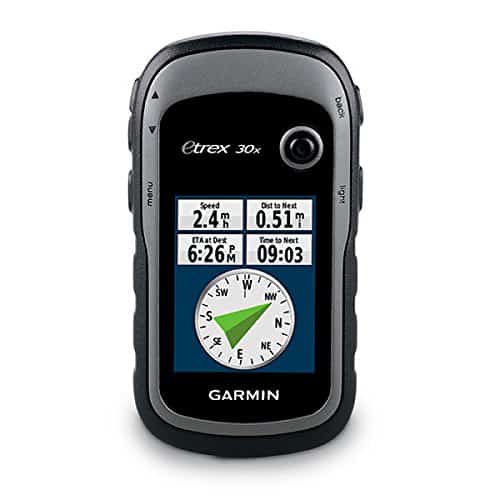 05
Garmin Inreach Explorer+
While every GPS tracker will help you keep tabs on your location and set waypoints, not all double as a personal communicator.
That's exactly what you'll get from the Garmin Inreach Explorer+ as its half satellite phone, half tracker and packed full of high-tech features.
Before we get to the good stuff, we want to get one thing out of the way.
Do we have your attention?
This device needs satellite access for you to take full advantage of its capabilities.
It uses the Iridium satellite network, which gives you global coverage from an array of over 60 satellites. While you can't make a phone call, you can send text messages and get help if things go south on your hunt.
When you find yourself in times of trouble…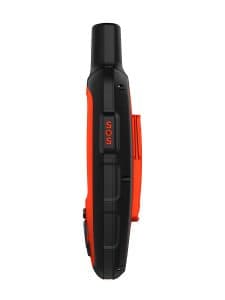 Mother Mary may be the answer for some, but an S.O.S. button is your best bet against disaster in the woods or mountains.
Accidents happen, and a normal GPS tracker won't do you much good in these situations.
Want maximum safety?
The big SOS button on this baby will send a signal to the proper authorities which in turns send rescue teams your way.
Even if you're not concerned about mishaps in the wilds, you will appreciate the mapping system on the Inreach+.
It comes with preloaded DeLorme TOPO maps, but that's just the tip of the iceberg. When paired with a mobile, you can access the Earthmate app which opens things up considerably.
From here you'll get access to aerial imagery, maps, and other useful goodies.
Whether you're driving or walking, the GPS routing feature is a huge perk.
Are there there other perks?
The optional weather forecast got a lot of rave reviews from our testers.
Our experts agreed…
The display is middle of the pack at 2.3-inches.
But, it is bright and colorful at 200 x 265.
You can't tap it with your finger, but navigation is an area where many users feel the Explorer+ performs quite well.
Messaging can take some getting used to, but the ability to communicate globally is worth the learning curve.
You can find a bit more about how the unit operates through the online user's manual.
We wouldn't advise you to drive any tent stakes with the Explorer+, but it will hold up well in harsh environments.
(As our rugged products tested so thoroughly enjoyed doing.)
It has the popular IPX7 tag and a tough shell that's sealed against most elements.
It also has a sealed battery which is capable of outliving others by a wide margin according to our tests.
Want to see how the Inreach Explorer+ does in direct sunlight?
Prepare to be impressed…
This GPS communicator will give you a whopping 30-days of juice in power saving mode.
That's a full month--more than enough time for someone to find your location if you wander off looking for big game.
In tracking mode, you'll get 100 hours.
Simply put, it's hard to argue against the battery life.
On the downside, you can't replace the batteries in the field. A solar charger may be in order for extended adventures.
At 7.5 ounces, the Garmin Explorer+ is of average size and weight. It comes with a 1-year warranty, a USB cable, user's guide, and a carabiner clip.
The fact you'll need a subscription will be a cause of concern for some. Although we feel it's the only way to go if you want safety at the forefront and hunt in remote locations.
Features
500 waypoints
Global coverage with the Iridium Network
Two-way messaging
IPX7
MapShare
---
Pros
Accurate within 5 meters
Interactive SOS alerts
100 hours in tracking mode
Impact resistant shell
2GB of storage
Preloaded TOPO maps
Cons
The price tag
Sealed battery design
Overkill if you need something simple
---
06
Garmin Foretrex 401 Waterproof Hiking GPS
And now for something different… The Garmin Foretrex 401 differs from the rest of our choices thanks to its design.
It's not handheld like the rest of the pack, but made for the wrist which gives it a few distinct advantages.
Who likes to dig in their pockets while they hunt?
No one we ever met...
And the Garmin Foretrex 401 eliminates that problem entirely.
Think of it as an oversized smartwatch--you'll have all the information you need right in front of you. The controls are kept to a minimum with only four buttons and a recessed power switch.
Overall, the tracker module measures 2.9" x 1.7" x 0.9," and the total weight with batteries is only 3.1 ounces.
Having your position and altitude at the ready is handy, but not without its drawbacks when you're dealing with a wrist-sized device.
The Foretrex 401 doesn't have a touchscreen, and there are no in-depth color maps anywhere to be found. It has a simple black and white LCD display that measures 1.6-inches with a resolution of 100 x 64.
The panel is far from fancy but performs as advertised.
The simple design allows you to access statistics like elevation and max speed quickly.
It also looks great in direct sunlight as you can clearly see in the video below.
Despite its diminutive size, this tracker is well built and doesn't feel cheap.
It's waterproof to boot.
We love the band as well which is built for the weather and expandable to suit any sized wrist.
While you may think the battery life would be outstanding in a smaller gadget, that's not necessarily the case this time around.
Depending on your usage, you can get up to 17 hours (with the GPS on) from the Foretrex 401.
That's not bad and will get you through the day in most cases but a far cry from some high-tech wearables today.
On the plus side, you can swap them out at will as it uses two AAA batteries.
As you might suspect, you're not going to get a million maps on this one. It does have a basemap and lets you save 500 waypoints or 20 routes.
The track log is par for the course at 10,000, but there's no microSD slot. You'll have to rely on the USB port when it's time to expand its capabilities through updates or load new maps.
The Garmin Foretrex 410 comes with the usual bells & whistles.
That means you can expect a compass, altimeter, sunrise and sunset times, and information along with hunting and fishing info.
While you won't get GLONASS, it uses the GPS standard and has HotFix prediction.
If you just need the basics when you're on the trail and want something simple, the Foretrex 410 should definitely be on your radar.
It has a 1-year warranty and comes with a wrist expansion strap, USB cable, and a user manual. You can get a sneak peek of the features beforehand through the online owners guide as well.
Features
Audible tones
Breadcrumbs
Point-to-point navigation
Hunting and Fishing information
---
Pros
Dual position readout
Trip computer
Crisp display
Ease of use
Cons
No GLONASS support
A limited set of features
Design won't be for everyone
---
07
Garmin GPSMAP 276Cx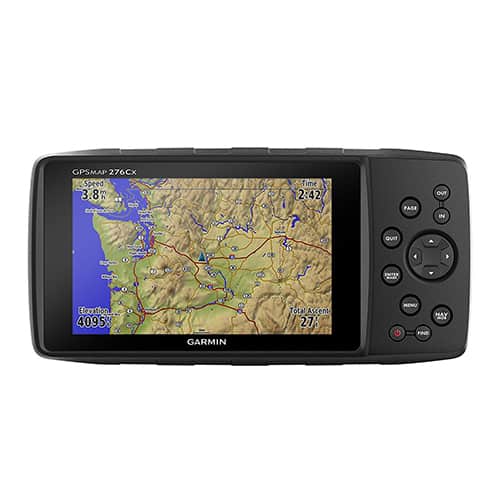 The Garmin GPSMAP 276Cx is one of the company's flagship devices and a GPS unit that puts others to shame in one area. More on that in a second.
First, we want to say this: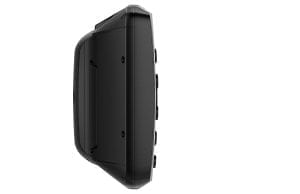 If you're looking for something discreet, you will want to look elsewhere. This tracker is the size of a miniature tablet.
But…
It has more features than any other model on our list.
Size is where we're going to start with this one as the 276Cx measures 7.5" x 3.7" x 1.7" and weighs close to a pound.
It's not what we would consider pocket-friendly. Though it's far from unwieldy and is easy to mount on an ATV.
That's a plus for hunters, and so is the IPX7 waterproof rating.
While there is some black border, we're pleased to say most of the front is taken up by a colorful 5-inch display.
Garmin opted for a WVGA panel in the 276Cx which has a resolution of 800 x 480 pixels.
It's bright under direct sunlight and provides far more detail on shaded relief maps than other trackers in this class.
It manages to do this without taking a toll on the battery life. Unfortunately, that comes at a cost as it's a regular panel, not a multi-touch display.
While that will be a disappointment to some, Garmin makes up for that with the controls scheme.
A directional pad takes care of navigation while a series of buttons handle menus, zooming, and various other functions.
Despite its high-tech nature, we don't think anyone will have a problem using the 276Cx.
Like some units, the exposed power button can be tricky. One user found an interesting solution for this particular problem…
You'll get 6GB of usable storage on this tracker out of the box, but you can kick that number up with a microSD card.
It's compatible with all the major mapping systems and has a shaded relief worldwide basemap preinstalled.
A 1-year subscription to BirdsEye is included as well.
It works with GPS and GLONASS although that's not what initially grabbed our attention with this one.
Stay Connected…
Many trackers allow you to connect to other devices, but most require a USB cable.
Not the GPSMAP 276Cx.
It has Bluetooth and ANT+ built in.
It also has Wi-Fi.
Something you won't find on any other unit on our list.
It's definitely a handy feature to have on hand. But, one that may not be as useful to some as it all comes down to your needs in the end.
The one area where this tracker is similar to the rest is with the basic features.
It can give you information on the Sun and Moon or game in your area.
It can also hold up to 10,000 waypoints and 250 routes like the rest of the pack.
You'll get a choice when it comes to power as well considering the 276Cx can use AA batteries or a rechargeable power pack.
Aside from its size, the Garmin GPSMAP 276Cx is a fine option if you want highly detailed maps and aren't shopping in the budget range.
It's not cheap but packs a punch, and we love the fact it has Wi-Fi.
There are plenty of goodies included as well with a rechargeable battery pack, USB cable, powered mounting bracket, user manual, and a marine bail mount.
The latter is good in case you decide to hunt Moby Dick instead of deer.
Features
8GB of storage
16 hours of battery life
Powered mounting bracket
MicroSD slot
---
Pros
Waypoints geared towards hunters
18 hours of battery life
Nice price tag
Detailed hunting zones for the U.S. and Canada
Cons
The price
No touchscreen
---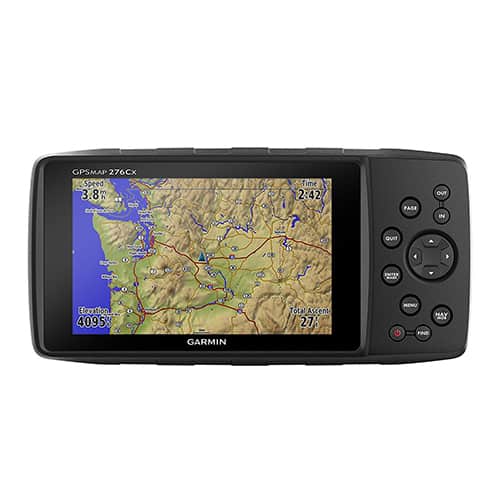 Before You Hit the Trail…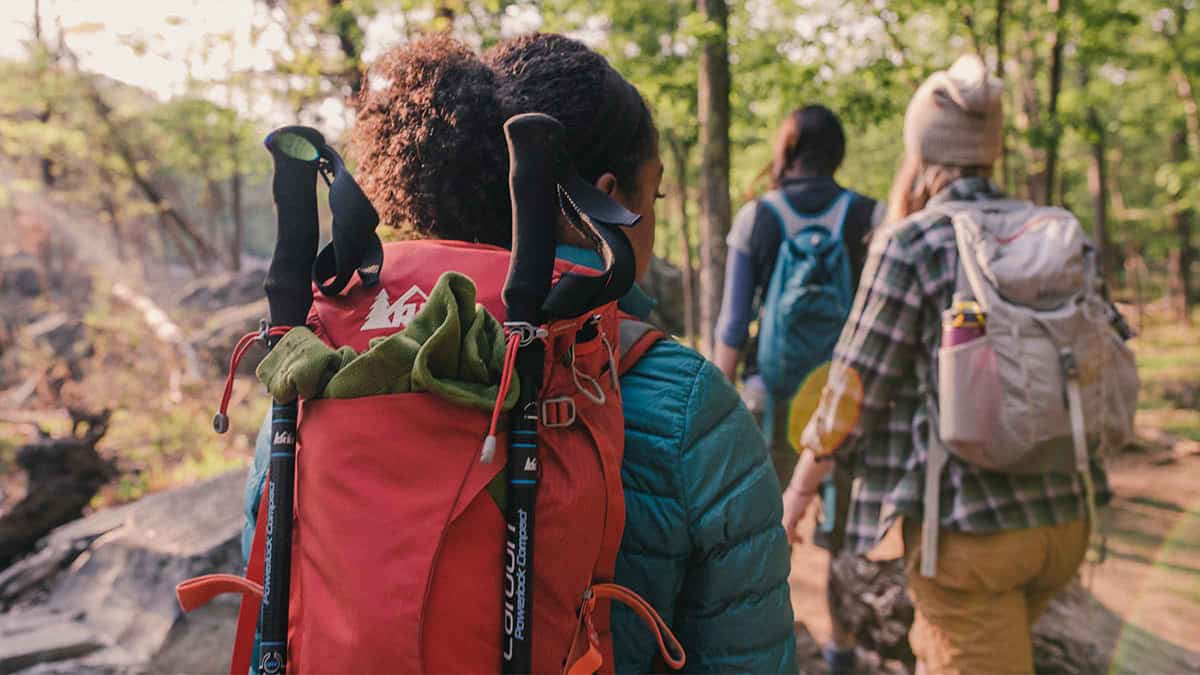 As mentioned, all of our choices for the best GPS for hunting have excellent battery life. Unfortunately, that just won't do if you plan on roughing it for a few days and don't have access to power.
When a ranger station isn't an option, you can turn to a portable power bank or solar charger.
Power banks – A power bank is basically a big smartphone battery that's built to charge up portable gadgets while you're on the go. They can hold a charge for months and are small enough to fit on your keychain or slip into a pocket.
They are an affordable option, and some have enough power to recharge your tracker 3-4 times. While that's great, eventually they will run out of juice like most portable power packs.
Solar Chargers –These are part power bank, part charger as you can set them down outdoors and soak up the sun while you're in a blind or tree stand. Charging times can be a little slower in some cases, but it's the only solution that allows you to stay on the hunt for weeks instead of days.
Another advantage of solar is the fact you can buy foldable models that fit can power up larger gadgets and allow you to stay off the grid indefinitely.