Garmin's eTrex 30x is an interesting tracker with a solid, but somewhat odd set of features.
It takes elements from both of our previous picks and combines them into a new form factor that sports a small joystick along with a preloaded base map.
The eTrex 30x may not win any awards for its design, but it's not a bad looking tracker by any means.
It's not sleek, but a little more rugged than other models in the design department with only four buttons on the outside of the chassis.
How easy navigation on the 30x is a matter of opinion, and may come down to your experience using gadgets or GPS trackers.
A Tricky Stick…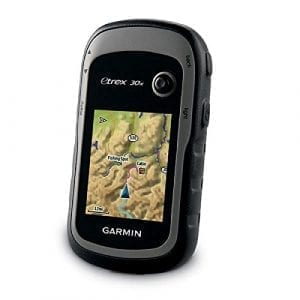 Some consumers felt this unit was easy to operate while others had issues with the tiny joystick.
Yes, that's a joystick at the top, an area usually reserved for a flashlight or camera.
It works, but the placement is odd, so it's a bit of a mixed bag in that regard when it comes to ease of use.
Our testers measured this one at 2.1" x 4.0" x 1.3" and weighs 5 ounces.
Not too shabby for those not wanting to carry a lot of extra weight around.
You won't have trouble holding onto the eTrex 30x if the weather takes a turn for the worse.
We're pleased to say it has the IPX7 rating like the rest of its brethren as well. Our experts put it to the test in all sorts of environments and never experienced an issues with it.
When it comes to tracking, it will pinpoint your location or waypoints with ease as it works with GPS and GLONASS.
It doesn't have a quad helix antenna, so while this WAAS-enabled tracker is good, it's not the best with a positional accuracy of around 3-meters.
The display is bright and legible in direct sunlight with a resolution of 240 x 320.
That's on par with the Oregon, just smaller at 2.2-inches.
It's not a touchscreen, but it certainly gets the job done and is quite colorful at 65k.
We do wish they had gone a little larger with the display however, as the maps look letterboxed with that much black border.
What about the maps?
The Garmin eTrex 30x comes with a shaded relief basemap, but you won't get any extras.
That means you'll need a BirdsEye subscription or have to load up your own maps.
Thankfully, that won't be an issue considering the device has 3.7GB of storage space and a microSD card slot.
If you hunt with other people on Garmin's system, you can send your tracks, routes and even geocaches with others by simply pressing a button.
Now, here's where it gets impressive:
Where the eTrex excels over other GPS trackers is in the power department.
No, we're not talking about processors or embedded tech, but the type of power that keeps the lights on.
In this case, two AA batteries which provide you with 25 hours of juice. That's top of the line and ideal for long hunts that last from daylight till dusk.
This particular unit doesn't have too many flagship features compared to other models.
The track log can handle 10,000 points and 200 saved tracks. It has paperless geocaching to go along with 200 routes, an electronic compass, and a barometric altimeter.
It has the standard 1-year warranty and comes with an in-depth user guide to get you started.
Overall, the eTrex 30 is a solid upgrade over the previous model with more storage and a better display.
While not quite as sensitive as other trackers, it will find and mark any locations you need with little to no lag.
The only major downside is the joystick tends to do its own thing when placed in a pocket. It's not a deal-breaker however.
Looking for an easy fix?
The issue is something you can quickly address with a case like the Special Ops which has raised edges.
Features
HotFix Prediction
MicroSD slot
3.7GB of storage
IPX7 certification
pros
Worldwide basemap w/ shaded relief

25-hour battery life

Lots of storage

240 x 320 color display

Hunt and fish calendar
cons
The joystick can get "bumped" in your pocket

The interface could use some work

Price compared to similar models