Scooters aren't just for kids! Electric scooters are perfect for tooling around and exploring, running errands, and commuting for short distances - easily, economically, and emission-free. Learn about the best electric scooter for adults to get around while satisfying their inner child.
Research You Can Trust
After researching over 30 of the most popular electric scooters, we narrowed the list down to these top picks. We consulted industry leaders and consumers to choose the eight top electric scooters.
It's an investment
Before plunking down money to purchase one of these cruising machines, you should read what others already think about them.
We pored over feedback from hundreds of owners of all different ages in order to investigate the good, the bad, and the ugly.
We learned about electric scooter riders' experiences with and opinions about specific models.
Knowledge is power!
We also double-checked each scooter's specifications on its manufacturer's website to confirm accuracy of information. Safety is paramount, so we want to communicate exact details about brakes, speed, durability, and more.
Hop aboard…
…and learn about electric scooters in general and specific models.
Buyer's Guide
The 30-Second Review
When shopping for an electric scooter, first think about how you plan to use it.
Will you ride it to commute to work (or at least part of the way in order to catch public transportation)?
Do you plan to use it for running errands or for recreation?
How far do you need to travel and over what kind of terrain (e.g., urban, suburban, or rural)?
Consider your needs and then investigate each model's features, including its size, maximum weight capacity, range and ride time (how far and long it runs on a single battery charge), speed, style (seated vs. standing, foldable or not), reliability, and performance.
Many of the above factors depend on the scooter's parts. Things like its battery, engine, and brakes.
Examine each model's specifications to make sure they fit what you need.
THE WINNERS
Buyer's Guide: Finding The Best Electric Scooter
Just as every person is unique, each electric scooter model is different.
Features to Check Out

Scrutinize the specific features of the model you're researching, including:
Maximum Rider Weight Capacity
Most models accommodate weights of at least 120 pounds, but we included ones that carry up to 250 pounds or more.
Range And Ride Time
Range is how far the scooter can travel on a charged battery.
Ride time is how long it can run on a charged battery.
Range and ride time are calculated with the scooter driven at full throttle on flat ground.
So, if you have a nine-mile one-way commute to work, make sure your scooter has a range of at least 10 miles.
Don't get carried away and exceed your scooter's range–or you may end up stranded with a dead battery.
Rider weight, speed, and terrain all affect range and ride time.
The heavier the rider, the faster the speed, and/or the steeper the incline, the shorter the range and ride time will be.
Battery
The battery, its power capacity (voltage), how long it holds a charge, and how quickly it recharges also affect range and ride time.
Various types of batteries produce different levels of power and require varying charge times.
In the above example–a nine-mile one-way commute to work on a scooter with a 10-mile range–you'll need to recharge the battery during the workday.
How long will it take for the battery to recharge completely?
Will you have enough time to recharge the battery before your nine-mile return trip home?
Most electric scooters have one of the following two types of batteries:
Lead – Lead batteries are inexpensive to produce, efficient, and long-lasting. However, they require a long to charge (e.g. at least 12 hours) and can be heavy.

Lithium-ion – Small and light, lithium-ion batteries won't weight down the scooter much. Another plus is that they require less time to charging time (e.g., one to three hours at most). Unfortunately, lithium batteries aren't inexpensive and thus drive up the price of the scooter.
Environmental Notes on Batteries
Although electric scooters are emission free because they're powered by batteries and not gas, we can't ignore batteries' environmental downsides.
The manufacture and disposal of batteries pollute the environment.
Also, obviously the batteries' power has to come from somewhere. Unless you have a solar panel charger for your electric scooter's battery (like this one), the electricity source you use to recharge the battery probably obtains its energy from coal-fired power plants.
When you need to replace your scooter's battery, please dispose of the old battery responsibly.
Check with your town's large battery disposal rules. Also, inquire if local auto part stores or recycling centers accept them.
In any case, please don't simply dump your scooter's old battery in the regular trash.
Motor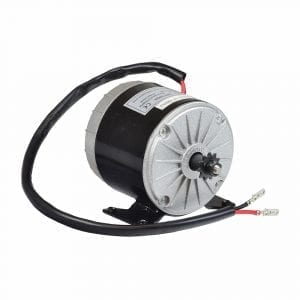 At least 250 watts is good for kids' scooters.
You may want a more powerful engine, like 500w to 1000w. The higher the wattage, the higher the price, so think carefully about how much power you actually need.
The most common types of electric scooter motors are:
The chain-driven engine: Scooters with this type of engine have a continuous metal chain linking a small sprocket gear to a larger gear on the rear wheel.Powered by the battery, the motor rotates the sprocket, which moves the chain, which turns the rear wheel…and propels the scooter forward.Chain-driven engines are efficient and powerful. Their downsides, though, are the weight of the chain and surges (speed variations).
The chainless hub motor: This is an electric motor located within the hub of the wheel, eliminating the need for a chain to connect the motor to the wheel and turn it.Hub motors are efficient and prevent surges, but result in heavy wheels, more vibrations, and bumpier rides.
Brakes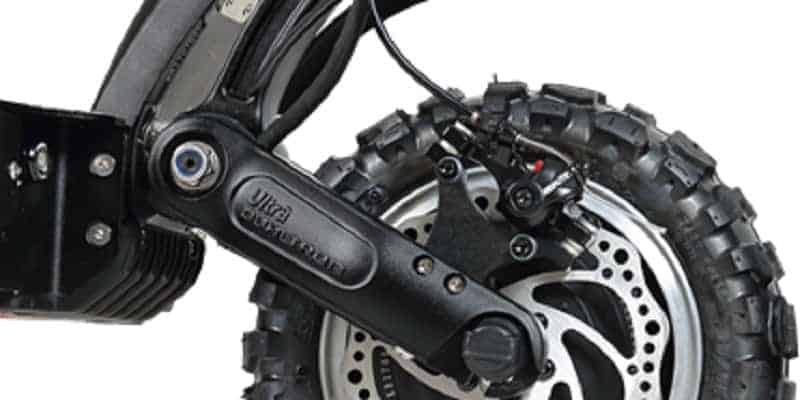 Manual scooters have foot brakes where the rider pushes down the cover of the back wheel, creating resistance between the cover and the wheel to slow and stop the scooter.
Electric scooters often use much stronger brakes and utilize either–or a combination of these brake systems:
Handbrake: A clutch on the handlebar is connected to a disc brake mounted on the front or rear wheel. When you squeeze the clutch, it creates pressure on the brake disc, which slows down the wheel.
Electric brake system: Often found on hub motors, electric brake systems increase resistance between magnets inside of the motor, making it (and thus wheel in which it's located) eventually stop.Electric brake systems that recharge batteries during braking are called regenerative braking systems.
Speed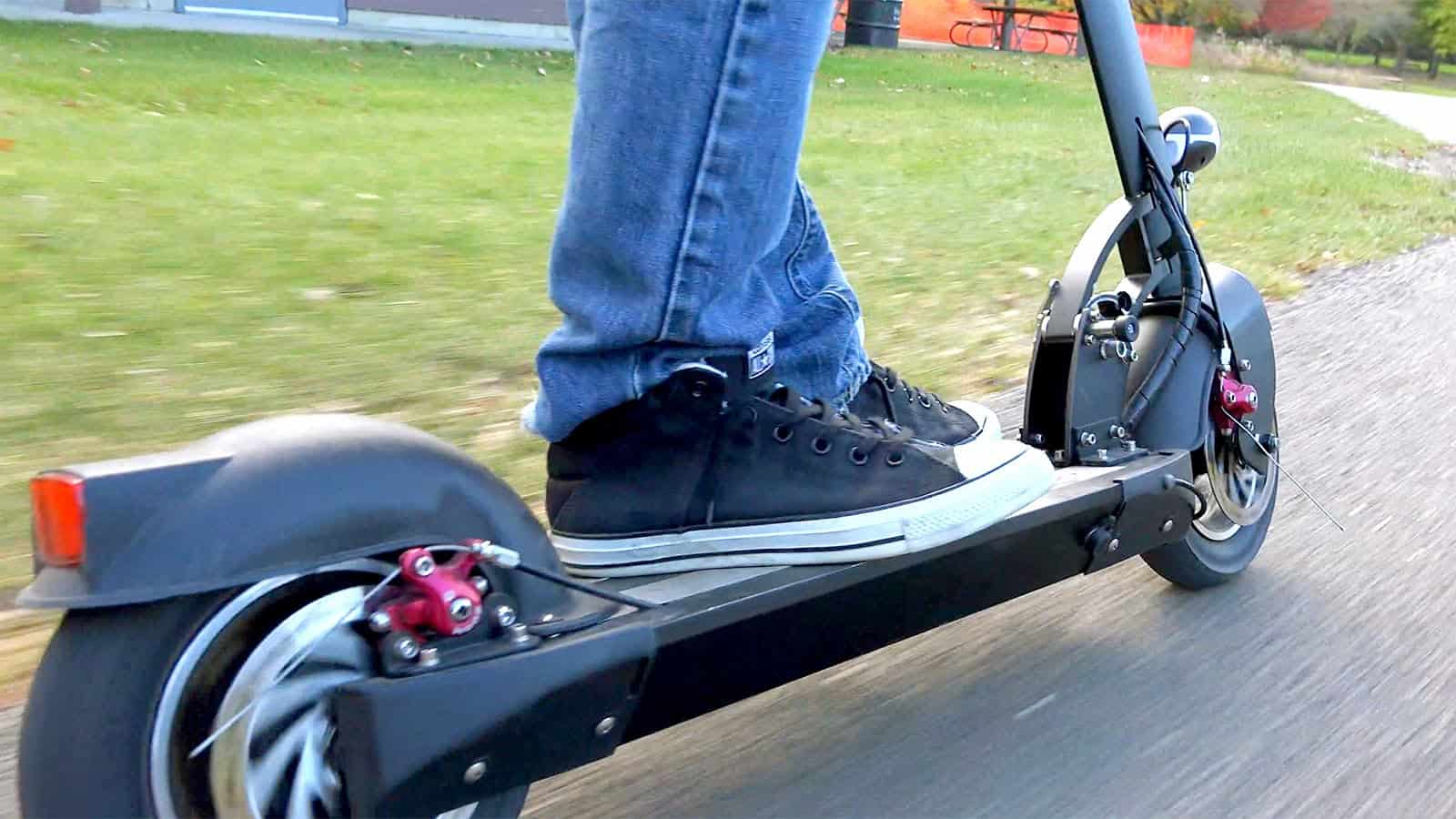 Top speeds for small electric scooters range from about 10 to 30 miles per hour.
The models we review top out at 27 miles per hour, and that number varies depending on the terrain and rider's weight (i.e., hills and heavier riders reduce speeds).
For safety, as well as legal reasons, you may not want to go faster than 15 miles per hour so. We'll talk more about this and other safety recommendations after the reviews.
Performance
How does the model feel on the average road–smooth or bumpy?
Does it perform well on inclines as well as on flat ground?
Durability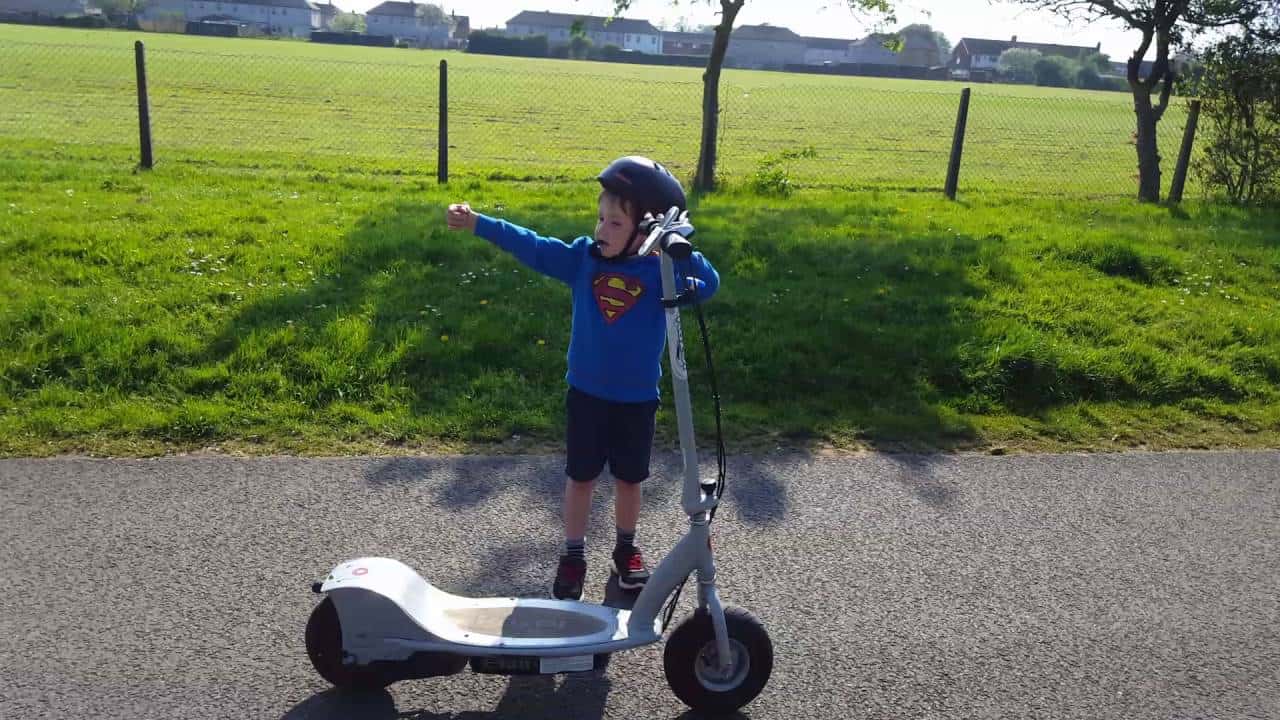 Electric scooters of any size are investments.
You want the model you choose to last. Its lifespan depends on usage (i.e., frequency, distance, and terrain of rides), maintenance, and construction.
Style
Does the model come with a seat?
And if so, is it removable?
Some people prefer riding standing up while others like to sit.
Portability
Does the scooter fold up to carry and store away easily?
This feature may be important for commuters but not so important for recreational riders.
Appearance
While not one of the most important features, a scooter's appearance (especially choice of colors) can affect riders' choices.
Some want to look cool while others don't really care.
Now let's take a closer look…
Reviews of Best Electric Scooters
Enjoying Your Electric Scooter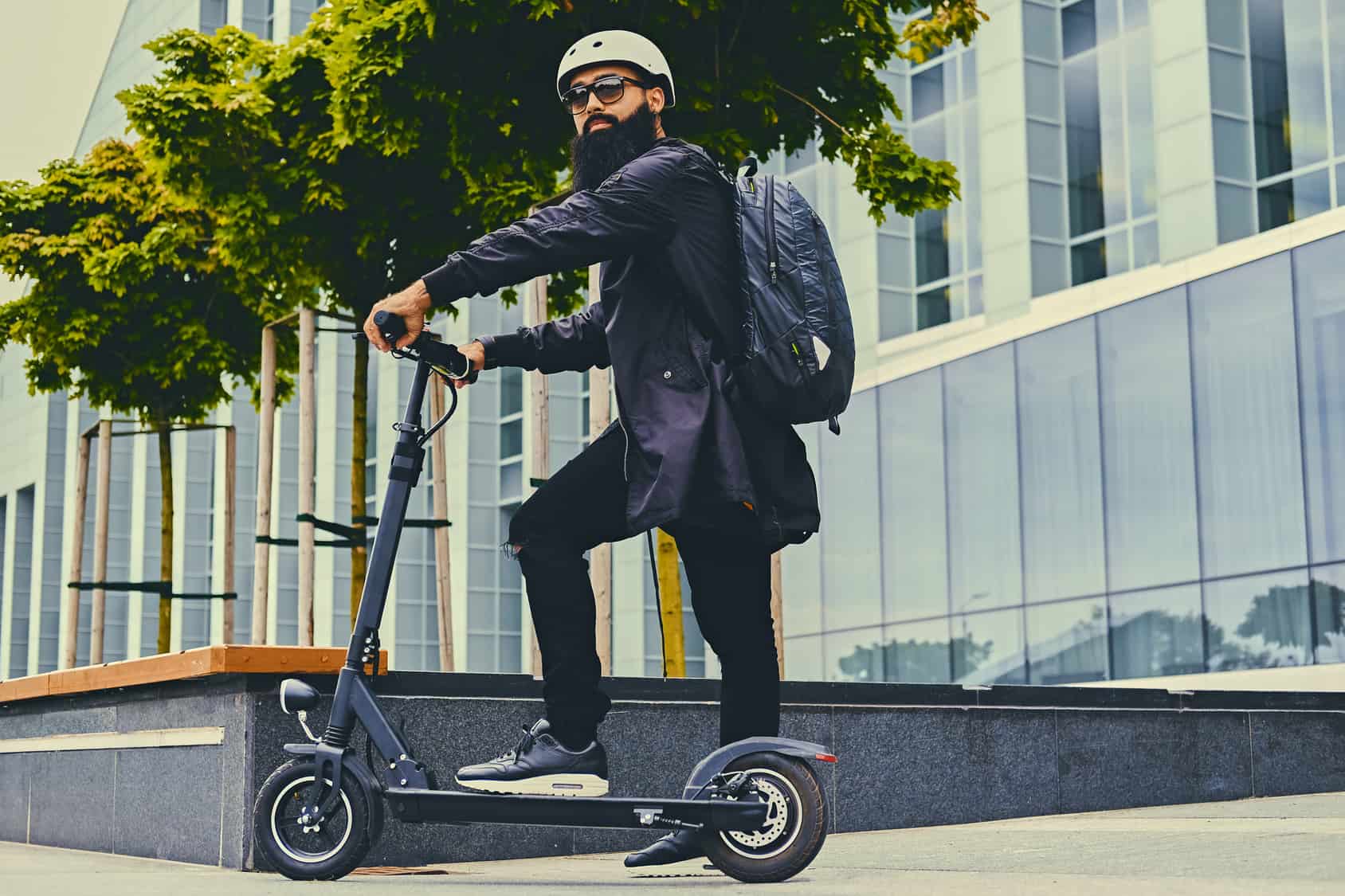 You've chosen a suitable model and are eager to take it out for a spin.
Now, are you worried you'll fall off a scooter?
Don't. Really.
If you can ride a bike, you'll be able to drive a two-wheeled scooter.
Even if you can't, you should have an easy time learning to balance on a scooter, with its lower center of gravity.
Not so fast…
Also, small, two-wheel electric scooters are slower than bikes, often topping out at 15-18 miles per hour.
Although possible, crashes are unlikely. Especially since you can simply brake and hop off a scooter to avoid an accident.
As with any vehicle, be careful on the road so you can enjoy the ride.
Let's get rolling!
What's more…
Some states require helmets for electric scooter drivers by law–check with your local DMV. United States residents can use this handy website to find their state's official DMV website.
Electric Scooter Maintenance
Many small electric scooters–like the ones we reviewed–market themselves as being low- to no-maintenance.
While this may be true, as with any motorized device containing moving parts, you'll want to take care of your electric scooter in order to reap years and miles of use.
Read your model's owner manual for proper instructions to keep your scooter tuned up and ready to go.
Other general tips include:
Keeping records:Photograph or write down your scooter's serial number and store it with other paperwork (e.g., the manufacturer's instructions, the receipt, etc.). Also take a picture of wiring harnesses, battery connections, and overall parts placement for later reference.
Not riding on wet surfaces and in the rain: Moisture interferes with and may short out the scooter's electrical components. Electrical scooters are designed to run on hard, dry, surfaces, not through mud, wet grass, and puddles. Moisture also rusts metal parts.
Cleaning: Clearing debris, dirt, and dust from your scooter will help prevent particles from coming into contact with and hindering the engine/motor and other mechanical moving parts. Do NOT douse the electric scooter with water, though. Dust it off and, when necessary, wipe it with a damp cloth before drying it completely. Special tools are available for cleaning chain driven scooters.
Checking tire pressure and keeping tires properly inflated: Look in the scooter's manual for the correct pressure level. Under- or over-inflated tires don't touch the ground evenly, wear out faster, and affect range and speed.
If applicable, checking the chain to make sure it's not too loose or too tight.
Lubricating moving parts as needed and instructed.
Testing the brakes and checking brake pads.
Recharging the battery properly: We've read conflicting advice on recharging electric scooter batteries, like
Running the battery all the way down before recharging it vs. recharging it after every ride whether or not it's drained.
Never overcharging the battery vs. leaving it in a plugged-in charger for a period of time even after the indicator shows a full charge.To play it safe, read your scooter's manual for recharging instructions for that specific model and battery.What we did find agreement on were:
Using the correct charger for the batteries.
Charging the batteries fully before the first use.
Parking in the shade or a shelter to shield it from prolonged direct sunlight and extreme temperatures, particularly heat. Batteries are especially affected by high temperatures.Alternatively, you can pick up a cover on the cheap.
Rules of the Road
As we noted earlier, some states require helmets for electric scooter riders while others don't.
In fact, rules for electric scooter ownership and usage–licensing, registration, insurance, where they can be driven–vary from state to state.
Laws applicable to your chosen model also depend on its size and speed. To navigate this myriad of regulations, check your local DMV office for your jurisdiction's laws regarding electric scooters.
Some electric scooters are considered street legal and thus can't be driven on sidewalks.
Others aren't street legal (i.e., too slow/under 25 mph, not sturdy enough, lack sufficient suspension and safety features, etc.) and can't be operated roads with other traffic safely.
The small models we reviewed are between children's scooters and the larger full-size electric scooters that are usually street legal. So where does this leave you to drive your small electric scooter? Again, check with your local DMV for rules applicable to your specific model. Riding on sidewalks is illegal in many places while zipping around in traffic on larger roads is illegal and downright dangerous. Neighborhood streets and bike lanes may be viable options.
Electric Scooters: Revered or Reviled?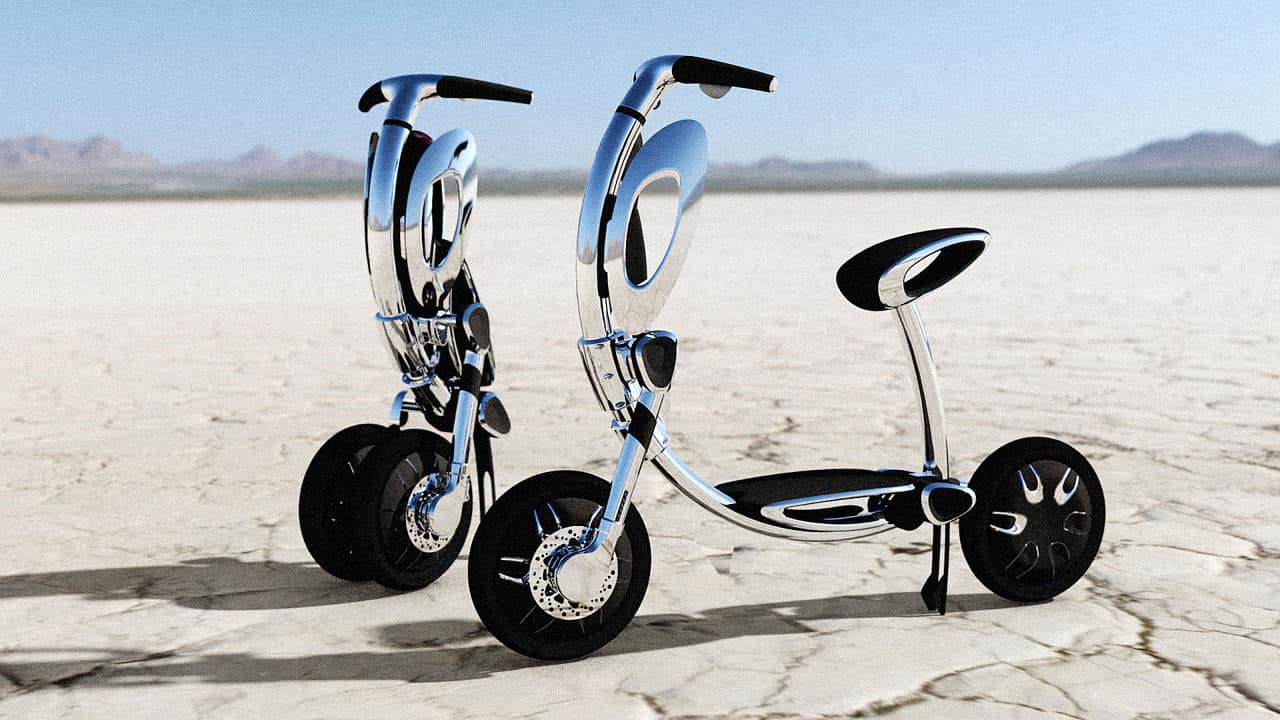 Proponents of electric scooters praise their economy, ease, independence, and eco-friendliness.
Conversely, people annoyed by fleets of commercial rental electric scooters littering urban sidewalks dislike them.
Why?
Many citizens are angry at scooter rental companies for diverting money from public transportation, all just to make a buck. Hopefully, though, electric scooters can actually encourage the use of public transportation.
Is there a silver lining?
In places where public transportation pick-up points are far apart (e.g., Metro stations in DC and the Maryland and Virginia suburbs), riding an electric scooter may be perfect for just getting to the subway/bus stop.
Although your personal scooter isn't one of the reviled rentals, keep a close eye on it.
Vandalized scooters–burned, tossed into water, run over, etc.–have become victims of frustrated citizens expressing outrage over the invasion of rental scooters.
There's also the environmental impact to consider.
Trying to go green?
You'll love this!
Electric scooters emit no pollution according to the National Institute of Environmental Health Science.
They're quieter than cars and motorcycles (thus less noise pollution) and zero emissions.
Ready to Ride?
In order to find the best electric scooter for you, analyze your needs as well as each model's features, like its size, maximum weight capacity, speed, range, performance, design, etc. Don't forget to learn about its brakes, battery, motor, and other parts.
Before you take off…
Always ride responsibly and respect pedestrians, cyclists, other motorists, and drivers. We all share the road and would hate for a few bad apples to spoil the joy of outdoor transportation for everyone.
Rev Your Engines
Readers and riders, please tell us what you think. Do you agree or disagree with our advice and reviews? Did we leave out any information? Do you have anything to add?  We'd love to hear from you.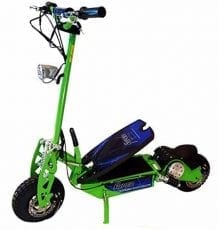 Best of the best
Super Turbo 1000watt Elite 36v Electric Scooter
Want to travel faster than walking but not depend on a car? Try commuting or zipping around on errands with the best electric scooter.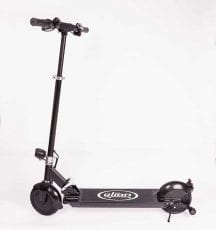 Most Buying
Glion Dolly Foldable Lightweight Adult Electric Scooter
Want to travel faster than walking but not depend on a car? Try commuting or zipping around on errands with the best electric scooter.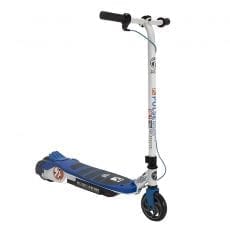 Best for the money
Pulse Performance Products GRT-11 Electric Scooter
Want to travel faster than walking but not depend on a car? Try commuting or zipping around on errands with the best electric scooter.