The 30-Second Review
To get the most out of your workout, you need shoes dedicated to Zumba for safety and comfort. Consider many different factors when researching models, like flexibility, weight, grip, support, cushioning, and more.
Of course your decision will depend on how often you take Zumba class and your feet's needs. How much you're willing to spend will also have an impact, making it tough to pick the best shoes to dance your heart out in.
But, that's why you're here.
We know. ?
Our reviews of various shoes to wear for Zumba will help you step through the plentiful field of styles and put you on the path to dancing like no one's watching!
Buyer's Guide to Choosing a Zumba Shoe
Did you know how Zumba came about?
Colombian dancer and choreographer Alberto "Beto" Perez forgot to bring aerobics music to class one day in the mid-1990's.
Oops!
Good thing Beto isn't one to miss out on an opportunity to dance…Improvising, he played Latin music tapes instead, leading students in salsa, rumba, and merengue moves.
Everyone got a great workout in while boogying away. And just like that, Zumba was born.
But that's just part of the story…
When executing routines with choreography to fast and slow rhythms, people enjoy a full-body aerobic-cardio workout that burns 369 calories in a 39-minute class.
Even more in a longer class!
Zumba strengthens participants' legs and core, increases agility and flexibility, and lifts moods.
And it's just so darn fun.
You don't even notice your burning calories by actually working out.
Here's an introductory demonstration.
Why Do I Need Special Shoes for Zumba?
Understandably, novices who just want to dip their toe into Zumba class usually wear whatever sneakers they have, like tennis or running shoes.
Nonetheless, if curiosity and rhythm overtake you, you'll become hooked on Zumba and should invest in a pair of shoes designed for dance exercise.
Here's why:
Dance is a much different activity from court sports and running.
Any dance-based exercise requires footwear that can handle diverse types of movements.
Also, your feet, ankles, knees, muscles, and back need TLC so you can work your hardest, have the most fun, and cut up the dance floor.
Special shoes for Zumba help you:
Dance safely. In order to execute turns, lunges, hops, weight shifts, kicks, squats, rapid direction changes, and more, you'll need shoes that provide just the right amount of flexibility, support, and grip. The right shoes will help you avoid twisted ankles, falls from slips, and other dance-floor accident
Durability
Most Zumba classes last about one hour, and depending on how often you attend class, you need shoes that can stand up to all the repeated shaking, sliding, and turning. Zumba instructors and hardcore enthusiasts take three, five, or more classes per week.
Flexibility
Shoes for Zumba should be flexible enough for wearers to execute quick and repetitive movements freely. Try shifting weight, lunging, digging spinning, and more in a stiff shoe–injuries and frustration ensure! Look for shoes made with bendable material for the uppers and the sole.
Breathability
Speaking of material, a good Zumba shoe's upper allows plenty of ventilation to release heat and sweat from hard-working feet. Many models use a mesh-like fabric that's tough but breathes.
Lightness
One of the top priorities dancers emphasize is the weight of the shoes–they want lightweight, the lighter the better! No one wants to be weighed down by heavy shoes, but move freely and expend energy on cool steps.
Low grip
Because dancers pivot, slide, and frequently change direction, they need shoes that don't stick to the floor. Of course they also don't want to lose their grip on the floor and fall. Shoes with a light-to-moderate grip do prevent slipping but DON'T hold onto the floor. Imagine executing a turn where your body moves one way but your feet remain stuck in the same spot–ouch! Avoid unintentional twisting of ankles, knees, hips, the back, and more.
Support
You'll feel most secure grooving when you aren't tipping over. Different models shoes offer different areas of support. Solid soles offer stability when you bust a lateral (i.e., side-to-side) move. People whose feet tend to pronate–roll inward–or supinate–roll outward–want to look for shoes with rigid midsoles. High-top shoes offer support around the ankle. A shoe with a well-designed heel cup securely holds the back and sides a dancer's heel.
Cushion
This high-impact activity has lots of hopping, bouncing, marching, and even jumping, so you'll need a shoe that offers adequate shock absorbency. You don't want to slow down just because your body hurts. Look for models with ample cushioning, like padded insoles and EVA (ethyl vinyl acetate) midsole cushioning, as well as rubber soles. In fact, some shoes designed for Zumba shoes feature special cushioning for the ball of the foot or heel. Even if you decide to modify steps and not jump, you'll still need cushioning for moves like punches or digs to protect your feet, ankles, knees, hips, back, or more. One note: while you may want a thicker sole for greater shock absorbency, remember that the thicker the sole, the less your foot feels the floor. Don't sacrifice stability and security for mega cushions.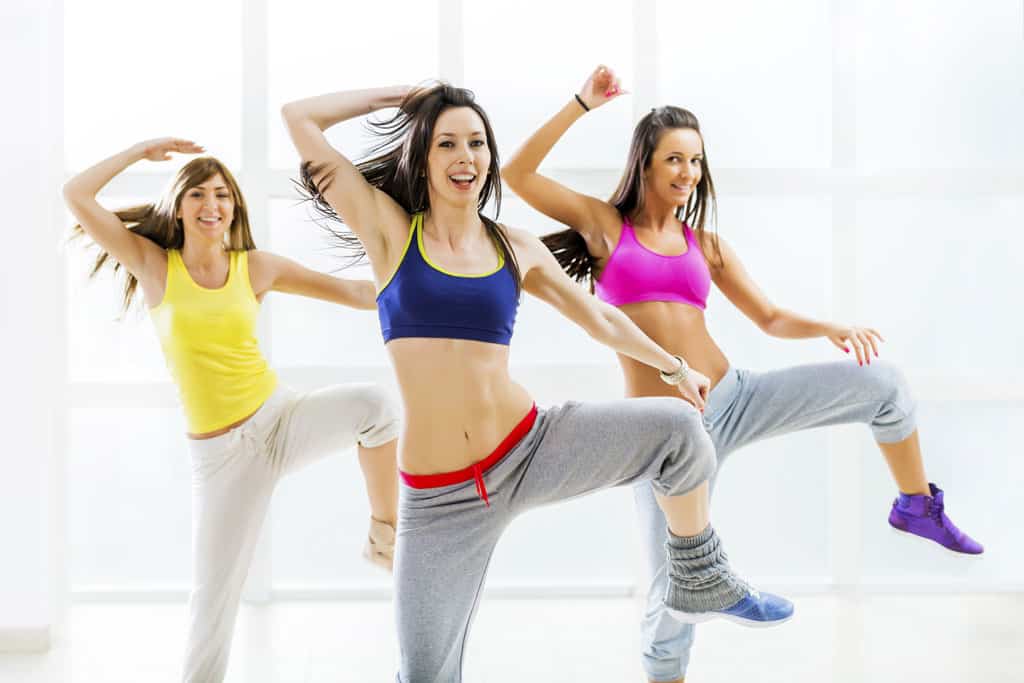 What Does This Mean For You?
Obviously, everyone's feet are different, and each foot (even within the same pair) has a unique size and shape. No two people have the same Zumba exercise regime and experience or bring the same weaknesses, strengths, and quirks to class. As a result, we found conflicting opinions for every model shoe.
Nonetheless
Our mission is to present a variety of consumer views on the following models when worn during Zumba workouts.
No matter what we found in our research, just remember: you know your feet, body, and exercise requirements better than anyone does.
Only you can decide which shoe best fits your needs.
Expert Tips: Special Features of Dance Shoes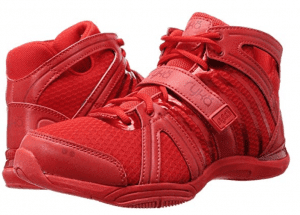 Some of the shoe models listed below have pivot points and/or split soles.
What's a pivot point?
A pivot point is a circular patch of rubber on the shoe's sole–usually located under the ball of the foot and/or under the heel–on which a dancer can twist, turn, and spin with ease. You don't want your foot to stick to the floor as your upper body rotates … and your ankles, knees, hips, and back bear the brunt of the torsion. Basketball shoes also have pivot points.
What's does it mean when a sole is "split"?
Commonly worn by experienced dancers or people with strong feet, split soles are composed of two sections–the heel pad and the toe pad–instead of one solid piece that runs along the entire shoe bottom. Dancers love split soles because they offer much flexibility for the foot to point. The downside is that split sole provides no arch support. Split sole shoes are common among advanced ballet and jazz dancers.
Reviews of the Best Shoes for Zumba
Last Kicks
Choosing Shoes for Feet with Special Issues
As we mentioned, no two people have the same feet. If you're aware you have special issues, like high or low arches, wide or narrow feet, etc., you're already ahead of the game when selecting a shoe.
If you have:
high arches, look for a show with good arch supports, much stability, and even room to insert orthotics if needed.
low arches or flat feet, seek a shoe with ample cushioning.
narrow feet, look for a style that's not wide and boxy–you don't want your foot to slide around when busting Zumba moves.
wide feet, steer away from shoes with narrow toe and heel boxes.
Tips for Jumping into Zumba
Besides choosing the perfect shoes for Zumba, how else can you prepare for Zumba class?
Whether you're just trying it out or already a Zumba regular, hopefully you'll find the following tips and reminders helpful:
Wear comfortable clothing you can move in. Don't feel that you have to don the hottest, latest gear. Zumba class isn't a fashion show and doesn't require special clothes, so wear your favorite t-shirt, exercise top, shorts, leggings, sweats, etc.
Hydrate! Don't forget to bring a water bottle with you to sip from to replace moisture you're going to sweat out as you dance.
Don't fixate on other people. Of course, you want to make sure not to run into others, but try not to be self-conscious! Especially during your first few Zumba classes, you may miss some steps while some experienced dancers seem to miss none, but don't worry. You'll pick up the choreography at your own pace the more you dance.
Seek an experienced Zumba instructor. Visit this page at Zumba.com to research an instructor's background, how long she or he has taught, etc.
Be aware of the floor–most studios use sprung, hardwood floors, which have some give and allow sliding action but can become slippery with moisture. Surfaces like concrete (or concrete covered with carpeting or wood) and hard tiles are tough on joints during this high-impact activity. Rubber soles often stick to carpeted floors, causing ankle- and knee injuries.
Warm up before class and cool down as well as stretch after class.
Modify steps if needed. Your body will tell you if you need to back off on some moves. For example, if your back is sore, dial down on the twists. If your joints (e.g., knees, ankles, hips) hurt, do less jarring movements; try shifting your weight instead of jumping.
Still hesitant about getting into zumba? Try a running sport, read this soccer shoes reviews we have prepared for you.
A Zumba Class for Everyone
When most people hear "Zumba", they think of the high-impact, fast-paced Latin dance exercise. And then some people are intimidated from trying …
But there truly is a Zumba class for everyone–every age from infants to senior citizens, for concentrating on specific body parts, low-impact and more. Visit this page to see a listing of all the different types of Zumba classes out there. Some classes, like Aqua Zumba, obviously don't require footwear. Ones that do include:
So what are you waiting for? Let's get moving and grooving to the beat!