So, what's the best rangefinder golf experts say will provide you with the accurate distance from your position to things such as hazards, the green, or even the hole? Unfortunately, the answer isn't that cut and dry…
To be honest here,
No device will make you an albatross, but a lot of professional and amateur golf players have reported improvements in their score due to this wonder of modern technology - you're probably here because you already believe a rangefinder can help you.
The web is full of different options, all boasting the craziest and flashiest technology. Hopefully, this piece will help you better navigate the hectic landscape and by the time you're finished reading, you'll be happy we did the scouring for you.
Research You Can Trust
Playing golf is really fun. But, we have to admit, some of the joy fades away when you're trying dozens of products just find one you like.
But, that's why you're here, huh?

Good news! You came to the right place.
We spoke to a few experts in the field who advised us on general stuff such as tournament regulations regarding rangefinders, the best brands, what to look for if we're addressing players with different golf skills, etc.
There were a lot of productive talks, but we wanted to know more.
So, here's what we did next…
We tried out a myriad of golf rangefinders, on different courses, and under different weather conditions, to make sure you have a comprehensive look at all the products.
With over 30 rangefinders tested, we chalked up a list of the 10 best ones.
Buyer's Guide
The 30-second review
First of all,
Settle on a rangefinder type – GPS or Laser. While GPS can be used more easily during a match (and they're cheaper), laser options provide measurements that are more accurate in real-time.
Got that settled?
It's time to think about accuracy. More specifically, make sure your future purchase has an accuracy error margin of 1 yard or lower, and make sure the optical components are high-quality (see if they're certified).
Another thing to think about is speed. Nobody wants to waste their precious golf time by struggling with a device, so make sure your future purchase provides real-time numbers in a matter of seconds – the best way to do this is see if the rangefinder has vibration or Jolt technology.
That's it?
Nope, you also have to take the display into account. Is it easy to read information off of it?
If the font and colors contrast green, and if the distance is displayed prominently, you should be good to go.
On a different display note, is the reticle a circle or a cross? If not, you may have problems aiming a laser rangefinder at your desired target.
(We talk about reticles more a bit further down in the article. If you're still new the jargon, be sure to check out the full Buyer's Guide below.)
Up next is…
…construction. This one is really important if you want a durable rangefinder – which you can certainly find. A golf club owner we spoke to has been using the same one for 10 years.
Basically, you want to get a product made out of high-quality plastic combined with either strong nickel or aluminum (the latter the better).
Another important thing about construction…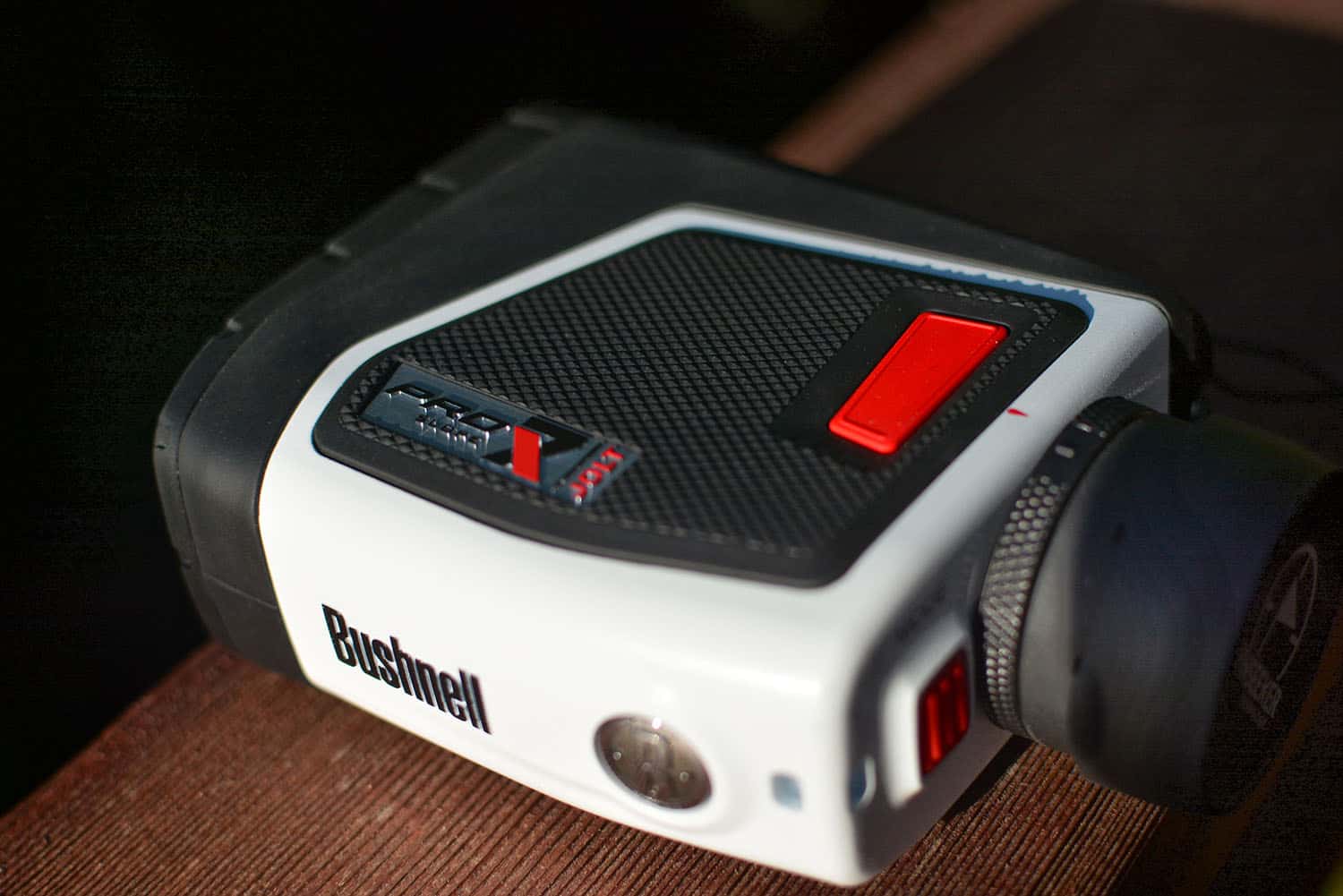 …is distance. Specifically, the maximum distance of a rangefinder (in our testing we found that 800-1000 yards is the way to go) and the optimal distance – i.e. up to what distance does the rangefinder provide 100% accurate measurements.
450-550 yards is a good optimal distance. The best way to find the optimal distance of a finder is to look for the maximum distance required to lock-in on a target.
THE WINNERS
Extra features get you excited?
There's plenty of those to take into account.
We'll cover the most common ones in our buying guide, but here are some good things to have:
Magnification. Zooming in on the hole can help players better asses the green.
Waterproofing. You don't want to get used to the rangefinder, and then have it not work because it's raining.
Jolt Technology. It lets you know when the measurement displayed is the "final answer" from the device. Also known as pinsensor tech.
Slope Mode. Calculates distances by also taking elevation into account – it's illegal in USGA and PGA tournaments, but helps a lot in training.
Ergonomic surfaces. Anything that you can grip better is a better choice.
And these are the basics. If you want to get as much info as possible about buying a golf rangefinder, we'll go in-depth about these topics in our buying guide.
Buying The Best Rangefinder
Golf Lovers, Here's Your Definitive Guide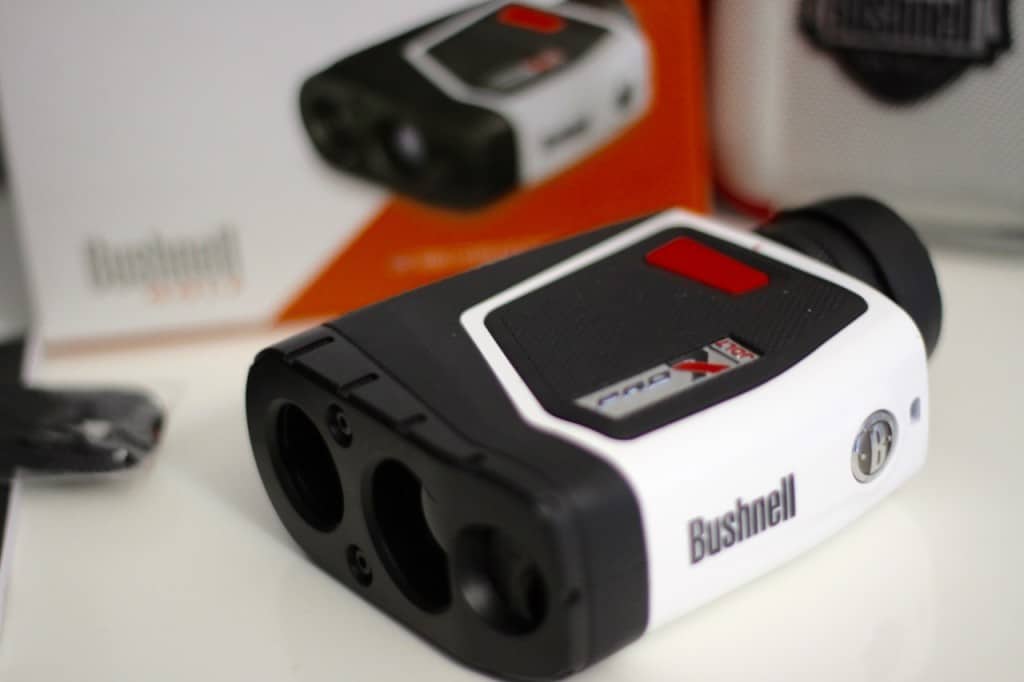 Buying the best rangefinder is not going to make every strike a hole in one.
However,
Even if it's not a shortcut to flawless strikes, it can be game-changer if done properly. Knowing the exact distance to your target makes everything a whole lot different.
You can better adjust your stance, you can better adjust your striking power, and most importantly – you feel in control of the game.
For that to happen, you want to make sure you take everything into account, and that's what this guide is for.
Type Of Rangefinder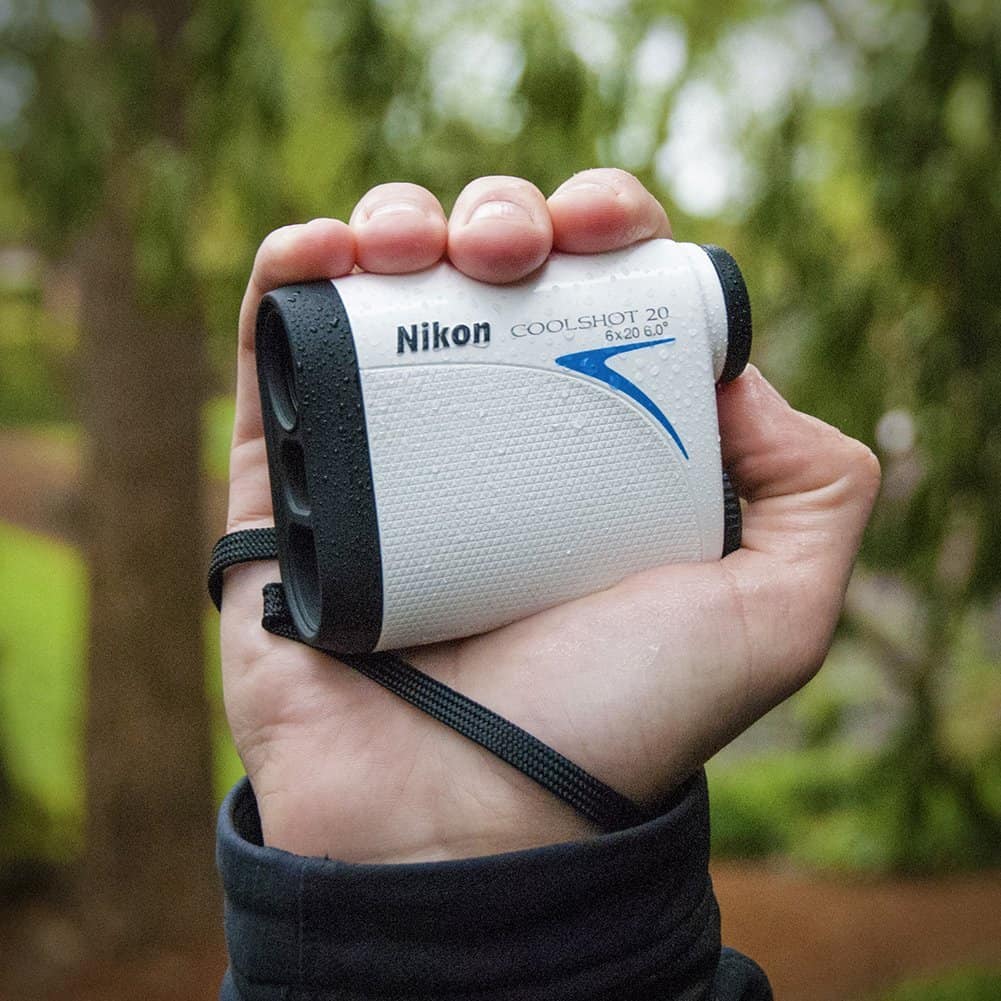 The first thing you want to get clear on is the type of rangefinder you're going to purchase.
What's important to keep in mind here is that you can't necessarily go wrong. Both GPS and Laser options have their pros and cons, but it's best to understand them before you throw your money at something.
GPS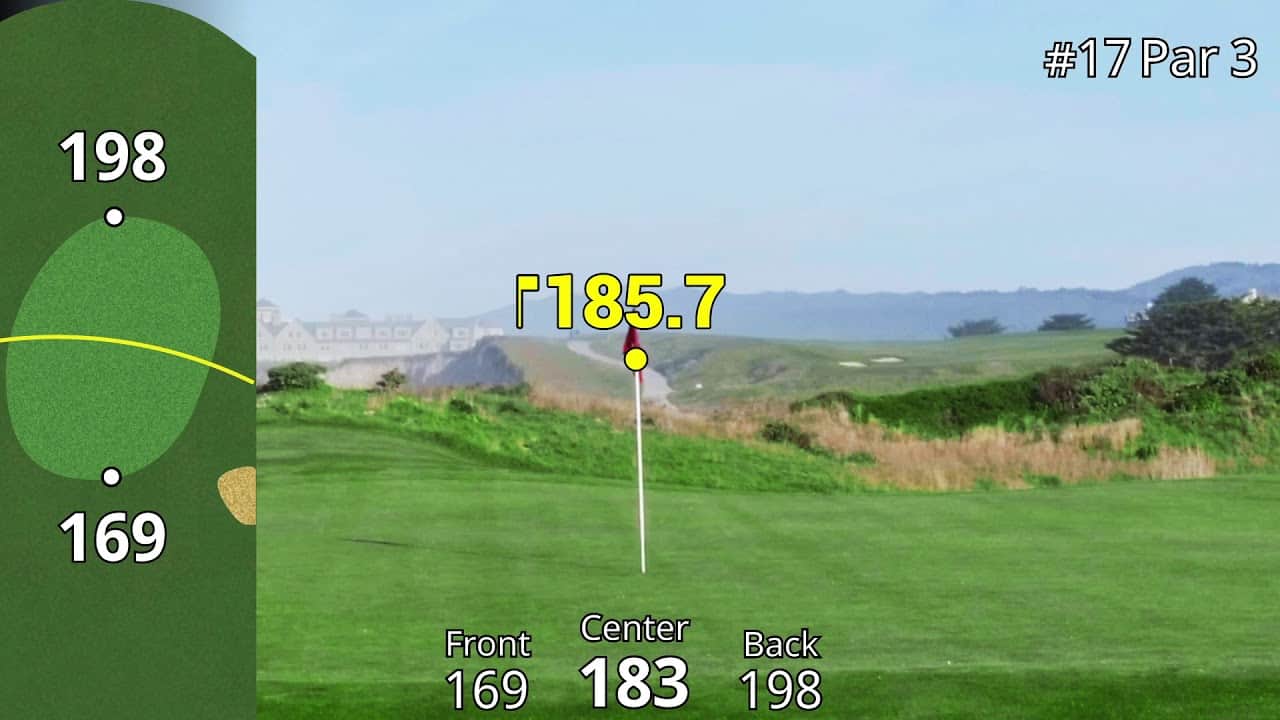 The way this type of rangefinder works is that you upload a map of the course pre-game, which tells you the distance to the front, middle and back of the green.
Most of them also include distances to hazards and sometimes even a top-down map of the course, to paint a clearer picture of where you are and where you have to get.
The good thing about going GPS is that you get all the information you need with a quick glance at a small display. The bad parts are that course maps need to be uploaded, and they may not always be up to date.
On top of that,
Bad weather can affect the synching of your location to the map, so it's not suitable for every possible situation.
Laser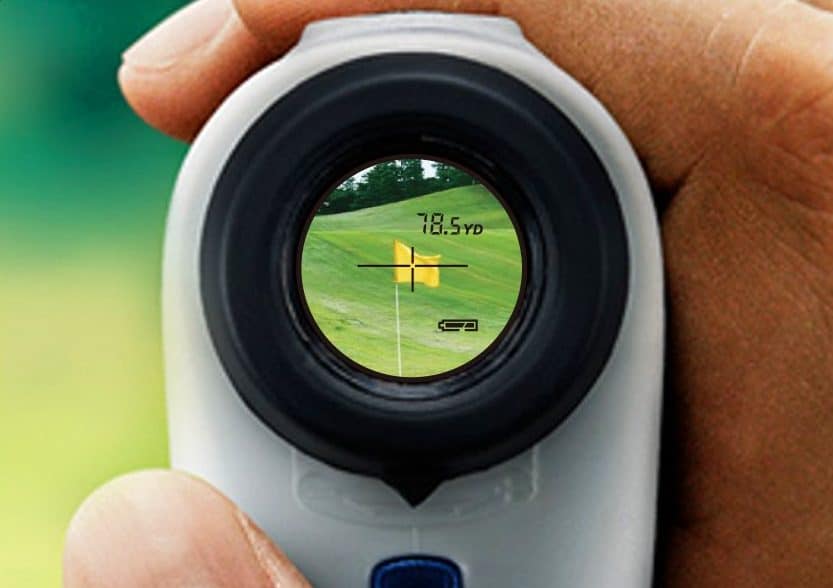 This one works a bit differently. Basically, you have a small display to look through and point your finder at any object from the course. If the device is pointed at a flag, for example, a laser beam will travel to that point and you'll get real-time yardage from your position to the flag.
From the products we've tried, we liked Laser devices much more.
Why is that?
You get the best accuracy, in real-time, regardless of external factors (although fog might give it some trouble), and you don't have to depend on any other files to get going.
There are problems with the laser as well. Mainly that it takes a bit longer to use (yeah, it's a matter of seconds, but still) and that all of these devices use weird battery formats.
Other than that, Laser is the Bestazy way to go. Considering that, we'll be focusing more on laser products from this point, but we'll mention GPS stuff to take into account along the way.
Not sure what to get?
That's alright, there are quite a lot of things to take into account. If you're still undecided, you can check Cobe Life's video on this topic. It's a great comparison of the two options.
Accuracy
The next thing you want to take into account when browsing for a golf rangefinder is accuracy.
What do we mean by this?
When talking about rangefinders, accuracy is important in terms of error margin. Optics are not the most complicated field in human knowledge, so most rangefinders are 95% accurate.
What you need to worry about…
…is how much erroneous a rangefinder can be. We recommend going with a 1-yard error margin for distances of over 600 yards – this is basically as best as it gets without spending thousands of dollars on a rangefinder.
Anything above runs the risk of not meeting the rangefinder's purpose.
If you want to know the error margin of a device, just look for the "Accurate to x yards" statement in product descriptions.
Optics
Another thing to take into account if we talk about accuracy is Optics.
To see if a product is optically sound, it's easiest to try it out. Can you clearly see the topography of the course? Is it easy to spot invalid blades of grass or grains of sand?
If yes, those are some good Optics.
That's not always possible, so if you can't try a product out before purchasing it, try to look for certified lenses. This is the best indicator of good optics you can get when buying something online.
Speed
Who wants to spend an eternity just assessing the shot?
We don't. If you don't either, you should factor in the speed of rangefinders. From our testing, we found 1-2 seconds for going from a blank display to a definite reading is the sweet spot.
Most products will get you a sure read in that amount of time, but it's best to browse product descriptions and reviews, just to make sure.
A good thing to have…
…if you want to be sure on a reading as fast as possible, is some sort of vibration or pin-sensing technology. This extra feature notifies you of a final "answer" from the rangefinder, so you know when it's time to get your stance and strike.
Display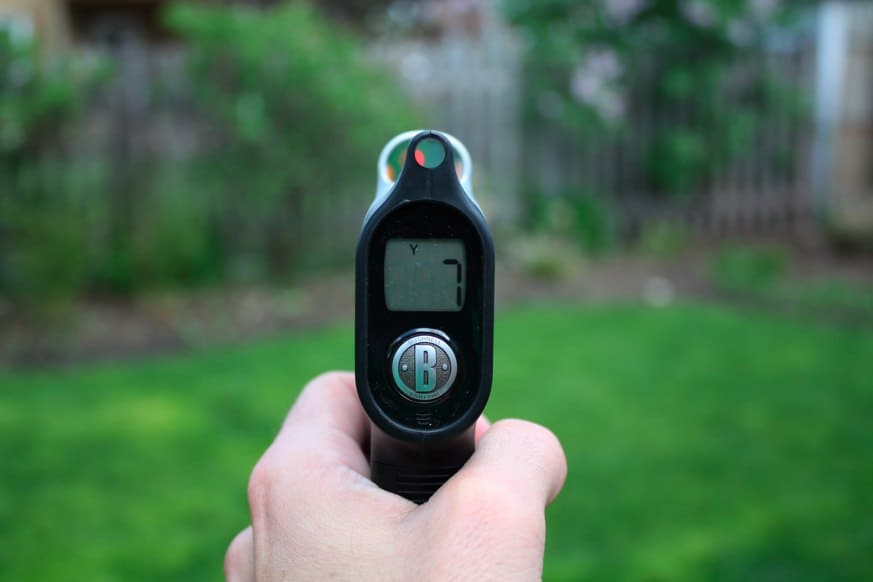 The next thing to look for is a good display.
How do you measure the quality of the display?
You should take into account product photos (if you can't get your hands on the real thing) and ask yourself the following questions:
How well is the visual information prioritized? Can you easily spot the distance once it's been calculated?
Do the colors and fonts help you better assess the visual information? Keep in mind, you'll usually be faced with a greenish background.
Is the display layout cluttered and hard to comprehend?
Is it LED or OLED? The latter certainly provides better quality.
Besides these basic questions, consider the durability of the display. If it has some sort of protective surface, it's definitely a better choice in the long run.
Reticle
One thing that's often overlooked is the reticle (or crosshair) of a rangefinder, but it's just as important as any display element.
What we found works best is either a cross or a small circle as a crosshair. This is because it's easier to aim with it, so you can set your sights on a target much faster.
Anything else…
…puts you at risk of not aiming as fast as possible at your desired object – and we don't want to waste time.
Construction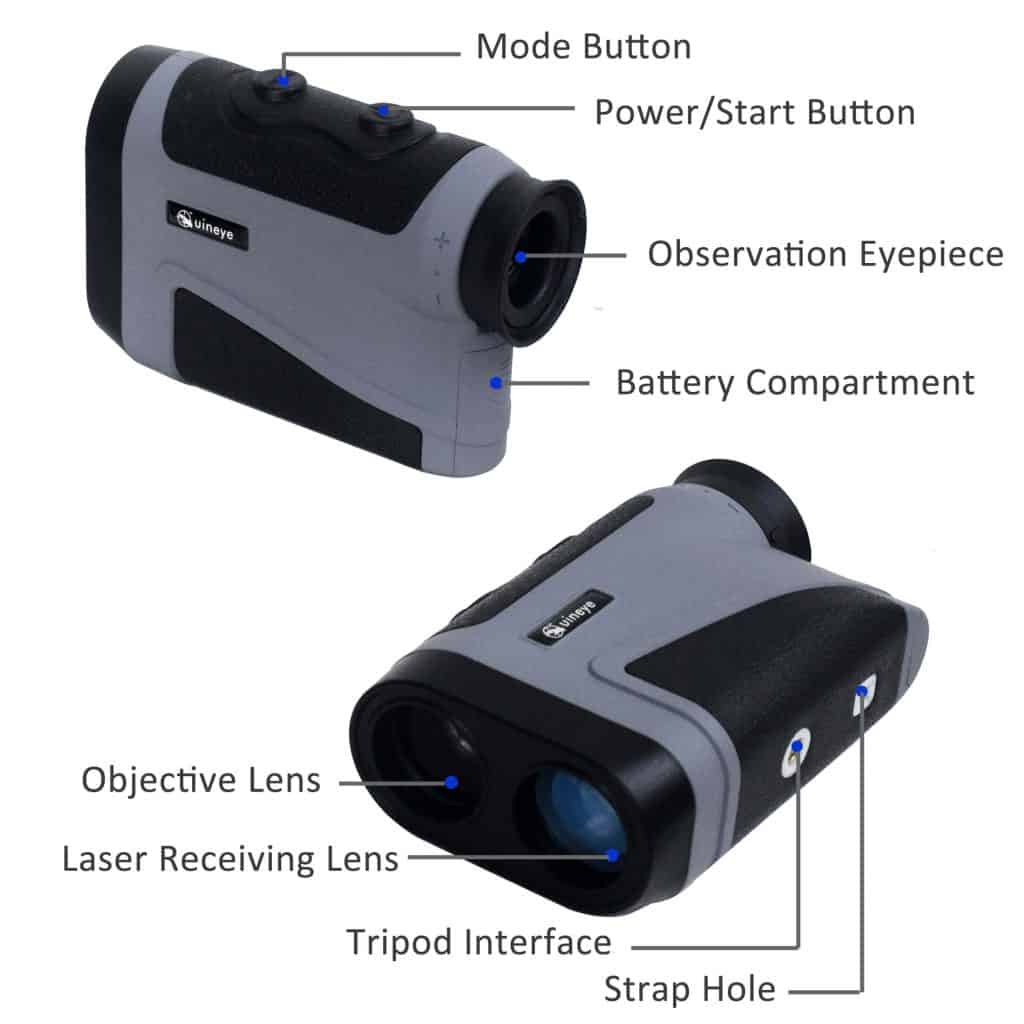 Since we touched on durability, make sure you don't forget to look at the construction of your future purchase.
Materials
Rangefinders are not extremely different from your regular camera or GPS device (according to the type of the product). You want to look for high-quality plastic merged with different alloys.
While nickel works, we found that products with strong aluminum alloys are more durable, which is a general rule of thumb for buying any type of hardware.
Even if we touched on lenses before…
…it's good to bring it up again. While an in-depth analysis of the best lenses on the market requires a Master's degree in Physics, you should generally look for certified quality optical components.
This is extremely important when…
…browsing for a laser option, but don't forget about the little GPS devices either. Even if they're harder to break, you want to make sure they're made out of durable components.
Distance
Another build feature you want to look for is distance.
Firstly, what's the maximum distance the product can measure up to?
The market standard is anywhere between 800-1000 yards, and we definitely recommend going for a 1000 yard (or even more) maximum distance.
The price difference is negligible, so you want to make sure you get the most bang for your buck.
Secondly,
Look for the optimal distance – for how many yards away is a rangefinder completely accurate? Most laser options will consistently provide 100% accurate numbers for distances of up to 450-550 yards, with any distance above that having a slight margin of error.
Golf is a game of inches, so it wouldn't hurt to rank the top contenders for your wallet and use optimal distance as a differentiating factor.
Extra features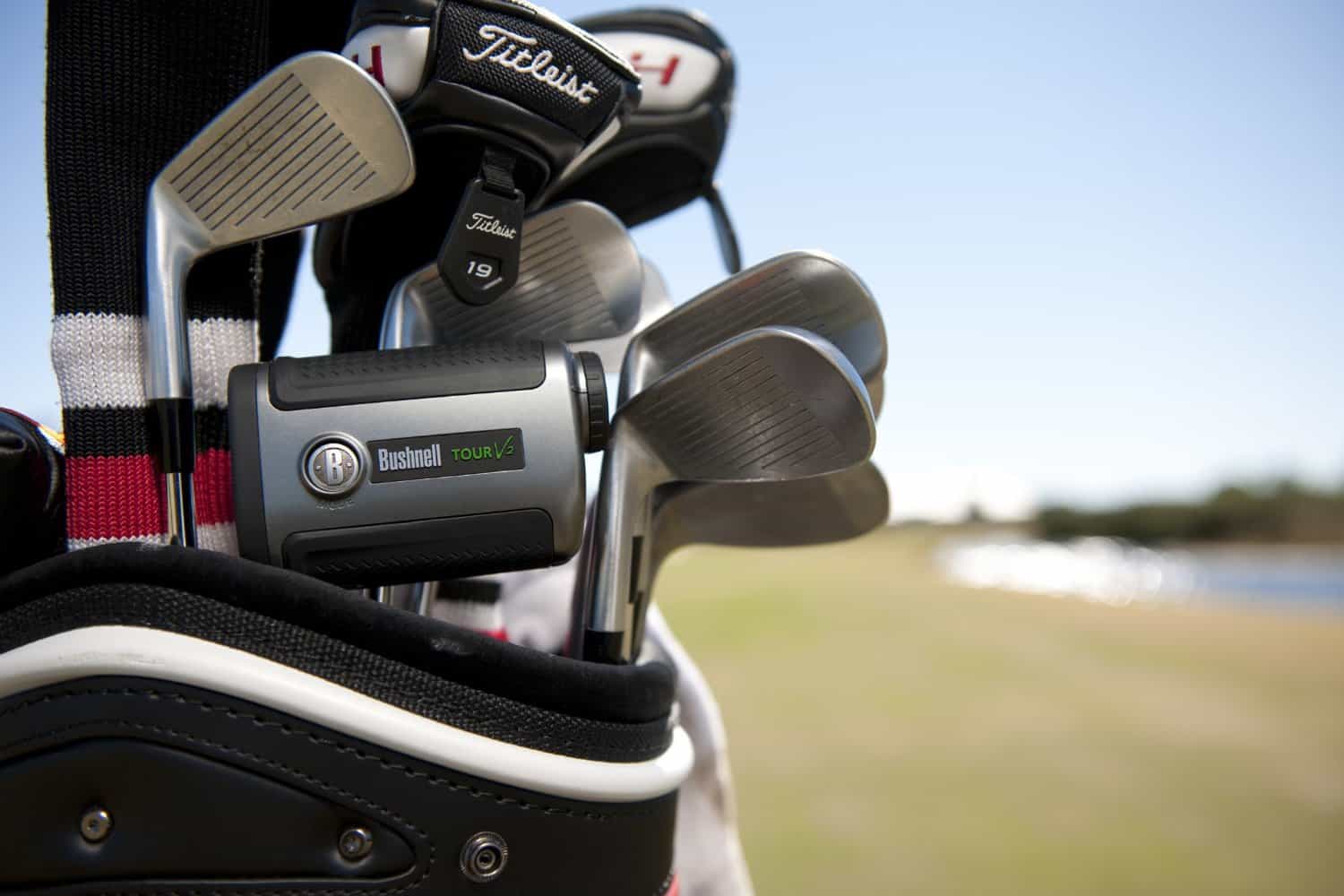 This one's a doozy.
It's hard to take extra features into account since the two different rangefinder types all come with their different possibilities.
With that in mind,
We'll look at the main special features for distance measuring devices – the most common and the most helpful.
Keep in mind, however, something that works for me may not work for you. When taking "extra" into account, consider your playstyle and habits.
What's the weather generally like where you play? How does your training course look like? What do you think matters most in a rangefinder?
These should help as general guidelines.
Magnification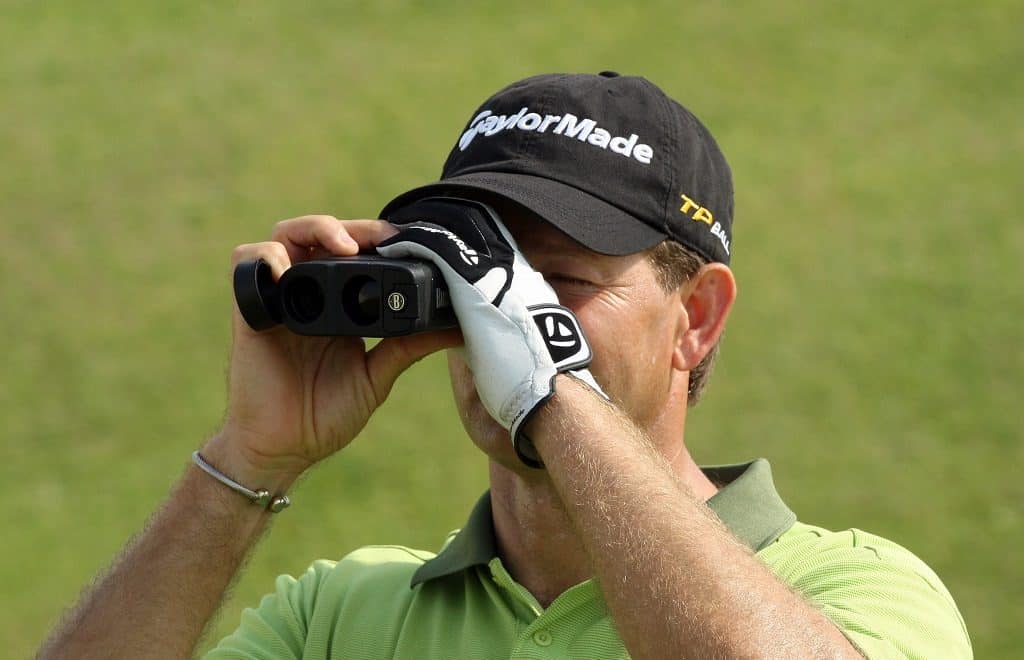 Think about it like this – while playing golf, how often did you want to zoom in on the hole?
If your answer is "quite a bunch of times", magnification is an extra feature you'll probably like.
In our research, we found that 5x magnification is quite enough to let you zoom in on anything you like.
Anything above will usually be unclear anyway, so don't throw your money out the window for something you're not going to use.
Ease of Use
In general, how easy a device will be used depends on a lot of factors, and rangefinders are no different.
In terms of extra features, if you want a future purchase that's easy to use, buy something with ergonomic surfaces
It grips well, it shifts harder, and it feels good in your hand.
Waterproofing and Water Resistance
Even if this is (somewhat) common knowledge, let's make sure we're on the same page.
A device is water resistant when you can spill some drops on it and it still works – like when it rains.
A device is waterproof when you can submerge it in water and it still works – like when, for some reason, your rangefinder ends up in a water hazard.
When you think about it…
… Waterproof is not extremely important for the products we're talking about. You're not going to take a GPS rangefinder watch for a swim.
As a result, if you want to be on the safe side, a water-resistant device should do the trick.
Rangefinder manufacturers know this – so most products are water resistant anyway.
Jolt Technology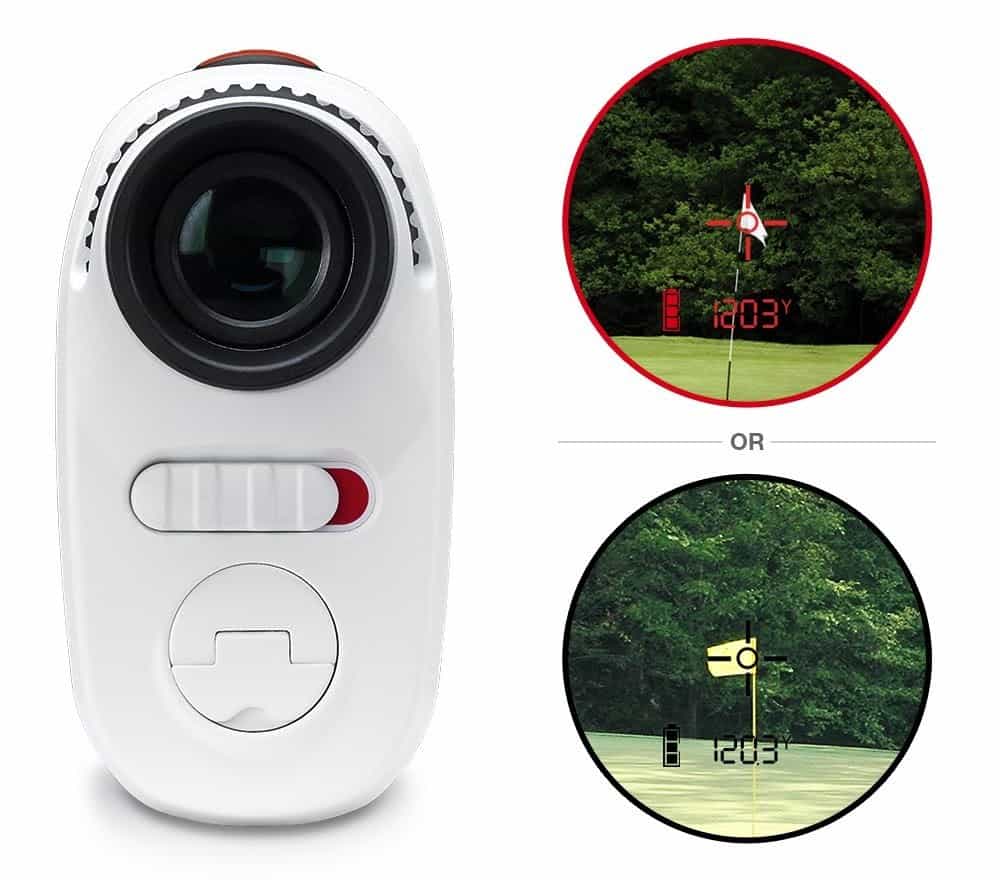 This is a new development in the industry, present in some laser rangefinders.
Basically,
When the numbers that come up on the display are the "final answer" of your device, it vibrates to let you know you can strike. We've touched on this before, but just to reiterate: If you want fast distance information, do look for this extra feature.
Slope Mode
If you're into ingenious tech, this one's for you.
What does slope mode do?
Not only does it measure the distance from your location to the pin/any object, but it also provides distances that are adjusted to elevation. The applications are as varied as course obstacles themselves.
The USGA (United States Golf Association) and the PGA Tour acknowledge the edge this technology provides – so you're not allowed to use this in their official tournaments.
If you're pro, or want to go pro, look for a device without the slope mode, or one that allows you to deactivate the extra feature.
Dual Display
If you use a smartphone, you most likely know the screen brightness struggle. Too bright and the battery's gone in three hours, too dim and you can't see anything.
Rangefinders with dual display take this into account. With this technology, you can switch between vivid and dimmed down display brightness.
Why's That So Fancy?
Weather is sometimes unpredictable, and a rangefinder with Dual Display technology will ensure the same quality regardless of how cloudy or sunny it is.
If you live in the British Isles, definitely take this into account.
Voice Guidance
A lot of devices (especially the ones running on GPS) will provide voice guidance. Basically, you'll have a full-blown assistant telling you the exact distance to the pin – maybe even what club to use 5-10 years from now.
While we can't say we're wowed by this…
It could prove helpful for people that can't be bothered to reach into their pocket and glance at a display come each strike.
In-depth Look at the Best Rangefinders
Important Boxes To Check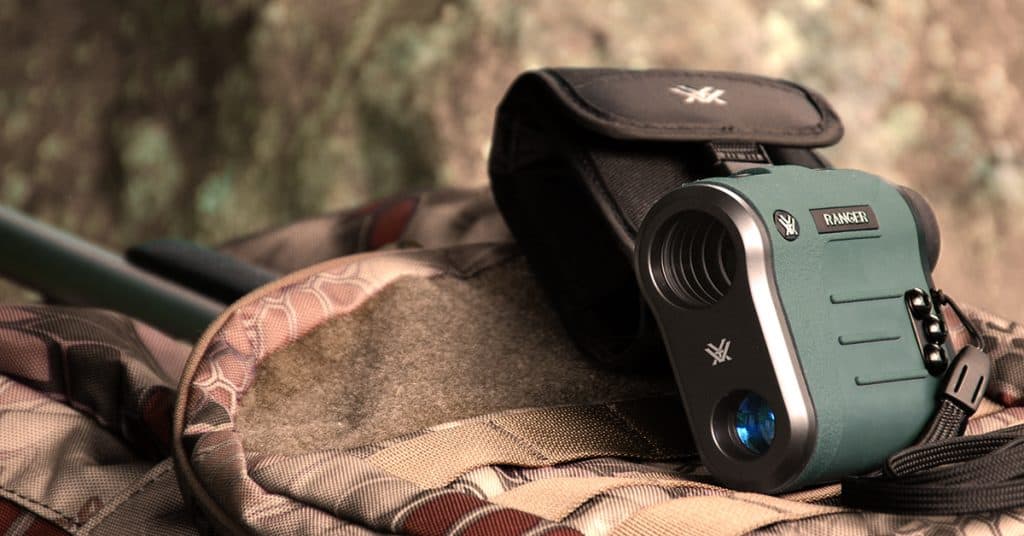 Buying guide checked, product reviews checked.
However,
As much as we'd like to best equip you for purchasing something online, we can't always touch on everything right off the bat.
As a result, here are some more bits of information that you should consider when purchasing a rangefinder.
How to use a golf rangefinder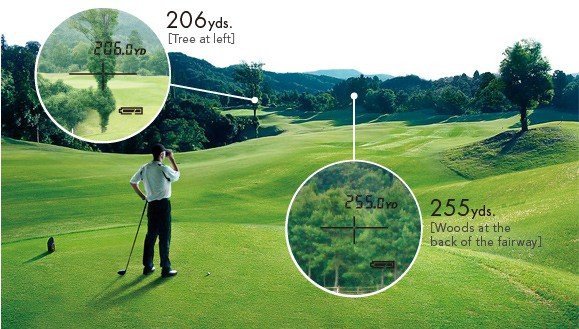 If you're not familiar with similar hardware, starting out in the world of cutting distance won't be hard, but there are things we'd like to mention.
Note that most products come with a User's Manual – so you should be covered in this department, but here are some general tips on using such devices.
GPS
Before actually getting on the course, make sure the country club has map files on hand that can be uploaded to your GPS finder.
Most of them do…
…but if you know beforehand that a certain club doesn't feature them, why bother carrying and taking care of something you won't use?
If map files are mentioned on a club's website, you can usually download and transfer them on your finder at home.
Once you're on the ground,
Most GPS finders will upload map files automatically if you turn their Bluetooth on (if a certain map is not already uploaded as a factory default setting).
Once you have the files on hand, navigating through each course file is usually done with a classic folder display. Select the course you want and you're good to go.
Laser
While more complex, laser rangefinders are actually easier to use with vanilla settings.
It's best to check the User's Manual for the operation of each extra feature (slope mode, dual display, continuous measurement, etc). There's really no market standard for the usage of these technologies, and the ways they're activated are as varied as the number of products themselves.
With that in mind,
What you'll usually have to do for simple distance measurement is turn the device on, point it at something and press a button.
Easy Peasy.
Skill Level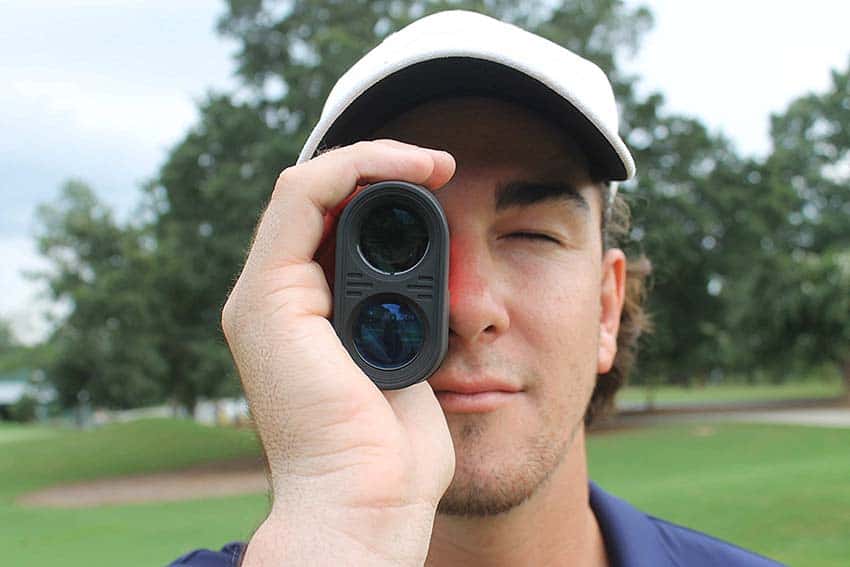 Another thing to take into account when purchasing a rangefinder is how skilled you are – you don't want to spend hundreds of bucks for state of the art slope technology if you don't really know the difference between a 7 or an 8 iron.
Duffer
If you're just starting out, you might not even need a rangefinder at all. The sport is extremely complicated as it is.
Notwithstanding,
If you're confident you can at least strike the ball on the fairway, and you want to invest in your golf kit, a rangefinder that meets the market standard could help. I recommend going for the TecTecTec if you're in this position since it's not that expensive, but works just fine.
If you need further guidance as a hack, we recommend checking out our guide on picking up the best golf clubs for beginners.
Amateur
If you're used to making your way to the course every week, a rangefinder can greatly improve your performance.
Do consider things such as…
… what you struggle with in improving your game – if it's long shots definitely buy a rangefinder, preferably with slope mode and Jolt Technology.
Pro
If you're quite active in your local (or even on the global) golf scene, a rangefinder is not a requirement but can help in certain situations.
Definitely consider everything we've covered in our buying guide, since every little bit is important, and can determine what you should purchase.
Don't stress it too much…
…because if you're confident in your golfing skills, our top choice should probably fit your needs spot-on.
Warranty Information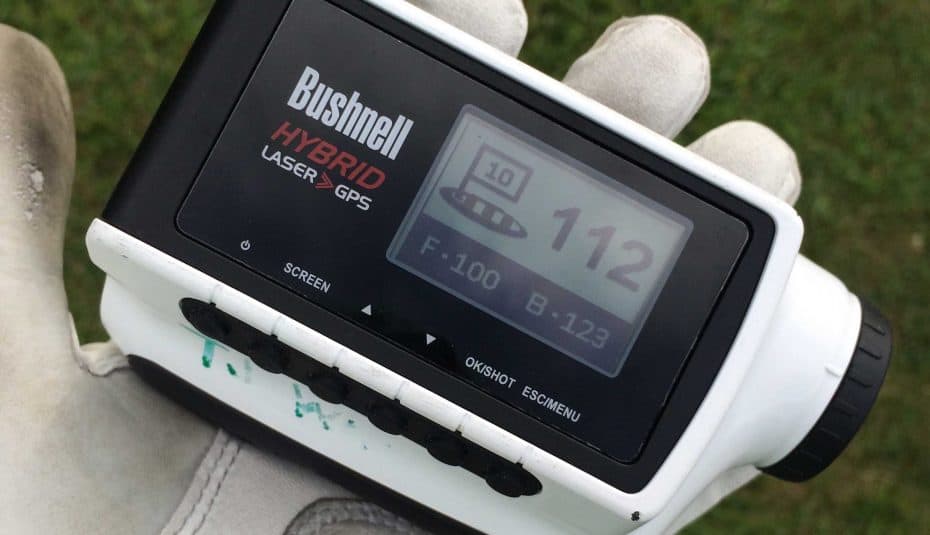 Why spend a few hundred bucks on maintenance, or even a replacement finder, when you could buy a brand-new driver for that money?
If that resonates with you, warranties are also things to look for.
Most sellers…
… will either provide a 1 or 2-year warranty, which is pretty decent. Note, however, that almost 99% of rangefinder warranties are limited, which means they partly cover problems with materials and workmanship.
The meaning of this can vary, with limited warranties not supporting things such as physical defects when the device came in contact with certain environments.
What you should do…
…is try to get your hands on the warranty before purchasing. We tried including as many we could in the product reviews, but some slipped through the cracks.
Beware!
There are certain sellers that you've read about in the product reviews who don't honor their warranty. If not spending an extra buck on maintenance is important for you, steer clear from them.
Localization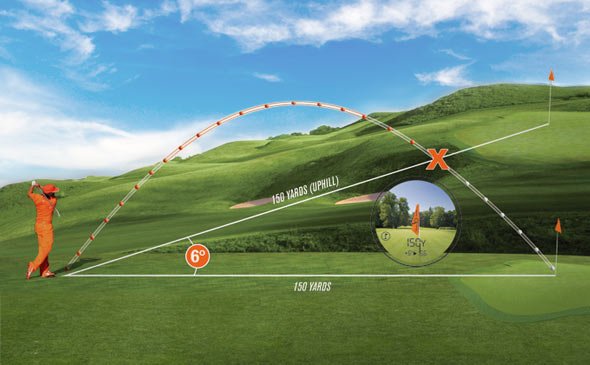 Lastly, consider your location, and how well adapted a certain finder is for your current place of residence.
Maps
This is extremely important especially in the case of GPS rangefinders – make sure you get the option with as many maps near where you live (or near where you use to golf) as possible.
You keep the hassle at a minimum, and you have a great time.
Measurements
Some people (*ahem* most of the world *ahem*) don't think about distance in terms of yards, feet, and inches.
If you're one of those people, get a finder that's either pre-set to the metric system, or one that can switch between the two.
It seems pretty intuitive…
…but we've read a lot of reviews from people feeling silly that they forgot this, and couldn't make sense of what they read on the display.
How do I take care of my new rangefinder?
These products are precision tools – so any incident is more likely to lead to issues than in the case of, let's say, a hammer.
With that in mind, there are things you can do to better take care of your rangefinder:
And for the Final Strike
Let's recap what you've read today.
If you've made it this far, chances are you're very keen on buying the best rangefinder golf. As a result, let's go over the most important stuff, just to make sure you take the points home with you.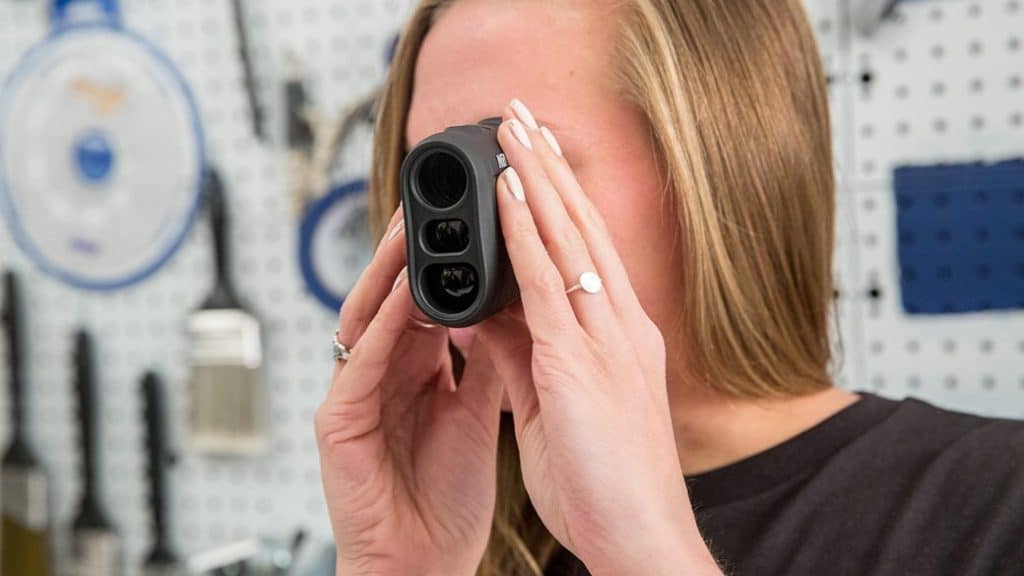 The most important decision you'll make…
…is whether you'll buy a GPS or a Laser rangefinder. No option is wrong, but it's best to weigh in on the benefits and downfalls of each device.
With GPS, you get ease of use and the basic measurements. With Laser, you get a customized experience and versatility.
Up next,
Look for a device that's accurate. An error margin of 1 yard and a maximum distance of 1000 yards should have you covered for any course on this planet. Don't forget to check consistency too – it's better to get an error margin of 5 yards, but to have that 5 yards disparity on every little measurement.
Also important…
…is the construction and display of your future purchase.
Make sure visualization of the course is not hindered by weird fonts, and always go for a device that lets you easily read distances. Moreover, remember that a durable product features a combination of high-quality plastic and strong nickel or aluminum alloys.
Before you go,
If you are up for some "pro" action, read our reviews of the best golf clubs and best pants for golf.
Lastly
Consider extra features. There's a huge list of possible features, but we recommend buying a rangefinder with pinsensor technology, flag lock-in and possibly slope mode for the amateur player.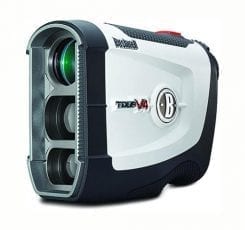 Best of the best
Bushnell Tour V4 JOLT Golf Laser Rangefinder
If you're keen on improving your golf game, look no further. We did the research and testing. Do you agree with our top picks for the best rangefinder golf players will actually enjoy using?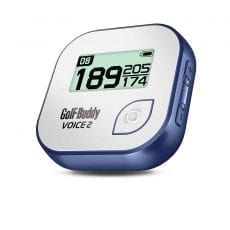 Most Buying
GolfBuddy Voice 2 Golf GPS/Rangefinder
If you're keen on improving your golf game, look no further. We did the research and testing. Do you agree with our top picks for the best rangefinder golf players will actually enjoy using?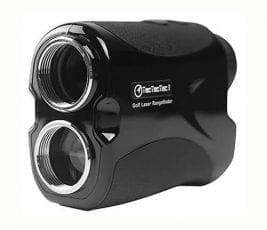 Best for the money
TecTecTec VPRO500 Golf Rangefinder
If you're keen on improving your golf game, look no further. We did the research and testing. Do you agree with our top picks for the best rangefinder golf players will actually enjoy using?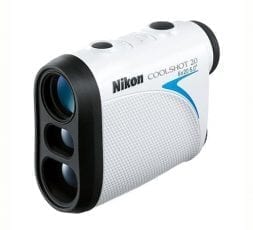 Most Buying
Nikon Coolshot 20 Golf Rangefinder (US Version)
If you're keen on improving your golf game, look no further. We did the research and testing. Do you agree with our top picks for the best rangefinder golf players will actually enjoy using?