Golf Club Set Buying Guide for Beginners
There is a huge gap between good and great when it comes to golf equipment. The quality of the clubs can give you a huge advantage on the course or hinder your progress if they are substandard. With that in mind, here are the areas you'll need to key in on if you're new to the sport and don't currently own a set of clubs.
How Much Are You Willing To Spend?
Golf is an expensive sport, but you don't have to be a doctor or lawyer to afford a decent set of clubs. You do need to think of how much you want to spend initially however along with how often you think you'll actually play. In other words, if you're unsure how you'll take to golf, don't spend an arm and a leg on a set of clubs.
On the other hand, if you've gone to driving ranges or play the occasional round with borrowed clubs, it may be time for a proper set. We're not talking about a set of Maruman Majesty clubs either, but something geared towards beginners – not clubs that require a bank loan. With that in mind, our team has something for everyone whether you're spending a grand or a few hundred bucks.
Just keep in mind, the phrase "you get what you pay for" rings true in the golf world more than with other products. A set of Cobras will outlast clubs from Dunlop or Wilson, and the chances of your clubhead flying across the course decrease as well.
How Many Clubs Are In A Set?
It all depends on the set you've got your eyes on and can vary quite wildly. One manufacturer may think a "set" involves around eight clubs and a bag while others give you the full 12 clubs… or more. Unfortunately, the phrasing used by most manufacturers is inaccurate so you'll need to proceed with caution and take those titles with a grain of salt.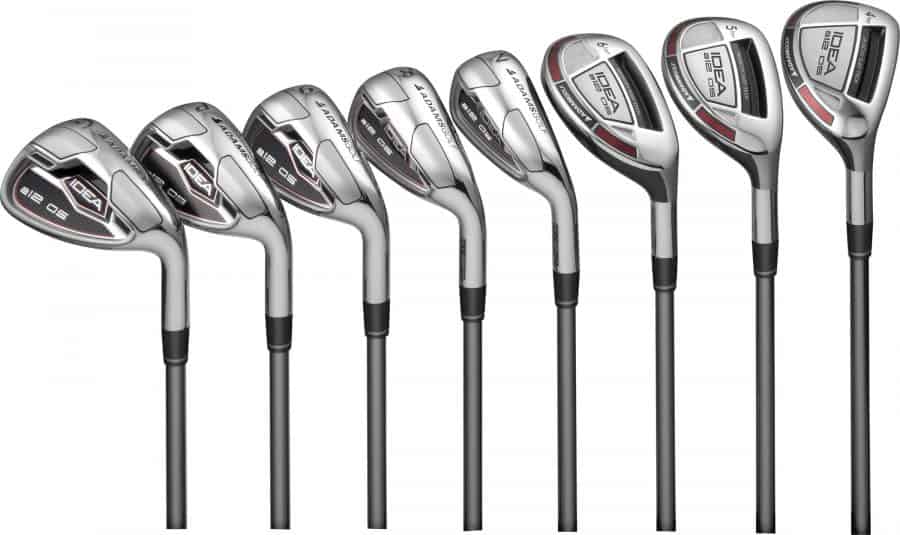 Whenever a manufacturer says they have an 18-piece golf club set, they mean it literally. The bag counts as a piece, and so do those head covers. While straps and other accessories are excluded from this marketing gimmick, you'll want to count the clubs before getting too excited. How many clubs you actually need varies as well although there are a few simple guidelines to follow and "standard" clubs found in every set.
You'll always get a driver along with a few fairway woods and several irons. Wedges are hit or miss in cheaper sets, but something we recommend as you're bound to find the sand sooner than later if you're just starting out. The official USGA limit is 14 clubs per bag, but the average is usually 12 clubs although you can get by with 11 or even 10 in some cases.
Golf Club Anatomy 101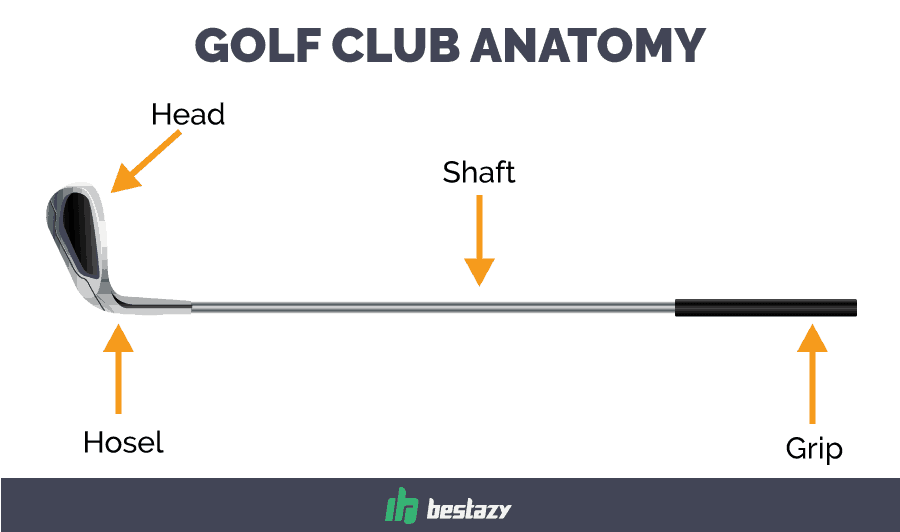 Golf terms can be confusing, but the gear is easy to wrap your head around. Your main piece of equipment lives up to its name considering a golf club is actually shaped like a club. That doesn't mean you don't need to have a grasp on what different parts of the club do.
Which is why we're going to take a quick anatomy lesson…
Grip – This is where you'll put your hands to grip the club, and it's usually made of rubber or an exotic composite with a catchy name. There are different sizes and types of grips including oversized variants, but it's not an area to spend too much time on. That's because you replace them if you don't like the feel or just prefer a different brand of grip.
Shaft – After the grip is the shaft which runs the length of the club down the hosel and head. What you'll want to focus on here are the materials used which are usually steel or graphite. Your swing or clubhead speed determines the type of shaft you may need as well, and there are several levels to choose from.If a shaft is designated as an R, it's regular and ideal for golfers with an average swing speed of between 70 to 80 mph. You can find both graphite and steel shafts in this class with X, or extra stiff shafts are built for high-speed swingers over 90 mph.In the middle, you have Stiff clubs marked with an S, and on the low end, there are clubs labeled A and L. The former are for senior golfers and the latter or for ladies. Both typically use graphite shafts to increase swing speed while stiff clubs can be graphite or steel shafted.
Hosel – No for something less complicated – the hosel. Otherwise known as a neck, the hosel attaches the shaft to the club. It can be straight or angled depending on the design which can directly affect the lie angle of the club and the loft.There are also adjustable hosels for drivers that professionals can install on some clubs, and others have that feature built-in. You can change the loft of a driver in seconds on clubs like the Precise M3, a fairway wood with five different settings. You won't find adjustable hosels on any of the clubs in our sets but should have them high on your list when it's time to add to your bag.
Club Head – The head is the largest part of the club and where the magic happens.  On drivers, the trend is the bigger, the better as those oversized heads have larger sweet spots which means you've got more room for error. Titanium is the most common option with drivers on the high end as it has an excellent strength to weight ratio.Stainless steel is also a popular option across the board along with carbon steel in irons and wedges. The USGA has rules in place to regulate how fast a ball can come off the club, so there are limits to the size and materials used. The head is important, but so is the face which is the part that makes contact with the ball – when you hit properly.
Those are just the most critical parts of the golf club, and the things most commonly mentioned by manufactures. If you want to learn more about the face and physics behind a good golf swing, be sure to give this a quick read.
Types Of Golf Clubs
Now that you understand the most important parts of the clubs in your bag, it's time to talk about what they're used for and what to expect. We've also included a yardage estimate for "average" golfers although those results will vary depending on just how green you are.
If you've played a few rounds, feel free to skip ahead as you already know the differences between a fairway wood and an iron.
Woods– Drivers are in the wood family and live up to their name as they "drive" the ball down the fairway towards the cup. It's also arguably the most important club in your bag considering it's the first one you'll use. If you shank your first shot into the rough, it's going to have an impact on the rest of the hole.Pros can get around 280 to 300 yards from a driver on a regular basis. Rookies are lucky to get 150 without some practice, but the average is around 180 – 200 for most adults.There are drivers built for the fairways as well. Fairway woods are basically baby drivers and provide you with distance off the fairway or the tee on occasion. They have a similar construction to drivers, but with smaller heads. We aren't going to put a range on these as there are too many variables like hybrid clubs and irons.
Hybrids – Is it a wood or is it an iron? That may be the first question to spring to mind when you set eyes on a hybrid club. These clubs are designed to bridge the gap between fairway woods and lower irons, and it usually replaces a few clubs in your bag.Clubs of this nature often have a head similar to a fairway driver but designed to give your shots more loft. It's a personal preference although one that's becoming more common as they perform as advertised and lighten up your bag a bit.
Irons – Once the ball leaves the tee, it's generally time to break out the irons on shorter holes. These clubs cover the distance from the fairway to the cup and vary depending on the set. If a hybrid is included along with several fairway drivers, you may only get the 6-iron through the 9-iron in your bag.As for the range, an average male can drive the ball around 160 yards with a 5-iron while a 9-iron is good for 120-130 yards in ideal conditions. You can typically expect roughly 10-15 yards difference between the irons depending on your skill level, the clubs, and mother nature.If you prefer a full range of clubs, you'll want to look for a set that includes irons 3 through 9. If the manufacturer mentions cavity back irons, they are far more forgiving than blade-style irons. You can learn more about the iron styles here as they are similar to the next clubs in your bag.
Wedges – Unless you're rocking a high-end set, you'll probably just have one wedge in your bag – two if you're lucky. The first one would be the pitching wedge, which can also fall into the "iron" class as well. It's the club you'll want when there's around 100 yards between the ball and the green. A sand wedge will get you out of those pesky traps in a stroke… or three depending on your level of skill.The average range on a sand wedge is probably around 70 yards for beginners, but a pro may squeeze 100 out with no problem. A lob wedge is ideal for shorter distances while a gap wedge is sandwiched between the pitching and sand wedges.
Putter – While you may start each hole with a driver, you'll finish it with a putter in most cases unless you sink an Ace or Eagle. Like every other club in your bag, there are many tricks manufacturers can use to set their putter apart from the rest and two main styles with mallet and blade putters.Blade putters have been around for decades, and are what you've used on a putt-putt course – everyone will be familiar with these. Mallet putters are larger, and becoming more popular by the day but aren't ideal if you have an arc stroke.
Swing Weight & Sizing
Despite the name, swing weight has nothing to do with how much your club weighs, so there's no need to head for a scale. It's actually how a club feels when you swing it, something you'll notice quickly when taking practice swings with a Cobra before jumping to a Wilson. It's also a measurement as fulcrums are used, and there is an official scale.
We're not going to get too technical as there are different trains of thought on swing weight. Some manufacturers stagger the weight throughout the set from the driver to the putter while others believe the set should retain the same swing weight so they'll feel the same. This is going to be another area that comes down to personal preference, something tough to figure out when if you've never taken a swing.
Sizing can be tricky for beginners, even if manufacturers provide you with precise measurements. You'll need to understand what those terms mean and have a rough idea of what size clubs you'll need as well. We can help you with terminology, and many companies have their own sizing charts which give you the scoop based on your height.
The More You Know…
We're not going to talk about bogeys, Eagles or the proper technique for an explosion shot out of a trap. Instead, we're going to discuss things like for loft and forgiveness.
Forgiving – While not a term used on the course, the best golf clubs for beginners are usually ones deemed "forgiving" by the manufacturer and it's a term you'll frequently encounter in our guide or when looking for new clubs.
Simply put, this means the club is constructed to forgive you when you take a bad swing or strike the ball off center.  Those are things you'll do more often than not when you're hitting the links for the first time.
Fore – Arguably the most important term you'll need to know, fore is what you'll yell whenever you think a ball you've struck may strike someone else. It's a warning, and if you hear it, you'll want to be wary as a golf ball can cause significant damage. While you may not necessarily need to jump under a cart, don't take the word lightly.
Par – On a golf course, this is the number of strokes you have to get the ball from the tee box to the cup or hole. It's always par 3, 4 or 5 unless you're playing something wild like the Sano Course in Japan which has an insane 964-yard par 7 hole.
Bogey & Birdie – When you're one stroke over par, it's called a Bogey. One under par is called a Birdie.
Loft – Whenever the word loft is related to a golf club, it means the angle on the club face. This dictates the trajectory and varies depending on the club. Drivers typically have a lower loft while wedges are set higher. More loft equals more height, something you'll want on approach shots when control is crucial.
Lie – This can mean more than just one thing and is cause for confusion with beginners. With clubs, it relates to the sole or bottom of the club and its angle compared to the shaft. It also means the condition of the ground surrounding your ball after it's struck. Want to see someone take it out of heavy rough with a bad lie? Check this out…
19th Hole – Yes, a golf course only has 18-holes, but you will often hear people talk about the 19th. This magical place is actually the clubhouse or bar, where golfers go after they've sunk the last putt of the day.
Those are just a few terms you're likely to encounter your first time out. If you want to learn what a flange is or a topped shot, be sure to give this a good read.
Additional Tools Of The Trade
While all our sets will get you started, they will only get you so far unless you want to pony up at the pro shop. Before you can head to the driving range or dream about playing 18 holes, you'll need to have a few essential accessories in your bag.
Shoes – Certain sports require specialty footwear and golf just happens to be one of them. Golf shoes are cleated and give you extra grip when you transfer your weight during a swing. While they aren't necessarily required (many courses allow other shoes), they are something to consider seriously. You can buy golf shoes with fixed cleats or ones with that you can remove or change out on a whim. The latter requires a bit more maintenance, but either style will work, and some look like ordinary sneakers.
Gloves – Baseball players use gloves for a reason, and so do golfers. Perfecting the right golf grip is easier said than done, and it's critical when you want a control at the point of impact. A good golf glove gives you additional grip which can keep the club from turning in your hand. Personally, I use the Dura Feel from Nike, but Callaway, Callaway, and all the top brands make golf gloves as well. It's another item you don't have to use, but one we highly recommend.
Tees – The golf tee is the simplest piece of gear in your back and something you'll need before playing a round. Your ball is placed on the tee in a tee box or teeing ground at the beginning of each hole. While height certainly matters, there are different types of tees on the market today. Wood is the most popular option, and any bag will do whether they are from Pride Professional or something off the rack at the Pro shop. Plastic tees are popular as well, and there are even specialty tees that claim to add yardage to your drives as well.
Balls – There far too many golf balls to begin to list and each manufacturer claims theirs is better than the rest. Cheaper balls are covered with Surlyn while the more expensive ones have an urethane covering. Golf balls covered with Surlyn fly at a higher trajectory than their urethane counterparts but won't have nearly as much spin. On the other hand, urethane balls are easier to damage and cost more to replace. There are advantages and disadvantages to each style although many golfers count the Bridgestone E6 among the best.
Those are just a few essentials you'll need or want to consider before you load up your clubs and roll out. Other items include golf towels, divot tools, ball markers and even sunblock or bug spray depending on the course and conditions. Mosquitos don't care if you're playing the back 9 or a full 18 holes…
Reviews: The Best Golf Clubs Beginners Need To Know About
We've included sparse sets for beginners along with advanced ones from top-tier brands. What you won't find are any golf club sets that lack the essentials, so all our options come complete with a bag, putter, driver and several irons at a minimum.