Golf is hard even when you don't have to worry about tripping over your pants or not being able to swing because they're limiting your movements. And they say that clothes make the man, so why don't you make yourself a better golfer by investing in the best golf pants for your needs and preferences? Simply take a look at what we have prepared for you.
Research You Can Trust
To give you the best possible choices, we've had to look into dozens of different models of golf pants. Going over hundreds of reviews and spending many hours on testing were all part of the process. We've consulted experts when we weren't sure about things ourselves, which is how we gained an even better insight into the topic. And that's why we can now give you the reviews of the top nine models of golf pants.

The 30-Second Review
What makes a really great pair of golf pants? Soft, yet stretchy and breathable materials obviously come first, since you need to feel good and be able to swing well. If you're expecting to be out a lot, even on rainy days, it would be terrific if the materials were waterproof as well. But don't forget about style either, especially if you'd like to wear your new pants outside the golf course.
Buyer's Guide
Buyer's Guide To The Best Golf Pants
Golf is not a game for everyone. But there are still a lot of people who love it and play it either recreationally or professionally. It doesn't really matter which category describes you best since you'll need a pair of golf pants either way. After all, you'll need the right gear if you want to achieve your full potential.
But how do you choose the best pants?
Golf dress code
Yes, there is such a thing. In fact, some golf clubs are very strict about golf attire and won't even let you in if you're not dressed properly. So before you continue reading our guide on choosing the right golf pants, it might be a good idea to check your club's dress code. Rules vary from place to place, which is why it's best to look for them at official boards and websites.
Of course:
There's always a chance you're not part of any club but would still like to dress properly. If that's the case, you can always browse through general rules from the Professional Golfers Association (PGA).
Materials
Chances are you'll be wearing your new golf pants for at least a couple of hours at a time, which is why you should choose fabrics that will make you feel comfortable. Of course, your best bets are cotton and linen. Cotton is always a good choice when we talk about pants. As a natural material that feels good against the skin and doesn't wrinkle easily, it's a favorite for many people.
If you're not a fan of cotton, linen is also an excellent choice. It's smooth and boasts a high level of breathability. This makes it ideal for playing golf in the summertime. Unfortunately, neither cotton nor linen is very flexible, which is a very important factor when it comes to sports gear.
But:
Nowadays, there are a lot of synthetic materials that provide plenty of comfort and are stretchy. According to ISSA, synthetic is actually a better choice for workout clothes. That's why many golf pants are made from polyester. This can be a quality material that feels good against the skin and allows you to move freely. Of course, it always comes down to what you prefer.
Sizes
Your new golf pants have to give you a certain level of freedom of movement, which is why they need to be flexible. But it's still important to choose the right size since not doing that could affect your gameplay. The best thing to do is to measure the width of your waist and the length of your legs, and compare them to numbers on size charts. You can also check customer reviews if you don't want to make any mistakes, or simply browse through our detailed reviews of individual products.
Be careful:
Whatever you do, don't buy golf pants which are too long, since this is going to affect your results on the course.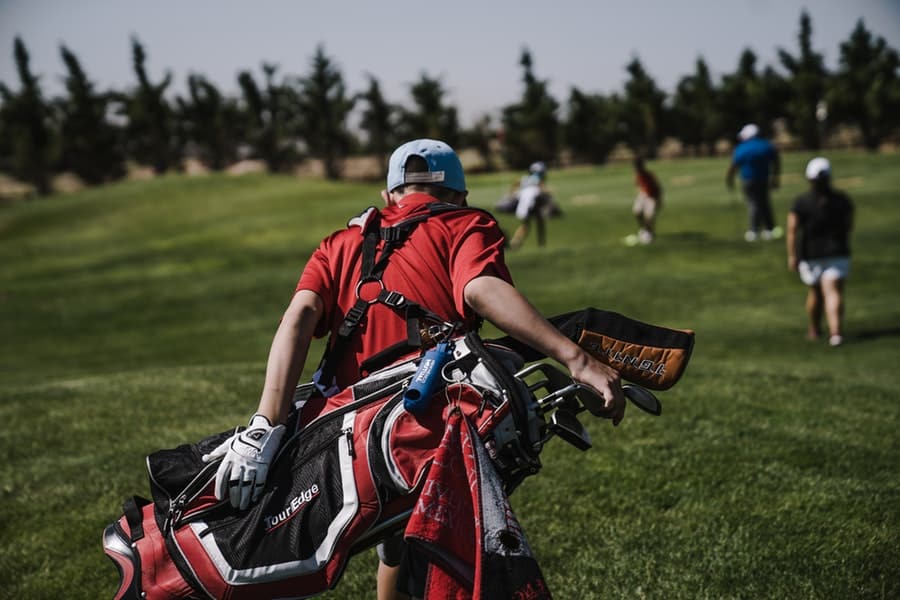 Versatility
Before we even start talking about what golf pants should be like, think about when and where you'll wear them. Do you want to play golf as a hobby only or are you interested to become a true professional? Or maybe you'd like a pair of pants you could wear both to the golf course and to the office? You might even be thinking about getting pants that could serve as gear for doing other sports as well.
Now:
If you're only in it for fun, the only important thing is to make sure you feel comfortable in your new golf pants. That's why you should be most careful about materials and sizes. Choose a soft, breathable material and make sure your new pants aren't too long or too tight.
For people who are interested in playing golf professionally, functionality is key, although comfort is important as well. So choose your materials wisely, take measurements to find your ideal size, and think about fastening types and number of pockets you'll need.
If you'd like to be able to wear your new pants outside the golf course, you only need to be careful about the style. For your pants to be appropriate for wearing to the office, choose a more sophisticated design. Of course, if you're planning on wearing them to more casual events, you can choose whichever pants you like most.
For pants that should serve as both golf pants and your regular sports pants, comfort and flexibility are very important. Choose the right materials, but if you really want them to be versatile, you can always make sure your new pants are waterproof as well.
Functionality
Some golf pants have waistbands, while others have zippers. Although all of them have pockets, their number varies from two to five. There are also special features you can look for, such as leg zippers – additional zippers you'll find on the bottom that can be used to change clothes even with your shoes on.
And of course:
If you're going to be playing golf, you'll need the right golf clubs, too. For detailed reviews of some of the best products out there, go here. You might be looking for a rangefinder too, in that case check out this review.
Detailed Reviews Of The Ultimate Golf Pants
THE WINNERS
Caring For Your Golf Pants
Golf attire is very delicate, so you'll have to learn how to care for your golf pants if you want to make them last longer. In the next few paragraphs, we'll explain how to maintain them in the simplest possible way.
First things first
Not every brand of golf pants is the same. Because of this, there's no single rule when it comes to washing and drying golf pants. But the good thing is that there are washing instructions for almost every brand and model of golf pants out there. If you can't find this information, you can always contact the seller or manufacturer and ask them directly.
Machine-wash or not?
Most golf pants can be machine-washed. You should set your washing machine to 40 degrees and avoid washing with colored clothes, just in case. Many golfers have their golf attire dry-cleaned, but it's not recommended to do that if it's your first time doing the washing. To avoid making any bigger mistakes, pour in some softener and use the gentle cycle. Always check tags before you wash your new golf pants for the first time.
What about drying?
This, too, varies from model to model and from brand to brand. If you don't want to take chances, let your pants air-dry, since you won't have to check every couple of seconds to see if they're ruined or not. Hang the pants on a hanger to allow them to dry more quickly. Materials used for golf pants can be sensitive and it's tricky to learn how to properly maintain them. But once you've learned how to do it, it'll get a lot easier.
To iron or not to iron?
It depends. Golf pants that are made from cotton can be ironed without any issues, but if they're made from other materials, such as polyester and linen, you should be very careful when it comes to ironing. Use low temperatures if you want to avoid ruining the pants. Sometimes it's even better to avoid ironing completely, especially if your golf pants are made from materials that don't wrinkle. If you still want to do it but aren't an expert, take a look at this video to avoid making mistakes.
The Bottom Line
Choosing the best golf pants means picking the type of material that will make you comfortable without restricting your movements. It means taking time to determine your size and thinking about all the extra features you might need or simply want to have. Doing this and listening to our advice on taking care of your new golf pants should land you a great pair that will last a long time.
And if you just absolutely can't decide on the best pair of golf pants. You could always move on and try your hand at pickleball instead. We hear it's pretty fun!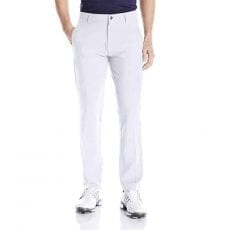 Best of the best
Adidas Golf Men's Ultimate 3-Stripe Pants
Having fun nor becoming a pro on the golf course doesn't happen if you're wearing the wrong clothes. Invest in the best golf pants and take your game to a whole other level.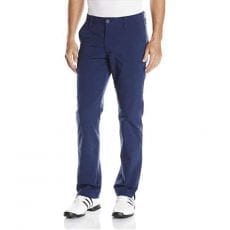 Most Buying
Under Armour Men's Match Play Golf Pants
Having fun nor becoming a pro on the golf course doesn't happen if you're wearing the wrong clothes. Invest in the best golf pants and take your game to a whole other level.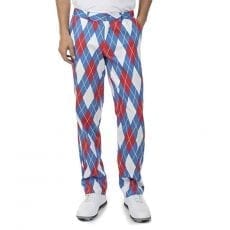 Best for the money
Tipsy Elves Men's American Flag USA Golf Pants
Having fun nor becoming a pro on the golf course doesn't happen if you're wearing the wrong clothes. Invest in the best golf pants and take your game to a whole other level.