What fun activity combines elements of tennis, badminton, and ping pong (a.k.a table tennis)? Pickleball! Gaining popularity since the 1960's, pickleball is played by people of all ages and athletic abilities. To enjoy it, you'll want the best pickleball paddle for your specific needs.
Sounds fun?
In general, pickleball involves two (or four in doubles) people hitting a small plastic ball back and forth over a net.
We'll explain the game's nitty-gritty details (e.g., rules, technique, etc.) later [link to "A Closer Look at Pickleball" below], but first want to show you this entertaining sport.
Take a sneak peek
Watch this friendly video for an overview of pickleball and a glimpse of players in action.
Research You Can Trust
After researching more than 30 of the most popular models of pickleball paddles, we edited the list down to these top picks.
We consulted pickleball instructors and athletes to select the ten best paddles for your needs. Players shared their views on and experiences with these specific models.
Check this out: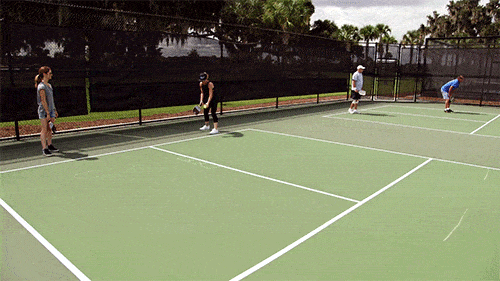 By poring over detailed feedback from athletes of all ages, levels (from complete beginners to seasoned competitors), and backgrounds (former couch potatoes and retired tennis players), we discovered very interesting insights.
Different people with varied needs honed in on which models to choose for hitting, spinning, and/or just playing efficiently and comfortably.
Just so you know...
We don't receive any free samples or kickbacks from manufacturers.
Our goal is to provide informative and objective reviews that are useful to you, the consumer. We want to put the right pickleball paddle in your hand so you can get out and play today!
Buyer's Guide
The 30-Second Review
If you want to join in on the pickleball fun, you'll need to buy a pickleball paddle.
But that much is obvious… Before studying different models, first think about how you are as pickleball player.
Are you a novice?
Are you a power player (who hits the ball hard)?
Or perhaps you're a soft player (who, for strategic reasons, nudges or dinks the ball) or a spinner (who puts a spin on the ball when returning it to your opponent)?
In any case…
When scrutinizing various pickleball paddles, you should pay attention to each model's weight, grip size, type (composite or graphite), and price.
Depending on your physique (hand size, arm strength, etc.), playing style, and budget, you'll want–and be able, don't worry–to find the right paddle for enjoyable pickleball play at the level you desire.
Buyer's Guide to Pickleball Paddles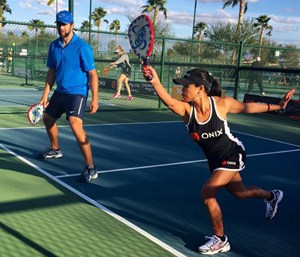 One of the first questions people ask when they're introduced to pickleball is "Why can't I just use a wooden racquet?"
That's a valid question because
When trying out a new sport, why should someone invest money in a good paddle when the person is just getting started?
Since wooden pickleball paddles are inexpensive, why shouldn't someone just go for the cheapest option?
People trying pickleball for the first time often use wooden paddles provided at the court.
Made to withstand use from many different–and often inexperienced–players, wooden paddles are durable.
However, they tend to be heavy, strictly utilitarian, and not geared toward any specific type of player.
I love a good analogy, so think about it this way…
This following analogy might be helpful: wooden paddles are to new pickleball players like rental skates are to new skaters.
Neophytes and people who skate maybe once each winter often rent rink-owned skates.
Durable and "standard-issue," the rental skates tend to be uncomfortable, ill-fitting, and purely functional…and not geared toward any specific person.
How much will you enjoy skating–and be able to skate well–with rental skates?
On the same hand…
Newcomers to pickleball may actually be turned off from the game when using wooden rackets. As we mentioned, wooden paddles are heavy, which can cause soreness in the hand, wrist, arm, and/or shoulder.
Although they're sturdy, wooden paddles offer much less control than non-wood paddles.
So what does this mean?
After trying pickleball with a cheap wooden paddle, if you discover you like the game and want to learn more, then investigate and invest in a high-quality paddle.
You'll improve as well as play more often and for longer periods with the right pickleball paddle.
Who knows?
You might become a what's known as a "pickler"–a pickleball fanatic!
Features of Pickleball Paddles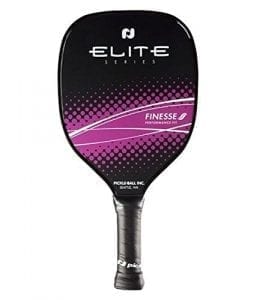 When choosing a pickleball paddle, examine the following criteria:
Grip size:
In order to enjoy the game and play well, you need a paddle with a grip that's comfortable. It should not only fit your hand but also give you control over the ball.
Grip circumference:
These will range from 4-inches to 4-½ inches with 1/8-inch increments in between.
A grip with the correct circumference for you will fit your hand, be easy to hold, and not slip.
Smaller grips allow more wrist action for greater control and ball spin. If the paddle's grip is too small for you, however, you'll waste energy and possibly injure hand, wrist, and arm muscles from squeezing it to keep it in place.
Larger grips may offer greater stability, but a grip that's too large for you may be difficult to hold, strain muscles (e.g. hand, wrist, and arm), and limit movement (e.g., wrist snaps, grip changes, overheads, etc.).
Expert Tips: How to Determine Your Grip Size
Ring Finger Test
Open your dominant hand (i.e., the one that holds the paddle), straighten your fingers close together, and look at your palm.
Use a ruler to measure the length between the middle crease of your palm. (It's aligned with the intersection of your fingers and thumb) and the tip of your ring finger.
The resulting measurement is your grip size.
If your measurement falls between two sizes, use the smaller size.
Height test
Measure your height and refer to the chart below.
| | |
| --- | --- |
| Up to 5'2" tall |  4" grip |
| 5'3" to 5'8" tall |  4 ¼" grip |
| 5'9" and taller |  4 ½" grip |
Index finger test
If you can borrow a paddle, grip it properly with your dominant hand.
Then slide your other hand's index finger between your dominant hand's ring finger and palm heel.
If your finger fits snugly without you needing to shift the dominant hand's fingers, this grip size is correct for you.
If there's a gap, the grip size is too large.
If you have to move your dominant hand's fingers to accommodate room for your other hand's index finger, the grip size is too small.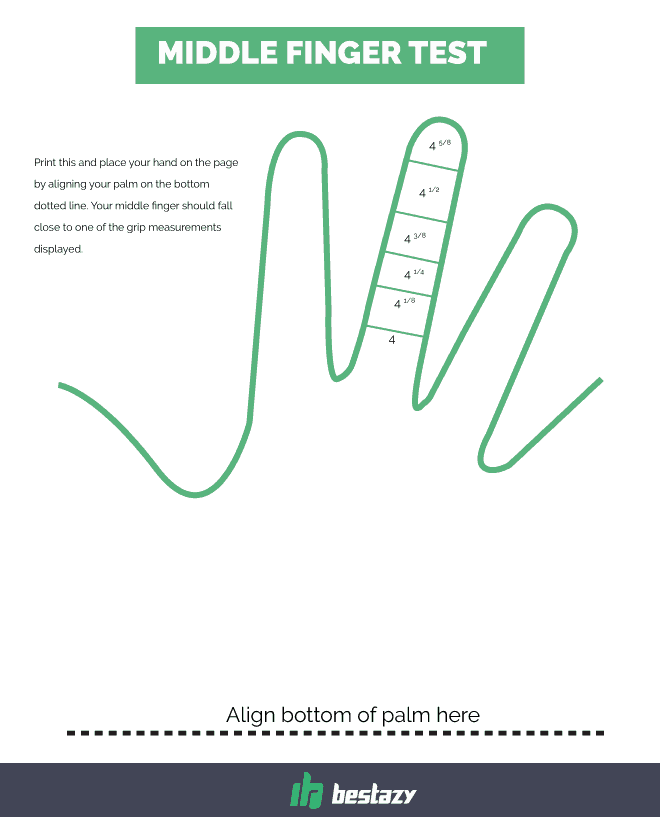 Grip handle lengths we found vary between 4 ¼" to 5 ¼". Players with small hands prefer shorter handles. Whereas, those with large hands and many former tennis players favor longer handles.
Weight
Pickleball paddles range in weight from about 6 ounces to more than 10 ounces.
Lighter paddles offer more control but require more arm strength, energy, and swing for power.
Heavier paddles provide less control but more power.
In either case, injuries can result from pulled and/or strained muscles to maneuver a too-light or too-heavy paddle.
To find a good balance of control and power for your needs, consider your age, strength, skill level, and playing style.
Playing style
What is your approach to playing pickleball?
If you're a novice learning the game, choose the paddle that fits your comfort level.
If you use different playing strategies, consider a paddle's construction and weight.
A power player–also called a "banger"–who hits aggressive hard shots may want a solid and heavier paddle.
A player who plays a soft game with gentle but strategically placed shots may lean toward a lighter paddle that offers more control.
Materials
A paddle's core refers to its internal honeycomb panel that gives it structure, power, and the audible "pop" of a ball when it's hit.
A paddle's two faces are the surfaces bonded to the core that come in contact with the ball.
Both composite and graphite paddles utilize various materials, like polymers, Nomex (a nylon-like material used in aerospace and industrial settings), and aluminum for the core.
Faces of composite paddles are composed of various substances like polymers, carbon fibers, vinyl, resin, fiberglass, and more.
Graphite paddles have faces made of a thin layer of graphite.
What's So Great About Graphite?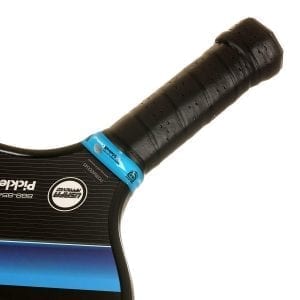 People often believe graphite pickleball paddles have graphite cores.
Guess, what?
They're wrong.
The only graphite in the paddle is the layer overlaying its core to create an excellent surface for hitting the ball.
Graphite is strong, durable, hard, and extremely light.
Players who want light paddles that quickly rebound balls with much control love graphite paddles.
Also, graphite is very stiff.
When a ball hits the paddle, the graphite's stiffness spreads the hit's energy evenly across the paddle's surface and helps the player "feel" the ball more.
Experienced pickleball players and competitors often use graphite paddles.
What Else Do You Need To Know About Pickleball Paddles?
Edged vs. Edgeless:
Some pickleball paddles have an edge guard framing the outside of the paddle face.
The edge guard protects the paddles' sides from nicks and scratches during play and when scraping and/or hitting the ground accidentally. When a ball makes contact with the edge guard, however, it often bounces off erratically and causes the player to lose control of the ball's trajectory.
Therefore, edgeless pickleball paddles have appeared on the market to prevent this issue.
While an edgeless paddle may have a smoother look, its sides aren't protected from chips, dents, and other marks. When deciding between edged and edgeless model, you just need to understand their trade-offs.
Price:
Depending on construction, paddles range in price from under $20.00 to over $140.00. Although wooden paddles are the least expensive (usually under $30.00), we don't recommend them.
Composite paddles run between $50.00 and about $145.00 while graphite paddles cost between $60.00 and $150.00.
THE WINNERS
Expert Tip: "Spin" Paddles
In the past year or so, pickleball paddle manufacturers have come out with paddles specially designed for players to put a spin on the ball–topspin, backspin, reverse spin, etc.
While our reviews focus on pickleball paddles in general, user feedback does indicate which models help players produce spin.
Generally, paddle faces with finely textured surfaces provide more "grab" on the ball than smooth surfaces do.
Composite paddle faces constructed of various materials (e.g., vinyl, carbon fiber, fiberglass, resin, etc.) have a slight texture.
Be careful if you plan on using your paddle to play competitively though–official USAPA tournament rules prohibit too much texture.
Also, although graphite faces are very smooth, don't write them off for producing spin. Some graphite models are designed to provide more control and spin.
Let's get the game going!
Now you're armed with information on what to look for in a pickleball paddle. Read ahead to discover which ones are right for you.
Reviews of the Best Pickleball Paddle
A Closer Look at Pickleball
Fast-paced and social, pickleball is easy to learn and play. Let's take a closer at the game, its rules, equipment, and more to get you started playing for fun and exercise.
How to Play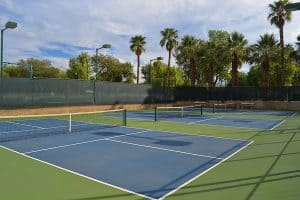 Two (or four in doubles matches) players each stand on opposite sides of a 20' x 44' court divided in half by a 36'-tall center net. Click here for a bird's-eye view of a pickleball court. Each side of the court is divided into three sections:
the non-volley zone (aka "the kitchen") which runs across the court's width and extends seven feet back from the net
the left service area which extends from the non-volley zone line back to the baseline and from the left sideline to the court's center line
the right service area which runs from the non-volley zone line back to the baseline and from the right sideline to the court's center line
To begin play, from behind the baseline of the right service area Player 1 serves the ball underhand (without a bounce) crosscourt, where it must clear the net and bounce into the Player 2's right service area diagonal to Player 1.
Player 2 hits the ball back to Player 1's side, where it must bounce once again before Player 1 returns it over the net.
This is the double-bounce rule.
After the second bounce, players rally the ball back and forth either by volleying it or hitting it after it bounces once.
Stay out of the kitchen!
No player is allowed to run into "the kitchen" to volley a ball back over the net.
This rule was instituted to prevent players from smashing or spiking the ball over the net.
Nonetheless, a player can enter "the kitchen" to hit a ball after it bounces. Watch this video that clearly explains how to get started playing pickleball.
What's the score?
Play continues until someone hits the ball into the net or out of the court or lets it bounce more than once.
Points are earned only by the serving player (or doubles team).
Informal games are played up to 11 points (with a 2-point margin) and tournament matches are played up to 15 or 21 points (with a 2-point margin).
For a detailed summary of pickleball rules, visit this page published by the USA Pickleball Association (USAPA).
Check out these moves…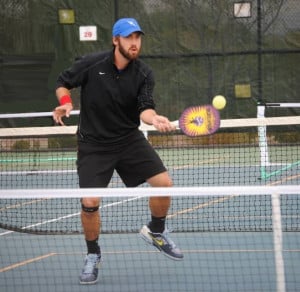 When keeping the ball in play, pickleball players can hit back the ball in a variety of strategic ways, including but not limited to the:
Chop: a motion with the paddle that slices from high to low to put a backspin on the ball.
Slice: see above; a backspin or underspin
Dink: an underhand stroke that softly hits the ball with enough force to just clear the net and then fall into the no-volley zone or "kitchen".
Drop Shot: similar to the Dink, but delivered from mid- to back-court with a higher arc before dropping into the no-volley zone or "kitchen".
Punch: a short, quick volley shot with little-to-no backswing or follow-through
Smash or Slam: a hard, overhead shot (that often opponents need to either move quickly toward to hit or quickly away from to avoid).
We discovered a few more funny pickleball-specific terms we just had to share:
Falafel: like "pickle", this term in pickleball has nothing to do with food. Falafel (aka "dead paddle") describes a shot hit with so little power that it falls short.
Pickle!: what a server shouts before serving to alert all other players.
Pickled: when one side (either a singles player or doubles team) scores no points during an entire game. For example, "Uh-oh, I scored zero points and have been pickled!"
Pickledome: reminiscent of Mad Max's combat arena Thunderdome, this term refers to the court where a pickleball tournament's final championship match is played.
Volley Llama: a fault or illegal error when a player volleys a ball from inside the no-volley zone or "kitchen."
Other Pickleball Equipment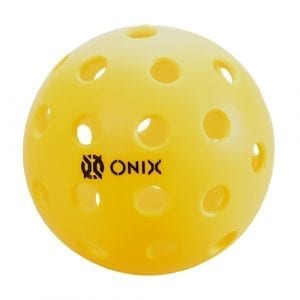 Beside the paddles, what else do you need for pickleball? You'll want to obtain:
A ball: at least one or more! This plastic ball with holes resembles a Wiffle ball but is slightly larger, heavier, harder, and more colorful. Also, a pickleball's holes are more plentiful and round while a Wiffle ball's fewer holes are oblong. Indoor pickleballs like these are soft with large holes. Outdoor pickleballs like these are designed with smaller holes to withstand wind interference and a hard exterior to bounce better on outdoor courts.
A net: designed for a pickleball court, of course. Try this official regulation-size net from the USAPA. It's 22′ wide by 36″ high at the posts and 34″ high at the center.
Good court shoes: don't wear running shoes for this activity. Volleyball and tennis shoes work well.
Comfortable athletic clothing: nothing fancy, just whatever you'd wear to play tennis, run, and exercise. This t-shirt emblazoned with "Dink responsibly. Don't get smashed." would be the perfect on-court icebreaker.
Protective Eyewear: we didn't see many players wear protective eyewear, but this is a legitimate piece of safety equipment you may want to have. This clear pair and this tinted pair are both great for pickleball players.
The History of Pickleball
From its humble beginnings as a family game invented to entertain cranky kids to today, Pickleball has exploded in popularity.
Picture this
It's a rainy summer weekend afternoon in 1965 on Bainbridge Island in Washington state…
In response to bored kids grumpy about the poor beach weather, Congressman Joel Pritchard and businessman Bill Bell gave their kids wooden paddles and a plastic ball and then sent them to play on a badminton court.
Soon, the adults enjoyed and took over this yet-unnamed and still evolving activity.
Necessity is the mother of invention…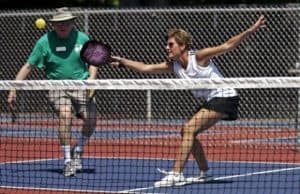 Friend Barney McCallum joined in and all three men redesigned the equipment.
They lowered the court's net to the height of Joel Pritchard' waist.
After they rejected ping pong paddles, Barney McCallum designed and cut from wood in his basement the prototype of today's pickleball paddle.
The men also established rules for the game. For example, the no-volley zone or "kitchen" was invented after a tall friend ran up to the net and used his unfair height advantage to smash the ball onto the opponent's side.
All in good fun
Throughout this game's evolution, the inventors' top priority was family fun. They brought pickleball home from Bainbridge Island with them after the summer ended.
Soon it became a suburban street game, an evening at Seattle University, and an activity to add levity to Congressman Joel Pritchard's political events.
By 1972, interest in pickleball so much that the three men formed a company to handle the increasing public demand for pickleball equipment. The first pickleball set cost $29.50 and included four paddles, four balls, and a net.
From the horses' mouths
Hear straight from Barney McCallum and the first players (the bored kids now as adults) how pickleball developed from a backyard game to a professional sport in this entertaining video.
The rest is history
As the sport became more and more popular, players organized tournaments. In 1984, USAPA was established as the official governing body.
By 1990, pickleball spread from Washington State to all 50 states.
Currently, there are almost 4,000 pickleball locations in the US, with international clubs and governing bodies in countries including Canada and India.
For a timeline of pickleball's evolution, click here.
How Did Pickleball Get Its Name?
According to the USAPA, this interesting moniker has two different origins:
According to Barney McCallum, the game was "named after the Pritchards' dog Pickles who would chase the ball and run off with it."
However,
According to Joan Pritchard (Joel Pritchard's wife), the game was a combination of different sports, which reminded her "of the pickle boat in crew where oarsmen were chosen from the leftovers of other boats".
One reviewer proposed another interesting theory: maybe the sport earned its funny name because the "pop" sound of a pickleball hitting a paddle shot sounds like the "pop" of new pickle jar being opened.
In any case, the name "pickleball" certainly is memorable and evokes an enjoyable homey vibe.
Health Benefits of Pickleball
Besides being such a fun activity, why is pickleball such a popular way to exercise?
Enjoyable by players of all levels, this cross-generational game is especially in demand among older adults as well as athletes looking for a way to sweat without too much risk of injury.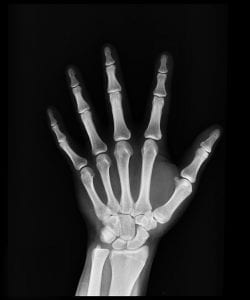 Reasons include:
Of course no activity is injury-free. To learn helpful information about preventing and treating common pickleball injuries, click here.
Just to be clear
We're certainly not telling you to quit tennis, badminton, ping pong, or other racquet sports!
We just wanted to introduce you to another similar sport–pickleball–and advise you on choosing the best pickleball paddle.
Comparison of Pickleball Equipment to Tennis, Badminton, and Ping Pong Equipment
As you can see, pickleball is a cousin of tennis, badminton, and ping pong.
If you play these sports, you'll enjoy pickleball and have a head start!
For the sake of comparison, let's conduct side-by-side examinations of equipment from the four activities.
Alike and Different
First, let's look at paddle/racquet sizes: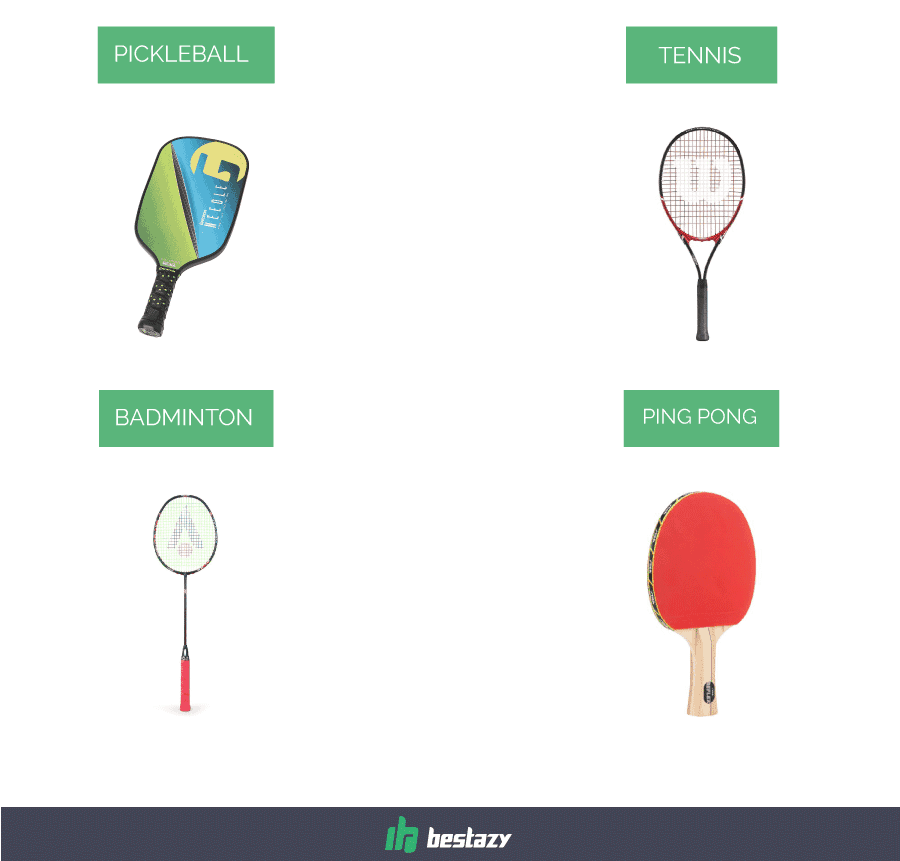 Pickleball: the maximum length from grip butt cap to rim is 24 inches (60.96 cm); the most common paddle face measurement is about 8" (20.32 cm) x by 15¾" (40 cm)
Tennis: the length ranges from 27" to 29"; a midsize head measures under 95 square inches; a standard head is 85 to 98 square inches; a midplus head measures 99 to 105 square inches; an oversize head is 106 to 135 square inches
Badminton: 26.5" (675mm) long from frame tip to handle end; no definite size but generally oval or square in shape
Ping Pong: the blade head is about 6.7" (17 cm) long and 5.9" (15 cm) wide; handles vary in lengt
If you want to learn about selecting the best ping pong paddle, read "9 Tournament-Worthy Ping Pong Paddle Reviews".
Court sizes:
| | |
| --- | --- |
| Pickleball: 20' x 44' (6.1 m x 13.41 m) for both singles and doubles games | Tennis: 78' x 36' for doubles matches; 78' x 37' for singles court matches |
| Badminton: 20'x44' (same as pickleball!) | Ping Pong: 108' x 60' (official table size); are 84' x 42' (recreational table size) |
Net Heights (the net crosses the court width-wise in the center to divide it into two sides):
| | |
| --- | --- |
| Pickleball: 36' (0.914 m) high at the side posts and 34' (0.86 m) high in the center | Tennis: 3'6" (1.07 m) high at the side posts, and 3' (0.91 m) high in the center |
| Badminton: 5' high | Ping Pong: 6' (15.25 cm) high |
If you're looking for a ping pong table, peruse "10 Reliable Ping Pong Table Reviews".
Projectiles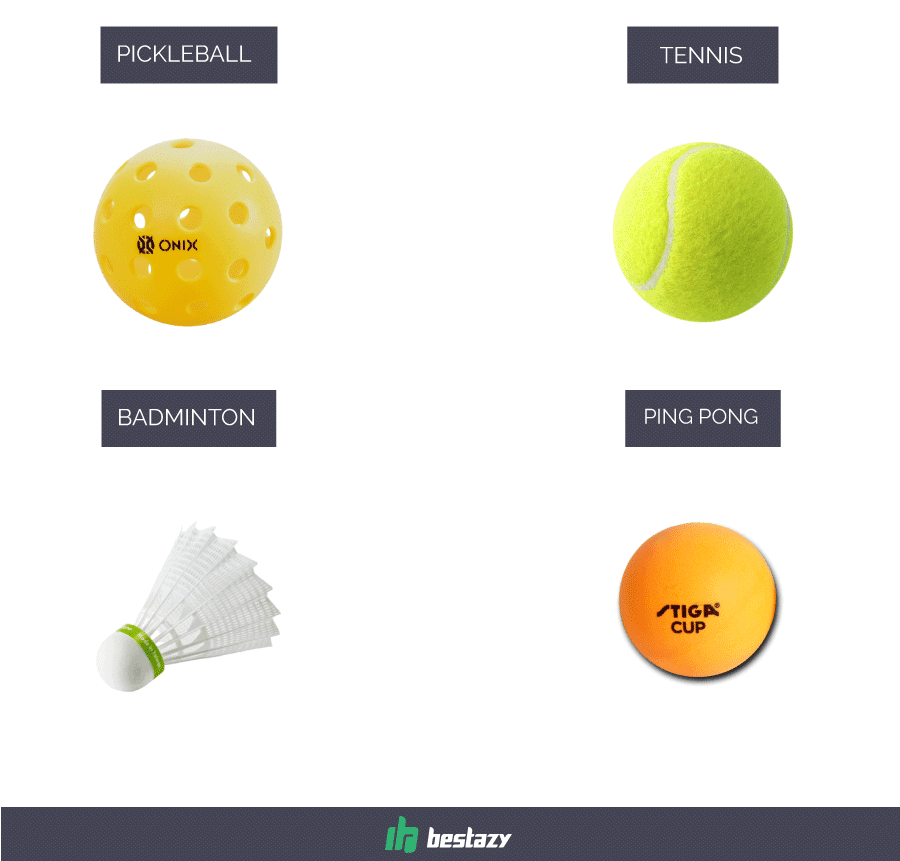 Pickleball: a hard plastic ball with holes; 2.874" (73mm) to 2.972" (75.5mm) in diameter; between 0.78 and 0.935 ounces (22 to 26.5 grams) of mass
Tennis: a hollow, two-piece rubber shell filled with pressurized gas and covered with nylon or wool; between 2 ½" and 2 5/8" in diameter and 2 to 2 1/16 ounces of mass
Badminton: a conical shuttlecock with 16 feathers (real or plastic) fixed in a cork (or rubber) base; each feather is 2.8" (70 mm) long; the shuttlecock weighs 0.168 to 0.194 ounces (4.75 to 5.50 g); the cork's diameter is 0.98" to 1.10" (25 to 28 mm); the diameter of the circle made by the feathers is about 2.1" (54 mm)
Ping Pong: a celluloid ball filled with air; 1.57" (40mm) in diameter; 0.095 ounces (2.7 grams) of mass
Ending on a fun note
Looking for a way to repurpose old pickleballs?
Searching for just the right gift for your favorite pickleballer?
We found this page with creative and cute ideas for pickleball crafts, cookie cutters, keychains, wine glasses, clothing and more.
Enjoy!
Now We're Ready For Pickleball!
Despite its whimsical name, pickleball is a legitimate sport. It's a fun and easy-to-learn activity for family members and friends of all ages. People who want to take their game to the next level can enter tournaments.
Fun fact:
One USAPA rule–"The paddle hitting surface shall not be adversely reflective, such that it has the potential to obscure the vision of opposing player(s)"–demonstrates that pickleball officials take the sport seriously and won't put up with such dirty tricks.
Just remember
For the most enjoyable experience, find the pickleball paddle that best suits you and your style of play.
Figure out your grip size, what weight you'll find most comfortable, whether you want an edged vs. an edgeless design, what type of paddle face you want, and what price you're willing to pay.
Pick some more equipment (at least a couple of pickleballs to start) and soon you'll be dinking, volleying, and slicing away.
See you on the court!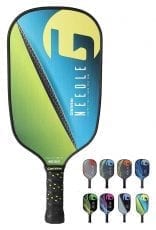 Best of the best
Gamma Sports Needle Pickleball Paddles
Join the pickleball craze and find the best pickleball paddle for you. We'll introduce you to the game as well as models of different sizes, materials, and prices.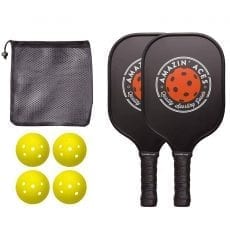 Most Buying
Amazin' Aces Pickleball Paddle Bundle Set
Join the pickleball craze and find the best pickleball paddle for you. We'll introduce you to the game as well as models of different sizes, materials, and prices.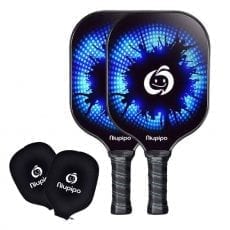 Best for the money
Niupipo Lightweight Graphite Pickleball Paddles Set
Join the pickleball craze and find the best pickleball paddle for you. We'll introduce you to the game as well as models of different sizes, materials, and prices.