Finally, a small ping pong table that's large in quality. Meet the STIGA Space Saver. It's just slightly wider than the JOOLA Midsize table that we also reviewed, but it's not made of particle board. This table, instead, is made of 5/8-inch MDF, making it similar in quality with full-size STIGAs everywhere.
Though, you do get what you pay for, which is why this midsize is a bit pricier than the JOOLA Midsized particle board table. The tabletop on this STIGA is smooth and level, thanks to a repeat roller-coat process. And the logo has been silkscreened directly onto the surface, so it shouldn't peel off like a fruit roll-up.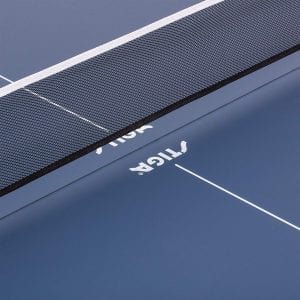 The 1.25-inch apron on this table is also high-quality, with a welded tubular design – which means it's tube-shaped to normal people, and cool to surfers. It's finished off with a white powder coating, all of which adds up to an even bounce.
The legs are also sturdy, and made of 1.5-inch steel that has a powder coated finish, which adds to the table's durability. And, of course, it comes with levelers, because playing on an uneven table is not even fun. And those levelers help protect floors from getting scratched, scuffed, and generally abused.
This table comes in independent halves, two to be precise, which feature a unique chassis design for more convenience and versatility. They can be stored separate or together, and will often fit under a bed, in a closet, or anyplace with a bit of space. And, of course, this versatility means you can use the halves for all sorts of games and general shenanigans. The word you're searching for is multipurpose.
The full dimensions of this STIGLA Space Saver table are 71" x 40.5" x 30." However, the height is the same as a regulation table. This size makes it especially appealing for those of you living in college dorm rooms, or for those of you who don't waste enough time at work on Facebook. What better way to connect with your boss than a friendly game of table tennis? It's small in stature, but large in fun!
Thankfully, no assembly is required. Just unpack, unfold, and begin playing. That is, if you already have paddles and balls, as they do not come with this table, or any other on our list. Well, except for the last table on our list, which shall remain nameless … until it's time to name it, of course.
Specifications at a glance
Playing dimensions: 71" L x 40.5" W x 30"
Combined Folded Table Dimensions: L: 35.5" W: 40.5" H: 36"
Individual Table Half Dimensions: L: 35.5" W: 40.5" H: 30"
Sturdy 1.25" square-welded steel legs
5/8" MDF tabletop with silkscreen striping
1.25" welded tubular-steel apron
Features at a glance
Molded leg levelers protect your floors from scratches
Compact table perfect for tight spaces
Adjustable table height for a perfectly flat play surface
Independent table halves for convenience and versatility
Repeat roller coat process for a smooth, level playing surface
High quality apron supports the top for even bounce
No assembly required
pros
Great quality, particularly the top surface

Fantastic size for smaller spaces
cons
Stripped screws occasionally fall out

Sometimes arrives damaged due to poor packaging