What to Consider when Selecting the Best Ping Pong Table
Sometimes life is a game of inches. This is true when playing ping pong, and it's equally true when reviewing tables. With a couple of exceptions, these are all good tables, and with the usual assortment of flaws. And a lot of times it just comes down to how much you want to spend.
If money isn't an issue, or you see this kind of purchase as an investment, go with our number one rated table, the JOOLA Rally TL 700 Table Tennis Table. It's built like a tank and will likely outlast you. If you're buying a table as a gag gift, and you don't mind dropping hundreds of dollars to do so, go with the German-made table (ranked dead last for good reasons), which shall remain nameless.
Buyer's Guide
Finding the perfect ping pong table isn't like finding the Holy Grail. And thank goodness, because you're no Indiana Jones. But who is? Read some reviews, like here at Bestazy – who always has your back – and then ask yourself the following questions listed below, which should help you narrow down your choices. Of which, there are many.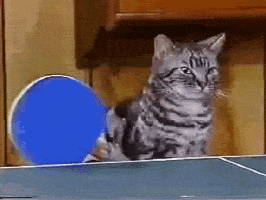 Do you want to play inside or outside?
How important are ball holders on each corner?
Do you want a full-size table, or a smaller table?
How important is quality?
And how much do you want to spend?
We're big believers in value here, so keep that in mind. If something is cheap, often there's a reason. And when something is cheap, it likely won't last very long. Better to buy one good table that lasts 10 years, than three substandard ones during that same length of time.
That's about it. Otherwise, these tables have much more in common than not, which includes screws that can't seem to stay screwed, missing or extra parts, and packaging that delivers the occasional banged-up table.
Concentrate on those five questions listed above, and figure out your priorities, and you'll be able to make an informed decision.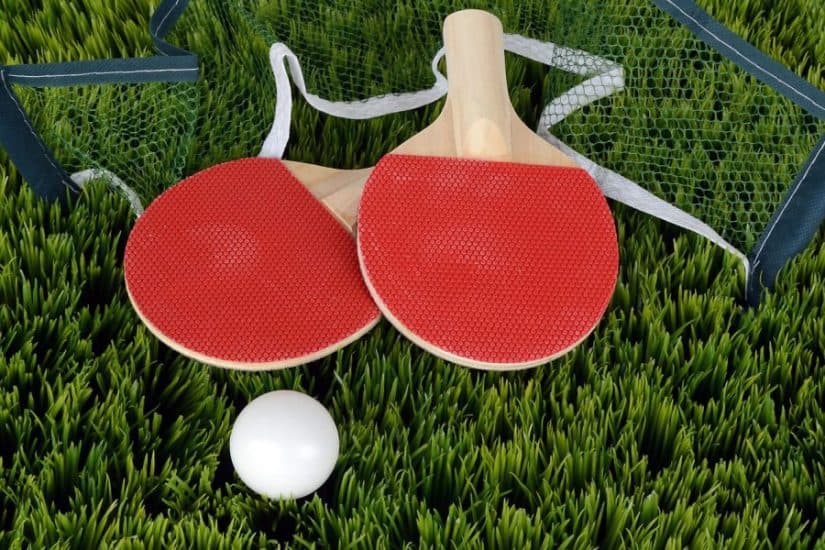 Expert Tips When Choosing a Ping Pong Table
There really aren't any expert tips we can give you for buying a ping pong table. Much of it is common sense, as in, how is it made? And more to the point, what is it made from.
If you're buying a table for your young twin sons that destroy everything they get their hands on anyway, the JOOLA Midsize Compact Table with the particle board table top might be the best option. Just be aware, that if your kids don't rough it up, it'll probably come apart on its own pretty quickly anyway.
01
JOOLA Rally TL 700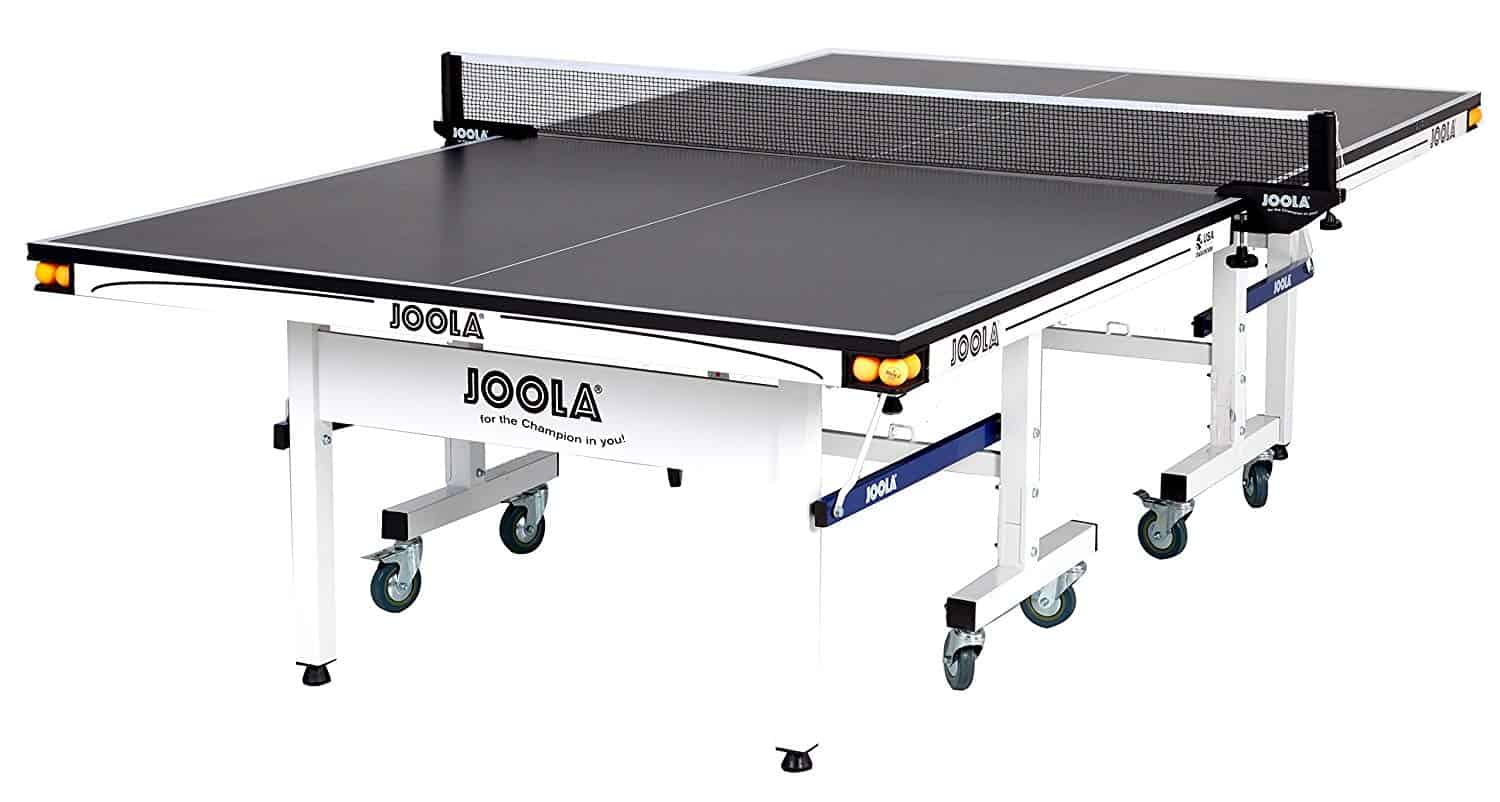 Built like a tank, is how we'd describe this incredible sturdy ping pong table. It weighs in at an incredible 250 pounds, making it easily the heaviest one we reviewed.
It's also the most expensive on our list. Though, you get what you pay for. This table is obviously full, regulation size. And the professional surface has a wonderful and consistent bounce.
That surface is made of 25mm thick charcoal painted MDF, with a polyurethane paint process that makes it resistant to marks and scratches. Except for the white striping, which shows a bit of dirt and scuff marks after a little use. Though, this is a minor aesthetic issue. But perhaps important to some.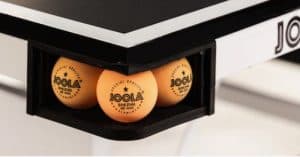 The frame and undercarriage are what make this beast so sturdy and heavy, measuring a stout 50mm x 50mm, with a powder-coating which shields the table from wear and tear, thus extending its lifespan.
It includes adjustable feet levelers, which ensure a perfectly level surface at all times. There are four very-durable, 3-inch locking casters on each side, along with double anti-tilting devices for added safety and security.
The legs easily fold up for playback mode, which allows you to practice against yourself to sharpen your ping pong skills. When you fold both sides up, the two sides easily nest together for a tight, compact – though heavy – package. Even when rolling it, you'll get a sense of just how heavy this table is. But, of course, that's what also makes it so incredibly sturdy.
Assembly is easy, with the typical eight-bolt assembly so consistent with JOOLA tables, which means it comes 95% finished. It will probably take two adults to get those eight bolts in place, however.
It comes with a competition-grade matching net that is both easy to assemble and adjust. It comes with two magnetic abacus scorekeepers and one ball holder in each corner to hold a total of 12 balls. A feature that all tables should have, quite frankly.
This is one high-quality table, and it's priced accordingly. And no bats or balls are included, which is pretty standard.
Specifications at a glance
Assembled: 108" x 60" x 30"
Stored: 60" x 22" x 63"
Weight: 250 pounds
25mm charcoal painted MDF surface
50mm x 50mm powder-coated undercarriage
Features at a glance
Four JOOLA patented corner ball holders
Includes two magnetic abacus scorekeepers
Double anti-tilting devices
Locking wheels for safe and easy transport
Adjustable feet to level the table
Folds up for playback and compact storage
---
Pros
High-quality construction
Easy set-up, though heavy
Cons
Junky magnetic abacuses
White sidelines easily scuffed
---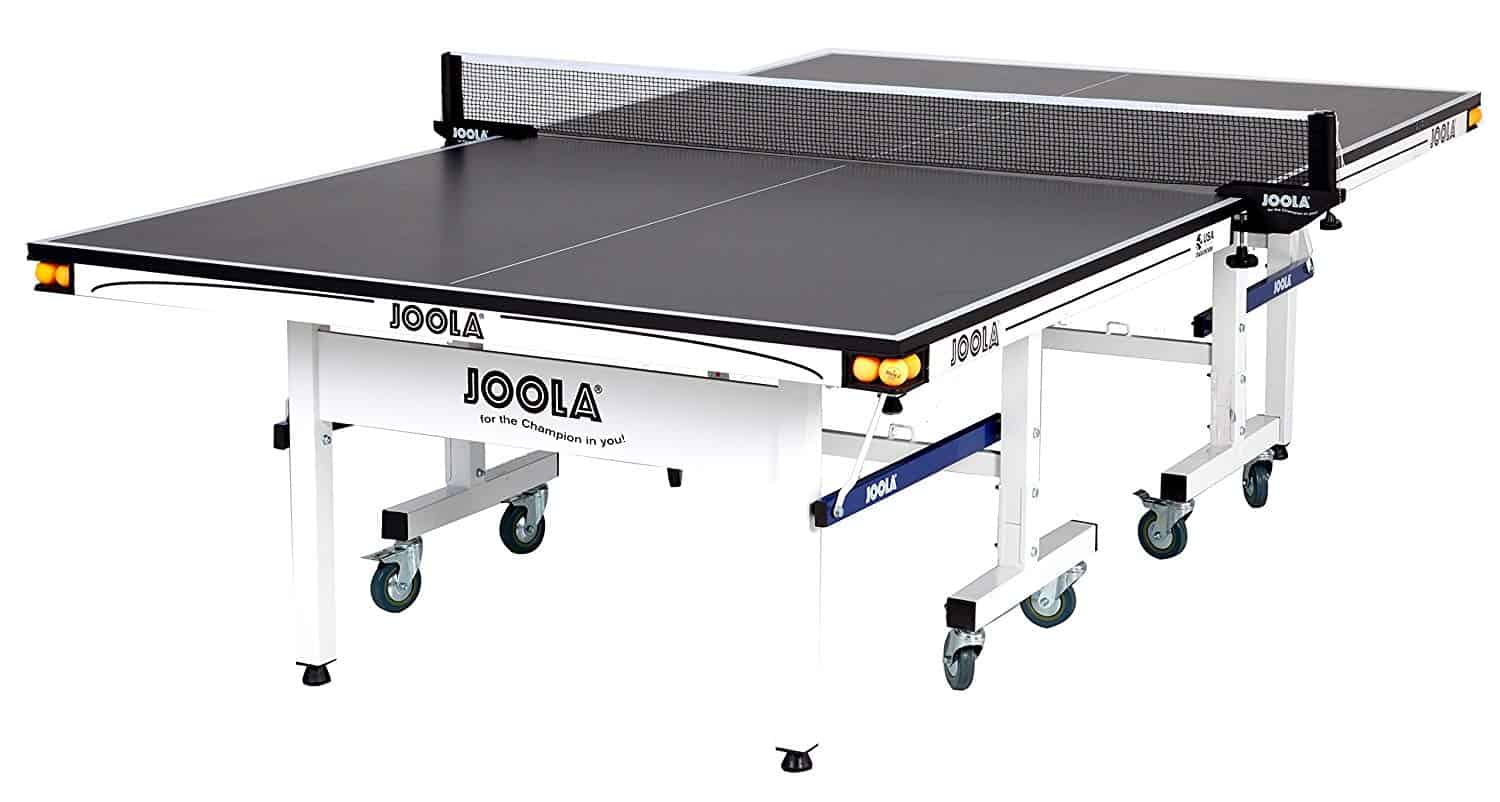 Professional Grade Table Tennis Table with Net Set, Ball Holders and Abacus Scorer
02
JOOLA Inside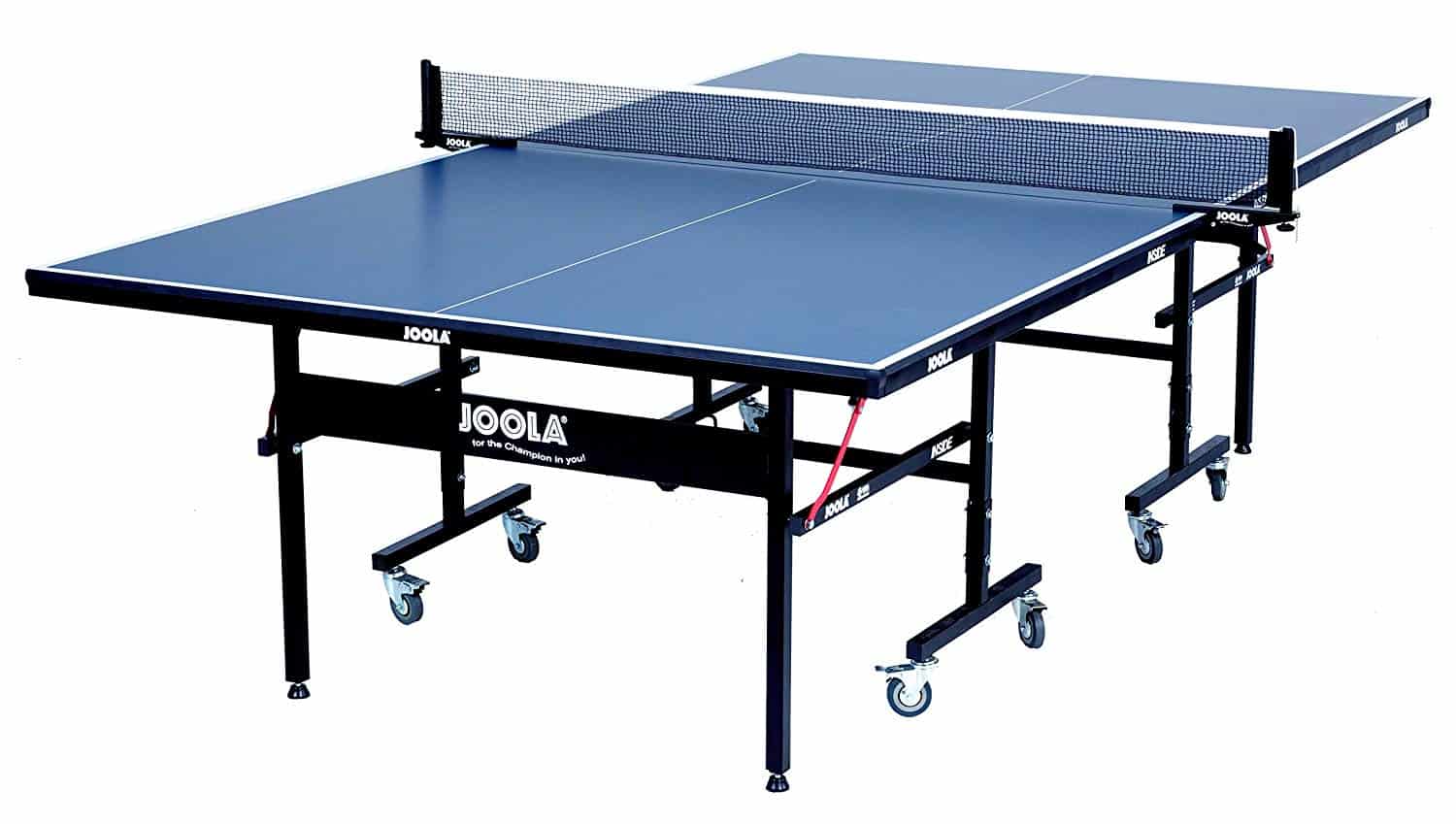 If you're looking for a durable table that won't put a paddle-sized dent in your wallet, this JOOLA ping pong table should easily make your short list.
This competition-grade table combines tournament quality with at-home convenience. This strictly-indoor table is regulation size at 9' x 5'. It's USATT (United States of America Table Tennis) approved. And if that's not enough, JOOLA is the official brand of the U.S. Open and the U.S. National Championships. Imagine all the bragging you can do around your neighborhood.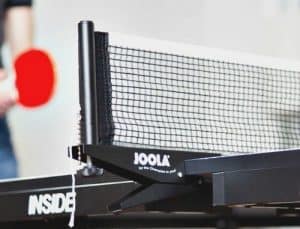 The set-up is quick and easy, and about as pain-free as it gets, as it comes 95% preassembled. You should be able to manage it in under 30 minutes and maybe in as little as 10. Attach the legs and the tournament-grade, clamp-design net, and you'll be paddling your way to fun before you know it.
The playing surface is 5/8" thick, and made of high-density MDF materials. You'll always enjoy a consistent bounce thanks to its multi-layer printed surface. The color is the traditional dark blue. And the white striping is silk screened right onto the table.
This table folds in half, thanks to two separate, four-wheel trolley systems that allow for nesting. It's super compact, and stores easily as a result. And the locking caster wheels keep the table safe and secure when storing, or stable when playing.
Those of you who are loners or only children will enjoy the playback mode. Simply keep one half of the table in the vertical position, and practice for as long as you like.
The undercarriage on this JOOLA table is as sturdy as they come, with its 1.5-inch, black powder-coated steel legs. And the rubber leg levelers will keep the table top level, and the floor underneath scratch-free.
Specifications at a glance
Regulation size (108" L x 60" W x 30" H)
1.5" tube aprons for even bounce
1.5" diameter sturdy steel legs
3" locking caster wheels
5/8" medium density fiberboard tabletop
2 separate 4-wheel trolley systems for mobility
Features at a glance
Separate table halves for solo play and easy storage
Sturdy undercarriage for safety and durability
Clamp-style net with tension adjustments
---
Pros
Very easy and quick assembly
High-quality construction, extremely sturdy
Cons
Missing pieces, extra pieces, wrong parts - sometimes
Poor packaging, occasionally resulting in dents and scratches
---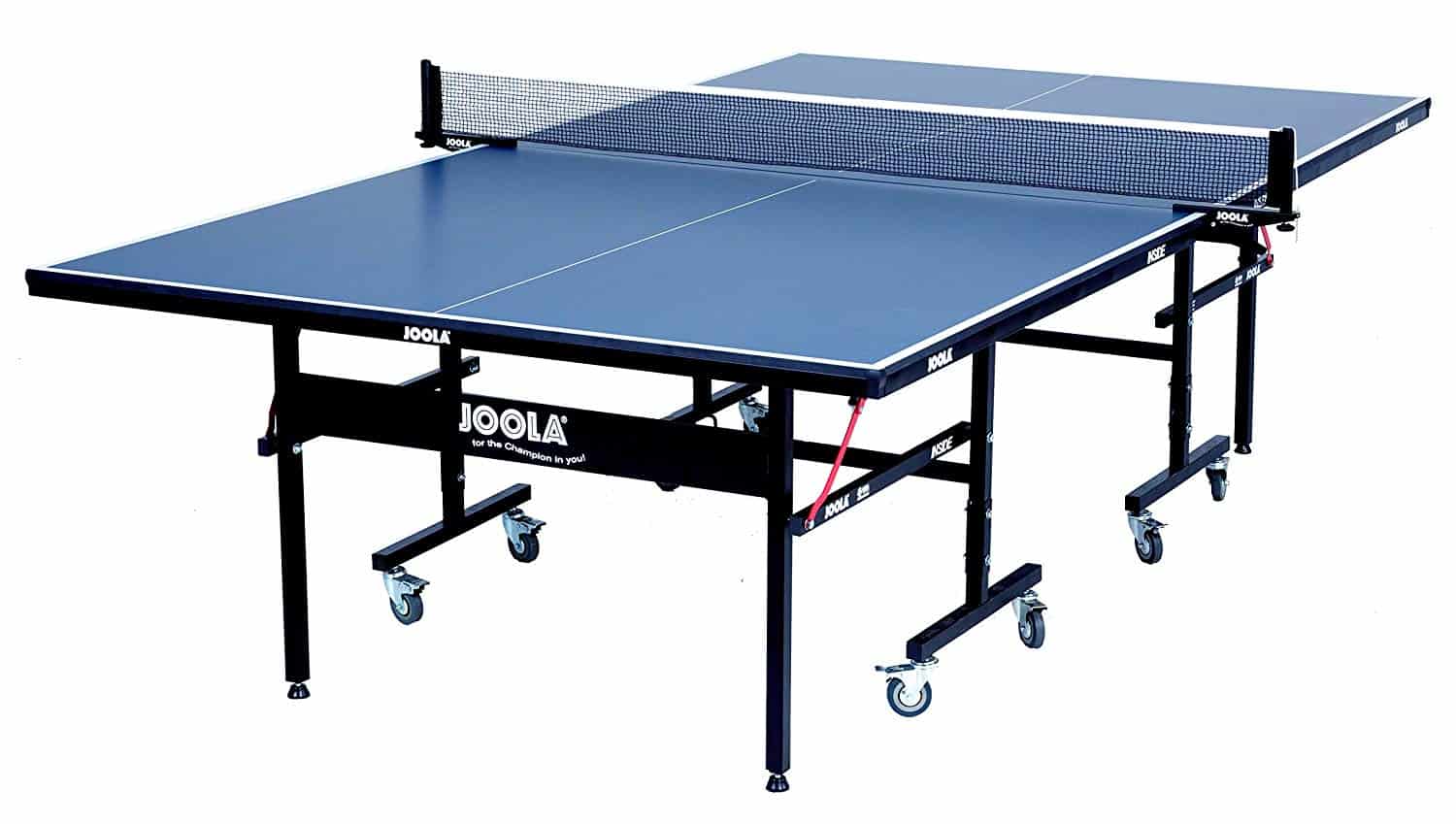 15mm Table Tennis Table with Net Set
03
STIGA Advantage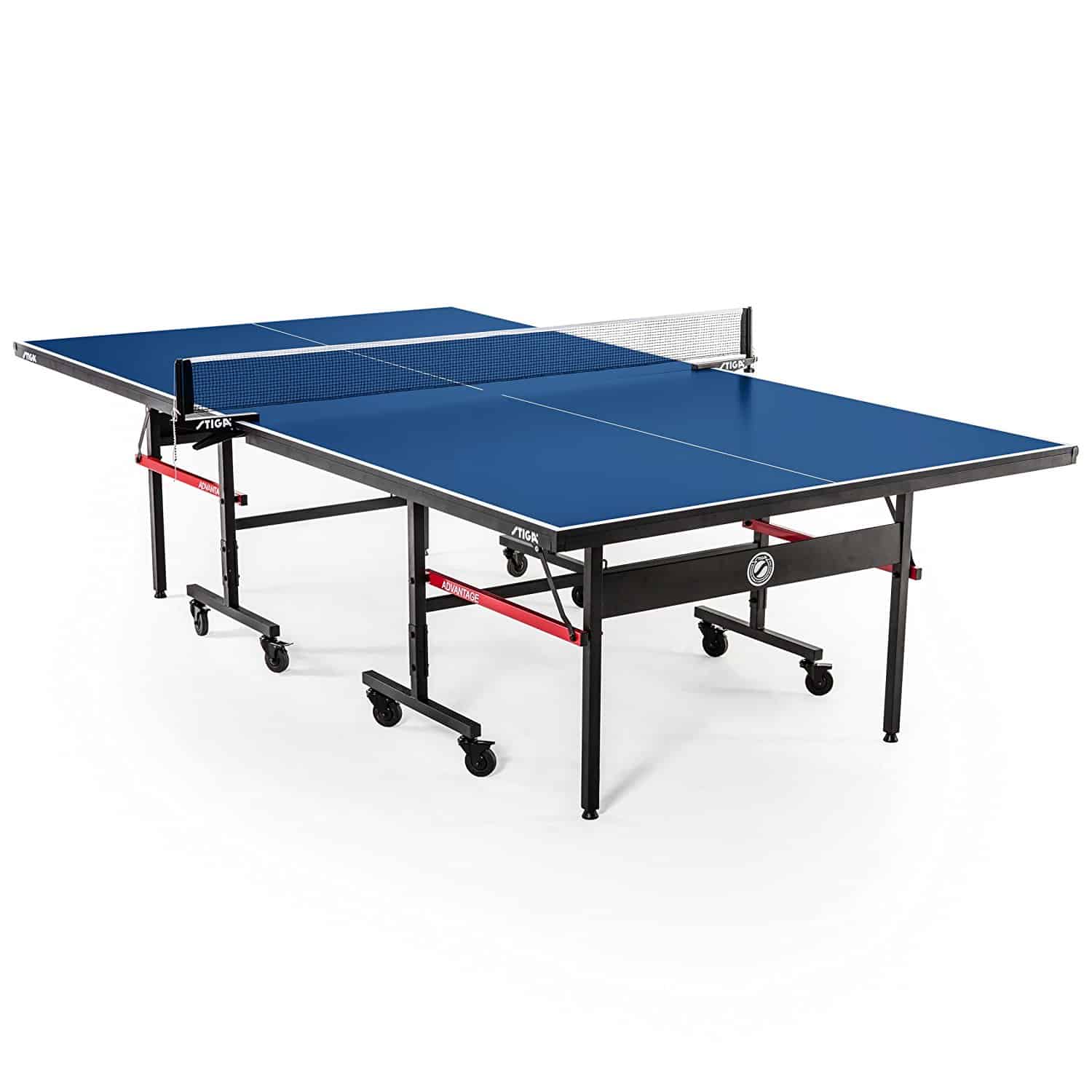 The table top itself is 5/8-inch thick. It's a beautiful shade of tournament blue, with silk screen striping all the way around the edges. The surface has been UV-cured, making it consistent and smooth for the ultimate in playability and durability.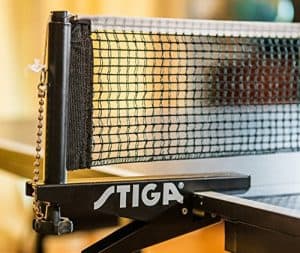 A 1.5-inch steel-tube apron supports the table top and ensures an even bounce. It also helps the top of the table to remain flat and durable over time. The black matte powder coating and white STIGA silkscreened logos add a sleek coolness to the table, which makes it easy on the eyes, and a joy to show off.
The base structure of the table includes 1.5-inch thick self-opening steel legs with a premium matte black powder coat finish. And its rubber levelers will guarantee an always-even surface, while also protecting your floor from scratches and scuff marks.
The eight three-inch ball bearing wheels roll smoothly and effortlessly, except during those times when you'd prefer your ping pong table not to move. For those times, STIGA offers a locking mechanism, which also comes in handy for play and for storing – which obviously adds to the safety and stability of the table.
One keyword regarding this high-quality ping pong table is versatility, and that doesn't mean that you should use it for beer pong. Sadly, this might not be covered in the 90-day warranty.
For those of you with limited space who plan to store their ping pong table while not using it, this STIGA table is a great choice. It's unique chassis design allows the two independent table halves to easily nest together, which allows for quick and compact storage.
This feature is also perfect for those of you who plan to use the table occasionally in a playback position.
The STIGA Advantage Indoor Table comes with a heavy-duty, 72-inch tournament grade net made of a premium cotton blend. It includes a clamp-style attachment for tension adjustment. And it also lends to the tables versatility as it's easy to remove and reassemble again later.
The table has a spring-loaded safety latch system on the underside for those times when you want to store your table. This system locks the table into an upright position, making sure it remains safe and secure.
Specifications at a glance
Regulation size (108" L x 60" W x 30" H)
Eight 3" black casters with locks
5/8"-thick high-density MDF table top
1.5" welded steel tube style apron
1.5" square steel legs that feature adjustable leg levelers
Features at a glance
Quick-play assembly
Independent chassis design
Smoothly rolls over surfaces
Tournament-quality, cotton-blend net
Exceptional play surface
Solidly constructed for long-term use
---
Pros
Compact, convenient for storing
Excellent value for the price
Cons
Low quality hardware: nuts, bolts, screws
Uneven assembly: holes sometimes don't align
---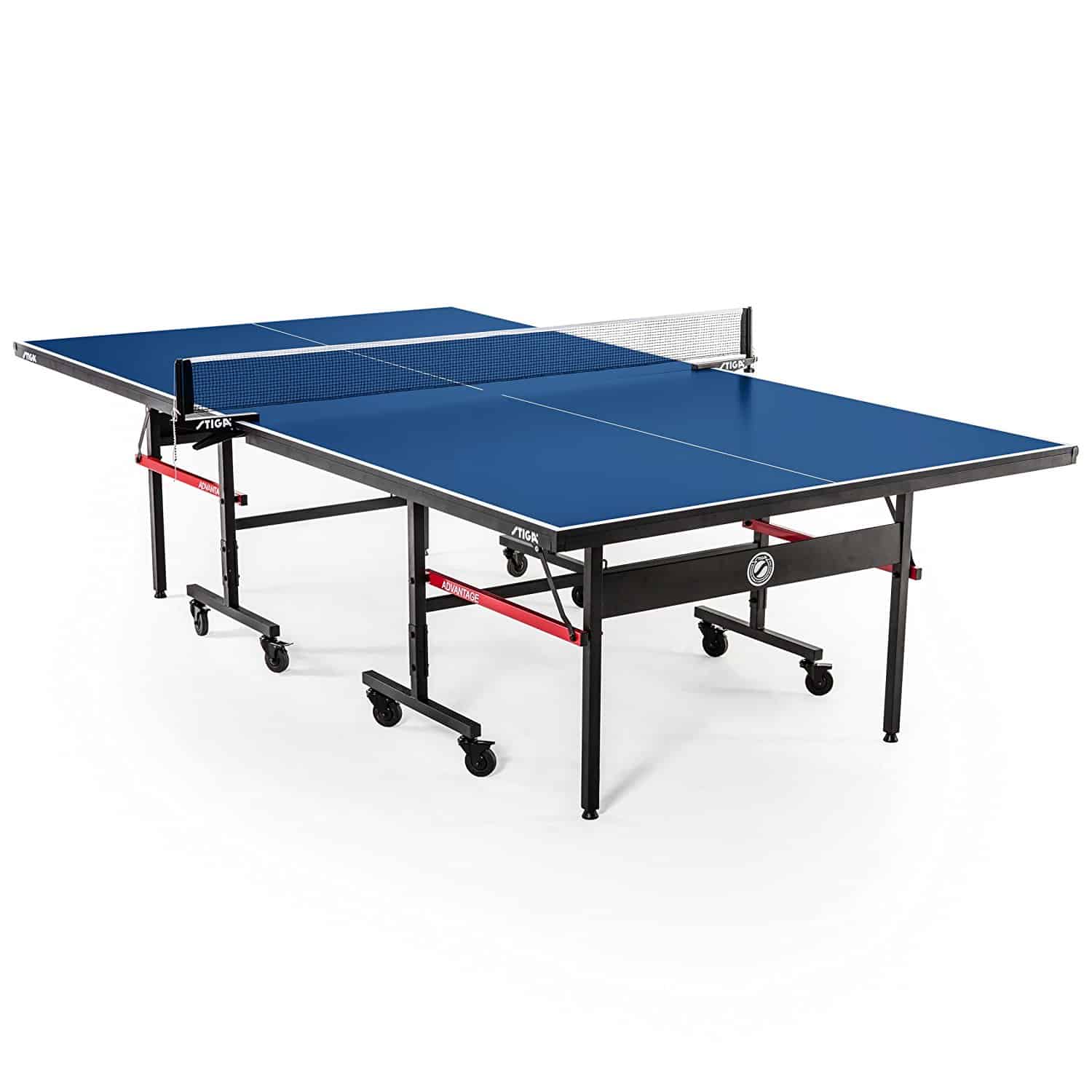 Indoor Table Tennis Table
04
JOOLA Rally TL 300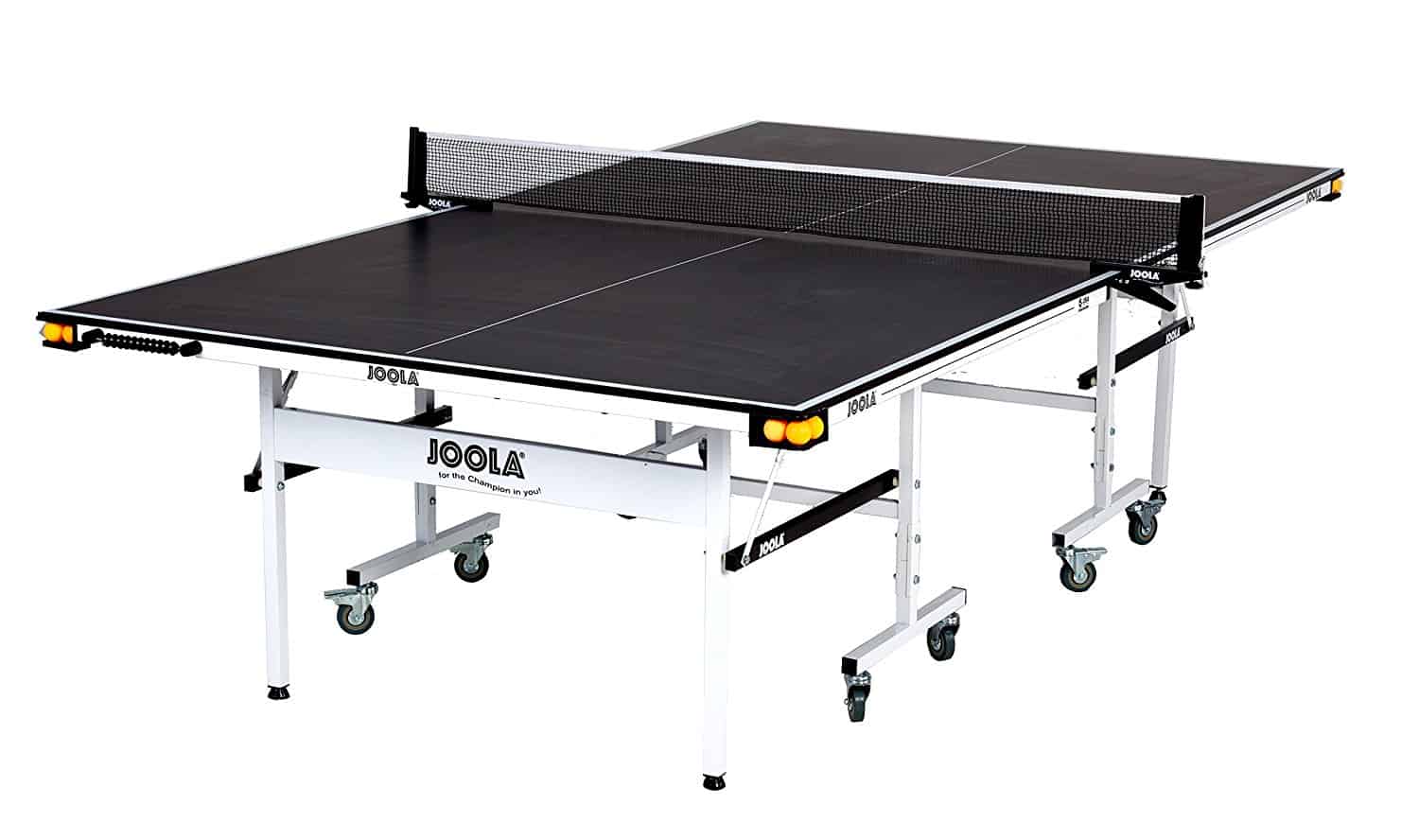 Finally, a table top that isn't blue. This JOOLA ping pong table is not only high quality, but it's also eye-catching. And that's mostly due to the added features, such as the appealing charcoal color, the corner ball holders, and the two magnetic abacus scorers.
This table is regulation-size and tournament quality. It has a 5/8-inch medium density fiberboard (MDF) top, along with a multi-layered painted surface for more reliable bounce. And the white striping around the edges is silk screened directly onto the surface of the table.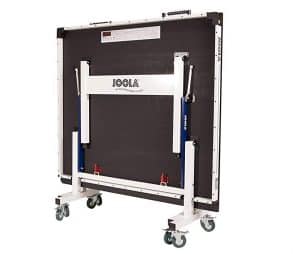 The tube apron is 1.5-inches in diameter, and contributes to an even bounce across the entire surface.
As nice as it is to look at, it's equally easy to set up. It features a no-hassle set-up, in part because it already comes 95% preassembled, which is pretty standard with this price-range of JOOLA tables. Simply attach the legs, and work in a total of eight bolts, and voila … which is French for ta-da!
This table comes with a tournament-grade net that's also super-easy to set up. Its clamp design attaches easily in just seconds. And, of course, there are tension adjusters that do exactly what their name suggests. Building the tension is up to you and whoever you're playing against.
The powder-coated 1.5-inch thick steel legs contribute to the extra sturdiness of this table. And the rubber leg levelers ensure that play remains level and floors stay scratch-free.
This table comes in two separate halves, which means (you guessed it) you can practice 24/7 in playback mode. After all, practice makes perfect. It also means the two halves can be used as multi-functional tables on their own. And those four corner ball holders hold three regulation-size ping pong balls each, which will keep you playing longer and chasing less.
The three-inch locking caster wheels makes moving the table easy and smooth. Locking means it remains stable when playing and safe when storing. And storing is a breeze, as it nests together into a nice, compact package.
The safety latch on the underside of the table also helps keep things secure, because some surprises aren't good. Like going out to your garage and finding your 160-pound ping pong table atop your brand-new convertible.
Specifications at a glance
Product Dimensions: 108" x 60" x 30"; 155 pounds
5/8-inch (15 mm) charcoal table top
Sturdy 1.5 inch steel legs
1.5-inch tube aprons
3-inch locking caster wheels
Features at a glance
Thick MDF, multi-layer, painted-surface table top
Two folding halves for playback mode and storage
Tournament grade post and net
Attractive and sleek charcoal color
4 corner ball holders and 2 abacus scorers
Comes 95% pre-assembled, can be put together in 15 minutes
---
Pros
Quality, sturdy construction
Quick and easy assembly
Cons
Occasional missing or wrong parts in package
Screws coming out after very little play
---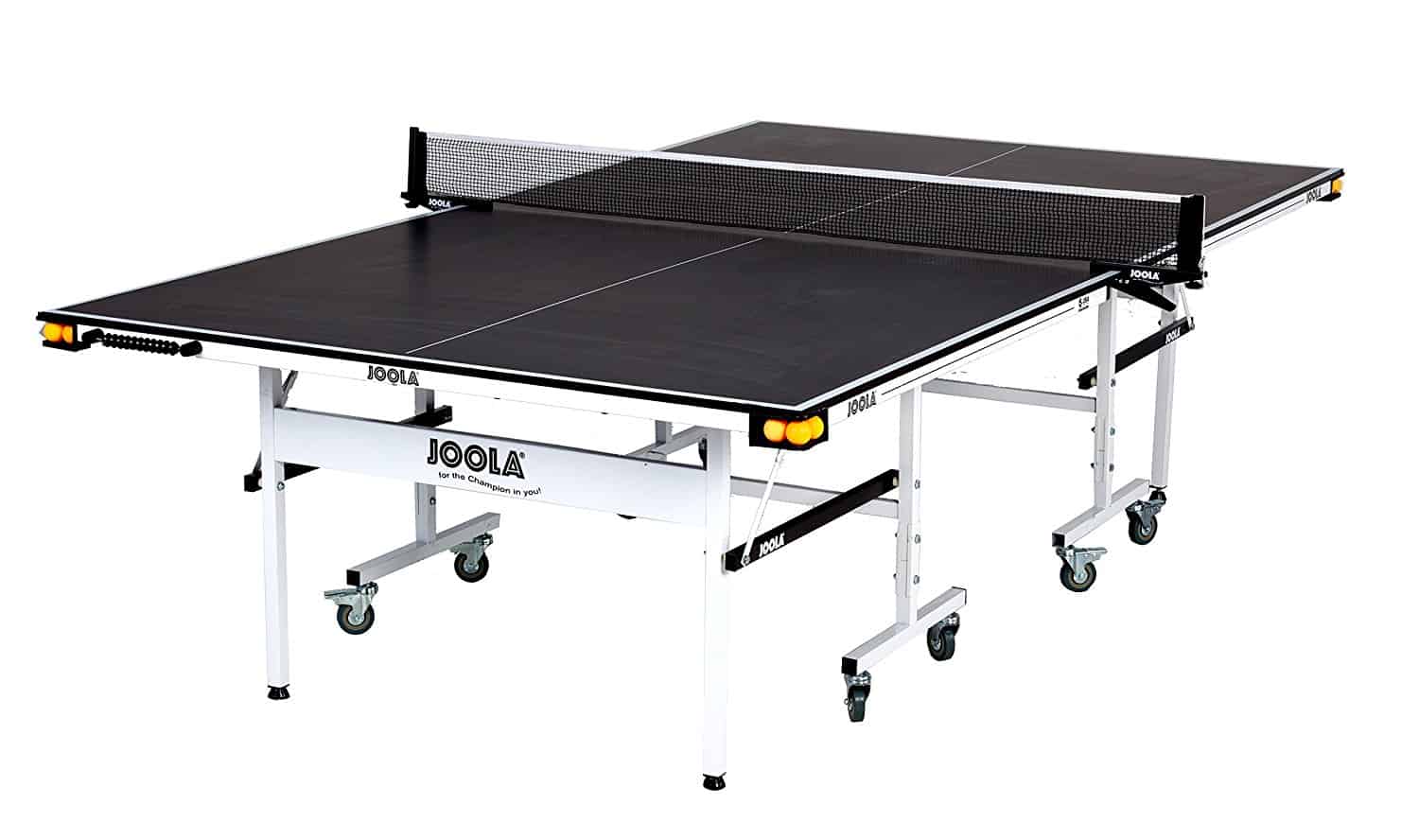 300 15mm 5/8 Inch Professional Grade Table Tennis Table with Net Set
05
JOOLA NOVA DX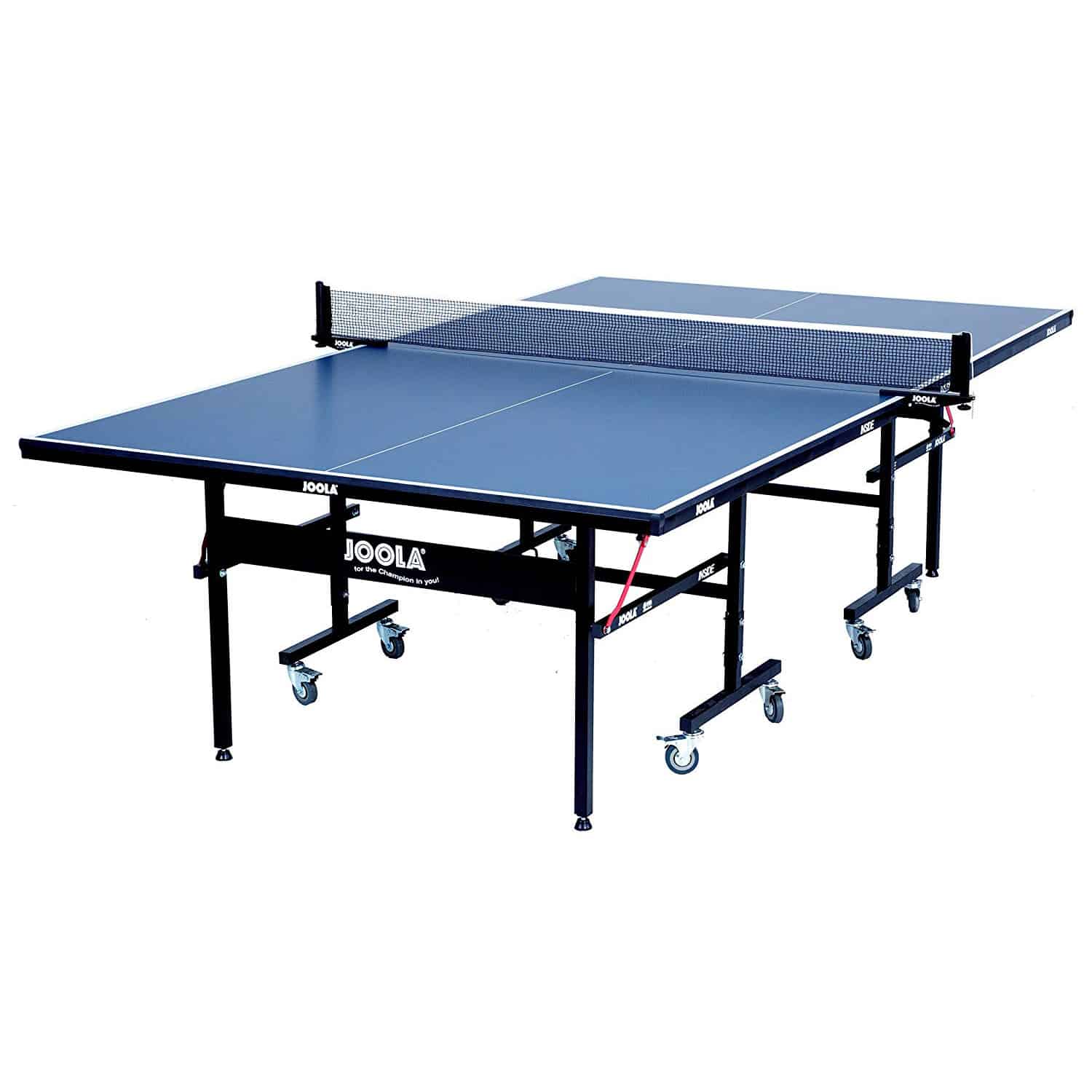 This JOOLA NOVA DX is a slight upgrade over the other JOOLA outdoor table we reviewed. But just like table tennis is a game of inches, so too are the differences between tables. In other words, the differences are subtle. But to a seasoned pro, maybe more noticeable than you might think.
This indoor/outdoor table is competition-grade and regulation-size. The top is made of a durable 6mm thick aluminum plastic composite surface, which will prevent warping and chipping in the harshest environments. And, of course, because it's JOOLA, it's the official brand of the U.S. Open, U.S. National Championships, and USATT approved. Which may have you asking yourself, am I worthy? And the answer is, most definitely.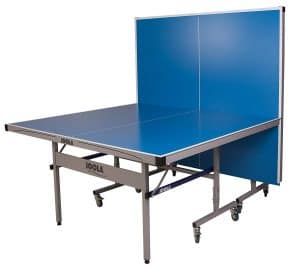 The table's 30mm x 30mm undercarriage is rust-resistant and powder-coated. The heavy-duty 3-inch caster wheels are sturdy and easily roll over uneven terrain, whether the table is whole, or in two pieces for storing. And the adjustable leg-levelers will ensure a level playing surface on nearly all surfaces.
This JOOLA table comes with a tournament-grade, matching net set with a convenient screw-clamp design. It's weather-proof, and the net-tensioning system allows for easy and quick adjustments. In fact, it can be assembled in seconds.
The table is actually two halves that make storing a cinch. Each half includes locking devices for more safety and stability. And the four wheels on each half make moving easy as well.
If you enjoy playback mode (and who doesn't?) you'll love how simple it is to unfold one half. And the nested design means you can squeeze the table into tight spots when not using it.
Each half contains a four-wheel trolley system and automatic tilting locks, adding even more safety precautions. And when you're ready for one-on-one, or two-on-two play, it takes just a few seconds to unlock and fold back out.
This table is maintenance-free and perfect for year-round use in any climate. And the bounce remains consistent after extended play over a number of years. If you're looking to play like a champion, and why wouldn't you be, you may want to consider the JOOLA NOVA DX. And how cool is that name?!
Specifications at a glance
Playing dimensions: 108" x 60" x 30"
30mm x 30mm rust-resistant, powder-coated undercarriage
Durable 6mm thick aluminum plastic composite surface
Heavy-duty 3-inch wheels
Two separate 4-wheel trolley systems
Features at a glance
Comes with a weatherproof net and post set
Caster wheels allow for easy mobility
Two-piece design is versatile and allows for quick and easy storage
Automatic anti-tilt locking devices for added safety
Adjustable leg levelers for use on uneven terrain
Comes 95% preassembled, can be put together in 15 minutes
Weatherproof tabletop is resistant to warping and chipping
---
Pros
High quality, well-constructed table
Great value for the price
Cons
Plastic parts of net not great quality
Occasional missing hardware upon delivery
---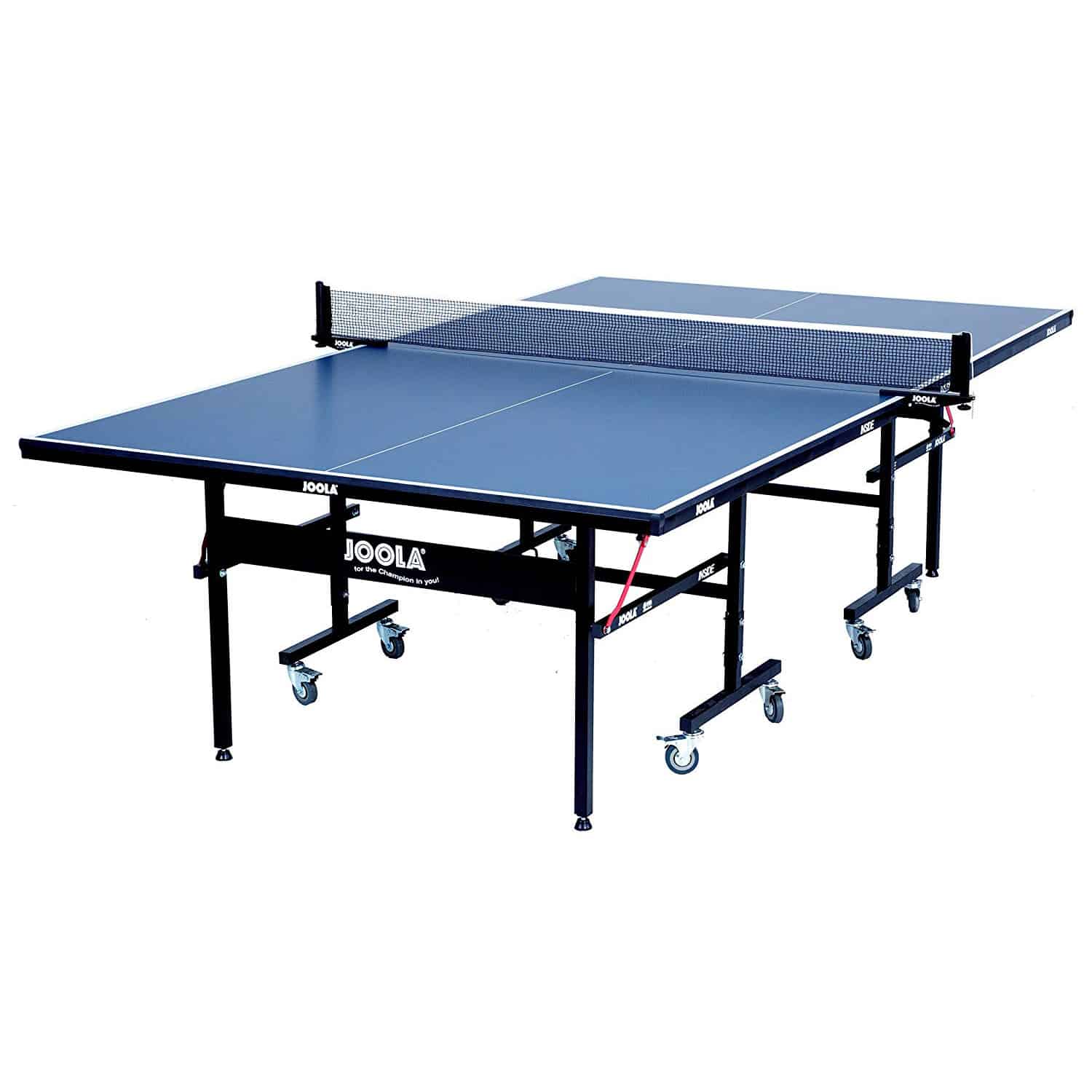 Indoor/Outdoor Table Tennis Table
06
STIGA XTR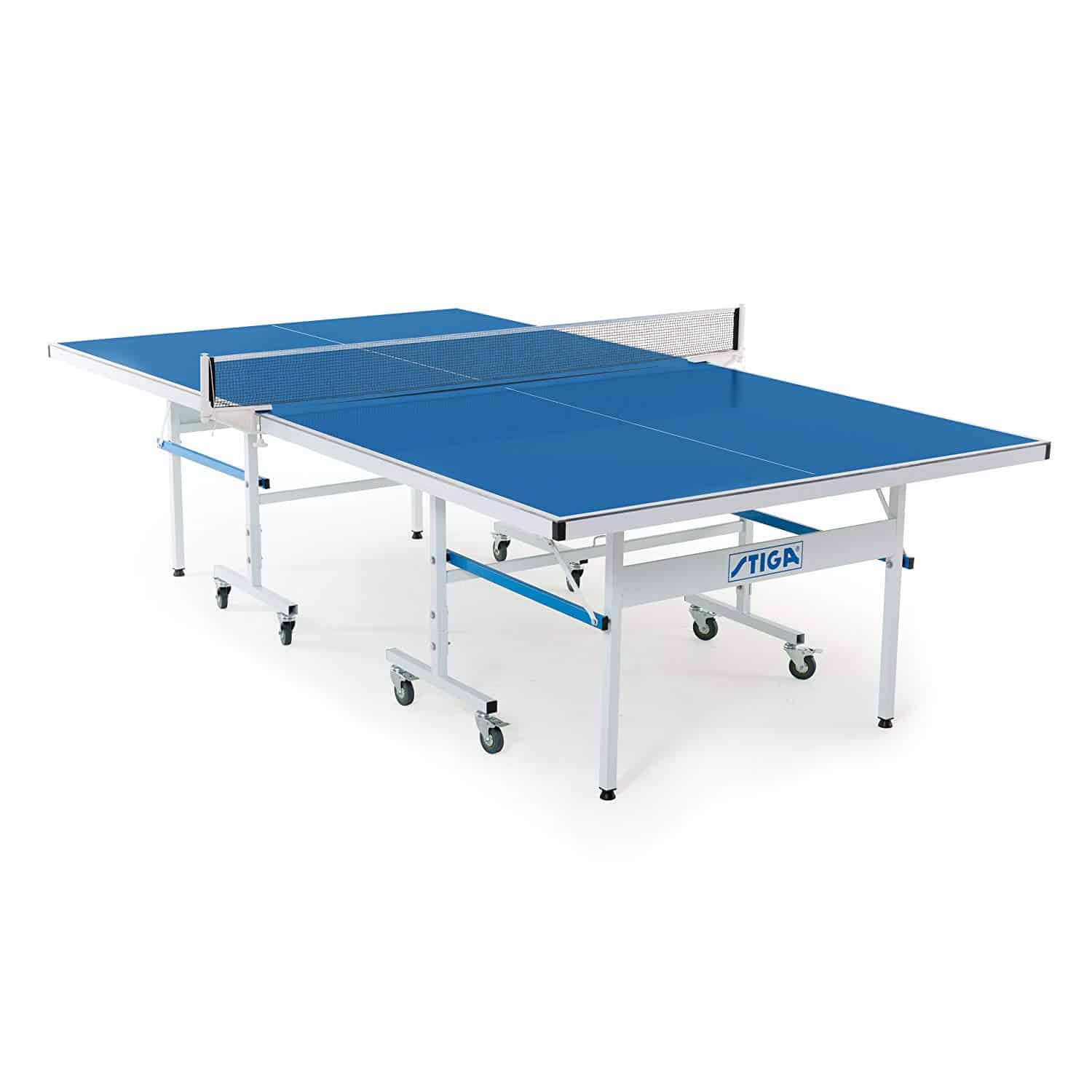 If the last thing you want is a regulation-size ping pong table taking up precious indoor space, then this STIGA outdoor table might be the solution you've been searching for. After all, what is life without table tennis?
This table features an all-weather aluminum composite top that's capable of withstanding the elements. And when we say all-weather, think about the post office motto: Neither snow, nor rain, nor heat, nor gloom of night. Not that you'd want to play in the rain, but you could. You never know when the mood will strike.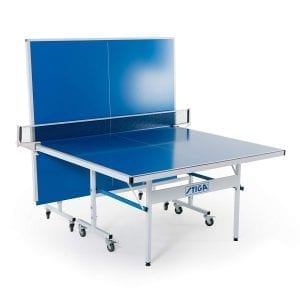 That composite top is perfectly built to resist rust, sun damage, and warping, while still providing extreme playability on a surface that's smooth as can be. Part of that is thanks to a 1.5-inch tubular steel apron, which allows for a nice even bounce.
It comes with 1.25-inch steel legs with levelers, which becomes extremely important on outdoor, uneven surfaces that are rarely perfectly level. The legs provide nice stability thanks to a welded cross brace. And the self-opening and closing feature assures the ultimate in convenience and safety. No need to struggle or worry.
The 3-inch locking wheels make this table easy to move around, as it rolls smoothly and effortlessly across uneven surfaces. It features a lockable ball-bearing design, so the table stays in place while you play.
One of the best things about this STIGA table is the ease of putting it together. It comes 95% preassembled, and features a 10-minute quick play design. So you'll spend less time assembling, and more time playing.
The independent table halves provide supreme versatility, whether for storing, or a number of multi-use possibilities. Think about all the ways you can use two large free-standing and weather resistant outdoor tables.
It comes with a 72-inch outdoor grade net made from premium all-weather material that's capable of withstanding the elements. It also has a string tension adjustment for ease and simplicity. And the threaded clamp attachment system makes it easy to set up and remove when storing.
The table comes with a safety lock system on its underside that locks into an upright position. This means you can safely store your table without worry of it accidentally opening when folded. And how about the fact that when its in an upright position, it's less than two feet deep, meaning you can easily squeeze it into tight spaces in your garage or shed.
And for those of you who want unlimited hours of solo practice, you can easily position it into a playback position.
Specifications at a glance
Play position: W: 60" D: 108" H: 30"
Playback position: W: 60" D: 66" H: 64"
Storage position: W: 60" D: 23" H: 64"
1.25" steel legs with levelers
3" wheels with locks
Features at a glance
10-minute QuickPlay design comes 95% preassembled
All-weather aluminum tabletop
A 72-inch exterior grade net
Independent table halves with independent caster beams
Ultra-compact storage position
---
Pros
Easy on the eyes
High-quality, heavy-duty construction
Cons
Sharp corners could be a safety concern
Cosmetic blemishes, scratches from occasional subpar packaging
---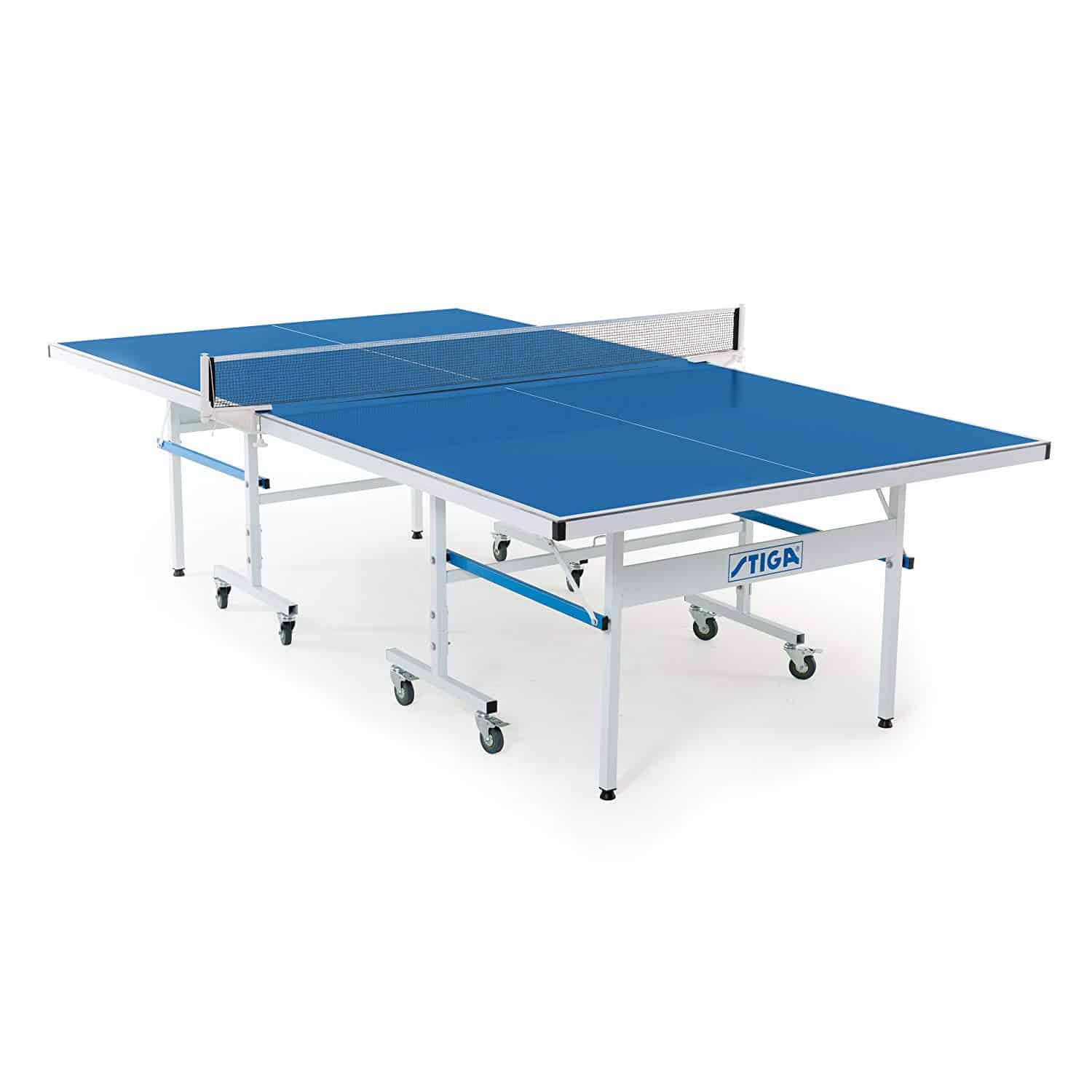 Outdoor Table Tennis Table
07
STIGA Space Saver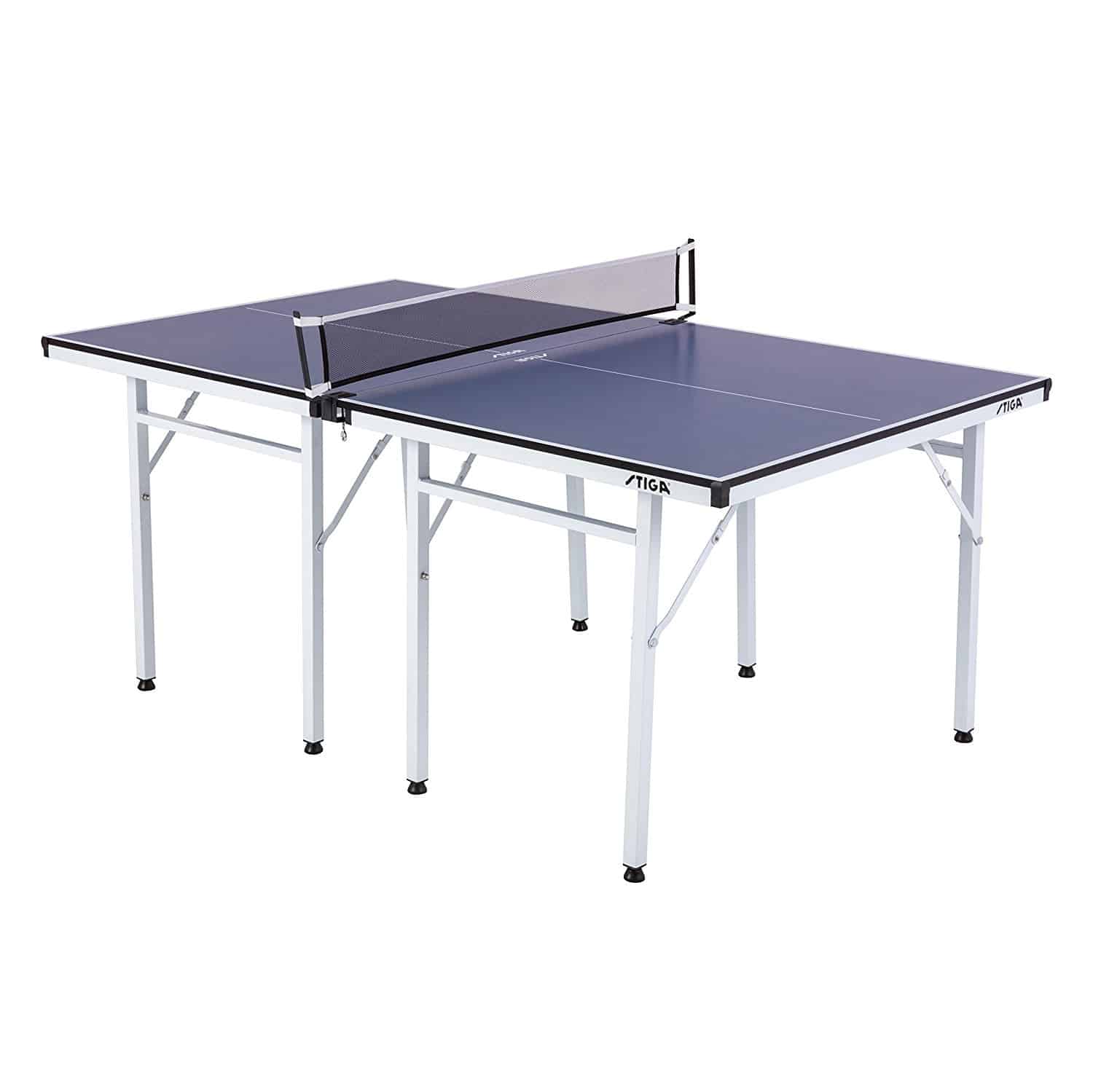 Finally, a small ping pong table that's large in quality. Meet the STIGA Space Saver. It's just slightly wider than the JOOLA Midsize table that we also reviewed, but it's not made of particle board. This table, instead, is made of 5/8-inch MDF, making it similar in quality with full-size STIGAs everywhere.
Though, you do get what you pay for, which is why this midsize is a bit pricier than the JOOLA Midsized particle board table. The tabletop on this STIGA is smooth and level, thanks to a repeat roller-coat process. And the logo has been silkscreened directly onto the surface, so it shouldn't peel off like a fruit roll-up.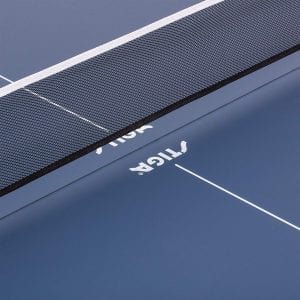 The 1.25-inch apron on this table is also high-quality, with a welded tubular design – which means it's tube-shaped to normal people, and cool to surfers. It's finished off with a white powder coating, all of which adds up to an even bounce.
The legs are also sturdy, and made of 1.5-inch steel that has a powder coated finish, which adds to the table's durability. And, of course, it comes with levelers, because playing on an uneven table is not even fun. And those levelers help protect floors from getting scratched, scuffed, and generally abused.
This table comes in independent halves, two to be precise, which feature a unique chassis design for more convenience and versatility. They can be stored separate or together, and will often fit under a bed, in a closet, or anyplace with a bit of space. And, of course, this versatility means you can use the halves for all sorts of games and general shenanigans. The word you're searching for is multipurpose.
The full dimensions of this STIGLA Space Saver table are 71" x 40.5" x 30." However, the height is the same as a regulation table. This size makes it especially appealing for those of you living in college dorm rooms, or for those of you who don't waste enough time at work on Facebook. What better way to connect with your boss than a friendly game of table tennis? It's small in stature, but large in fun!
Thankfully, no assembly is required. Just unpack, unfold, and begin playing. That is, if you already have paddles and balls, as they do not come with this table, or any other on our list. Well, except for the last table on our list, which shall remain nameless … until it's time to name it, of course.
Specifications at a glance
Playing dimensions: 71" L x 40.5" W x 30"
Combined Folded Table Dimensions: L: 35.5" W: 40.5" H: 36"
Individual Table Half Dimensions: L: 35.5" W: 40.5" H: 30"
Sturdy 1.25" square-welded steel legs
5/8" MDF tabletop with silkscreen striping
1.25" welded tubular-steel apron
Features at a glance
Molded leg levelers protect your floors from scratches
Compact table perfect for tight spaces
Adjustable table height for a perfectly flat play surface
Independent table halves for convenience and versatility
Repeat roller coat process for a smooth, level playing surface
High quality apron supports the top for even bounce
No assembly required
---
Pros
Great quality, particularly the top surface
Fantastic size for smaller spaces
Cons
Stripped screws occasionally fall out
Sometimes arrives damaged due to poor packaging
---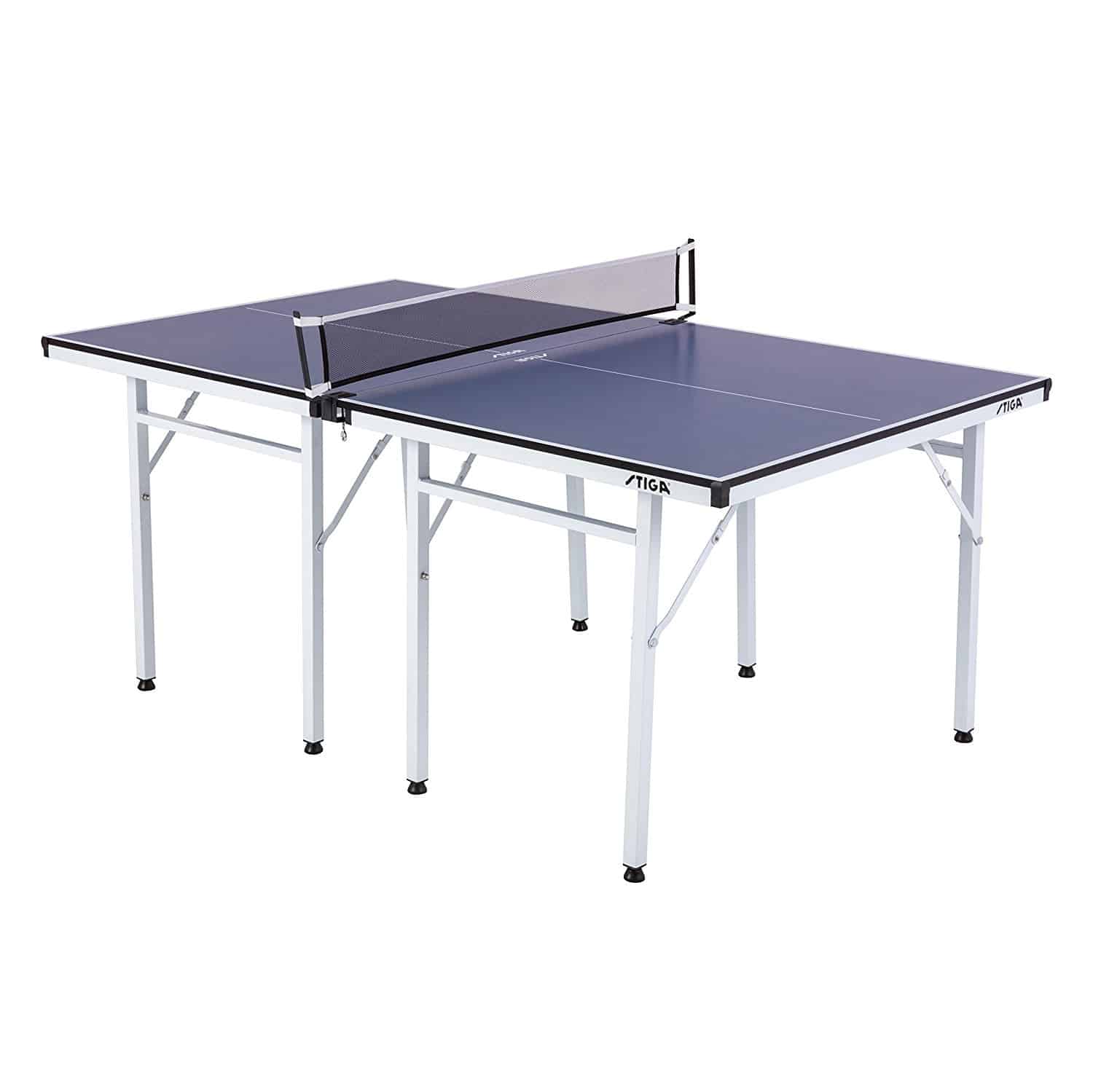 Table Tennis Table
08
JOOLA Outdoor Table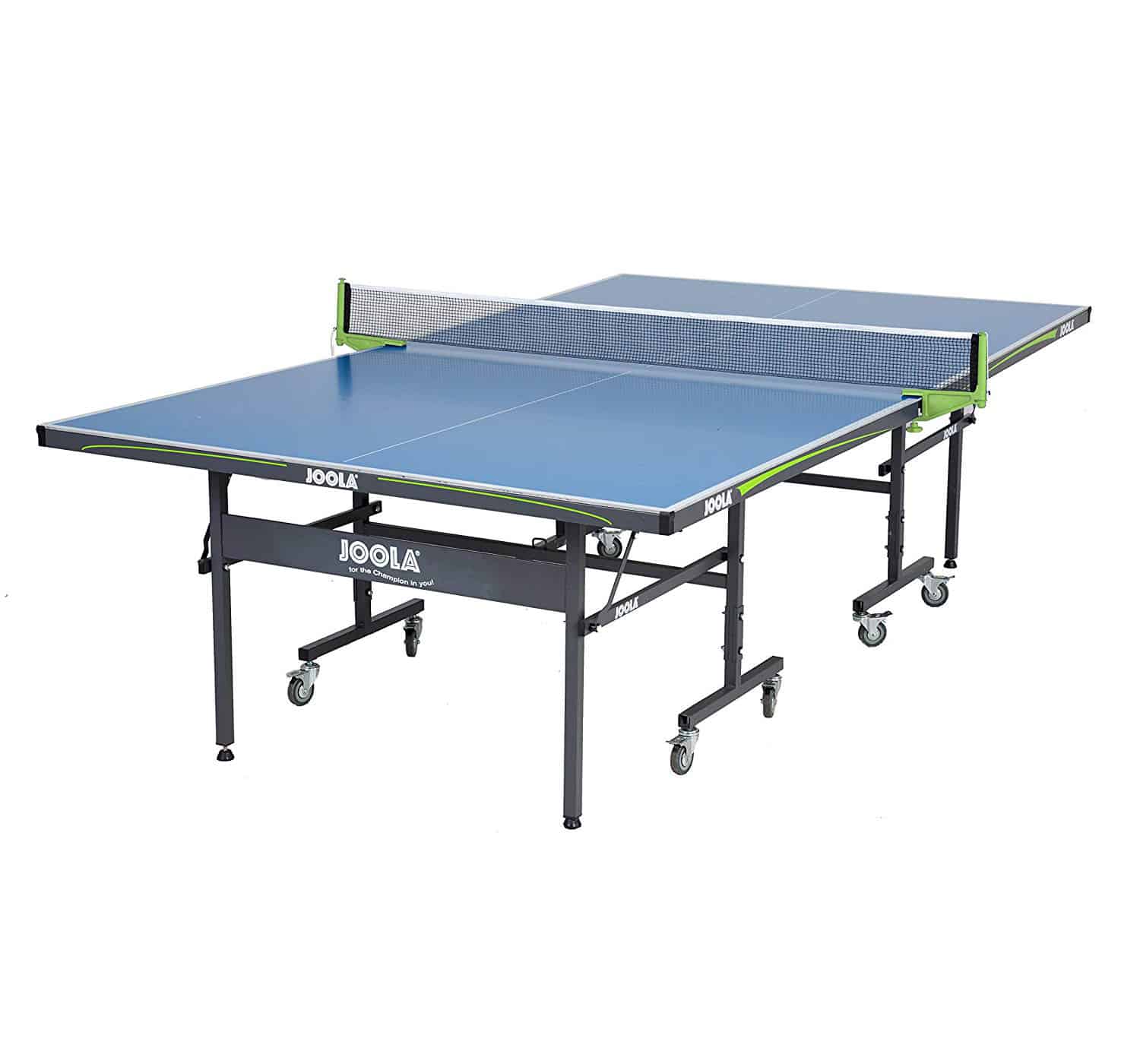 This JOOLA indoor/outdoor ping pong table is full-size (regulation), and all-weather. It features a 6mm aluminum plastic composite surface that provides an even top with a great bounce. The top is also resistant to chipping and warping in any weather conditions.

The durable frame and legs are 30mm by 30mm, rust-resistant, and powder-coated. It has a stable foundation that's ideal on uneven terrain, and for moving and storing. And the adjustable height levelers will ensure an always-level playing surface.
This table, like many others on our list, is actually two separate folding halves, making storage a breeze. When nested together, they become super compact, and can fit into the tightest of spaces.
Since the table features two folding halves, this allows for a solo, playback position for umpteen hours of good old fashioned alone time, so you can get good enough to beat anyone in the neighborhood – how do you get to Carnegie Hall? Practice!
The 3-inch, heavy-duty caster wheels glide nicely on any terrain. Each table halve has four wheels, which makes it easy and safe to move when separated. They also come with a locking mechanism for stable play and safe storage. The last thing you want is a table that accidentally unfolds into your automobile. Or did we use that joke already?
The easy 15-minute assembly will have you playing in no time, or storing with ease, whether inside or outside.
The waterproof net set is UV resistant, stain resistant (beer pong, anyone?), and installs super easily. It also comes with adjustable posts.
Specifications at a glance 
Assembled: 108" x 60" x 30"
Stored: 62" x 22" x 67"
Weight: 166 pounds
6mm aluminum plastic composite surface
30mm x 30mm rust-resistant, powder-coated undercarriage
3-inch, heavy duty caster wheels
Features at a glance
Double anti-tilting devices for extra safety
Quick 15-minute assembly time
Weatherproof, stain-resistant, UV-resistant net set
Convenient play-back and storage positions
Two separable folding halves – convenience, versatility
Surface built to resist warping and chipping
---
Pros
Good, consistent bounce
Extremely mobile for moving, storing
Cons
Occasional damage from packaging
Two-halve design makes getting surface level tricky
---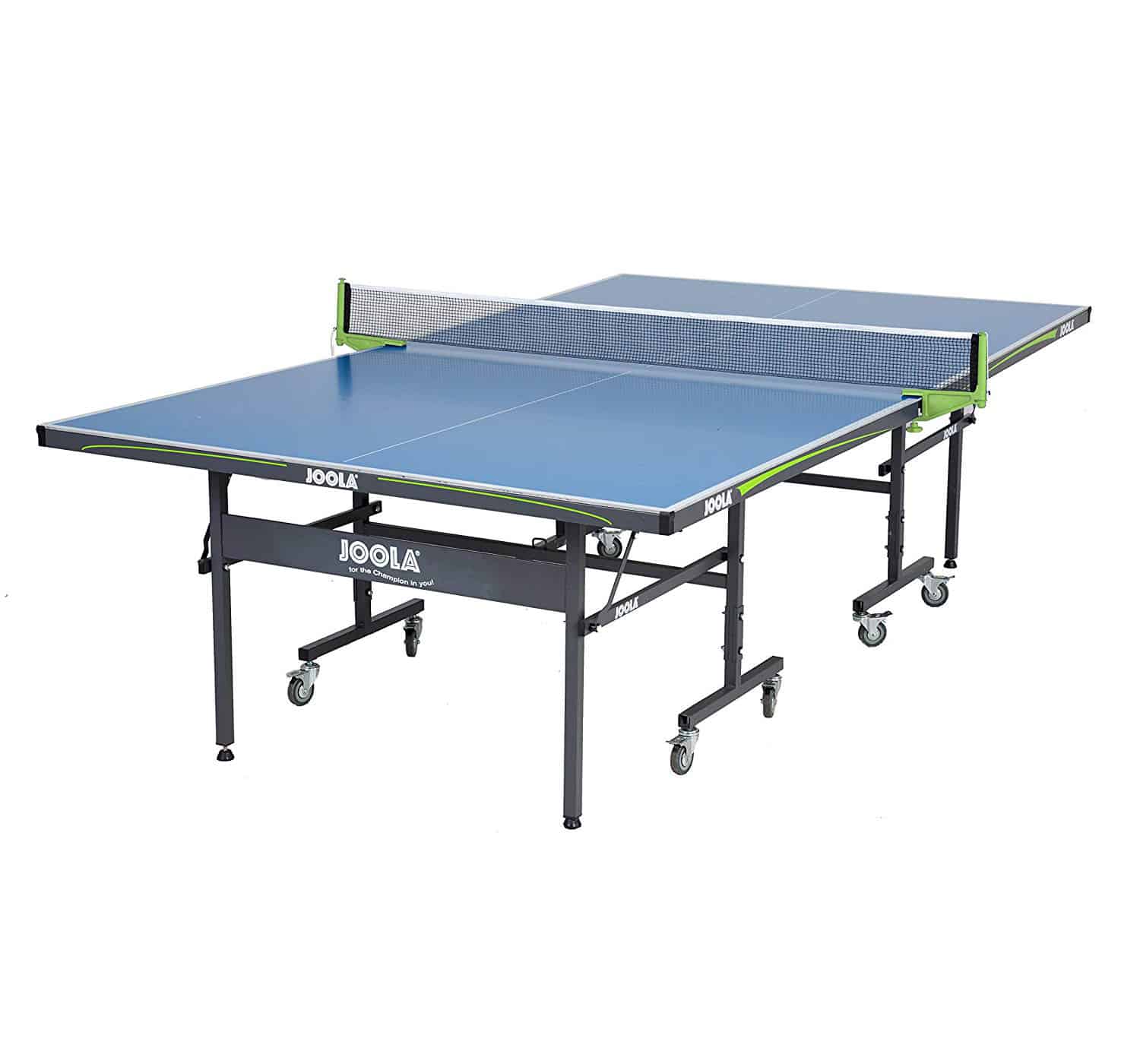 09
JOOLA Midsize Compact Table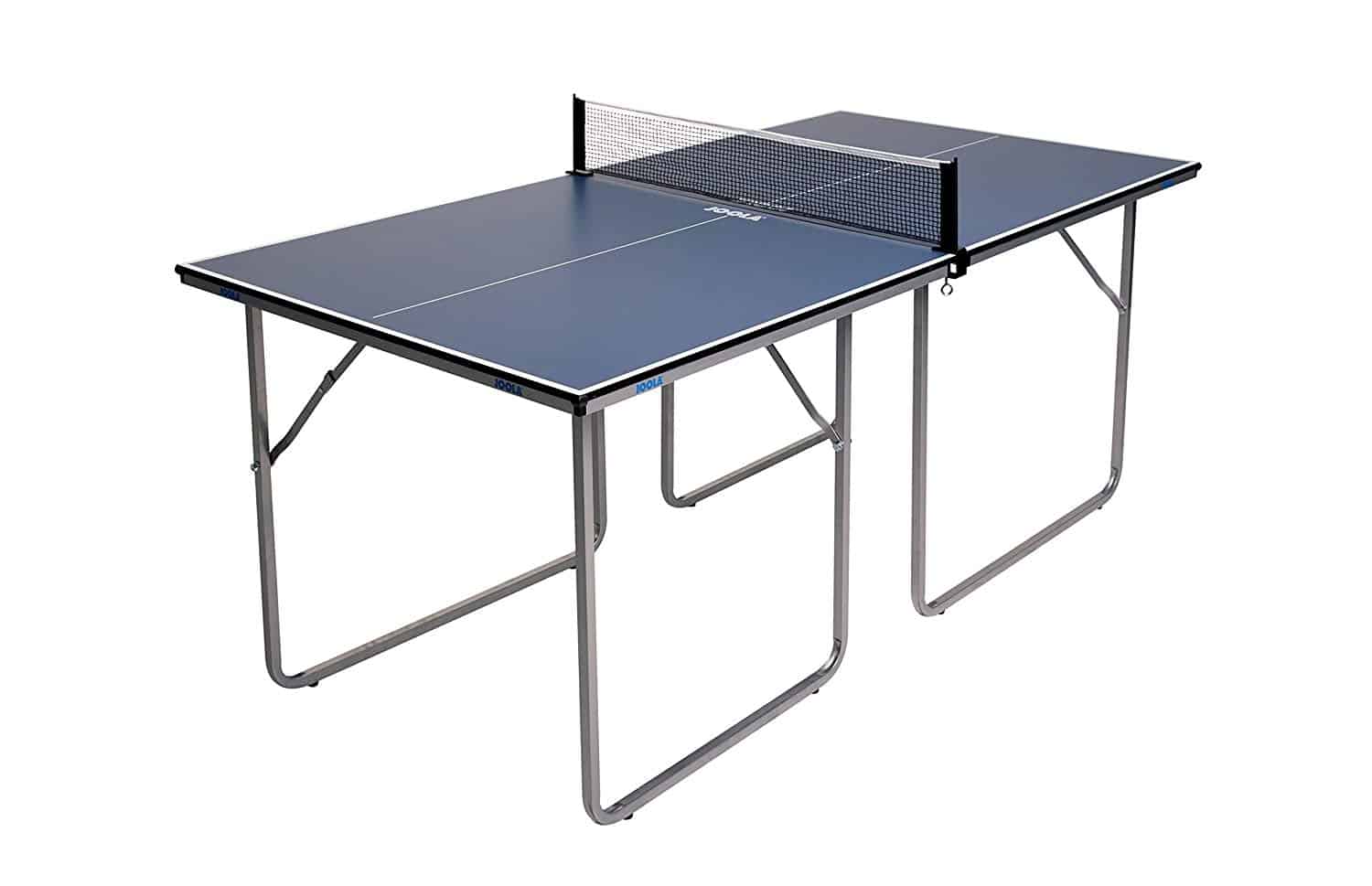 If you're the type of person who can't have nice things because you break them easily, this is your ping pong table. It's easily the least expensive table on our list, which also makes it perfect for beginners. Or as a gift for people you don't really like.
This JOOLA ping pong table is a midsize table, which means that it's about 2/3rd the size of a regulation table. However, the height is the same as regulation. After all, you don't want to throw off your game.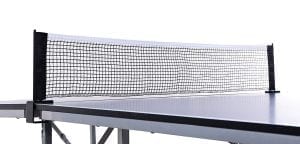 For those of you tight on space, this is the perfect table. Whether you're living in a small apartment, or plan to use this in a dormitory room, kids room, or bathroom, the compact size and lightweight design make it the perfect option if low on space.
It's also very light and easy to store. Simply fold it up and stash in a closet or even under a bed. When folded, the dimensions are 3' x 3', and the weight is an easy-to-manage 62 pounds.
This table also comes pre-assembled, meaning you'll get to enjoy a game much quicker than with most other tables on our list. Its connected folding legs simply unfold and lock into place. The screw-clamp design net is also a breeze to attach. And it's surprisingly sturdy.
The playing surface is smooth and level. And talk about versatility. You can separate the halves and use them as card tables, game tables, or extra-large TV dinner trays.
Whether you're light on cash, or light on space, this ping pong table will allow you to scratch that ping-pong itch whenever you like. And even though it's small and less expensive than other tables on our list, the quality is what you'd expect from JOOLA.
Specifications at a glance
72"L x 36"W x 30"H
Lightweight: 62 pounds
Storage dimensions: 36" x 36"
Features at a glance
Halves are great as separate multi-use tables
Comes 100% pre-assembled
Compact storage
Regulation height
Custom net set with classic screw clamp design
Sturdy Folding Legs
---
Pros
Great compact table for limited space
Absolutely no assembly required
Cons
Particle board table top not the finest quality
Poor packaging contributes to damaged corners, broken legs
---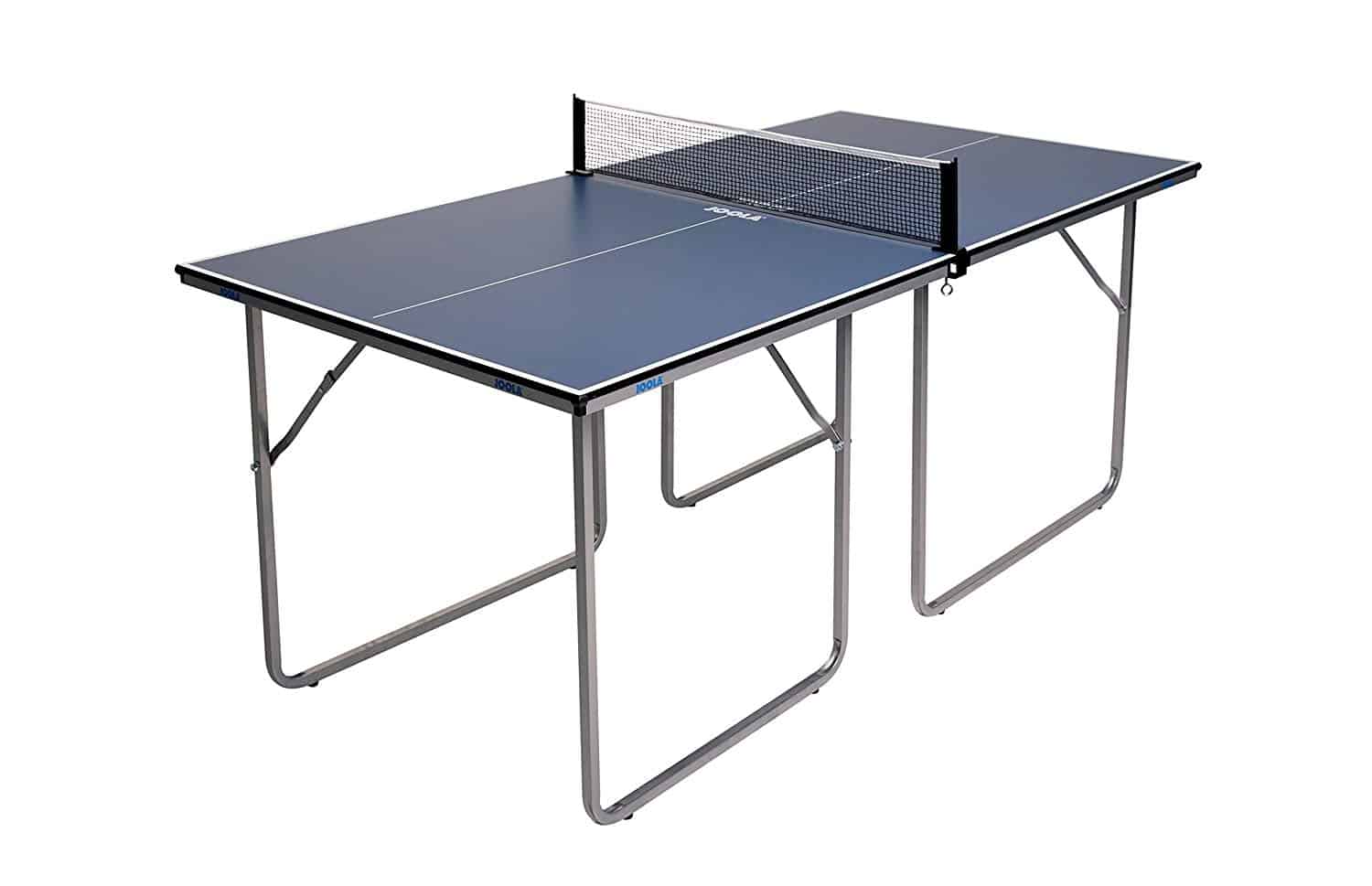 Tennis Table
10
Kettler Outdoor Table Tennis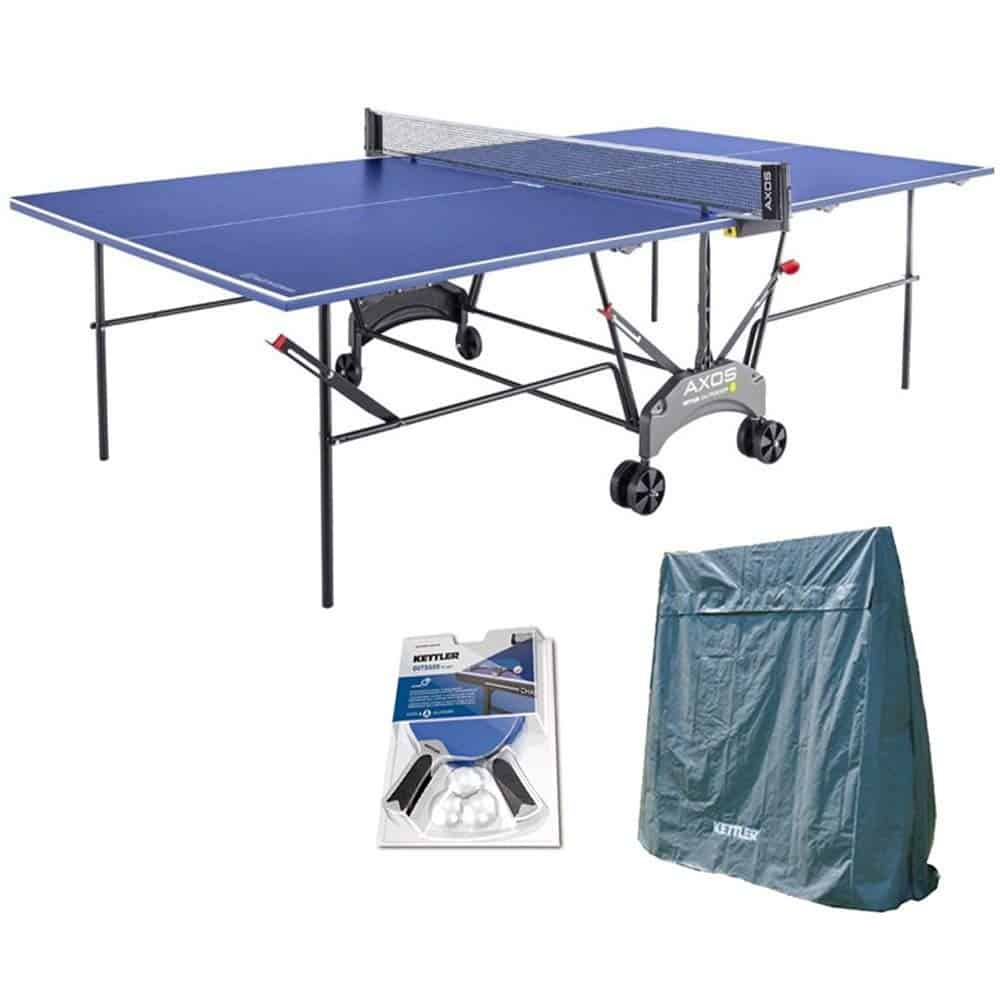 This German-made ping pong table is waterproof, which is a nice touch since it's an outdoor table. The literature says it can withstand intense play, though not sure how intense they mean. And it's light, at just 130 pounds, which doesn't lend itself to durability.
However, it's made by robots! So it has that going for it. The top itself is actually six layers – an ALU-TEC climate-controlled underside, a resin-treated board, an aluminum sheet, a second layer of coating, a first layer of coating, and a UV finish.
The legs are said to be 2-inches thick but they definitely are not. They're also not sturdy. Galvanized steel? Perhaps. UV and corrosions resistant? Maybe. But the bottom line, this thing looks and feels like it would collapse in a light drizzle.
At least it doesn't come with levelers. Yes, you read that correctly. If your outside surface isn't fantastically flat, and how kooky would that be for the great outdoors, then you'll have to wedge a bit of paper under one or more of those really NOT sturdy legs.
It does fold-up nicely … kind of like a taco, but that's only if you can put it together in the first place. Instructions are nightmarish, and no part of the process is intuitive. Which is probably why they charge for assembly. Perhaps bringing along a robot or two for help.
The wheels ... oh my! They're enormous, rickety, and there's only four of them. Two are fixed and two swivel. Can't even imagine the purpose of that. At that price, you should get all-wheel drive.
In the literature, there's a photo of this table at the South Pole, where we assume the ground is exceptionally level. However, it does come with the "perfect anti-dazzle surface," which we think means anti-glare. However, we all agree that it certainly doesn't dazzle.
There is a playback feature, so yay for that. It's got more patented parts than anything else we've ever tested. And it's blue!
The warranty is two years for commercial use, and one year for home use. Both head-scratchers, as there is no way this table will ever last that long in either environment.
Specifications at a glance
Features at a glance
Stores nicely and easily
Has a playback option
Dual lever safety fold
Weather proof, even at the South Pole
Table top powder-coated paint is UV and impact resistant
Comes with two paddles, six balls
---
Pros
It folds up and down, and wheels away wonderfully
It's blue!
Cons
Nearly impossible to assemble
Instructions are clear as mud
---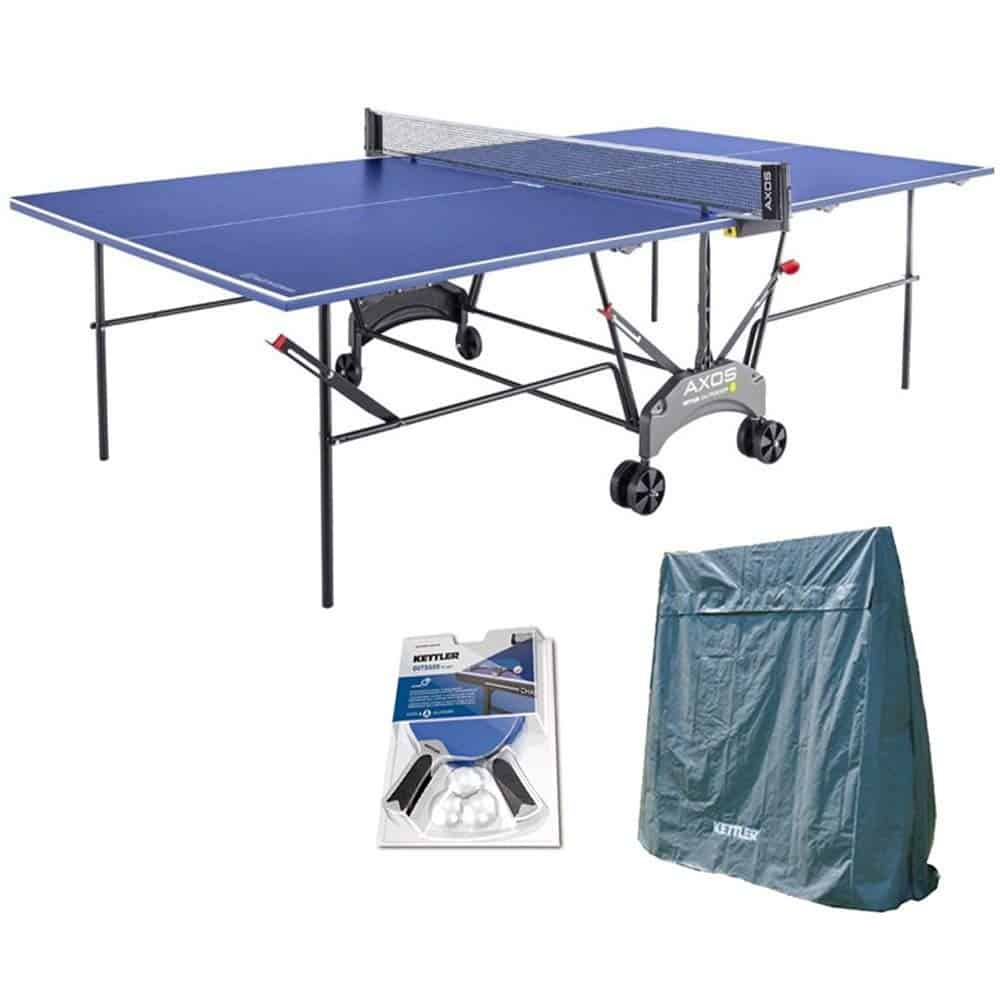 Axos 1 with Outdoor Accessory Bundle
Not Ready To Make a Decision?

Regardless of the money you're looking to spend, you should be able to get something fairly good quality from $300 upward.
Of course, the more you spend, the better quality you'll get.
Much of it is common sense.
Does it look sturdy? Does it feel sturdy?
After that it's about what features you want. Is it worth a bit extra so you're not chasing the ball all over the place?
This is especially important for tables sitting at the top of a long and winding staircase.
Although, you'd get pretty good exercise running up and down the stairs.
Anyways, I'm off to go round up a coworker for a few rounds of table tennis!
You can bet your bottom dollar you'll find us playing on this bad boy…