Before you Begin: A Pro Tip Guide for buying your best Soccer Ball
Important things to know when purchasing a soccer ball include things like sizing, materials used, and the type of ball you're purchasing. In order to be an educated buyer there are a few things you'll want to know:
Capitano vs Training
The difference between a training soccer ball and a capitano soccer ball is an important thing to know before purchasing. A capitano is a ball that's machine stitched and made in high volume. They tend not to last as long or have the same feel as the thermo-bonded and higher-quality training soccer balls.
Sizes and Training
Soccer balls come in multiple sizes designed to make play experience and training better depending on the age of the player. Size 3, 4 and 5 are typical sizing options found with training balls. Although, in some instances, the manufacturer had specific recommendations which I've listed with their product information.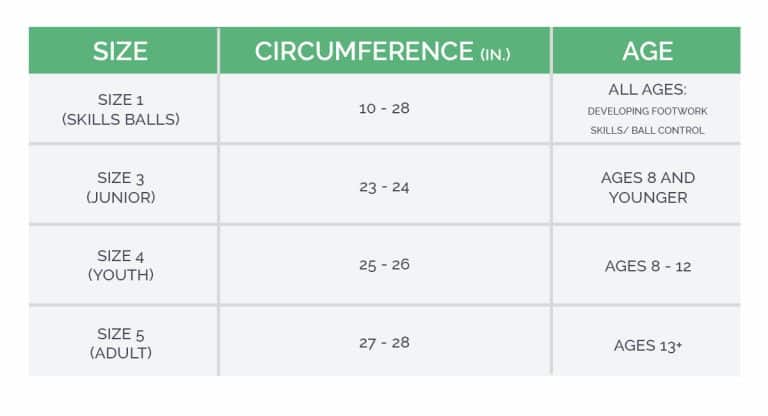 Bladder tanks debunked
There are several materials used in the air bladders for a training soccer ball. Usually, they're a Latex or Butyl air tank. The Butyl air bladders are typically preferred because they're heavier than the Latex versions and tend to hold air longer.
Fédération Internationale de Football Association (FIFA) quality testing
Many of the soccer balls on this list have been FIFA tested. The FIFA certification tests several quality points of the soccer ball, so it's sure to be the best of the best.
A FIFA certification requires the soccer balls be tested on:
Circumference
Sphericity
Rebound
Water Absorption
Weight
Loss of Pressure
Shape and Size Retention
If a ball passed only some of the FIFA tests the manufacturer is able to list which tests they passed but will not carry the certification stamp on the ball or the packaging.
Construction Quality:
There are several different materials and methods of construction used in soccer balls. Typically, Polyurethane casings are preferred as they're often seamless and thermally bonded for premium play and long-lasting durability. However, many of the hand-stitched options are also very durable. The least durable options tend to be lower in price and machine stitched.
The best soccer ball is…
01
Bend-It Soccer, Knuckle-It Pro, Soccer Ball, Official Match Ball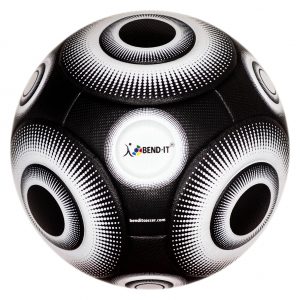 This Bend-It Brand Soccer ball is great for training without breaking the bank. This ball is one of the most moderately priced on our list for best soccer balls but that doesn't take away from the quality you get here. There's an overwhelming amount of positive things to say about this soccer ball and that's what earned it first place on my list.
Design: 
This Bend-It soccer ball is designed with training in mind. It's a regulation size 5 soccer ball which means you'll train with the same weight and feel as the professionals! It offers a seamless, thermo-bonded surface that's 100% Polyurethane. You can train with this ball for a long time without worrying about it wearing out prematurely. This design also means no matter how hard you play, your ball will maintain its perfectly round shape. So, when you train you are training with the same feel each time and are bound to perfect your moves!
Durability:  
This Bend-It soccer ball is also FIFA tested and boasts ranking alongside some of the top soccer balls on the market worldwide.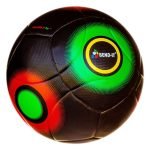 In order to pass the FIFA test, this has to be one tough ball! The Bend-It ball also has a butyl bladder for its air system making for better air retention and less time spent refilling!
Reviewers consistently remark about the high quality of this ball and how it compares well with other soccer balls that are easily double and triple the price. It's also worth noting this ball ships fully inflated and ready for play!
Technology and Training:  
Bend-It is very proud of their Valve Position Marker (VPM) technology with this soccer ball. The point of using VPM is to help gain perfect foot placement during training.
When you have the right foot placement you get the most control and can generate more power per kick. 
Bend-It is particularly proud of how this ball helps you perfect the Knuckleball movement. Now, I didn't know much about this particular soccer move but it's a skill worth acquiring! If you hit the ball just right for a Knuckleball kick, your ball will head on a (seemingly unpredictable) zigzag pattern, making it harder to block by the goalie. The Bend-It ball uses their VPM technology to help users perfect this movement during their training.
Bend-It also uses what they call, Visual Response Color Technology (VRC). This basically means they make their ball high-contrast and high-visibility. This helps during fast-paced training exercises by making it easier for your eye to track the ball as it moves, against any background.
---
Pros
Reasonably priced
Ships inflated
Butyl bladder means less air leaking
Comes with a replacement guarantee from Amazon
---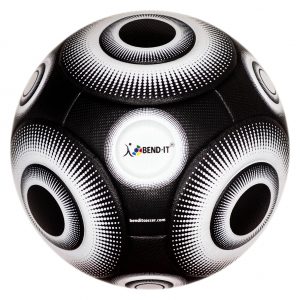 02
Under Armour Desafio 395 Soccer Ball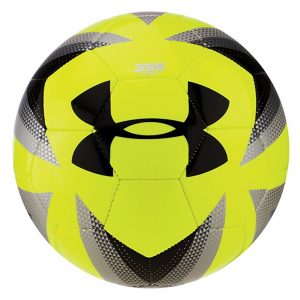 The next soccer ball on our list is the Under Armour Desafio 395. This soccer ball is built for training younger players and has the lowest price point of all the balls we're comparing here. Since this ball is built with younger players in mind, it isn't as heavy or durable as some of our options. However, at this price point, most reviewers agreed it's a great play.
Design: 
This Under Armour ball is only available in Size 3. Regulation, or adult/professional size is usually 5. So this ball is better for younger players. The reviews seem to agree children 8 years old and younger are the best fit. It's also available in high-visibility colors for easy eye tracking.
It's made with what they call "UA" or Under Armour skin technology. Basically, they construct the ball via thermo-bonded polyurethane and it delivers a soft, grippy feel to the ball for ultimate control.
The interior of the ball is constructed with Sponge Rubber Foam (SBR) for added softness during training and to assist the latex rubber air bladder for great rebound. The latex air bladders can sometimes be leakier than the butyl bladders, but this one doesn't seem to have that issue.
Durability: 
The reviews agree this ball isn't as long-lasting as some of the competitors on this list. It's made for a softer kick, largely because it's designed for younger players, so with that comes a little less durability.
Technology and Training: 
The only tech with this particular ball is the UA skin technology which, as mentioned, is a design choice for a soft feel and good control.
---
Pros
UA skin technology
High visibility
Thermo-bonded polyurethane design
SBR interior
Affordable
Cons
Only available in size 3
Less durable than other models
---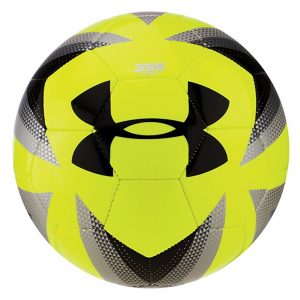 03
Champion's League Finale Top Training Soccer Ball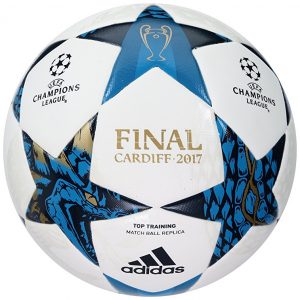 Number four on our list is a great choice for a training soccer ball. The Champion's League Finale Top Training Soccer Ball is reasonably priced, match quality, and available in multiple sizes for each training age group.
Design: 
This Adidas brand soccer ball has a thermally bonded and 100% Polyurethane construction. Coupled with the machine-stitched and seamless design this ball gives a better touch, more control, and less water uptake during use.
This ball is part of Adidas Union of European Football Association (UEFA) Champions League Collection. The decals and panel design reflect the collection with blue stars on a white background.
The Champions League ball is designed with a butyl bladder instead of latex, so it has the best chance to retain air so you don't have to spend as much time re-inflating. It does ship deflated, so it will have to be inflated before play.
Durability: 
Adidas has ensured this match quality ball passed every test possible to ensure it's a high quality ball and offers maximum durability. It has been FIFA tested and passed in the circumference, weight, rebound, and water absorption categories.
Technology and Training: 
Technology with this ball focuses on handling and control. Adidas has done their due diligence in design and durability testing to make sure this ball offers the best touch and control possible. They also offer it in multiple sizes for varying levels of training.
Adidas recommends this ball with the following sizing categories:
Size 3: for ages 8 and under
Size 4: for ages 8-12
Size 5 (regulation size): for all players 12 and older
---
Pros
Multiple sizes available
Affordable pricing
Butyl air bladder
Passed FIFA testing in multiple categories
Official match ball
Cons
Did not pass all FIFA testing
---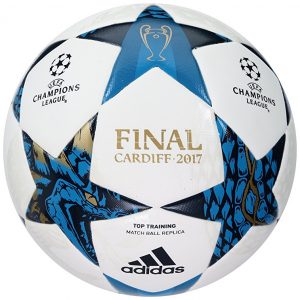 04
Adidas miCoach Smart Soccer Ball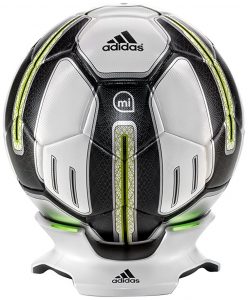 This next soccer ball is truly one of a kind! The Adidas miCoach Smart Soccer Ball uses a training tool application coupled with your Bluetooth device to optimize your training time and hone your skills. It is the most expensive of all the options here, but it also offers the most in technology and training. This is a top contender for best soccer ball, just for the technology portions alone!
Design: 
This Adidas soccer ball is a 32-panel, thermally bonded ball. I did lots of research in search of more specific information but even the Adidas website doesn't specify which material is used in construction. It is constructed with a sensor in the center and a rechargeable lithium-ion battery.
This is a regulation size 5 ball designed to help you learn how to play like the professionals. The ball is shipped deflated and must be both charged and inflated in order to play.
Durability: 
Thermal-bonding is some of the best construction you can get in the soccer ball world. Even though there are technical aspects to this ball, Adidas didn't skimp on the construction. I really like how durable this smart ball is!
Technology and Training: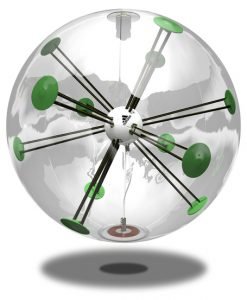 This is where the Adidas miCoach soccer ball really shines:
This ball is designed to record strike points, speed, spin, and trajectory when used with the training tool. This makes it so much easier to track your progress and find your weak spots during training! The app keeps track of your stats for you to review and compare as you train. Users relate this as a favorite feature because it gives them the opportunity to track their training progress more efficiently.
The ball is compatible with Bluetooth smart devices from Apple, Android, and Windows. I really like that it's available across all of these platforms since I have seen a lot of products that restrict availability just to iOS or Android users. This way is much more user friendly and versatile!
The ball comes with everything you need to get started included the AC power plug for charging.
NOTE: if you are using the ball in Europe you will need to purchase a plug adapter as it does not come with the product.
One full charge lasts approximately 2,000 kicks or one week on standby mode. The best part is a full charge only takes one hour!
Misc: 
Some additional information worth noting with this Adidas smart soccer ball is that you cannot use the sensor features for kicks once the ball is in motion. Users report you cannot use it for tracking stats associated with, for example, a drop kick. The ball must be sitting still on the ground before being kicked if you wish to track the statistics.
---
Pros
Regulation size/weight
Compatible with multiple devices and operating systems
Training tool tracks multiple movements and stats
Rechargeable battery with long life and quick charge
Cons
Difficult to find detailed information on construction material
Expensive
Cannot track statistics for moving kicks (i.e. drop kicks)
---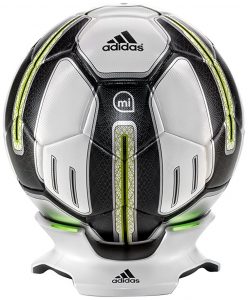 05
DribbleUp Smart Soccer Ball/ Football with Training App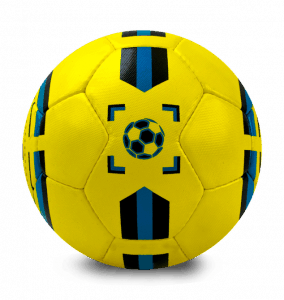 Our next soccer ball on the list is the DribbleUp Smart Soccer Ball. This ball is the second (and only other) "smart" ball on our list. Like the Adidas brand ball, this DribbleUp ball is designed for use with a smart device and application for training. There are a lot of features to love about this ball; however, it's more expensive than the Adidas alternative.
Design: 
This DribbleUp ball is hand-stitched using a special double-twisted threading process to aid in maintaining the ball's shape. in construction made from PU synthetic leather. The manufacturer boasts the casing is both scuff and water resistant. It also features a Butyl bladder, which it is more resistant to holes and leaking.
While the ball features high-quality materials, the focus with this ball is all the smart features and less about the physical make-up of the ball, which doesn't come in handy when you're researching! What I did find with this ball is that it's match quality and built to last. It's also available in sizes 4 or 5 for multiple ages and training levels.
Durability: 
As mentioned above, this is a well made and highly durable ball. Reviewers consistently comment about the high-quality in regard to the tech aspects of this ball and the durability with extended play.
You can also use this ball inside and outside without worrying about the ball or the tech inside. It doesn't require special conditions or wide-open spaces to work effectively.
Technology and Training: 
The technology portions of this DribbleUp soccer ball are truly cool. This ball is designed to help you perfect your training and keep track of your progress over time. Amazingly, it doesn't need to be charged in order to do this! It actually works with the DribbleUp application. The package comes with a smartphone stand and, once the application is downloaded, the application uses your phone camera to track movements and provide instant feedback. Unfortunately, I couldn't find any information regarding how this will impact your phone's battery life. But I would recommend having a full battery before game play or keeping a charger handy just in case.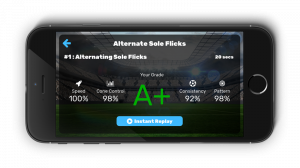 Also included in this app is the Interactive Training Library. This training library provides lots of valuable training tools including virtual cones and live audio feedback. You also have access to multiple virtual trainers for perfecting certain moves and weak points in your game!
You can track your progress using the DribbleUp app. It keeps track of your progress and movements for comparisons over time in your training and provides graded breakdowns of your performance. Much like a real-life coach, this app is definitely designed to help your perfect your game and keep you accountable during your training sessions!
---
Pros
Training technology helps perfect your game
No charging necessary
Hand-stitched ball
Available in sizes 4 and 5
Can be used inside and outside
Cons
Not a lot of information about construction materials
---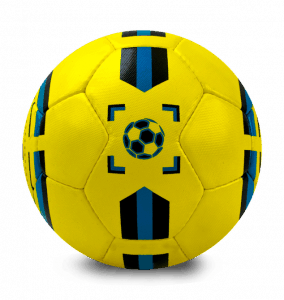 06
Adidas 2016 MLS Official Match Ball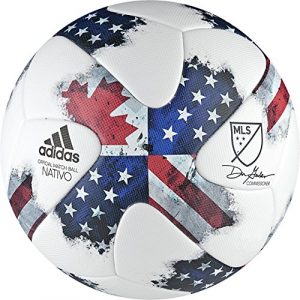 The next ball on our list has great reviews for quality and durability. It also has an amazing design which makes it one of the highest quality, official match balls you can buy. The Adidas 2016 Major League Soccer (MLS) Official Match Ball really offers the best of the best.
Design: 
Adidas takes great pride in the design of their MLS official match balls each year. They painstakingly craft this ball with six identical panels and durable, seamless stitching. The unique symmetry and materials of the six panels offer some of the best grip, touch, and aerodynamics available.
The design of this ball is uniquely crafted for the 2016 year and is truly one of a kind. It's design features are inspired by the MLS' three pillars of Club, Country, and Community. As a result, this ball expertly blends the flags from each home country. The United States and Canada are represented with stars, stripes, and maple leaf decals on a white background. This soccer ball also comes imprinted with the MLS crest, Adidas logo, and the signature of the MLS commissioner, Don Garber.
Durability: 
Another imprint you'll find on your Adidas 2016 MLS Official Match Ball, is the FIFA quality seal. As you recall, the FIFA testing involves many aspects of testing in order to pass certification and earn this imprint. This ball passed in all categories including circumference, sphericity, rebound, water absorption, weight, loss of pressure, and shape/size retention.
This ball is no replica, it's the official 2016 Match Ball.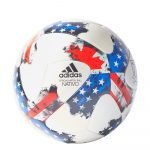 It's made from 100% polyurethane and uses high-end materials for the bladder and the panels. Even though you'll pay more for this ball, you'll feel the difference in quality. The most consistent comment among buyers is how impressed they are with the quality compared to other balls they've played with.
Technology and Training: 
There aren't any smart features with this ball. The design, however, offers the best you can get in the way of training. It's an official size 5 match ball and the construction, design, and durability of this ball are sure to impress.
---
Pros
Official 2016 match ball
Superior design
Passed all FIFA testing
100% Polyurethane
---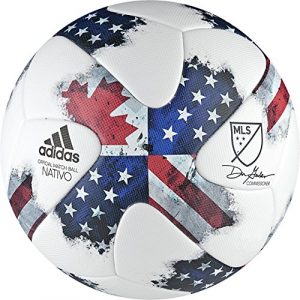 07
Adidas FIFA Confederations Cup Official Match Ball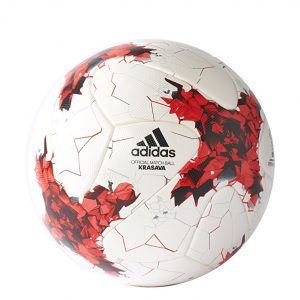 The 2017 Adidas FIFA Confederation Cup Official Match Ball is another high quality and impressive ball from the Adidas brand. This ball was actually used by professional players in the FIFA Confederations Cup games!
Design: 

This ball is designed with high-end materials for a great feel and great play experience. It's made of 100% polyester and uses a thermally bonded and seamless surface design. The design of this ball lowers its water uptake rates and offers a more reliable play experience.
The manufacturer doesn't specify whether or not this is a butyl or latex air bladder but states that it's made of the "finest" materials. It ships deflated and must be inflated for play, but buyers consistently comment on the great air retention.
Durability: 
The fact that this ball is an official match ball and not a replica means you can expect a long-play life and durability.
This ball is used by professionals and offers the best you can get in terms of reliable trajectory, control, and feel during play. It passed FIFA testing in the circumference, weight, rebound, and water absorption categories.
Technology and Training: 
There are no smart features or applications to use with this ball for training. However, Adidas sets the bar high with the construction of their official match balls. You can't beat the quality and durability of these balls and training is always better when you can train like a professional!
---
Pros
Official match ball
Used by professionals
100% polyester materials
Great feel and air retention
Cons
Higher cost compared to other balls
---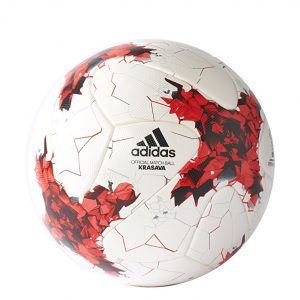 08
Nike Ordem Ciento Copa America Official Match Soccer Ball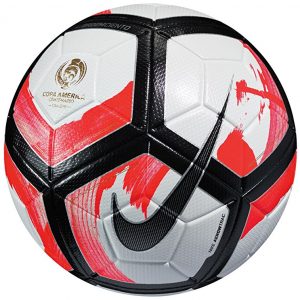 After looking at so many Adidas brand balls we finally come to a Nike brand ball! The Nike Ordem Ciento Copa America Official Match Ball offers some of the best materials, design, and construction that Nike has to offer.
Design: 
This Nike Copa America ball is the official ball used in the 2016 tournament. It has a 12-panel design and is constructed using 40% synthetic leather, 30% rubber, 20% polyester, and 10% cotton. The casing is 100% thermoplastic polyurethane (TPU) however.
The 12 panels are fuse-welded for maximum durability and design. It features a visually striking high-visibility white, black, and crimson design for maximum eye tracking during play.
Durability: 
As I mentioned, the panels of this ball are fuse-welded and made to last. The air bladder is made of a premium carbon-latex material designed for maximum air retention. That means you'll spend less time refilling your ball and more time training and playing like a pro!
The manufacturer breakdown explains what they use so many different materials for the interior construction of the ball:
The compressed Polyethylene layer helps store energy as you come into contact with the ball. This helps with a better launch and more power behind each movement.
The cross-linked Nitrogen-expanded foam layer helps with shape retention even after long training sessions and high impact.
The Polyester support fabric improves structure and stability for improved durability and maintains a great look over long periods of usage.
This Nike ball has also passed all FIFA quality control testing, so you can buy with confidence that you're getting a professional grade soccer ball!
Technology and Training: 
Nike uses what they call Nike Aerowtrac grooves on the micro-textured TPU casing. These grooves are designed to take your training session to the next level by giving you ultimate control and aerodynamics. This is a regulation, size 5 soccer ball.
---
Pros
Premium match quality
Passes FIFA quality control
Construction designed for maximizing training
Nike Aerowtrac grooves
100% TPU casing
12 panel fuse-welded design
---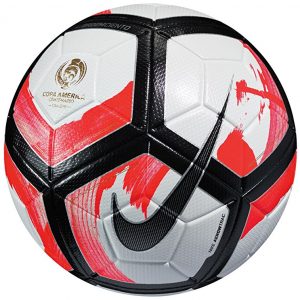 09
Nike Ordem 4 Series A Ball 2016/2017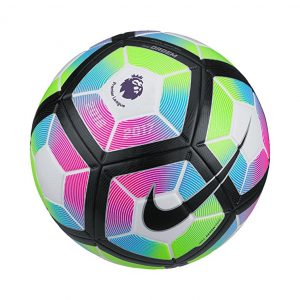 If I am totally honest, I LOVE this soccer ball. The design and color scheme really speaks to me and I just want it! That being said, the Nike Ordem 4 Series A Ball has a lot more to offer than a pretty casing. It also offers high-quality Nike construction and an Authentic Nike Soccer Gear Guarantee!
Design: 
This Nike Ordem 4 Series ball is designed for the elite among soccer players. It has a fuse-welded 100% synthetic leather, 12 panel casing design and beautiful graphics!
I love the blend of the green, purple, and blue colors on the white/black background. Nike used an innovative 3D printed ink technique for a ong-lasting design. It also uses what they call "flow motion"--a principle using colors to make it more visually appealing and boost visibility for easy eye tracking on the field.
Durability: 
Like the previous soccer ball on our list, this Nike soccer ball also uses multiple materials in the interior construction. It uses 40% synthetic leather, 30% rubber, 20% polyester, and 10% cotton. All these elements combined are designed for maximum efficiency and control during use.
Technology and Training: 
The 100% synthetic leather casing features Nike Aerowtrac grooves designed to take your training session to the next level. These micro-textured grooves give you ultimate control and aerodynamics for predictable flight and, thus, better training. This is a regulation, size 5 soccer ball.
---
Pros
100% synthetic leather casing
Nike Aerowtrac grooves
3D printed ink technology with "flow motion" visuals
12-panel fuse-welded design
Constructed for max play efficiency and training
Reasonably priced for quality
---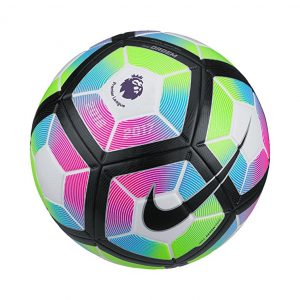 10
Uber Soccer Vintage Match Soccer Ball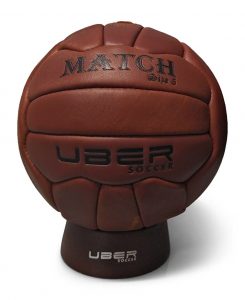 This ball is the only one on our list not designed for play and training. The Uber Soccer Brand's Vintage Match Soccer Ball is designed as a collectible and comes with a premium wooden stand for displaying.
Design: 
This ball is a size 5 vintage ball made of 100% hand-stitched, imported leather. The ball is made to the genuine feeling of an old-timey ball. It's designed to take you back to the yesteryear.
Uber Soccer designed this ball as a replica modeled after the 1930 World Cup Championship game. 
The story behind this ball starts with a 1930 World Cup Championship game between Argentina and Uruguay. This is a replica of the ball used by Argentina during the first half of the game. It was interesting for me to learn more about the history of this ball and why it's so appealing to soccer fans.
During the game, there were two different balls used: the 12 panel Argentine players model like this one and a T-shaped model used by Uruguay. There's speculation the use of the two different balls actually played a part in the outcome of the game. Argentina started using this 12-panel ball and entered the halftime with a 2-1 lead. However, the T-shaped model used in the second half worked towards Uruguay's advantage as they won 4-2 by the end of the match.
The history behind this vintage designed ball is sure to please soccer enthusiasts and collectors. 
It comes with a premium wooden ball stand designed for displaying your Uber Soccer collectible ball with pride. It does ship deflated, so it will need to be inflated first!
Durability: 
Obviously, this ball isn't designed for play and is designed more as a collector's item. However, as mentioned, the expert hand-stitching and 100% imported leather means it will keep it's stately look for a long time if used properly.
Technology and Training: 
There are no technology or training comments to be made about this particular soccer ball since it's for display only.
---
Pros
Expertly hand-stitched 100% imported leather
Vintage
Historically significant for soccer enthusiasts
Reasonably priced
Comes with wooden ball stand
Cons
Ships deflated
Display only, not designed for use
---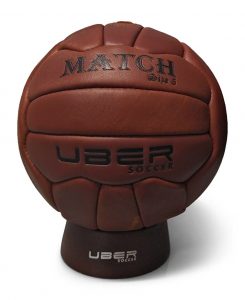 Get the most out of your new soccer ball with these top training drills
1. Closed-Space Dribble Drill For Solo Practice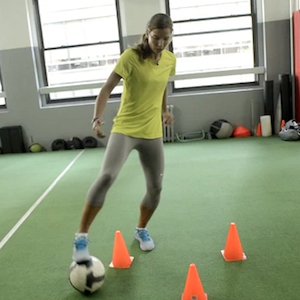 A good exercise to practice your dribbling skills and improve your game performance is by setting up
Start Training For The Next FIFA World Cup With The Ultimate Ball
Usually, we break this section into two categories: The Best Soccer Overall Soccer Ball and The Best Soccer Ball for the Money.
But the truth is, there was one soccer ball that covered all those bases. And then some.
While we stand by all the picks on our list of best soccer balls, we think you'd be especially pleased with this one.
If you have FIFA fever, start your training now with the Bend-It Soccer Ball.
One last thing! Before you go out on the playground consider upgrading your kicks, read our 2019 Soccer Shoes Reviews.