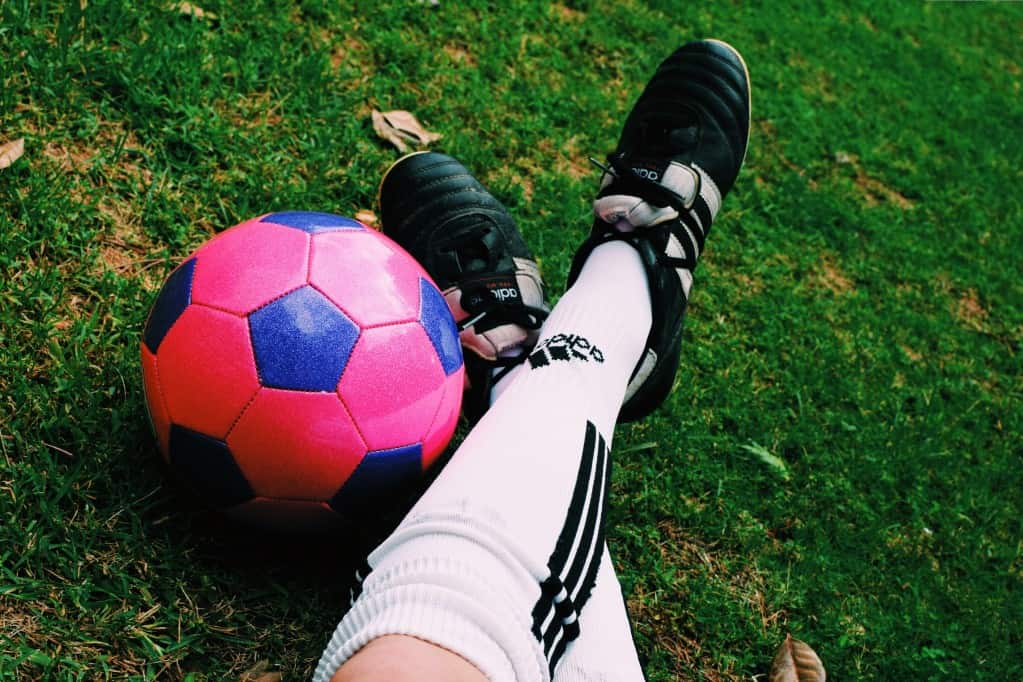 Shoes and soccer? Two of my most favorite things in the world. When I'm not busy writing or designing, I'm out playing the beautiful game. Safe to say, this in-depth review and buyer's guide is one-of-a-kind.
Finding the best indoor soccer shoe has become too big of a hassle in recent years.
More often than not, you find yourself buried under countless options of different brands, designs, and even specifications. And making the right decision seems incredibly tough.
But don't worry.
We'll be reviewing several types of indoor soccer shoes in this review, and will also help you understand what you should focus on before buying your very own pair!
Research You Can Trust
We happen to be big soccer fans ourselves and dove deep into researching a large number of indoor soccer shoes available in the market. We personally tested out dozens of different soccer shoes.
Finally, we shortlisted the top 10.
Not only did we analyze the features, pros, and cons of each product in detail, but also focused on what the existing customers out there have to say.
We aim to improve the knowledge and decision-making process of our readers to the best of our abilities, and we assure you this research is honest, straightforward, reliable, and free from any possible bias.
Buyer's Guide
The 30-Second Review
An indoor soccer shoe usually has a gum rubber flat outsole that offers excellent grip on different playing surfaces.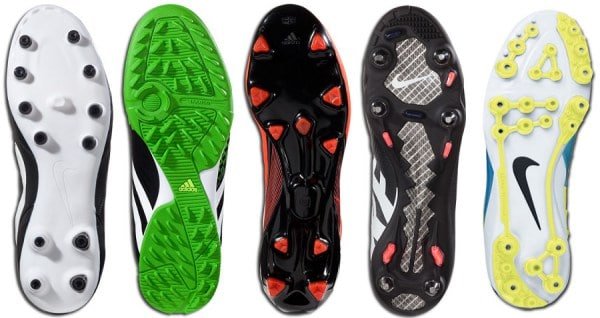 There are generally two types of indoor soccer shoes:
Futsal Soccer Shoes
Artificial Turf Shoes
The former has a flat sole and is ideal for concrete or soft indoor surfaces. Whereas the latter has tiny rubber studs underneath that provide good grip and balance on various artificial surfaces.
There are a few things we recommend you look out for while browsing through the options.
For example:
It's important your shoes offer solid traction and are made up of a breathable material that's both lightweight and durable at the same time. Since you'll have your own unique budget for shoes, the pricing will also be an important factor to consider.
Regardless of how you like to play and no matter what your preferred position is, there will be a shoe that will enhance your attributes in the game.
Look out for the shoes that provide maximum support and cushioning.
It may sound a little extra, but…
You'll want to be extra cautious of the type of laces your shoes come with.
Comfort and effectiveness of any indoor soccer shoe will set it apart from its competitors.
THE WINNERS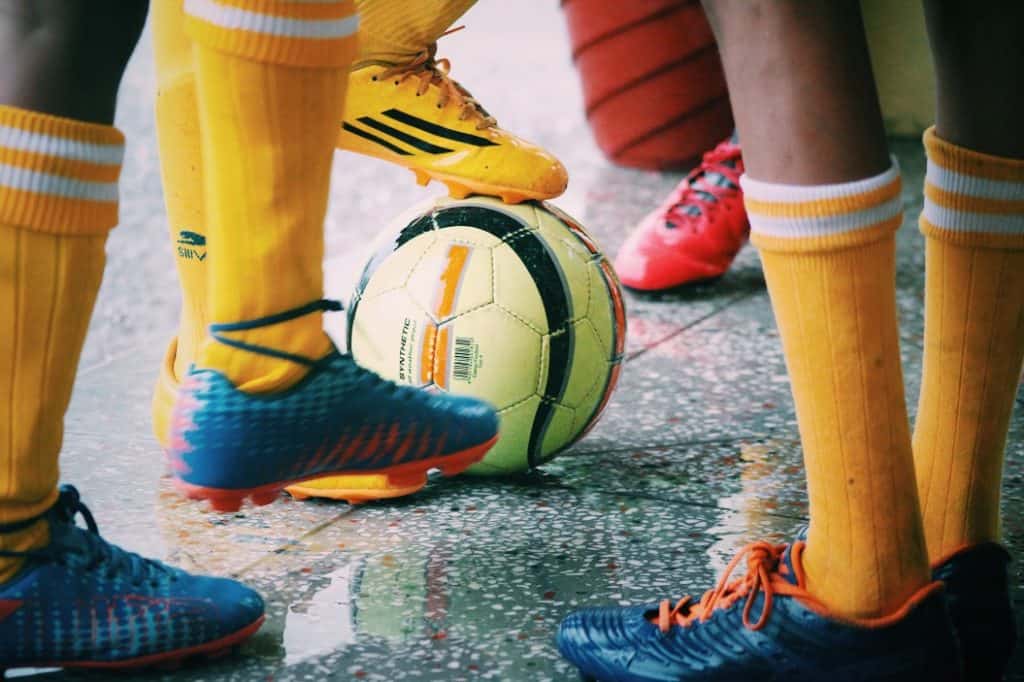 Buyer's Guide: How to Choose the Best Indoor Soccer Shoes
Soccer is a sport that requires quick coordination, agility, and solid traction control. Before you actually buy a pair of shoes, you should thoroughly understand what to look for in one.
We've compiled an informative, in-depth buyer's guide for you to help you choose the ideal indoor soccer shoes that will bring out the best in your game.
Before we dive into the various components that you should be looking for in an indoor soccer shoe, let's go over the basics first.
What Is An Indoor Soccer Shoe?
An indoor soccer shoe usually has a gum rubber flat outsole that enables you to have a grip on the turf you are playing on.
They are built for playing indoor soccer in a gym, artificial turf, or other indoor recreational facilities.
The distinguishable feature of these shoes, however, is that they also work well for casual wear. That's due in part to their lower profile fit and look like lightweight sneakers. (Hey, look good, feel good! That's what I always say.)
But first, it's important to identify what type of turf you're going to be playing on. Once you start to browse through the options available in the market, you'll be able to see there are particular shoes available for each turf.
There are generally two types of indoor soccer shoes:
Futsal Soccer Shoes
These shoes are designed for a fast-paced game; usually five- or seven-a-side being played on concrete or similar surfaces.
They are lightweight in nature and ultimately allow the player to reach their maximum speed in a short period of time. Most futsal shoes come with a low profile rubber outsole that enables a solid grip on the surface and provides traction on flat indoor courts and turf surfaces.
Artificial Turf Shoes
These shoes are usually more durable in nature and are designed for use in rough conditions.
And here's a big feature:
They also have more cushioning than futsal shoes.
The biggest difference between the two, however, is the artificial turf shoes have small rubber studs on the outsole to improve traction on hard or natural fields.
Meaning they can also be used for general training purposes as they provide a similar feel to outdoor soccer cleats.
Now, let's look at some important factors you should consider to pick the best soccer shoe for yourself:
Traction
It is crucial to buy a shoe that offers good traction control, regardless of the surface you're playing on.
It's important for your safety too, along with ensuring you play your best.
If you like playing on hard surfaces, you should consider shoes with a flat gum rubber outsole that will enable you to twist and turn with relative ease and give you a complete grip of the surface.
If you enjoy your soccer on artificial turf, you can still wear the flat gum sole shoes, but chances are they will give way the moment there's water on the surface. For artificial turf, it's wise to buy shoes with tiny rubber bumps for better traction control.
Playing Style
Another important factor you should consider before heading out to buy a soccer shoe is to identify the position you most frequently play in.
There a number of options available in the market, but you have to make sure the type of shoe you buy is going to suit your playing style.
Attacker/Striker/Winger
If you're a pacey striker, make sure you find a shoe that's built with a lightweight material, which helps you to reach your top speed easily.
The simple truth:
Lightweight shoes also make swift movement easier.
More importantly, look out for a clean strike zone in the shoe that will allow you to hit the ball more cleanly and eventually help you score more goals.
Holding Midfielder/Central Defense/Fullback
If you play defense, you already know how difficult it is to cope with a pacey striker.
Make sure you look out for shoes that offer solid protection for your feet and offers superior lateral support.
Moreover, defending players need their shoes to be very durable so they can withstand rough incidents.
Take our word of advice:
Go for shoes made of durable and good quality material. They might be more expensive, but they will be worth it.
Goalkeeper
There are two things we suggest you should look for in a shoe if you're a goalkeeper:
lots of lateral support
and good traction
Goalkeepers tend to fall a lot, which is why shoes with strong and comfortable insoles are highly recommended.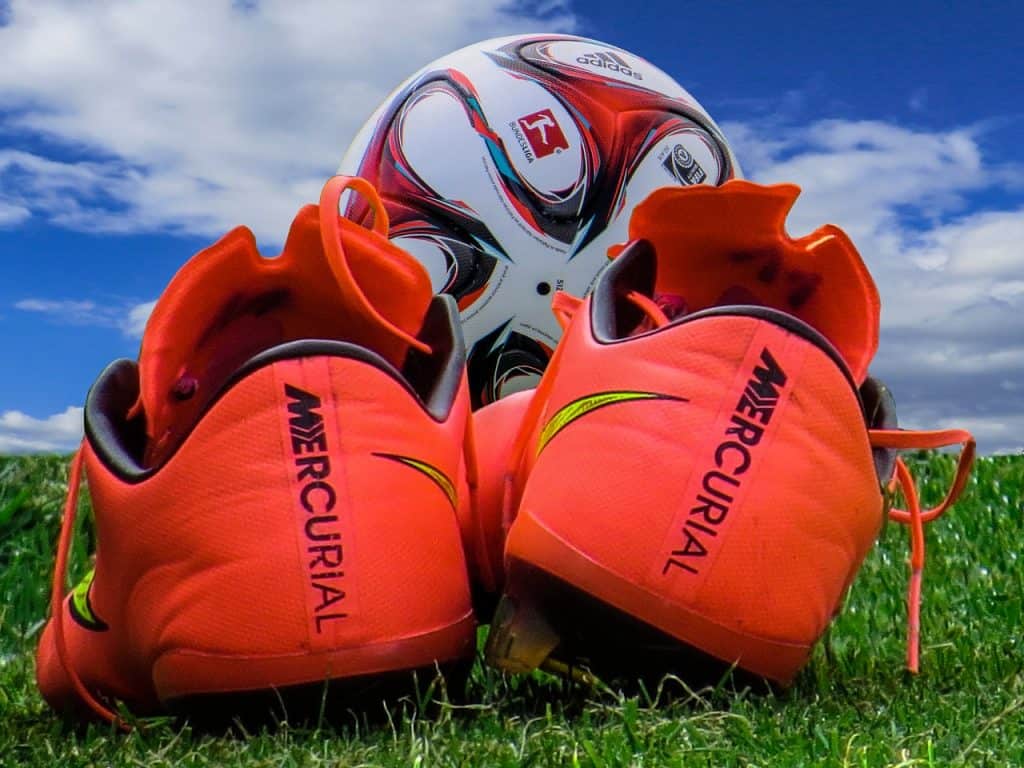 Material
The material your shoe is made of usually tells a lot about how sturdy it is and whether it's going to be good or bad news for your feet.
Each material comes with its own specifications and offers a unique touch and feel. Largely speaking, there are two types of materials used for soccer shoes:
Leather
A leather material is soft and flexible. It offers comfortable housing for your feet while you play the game you love. But a characteristic common to a leather material is that it stretches over time with increased usage.
Some types of leather material available in the market are:
Kangaroo leather: This is more commonly known as K-Leather. It has a very soft feel and is equally comfortable to wear. Since it is a superior quality leather, it is more expensive than other leather types.
Suede leather: A traditional leather but with the upper grainy part removed. This makes it feel soft to touch. It looks beautiful to the eye but tends to be a bit heavier.
Calfskin leather: This isn't as expensive as kangaroo leather, but still feels very similar to the touch. It retains its shape better than K-leather, but it is heavier.
Full grain leather: This type of leather is thicker than calfskin and kangaroo leather. It is more durable than its counterparts. However, this type of leather weighs the most, so you probably shouldn't go for shoes made of this material if you're looking for speed and a feather-light feel.
Synthetic
Synthetic materials are lighter in weight compared to leather shoes. They're also more durable than most leather.
Still not convinced?
While leather may stretch as its use intensifies, synthetic material doesn't.
There are two kinds of synthetic soccer shoe materials:
Synthetic leather: This plays and feels like leather but has a limited quality of the first touch of the ball for players.
Mesh: This type of synthetic material is thin, breathable, and lightweight, but offers limited support to the player. You should look for mesh if your feet tend to overheat quickly because it adds a lot of breathability to the shoe.
Durability
Like all other things we spend our money on, we wish for our shoes to have a long, useful life.
Want a good tip to make that happen?
Ask and you shall receive…
Check whether the shoe you are buying is durable or not. Don't buy just on the looks of the shoe.
Durability largely depends on the type of materials being used in the soccer shoes.
For instance, rubber outsoles of indoor soccer shoes are highly durable. But generally speaking, most indoor soccer shoes will have a short lifespan as they're mostly used in rough conditions.
The durability of the upper material of the shoe is again dependent on the quality of the material. For example, calfskin leather, suede leather, synthetic leather, kangaroo leather etc.
Our research shows shoes made of synthetic leather tend to be more durable than others.
Size and Comfort
Before you make the final decision about which soccer shoe to buy, it's essential for you to check the comfort of the shoe. You don't want to buy something that will give you blisters and bruises on your foot.
How do you avoid those nightmares?
Start off by knowing your foot size.
And don't forget to also consider your foot shape!
Is it wider, narrower, or does it have a normal width?
Certain shoes have a tendency to run either wider or narrower. That's why it is important for you to find a shoe that fits you well.
It shouldn't be too tight but should have a close, snug fitting. A loose shoe will hurt you and limit your movement and speed.
Lastly, as you'll recall, real leather stretches with wear. So, you might want to buy a 0.5 size smaller for it to fit you well after repeated use.
However, if you're going with a synthetic material, go with your true size, or even a 0.5 size larger (if need be) as they don't stretch much at all.
Support
A large number of indoor soccer shoes available in the market have low-cut designs with low-profiles, which means the player feels their feet are closer to the ground.
This helps in enhancing the support of the entire body on the feet so you can run faster, move quicker, and twist and turn elegantly.
These shoes generally have a good arch support and also provide lateral support for the user.
Additional Tips for Buying Indoor Soccer Shoes
During our research, we found this short video that does a good job at explaining some of the important factors to consider before you buy your ideal pair of indoor soccer shoes:
Additionally, here are some more considerations worth keeping in mind before making your final buying decision:
Budget
It's important to first decide on how much you're willing to spend on your new pair of shoes. Only then will you be able to shortlist the right ones for yourself, and then eventually make a decision.
The price of a soccer shoe largely depends on what brand it belongs to, who endorses it, and most importantly, its unique features and effectiveness.
Cheaper soccer shoes are usually made of lower grade materials that have little to no strength and durability. Another reason why a soccer shoe may go cheap is if it is an old design. A cheap soccer shoe doesn't necessarily mean it's a bad soccer shoe.
The bottom line is, define your budget and just be sure of what you are looking for before you go out to spend your money.
Stitching
The stitching of a shoe is usually a good indicator of whether the shoe is durable or not. The rule of thumb for this factor is that double or triple stitching adds more durability to an indoor soccer shoe, as it makes it more resistant to wear and tear.
Stitching on the front face of the boot may have a negative impact on your game as it might compromise on your first touch, and also lead to a weaker strike of the ball. So, while it is important to look out for well-stitched soccer shoes, make sure they don't negatively impact your game in any way.
Weight
For indoor soccer games, it is ideal to find shoes that are lightweight. This allows you to reach your top speed quicker and feels like your feet are almost touching the ground. Shoes with lighter weights enable you to twist and turn more effectively. So, for a winger or a striker, it is especially important to find shoes that feel lightweight.
Cushioning
This is another important factor you shouldn't overlook. Cushioning enhances your responsiveness during the game and enables you to make quick cuts easily.
But is cushioning really that important?
Heck yeah, it is. In fact…
The cushioning component is more applicable to indoor soccer shoes than it is to outdoor soccer cleats.
A quick tip for you is to look for a solid midsole and a fairly cushioned insole to avoid painful impacts, bruises, cuts, and strain.
Breathability
Breathability has the potential to be a very important factor in making the final decision to buy a soccer shoe. Your feet need to feel comfortable, or you won't be able to play very well if they get sweaty or overheated.
Lighter materials tend to be more breathable. Mesh that's strategically placed can also really make a big difference when it comes to reducing down the heat of your feet while playing indoors.
Lacing System
Similar to everything that has evolved around us, the laces on your shoes have gone through various changes as well. Once you browse through the soccer shoes, you will find a lot of lace and lace-less variants.
The important question here is, does this have any effect on a soccer player and their game? Let's help you decide for yourself!
Shoes with a traditional lace design offer you the freedom to control how tight or lose you wants your shoes to be.
However, a probable downside to these shoes is it will definitely take you more time to put them on, and for some people, handling laces can be a bit tricky as you have to carefully adjust the lengths on each side.
Lace-less shoes, on the other hand, can be worn in seconds. But they usually fail to offer players solid control of their feet. There have numerous cases where lace-less shoes come off during the game. This can be very dangerous and unfortunate for your game.
We believe there are no right or wrong answers here. You just have to identify what suits your style and needs the best if you want to buy the perfect pair of shoes for yourself.
Are you an all around sports person? Take a look at our reviews of Shoes for Zumba and Tennis Shoes.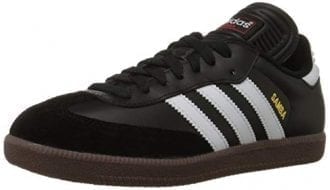 Best of the best
Adidas Samba Classic
Have FIFA soccer fever? Grab yourself a pair of the best indoor soccer shoes from our reviews and get practicing. We'll look for you at the next World Cup!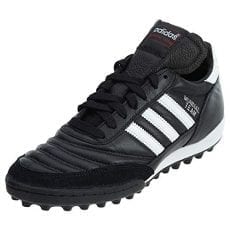 Most Buying
Adidas Mundial Team
Have FIFA soccer fever? Grab yourself a pair of the best indoor soccer shoes from our reviews and get practicing. We'll look for you at the next World Cup!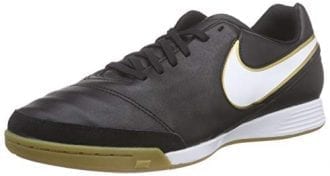 Best for the money
Nike Men's Tiempo Genio II
Have FIFA soccer fever? Grab yourself a pair of the best indoor soccer shoes from our reviews and get practicing. We'll look for you at the next World Cup!