The Types of Paddle
As we mentioned earlier, if you're American it's a paddle.If you're English, then you're buying a bat or a racquet. Regardless, it's the same thing and has an identical makeup. The blade is the wooden portion of the device and may be made partly of aluminum, cork, or carbon fiber. But according to international regulations, at least 85% of the blade must be natural wood.
The rubbers cover the playing surface of the paddle. Each side may use a different material which can have different strengths. For example, increased spin or speed off the paddle.
The handle may be designed to mold to the hand, be perfectly straight or have an elongated width at the base for stability in usage.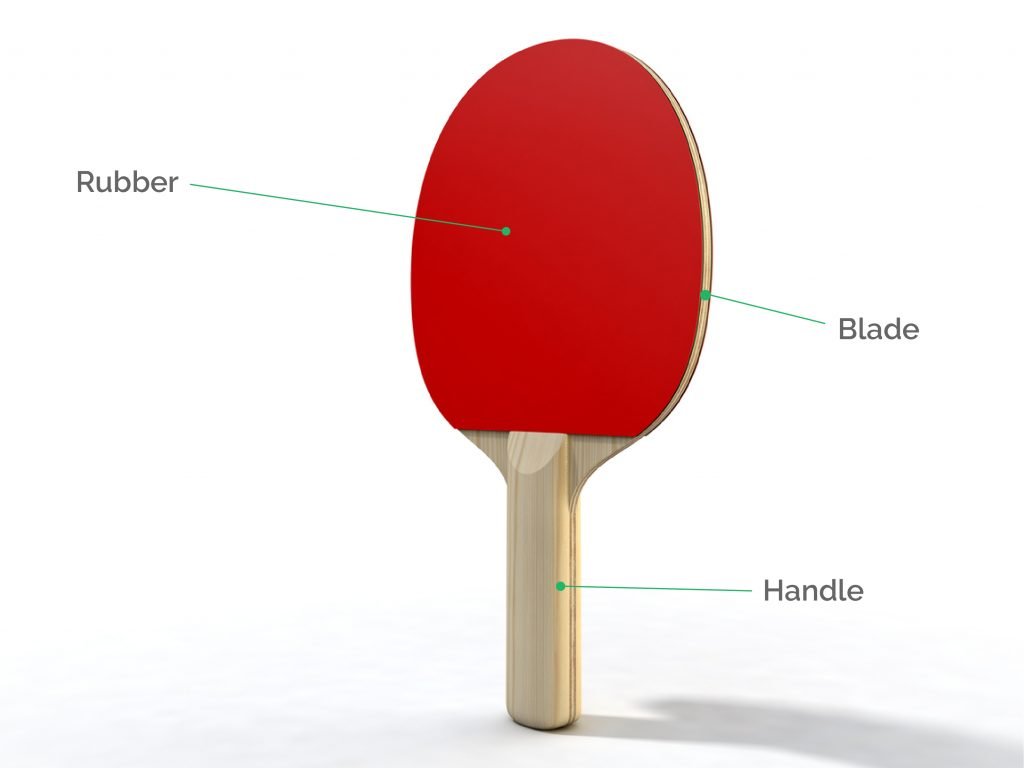 The Blade
It's best to start with the blade. Why? Your blade will dictate the rubbers and handle you end up selecting. After all, you don't choose the tires before you buy the car.
When selecting a blade, you should consider your experience and style of play and make your selection based on that. The primary consideration is the weight of the blade. A lighter blade can move more quickly through the air and is well suited to beginners who need to adapt their angles at a rapid rate and tend to play close to the table.
Heavier blades, also called "power blades," can generate more energy through their sheer weight but are made for experienced players who make instinctive moves earlier in the passage of play. For example, as a beginner, you'll watch the ball as it crosses the net and make decisions based on that. An experienced player will watch their opponent's paddle and – through experience based intuition – prepare for the return before the ball is even hit. This instinctive play allows experienced players to use heavier paddles that allow for more power and less adaptability.
The Handle
When speaking to other players and coaches, you'll get plenty of opinions as to the type of handle you should buy. There are heaps of options! Anatomical handles mold to your hand.Straight handles (ST), as the name suggests, are entirely straight from the base of the blade.And flared handles (FL) have a broad base that prevents the paddle from flying out of your hand.
You'll be told particular handles are better for different game-play, but in the end, the most crucial element of the handle is comfort. Test drive as many as you can and choose one that feels right. A flared handle may seem restrictive, or a straight handle may not suit your grip – everyone has different hands. You'll know the right handle for you when you hold it.
The Rubbers
When choosing rubbers to cover your blade, stay away from specialized surfaces such as pimpled rubbers; these rubbers are designed to offer increased spin or other niche abilities to experienced players. However, beginners need to give their game time to develop.
Soft and sticky rubbers are both designed to increase "dwell" or the amount of time the ball spends on the surface of the paddle. This attribute is advantageous when manipulating spin, but can be detrimental to a beginner or intermediate player. Select rubbers that will offer control and predictability – especially if you're a beginner and learning what type of game you play, either defensive or offensive. The wrong rubbers can accentuate your weaknesses and limit your ability to capitalize on your strengths, but the right rubbers can contribute to your ongoing improvement.
Aside from the design itself, there are three other important factors you'll need to consider when you're choosing a paddle: speed, spin, and control.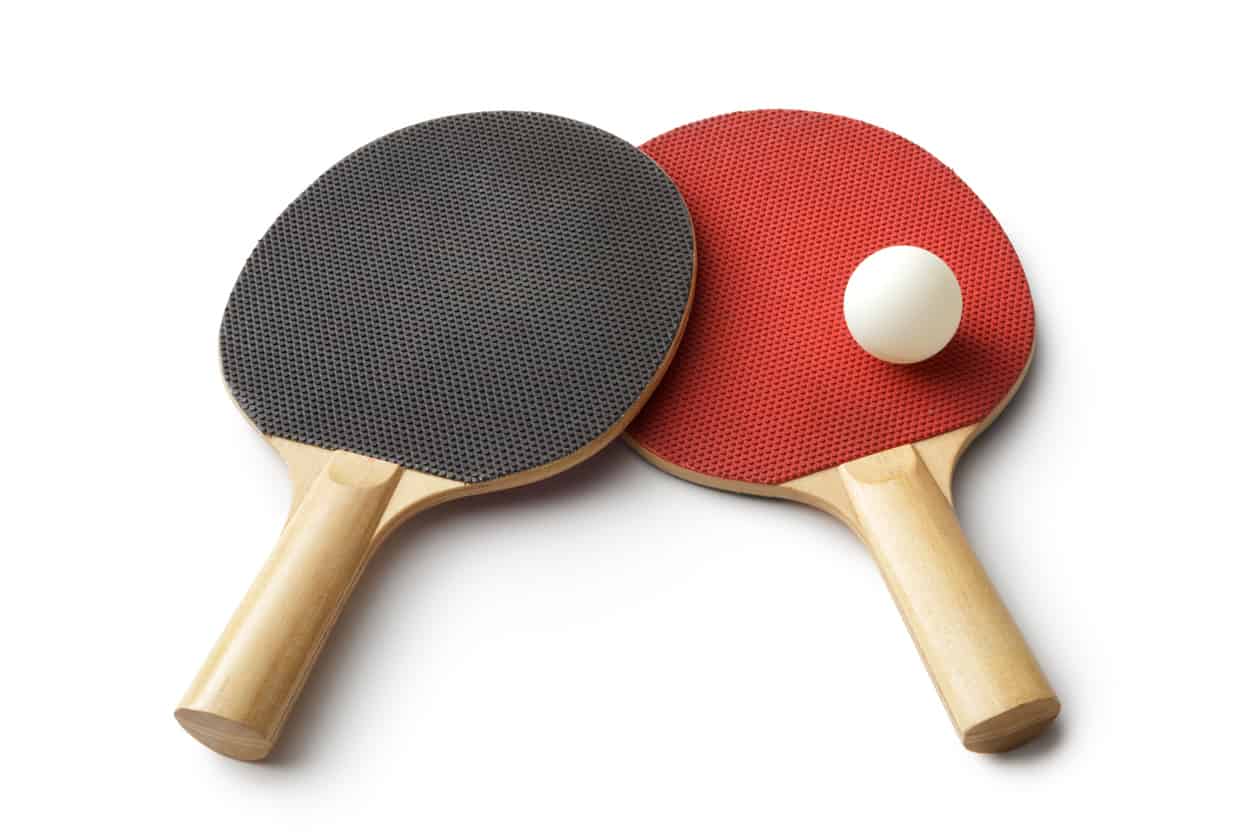 Speed
The speed of the ball off the paddle is a crucially important consideration. Evaluate the weight of the paddle in relation to the stickiness, or lack thereof, of the rubbers. You should benchmark these against your style of play and consider whether you thrive under pressure, or tend to play a more defensive game. Don't underestimate the impact of a small amount of weight and a slight change in texture on the overall speed of the ball and as a result the game itself.
Spin
As you get more advanced, your ability to create a consistent spin off the paddle will become a key skill set that may be the difference between winning and losing. As mentioned, different rubbers have different attributes when it comes to producing spin and you should consider this and also your current skill level. Remember to consider either side of your paddle and make sure you have at least one hard, non-sticky surface. Keep in mind also that spin will eventually become very natural to you and a slightly softer surface than you are currently used to is probably ideal for the medium term.
Control
Control is an important factor regardless of your level of experience, but for the defensive player, it's an absolutely mandatory consideration. If you can control the speed of the ball, you can control the pace of the game and therefore the game itself. The weight of the overall paddle, including all elements, should be comfortable, the handle should rest easily in your natural grip and the surface should produce a predictable response off the ball.
If you're a beginner, you have likely played with a seasoned player who has used your lack of paddle-awareness against you. They'll have a varied ball speed within a rally and force you to make mistakes – either hitting the ball into the net or out of play on the full. This is using ball control as an offensive tool, and the right paddle can help you do the same thing.
Protecting Your Ping Pong Paddle
Purchasing a ping-pong paddle is less about buying what's best, and more about buying what's right for you. One of the best parts of this game is learning and developing the various skill sets – it takes time, but with the right paddle you can fast-track your game and define who you are as a player.
On that note:
Now that you've invested time into researching the best ping pong paddles and, have invested some money into your hobby, you might also want to think about protecting that investment.
Here's why:
Don't spend money on a brilliant paddle just to let the elements destroy it. A good quality cover will be worth its weight in gold when you get caught in the rain or accidentally drop your paddle while running to the car.
Two cases we thought were a good investment were this option from Killerspin and this one from Stiga.
Ready To Level Up Your Game Room?
Professional players to casual players just enjoying a game of table tennis with their friends, using the right paddle will make a big difference. In the guide above we highlighted the key points to keep in mind when searching for a new paddle.
After all our testing and research was completed, we found these two ping pong paddles to be the cream of the crop!