All You Need To Know
When choosing a ping pong paddle that's right for your game, you want one that's going to fit comfortably in your hand so you can get the most out of your swing. As an aggressive player, look for a style that has more layers in the blade. It allows for a stronger bat-to-ball connection. Speed, spin, and control are the keys to a successful ping pong game, so we looked at a range of paddles to see how well they handled aggressive, or relaxed playing methods. Keep reading to find out more about what makes a great paddle, and what you should be looking for when you upgrade to your next game.
Discover The Best Ping Pong Paddles With These Pro Tips
If you're looking for a new ping-pong paddle, it's likely you've done your research and found an abundance of opinions on what to buy. Unfortunately, this makes the process harder, rather than easier to complete. To the novice, the ping pong paddle looks pretty basic, but when you're a professional or you're trying to increase your abilities, it's anything but.
When you're getting ready to buy your first, or a new, ping pong paddle, there are a few things you need to consider.
Expert Tips
Before you start your search, you should begin by analyzing your style – strengths and weaknesses – and being honest about your experience and skill. If you end up with a paddle that is highly specialized or designed for advanced professional players and you aren't yet at that level, then your game will only suffer, and you will end up having to begin this process again.  What is an ideal paddle for one person may be completely unsuited to another player's game.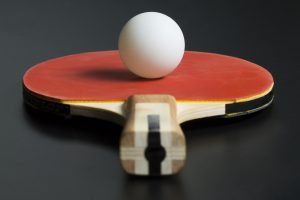 If you are not certain as to your current skill level, then ask for some honest feedback from other players and coaches. Explain to them that you are in the process of buying a paddle and want to know the strengths and weaknesses of your game and then ask them to critique your style – are you defensive or offensive?
When it comes to buying a paddle, the experts recommend you don't just go to your local sports retailer who happens to stock ping-pong paddles. Seek out a specialist store where you can receive expert advice from experienced players and where you can hold the paddle before you commit to buying it. Generalist sporting stores, by their very definition, are limited in their expertise – unless you happen to stumble across an experienced ping-pong player working there, but that's not very likely.
NOTE
Importantly, don't just purchase a premade paddle. Selecting the various elements means that you can have more control over the way your paddle performs and you can make it reflective of your style and skill level. So let's look at the various parts of a ping-pong paddle.
The Types of Paddle
As we mentioned earlier, if you're American it's a paddle.If you're English, then you're buying a bat or a racquet. Regardless, it's the same thing and has an identical makeup. The blade is the wooden portion of the device and may be made partly of aluminum, cork, or carbon fiber. But according to international regulations, at least 85% of the blade must be natural wood.
The rubbers cover the playing surface of the paddle. Each side may use a different material which can have different strengths. For example, increased spin or speed off the paddle.
The handle may be designed to mold to the hand, be perfectly straight or have an elongated width at the base for stability in usage.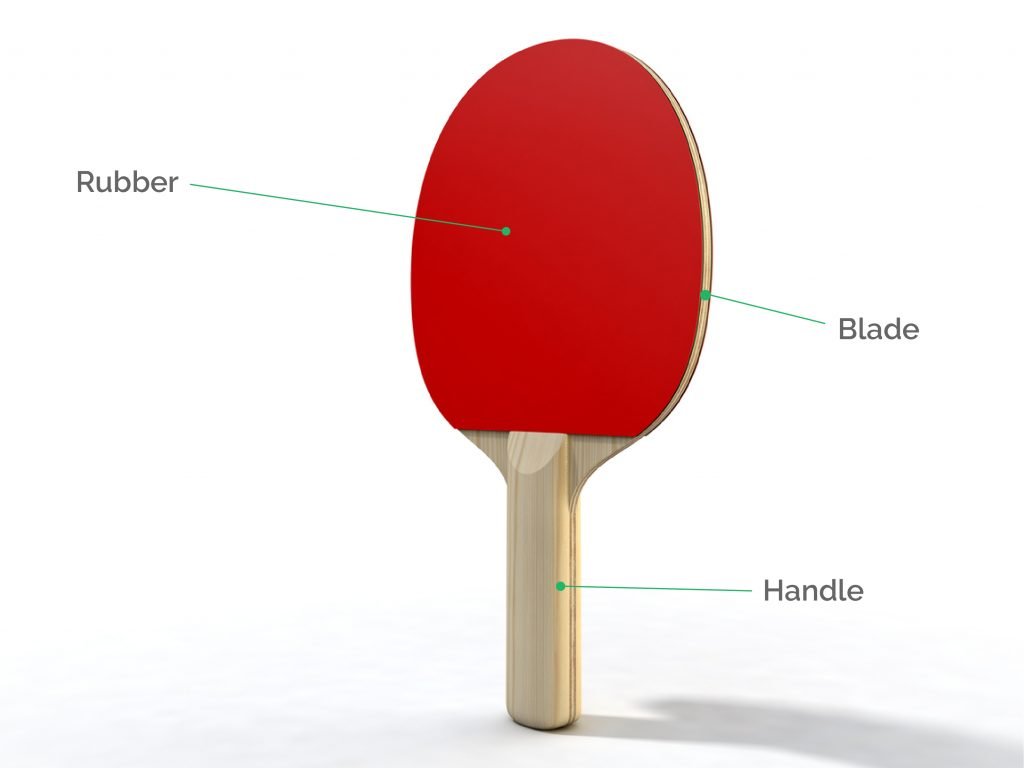 The Blade
It's best to start with the blade. Why? Your blade will dictate the rubbers and handle you end up selecting. After all, you don't choose the tires before you buy the car.
When selecting a blade, you should consider your experience and style of play and make your selection based on that. The primary consideration is the weight of the blade. A lighter blade can move more quickly through the air and is well suited to beginners who need to adapt their angles at a rapid rate and tend to play close to the table.
Heavier blades, also called "power blades," can generate more energy through their sheer weight but are made for experienced players who make instinctive moves earlier in the passage of play. For example, as a beginner, you'll watch the ball as it crosses the net and make decisions based on that. An experienced player will watch their opponent's paddle and – through experience based intuition – prepare for the return before the ball is even hit. This instinctive play allows experienced players to use heavier paddles that allow for more power and less adaptability.
The Handle
When speaking to other players and coaches, you'll get plenty of opinions as to the type of handle you should buy. There are heaps of options! Anatomical handles mold to your hand.Straight handles (ST), as the name suggests, are entirely straight from the base of the blade.And flared handles (FL) have a broad base that prevents the paddle from flying out of your hand.
You'll be told particular handles are better for different game-play, but in the end, the most crucial element of the handle is comfort. Test drive as many as you can and choose one that feels right. A flared handle may seem restrictive, or a straight handle may not suit your grip – everyone has different hands. You'll know the right handle for you when you hold it.
The Rubbers
When choosing rubbers to cover your blade, stay away from specialized surfaces such as pimpled rubbers; these rubbers are designed to offer increased spin or other niche abilities to experienced players. However, beginners need to give their game time to develop.
Soft and sticky rubbers are both designed to increase "dwell" or the amount of time the ball spends on the surface of the paddle. This attribute is advantageous when manipulating spin, but can be detrimental to a beginner or intermediate player. Select rubbers that will offer control and predictability – especially if you're a beginner and learning what type of game you play, either defensive or offensive. The wrong rubbers can accentuate your weaknesses and limit your ability to capitalize on your strengths, but the right rubbers can contribute to your ongoing improvement.
Aside from the design itself, there are three other important factors you'll need to consider when you're choosing a paddle: speed, spin, and control.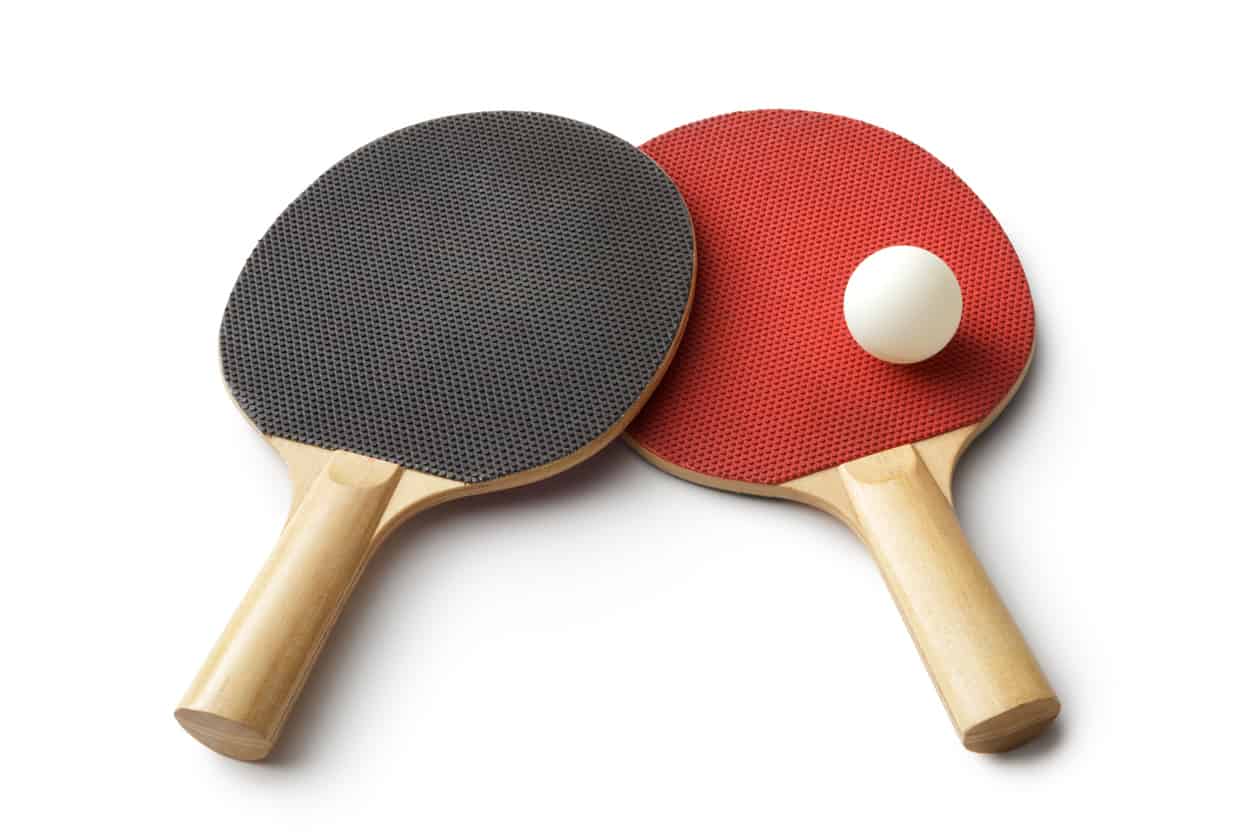 Speed
The speed of the ball off the paddle is a crucially important consideration. Evaluate the weight of the paddle in relation to the stickiness, or lack thereof, of the rubbers. You should benchmark these against your style of play and consider whether you thrive under pressure, or tend to play a more defensive game. Don't underestimate the impact of a small amount of weight and a slight change in texture on the overall speed of the ball and as a result the game itself.
Spin
As you get more advanced, your ability to create a consistent spin off the paddle will become a key skill set that may be the difference between winning and losing. As mentioned, different rubbers have different attributes when it comes to producing spin and you should consider this and also your current skill level. Remember to consider either side of your paddle and make sure you have at least one hard, non-sticky surface. Keep in mind also that spin will eventually become very natural to you and a slightly softer surface than you are currently used to is probably ideal for the medium term.
Control
Control is an important factor regardless of your level of experience, but for the defensive player, it's an absolutely mandatory consideration. If you can control the speed of the ball, you can control the pace of the game and therefore the game itself. The weight of the overall paddle, including all elements, should be comfortable, the handle should rest easily in your natural grip and the surface should produce a predictable response off the ball.
If you're a beginner, you have likely played with a seasoned player who has used your lack of paddle-awareness against you. They'll have a varied ball speed within a rally and force you to make mistakes – either hitting the ball into the net or out of play on the full. This is using ball control as an offensive tool, and the right paddle can help you do the same thing.
01
Four-Pack Pro Ping Pong Paddle Set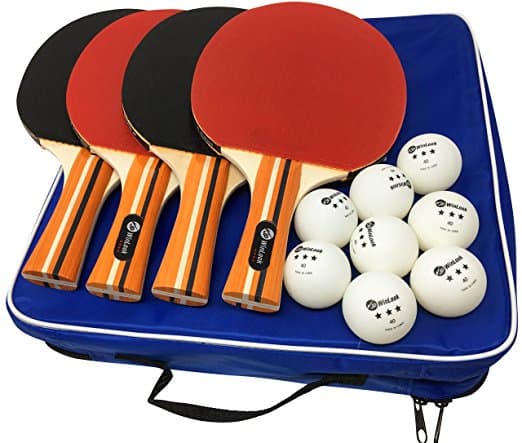 JP WinLock has won us over with this 4-pack bundle ideal for use by players of all experience levels. The paddles themselves have 5-ply flared wooden handles that are comfortable to hold and allow you to get a better swing. The 2mm high bounce sponge layer gives you a decent amount of spin, speed, and control.
The high-performance pads are orange in color and made from eco-friendly durable natural rubber, while the blade comes with standard black and red faces. The tacky rubber helps you get better spin. You'll be pleased to know the rubber and sponge are held on with super strong glue so you can get more use out of your rackets. The balls are 40mm and meet the ITTF equipment regulation for official table tennis competition, in both size and the weight.
Need a good all-around ping pong paddle?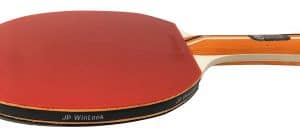 Whether you prefer playing ping-pong indoors or outside, this paddle and ball set is great for any occasion.
The best thing about this pack is you get four paddles and four balls, which means it's going to last you a lot longer than buying just one paddle. It also makes it more social; you can get your family and friends to join you in a game, so you can enhance your skills while showing them off at the same time.
We chose this as number one not only because it's a bundle, which means you get four rackets and eight balls, making it much more social and/ or longer lasting; but also because it has the highest percentage of 5 Star Reviews online compared to others on our list.
We spoke to the experts:
They agreed. This was a great buy for both social and professional players due to the versatility it allows.
It's a great price considering you get four paddles and eight balls in the pack. The carry case is an added bonus. The blue case is great for all ages and will keep your set protected all while helping you carry it around without losing any of the parts. The set comes with a 60-day manufacturer's warranty on defective products.
Main Features:
Four high-quality paddles, measuring 10 inches in length and 5.9 inches in width.
Eight 40 mm balls, meeting ITTF regulations for official ping pong tournaments.
A blue case, equipped with a zipper. Built to be compact and easy to carry, suitable for all age segments.
---
Pros
4 rackets, 8 balls
Cheap
A 60-day warranty
Case included
Great for social play with family & friends
Good weight
Good quality materials
Cons
Handle edges are rough
Side glue tends to un-stick easy
Heavy paddles
Not as good for competition
---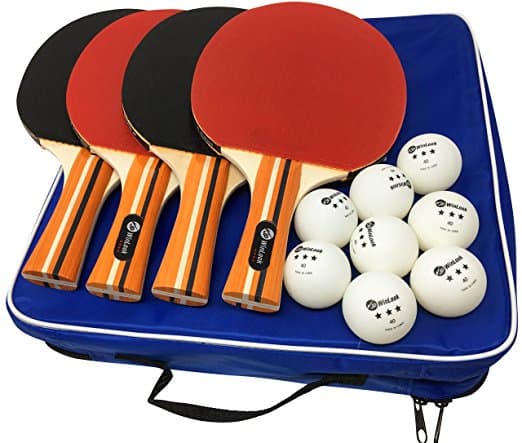 02
STIGA Evolution Table Tennis Racket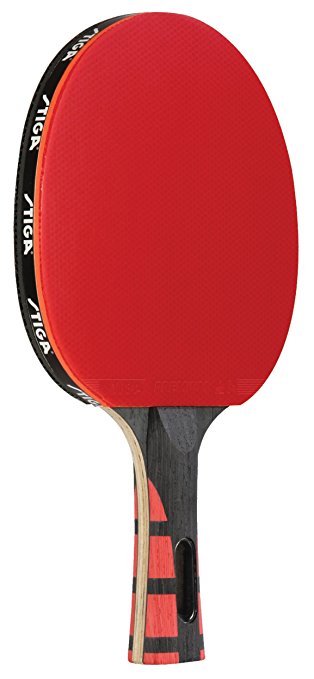 Stiga is one of the world's leading brands when it comes to table tennis and the Stiga Evolution won't disappoint. Regardless of whether you're just starting out in ping pong, or you're a professional. The Evolution is one of the Stiga's top sellers and with the ITTF approval, you can't go wrong. It's a pre-made racket so you don't have to do any assembly when it arrives, ensuring you're getting manufacturer quality design.
The Evolution is aimed at players who have a bit of experience and want to take their level of gaming up a notch. It's made with premium rubbers designed to help those already in the game increase their skills.
While the 2mm sponge works to increase speed and overall performance, the 6-ply blade has a shock dispersion tube which adds to the benefits.
Basically...
This is a hole in the handle (hollow part) that transfers any shockwaves made on impact with the ball, spreading them out across the paddle evenly so you're getting maximum control.
It also creates a pretty loud noise when you're hitting the ball, which takes a bit of getting used to – but at the same time feels like you're really pumping out some great hits.
It offers good speed, spin, and control, and the handle has high-quality grip – which makes it easy for those who want to take their game to the next level.
While the quality is better than other brands, the price isn't excessive. The sales price is generally between $50 and $100 on Amazon, but you can get them for as little as $35.
So, shop around.
Main Features
High - quality table tennis racket.
Comes equipped with Shock Dispersion Technology (SDT).
ITTF Approved Materials for the Competitive medium. Includes a Sponge of 2mm and a very light blade of 6-plies.
Qualitative Ratings, featuring a Speed of 96, Control of 90 and a Spin of 94.
---
Pros
Impressive spin
Easy to control
Well balanced paddle
Lightweight
Cons
Glue doesn't hold
Foam tends to fall apart on some
Cheaper quality
---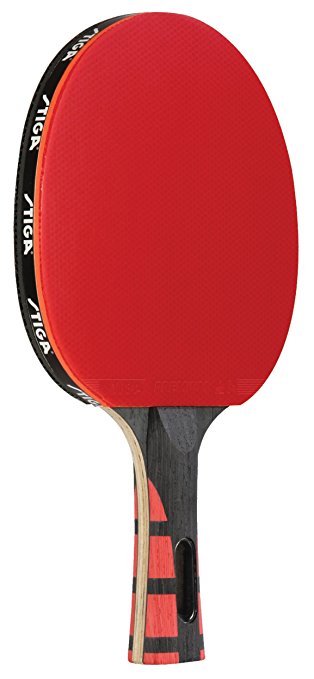 03
Killerspin JET800 SPEED N1 Table Tennis Paddle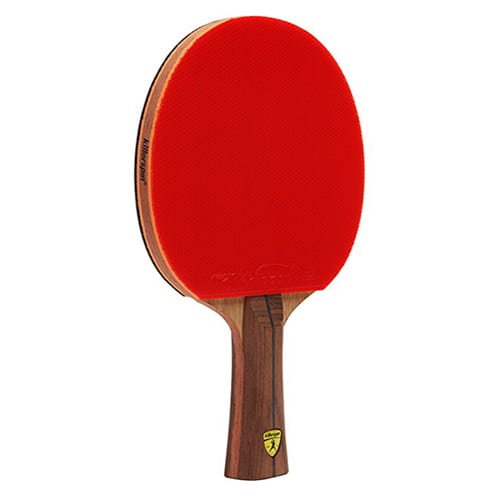 The Killerspin JET800 comes with ITTF approved Nitrx 2.0 mm rubbers that are red on one side and black on the other – creating an amazing combination of power for the serious player. The JET800 Speed N1 is stylish, if that matters, and comes with a burnt wood handle and high-class packaging.
In fact...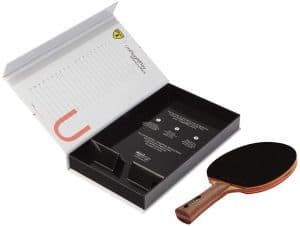 We even thought it would make a nice gift for someone.
The Jet800 is known for the high speed is creates which is ideal for anyone wanting to up their game. There are a number of good features on this paddle, from the 2mm rubbers that have been ITTF approved, to the wooden side tape that gives you a catapult effect.
It has two layers of carbon composite material infused into a 7-layer wood blade. This allows you to play more aggressively while remaining in full control. It's made with Nitrx-4Z premium rubber that's high tension and ITTF approved. It provides higher levels of both spin and power, so it's a great racket for anyone looking to up their game on the professional market.
The sides of the blade have tape which helps to absorb the amount of energy the paddle has, but also allows for a catapult effect when the ball hits the edges of the bat.
Not to mention:
The side tape also helps protect your paddle from any damage.
It's probably a good idea to get a nice Killerspin case with it as well to help keep it protected.
Not only is it good quality for the money, but it's something you can keep for years to come to compare your game and keep track of the people you meet out on the road while playing professionally. This is thanks to the Memory Book where you can keep a record of your scores, get your favorite player's signatures, or get your friends and opponents to write personalized messages so you can look back on competitions for years to come.
It also comes with a 30-day warranty for any manufacturer's issues (not through wear and tear).
Main Features 
Performance ratings of 90 in spin, a speed of 95 and a control of 80.
Nitrx rubber of 2mm, approved by the ITTF for tournament participation.
High-Quality build of a blade with 7 plies. Combined with the 2 carbon layers and a wooden side tape, this racket provides great power and energy absorption.
Choose from a red or black finish.
---
Pros
Comes with memory book
Awesome spin
Good weight
Plenty of speed
Cons
Handle tends to snap off easily
Rubbers dirty easy
Handle a bit slippery
Rubber doesn't last as long as you'd expect for the price
Heavy paddle
---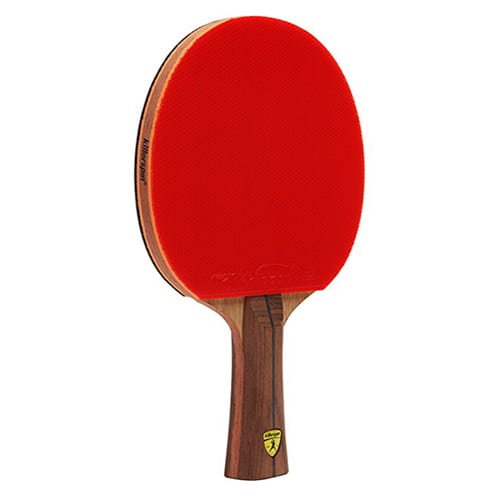 04
STIGA Pro Carbon Table Tennis Racket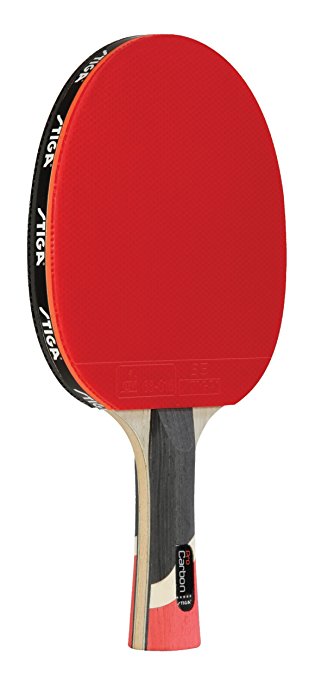 Another Stiga in our Top 3 choices, the Pro Carbon Table Tennis Racket is cheaper than the Evolution, but the quality is still pretty good. The change in the price between the two is based on the amount of speed, spin, and control you get for each.
But...
...the Pro Carbon also comes with a 7-ply extra light blade. The balance of the blade is focused on the point of contact with the ball. This gives you better control than ever before.
The Pro Carbon is named so because it has two layers of high-performance carbon integrated into the blade.
Trying to win tournaments?
This will give you better speed and power.
It's ideal for intermediate players looking to increase their abilities.
It has Nano Composite Technology which assists in the speed and spin of your game through tighter bonds in the rubber. With ACS Numerous microscopic air capsules also in the rubber, speed is never going to be an issue. If you're an offensive player, this is the racket for you.
The Stiga Pro Carbon retails on Amazon for anywhere between $35 and $150, so shop wisely and choose the one that suits you best. The rubber is approved by the International Table Tennis Federation (ITTF) so if you're a tournament player, you can take it on the road with you.
Main Features
Highly - Qualitative Table Tennis Paddle.
Rubber approved by the ITTF for tournament participation. Materials used include an extra-light 7-ply Blade and 2mm Sponge.
Advantageous ratings of 80 in control, a speed of 99 and a spin of 100.
Innovative Carbon Technology for increased speed and control.
---
Pros
Ultra-lightweight balsa wood
Great blade for intermediate players
Budget-friendly
Great bounce of ball off the rubber
High-quality rubber
Cons
Lacks in backspin
Rubber can lift/bulge after extensive play
Heavier than some other brands or styles
Takes a little getting used to
---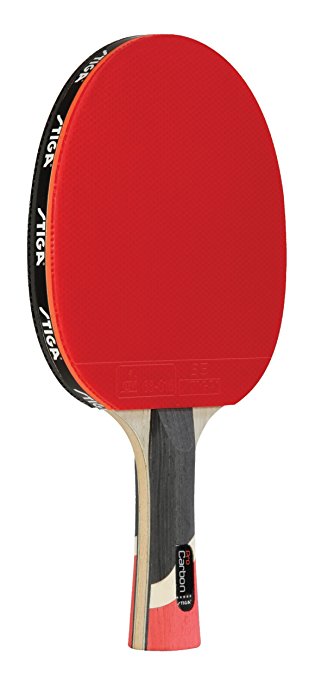 05
Killerspin JET400 Table Tennis Paddle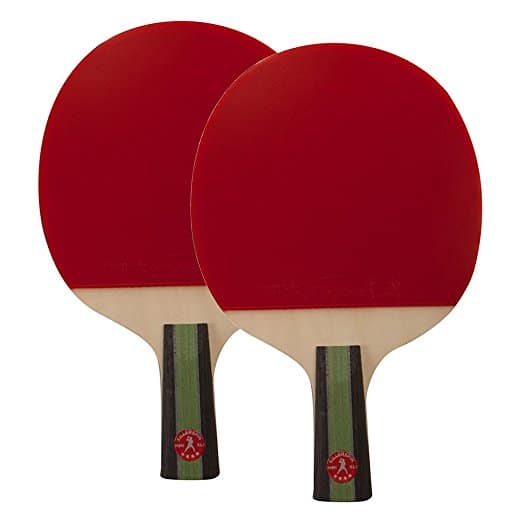 The Killerspin JET400 is the fourth paddle in the JET series and although Killerspin is pretty new on the table tennis market, they generally stick to recreational type paddles. With the new JET series though, the paddles have all been ITTF approved meaning Killerspin can easily expand into the professional scene along with the likes of the JET800.
The biggest difference between?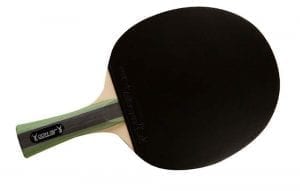 Speed. This one isn't quite as fast as the JET800.
The paddle has two 1.8mm rubbers. And like the JET800, it uses Nitrx-4Z premium rubber that is high tension and ITTF approved. This type of rubber is great for better spin and power, which is why a lot of professional players are choosing to use Killerspin paddles.
If you don't like playing with light paddles, this one could be the paddle for you as it's a bit heavier than many other brands. And if you like to hit the ball closer to the actual table itself, it's a good paddle to choose. However, if you favor a lighter tool in your hand, this is not the product for you, and a powerful shot will need more effort from the player.
The blade is made from 5-layered plywood.
Sound cheap?
Yes, but it does the job. It's a bit rigid, but it works well for forehand drives in particular. It's a great paddle for anyone starting out in ping pong or those who play competitively at a lower level. Plus, it's a bit cheaper than the JET800.
Main Features
Set of 2, highly qualitative table tennis rackets.
Built with a handle that is very flexible.
Designed for a transitional to advanced player.
Paddle rubber approved by the ITTF for tournament participation.
Built with aggressive spin shots in mind.
---
Pros
Great spin
Durable and lasts a long time generally
Good control levels
Budget-friendly
Paddle is well balanced
Cons
Need to be able to handle it well
Image on Amazon includes the Memory Book but it doesn't actually come with the paddle
The rubber needs attention regularly
Bit too heavy
---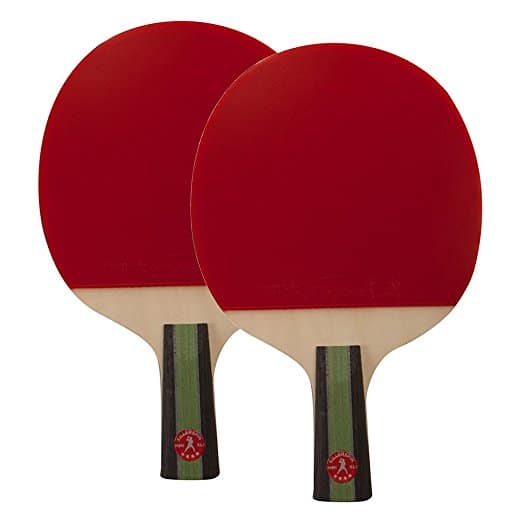 06
Killerspin JetBlack Combo: Table Tennis Paddle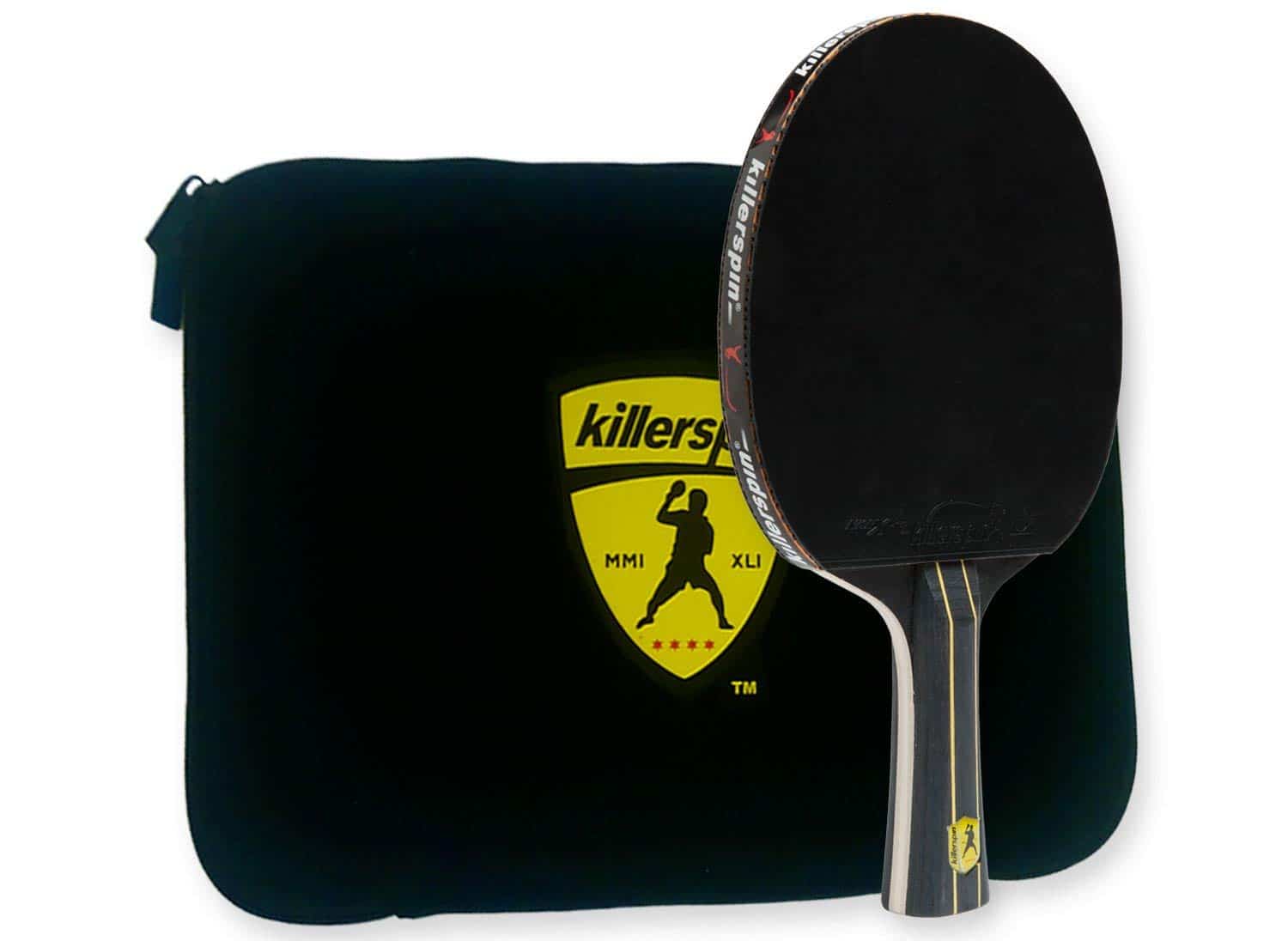 The combo includes a JET Back table tennis racket plus a black sleeve table tennis racket case.It's an ideal buy for the player who likes to have ultimate control and precision.
The paddle itself is high-quality and is specifically engineered to give you better control and precision. It's made of two black Nitrx-4Z rubbers that are high tension and gives it a bit of an edge. The black handle has distinct yellow lines and it's assembled with five layers of plywood. The flare style handle makes it easier for some to use, giving better control.
The JET Black paddle is specifically designed for those players that like to be in full control.It offers spectacular spin levels thanks to the rubber.
Compared with the others in the JET range: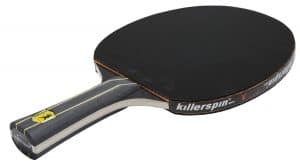 The wood blade on this make is tougher and more resilient.
It comes with a sleeve, which is extremely useful if you're heading out on the road. It will protect your paddle and make it easier for transport. The case is super soft, lightweight, and looks stylish. It can also fit two rackets and fourballs so you can really travel prepared.
We really like the paddle case.
It's ideal for professional players to store and carry their paddles and balls when they travel to tournaments.
You can get the combo for under $50 on Amazon and we highly recommend it for someone who prefers to play a nice calm game, rather than someone who expects to smash their opponent to smithereens.
Main Features
Stylish black design.
High - Quality Table Tennis Paddle designed for precision and control.
Extra-light blade with 5 plies, covered by 2 rubbers of the nitrx 4Z type.
Ratings of 68 in speed, a spin of 82 and a qualitative control of 90.
---
Pros
Great for control
Sleek design and stylish colors
Comes with a sleeve case
Awesome spin
Handles well
Cons
Not good for beginners
Paddle is light, so not good for anyone who has trouble with control (can take getting used to)
---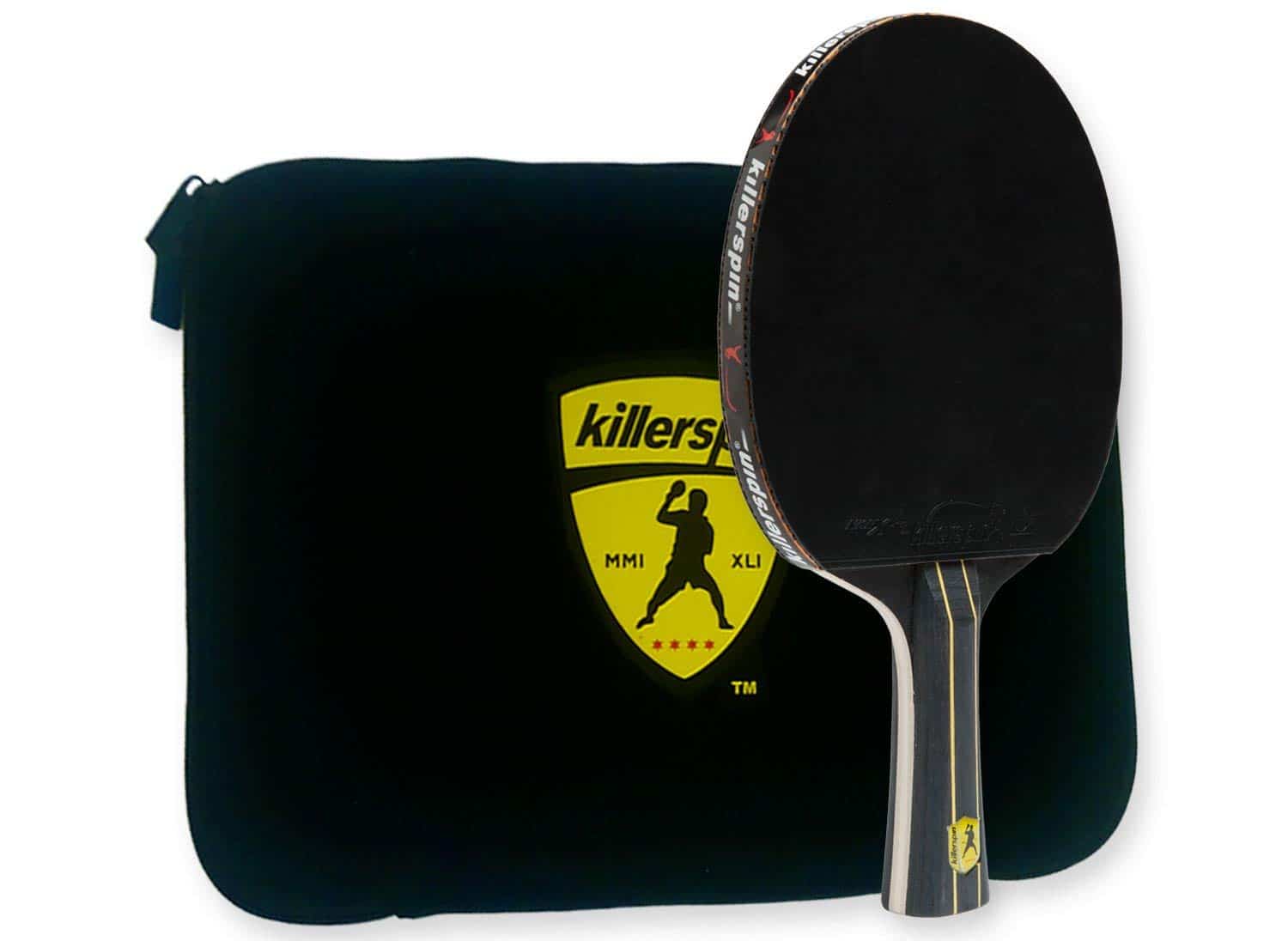 07
DHS HURRICANE-I Tournament Table Tennis Racket Set, Ping Pong Paddle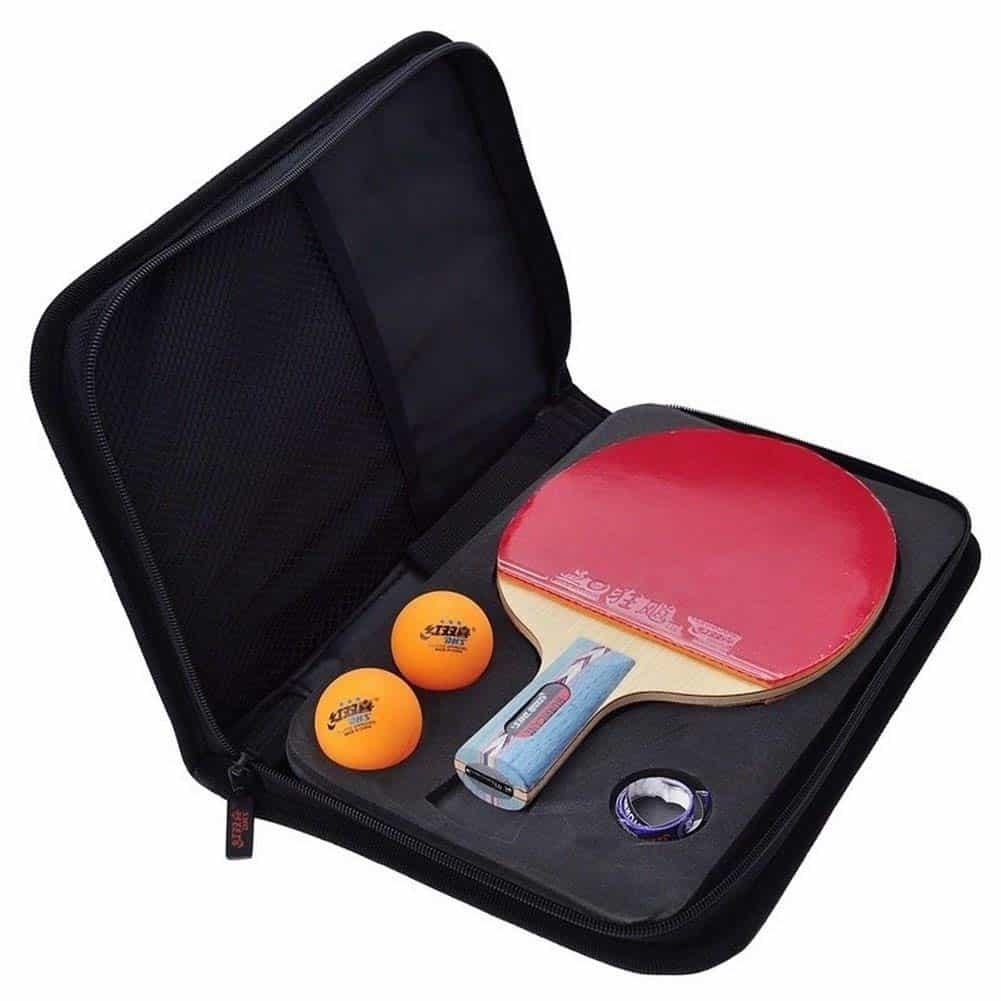 The DHS HURRICANE-I is ideal for the intermediate player who likes to have control. It's made of G555 high elastic rubber and is specifically designed for backhand use. It's made with a network molecule structure that combines a new cementing agent with chemical technology and high elastic sponge. The rubbers have and black pimples--great to give you more power. It also makes the rubbers stronger.
The Hurricane blade is made from a natural wood allowing your entire paddle to keep good inner balance. It makes for easy control and provides an excellent level of power.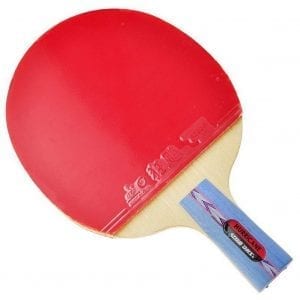 Finally, the perfect blend!
Although the penhold grip can take getting used to.
It comes with a Landson wrist support which will be the envy of your friends.It also includes a racket cover which offers extra protection and two balls. It all arrives in a gift box, so could be ideal for birthdays, Christmas, or other special occasions.
This product is a true masterpiece, and our experts had a field day testing it out. One thing we have to mention from our testing is this: the more experienced table tennis players among us were surprised by the amount of help the DHS Hurricane provides to spin. Aggressive shots of that type are greatly enhanced by its build, and we strongly recommend it for competitors featuring that play style.
On that note...
It's one of our most expensive products on review. There aren't a lot of reviews available on Amazon, which is why we had it tested ourselves, but the reviews that are present are pretty positive. Perhaps there's a reason China is number 1 in ping pong and we just haven't found the secret yet (this could be it!).
Main Features
Racket from the established DHS Hurricane series.
Features a Landson wrist support.
Built for the competitive medium, with a great enhancement to spin.
Ships with a cover and two balls in a gift box.
---
Pros
Great for control
Complete package with case and balls included
Penhold paddle
Huge amount of spin
Handles well
Cons
Not a lot of online reviews
Expensive compared to other brands
---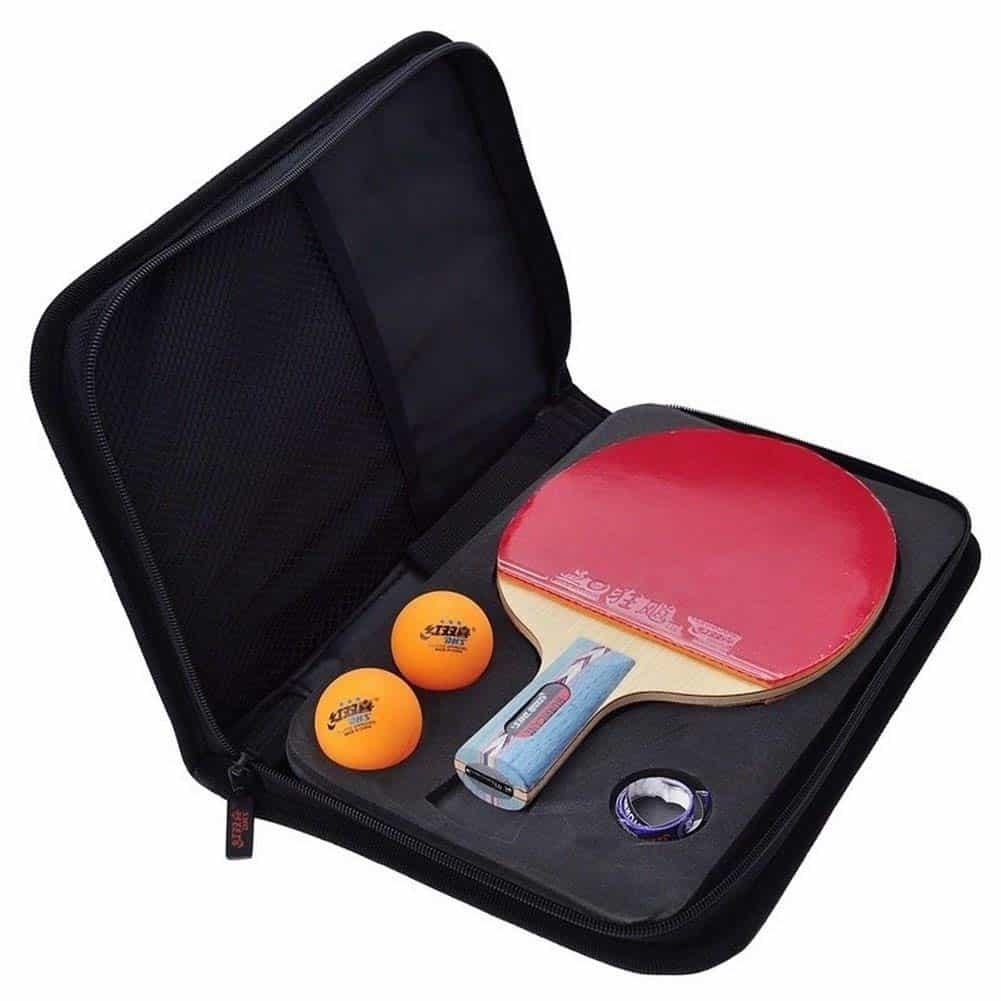 08
Killerspin RTG Diamond TC Premium Table Tennis Racket
The diamond series blades are specifically designed by Killerspin for the world's Top Players.If you consider yourself at the top of the leaderboard, this could be the paddle for you. It's ITTF competition approved and is an advanced competition racket designed for fast players. It arrives pre-assembled which makes things easier on you, and includes a 3.88'' straight handle that's comfortable in the hand.
However, it's expensive.
With the average price at around $250, you're paying a lot more than any other paddles we have reviewed. And considering there just over 10 customer reviews on Amazon, there doesn't seem to be a lot of evidence that would convince you to pay so much.
When it comes to the paddle itself: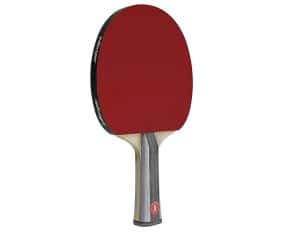 The reason it's so expensive is due to the 2 layers of titanium carbon that are mingled with five layers of plywood for the paddle blade. This mixture of highly engineered materials ensures you get the best power and control available and provide an extra kick for the player who likes to add a little aggression to their game.
This is by far the most expensive paddle on our list and the speed is at a higher level than any others we've included. This makes it ideal for competitive players who prefer to focus on the speed of the ball, along with the spin and control.
Aside from the speed being at a premium though, there doesn't seem to be a whole lot of evidence online that it is so much better than the others (aside from the name calling it a Diamond and Premium racket). The spin is much the same as the cheaper styles, as is the control. The reviews that are available on Amazon (13 of them) are positive – but is it worth the $240 - $300? Well generally, that's not necessarily true, but for a person suited to spin shots and speed, it may be the right choice.
Main Features
Built for a very fast, competitive match.
Ratings of 120 in speed a Control of 82 and 94 in speed. Measurements of 9/16" thick and Head dimensions of 6 x 6 1/4".
Fortissimo rubbers with a high resistance to tension.
5 layers of plywood and 2 layers of Titanium Carbon.
---
Pros
Great for spin
Fast
Solid design
Titanium carbon for longer durability
Cons
Expensive
Not a lot of reviews online
---
09
Killerspin Kido 7P Table Tennis Racket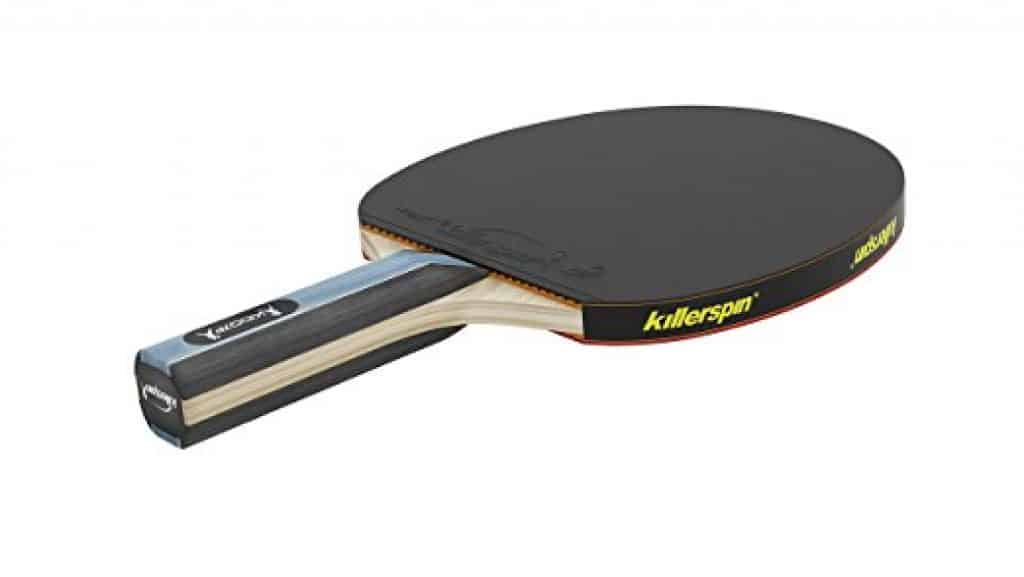 The Killerspin Kido is an ideal paddle for tournament and high-end ping pong players.It offers a good combination of spin, speed, and control. It's part of the RTG collection specifically designed for professional ping-pong players, or for anyone who wants to enhance their abilities and perhaps enter the competition circuit.
With 7-ply layers, the weight takes a little getting used to if you generally use lighter rackets, but once you recognize the power you have in your control, your game will improve immensely.
It's ITTF approved and includes the Nitrx 4Z rubbers that Killerspin is renowned for. The rubbers are extremely innovative and include a hybrid top-sheet made of an elastic compound – giving a great amount of rebound. This is mixed with a soft compound that works to "grab" the ball and create a better spin for the player.
On top of that: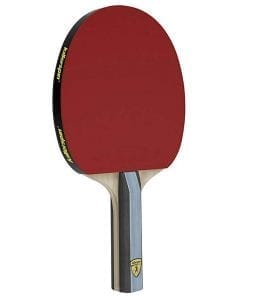 With equal amounts of synthetic and natural rubber, you get a spring effect which makes a pop sound when your ball hits the paddle.  These rubbers are specially formulated to give you better speed, spin, and control all in one.
This type of paddle is already pre-assembled when it arrives at your door, so you can get straight out and play. It has a 3.88'' flared handle that's comfortable in the hand and easy to get used to if you have generally only used straight handles in the past.
One of the biggest things we noticed:
this paddle is a lot heavier than some of the others we tested.
There are not many reviews on Amazon for this racket, so it's hard to make a fully informed choice based on what other people are saying, but the good news is that it comes with a 30-day warranty. If there are any problems, you have some leeway to return it to the manufacturer.
Our experts decided this was probably the least exciting out of the paddles we have included, but considering there are hundreds of different brand paddles available – number 9 is still great odds.
Main features
Ping Pong Racket built for a dynamic match.
Nitrx 4Z rubbers approved by the ITTF for tournaments and championships.
7 - plywood
High-quality specifications of 90 in speed, a control of 85 and a spin of 90.
---
Pros
Good spin & control
Great if you like to play aggressively
Approved for professional play
Comes with a 30-day warranty
Easy to use
Cons
Not ideal if you play defensively
Beginners won't get benefit from it
Not as fast as others
Expensive compared to some faster styles
---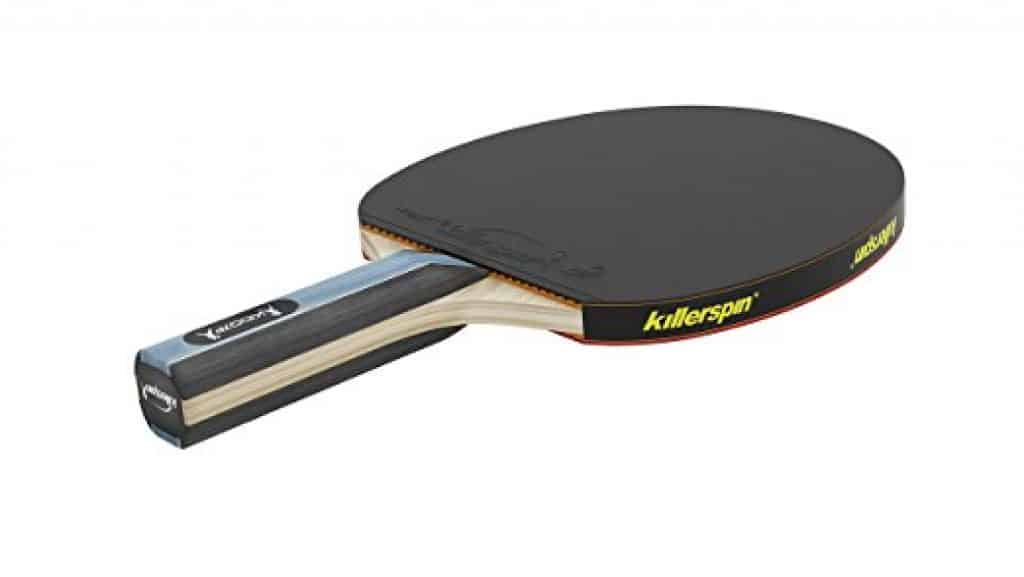 Protecting Your Ping Pong Paddle
Purchasing a ping-pong paddle is less about buying what's best, and more about buying what's right for you. One of the best parts of this game is learning and developing the various skill sets – it takes time, but with the right paddle you can fast-track your game and define who you are as a player.
On that note:
Now that you've invested time into researching the best ping pong paddles and, have invested some money into your hobby, you might also want to think about protecting that investment.
Here's why:
Don't spend money on a brilliant paddle just to let the elements destroy it. A good quality cover will be worth its weight in gold when you get caught in the rain or accidentally drop your paddle while running to the car.
Two cases we thought were a good investment were this option from Killerspin and this one from Stiga.
Ready To Level Up Your Game Room?
Professional players to casual players just enjoying a game of table tennis with their friends, using the right paddle will make a big difference. In the guide above we highlighted the key points to keep in mind when searching for a new paddle.
After all our testing and research was completed, we found these two ping pong paddles to be the cream of the crop!