Buyer's Guide: How to Pick the Best Travel Adapter
Confused by all the technical mumbo jumbo out there?
Not quite sure where to start?
Have no fear.
We'll walk you through everything you need to know so that you can make the best possible choice for your needs.
So let's get electrically educated!
(Can you hear the Bill Nye theme song? Just us? Okay.)
Whether you're bringing your travel adapter backpacking through Europe or trekking across the Great Wall of China, the main points you've got to consider are pretty much the same.
Plug Type
Remember how we said there are fifteen different outlet types out there in this wide and confusing world?
Yeah, so….
That means fifteen different plugs to sort through, too.
(Fun fact! Plug types are labeled by the letter: so A through O, in case you can't remember the alphabet song right now.)
But don't get overwhelmed just yet.
If you're visiting one country in particular and you don't plan on developing a globetrotting habit anytime soon, then rest easy and peruse this chart to help you find the plug type you need.
If, however, you're more of the 'around the world in 80 days' type, then you've got to get yourself a universal travel adapter!
Okay, so what's universal mean?
Pretty much exactly what it sounds like: this handy travel-enhancing little guy is made to work just about anywhere. You can switch up the prongs to fit all sorts of different electrical outlets, Tetris-style.
Sure, but is it really universal?
Almost!
It doesn't work on Mars.
Yet.
Usually any travel adapter that advertises itself as universal will work in any of the four most common destination zones: Europe, Australia, the United States, and the United Kingdom.
A universal travel adapter with these four plug types will give you about 150 countries' worth of coverage, which should keep you busy for a while.
Now, if you're traveling to a less popular destination like the intrepid individual you obviously are, then you'll want to make sure to read the fine print on these universal adapters to be sure you're going to be covered.
Nothing like setting foot in the far reaches of the world and seeing amazing sights only to find out your camera's dead and you can't even charge it.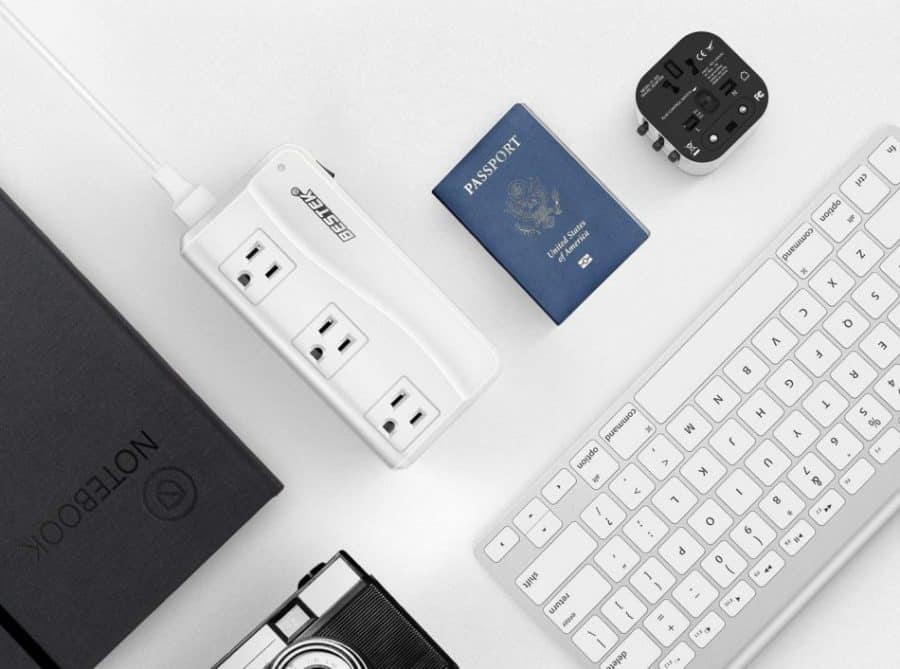 Size and Weight
If you've ever gone looking for general travel advice, you've probably found one thing repeated over and over:
Pack light.
And we're here to confirm: it's good advice.
Nobody likes hefting a giant, heavy bag around in a foreign country, desperately trying to get to the hotel before you collapse under the weight of your poor packing decisions.
(Look, just trust us on this.)
Especially if you plan on traveling with only a carry-on bag, you're going to definitely need to consider the size and weight of your travel adapter.
Yes, weight.
Sure, it's a small thing, but small things add up, and the weight limits for carry-on luggage can be pretty strict on some international airlines. That adapter with the eight bazillion USB ports might be a convenient choice if you're looking to charge every device under the sun, but chances are it's pretty bulky.
And are you sure you need to bring every device under the sun? Just saying.
To give you an idea of how widely size and weight can vary, the smallest travel adapter on our list weighs in at around four ounces.
The biggest?
A little over a pound.
And it's not just about your packing priorities: size matters for another reason here too, especially when it comes to traveling in Europe.
"Many sockets in Europe are recessed into the wall," explains travel writer Rick Steves.
"Your adapter should be small enough so the prongs seat properly in the socket."
Swiss and Italian outlets even require slimmer prongs than in other countries.
So the moral of the story?
Unless you're looking for a travel adapter to use for the whole family, bigger probably isn't better.
To Convert or Not to Convert
No, we're not talking religion here. Just like plug types vary from country to country, so does voltage.
And if you failed your high school science classes and the word 'voltage' has you feeling overwhelmed, don't worry: you don't need to be an electrician to work this one out.
Again, we'll go ahead and refer you to this handy dandy chart if you want to see voltage by country.
The short version?
Electrical appliances in the United States run on between 100 and 120 volts. Europe (and most of the rest of the world) kicks it up a notch at 200 to 240 volts.
So if you plug in your old hair dryer from the US at your hotel in Paris, well…
Say bonjour to the sweet, sweet smell of fried hair dryer.
Like we've mentioned — and we really can't say this enough — a regular old travel adapter does not convert voltage.
You'll need an aptly named voltage converter for that, and most adapters don't include those by default.
But how do you know if you need a converter at all?
It's pretty easy, actually. The devices will actually tell you themselves.
No, not in a Disney-style song and dance. Tragically. Instead, the information you need is right on the label.
Go ahead and take a look at your phone charger, for example.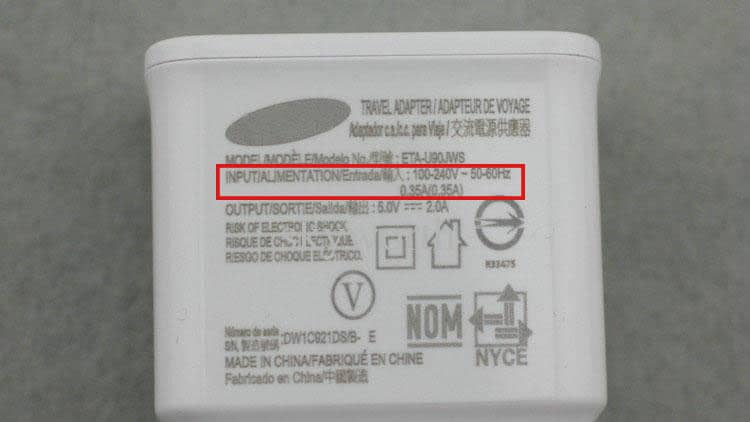 Chances are you're going to see something like "100 – 240 V" — meaning you're good to go from the US to Europe (or vice versa) with just a travel adapter in tow.
That's because these days most laptop and phone chargers are dual voltage, so you don't actually need to shell out the extra cash for a converter.
Is it a nice thing to have?
Absolutely, especially if you want to plug in a device that's on the older side, or the aforementioned hairdryer.
And if you're going to an area where voltage can vary by region, like in parts of Latin America for example, then a converter is worth packing.
Nobody wants their laptop zapped.
But otherwise, it's more of an optional thing. If you're leaving the high-powered electrical devices at home and just bringing a cell phone, you probably don't need to worry about this one.
Ports and Outlets
Traveling alone with one or two items to charge?
We'd suggest you keep it simple and stick to an adapter with a single outlet. But if you're a family of five, and everybody has their own phone, and you can't live without your hair straightener…then it makes more sense to look for something with a little extra capability.
There are two ways a travel adapter can power up your devices: with AC outlets and USB ports. AC stands for 'alternating current,' and it's pretty much the same thing as your wall outlet at home.
And we all know USB (or Universal Serial Bus, if you want to get scientific) ports as the ones on your computer that you never, ever plug into the right way on the first try.
Some travel adapters come with as many as three or four AC outlets, whereas others just have the one. If you want to be able to plug in your laptop and your phone at the same time, you should look for an adapter with at least one USB port too.
And if everyone wants to plug their phones in at the same time, some adapters come with as many as three or four additional USB ports.
Again, when in doubt, go small and light.
But if you're bringing the whole family along for the ride, you should get plenty of mileage out of an adapter with a few extra USB ports if nothing else.
Remember not every hotel room is going to have multiple outlets either, so having even a single USB port can keep you from having to unplug your half-dead laptop to charge your totally dead phone.
Our Reviews Of The Best Travel Adapters Out There
Grounded vs. Ungrounded Travel Adapters
When you're searching for a travel adapter, you may see the words "grounded" and "ungrounded" cropping up again and again.
As you might've guessed, this isn't about your travel adapter's spiritual state.
It's actually all about safety!
And although all the technical stuff can be confusing for those of us who aren't electrical engineers…
It's really pretty simple.
Grounded plugs have three prongs, whereas ungrounded plugs only have two.
Turns out that third prong isn't just an annoyance when you're at your local coffee shop and can't find a three-pronged outlet for your laptop.
It's actually an added safety feature.
Basically, it works to reduce the risk of you getting shocked when you insert or remove the plug. Which, you know, is one of those little things in life you just don't appreciate enough.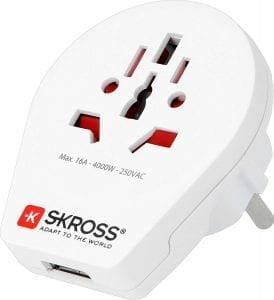 But here's the thing.
Not every travel adapter includes a spot for that third prong, which is also called a "grounding pin" or "earth pin."
So before you make your purchase, you should definitely make sure to check and see which type of plug your devices have. Nothing like spending the money on an adapter that you can't even use!
Luckily for you, though, all of the travel adapters on our list here will work with either grounded or ungrounded plugs. We're just thoughtful like that.