A delay pedal is a necessary piece of gear for many guitarists. The main reason for their popularity is they can do so many different things for your sound. The best delay pedal can be used not only as an effect to add more texture to your tone, it can also add a more subtle depth and shimmer that make you sound like a polished professional.
Because it's such a versatile effect, there are many different options out there when it comes to delay pedals. Whether a pedal is analog or digital, how many delay modes it offers, and what kinds of tone-shaping controls are available will all impact the overall sound of the effect. We've rounded up ten of our favorite delay pedals below to help you get started on your search.
Research You Can Trust
When you're buying an effects pedal, you're mostly shopping with your ears.
But if you think that's all there is to it, think again!.
The truth is, there are factors to consider even beyond finding your perfect sound. In fact, when were testing these pedals out, we considered a variety of factors, including reliability, ease of use, value…
And, yes, sound, too!
We also gathered feedback from players who actually own and use the pedals to get a sense of how they do long-term in the real world. On top of that, we found out which pedals the pros use and recommend.
The culmination of that research is in the list below.
Buyer's Guide
The 30-Second Review
Sound is a personal choice and a hard thing to quantify.
When you hear something you like, you know it, and listening to the pedals you're considering is the only way to discover which ones sound the best to you. Similarly, you're the only one who knows the scope of your budget.
Want some good news?
You can find great delay pedals that are very affordable, so you don't have to feel like you're compromising your sound if you go with a more affordable option.
Beyond sound and price, versatility is the main characteristic that differentiates these delay pedals from each other, in our opinion.
Whether this is something you need to consider depends on how you plan to use it.
Are you going to find one ideal version of the delay effect and keep those settings relatively static once you've found them?
Or do you instead prefer to customize your effects to suit the particular style or song that you're playing?
If it's the former, you'll mainly want to focus on finding the pedal that gives you the singular sound you need, but in the latter case you'll also want to consider how many delay modes the pedal offers, how easy it is to switch between them, and whether it offers the option of saving settings.
Also, keep in mind that you can't neglect the casing.
The sound is more important, arguably, but you should at least consider the pedal's size and construction
If you already have a lot of effects pedals in your arsenal, a more compact option could be the way to go. A bigger pedal does give you more space for controls and screens, but you can still find some pretty small options that give you fairly extensive tone-shaping.
THE WINNERS
How to Pick the Best Delay Pedal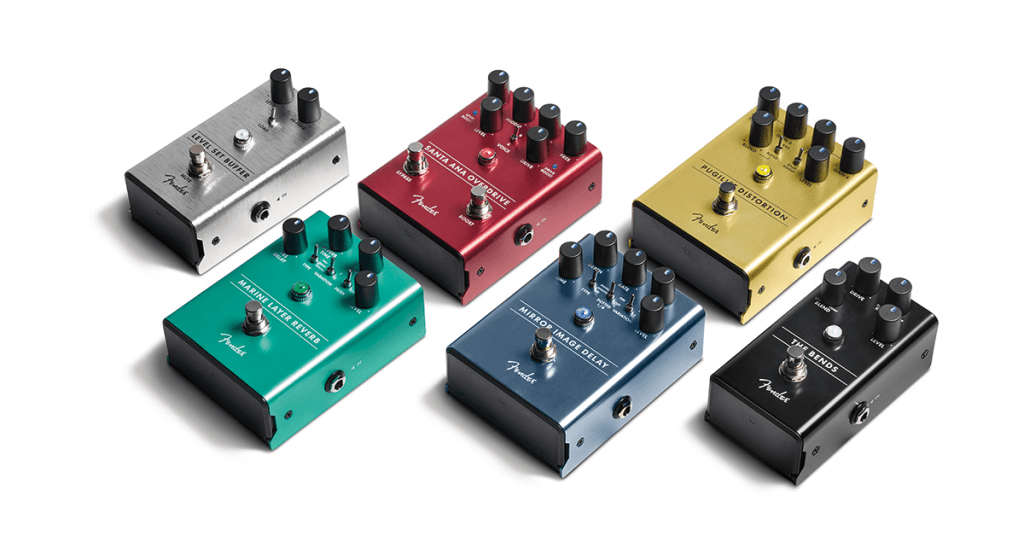 The premise behind a delay pedal is simple, but when it comes to execution, things can get pretty complicated.
There's a wide variety of delay styles even between the pedals on this list. If you're not completely sure what sound you're going for, navigating all the options can be a bit overwhelming.
The first decision you need to make when shopping for a delay pedal is whether you want an analog or a digital delay.
The second is what overall delay sound (or array of delay sounds, in the case of many digital pedals) you want to have.
Though control knobs can be used to tweak the tone of any given pedal, this will largely be determined by what delay modes or styles the pedal offers.
The sections below explore both of these questions in more detail to help guide you to the right decision for your tone.
Analog vs. Digital
The first decision you have to make is whether you want to get an analog or a digital delay pedal.
One isn't necessarily better than the other, and both styles have their staunch supporters, but there are significant differences both in the sound and the operation, and when you dig in deep they can get rather technical.
You might find it more helpful to listen to the difference: Digital Pedals vs. Analog Pedals | Guitar Pedals
Analog delay is usually achieved using a bucket brigade delay (BBD) chip that sends the signal through a sequence of capacitors. The more capacitors it travels through, the more the signal breaks up, giving analog delay pedals a distinctive warm sound.
This degradation of the signal does limit the maximum delay time—the signal can only travel so far this way before it breaks up too much to be pleasant.
Digital delay, on the other hand, digitally processes the signal to create the delay. Because it's achieved using chips instead of capacitors, digital delay offers a lot more control over the effect.
You can choose whether you want it to be warm or bright, and set the length of the delay with a precision you just can't achieve on an analog pedal.
What it really comes down to is musicality versus flexibility.
Analog delay pedals are more expressive, but on the whole will be more limited both in terms of the length of the delay and how many options you get to tweak it. Digital delay pedals can offer precise customization options, but they can't quite emulate the depth of an analog effect.
Tip:
Using a digital effect pedal doesn't just mean the delay effect will be digital. It will also convert your guitar's signal from analog to digital when it passes it on to the next stage of the chain.
If you use a solid state amp or other digital pedals, this probably isn't a deal breaker for you, but it's still something to keep in mind when you're deciding where the pedal should go in the signal chain.
Types of Delay
You'll see significant delay pedals—especially digital delay pedals—advertising the number of delay modes the pedal offers. Not every delay style is going to sound the same, but the good news is they're fairly standardized across brands.
Here's the deal:
TC Electronic's tape delay might not sound exactly like Boss', but they'll both follow the same basic sound concepts.
If the mode of the delay looks like a model number, that's likely an emulation rather than a type. In other words, it's been designed to sound like a specific pedal, most often a vintage analog model that's difficult to find.
It's something you'll only see on digital delay pedals, and it can be an affordable way to get the sound of an iconic pedal without the hefty price tag.
You'll also often see an "analog" mode on digital pedals. This is a more general emulation of a capacitor-based pedal. If you see a mode that's just marked "digital delay," you can usually think of this as the standard or default delay style for the pedal.
Aside from these, there are some broad categories of delay you're likely to see as you're perusing effect pedals. This list certainly isn't comprehensive, and some brands come up with their own names for these mode styles, but the list below covers the most common styles.
Modulation Delay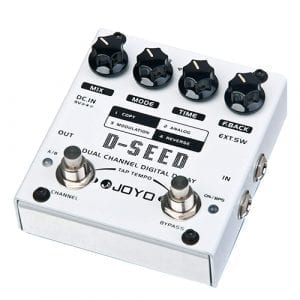 Also called "Modulated", or even just "Mod" delay, this is an effect based on the same basic ideas as a chorus or flanger. Since the delay time is variable, though, it gives the player a bit more control over the length of the effect than your typical chorus pedal.
It's a more subtle form the delay, for sure, but it adds a bit of extra movement to your tone that gives it a more organic character. If you already have a chorus pedal that you love, you may find a Mod delay to be a bit redundant, but it's a popular option across genres to add a touch of chorus that doesn't sound artificial or cheesy.
Tape Delay
This is an effect emulating a style of delay employed in pedals in the '50s and '60s. These pedals used an analog tape system to achieve the delay, and were some of the first pedals to use tube circuitry in the preamp, which both gave them extra warmth and made them a bit noisier.
They also tended to be the most organic-sounding delays, especially in the early decades of delay pedals. They were known for producing extra effects on the sound, too, often called either "wow" or "flutter."
These are subtle effects that sound similar to a phrasing or flanging effect.
Reverse Delay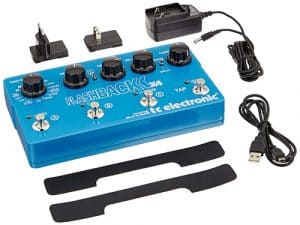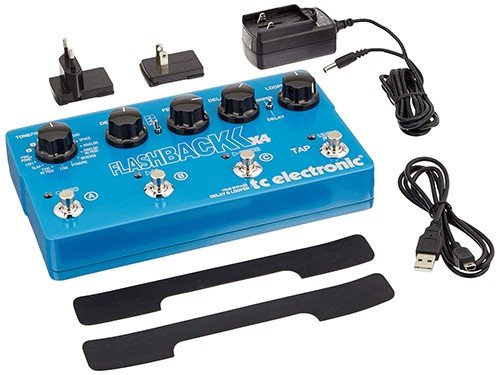 You may also see this called "Reverse Regeneration" or "Backwards delay," and it's basically what you'd think from reading the name: an effect in which the delay to your tone sounds like a recording played backwards, behind your standard tone.
It was said to have been invented by Jimmy Page all the way back in the late '60s. Despite its long history, though, this is a more specialized effect that doesn't get used as widely as other delay variants.
It's most often heard in modern pop and rock styles, including hardstyle, EDM, and shoegaze.
Ping Pong Delay
This is another one whose name is descriptive. A Ping Pong delay is typically a stereo delay pedal effect in which the delay signal is bounced back and forth between the left and right channels.
You may also see Ping Pong delays that are bounced from one mono channel to another during play, especially in pedals lacking stereo channels. The key is the delay always happens on the edges of the sound rather than in the center of the field.
This is one way to add more three-dimensionality to your tone. It also tends to use a drier delay than other modes, which is good if you prefer a less saturated effect sound.
Slap Delay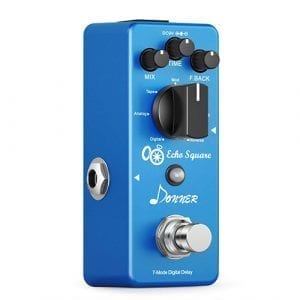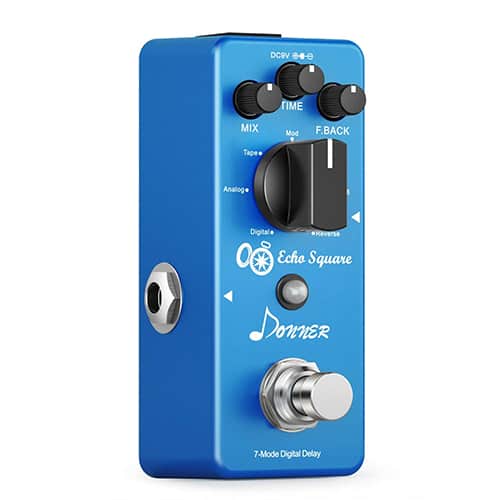 Also called "Slapback delay," this usually refers to a single echo effect that lasts between 60-180ms.
More than an audible delay on your tone, it gives the notes a thicker, wetter sound. This isn't always restricted to use with guitars, either.
More than other delay styles, slap delay is popular with sound engineers for vocal lines, and was famously used by Elvis Presley on recordings. The slap delay is typified by a short delay time and a tight mix with the dry signal. Slap delays also tend to be louder than other delay styles, and have a far more pronounced presence in your overall tone.
They're most popular for drums in rockabilly and other '50s-era styles.
Lofi Delay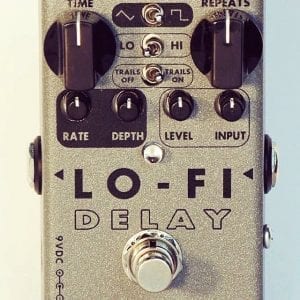 In most digital effect modes, the delay sounds identical each time it repeats. With a Lofi Delay, the signal degrades with each repetition, similar to an analog delay effect.
The difference is that Lofi Delay uses a digital signal degradation. "Lofi" is actually short for "low fidelity," and knowing that might help to make things a little clearer.
It's basically an emulation of the effect of lower-quality audio equipment on a tone, but in a controlled fashion, and is a popular way to add a vintage color to your tone.
Putting It All Together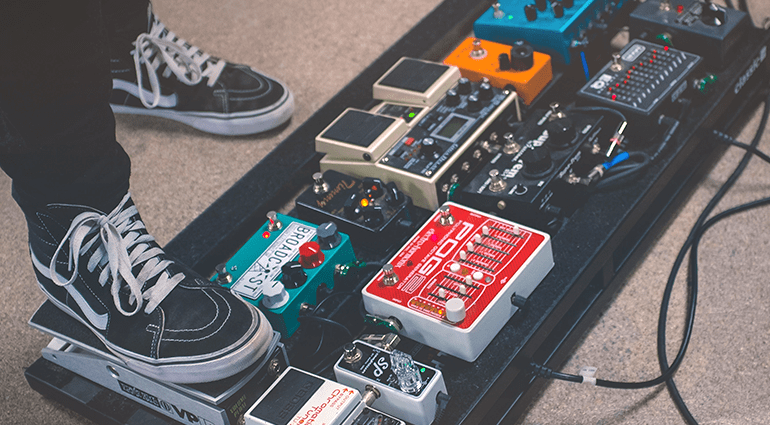 Even after you've purchased your delay pedal, your decision making isn't quite over. There's still the question of how you're going to connect your various pieces of gear together for the best sound.
For the most part, this will be a matter of personal preference, putting your effects pedals in the right order in the chain to give you the exact sound you're looking for.
In some situations, though, you may also need to consider the relative power handling and impedance of each piece of gear to prevent potential damage and use all of your gear to its full potential.
Before we get into the details of where to position different items within the signal chain, it's important to understand a bit about watts, ohms, and what they mean for your signal and your sound.
The impedance of a piece of gear is a measure of the amount of resistance the electrical signal will encounter when it enters the device.
With amps and speakers, it's important for the impedances to match. With pedals, the impedances don't need to match, but you do need to pay attention to which side of the connection is higher.
Visualize this:
Think of water flowing through a pipe.
If the pipe is a consistent diameter the entire way, the water pressure will remain constant. If the diameter changes, though, so will the pressure, going down if the pipe gets larger and up if it gets smaller. If the pipe gets too small, the water pressure could get so intense the pipe bursts.
This isn't a perfect analogy, but it's the same basic concept as a signal traveling through gear with different impedances.
Your pedals, amps, and speakers have two impedance ratings: one for the input and one for the output.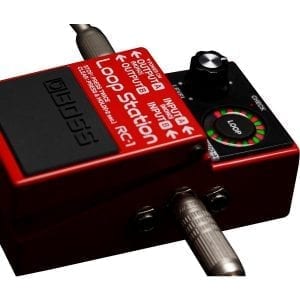 A good rule of thumb for pedals is that as long as the output impedance is lower than the input impedance, everything will work fine
This rule of thumb applies both to chaining pedals together and to connecting them to your amp. There are other subtleties to how impedance affects guitar tone, but as long as you follow that rule above, you won't have any problems.
This is most important for the pedal that you're connecting to the amp.
Guitar pedals don't generate enough power to cause a blowout. If the relative impedance is off between pedals, you won't damage your equipment—it just won't sound as good.
What's the bottom line?
The impedance of an effects pedal doesn't impact whether or not you'll be able to use it, just where you need to put it in relation to your other gear.
Because of that, it's not likely to play a big factor in your purchasing decision unless it's important to you to buy a delay pedal to go before or after a specific effect. If that's the case, it's a good idea to check and make sure the pedal will work where you want it in the signal chain before you buy to avoid a frustrating discovery later.
Now, onto the fun part.
Technical concerns aside, how you order your effect pedals can be a fun way to play with your sound.
You might be surprised by how much of a difference it can make to swap the order of the pedals in your signal path. While there aren't any hard and fast rules, there are some general guidelines that most people follow when they're setting up their pedal rack.
If you're just getting started working with multiple effects, this can be a good order to follow for your initial set-up.
The typical approach is to order the effects the way they would be applied if they were occurring naturally.
This would mean pedals that add noise or produce sound (compressors, wah pedals, distortion, etc) should go at the start of the chain.
Following this would be signal modifying effects, like volume or chorus pedals. Finally, you'd add effects that mimic the space or atmosphere. This is where a delay pedal fits in, as well as effects like reverb or echo.
Guess what?
This doesn't mean you have to put your delay pedal at the very end of the signal chain.
Most people do put them in the back half of their signal chain, but delay pedals are one of the more versatile effects when it comes to placement. You can make a really cool effect by putting a volume pedal directly after the delay pedal, for example.
There's a great video from Howcast that shows you how to do it and what it sounds like here.
There are other reasons why the typical pedal board is set up the way it is. The most important one is probably to keep the noise level low. Signal noise is a potential concern once you start stacking multiple pedals together on your board.
If you are finding some unwanted noise in your sound, shifting the order of the pedals is one way to alleviate it.
The best advice we can give is not to overthink it.
If you're trying to emulate a specific player's sound, putting your effects in the same order is key to getting itIf not, though, you should feel free to experiment.If you're curious what your delay pedal would sound like first in the signal chain, give it a shot and see what you think. As we pointed out above, you can't do any harm; if you don't like it, you can move it right back.
The Final Word
Adding a delay pedal to your guitar setup can greatly expand the sonic potential of your instrument. The key is to find the one that best complements the other equipment that you use. Listening to the pedals in action with the video links above can give you a basic idea of a pedal's overall sound.
But remember…
Unless you're using the exact same gear as the person recording the video, it's going to react a little differently with what you've got going on in your rig.
Of course, there's no one right answer when it comes to picking a delay pedal.
They're one of those effects that pretty much every guitarist needs to have, and there's plenty of contention about exactly what makes one pedal better than another.
But if you want our opinion, the two picks below are great options: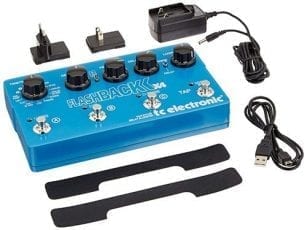 Best of the best
TC Electronic Flashback X4 Delay E ffects Pedal
Don't want to sacrifice sound or spend a lot of cash? Find the perfect balance with the best delay pedal reviews.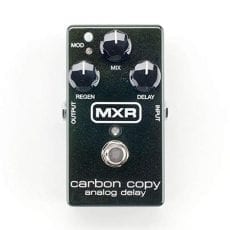 Most Buying
MXR M169 Carbon Copy Analog Delay
Don't want to sacrifice sound or spend a lot of cash? Find the perfect balance with the best delay pedal reviews.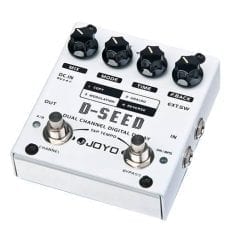 Best for the money
JOYO D-SEED Dual Channel Effect Pedal with Four Modes
Don't want to sacrifice sound or spend a lot of cash? Find the perfect balance with the best delay pedal reviews.